One small village that charmed us, at first sight, was Leipers Fork, Tennessee. Tucked away in Williamson County is this one-lane town full of rustic charm and what evokes the fantasy of living in the countryside is all about!
Located about a 15ish or so minute drive from Franklin, where there are all kinds of memories to be made from the food and craft beverage scene, live music performances, great shopping, and a beautiful downtown that's loaded with history. Adding a trip to see all the cool things to do in Leipers Fork is an easy add-on.
Driving into Leipers Fork on Old Hillsboro Road you can't help but notice the adorable, countryside cottages. Some of these are residential, vacation rentals, boutiques, antique shops, galleries, and even a spa! Whether these country cottages are a business or a home, they all have one thing in common, they all have porches!
The unofficial community rule is that every spot here has to have a porch. This is your welcoming hang-out spot that's inviting and a way to get to know your neighbor. It's not uncommon to see rocking chairs, swinging benches, or a firepit around the porches either.
When we say that Leipers Fork is small, we mean it. With a population of about 650 and a size of only about 1,100 acres you can easily understand why this spot is such a tight-knit community, but one that is also very welcoming of visitors!
The locals who reside here love it. You can find a mix of locals who have been here for generations as well as big-time celebrities and stars who have their countryside hideaway here for respite from the city – from TV and Hollywood stars to music legends and rockstars.
It's said it's not uncommon to spot celebrities here whether they are attending (or performing) live music at Fox & Locke (formerly Puckett's) or stopping by the pickin' corner at Serenite Maison.
We learned a few cool stories about Leipers Fork, from the local Aubrey Preston who revived this sleepy town into the community it is today by purchasing up thousands of acres of land surrounding the town to help prevent overdevelopment and keep things small, and community-driven here through his preservation-driven investments.
For being small in size, there are a ton of great things to do in Leipers Fork worth checking out! Keep in mind that you'll want to plan your visit around opening hours. Most shops close around 5 pm and the evenings at Fox & Locke are where it's at. So be sure to plan carefully so you don't miss a thing!
Also, another fun random fact we were told is that before the Duchess, aka Kate Middleton, Prince William dated a girl from Leipers Fork and even has visited here! So besides the big stars, you've got connections to royalty here too!
Things to do in Leipers Fork
Leipers Fork Distillery
A visit to Leipers Fork requires stopping for some of that famous Tennessee whiskey! Located on an old moonshine site and in a 200-year-old cabin just outside of town.
Leipers Fork Distillery is a small-batch distillery that opened in 2016 and has been shaking things up in the whiskey biz since. For being a young-ish distillery, they've got awards to back up the quality you can taste in their whiskey and bourbon.
Guests can reserve a spot on their guided distillery tour with a tasting at the end. Along the way you'll learn about the history of the site, whiskey making in Tennessee, and how they make their small-batch whiskey in their copper still named Ginger and you might even spot their polydactyl feline friend, Hemingway taking care of business around the property too.
If you're like us, you'll want to buy a bottle of their award-winning whiskey to bring home with you too!
Leipers Creek Gallery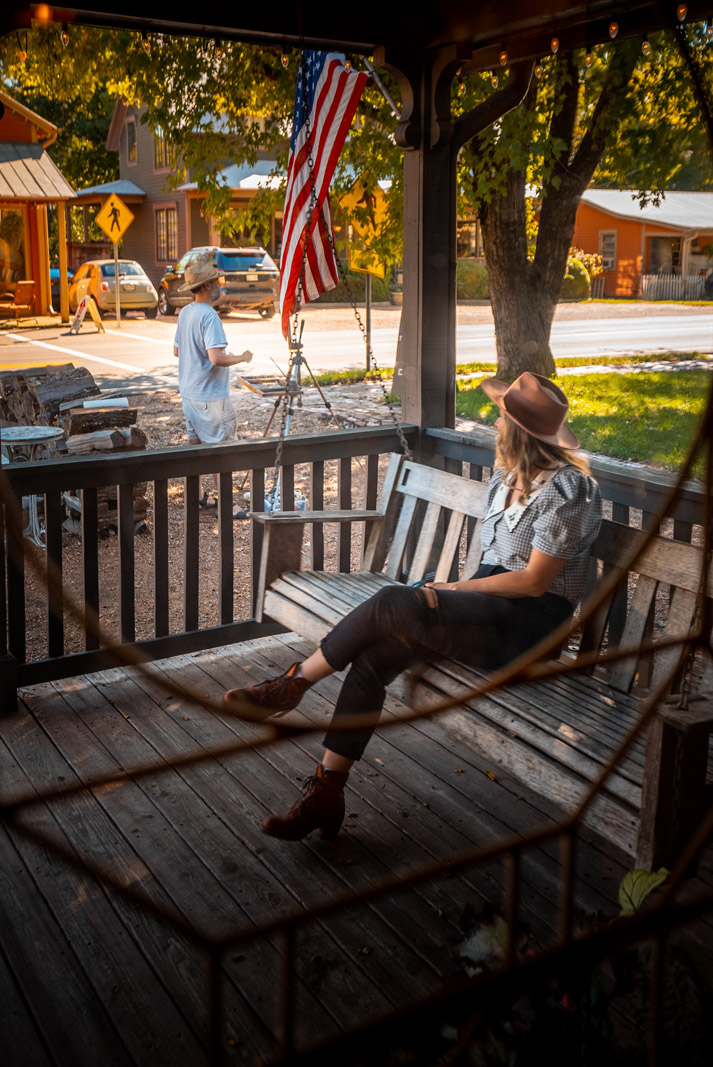 One of the best things to do in Leipers Fork is check out the different creative shops and art galleries. Leipers Creek Gallery is a pretty cool spot showcasing 24 artists' work in their gallery and 17 of which are local artists. They also have four master painters whose work is on display and for sale here too.
The gallery is set in a former gas station, although you'd never realize that unless someone told you with a beautiful wrap around porch fitted with a double porch swing.
We were lucky to have caught one of the local artists in action painting a pretty scene of the Y-shaped tree outside of the gallery during our visit! This place truly is full of pleasant surprises like this!
LawnChair Theatre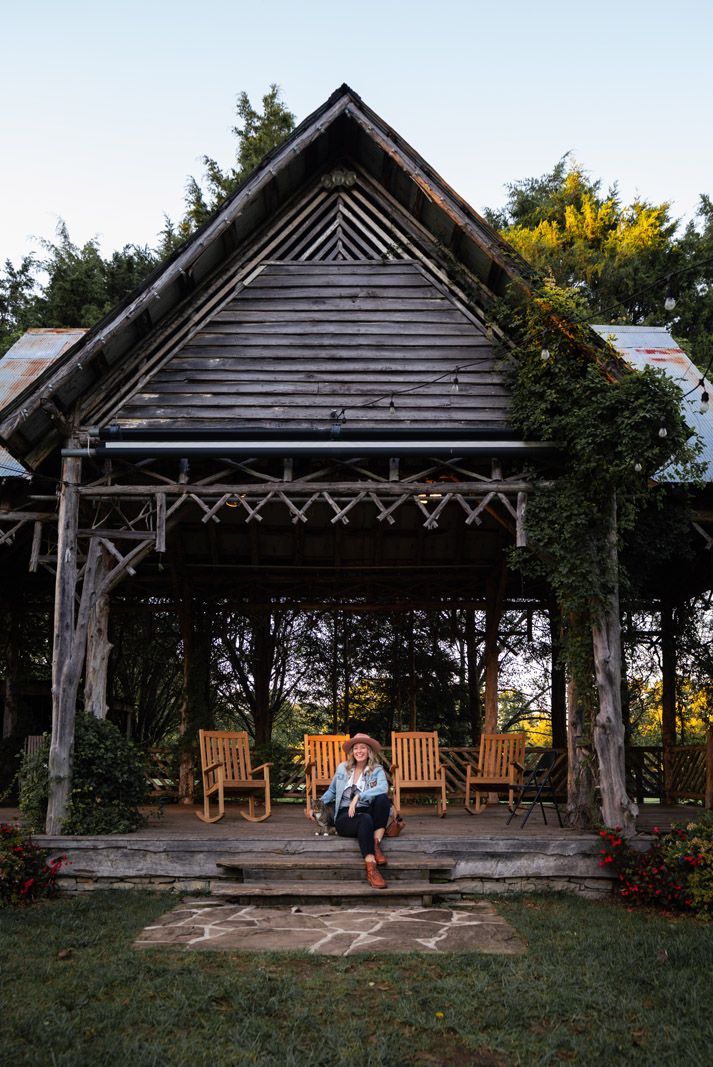 Directly behind Leiper's Creek Gallery is another cool Leipers Fork gathering spot, the LawnChair Theatre. During the summer they show movies in the back and all you have to do is BYOC (bring your own chair).
While this is an outdoor cinema, this small outdoor venue is also used for music performances and even Willie Nelson has performed here on this stage!
We didn't see Willie Nelson, but we did get to meet a local feline who charmed us with his southern hospitality, One Eyed Jack who graced us with his presence and even stuck around to get a few photos with us.
David Arms Gallery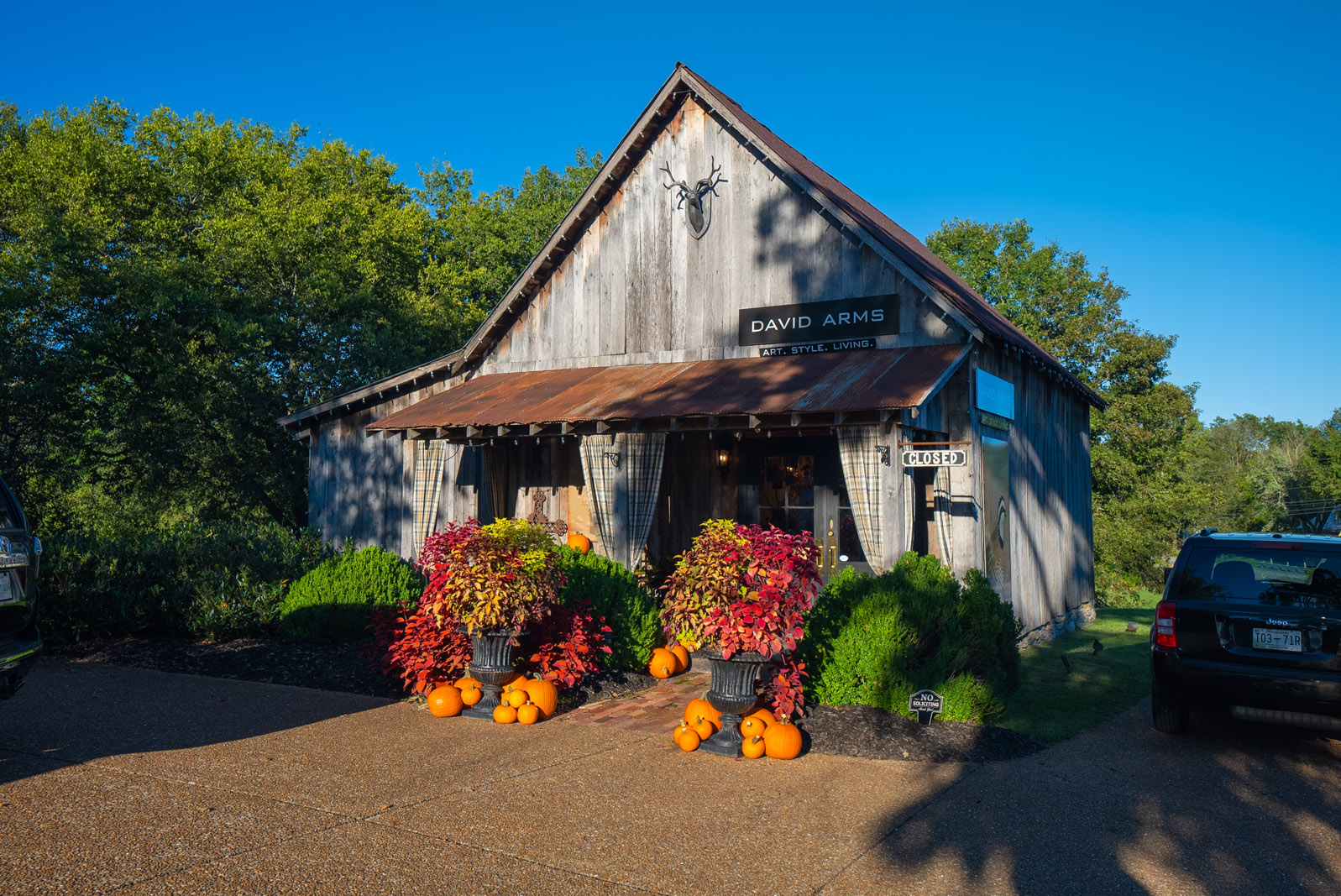 Another cool gallery and great thing to check out in Leipers Fork is David Arms Gallery. This gallery is set in a rustic barn and is full of the owners own collection of items on display and for sale including other things that are inspired by his work.
This is the only spot where you can find David Arms' original artwork on display. Besides being an artist, David Arms is known for being one of the best special events designers in the country during the 1980s and 1990s and has won several awards for his work before leaving the industry and ultimately opening his own galleries here in Leipers Fork and Nashville.
Country Boy Restaurant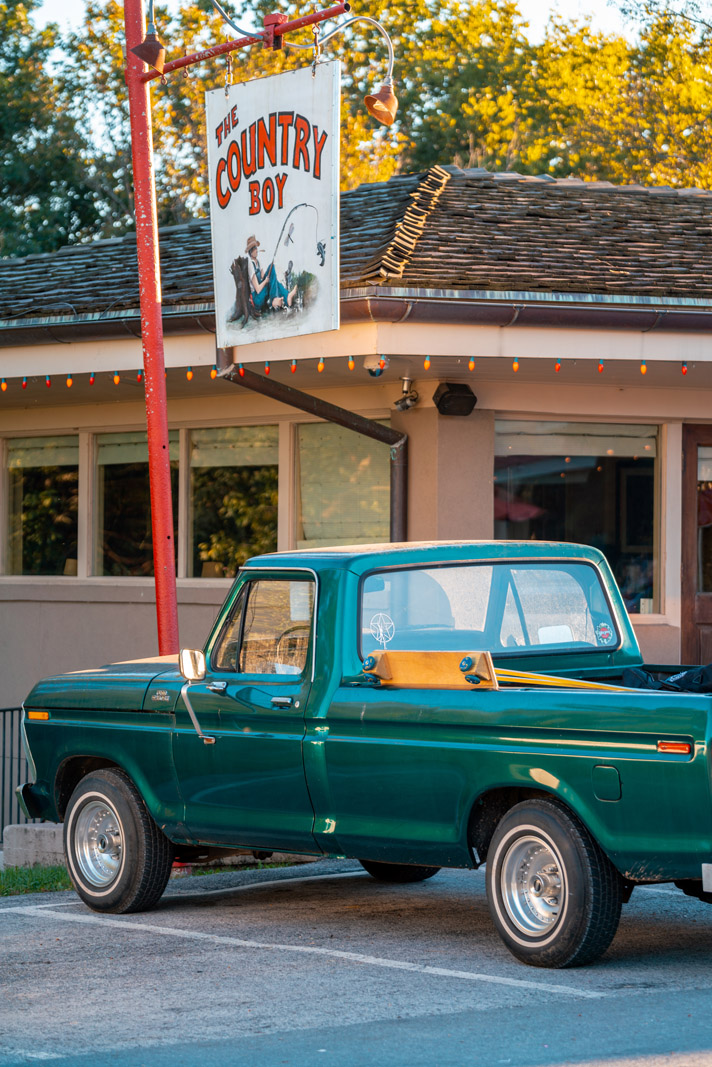 Full disclosure, we didn't get to eat here but we loved the sign, the old-school truck, and the story about how this Leipers Fork eatery's window is essentially the village's bulletin board.
If you find yourself needing a lunch spot in between exploring all the great things to do in Leipers Fork, Tennessee, make it this stop! Serving up southern comfort food, you will have fuel to get you through your whiskey tasting at the distillery before coming back to shop and browse the shops and galleries.
Take note of the window with all the writing on it, we were told that this is where the town's news is displayed. From celebratory announcements to obituaries, you'd find the local news here, so no need to check Twitter.
Stay at Millville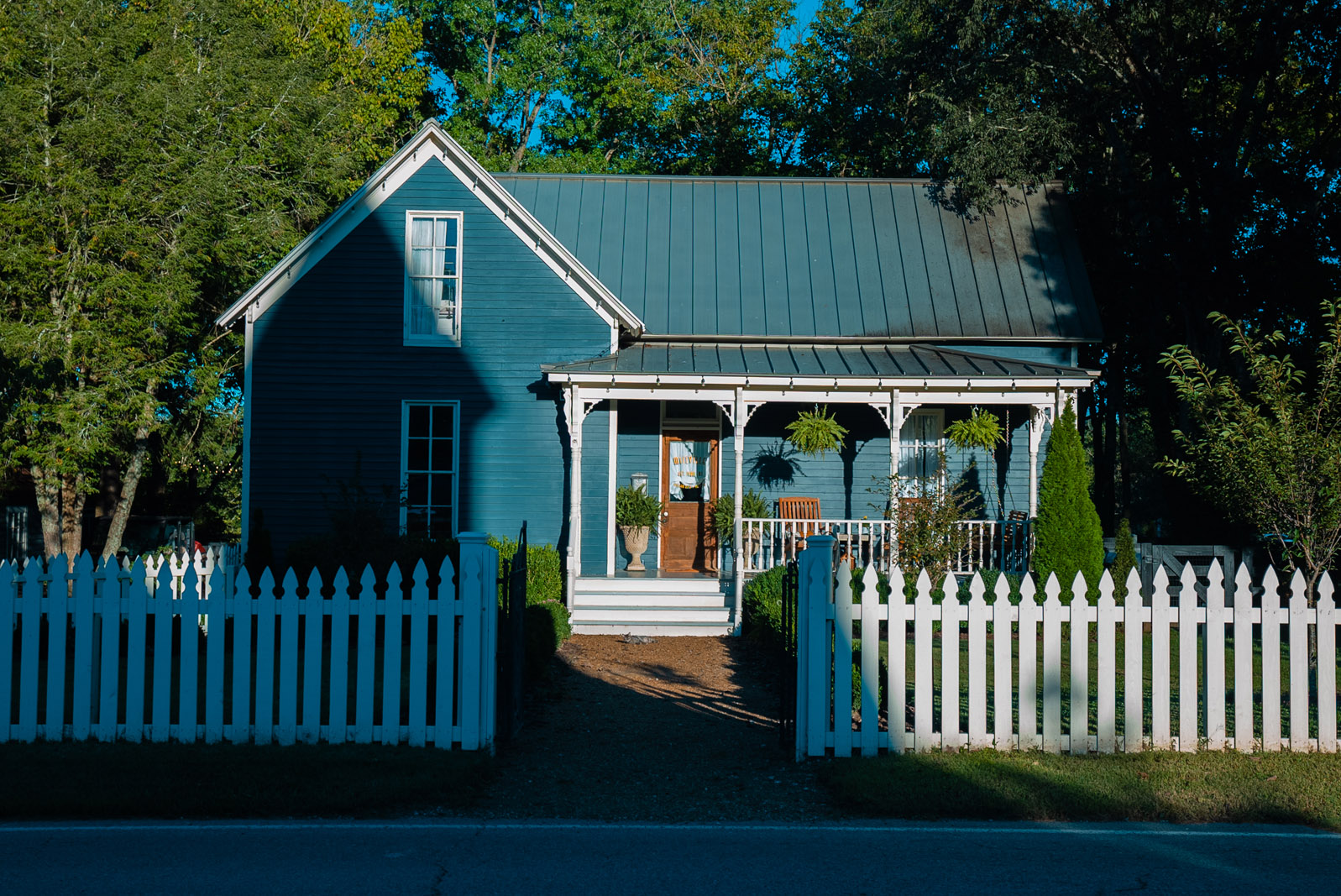 As mentioned, there are many celebrities who call this countryside village their home and one of the most famous things to do in Leipers Fork is actually staying in one of their homes!
Justin Timberlake has a space here in Leipers Fork where he collaborates on creative projects at. This is his place to create. When it's not in use by JT and his creative partner Trace Ayala, guests are welcome to rent out Millville during their vacation.
The Americana-decked-out house can sleep 8-10 guests and is named after Millington, the Memphis suburb that Justin and Trace grew up together in. Enjoy your proximity to Fox & Locke and all the best things to do in Leipers Fork as you can literally just walk to everything.
Fox & Locke at Leipers Fork (formerly Puckett's)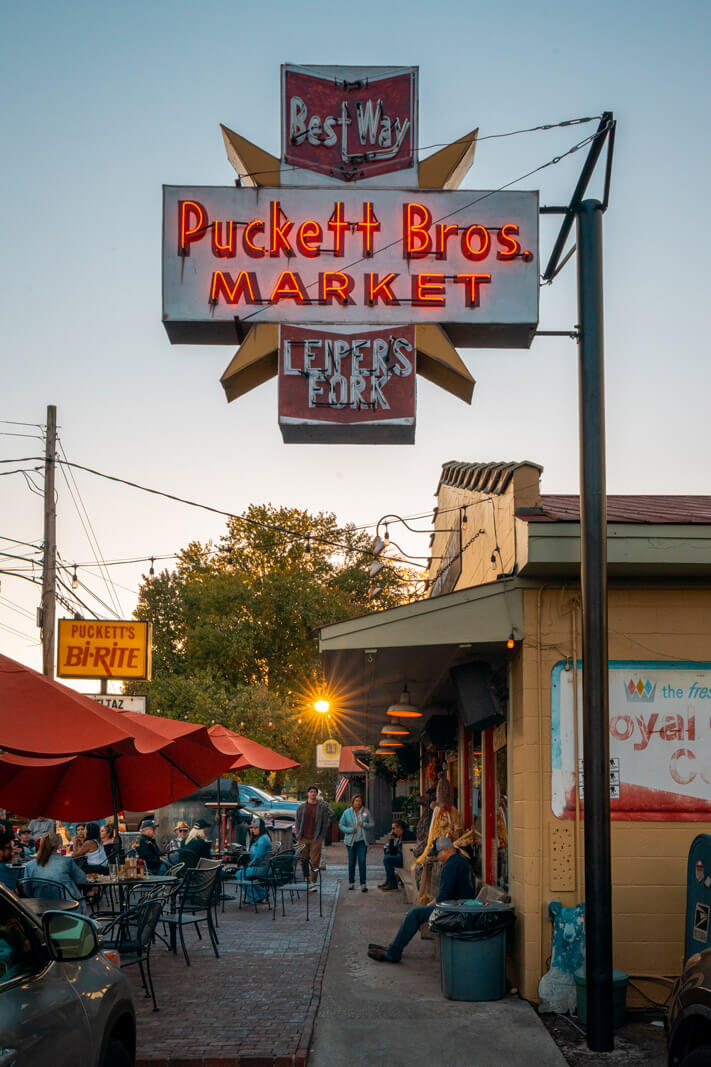 Making a reservation for Thursday night, open-mic night at Fox & Locke is hands down the best thing to do in Leipers Fork and SO worth it. If you've heard of the legendary Puckett's of Leipers Fork, this is the same place, they just did a little rebrand paying homage to Jack Fox and Martin Locke who founded this legendary music venue in 1947.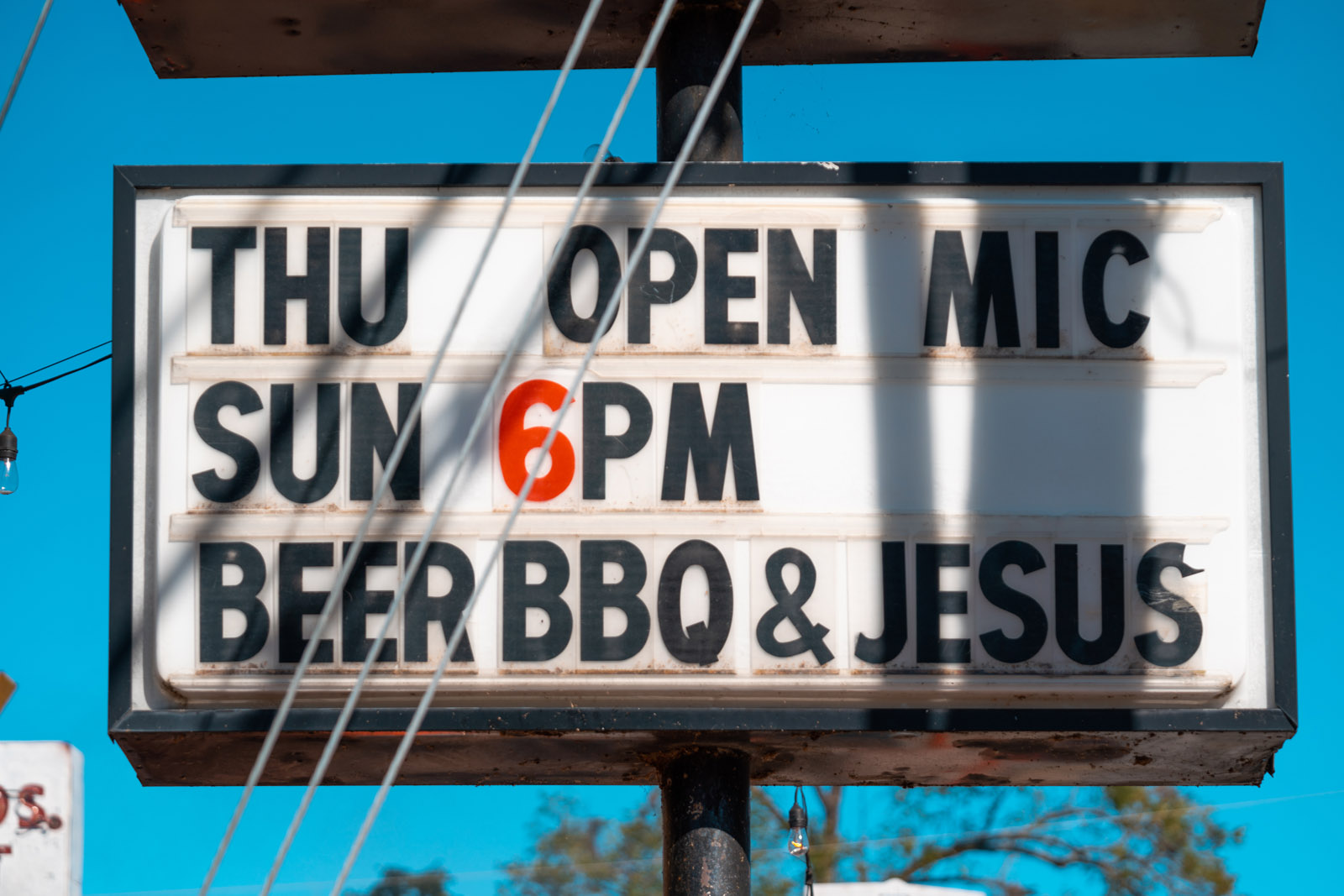 This classic, Americana hang out was a legendary grocery store, gas stop, and community gathering spot from the 1950s and today is one of the most fun music venues and spots to get BBQ in the area while still holding true to being a place for folks to gather.
This is where you can get your classic 'Meat n' Three' BBQ and burgers. If you stop by in the afternoon, chances are you'll see the smoke from the pig roasting outside in the front of the shop.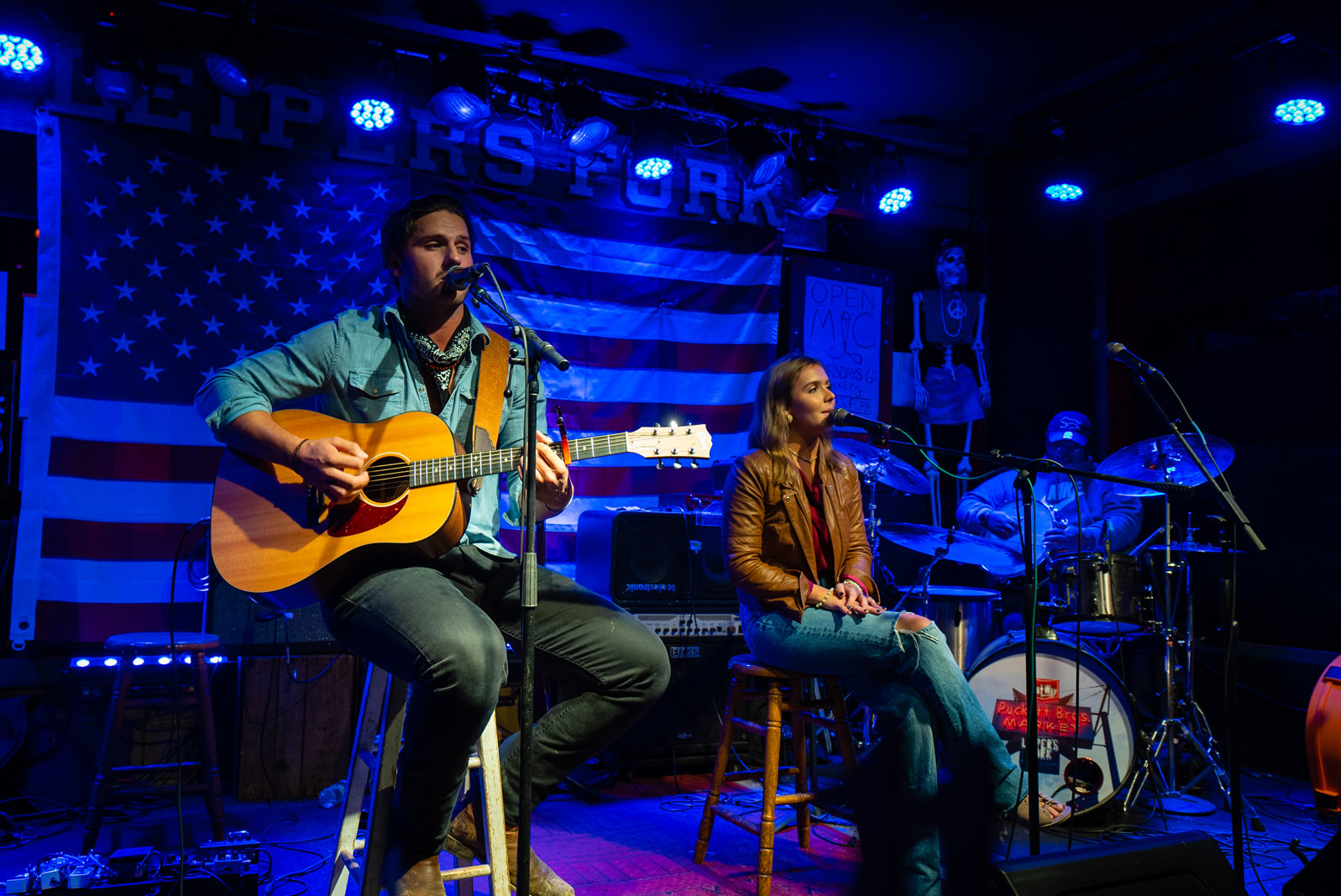 While you can come and eat just about any night – which we recommend, it's Thursday nights that are something really special here in Leipers Fork during their open mic night featuring a line up of local or visiting artists who each play two songs while you dine, drink, and enjoy the show.
It's not uncommon for big country stars or Grammy-winning artists to pop in and do a surprise performance for the guests here or to be joining in as a guest chowing down on BBQ listening to live music. That includes Justin Timberlake when he's in town (he just has to walk down the street from his Leipers Fork home) and Winona Judd.
We were even told that Miley Cyrus has performed on this small venue stage. During our visit, we had surprise performances by JT Hodges and Butch Walker, who besides being an artist himself has produced and worked on some of music's biggest stars like Taylor Swift, Katy Perry, and bands like Fall Out Boy and Panic! At the Disco.
This was probably one of our favorite experiences we did during our visit to the area! There was something about being in a small venue with amazing artists performing for you all night while eating that tasty BBQ!
Reservations are highly encouraged for Thursday through Saturday night shows!
Serenite Maison
One of our absolute favorite stops in Leipers Fork was the antique and home goods shop, Serenite Maison. This shop is filled with some of the most beautiful merchandising incorporating antiques, instruments, and home goods from homeware, accessories, antique furnishings, and even a kitchen market selling locally made products and other goodies you will want to buy and try.
If you're like me you'll be making laps around the shop to just check out what you missed on your first round around the store as there are literally little details everywhere. The back of the shop has an outdoor patio that overlooks the creek in the back too which is such a pretty scene in itself.
One of the most noteworthy spots to check out that makes it just one of those 'only in Leipers Fork' experiences is the pickin' corner of instruments when you first walk in the store. Here you'll find a collection of rare instruments, including a Martin guitar that is only 1 of 50 in the world!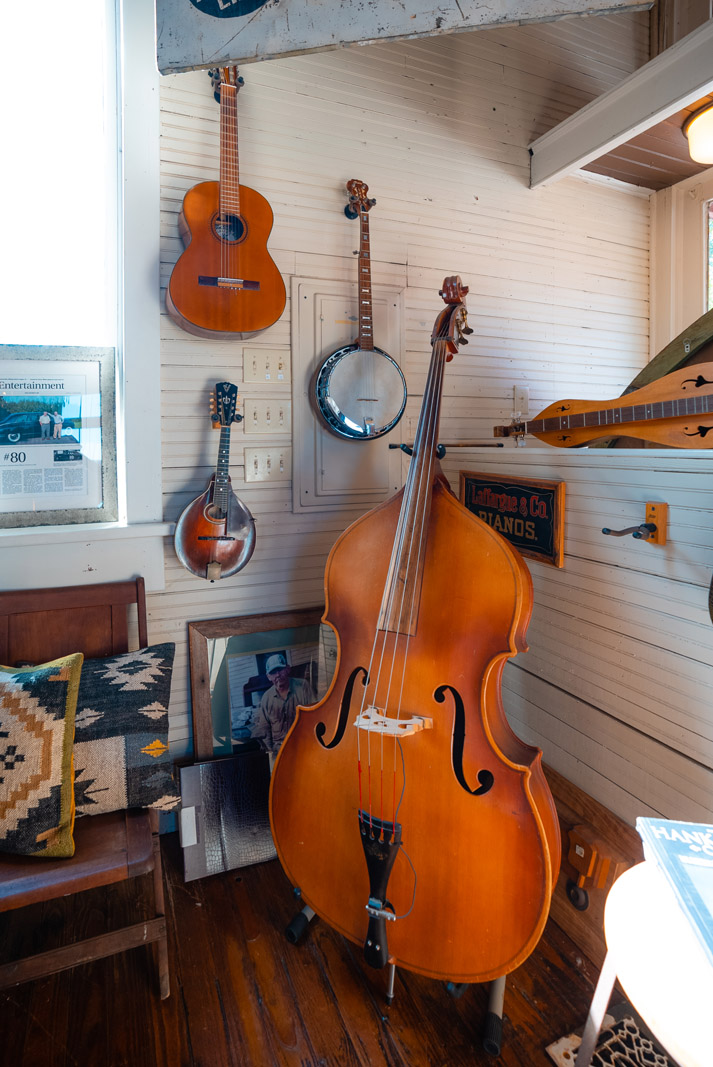 Unlike other antique shops, you're encouraged to pick up and play these instruments as they are for the community. (sorry you can't buy these, they are for everyone!) We were told that big names like Steven Tyler have spontaneously popped in and picked up one of these instruments from the pickin' corner and played right here!
This is a MUST and perfect thing to do in Leipers Fork, Tennessee for music lovers!
Leipers Fork Market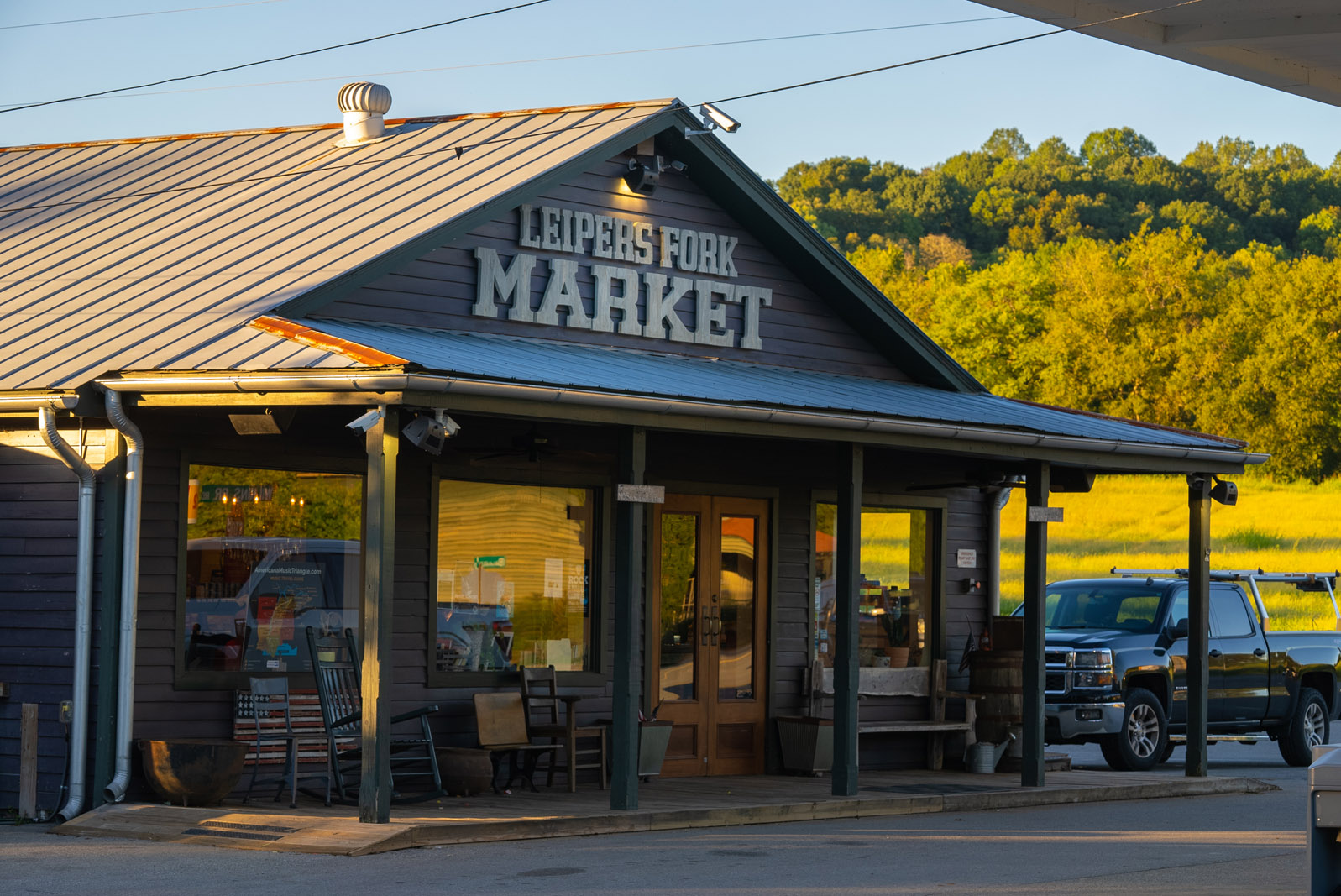 I'm not even kidding, one of the best things to do in Leipers Fork is stop at the gas station as you're driving into town. Leipers Fork has a way of making each spot and stop here one-of-a-kind including their gas station!
Walking into Leipers Fork Market you'll find all your gas station necessities you need plus a pickin' corner of instruments with a community dining table, historic artifacts on the walls including antique arms, and local stories. Also, you can find a selection of locally sourced products here from brews to bites.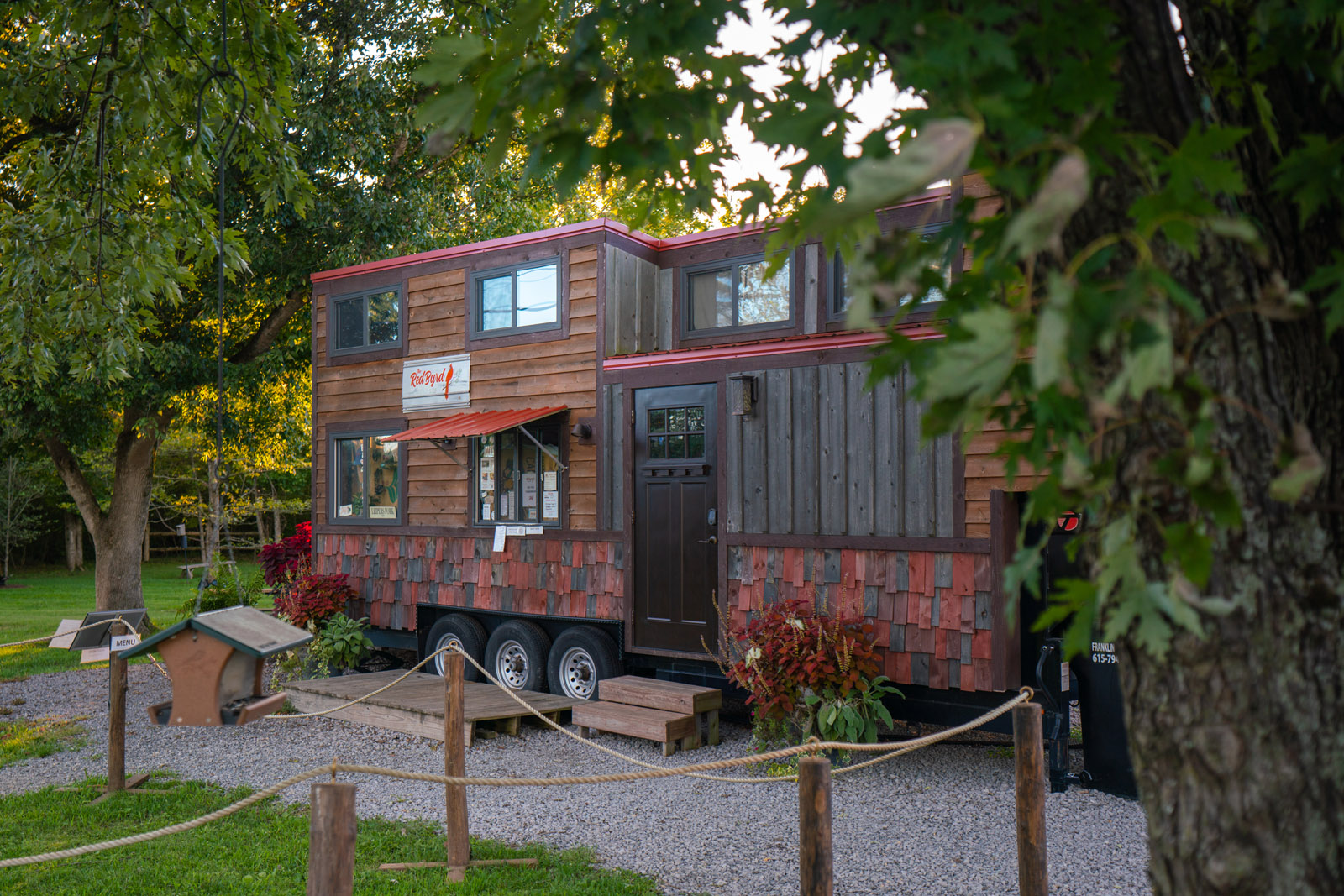 Outside you'll find an adorable tiny house that houses the RedByrd Coffee Shop for your morning pick me up!
Take a Scenic Drive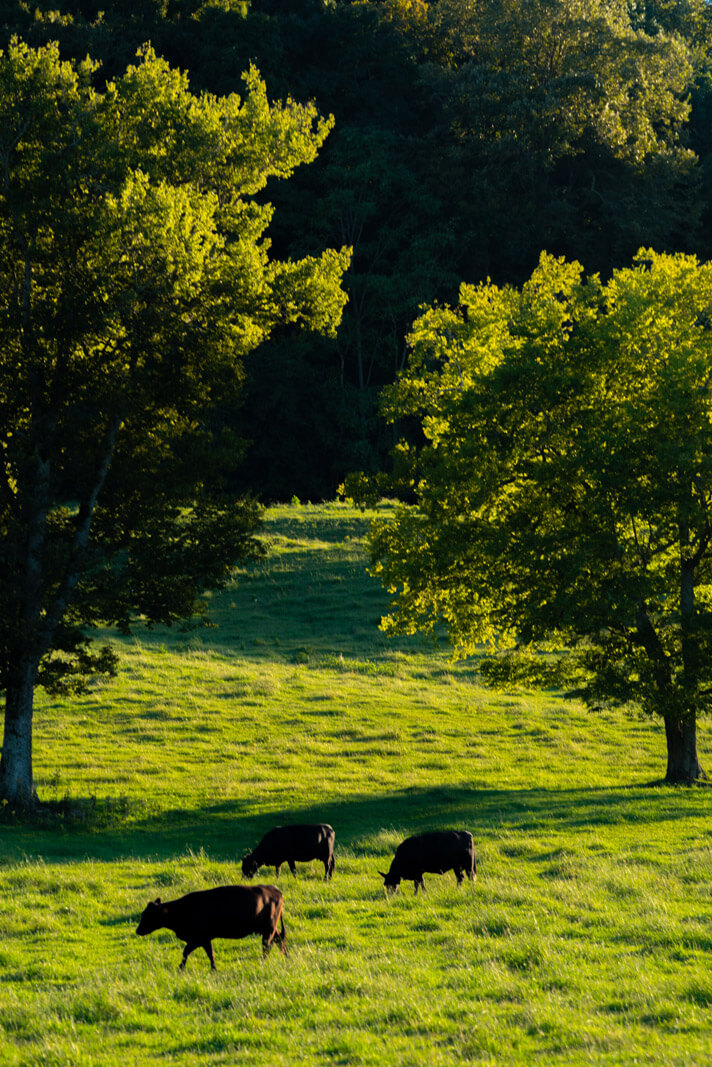 Before leaving Leipers Fork you won't want to miss taking a scenic drive around the gorgeous Tennessee countryside in Williamson County. We took a turn off Old Hillsboro Road down Floyd Road and were greeted with cows grazing in the rolling pastures during golden hour, which felt like we were living in a painting.
There's no wrong way of doing this though, get in the car and take a few turns and aimlessly enjoy the scenic countryside.
More of Leipers Fork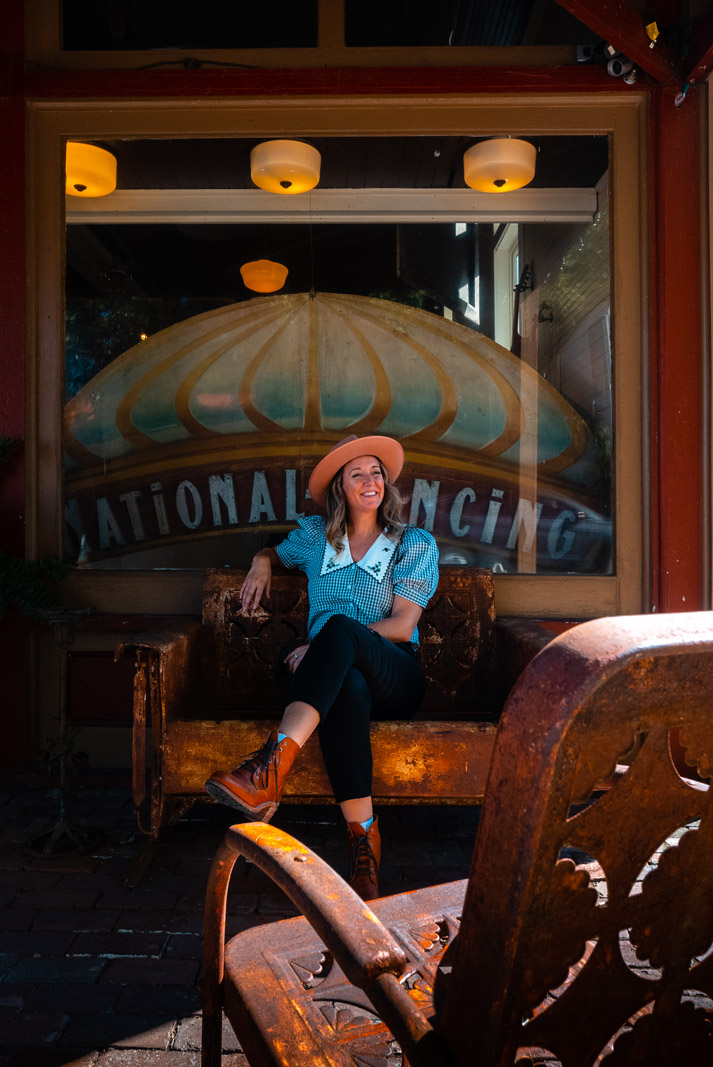 We didn't quite make it to everything that there is to do in Leipers Fork due to time constraints! This is where planning your visit can be crucial because if you do want to check out all the galleries and shops you'll need to make sure you get there before 5 pm.
We had an action-packed itinerary in and around Franklin, so we got to do so many amazing things but if we could go back we would in a heartbeat and visit some of these stops we missed during our time in Leipers Fork, Tennessee.
Props Antiques is housed in a big beautiful home with an antique truck and tractor parked out front. You'll find all kinds of knick-knacks, gifts, and antiques in Props Antiques.
In another pretty countryside cottage and home is Copper Fox Gallery where you can find handmade goods and gifts from jewelry, accessories, and leather products.
Moo Country is another shop that specializes and sells all your cowgirl outfitting needs. From cowboy boots to clothing brought to Leipers Fork as the second outpost of this Montana-based shop.
We've also heard nothing but great things about 1892, an upscale farm-to-table dining option for dinner in Leipers Fork. Reservations are encouraged and this will be high on our list when we make it back!
We will also be looking to pamper ourselves at The Spa at Leipers Fork on our next visit too! Their treatments use their own custom and exclusive line of products including items like Bourbon Lavender Body Lotion and Cornflower Rose Sugar Scrub. Sounds incredible!
Nearby Leipers Fork
Natchez Trace Parkway Bridge
An absolute must, perhaps on your scenic drive from Leipers Fork is visiting the Natchez Trace Parkway Bridge. Located on Milepost 438 of the historic 444-mile forest trail starting in Nashville, Tennessee, and running all the way to Natchez, Mississippi.
Enjoy a scenic drive on the Trace or come for the views from the outlook or if you're itching for a hike, this is a great place to do it.
The bridge itself is a modern, architectural marvel and was added in the 1990s, however, the trail and location have been used to traverse for centuries along a geological ridgeline by prehistoric animals, Native Americans, and later by European colonizers and traders.
The Trace was also where Meriwether Lewis of the expedition duo, Lewis and Clark, actually spent his final days and you can visit his monument and burial site at Milepost 385.9, which is around an hour drive but if you find yourself wanting to spend a day driving the Trace that's easy to include.
Downtown Franklin
We visited Leipers Fork during our time in Franklin. If you're coming just for Leipers Fork, you do not want to miss spending a day or two exploring all the amazing things to do in Franklin.
You can find great shopping up and down Main Street, two of our favorite stops were Tin Cottage and White's Mercantile (which is owned by Holly Williams, daughter of country legend Hank Williams Jr.). There are tons of other adorable shops to stop in too!
The food scene here is incredible too, you won't want to miss Biscuit Love for a savory and hearty breakfast or brunch.
We also really enjoyed our lunch and cocktails at Gray's on Main, which you can also do dinner and plan to see a live performance as their restaurant is also an intimate music venue. I can't express how delicious their appetizers were, we can't imagine what the rest of their menu is like! We also really loved how the current owners paid homage to the pharmacy that used to be housed here too – you really can't miss this spot and be sure to pay close attention to all the details once you're here.
1799 Kitchen + Cocktails at the Harpeth Hotel is also a fantastic, upscale dinner dining option. They have a seasonal menu so you'll have to stop in to see what they have in store during your visit and pair it with a whiskey from their collection or one of their crafted cocktails.
If you're looking for live music check out Franklin Theatre or if you're looking for more off-the-cuff and improvised jam sessions, head to Kimbro's Pickin' Parlor in the evenings where an ordinary looking home turns to one of the best house parties and music venues around nightly.
There's so much more – like Landmark Booksellers who have a New York Times Bestselling book written after the owners turned Hallmark movie, which is also a great stop for bibliophiles as they have an impressive collection of rare books and ephemera like handwritten letters by Theodore Roosevelt.
---
Enjoyed this guide to all the best things to do in Leipers Fork, Tennessee? Bookmark for later or share the love below on Pinterest!