Looking for the best things to do in New Paltz? Less than 2 hours away from busy New York City, you'll find the town of New Paltz, New York which is the perfect escape and getaway if you're looking for the quiet, upstate countryside plus a cool downtown to explore packed with history.
Located in Ulster County in the Hudson Valley and edge of the Catskills mountain region, you'll want to plan a few of the best things to do in New Paltz for your trip from shopping, sightseeing, and leaving a flexible amount of time to have some spontaneous outdoor adventures in the scenic area surrounding this creative community.
Settled more than 300 years ago, this area is bursting with the vibrant history of early America.
New Paltz has a lot to offer, which is why it's one of our favorite charming towns in New York. Whether you're a wine enthusiast, history buff, or outdoorsman, come check out all the things to do in New Paltz!
Things to do in New Paltz
Wallkill Valley Rail Trail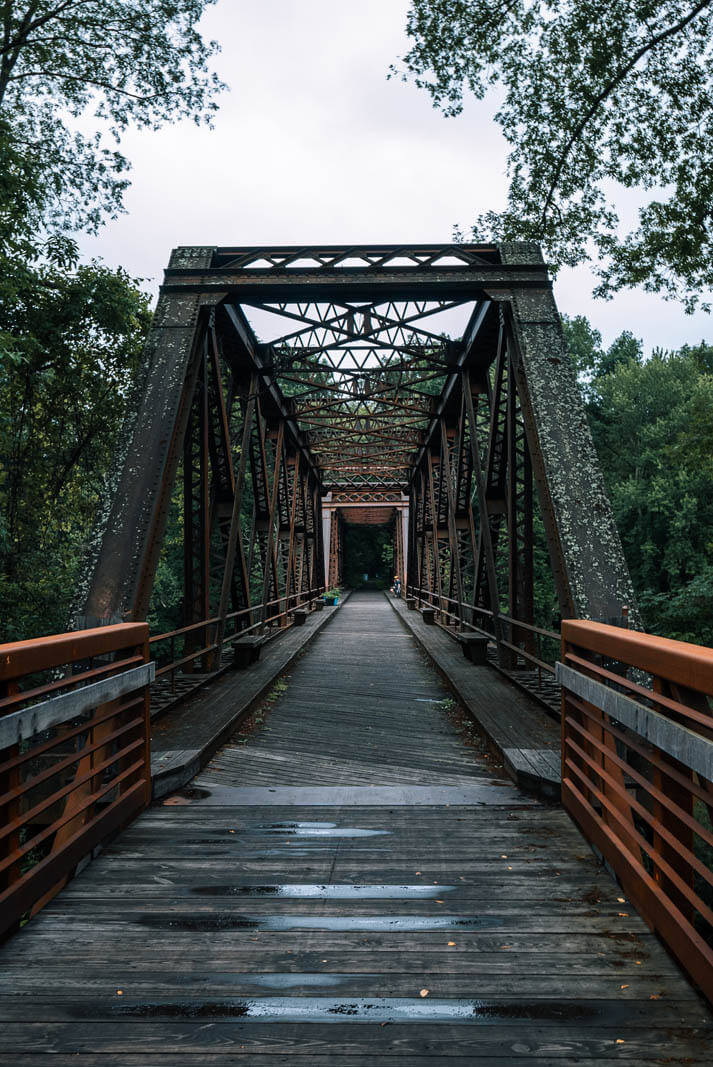 For cyclists and hikers looking for things to do in New Paltz, this is a wonderful user-friendly trail that's part of the larger Empire State Trail Initiative. When completed, it will run from the New York State/Canada border to New York City.
The Wallkill Valley Rail Trail in New Paltz, New York, gets its name from being largely built on former railroad tracks. It's nice to not have to worry about cars or undefinable paths. Enjoy stunning mountainside, forest, and the Wallkill River views the entire way.
For movie buffs on the trail, be sure to stop at the old Springtown Bridge that runs over the Wallkill River. Famous scenes were filmed here from the award-winning movie, A Quiet Place starring John Krasinski and Emily Blunt. Scoping out this spot is one of our favorite unique things to do in the Catskills.
Downtown New Paltz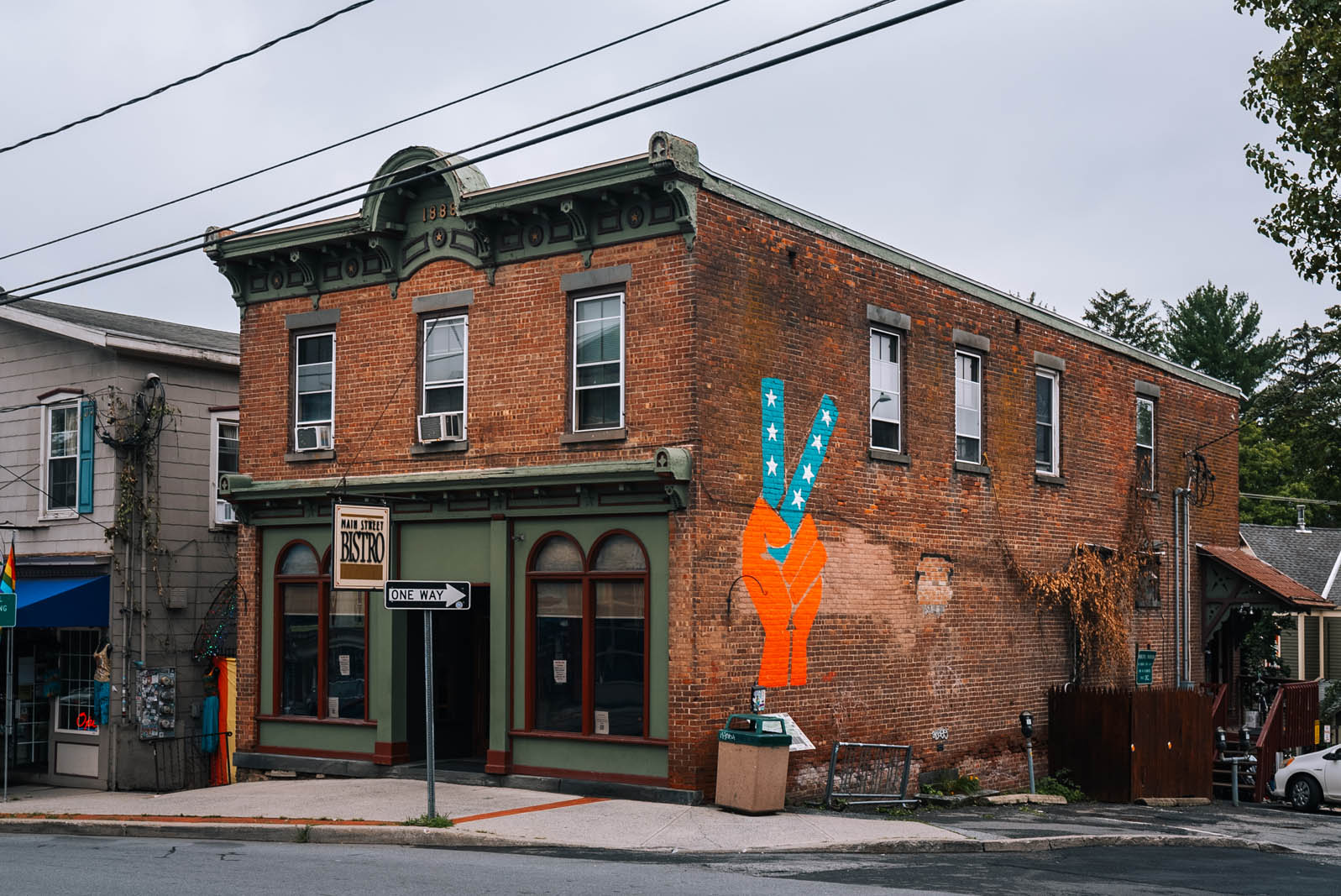 One of the best things to do in New Paltz is take a walk downtown stopping in a few of the small, independent shops, restaurants, cafes, and galleries here.
One of the most popular eateries to check out for just about any meal of the day is Main Street Bistro, don't miss the cool peace sign mural on the side of this 19th-century brick building.
Browse up and down Main Street for the shops and don't miss Water Street Market where you can find a small shopping village with all kinds of gifts, home goods, and handmade items.
Historic Huguenot Street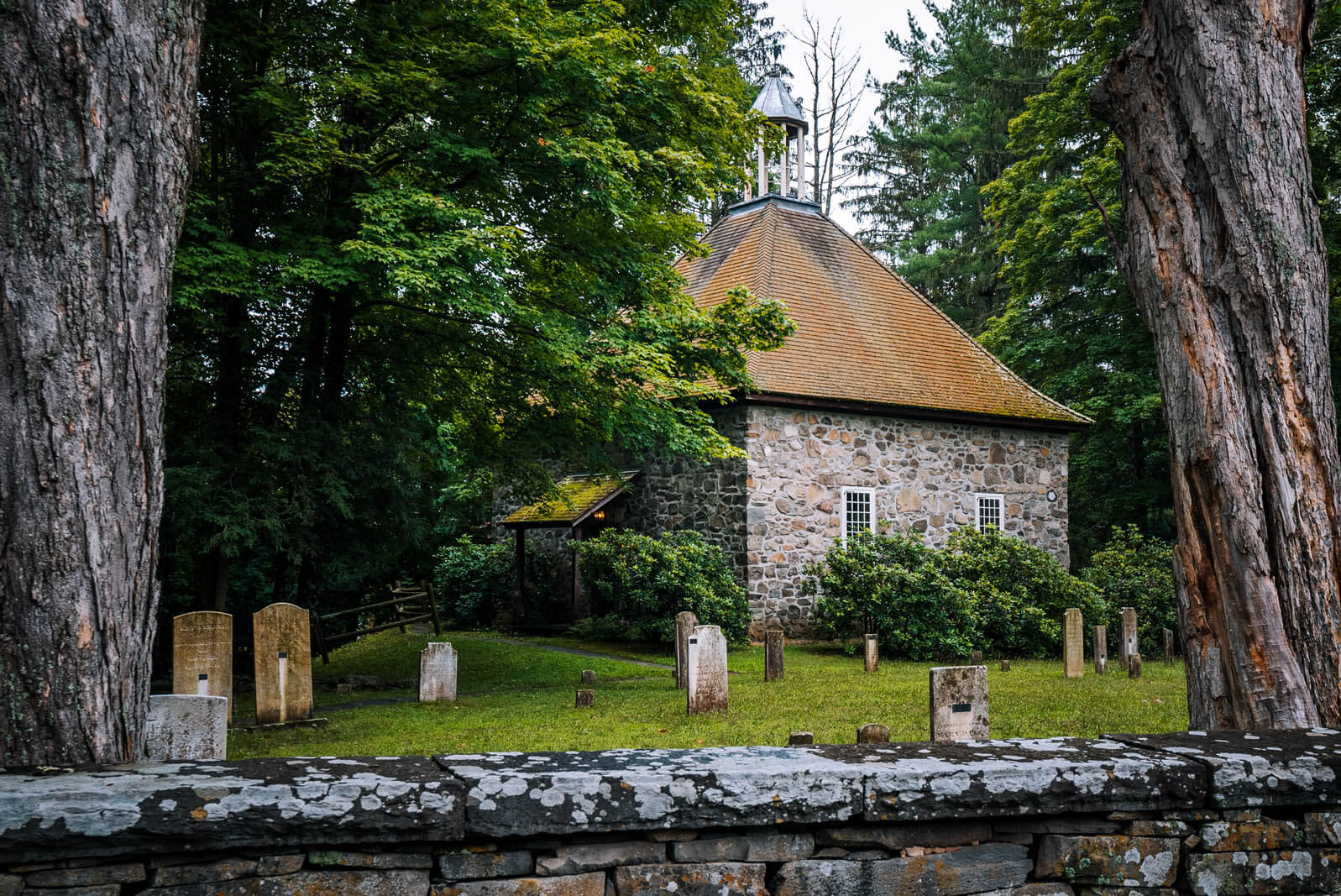 Huguenot Street in New Paltz, New York, is a rare glimpse of colonial American history. For a little more history on the area, you'll want to join their guided tours, which is also one of the best educational and family-friendly things to do in New Paltz.
This historic district is made up of 7 houses and a church and a graveyard dating back to the 18th century when Huguenot refugees fled religious persecution in France and Southern Belgium.
For those unfamiliar, Huguenots were French Protestants who worshiped at the Reformed Church of France and were largely Calvinist (following practice set down by John Calvin, who broke away from the Catholic church in the 16th century).
France being a Catholic majority expressed hostility and violence towards the Huegenots which caused them to flee and emigrate from France and find new settlements abroad.
Once these Huguenot settlers arrived in America they negotiated with the Esopus Indigenous communities who lived here and settled making it one of the oldest continuously inhabited settlements in the United States.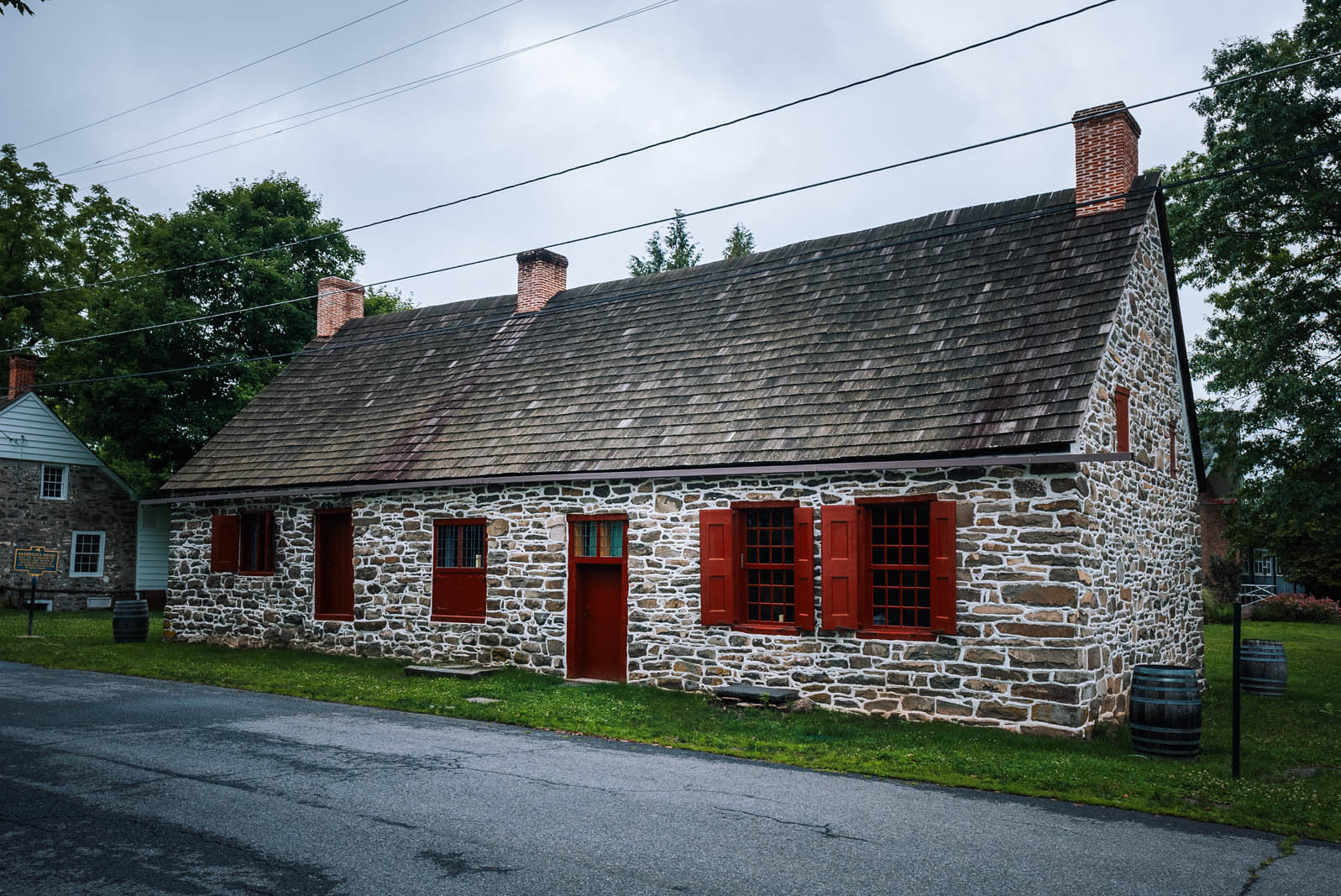 The buildings within this historic district are house museums and remain in their original village location and setting. In addition to the homes, the church, and the graveyard there's a visitor center with educational programming, archives, and a library to learn more about the Huguenot settlement and settlers. There's also a replica Esopus Munsee wigwam on the historic street too.
Inside the museum homes, you can find exhibits and period rooms that share the stories of the French Huguenot settlement and how it changed over time. They also acknowledge and are forward with the history of enslavement that took place here and have educational programming around it.
As suggested, we recommend trying to schedule the guided tour for more in-depth history and the significance of these preserved sites. If that's not possible, you're able to freely walk around the historic village.
The tour includes the Esopus Munsee Wigwam, the Jean Hasbrouck House, and the Crispell Memorial French Church. The tour also touches on the history of the local indigenous and enslaved peoples that lived among the Huguenots.
You'll learn about their journey of escaping religious persecution, their lives, and how they played a role in the Revolutionary War.
Some of the Huguenot homes are privately owned and occupied, so they aren't open for viewing. You can still walk the length of the street and read the landmark placards.
Stop by the DuBois Fort Visitor Center, one of the homes that now functions as a museum with exhibits and a souvenir shop. Also, check the website for upcoming events. Huguenot Street hosts a popular annual fall festival and trick or treat event.
Mohonk Mountain House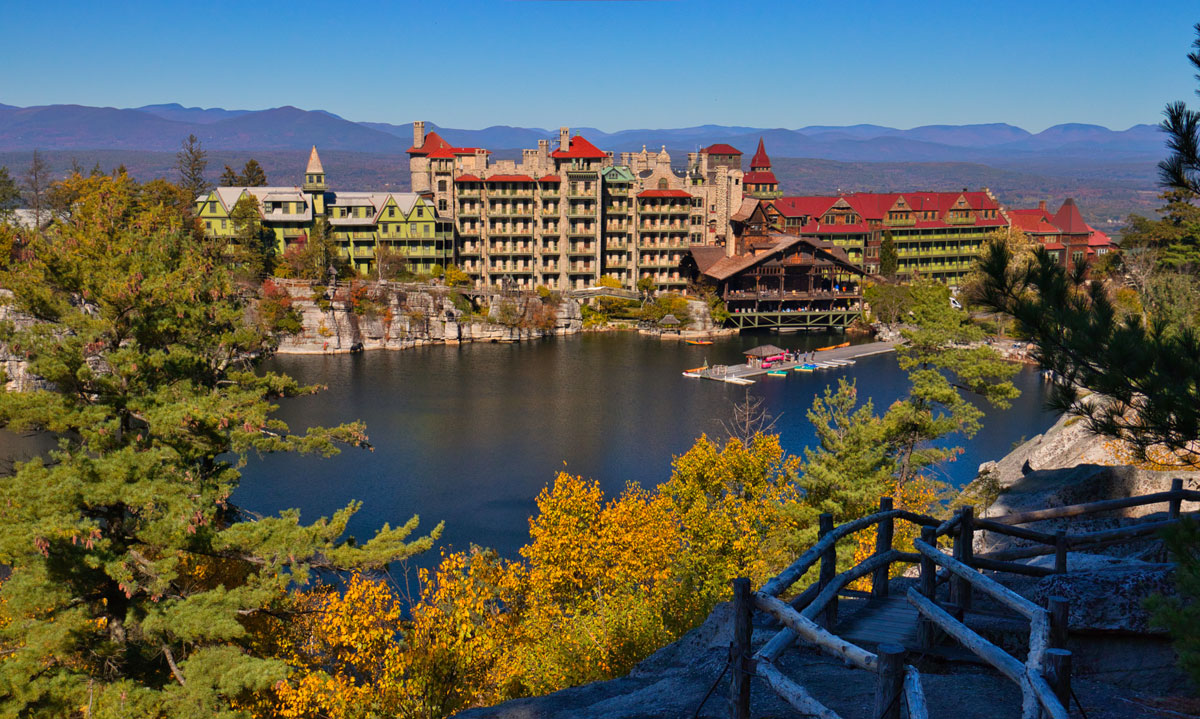 Recognized as a national historical landmark, Mohonk House has been a presence in New Paltz, New York, and the surrounding area for over 150 years. The sprawling 259 guest room hotel is a picturesque structure overlooking Mohonk Lake on the Shawangunk Ridge.
Guests of Mohonk Mountain House can take advantage of its many amenities, including a full spa and indoor heated pool. There is a full roster of outdoor activities all year-round, including family-friendly activities geared towards young children and teens.
Those in the area looking for things to do in New Paltz should consider booking a day pass. Mohonk House has an impressive calendar with weekly events that include things like live music performances, yoga retreats, and even events like Scottish Weekend.
Not to mention they have a world-class spa you can book treatments at too.
This is a famous filming location. Besides being rumored to be the inspiration for The Shining, the hotel can be seen in the movie, The Road to Wellville. Most recently it was featured in Showtime's Billions and Amazon Prime's Upload.
Guests of the hotel, day pass visitors, and those who secure hiking permits can enjoy Mohonk Lake and the hikes around the property. Take a walk around the lake and enjoy a picnic in the fall. If you're not a guest, be sure to check their day pass options.
During the summer there are all kinds of watersports. Overnight guests can enjoy the private beach and take a private fly-fishing lesson on the lake.
Samuel Dorsky Museum of Art
If you're looking for things to do in New Paltz surrounding local history and culture, check out the Samuel Dorsky Museum of Art. Located on the SUNY New Paltz campus, they have rotating and permanent collections.
Some of the collections are from local artists honoring the history of New Paltz, New York, and the Hudson Valley region. They have regular programs and talks you can attend. If you have children, the museum hosts family days once a month with fun arts and crafts activities.
The museum asks for a suggested $5 donation per guest.
John H Kirk Planetarium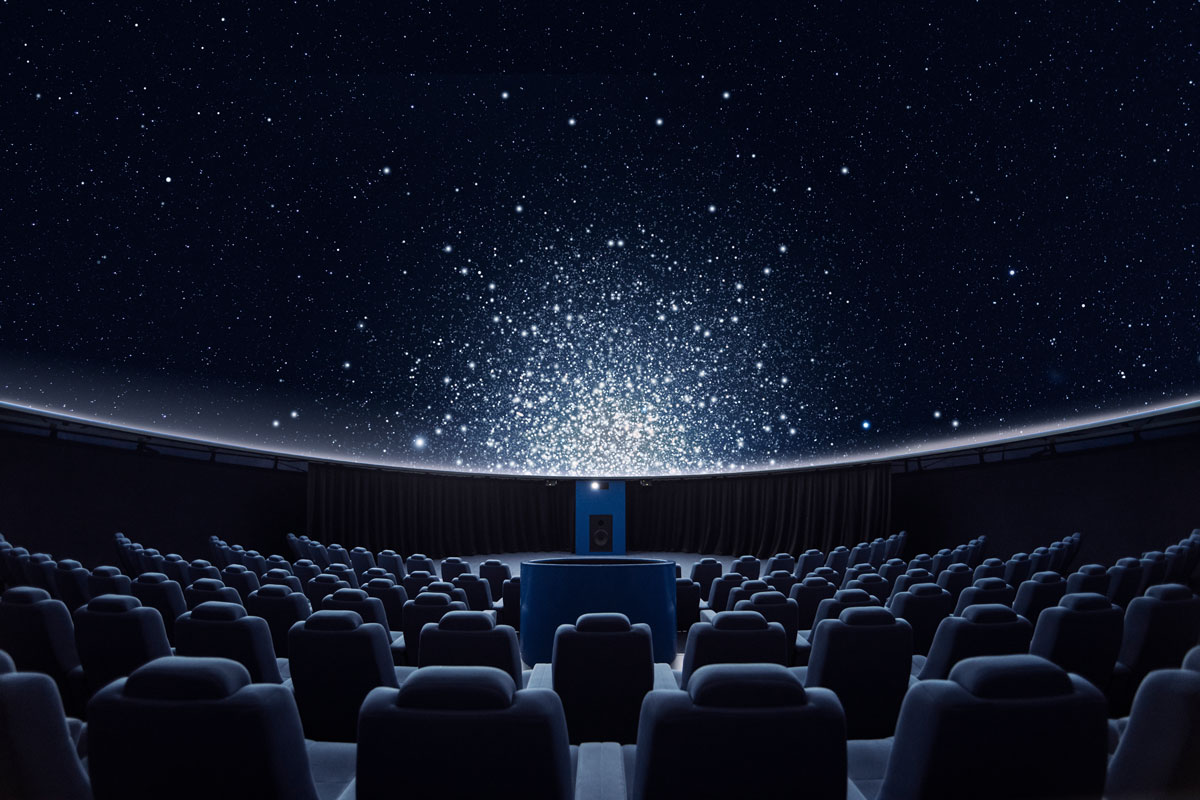 For science lovers of all ages visiting New Paltz, New York, don't miss out on Astronomy Nights at the John H. Kirk Planetarium. Held every first and third Thursday night throughout the year, the planetarium hosts an educational show that's created for children ages 7 and up.
The show begins shortly after sunset, so times vary depending on the season. After each show, when the weather is clear, the observatory is open so guests can see through the telescope.
Hiking in Mohonk Preserve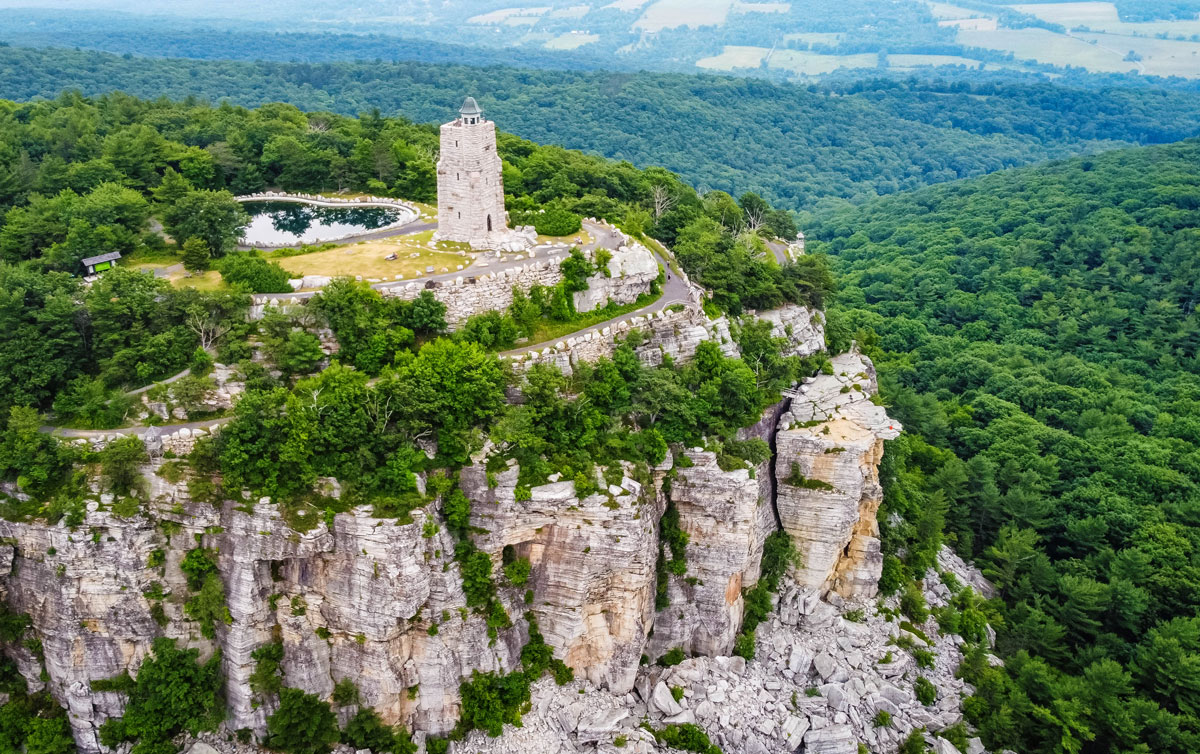 Next to Mohonk Mountain House is Mohonk Preserve, 8,000 acres of protected land in the Shawangunk Mountains. Visitors come to New Paltz, New York, from all over the world to rock climb the ridge.
For hikers of all ages looking for things to do in New Paltz, there are dozens of easy to moderate trails. We recommend the Sky Top Trail, an easy 1.6-miles walk. Start your trek from the hotel and circle the lake. It winds up to the Sky Top Tower before you come back around.
Bonticou Crag Trail is a great moderately challenging hike through wildflower fields. It's a 2.3-mile loop at a lower elevation. For a longer moderate trail, hike the Duck Pond to The Labyrinth to Skytop Road Loop. This route is 6.8 miles at a higher elevation with all the landmark stops.
This New Paltz hike is on the Mohonk Preserve which means you'll need to buy a hiking pass which are first come first serve. Follow this link to secure your day hiking pass.
Minnewaska State Park
The Minnewaska State Park is a preserve with over 2,000 acres of land and one of the most beautiful places to visit in the Hudson Valley. For the outdoorsy type looking for things to do in New Paltz, you can spend an hour, or a day, or even multiple days here. It's known for its peaceful trails and its amazing views of the Hudson Valley.
Hike an easy-to-difficult trail and take pictures at the breathtaking Awosting Falls. Go swimming in the lake in the summer. There are lots of areas where you can enjoy a peaceful picnic. Visitors say that it can get a little crowded in the summer, but quieter in the fall and winter.
There are four entrances to the park with parking. You'll want to check which one is closest to the trail you're heading to and park there! The four main parking areas are the Main Entrance which give access to the Lower and Upper Awosting Falls parking spots, Peterskill parking area on the eastern side of the park, Jenny Lane parking area on the west side, and Sam's Point Preserve parking on the south end of the park.
This guide is great for finding which hiking trail at Minnewaska State Park you'll want to include on your trip to New Paltz, New York.
Beverage scene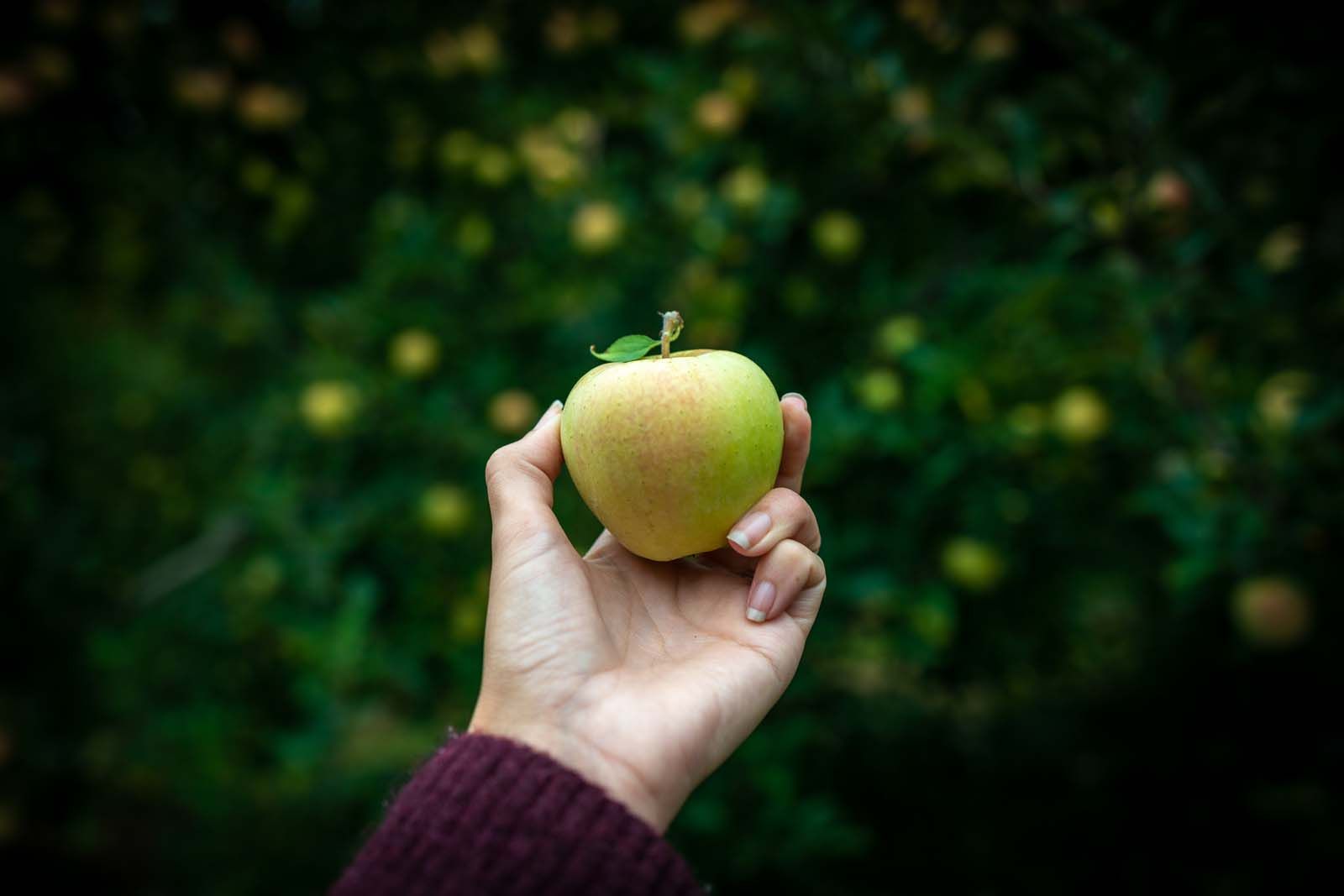 New Paltz, New York is part of the Shawangunk Wine Trail, a collection of 13 wineries in the area. Go to their website and book a Wine Tasting Passport. It can be shown throughout the year at all the Wine Trail wineries to receive a free wine tasting. Or book a wine tour while you're in the area.
The Robibero Winery is closest to New Paltz and if you go on the weekend they have live music. Take a tour of the Coppersea Distillery and learn how they grow all the grain they use.
Stop by the Kettleborough Cider House has close ties to New Paltz, now inhabiting land that used to belong to the founding LeFevre family. Enjoy a delicious meal with your pint at the Clemson Brothers Brewery, a family company that's been in the area since the 19th century.
One of my absolute favorite ciders is also produced here, Brooklyn Cider House offers tastings, a farm stand, wood-fired pizza, and apple picking in the fall for visitors.
With breweries, wineries, cideries, and distilleries, you can find a craft beverage for just about everyone here!
Dressel Farms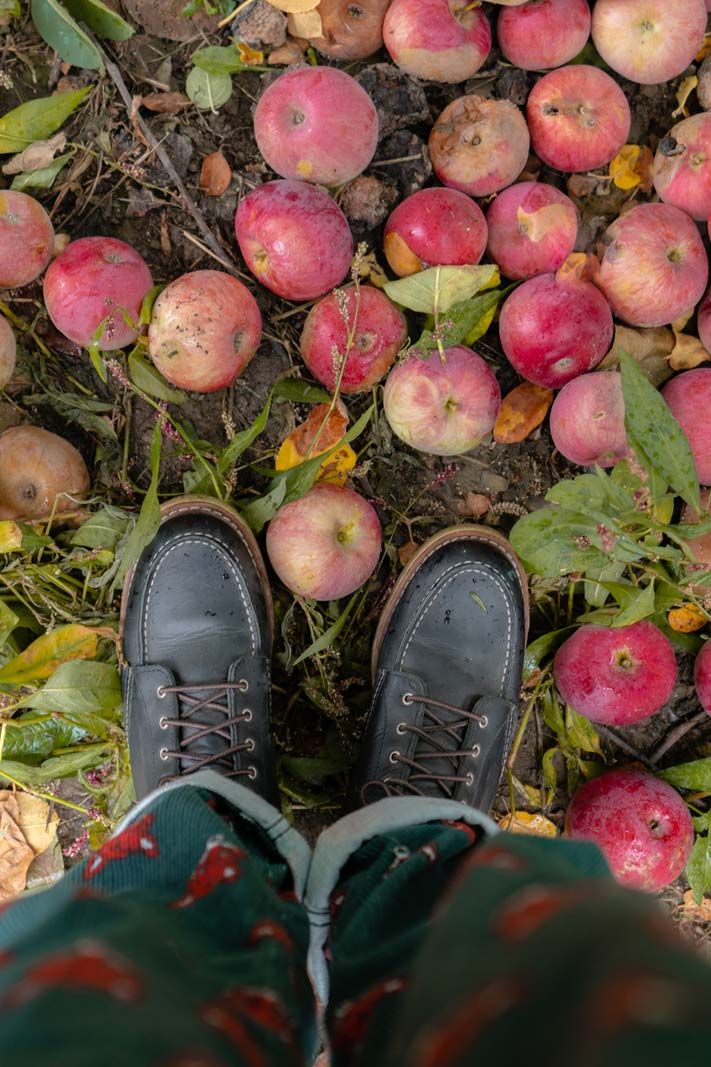 Spend the day at Dressel Farms for family-friendly things to do in New Paltz. Apples are the main product of the farm. Go apple picking in the fall, eat a fresh apple cider donut, and enjoy their selection of hard cider from their family-owned business, Kettleborough Cider House.
In the summer they focus on their strawberry production and have pick-your-own days that your family will enjoy. Make sure to stop by The Farmstand and peruse their selection of berries, cherries, pears, chestnuts, squash, zucchini, tomatoes, and more, all farm-grown!
Perrine's Covered Bridge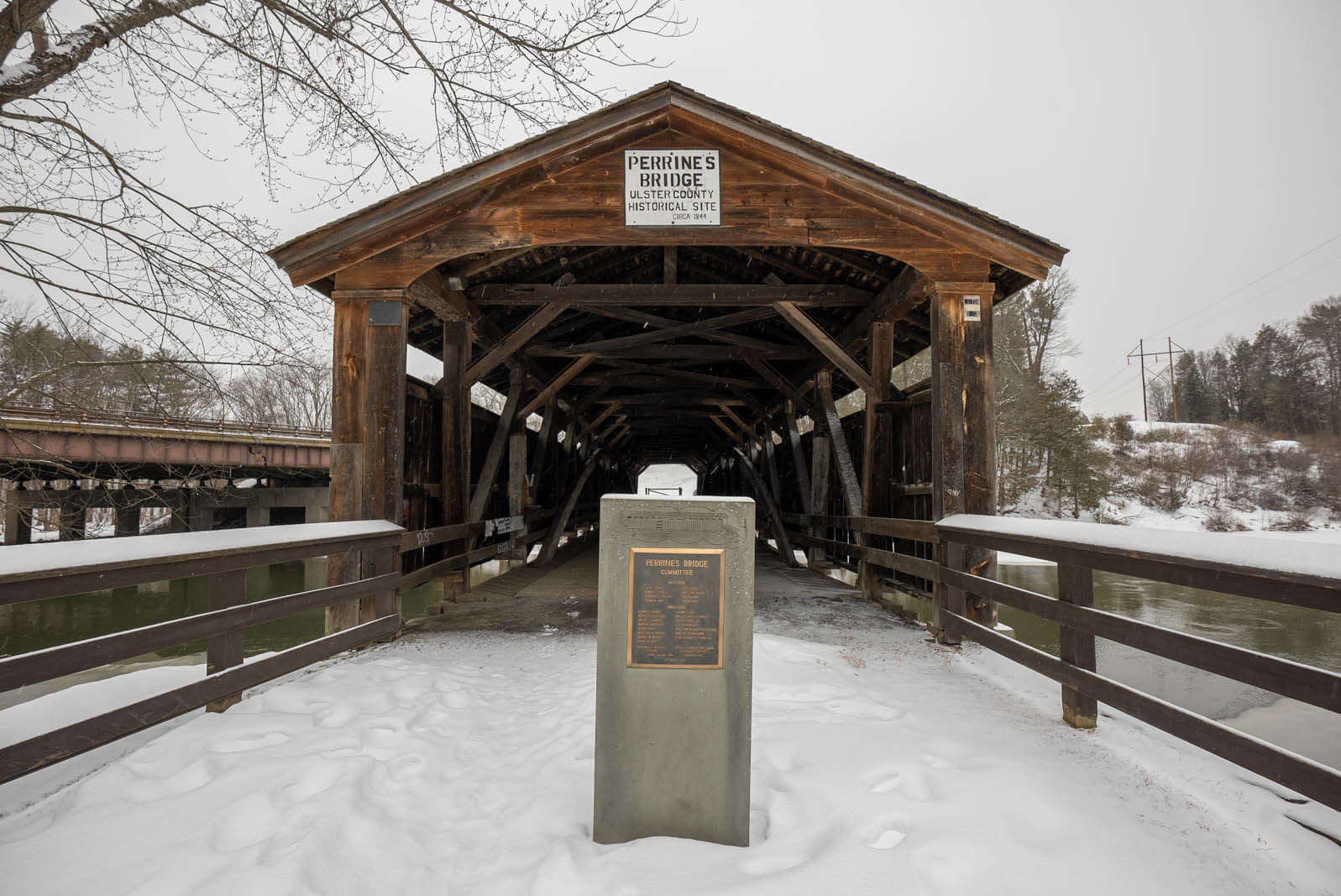 Did you know there are gorgeous covered bridges in New York? On the northside of New Paltz, New York, is one of the last remaining covered bridges in the area. It was built in the 1840s and named after James Perrine, descendent of the New Paltz French Huguenots.
The region was once an important industrial area with cotton mills on both sides of the river. The bridge allowed for residents to travel to and from the mills so they could work.
Take a walk over this pedestrian bridge or enjoy a peaceful picnic at Perrine's Bridge Park. Visitors can be found kayaking down in the Wallkill River or fishing under the bridge.
Nearby New Paltz
For those looking for things to do in New Paltz, New York, there are some things you might want to venture a little further out for. Taking a scenic drive is one of the best ways to explore this region anyway.
Here are a few of the best spots we visited near New Paltz worth checking out.
High Falls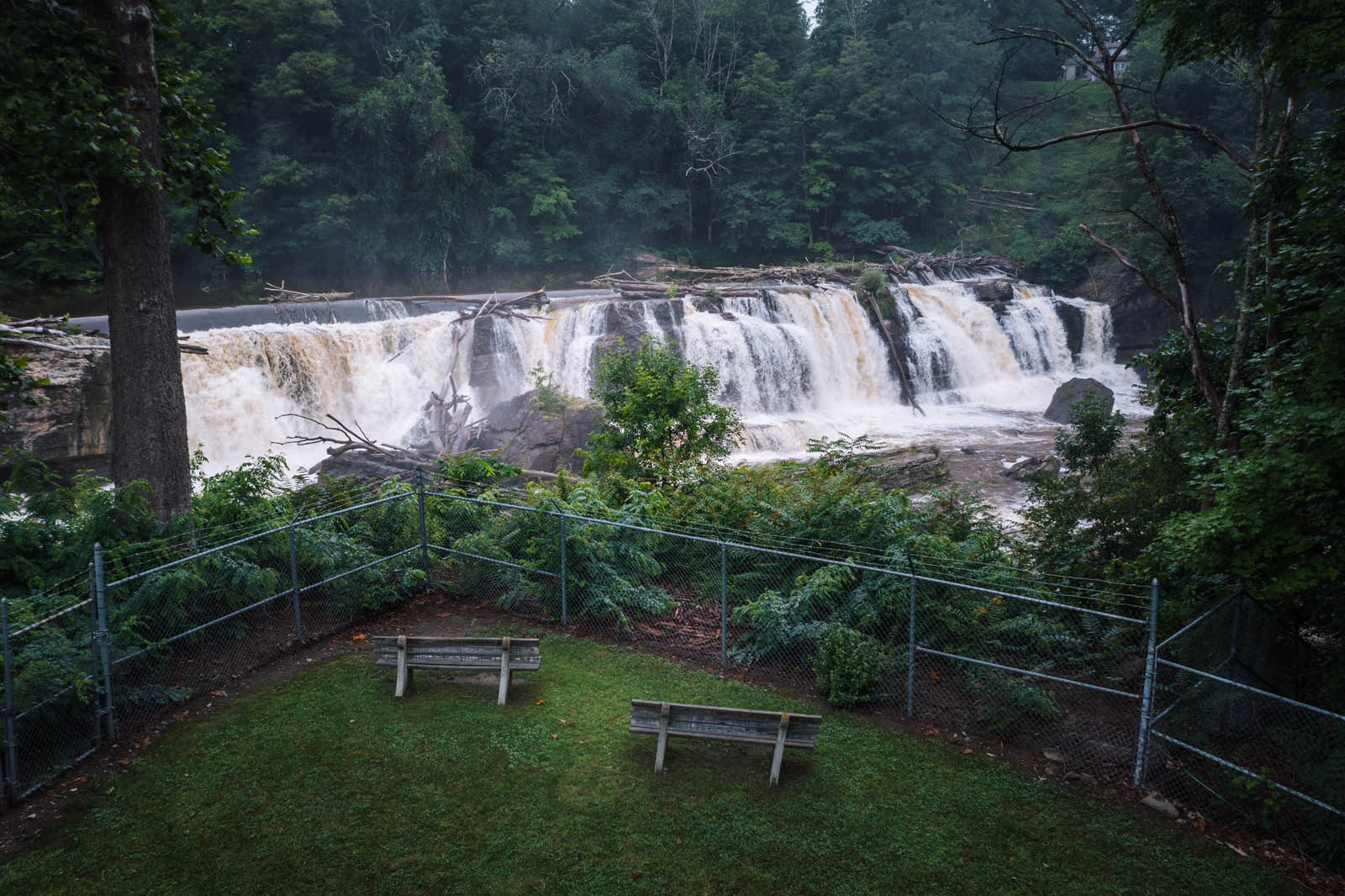 If you're willing to travel about an hour north of New Paltz, New York, a hike at the High Falls Conservation Area will not disappoint!
This 150-foot cascading waterfall is worth a trek any time of the year. A few different trails loop around the falls, so you can choose your difficulty level.
After your hike, stop by The Last Bite in the High Falls Historic District. Everyone at The Last Bite is friendly and welcoming to all. Besides offering a full menu of plates, sandwiches, and desserts, they also serve beer, wine, and cider local to the area.
Woodstock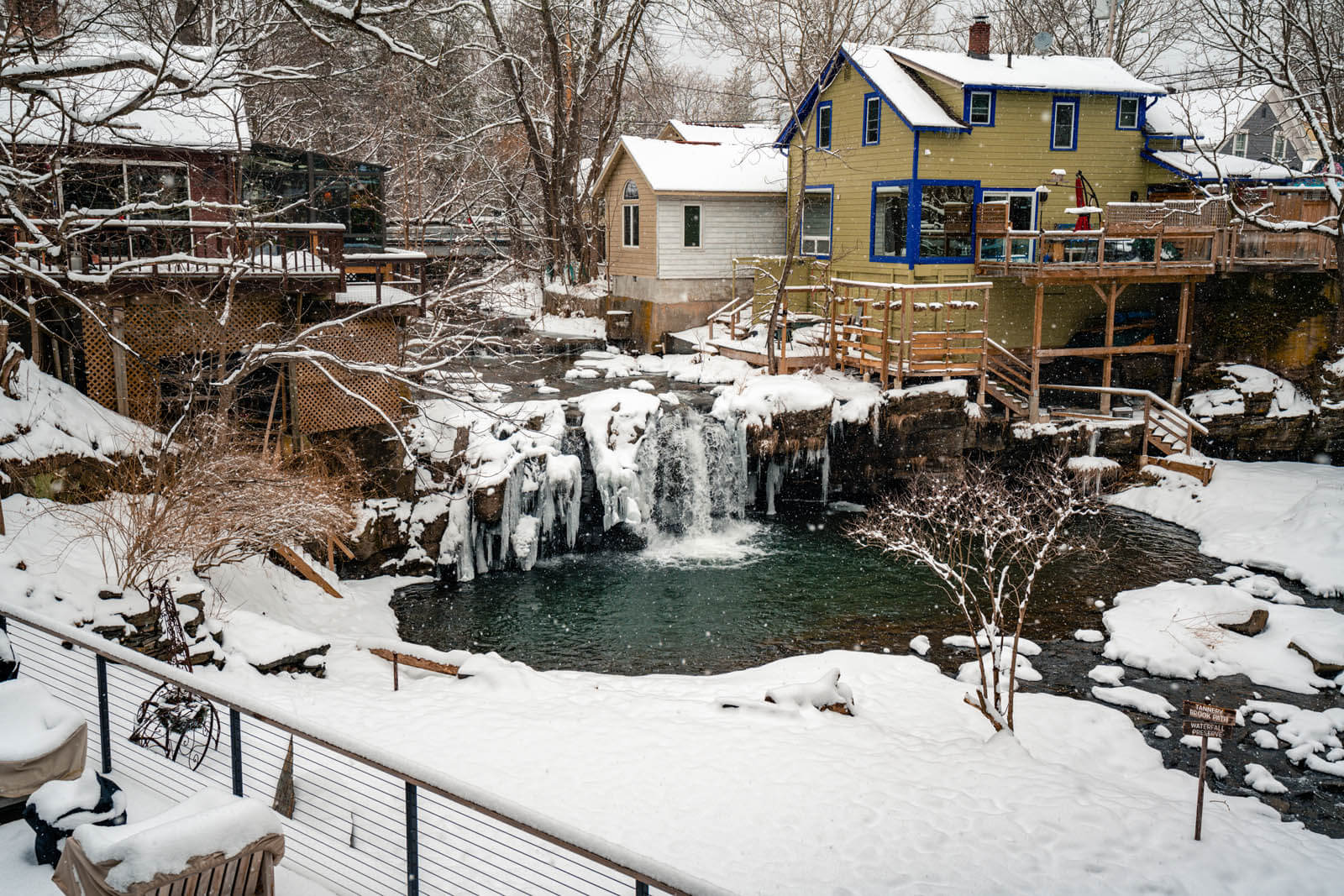 If you're looking for unique things to do in New Paltz, drive a quick 30-minutes north to the town of Woodstock, New York. I recommend taking a walk along Tinker Street and taking in the gorgeous architecture. There's some great shopping and an impressive food scene in the area.
If you came for the art and culture, you'll stay busy. Explore the shops on Tinker Street, visit the Tibetian Buddhist Monastery at Karma Tryana Dharmachakra above the town, or head to Woodstock Waterfall park for a pretty and scenic little view right in town.
Take a serene walk at Opus 40, an art sculpture park. Catch a musical performance at the Woodstock Playhouse. Book a tour of the Karma Tryana Dharmachakra, a Tibetan Buddhist Monastery.
This is also one of our favorite towns in the Catskills that has something special to offer every season!
Kerhonkson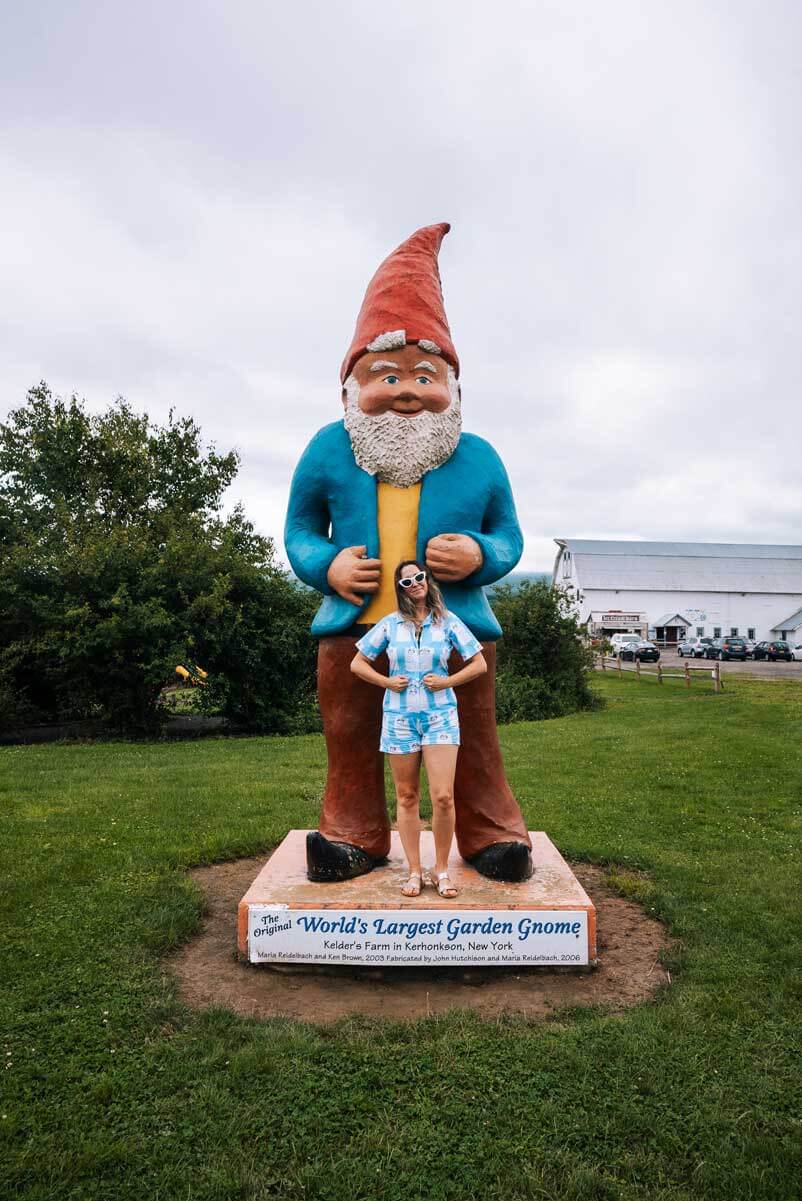 On the other side of the Mohonk Preserve from New Paltz, New York, is Kerhonkson. There is even more hiking and apple picking to be done in this historic area in the fall.
For a fun time, stop by Kelder's Farm. This 200-year-old farm has goats, rabbits, baby calves that you can feed. They have pick-your-own events every season. The summer is great if you want to pick fruits of the season like blueberries.
While you're at Kelder's, be sure to snap a picture with Gnome Chomsky, the world's 3rd largest garden gnome!
Consider hiking to Stony Kill Falls, a child-friendly trail that leads you to a picturesque hidden waterfall. Hikers will also want to head out on the Kerhonkson Rail Trail, part of the larger Empire State Trail Initiative.
---
Enjoyed this guide to the best things to do in New Paltz, New York? Bookmark for later or share the love below on Pinterest.