After a painful night bus from Hanoi to Sapa, Scott and I were determined to find a local family to do a homestay on our own. We had enough of guided tours after Halong Bay, we felt like they sucked all the fun out of the beautiful place by making you do things when they wanted you to do them.
When we got off our sleepless night bus (thanks to a drunk idiot yelling at his wife all night) at 6 am we were bombarded with local tribal ladies trying to get us to do a homestay or trekking in their village.
We tried our best to be no so grumpy and found two lovely ladies who were willing to wait for us to do our homestay the next day after we got one good day of sleep in a hotel.
Be sure to check out our full guide on how to book Sapa independently for more information. Also, besides the night bus there is also the overnight train in Vietnam as an option!
For those who do not know, Sapa is home to some of the most beautiful mountains in Vietnam and Southeast Asia. The mountains are filled with lush, green rice terraces and small local tribal villages.
Many of the women we met were Black Hmong, but there are other tribes as well including Red Dao among a few others. We were lucky to spend two nights and three days with an amazing Black Hmong guide and her family in Lao Cai.
What's even better is that it was very personal and unique, she could only house Scott and I so it was a more intimate experience.
Sapa Trekking
The trekking itself is through a beautiful, almost dream-like backdrop. You will see layers and layers of rice paddies, a few waterfalls, rivers, and of course the gorgeous mountains.
Your guide will look after you. Each day we did about 4 hours of trekking that was moderate to easy. There were times we were huffing and puffing after doing some steep inclines, but overall it was pretty easy. It's impressive to think that these ladies do this type of trekking daily even while pregnant!
Here is the trekking schedule we followed.
Day 1: Sapa to Lao Cai
Day 2: Lao Cai to Sapan (these villages are actually close to eachother but our guide took us off the beaten path)
Day 3: Lao Cai to Tavan, Lao Chai and end in Sapa
Our Sapa Homestay
Our guide, Bau who looked after us for our three days trekking in Sapa invited us into her pesronal home with her husband and their three kids.
The house was simple and beautiful two beds, so when guests are there the entire family will sleep in one bed. We were impressed that they still were so gracious to open their home to strangers when in fact they only had two beds.
We were most impressed with the kitchen where Bau would cook and prepare our meals over a single fire pit and whip up the most amazing and delicious multi-course meals.
Since these homes in the mountains have no running water, they gather spring water from the mountain behind the house for cooking and bathing.
It was quite an incredible experience.
Our Sapa Family
Bau has three darling children including an 8-month old son at the time of our visit, he's now much older. It was fun to play and watch the kids interact and have fun without all the luxuries and technology gadgets that children back at home had.
Our favorite moment would have been waking up in the morning to kids laughing and sounding really excited. When I looked outside I saw that they had caught giant beetles and attached a leash (small string) to it and were watching it fly circles around them while their kitten also tried to attack the beetle.
Not only were the kids cute, but our guide Bau was extremely welcoming to her home. She even urged me to try on her Black Hmong clothing, although I was much larger than her I did my best to fit in them. She giggled about how they fit me, I was not only much taller but an overall bigger build than her so the clothing just fit very differently and looked a bit funny on me.
When you're visiting Sapa you'll likely experience the same thing or see other guests wearing their guides clothing. The guides are eager to share their culture with their visitors as Bau was with me.
We found their traditional clothing to be so beautiful and intricate with its design. It was a truly memorable experience having her share a piece of her culture with me.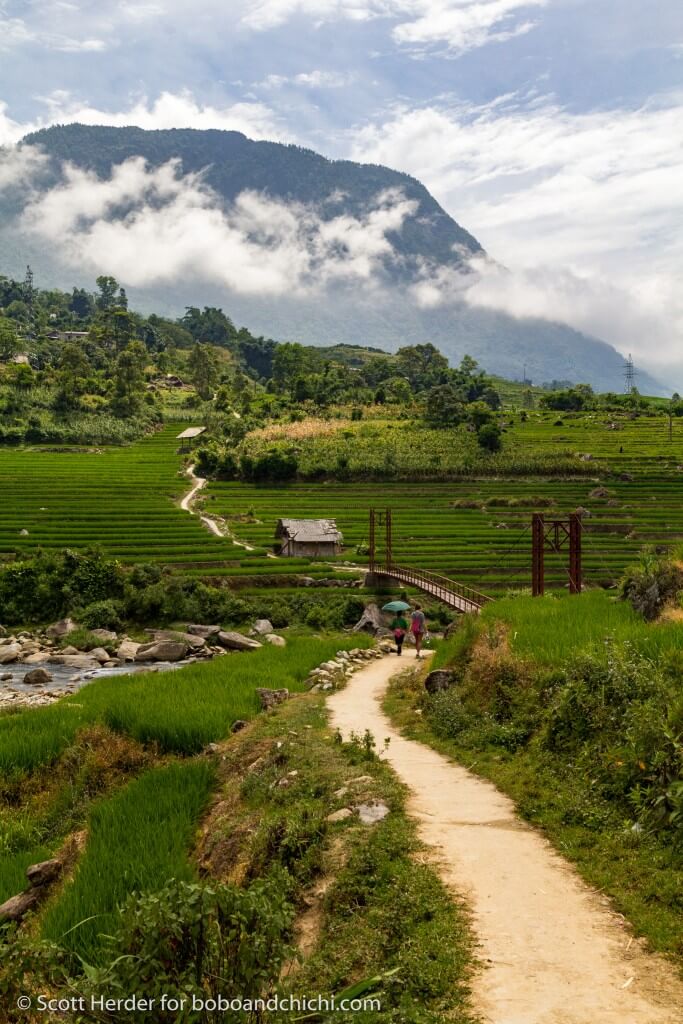 Bau wasn't our only guide. She was helping mentor another young Black Hmong girl named Vang who lived in a nearby village. We spent one afternoon with Vang and her family.
She took us to her family's home in her village on the second day for lunch, and again her family was so welcoming and made us feel like we were family for the day.
Passing around rounds of the local rice wine while Vang was being a superwoman cooking for us and the whole family over her fire in the kitchen. Again, we were blown away with how much delicious food one can make over a single fire in one meal.
Our Home Cooked Meals
We were amazed at how the food was prepared for us during our stay. Everything is so fresh! There are no refrigerators or anything to preserve the food, so every meal we had was fresh from the garden and or fresh meat.
Most meals consisted of rice, meat, tofu, hot chili, and tons of vegetables. We loved the food and admired how healthy their diet was.
What was even more incredible was how the food was cooked over a tiny, open fire pit in their kitchen and cook one to two dishes at a time over an open flame.
The kitchens have minimal cooking utensils and yet they bust out delicious meals with 5-6 different dishes to try.
Shopping
This is one of the best and most overwhelming parts about doing a homestay in Sapa. You will be approached by many people wanting to sell you handmade goods from them. We were told even some homestay hosts were a bit pushy about this.
Luckily, our guides were not pushy with selling. Without pressure we ended up buying some beautiful bracelets and other goods from both Bau and Vang.
We were told in their Black Hmong tribe that the women make the clothing and the men make the jewelry. I fell in love with the jewelry and wanted to go home with an arm full of their beautiful bracelets just like our guides wore.
If there is something you want, ask your guide to help you find it for a fair price. Otherwise, you can do it in Sapa when you return but because of the amount of people trying to sell goods it can feel a little overwhelming. Plus, it is more sentimental to buy from your host family to remember your stay if you are seeking to buy anything at all.
Local Culture
We were intrigued by their local customs and culture. I loved learning about both of our guides. Both of our ladies were married by age 20 and had children right away.
Both of these women are so hard working and provide for their families through hosting home stays. They even do this late into their pregnancy. We saw other pregnant women trekking and a woman who was over 100 years old doing the same trek as us, which isn't exactly an easy stroll through the park.
Our guide told us that seeing the elderly continue to hike the mountains and terraces isn't uncommon.
We also were shown a little about how the Black Hmong make their clothing out of hemp and dye it with indigo. At our home there was a giant tub in the back with indigo leaves soaking in the water, you could see the dark blue color. I really wanted to stick my hand in there to see what would happen, haha that's the child in me.
Their clothing was so intricate and beautiful. I would find myself admiring every tribes' clothing. It was really exciting when Bau invited me to try on her clothes even though I was twice her size! Their jewelry and hair accessories are also beautiful pieces of art.
The women wear silver barrettes in their hair and stick a silver comb in at the top. When Bau took down her hair, I didn't realize how long her hair was, it was down past her hips. I witnessed both of our guides fixing their hair and it was the same, long, healthy hair that was tucked up every day with their beautiful ornamental hair accessories.
Bau also had a gold tooth that we saw common among women in the Black Hmong during our stay. She told us it was considered as sign of beauty in her community.
Overall
We loved our time in Sapa. The landscape and homestay had to make this one of our favorite experiences yet. We are hoping to come back and stay with Bau and Vang again.
For those considering going to Sapa, we highly recommend doing an independent homestay. Although, they may not be for everyone. Not only does your money go directly to the local villagers (instead of a tour company who only gives a small cut to the villagers) you get to stay away from the super touristy villages like Cat Cat and stay in less visited villages.
On the way back to Sapa you will get to visit two of the more visited villages like Tavan and Lao Chai. If you need AC, western toilets, hot shower, and are a picky eater then you probably should just book the day trekking from Sapa from the local ladies.
*You can also book independent day treks from Sapa as well from local tribal women. The tour companies and tourist information center will tell you not to use the local guides because they do not get a cut of the money that way.
If you are interested in staying at the same lovely family's home we did please message us and we would gladly give you her number! You can email us at hello[at]boboandchichi.com or send us a message on Facebook or Instagram.
Planning on traveling around Vietnam? Check out this three weeks in Vietnam suggested itinerary by The Traveling Mitch.