There is no shortage of charming Nova Scotia towns to explore, one of the most gorgeous provinces in Canada that has over 4,600 miles of coastline and Canada's biggest fishing industry. So you know there's no shortage of scenic fishing villages!
From the South Shores through the Annapolis Valley up to the famous Cabot Trail, we've picked out the most amazing places to visit in Nova Scotia that you have to see!
Amazing Places to Visit in Nova Scotia
Blue Rocks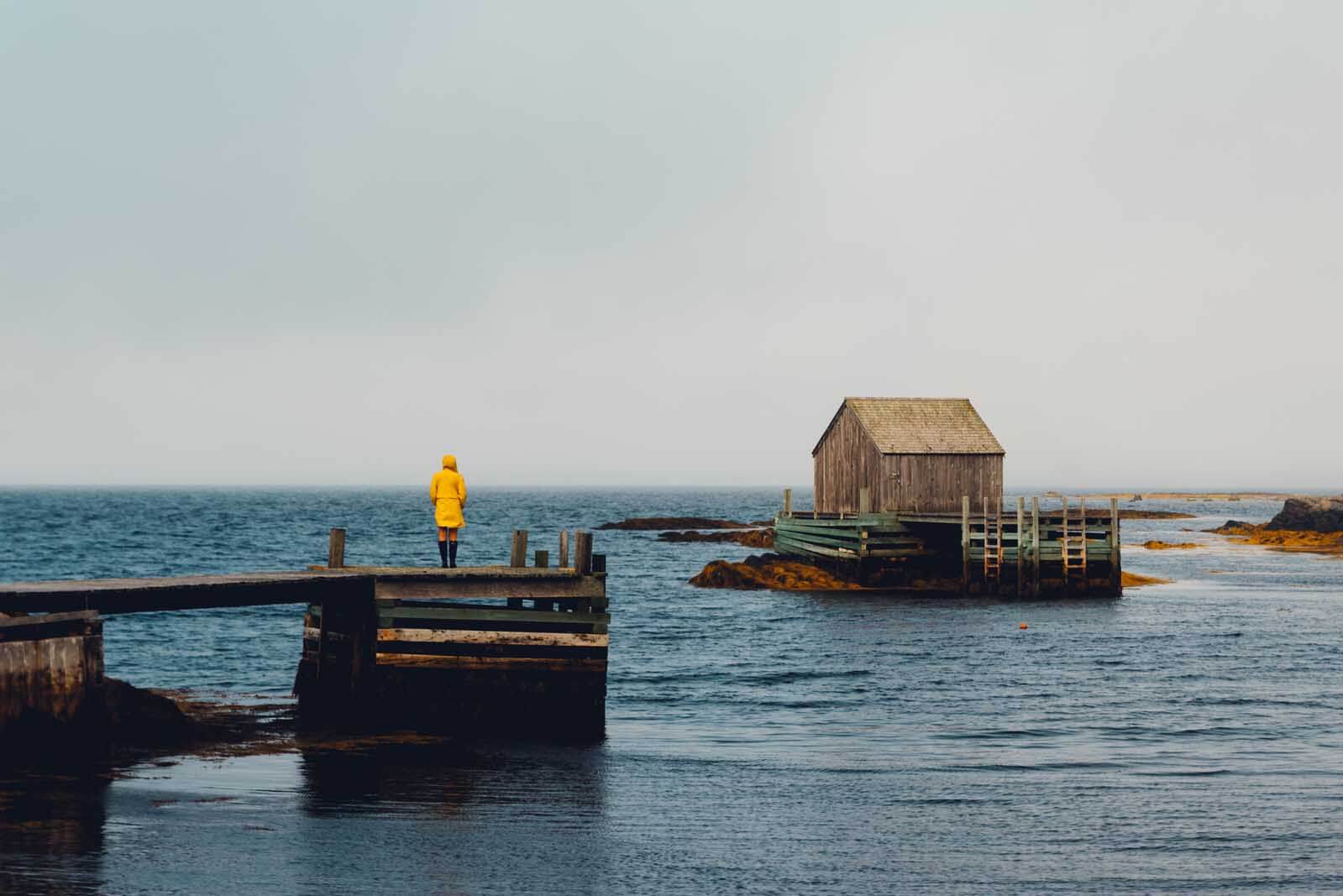 One of the most charming and picturesque places to visit in Nova Scotia is easily Blue Rocks, a fishing village on the South Shores near one of the most popular Nova Scotia towns, Lunenburg. This quiet fishing village is the perfect place to visit to see a quintessential fishing community that seems straight out of a movie. Since the 1940s, this Nova Scotia town has attracted photographers and artists. Today, it's one of the best things to see in Nova Scotia on the South Shore.
The South Shore famously was known for its legalized pirates in history called "privateers" who were officially allowed to attack foreign ships and other watercraft during wartime. Annually, this Nova Scotia town is famous for its Lobster Crawl Festival, which happens in February. It's a celebration of arts, music, heritage, sports, and cuisine (particularly seafood for obvious reasons) that locals participate in.
Zooming in on Blue Rocks, it's one of the most interesting things to see in Nova Scotia. This fishing village remains quite untouched by modernization, and its natural beauty will surely take your breath away. Aside from the beautiful scenery, Blue Rocks is also known for its kayaking spots. It's highly recommended to kayak before sunset so you can enjoy the sun as it sinks on the horizon.
Lunenburg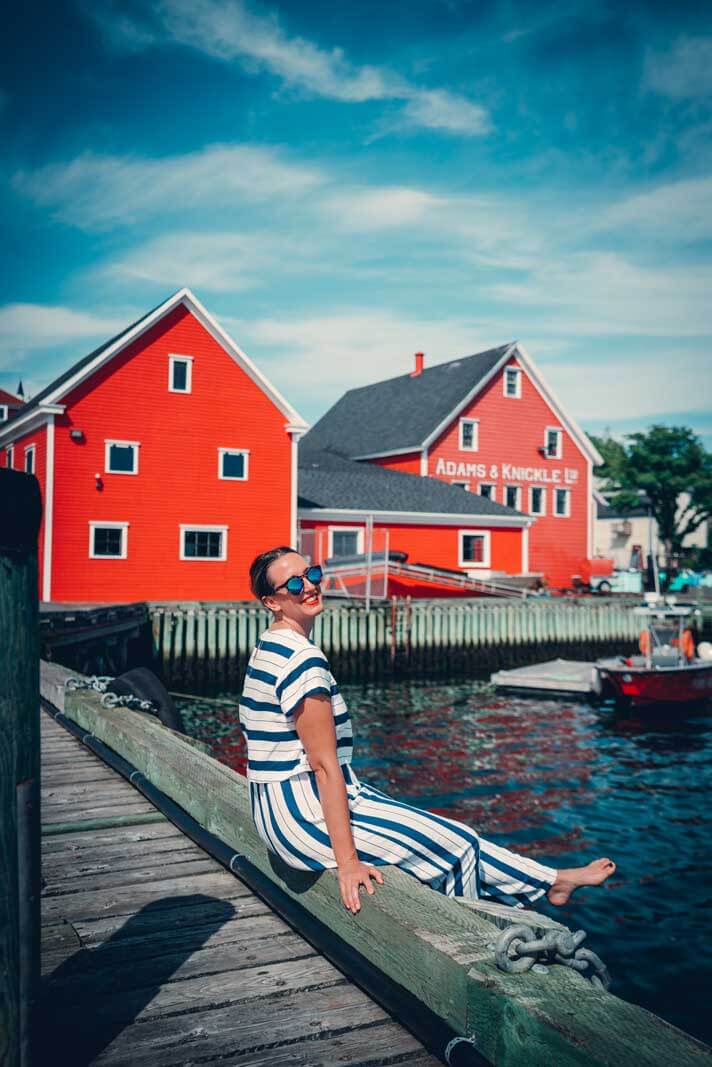 There are so many historical Nova Scotia towns where you can get a glimpse of the colonial period, but there's one port town on the South Shore that you shouldn't miss. Lunenburg was one of the cities in Nova Scotia where the British tried to settle, introducing Protestantism to Canada and displacing indigenous communities such as Mi'kmaq and Acadians.
Despite the colonialism that took place here, Luneburg is a picturesque fishing town and home to one of Canada's largest fishing communities. This Nova Scotia town saw a booming economy in the late 1800s and even saw a surge during the prohibition where this town is famous for its rum runners.
Much of the architecture is from this period since its so beautifully preserved Lunenburg was declared a UNESCO World Heritage Site. You can still the original town plan when you visit, with the exemption of the fortifications that the British built when the town was established in 1753. The layout, including the streets, central public spaces, and grid pattern, has remained the same.
The historic core of this Nova Scotia town is also a National Historic Site of Canada.
Fill up on delicious seafood, drink the local spirits, and be enchanted away in this gorgeous colorful fishing town. If you happen to be visiting in the month of October you will want to check out the Spirited Away Festival, a craft spirits festival that's held annually and a ton of fun!
There are a lot of amazing places to visit in Nova Scotia, and Lunenburg is definitely one of them, see why by checking out our Lunenburg, Nova Scotia travel guide.
LaHave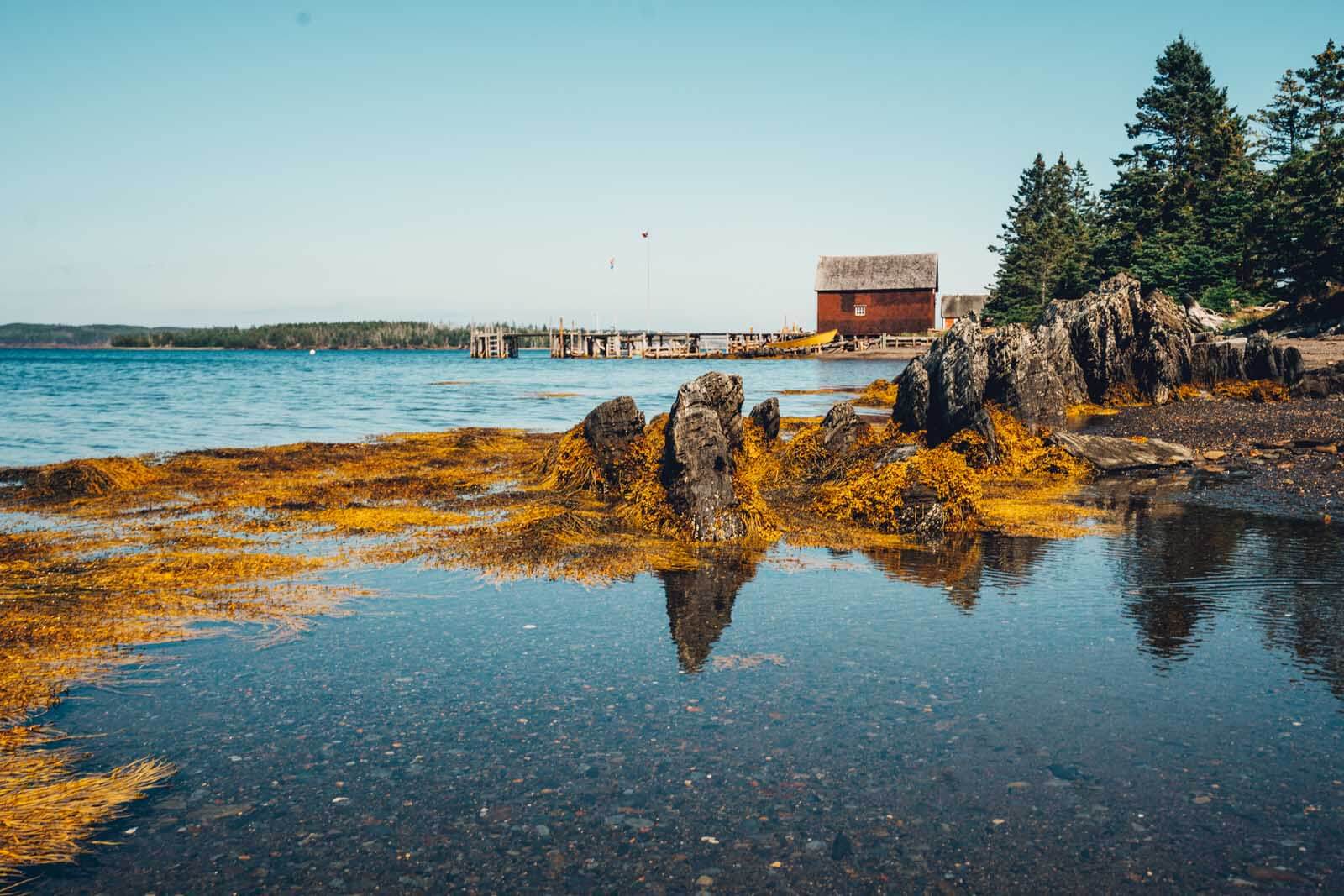 Our next amazing place to visit in Nova Scotia is the under the radar spot of LaHave. LaHave is one of those beautiful, scenic spots in Nova Scotia that doesn't quite make it on everyone's Nova Scotia road trip or vacation but should be on everyone's radar.
Another amazing thing to see in Nova Scotia along the South Shore not far from Lunenburg is this gorgeous community located on the river. Be sure to cross the river via the LaHave Ferry Terminal, one of the oldest cable river ferries in Canada.
Some of the activities that make this one of our favorite Nova Scotia towns is the old fashion LaHave Bakery located in a historic building, the book store, artisan shop, and skate shop located in the same building with gorgeous waterfront views!
And of course, LaHave is a fantastic place to go kayaking to the LaHave Islands and the channels nearby making it one of our favorite places to visit in Nova Scotia for any outdoor enthusiast.
Baddeck
Located at the heart of Cape Breton Island, Baddeck is one of the places to visit in Nova Scotia that you must definitely visit if you're exploring the scenic and famous Cabot Trail. Its natural beauty is enough to make people want to come here, but its history and friendly people are also attracting tourists from all over the world. In fact, more and more Canadians are choosing to spend their summers here and retire here even though its a favorite among travelers along the Cabot Trail. Even Alexander Graham Bell, the inventor of the telephone, spent his summers in Baddeck.
Baddeck is one of the cities in Nova Scotia that will make you appreciate community. The town always has a festival that gathers everyone in celebration, like KitchenFest, an island-wide traditional music festival, and Festiville, a street festival celebrating community and culture. Aside from attending these festivals, you can visit the Kidston Island Lighthouse and the Alexander Graham Bell National Historic Site. Shopping, boating, and playing golf are also popular activities in Baddeck.
Mahone Bay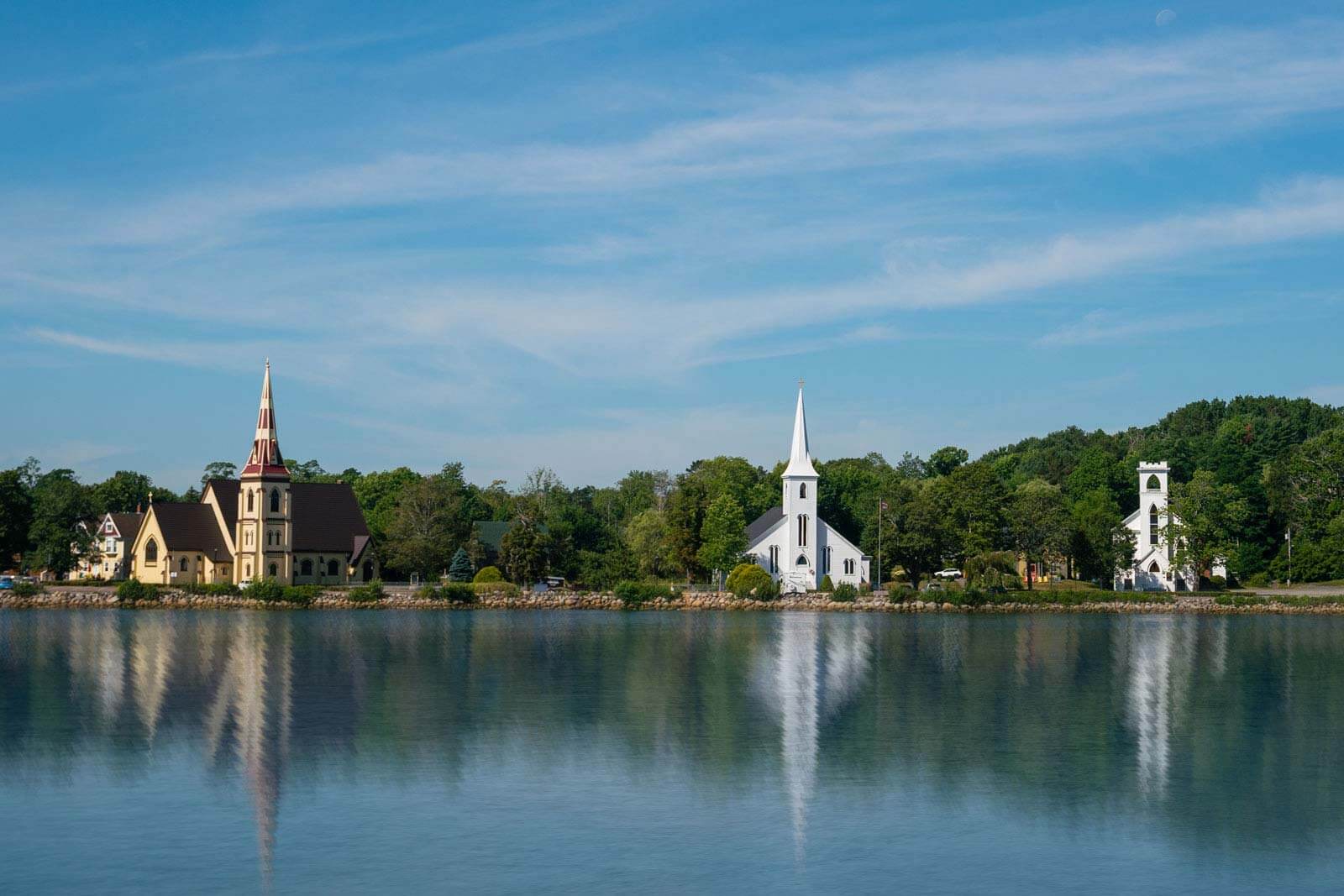 Mahone Bay is another one of the incredibly scenic cities in Nova Scotia popular among photographers. Although it has the same quaint appearance as some of the other Nova Scotia towns, but the view from across the water of the three churches in a row is what makes this Nova Scotia town most recognizable.
Mahone Bay is currently experiencing a surge in entrepreneurs and startups. Business owners are settling in this coastal town. It's still a small town by all means and purposes, but the population has significantly grown over the past few years.
Whether you're traveling to Mahone Bay for business or for pleasure, there are so many places to visit in Nova Scotia's beautiful small town.
Whether you're passing through or not, this is town is a great place to stop for a leisurely lunch, shop in the small independently own stores, or have lunch. Once you see how charming this spot is you'll see why we picked it as one of the best things to see in Nova Scotia.
Peggy's Cove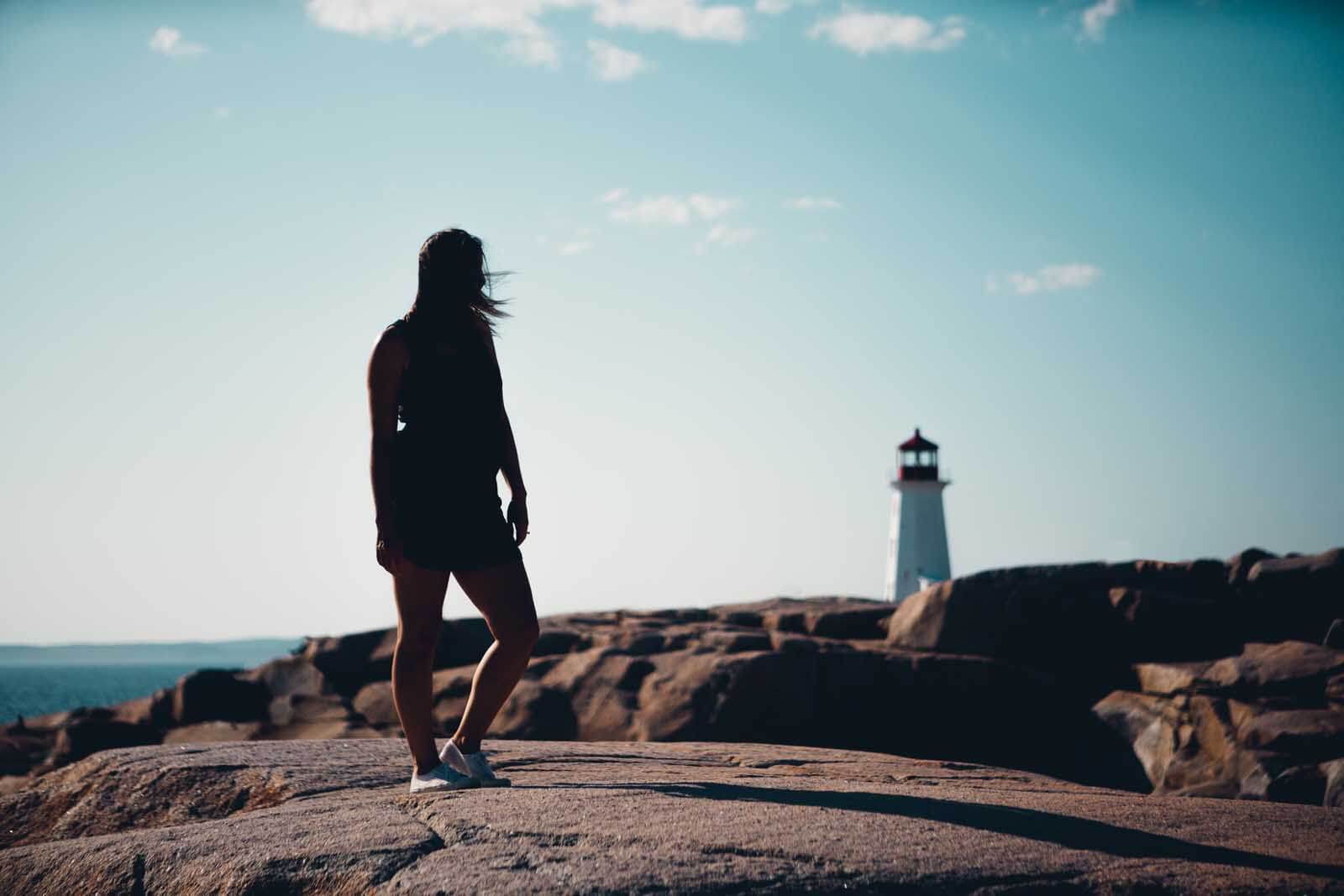 Probably the most famous site, and an easy day trip from Halifax, as well as one of the most popular things to see in Nova Scotia is the world famous Peggy's Cove. Peggy's Point Lighthouse has been the subject of many photographs and paintings over the years and one of the most iconic images of Atlantic Canada.
Popular among visitors, and even locals, who come to see Peggy's Point Lighthouse perched on the dramatic granite rocks above the violent waters of the Atlantic along the Lighthouse Route. It's good to observe caution while witnessing this beautiful destination as the violent waters have been known to claim lives here. Take the warnings seriously and do not go on the black rocks, there are rogue waves that come up and wash people away.
Aside from the lighthouse, there are other things to see in Nova Scotia's small, adorable rural community. Dotted with colorful shops, restaurants, homes, and even cottage rentals there's no shortage of charm here. Be sure to visit the independent shops and have a meal here!
Some of the places to visit in Nova Scotia when you're in Peggy's Cove include The Fishermen's Monument, the William E. deGarthe Memorial Provincial Park, and the Swissair Flight 111 Peggy's Cove Memorial. If you're up for a hike, you can watch the sunrise on an idyllic location by following the Polly Cove Hiking Trail. You can also take a short boat ride to Dover Island from Peggy's Cove if you want a more adventurous day. This is the best spot for bouldering in Nova Scotia.
Chéticamp
The town's name should give you a clue about the thriving Acadian community in one of the most gorgeous cities in Nova Scotia located on the incredibly scenic Cabot Trail located on the west coast of Cape Breton Island. Chéticamp has preserved its culture over the centuries which makes it incredibly unique. There are so many interesting places to visit in Nova Scotia's French Acadian town. There are activities for every kind of person.
If you're an active adventure-seeker or nature lover, you can hike the Acadian Trail where you can have amazing cliff views of the water or the Gypsum Mine Trail where you can take a dip in a gorgeous lake at the end.
If you're looking for more views then this is your place. The downtown itself overlooks the harbor and there are beaches that also offer great views.
Downtown also offers art galleries, shops, and restaurants making this truly a favorite place to see in Nova Scotia for tourists and one of the most popular Nova Scotia towns to visit.
Shelburne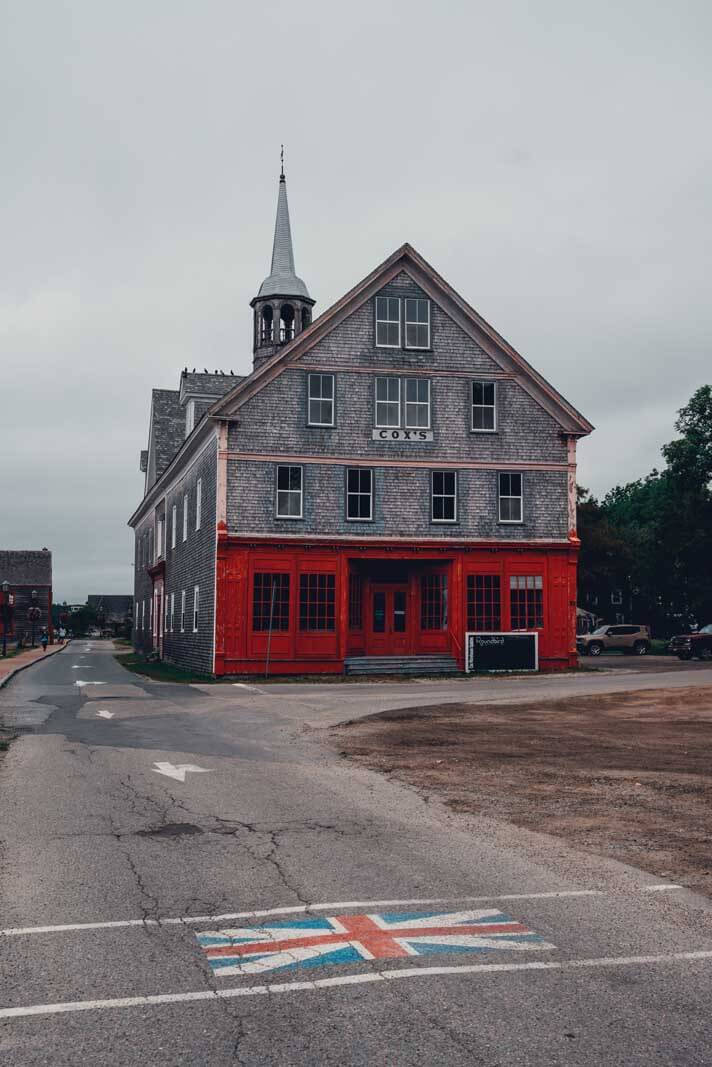 Shelburne is one of the more unique places to visit in Nova Scotia as it has a history unlike the other towns mentioned. This city in Nova Scotia is famous for being a loyalist colony to the British crown during the American Revolution.
This seemingly small fishing village had up to 10,000 British loyalists during the American Revolution and then after the war within 20 years the population here decreased dramatically as many of the loyalists moved away. However, the town still has descendants of the first generation loyalists who reside here today.
If you're just going to Shelburne to visit, you'll see traces of that history while you explore the waterfront along Dock Street including the British flag painted on the crosswalks. You can learn about the town's and region's history by visiting one of the museums in Shelburne including the Dory Shop Museum and the Ross-Thomson House and Museum. Alternatively, you can spend a day in and admiring nature by going to The Islands Provincial Park or the Sandy Point Lighthouse.
Be sure to explore the different museums and shops along Dock Street including the Dory Shop Museum where the famous Shelburne Dory boats are made.
And just like the other Nova Scotia towns mentioned on this post, there is a small, charming vibe going on in Shelburne that makes it one of the many amazing things to see in Nova Scotia.
Wolfville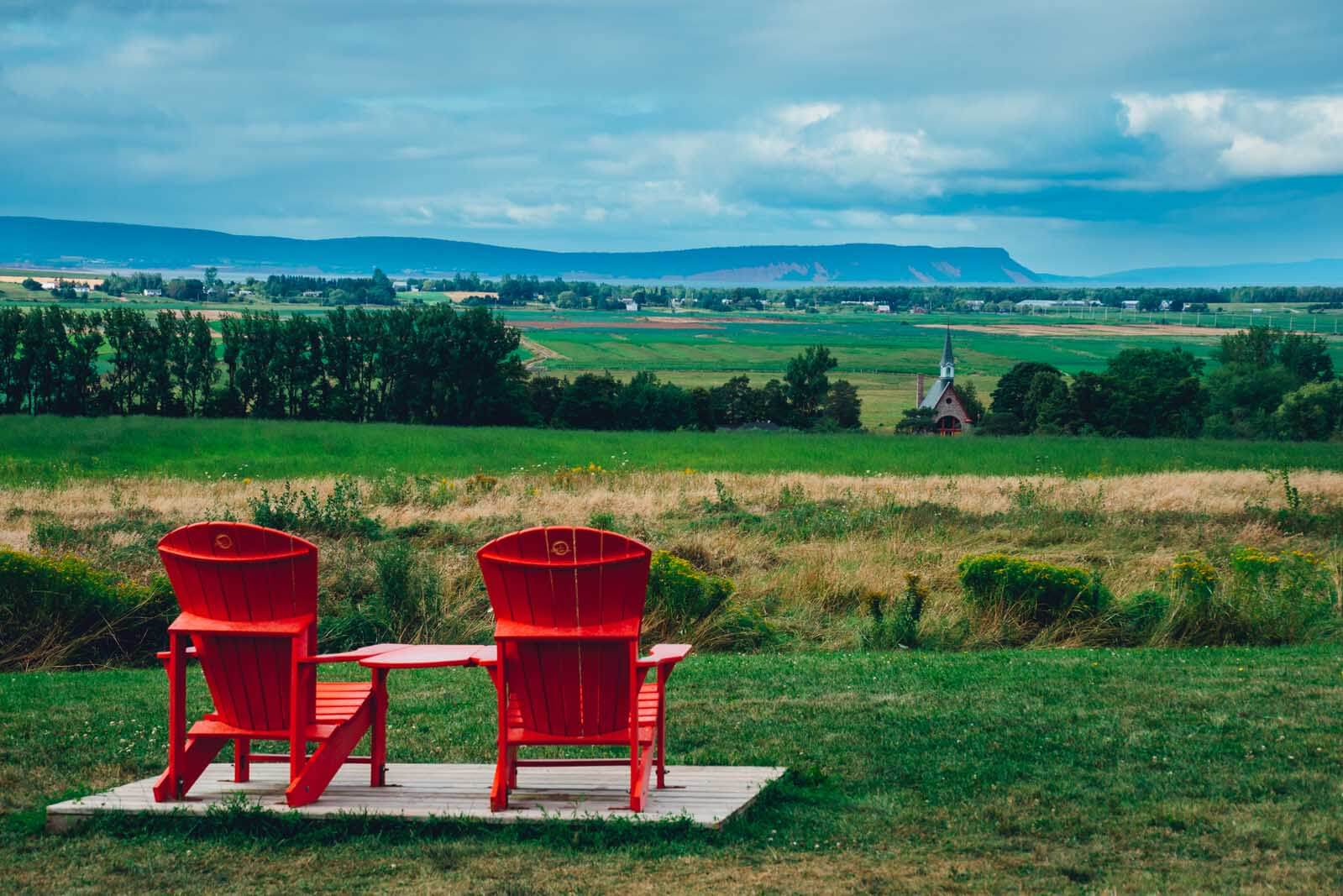 Wolfville is one of the most popular places to visit in Nova Scotia if you're a wine lover. Like most towns in the region, it is the site of early European settlements and happens to be the heart of Nova Scotia wine country in the Annapolis Valley. It has evolved into one of the coolest places to visit in Nova Scotia, but without losing its small-town charm in the process.
There are a lot of things to see in Nova Scotia's popular tourist destination. You can taste local wine at its many vineyards including the Gaspereau Vineyards, Lightfoot and Wolfville Vineyards, and L'Acadie Vineyards. This area is home to the famous appellation wine, Tidal Bay that is carefully selected to pair with seafood and grown in this region.
Not into wine? Don't worry there are tons of different cideries, breweries, and distilleries in the Annapolis Valley and Wolfville to check out as well!
We love the downtown of Wolfville as it has an adorable small-town feel with great boutiques and places to eat including Church Brewing, a really delicious restaurant/brewery set in an old church.
Nearby you have Annapolis Royal where you can find Canada's oldest National Historic Site at Fort Anne and visit the Annapolis Royal historic gardens and Grand Pre National Historic Site, another UNESCO World Heritage Site and a beautiful place to visit in the Annapolis Valley.
Don't miss the amazing farmer markets near Wolfville either! There are plenty of things to see in Nova Scotia in this area that you can spend a few days exploring!
Be sure to check out our full guide to the best things to do in Wolfville and the Annapolis Valley.
Ingonish
There are a lot of places to visit in Nova Scotia, but not all of them are quite as breathtaking as Ingonish, a Canadian rural community in the northeastern coast of Cape Breton Island on the Cabot Trail not too far from Baddeck which is also on this list.
This beautiful town in Nova Scotia is on the world-famous Cabot Trail. Beaches, cliffs, hills, and greenery are all over town and even more accessible nearby as this Nova Scotia charm is located along the Cape Breton Highlands National Park. You should visit Ingonish if you want to disconnect from the world and gain some peace of mind.
When you visit Ingonish, don't forget to check out these things to see in Nova Scotia's picture-perfect town: Cape Smokey Provincial Park, Ingonish Beach, Green Cove, Black Cove, and Ski Cape Smokey.
---
Enjoyed this post on the most incredible Nova Scotia towns you need to visit? Bookmark for later or share the love below on Pinterest.