Bonjour! Looking for the perfect winter wonderland? There are so many wonderful things to do in Quebec City in winter that make this destination embrace the term 'winter wonderland.'
Undoubtedly one of the most romantic winter getaways, you can find everything here from feeling like you're actually visiting a scene from a snow globe, an incredible culinary scene, outdoor activities, spas for winter relaxation and wellness, celebratory winter events throughout the season from the holidays to Quebec City Carnaval later in the season, and even North America's only ice hotel.
We were delighted to have finally visited this incredibly beautiful city during the winter season and get to know what makes Quebec City in winter one of the best destinations for those colder months and make you feel like you've escaped to a beautiful European city right here in North America.
No need to travel across the ocean for an Old World German Christmas Market, stay in a Chateau, or practice your French – you can find all of that and more right here in Quebec City, a true winter wonderland straight out of the pages of a storybook.
Better yet, there are several great times to visit Old Quebec City in winter. Earlier in the season you can experience the magic of Quebec City at Christmas with the markets, shopping, and holiday decor throughout the city.
If you visit later in the winter you can enjoy more of the winter activities like hitting the slopes nearby the city to staying one unforgettable night in an ice hotel, not to mention the city's famous Quebec City Carnaval takes place in February.
No matter what time of winter you come to Quebec City, there's something special happening which is why this destination is a true winter wonderland and getaway.
Disclaimer: Our trip was in partnership with Bonjour Quebec and Quebec Cité Tourism to highlight some of the best things to do in Quebec City in winter. As always, our opinions are our own.
Travel Tips for the Current Times
Before your visit, ensure that you're up to date on Canada's current travel restrictions from their official website.
If you're flying you'll most likely need to be tested. You'll have to go to a special testing site that is approved for providing tests for international travelers. We strongly recommend scheduling an appointment in advance.
We used Elna Medical which has two locations in Quebec City, one is a drive-through which you'll need a car for and the other is a regular clinic.
Even with an appointment, we had to wait around 40-45 minutes for our turn. Be sure to make an appointment in time before your departure and also the budget time as you should be prepared to wait at least an hour. Also, double-check the requirements of your next destination and be sure to schedule the correct test.
Also, be prepared to spend anywhere from $120-$199 CAD for your test results per person.
Things to do in Quebec City in Winter
German Christmas Market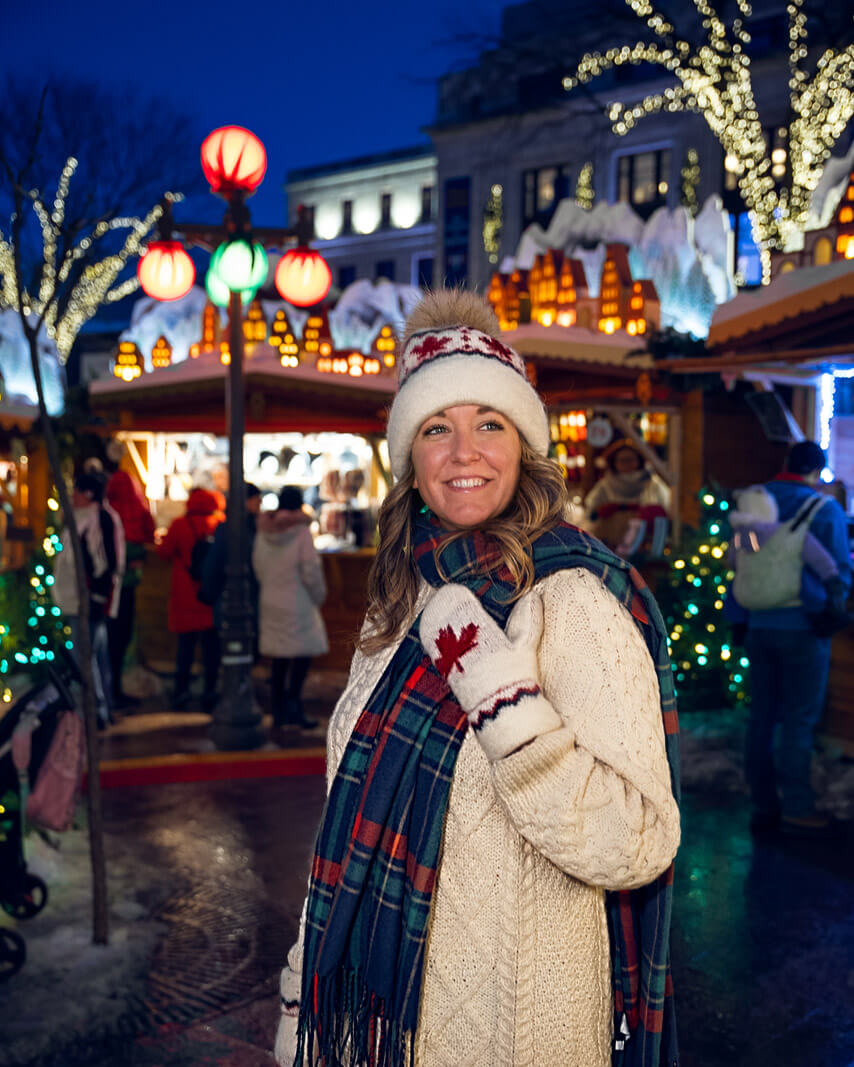 Earlier in the season of winter in Quebec City, you can enjoy all the holiday festivities! From the end of November through the week of Christmas, you can enjoy the Quebec City German Christmas Market.
Each year, this Quebec City Christmas Market grows and has nearly 100 vendors in their cute little wooden cabins at different sites through Old Quebec, each with its own flair and different installations!
If you're familiar with Old World and German Christmas Markets, this one feels authentic because it is! Started by some locals of German descent, they have done an excellent job bringing German holiday traditions, products, and the Christmas market experience right here in Quebec City.
Be sure to visit all the locations and if you're cold grab a hot cider or mulled wine. Leave room to snack on Bavarian pretzels, sausages, and other tasty treats along the way.
If you're hoping to do some shopping, there are tons of local artisans and vendors selling imported German goods from holiday decor to German cakes.
The Quebec City Christmas Market takes place on Thursdays – Sundays (late November through Christmas week). On Christmas week they are open daily.
The list of current sites are: Jardins de l'Hôtel-de-Ville, Place de l'Hôtel-de-Ville, Place D'Youville, and Rue Sainte-Anne.
Shopping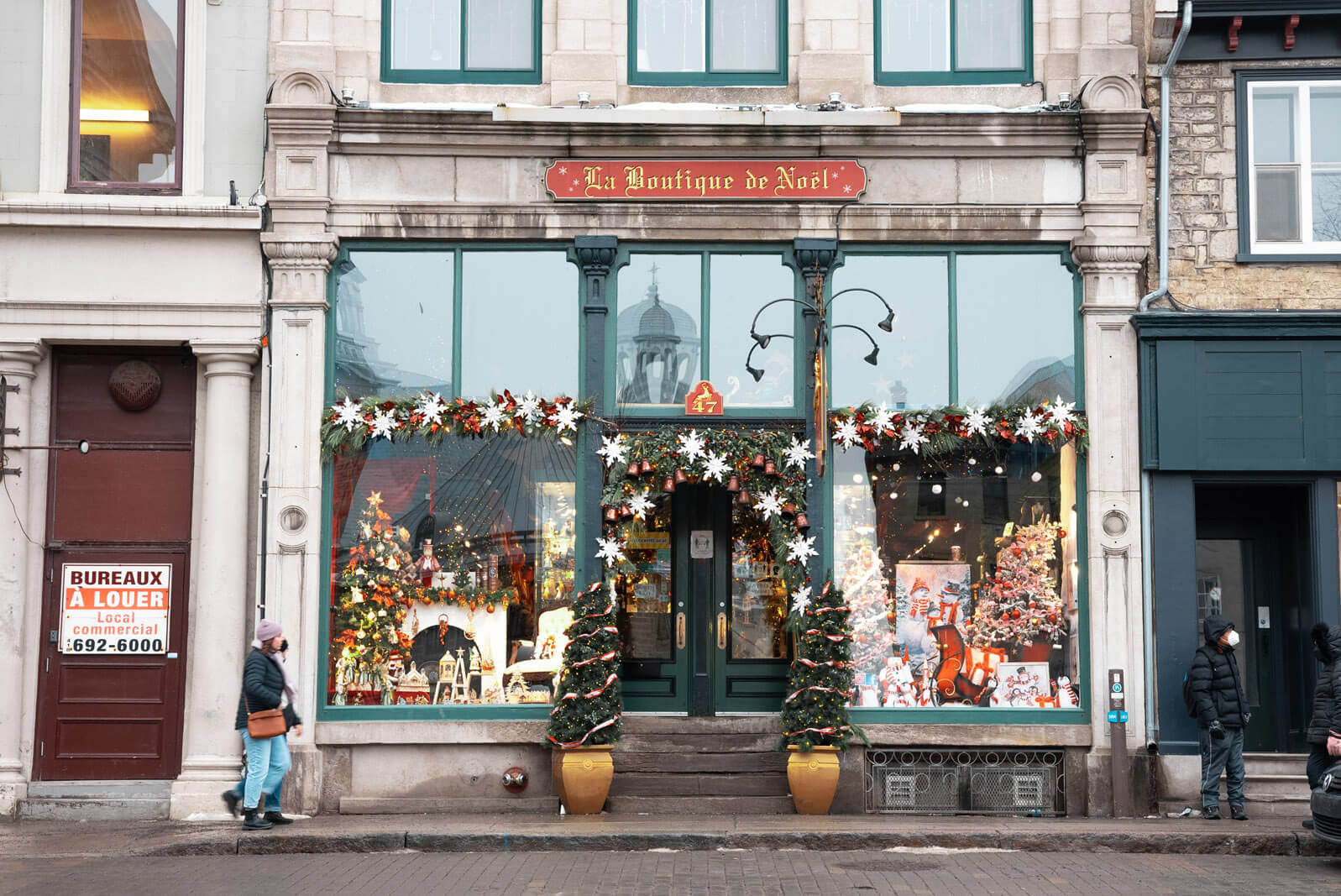 If you're anything like me, you don't mind doing a little shopping when visiting a destination and if you're new to winter in Quebec (traveling from somewhere like us where we think we know how to dress in winter) you may come and realize you want/need more layers!
Whether you're looking for warmer socks, a cute new pair of mittens, looking for holiday decorations, local art, or you just love shopping then you'll have no problem finding plenty of cool shops and boutiques to check out during your winter in Quebec City getaway!
When exploring Old Quebec, you'll see so many shops, here are just a few that stood out to us.
If you're looking for apparel, check out La Maison Simons (20 Côte de la Fabrique) the original location for this popular and iconic Quebec department store found all throughout Canada.
Another favorite of ours is the Canadian brand Roots (49 Rue De Buade) which can also be found all across the country and have great quality and stylish outdoor lifestyle apparel, accessories, and home goods. We both are huge fans of their sweats and socks.
La Boutique de Noël de Quebec (47 Rue De Buade) is another not-to-be-missed shop and one of the best things to do in Quebec City in the winter if you're looking for the best holiday decor! This famous little shop is open year-round with all kinds of festive goodies! And for fans of the hit Korean drama Dokkaebi (Goblin) or Guardian: The Lonely and Great God, this was a filming location!
One store that really stopped me in my tracks was Brousseau Inuit Art Gallery (35 Rue Saint-Louis) which has gorgeous Inuit sculptures in their gallery available for sale featuring artworks made of raw materials like stone, bone, ivory, muskox horns, and caribou antlers from Inuit communities in Canada's Arctic regions. The gallery is also North America's largest collection of Inuit sculptures.
If you're a huge fan of art galleries and antique shops, take a walk toward Quebec City Old Port where along Rue Saint-Paul, Rue Saint-Pierre, and Rue du Sault-au-Matelot are literally dotted with one shop/gallery after another.
If you're looking for a touristy souvenir (no judgment here – I bought a Canadian maple leaf matching beanie and mittens) then you'll love the shops down Rue du Petit-Champlain and its side streets all with magical views of Château Frontenac. More on this area later on in this guide though!
Enjoy the Foodie Scene
One of the best ways to stay warm during winter in Quebec City is by having a hearty and delicious meal! Lucky for you Quebec has a really outstanding food scene, from Québécois cuisine (like poutine) to various types of quality international cuisine, we didn't have one bad meal during our stay, here are a few of our favorites.
Restaurant La Bûche (49 Rue Saint-Louis) brings the sugar shack and all the incredibly decadent and hearty Québécois dishes to the city. This was one of our favorite things to do in Quebec City in winter because this food will warm you up from the inside out!
We hope you have friends with you so you can split many things like the French Toast with foie gras topped with candied bacon and Candian maple syrup, or a heaping serving of poutine, or get the platter that has all kinds of Québécois specialties like meat pie, baked beans (top off with maple syrup), and a plethora of meat like more of that maple candied bacon, cheddar and bacon sausage, and a hearty helping of ham.
If you have room, order a small serving of chickpea soup. This was our first time trying this and we can't get over how delicious this was and will most certainly warm you up on a cold winter in Quebec City day.
For dessert, get the maple syrup snow taffy or the ice cream sundae served in a maple syrup tin. Of all the meals we tried in Quebec City, this was one of our favorite experiences.
Another stand-out dining experience for us was Restaurant Alentours (715 Saint-Bernard St). This restaurant focuses on locally sourced products and sustainability. The set menu changes depending on the season and what ingredients are available since they operate on a no-waste, sustainable concept where all the ingredients come from within a 150 km radius including 5 courses.
For the quality and flavor of the dishes and commitment to sustainability, this fine dining experience is truly a great value and incredible meal to enjoy.
Louise Taverne & Bar á Vin (48 Rue Saint-Paul) is another solid lunch or dinner choice located in Old Port offering gourmet gastropub fare alongside an impressive wine selection, don't skip dessert here either!
Don Vegan (97 Rue du Sault-au-Matelot) was a pleasant surprise for us since we aren't on a plant-based diet. You can find specialty cocktails paired with some incredible vegan cuisine. Both of us, as meat-eaters, couldn't even tell we were eating meat substitutes, which in the past was always something that was very obvious for us.
We tried pretty much every appetizer (all of which were incredible) and the Miso Ramen and Burger, all of which we thoroughly enjoyed and has opened a whole new world of wanting to explore and try more vegan cuisine on our travels.
Bello Ristorante (73 Rue Saint-Louis) is a cozy, romantic dinner spot offering a fine selection of Italian fare from freshly made pasta dishes, a great selection of risotto options, and pizza along with a great wine list. Good luck choosing what to order here!
Warm-up at a Bar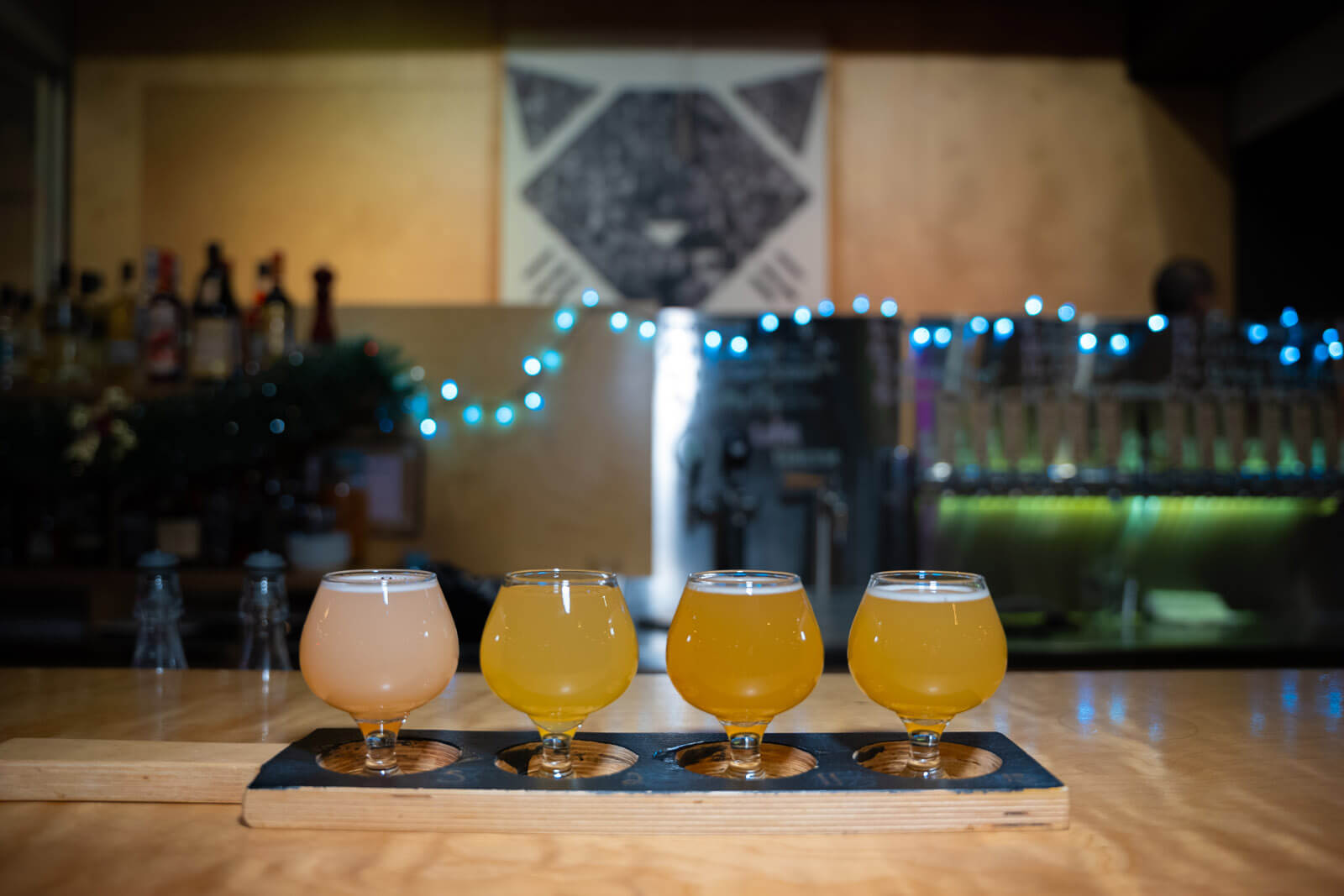 Exploring the best things to do in Quebec City in winter can require a few breaks where you might need to warm up from time to time. Especially if you get caught in a little bit of wet, cold weather!
One of the best ways to warm up (if you're 18 or over) is have a drink! We stopped by a few nice spots that were a great walking break and a chance to shake off that little bit of chill we were feeling.
If you're into microbreweries check out the lower part of Quebec City in the Saint-Roch district. We went to Noctem (438 Rue du Parvis) which I am biased was my favorite since they've incorporated a cat into their brand and Korrigane (380 Rue Dorchester) which both offer tasting flights so you can sample a few flavors of their freshly made brews.
If you're looking for one of the most iconic places to have a drink, head to Chateau Frontenac's 1608 Bar offering up artisanal specialty cocktails, a wine selection, and cheeses (+ other light bites).
Le Chateau Frontenac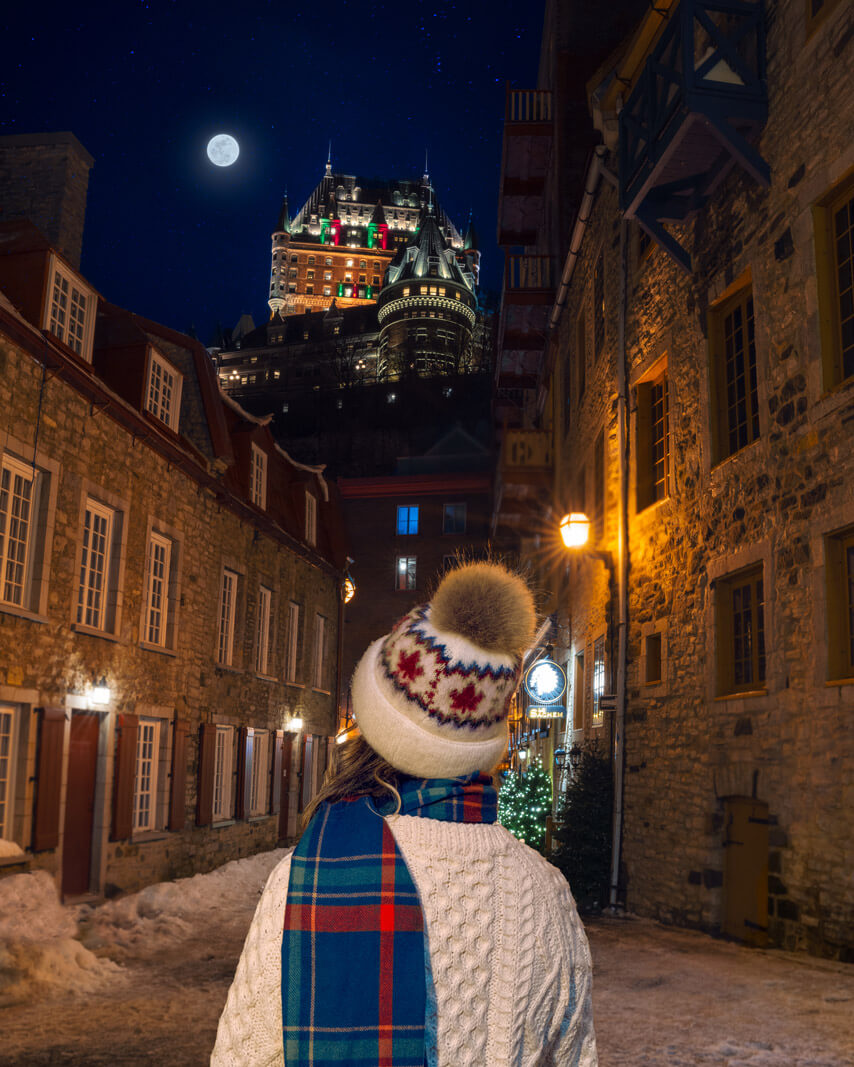 Speaking of the Chateau, another one of the best things to do in Quebec City period is visit the gorgeous Le Fairmont Chateau Frontenac. While this is one of the most luxurious 5-star hotels and stays in the city, you don't have to stay here to enjoy the world's most photographed hotel and National Historic Site.
This historic hotel opened in 1893 and was a part of the era where grand hotels were being erected by railway companies throughout Canada in the 19th century.
Towering at 18 floors high, you can't miss the beautiful chateau in Quebec City's skyline (and probably take sevaral photos of it during your stay).
Besides enjoying a drink at the 1608 Bar, you can actually take a guided one-hour tour of Chateau Frontenac where you'll uncover the history and past of the famous people and events that have taken place here. Better yet, your guide is even dressed up. Book here.
Toboggan
One of the best ways to enjoy Quebec City in the winter if you're looking for an adrenaline rush is to race down the slope on a toboggan at the Au 1884 Slide on Dufferin Terrace at Chateau Frontenac!
As the name mentions, this slide dates back to 1884 making it one of the oldest and most famous attractions to enjoy in Quebec City in winter!
Bundle up because you'll be hitting speeds up to 43 mph (~70 kmh)! And if you need to warm up between your toboggan races, there are warm beverages and snacks for sale at a kiosk here.
This is one of the best things to do in Quebec City in winter because this attraction is only open from mid-December through mid-March!
Afterward, be sure to walk along Dufferin Terrace to enjoy those amazing views from being on Upper Town including the St Lawrence River below.
Quartier Petit-Champlain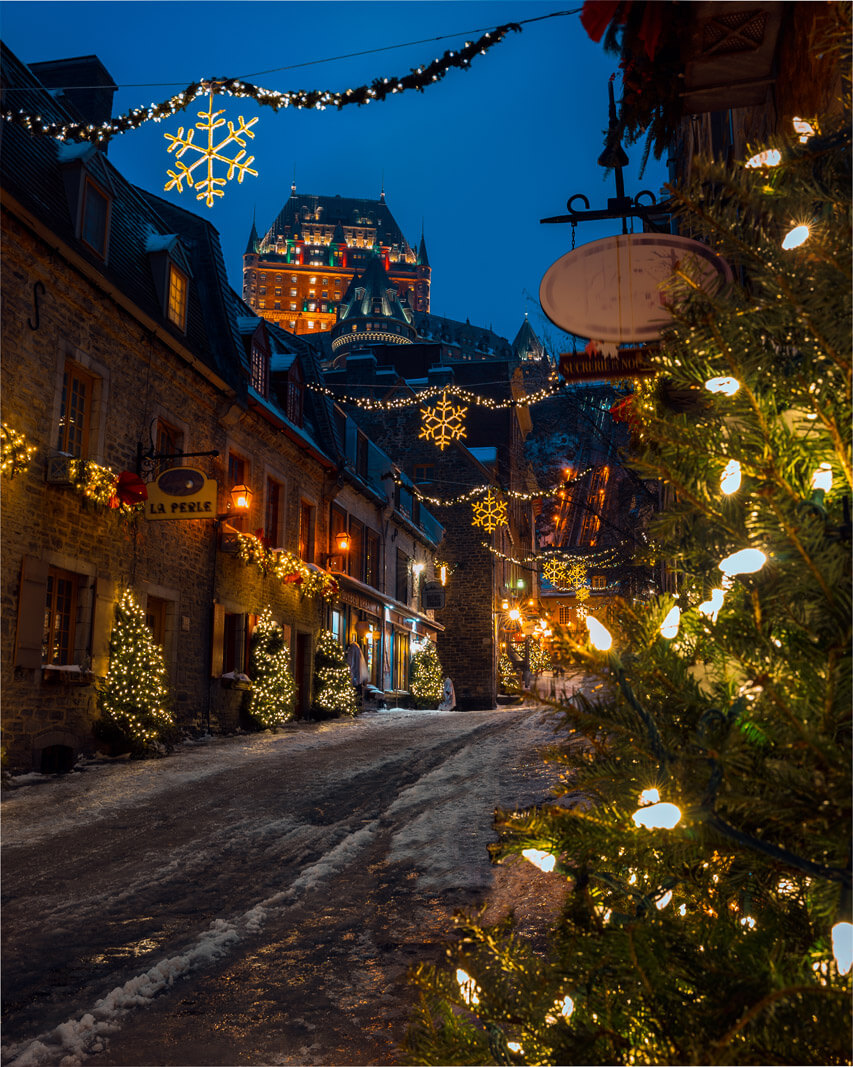 Welcome to one of the most whimsical districts and streets in the world! Yep, one of the best things to do in Old Quebec City in winter visit the oldest (and most charming) commercial district in North America!
Find plenty of little souvenir shops, boutiques, and restaurants dotted along Rue du Petit-Champlain and make your way to the city's oldest staircase, Escalier Casse-Cou (aka Breakneck Steps) where you'll be rewarded with incredible views of the charming cobbled lanes, adorable shops, murals, and various photogenic vantage points.
Rue du Petit-Champlain is especially enchanting during the Christmas season with all the holiday decor and especially so when there's a dusting of snow that feels straight out of a storybook or fairytale.
Don't forget to walk around and look for hidden nooks and crannies like hidden passages and don't forget to look up as sometimes you'll be rewarded with incredible views of Chateau Frontenac.
Old Quebec Funicular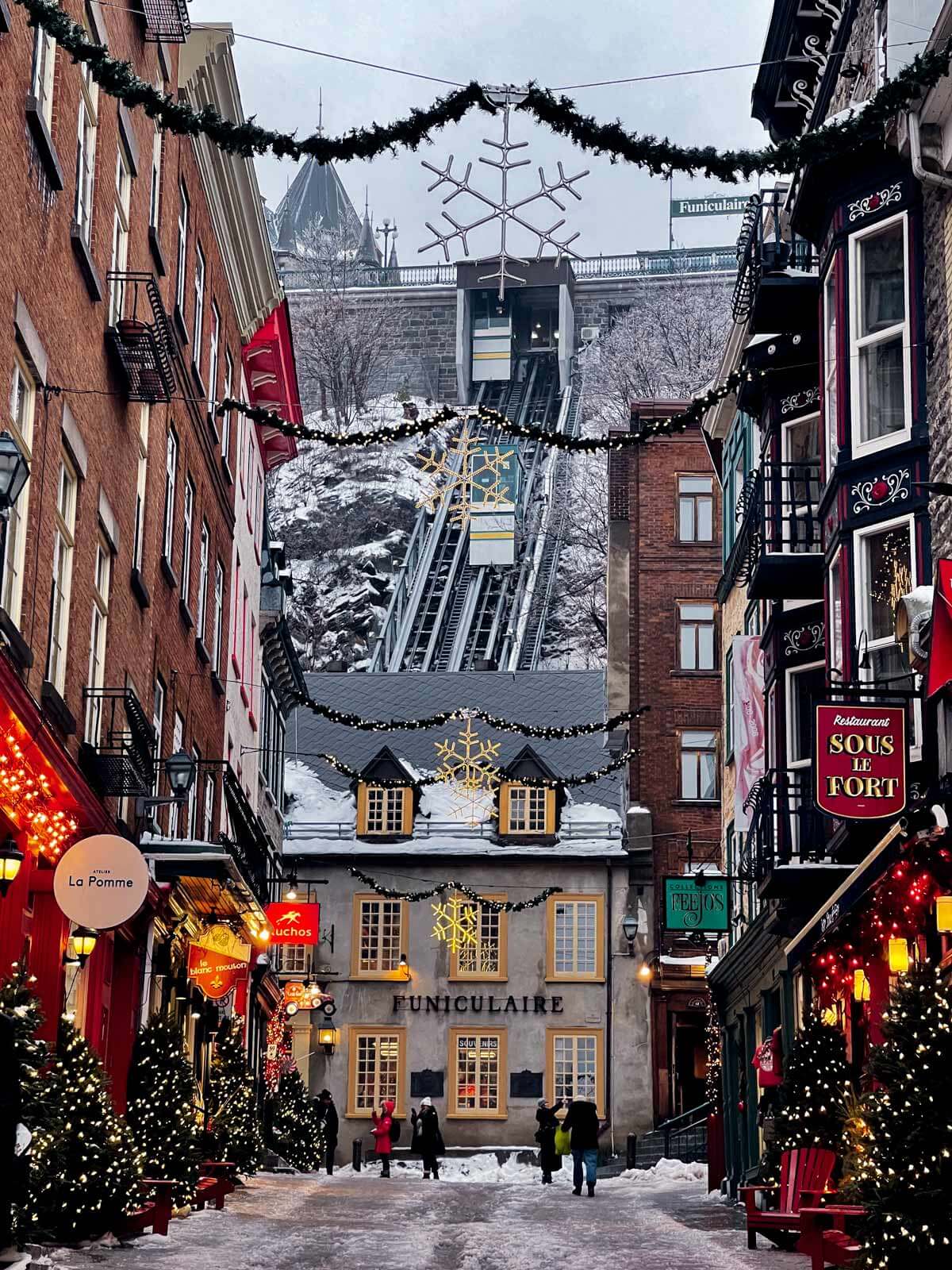 One of the most unique things to do in Old Quebec City in winter (or anytime) is to take a ride from Upper Town to Lower Town on the Old Quebec Funicular!
Start at either the Dufferin Terrace right at Chateau Frontenac (Upper Town) at Quartier Petit-Champlain at the base of the Breakneck Steps (Lower Town) on the 210 foot (64 m)/45-degree angle journey.
Originally opened in 1879, you can imagine that before this handy little cable railway made getting from Upper Town to Lower Town a lot more convenient.
You ride this historic funicular 7 days a week from 9 am to 9 pm, each ride is $3.75 CAD per person per ride.
Place Royale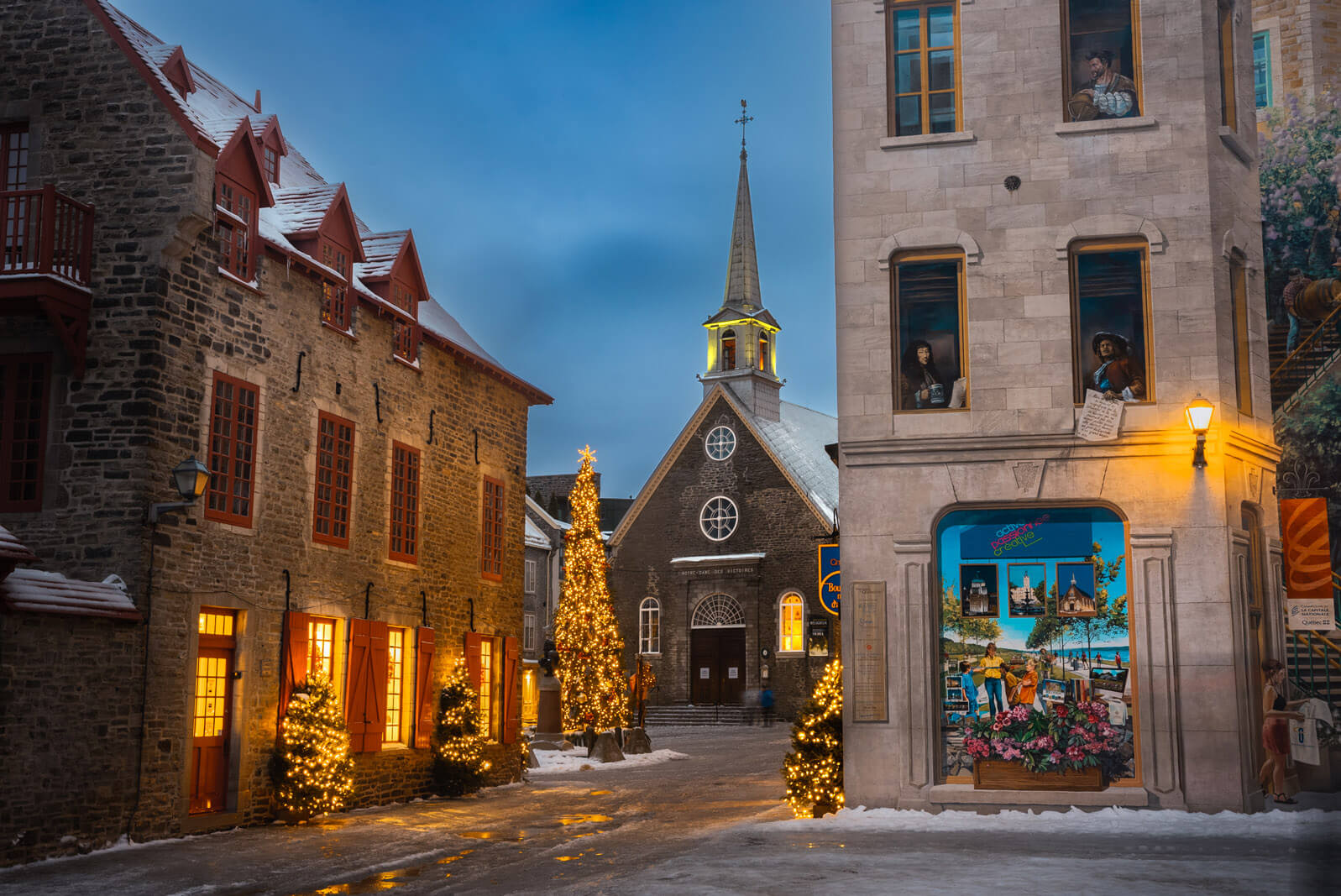 Technically in Quartier Petit-Champlain but worth mentioning on its own is Place Royal, the charming cobblestone square and site of the first French settlement in North America.
In 1608, this is where Samuel de Champlain colonized the City of Quebec, Not only is this a turning point and cultural hub for French North America, but this is where you can find the oldest stone church on the continent, Notre-Dame-des Victoires Church built in 1688.
The square has beautiful buildings surrounding it and visiting Quebec City at Christmas means that you'll be able to see the beautiful Christmas tree decorated as a centerpiece here for another great photo opportunity next to the bust of Louis XIV, or a replica from 1931, who financed Champlain's expedition.
Place d'Youville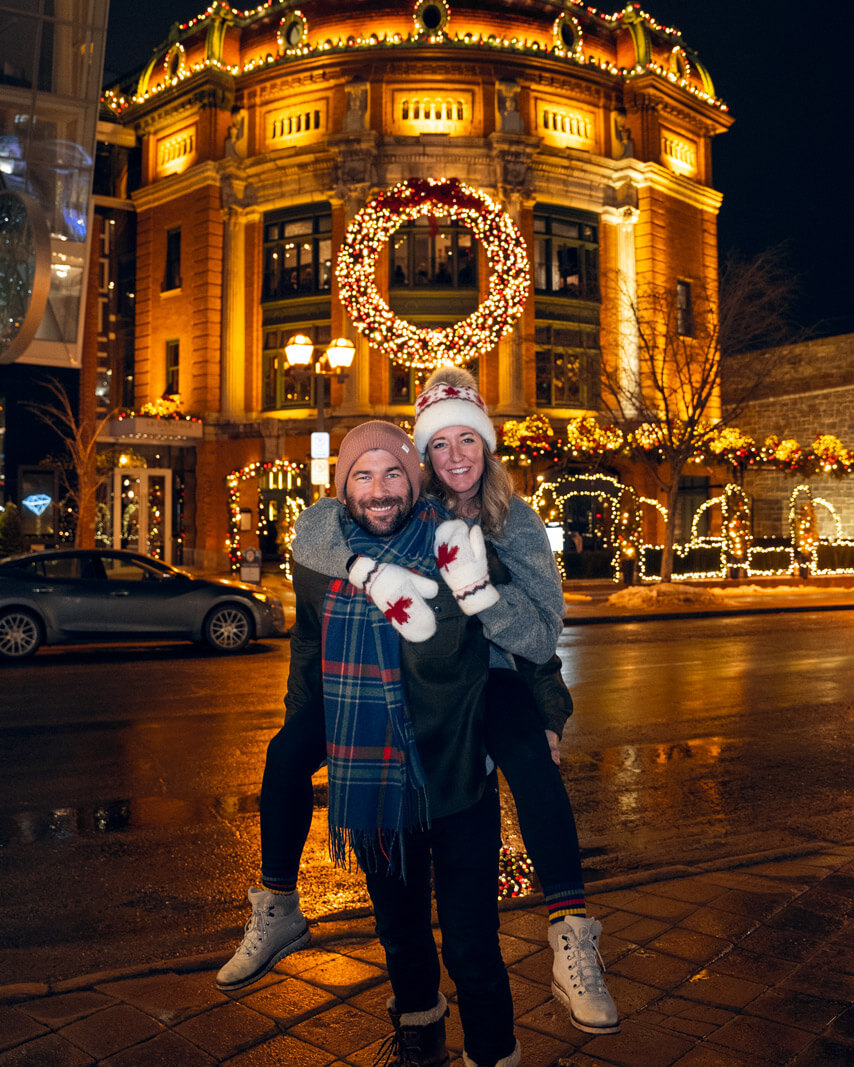 Another one of the most beautiful and our favorite places to visit on our getaway to Quebec City at Christmas was Place d'Youville, a public square where you can find entertainment venues like Théâtre Capitole de Québec, Le Diamant performing arts theater, the beautiful Le Capitole Hôtel, and a winter ice rink!
During the holiday season, you can find a cool illumination show in the windows of Le Diamant in the evenings, holiday lights and a giant wreath on the Le Capitole Hôtel, and one of the locations for the German Christmas Market!
Without a doubt, one of the best things to do in Quebec City in the winter is to grab some skates on the ice rink. The ice rink is open from December through mid-March seasonally, so even if you miss the holiday season, this is still one of the best winter activities in the city!
Pierre-Dugua-De Mons Terrace
An especially beautiful vantage point during winter in Quebec City when there's a gorgeous blanket of snow is from Pierre-Dugua-De Mons Terrace. From here you have incredible views of Chateau Frontenac, Dufferin Terrace, and the St Lawrence River below.
From here you can walk around the historic Citadelle of Quebec, one of the most prominent military fortifications in North America.
Just a short walk from Pierre-Dugua-De Mons Terrace on the other end of the Citadelle, you can find another picturesque spot is the St. Louis Gate, one of the entry points around the fortification of Old Quebec City.
From here, if you're up for a walk, you can make your way to the Plains of Abraham for more beautiful vantage points of Quebec City in winter including Chateau Frontenac.
If you're in for a thigh and calf burning workout, try out the steep 398 Cap Blanc Stairs, the longest (& steepest) stairs in the city, just a warning, if you go down you'll have to climb back up – or you can just take Champlain St all the way to the end of Rue du Petit-Champlain (~15-minute flat walk from the base of the stairs).
Strøm Spa Nordique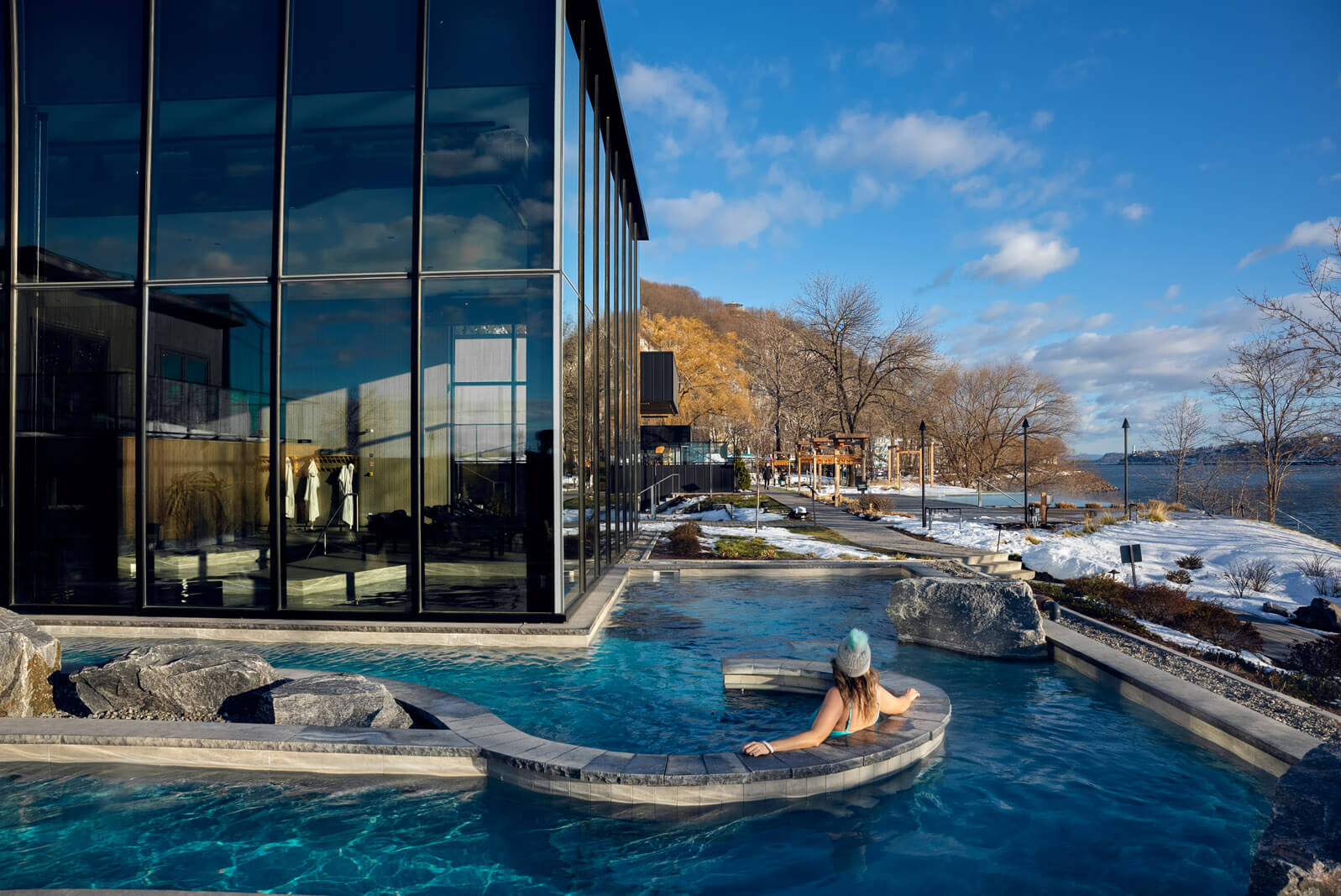 Without a doubt, one of our favorite things to do in Quebec City in winter would be soaking in the thermal waters at Strøm Spa, nestled right along the bank of the St Lawrence River which provides a chilly breeze as you soak away your aches and pains at this Scandinavian wellness spa and center.
Enjoy the heated outdoor whirlpools overlooking the St Lawrence River including a heated infinity pool and pool with a floating fire! Or take a dip in the cold baths in between the traditional hot and cold ritual of Nordic spas.
There are also saunas, eucalyptus, and essential oil steam rooms, relaxation areas, fireplaces, floatation baths, and even a bistro so you can spend an entire day getting a little rest, relaxation, and rejuvenation on your winter in Quebec City getaway.
This is a popular thing to do in Quebec City in winter not only with visitors but with locals, it is recommended you get a reservation in advance. Walk-ins are also welcome, but not guaranteed a spot during peak visitation hours.
You can also book a private massage and other treatments for an additional fee.
Montmorency Falls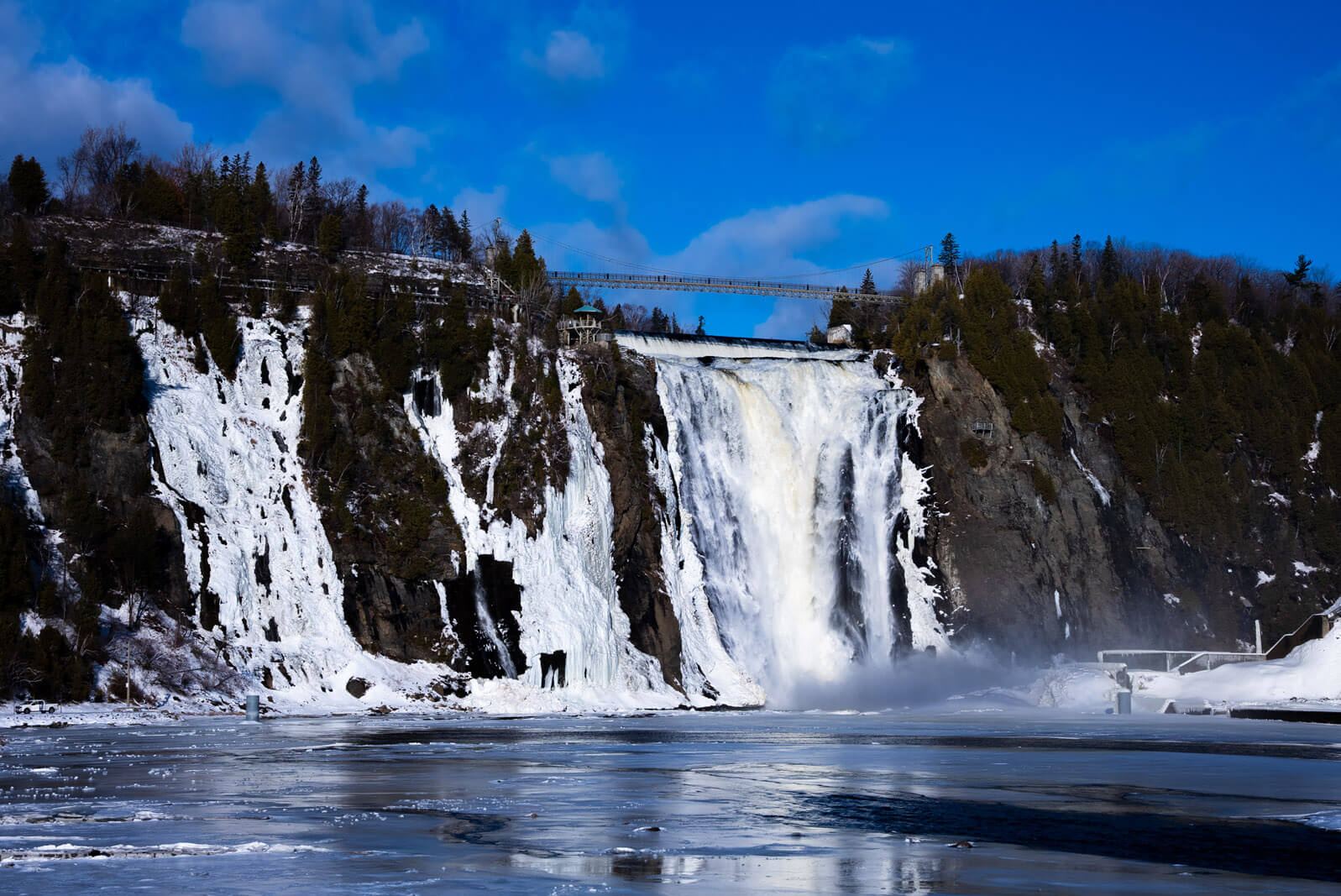 Located outside of Old Quebec City by 15 minutes via driving (or taxi) is a sight to behold. Montmorency Falls is a stunner of a waterfall not only in the winter but every season. This impressive waterfall has a 272.3-foot drop (83 meters), which is 98.4 feet (30 meters) taller than Niagara Falls!
There are actually three waterfalls here, one you will see as you drive to the lower parking area at the base of Montmorency Falls. This is what we also thought was the best viewing area in the winter months due to the snow and ice.
The rest of the year you can enjoy other thrilling activities like ziplining, Via Ferrata, and even crossing a suspension bridge over the top of this giant waterfall.
In the winter, you can visit Manoir Morency and the Boutiques and during certain winter dates you can even enjoy a ride on the cable car with gorgeous views of Île d'Orléans. As the winter season goes on, the waterfall looks more and more frozen too!
And for adventure junkies, you can rent snowshoes around the trails surrounding the falls or even ice climb! You can find more information on the Sepac website about how to access the trails, rent snowshoes, and ice climb here.
Hôtel de Glace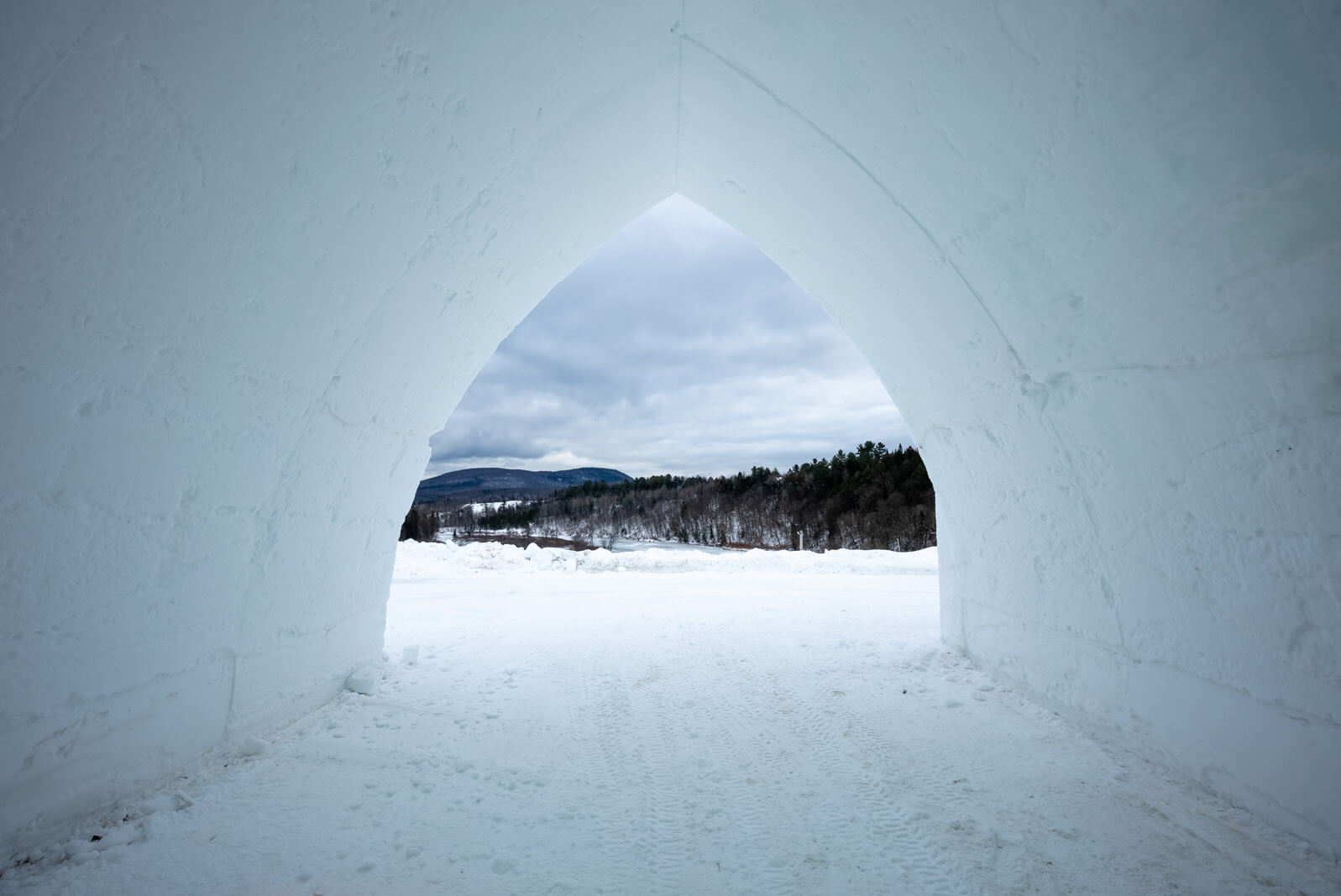 Another one of the best things to do in Quebec City in winter is take a trip to Hôtel de Glace, North America's only ice hotel! Located a 30-minute drive from Quebec City, you can enjoy an unforgettable night in freezing temps!
Each winter in Quebec from January through March guests can spend the night in a private ice room while enjoying the ice bar, winter scenery, and even get married in the ice chapel!
It takes two months to construct this icy resort for about an 80-day season where guests can stay the night in their ice suite or room. Each room comes with your own ice hotel guide which prepares you for your stay to ensure that you are comfortable and prepared to stay the night in the cold comfortably.
The snow and ice structure actually has its own microclimate and maintains the same temperature, which once you acclimate to it's pretty comfortable. Your personal guide will prepare you for your stay and make sure you're covered including prepping you for your stay in your sleeping back which is designed to keep you warm to up to -15°C and -30°C (5°F to 22°F) temps!
There are tricks and tips to ensure that you are comfortable throughout your stay, which is why an expert guide will make sure that you're covered during your stay. Room temperatures stay between -3°C and -5°C (27°F and 23°F).
Due to its uniqueness, it is recommended to plan ahead to book your stay at Hôtel de Glace to ensure you get to stay during your trip to Quebec City in the winter season.
While you're here you can also enjoy the Winter Playground snow park which includes snow tubing and other fun snowy activities on the property as well as an indoor waterpark!
Also, each year the ice hotel is a little different as they bring in different ice artists and slightly mix up the design and layout, so this is one of those things to do in Quebec City in winter year after year since it will always be a slightly different experience.
Quebec City Carnaval
No guide to winter in Quebec City would be complete without mentioning Carnaval de Quebec, the Winter Carnaval! This is one of the most famous events of the year which takes place each February!
This festive outdoor event celebrates winter and provides activities for all ages to participate in or be a spectator. Check out ice canoe races down the St Lawrence River, snow sculptures around the city, shows, ice skating, night parades, and of course the famous snowman mascot, Bonhomme Carnaval, and his Ice Palace.
Head to the Saguenay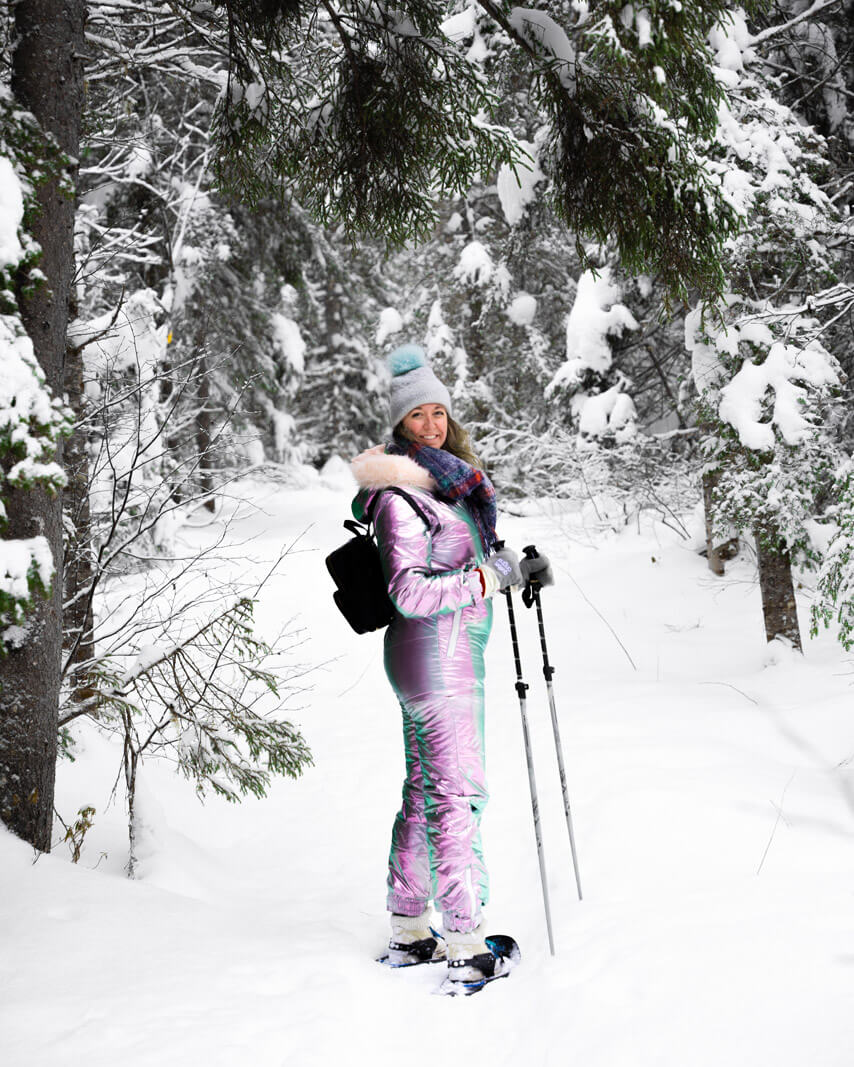 Another one of the best ways to spend your winter in Quebec City is to add on a few extra days and make your way up to one of the snowiest places in the world to Saguenay!
Pack your winter gear and hit up the slopes, snowshoe in Monts Valin National Park (if you're up for it be sure to visit the Valle des Fantômes), go on a snowmobiling adventure, or visit an ice fishing village on the Saguenay Fjord in La Baie!
If you're up for an extra adventure you can even stay in a yurt on the side of the mountain under the stars and snow-covered forest at Imago Village. The yurts are incredibly charming and you wake up to the most incredible views of the mountain and winter landscape!
Don't worry about being cold, pack extra layers and your coziest PJs. Each yurt has its own fireplace to help keep you toasty throughout the night.
We spent 3 nights and 2 full days in Saguenay staying around La Baie, Chicoutimi, and Monts Valin National Park. This area is around a 2.5-3 hour drive from Quebec City. See our full guide to visiting Saguenay-lac-Saint-Jean, Quebec in winter for more information.
Quebec City in Winter FAQ & Important Information
What to Pack for Winter in Quebec City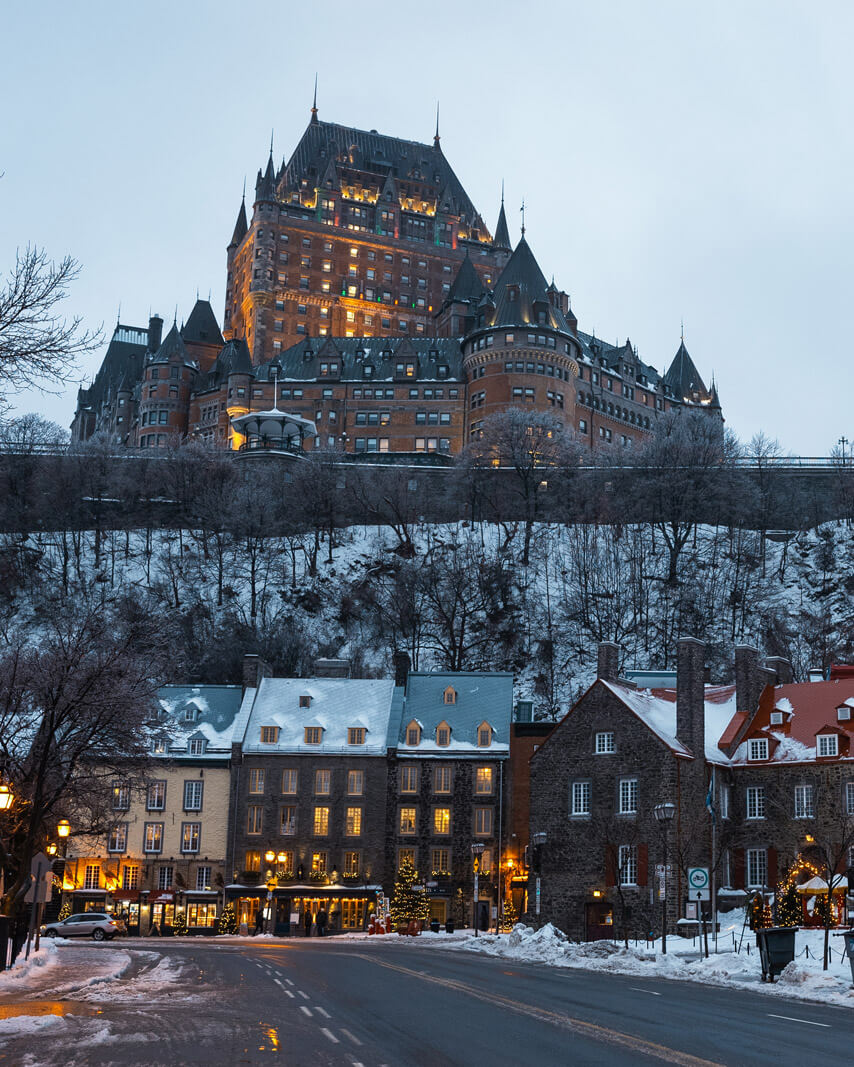 Unless you're a local or come from a destination known for having some of the best winter weather and snow in the world, you will want to come prepared with the proper packing essentials to ensure that you're comfortable so you can enjoy all the beauty and best things to do in Quebec City in winter offers.
Let's start with your attire, the key is to layer. You will want to make sure you have a warm winter jacket, we recommend bringing one that can handle wetter, snowy conditions so that your jacket keeps you dry. I have this North Face winter parka (they have a Men's winter parka too) that kept me warm and dry even in the frozen rain we experienced our first day exploring Old Quebec City in winter.
We also recommend having layering thermals for the really cold days. I have a thin, long-sleeved thermal I like to wear under my sweaters and Scott wore a long-sleeved thermal under his flannels that helped regulate his temperature. We like the Uniqlo brand of Heattech thermals because they include insulation without overheating or being bulky (plus use fabrics that are moisture-wicking, anti-static, and have odor control).
It goes without saying, make sure you also have a scarf, winter hat, gloves or mittens, and thick, warm socks. We really like the thick, warm socks from Roots (a Canadian brand). If you're in snowy conditions you may want to pack extra socks. Sometimes snow sneaks in the top of your boots and it's nice to have a fresh pair to change into halfway throughout the day or before going out for the evening.
One of the most important parts of your body to keep warm and dry are your feet! Which is why we highly recommend having a quality pair of snow boots, because if you're visiting Quebec City in winter, you're going to be walking in snow at some point.
We both are huge fans of Sorel boots, Scott has the Men's Caribou Boot and I have a pair of their women's snow boots as well which are great at keeping your feet dry and warm even on the wettest and coldest of winter days.
Lifesaving Winter Essentials
Not meaning to be dramatic, but these next two items were lifesavers during our winter in Quebec City getaway. We are not used to these colder temps and weather conditions, so these extra little gadgets made our lives more comfortable while exploring all the fun things to do in Quebec City in winter really comfortable.
First of all, pack some hand warmers. There are disposable, single-use ones that can come in handy (in the winter we always have a spare pack of these in Scott's camera backpack and my purse). They even have toe warmers too in case your toes get extra chilly.
The holy grail of hand warmers though are the rechargeable hand warmers. We LOVE ours and they last all day – just remember to charge again at night. I like to have it on the low setting in my winter jacket pocket to keep my phone warm too (since phone batteries hate the cold weather). We tried a few brands and not all rechargeable hand warmers are created equal – this is the one we have and it's the best.
One thing I wish we had were ice grips for our snow boots. These are not only affordable and take up no space in your luggage, they are really great for walking on icy sidewalks and packed down snow. On our first day during our stay in Quebec City in winter there were frozen rain and sleet conditions which made walking around take a bit longer as we shuffled around on the ice like little penguins.
If I owned a souvenir shop in touristy areas, I would sell ice grips as I was desperately looking for them during our visit.
Getting Around Quebec City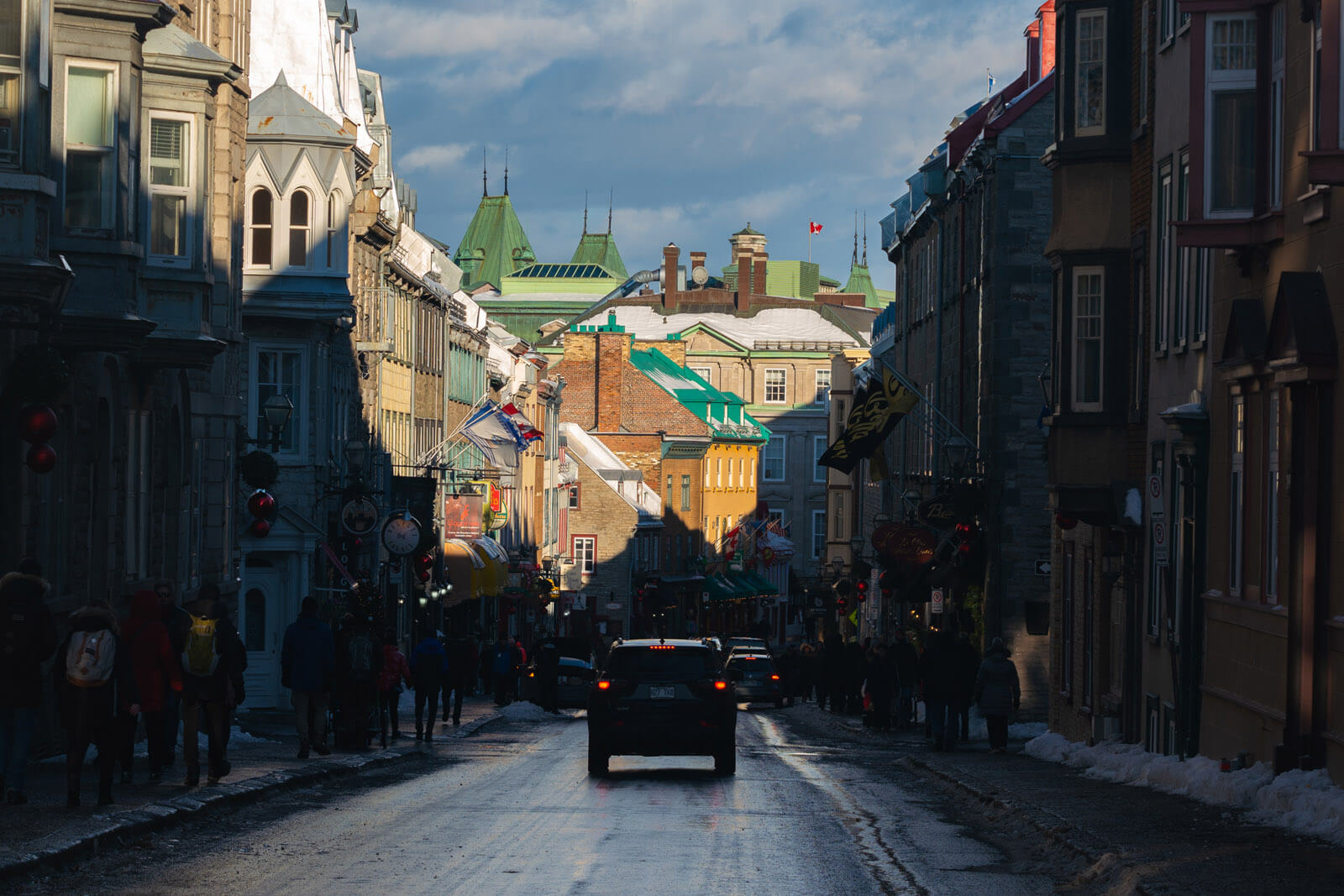 Getting around to the best things to do in Quebec City in winter that we suggested in our guide is pretty easy and straightforward since most are within walking distance. Old Quebec City is very walkable (just get those ice grips in case you get icy weather) and for anything else, in the city you can call a city taxi.
During our stay, there were no rideshare apps available, which means you'll have to use an official city taxi. Since neither of us speak French, we were nervous at first about calling a taxi – luckily, you can call the taxi dispatch center at (418) 525-5191 and wait for someone to answer, sometimes it rings for a few moments.
Each time we called except once, the taxi dispatch spoke English. The one time they didn't they forwarded the call to someone who did. Every taxi driver we had also understood English, just have the address of where you're going handy.
For other activities, especially if you want to take day trips from Quebec City or visit Hôtel de Glace, we recommend renting a car. The rental car experience at Jean Lesage International Airport (YQB) was easy and straight forward and it was really convenient to have a car for when we wanted to explore some of the cool things to do in Quebec City in winter that were a little outside the city like Montmorency Falls and even having a car after visiting Strøm Spa is nice so you can return to your hotel.
If you only plan on staying in Old Quebec City on your winter getaway, then a rental car isn't necessary.
Where to Stay On Your Quebec City Winter Getaway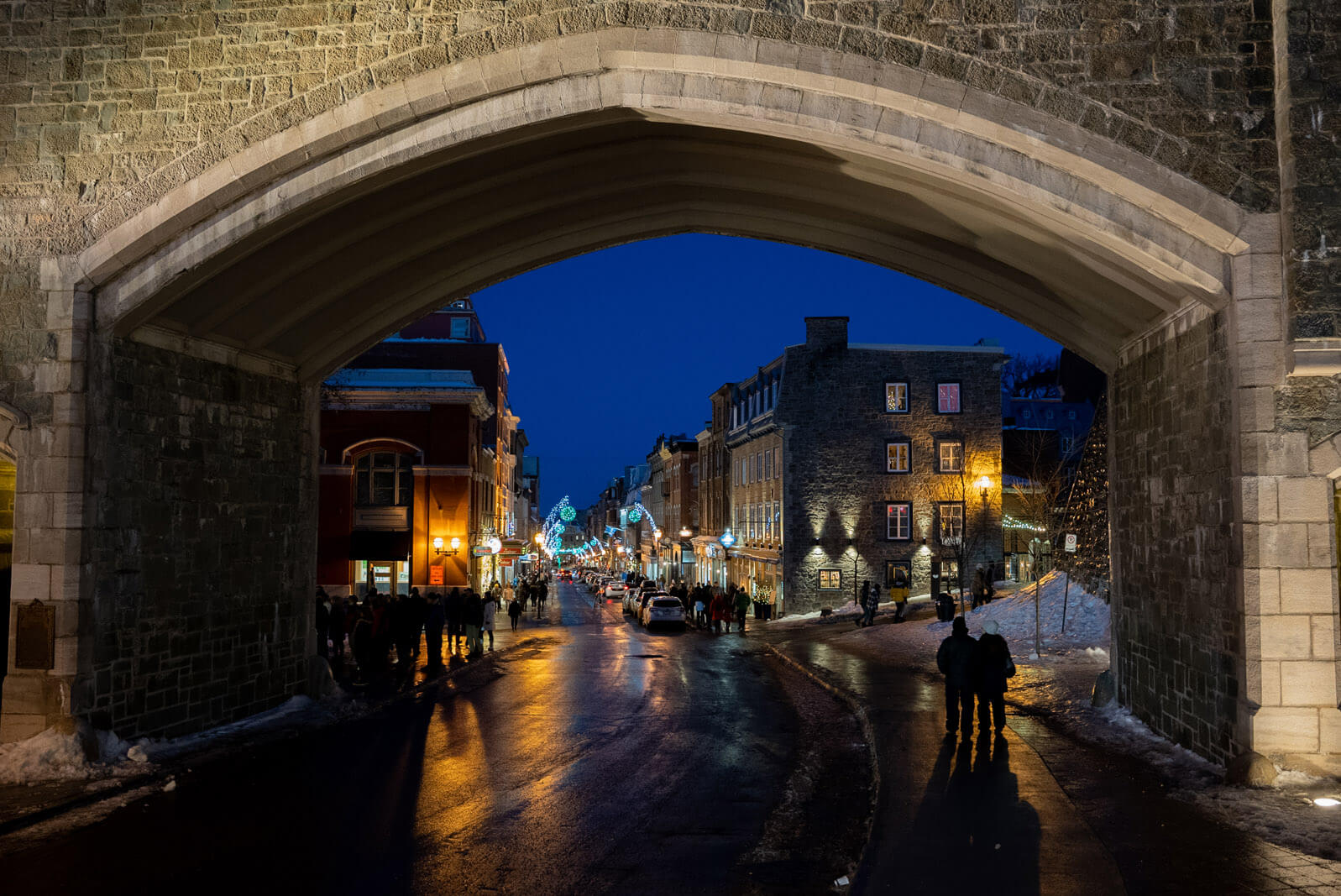 We stayed at Monsieur Jean hôtel particulier in the heart of Old Quebec just steps away from all the incredible things to do in Quebec City in winter. This boutique hotel offers a unique stay, we particularly loved how much art there was throughout the hotel lobby and the views of Quebec City from our room.
As you walk through the hallway to your room you will feel like you're walking under the stars at night. The rooms are decked out with luxurious linens, designer furniture pieces, and luxe toiletries. We were quite smitten with our deep soak tub with a view of the city below. Book here.
---
Enjoyed this guide to all the best things to do in Quebec City in winter? Use this to plan your next winter getaway by bookmarking for later.
And if you want to extend your visit to the Quebec province in the winter be sure to check out our guides to Montreal in the winter including a Montreal 3 day itinerary and our Mont Tremblant winter getaway guide.