Wine, baguettes, and rabbits, oh my! What if we were to tell you there is an under celebrated charming spot in Seoul with a dozen bakeries full of the best bread for miles?
This same place is also filled with delicious restaurants, wine shops, and even a park that is home to rabbits that hop about? This place we speak of is known as Seorae Village, home to the largest French population in Korea and also the only Rabbit Park in Seoul, one of our top picks for best things to do in Seoul!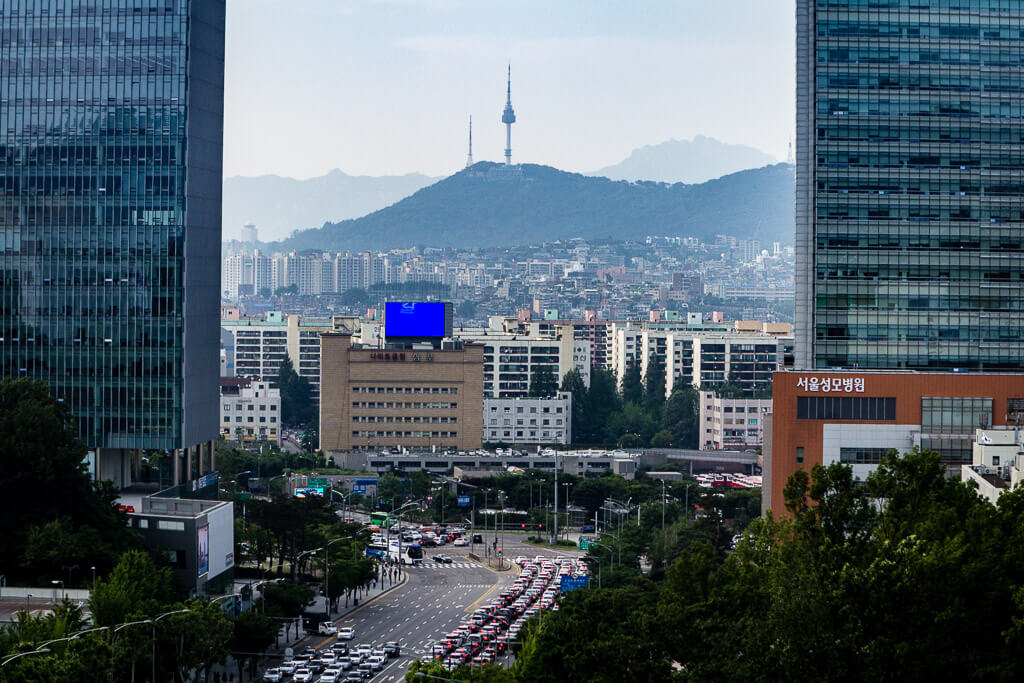 After living in Seoul for almost two years, you start to crave western delicacies. Especially when they are accessible to you living in such a large city! We had heard of this rumored French enclave a few months back, and we were intrigued and kept it on our radar, but when we caught wind there was a "rabbit park," we had Seorae Village as our first stop when summer weather hit.
Now, we are big fans of picnics. Seoul has so many great spots to enjoy a picnic including any spot on the mountains of Bukhansan National Park, in the grassy lawns of Seoul Forest, and enjoying the cool breeze along the Han River at Yeouido Park.
But the excitement I had for rabbit park lead up for weeks before we actually planned a date for us to enjoy our furry friends in this quiet neighborhood park. I used to have three pet rabbits on my parents farm as a kid, so for me to relive those wonderful childhood memories of my rabbits Shadow, Molly, and Floppy already had me ready to go make new rabbit pals. I actually had a dream about rabbits the night before we had our picnic. That's how nuts I get about hanging out with animals.
Read Next: Best Things to do in Hongdae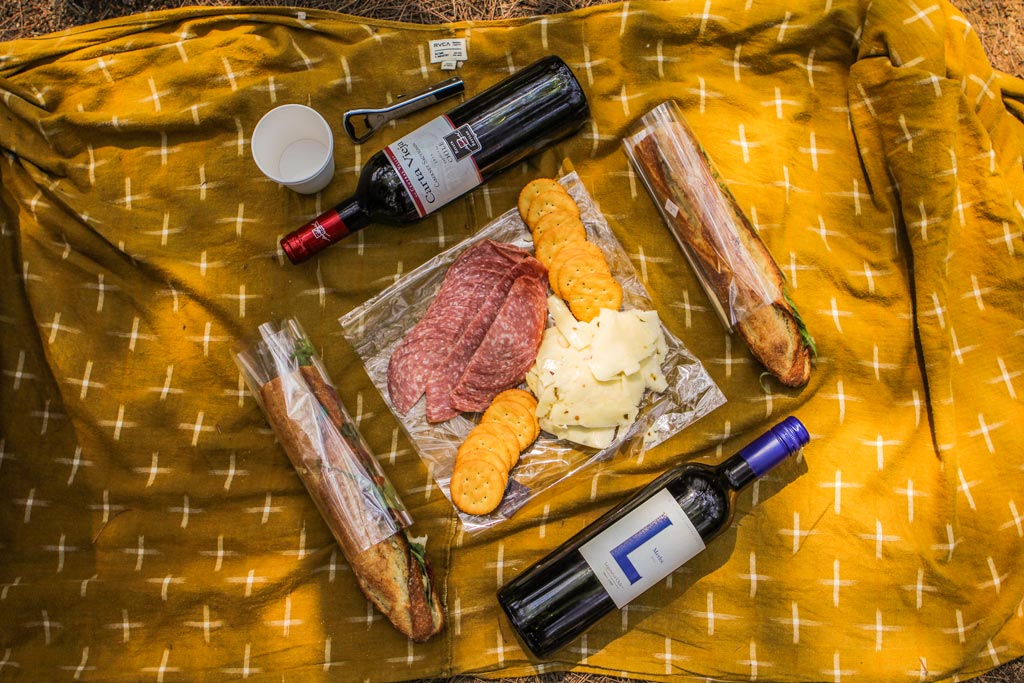 The morning of our picnic, Scott and I left our home prepared with two bottles of red wine, pepperjack cheese, salami, and crackers. As soon as we arrived to Seorae we walked through each french bakery picking out the finest sandwiches we could find to accompany our picnic spread. Every bakery had a drool worthy selection of baguettes, sandwiches, salads, and pastries. It was almost impossible to choose until we saw a chorizo, cheese, pesto, and arugula baguette at Paris Croissant.
*Fun Fact! Paris Croissant is actually an international chain of bakeries, each with it's own patissier who makes all the bread fresh daily with wheat imported from France.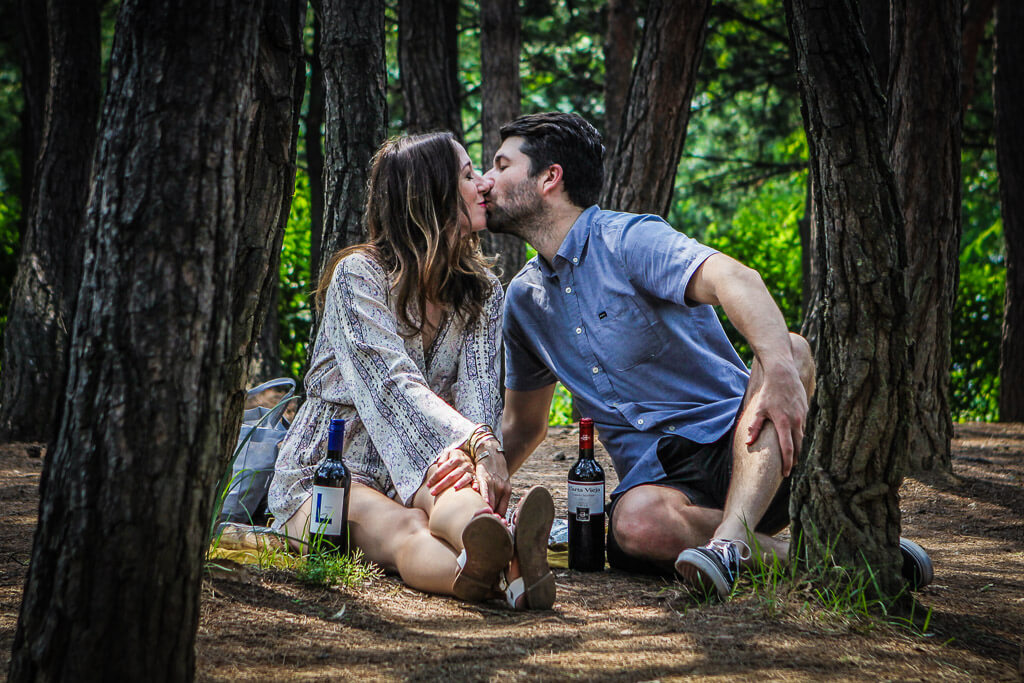 After a short walk up the hill to Montmartre Park (rabbit park), we searched this quaint park for the perfect spot to enjoy our food. There were plenty of grassy knolls in the shade to choose from, but we found a spot that allured us due to the interesting trees that surrounded us and it was well removed from anyone else in the park.
Also, if you want to increase your chances of spotting rabbits, you want to stay away from the center of the park where people walk their dogs as the rabbits like to hang out along the trees and bushes surrounding the park during the day.
---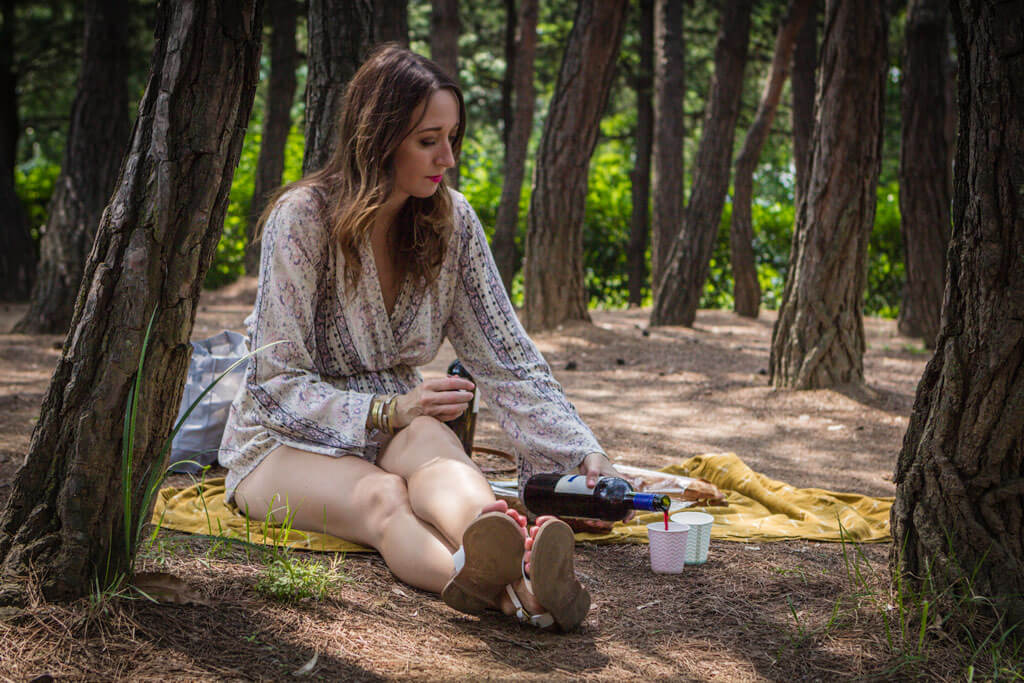 ---
After a few quick photos, we enjoyed our scrumptious spread. Drinking red wine and eating baguettes made us start running wild with our future travel plans to Europe next year. We are already scheming ways we can stay longer than a year all because of some wine and french bread. As a matter of fact, our mouths water thinking about how delicious that chorizo baguette was.
---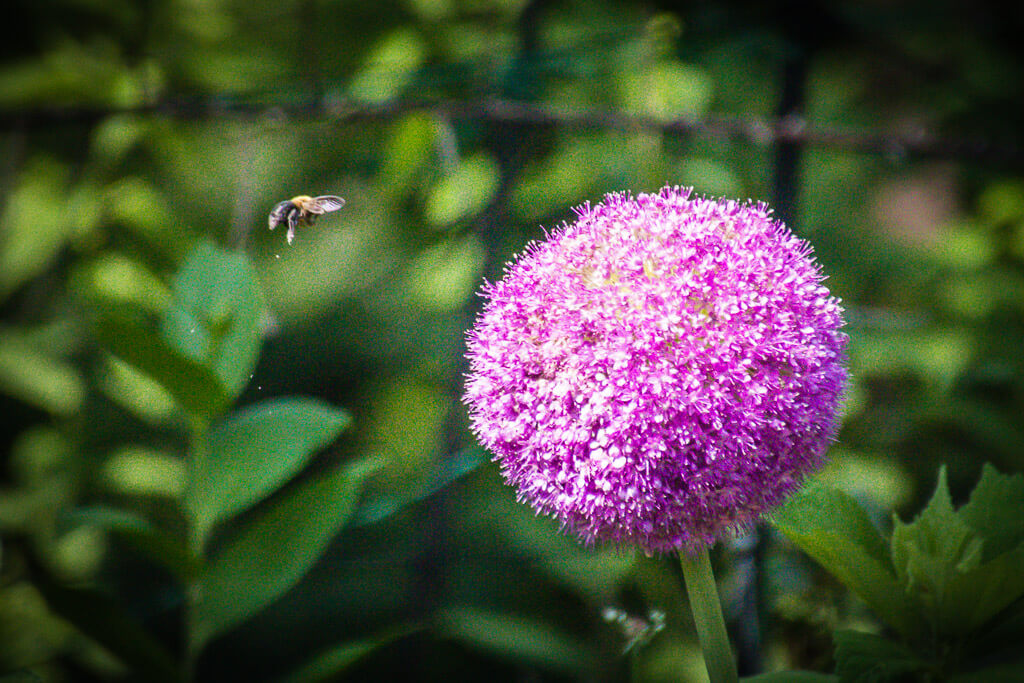 ---
Feeling a little love drunk off that first bottle of wine, we went looking for rabbits through the side gardens and edge of the park. During the heat of the day, the rabbits will most likely be found in the shade. We actually had one sleepy rabbit snoozing right next to us in a bush without realizing it until towards the end of our meal. As I mentioned before, the rabbits tend to stay off to the side of the park not only for shade, but because people also walk their dogs during the day in the park.
---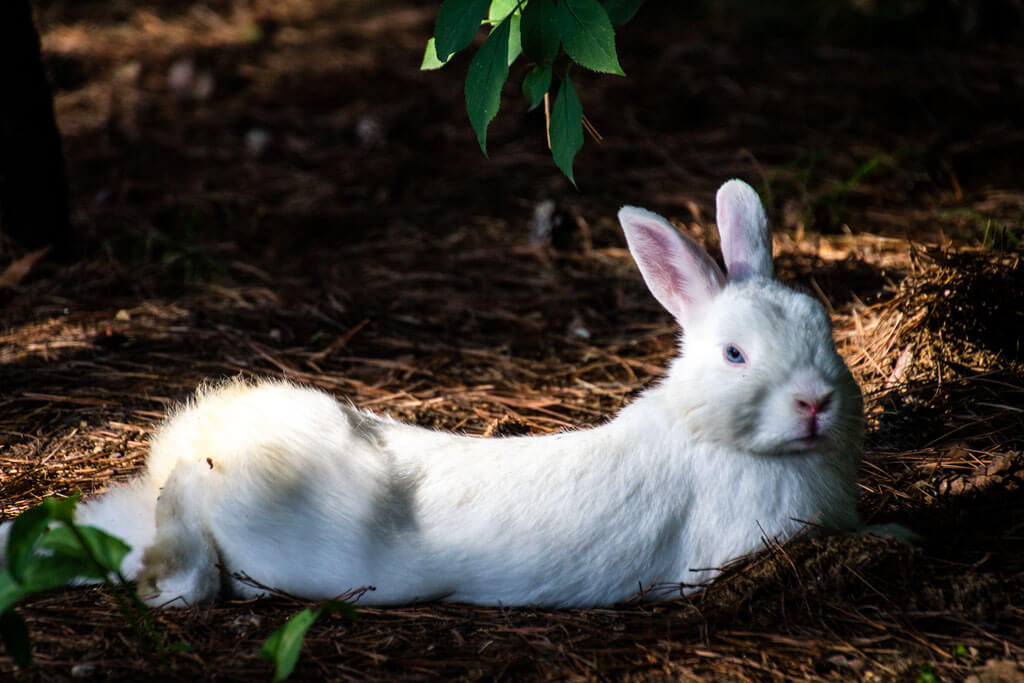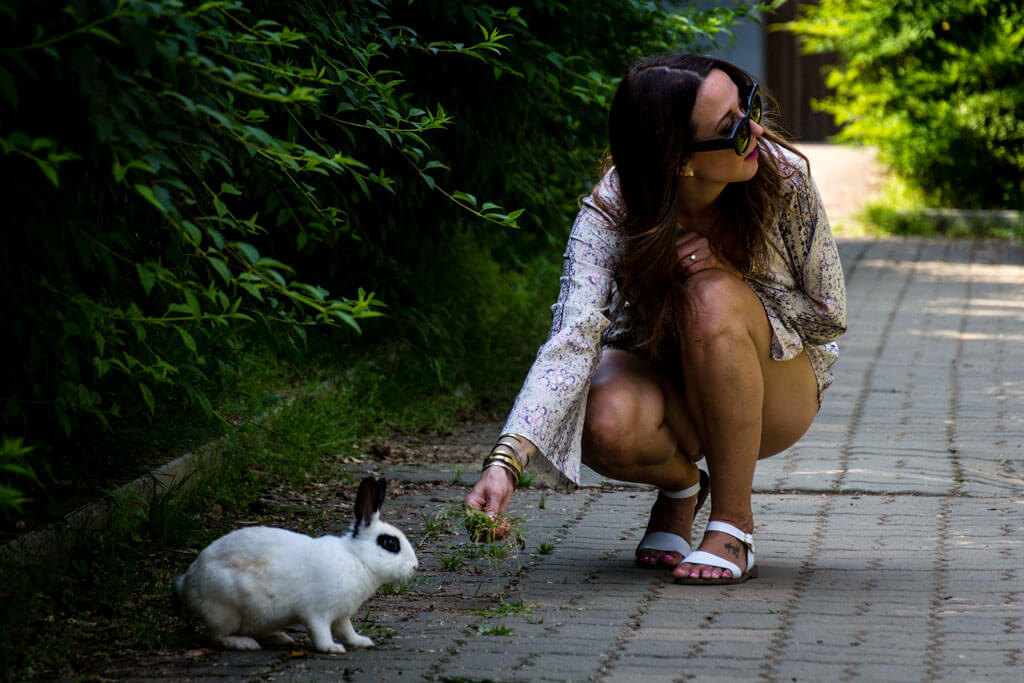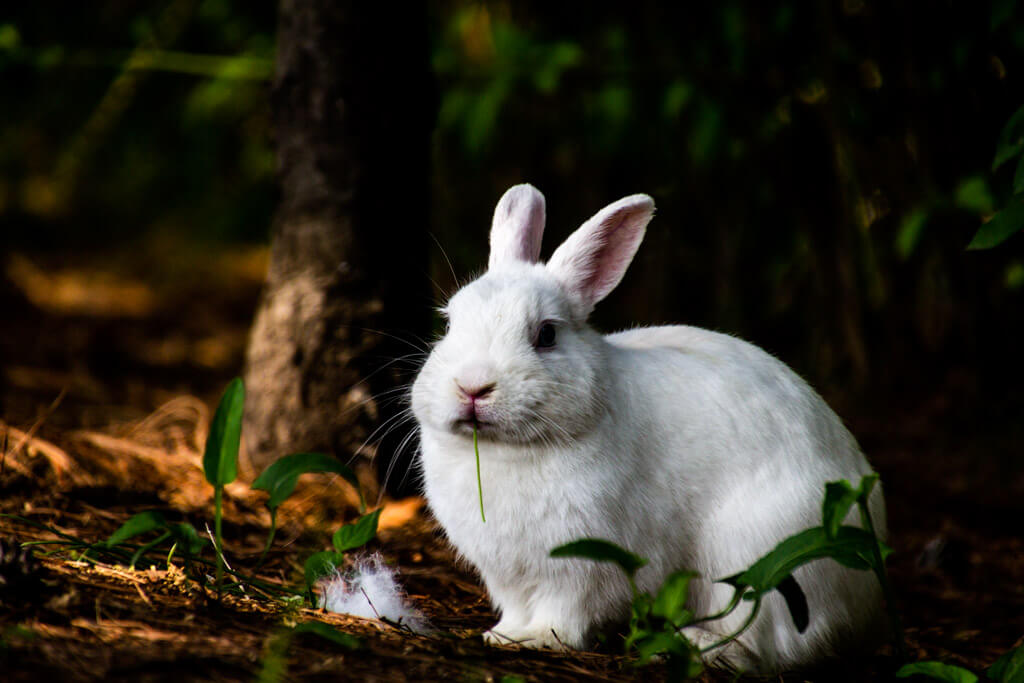 ---
We found six different rabbits, all of which were comfortable being close to humans as well as eating grass out of my hands. But don't try to touch or hold the rabbits, they are still scared and could scratch you. The rabbits you will see in this park are not genuine wild rabbits, they are actually different breeds of domesticated rabbits. Even when I had pet rabbits, they didn't really like to be held and would scare easily causing them to scratch me.
Later we finished our second bottle of wine and headed into Seorae where we found the perfect spot for a craft beer and a view overlooking the charming streets of the village. The beer was delicious, but you could imagine that after two bottles of wine and some craft beer we are feeling the alcohol quite a bit. As a matter of fact, bobo and chichi got freaking drunk in love with those rabbits that we decided to hit up Paris Croissant for picnic with the rabbits round two for dinner.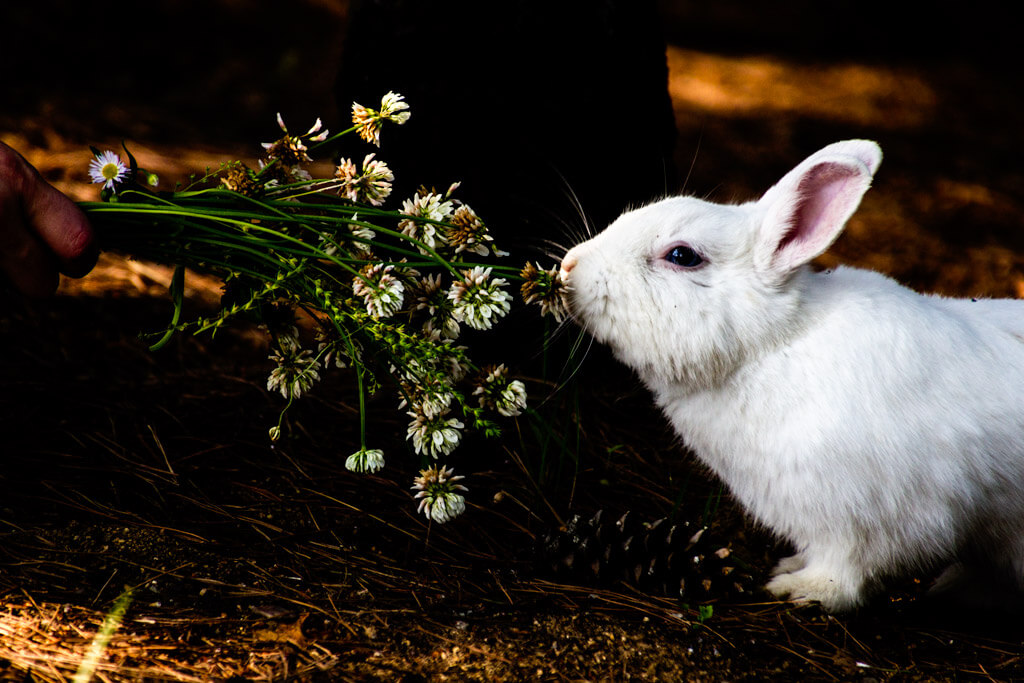 The baguettes and sandwiches were pretty well picked over by the evening, but we still found some tasty ones to try. As we made our way back up to the park in the dark we started seeing our little rabbit friends EVERYWHERE! I grabbed handfuls of grass and made best friends with a few little Peter Cottontails.
We even found the perfect spot to sit and enjoy our dinner next to a little rabbit friend who was just the most curious little guy you could ever meet. This little rabbit was so cute, he kept hopping right up to me to sniff me, then would hop away just to come back and do it again. I hand fed him some grass, then he scurried off and decided to turn around and hop right up to me and SPRAY me and my sandwich with urine. WTF rabbit.
Perhaps he was marking his territory. Perhaps he had enough of me. Was it love, was it hate? This is something I will never have the answer to. But the rest of the night I had to sit with my rabbit urine drenched clothes and wonder.
Luckily, we found the rabbit spraying to be hilarious and it didn't ruin anyone's day. We were in love with rabbit park and recommend anyone looking for a quiet, relaxing spot in Seoul to enjoy a day date or lunch. Just beware of the rabbits after dark. Haha!
If rabbit park isn't enough reason for you to go to Seorae, then perhaps you will enjoy the delicious bakeries and restaurants nearby! Banpo Bridge is also walking distance away and the perfect place to end the evening with a colorful water show off the bridge.
If you have any hilarious rabbit or animal fails from your trip you should share it in the comments!
If you're planning a trip to Seoul be sure to check out our guide for where to stay in Seoul by neighborhood to help you pick the best spot for you depending on your interests!
If you enjoyed this post, consider sharing it on Pinterest below!