There are so many cool things to do in Hongdae because it's one of the hippest areas in Seoul loaded with young people! Located near three popular and different universities (Yonsei, Hongik, and Ehwa), it's quickly grown to be the hotspot for all the cool and trendy going ons in Korea.
From walking the streets at night to the sounds of buskers, shopping at all the various shops, popping into the unique cafes, and finding quirky things to do and see, there's no shortage of things to do in this one area alone!
When we lived in Seoul for nearly 3 years, we had plenty of time to hang out and explore the area, both the main attractions and the lesser-known neighborhoods within.
Here are our picks for the best things to do in Hongdae!
Updated: February 2020
Table of Contents
What to Do in Hongdae
Grab a Quick Bite to Eat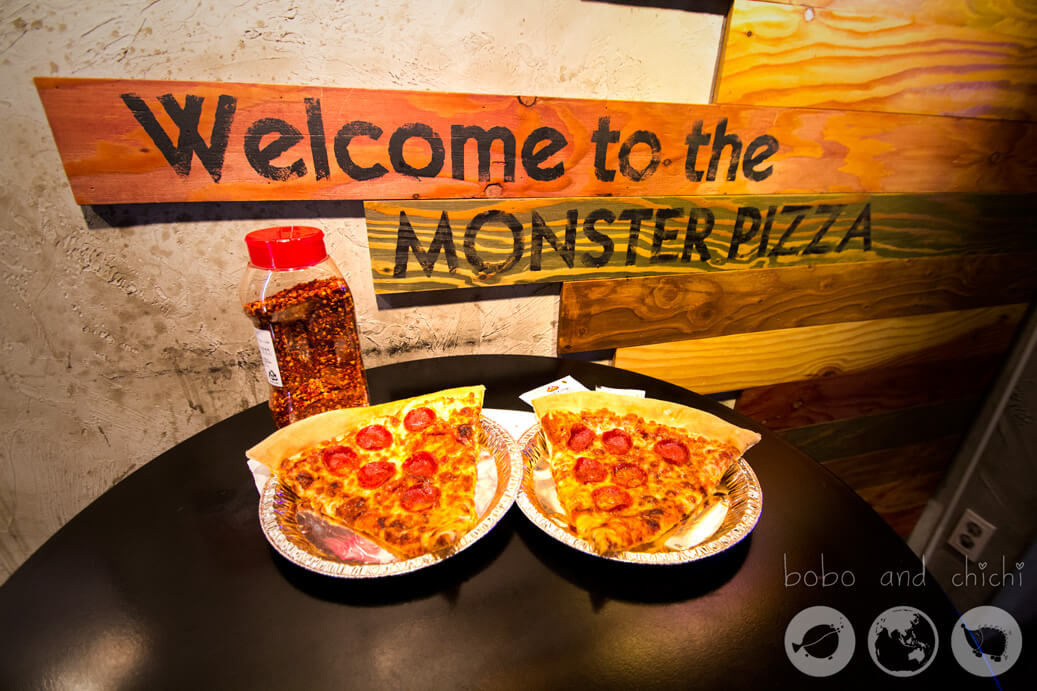 Eating is easily one of the best things to do in Hongdae as well as Korea! Being a popular night spot, there are tons of restaurants filling every corner of this place as well as great street food options.
Also, because Hongdae caters mostly to college students, it also caters to their wallets or lack thereof. Of all the places in Seoul, this is where to find more budget-friendly places to grab a bite.
Whether you are looking for western food or Korean food, you can find your fix here making it one of the best places to go in Seoul for some grub. B
e sure to see our favorite spicy Korean dishes if you're a lover of spicy food like us!
Our Picks for best quick bites in Hongdae:
These were our favorites, but you can easily just exit from one of the main Hongik University Station exits and just start walking.
HakataBunko – Japanese ramen with the famous Hakata tonkatsu broth. 93-28 Sangsu-dong, Mapo-gu, Seoul
Daknalda – Grilled chicken served with vegetables, rice cake, spicy sauce, and cheese restaurant with military inspired interior. 361-17 Seogyo-dong, Mapo-gu, Seoul
Monster Pizza– delicious night spot to get NY style pizza by the slice! 363-1 Seogyo-dong, Mapo-gu, Seoul
Chicken in the Kitchen – This is another awesome spot to eat in Hongdae to try the world famous Korean chicken, we recommend getting the spicy marinated fried chicken! 4-42 Wausan-ro 29-gil, Seogyo-dong
Jin Jin – This famous spot will require a bit of planning in advance and a reservation, serving up traditional Chinese dishes by famous chef Yook Sung Wang. 123 Jandari-ro, Seogyo-dong, Mapo-gu
Doma – This is a spot made famous by its barbeque ribs and doenjang jiggae, come see what the hype is about! YUM! 33 Yanghwa-ro 16-gil, Seogyo-dong
Go shopping!
One of the best things to do in Hongdae is to shop until you drop! There are so many amazing shopping options in Hongdae making it one of the best areas for
shopping in Seoul.
And again, back to that catering to a college student budget…from small $1 crazy sock stores to street vendors selling the latest trendy clothing to brands like Forever21 and H&M, local boutiques, and cosmetic stores, Hongdae's got it all.
We love buying kitschy, crazy socks here as well as visiting stores like 1300k who sell all kinds of fun novelty items, collector's items like Studio Ghibli thing figurines and stationery throughout their three locations in Hongdae.
Our Picks:
1300K – shop full of cute and quirky gifts including stationery, toys, fashion accessories, household items, and random gifts. 358-58 Seogyo-dong, Mapo-gu, Seoul
Style Nanda- Fashion clothing store featuring vintage clothing, famous brands, and their own label including their own cosmetic line. Check out their cool pink pool cafe while you're there! 335-21 Seogyo-dong, Mapo-gu, Seoul
Object – unique gift shop with 2 stories full of accessories and small gifts featuring local designers. 400-1 Seogyo-dong, Mapo-gu, Seoul
Artbox – cute stationery store full of fun gifts, household items, and cosmetics. 1 Wausan-ro 21-gil, Mapo-gu, Seoul
Ehwa Unviersity – There's a huge shopping area near Ehwa too for women, and it's all super budget-friendly (though, of course, not always the best quality). Find plenty of small boutiques, accessory stores, shoe stores, cosmetic stores, cafes, and even hair salons! Subway Line 2 Ewha Women's University Station Exit 2 & 3
Mecenatpolis Mall – If you're looking for a more traditional shopping mall you're in luck because Hongdae has Meceantpolis Mall nearby Hapjeong Station!
Check out the quirky things to do in Hongdae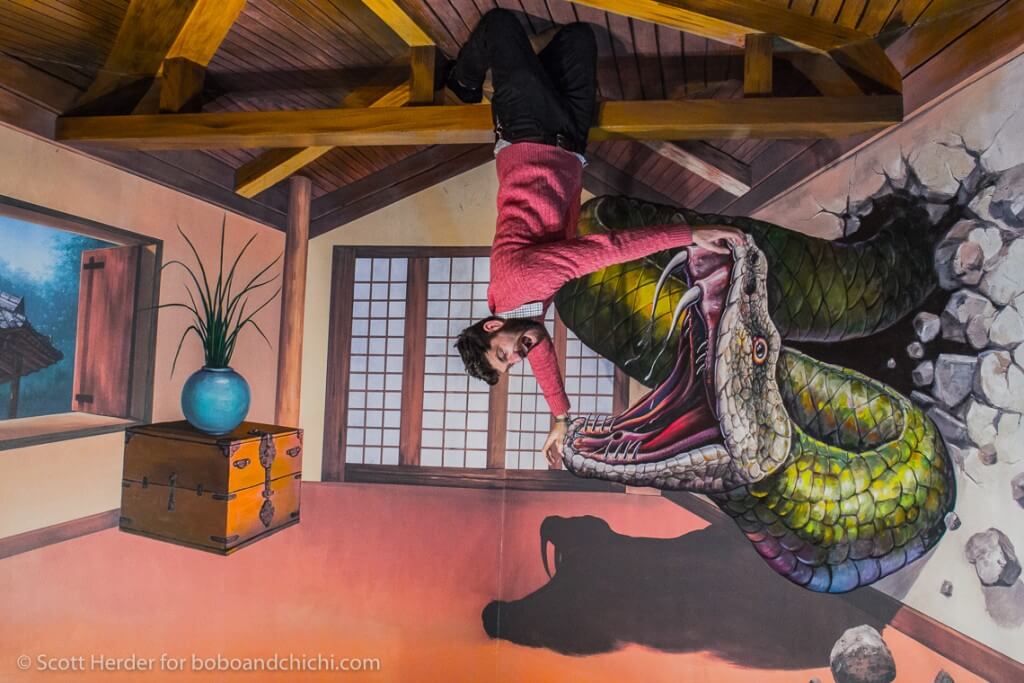 Looking for some fun ideas for what to do in Hongdae and the quirkiest things to do in Seoul? This area attracts people not only for food and shopping but because there are fun things to do in Hongdae as well besides eat and shop!
Check out the latest movie at their CGV theater or watch street performers show off their talents. Maybe you want to show off your vocals at a fancy noreabang (karaoke room) to whacky and fun museums!
Our Picks:
Visit all the fun cafes in Hongdae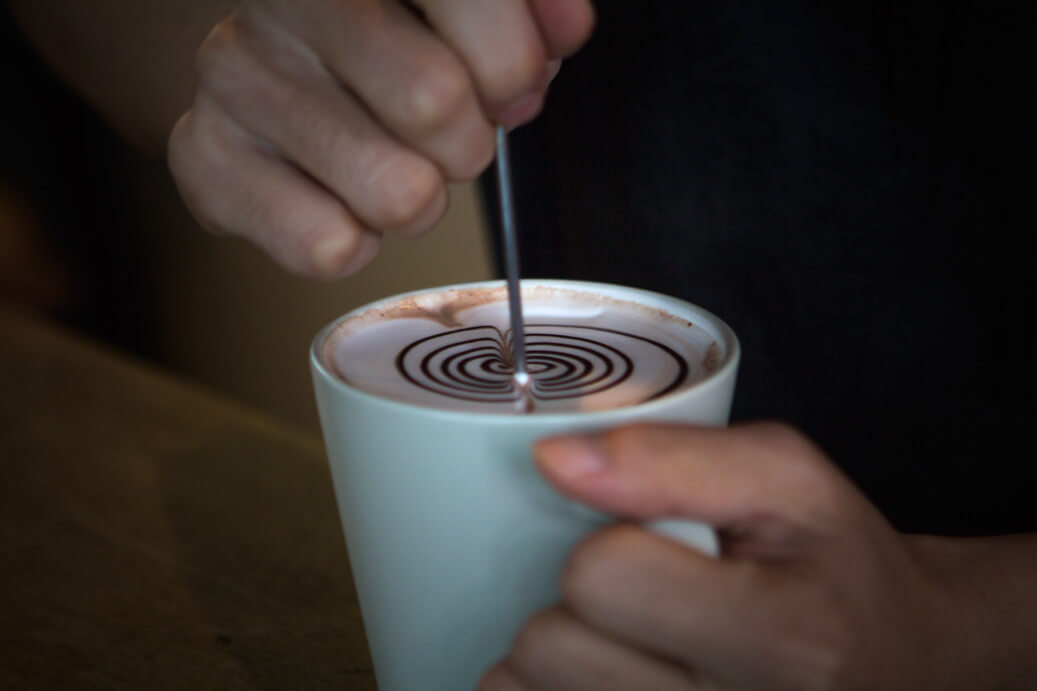 One of the best things to do in Hongdae is enjoy the cute cafe scene. One of our favorite parts of Korea is definitely the fun themed cafe culture. Check out our best cafes in Seoul guide to see more of the fun themed cafes you can enjoy while you're in the city!
There are TONS of cafes spread throughout Hongdae and the surrounding campuses. We recommend skipping the franchises for more unique cafes and maybe even a fun themed cafe!
Our Picks
Beans Brothers- This is the perfect idea for what to do in Hongdae if you're a coffee aficionado. Beans Brothers serve up some of the best coffee in Seoul and offers free refills on delicious hand-poured coffee!

368-3, Hapjeong-Dong, Mapo-Gu

,

Seoul

Coffee Brown – cafe located on the second floor right across from Hongik University and is another great spot to grab a cup of coffee!
CaFace- Get a latte with your face printed on it! It sounds crazy, but this cafe is the latest craze in Seoul! Located inside the Trick Eye Museum – 20, Hongik-ro 3-gil, Mapo-gu, Seoul
Meerkat Cafe– If you can't get enough of the animal cafes then this one is for you! Full of meerkats, yes MEERKATS, arctic foxes, and even raccoons to make for a really unique cafe experience. – 364-3 Seogyo-dong, Mapo-gu
Thanks Nature Cafe – This is for anyone looking for a unique cafe experience involving animals! Forget cat and dog cafes, check out this sheep cafe which has become one of the most popular things to do in Hongdae! 486 Seogyo-dong, Mapo-gu
If quirky cafes aren't quite your speed, you may like the more hispter, cool vibe of up and coming neighborhoods Yeonnam and Mangwon. They're filled with some of the trendiest cafes in Seoul.
OUR PICKS:
Zapangi Cafe – Literally translates to "vending machine" for its funky entrance! This one is definitely for those with a sweet tooth. 79, World Cup-ro 13-gil, Mangwon-dong, Mapo-gu, Seoul
Yeonnam 223 – It looks like everything is 2D! Have one of their fun, colorful drinks, and make sure you wear something fun and bright too! 223-103 Yeonnam-dong, Mapo-gu, Seoul
943 Kings Cross – A 6-story Harry-Potter themed cafe, need we say more? 24, Yanghwa-ro, 16-gil, Seokyo-dong, Mapo-gu, Seoul
Enjoy Hongdae's Nightlife
One of the things to do in Hongdae that make this neighborhood so popular in Seoul is the amazing nightlife! There are clubs, hofs, and bars aplenty.
This is what to do in Hongdae if you're a night owl and enjoy the party scene! Since there are a few colleges nearby, the nightlife goes hand in hand with the younger crowd.
We aren't much for clubbing, but we do enjoy checking out some of the restaurants and bars that serve craft beer.
Our Picks:
Queen's Head – considered one of the best microbrew pubs in Hongdae with a selection of German-style brews! 407-16 Seogyo-dong, Mapo-gu
Castle Praha– You can't miss the big castle in Hongdae serving up Czech beer and food. 395-19 Seogyo-dong, Mapo-gu
Some of the best clubs include Club Mansion, Gogos 2, Club Vera, Mama Gorilla, and Club Lux for those looking for an amazing late night club scene in Hongdae!
Explore Sinchon
One of the best things to do in Hongdae is check out nearby Sinchon. Sinchon is one of our favorite places to grab a delicious meal and shop. There are tons of restaurants and bars scattered throughout the area featuring western and Korean food.
Located right next to Yonsei University, this area is another great place for young adults to enjoy a night out.
Subway Line 2 Sinchon Station exit 2 & 3
Check out Edae
Another one of the best things to do in Hongdae is explore the neighboring Edae, home Ewha Women's University which makes this area so fun and hip.
This is another energetic spot in Seoul full of younger, university-age students but with less nightlife, making it a nice area to stay as well if you want to party in Hongdae but have a nearby, quiet place to sleep!
Edae is full of shopping, specifically women's apparel, and accessories. The streets are lined full of shops, restaurants, and cafes and a great choice for what to do in Hongdae just a short walk away!
Hongdae Travel Tips
There are tons of amazing things to do in Hongdae as mentioned above and is home to some of the best young, party scene in the city!
What you'll find here is great shopping and cafes during the day and by nightfall, you'll find some of the best nightlife, street food, and hangout spot in Seoul.
This is also one of the best areas for where to stay in Seoul for budget or younger travelers because of everything that's going on here. You'll find everything from affordable hostels to fancy hotels here depending on your budget.
As mentioned, Hongdae is located near three main universities, the most famous one being Hongik University in Mapo-gu, Seoul along
Where is Hongdae?
Hongdae is located in Mapo-gu and the most direct subway station is Hongik University Station (line 2) however, there are several subway stops you can take with a short walk to get to Hongdae including Hapjeong Station (line 2 & 6), Sangsu Station (line 6), Mangwon Station (line 6), and Sinchon Station being the closest (line 2).
When's the best time to visit Hongdae?
In our almost 3 years of living in Seoul, there was never a bad time to visit Hongdae. Even though the area's lively scene is heavily influenced by university students, the area is always bustling and have something going on.
During the day you will have a completely different Hongdae experience. All of the daily activities and things to do in Hongdae will be heavily shopping, cafe hopping and eating focused. This is also a great time to visit the museums in Hongdae.
During the night you'll also find the scene dramatically changes, the streets start filling up with party-goers and nightlife seekers! This is when many of the street vendors come out, the shops start buzzing even more, buskers and street performers come out, and when you'll notice things liven up a bit! Of course, this is when you'll want to hit the clubs!
Read Next: One Day in Seoul itinerary
How to get to Hongdae
Getting to Hongdae couldn't be easier as there are many options for how to get to all the best things to do in Hongdae. We find that the subway system in Seoul is one of the easiest to navigate in the world, however that's not everyone's favorite mode of transportation.
Luckily, getting a taxi in Seoul couldn't be easier and it's also still quite affordable if you prefer to just be dropped off in your location!
The buses are a bit trickier to navigate but not impossible, especially if you're already a bit familiar with transportation in Seoul.
Getting to Hongdae by Subway
The most popular subway station for Hongdae is Hongik University Station (line 2).
However, there are several subway stops you can take with a short walk to get to Hongdae including Hapjeong Station (line 2 & 6), Sangsu Station (line 6), Mangwon Station (line 6), and Sinchon Station (line 2) being the closest.
The walks from some of these alternative subway stops are as little as 5 minutes and as much as 10 minutes. The area is so well connected you can really take any of them.
To ride the subway/metro you can either get a T Money Card and load it with a pre determined amount depending on how much you want to add, you can purchase these at any convenience store or buy single rides in the stations.
Getting to Hongdae by Bus
Another popular way of getting to all the best things to do in Hongdae is via bus. We really love how easy and efficient Seoul's transportation infrastructure is!
If you're a timid traveler though and aren't the best with direction, you may want to opt for the subway option as you need to pay attention to where to get off and what direction you're heading on the bus.
Bus routes will wildly vary depending on where you're coming from but the most common routes close to Hongdae are operated by buses 640, 670, and 70-3.
All of these will drop you off on the popular 'Hongdae Street.'
You will want to have a preloaded T Money card before you get on the bus. This is the easiest way to pay and get on, otherwise, you need cash. You can get your T Money card and even load it at any convenience store (which are ubiquitous in Seoul).
Getting to Hongdae by Taxi
One thing to keep in mind when traveling in Seoul is that while there's quite a large English speaking population, not all older generations speak English and that goes for taxi drivers as well.
That's okay though, if you know the name of where you're going they will get you there. Or, if you want to get dropped off at the nearest subway station that also is the easiest way to communicate. You can also show the location on a map if all else fails.
The taxis are very affordable, we've gotten all over Seoul in a taxi and rarely spent over $10-15. Meaning you'll probably spend much less depending on how far of a drive it is. Better yet, they do accept your T Money card for payment in taxis too!
Just note, that during peak rush hour sometimes this isn't the fastest way to get places as you'll be stuck in traffic. The subway can be the quickest option during peak traffic hours.
Where to Stay in Hongdae
As mentioned, Hongdae is a great area to stay in Seoul if you're a budget traveler or looking to be in the scene of where everything is happening. Believe it or not, there are quiet locations still within the area you can stay to enjoy the best things to do in Hongdae and what the neighborhood has to offer.
You'll also find some of the best guesthouses and hostels for solo, young travelers who are budget conscious in this neighborhood.
We've selected a few great choices as well as the map below so you can pick which place is best for your stay!
Kimchee Guesthouse Hongdae $ – This hostel is perfect for the budget traveler coming in at around $25 a night for basic accommodation near all the best things to do in Hongdae. Dorm rooms and private rooms are available and breakfast is included!
Hotel The Designers Hongdae $$– This trendy hotel has cozy western-style rooms and is located in the heart of Hongdae in between Hongkik and Hapjeong subway stations next to all the picks for what to do in Hongdae.
Marigold Hotel $$$ – Large, western standard rooms with chic restaurants and cafes in the lobby makes this centrally located hotel a great spot for anyone wanting to stay in the lively neighborhood and near all the best things to do in Hongdae!
For more places to stay in Hongdae, check the map below:
Have you been? What are your tips for top things to do in Hongdae?
Pin for later!