Everyone knows that saying, you save the best for last. That's exactly what happened to us our last days in Bali at Samabe Suites and Villas. We were sad to see our time at this tropical paradise come to an end. But we really couldn't have picked a better place to spend our final nights. We left feeling like we got our honeymoon in one month before our wedding thanks to Samabe's lavish romantic villas.
First Impressions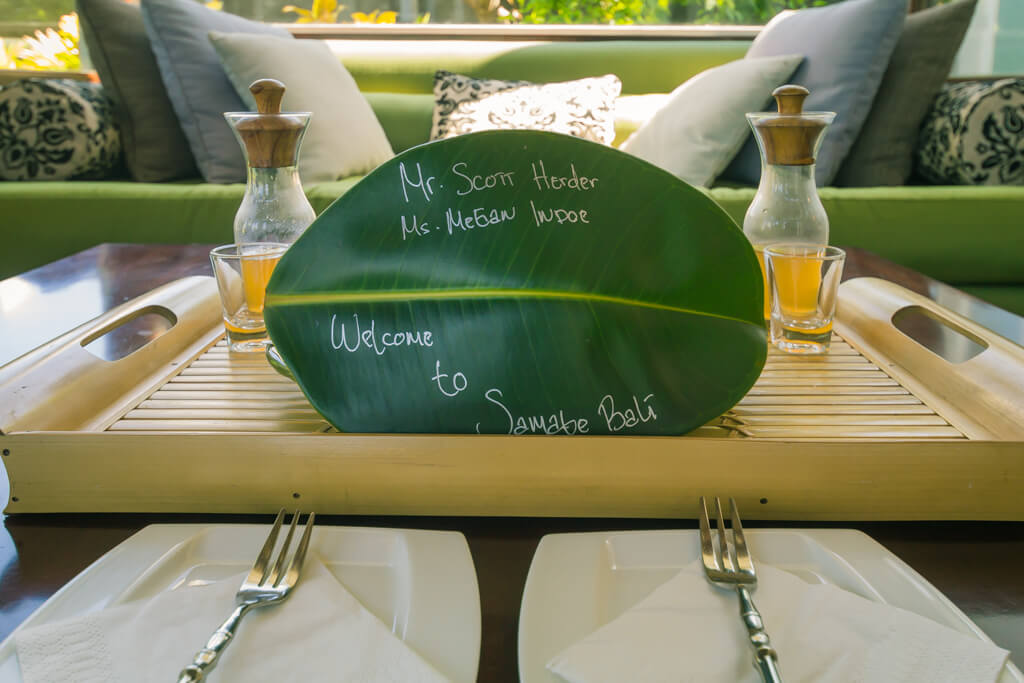 We were stunned when we were dropped off by our car at the entrance of Samabe. Greeted with a warm staff member and fresh coconut water we were instantly refreshed on a hot day. We couldn't help but notice the beautiful tropical landscape and the cliffside view of the Indian Ocean.
This place felt and looked surreal. We knew instantly we were going to be in good hands for our final nights in Bali.
Our Villa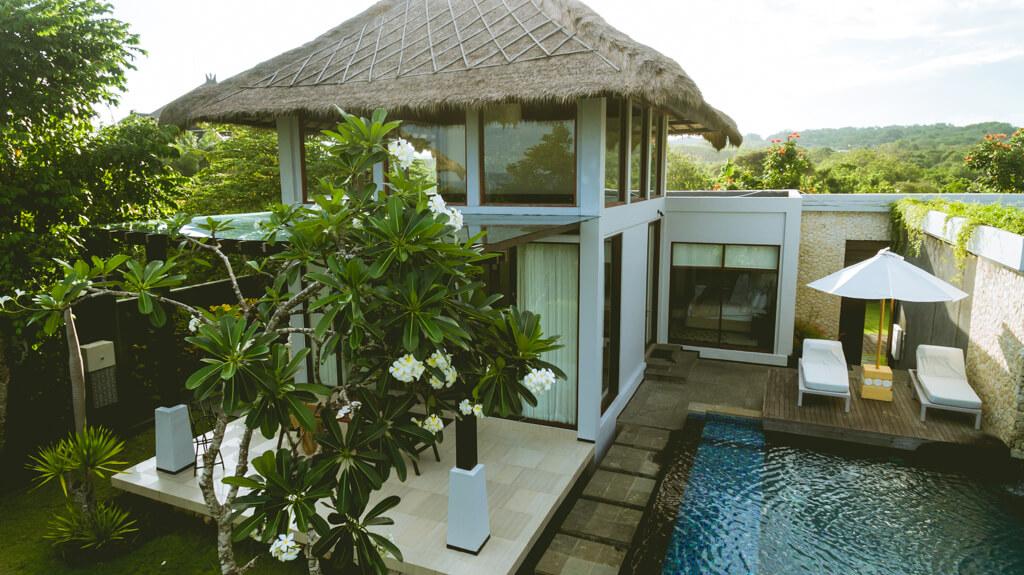 Arriving to our villa we were in awe with the spacious living arrangements and beautiful decor. Inside the villa we had a full living room with tons of windows letting in natural light, a stocked mini bar, tv, high ceiling with a gorgeous chandelier, couches, and a welcome fruit and juice tray with a personalized message.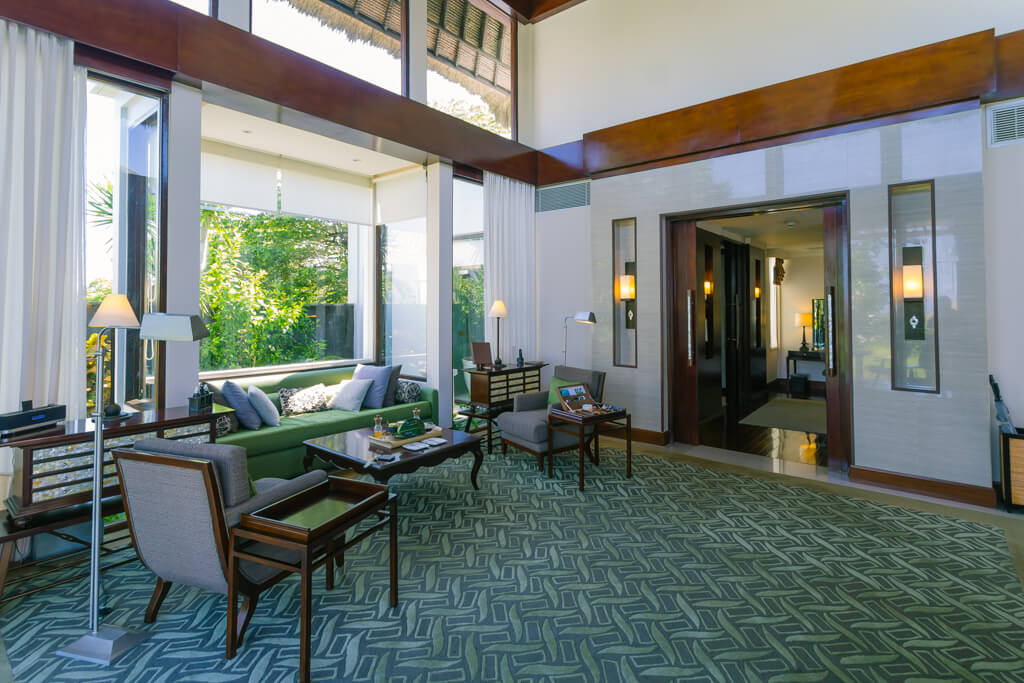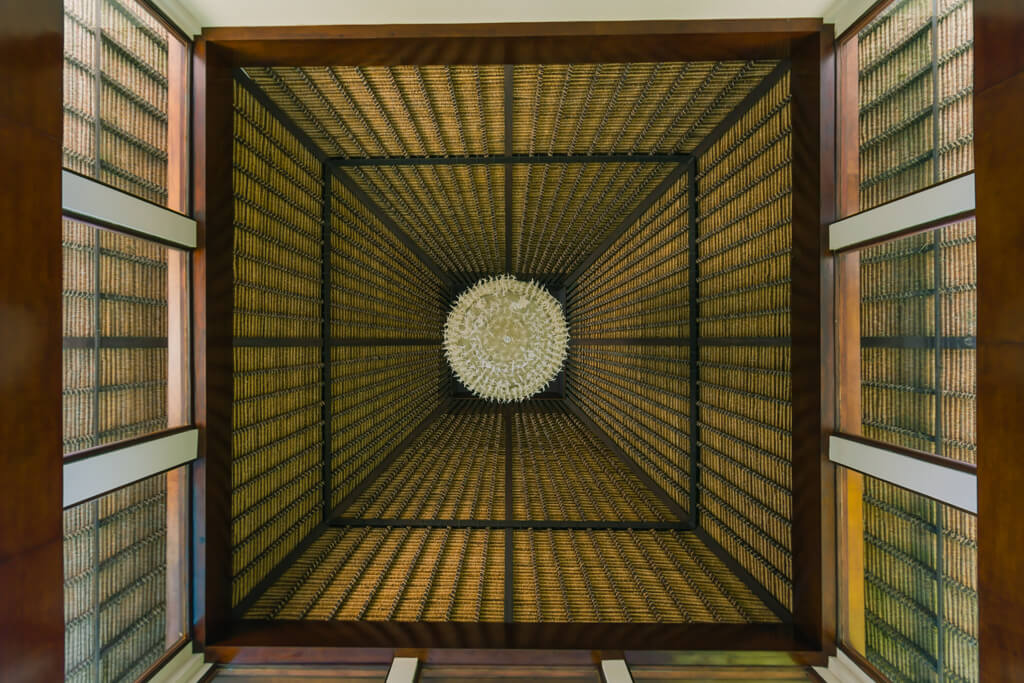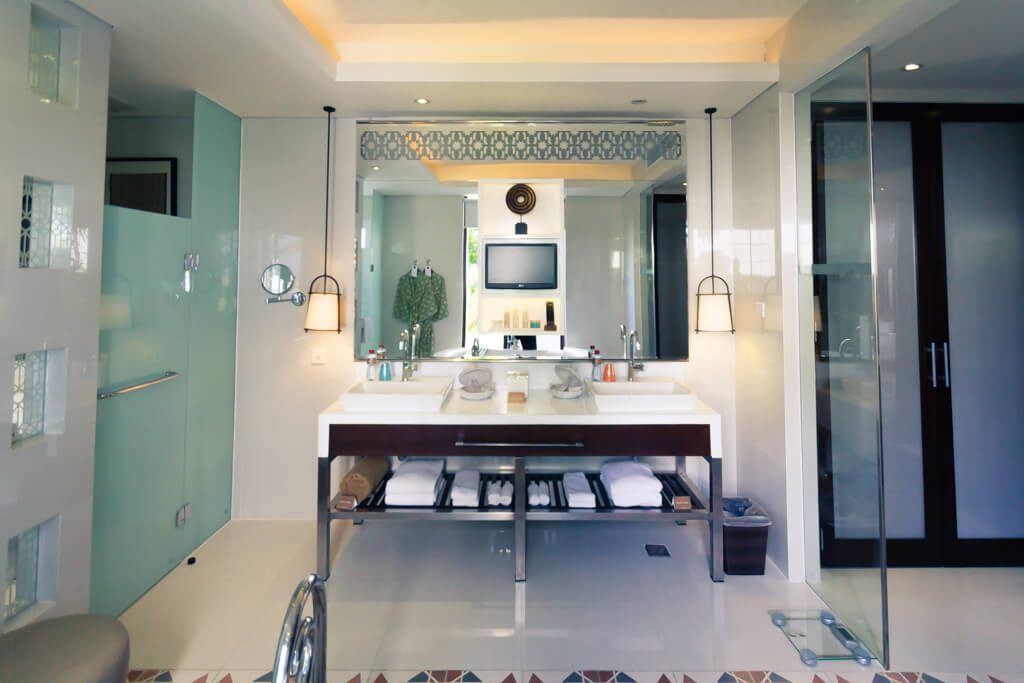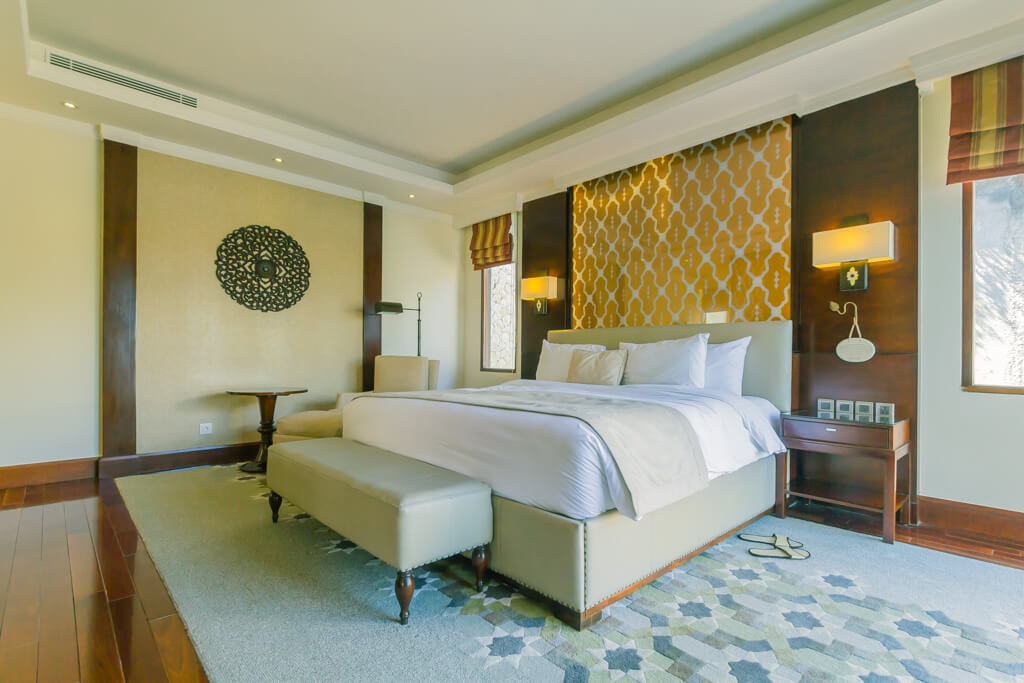 Our bedroom had yet another tv, a king size comfortable bed, and a vanity to get ready.
The bathroom included a huge bathtub perfect for couples, a tv to watch a movie during your soak in the tub, his and her sinks stocked full of toiletries, closet space to store luggage, and high pressure shower with access to outside.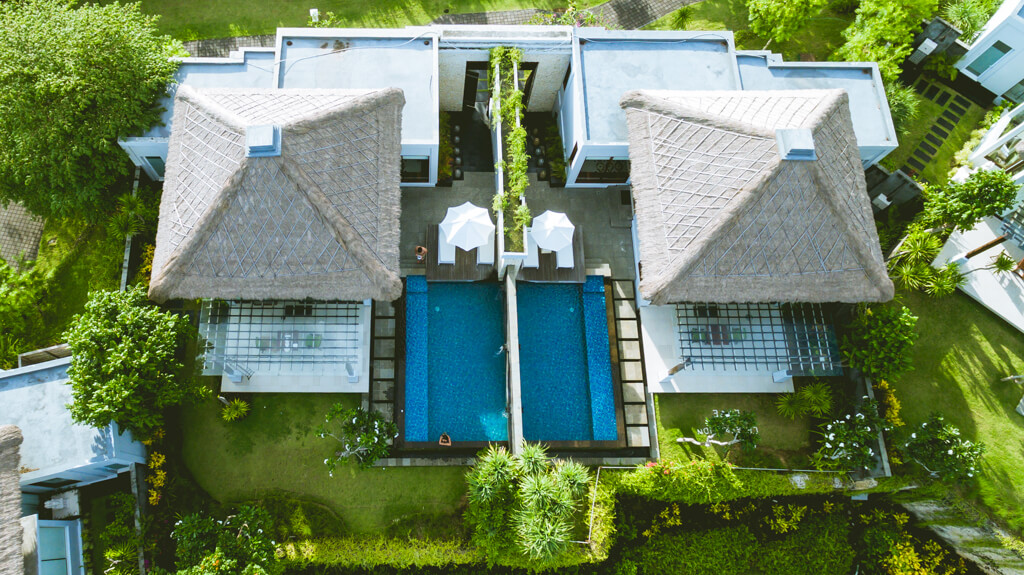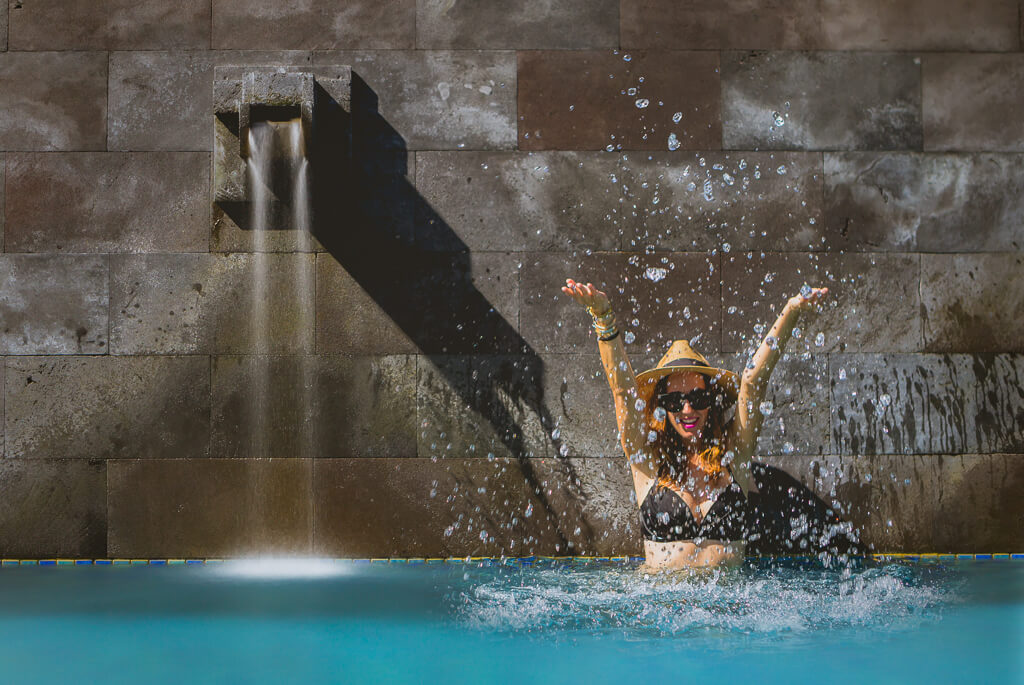 Outside we had a gorgeous infinity pool overlooking the ocean with tropical plants and a patio perfect for enjoying a romantic meal or an afternoon coffee. If you're lucky you'll even get a few monkey visitors like we did when we accidentally left a little food outside on the table. Feeding the monkeys is obviously discouraged, but this was an accident. I did enjoy watching the monkeys from the bathtub though!
One thing we loved about the interior of the villa would be the retro 60's inspired decor. From the backlight designs on the wall, tiles on the bathroom floor, to the printed kimono robes. We loved the retro touches inside this extravagant villa.
TheFood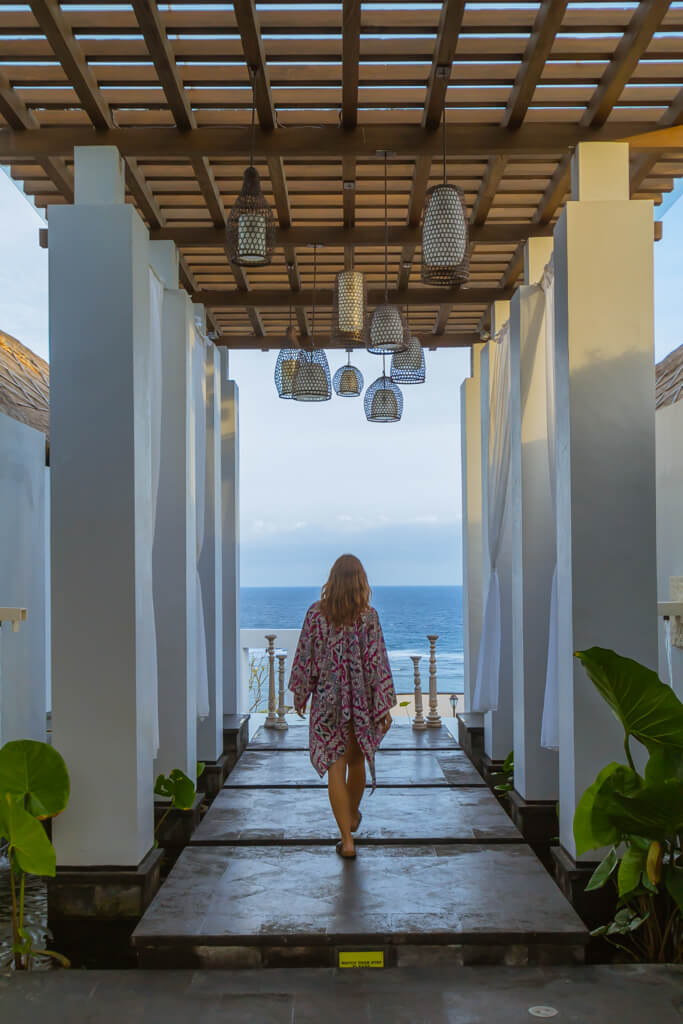 Samabe has plenty of options of where to dine during your stay. Choose between local and asian cuisine at Rempah Rempah Dining Room, enjoy snacks, juice, and coffee at TE.JA.CO lounge and bar, enjoy ocean views at Crystal Blue Ocean Grille, enjoy snacks and cocktails at the Ring of Fire Pool Bar, have a secluded romantic dinner at the beach cave on the ocean, or stay in your villa and have food delivered to your room.
We ate lunch at Rempah Rempah Dining Room our first day and we surprised with a tasting spread of different types of local sambal (chili sauce) and crackers. We ended up ordering off the western cuisine menu and split table side guacamole and a meat lovers wood fired pizza. All the food came out with impressively displayed and tasted incredible. You always wonder how pizza will turn out when you're traveling to an Asian country. Samabe makes it top notch.
We enjoyed our villa so much that we opted for dinner and breakfast to be served at the comfort of our own living room. I got to enjoy soaking in the bathtub until the food arrived making it really difficult for me to ever want to leave our villa at all!
Everyday between 3 pm – 5pm you can get served tea or coffee with an assortment of pastries and snacks either poolside or inside your own villa. We opted to eat at our private patio rather than the public pool. Again, the food did not disappoint. The spread of snacks included bite size portions of sandwiches, pastries, fruit, and yogurt with coffee.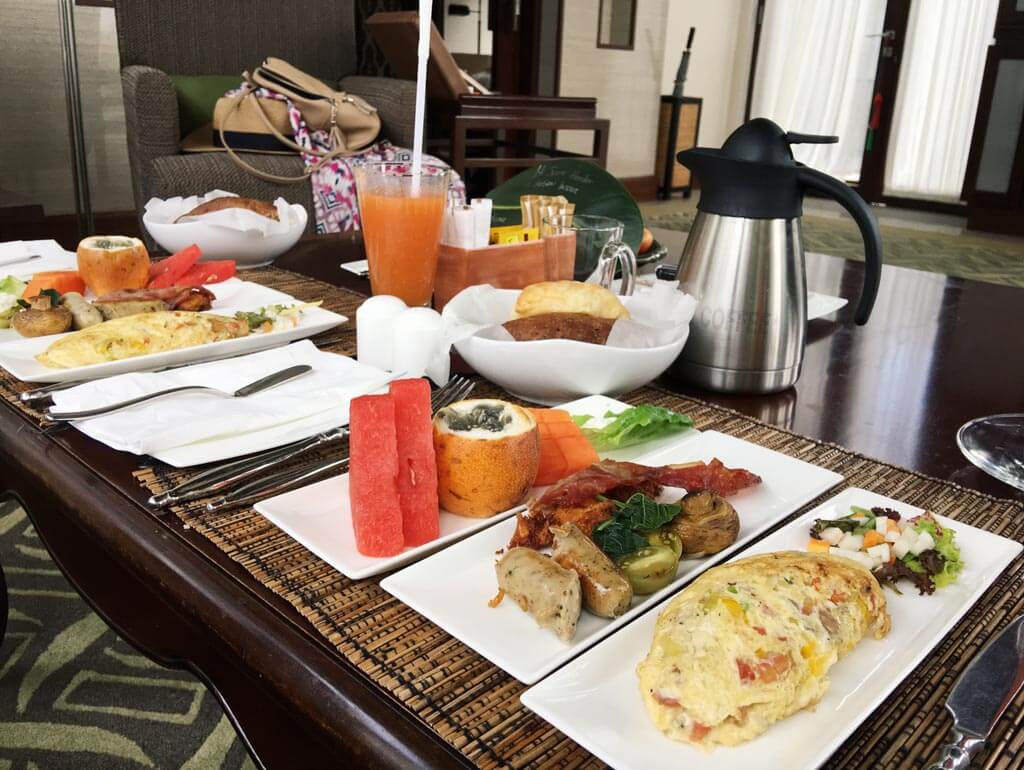 The Location
This five star all inclusive resort is located on the gorgeous cliffs of southern Nusa Dua. The location offers a great coastal breeze making the area feel a bit cooler than the other spots we've enjoyed on the island.
It's also a great location if you want to stay near the airport. Denpasar airport is only a 3o minute drive from Samabe Suites and Villas making it very convenient to get to and from if you want to get the most out of your time in Bali.
What Samabe Offers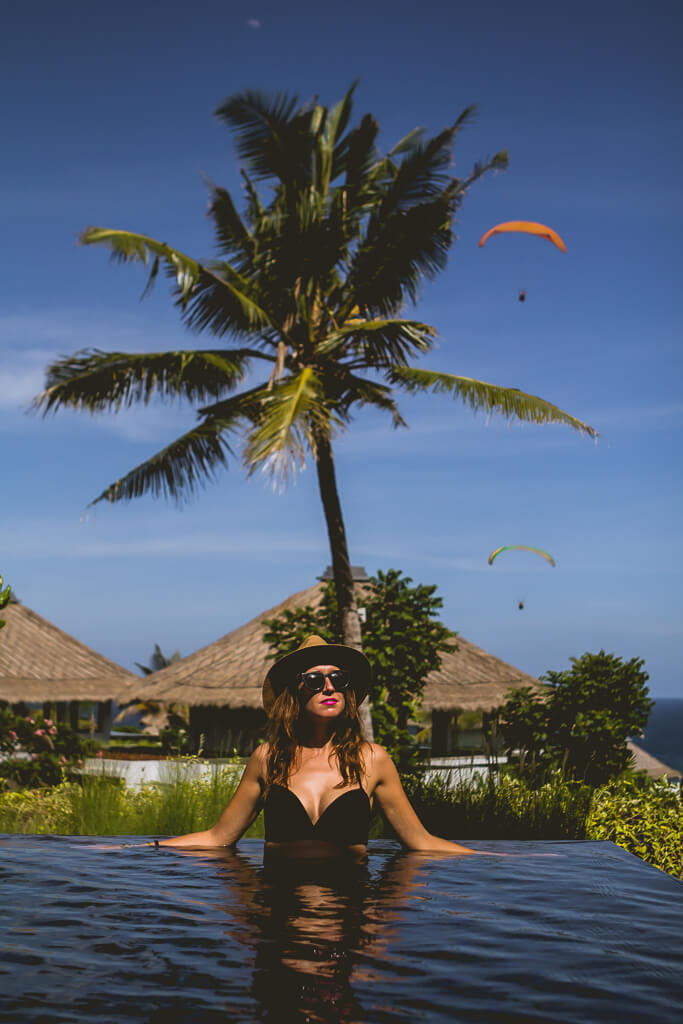 The resort is fully equipped with restaurants, it's own private beach, public pool for residents, gym,and boutique making it so you never have to leave Samabe's property during your stay for an incredible holiday.
Samabe offers all inclusive packages including complimentary breakfast served buffet style in Rempah Rempah dining room or served in your villa. All non-alcoholic drinks are complimentary at any of the restaurants or bars around Samabe. That means unlimited coffee for Scott which was one of his favorite features!
Each villa comes with it's own private pool and 24 hour butler service. The mini fridge is stocked with drinks, snacks, and beer. Coffee and tea are also available in the room.
Every day 9 am you can enjoy a free session of yoga by the sea. If you're not a morning person you can use the gym any other time of the day.
At the beach you have free access to non-motorized water sports equipment including snorkel gear, stand up paddle boards, catamaran, wind surfing, and kayaks. There are also beach bean bag chairs and lounge chairs all over the beach for you to relax on while soaking in the sun.
Every day at 3 pm you can get a complimentary cooling cucumber eye treatment at the property's public pool thanks to Samabe's spa.
Samabe also offers full spa services, not included in your all inclusive price.
From 3 pm- 5 pm you can enjoy complimentary coffee, tea, and snacks at the pool, beach, or privacy of your own villa. The snacks include an assortment of fruit, finger sandwiches, and pastries.
At night the stage at Rempah Rempah holds a local Balinese performance and live music for your enjoyment.
If you want to learn how to make balinese style dishes then you can enjoy a complimentary cooking course on the premise as well.
If you enjoy the toiletries inside your villa you can find them along with kimono robes and other gifts inside the boutique on the property!
There's also a private wedding chapel on the property for those who want to look for the perfect place to elope or have a destination wedding. Samabe also offers services to help make a special proposal or engagement happen on their property! If you want to celebrate a special occasion or have a private romantic dinner you can arrange for a seaside cliff dinner for two complete with rose petals and candles. Talk about a romantic getaway!
Our Overall Experience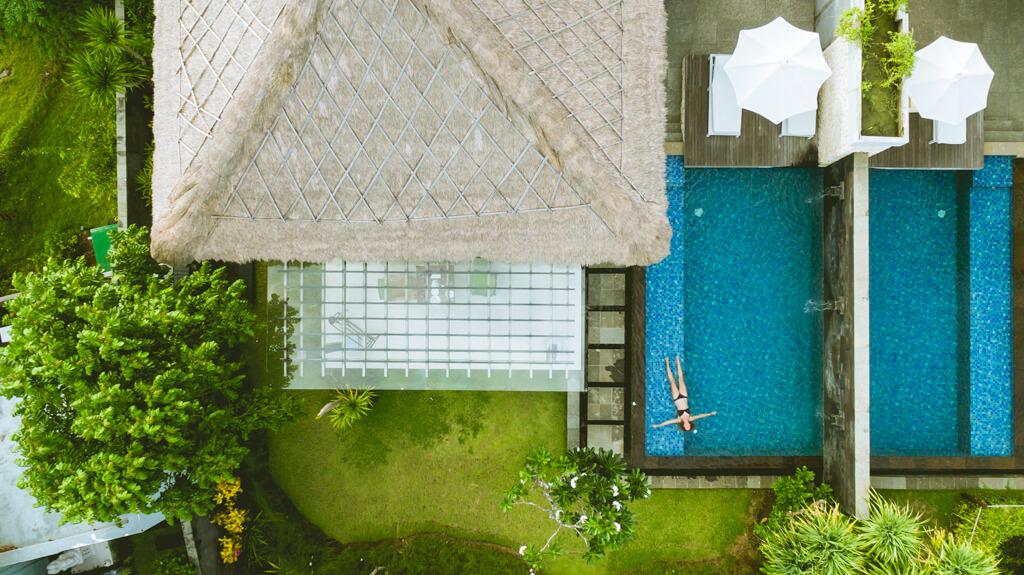 This is one of the most romantic resort we have ever stayed at. We were blown away at how beautiful and incredible every detail was from the interior of our villa to the tropical landscaping around the entire property. The location is beautiful and peaceful.
It was nice to have a private beach without people trying to sell you things and where you could comfortable leave your bag on a chair while going for a swim. We loved our private infinity pool and patio where we could enjoy an intimate meal or private swim. Every meal we ate here was a back to back hit and we loved the afternoon snack and coffee delivered to our room. We felt like we were on our honeymoon the entire time and recommend anyone looking for an all-inclusive romantic getaway to come here. It just can't get much better than Samabe Suites and Villas.
Also, if you're planning a trip here check out this Bali packing list to help you plan accordingly!
---
Check out a video tour of Samabe Suites and Villas below!
---
Where's the most romantic place you've stayed? We'd love to hear all about it or even more suggestions of romantic getaways in the comments below!
Samabe Suites & Villas
Check out Samabe Suites and Villas rates and availability on their website here.
Jl. Pura Barong – Barong Sawangan, Nusa Dua, Kabupaten Badung, Bali 80363
+62 361 8468633
Disclaimer: Our stay at Samabe Suites and Villas was complimentary. As always, all opinions and photos are our own.