When you think of Men's travel shoes the first thing that comes to mind is probably some sporty running sneaker or rugged hiking boot for outdoor adventures. Picking out good walking shoes doesn't have to mean sacrificing style when you travel.
It's nice to look 'put together' while traveling whether you're going to another city in your own country or traveling abroad. Often times sneakers or running shoes are the easiest way to feel comfortable and pack lightly for a trip. However, there are outfits that just don't go well with sneakers or perhaps you want to enhance your look and appear more professional and not ruin that particular look with athletic sneakers.
We've put together this guide for stylish walking shoes for men and men's travel shoes that are perfect for your next trip to help you up your game in your street style and remaining comfortable for your feet.
After years of experience in the shoe industry (I was a former buyer for women's footwear in my days before travel blogging) and years of travel experience I like to consider myself very knowledgeable on the topic!
Scott also has a pretty good sense of style so this guide is a combination of both our tastes and many of the men's travel shoes that we are featuring here are one's Scott actually owns and uses so we have put them to the test of whether or not these are good walking shoes.
On your next trip feel like you're walking on clouds while still remaining stylish with these awesome options.
There are plenty of different categories of stylish walking shoes for men to choose from a classic leather boot to a more casual sneaker.
Our women's comfortable and stylish walking shoes for travel guide was such a hit we also wanted to put one together for the guys!
Why is this stylish walking shoes for men and men's travel shoes guide is helpful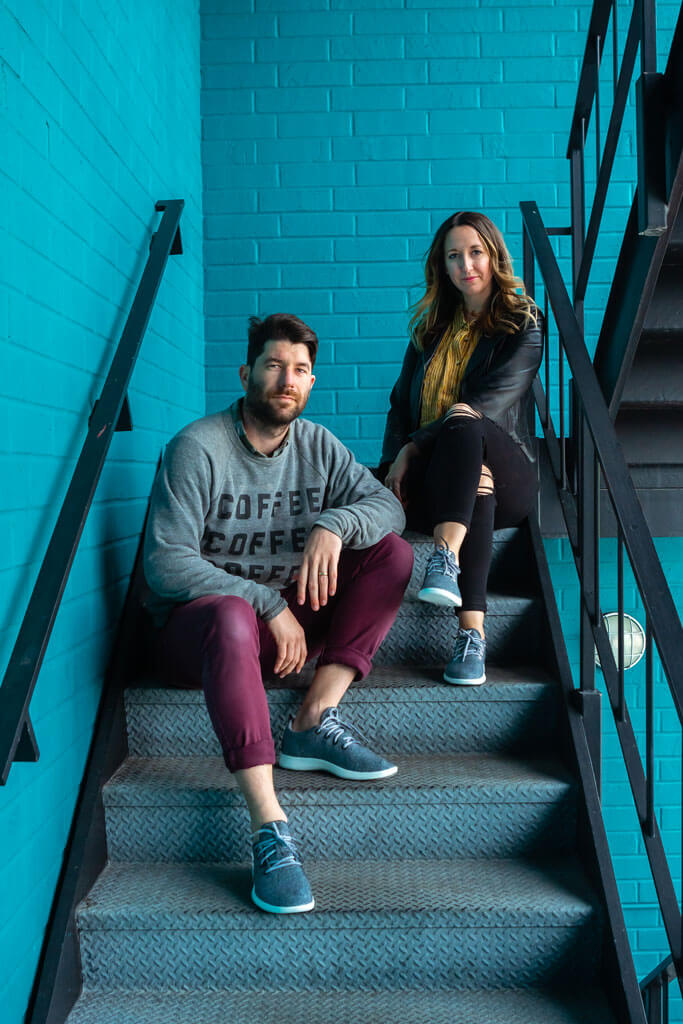 We put together this guide because we found the basic search for stylish walking shoes for men or men's travel shoes to be lacking in well, STYLE. Many feature super techy looking outdoorsy style shoes that just don't cut it in the streets of a city and are better off left in the woods from your last adventure.
This guide was created to help you still find stylish options that are also designed around comfort perfect for those long walking days whether you're strolling cobblestone streets in Europe or walking everywhere and anywhere in New York City.
Plus, we have a few options that are functional and stylish for both style and going outdoors and in general just good walking shoes that won't leave your feet aching after days of sightseeing and walking.
Also, quality. Quality shoes matter. You pay for what you get (in most cases). My days from sourcing materials, design, and fit of shoes from buying days came in handy here. Sometimes I can just look at a shoe and know it's going to hurt, or there are those that have small design details that really make a difference like the type of insoles a shoe has.
I used my knowledge and experience in both industries to put together this guide for stylish walking shoes for men and men's travel shoes.
By the way, Scott owns many of these men's travel shoes either in the past or currently and can verify they are great for long walking days!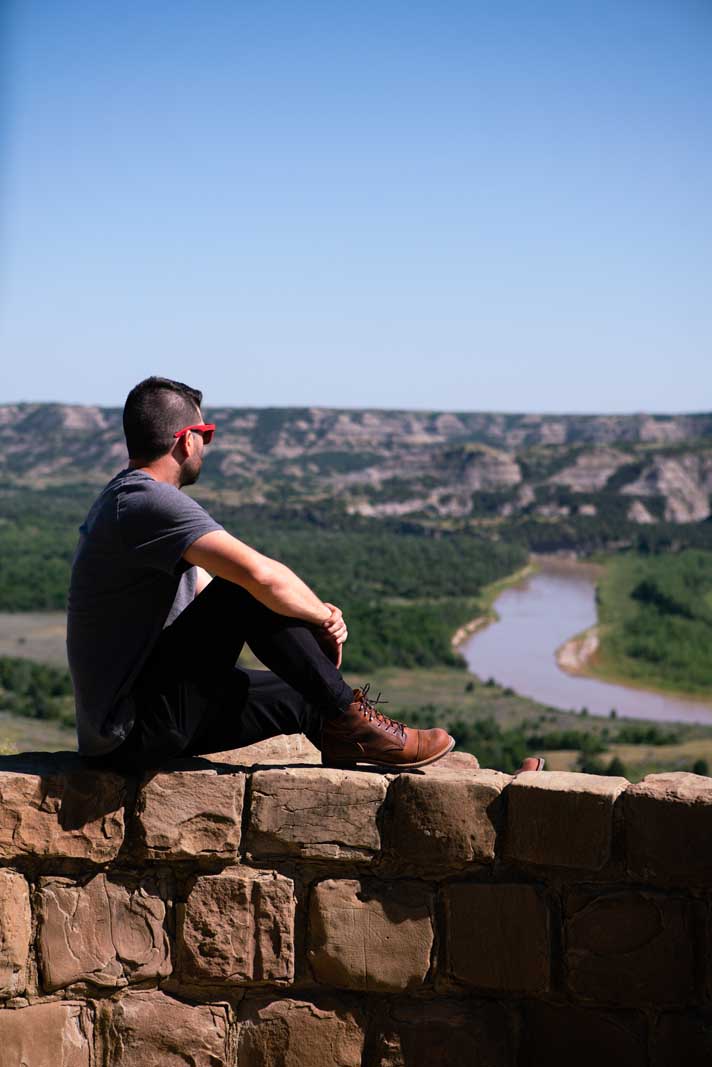 Red Wing Iron Ranger Boot

---
One of our favorite stylish walking shoes for men are these handsome boots by Red Wing Shoe Company. This American company is rich with history in the US with workers and all of their footwear is built to last. I actually converted Scott to Red Wing because he had a dapper pair of leather boots before that just kept falling apart and we kept getting them repaired. I grew up on a farm and my dad would only wear Red Wing boots because they could withstand the roughest wear and tear and still look great and last for YEARS.
This men's travel shoe is no different. The Iron Ranger was designed in mind for the miners in Minnesota who needed boots that could withstand long days and tough conditions. This boot is designed with thick leather, an oil resisting outer sole, speed lacing hooks, and a comfortable midsole made of cork. The design is also made to help protect feet from injury with the double-layered toe.
This is one of those instances where you get what you pay for. This handsome boot is a classic style that will last you for years with proper care even in the toughest and roughest of conditions.
Better yet, these make for good walking shoes on long travel days. Because of the thicker leather of this boot we do recommend allowing for time to break in these boots. We suggest wearing thick socks and wearing around the house until the leather forms to your feet, once you have a bit of wear they are great for long travel days.
Shop now on Red Wing, Amazon, or Zappos
The North Face Back-To-Berkely Boot

---
This is one of Scott's favorite versatile pair of stylish walking shoes for men, more like hiking and all wear good walking shoes actually! These boots are great for wearing around in wet weather whether you're going for a hike or walking around the city all while being really comfortable!
These boots have a durable full-grain leather upper, water-resistant membrane that keeps your feet dry on wet days, insulation to keep your feet warm on cold winter days, a comfortable footbed and midsole to give you supreme comfort, and outsoles designed to give you traction on icy conditions.
These are honestly great every day boots because they are insulated to keep your feet at the right temperature on regular or cold, blustery days. We bought this boot before a trip to Iceland where we were in constant wet and cold conditions. Scott loved that these boots were warm and protected his feet from the cold, wet snowy conditions we were filming in.
He also wears this as regular men's travel shoes because they are so versatile. Whether we are going on a hike or walking around the city these are good walking shoes that are functional and aesthetically pleasing.
Shop now on The North Face, Amazon, Backcountry, or Zappos
Nisolo Men's Travel Derby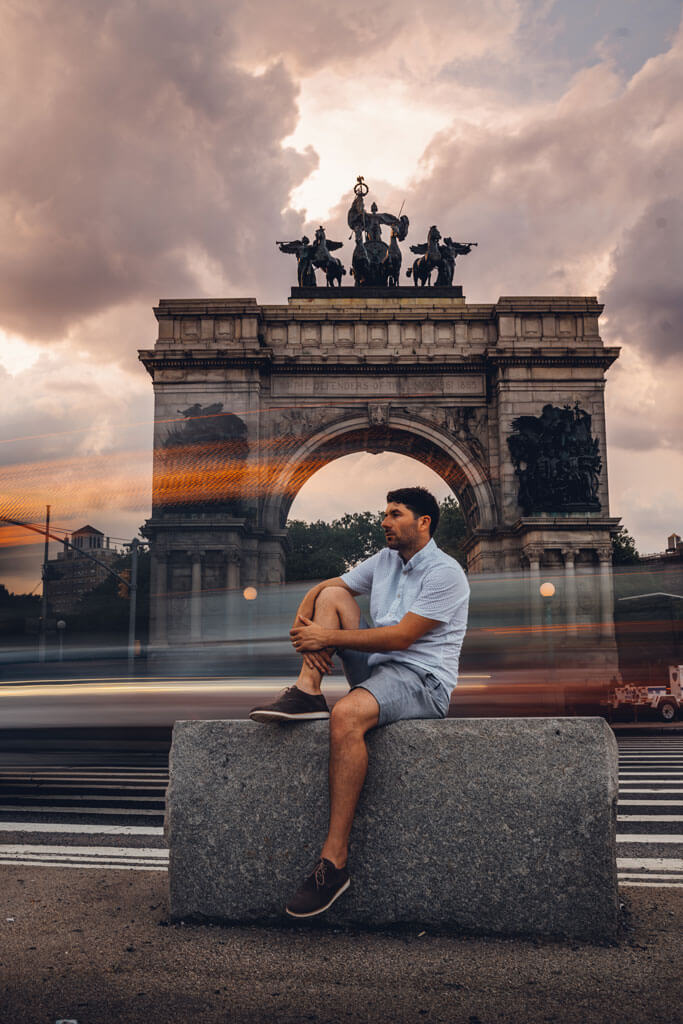 Another awesome find and amazing men's travel shoe option are the Nisolo travel derby. This gorgeous shoe is perfect for long walking days and its design is great for dressing up or a more casual look.
Travel derby lightweight packable shoe designed for travelers. This gorgeous lightweight suede shoe was designed for travelers and big walkers in mind. Made of high-quality soft suede and a light sole this shoe is incredibly comfortable and lightweight.
The soft material forms to your foot and requires no break-in time. They even advertise that this shoe is 3 times lighter than an average shoe making it an easy one to throw in your travel bag. Speaking of, this shoe is a great packable shoe too since the material is made of a soft suede it can fit into a portable and compact size to squeeze in your bag without sacrificing space for a comfortable and stylish walking shoe for men!
This shoe is so popular they made the same shoe for the ladies too, I own the same pair and color as Scott. We now walk around with clouds on our feet as a matchy-matchy couple, ha.
Shop now on Nisolo or Huckberry
Allbirds Wool Runners

Another favorite pick for good walking shoes are Allbirds Wool Runners, a stylish sneaker that looks a bit more stylized than just a running shoe. These are not only great men's travel shoes but awesome for everyone, we both actually own a pair!
These stylish walking shoes for men are made of sheep's wool that's temperature-regulating and moisture-wicking. You can wear these with your bare feet or with socks, whatever you prefer, no matter what you won't have an itch from the wool and your feet will be at ideal temps at all time thanks to this revolutionary wool material.
The shoes also have a soft sole and padded insole that feel like your feet are being hugged by 10000 baby kittens. Haha, no joke these shoes feel like walking on clouds. We didn't believe it until we tried on our friends then we were sold. These shoes have a cult following and its really easy to see why once you put on a pair.
Shop now on Allbirds
Vans Authentic Sneaker

A timeless style and another pick for great men's travel shoes are Vans Authentic sneakers. These are overall good walking shoes because they have a soft thick sole and are good for long walking days. The best part is that these stylish walking shoes for men come in a variety of colors and prints, so you can go as classic as you want to as funky as you want.
We both always have a pair of these traditional sneakers in our closet and take them traveling with us. They don't take up alot of space in the luggage and are just really comfortable everyday sneakers that go with just about any outfit. Also, you can't beat this price point!
Shop now on Vans, Amazon, and Zappos
Nike Running Shoes

If you're looking for a great versatile men's travel shoe then a basic black and white running shoe is a great option because you can wear it to work out, run, walk, and whatever you end up doing on your travels! Classic sneakers always make good walking shoes and if you stick to a simple style they can look like stylish walking shoes for men.
We like this Tanjun running shoe by Nike which is named after the Japanese word for simplicity. This simple design is not only classic but can go great with casual wear or athletic wear.
Shop now on Nike and on Zappos
Birkenstock Essentials

Our first mandal (man + sandal) for great stylish walking shoes for men is from Birkenstock. Leather Birkenstock sandals are a classic and come at a much higher price point, however, not everyone wants to spend that much on a sandal, we'd rather spend more on year-round shoes like a quality pair of boots or sneaker. Birkenstock has released its Essentials which are ultra-light and flexible EVA sandals.
This is an upgrade from a flip flop and more comfortable because it has a thicker sole with a footbed for ultra comfort, waterproof, and easy to care for and clean.
These make great men's travel shoes if you're planning on heading to warm weather places and if you pick a nice classic color like black you can easily dress up or dress down these classy sandals.
Shop now on Birkenstock, Nordstrom, or DSW
Teva X Beams Hurricane XLT2 Sandal

Admittedly, neither of us are huge fans of adventure sandals. They just seem kind of, well dorky. However, this pair by Teva is changing our attitudes towards adventure sandals and they make for great men's travel shoes and good walking shoes. We like how plain and classic this black pair looks, it has more of a sleek design than other pairs we've seen.
These sandals are great for soft adventures in warm-weather destinations. These Hurrican XLT2 sandals are great for long walking days both in the city and in nature. These sandals are made of durable quick-drying material, a contoured footbed for ultimate long-wear comfort, a foam midsole that helps create a lightweight cushion for extra comfort for the foot, and the nylon shank helps stabilize your feet on uneven terrain making them great for walking or hiking.
Danner Men's Mountain 600 4.5" Hiking Boot

Another great hiking boot and overall men's travel shoe are these sexy hiking boots by Danner. I say sexy because some hiking boots are just well, UGLY. While most are great for rocking it out on rough terrain, these classic boots by Danner are both great outdoor hiking boots that are still stylish walking shoes for men.
Some specs on these boots include a waterproof liner that keeps moisture away from the skin, waterproof boot, soft fabric lining for foot comfort, removable footbed for more comfort on those long walking or hiking days, a TPU heel frame support and stability, and special soles that give extra grip on wet surfaces.
This is a great addition to your wardrobe if you find yourself wanting to pack something stylish and completely functional for adventure.
Shop now on Danner, Amazon, or Zappos
---
Found this post on the best men's travel shoes and stylish walking shoes for men helpful? Bookmark for later or share the love on Pinterest below!