The Czech Republic is home to the number one beer consumers in the world so you better believe there are a ubiquitous amount of breweries in the Czech Republic serving up some of the best suds in the world.
We fell in love with Czech Republic beer on our last trip and pounced on the opportunity to revisit South Bohemia and explore along the beer trail where we would visit brewery after brewery while taking in the gorgeous countryside along the way stopping at castles and adorable storybook towns in between our beer breaks.
We have said this before and we will say it again, people who come to the Czech Republic and only come to Prague miss out on what this country has to offer.
For anyone who loves beer, castles, and visiting towns that look like they are out of a fairytale this trip along the South Bohemia beer trail is tailored for you.
Czech Republic Beer Trail Tips
We recommend giving yourself 4 to 5 days to really enjoy the Beer Trail, there are so many towns and breweries you can visit that the combination is full of endless possibilities.
We went on a 5-day beer trail with South Bohemia tourism to see what this area had to offer and show it in a flowmotion video. Needless to say, we were blown away, from the romantic castles, fresh beer straight from the tank, and the towns we visited we quickly realized what's not to love?
We have put together a guide and itinerary for 4 days visiting breweries in the Czech Republic and drinking Czech Republic beer through the South Bohemia beer trail with great stops along the way to help you plan your trip.
This trip is best done by renting a car, but this trail is also easily done by bicycle you just need to allow more time. The Czech Republic is very flat so biking is a very popular spot among the locals. Don't want to bike the whole way? No worries, we also have a shorter bike trail recommended from České Budějovice if you just want to try it out for an afternoon.
Be sure to read our entire Czech Republic travel guide for all our tips on driving and traveling through the Czech Republic!
South Bohemia Beer Trail Day 1: Blatná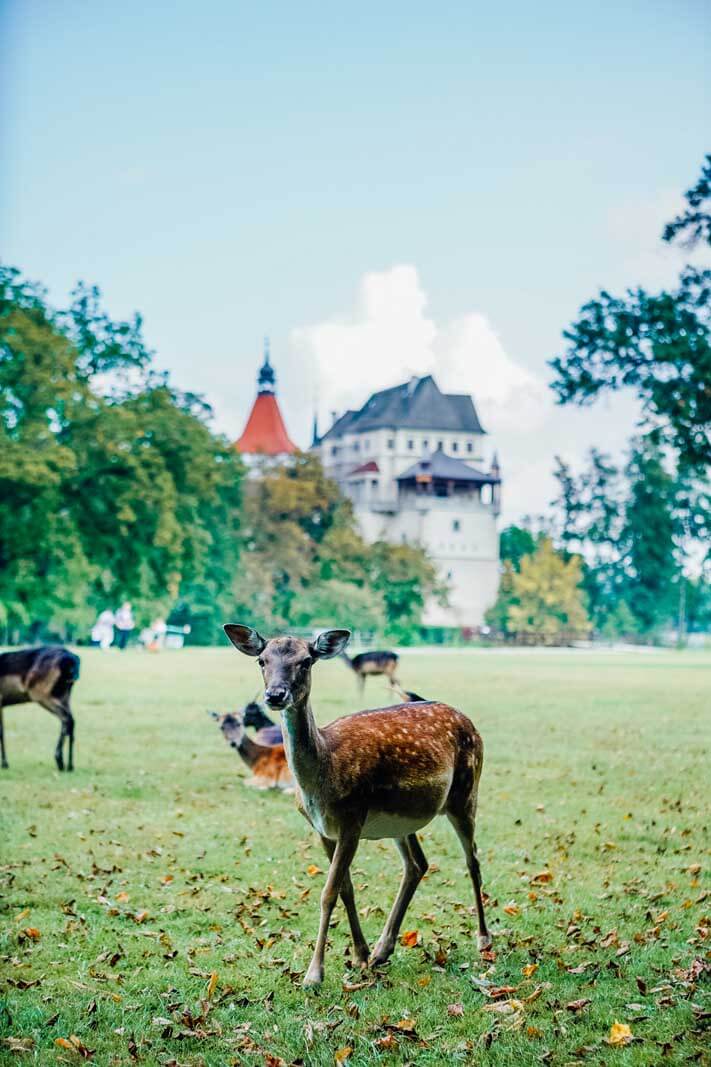 Our first stop chasing castles and breweries in the Czech Republic is in the small town of Blatná along the South Bohemia Beer Trail. This is one of the most magical spots and even though the town is small, you can easily spend a good portion of your day here which is why we recommend starting here.
In Blatná you get to experience castles, peacocks, deer, and beer! We actually took it upon ourselves during our trip to make a little jingle for Blatná with those exact words because that is what you will find here!
Blatná Castle & Garden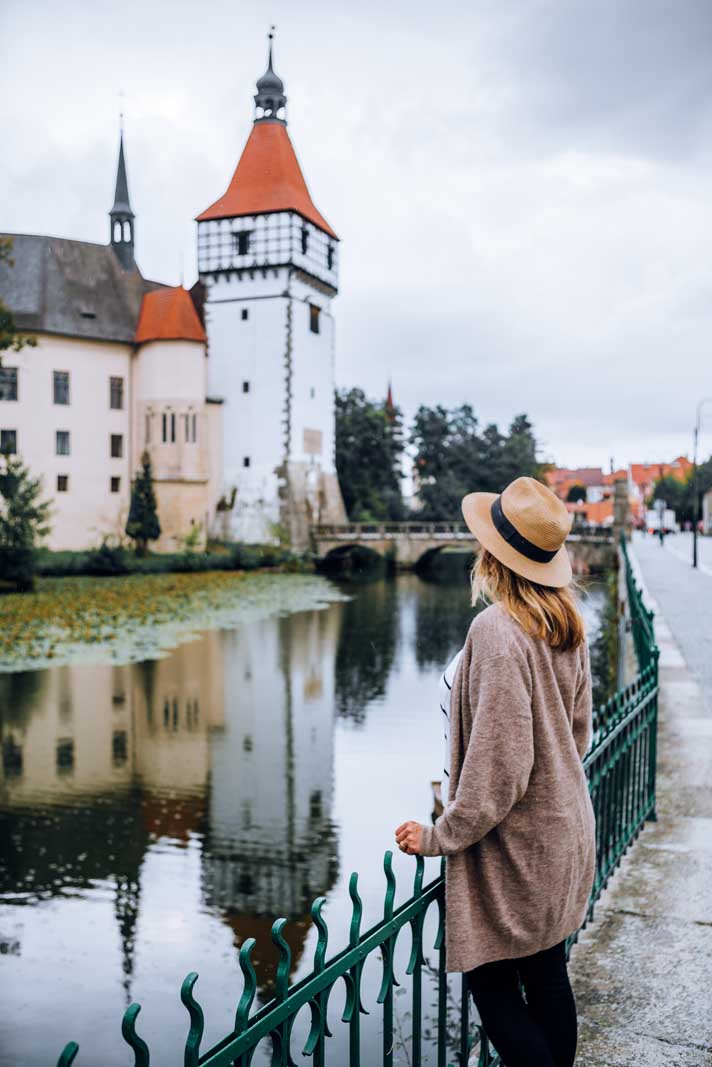 Easily one of the highlights of Blatná is the gorgeous castle dating back to the 13th century and the Middle Ages. Surrounded by a man-made moat you get the perfect mirror reflected image of the castle both in front of you and on the water. Blatná castle is magical, we were here on a Saturday and saw several weddings taking place here.
You can tour the inside but since Blatná doesn't see as many foreign visitors you will want to arrange your tour in advance.
Call or email ahead of time at +420 383 422 934 or [email protected]
After admiring the interior of Blatná Castle be sure to head out to the castle gardens. Here, you can enjoy walking through to green space and watching the array of colorful peacocks sleep and roam next to gorgeous Empire-style home with the gorgeous dual staircase where the royal Hildprandt family now resides, the family who have owned the castle since the late 18th century (besides a short interruption during the Iron Curtain) and started the Liqui B distillery in its current location, and whom their Baron Hildprandt label of spirit is named after.
Continue exploring into the woods where you will find the deer who have been on the property for centuries, well not these exact deer but deer like the ones you will see on your visit.
If you're lucky or here around feeding time you will catch them in the open meadow near the castle, if not take a stroll in the forest and you will surely run into them. We were in awe with this breed of deer as we are used to only seeing whitetail deer in the United States. They were smaller and the male deer had beautiful antlers unlike any we've seen before.
If you want to be friendly with the deer, stop at the castle and buy some feed where you can try to bribe some deer closer to you with your food offering. Do not try to feed the deer human food, this is not good for their stomachs.
Liqui B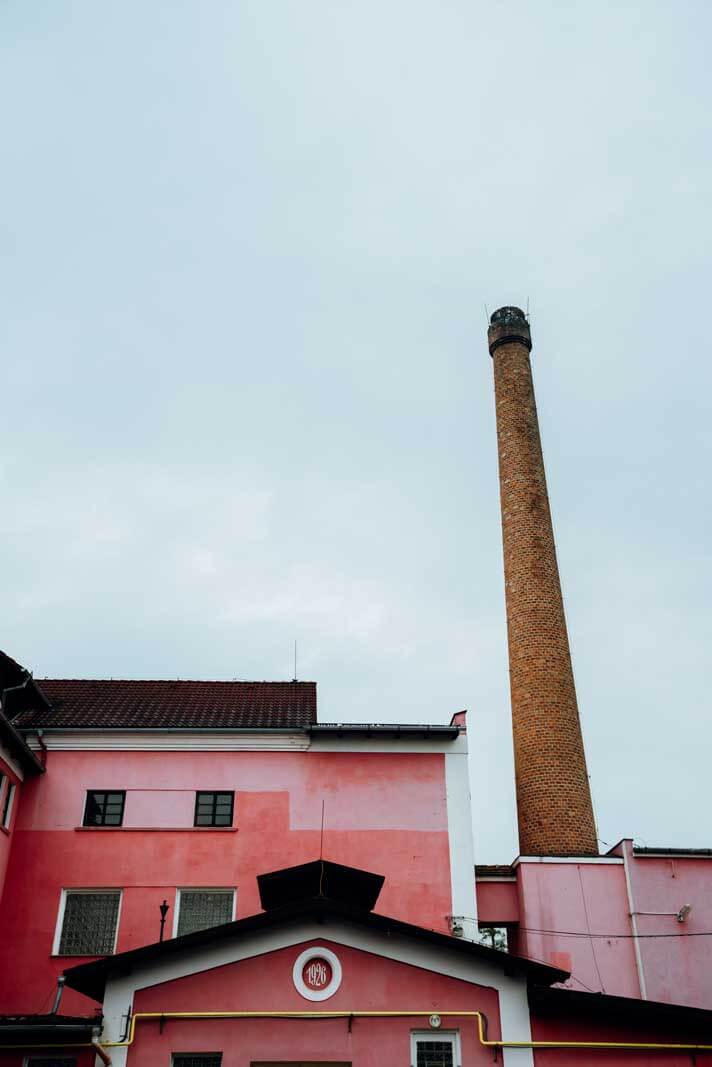 One of our favorite breweries in the Czech Republic and Czech Republic beers is in Blatná. Liqui B is located in the pink building complex across from Blatná castle which serves as a distillery and the microbrewery of the town and this part of the South Bohemia Beer Trail.
There are several different liquors and spirits made here, some of which have won international awards including their Pear Brandy this year bringing home a gold medal at the San Francisco World Spirits Competition 2018.
The brewery, serving up one of our favorite Czech Republic beers is under the name of Kohout with the symbol of a rooster. What made this Czech Republic beer so special? The red ale was served unpasteurized straight from the tank, this is the freshest and highest quality beer experience you can have since almost all beer is pasteurized to keep the shelf life longer.
The only downside to visiting Liqui B distillery and brewery in the Czech Republic is that it is not always open to come in when it is convenient for you. You will need to arrange your visit in advance for a tour of the facilities and tasting with the brewmaster.
Email ahead of time to [email protected] or call +420 383 422 523 to set up your appointment.
Our only regret is we didn't buy more of that beer to take with us as they sell bottles of the unpasteurized beer that has a few weeks shelf life to take home or along the South Bohemia Beer Trail with you!
Blatná Town Center
After visiting the brewery and castle you can explore the town center of Blatná. The town center is small but offers a beautiful clock tower and street lined with restaurants to choose from. We recommend eating at Pizzeria Casa Verde for Czech cuisine as well as tasty pizza, sadly they do not serve the local Czech Republic beer from Blatná in here, they only serve Prague's Staropramen beer here.
Where to stay in Blatná
Hotel Beránek is the perfect option for where to stay during your Czech Republic Beer Trail tour through South Bohemia in Blatná. The hotel has great reviews, it's own restaurant on site that offers a discount to anyone staying at the hotel and a great location in the town.
Book Now | Read Trip Advisor Reviews
South Bohemia Beer Trail Day 2: Zvíkov & Orlik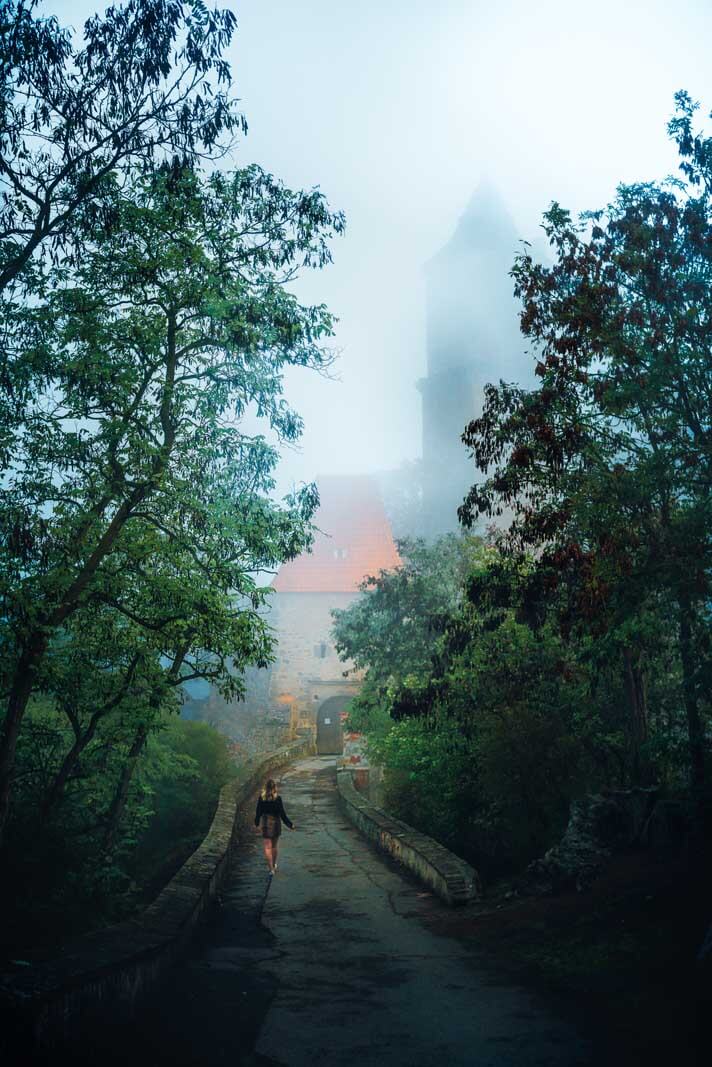 Our next stop chasing castles and breweries in the Czech Republic is between Orlik and Zvíkov along the scenic and beautiful Vltava River that runs through Bohemia.
There are two incredible castles here to visit, a boat ride, and of course another fantastic brewery in the Czech Republic. We have you leaving Blatná and driving the 30-minute drive to Orlik where you will begin your Czech Republic beer and castle journey through the Beer Trail day 2.
Orlik Castle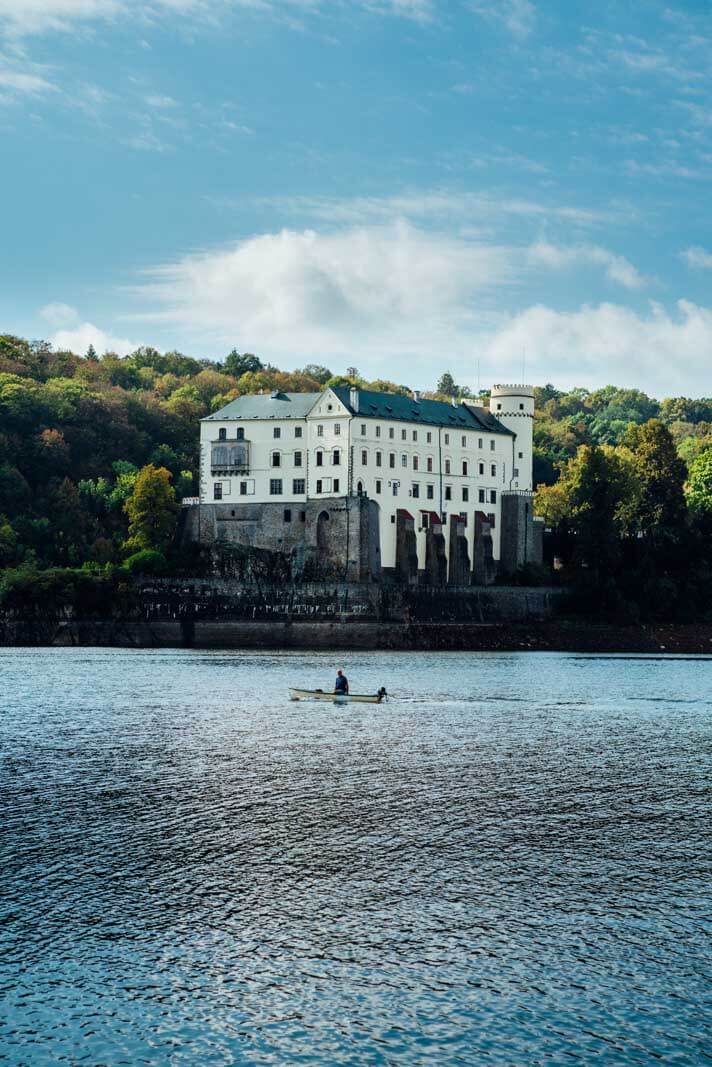 This Romantic Gothic castle perched overlooking the serene Vltava River is another picturesque castle in the Czech Republic worth seeing.
We started our day by actually visiting the beach located next to the campsite across the river overlooking the Orlik Castle where Scott shot a timelapse and we just sat and enjoyed the view. This is a great place to actually bring some snacks and a blanket to sit on and just enjoy the view and relax for an hour or two.
One thing we hate doing is traveling so fast with such a tight schedule that we don't get to just sit and enjoy the view. This is one of those places you can fully take advantage of since it's not often you can find a quiet spot next to a river overlooking a gorgeous castle.
To find this beach you want to follow these directions from Chrást to the beach. The beach itself doesn't actually have a name, but you can find the map here.
If you decide to go to this viewpoint beach and just enjoy the view you will need to allow yourself about 20 minutes to drive from this point to Orlik Castle. From here you can enjoy lunch, tour inside the castle, or hop on one of the scenic river boats that give tours every 30-60 minutes.
Give yourself some wiggle room here, we found that the boats don't always leave according to their schedule and that sometimes they wait until enough people fill up the boat. Relax, enjoy the view, and drink a beer while cruising down the Vltava.
Zvíkov Castle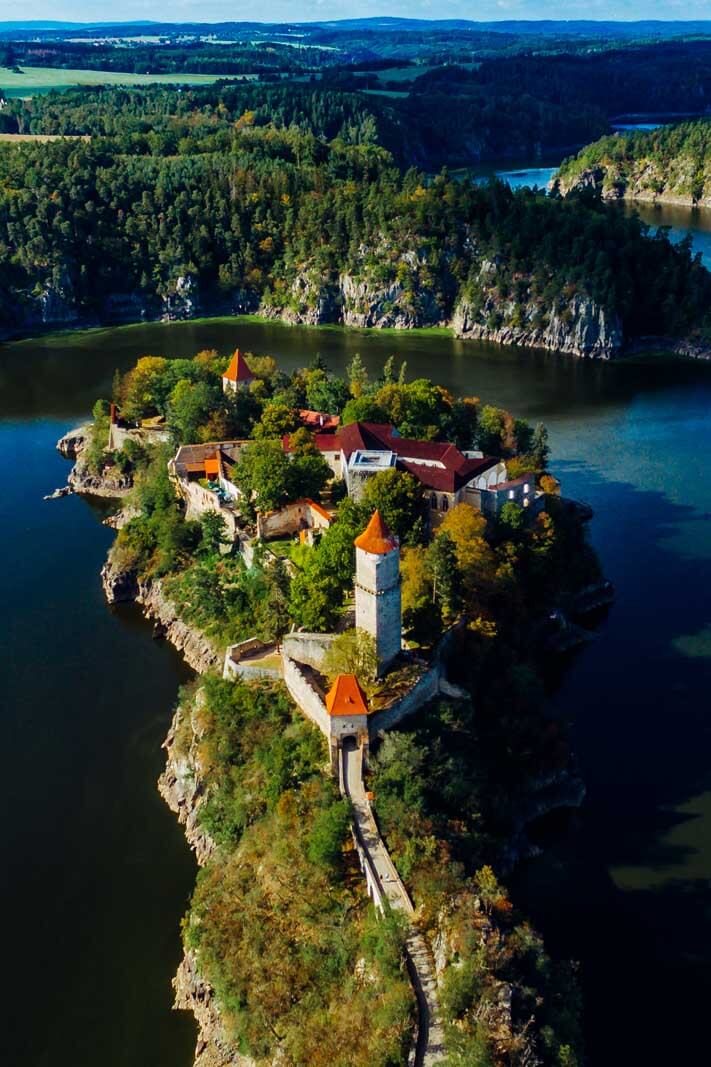 After enjoying the scenic area of Orlik Castle you will drive another 20 minutes until you arrive at the next magical castle of Zvíkov where the Otava and Vltava rivers meet. Dating back to as early as the year 1234, this castle has been one of the best naturally fortified castles in the history of the Czech Republic due to its location perched above both rivers until after the Orlik Dam which made the waters rise and easier to access the castle.
You can just sit here imagining the water levels much lower and how difficult it would be to access Zvíkov Castle. Today you can go inside and walk the castle grounds as well as visit the different overlook and viewpoints. One of the more impressive spots of Zvíkov Castle's interior is the courtyard which closes the earliest in the castle around 5-6 pm.
During your overnight in Zvíkov, we recommend heading back down to the castle around sunrise if you want to see the castle look like complete magic with the morning fog.
Zvíkov Brewery
Where there are castles you can guess there will be breweries in the Czech Republic. Just up the hill form Zvíkov Castle is Pivovarský dvůr Zvíkov, or Zvíkov Brewery. This Czech Republic beer and breweries signature beer is the Golden Swan, or Zlatá labuť which is named and used after the coat of arms on the castle.
You can arrange a tour of the brewery here as well as a tasting by arranging in advance. You can do so by calling +420 382 285 660 or email at [email protected]
If not no worries, you can still enjoy this Czech Republic beer by visiting the brewery and restaurant for lunch or dinner. They even offer rooms here if you wish to stay overnight here. You can book your room here.
Boat through the Vltava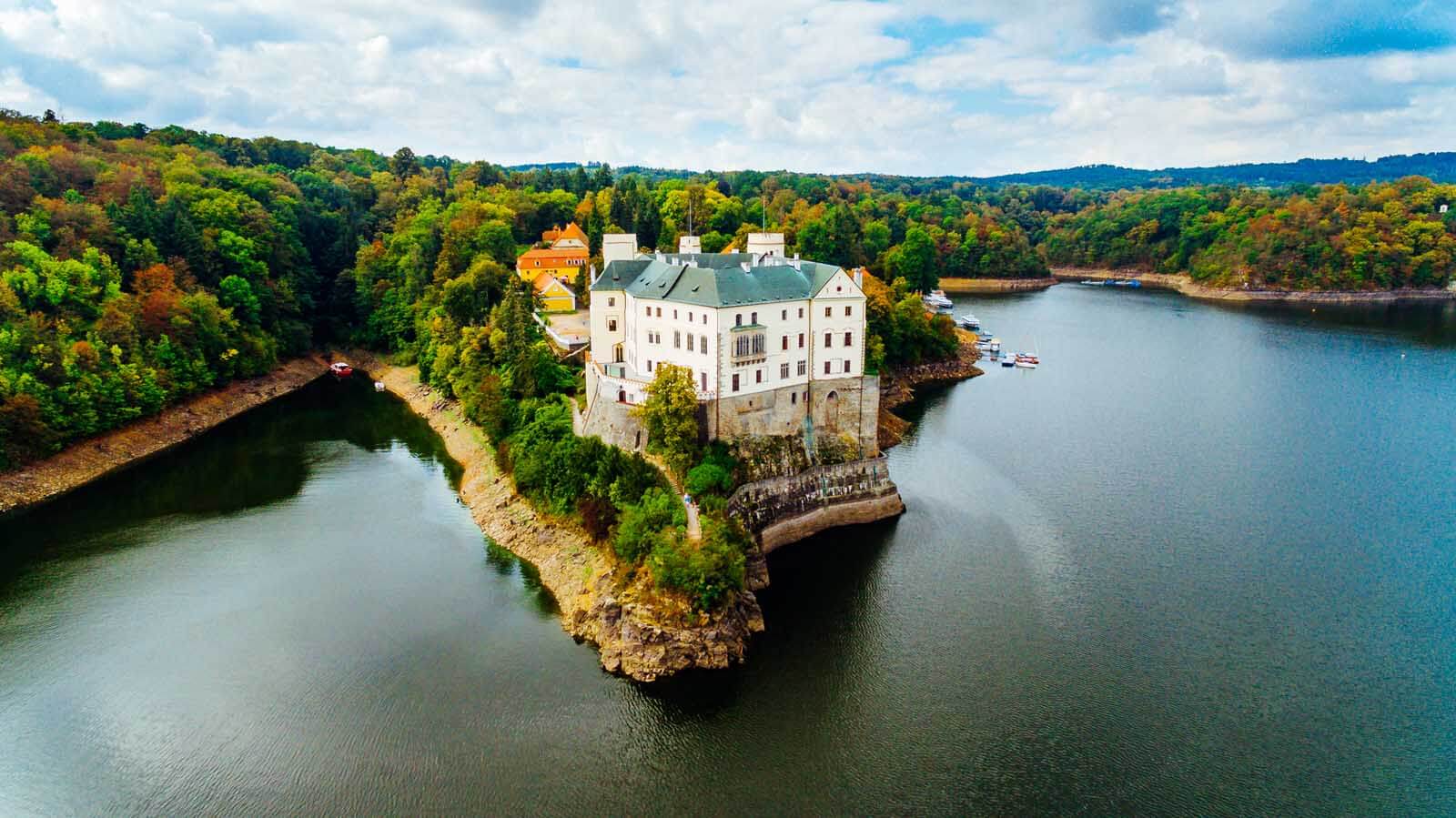 As mentioned earlier, you can take a scenic boat ride from Orlik Castle, there is a short cruise that takes you around Orlik Castle and the huge bridge over the Vltava River or the cruise that takes you all the way to Zvíkov Castle and back.
The boats only run from April to October and leave around every 30 to 60 minutes. However, we found the schedule to be a bit inconsistent, have some flexibility in your schedule for this.
Where to Stay in Zvíkov
Hotel Zvíkov is the perfect option for where to stay during your Czech Republic Beer Trail tour through South Bohemia in Zvíkov if you're looking for an option that also offers an indoor pool, sauna, and a spa! Located right on the Otava River, you are only 1.5km away from Zvíkov Castle. Some rooms offer river views and there's also a restaurant and cafe on site.
Book Now | Compare Prices for Later | Read TripAdvisor Reviews
South Bohemia Beer Trail Day 3: Holašovice & České Budějovice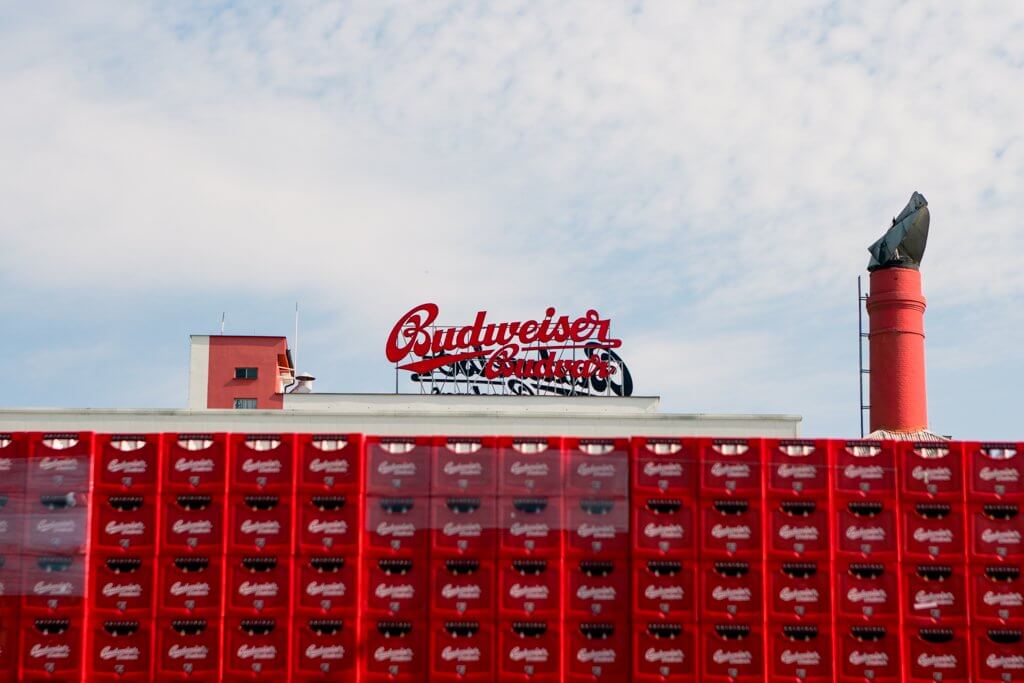 Our next stop through South Bohemia chasing breweries in the Czech Republic takes us to the UNESCO World Heritage Site and town of Holašovice and to České Budějovice, home of the original Budweiser beer and brewery and many microbreweries, a beautiful town center, and lots of seriously great restaurant options!
One way to enjoy this part of the South Bohemia Beer Trail is also by bicycle, you can arrange to rent a bicycle in České Budějovice, if you do this we recommend giving yourself an extra day so you can see all the spots mentioned below!
Holašovice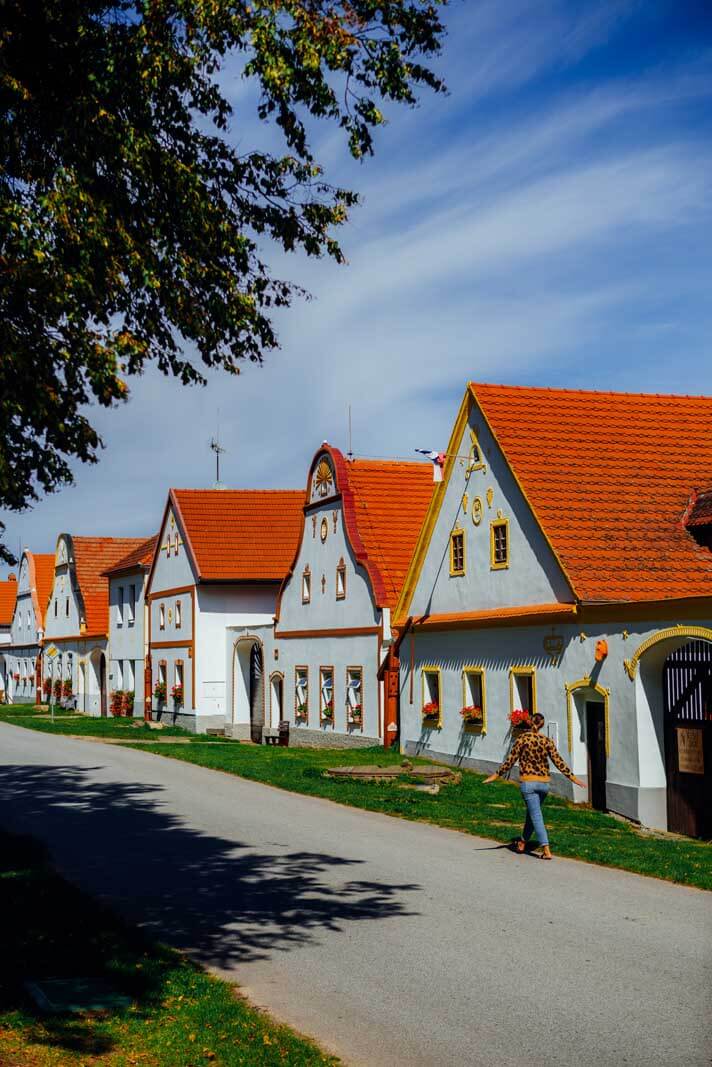 Holašovice is a great break from Czech Republic beer on the beer trail and a chance to see one of the dozen Czech Republic UNESCO Sites the country has to offer.
Around a 20 minute drive, you arrive to this charming village with preserved Baroque style homes.
During World War II the town of Holašovice was abandoned and remained empty of inhabitants until 1990. Because of this long period of time without anyone living here, the Baroque style homes remained the way they are. In 1998, Holašovice was named a UNESCO site and now will always remain the way you see it today as long as it's protected under the UNESCO title.
There's not a TON of activities to do here other than walk around the incredibly tiny town square, visit the manmade Stonehenge in a field, and enjoy a lunch at one of their two little restaurants before heading back to České Budějovice, however, we do think a visit is worth it!
To change things up you can also rent a bicycle in Ceske Budejovice and do the 20-mile round trip or 34 km round trip bike ride to Holašovice instead for a scenic route as the trip is very flat.
Budweiser Budvar Brewery Tour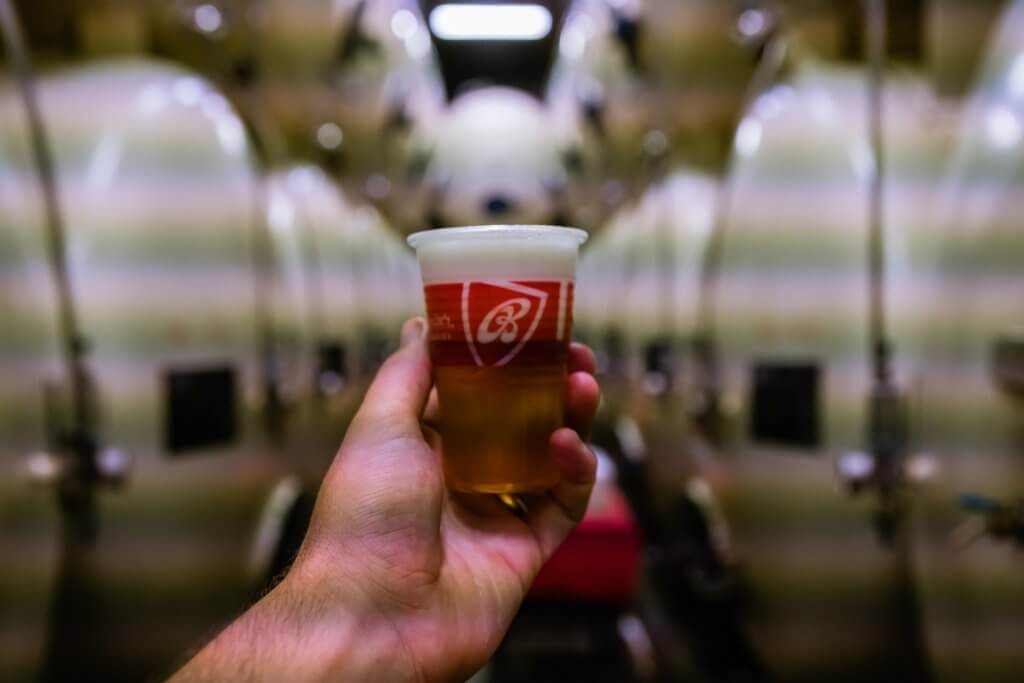 One of the most famous breweries in the Czech Republic is located in České Budějovice. Budweiser Budvar or Budějovický Budvar is the original Budweiser beer in the Czech Republic located right here in České Budějovice and is a must visit brewery in the Czech Republic on your South Bohemia Beer Trail.
Book one of the guided tours through the brewery in advance and see how the original recipe for Budweiser beer is made, manufactured, and packaged in the factory tour as well as a history lesson on the beer.
The US Budweiser and the Czech Budweiser are two completely different beers, the US Budweiser sort of stole the name and used their own recipe that was "inspired" by the color, quality, and taste of the original Budweiser Budvar recipe and went on to be one of the United States most widely sold beers.
The two companies have had trademark disputes for decades with no resolve, you can read more about here from our visit last year where I break down the history of the dispute.
The guided tour is around an hour and one of the best highlights from the tour is trying the unpasteurized beer straight from the tank! You will want to make sure you organize your tour in advance to secure your spot, this is a very popular brewery in the Czech Republic with visitors.
Call or email ahead of time at +420 387 705 347 or [email protected]
České Budějovice Town Center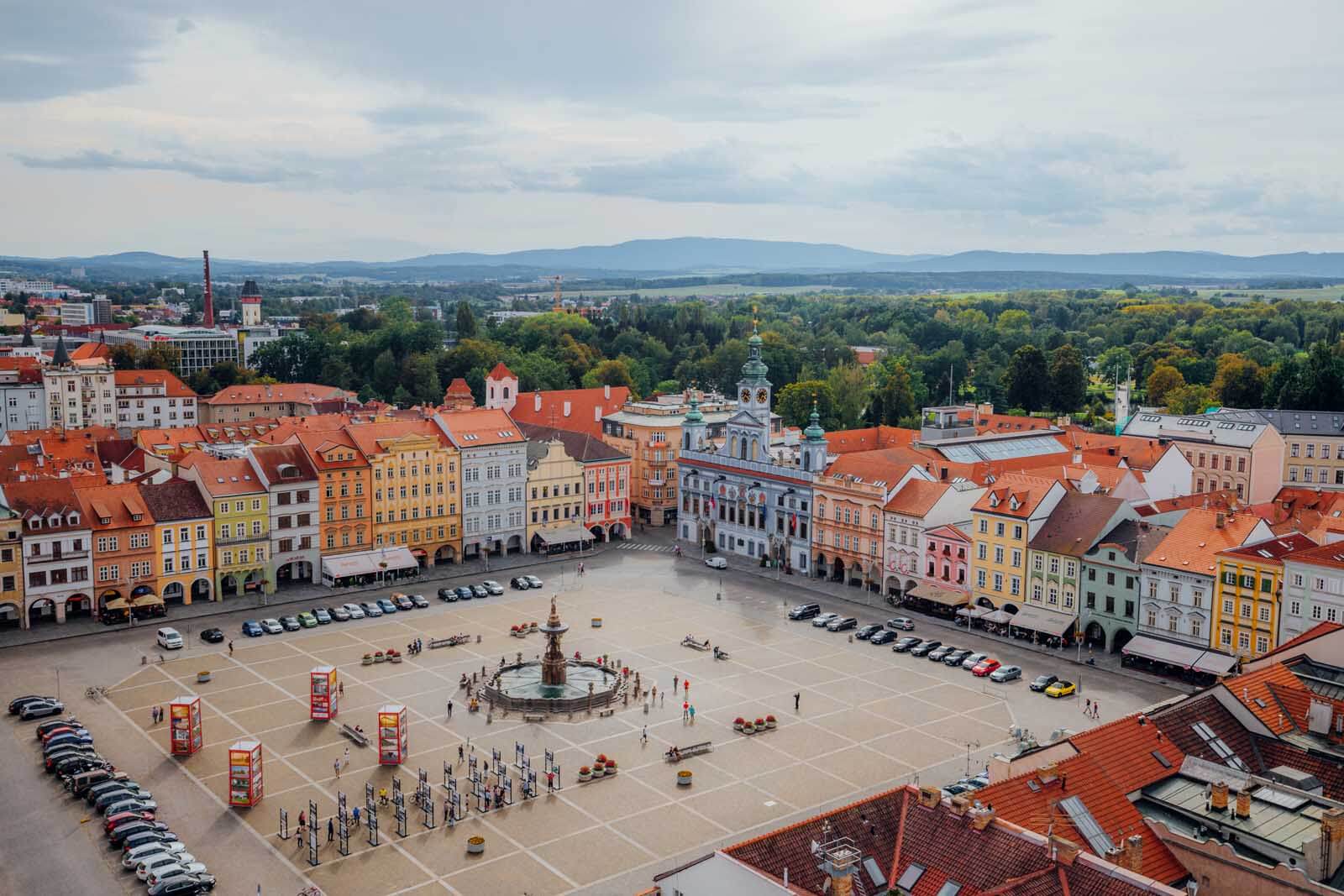 A visit to České Budějovice means you have to explore the town center. We love the colorful facades of the buildings and the view from the Black Tower. One of the most impressive buildings is the Town Hall in the historic town square that plays a song on the bells every hour on the hour.
Besides exploring the heart of the town center, we also recommend walking along the river and enjoying the outdoor art sculptures, drink at the cafes along the or floating on the river, and weaving your way through the cobblestone streets.
If you have time! Don't miss out on Hluboká nad Vltavou, one of the most magical castles in the Czech Republic located a 15 minute drive or about an hour long bike ride from České Budějovice. This neo-gothic castle looks straight out of a fairytale.
See more about and the best things to do in České Budějovice.
České Budějovice Food Scene
Besides being an incredibly charming town center there's also a fantastic foodie scene here in České Budějovice. We have been here twice now and spent longer than usual so you can't go wrong with eating at any of the following places.
Krajinská 27
Krajinská 27 is not only a great restaurant but one of the great microbreweries of the Czech Republic located in the heart of České Budějovice. This is a great spot for lunch or dinner.
Restaurant Paluba
This is a great option located floating over the river in České Budějovice. This is a great breakfast or lunch spot and is easily one of the most instagrammable eateries in the city.
Masné Krámy
This traditional beer hall is a fun experience and a great spot in České Budějovice for dinner. The lively center was once home to the local meat shops and is now a Czech dining hall serving up local Czech Republic beer and cuisine. There was live music and a fun atmosphere going on here, this was more than a meal, it was an experience!
Kilka Kitchen & Coffee
We only ate here for dinner but it was one of our favorite meals. If you like beef tartare this is a great place to try it! Located along the river, if it's warm enough outside you have the option to sit outside enjoying the view, otherwise there is inside seating as well.
Bistro Magdalene
One of our favorite meals in České Budějovice was at Bistro Magdalene. This restaurant is not visited by many tourists because it is located about 10 minutes from the city center in a residential neighborhood. However, since you are most likely doing the Beer Trail by car we recommend driving here for dinner, the food is superb.
Microbrewery Kněžínek
Another one of the amazing breweries in the Czech Republic on the South Bohemia Beer Trail located close to České Budějovice is Microbrewery Kněžínek about a 15-minute drive or a 60-minute bike ride from the city center. We recommend taking a bike if you have the time, the drive is flat and the countryside is just beautiful.
We loved the Czech Republic beer on tap here at Microbrewery Kněžínek, they have a few different types on draft and a restaurant on site as well as a large outdoor and indoor seating area perfect for visiting all seasons.
This is another one of the breweries in the Czech Republic that offer accommodation in their pension if you decide you want to enjoy staying in the countryside rather than in the city of České Budějovice. There's also a spa and bowling alley on the property here.
Where to Stay in České Budějovice
Hotel and Restaurant Bohemia is the perfect option for where to stay during your Czech Republic Beer Trail tour through South Bohemia in České Budějovice. The hotel has a small, family-run feel to it with a great location and a restaurant on site. The rooms are spacious and they can arrange for breakfast to go with notice.
South Bohemia Beer Trail Day 4: Třeboň & Svachovka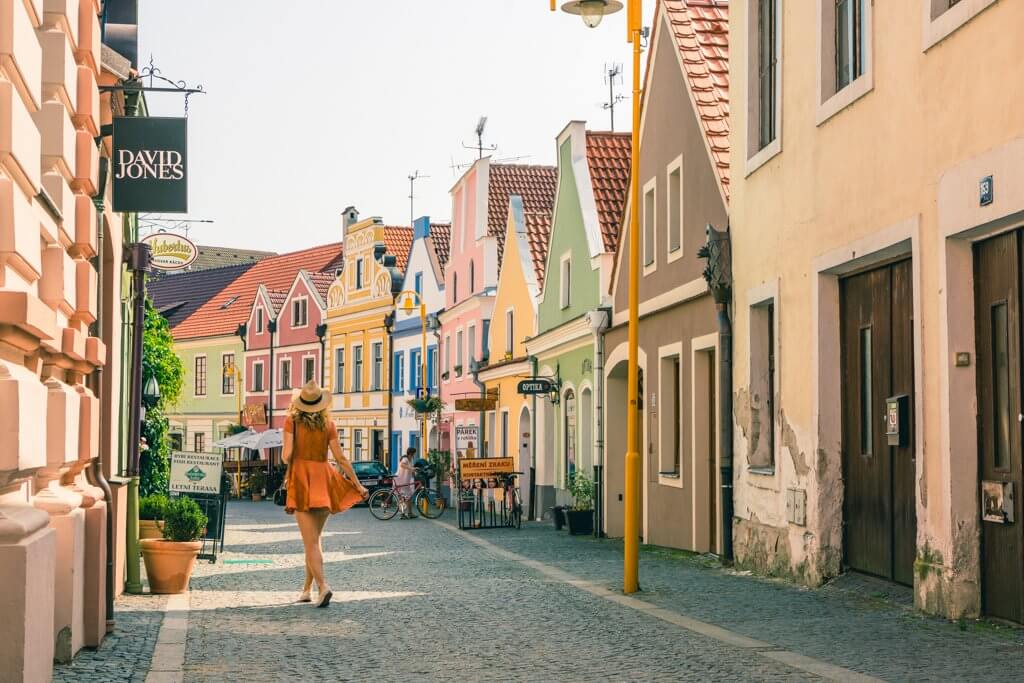 Our last day checking out castles, towns, and breweries in the Czech Republic on the South Bohemia Beer Trail is in the town of Třeboň and then the 45 minute drive to Svachovka brewery, distillery, golf resort, and spa where you will end your entire Czech Republic breweries and castle journey on the South Bohemia Beer Trail with complete relaxation.
Třeboň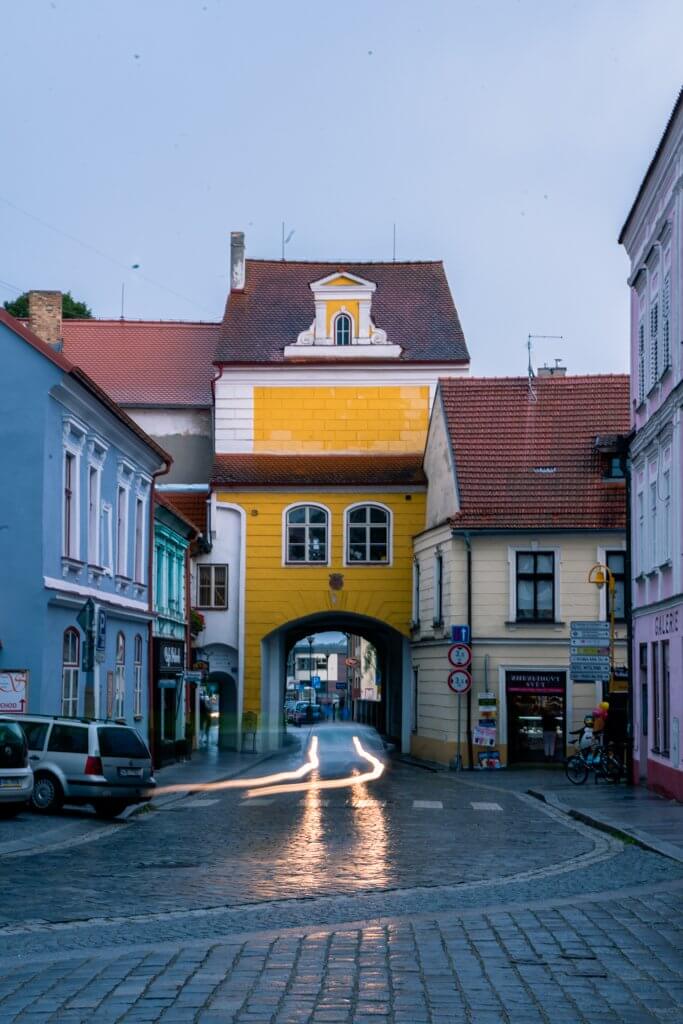 One of our favorite charming towns from our visit last year was Třeboň. This South Bohemian beauty of a town is easily visited in a few hours and has alot to offer. From the colorful and beautiful town square you can enjoy a cup of coffee or climb the clock tower next to the visitor's information center and old town hall to see a bird's eye view of the city.
Stroll through the castle grounds and park, walk along the famous Golden Canal, and eat the local specialty, Carp at Šupina. Adventure around the world on the lake and visit the gorgeous neo-gothic Schwarzenberg Tomb or check out the lovely turquoise theater of Theater of J.K. Tyl.
Another great brewery in the Czech Republic is the Regent Brewery here in Třeboň worth a quick stop and try, but we recommend not going to hard here so you can save yourself for a special treat later.
We recommend staying here and doing all the best things to do in Trebon until lunch before moving on to end your South Bohemian Beer Trail in Svachovka.
Svachovka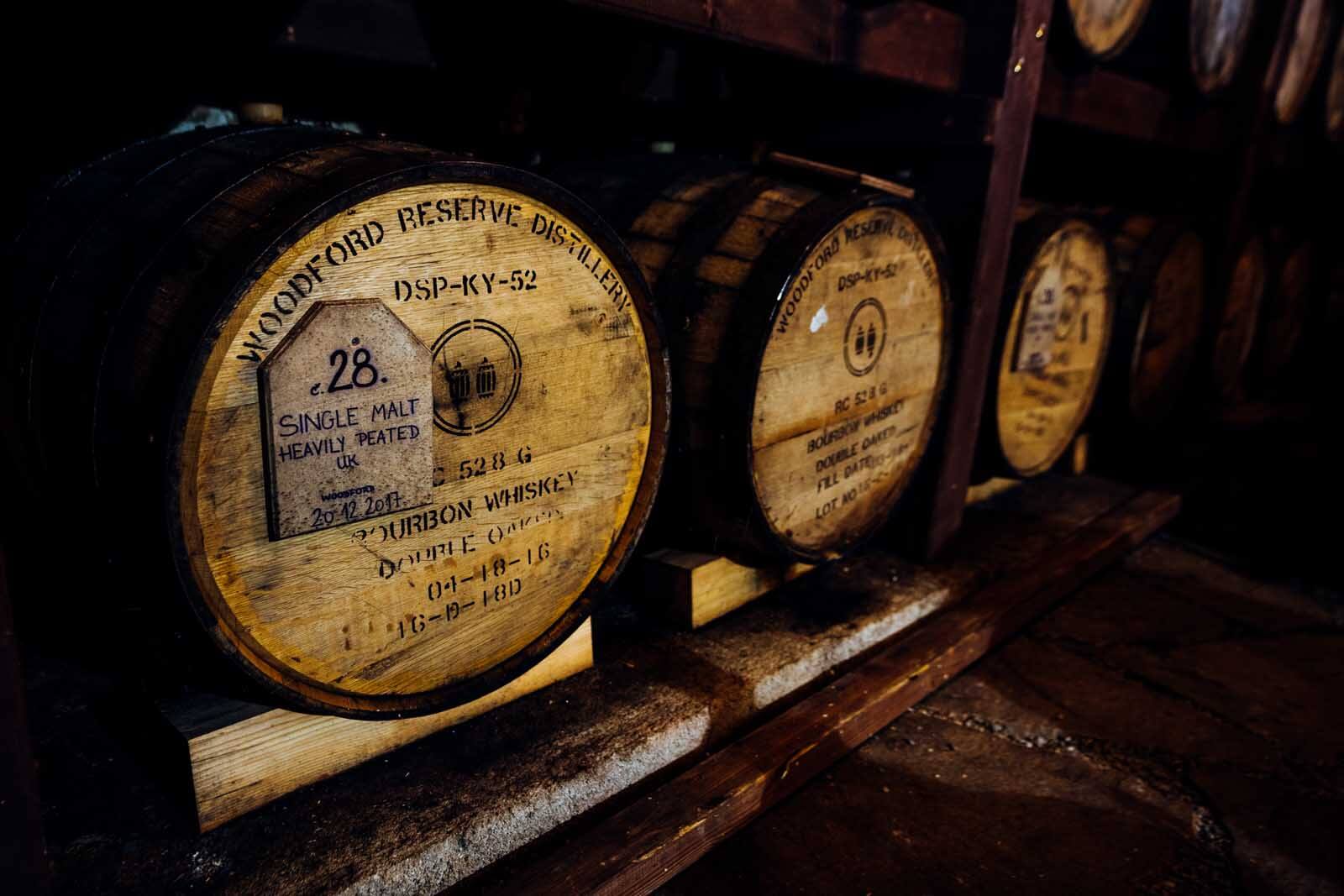 One of our favorite stops and breweries in the Czech Republic on the South Bohemia beer trail was Svachovka. Besides being a full-on brewery, there's also a distillery serving up amazing and flavorful spirits, a full-on golf course, spa, and hotel.
After sampling our way through beer and spirits we enjoyed the ultimate relaxation experience by trying out a Beer Spa. Ever since we heard about a beer spa a few years ago we have been wanting to try it and what better place to do it than on the South Bohemia Beer Trail?
The beer bath experience was awesome. You have your own private Czech Republic beer on tap, in this case, Glockner Beer is the beer made here and what is served, while you soak in a special beer-infused bath where you can not only drink the vitamins in beer but soak them all in through your skin.
This was a great end to the Beer Trail and afterward, we were treated to an amazing meal at their restaurant on site. Afterward, you can spend your last night here.
If you have an extra day, you are only 6 km away from the amazing town of Cesky Krumlov, we recommend giving yourself an entire day and spend the night there to enjoy this popular storybook village around the mass crowds. This is another unmissable stop in South Bohemia and where we made one of our hyperlapse films last year. Check out our complete guide to Cesky Krumlov here.
Where to Stay
Svachovka Hotel is the best place to end your South Bohemia Beer Trail since you'll already be visiting and it will be the last half of the day. The accommodation here is great and it gives you a chance to enjoy the spa on site. You can also extend your stay if you love golfing as this is also a complete golf resort as well.
Getting a Rental Car in the Czech Republic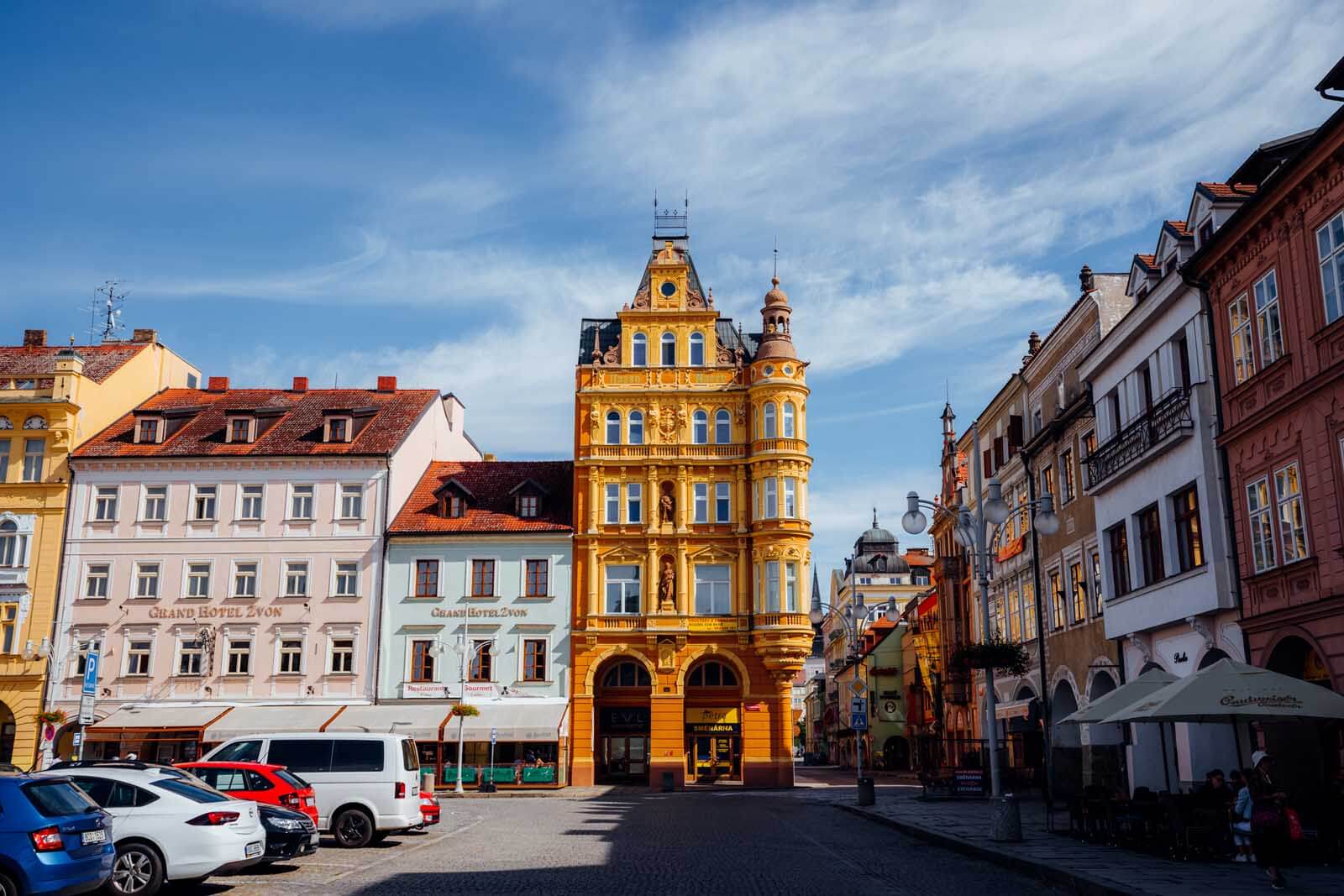 We recommend arranging for your rental car before arriving to the Czech Republic with Expedia. You can compare prices with different companies and be all set when you arrive to the country.
You do not need an international driver's license to rent here in the Czech Republic, make sure you have proof of insurance if your credit card covers car insurance to save you any hassle or purchasing unnecessary additional coverage from the car rental agent during the pick up.
Check rental car rates on Expedia here.
Check out more trip ideas with our Czech Republic itinerary as well as unique things to do in the Czech Republic. Also be sure to read our Czech Republic Travel Guide before your visit for helpful information about traveling around this amazing country.
Enjoyed this guide for the castles and breweries of the Czech Republic on the South Bohemia Beer Trail? Love Czech Republic Beer and want to plan this exact trip? Bookmark for later or share the love below on Pinterest.