Looking for the best things to do in Fairfax County, Virginia? We got you! After spending an exhilarating weekend exploring the best of Fairfax County, we put together this travel guide that highlights this destination's natural beauty, incredible arts and culture scene, and historic sites you won't want to miss just outside of our nation's capital!
Located in Northern Virginia, you have easy access to Washington D.C. and city amenities, while also having tranquil retreats in nature and some of our country's most famous historic landmarks like George Washington's Mount Vernon. Not to mention, Fairfax County has its own urban centers where you can find great shopping, dining, and entertainment options, and a great craft brewery scene.
But first, where is Fairfax County?
Fairfax County, Virginia, is just west of Washington, D.C., making it an integral part of the greater D.C. metropolitan area. It shares its northern border with the city of Alexandria and the Potomac River, which separates it from Washington, D.C.
To the west, it borders Loudoun County, Arlington County lies to the east, while Prince William County is to the south.
Depending on traffic conditions and where you're going in Fairfax County, you can be as little as a 20-minute drive away from the center of Washington D.C..
Disclaimer: This post was done in collaboration with Visit Fairfax. As always, all opinions and experiences are our own.
Amazing Places to Visit in Fairfax County
Meadowlark Botanical Gardens
If you love places you can aimlessly wander around for hours enjoying the gorgeous natural landscape, gardens, and a quiet place to sit, without a doubt one of the best things to do in Fairfax County is pay a visit to the Meadowlark Botanical Gardens.
There are 95 acres of trails, gardens, ponds, and wooded areas to meander around. Our favorite being the stunning Korean Bell Garden which serves as a symbol of friendship and cultural exchange. Having lived in Seoul for a few years, we felt a personal connection to this garden which was largely funded and maintained by the local Korean American community.
Features of the Korean Bell Garden include the centerpiece, the traditional Korean Bell that was cast in South Korea by one of the best of the craft using the same techniques used for thousands of years. During special cultural events that take place in the gardens, the bell will be rung using a large suspended wooden log.
There's also a beautiful pavilion that resembles the walls of Gyeongbokgung Palace in Seoul, there are four "jangseung" known as Korean traditional totem poles, and Dol Hareubangs, which are carved from volcanic rock from Jeju and serve as gatekeepers and protectors to name a few of the garden's features.
What's great is that each season offers a different experience at Meadowlark Gardens with winter illuminations during the holiday season, gorgeous cherry blossoms in the spring, summer blooms, and foliage in the fall making it one of the best things to do in Fairfax County any season of the year!
Stop by the Mosaic District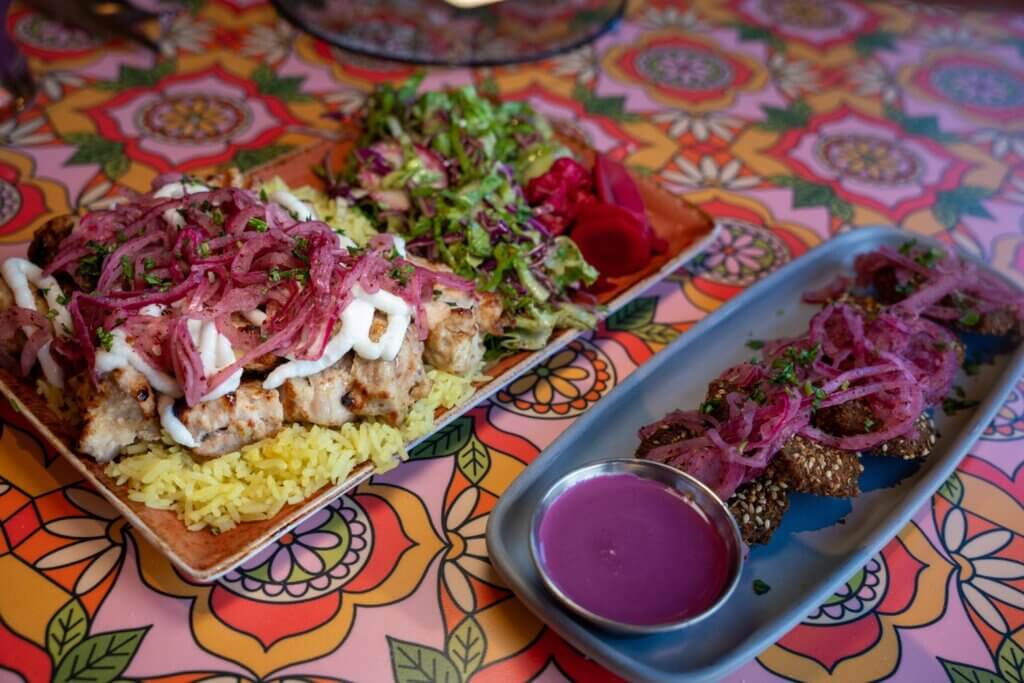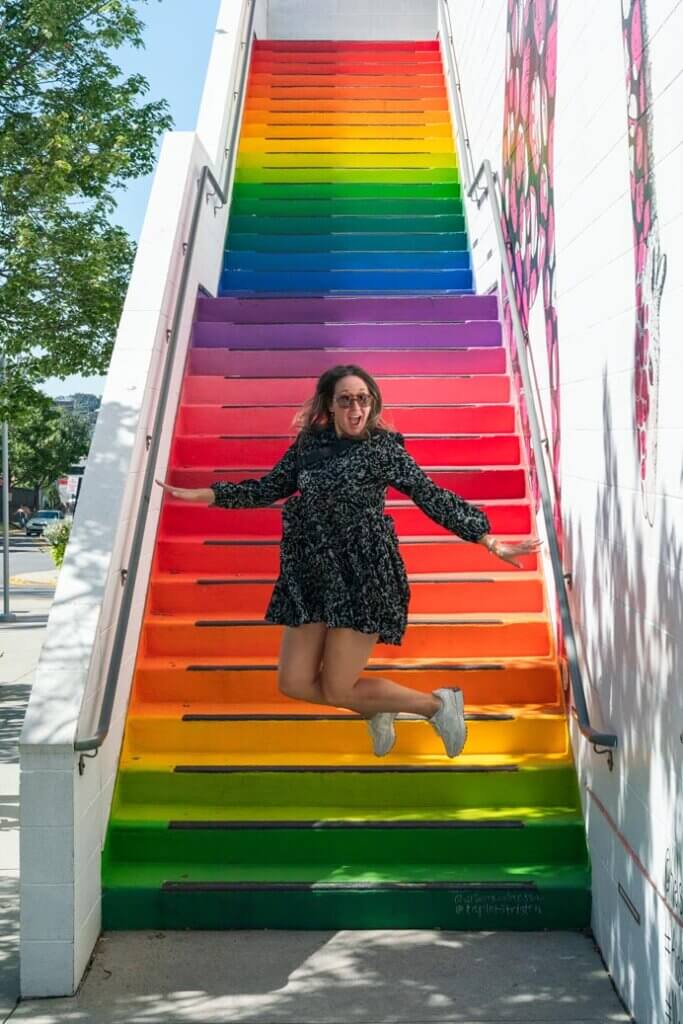 The Mosaic District is another one of the awesome places to check out and things to do in Fairfax County if you want entertainment, shopping, and dining all in one location. This mixed-use district has an array of great eateries, entertainment options like Angelika Film Center for independent and international films, and an entire shopping mall.
During beautiful weather, you can enjoy the outdoor spaces here as well and many of the restaurants offer outdoor dining. There are colorful murals that adorn the walls here too!
We had lunch here on our first day in Fairfax and it was difficult to choose where to eat as there were several great options to choose from. We went with Kirby Club for Eastern Mediterranean fare with a focus on Lebanese cuisine.
The restaurant is named after a social club from Akron, Ohio (where I grew up coincidentally) for the Lebanese-American community in the 1930s which I thought was a fun story incorporated into the entire concept of the restaurant.
The setting here is absolutely stunning, we loved the decor and the food was phenomenal. We enjoyed all of the dips (hummus, labneh, and grilled red pepper dip) as well as their kebabs.
There were also so many other great restaurants here to choose from. And honestly, at first, I was hesitant to visiting what seemed like a shopping mall for a nice meal, but they really had a great selection of unique dining establishments and isn't your typical shopping destination.
Spend an Evening at the Capital One Center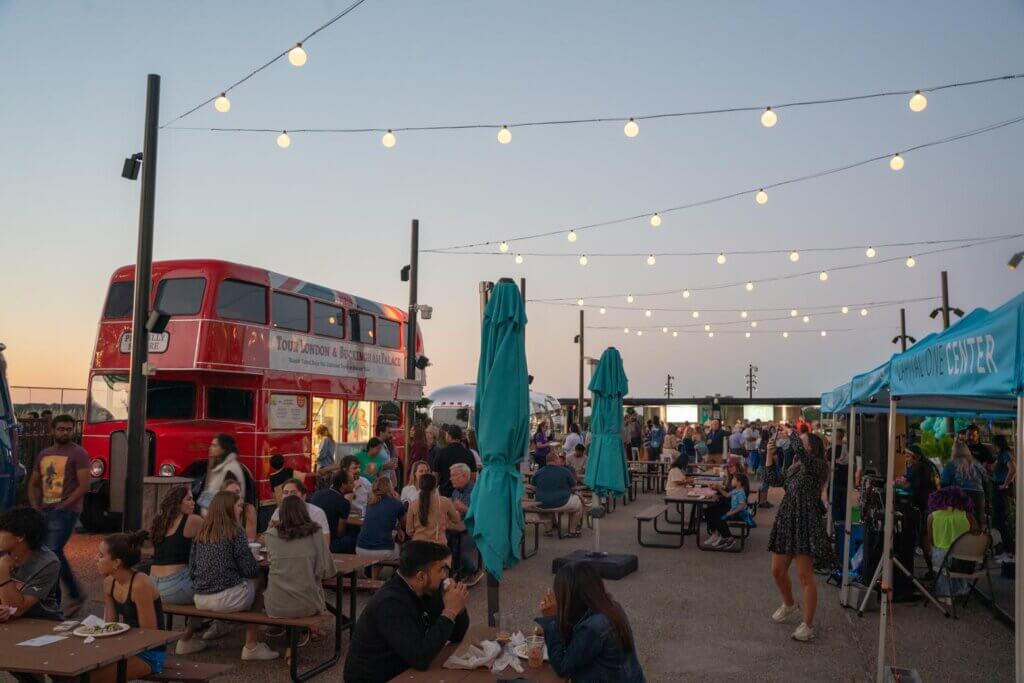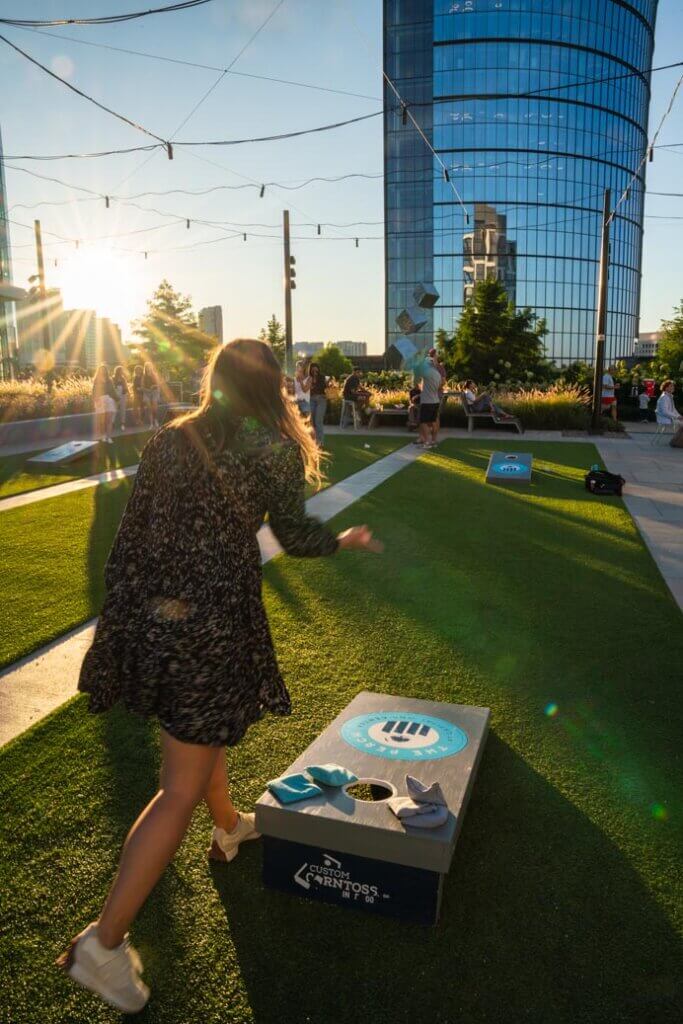 If you're looking for fun things to do in Fairfax County in the evening, check out the Capital One Center in Tysons. We honestly thought that this might be a sports arena or something of that vein with its corporate-sponsored name, but were pleasantly surprised to find that this is a great spot for dining and nightlife.
There are several restaurants and even shops located within Capital One Center as well as an outdoor skypark on the 11th floor called The Perch. This space offers a fun tiki bar housed in a vintage camper, a seasonal 18-hole mini golf course, a sculpture garden, corn hole, and a Star Hill Brewery location and Biergarten!
There are occasional events here, we happened to be visiting during Perchfest which had live music and some special events taking place throughout the day and evening.
We enjoyed our dinner with some craft beverages here along with a round of mini golf as the sun went down.
Explore Workhouse Arts Center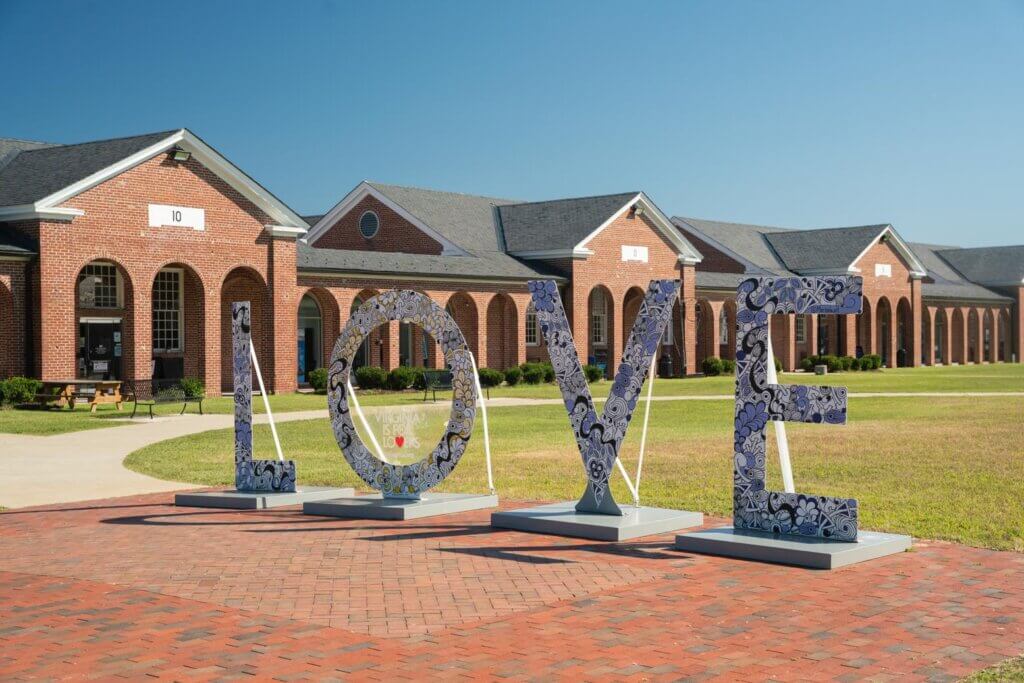 One of the most unique things to do in Fairfax County is visit Workhouse Arts Center. This arts center and complex is home to galleries, studios, events, performances, and even art classes set in the former Lorton Prison.
It's impressive to see how this space has been transformed and repurposed from a prison into a gathering place for creatives. Even the prison guard tower has artist flourishes added to it.
The prison itself has a fascinating history too and you can explore that at the Lucy Burns Museum which details how this complex served as a Progressive Era reformatory known as the Occoquan Workhouse and where suffragist Lucy Burns served two sentences. There are cellblock tours you can join for a fee or visit the museum for free.
Workhouse Arts Center is open Wednesdays through Sundays and the Lucy Burns Museum is open Fridays through Sundays.
George Washington's Mount Vernon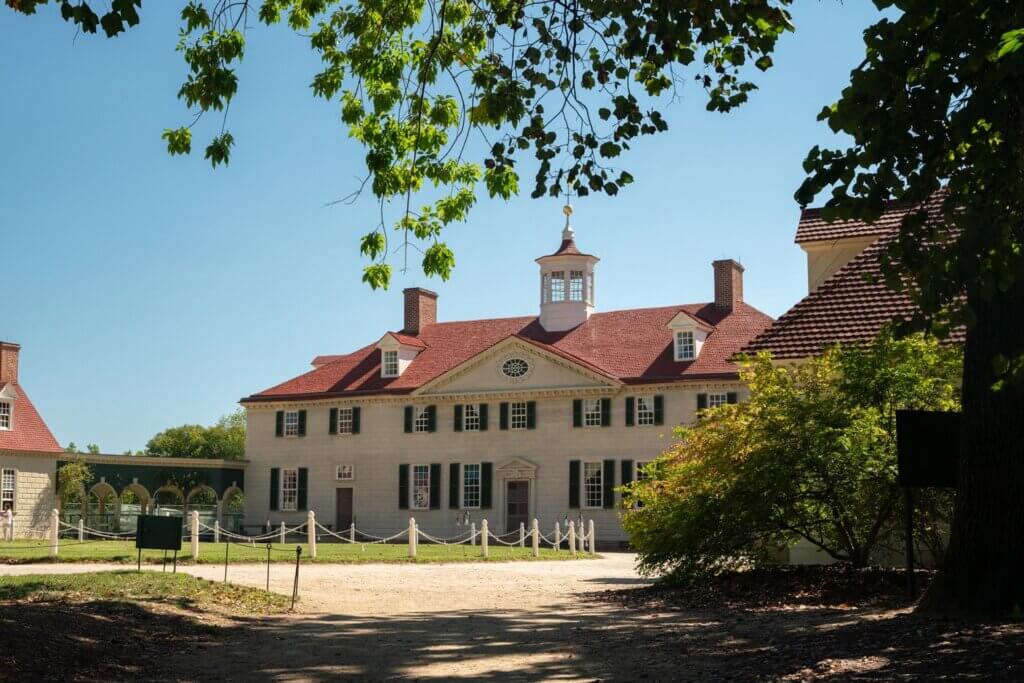 One of our favorite places to visit in the Washington DC area and the best things to do in Fairfax County is pay a visit to George Washington's Mount Vernon. This historic treasure and former home of our country's first President, George Washington is a gorgeous estate situated along the scenic banks of the Potomac River.
Visitors are welcome to tour inside the gorgeous 18th-century mansion, roam the gardens and grounds, as well as join a scenic river cruise on the Potomac River seasonally. The estate grounds are large and a really great place for a scenic and historic walk through the pioneer farm where you'll also find historic landmarks like the reconstructed slave quarters that offer a glimpse into what life was like for those enslaved here during Washington's era.
You can visit Washington's tomb where his final resting place is located along with Martha Washington. Nearby you can also pay respects at the Slave Cemetery and Memorial where many of the enslaved were buried in unmarked graves. This memorial was dedicated in 1983 to recognize and honor the memory of the enslaved people who contributed significantly to the plantation's success.
There's also an immersive and comprehensive museum dedicated to Washington's legacy which includes his troublesome set of dentures (no, they were not made of wood!), an interactive exhibit where you get to Be Washington and make leadership decisions just as he did, and a Revolutionary War 4D Theater experience to name a few.
What makes a visit to George Washington's Mount Vernon even more special and one of our most memorable places to visit in Fairfax County is the special events they host. During our visit, we got to experience the annual Colonial Market & Fair Festival where you'll find tents of vendors selling colonial products, live colonial music performances, food vendors, and even actors dressed as George and Martha Washington!
So many people came dressed for the occasion in period costumes, which was fun to walk around and see. We highly recommend checking out Mount Vernon's upcoming events to see if anything is happening during your visit!
After exploring George Washington's Mount Vernon, make sure to plan a meal at the Mount Vernon Inn Restaurant. We've actually eaten here on two occasions now and the food is excellent and it feels like you're in an 18th-century dining room. It really is a great addition and way to end or start your Mount Vernon experience.
Reservations are not required but recommended, especially during events or weekends.
George Washington's Distillery & Gristmill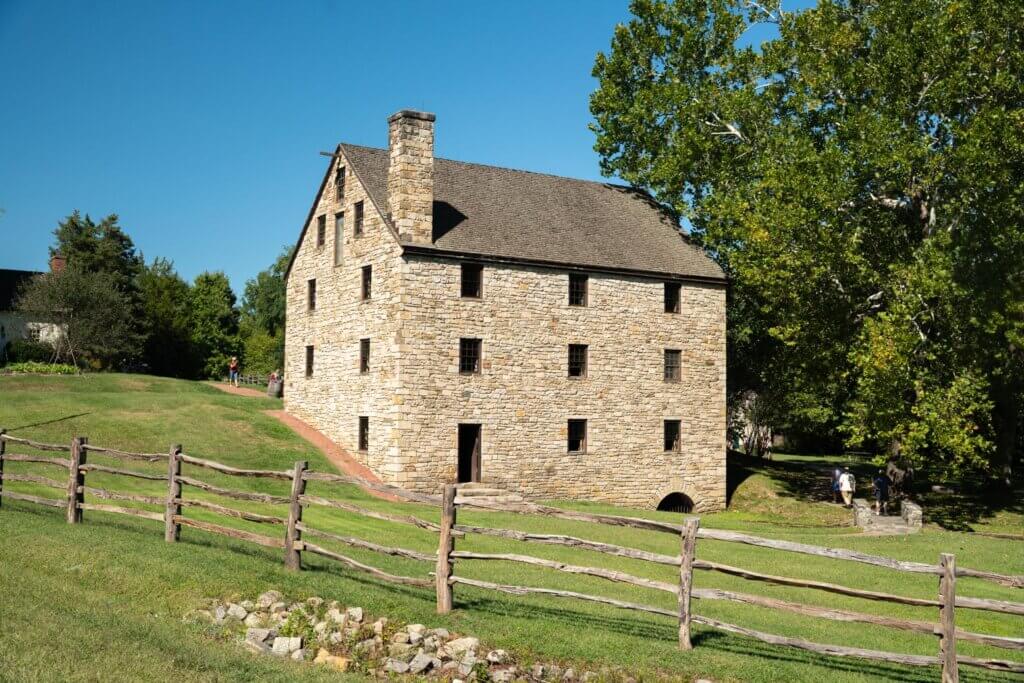 Did you know that George Washington had a distillery? We did not! Located just a few miles away from George Washington's Mount Vernon is his distillery and gristmill site, another one of the best historic things to do in Fairfax County.
You can only visit the distillery and gristmill by tour, which gives you a glimpse into Washington's entrepreneurship endeavors. The actual distillery and gristmill buildings you see today were built on the site of the original and are reproductions.
Your tour guide will take you first through the reconstructed water-powered gristmill where you'll get to see a demonstration of the grinding process using 18th-century technology before making your way down to the distillery for more background into his whiskey-making process.
It was actually fascinating to learn a bit more about George Washington and his role in whiskey production as it became one of his most successful business endeavors that he only started in 1797 until his death in 1799. The reason why you may have never heard that George Washington made whiskey is likely because he was opposed to Alexander Hamilton's suggestion of a whiskey tax which lead to the Whiskey Rebellion.
Washington's last year of his presidency was 1797, and immediately after that his Scottish farm manager, James Anderson convinced him to open a distillery. He did so apprehensively with no branding or label as I am sure he wanted to keep that under wraps as he was the president during the Whiskey Rebellion (although he opposed the idea of a whiskey tax, it wasn't a great look).
Today, you can buy a small batch of whiskey from the distillery that is branded as being from George Washington's distillery site! Occasionally they do have whiskey tastings at the distillery too, which you'll want to make sure you reserve a spot for when purchasing your ticket!
We got to try 3 small whiskey samples at the site of the distillery which was a really unique experience, especially after learning the history of this site and his involvement in whiskey production!
George Washington's Distillery and Gristmill is open seasonally and included with your Mount Vernon ticket. However, the whiskey-tasting experience is only held on certain dates and requires a special reservation and ticket.
Hit Up the Craft Breweries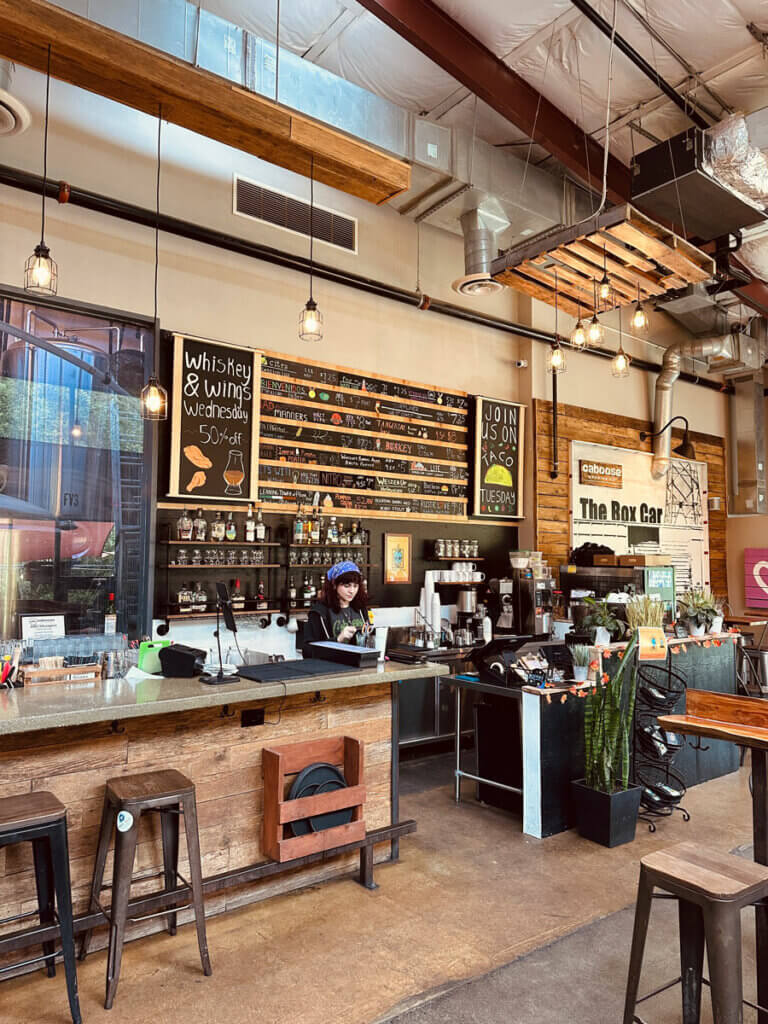 One of the best things to do in Fairfax County for beer lovers is take advantage of all the excellent craft breweries in the area!
We definitely didn't pass up the opportunity to check out a few of the breweries in the area and had to opportunity to also dine at them.
We already mentioned Starr Hill Brewery's Biergarten at The Perch in Tysons, which is actually a Charlottesville-based brewery. It's a great evening hang out since there are also other fun things happening at The Perch like seasonal mini-golf and live music!
Caboose Tavern in Vienna is a fun stop for lunch serving up a farm-to-table menu paired alongside their craft brews. Caboose Tavern is also located along the Washington & Old Dominion Trail at mile marker 12, a 45-mile trail that cuts through Fairfax County popular among cyclists set on a former historic railroad bed.
Aslin Beer Company is another fun craft brewery that has a great selection of sours and hazy IPAs. They also have a pizza kitchen and menu if you're looking for a dining option along with sipping on your craft brews. They now have a few locations, but their beer empire all started in the town of Herndon!
Another brewery in Fairfax County we had our eye on but just didn't make it to was Ono Brewing Company and their tropical-themed tasting room! They have their craft brews on draft in a self-serve setting which will be high on our to-do list next time we visit.
Enjoy Breakfast at Katie's Coffee House
One of the most charming places to visit in Fairfax County is Katie's Coffee House for breakfast! Set in a cozy Irish pub setting you can get your morning caffeine fix here along with baked goods and breakfast items.
The cafe is attached to The Old Brogue, an Irish pub and honestly, it does feel like you're in that exact setting while visiting!
On the weekends, vintage car collectors gather in the parking lot which is fun to peek at these beautifully restored vehicles! We got to see a collection of cool old Porsches during our visit.
Also, this is a great morning stop before visiting Riverbend Park or Great Falls Park!
Take a Scenic Hike in Riverbend Park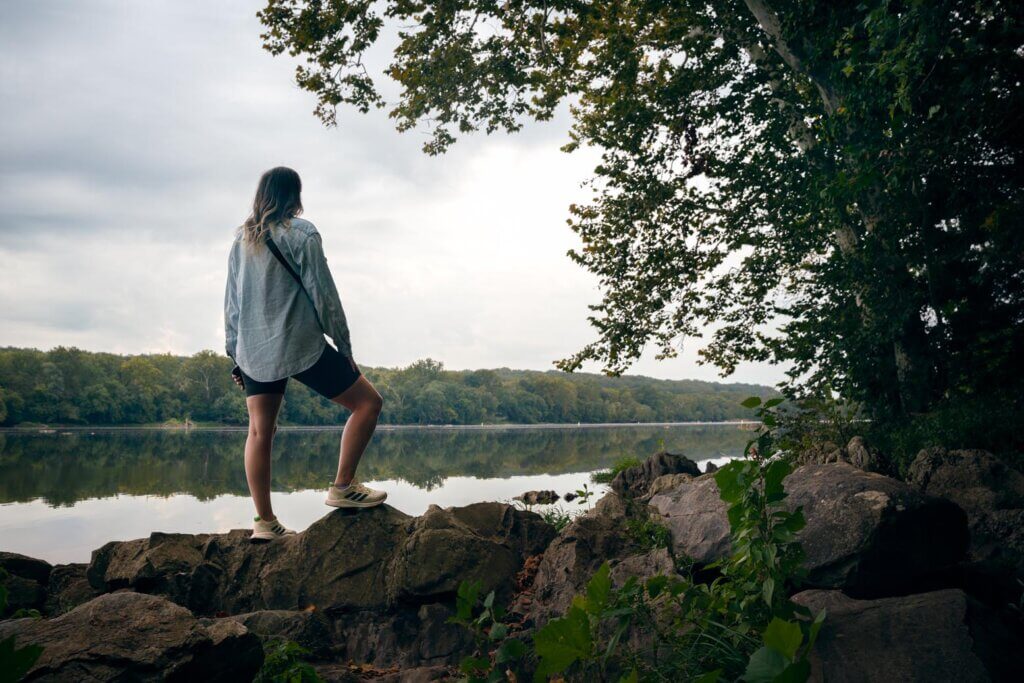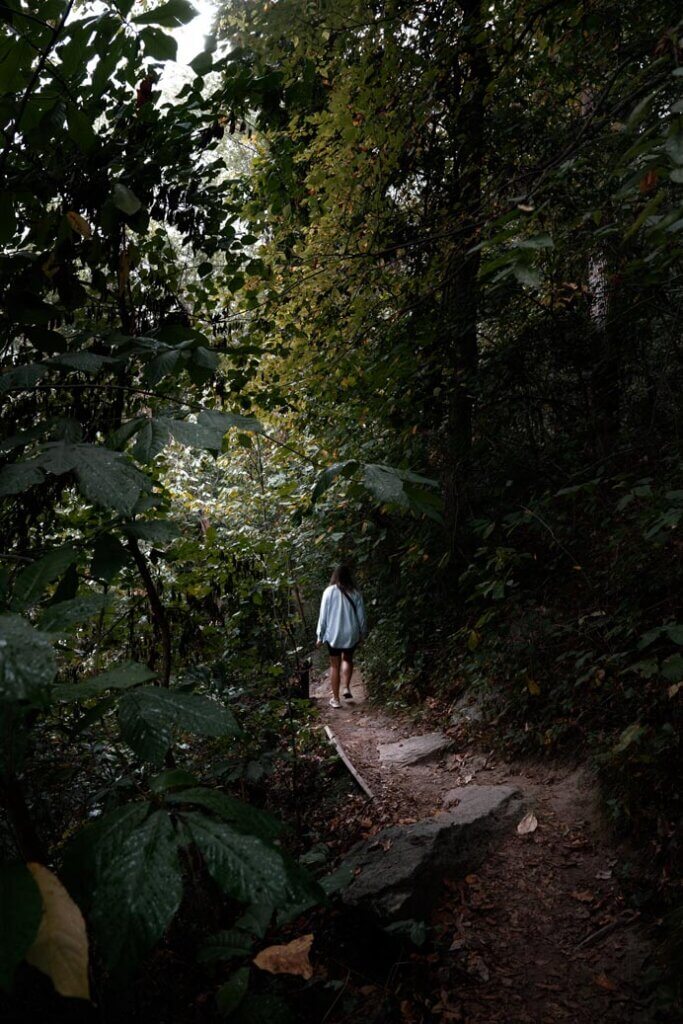 If you're looking for a serene place to take a scenic walk then visiting Riverbend Park is one of the top things to do in Fairfax County! Located along the Potomac River, you can enjoy hikes along the well-maintained trails with scenic views of the river along the way.
This also happens to be a popular spot in the springtime for wildflowers and a great spot for bird watchers.
There's a visitor center that offers snacks, a riverside picnic area, and exhibitions.
We actually used Riverbend Park as a way to walk along the Potomac River to Great Falls Park (which you have the option to drive to as well). If you want to do this, you need to get to the North River Trail (the trailhead begins at the far end of the parking lot along the river).
From here, you walk along a relatively flat wooded, riverside trail that leads you to the Aqueduct Dam, there is a rocky and steeper bit here, but still very easy.
You can continue to Great Falls Park's observation areas and turn around. It's a 3-mile hike round trip. Just be sure to schedule in time to stop and take in the views!
Awe at the Beauty of Great Falls Park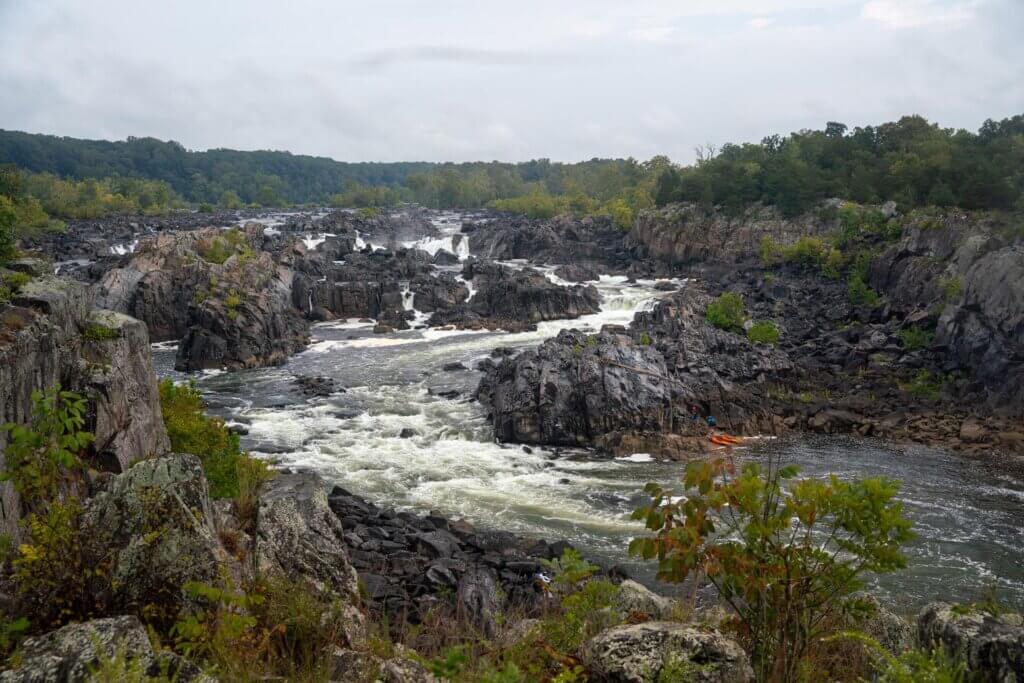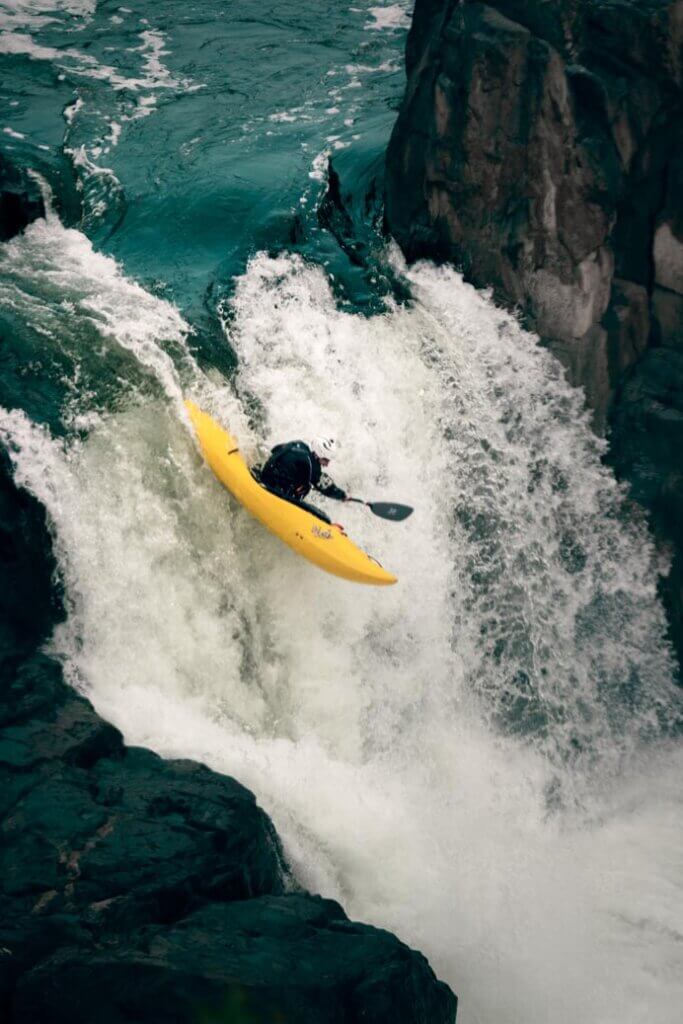 Another one of the best natural gems and things to do in Fairfax County is visit Great Falls Park. Located near Riverbend Park (and you can hike from there to here) along the Potomac River. In Riverbend Park you'll notice the more serene-looking waters on the Potomac River and at Great Falls Park, this is where the water picks up speed and plunges over jagged rocks.
Check out the three different observation lookout points where you'll get dramatic views of the rushing water below and the rugged, craggy rocks! There is one area you can walk down closer to the water, but do not get too close as the current is very dangerous here and claims lives annually.
There are also the remains of the Patowmack Canal, which was the first canal in the country that used locks to raise and lower boats.
This is a great place for a picnic, a leisurely hike along the Potomac River, or just witnessing the gorgeous falls here! We were lucky to have been here when a few daredevil kayakers were going over the falls, which was a sight to see!
There's a $20 fee per car to enter Great Falls Park, but if you have an America The Beautiful National Parks and Federal Recreation Lands pass, you can get in without paying the fee. (PS this is a great investment if you visit even only a few national parks in a year!).
See a Show at Wolf Trap National Park for the Performing Arts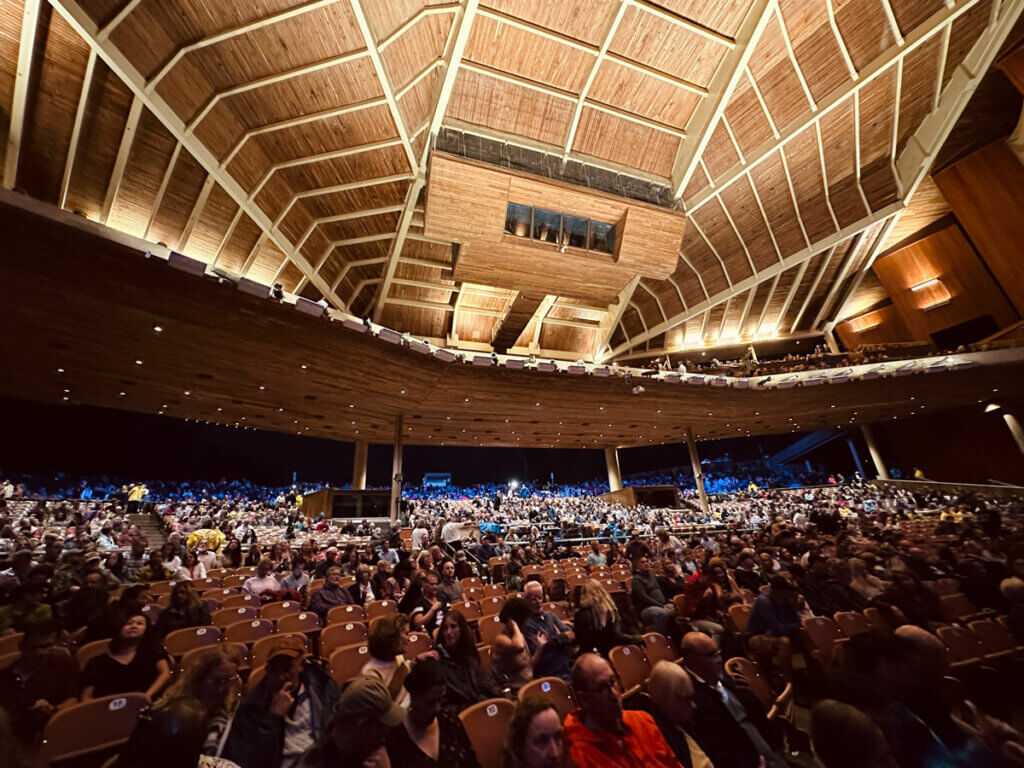 Another one of the most unique things to do in Fairfax County, Virginia is visit the only national park dedicated to the performing arts! That's right, there's a national park dedicated to the arts and how cool is that?
Wolf Trap National Park for the Performing Arts is a really cool performance venue in a park. We saw Ray LaMontagne perform at the gorgeous Filene Center during our visit. The Filene Center is a beautiful outdoor amphitheater made of wood, which blends into the natural setting and surrounding Douglas Fir trees.
What's cool about seeing a show here is that you can either find a spot on the lawn for you and your friends and bring in your own small cooler of goodies and enjoy the show from the grassy hill looking right into the Filene Center, or you can opt for assigned seating tickets within the Filene Center.
Not only can you see concerts here but there are also opera, theater, and dance performances that take the stage.
There are spots to grab a drink and some snacks, or you're welcome to bring your own. The only thing to note is that you can't bring food into the Filene Center, it has to be eaten before getting to your seat and if you want a drink, they will have you purchase a plastic reusable cup with a lid to avoid spills.
What is really special about this venue is that you're experiencing the arts in a natural setting. You can catch a performance here seasonally, typically from May through the end of September.
For those visiting any other time of the year, The Barns at Wolf Trap are their indoor venue that hosts smaller-scale performances you can attend too.
Get Gifts at River-Sea Chocolates
I don't know about you, but we love finding locally-owned businesses and shops on our travels whether we are looking to bring home a keepsake for ourselves to remind us of our time or looking for a fun souvenir to bring back for someone else as a gift!
One of the perfect places to visit in Fairfax County for that is River-Sea Chocolates in Chantilly. This chocolate shop is a mom-and-pop, run by a local couple who specialize in bean-to-bar chocolates. Their gift store is located right next to where the chocolate is made and they have a wide range of chocolate bars you can bring home along with a case of individual little chocolates you can make an assorted box out of!
This is a quick stop, but definitely worth it if you're a chocolate lover or looking for a great gift!
Hike or Bike Along the Washington & Old Dominion Trail
One of the coolest things to do in Fairfax County that we wish we knew about before our visit is the Washington & Old Dominion Trail, aka W&OD Trail which runs 45 miles along a former railway bed passing through Fairfax County (along with neighboring counties).
The trail is popular among cyclists specifically, although you can walk on it as well (just watch out for cyclists!). The trail passes through the natural beauty of the area along with passing through towns and Fairfax County attractions like Meadowlark Botanical Gardens along with breweries and restaurants!
There's no shortage of stops you can make and it's really a great way to explore the county, especially in beautiful weather!
Don't have your own bike? Don't worry! You can rent one from Green Lizard Cycling in Herndon who has road bikes as well as e-bikes (my favorite). When we stopped in Herndon and at Caboose Tavern we saw people cycling on the trail and it looked so fun, especially with so many great stops you can make along the way!
Stop by the Town of Herndon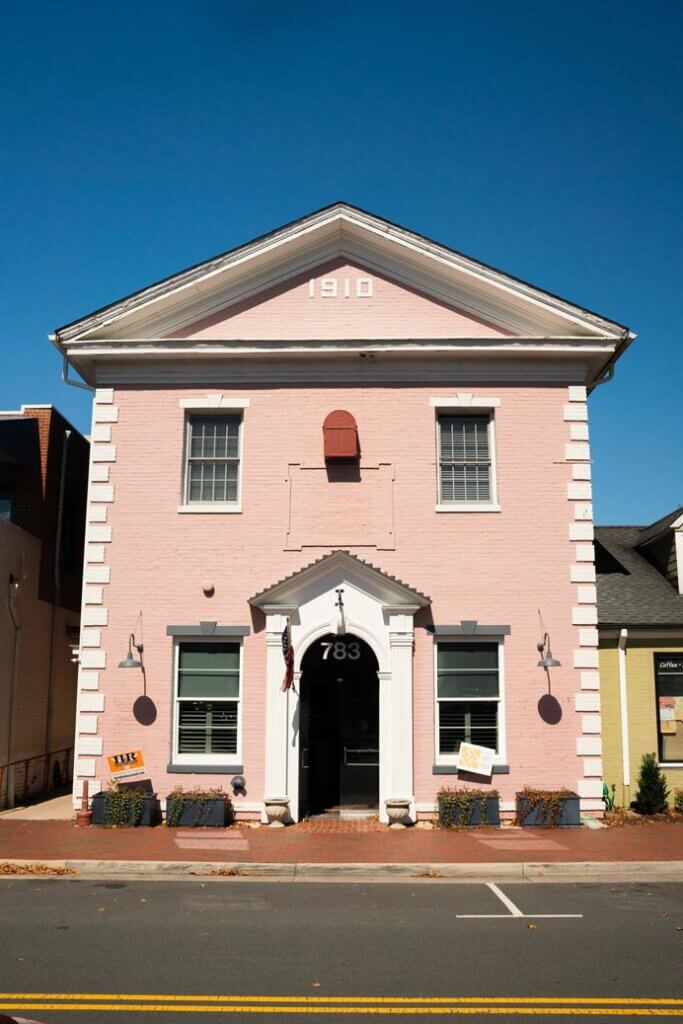 If you love visiting small towns like we do, then you'll want to add a quick visit to the town of Herndon in Fairfax County, Virginia to your trip. This town was historically a key point along the railroad and today is a great stop for those biking along the Washington & Old Dominion Trail set along the former railway bed!
If you are taking a fun day trip by bicycle on the W&OD, you'll find Herndon at Mile Marker 20 right along where you'll see the red caboose! And if you didn't bring your own bike, don't worry you can rent one at Green Lizard Cycling, which also has a great coffee shop.
If you're looking for a beer break, you can find that at Aslin Beer Company's Herndon location!
If you're looking to learn a bit more about Herdon's history, check out the Herndon Depot Museum, dating back to 1857, which narrates the history of the former railway and displays a diverse collection of historical relics.
We love antique shopping, so we did a lap around Roaches in the Attic antique shop, which has a large collection of dining ware and a very well-organized vinyl collection!
Take a Stroll Around the Town of Clifton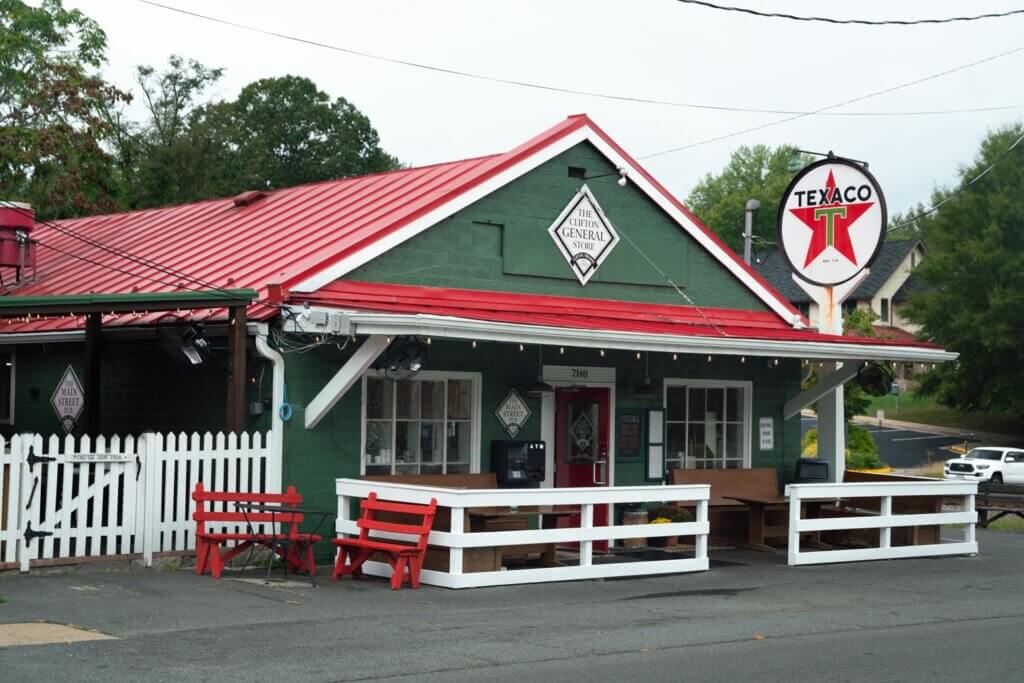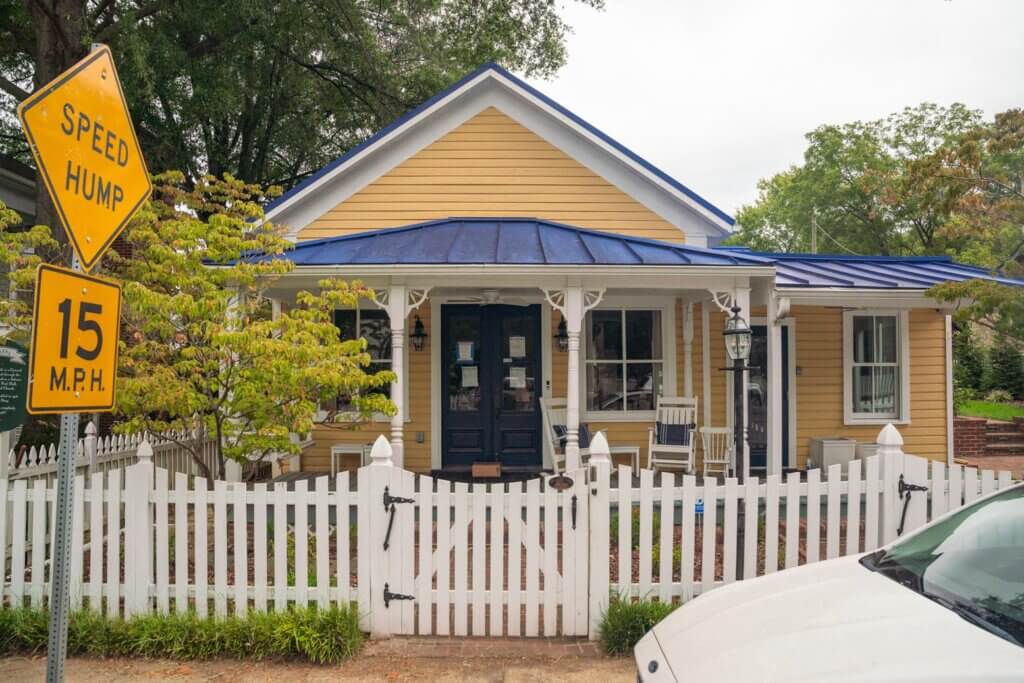 One of the most charming towns and places to visit in Fairfax County is Clifton. This one-street historic town is lined with beautifully preserved 19th-century buildings where you'll find restaurants, a cute seasonal ice cream shop, a wine shop, and a cafe.
Peterson's Ice Cream Depot is one of the cutest ice cream shops we've ever seen! They have homemade custard, ice cream, and soft-serve ice cream.
Just outside of town is Paradise Springs Winery if you're looking to try some local wines. This is also Fairfax County's first vineyard!
Honestly, this is such a quaint little town, we both felt like this was the postcard-perfect small-town America.
Check out Annandale's Koreatown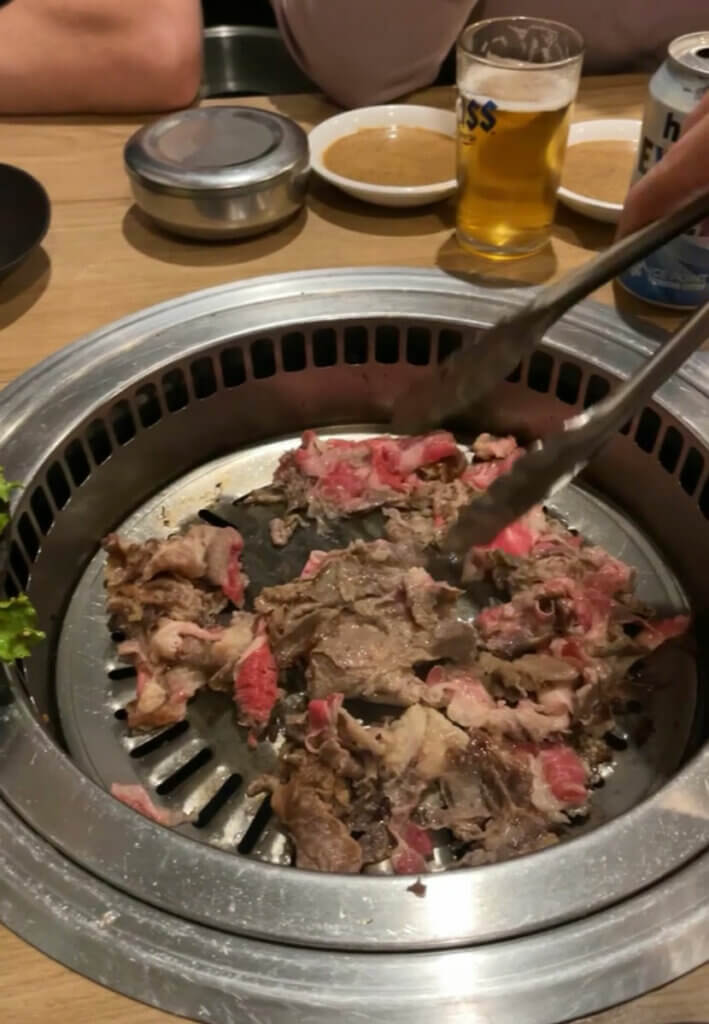 For our readers who have been around since the beginning, all of our travels together started when we moved to South Korea. We spent 2.5 years together in Seoul and Korean culture and cuisine holds a special place in our hearts, which is probably why we loved the Korean Bell Garden in Meadowlark Botanical Gardens so much!
Did you know that the DC area has the third-largest concentration of Korean Americans? And the epicenter of the Korean-American community here is in Annandale in Fairfax County, which is considered the unofficial Koreatown of the DC area!
So you know what that means? You can find seriously good and authentic Korean restaurants, shops, markets, and more!
We didn't pass on the opportunity to eat Korean food while we were in town, we stopped by Honey Pig BBQ for lunch on our last day and got a specialty item we haven't had since living in South Korea (despite frequenting Los Angeles' Koreatown and both NYC's Koreatown and Flushing, Queens!) known as haejangguk (aka hangover soup).
No, we weren't hungover, but this soup is so good and it's been a hot minute since we've seen it on a menu! The soup is a hearty beef broth served with beef on the bone that is so tender it just falls off along with a few staple Korean veggies like cabbage.
On a previous trip, we also had Korean BBQ at Oegadgib, which is another excellent Korean restaurant that really felt like we were in a restaurant in Korea!
If you're new to Korean cuisine, we recommend trying BBQ on the first time the beef and pork cuts of meat (we love brisket, bulgogi, and samgyeopsal personally). This is a great beginner segway into the wonderful world of Korean food!
Catch a Performance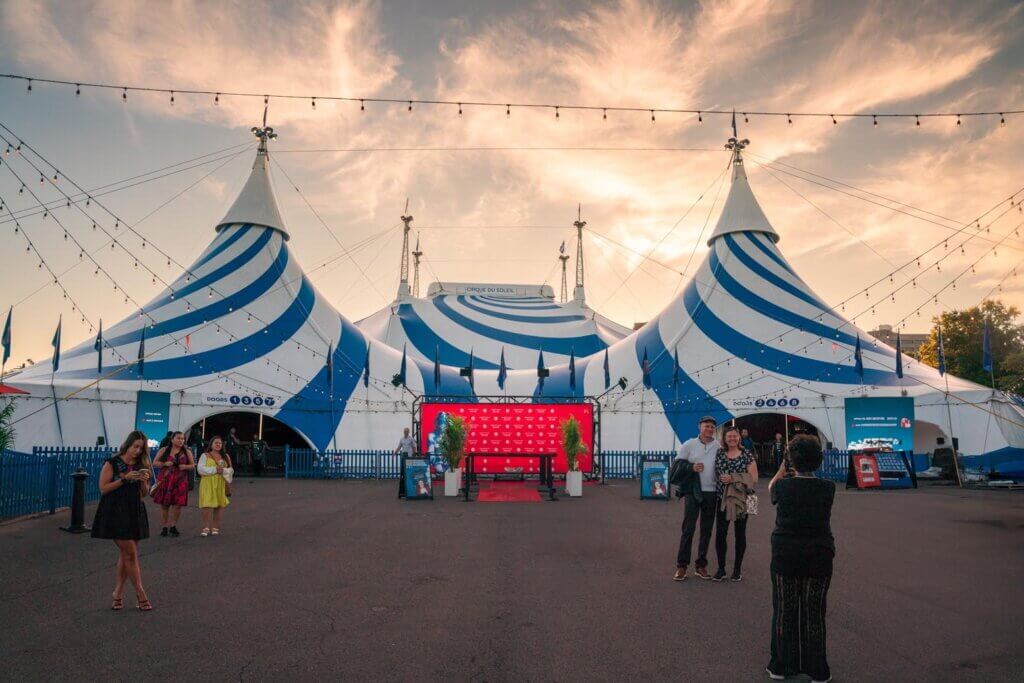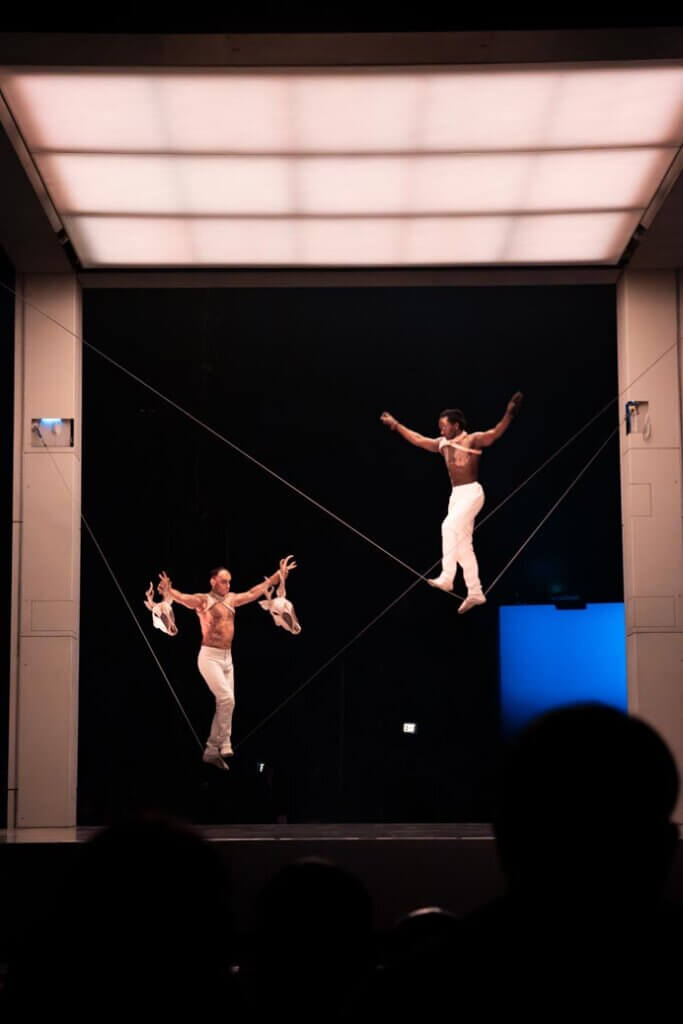 We already mentioned Wolf Trap National Park for the Performing Arts, which is a must-visit Fairfax County experience in our opinion. But did you know that Fairfax County has a thriving arts and culture scene beyond the nation's only national park dedicated to the performing arts?!
There are countless art galleries and performance venues to check out while you're here.
You can catch a theater production at 1st Stage Theater, The Alden Theatre, and Reston Community Center's CenterStage.
There are various live music performances you can check out too including The Fairfax Symphony Orchestra at the George Mason University Center for the Arts or check out a smaller venue like Jammin Java who hosts local and emerging artists in a more intimate setting in Vienna.
And be on the lookout for touring productions too! During our visit, the US premiere of ECHO, a new Cirque de Soleil show in a Big Top tent was taking place in Tysons and we got to attend! This was my first time seeing a Cirque de Soleil show outside of Las Vegas in a Big Top and it was such a fun experience!
While shows like this aren't permanent, Fairfax County is always offering different experiences for the entertainment and arts, be sure to check out their events page to see what's happening during your visit.
Where to Stay in Fairfax County, Virginia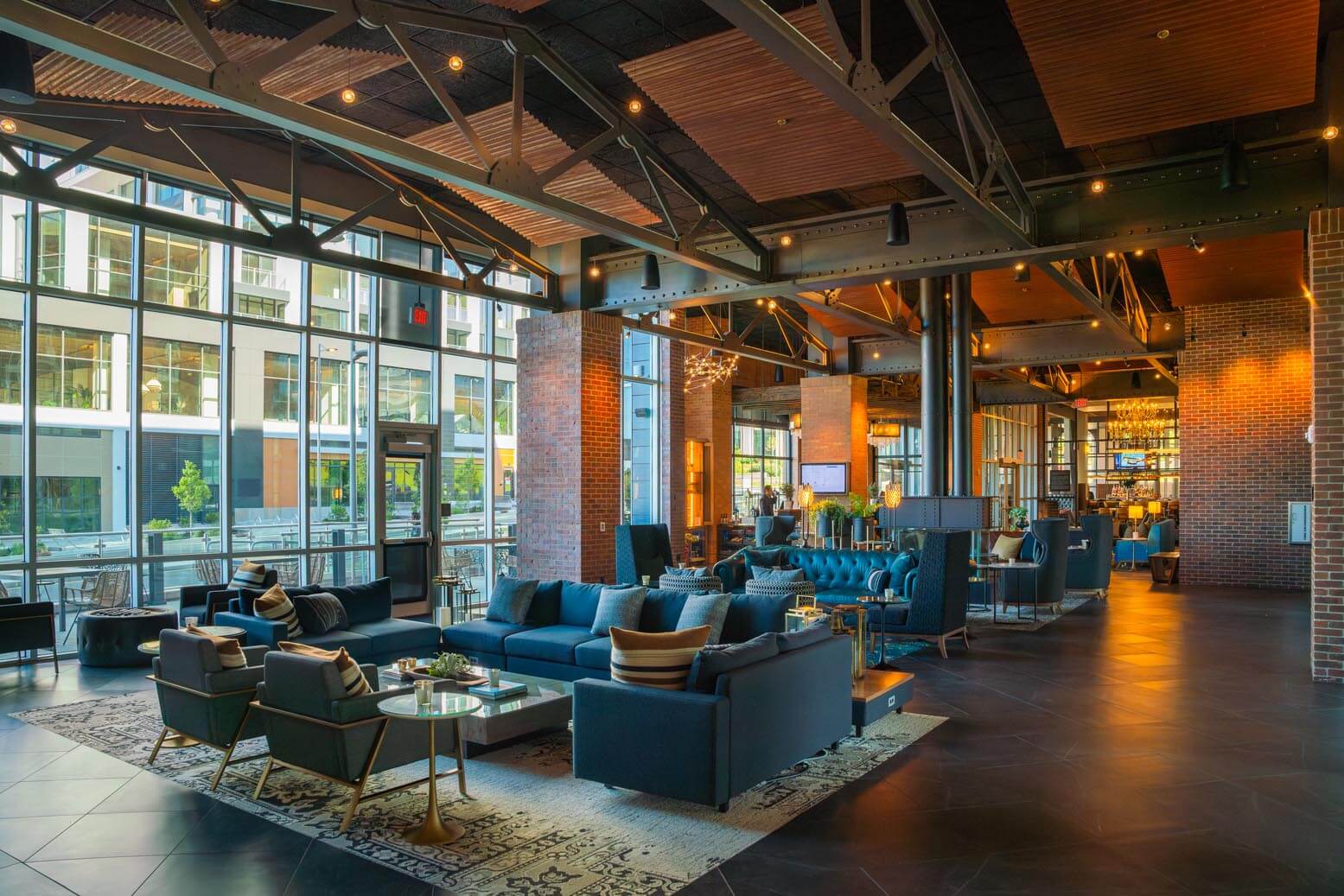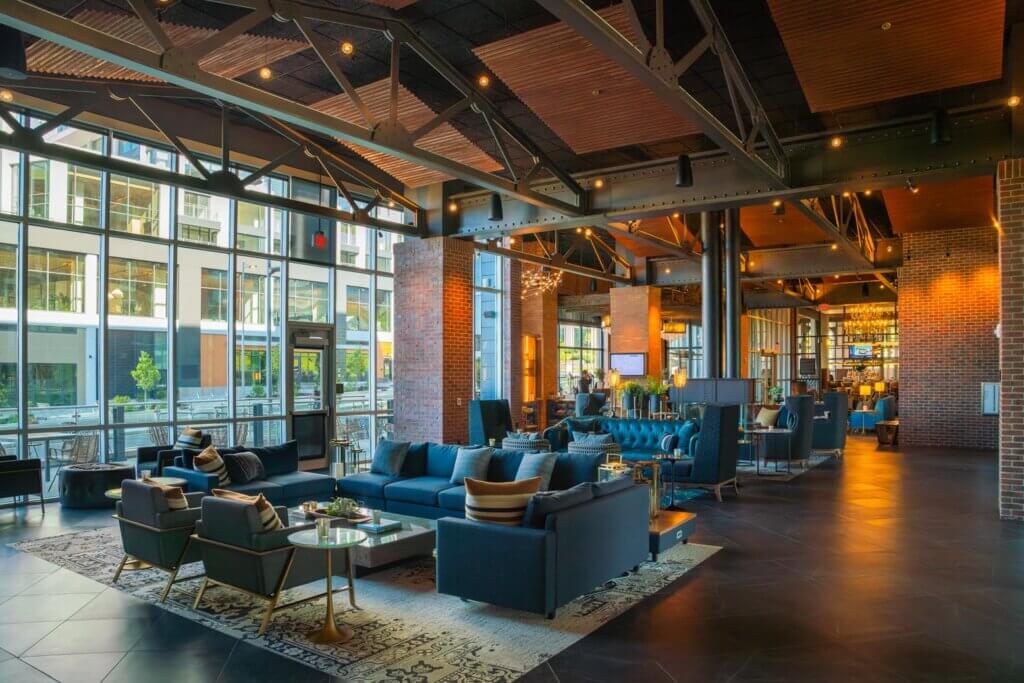 We stayed at the lovely Archer Tysons Hotel during our weekend exploring all the best things to do in Fairfax County, Virginia! We couldn't have been in a better location either as we were within walking distance to a few of the attractions, specifically the Capital One Center where The Perch is and where we saw the Cirque de Soleil show.
Archer Tysons Hotel is also located right at the McLean Silver Line Metro Station too, so you have the option to easily to take advantage of the Silver Line stops in Fairfax County as well as Washington DC and even Washington Dulles International Airport.
The hotel offers spacious, sophisticated rooms, some of which have details that pay homage to the former 19th-century peach groves that used to be in the area! The beds were ultra comfortable here and we loved that they had a bar and restaurant on site.
The common areas are also lovely and they have a lovely concierge service. The only parking on site is valet for a daily fee and they offer free coffee in the mornings with a la carte breakfast service at the hotel restaurant if you're looking for a sit-down meal. They also have a grab-and-go market stocked with snacks and goodies if you need a little treat.
Also, I can appreciate when a hotel has a nice hair dryer in the bathroom along with quality toiletries. The bathrooms are stocked with Malin + Goetz products along with an ionic hairdryer that won't fry your hair! They also offer complimentary slippers too! Book here.
Best Places to Visit in Fairfax County, Virginia (Post Summary):
Meadowlark Botanical Gardens
Stop by the Mosaic District
Spend an Evening at the Capital One Center
Explore Workhouse Arts Center
George Washington's Mount Vernon
George Washington's Distillery & Gristmill
Hit up the Craft Breweries
Enjoy Breakfast at Katie's Coffee House
Take a Scenic Hike in Riverbend Park
Awe at the Beauty of Great Falls Park
See a Show at Wolf Trap National Park for the Performing Arts
Get Gifts at River-Sea Chocolates
Hike or Bike Along the Washington & Old Dominion Trail
Stop by the Town of Herndon
Take a Stroll Around the Town of Clifton
Check out Annandale's Koreatown
Catch a Performance
---
What is Fairfax County famous for?
Fairfax County, Virginia, is famous for its rich history, including George Washington's Mount Vernon estate. It's also known for Wolf Trap National Park for the Performing Arts, offering world-class cultural performances in a stunning natural setting. Additionally, Fairfax County boasts a vibrant arts and cultural scene, diverse dining options, and proximity to Washington, D.C.
How far is Fairfax County from Washington DC?
Fairfax County, Virginia, is located just outside Washington, D.C., with its eastern border approximately 10 miles from the nation's capital.
When is the best time to visit Fairfax County, Virginia?
The best time to visit Fairfax County depends on what you're looking to do as each season offers something special and different. The spring through fall is a great time to visit as you can take advantage of the outdoor activities and special summer season events like seeing a performance at Wolf Trap National Park.
---
Enjoyed this guide to the best things to do in Fairfax County, Virginia? Bookmark for later or share the love below on Pinterest. Happy travels!