After visiting San Diego several times we have never visited Old Town San Diego until our last trip. We have local friends who said they haven't been in years and we got the impression we weren't going to be that excited or surprised with what we encountered.
As a matter of fact, our friend told us to report back if it was worth him revisiting or not, and we are happy to say YES because Old Town San Diego is AWESOME!
Why We Liked Old Town San Diego Better Than the Gaslamp Quarter
So many visitors focus on the Gaslamp Quarter, which is convenient as its right across from the convention center and is in downtown San Diego and considered one of the best things to do. However, the Gaslamp Quarter was fun, but I was disappointed with it. Why? I imagined this as the historical city center with a name like Gaslamp. I expected to see gaslamps lining the street, old architecture, and a taste of ancient (well, as ancient as it can get) San Diego.
See, the Gaslamp Quarter is in downtown San Diego which was considered a rough part of town up until not that long ago. The construction of Petco Park is what helped turn downtown San Diego around and make it a desirable destination. Even some locals who have been around long enough to remember the old days still think that downtown San Diego is a rough part of town.
The deeper history to this area was that this was where all the brothels and red light district was where everyone would have to pass through to get to the mission and the original settlement of San Diego inland.
Mix the construction of Petco Park and a downtown rebranding known as the "Gaslamp Quarter" to make it sound and appeal as a historic area and you have success. There are actually only four gaslamps in downtown San Diego and they were put in during this rebranding. I felt a bit cheated by this.
Also, many big developers are moving the historical buildings out! There are protected historical buildings, many are the Victorian style buildings, there are a few sprinkled in but most have been moved out. The historical protection doesn't protect the building completely meaning developers can buy the valuable location and MOVE or store the historical building to elsewhere.
Anyways, after hanging out in the Gaslamp Quarter I was especially disappointed with the inauthenticity of the historical significance to this area. In my mind, I expected a more old timey feel so when we made it to Old Town San Diego I was in for a sweet surprise.
Old Town San Diego is the true historical center of San Diego, this is the oldest settlement in the city. This is the area of the city that filled that want and need for an authentic historical experience. Check out the best things to do in Old Town San Diego to see why we loved it so much!
I also compare this to the Gaslamp Quarter in case anyone who isn't super familiar with San Diego and visiting that might have the same feelings as we did. If you're looking for the fun photogenic and historical hotspot in the city don't fall for the Gaslamp Quarter, check out all the things to do in Old Town San Diego!
By the way, this isn't just the first settlement in San Diego, but also the first settlement in California!
Whaley House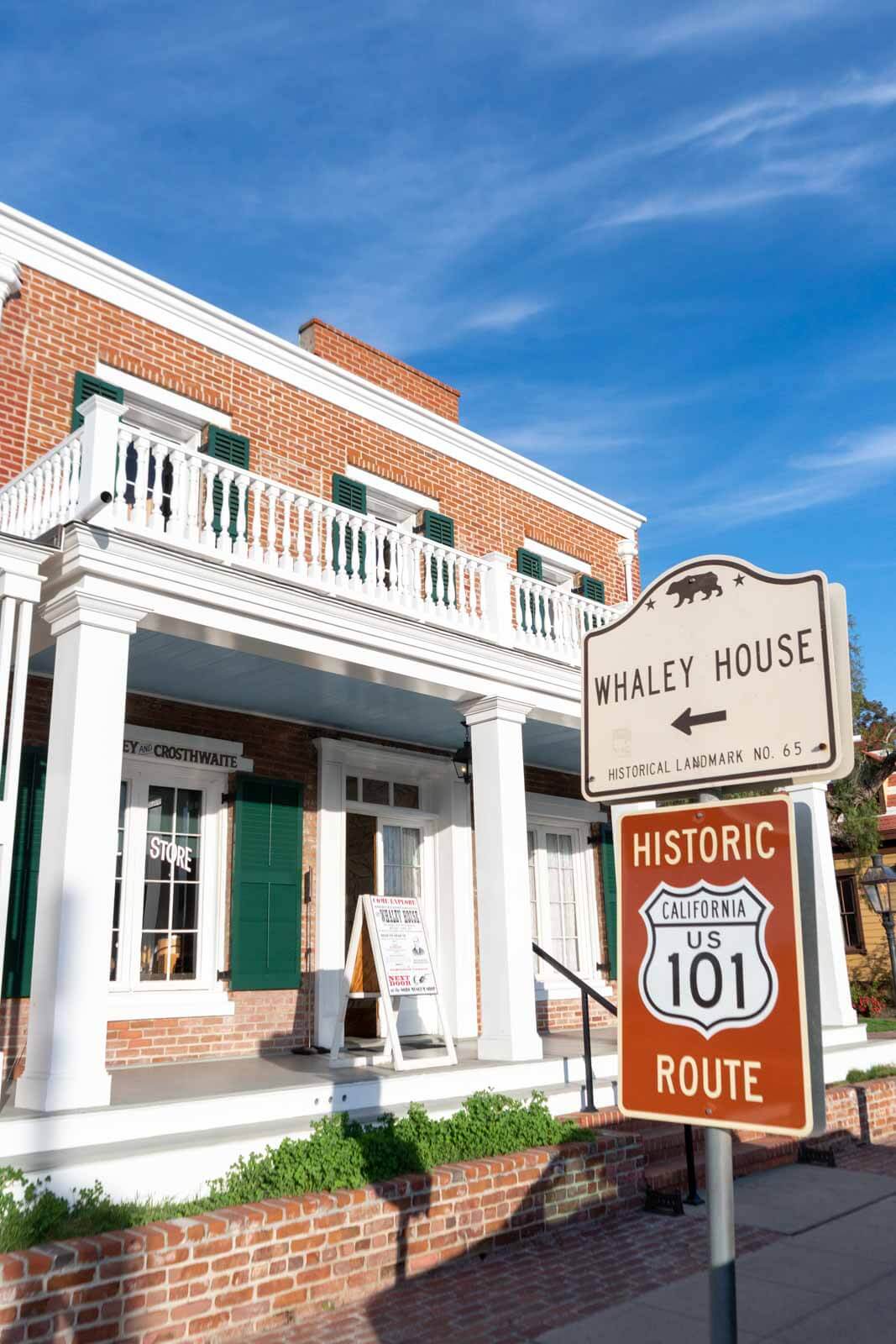 One of the most popular things to do in Old Town San Diego is visit the place that is considered America's most haunted house! The Travel Channel even named it the most haunted house in the country as well as LIFE.
What makes this house so haunted? For starters it was built on a graveyard. This house was also used for many different reasons from being a home, a courthouse, a general store, and even a theater.
Even while the Whaley family lived in the house they suspected ghosts due to hearing footsteps in the house, as well as random windows, becoming unlatched and flying open abruptly. It was believed to be the ghost of "Yankee Jim" who was hung on the property.
Visitors claim to also see ghosts on their visits who are said to be Thomas and Anna Whaley. It has been recorded that children on tours have actually seen the ghosts at the same time with adults who saw nothing. A child once was asked what she was waving at on a tour, and it was believed to be the ghost of Thomas Whaley.
I could go on much more about the ghost stories related to this house but that would take the fun out of visiting. Learn more about the haunted folklore and ghost stories of the Whaley House!
Check out the Tequila, Tacos, and Tombstones Tour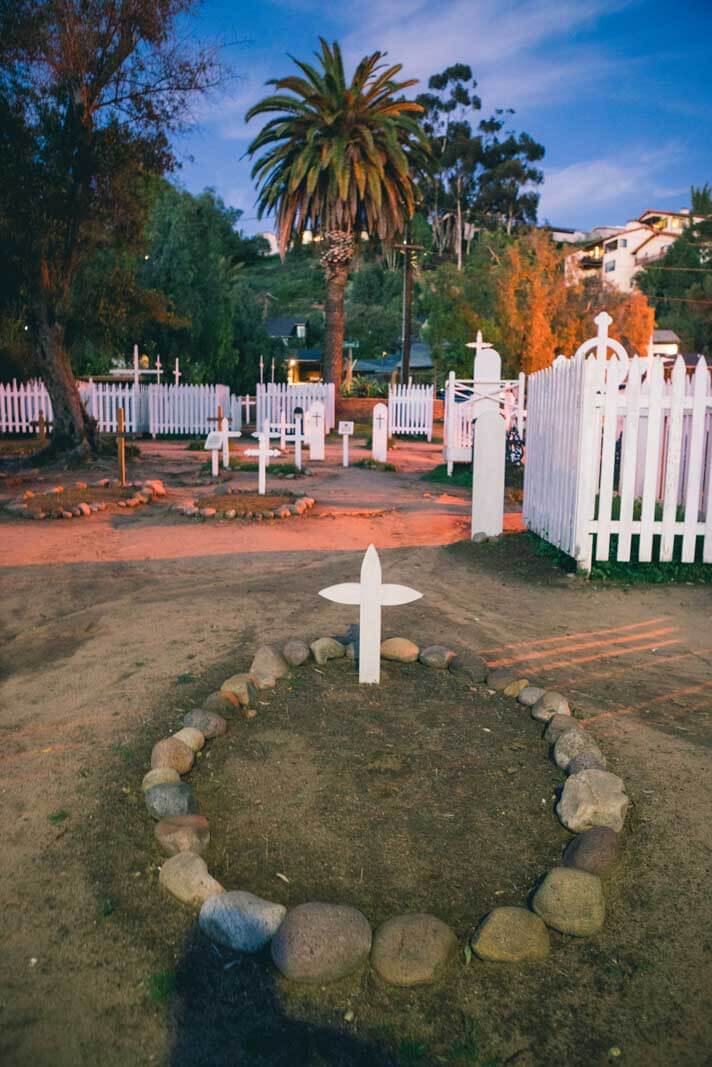 One way to soak up all the awesome things to do in Old Town San Diego is take a tour. We did the Tequila, Tacos, and Tombstones tour with SoDiego Tours and it was not only fun but full of great information.
In between touring Old Town on this tour you stop at local restaurants for a taco and tequila tasting whether it be a shot or in a margarita. We even learned a new way to drink tequila that made it incredibly smooth to drink using an orange slice covered in cinnamon after you take the shot!
There's also a dessert stop – but this one is without tequila and tacos, ha!
Each guide for this tour will have a slightly different experience, but this was our favorite tour we did while in San Diego and is one of the best things to do in Old Town San Diego.
Book your Tequila, Tacos, and Tombstone tour here.
Fiesta de Reyes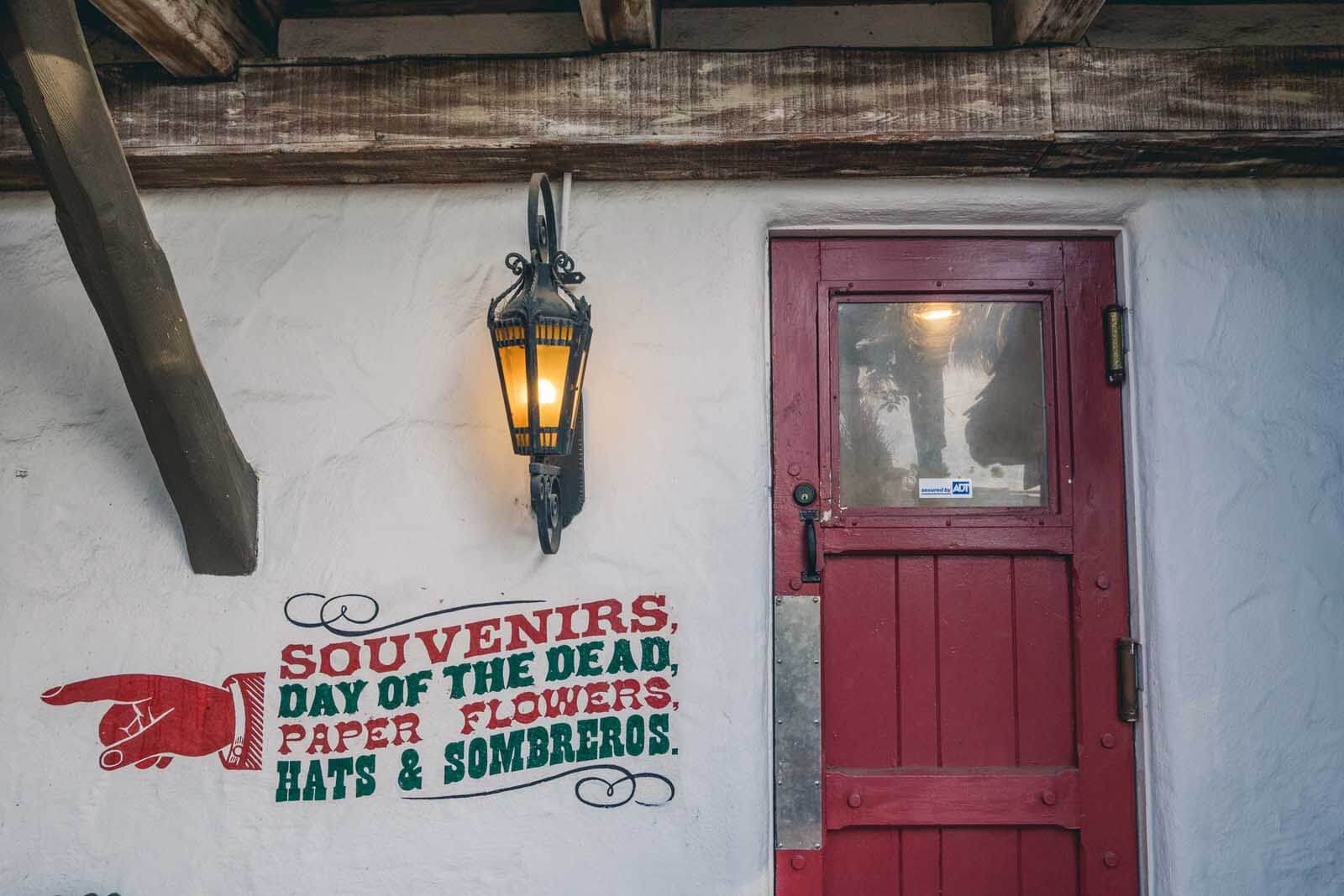 The most lively spot and thing to do in Old Town San Diego is at Fiesta de Reyes, a historic plaza full of specialty shops, authentic restaurants, and the restored Cosmopolitan Hotel.
Two of the restaurants here, Casa de Reyes and Barra Barra Saloon are said to have some of the best authentic Mexican cuisines in San Diego! If you're lucky you'll show up when the mariachi bands are performing.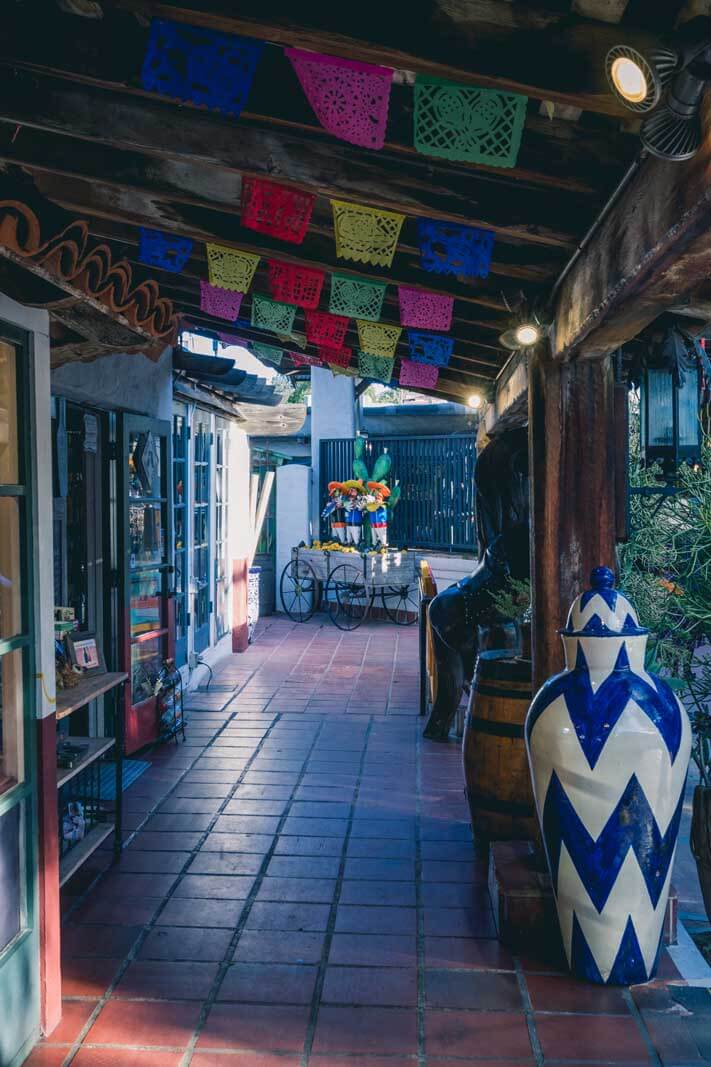 There are so many good restaurants to choose from in Old Town San Diego that if you don't have room or time for another meal this is also a great place just to grab a drink and enjoy the picturesque setting.
We loved strolling around the little shops as well selling everything from olive oil to Spanish tiles.
Wells Fargo History Museum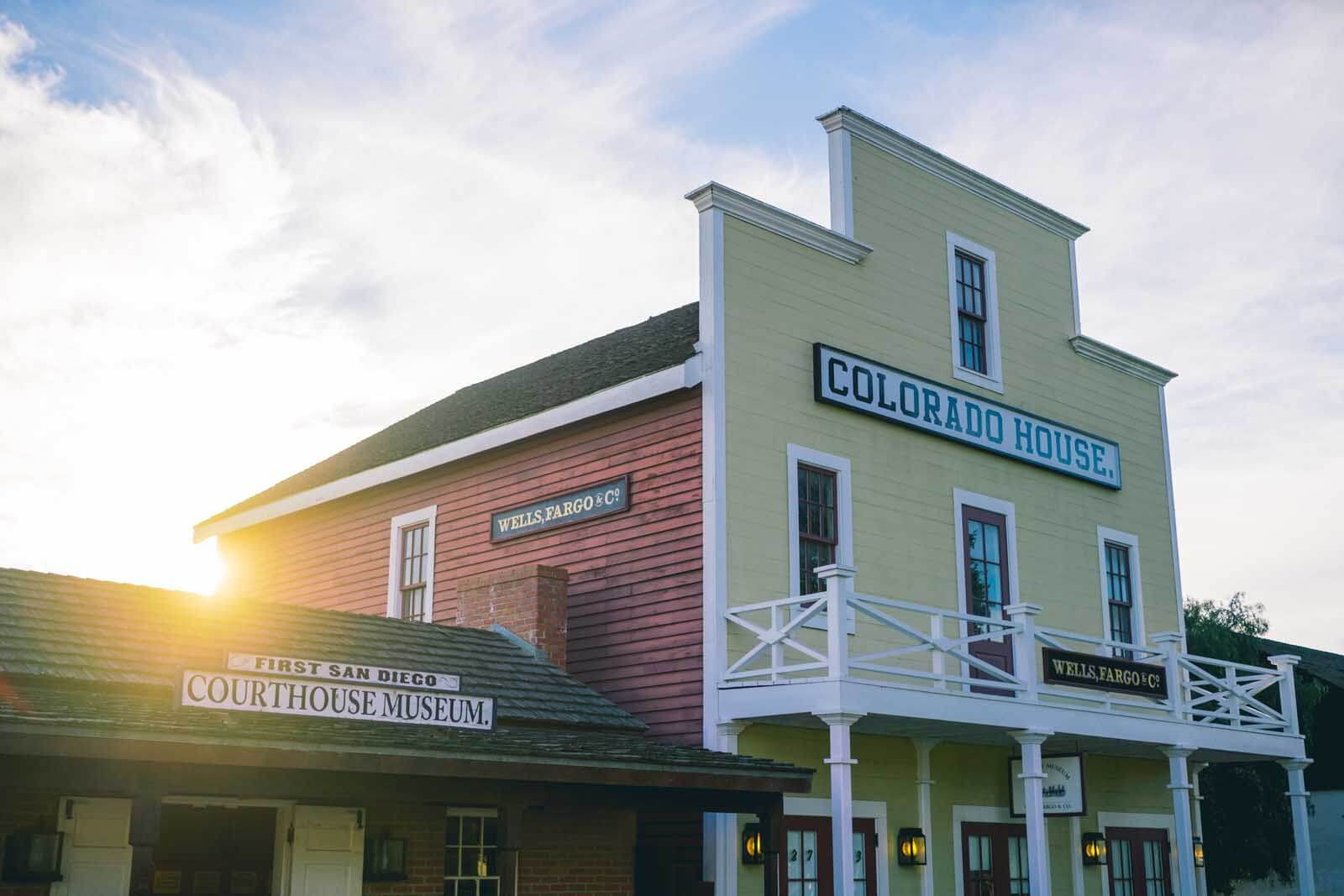 One of the best things to do in Old Town San Diego if you love history and museums is visit the Wells Fargo History Museum. Here you can learn about the history of banking in America including exhibits.
Exhibits include one of the original stage coaches, a historical Well's Fargo agent office, and a gold pocket watch that was given as a reward to the person who took care of valuables and treasures on a stagecoach in San Diego.
If you don't feel like stopping in and learning the history bits be sure to just pause an appreciate the exterior of this cool building.
Casa de Estudillo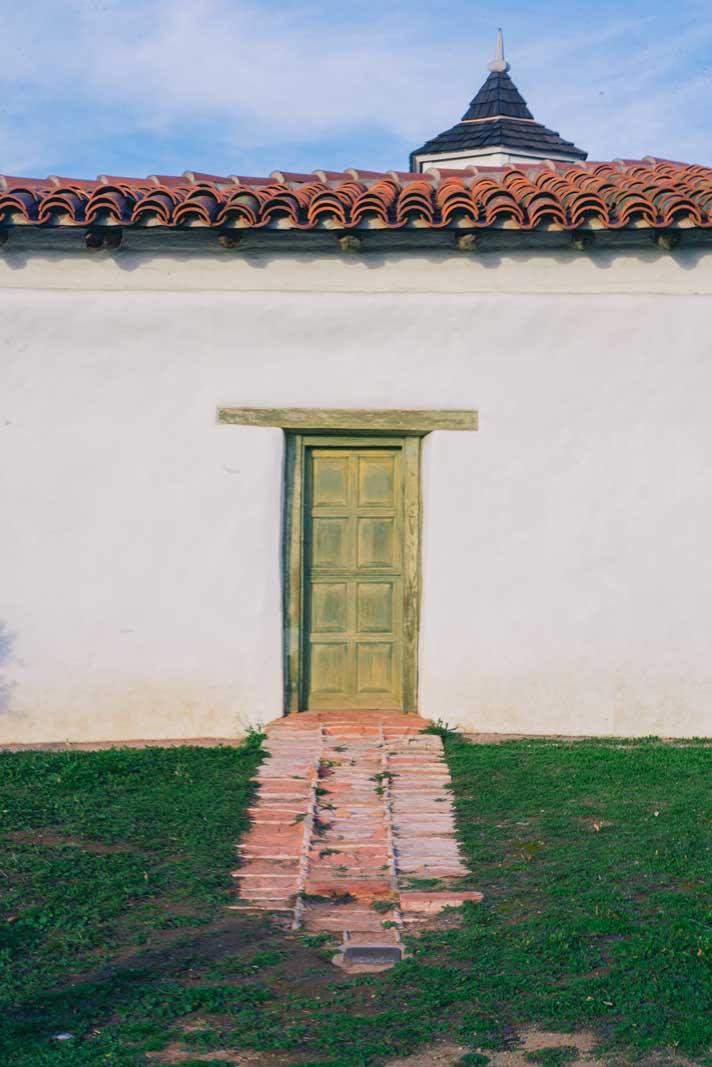 Besides being one of the oldest and best examples of a historic Spanish style home in California, this building was also the setting of the famous novel Ramona by Helen Hunt Jackson and one of the most historically famous things to do in Old Town San Diego.
The book, which was written in the 1880s was responsible for people all over the United States to gain interest in Southern California. The book showcased life in Southern California that caused tourists to flock to San Diego where people tried to hunt down the locations referenced in the novel.
However, since the author died not long after the book publication without revealing actual locations there was a lot of guessing in where the exact locations were.
The caretaker of the building decided to take advantage of this new fame and sold off pieces of the house to tourists. Sadly, this messed up the house and it wasn't until the late 60s and 1970s that restoration efforts were made.
Today, not many people know of Ramona, I didn't know what it was either but our tour guide mentioned it and I had to look it up. It is said that today less than 1% of visitors to Old Town San Diego know Casa de Estudillo's historic ties to Ramona.
Presidio Park
Another one of the best historic things to do in Old Town San Diego is visit Presidio Park. This is the original site of the mission and fortress used as the capital of Baja California during the rule of Mexico.
None of the original structures remain, but people can come here to enjoy the open space, light hiking, picnic, great views, and visit the Junipero Serra Museum where you can learn the history of San Diego. You can look into the fenced off area where the original foundations of the chapel, walls, and other significant sites once were. Occasionally there are archeological excavations to this day.
If you're into paranormal activity and Whaley House then you might be interested to know Presidio Park is also said to be haunted! The Pattie Memorial, also known as the Witches Tower, has a pentagram inside and is said to be where occult practices took place.
You can find more of the ghost stories here.
Drinking & Eating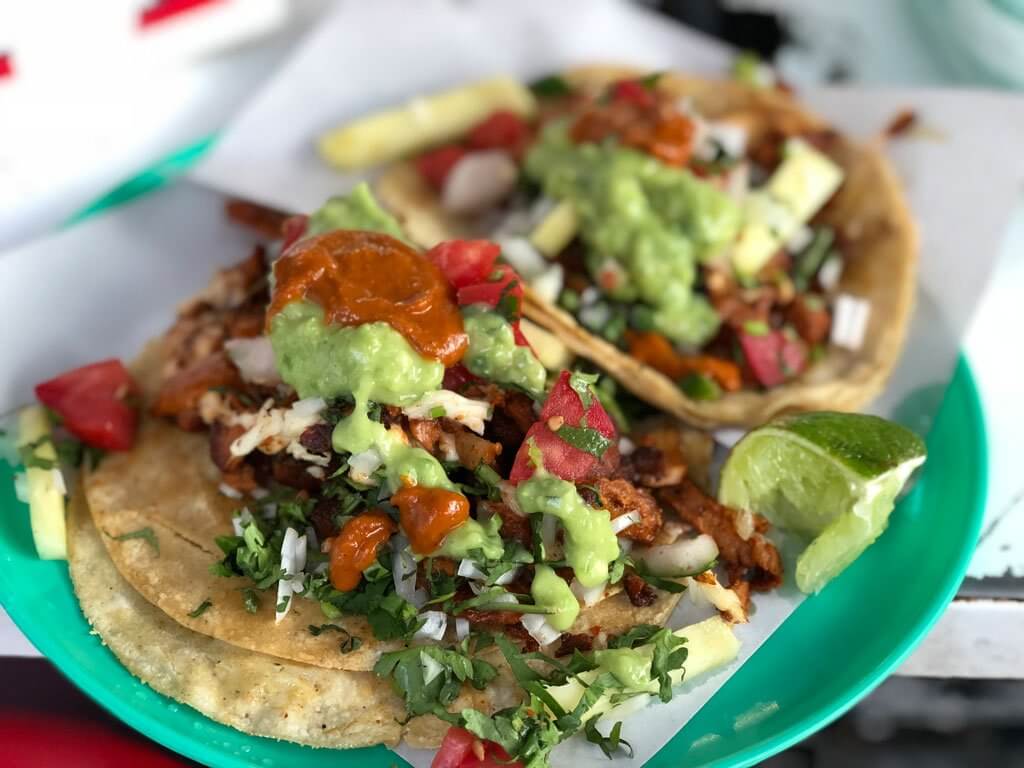 If you haven't already figured it out one of the best things to do in Old Town San Diego is eat and drink! This area has a cluster of incredible authentic Mexican cuisine as well as other international restaurants, but let's be honest you want the Mexican food.
We already recommend the food tour, this is a nice way to sample your way around the area while drinking. If you don't have time to do the tour we recommend the following places.
Café Coyote
This is a fun restaurant with an open-air environment, fresh tortillas, and GIANT tasty margaritas. Their tequila menu is insane and there are at least 20 different margaritas to choose from.
Old Town Tequila Factory
This was our favorite stop because of their incredible fish tacos also, this was the restaurant that taught us a new way to drink tequila! We recommend ordering a shot here and asking for the orange and cinnamon to go along with it! It's replacing limes in this household! Both the tacos and tequila here made it worth the little bit of a walk outside of Old Town San Diego.
Alamo Restaurant
Another great stop for food and drinks is the Alamo restaurant. We tried the taquitos here which were created right here in San Diego! We had no idea.
Cosmopolitan Restaurant
Located in the historic and restored Cosmopolitan Hotel this restaurant is a must for an experience in Old Town San Diego. This is a historic location and the menu changes with the season.
Barra Barra Saloon
Located in Fiesta de Reyes the Barra Barra Saloon is the perfect place to sit and enjoy a drink or authentic Mexican cuisine. I love that the wait staff is dressed head to toe in traditional clothing. We didn't get to eat here, but recommend this as a drink spot while you enjoy exploring all the best things to do in Old Town San Diego.
Casa de Reyes
This is an AWESOME option if you want a prime location in the middle of Fiesta de Reyes. This outdoor open air seating is in the most fun spot to dine or drink in Old Town San Diego. The staff here also wears traditional clothing and the garden courtyard and mariachi bands playing make for the ultimate atmosphere.
Where to stay in Old Town San Diego: Cosmopolitan Hotel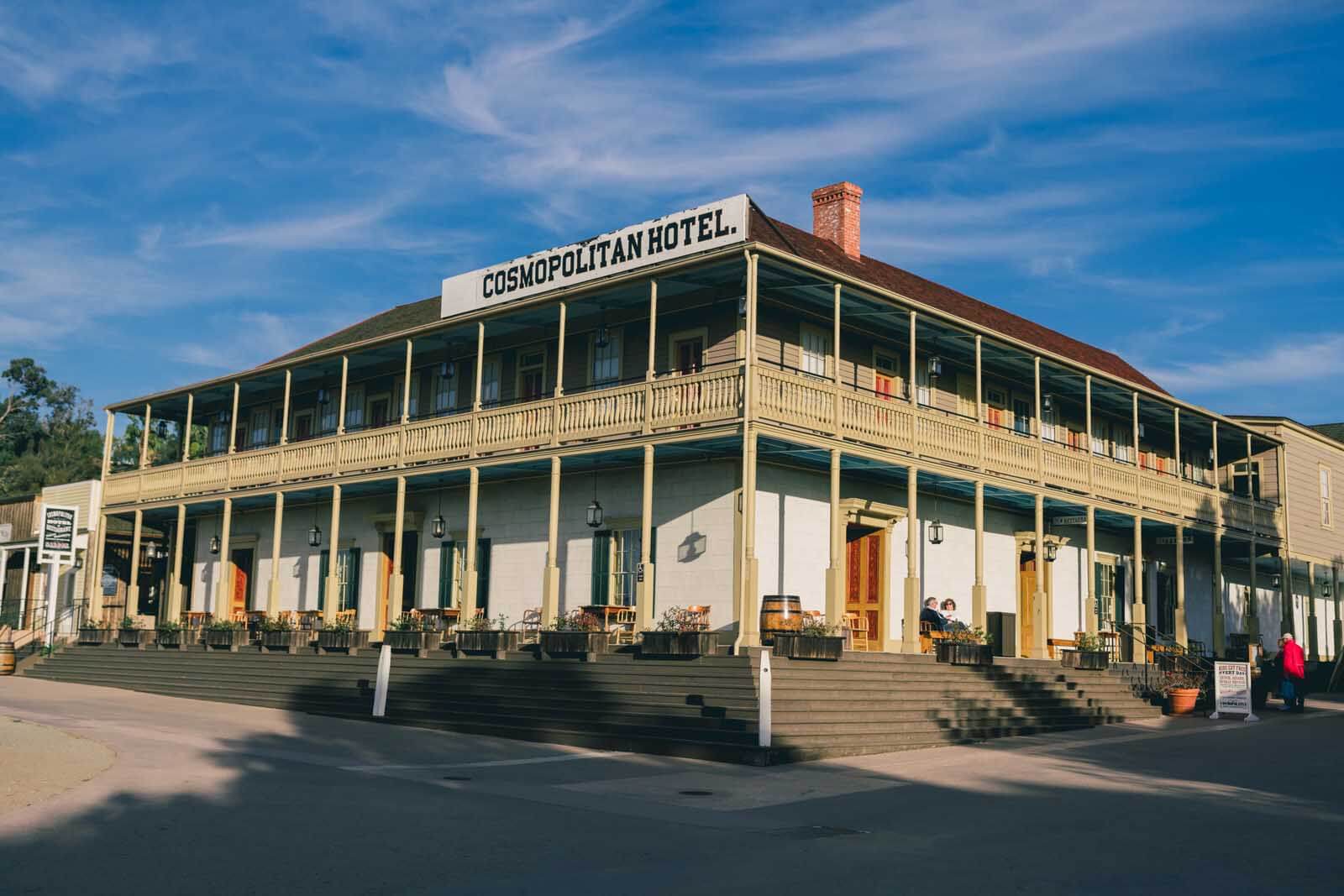 One of the best things to do in Old Town San Diego is stay the night in the historic and newly restored Cosmopolitan Hotel. This building is one of the oldest in California at over 175 years old rich with history with the most important people and events in the state of California.
The hotel is furnished with real antiques and has an authentic saloon inside that takes you back in time to the Old West. Each room is unique with Victorian-style décor and bathrooms. The Cosmopolitan Hotel wants you to have the most authentic experience so there are no TVs or even phones in the rooms, but don't panic there is WIFI.
Book Now on Booking.com | Compare Prices for Later on Agoda.com | Check out Rates on Hotels.com
How to get to Old Town San Diego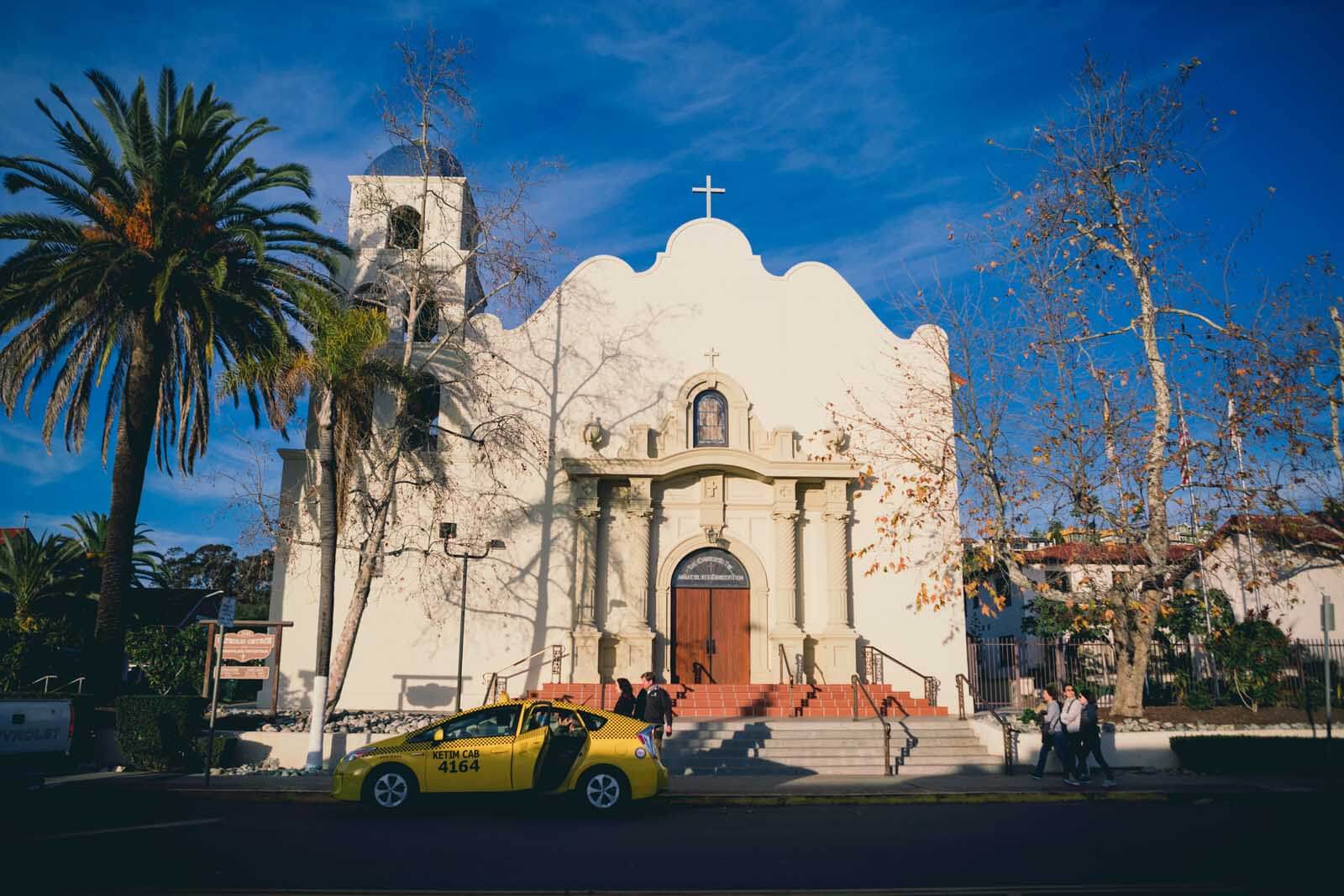 The easiest way to enjoy all the best things to do in Old Town San Diego is drive and park at one of the many parking lots scattered outside the park.
If you don't have a car, don't worry! You can take the Old Town Trolley or the MTS trolley that connects the heart of San Diego.
There's also the Hop on Hop Off Trolley Tours you can take that has a stop at Old Town as well as other sites in San Diego.
---
We also have a great 3 day San Diego itinerary to help you plan your trip!
And if you liked Old Town San Diego, you'll love Olvera Street in Downtown Los Angeles! Be sure to check out our guides to Los Angeles to help you plan the rest of your California adventures!
Liked this post on all the best things to do in Old Town San Diego? Bookmark for later or share this post on Pinterest below!