Check out all the amazing things to do on Peaks Island, Maine – a great day trip from Portland on this sleepy, coastal island just a short ferry ride away in the gorgeous Casco Bay, an inlet on the Gulf of Maine, and a true New England gem. And if you love yourself a peaceful getaway, you can even extend your day trip to an overnight trip by staying at one of the many bed and breakfasts on the island.
There are many islands of Casco Bay, a few of which you can visit. And Peaks Island is the most populous of them all, believe it or not.
This small island is a sleepy coastal town, even though Peaks Island in Maine has the nickname as the 'Coney Island of Maine.' While in the late 19th century there were amusement rides here as a part of the Greenwood Garden, you won't find that today and that nickname is a bit deceiving as that reputation is long gone and the amusement parks saw a huge decline with the rise in popularity of the automobile and after a few devastating fires that broke out on the island.
Instead, what you'll find is a quiet, island village full of beautiful coastal cottages, beautiful beaches, and shorelines, historic sites, and remnants from WWII, and scenery that inspires.
Best time to visit Peaks Island, Maine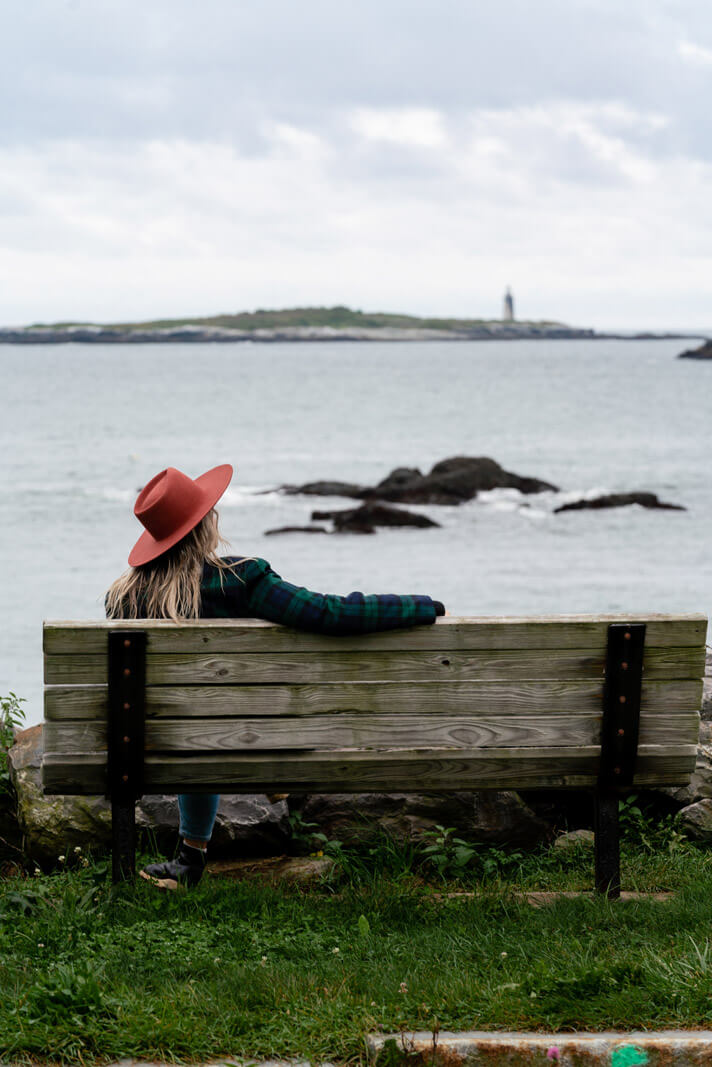 Honestly, the best time to visit Peaks Island is any time of the year depending on what you want from your experience!
While the population of Peaks Island, Maine, hovers at around 900 most of the year, residents are known to reach 4000 in the summer! While summers can be more crowded, it's such a beautiful time of year to visit the island.
If you're visiting in the summer you'll also want to prepare ahead of time for your visit. For example, if you have a car to park in Portland near the ferry terminal you will want to secure your parking in advance as some of the parking lots fill up to full capacity, especially the one right at the Peaks Island ferry terminal.
Tickets also can sell out. So make sure that you get there early and you can always get your tickets in advance and if you have time before your departure you can always wander around the best things to do in Portland, Maine until it's time for your ferry to leave!
When you travel on the shoulder or off-season it makes your trip a little less hectic when it comes to securing parking and getting the next ferry ticket to Peaks Island.
Go in the spring or fall if you prefer things on the quieter side. You won't be swimming in Casco Bay then, but there's still plenty to do, just be sure to bring extra layers for the coastal breeze.
Winter is beautiful on Peaks Island in Maine but dress warmly. Things stay cool since you'll be surrounded by water.
The Peaks Island ferry runs all year-round. Just make sure to check the schedule on their website before you leave. Departure times and the number of boats vary by season, and boats are known to sell out in the summer.
Getting There: Peaks Island Ferry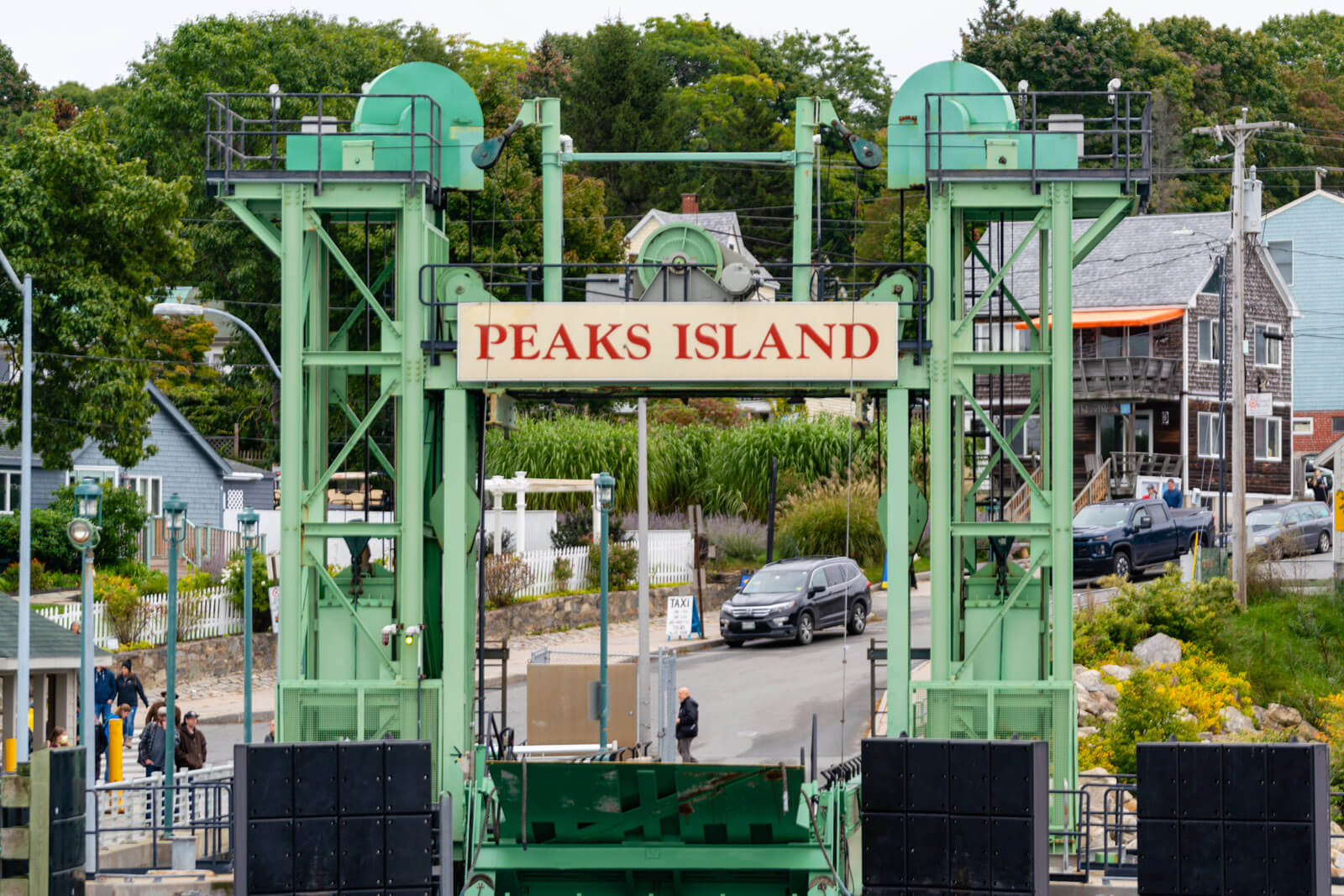 You'll find Peaks Island in Maine's Casco Bay, and the only way to get there is by water and it's also super convenient. The easiest and cheapest way to go is the ferry at Casco Bay Lines. Find the Peaks Island ferry on Commercial Street in the historic Old Port neighborhood of downtown Portland. 56 Commercial Street
The ferry to Peaks Island averages less than 20 minutes and most departures offer car transport, but it's not recommended to take your car onto Peaks Island unless absolutely necessary. The island is small and depending on the length of your visit you can walk if you're looking for an adventure or rent golf carts on the island to get around quickly.
For those with a car, it's recommended that you park at the Municipal Parking Garage (54 Commercial Street), adjacent to Casco Bay Lines ferry terminal. In the popular summer season, this garage fills up to capacity and will require you to find alternative parking.
There are additional parking garages at Spring Street Parking Garage (45 Spring Street) and Temple Street Parking Garage (11 Temple Street). Both of these are an additional 5-10 minute walk to the Peaks Island ferry.
You will want to make sure that you plan ahead when parking and make sure you give yourself plenty of time to park before your Peaks Island ferry departure. You have a lot more flexibility when traveling off-season as you won't run into as many parking issues or crowds.
All of these parking options also are paid lots, so prepare to pay a fee to park.
Keep in mind that the ferry to Peaks Island has a seasonal schedule. It's always a popular route and boats sell out fast. Check the ferry schedule ahead of time and arrive early during the busy season if your plans are time-sensitive.
In the summer you can buy tickets at the port for the next ferry, but it's the busiest time of year. We recommend you get tickets ahead of time online.
Last but not least, enjoy the gorgeous views of Casco Bay and the Portland waterfront from onboard the Peaks Island ferry!
What to do on Peaks Island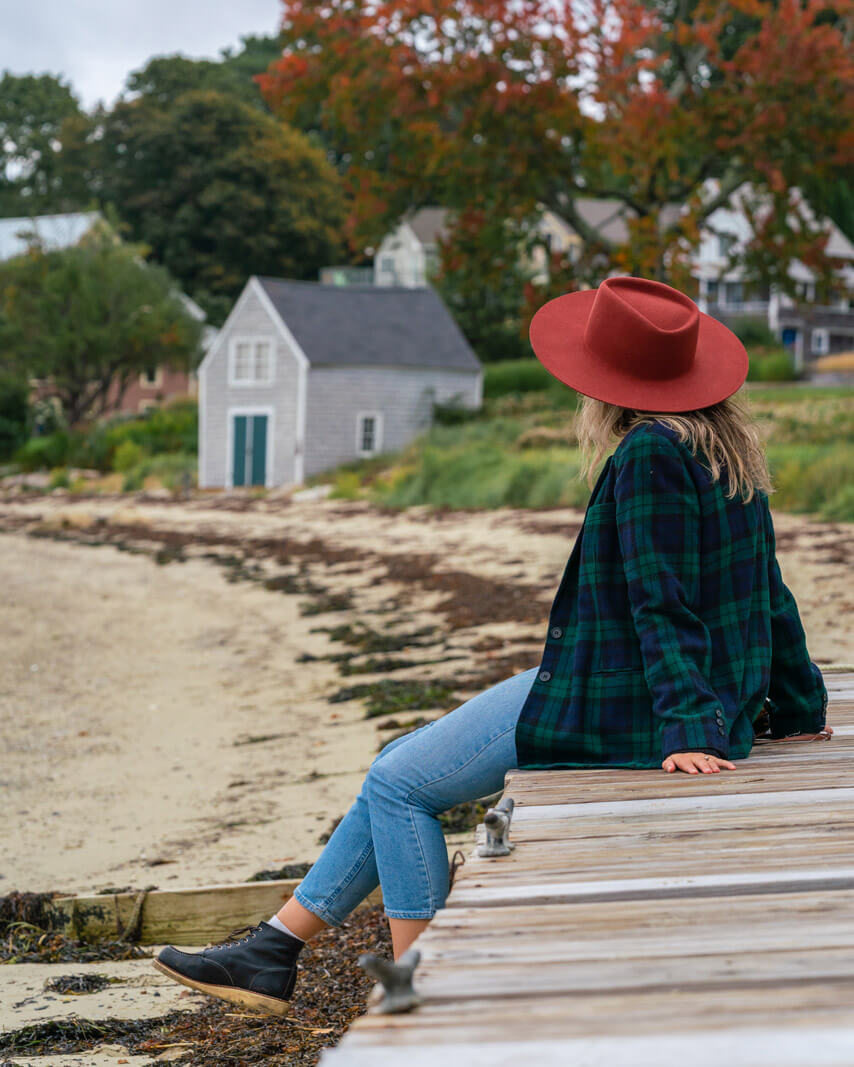 Peaks Island, Maine is technically a part of the city of Portland. The entire island is less than 2 miles across, or 4 miles around, and it's not much more than a sleepy coastal island village inundated with gorgeous views, charming cottages, and a few fun activities to enjoy during your visit.
Residents are very welcoming to visitors unless you're rowdy, and there's plenty of things to do on Peaks Island if you are a fan of history, nature, or getting on the water.
Peaks Island Golf Cart Rental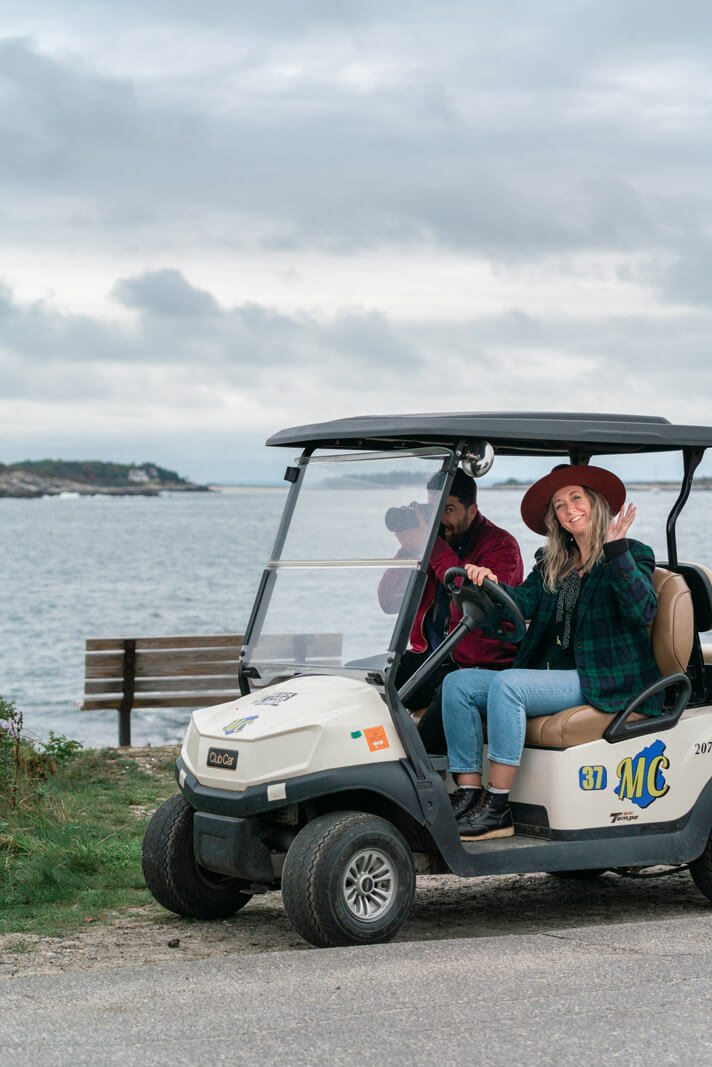 The best way to get around Peaks Island, Maine, is to rent a golf cart! When you get off the ferry, you can find the two Peaks Island golf cart rental companies a short walk away on Island Avenue. We used Mike's Carts, and there are also Peaks Island Carts.
If you're visiting during peak summer season, you will want to secure your golf cart rental in advance as they run out. If you're visiting any other time of year you can rent when you get off the Peaks Island ferry, but keep in mind these are on a first-come, first-serve basis so if you want to be extra safe and make sure you have a golf cart rental for the day, book in advance.
Mike's offers a 2-hour base rate, as well as a discounted 3-hour rate. There are also longer rental options available if you're staying the night with day-long and week-long rates if you are staying on the island.
All instructions can be found on a sign outside when you arrive at Mike's which includes how to reserve your cart if you didn't book in advance. Also, if you rent in advance, there's a discount. Keep in mind, Mike's is closed for the winter season!
Peaks Island Carts has a similar structure except they require all golf cart rentals to be made in advance as they do not offer any same-day bookings. The rates are comparable to Mike's and they do offer extended rentals for guests of the island staying longer than a day.
Both companies have fully electric golf cart fleets. Peaks Island Carts is open all year long. They offer 2-hour, 3-hour, daily, and weekly rates, as well as rentals for large parties.
When we rented with Mike's, they provided us with a map of the island. There's a loop around the entire island that's only 3.7 miles long. It was great to have the map, which showed us some of the best things to do on Peaks Island.
When you take advantage of a Peaks Island golf cart rental, keep a few things in mind. Remember, both rental companies sell out regularly during the summer season. Make your reservations well in advance if you're planning a visit then.
Second, you must hold a driver's license and be 21 to drive a go-cart around Peaks Island in Maine.
Important Note: Golf carts on Peaks Island are threatened due to rowdy and disrespectful tourists. Residents rightfully were upset and have limited the number of carts on the island to prevent overcrowding on the small, island roads. Hourly golf cart rentals are at risk to be removed altogether. If you're visiting and renting a golf car, be RESPECTFUL and a good guest to the island. Please don't be a jerk and ruin the fun for everyone else.
Peaks Island Bike Rental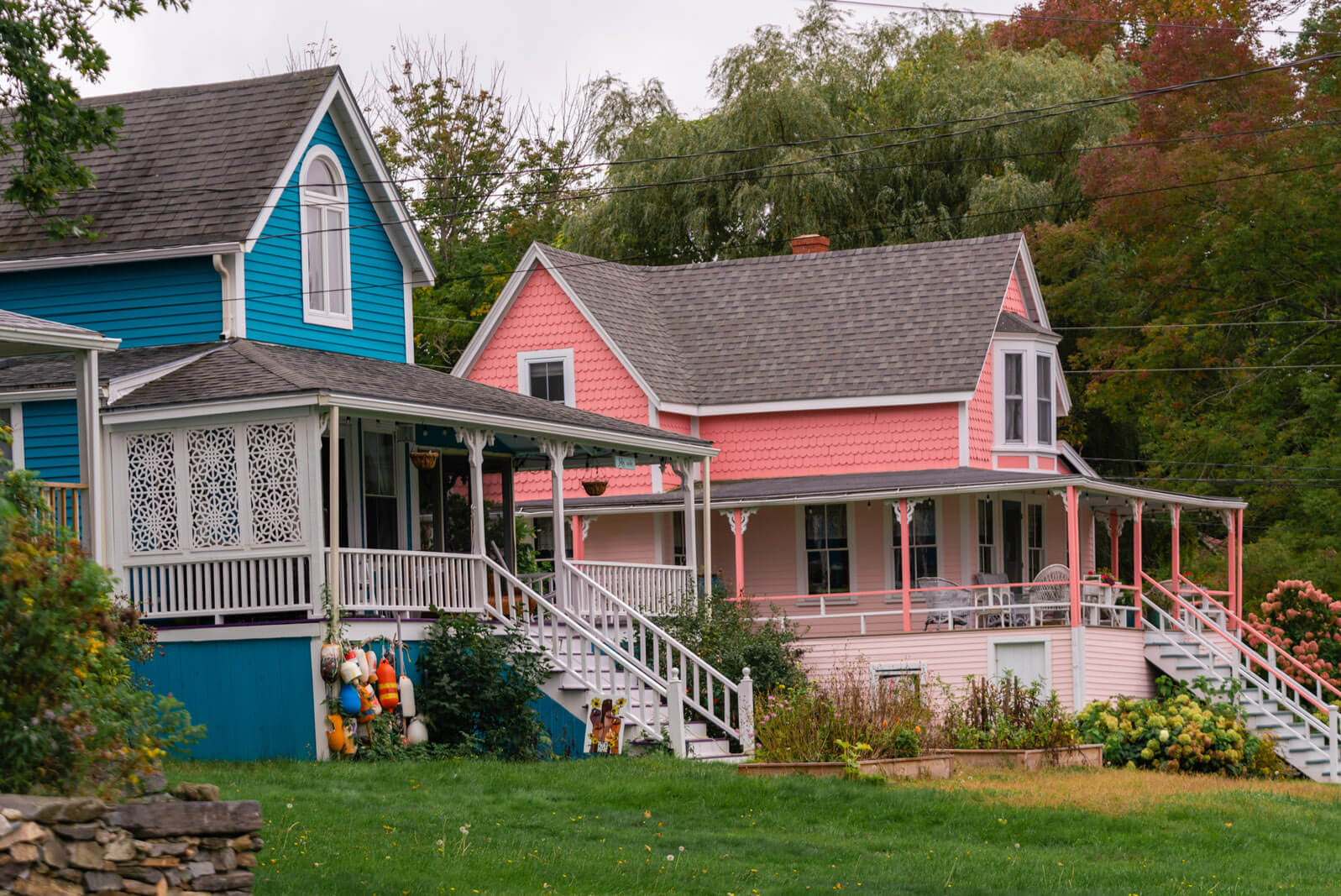 Another great way to get around to all the best things to do on Peaks Island, Maine, is by bicycle, especially if the go-carts are sold out! You'll find Brad's Bike Rental and Repair (115 Island Avenue) on the corner of Island Avenue and Central Avenue, just a few minutes from the ferry.
This is a friendly small-town Peaks Island bike rental business that often works on the honor system. Leave $10 and take a bike. But Brad or his family are usually around to help you pick out a bike and gear. They have maps of the island and can recommend the best stops.
Peaks Island Restaurants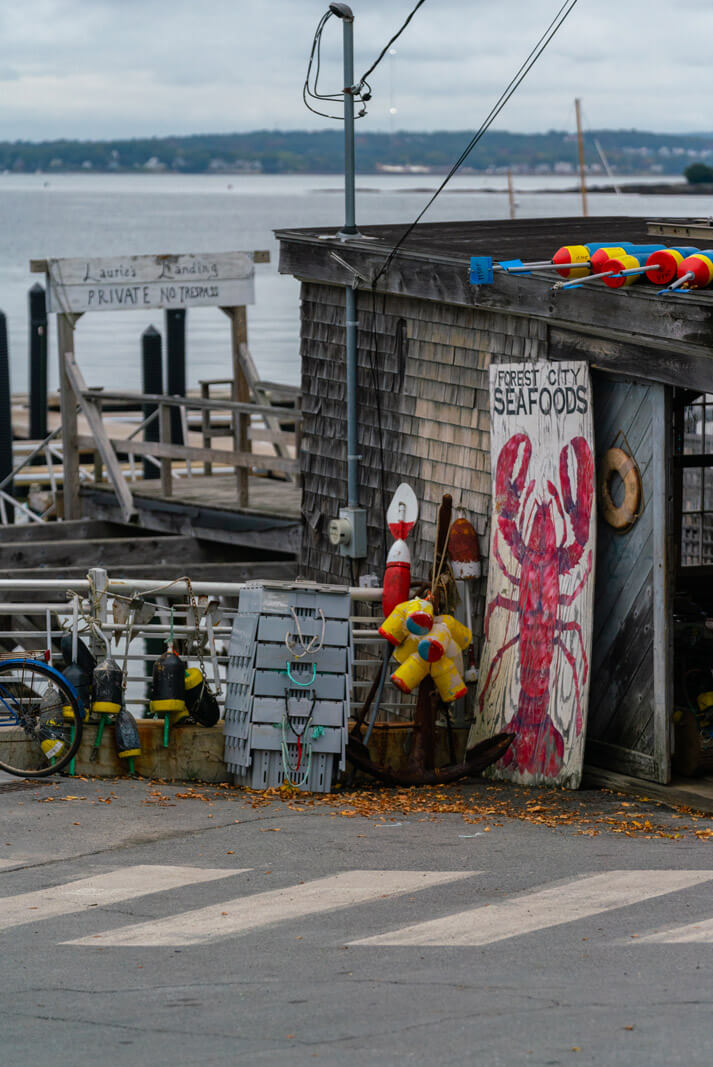 While you're finding things to do on Peaks Island, don't miss out on the great food. Of course, there's Maine lobster to be found, but that's not all!
There are a few different Peaks Island restaurants to choose from. There are food trucks, a coffee roaster, and more. If you're not sure where to start check out Inn on Peaks Island. Step in from your island excursions to a clean, airy New England inn setting for a classic meal. They have everything from prime rib and hot sandwiches to lobster and mussels. Guests rave about the hummus appetizer and love how generous the mixed drinks are.
While the hotel is open year-round, the hotel dining room and bar are open seasonally.
Or if you want a great food truck, check out Millie's Skillet.
If you're just looking for a snack, head to Peaks Cafe for a sweet treat or Down Front for ice cream!
Keep in mind some of the restaurants and dining options on Peaks Island are only open seasonally.
A Peaks Island summer season staple, Island Lobster Company is a classic no-frills beachside Maine lobster house. Diners love the fresh, classic seafood that's delivered from the owner's own lobster boat! Try the brown butter lobster roll. They are open seasonally.
Battery Steele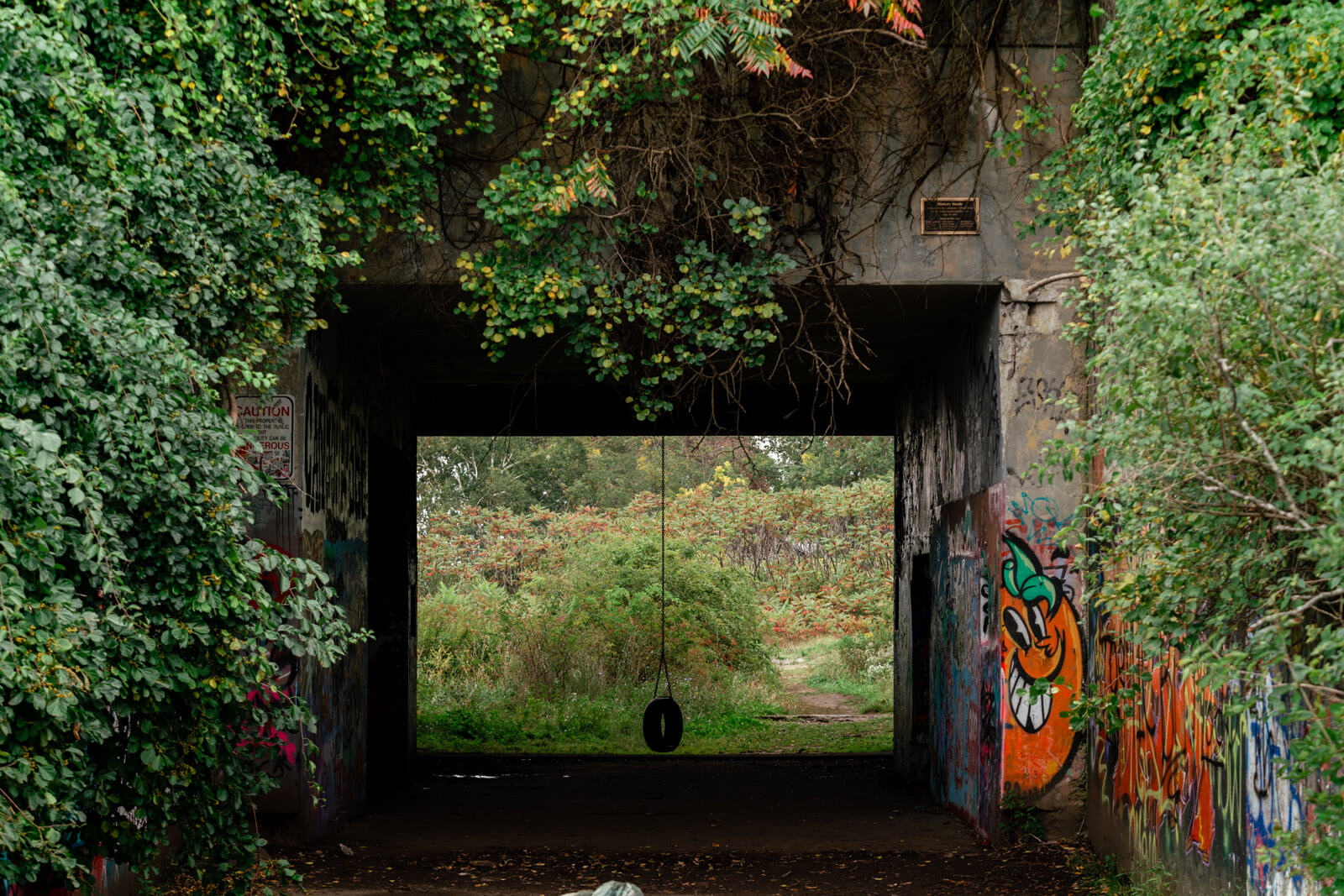 For World War II history buffs (or anyone looking for something unique) looking for things to do on Peaks Island, you may or may not be aware that the island was once built up as part of the US military coastal defenses. During World War II, Battery Steele was a weapons bunker. There were dozens of watchtowers and other military structures built on the island during that time that you can still find today.
Located on the Peaks Island Land Preserve, Battery Steele is worth the visit. Check out the preserve map available at the entrance. It points out different military structures throughout the preserve. There are high places you can easily hike to for cool photos of the battery.
Peaks Island, Maine, is known for Battery Steele. These days, the giant concrete structure sits like a tomb. It's quite the sight with bright, colorful graffiti all over it from an art show that was hosted there a few years ago. It's a lot of fun to explore the tunnels, but if you do, bring a flashlight and shoes you aren't afraid of getting wet.
We didn't explore the tunnels – neither of us dressed properly for this, instead, we walked through to the tire swing and turned left. You can follow a narrow trail through the brush up to the top of Battery Steele. The walk itself is pretty cool as there's a cleared-out narrow path through the brush that opens up for a panoramic view.
You can easily spend anywhere from 10 minutes to an hour exploring Battery Steele depending on what it is you want to do. If you aren't a fan of exploring the dark tunnels, opt for the outdoor trails surrounding it instead.
Head to the Beaches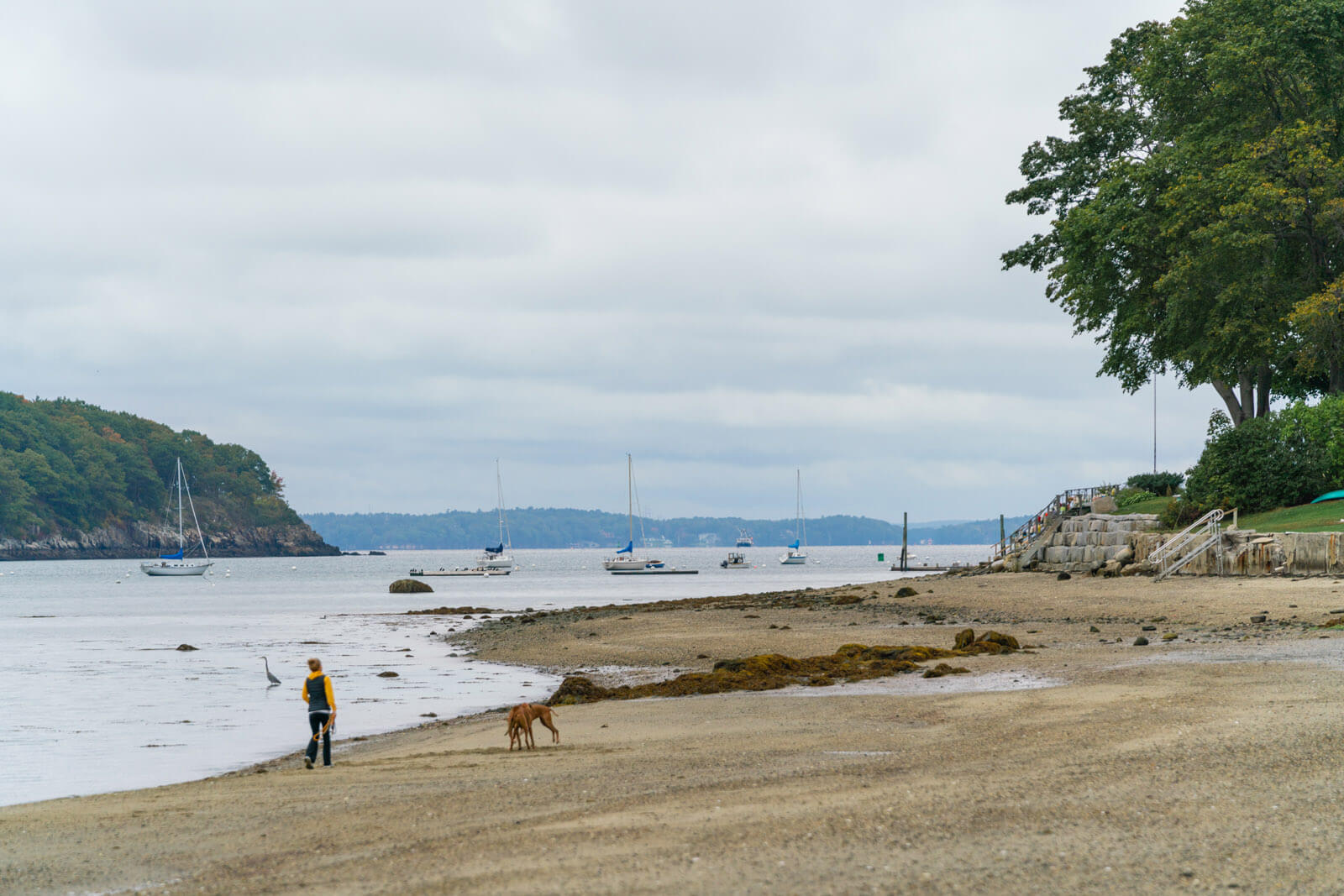 Take the ferry to Peaks Island and you won't be far from some great public beaches. Keep in mind that the beaches in Maine are considered private property, so only go to beaches designated for public use. There are three on Peaks Island, and keep in mind that some of these are not swimming beaches.
Sandy Beach
Off Torrington Avenue, access this swimming beach via a wooden walkway. You can swim here and relax on the beach in the summer. There's a small island off the coast of Peaks Island that people like to kayak to, as well if you are up for an adventure you can rent a kayak (see below).
Cairn Beach
This is a beautiful beach off the backshore side of Peaks Island. While you can't swim here, come for breathtaking pictures among the rocks. View the lighthouse across the water and build or look at the rock towers called cairns.
PS this is a safe space to do this, whereas if you're not familiar with building cairns and their origins check out this article on why you shouldn't do this along hiking trails or the national parks.
Centennial Beach
Near the Peaks Island ferry, close to Island Lobster Company, take a walk down to Centennial Beach. This is a great place to look for sea glass and mussel shells on the shore.
There was a little wooden deck that we found a seat on that was a nice place to relax and just take in the fresh, salty air.
Richard Boyd Art Gallery
Located on Epps Street on Peaks Island in Maine is the Richard Boyd Art Gallery that hosts local artists of all kinds. The island itself is home to a few artists, including Boyd himself who works with pottery.
The gallery rotates exhibits monthly. April through October you can visit any day of the week. Off-season, stop by Friday, Saturday, or Sunday.
Paddle Casco Bay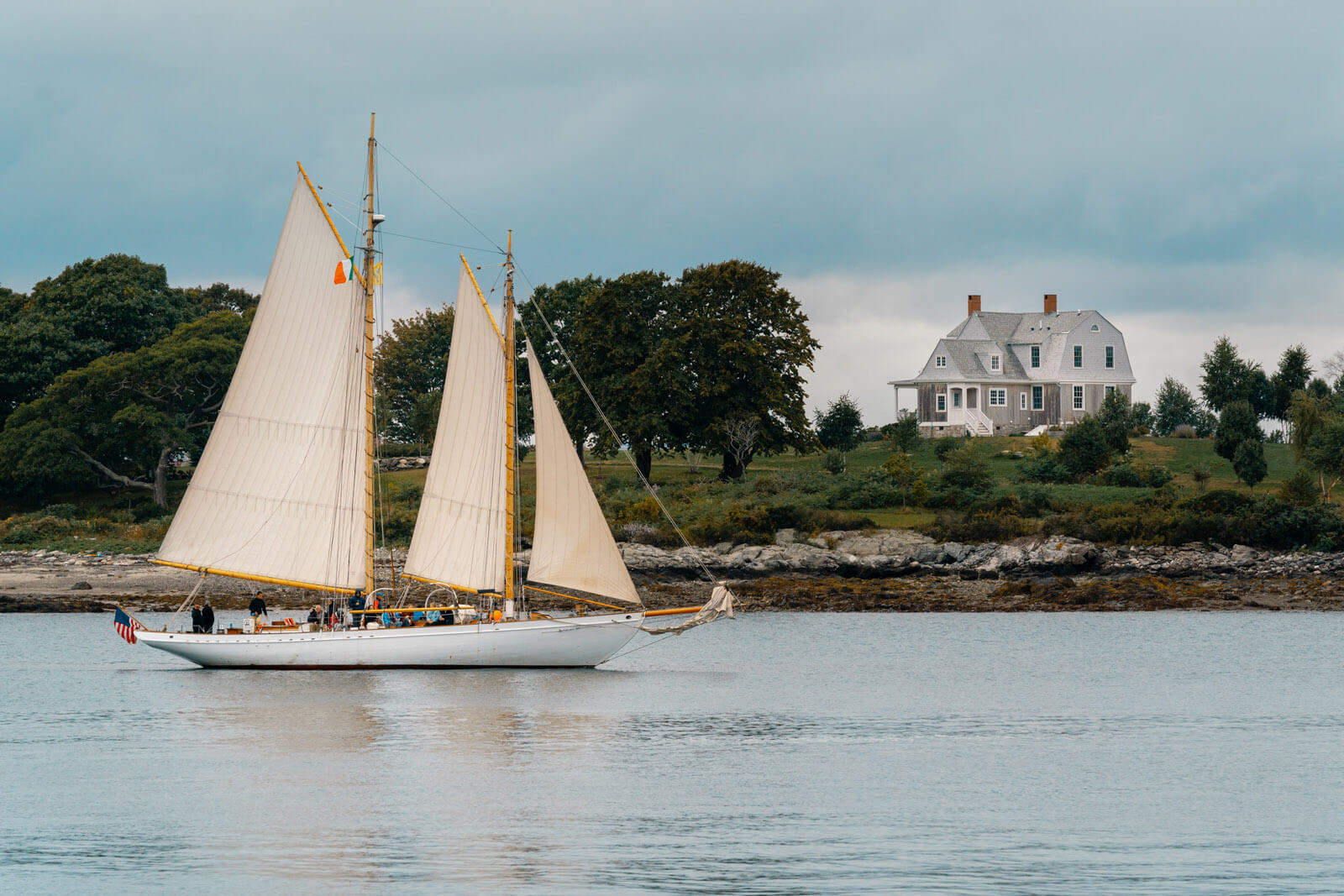 Maine is known for its breathtaking coastlines. Water bugs looking for things to do on Peaks Island will want to experience them by kayak. If you're newer to the sport, stay on the mainland side of Peaks Island. The backshore side is easier to navigate for more experienced kayakers.
Check out Maine Island Kayak Company for anything kayak-related. This is a local business run by Tom Bergh who has taken on a record-making kayaking expedition to Antarctica. Rent or purchase kayaks or book a guided kayak tour.
If you're not familiar with ocean kayaking, we strongly recommend taking a guided tour with an experienced guide in navigating ocean waters and currents.
You can also schedule one-day or multi-day kayaking lessons while you're staying on Peaks Island in Maine. They have beginners' classes or classes on techniques for avid kayakers.
5th Maine Museum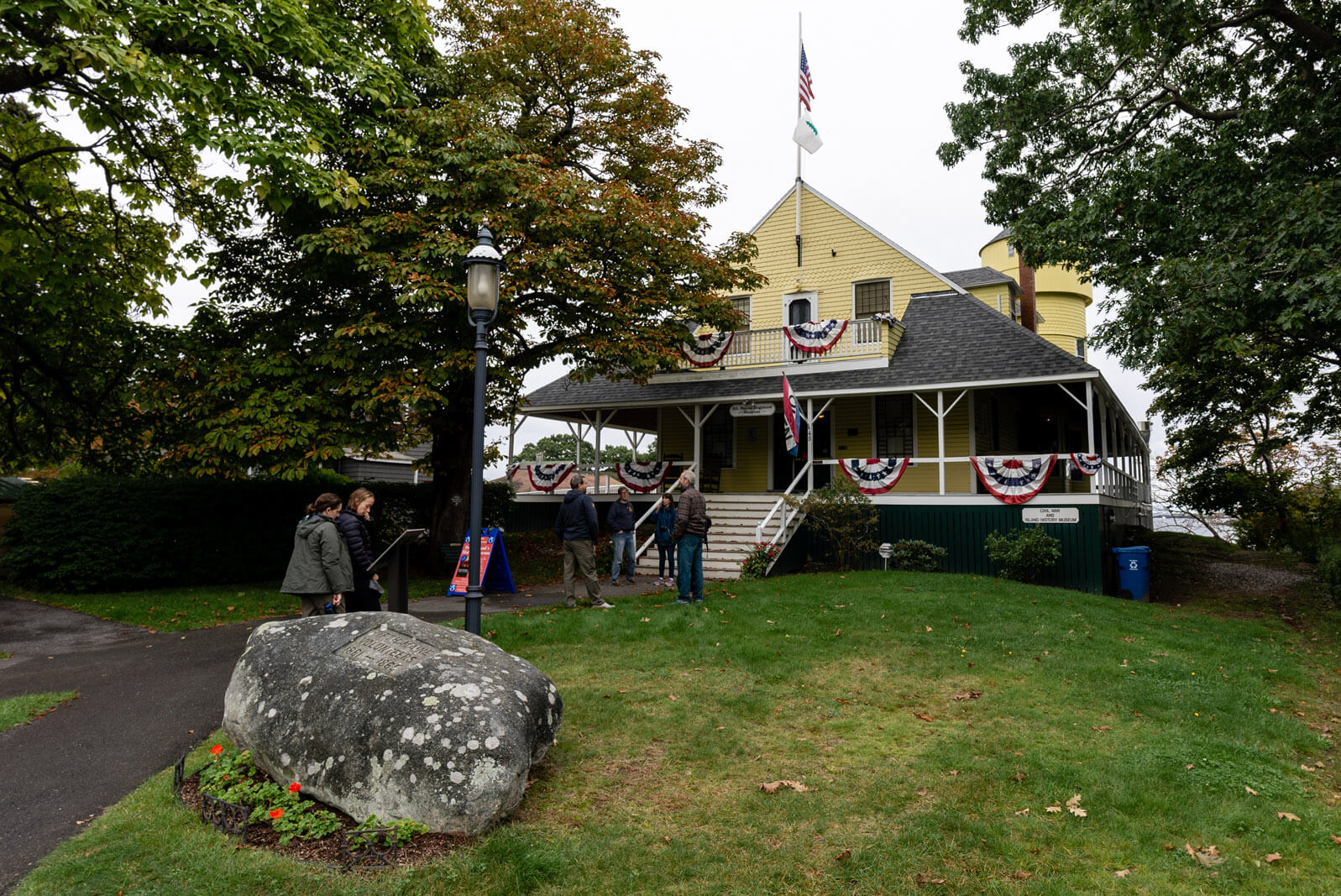 If you want to know the heart of Peaks Island in Maine, go to the 5th Maine Museum on Seashore Avenue. You'll learn the rich history of the Civil War veterans who built the building and started the veterans' hall almost 150 years ago.
Today the museum is home to two permanent exhibits, one about Peaks Island during the Civil War. The other tells about Peaks Island's notorious "Coney Island of Maine" fame that occurred in the 19th century. There are also rotating exhibits that you can check for on their website.
There is a small admissions fee, and the museum is open 7 days a week from July through August. The rest of the time, visit on weekends and holidays.
Umbrella Cover Museum
For quirky and unique things to do on Peaks Island, don't miss out on the Umbrella Cover Museum! The museum founder and director, Nancy 3. Hoffman started it in 1996 as a dedication to the appreciation of the mundane and everyday parts of life. This includes cherishing the dying art of umbrella sheaths.
While Hoffman started the museum in her kitchen when a handful of umbrella covers, today the museum is home to covers from over 71 countries. You can donate covers to the museum. They're open seasonally and offer guided tours.
---
Hanging out around the Portland area? Don't miss the incredible Portland Head Lighthouse during your visit, the most photographed lighthouse in the United States plus the rest of the amazing Portland and Cape Elizabeth lighthouses in the area!
Enjoyed this guide to the best things to do on Peaks Island in Maine? Bookmark for later or share the love below on Pinterest!