Have an upcoming San Diego getaway or looking for an excuse for a San Diego getaway? We have put together the perfect 3 day itinerary for San Diego to help you plan your Southern California trip.
From historical points of interest to the best food and drink hot spots in the city we have you covered! We also tie in some of the most popular San Diego attractions, use our 3 Day San Diego itinerary as it is or customize it to make it your own.
Being Southern California locals we have made several trips to San Diego and finally as a tourist recently and we fell in love. The birthplace of California has a lot of culture, history, and an amazing gastronomy scene to keep you busy.
There's something for everyone during your San Diego getaway, there are even some of the country's best haunted historical sites to some of the best Mexican food you can get this side of the border. We fell in love with San Diego and know we will be back for more.
Table of Contents
Day 1 of 3 Days in San Diego
Little Italy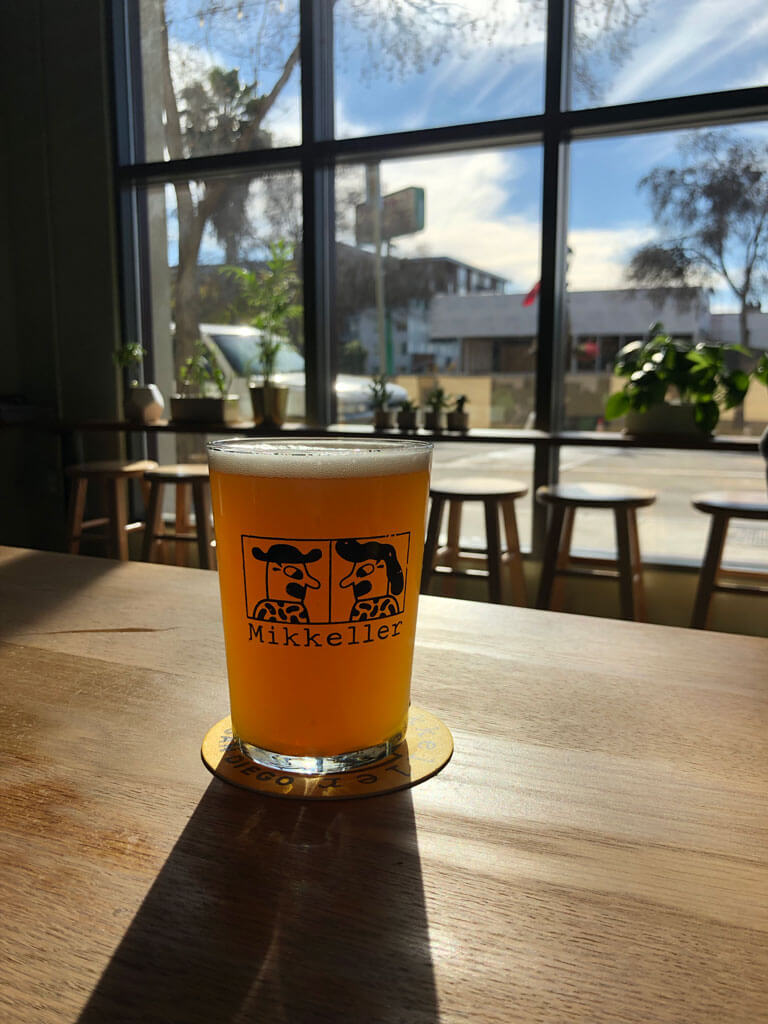 Start your San Diego getaway right by heading to one of the best neighborhoods for food in the city. Little Italy is packed full of great restaurants, bars, cafes, and just an overall fun place to walk around.
We recommend starting your first day of your 3 day San Diego itinerary with a meal! Little Italy has so much to offer when it comes to food beyond Italian cuisine even. There are even a few of the great San Diego breweries located here in Little Italy to either sit and eat for lunch or a nice local craft brew for dessert.
It's too hard to pick one so we will name a few of our favorite spots in Little Italy.
Ballast Point – This is one of our favorite microbreweries in all of San Diego, that says a lot because there are a TON! Ballast Point not only offers their craft brews on draft but they have a full menu.
Crack Shack – This fried chicken joint is the perfect no-fuss spot if you're looking for fried chicken that's as addictive as crack. We ate a late dinner here one night and understood what the fuss was about. Pair your fried chicken with one of the local craft brews on draft and don't forget their unique and flavorful dipping sauces.
Mona Lisa- We couldn't plan a San Diego getaway stopping in Little Italy without offering one of the best Italian spots! Mona Lisa is not only a deli and Italian market where you can buy anything from freshly made pasta to imported cheeses and salamis, but there's also a delicious Italian restaurant on site.
Mikkeller – Mikkeller is another one of our favorite breweries from San Diego with a tasting room right here in Little Italy. There sadly isn't and food on the menu but this is a great stop pre or post lunch for one of their incredible drafts.
Balboa Park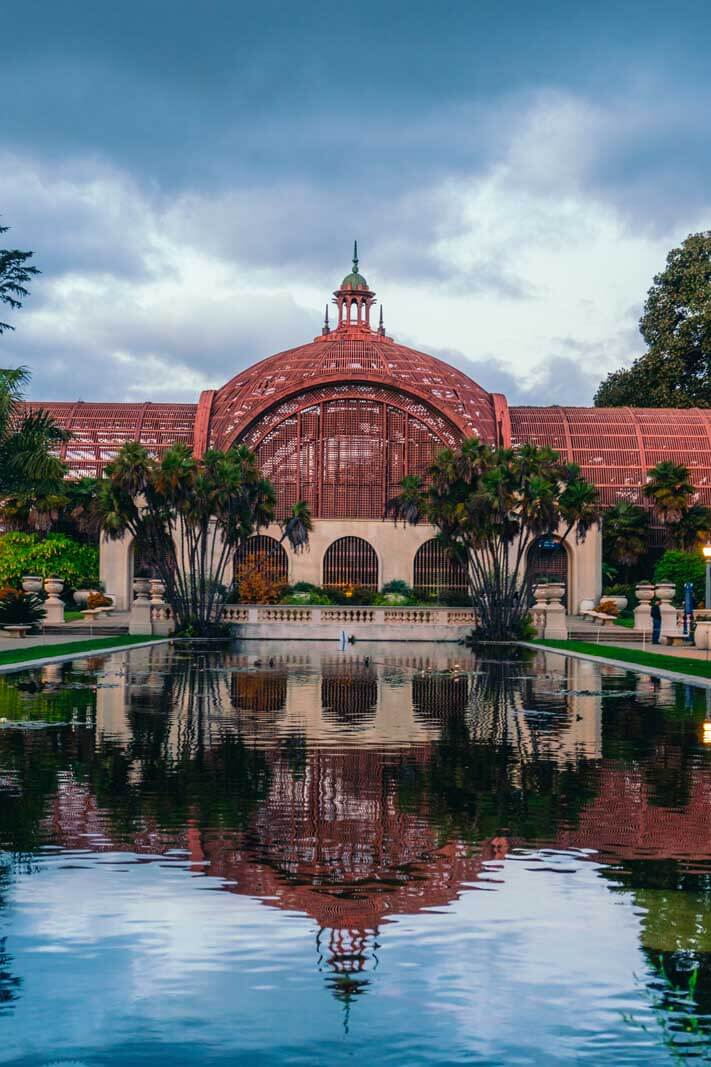 Easily one of our favorite places in the city and a must stop on your 3 day San Diego itinerary is Balboa Park. This area is full of cool museums, the famous San Diego Zoo, hikes, and incredible photogenic spots. A San Diego getaway isn't complete without a visit to Balboa Park.
There are so many things to do here that it can be difficult to choose. You have to ask yourself what is the most interesting. If you're traveling with kids there are plenty of hands on and interactive exhibits in the Fleet Science Center and Natural History Museum.
Not traveling with kids? All of these museums are still worth visiting.
One of our favorite things we did on our trip was go to a planetarium show at the Fleet Science Center's planetarium with an astrologer. The first Wednesday of every month they have a special showing with an astrologer. If you're not lucky like we were by just showing up on the first Wednesday of the month don't worry. There are daily IMAX movies shown in the planetarium and other events that take place during the month. Your ticket also gets you into the science museum where you can be marveled at all the hands-on science exhibits!
There are 16 museums in total including the San Diego Museum of Art and the Museum of Man, too many for a 3 day San Diego itinerary but we recommend picking your favorite and at least going to one.
Two of our other favorite spots in Balboa Park include the Botanical Building's collection of rare and gorgeous plants from all over the world and the colorful and quaint Spanish Village Art Center.
We easily spent an entire day here. Even if you don't fancy going to a museum we recommend coming to Balboa Park and walking around, there are even hikes if you desire to do that instead.
Check out our full guide for best things to do in Balboa Park for more information.
Dinner at Panama 66
End the first day of your San Diego getaway by dining in Balboa Park at our favorite spot, Panama 66. This open air restaurant has heaters if its chilly and is open to the outdoor sculpture park that's a part of the San Diego Museum of Art. Besides having a unique setting they also serve up great food – try the burger and truffle fries, and tons of great local craft brews. There's even live music in the evenings.
Day 2 of 3 Days in San Diego
Coronado
Start your day 2 of your 3 day San Diego itinerary at one of the most famous landmarks in the city on Coronado. The famous Hotel del Coronado is the most iconic building and hotel in San Diego that has seen famous celebrities and notable people throughout history as famous guests here.
Stroll the island to get a taste of a place that feels frozen in time. The streets, especially along the coast are full of eclectic mansions and retro buildings and even sand dunes that spell out Coronado.
You can really only explore half of the island because its shared with a US naval base and is the famous spot where the Navy SEALS do training.
We recommend doing the 11:00 am walking tour with the historical society on Tuesday, Thursdays, and Saturdays from the Glorietta Bay Inn – another notable and historic building on the island where your tour starts. The tour takes you to the island's hot spots including Hotel del Coronado, important homes like the one where the Wizard of Oz was written, and other historical buildings of significance.
To enjoy the tour you just show up a few minutes early to the Glorietta Bay Inn and bring $15 cash for the guide.
Lunch at Coronado Brewing Company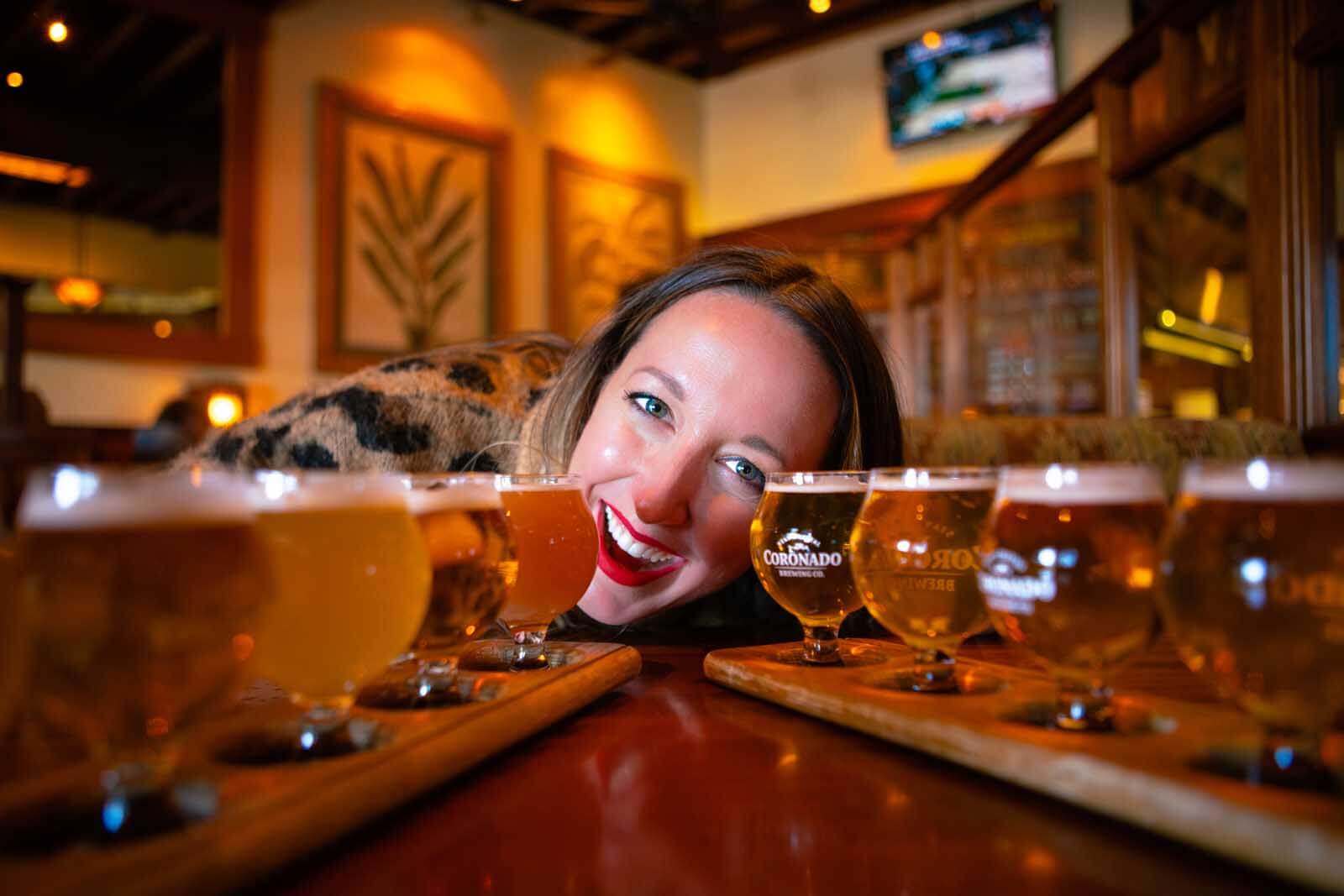 Head over to a different part of the island for a great lunch at Coronado Brewing Company. This is another local brewing company with tons of beer on draft and a great menu of food for lunch.
We had more than our fair share of food here and had to talk a walk after lunch to feel a little more mobile. Luckily, there's a great view of San Diego city on this side of the island and its just a short walk from Coronado Brewing Company.
Gaslamp Quarter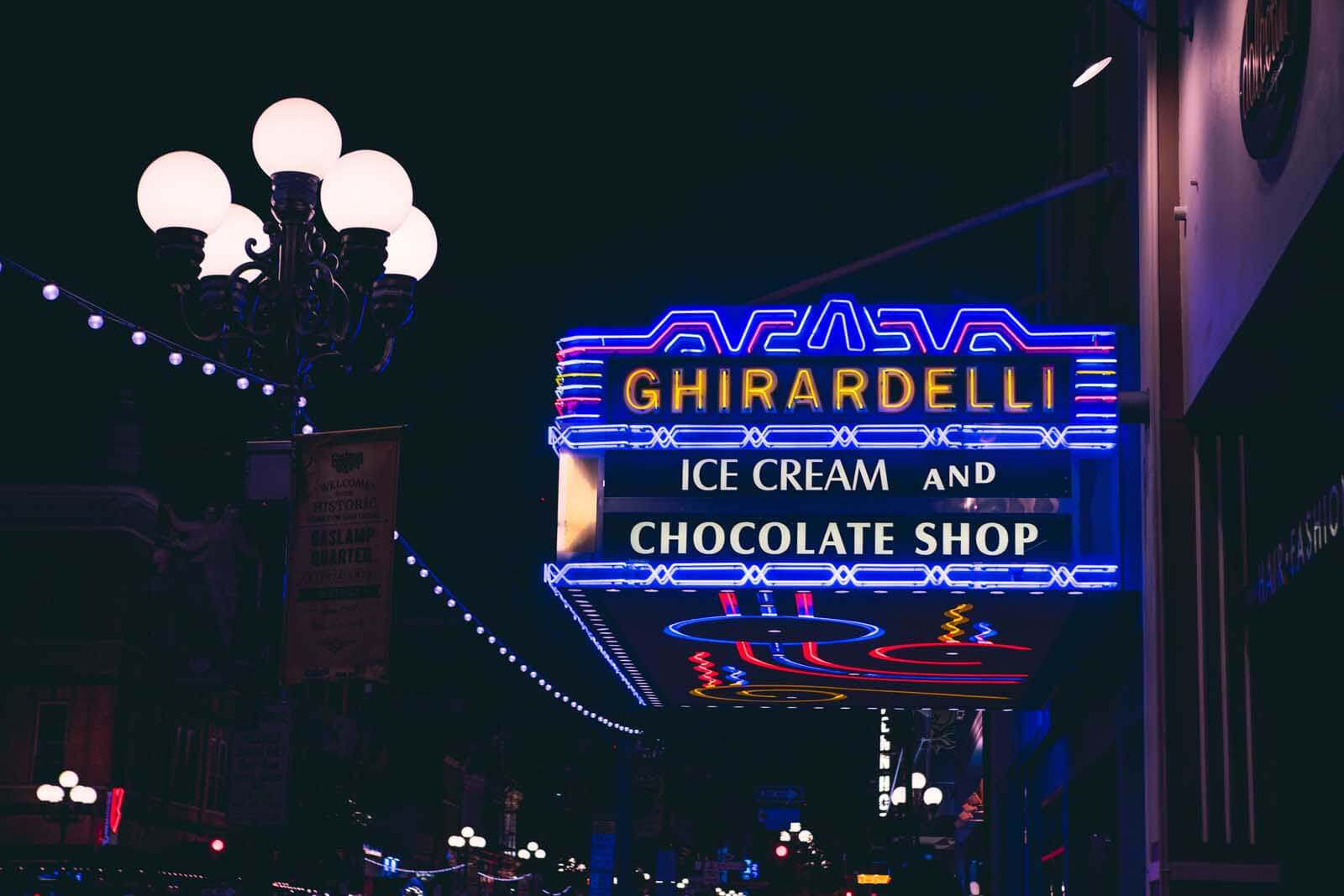 Another famous spot not to be missed on your 3 day San Diego itinerary and San Diego getaway is the Gaslamp Quarter. Best visited in the evening because this area is a hot spot for nightlife and is filled with great restaurants and bars.
The Cat Cafe
If you are anything like me and LOVE cats there is The Cat Café in the Gaslamp Quarter, the only one of its kind in the city. This is a great place for a pick me up after a big lunch all while getting to hang out with cats.
The Cat Café closes at 4 pm, so be sure to plan accordingly if you do want a dose of CATffine. See what I did there? I am having too much fun.
Take a Tour
Taste the best of the Gaslamp Quarter from bites to booze and learn the history of the area by taking the Brothels, Bites, and Booze tour with SoDiego Tours.
The Gaslamp Quarter used to be the red light district and a not so desirable area to visit up until recently. Learn stories about the different establishments that were once brothels and other historical points of interest as well as recent history with your guide while stopping for food and drinks in between.
We had a great time and were fascinated to learn about the history. The best part is if you don't get your fill on the tour you get to sample a few different great restaurants so you can either go back and order more after or try somewhere else and sample your way around the Gaslamp Quarter!
Book your Brothels, Bites, and Booze tour here.
Day 3 of 3 Days in San Diego
La Jolla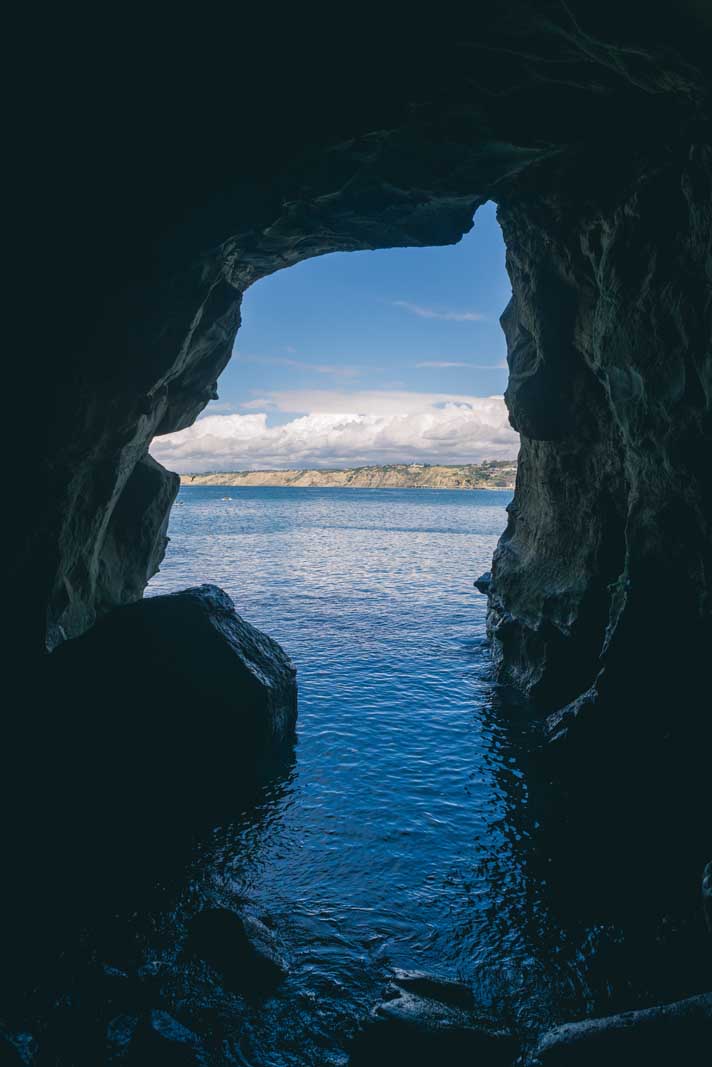 One of our favorite places in San Diego and a must on your 3 day San Diego itinerary is a bit removed from downtown San Diego. We recommend going 20 minutes up the coast to the adorable and charming coastal town of La Jolla. You can either drive or use public transportation like the San Diego trolley to get here.
We love La Jolla, we went on one of our first getaways ever here together as a couple and it reminds of the small, artistic beach town of Laguna Beach where we used to live and love.
With tons of great food options, galleries, and beaches galore you can easily spend a whole San Diego getaway here. However, you can still get a great taste of La Jolla in just a few short hours with our suggestions.
We recommend either having brunch at George's by the Cove with a view of the ocean or have an authentic Mexican lunch at Jose's Court Room. Jose's is much more laid back and if its nice out you can sit outside and look at the ocean still.
One of the most famous spots to visit is the Children's Pool beach. This beach was made for children as the name says but it's been overtaken by sea lions and the occasional seal who bask in the sun here and hide from predators. I honestly could sit here for hours and just watch the sea lions in their natural habitat flop around and swim, especially when there are a ton of young ones with their moms.
There are viewing platforms, just be sure to respect the signs and keep a nice distance away from the wild animals. We saw many people violate these signs and that's not okay.
Next, make your way to Sunny Jim's Cave. The entrance is located in a gift shop where you pay your admission and head down to what looks like a REALLY long set of basement stairs. The bottom is much more rewarding than a basement though as it ends at a cave that opens up to the ocean and is a magical view.
Besides walking around downtown and exploring the galleries of La Jolla we recommend taking a little time to take a coastal walk at Torrey Pines State Park. Famous for its world-renowned golf course, there's much more to do at Torrey Pines than golf.
There are several trails and viewpoints, we recommend picking a shorter one so you still have time for the rest of our 3 day San Diego itinerary which ends in Old Town San Diego – another one of our favorite places.
If you want spend more time here, which you totally could check out all the amazing things to do in La Jolla and consider making a dinner reservation during high tide at The Marine Room, a historic restaurant that's been around for over 80 years where the waves crash right on the windows next to diners eating at their tables!
Old Town San Diego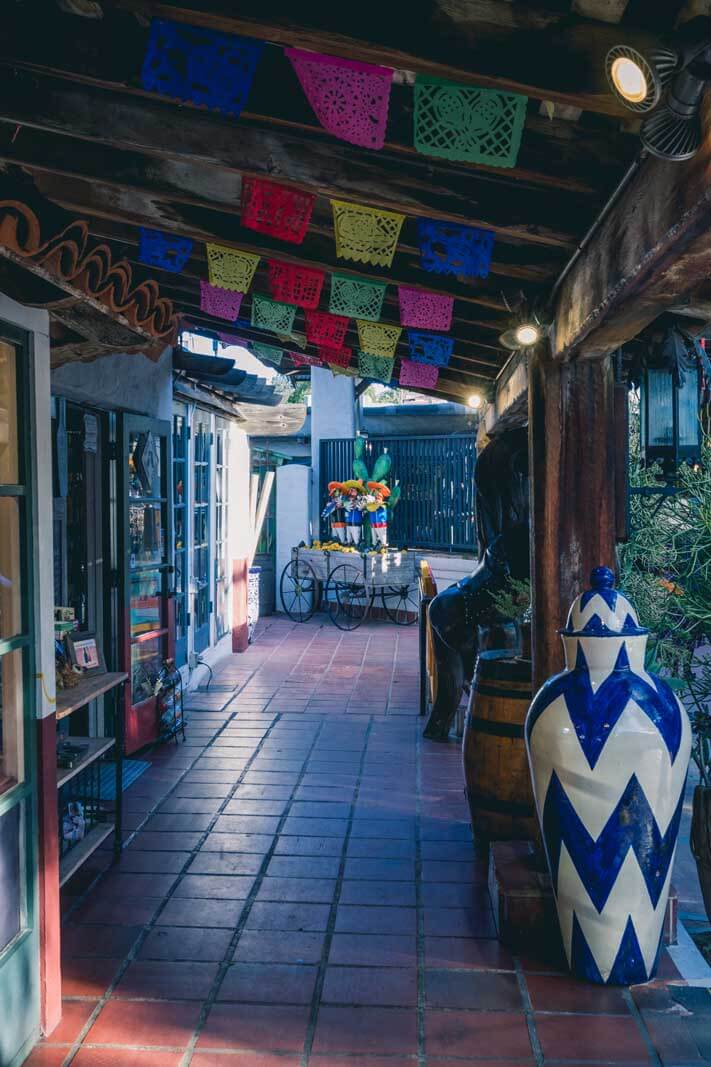 End your 3 day San Diego itinerary and San Diego getaway in one of our favorite discoveries on our last trip. Old Town San Diego is the oldest settlement in California and the city itself. This is where the original fort and mission where and this part of the city has its own incredible history itself.
You will want to have a good few hours to stroll around this historic town that's full of flavor and culture. Many of oldest buildings in San Diego and in California are all here and are still functioning as a business.
We recommend walking around the shops and even stopping for a drink at Fiesta de Reyes. There are a few restaurants here and tons of independent shops selling everything from olive oil to authentic Spanish tiles. The restaurants here have the perfect atmosphere with mariachi bands and staff dressed in period and cultural clothing.
Continue on through Old Town where you will pass museums and historical homes including America's most haunted house, the Whaley House. Multiple travel shows and paranormal shows have filmed episodes here and this house attracts the biggest paranormal enthusiasts in the world. The house is open as a museum and they even do haunted tours.
The great thing about Old Town is this is where you can get some of the best authentic Mexican cuisines on your San Diego getaway here. There are tons of restaurants who serve up freshly made tortillas and incredible food paired with a refreshing margarita. We recommend stopping at Café Coyote for one of their margaritas, good luck choosing they have a whole menu of margaritas and snacks.
Be sure to check out our full guide to the best things to do in Old Town San Diego for more information.
Take a Tour of Old Town
The best way to get to know San Diego Old Town though is through a tour! We recommend the Tequila, Tacos, and Tombstone Tour with SoDiego tours. The tour takes you through Old Town giving the historical tid bits including the haunted history as well as the best stops for tequila and tacos!
We even learned a new way to drink tequila on this trip that involves an orange slice and cinnamon rather than a lime as a chaser paired with some tasty tacos!
This is a great way to not only taste your way through some of the best authentic Mexican food but to learn the history of the area on your 3 day San Diego itinerary and getaway.
Book your Tequila, Tacos, and Tombstone Tour here.
Getting Around San Diego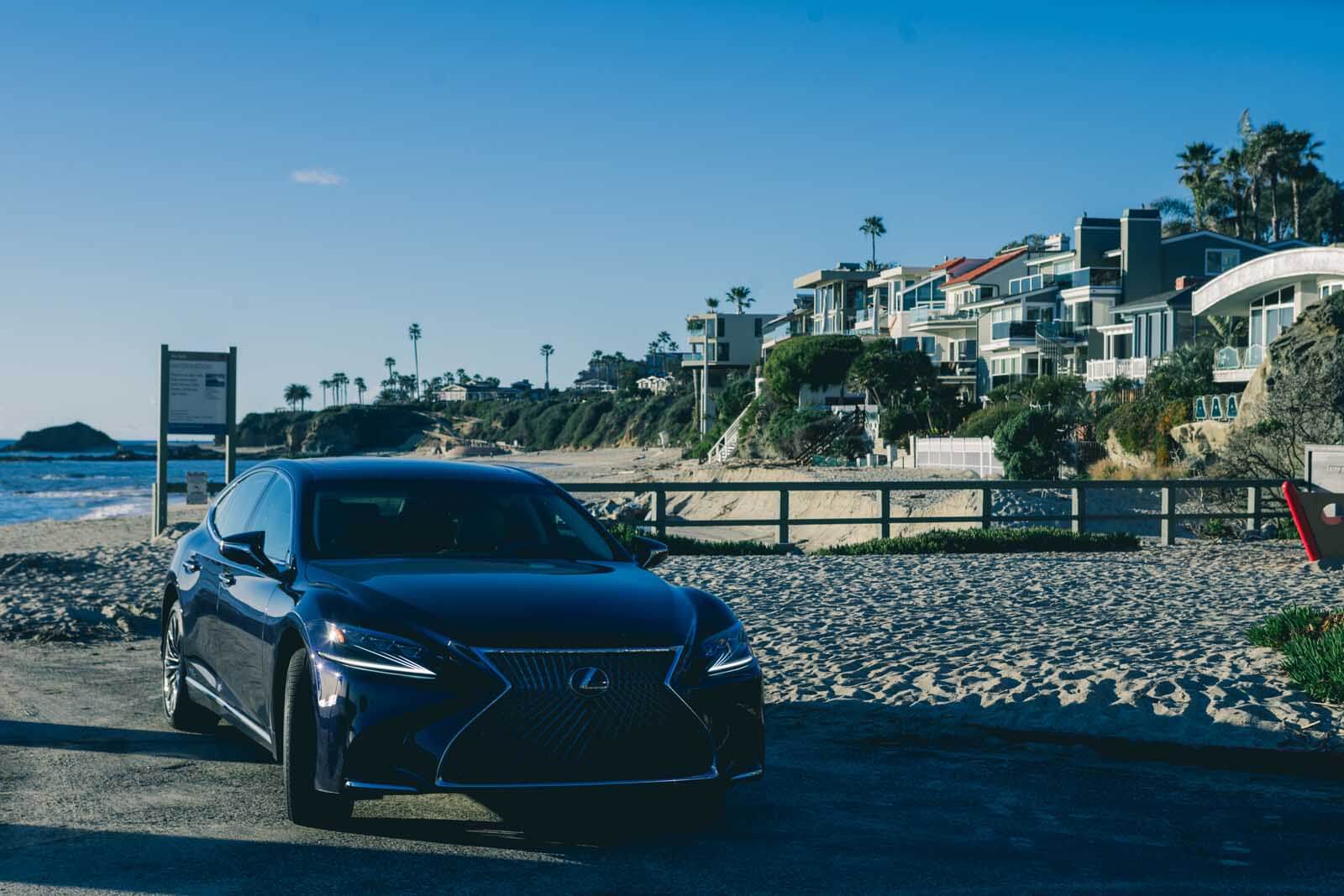 If you don't have your own car or a rental car during your San Diego getaway don't worry there are plenty of options for public transportation in the city as well as rideshare apps like Uber and Lyft.
We were able to test drive a Lexus LS with Lexus for this road trip pictured above. (P.S. this is an awesome car and it has seat massagers!) While we didn't need public transportation in San Diego, it was available. The only place we didn't dare to park was in the Gaslamp District we were told it was pricey and too frustrating, so we took an Uber.
In downtown San Diego and certain beach cities like La Jolla, there are scooter rentals literally all over the place which are nice for getting around short distances that are a stretch too far for a walk.
By Bus: San Diego has different bus options if you're in North County you will want to check the Breeze website for routes and for the rest of San Diego you can check the Metropolitan Transit System.
By Trolley: This is great for popular stops near downtown San Diego they run about every 15 minutes. There are three different trolley lines that will get you anywhere you need to go on your San Diego vacation downtown.
By Train: There are various train systems in San Diego from the Amtrak Pacific Surfliner which can bring you in from a further destination to the Coaster and Sprinter which help connect San Diego county by train. If you plan on adventuring up to North County these are great options.
Where to Stay in San Diego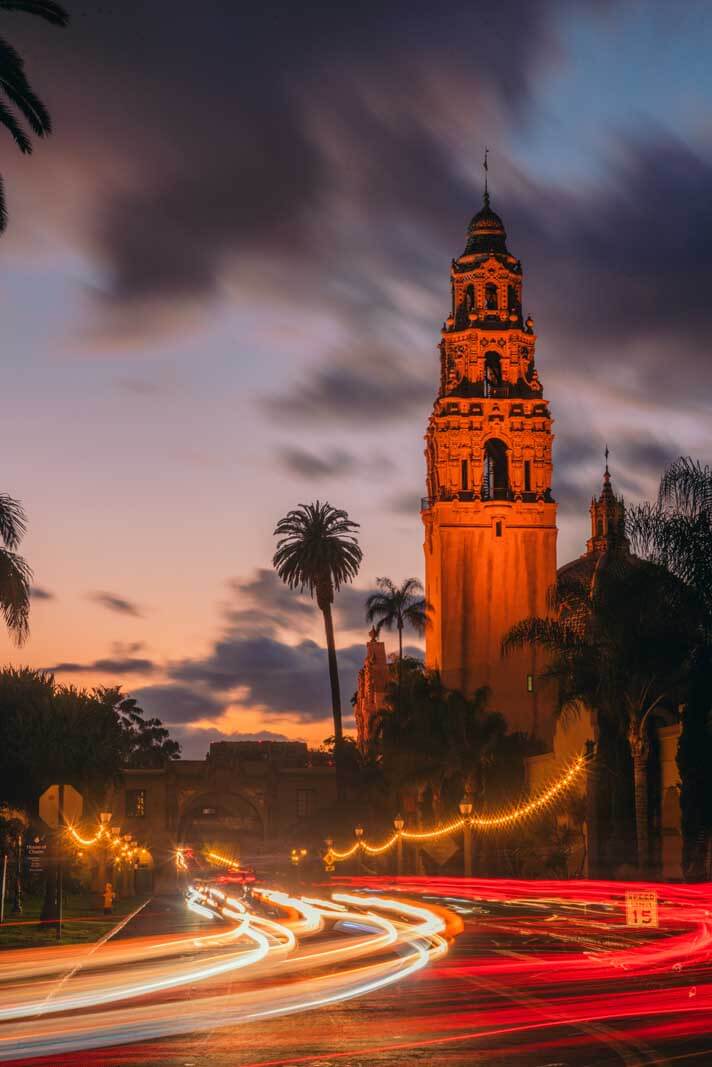 Here are a few of the best places to stay in San Diego, if you're looking for more options be sure to check out our full guide for where to stay in San Diego by neighborhood and budget.
$ Found
Located in one of the most desirable areas of the city in Little Italy Found is a great option to stay during your San Diego getaway if you're looking for something a little budget friendly. This is a great boutique hotel that has some rooms with shared bathrooms. We did one of these rooms due to a last minute planned trip and we are glad we did because it was a great experience. Our bathroom was only shared with one other room and it was kept very clean. If you fancy your own bathroom those rooms are available too.
Book Now on Booking.com | Compare Prices for Later on Agoda.com | Check out Rates on Hotels.com
$$ The Keating Hotel
Another great option for where to stay during your 3 day San Diego itinerary is in the Gaslamp Quarter. The Keating Hotel is a fine 4-star hotel in a historic 19th century building with modern and eclectic rooms. The hotel has an artsy feel to it and is located right next to Horton Plaza in the Gaslamp Quarter. If you're feeling like you want a fun and unforgettable night out on your San Diego getaway then you can also enjoy the burlesque club that is on site.
Book Now on Booking.com | Compare Prices for Later on Agoda.com | Check out Rates on Hotels.com
$$$ Hotel del Coronado
If you want to experience your San Diego getaway in style like many celebrities have for decades before you then you will want to splurge and do the ultimate San Diego experience by staying at Hotel del Coronado. Besides being one of the best historic hotels and buildings on the west coast you're also located on one of the best white sand beaches in the US.
Book Now on Booking.com | Compare Prices for Later on Agoda.com | Check out Rates on Hotels.com
---
Looking for a fun day trip from San Diego? Consider spending a day in wine country and enjoying all the best things to do in Temecula!
Found this 3 day San Diego itinerary and guide for a perfect San Diego getaway helpful? Bookmark for later or share the love below on Pinterest.