Wondering what the best things to do in Mount Dora, Florida are? You've come to the right place! This is one of the most charming towns and destinations in Central Florida. Located just 35 miles from Orlando, this is a great destination to visit whether you're adding on to an Orlando vacation or looking to spend a few days exploring some of the great spots Central Florida has to offer – like Mount Dora!
Situated in Lake County, famous for having over 1,000 lakes, on Lake Dora, you can find all kinds of great things to do in Mount Dora from spotting Florida wildlife along the lakeshore pathways under the canopy of trees covered in Spanish moss, getting on the (or flying high above the lakes), enjoying the charming shops downtown, and the great dining scene.
Known for its southern charm and hospitality, not to mention a storied past with historic landmarks and sites, we recommend slowing down and taking your time enjoying all of the Mount Dora attractions for at least one to two nights.
What to do in Mount Dora, Florida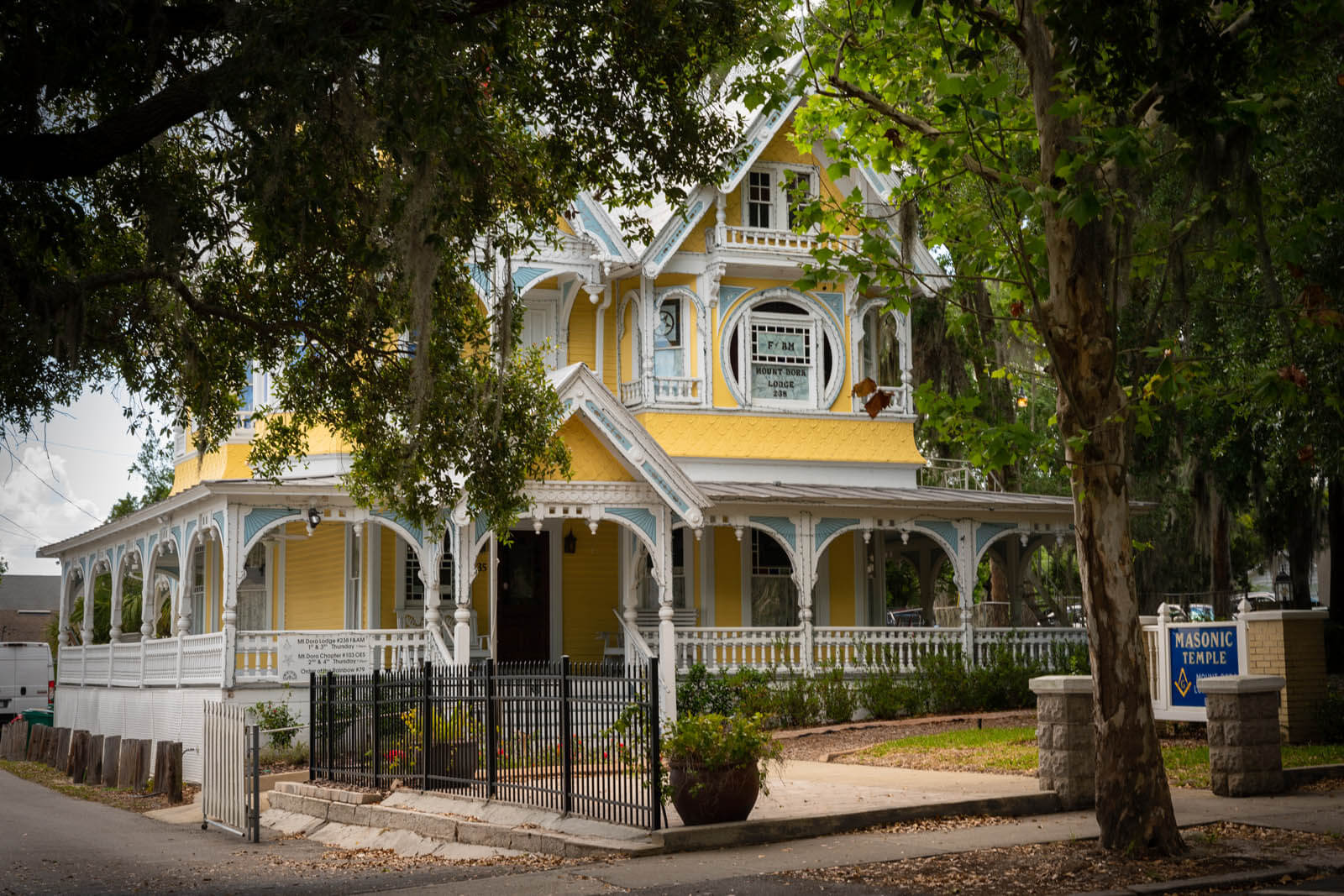 Visit the Charming Shops Downtown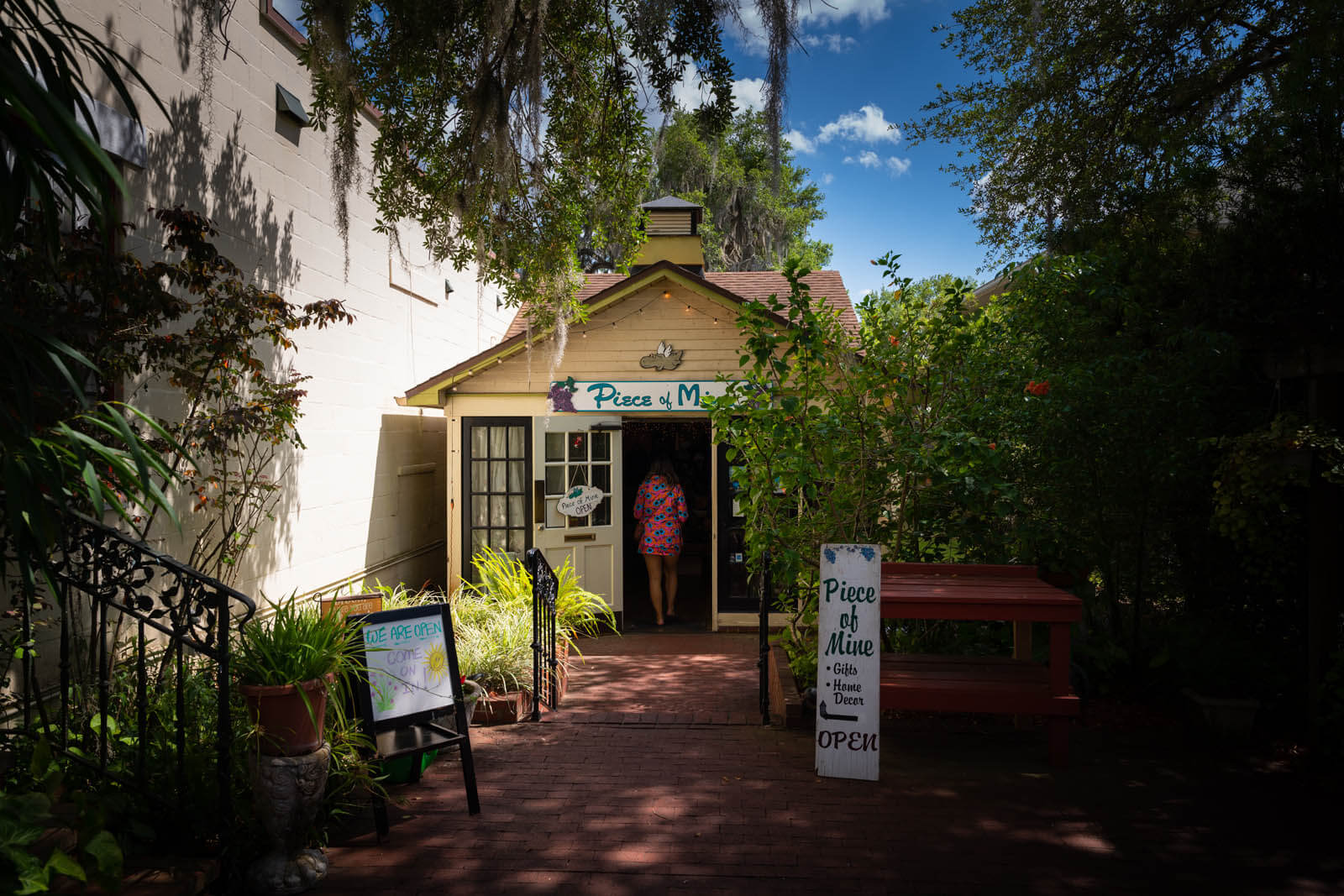 One of the best things to do in Mount Dora is to visit the charming independent downtown shops. One of the most popular Mount Dora attractions for tourists is Under the Cherry Blossoms, a gift shop that sells many antiques and handmade goods created by local artists, all with a positive spin. So whether you want a postcard, essential oil set, or painting for your home, this shop will have what you're looking for.
Another nearby gift shop is Black Swan Mercantile. This little shop sells French decor, clothes, and unique gifts! If you're looking for a souvenir or something to show off Mount Dora, Florida, in your home, this is the place to look.
One of our personal favorite shops downtown was The Spice & Tea Exchange of Mount Dora. This popular spot sells a wide range of unique teas, olive oils, extracts, and more! If you stop by, be sure to pick up their signature Florida seasoning salt infused with citrus – we got this to bring back to our kitchen for making refreshing summer salad dressings and to season our chicken and fish with.
One great store in Mount Dora, Florida, is Naples Soap Company. You can find tons of fizzy bath products like bath bombs, decorative soaps, and all kinds of bath and body products whether you're looking for a great gift for yourself or someone else.
Another really cute shop you don't want to miss is Piece of Mine which carries homemade crafts and goodies including home decor like candles and other fun gifting items, plus the owner is incredibly friendly.
Play Games at Serendipity Brews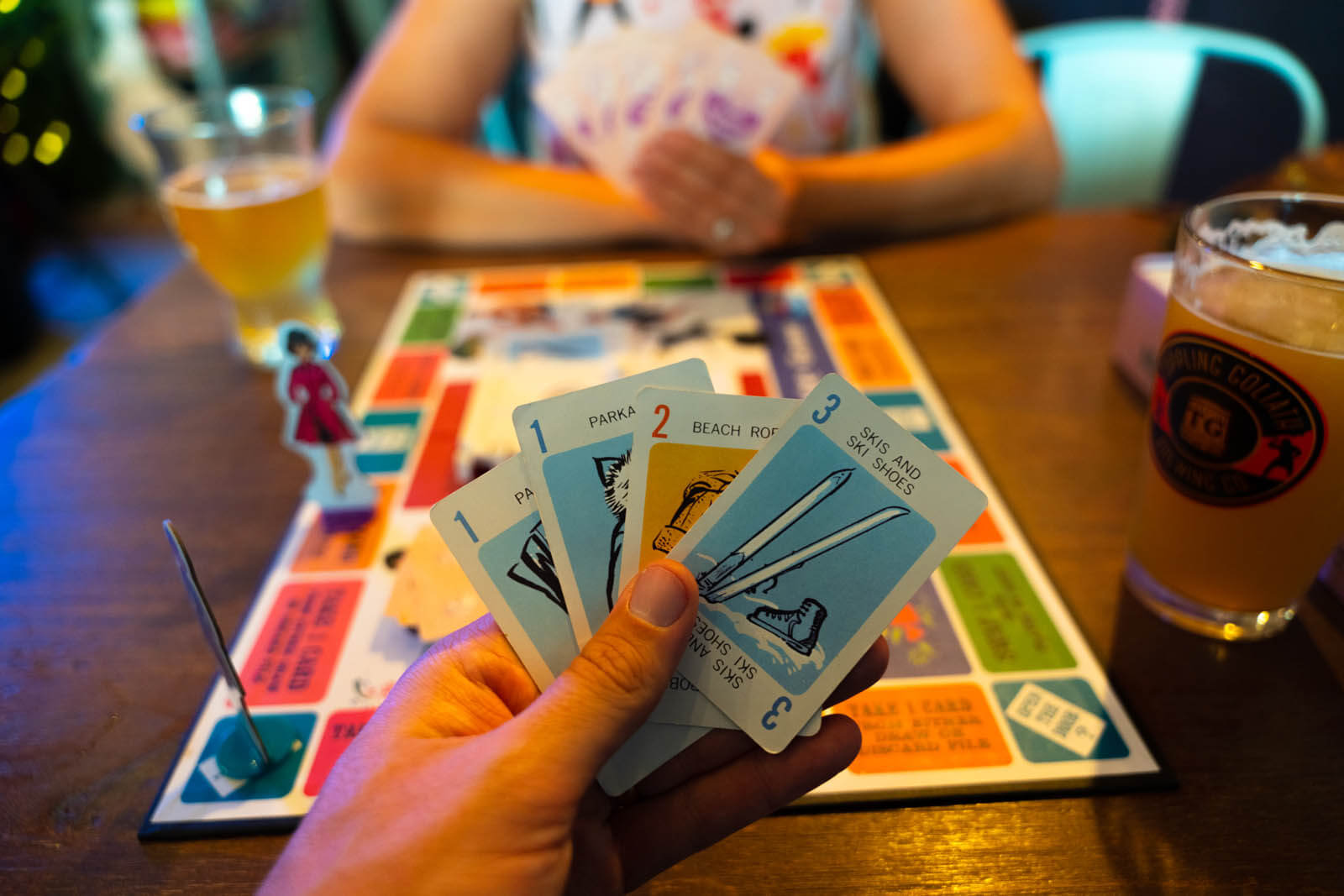 One of our favorite things we did during our time in Mount Dora, Florida was going to Serendipity Brews for a mid-afternoon beer and gameboard break! This coffee shop/beer hang-out is a day-to-night hang-out spot for everyone in Mount Dora, from visitors like to the locals.
During the day, check out their vintage board games, we played Mystery Date and Battleship both days we went! And by night, the entire place comes to live as it's one of the only late-night hang-out spots in town. We literally saw our waiter from dinner here after he got off his shift, when we say everyone comes here at night – they do and they may even have karaoke going on!
If you stop by Serendipity Brews and you're hungry they do have a few light bites and snacks on their menu. But what you're really coming for is their extensive craft beer selection. This is one of the best things to do in Mount Dora if you're looking for nightlife!
Enjoy the Food Scene!
One of the best things to do in Mount Dora is to eat! For being a small town, Mount Dora, Florida has a pretty good selection of dining options, from high-end fine dining to casual cafes.
In the mornings, the best spot for coffee in Mount Dora is Edge Coffee! This coffee shop has an aesthetically pleasing, modern interior with a fun checkers table. They even were working on a cool outdoor space while we were there with an Airstream camper along with their outdoor seating they already had on their patio, a perfect place to enjoy your coffee on a nice day.
They had really great cold brews – something we always order when we are experiencing warmer weather. They also have a few pastries and light bites available if you're feeling a bit snackish.
One great casual option for lunch & dinner is Fifth Avenue Streatery. This restaurant serves comfort food with a Southern twist. However, they have something for everyone on the menu and we were both delighted with what we ordered.
Their menu is pretty extensive ranging from anything and everything from ahi tuna to Southern fried green tomatoes. Their outdoor dining setup is pretty awesome as the restaurant took over an old gas station location. With a corner location and a great outdoor dining set up complete with umbrellas at each of the tables, you get to take in the action going on the street while you dine.
For dinner, there are two great restaurants we recommend. You've probably worked up an appetite checking out all the best things to do in Mount Dora, so treat yourself to two of the best fine dining establishments the town has to offer.
Pisces Rising is one of the hottest spots to check out for dinner (they're a great choice for lunch too). This upscale restaurant is known for its seafood and steak that they use to make Caribbean-inspired dishes! The restaurant itself is designed just like a Florida bungalow, and they have a great deck, if you can grab one of those seats where you'll have a great view of the water.
We couldn't help but take advantage of the seafood while here try the fresh catch of the day or the crab stuffed salmon! Also, shrimp and grits are always a crowd pleaser, especially when you're in the south.
1921 Mount Dora is another great dining option for dinner, this award-winning restaurant serves up Florida cuisine sourced locally with a rotating menu. We recommend splitting an appetizer and two mains, especially if a few things sound good on the menu, we liked sampling each others food.
Their location is connected by a courtyard to the Modernism Museum shop with the Modernism Museum across the street – which is a great option for heading to for a drink right after visiting the museum, which closes at 5.
Modernism Museum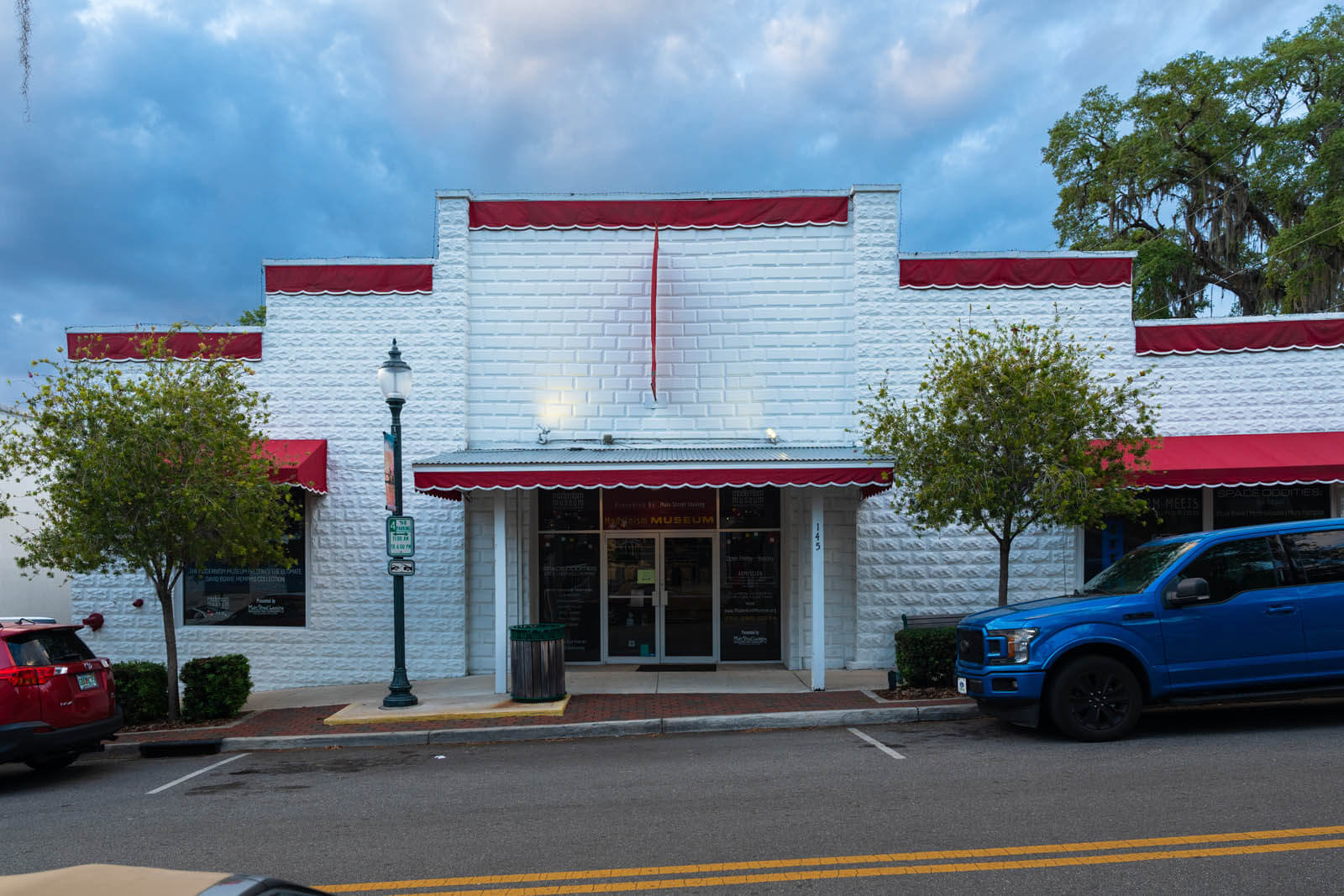 One of the most popular Mount Dora attractions is the Modernism Museum. This museum has large displays, unique collections, and artful pieces of furniture that are worth checking out. There are also various rooms throughout this museum that will allow you to learn more about the history behind each exhibit! This small modern art museum is great for anyone that likes art or interior design.
Directly across the street of the Modernism Museum is also the Modernism Museum Shoppe! The unique merchandise in this store includes designer jewelry, one-of-a-kind gifts, and unique souvenirs.
As mentioned, you can make a visit to this museum even more of a fun day by visiting 1921, even if it's for a drink. Plus the restaurant has some interesting artwork on display that looks like it could have been a part of the museum.
The Modernism Museum is only open Fridays through Sundays from 10 AM to 5 PM. The shop across the street, however, is open daily until 6 PM.
Stay at the Lakeside Inn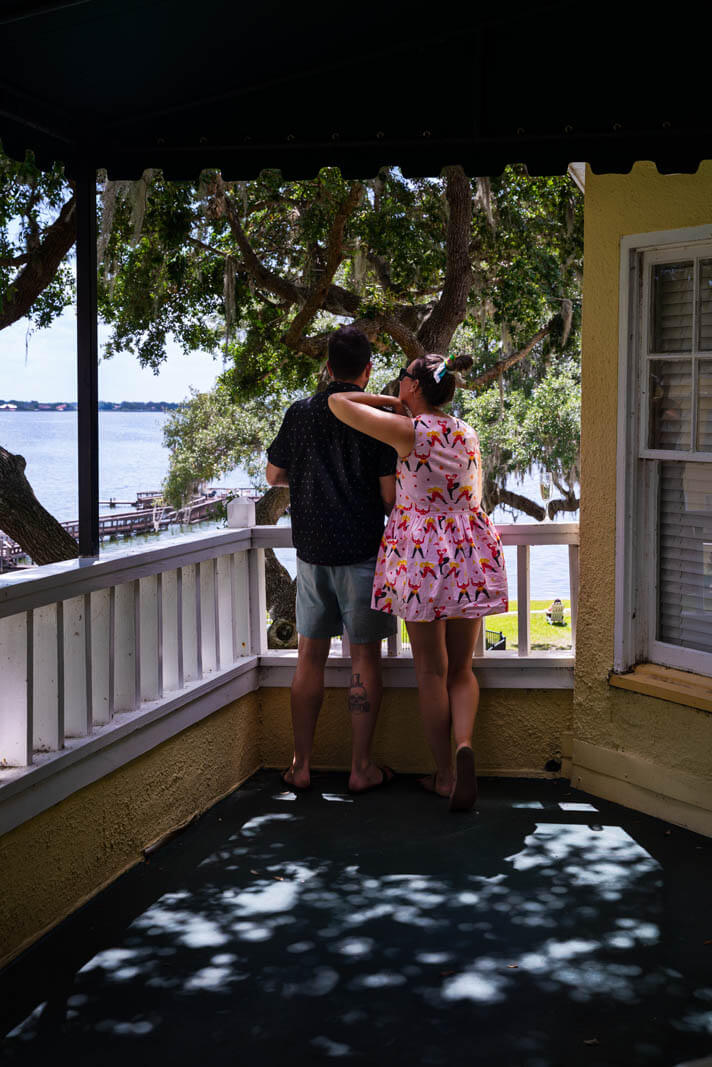 One of the best Mount Dora attractions is actually where we recommend staying, and where we stayed! The historic Lakeside Inn located right on Lake Dora and offers some of the best sunsets you can find around here!
This stunning, historic inn dates back to 1883 and is the oldest continuously operating hotel in Florida. For anyone who loves old buildings and historic stays, this is a dream! We loved how cozy the rooms were and of course, ours came with an incredible view of the property and the lake.
Guests can enjoy dining on their wrapped porch Veranda, cocktails at the historic Tremains Tavern, stroll the gardens, or lounge around poolside before enjoying a majestic sunset over Lake Dora right here from the property.
This historic hotel draws in many visitors due to the fact that President Calvin Coolidge stayed here with the former First Lady after his presidency to unwind for an entire month. To this day, guests can stay in his room! If you choose to stay in this room, you will be rewarded with a small desk next to the window overlooking Lake Dora to see the view just as he had.
The room also has a portrait of Coolidge on the wall and there's one on the outside of the room too if you're just a curious guest and wondering which room it was in, this is the way to spot it.
Dating back to 1883 means you're bound to have a storied past, there are even rumored ghost stories for those who are fans of paranormal activity. But one of the more interesting stories tied to this historic inn has to do with Scarface, aka Al Capone, who was rumored to have been linked to Lake Dora and the Inn through rum-running during the prohibition and would frequent Tremains Tavern.
When you're checking in to the Inn, if it's not busy, ask the front desk to show you where the hidden speakeasy door was. The location may surprise you and this is one of the most fascinating 'hidden' Mount Dora attractions if you ask us! The location of the former speakeasy door is hidden below your feet when you check in, the rug was lifted so we could get a peek at where the door once was.
This historic inn is no doubt an experience in itself and a must for your stay in Mount Dora, Florida. Book here.
Enjoy a Guided Catboat Tour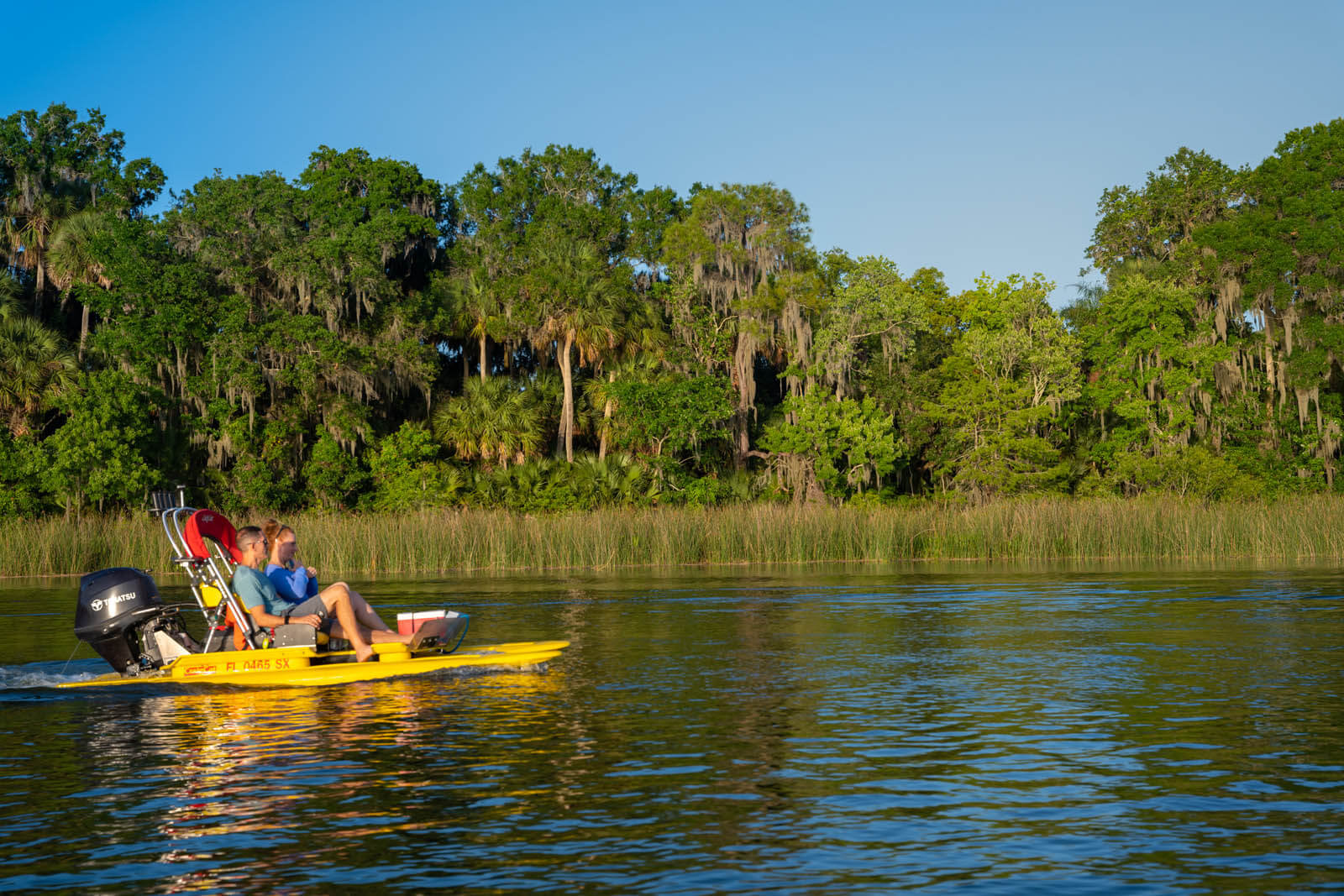 One of our favorite things to do in Mount Dora, that we still think about, was the guided catboat tour on Lake Dora!
These small, 2-person electric boats will glide you across the water where you'll witness the stunning beauty of the canals and even get to visit neighboring lakes. Each catboat comes with a walkie-talkie hooked up, so you can hear your guide from their boat and follow along.
Throughout the tour, you'll be able to admire the waterfront homes, we even got to see Shaq's lake house here, great views, and wildlife! We saw several gators plus waterfowl as well as bald eagles in nests high above in the trees above the lake.
There are day tours, but you can do the sunset tour which is what we did. They time the tour so that you end with a sweet Floridian sunset before returning.
The boats go up to around 30 mph and you kick up some water, so be ready and dressed to get wet. They do have a small drybox on the boat to put small, loose items and your camera if you have one. We recommend if you're bringing a camera, to have something to put it in so it doesn't bounce around while you're driving and get damaged.
If you don't know how to drive a boat, don't worry. Your guide will also go over safety and instructions how to operate the catboats before taking off, plus you get a little time to practice.
Premier Boat Tour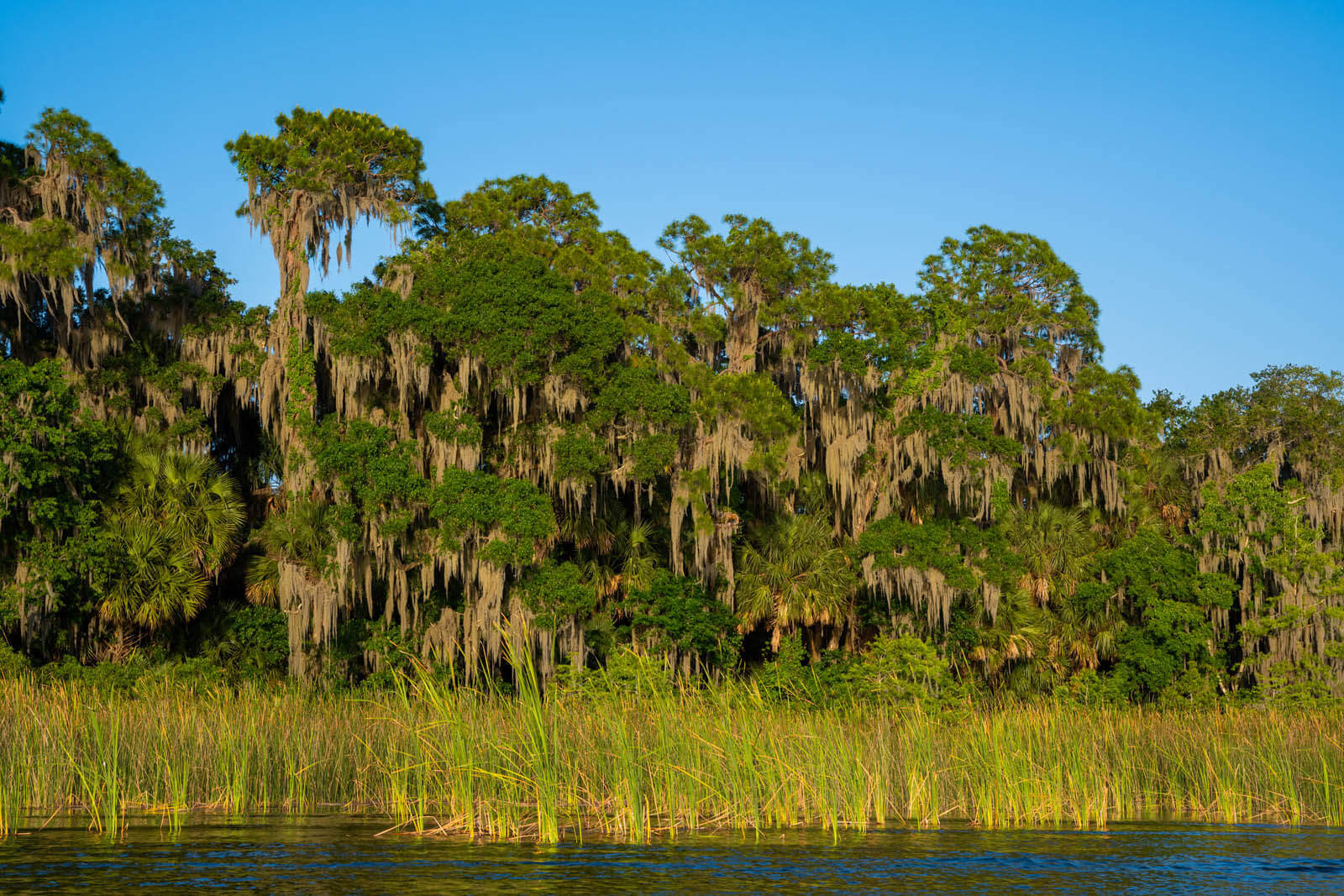 If you're craving a boat adventure but don't want to be THAT close to the water and potentially getting a little wet from the lake spray or find the catboat tour a bit too adventurous, consider taking a more relaxed excursion on the premier boat tour from the Lakeside Inn dock!
These tours are great for larger groups and those who have smaller children since they take place in a large, stable, and covered boat.
This 2-hour boat tour goes through Lake Dora, the Dora Canal, and Lake Eustis. The tour guide will tell you all you need to know about the area and nearby attractions! You can also book special holiday tours and sunset trips for a great view, one of the top highlights and best things to do in Mount Dora is without a doubt getting on the water and enjoying the beautiful view!
Palm Island Park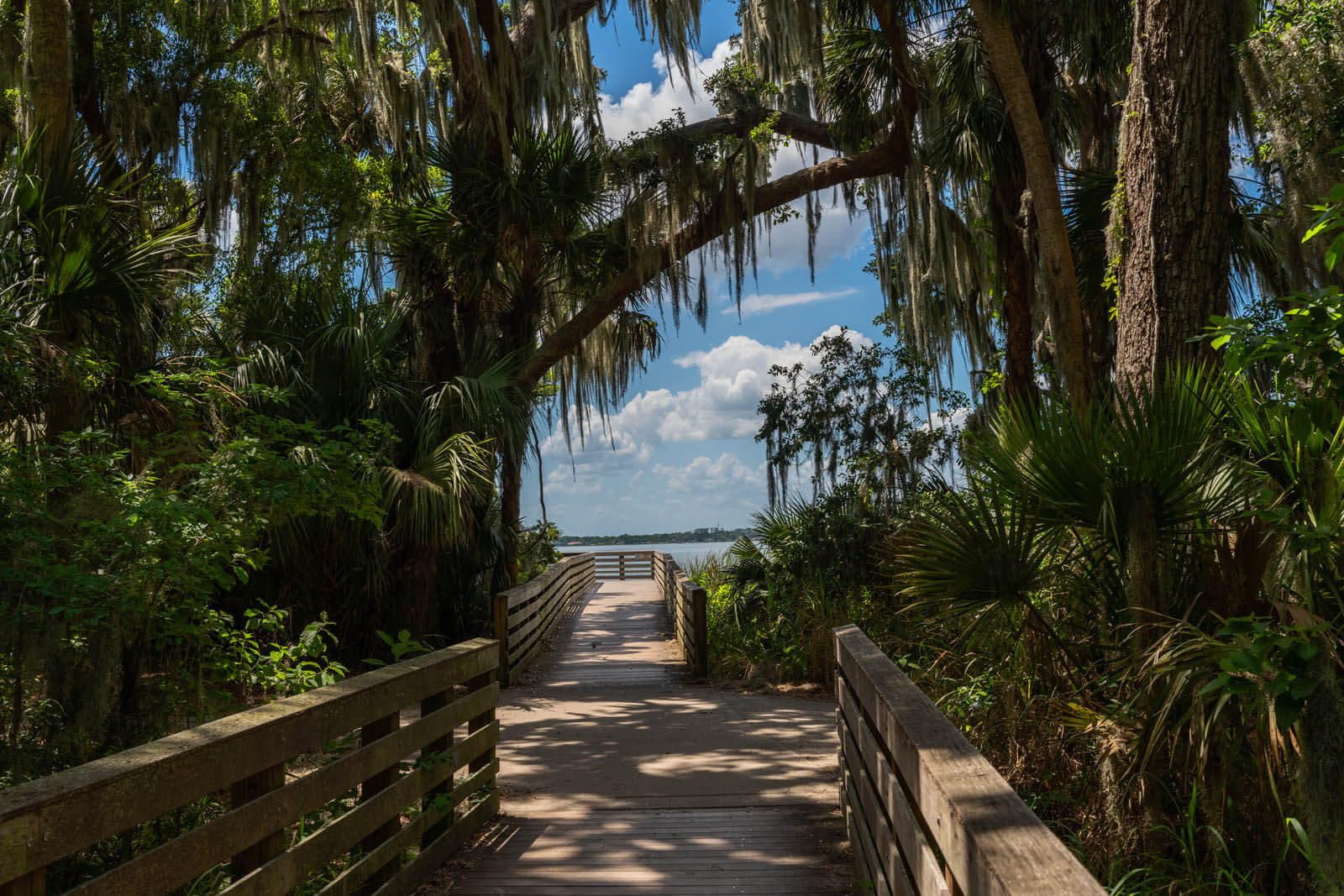 One of our favorite places and best things to do in Mount Dora is to visit Palm Island Park! This 8-acre nature preserve is great for a romantic waterfront stroll, nice for families and is pet-friendly.
You can find many picnic tables, trails, a boardwalk, and a fishing pier! You can expect to see many gators and turtles up-close from the safety of the boardwalk. If you skip anything here, don't let it be the boardwalk. While walking on the boardwalk under a gorgeous canopy of ancient trees covered in Spanish moss. This was probably one of the most picturesque places we saw on our entire road trip through Lake County, Florida.
Grantham Point Lighthouse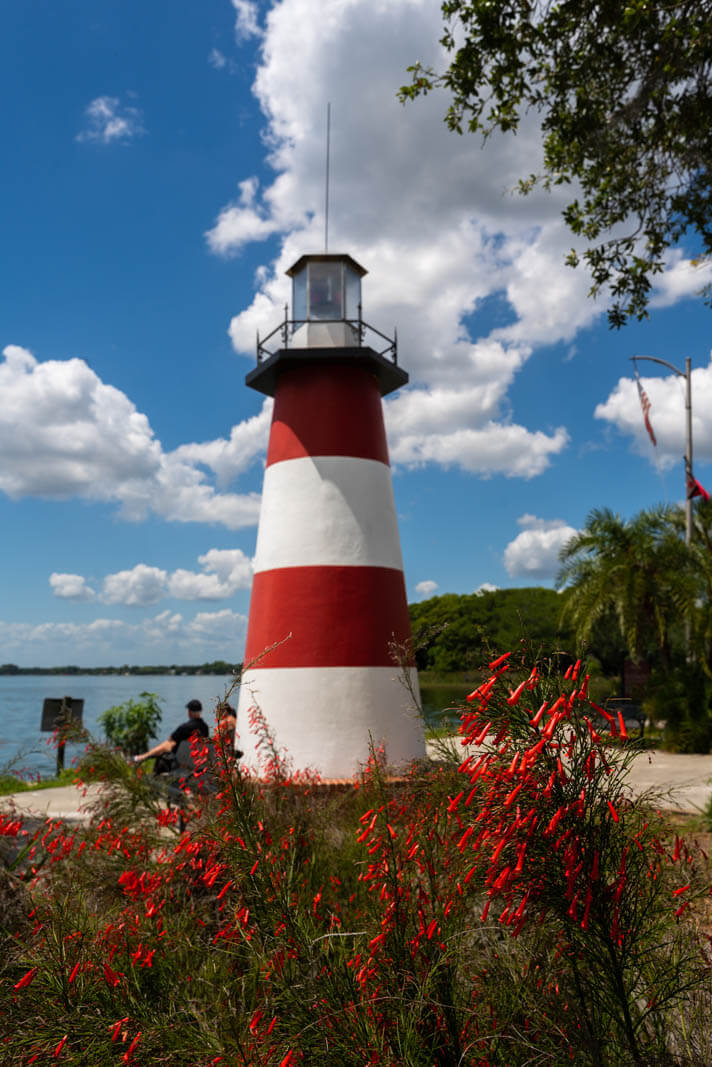 If you love lighthouses as much as we do, then you need to check out Grantham Point Lighthouse along Lake Dora in Mount Dora at Gilbert Park, Florida. This lighthouse is one of three fresh water lighthouses in the state of Florida, and it's also a pretty one with it's classic red and white stripes!
From here you can spot wildlife including Florida's birds and even gators! You may even spot locals fishing in the water here. This is also an easy walk over to Palm Island Park and it's boardwalk – one of our favorite things to do in Mount Dora.
Gilbert Park also has nice picnic areas protected by the shade of the gorgeous, giant trees covered with Spanish moss and even a few hammocks you can sway in next to Lake Dora.
Mount Dora Citrus Label Sign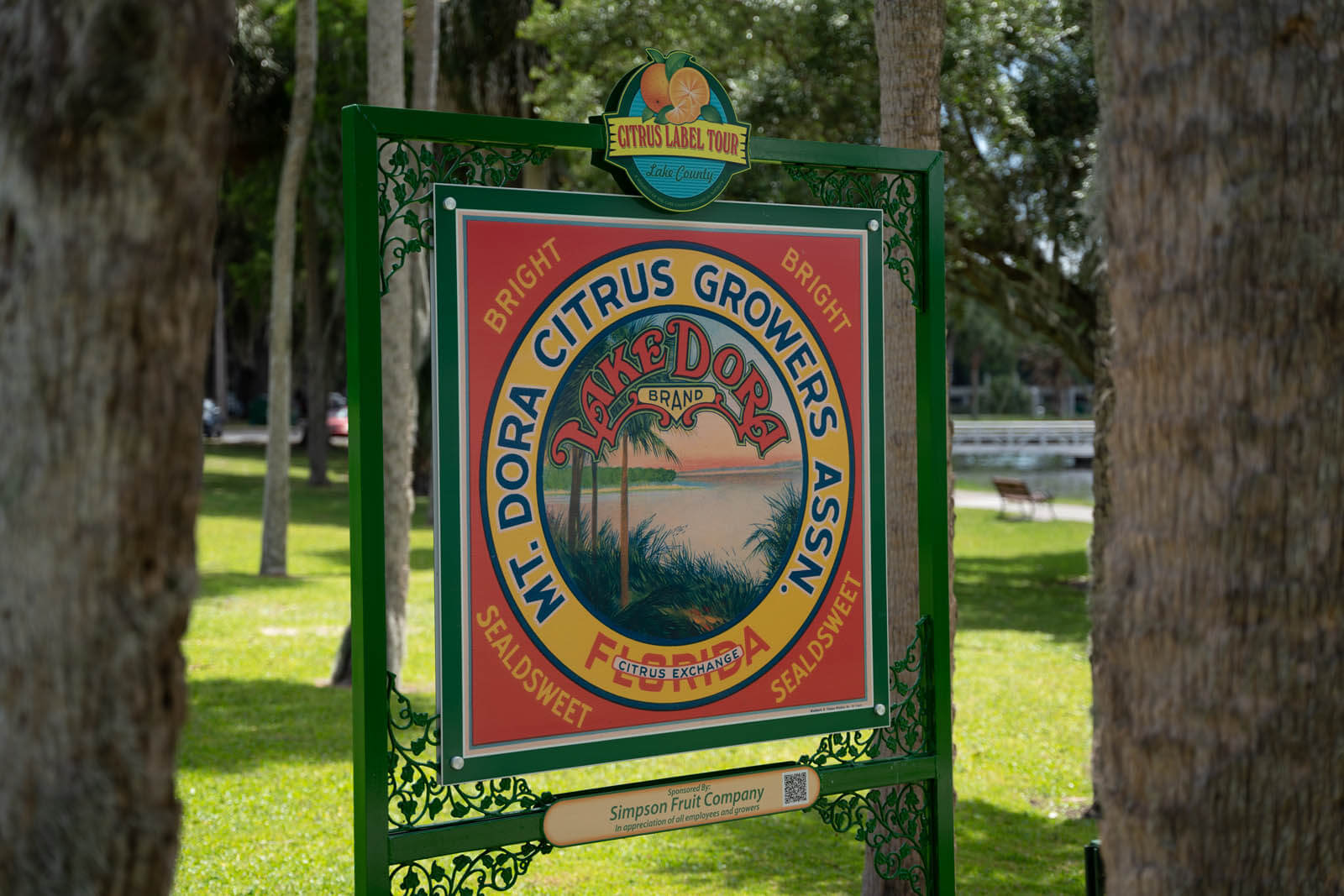 Also, if you're a fan of history and vintage branding, check out the Citrus Label sign here along Simpson's Cove at Gilbert Park. Lake County, Florida was one of the top citrus producers in the country before a giant cold snap that devastated the industry in the 1980s. From the early 1900s, until WWII, the local citrus producers and growers would create unique labels to entice shoppers to buy their products through design.
To pay homage to these old, and really cool labels (that some people even collect from antique shops) you can visit the Citrus Label Tour signs throughout the county which have two different vintage label designs on each sign. During our trip, we did a bit of a scavenger hunt to find them all!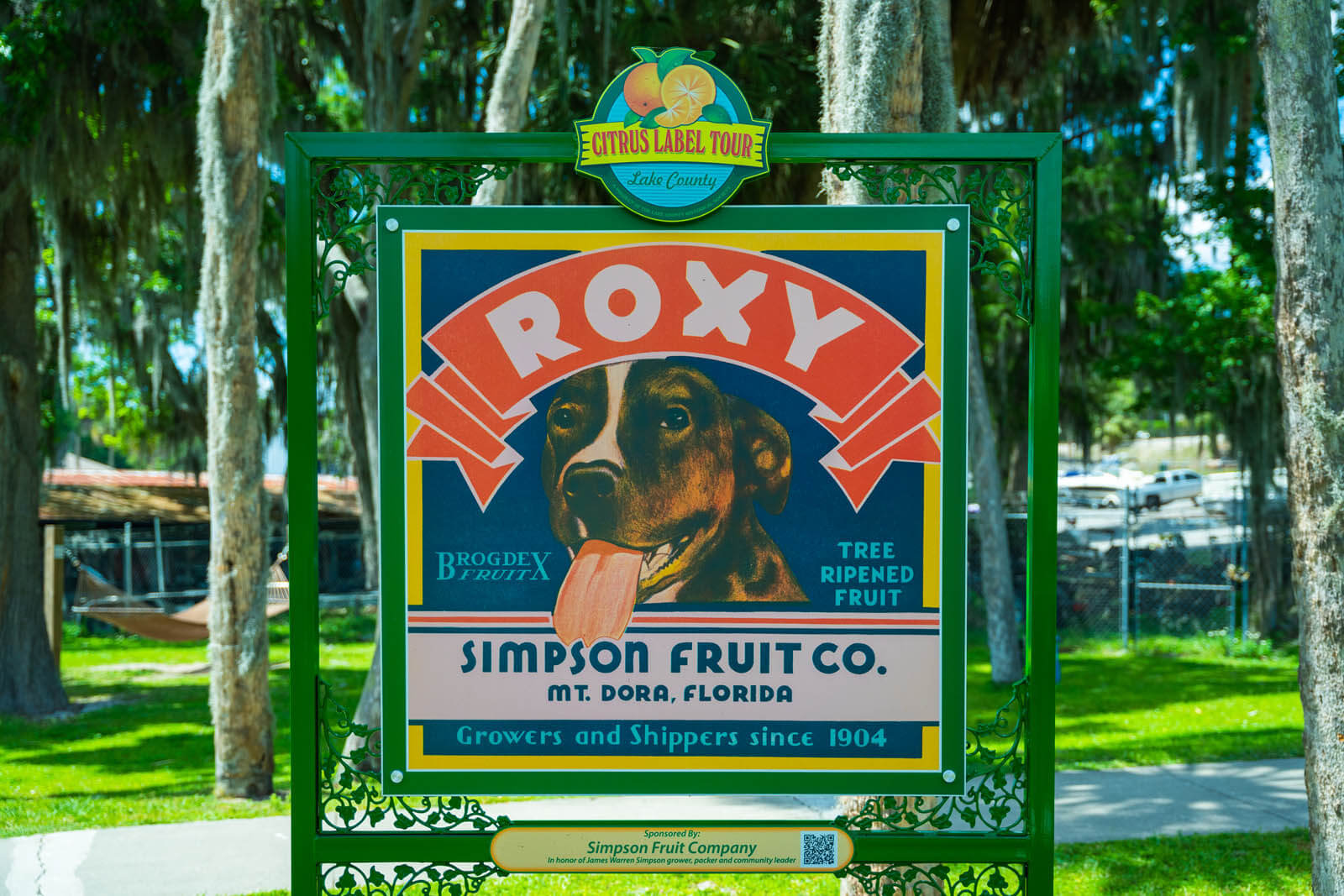 The Citrus Label design that's found in Mount Dora, Florida includes the Mount Dora Citrus Grower's Association label and on the opposite side, "Roxy" the dog from The Simpson Fruit Company, which is a citrus grower to this day and used to have a citrus grove at this very site along the shores of Lake Dora.
If you're interested in the citrus labels, check out our guide to our Lake County, Florida road trip which stops at every single vintage citrus label sign in the county plus other interesting and cool stops along the way (including two nights in Mount Dora) and other citrusy-themed stops that are really fun!
Van Gogh House
View this post on Instagram
Another local hidden gem and roadside attraction in Mount Dora is the Van Gogh House. This fun, painted house is covered in the famous Starry Night painting by Vincent Van Gogh –think of a mural but on an entire house!
The family who owns the home fought to keep the exterior painted this way and spent alot of their time making their home be a classic piece of art. To this day, anyone who wants to see this can drive by the house and take a look! It's actually a pretty heartwarming story, the couple who painted their house this way wanted to do it for their autistic son who is fascinated by the painting.
However, this sweet and thoughtful gesture for their son wasn't loved by everyone. Unfortunately, the couple had to battle local code enforcement to keep it and even had to take the case to federal court. In the end, the couple won and received a public apology from the city.
The location of this Mount Dora attraction is along the Old Highway 441 going towards Tavares. It's easy to walk to it from the Pisces Rising restaurant, but keep in mind this is a residential home, so please look but don't disturb the residents! We saw it driving to/from Mount Dora to Tavares and didn't even get to take a photo! Sometimes – just seeing it is all you need :).
Go Shopping for Antiques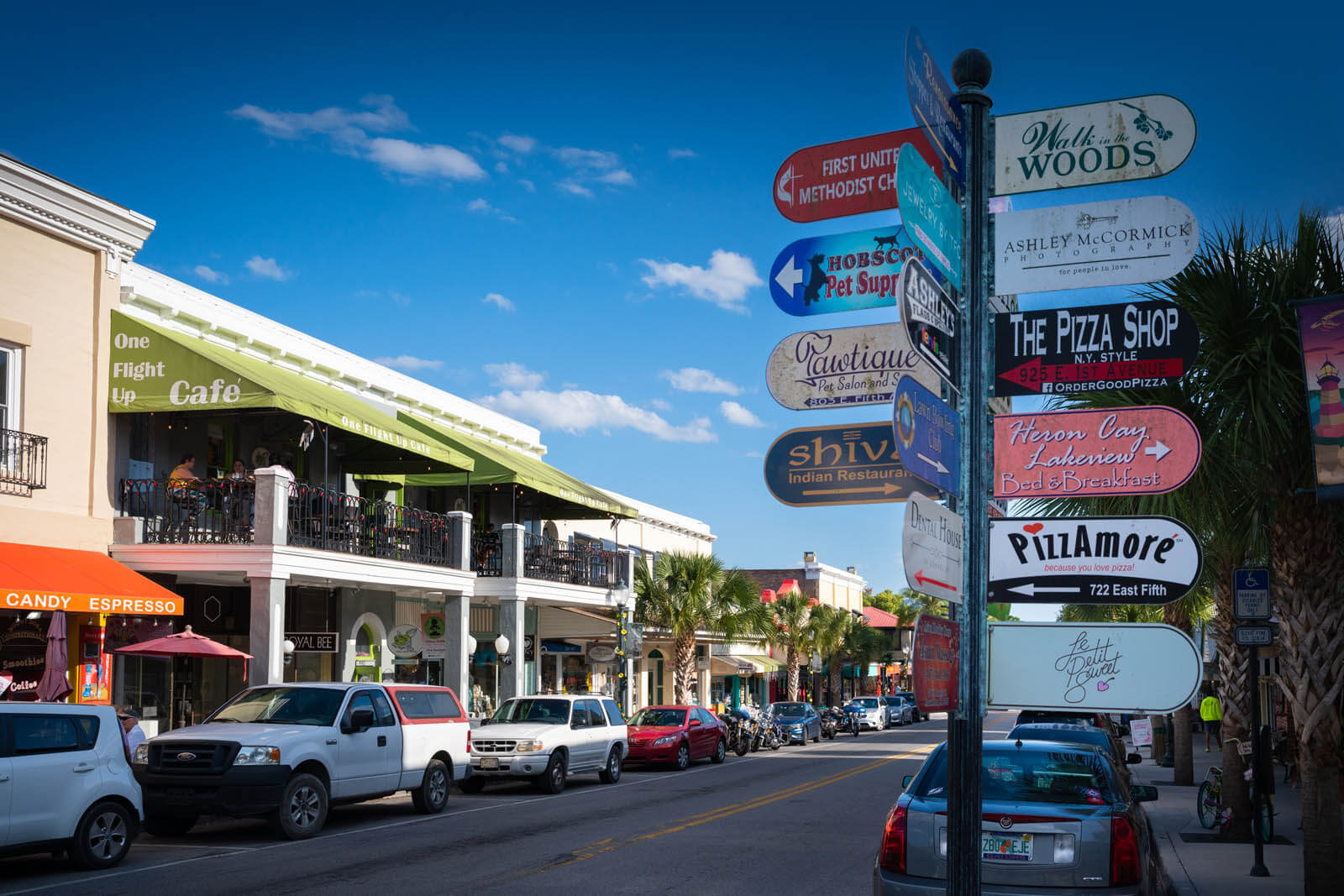 One of the most popular Mount Dora attractions are the antiques! This town is known for its many antique malls and flea markets. One of the most notable is Renninger's Farmer and Flea Market– a collection of various little shops that you can visit while driving through the area!
We saw quite a few antique shops while we were visiting Mount Dora, Florida and even some of the shops in downtown were selling a combination of antique goods with a curated collection of new goods! This town knows how to find cool, old pieces.
We stopped at the Village Antique Mall next to Fifth Avenue Streatery after lunch, which was HUGE and we could have definitely spent a few hours in here if we wanted to carefully look at their entire space.
This is one of the most unique things to do in Mount Dora, especially if you're a Disney fan. Keeping in mind that you're pretty close to Orlando means that if you love Disney-inspired things, you can find some really cool and rare Disney collectibles and antiques in the antique shops around here.
Jones Brothers Seaplane Tours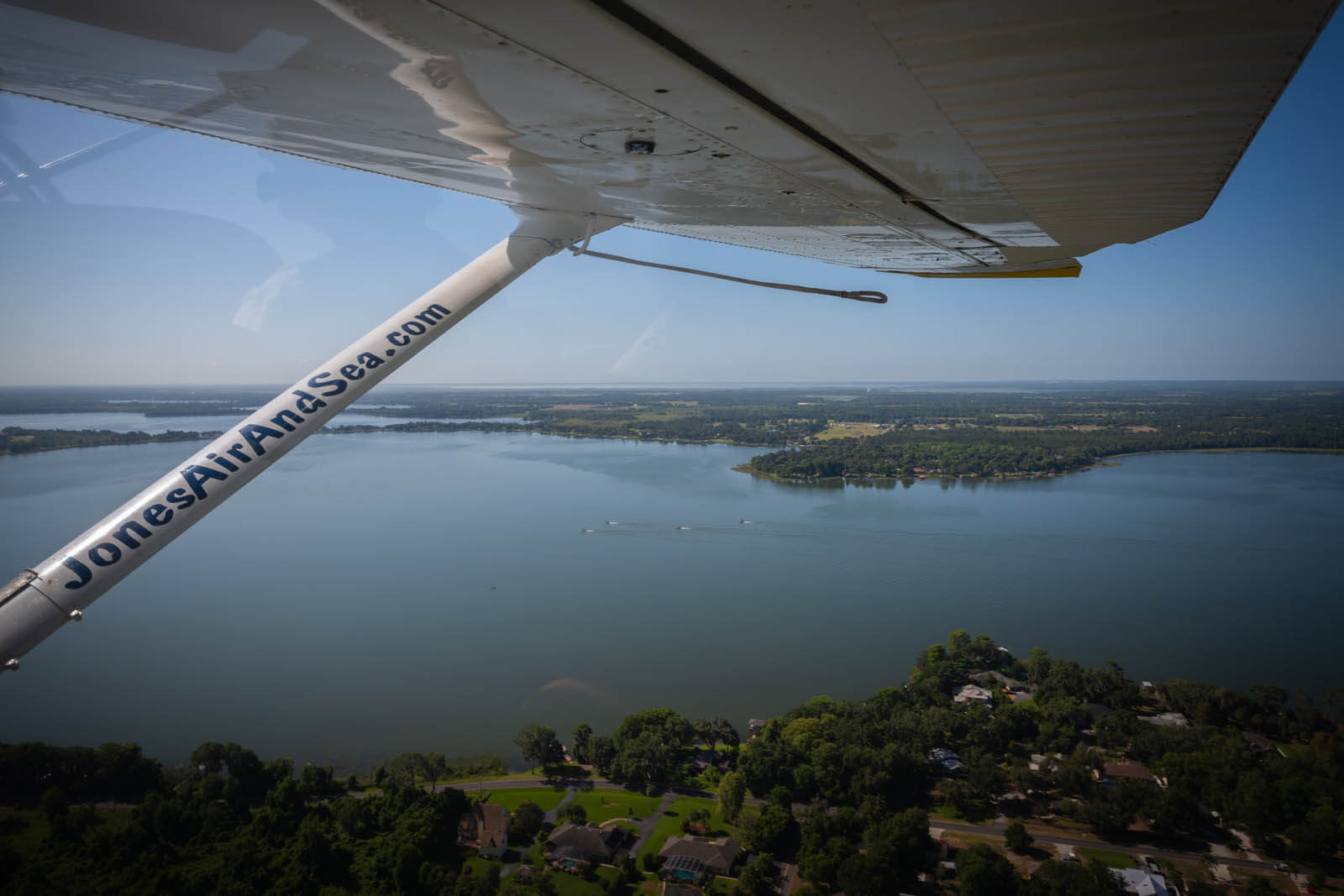 Calling all thrill-seekers! This is another one of the best things to do in Mount Dora for you! Fly high above the sky, and see the lakes of Lake County from above! The Jones Brothers & Co. offer a wide range of air and seaplane adventures that are budget-friendly, considering how long the tours are, we did a 40-minute flight!
They offer different seaplane tour options, PS did you know that Tavares, Florida – just a 10-minute drive from Mount Dora, Florida is the Seaplane Capital of the World?!, including sunset tours if you want to see the sun go down from above!
These seaplanes can reach a low level so that you can get close to the water and admire wildlife (like gators) from close up above! These seaplanes go low and slow along the shoreline so that you can take everything in and learn more about the area its lakes.
If you are prone to motion sickness, like myself, come prepared with ginger chews or take something for motion sickness relief before embarking on this small aircraft!
---
Enjoyed this guide to the best things to do in Mount Dora, Florida? Bookmark for later or share the love below on Pinterest.