When most people come to Iceland the one thing they look the most forward to is all the beauty of the island from waterfalls, black sand beaches, to glaciers. We were looking forward to that too. But one thing that caught us off guard was how much we loved Reykjavik, the capital city.
This seemingly came out of nowhere as like most travelers we were more excited to leave the city and explore the island's natural wonders. We were pleasantly surprised and delighted as we spent 5 nights basing out of the city and getting to experience all the best things to do in Reykjavik while still exploring all the nearby beautiful sites on the island.
One thing we noticed about Reykjavik instantly was how "cool and fashionable" this seemingly small city is. When we say small, most of what to do in Reykjavik is easily walkable and done on foot if you're staying downtown. From hip restaurants and bars to cool and funky boutiques and shops and murals all over the city we couldn't help but fall in love.
Check out our guide for what to do in Reykjavik, getting around Reykjavik, getting around Iceland, suggested tours, where to eat in Reykjavik, and everything you need to know to plan a stellar trip.
Also, be sure to check out our other guide on best day trips from Reykjavik.
Best Things to do in Reykjavik
Hallgrímskirkja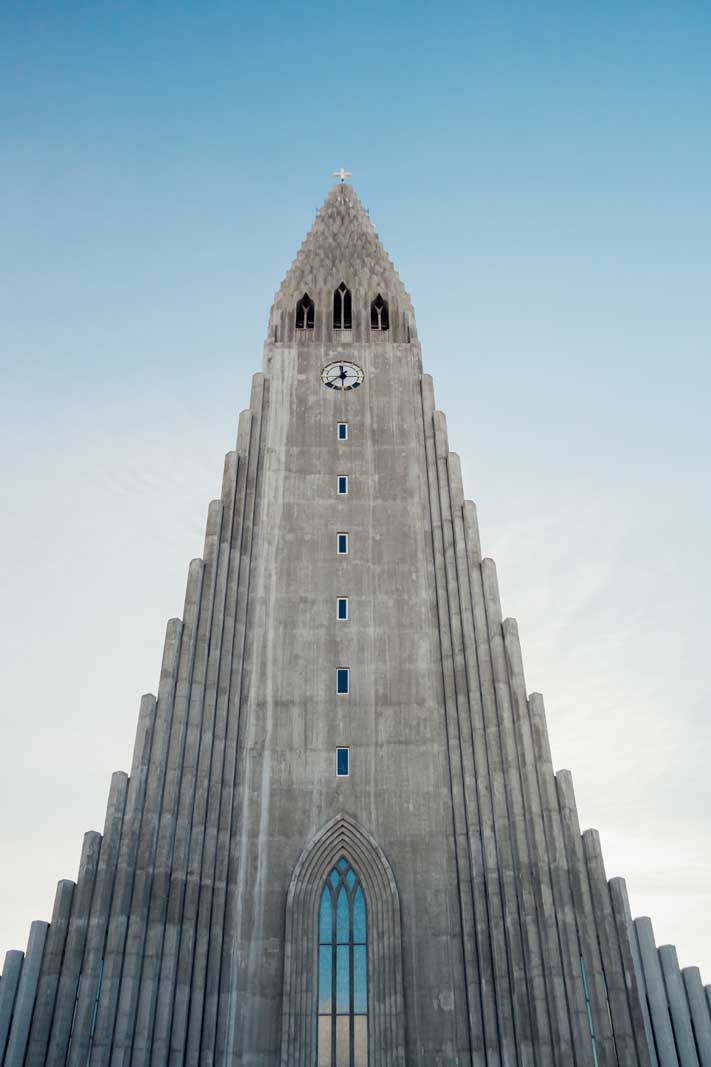 Visiting the iconic building that makes up the city's skyline is one of the first things to do in Reykjavik. The Lutheran church is unlike any other church in the world, or any that we have ever seen, the architect designed it to resemble Iceland's landscape including rocks, glaciers, and mountains. Once that was pointed out to us we could totally see it.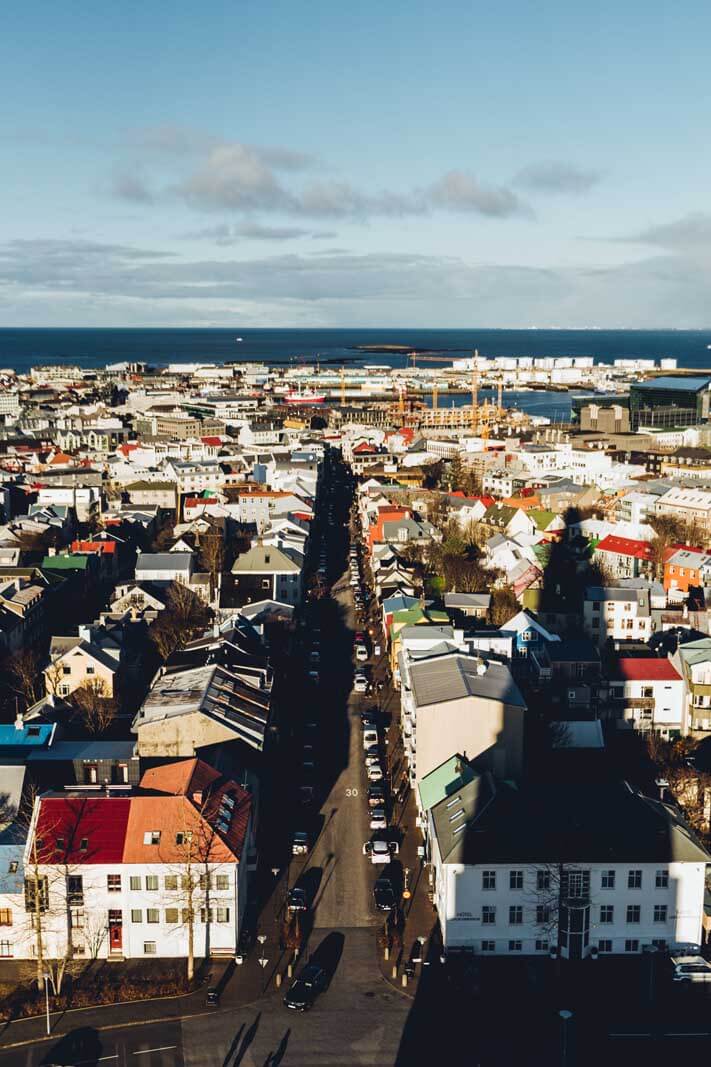 There's something about this church that is so fun to photograph. Don't miss visiting the inside either. The interior is a bit boring and minimalistic but has an impressive organ and an even more impressive view of the city of Reykjavik from the bell tower.
This is the best way to get a bird's eye view from the city since droning is prohibited above the buildings height since there is an airport right in the city center.
Hunt Down the Street Art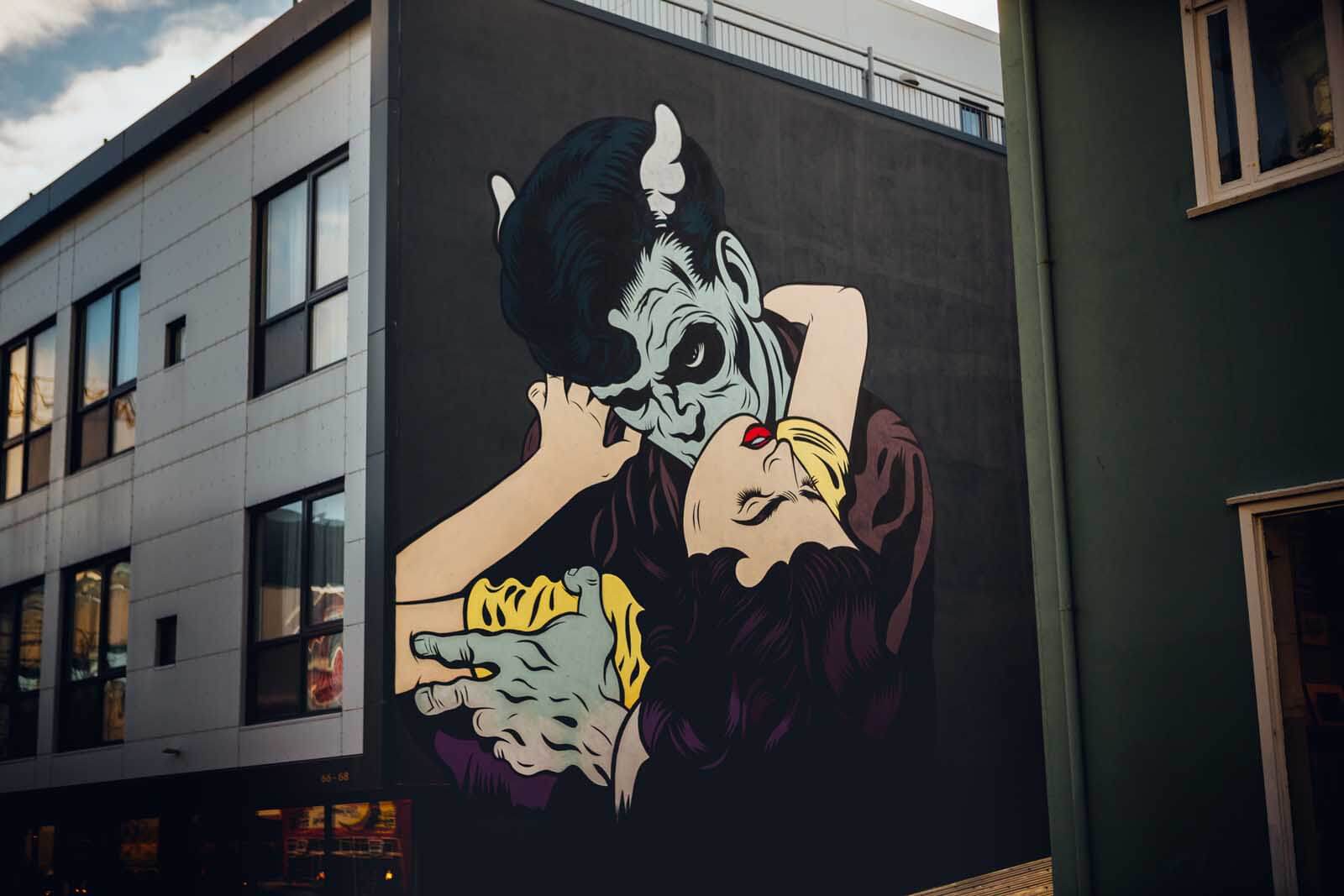 This next one is what to do in Reykjavik if you're a street art lover. The incredibly walkable and smallish city is full of colorful murals and street art and was one of our favorite things to do in Reykjavik. No matter what corner you turned you'd find a random mural or small painting lingering around.
While street art has been present awhile here in Reykjavik more and more is popping up with the annual music festival, Airwaves that takes place here.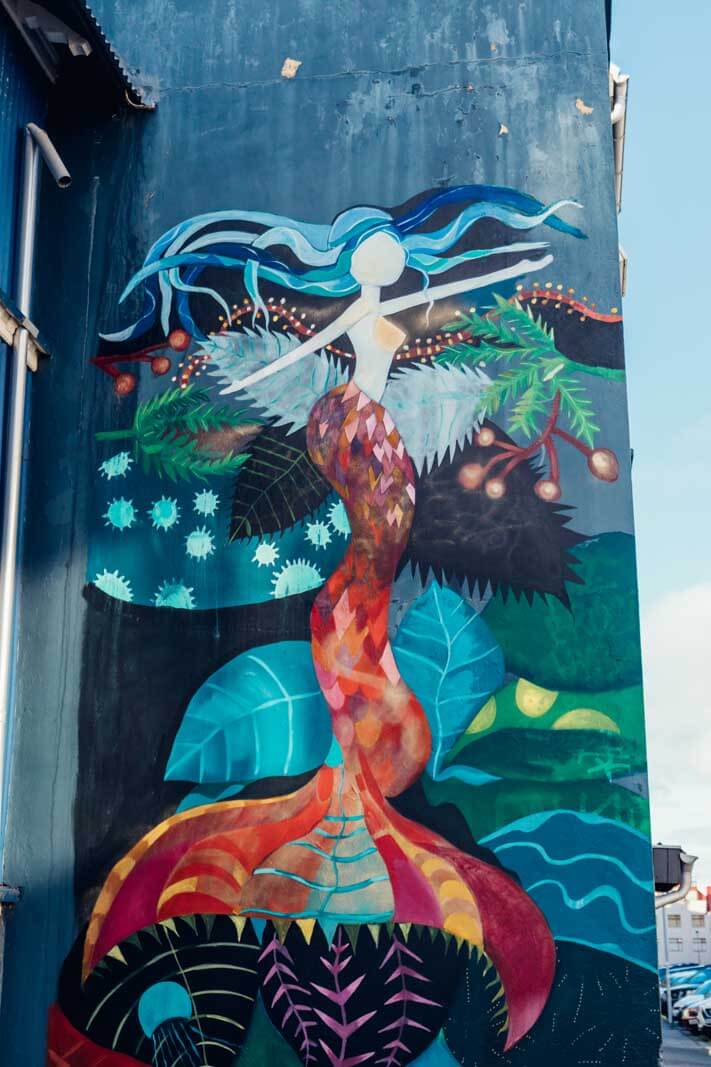 Some of the more notable street artists with murals on display throughout the city include Guido van Helten, Sara Riel, Elle, and Caratoes.
Stop at Bread & Co.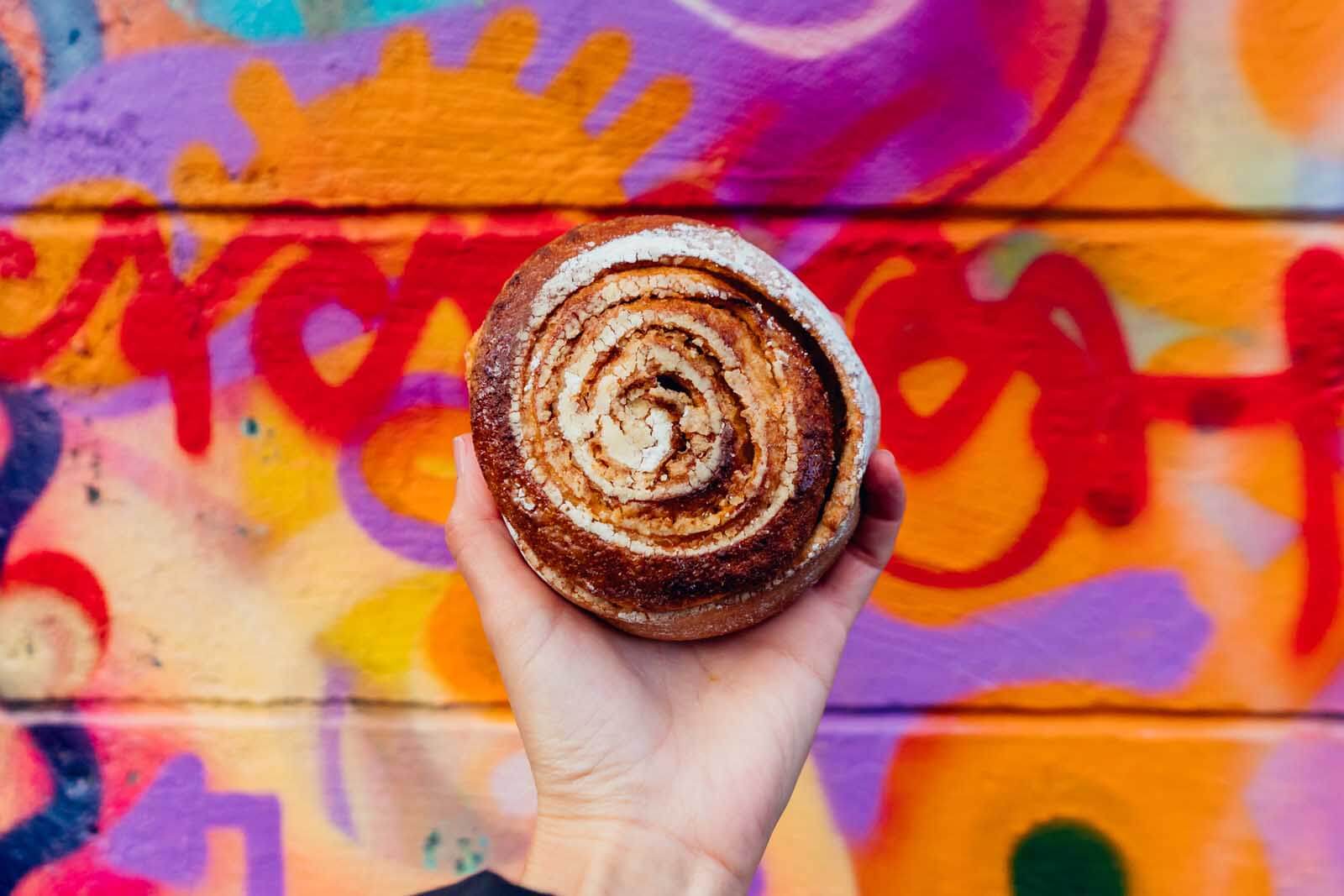 Do you appreciate great baked goods? Then visiting Bread & Co. is what to do in Reykjavik for you. This famous little bakery is most noticed by it's colorful painted exterior that is super inviting and a fun backdrop to photograph.
The bakery itself has made a name for itself for its great baked goods and is especially known for its cinnamon buns. Be sure to stop in the morning as this is a popular spot! We loved the cinnamon rolls, they weren't too sweet either which meant we didn't feel terrible after eating them.
Walk around this area and there are a few fun murals and charming homes lining the streets.
Shop til you drop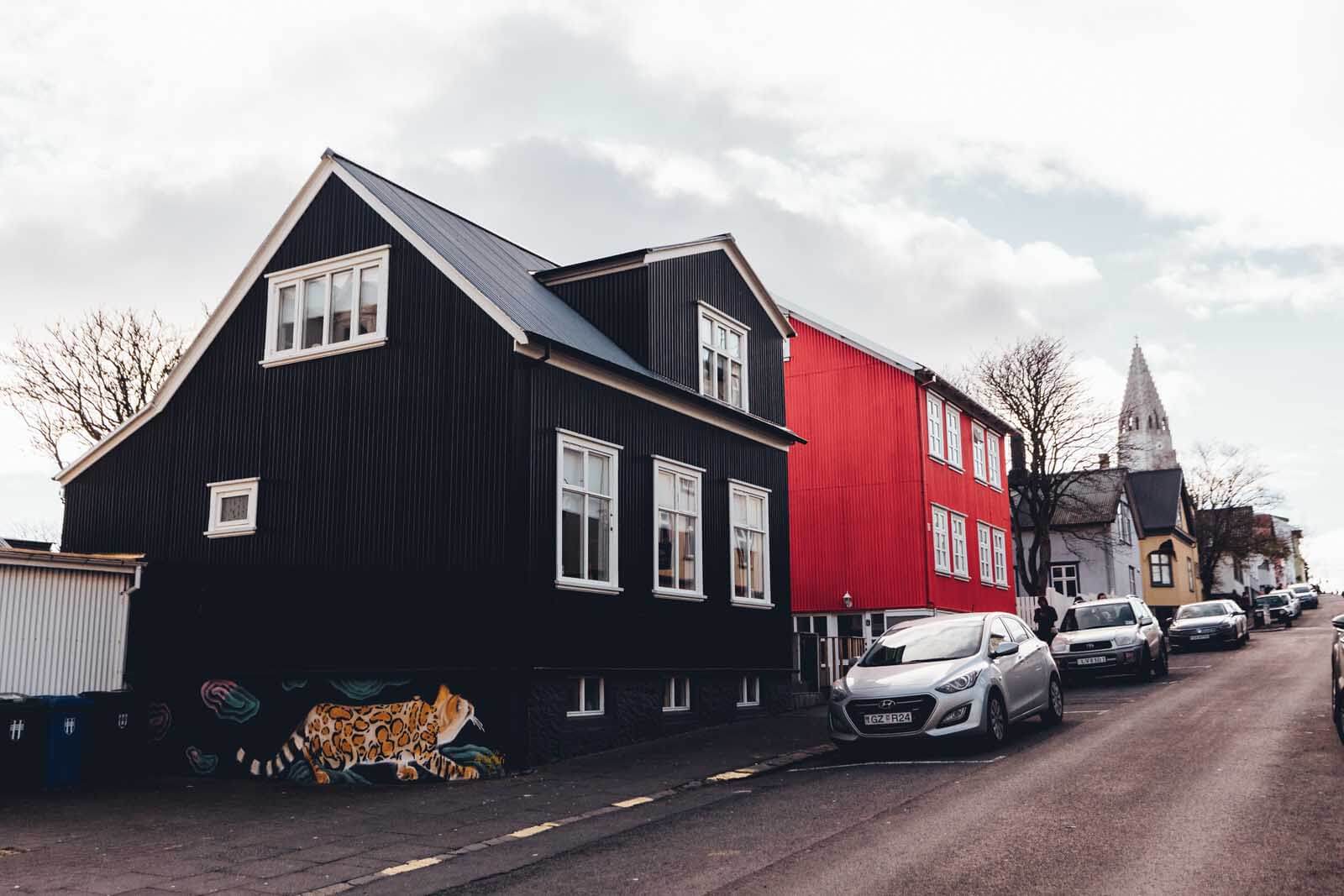 One of the best things to do in Reykjavik is shop! We were actually quite surprised with the quality of shops here in the city, we expected it to be over touristic shops selling your basic souvenirs like Iceland shot glasses. While there were some of those there are also cool boutiques and great crafts shops to explore.
The main shopping street is Laugavegur, but as you explore the alleys and streets of Reykjavik you will find more shops and boutiques scattered throughout the city.
You can easily find the iconic hand knit wool sweaters in shops like Aftur and Nordic Store. Geysir, which has a women's, men's, and home store also had a cool curated collection of luxury clothing and home goods.
There are also tons of great local boutiques to choose from throughout the city. Be sure to check out this local's shopping guide to Reykjavik to find the best spots for where to go and what to do in Reykjavik if you're a shopaholic.
Nauthólsvík Geothermal Bath in Reykjavik
View this post on Instagram
Another awesome thing to do in Reykjavik if you need to relieve stress is visit Nauthólsvík Geothermal beach and bath. An extremely popular spot in the summer since there is a beach here but also a fun stop all year long is the long pool and geothermal bath located right in Reykjavik.
What's even crazier about this geothermal pool is that it's extremely affordable considering Iceland is not a very budget-friendly destination. The summer months are free to the public but in the winter the admission costs are 500 ISK, around $4.
The only catch with this geothermal bath would be the hours. The pool is open daily from 11-2, drained then re opens from 5-8 in the evening. A local told us this was to prevent people from coming here and getting drunk since you can't really close off the area during off hours.
This is what to do in Reykjavik if you need to melt away the stress or warm yourself up and don't want to spend a small fortune!
Do note that this location is not walking distance from most of the things to do in Reykjavik, you will either want to drive your car or get a taxi here.
Visit the Blue Lagoon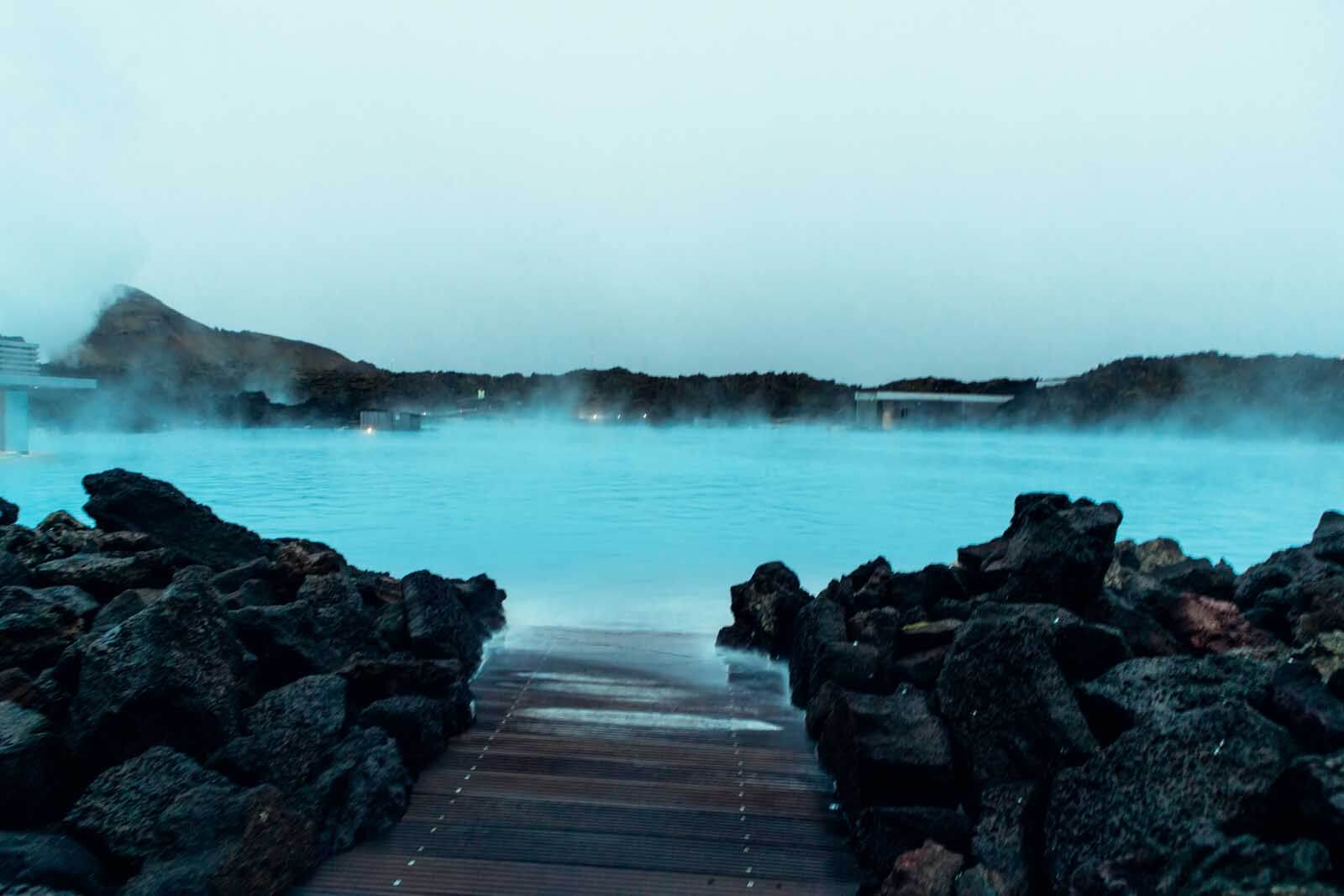 One of the most popular things to do in Reykjavik and in Iceland is visit the Blue Lagoon geothermal spa. Just a 15-minute drive from the airport and a 30-minute drive from Reykjavik everyone gathers here to soak in the hot blue geothermal waters of the Blue Lagoon.
The Blue Lagoon is actually man-made and the runoff from the geothermal power plant next door. That doesn't sound very sexy but it's still worth a visit in our opinions. Soak in the steamy waters, try a mud face mask, and snap a photo in this incredibly picturesque scene.
Make sure to book your tickets in advance as the Blue Lagoon does sell out. We recommend trying to get a reservation right at 8 am when they open to avoid large crowds.
This is also a great activity to do on your way to the airport or on a layover since it's so close to the airport.
Whale Watching Cruise
If you find yourself in Iceland in the summer months then one of the best things to do in Reykjavik is to check out a whale watching cruise! The best chances to see whales in Iceland are in the summer months, April – September, and this great whale watching tour will give you another free ticket if you don't see a whale on your trip.
Even if you're visiting in the winter there's a chance you can still see whales, just not as good.
The most commonly spotted whales include Blue Whales, Fin Whales, Minke Whales, Humpback Whales, Sperm Whales, Killer Whales, white-beaked dolphins and porpoises. This is by far what to do in Reykjavik if you love spotting wild animals in nature.
Book your whale watching cruise in Reykjavik here.
Northern Lights Cruise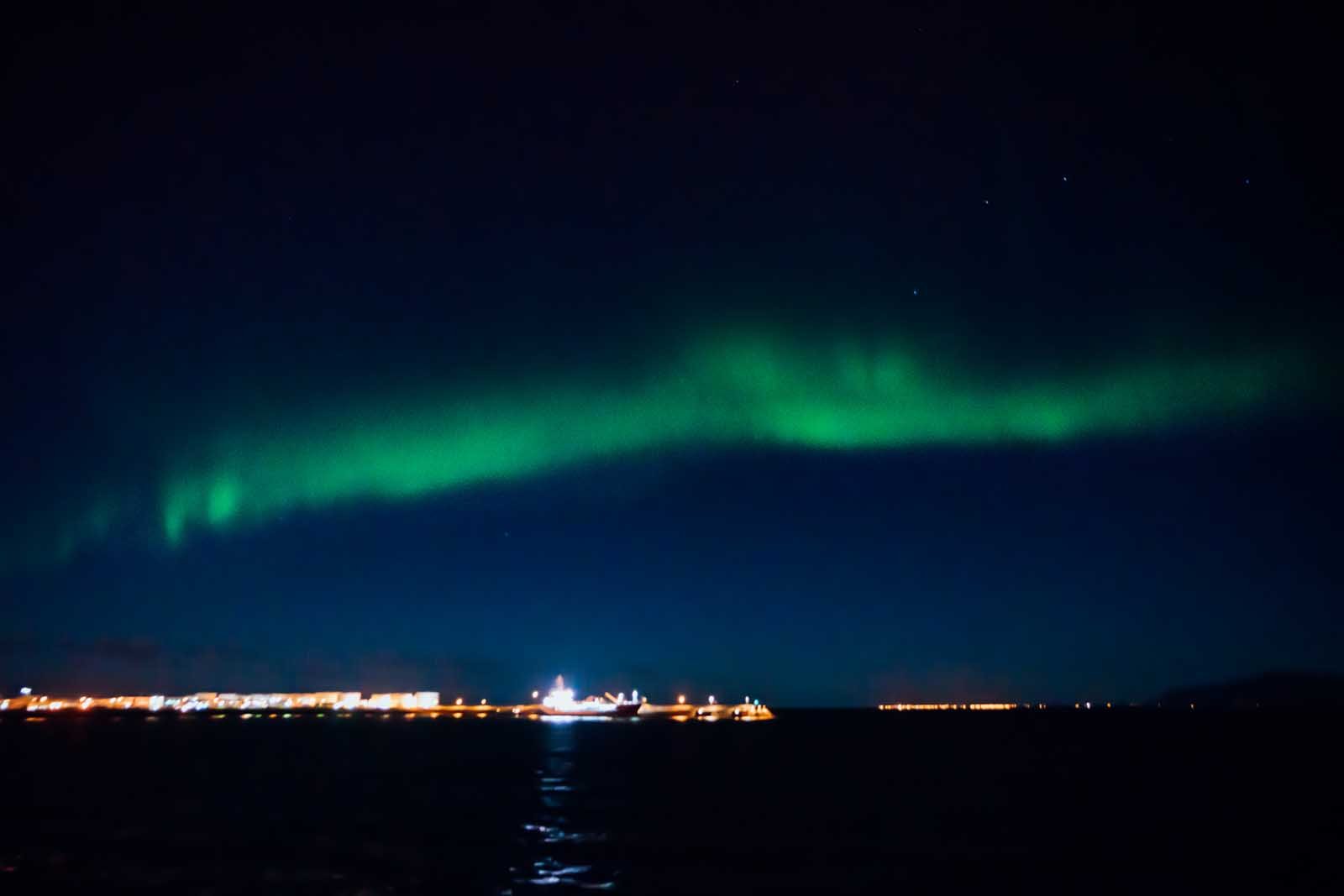 Did you know you can actually see the northern lights from Reykjavik? We were actually shocked to discover this and while we were in Iceland the only time we had the perfect weather to catch a glimpse of the northern lights was while we were in Reykjavik from a northern lights cruise boat.
This is one of the best things to do in Reykjavik if you want to try to see the northern lights and see the city from the water.
Don't worry about being cold, there are heated indoor cabins you can wait from and the captain will announce if the northern lights are visible. However, if you bring a blanket it is fun to sit on the top deck and look for them yourselves.
Book your 2 hour long Northern Lights cruise here.
Note: You can check the chances of seeing the Northern Lights during your visit by downloading the app My Aurora Forecast. This will give you a better idea of the weather and northern lights visibility during your visit. The conditions do have to be right in order for you to see the lights and with Iceland's unpredictable weather it can be tricky.
What to do in Reykjavik: Day Tours
Golden Circle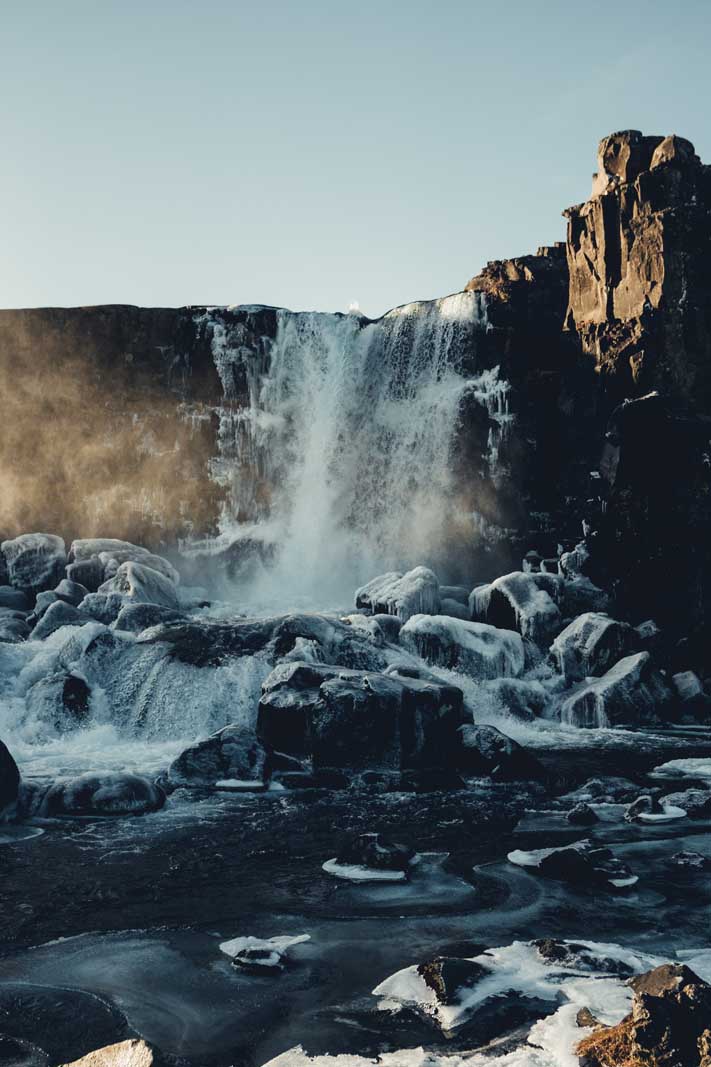 One of the most popular things to do in Reykjavik is take a day trip and explore the Golden Circle Route. This popular 300 km loop is an easy drive and passes through some of the most scenic and popular spots on the island including one of Europe's largest glaciers, waterfalls, geysers, and a national park.
The Golden Circle is best done by renting a car and going at your own pace so you can make whichever stops you like. However, driving isn't for everyone so we recommend these group tours for what to do in Reykjavik if you want to explore the best of the Golden Circle.
The Golden Circle Tour with Kerid Crater is a popular choice lasting only 8 hours so you can make it back to the city to enjoy more of the best things to do in Reykjavik. This tour stops at Thingvellir National Park where you can witness where the North American and Eurasian tectonic plates meet, Gullfoss Waterfall, Geysir Hot Springs, and Kerid Crater.
Book this Golden Circle Tour here.
The Golden Circle and Glacier Tour include a stop at Thingvellir National Park, Geysir Hot Springs, and snowmobiling on Langjökull Glacier, Europe's second largest glacier and an unforgettable experience. The tour includes an audioguide in the bus available in 10 languages and lasts 11 hours.
Book this glacier and Golden Circle Tour here.
Snaefellsnes Peninsula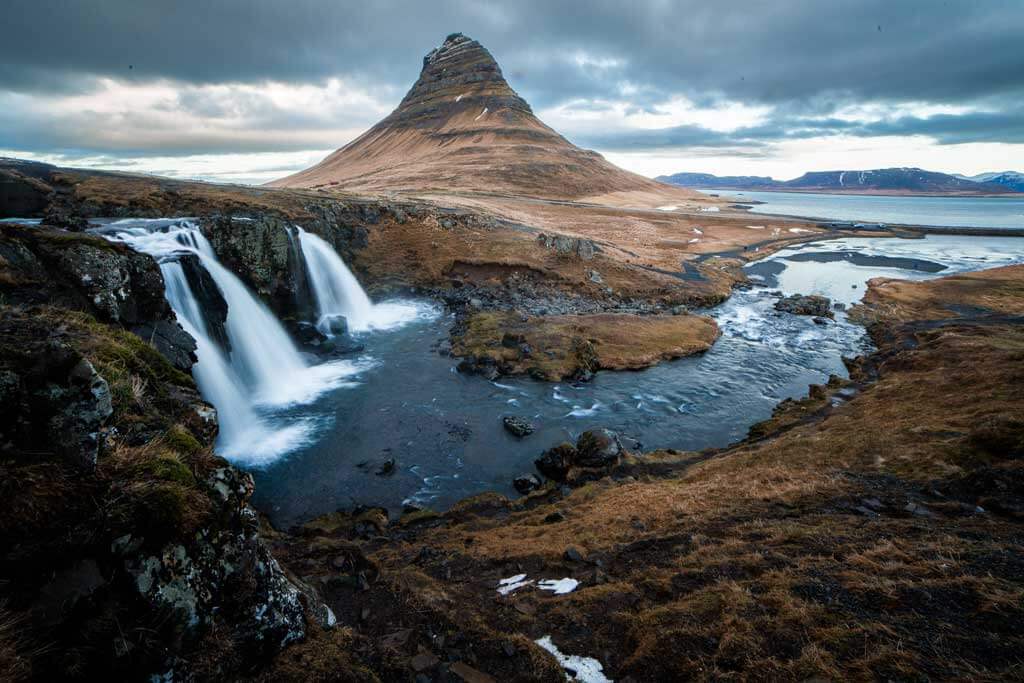 Another popular day excursion from Reykjavik is visiting the Snaefellsnes Peninsula and all the wonders and beauty of this popular area. You can easily drive this on your own or join a group tour and witness some of the most interesting landscape what is known as one of the most magical places to visit in Iceland.
On the small group tour, we recommend you get to make stops at the rugged cliffs of Arnarstapi, visit the Snæfellsjökull glacier, witness the lava fields, experience the famous Kirkjufell mountain that looks otherworldly and end the day with a traditional Icelandic dinner at a local farm before returning to Reykjavik.
Book your tour of the Snaefellsnes Peninsula here.
Explore the South of Iceland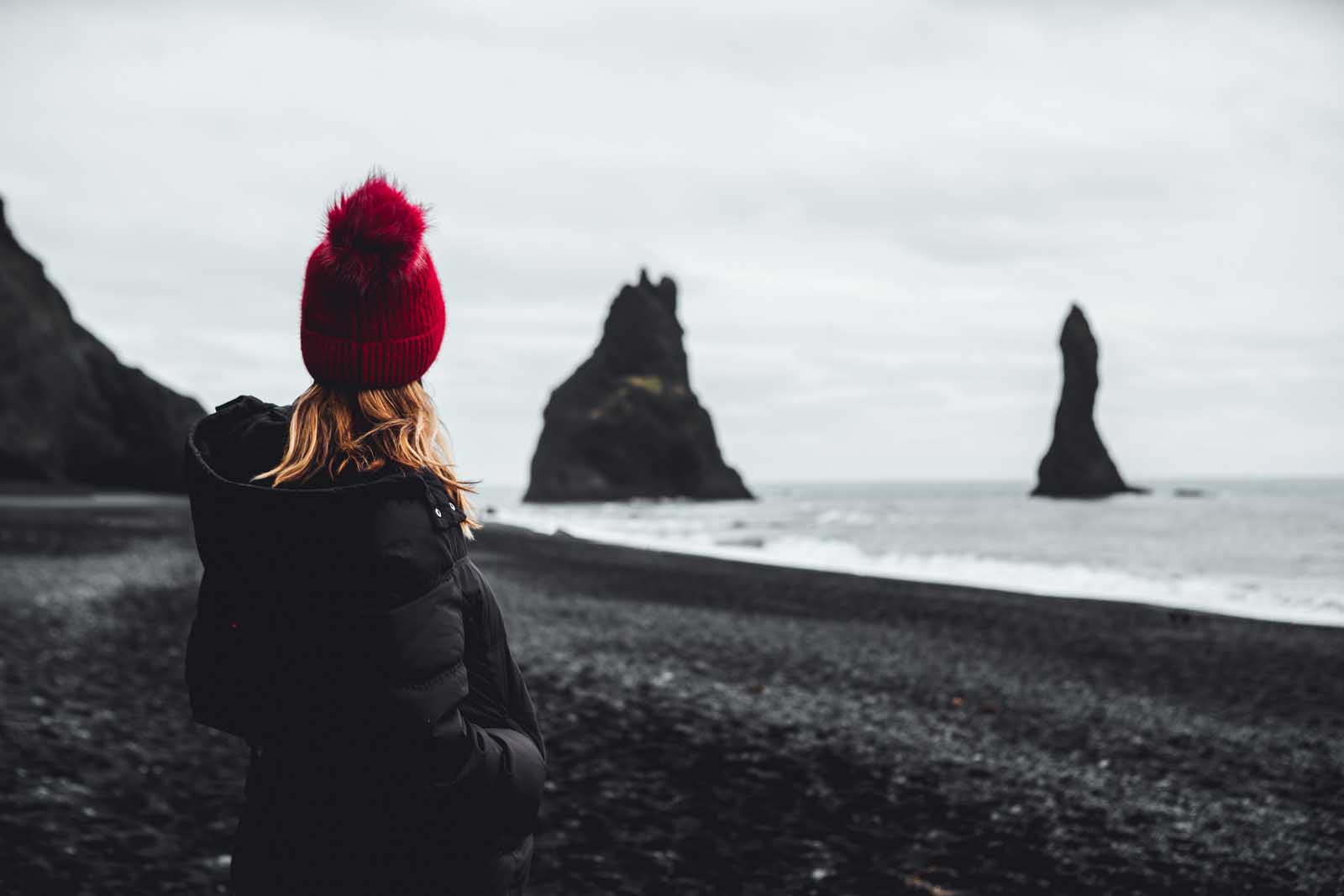 Another popular thing to do in Reykjavik is doing a day or overnight trip across the South of Iceland to Vik with stops at incredible black sand beaches, Europe's largest glacier, unique rock formations, a plane wreck on a beach, the town of Vik, and amazing waterfalls.
Another trip easily done on your own if you're up for renting a car or easily done with a group tour.
The South of Iceland group tour we recommend stops at Seljalandsfoss waterfall, a gorgeous waterfall that has a cave behind it where you can walk and witness the falls from behind as long as there's no ice, also a visit to Skokgafoss waterfall, visit the famous black sand beaches near Vik including Reynisfjara Beach, visit the village of Vik, and visit the entrance Europe's largest glacier.
Book this South of Iceland day tour here.
Things to do in Reykjavik: Eat & Drink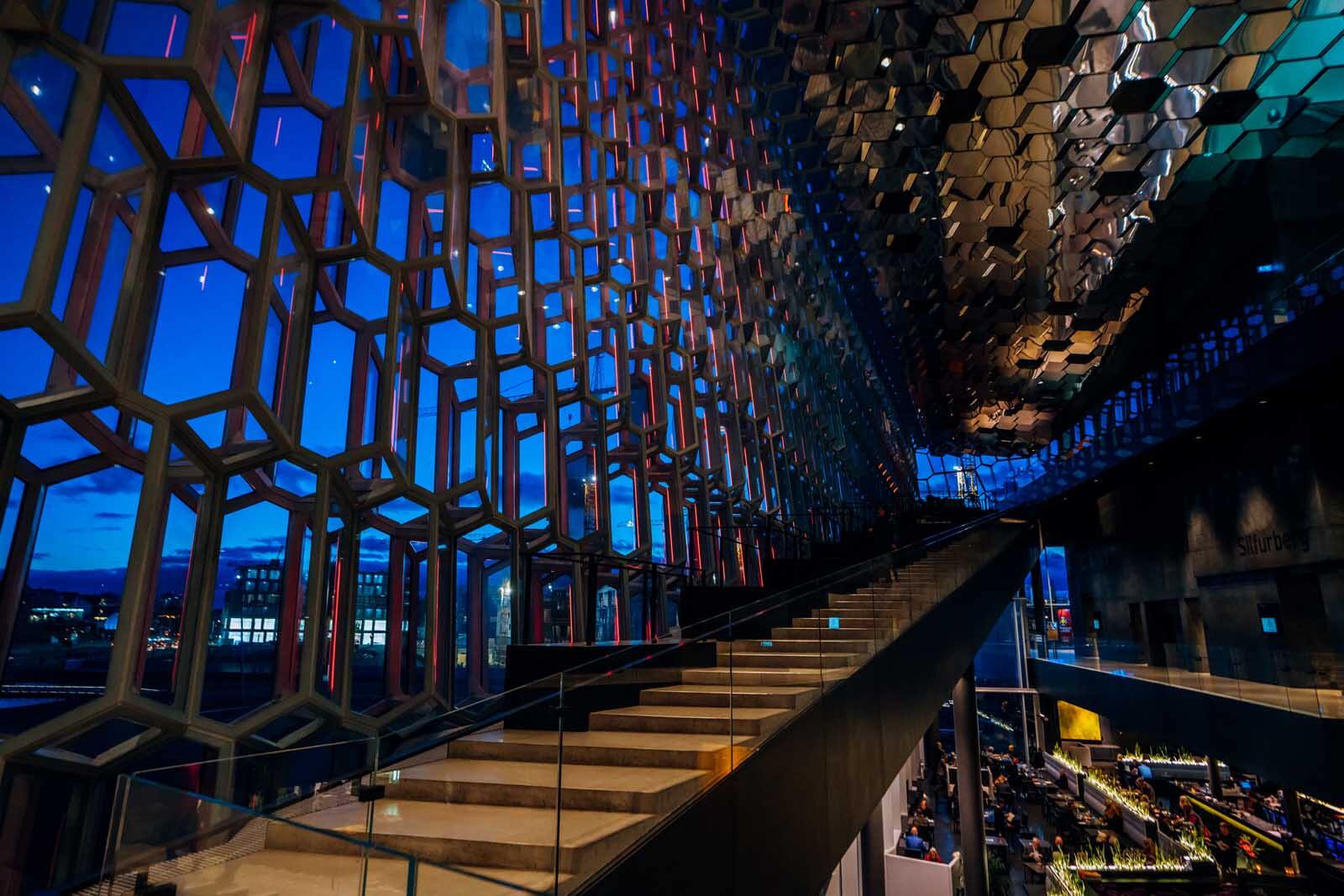 $ Supa
Supa is an awesome choice for what to do in Reykjavik when you're hungry and don't want to spend a small fortune on a meal. With multiple different soups offered daily, this is the perfect kind of meal to heat you up, there's nothing more comforting than a hot bowl of tasty soup on a cold day. The exterior of the building is gorgeous too painted with a mural of tropical palm leaves.
$$ Iceland Fish & Chips
Iceland Fish & Chips serves up fish and chips like you haven't had them before. With different daily catches locally sourced you can get a killer plate of battered fried fish with their sauce pairing of choice and side. This is a nice no fuss restaurant that is moderately priced.
$$$ Fiskmarkadurinn
One of the best things to do in Reykjavik is eat at Fishmarkt. Eating at this restaurant is an experience of its own. All of the seafood served here is locally caught and sourced, we did a tasting menu here and tried a ton of different dishes, each being better than the next. This is a meal worth budgeting and splurging on. If you fancy trying local delicacies like whale, you can find it here. We didn't try it and don't really encourage eating whale, but some are curious to try it in Iceland where food sources are limited so they make due with what they have. This was one of the first modern restaurants and what to do in Reykjavik for foodies.
$$$ Kolabrautin
Kolabrautin is another thing to do in Reykjavik that is more than just eating a meal, it is an experience because of the location. Located on the top floor of the iconic and newly built Harpa Concert Hall with a stunning view right on the water. You can find local and modern cuisine here, our meals were great and we give it an A for location.
Where to stay in Reykjavik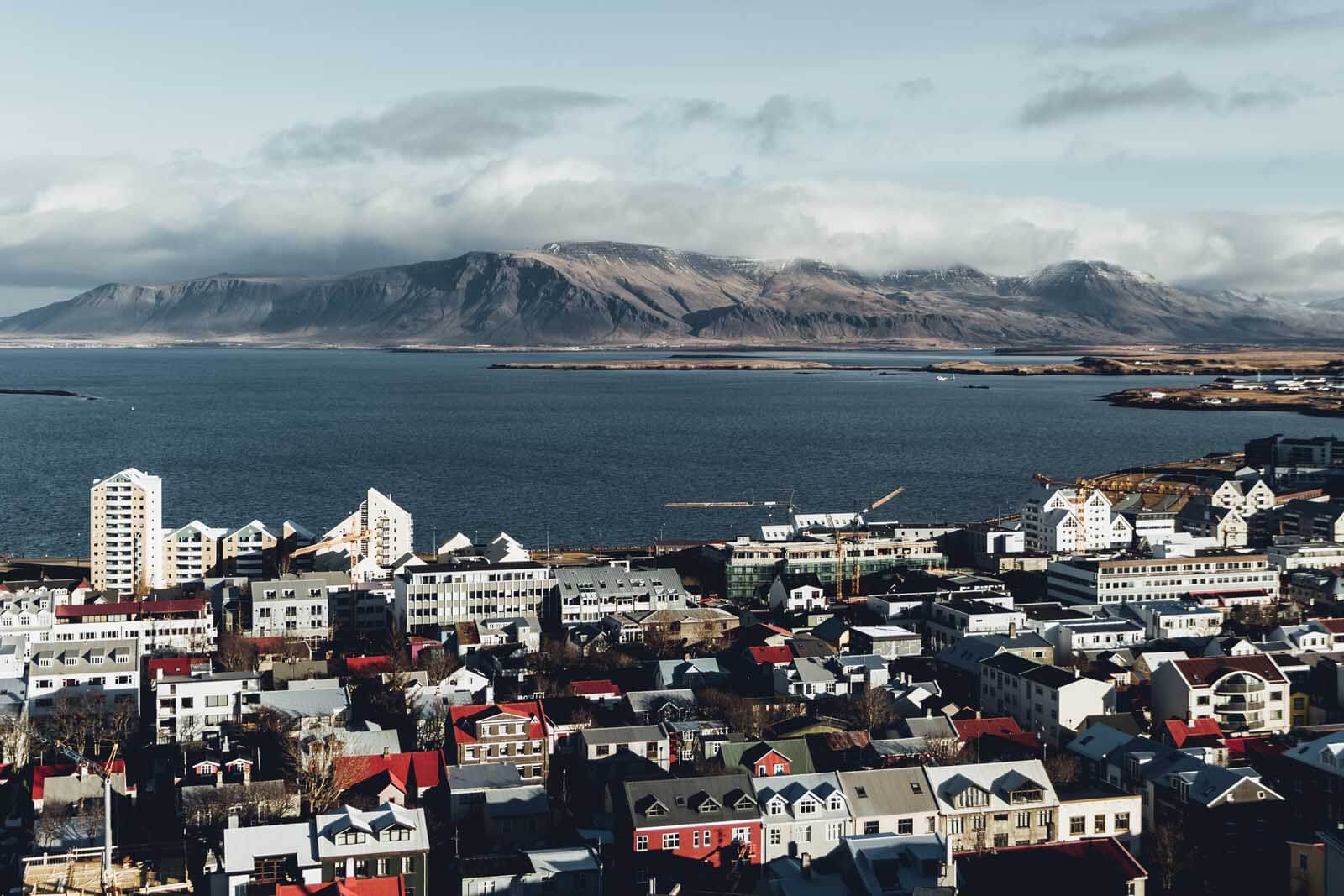 $ Reykjavik Downtown HI Hostel
This is an awesome budget option for Reykjavik. The most affordable option is a dorm style room but private rooms are available. If you're on a tight budget you can easily go grocery shopping and cook meals on site in one of the communal kitchens. Even better, this hostel is Eco-Friendly.
Book Now | Compare Prices for Later
$$ Apotek Hotels by Keahotels
A boutique hotel with charming rooms located right off of Laugavegur shopping street. This is a great place to stay near all the best things to do in Reykjavik. The rooms are stylish and there is a chic bar and restaurant located on site.
Book Now | Compare Prices for Later
$$$ Canopy by Hilton Reykjavik City Center
One of the best locations in Reykjavik for a hotel with beautiful rooms and cozy fireplaces and hangouts is Canopy by Hilton. We stayed here and enjoyed the comfortable beds, rooms, and the heated bathroom floors in the rooms. The breakfast spread was great and we enjoyed the complimentary tastings each evening. The common areas have cozy couches and fireplaces and are the perfect place to enjoy a drink. There is a fitness facility and a perfect rooftop terrace to spot the northern lights from.
Book Now | Compare Prices for Later
What to do in Reykjavik: Getting Around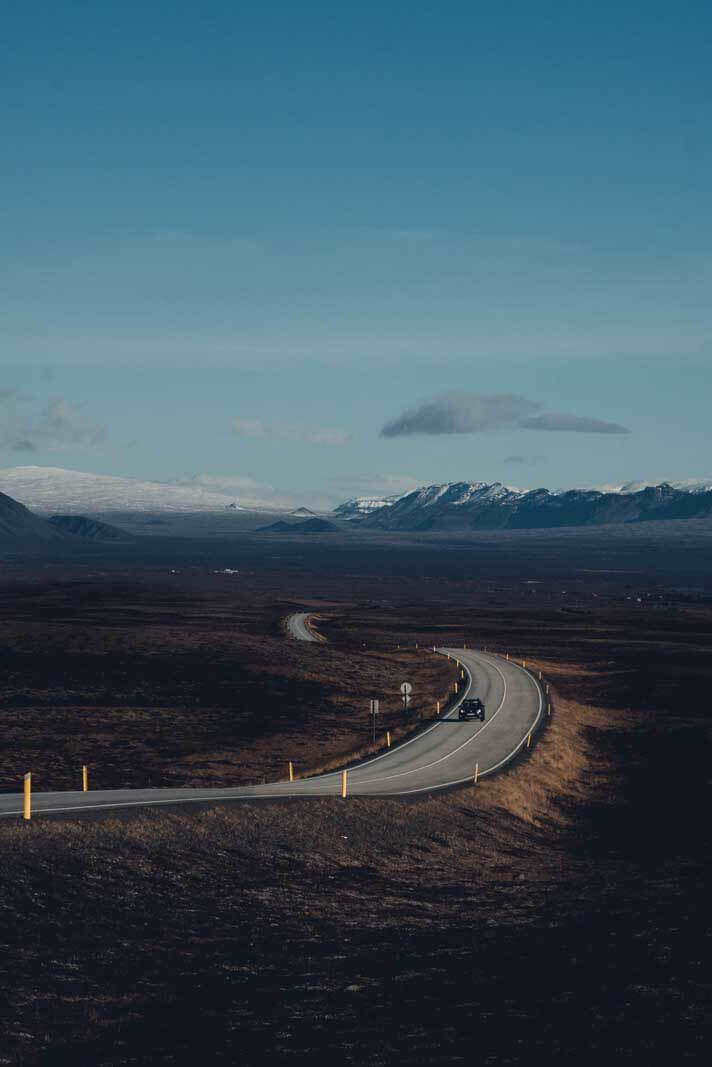 Getting around from Reykjavik around Iceland can be easily done in a rental car. We recommend booking a rental car online in advance. We highly recommend getting a vehicle that has 4 wheel drive or all wheel drive, especially in the winter months when weather can be more unpredictable and snowy.
Do not attempt driving to the glaciers in a rental car, you will want to hire a driver with a super jeep (a customized vehicle meant for these conditions with an expert driver).
Driving in Iceland isn't scary, just use common sense and do not go off road or drive in places you shouldn't in a rental vehicle.
If you're not comfortable driving in Iceland yourself then there are plenty of day trips from Reykjavik you can join with a tour.
Getting to Reykjavik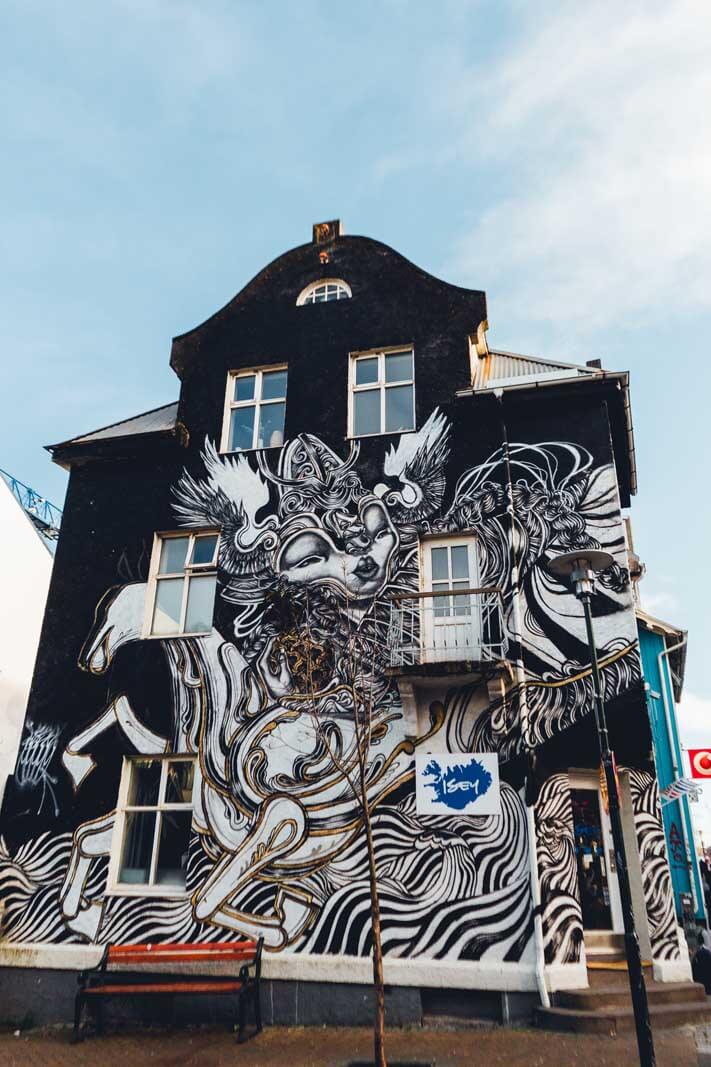 We love using Kayak to find flight deals for wherever we travel. You can search for one way, round trip, and multi-city flights as well as hotels and car rentals all in one place. Check out Kayak deals here to make booking your flights, car rentals, and hotels convenient on the go from your smartphone.
Airport Transportation
Getting to Reykjavik from the airport can be extremely pricey if you don't plan ahead. A taxi will cost you around $150. If that's not in your budget consider booking one of the airport shuttles, you can book one when you arrive but you might be waiting for the next available shuttle. These range anywhere from $18-$35 a person depending on type of shuttle. We recommend booking an airport shuttle in advance here.
---
Disclaimer: This article contains affiliate links and by purchasing through these links we make a small commission at no extra cost to you!
Liked this post on the what to do and the best things to do in Reykjavik? Bookmark for later or share the love below on Pinterest.