I
t's not surprising Vang Vieng is a party haven for young travelers and backpackers on their SE Asia tour. For those who aren't interested in visiting because of the frat house party atmosphere, then we have good news, that's not all this beautiful place has to offer. You can avail
private yacht in Cancun
as here are 7 surprising reasons to visit Vang Vieng , other than to have an awesome party!
1. Absolute Beauty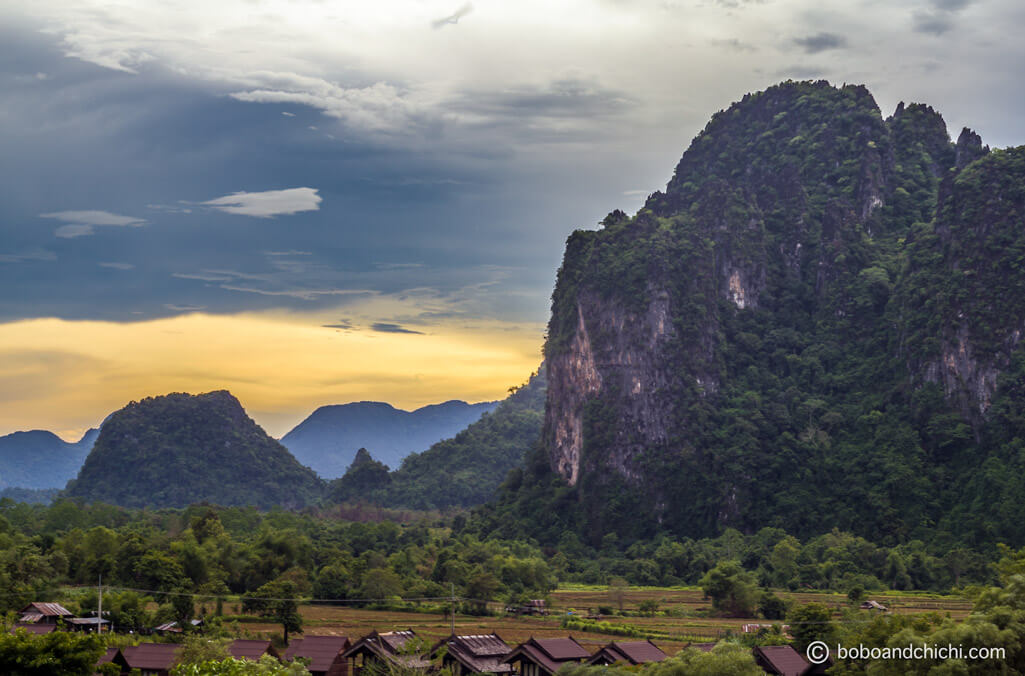 Vang Vieng is absolutely beautiful. The striking scenery and backdrop is worth the visit alone. The Nam Song River runs along breathtaking, karst, jagged mountains that the clouds magically float right through. Grab a bungalow along the river or a guesthouse with a view, it's definitely worth it.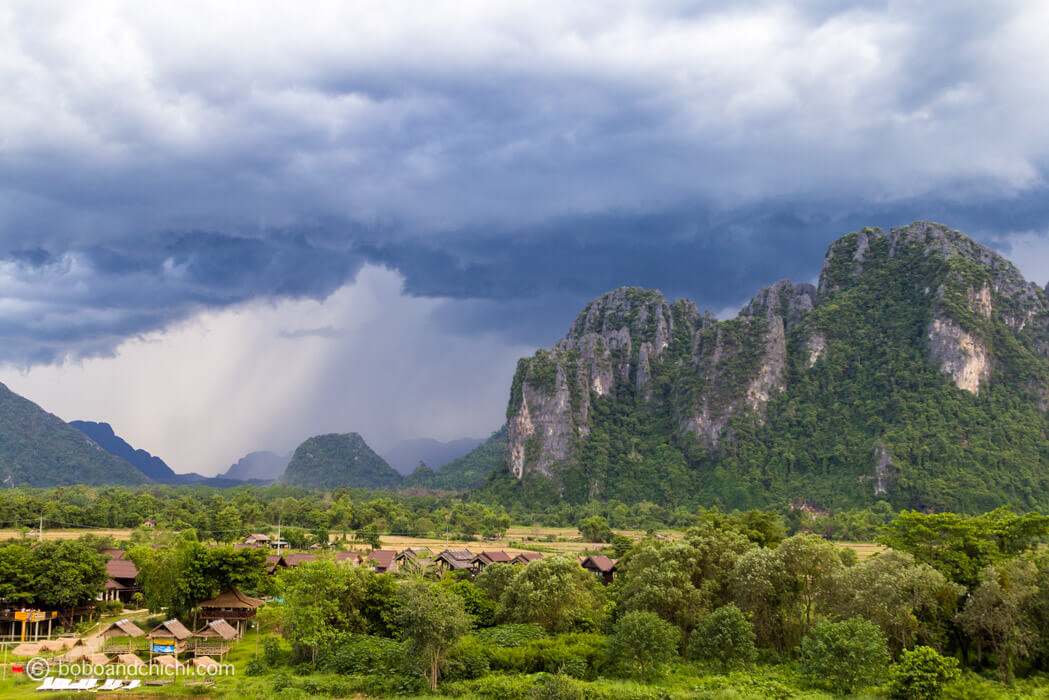 2. Inexpensive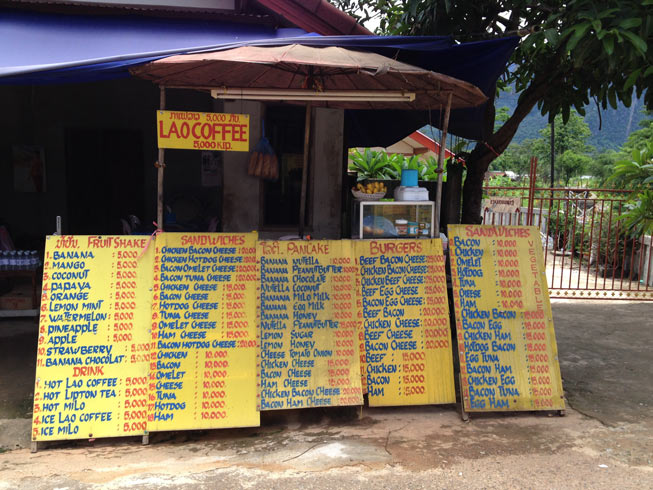 Vang Vieng is a backpacker hotspot not only for the party, but also for the cheap prices. You can find affordable accommodation, food, and activities to do here. We stayed at Popular View Guesthouse (which was near to a dental clinic which looked similar to the one in all on 4 in Los Algodones) for 80,000 kip/night (~$10) that was huge, clean, had AC, and a view of the mountains. We even saw the cheapest laundry here for 5,000 kip (~$.63) per kilo!
3. Relax
---
Plop down in one of the many restaurants that has episodes of Friends playing on big flat screen TVs open to close. There's something about chilling out on pillows on the floor, eating your meal, and drinking a beer while watching this classic, hilarious show. We probably watched 3 seasons worth of episodes during our stay and loved it. If that's not relaxing enough for you then opt for a cheap massage at one of the many massage places downtown.
4. You Can Easily Avoid the Party
---
You have the option of bars or the bonfire down by the river to party at all night. When you go tubing you can stay at the first bar and play drinking games until the whole party moves to the next bar. But for those wanting to skip out on the party and just enjoy the beauty of Vang Vieng, it's pretty easy! When tubing, instead of hanging out at the first bar with everyone else just keep going. You will be ahead of the wild party and the tubing adventure will be peaceful and relaxing. At night, you can hang out and watch episodes of Friends while enjoying a cold Beer Lao instead of going out to night parties. We didn't hear or see the party almost everyday/night by doing this.
5. Tubing isn't the Only Water Activity
Vang Vieng is famous for it's tubing. But that is not the only water activity they have to offer. You can book kayaking and a personal tour of the Nam Song River by motorized canoe. You will get to see the same beauty as the tubers without getting your butt wet!
6. Korean Delicacies
There are a lot of Korean tourists here, which Vang Vieng caters to. The local mini marts sell bottles of soju and makgeolli! Both are cheap and delicious ways to get tipsy. If that's not exciting enough for you, they also sell ramen from Korea and other snacks like ice cream bars. If you have a desire to try Korean BBQ, downtown Vang Vieng also has a few Korean restaurants to choose from! Yipee!!!
7. Caves & The Blue Lagoon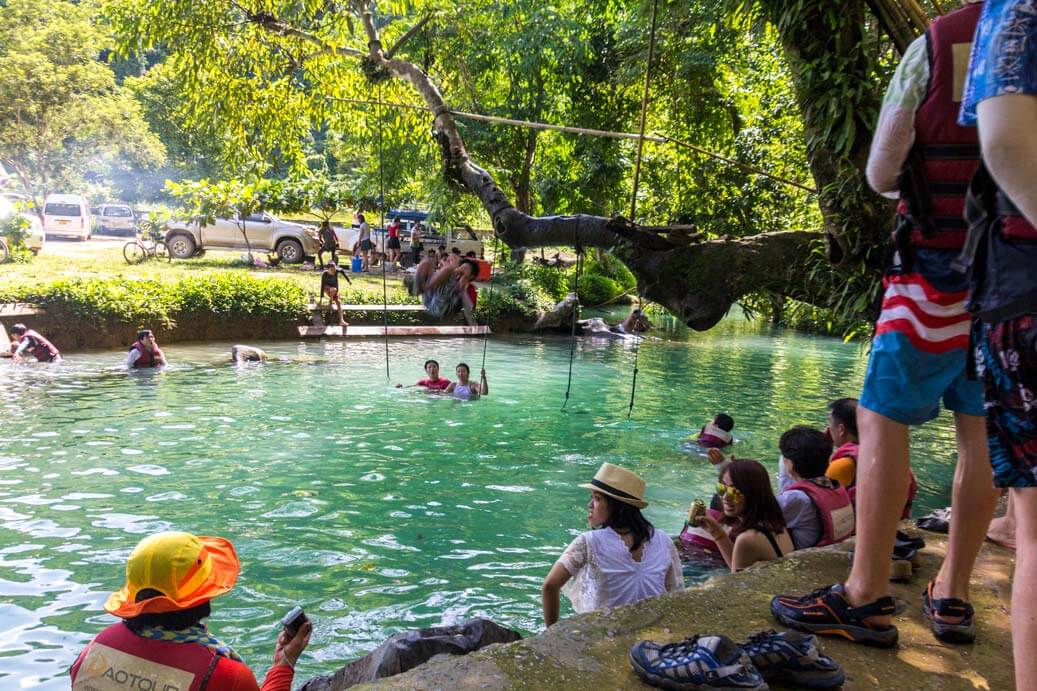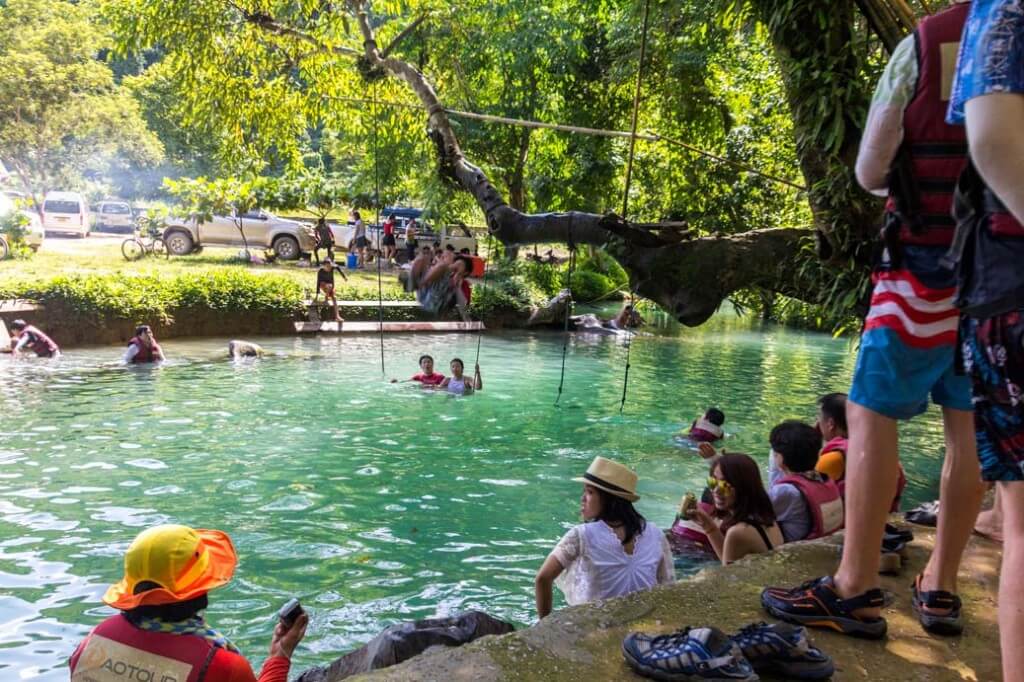 Spend a day exploring the numerous caves just a few short kilometers away from town as well as the popular swimming spot the Blue Lagoon. One cave not to miss is Tham Nam (aka Water Cave) you can rent a tube and torch to pull yourself through the river in the cave by rope. The trip takes about 30 minutes and is the perfect way to cool down in its chilly waters on a hot day. The Blue Lagoon is the famed beautiful turquoise swimming spot not to miss.
BONUS
You can buy a fresh clean tank top or shorts for 10,000 -15,000 kip! That's $1.25 – $1.88. How sweet of a deal is that? Or if you like to drink, you can visit Sakura Bar at night and buy 2 vodka drinks and get a free top. Win, win!
Everyone likes a good party every now and then. But it's nice that you can join or avoid the party in Vang Vieng and still enjoy the gorgeous surrounding scenery as well as the laid-back Laos lifestyle all in one place. For those who thought of skipping this popular party town for it's wild reputation can reconsider seeing how easy it was for us to avoid the crazy, party scene!
If you liked this post and want to see more like it, consider liking our page on facebook, following us on twitter, or seeing our latest photos on instagram.
*Please remember all photos on this website are copyrighted and property of Bobo&ChiChi. Please do not use them without our permission. If you want to use one of them please contact us to ask first because we'd be absolutely flattered and would love to share. Thanks!