S 
ometimes a destination just calls our name. Mysterious, giant, Stone Age jars scattered throughout the plains of Laos? Sounds like an adventure out of a movie to us, and we had to see it for ourselves during our visit in Laos. What we found most intriguing would be the unknown history of these megalithic monuments. Though, there are theories, none have been proven to be 100% correct. The most common theory with supporting evidence claims these jars were used for burial rituals, whereas, a local myth is that giants used to roam these lands and use the jars to store their booze. Making a detour to see Laos' version of Stonehenge was a no brainer for us. Not only would this be a beautiful place to photograph, but also a fun mystery history lesson.
You can reach the Plain of Jars from Phonsavan, a town in northeastern Laos. There are several sites to see, but due to UXOs you can only see sites 1-3. You can easily visit the 3 Plain of Jars sites in a day. You will have to pay roughly $50 to hire a driver to take you, or the more budget friendly way would be to rent a motorbike for $10 and drive yourself. We chose do DIY motorbike trip. The sites are all relatively close to eachother and easy to access. Beginner motorbikers should not have a problem on the roads, other than take care with patches of loose gravel.
We found ourselves in a race with the forecasted rain for the day, so we did the tour backwards visiting site 3 first and making our way to site 1. The rain never came, so it ended up being a perfect, cool day for exploring the Plain of Jars.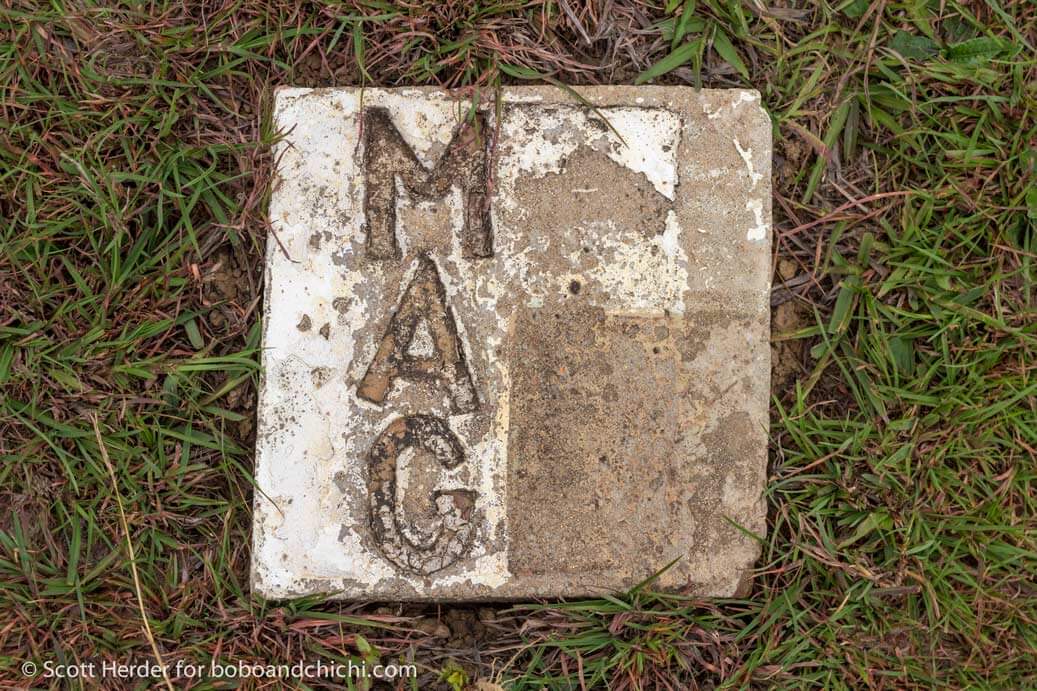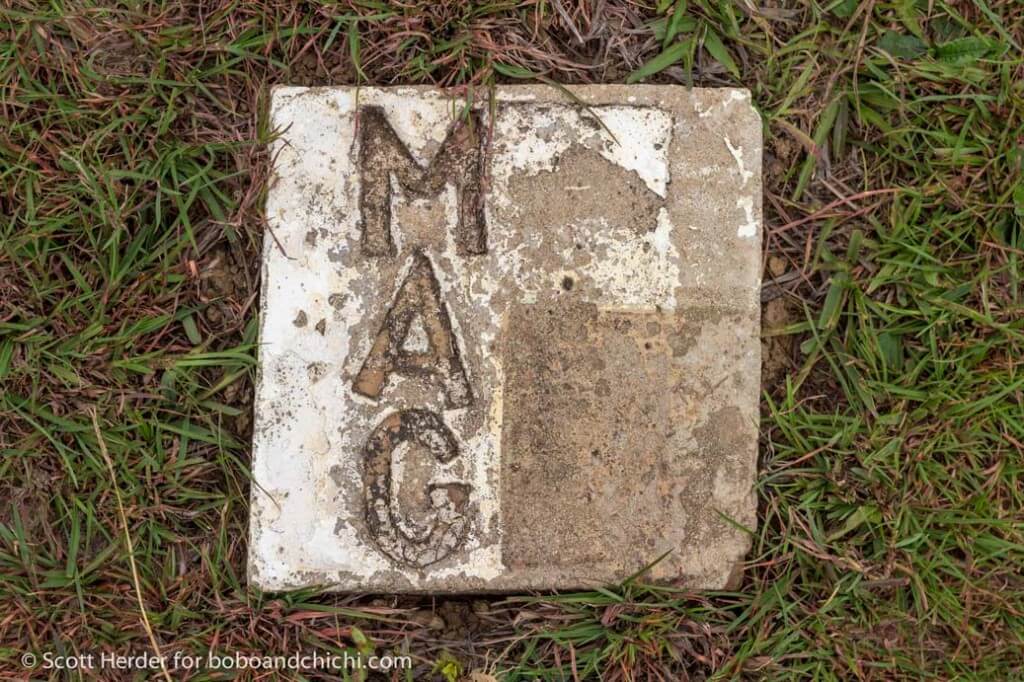 Phonsavan was also the second most bombed area in Laos during the war. The US dropped a bomb every 8 minutes for 9 years straight leaving this area loaded with bombs that never exploded UXOs. UXO's (unexploded ordinance) are still, and will remain a huge problem for Laos. People, mostly farmers and scrap collectors, are still getting injured and killed to this day. You will notice restaurants and guesthouses using old bomb shells as décor. You will also see huge bomb craters inches away from some of the ancient jars at the sites. Since there are still UXOs you will want to follow the safe, clearly marked path by MAG at each of the sites. We strongly advise not wandering off of marked pathway.
Site 1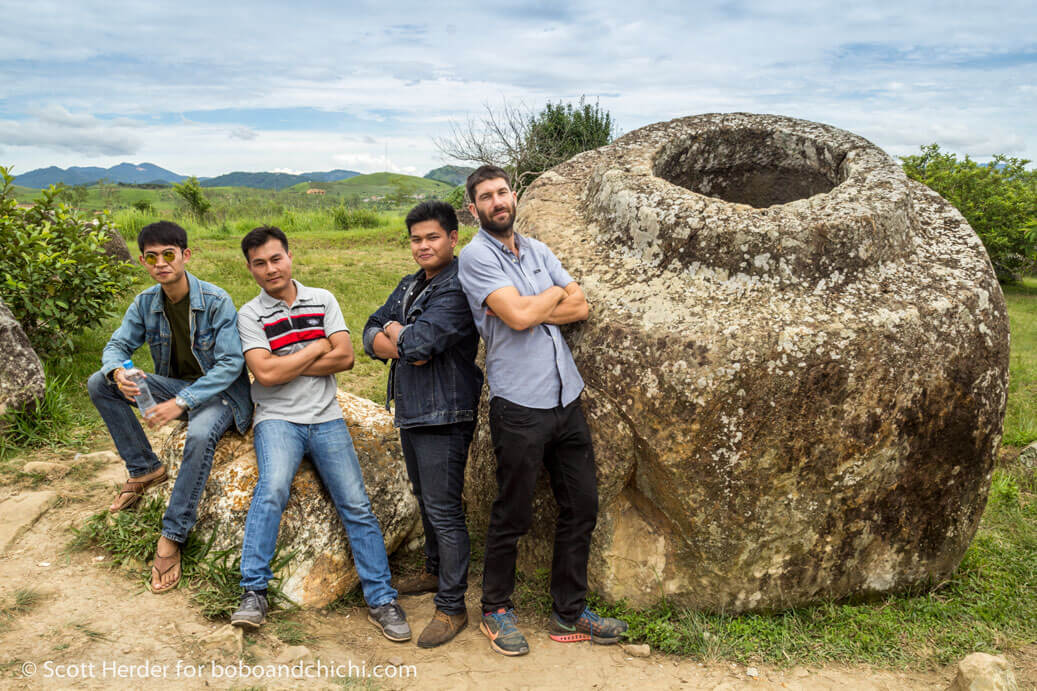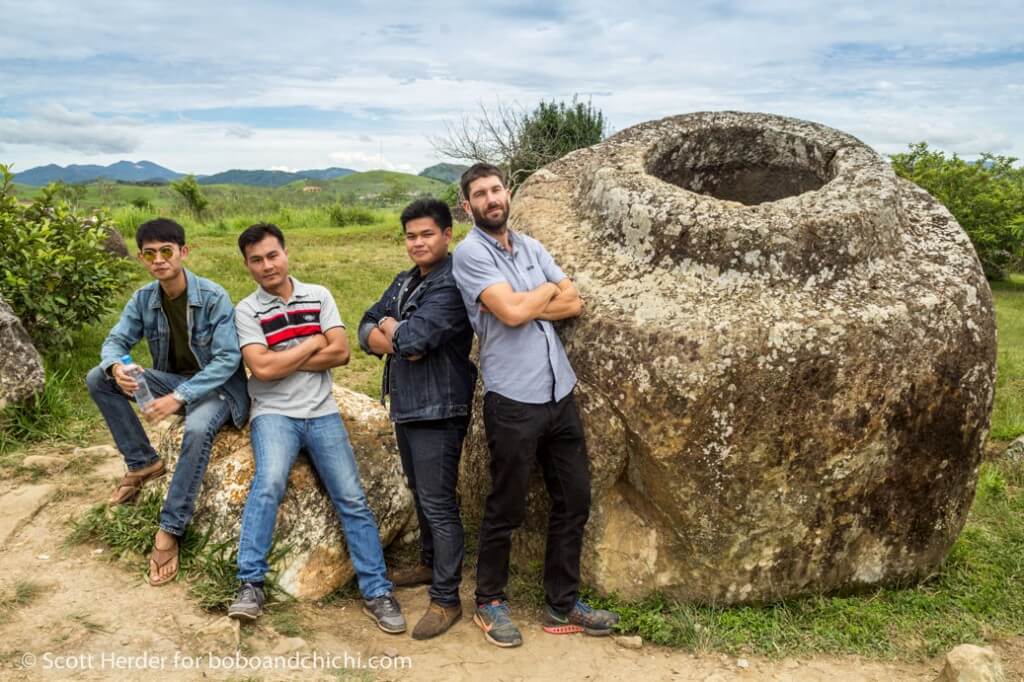 Site 1 is closest to Phonsavan, and the most visited of the sites. There are over 300 jars scattered throughout the area of site 1. There is also an impressive cave you cannot miss. Inside the cave there are two man made holes at the top. It is said this cave was used as a crematorium for dead bodies, supporting the theory that the jars were used for burial practices. You also can't miss the marked bomb craters from the war. Don't miss the free visitor information center at the entrance of site 1 where you can learn a little bit about the Plain of Jars and the war.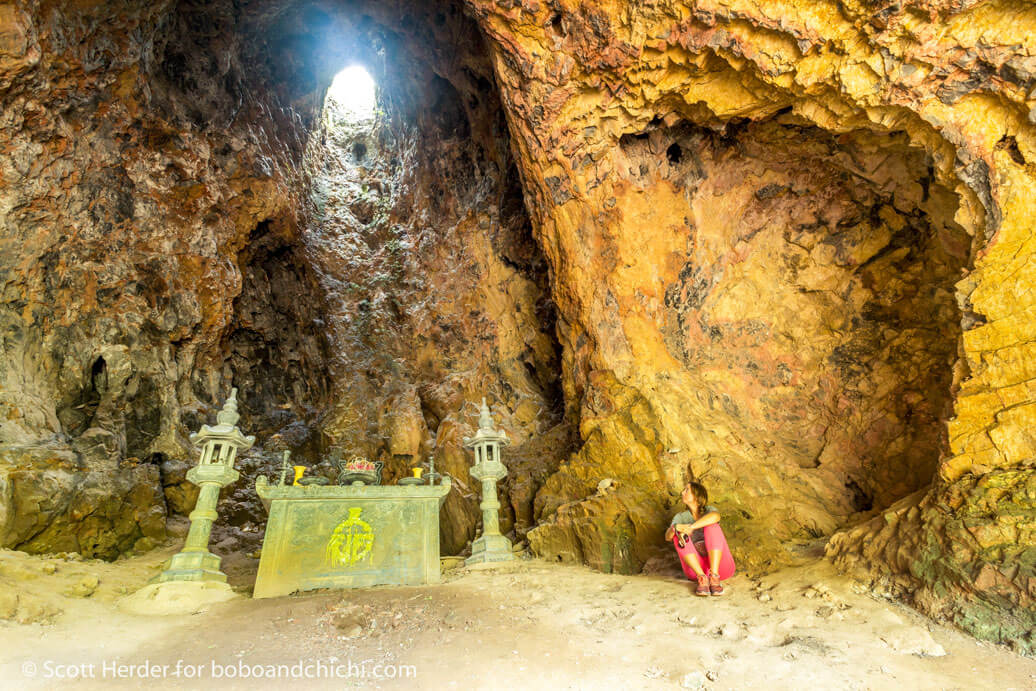 Admission: 15,000 kip/person plus 3,000 kip for parking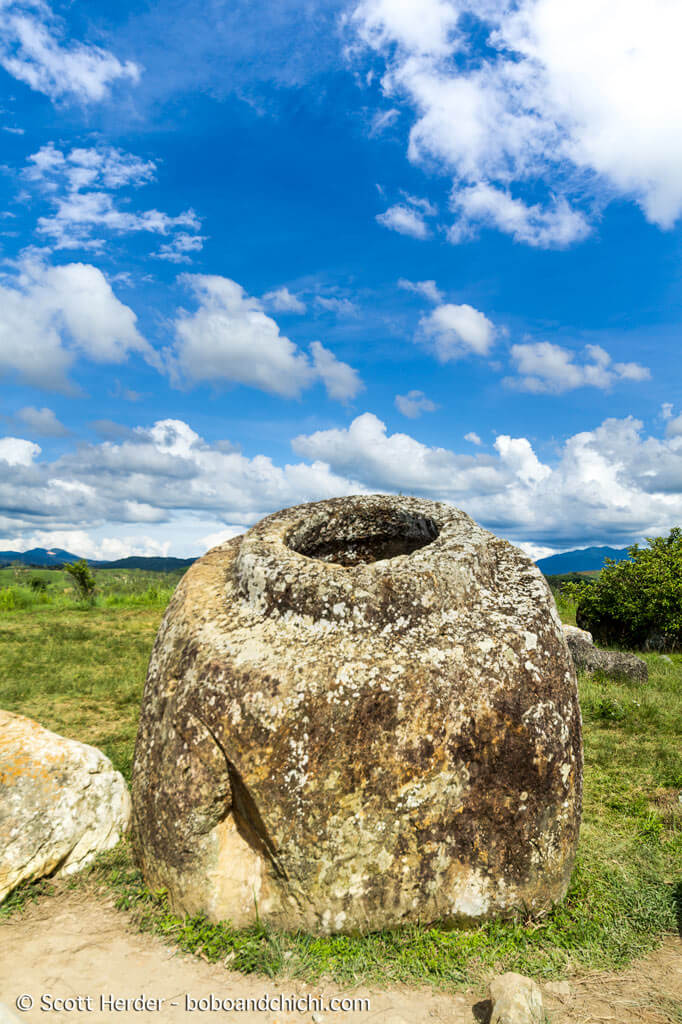 Site 2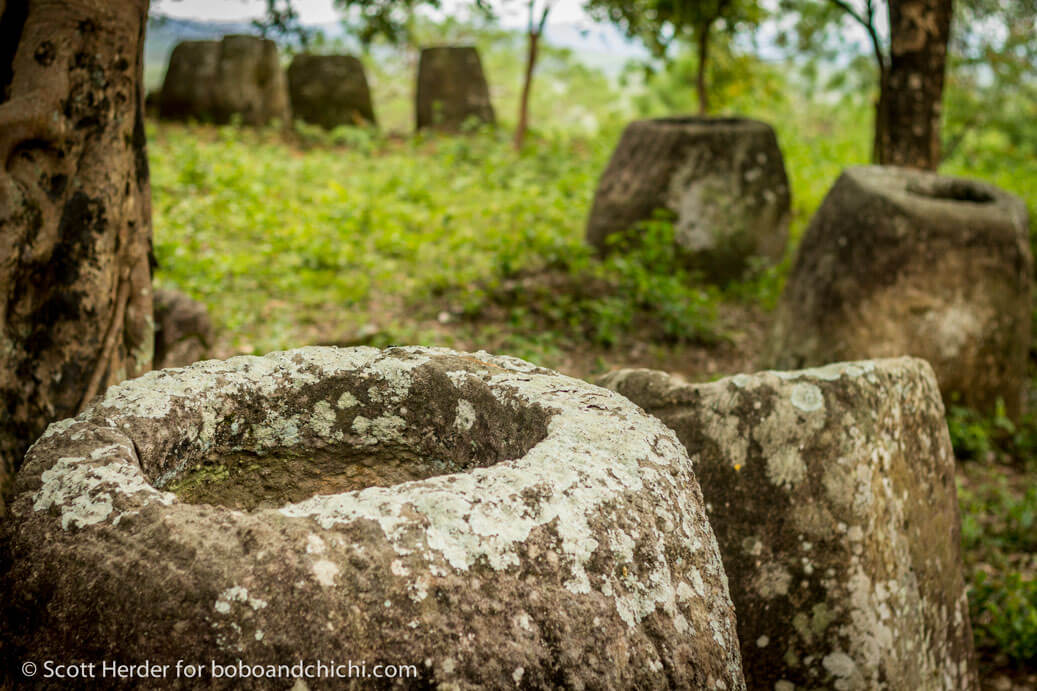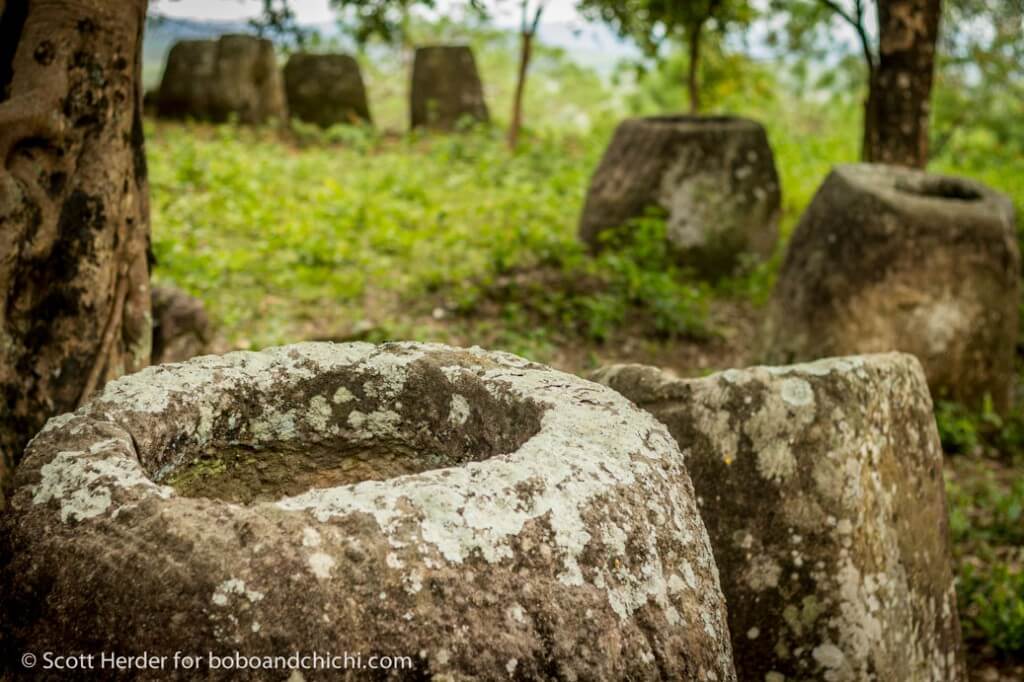 Site 2 offers a much smaller amount of jars than the other two sites. You will walk down a dirt road and discover there are two different sites to see on either side of the road. We first climbed up the stairs on the left hand side of the road to find a small cluster of jars hidden under some trees on top of a hill. One of the jars actually had tree roots growing around it, which was an interesting site and reminded us of the temples swallowed by trees at Ta Prohm in Angkor Wat. After checking out these jars you can find a path leading back down the road where you will find more jars. On this side you will have gorgeous panoramic views of rice paddies and the plains. We continued passed the jars on this side and followed the MAG markers for about 30 minutes thinking we were going to see more jars, but actually were lead to a hill with more panoramic views and at least a dozen bomb craters. We got a little turned around trying to come back to the jars and almost walked off the path of the MAG markers and getting lost. Not good, considering there are still UXOs out there. Luckily, we found our way back to the markers and made our way back to the entrance of site 2 for a delicious noodle soup lunch.
Admission: 10,000 kip/person
Site 3
Site 3 is just a short drive from site 2. To get to the jars at site 3 you have to walk through rice paddies up a small hill. From here you have attractive views of the surrounding, lush, green hillsides. This was our favorite of the three sites because of the size of the jars and the location. We were in a small, fenced in area surrounded by green, rolling hills and clusters of jars. There were a few local kids playing in the jar site until we arrived. Being shy, they said hello, giggled, and ran away. We spent about an hour photographing and enjoying the site without anyone else there with us. We liked the more quiet experience we had here all to ourselves.
Admission: 10,000 kip/person
Afterthoughts
What was really nice about the entire jar tour would be that we were the only ones there. Site 1 had a few visitors, but at sites 2 and 3 we were the only people there. It was more of an intimate attraction and the history behind the whole day made it that more interesting and special. It's also saddening to learn about how bad the effects of the war are still present to this day and the threat it has to the locals. It is also a bit unnerving to realize how close you could be to an unexploded bomb. It gave you an appreciation of how resilient the people of Laos really are and how interesting of a history and culture this country has to offer. For anyone visiting Laos that is interested in history, we strongly recommend making the Plain of Jars a site to see. This was also a fun site for us to film one of our "walk with us" video series.
To learn more, here is a good article by Vice News about the efforts and on going struggle from the Secret War and UXOs.
You can also donate and help the cause of making places at risk all over the world safe from landmines and UXOs at MAG's website.
For more off the beaten path destinations check out One Weird Globe.
*Please remember all photos on this website are copyrighted and property of Bobo&ChiChi. Please do not use them without our permission. If you want to use one of them please contact us to ask first because we'd be absolutely flattered and would love to share. Thanks!