Let's face it, it's way more convenient and easier on your wallet to travel with carry-on only as opposed to checking baggage. Also, if you travel short term or long term it's nice not having to haul around a big bulky suitcase or a ton of bags to carry around everything you need. We have been on the hunt for the best carry on bag for travelers since we started traveling and have failed year after year until recently when we discovered traveling with a 54L carry on bag for travelers.
What to Look For in the Best Carry On Bag for Travelers
Size
This backpack may look big but its dimensions were ingeniously designed to fit almost all major carry on restriction size coming in at 15 x 10 x 22 cm. It's impressive how much stuff can actually fit inside the bag itself! It's easier to show than tell so we have put together this video to show you how easy it is to fit a ton of items into one we purchased which is only a 44L backpack, this one we are recommending is actually a sleeker design than the one we feature in the video. Whether you're traveling for a weekend or 6 months, the 40L backpack is the best carry on bag for travelers thanks to its size, design, and it's easy to carry around.
Design
The design on the 40L backpack is meant for comfort with the thick padded shoulder straps making it much easier to carry around packed full on a long day. There's also a front zipped pocket that's easy to access and an interior mesh pocket perfect for a few loose items as well as all of your electronics, even your laptop and accessories! As a travel blogger, we are always carrying around our laptops and other electronics which makes us appreciate the design of this bag even more.
If you're tired of carrying the backpack on your bag you can opt to use the top or side handles on the backpack instead. There are also side compression straps that also can be used to strap in a tripod for any photographers out there.
Material
This amazing carry on bag for travelers is made of Waterproof nylon making it even more ideal for travelers who may get caught in any type of weather. You can appreciate waterproof material when you're carrying around months of clothing as well as electronics in any humid or wet weather.
How Best to Pack Your Carry On Backpack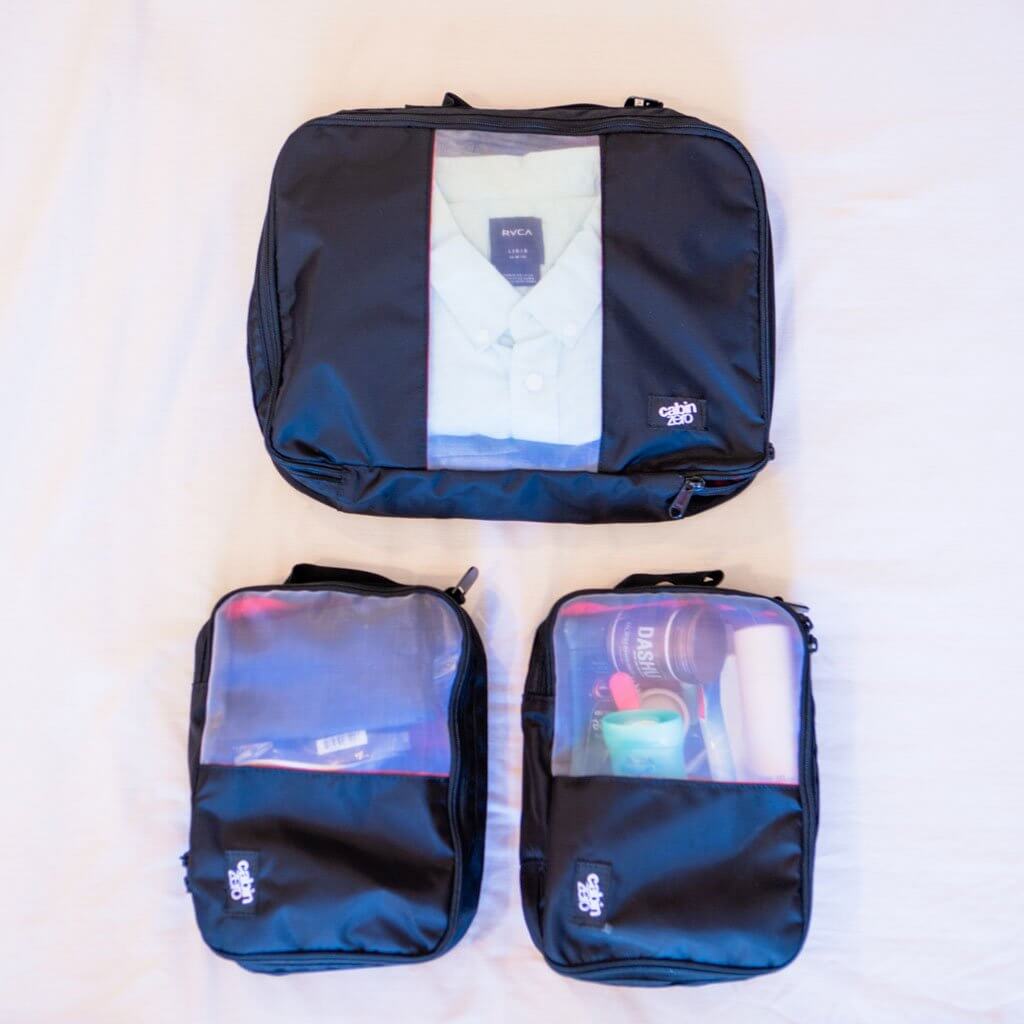 It doesn't matter how big your luggage is if you don't know how to properly organize and pack your belongings you can totally waste space which is why we love the small set of packing cubes.
I like to use one of the small cubes for electronics, cords, and camera accessories and another small packing cube for my carry on toiletries and makeup. Another is great to roll up your underwear, bathing suits, socks and any other miscellaneous small pieces of clothing to help you keep organized.
The rest of our clothing items and shoes fit perfectly around the small cubes. We highly recommend the rolling clothing method rather than folding to optimize your space and increase the number of items you can fit in your amazing carry on bag for travelers!
We highly recommend the rolling clothing method rather than folding to optimize your space and increase the number of items you can fit in your bag!
If you're planning on packing for a trip in a backpack, packing cubes are a must!
Going on a shorter trip?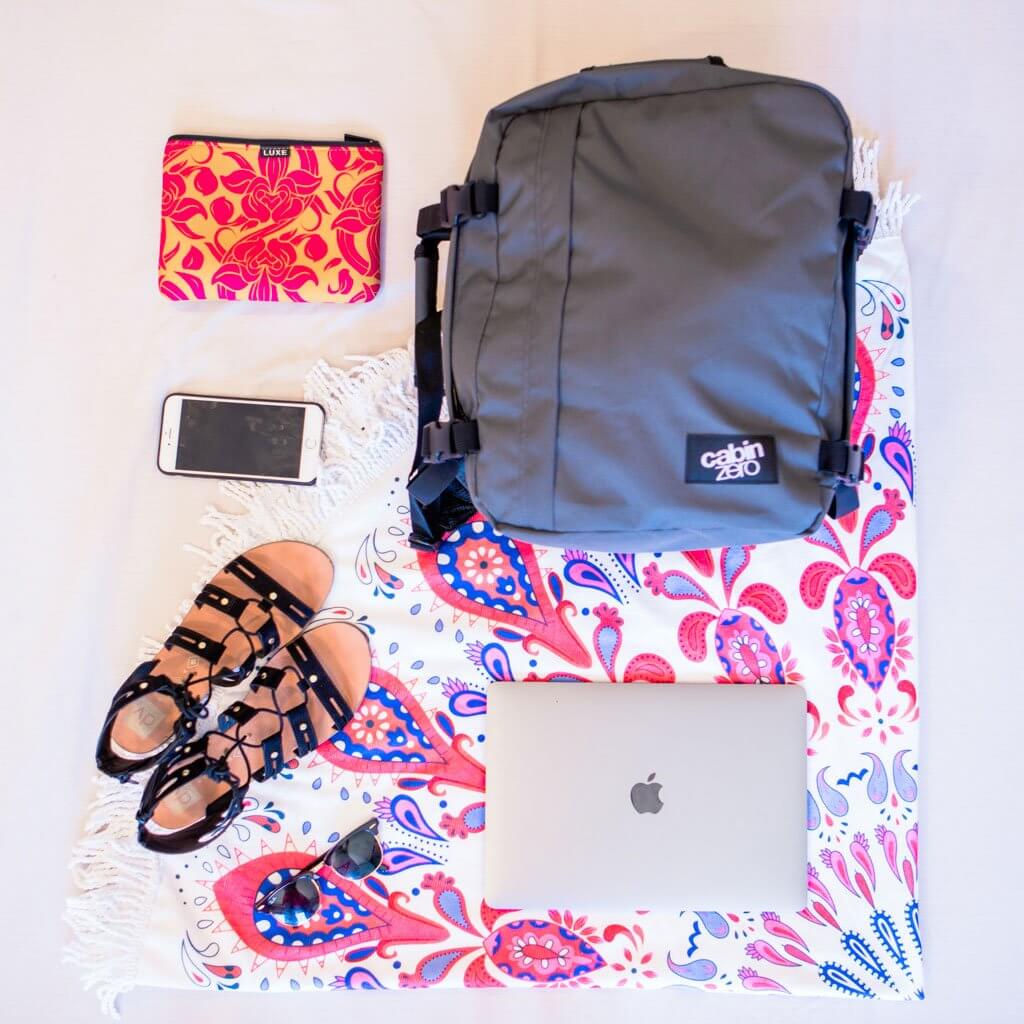 Maybe you don't need 54L of space or you just want all the incredible functions of the this Yogaw Business backpack in a smaller size. What's even better is the bag is expandable if you need a larger size. Also, it is approved for all carry on luggage sizes. I love using my backpack this size as my daily work backpack.
Again, the backpack is spacious and has the same comfort features as the 54L size including the padded straps and top and side handles in case you don't want to wear the backpack on your back.
I've gone through quite a few day backpacks in the past 3 years and this is my favorite thanks to the comfort features on the straps and the incredible amount of space inside the bag.
---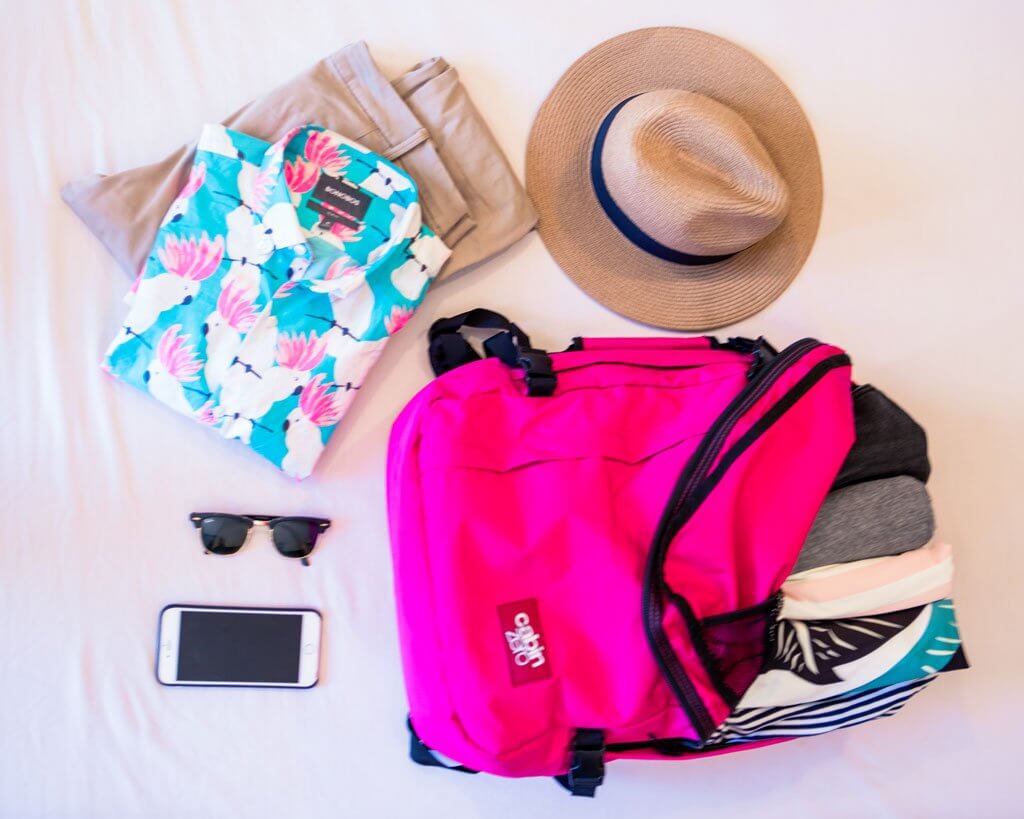 We think these backpacks are the best carry on bag for travelers because the sizes fit perfectly on almost every major and budget airline, you can pack a ton of items in the bag, the comfort specs, and waterproof exterior. We also love all the fun colors and designs that are available.