Planning an escape to one of the most magical places in California and wondering where to stay on Catalina Island? We got you! While taking a day trip to Catalina is a popular way to visit the island, our preferred way to enjoy the island (which we've been to at least 15 times and counting) is by spending a few nights and really taking in the island life here.
There are so many magical things to do at Catalina Island from outdoor adventures, historic landmarks, the great food scene, walking around the charming downtown, and oh, the incredible views that you will definitely want to plan a weekend in Catalina or at least one to two nights here.
Part of the magic of the island is actually after the day visitors leave and the town of Avalon returns to be a sleepy, charming island community. Better yet, there are some amazing Catalina Island hotels to choose from, some of which are right along all the action downtown and others that are tucked away in the hills of Avalon.
This guide will cover all the best places to stay on Catalina Island depending on what you're looking for. From new resorts to historic hotels and iconic establishments, there's something for everyone whether you're looking for a romantic getaway or a little family trip, and even pet-friendly stays on Catalina Island!
Disclaimer: This post contains commissionable links
Best Places to Stay on Catalina Island
Aurora Hotel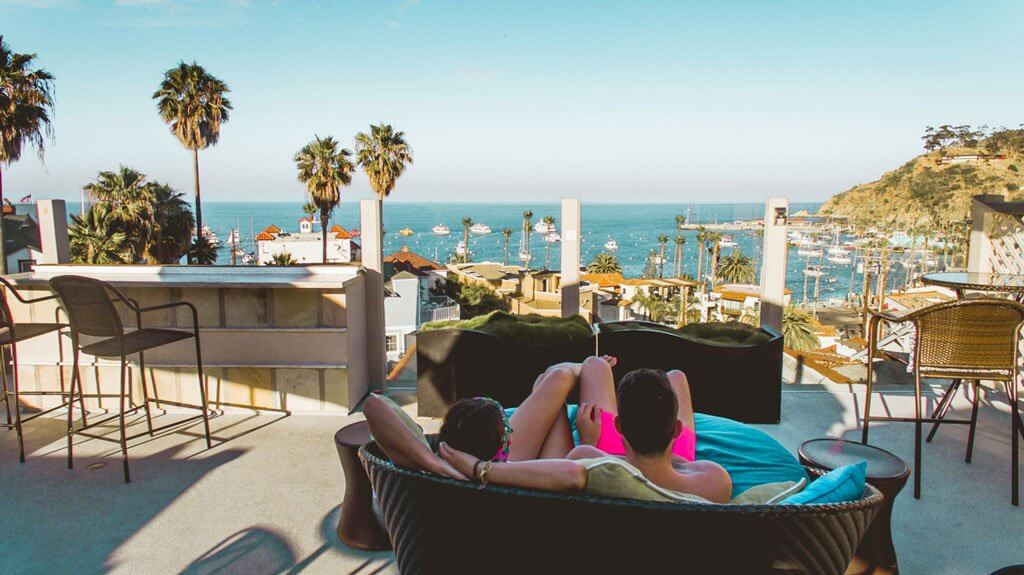 One of our favorite Catalina hotels is the Aurora Hotel. Tucked away on a hill up Marilla Avenue, this is a tranquil spot to stay even during the peak visitor times when the cruise ship passengers are visiting.
The hotel is a nice boutique property featuring 16 rooms including a few suites. So even when the hotel is fully booked, it still feels intimate and not too crowded.
Although many Catalina Island hotels are on the main strip in the downtown area, the Aurora Hotel feels a bit removed without being far away from everything.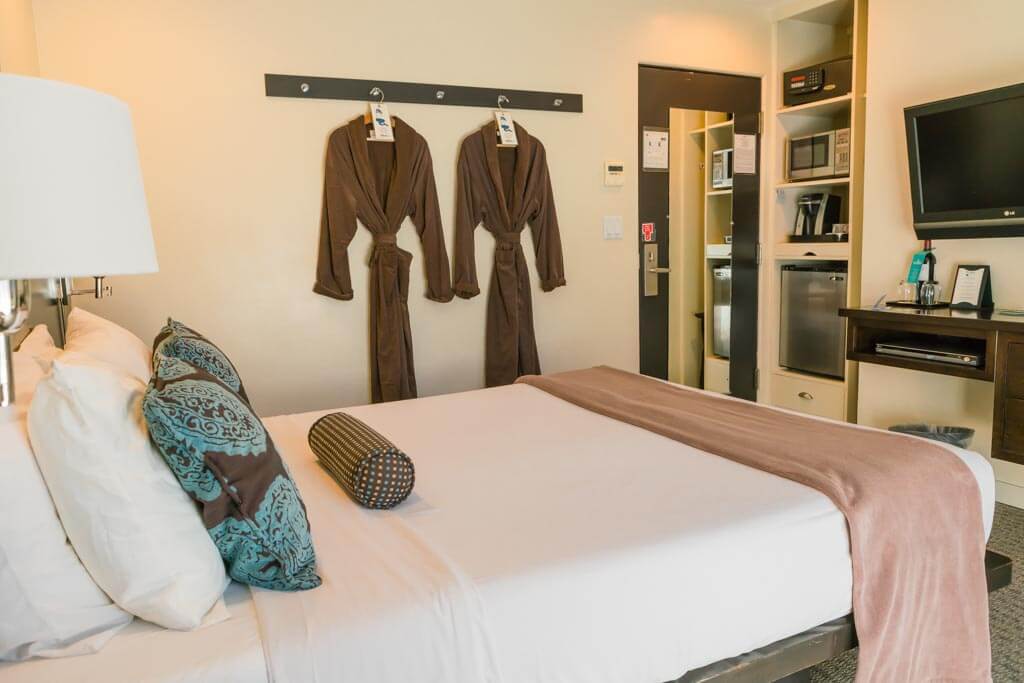 This modern boutique hotel has sleek and cozy rooms as well as a 24-hour coffee, tea, and water station in the lobby. The hotel staff is extra friendly, we have personally stayed here twice and are blown away by the hospitality – but that goes with the small island community here as it's hard not to feel welcomed at Catalina Island!
If you're wondering where to stay on Catalina that's great for couples, the Aurora Hotel is worth checking out for special occasions too. This hotel offers a romantic package and an anniversary package! However, this is still one of the highest-rated Catalina Island hotels among families as well.
Many rooms at the Aurora Hotel have an ocean view. The larger suites here all come with ocean views, a fireplace, and a private sundeck! Even if you don't have an upgraded suite, you'll still have access to the outdoor patio and sundeck where you can sunbathe and enjoy a drink while admiring the view, which was one of our favorite places to hang out.
The only thing to keep in mind, if you have mobility issues you should know that since the Aurora Hotel is located on a hill, the walk up to the hotel has a steep incline. The hotel also has no elevator, so you'll need to walk upstairs to access your room. Book the Aurora Hotel here.
Bellanca Hotel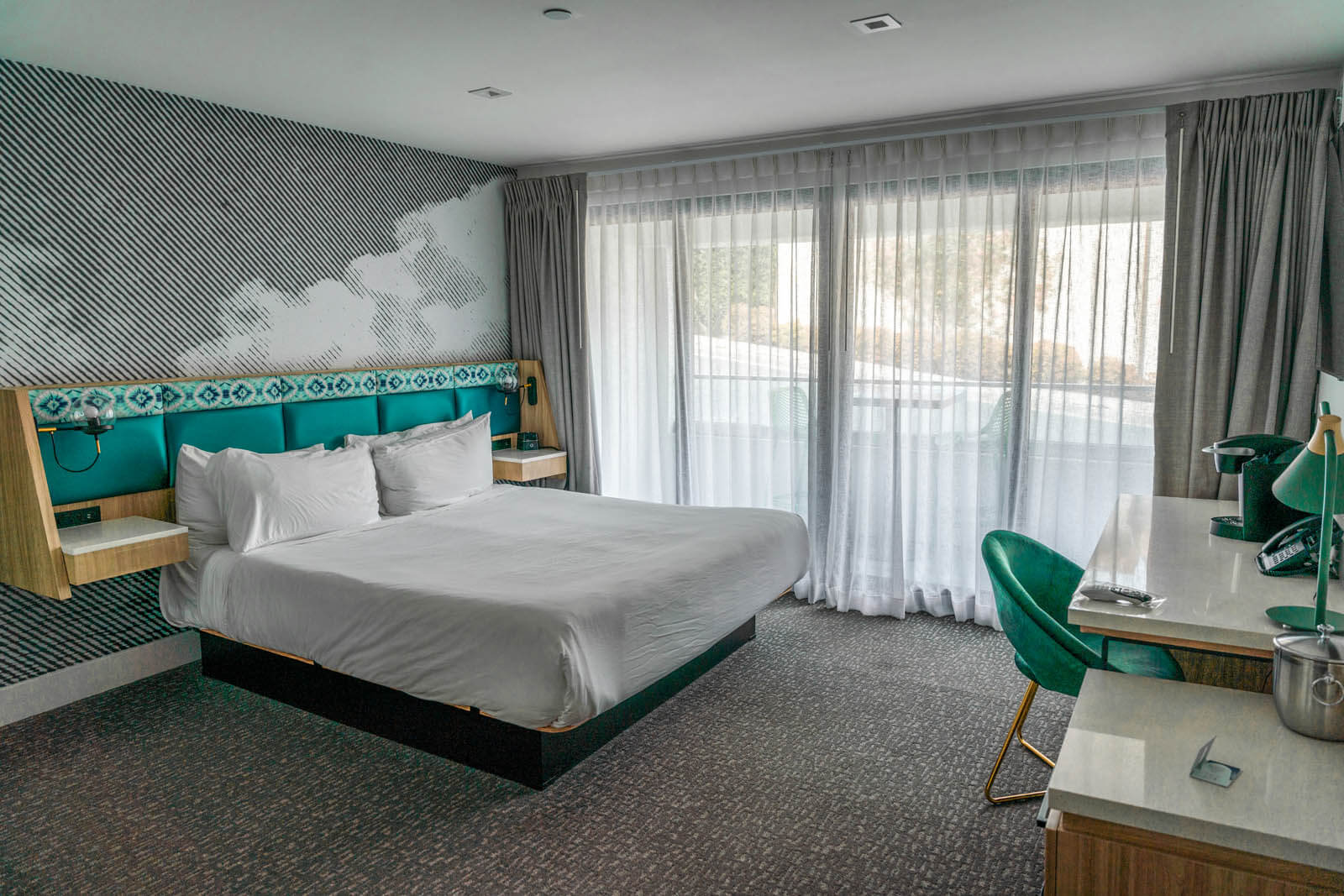 Another one of the best Catalina hotels we've stayed at is the Bellanca Hotel. Located close to the water on Crescent Avenue, rest assured that you won't have to climb any hills to reach this hotel. In fact, you can walk to the beach right from your hotel room!
The rooms are really nice, featuring modern furnishings and subtle, yet contemporary artwork.
What we liked about Bellanca Hotel was the location, it's on the main strip in Catalina but far enough down that you're a bit removed from the crowds that gather around the restaurants, bars, and shops and it's still only a 10-minute walk from the ferry terminal.
The Bellanca Hotel offers free bike rentals (with a maximum use time of 4 hours) and has a sundeck that's great for sunbathing, enjoying your morning coffee, or having a sunset drink.
This Catalina hotel is less than a 5-minute walk to the most popular shops and restaurants in Avalon. The Bellanca Hotel is also home to The Naughty Fox, a seaside restaurant with great cocktails and outdoor dining by the water. We recommend sitting outside as you have a fantastic view of the ocean and view, and the cocktails are great! Book Bellanca Hotel here.
Hotel Atwater
Hotel Atwater is another one of the best places to stay on Catalina Island. Originally built in 1920, this hotel was recently renovated in 2019 and is one of the best hotels on the island while still remaining a historic property. As a matter of fact, this was the first hotel built on the island under the direction of William Wrigley Jr. after he purchased the island.
Like many of the other Catalina hotels, Hotel Atwater has an inviting, casual vibe with art decor while being refined and upscale. Each room in this hotel has a mini-fridge, WiFi, and a flat-screen TV. Guests can also expect water and sparkling wine upon arrival. In fact, drinks are available in the lobby during happy hour too.
Suites in this hotel feature a separate living space, king bed, bar, and a great view. In fact, if you choose to upgrade to a suite, you can choose between an ocean view, a view of Avalon, or a view of the surrounding mountains.
If you're wondering where to stay on Catalina Island that's in the heart of downtown Avalon, Hotel Atwater is worth looking into. This hotel is near all the shops in Avalon. In fact, guests who stay here get a daily $20 voucher that can be used at three nearby restaurants! Luggage transport to and from the ferry is also available. Book Hotel Atwater Here.
Inn at Mt Ada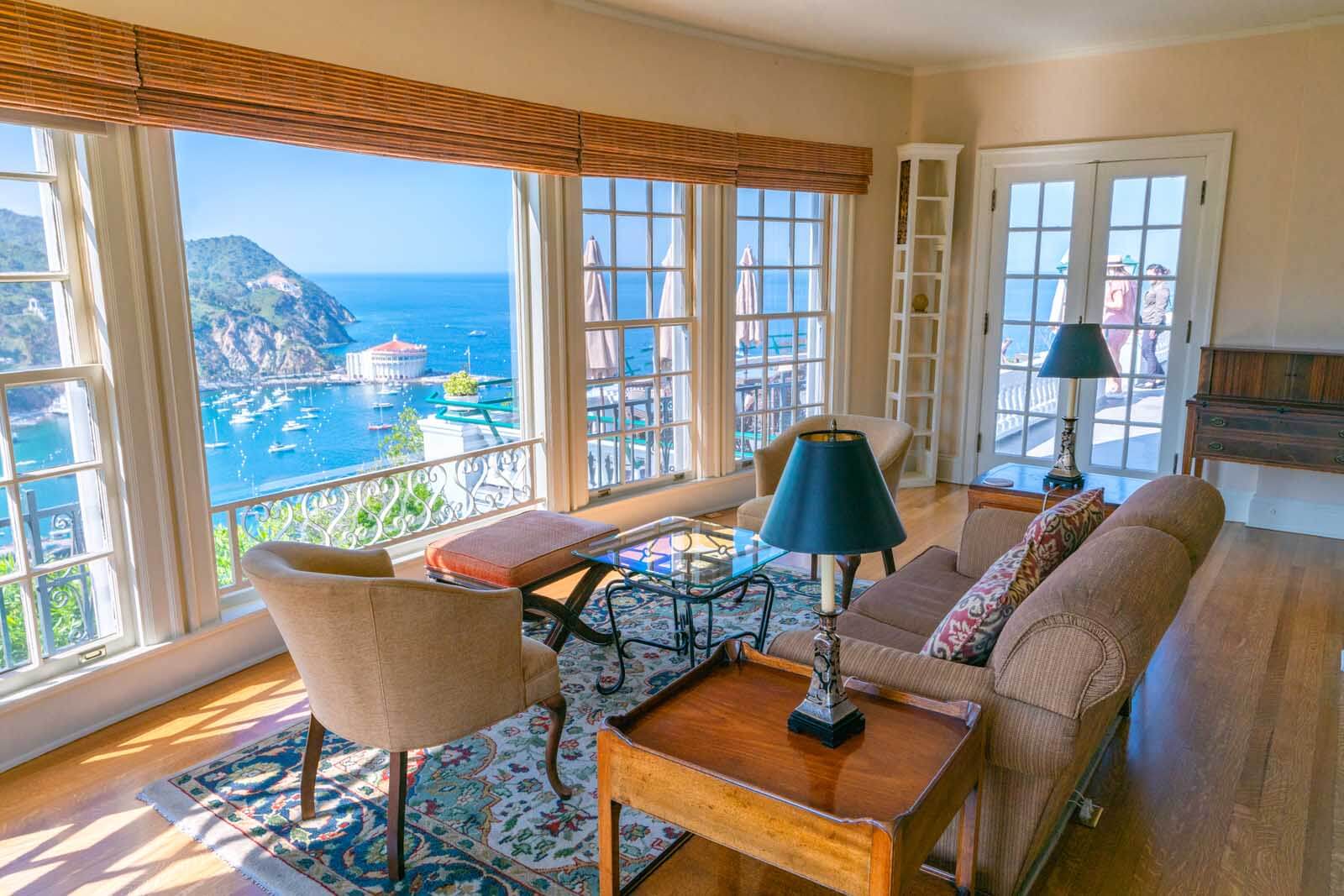 If you're searching for the Catalina Island hotels with the best view, look no further than the Inn at Mt Ada, a gorgeous bed and breakfast that was the home to William Wrigley Jr. and his wife, Ada.
Offering some of the best views on the island from the cliffside location overlooking all of Avalon and the Catalina harbor. Guests will receive complimentary private van transportation upon arrival and departure.
This historic 1921 property may be perched up on the hill, but is only a 3-minute drive from Avalon Pier. There are 6 en-suite guestrooms in the former residence of the Wrigley family, all individually styled, and some have semi-private balconies and fireplaces! However, keep in mind that this inn is stair access only.
Other amenities include free breakfast, free lunch, free appetizers, and access to the butler's snack pantry. Guests also have access to all of the facilities at the Island Spa Catalina.
The property and former home also allows guests to mingle and hang out in Mr. Wrigley's former billiards room as well as the den with a bar, hang out by the fireplace with views on a chilly evening, or spot bald eagles that nest nearby from the terrace.
The Inn at Mt Ada is one of the most unique and best places to stay on Catalina Island. Guests can admire great views from any part of the hotel and access the friendly staff at any time who will provide them with whatever they need. This hotel is in high demand, so you'll want to book well in advance if you're planning on visiting during peak season.
Catalina Island Inn
View this post on Instagram
If you're wondering where to stay on Catalina Island that's family-friendly, check out the Catalina Island Inn! Known as one of the best places to stay on Catalina Island for families with their bunk bedrooms, the Catalina Island Inn overlooks Avalon Bay and is only a 4-minute walk to the Avalon Pier. It's also only an 8-minute walk to the Catalina Island Museum!
Even though this inn is near everything you'll need in the town, it's tucked right on Metropole Avenue off the buzzy street and still feels very private and quiet. The rooms on the higher levels have great views of the harbor too.
Like many of the other Catalina hotels, this inn has an island-inspired interior and cozy, comfortable rooms. In fact, some of the rooms on the ground level include private patios and fireplaces.
There are family-friendly rooms with bunk bed options as well as private king bedrooms with a fireplace and balcony perfect for those traveling without kids in tow.
Some of Catalina Island Inn's notable amenities include a complimentary continental breakfast, WiFi, and access to the spa. Each room comes with a flat-screen TV, Keurig coffee maker, DVD player, iPod dock, and some offer ocean views and air conditioning.
Although many floors have a community balcony at the end of the hall, many rooms have private balconies as well. However, this property does not have an elevator. Book Catalina Island Inn here.
The Edgewater
View this post on Instagram
The Edgewater is one of the best boutique Catalina hotels located in the heart of downtown Avalon on Crescent Avenue surrounded by all the town's shops, restaurants, and bars overlooking Avalon Bay. The Edgewater hotel is located right across from Avalon Pier and only a 6-minute walk from the ferry.
There are two luxury oceanfront suites with indoor sitting porches that overlook Avalon Bay and six other guest rooms on the property that are perfect for a romantic getaway. If you're celebrating something let them know so you can add a bottle of champagne or something special to your stay or you can order a custom cake.
This is also a historic hotel in Catalina as it was built in the 1920s originally as an apartment and later converted into The Edgewater Hotel. A few of the rooms have original features. This hotel also is equipped with baby equipment if you need that for a young one during your stay and have rooms that have twin beds in case you are traveling as a family. Book The Edgewater here.
Zane Grey Pueblo Hotel
View this post on Instagram
Another one of the best places to stay on Catalina Island which also happens to be of historic significance to the island and has a great view of the bay is Zane Grey Pueblo Hotel. This historic landmark was built in 1926 and is where the famous novelist Zane Grey lived!
Located on a hill overlooking Avalon Bay, the Zane Grey Pueblo Hotel is next to the famous Catalina Chimes Tower. The hotel was actually closed from 2011 through 2019 as the property went under significant renovation and is arguably the most luxurious stay on the island.
The hotel has 16 rooms with sweeping views of the ocean and the Catalina Yacht Club below, the 8 newer suites that were added during the renovation in the North Tower all have names that pay homage to some of Grey's most famous book titles.
If you're wanting to stay in one of the historic and original estate, you'll want to book a room in the South Building. The best part is that while the building is a landmark and historic site, the hotel features modern amenities combining the best of both worlds.
This is one of the few multi-level hotels in Catalina that has an elevator too, which was added in the renovation and they also have a dining space.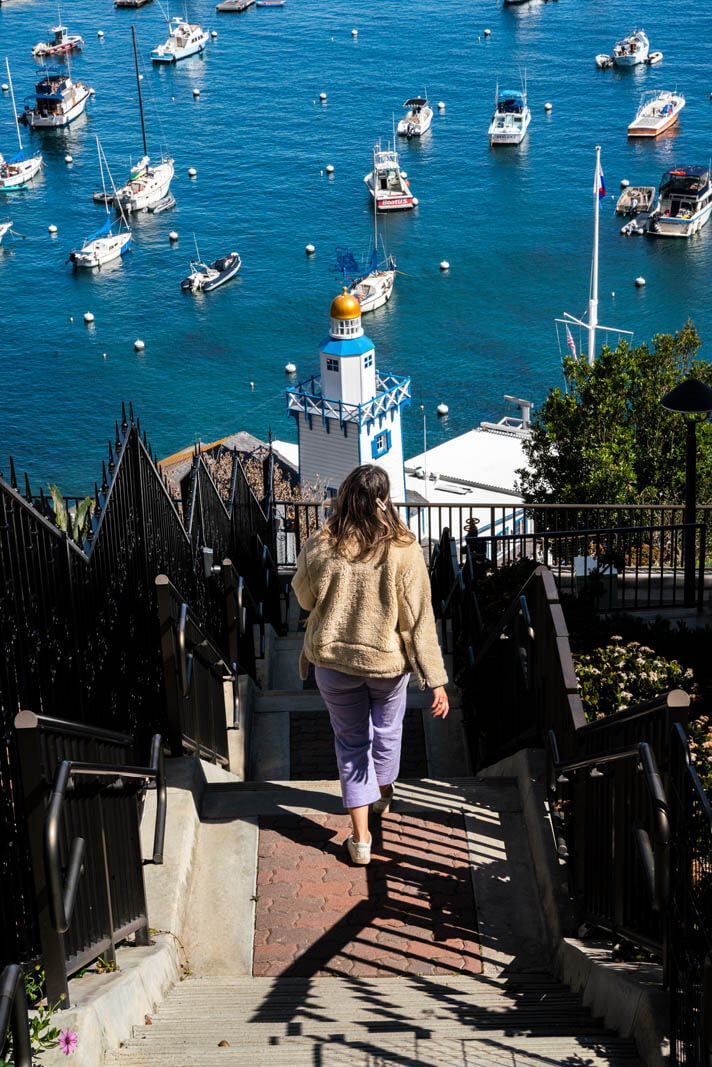 Because of the hilltop location, you're more than welcome to walk up the winding streets that lead to the Zane Grey Pueblo Hotel or take the scenic Crescent Avenue Steps (one of our favorite places to walk photographed above), the hotel provides complimentary drop offs and pick ups for guests, you just need to communicate with them so they can arrange your transportation.
Some of this hotel's amenities include ferry terminal transfers and continental breakfast. Furthermore, this hotel has a rooftop with a heated pool. Up there, guests can admire the views of the bay while enjoying the luxury amenities at this historic property.
For groups, you can book the Penthouse which can sleep up to 7 guests, there are also suites and rooms that can accommodate 3-4 guests, and of course king and queen rooms that sleep 2 guests.
Each suite has a seating area, sofa bed, and floor-to-ceiling windows, and some have balconies with views of the bay! The upgraded suites are each individually decorated. They all have fireplaces, and one even has a massive mosaic. Another one has a grand piano! Ultimately, the rooms here are all super unique, homey, and clean, and truly a one-of-a-kind stay making this one of the most sought-after accommodations on the island. Book the Zane Grey Pueblo Hotel here.
Pavilion Hotel
View this post on Instagram
If you're searching for Catalina hotels that are close to the water for a romantic getaway for two, Pavilion Hotel might be the perfect pick for you! The Pavilion Hotel is across the road from South Beach and is very centrally located near all the shops, restaurants, and places to drink in downtown Avalon.
The Pavilion Hotel is the closest hotel to the ferry terminal and across from the Green Pleasure Pier, not to mention less than a 10-minute walk to the famous Catalina Casino.
The Pavilion Hotel is more of an upscale stay catering more toward couples featuring luxury stylish rooms with blue accents. Each room includes a flat-screen TV, iPod dock, coffeemaker, and many rooms have a shared patio. Continental breakfast is included, and cheese & wine tastings are available for the guests as well! Guests also have access to a nearby fitness club, air conditioning in each room, free parking, and free luggage transfers from the Avalon boat dock.
One of the best features of The Pavilion is its beautiful, open-air courtyard and tropical garden available for guests to use complete with a fire pit. There's also an onsite restaurant with an outdoor terrace reserved only for hotel guests making it an intimate dining experience perfect for celebratory events or a romantic date night. Book the Pavilion here.
Hotel St. Lauren
Those who read our website know we LOVE pink hotels! Hotel St. Lauren is a cute pink Victorian-style hotel located on the top of the hill offering sweeping views of Avalon and the ocean.
Hotel St. Lauren is a great option for those who are wondering where to stay on Catalina which is a bit removed from the busier tourist areas but only a few minutes' walk away to all the attractions and restaurants downtown. Although this hotel is on a hill, it's only a 7-minute walk to the beach and an 11-minute walk to the Pointe Catalina Golf Club.
The rooms here are more modest and the decor is a little dated, but the views make it worth it. Each room has a TV and free WiFi. Some rooms have shared or private balconies and ocean views. The upgraded rooms each have a whirlpool hot tub. This hotel also has two guest patios that have views of Avalon and the bay, and one of the patios has lounge chairs as well.
Because of the location, if you're able to book a room with a balcony you'll want to get it! The views from here are rewarding! Plus the adorable pink buggy outside is one of the cutest photography locations in Catalina! Book Hotel St. Lauren here.
Hermosa Hotel
View this post on Instagram
This is the best pet-friendly hotel in Catalina that also is a historic property that dates back to even before the Wrigley days on the island! The Hermosa Hotel has been an economy hotel on Catalina Island since 1896.
This also happens to be one of the only pet-friendly hotels on Catalina too! Book a standard room or one of their cottages, some of which have kitchens for guests to use so you can cook a few meals on the island too. The rooms are clean and modern, despite being in a historic building.
The Hermosa Hotel location is great too, located on Metropole Avenue right off of Crescent Avenue meaning you're just steps away from all the restaurants, shops, grocery store, and bars not to mention close to the beach.
While this is considered a more budget-friendly hotel, the rooms do not reflect that, the rooms are coastal cozy and some rooms even have private balconies and ocean views. Book Hermosa Hotel here.
Glenmore Plaza Hotel
View this post on Instagram
This was actually my first stay on Catalina Island, which I blame for falling head over heels in love with the destination! The Glenmore Plaza Hotel is a Victorian-style hotel has historic charm but all the modern amenities and was recently renovated.
Located centrally in the heart of downtown Avalon on Sumner Avenue, this is a great location because it's tucked away one block off of the buzzing Crescent Avenue, so you're near everything while still being a little tucked away in the heart of it all and just steps away from the beach.
The Glenmore Plaza Hotel offers a variety of rooms, including the luxurious Clark Gable Suite which has its own private balcony and is two floors! The bed is in the cupola with 360 views for something a little unique! There are also several other suites named after some of Hollywood's biggest names that used to come here in the Golden Era of Tinsel Town including Marilyn Monroe (who was discovered on Catalina Island as a taffy puller in Lloyd's Candy Store.
They also have plenty of standard rooms featuring options like single beds, queen, or king rooms. You can also book a package that includes ferry transportation too. Book Glenmore Plaza Hotel here.
---
Found this guide to the best hotels on Catalina Island helpful? Bookmark for later!