Looking to take a Catalina Island day trip? We've got you covered. Both of us have been to Catalina Island several times not only for a Catalina day trip but for overnight and multi-day stays too. We both are IN LOVE with Catalina and we think it's one of California's best-kept secrets (unless you're a local, then you already know).
For the purposes of this guide, we are going to focus on Avalon, the charming 1 square mile town that feels like its stuck back in golden age of Hollywood as this was a haven for some of the biggest stars and where they would come to spend their free time 22 miles off the coast of California.
The other part of Catalina you can visit, but we must warn you there are much less things to do here, is Two Harbors. This is an even smaller town with about one restaurant and one store that's more popular among those who are fortunate enough to have their own boat and come spend a day here.
For the regular visitors like us, you will want to spend a day trip to Catalina Island at Avalon which is one of the best day trips from Los Angeles, San Diego, or Orange County. And if you do have time to spare, see if our itinerary for a Catalina Island weekend trip will convince you to stay a few nights!
5 Fun Facts about Catalina Island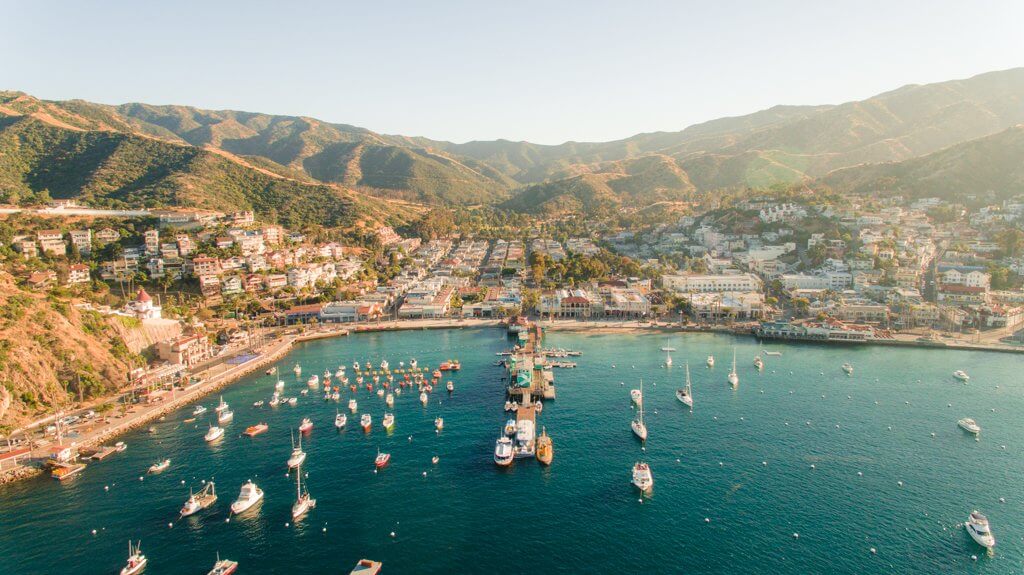 Marilyn Monroe was discovered by a photographer when she was working as a taffy puller at the candy shop downtown Avalon known as Lloyd's of Avalon Confectionary when she was still Norma Jeane at the age of 16.
The Wrigley Family, the American chewing gum industrialists and owners of the Chicago Cubs baseball team bought Catalina Island in 1919. They brought the Chicago Cubs here for spring training, which also brought Ronald Reagan here as he was an announcer for the Cubs. The Wrigley family still helps preserve the island and has put in place protections to prevent over development.
Winston Churchill caught a record-breaking marlin on his visit to Catalina Island in 1929.
Catalina Island is also the location in the center of the mysterious death of actress Natalie Wood who died while aboard her husband Robert Wagner's yacht. The only other people on board the yacht during her death were actor Christopher Walken and the captain of the boat in 1981.
The casino on the island, which was never actually a gambling hall and never will be, means gathering place and that's exactly what it was on the island with a movie theater featuring the first motion picture with sound!
How to Get to Catalina Island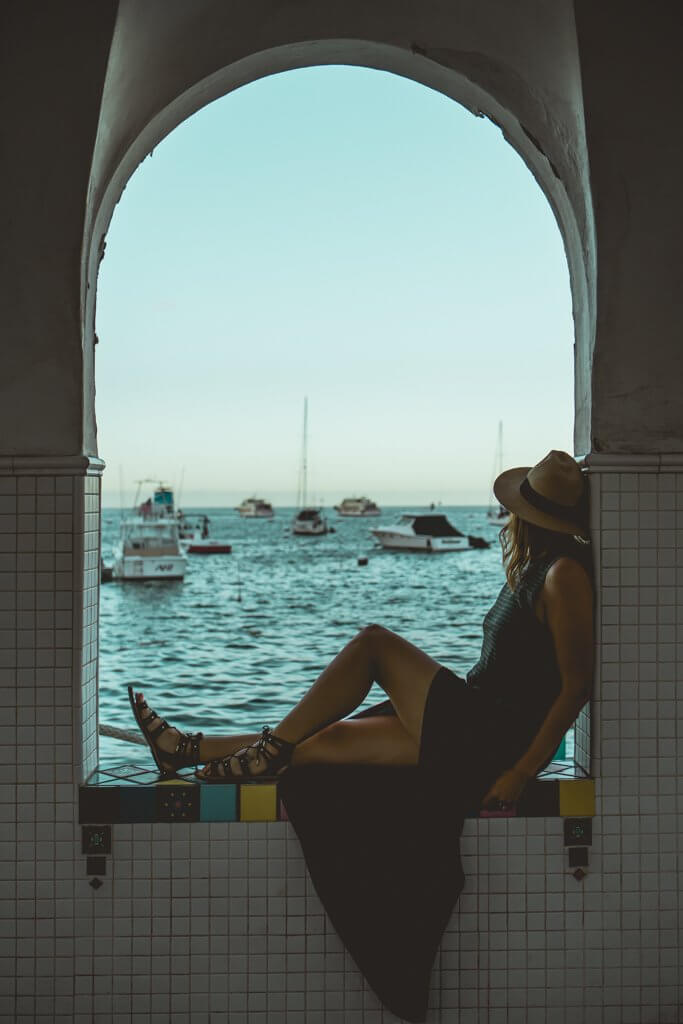 There are two main ferry services that can get you to your Catalina Island day trip from mainland California with departure options from Newport Beach, Dana Point, Long Beach, and San Pedro.
The two main ferry services are Catalina Express (Dana Point, Long Beach, and San Pedro) and the Catalina Flyer (Newport Beach).
The ferry journey to Catalina Island take around 75-90 minutes depending on which ferry you take. You can purchase round-trip tickets for the same day. You will want to book your tickets in advance, especially in the summer months as they sell out!
For a great day trip to Catalina Island we recommend buying tickets for the earliest ferry and taking the last ferry back. You also need to arrive to the ferry at least 30 minutes before departure going both ways.
Here are the best routes for a day trip to Catalina from mainland:
Dana Point to Catalina: 
Ferry: Catalina Express
Location: 34675 Golden Lantern, Dana Point
Daily ferries at 9:30 am and 11:30 am with departure from Catalina at 2:45 or 5:00 pm 
Newport Beach to Catalina:
Ferry: Catalina Flyer
Location: 400 Main Street, Newport Beach
Daily ferries at 9:00 am with departure from Catalina at 4:00 pm
Long Beach to Catalina: 
Ferry: Catalina Express
Location: 330 Golden Shore, Long Beach
Summer Season (June 21-September): Daily ferries at 6:30 am, 8:15 am, and 11:00 am with departure from Catalina at 3:00 pm, 5:45 pm, and 7:30 pm (on Saturdays & Sundays there's a 9:45 pm departure from Catalina)
Check their schedule for the off-season schedule.
San Pedro to Catalina: 
Ferry: Catalina Express
Location: 95 Berth, San Pedro
Summer Season (June 21-September): Mon-Thurs ferries at 7:30 am, Saturdays 7 am, Fridays & Sundays 8:00 am, daily ferries at 10:45 am.
Departure from Catalina back to San Pedro: Mon-Thurs 3:30 and 6:00 pm, Saturdays 6 & 7 pm, Fridays & Sundays 5:15 pm, & Sunday – Friday 7:45 pm. 
Check their schedule for the off-season and up-to-date schedules because this location is a bit all over the place with their schedules!
How to Spend a Catalina Day Trip
So now that we've covered how to get you to and from mainland to Avalon on your Catalina day trip we need to cover all the fun activities you can fill your day with!
I will just throw this out there, there are so many amazing things to do in Catalina that if you have time, we recommend staying longer than a day trip to Catalina Island so you can enjoy the town when the day visitors leave and also check out some of the amazing excursions that you can't possibly fit in a day like the tours of the back of the island, watching a movie in the beautifully preserved Casino movie theater, ghost tours, and more!
Also, check out all of our photos of Catalina to get inspiration before your day trip!
Here are some great suggestions for how to spend your day trip to Catalina Island:
Wrigley Memorial & Botanical Gardens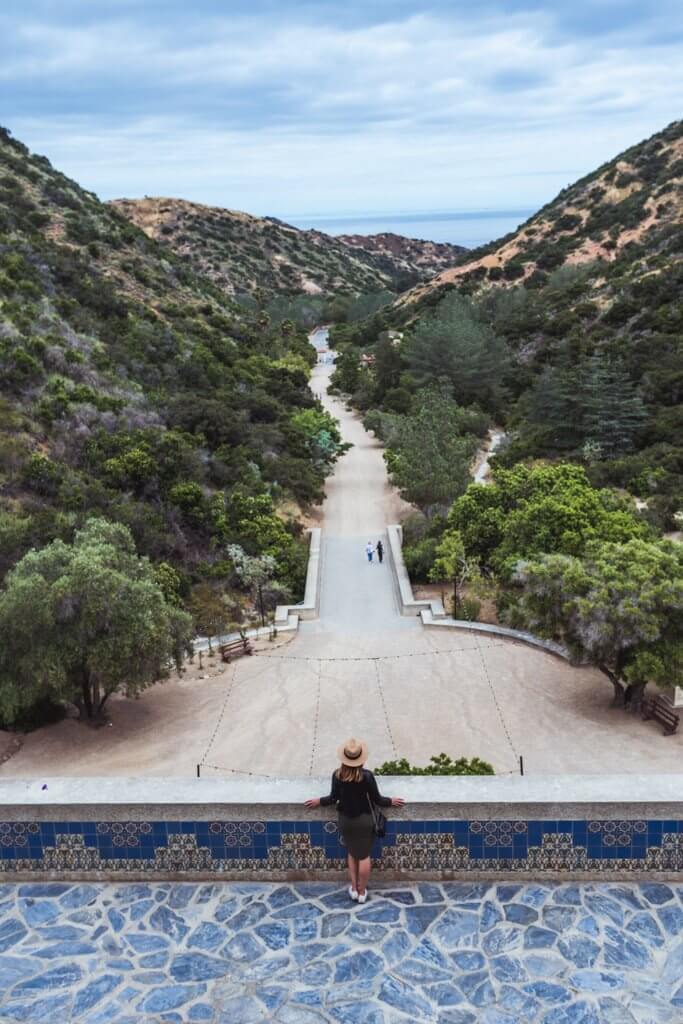 Another great option for something to check out on your day trip to Catalina are the Wrigley Memorial & Botanic Gardens located 1.5 miles up Avalon Canyon Rd inland.
Enjoy a scenic walk up here, rent bicycles, rent a golf cart in town to get a quicker ride, or take the Catalina Shuttle to save precious time on your day trip to Catalina. The walk takes around 30 minutes, so since you're only here for a day, you may want to look into the transportation options!
The inland Catalina Island Conservancy and botanical garden and memorial to William Wrigley Jr. and is absolutely beautiful full of endemic plants and rare endangered flora and fauna as well as beautiful Spanish tile and architecture, not to mention a beautiful view from the top of the memorial with the ocean in the distance.
His remains were here until WWII when there was concerns whether or not Catalina Island was a target by opposition around the time of the attack on Pearl Harbor and his remains were moved to a cemetery in Glendale, California.
If you do plan on walking in the summer, make sure to have sunscreen and a hat or something to shade you, this walk can get hot! We know from experience!
Admission to the gardens ranges from $8-12.
Descanso Beach Club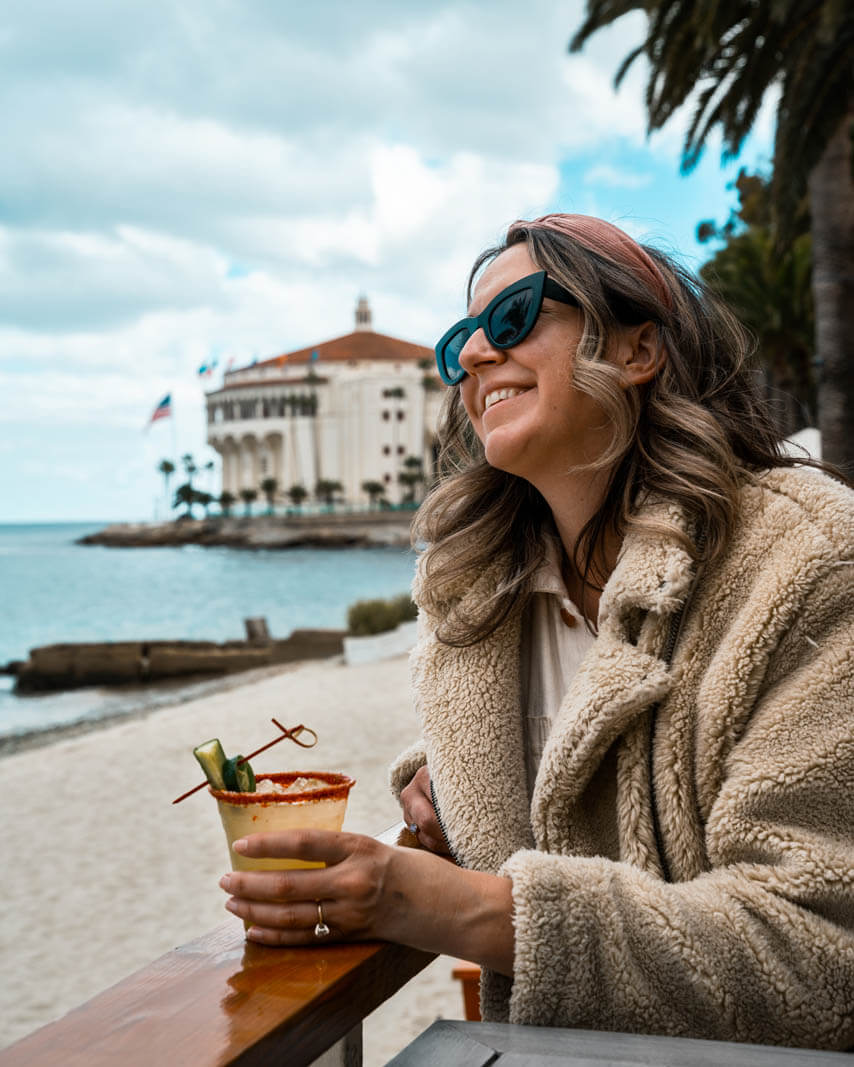 If you're looking to sit back and relax with a beach you'll want to head to Descanso Beach Club where you can rent cabanas or chaise lounges with umbrellas for shade. Both of these options come with a personalized beach butler who will come and take your drink and food orders and deliver right to where you're lounging plus other perks like welcome drinks!
If you don't need all the fancy frills, you can also just bring a beach towel and park on the beach where you can also order drinks and food from the beach bar and restaurant and eat right on the sand.
If you're hoping to do a cabana or chaise lounge rental, you'll want to secure a reservation in advance.
Zipline Eco Tour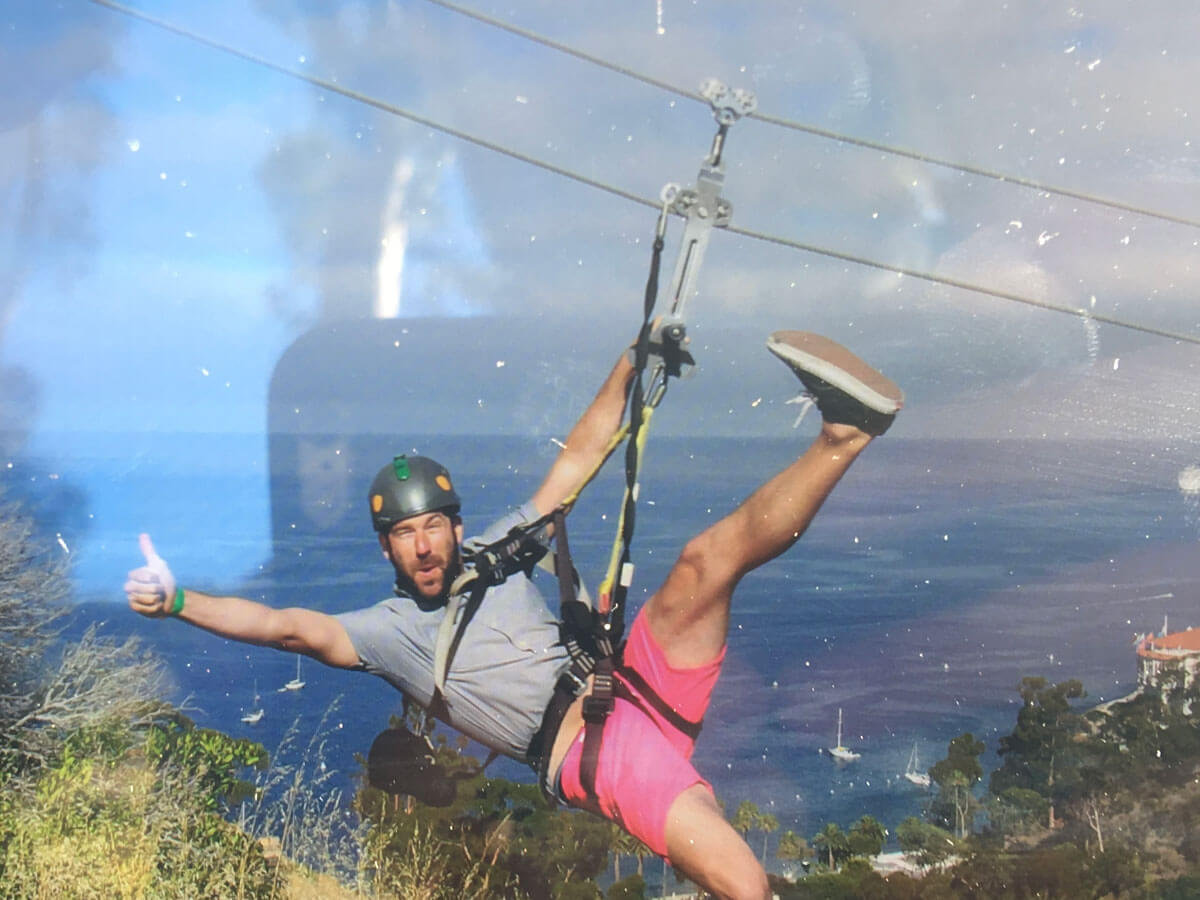 Soar through the sky with jaw-dropping views of the ocean on this 2-hour ziplining course starting at Descanso Beach Club where a shuttle takes you 600 feet up to the top of your course before zipping by at 35 miles per hour towards the ocean!
If this is going to be one of your big ticket items on your Catalina day trip, check out this ferry and zipline package that includes round-trip ferry tickets to and from Catalina Island as well as your ziplining tour.
Snorkel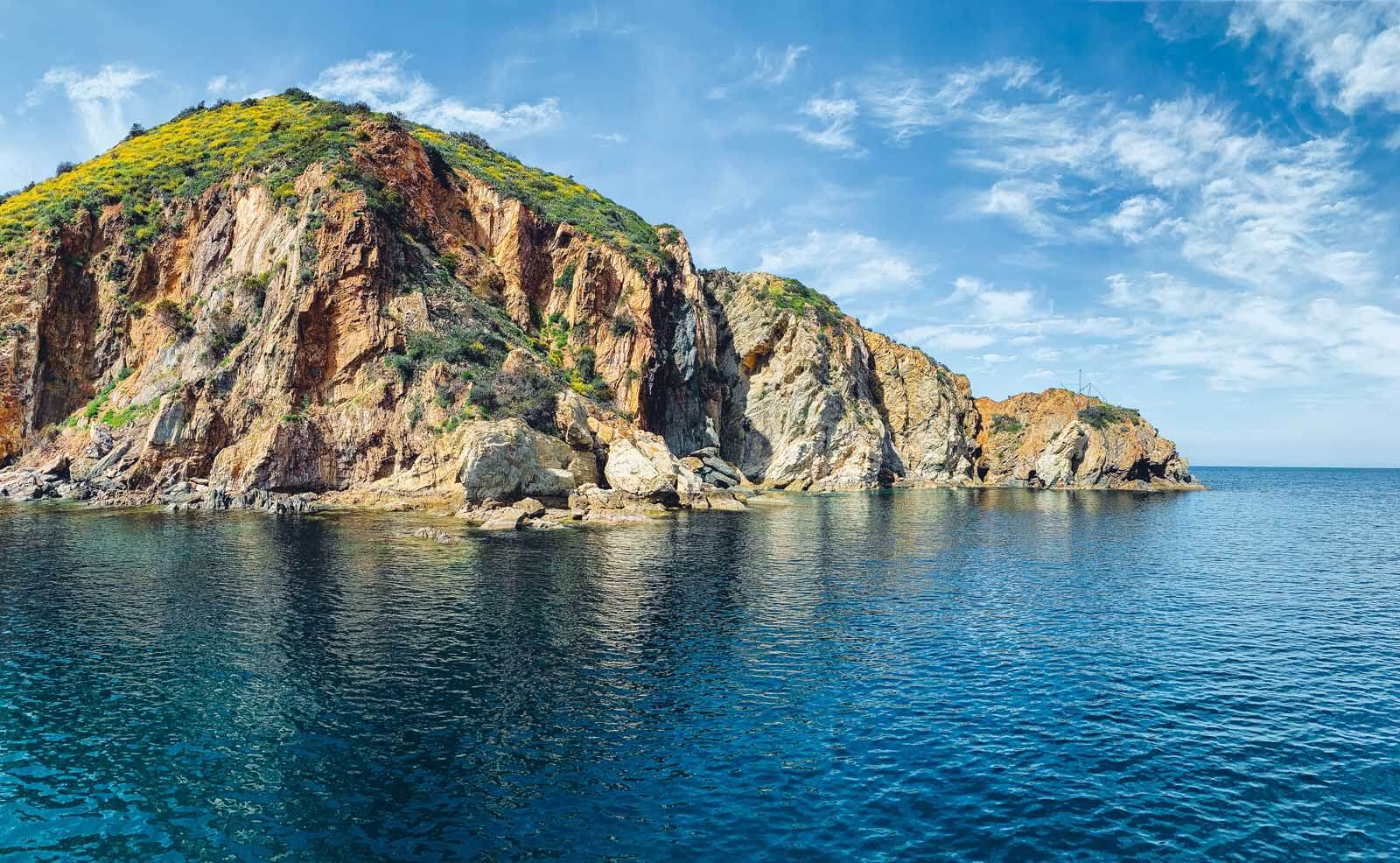 Check out a snorkeling excursion on your day trip to Catalina Island so you can swim around in the turquoise waters next to the giant, orange Garibaldi fish that swim along the shores here! This trip is short enough to squeeze into a day trip with Catalina Diver's Supply.
The tour takes you to the northern point of the island for our guided snorkeling adventure. What's great about this is that this is available all year round because they provide wet suits for all seasons, snorkel masks, and fins.
Or you can rent snorkel gear from Wet Spot Rentals near the ferry terminal. This is a short walk over to Lover's Cove Marine Preserve, which is one of the best snorkel spots on the island!
We both own this snorkel set which includes a mask, snorkel, ear plugs, flippers, and carrying bags which is also an option if you want to snorkel all around the island. Some of the beaches are pebbly, so it might be nice to invest in a pair of water shoes too to wear under your flippers or to swim around with! These also fit in the snorkel set bag we bought!
Rent A Golf Cart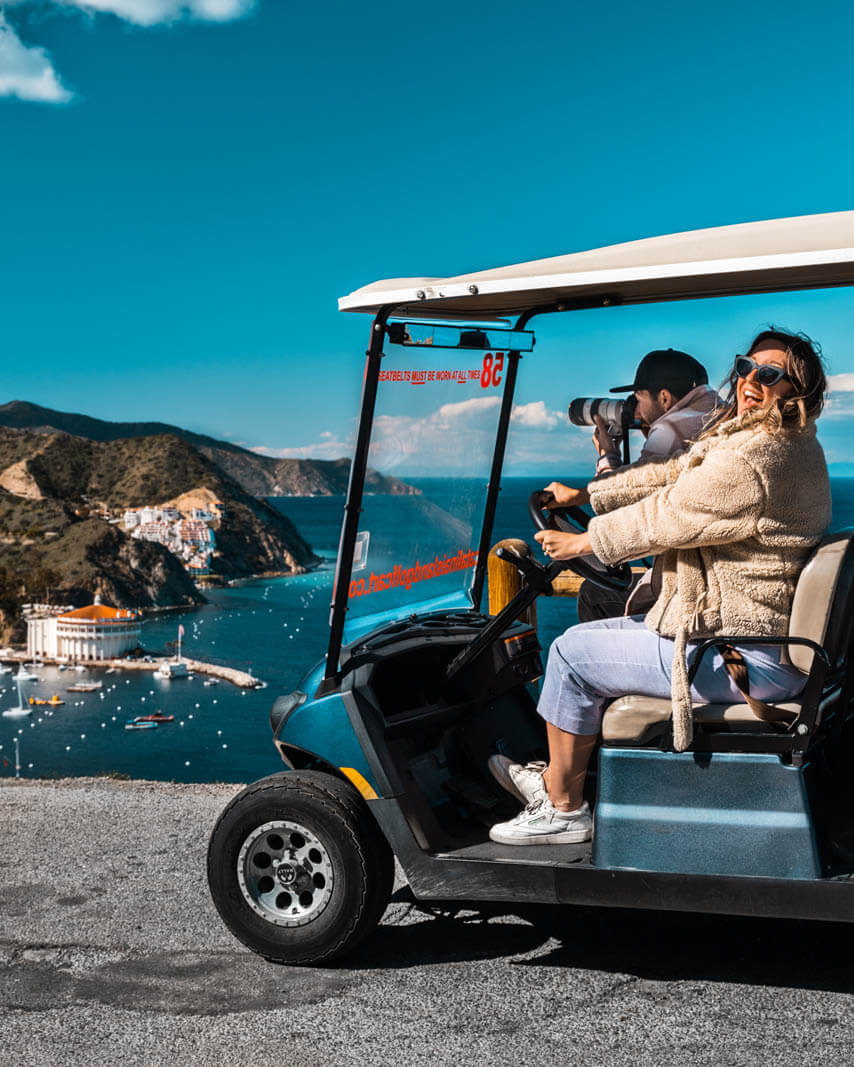 You only have one afternoon on your Catalina day trip, so one of the best ways to cover the most ground quickly and without working up a sweat is by renting a golf cart. Golf carts are the cars of the island, seriously you won't see many actual cars on the island but everyone drives golf carts!
If you're short on time or sick of walking this is the perfect way to explore the nooks and crannies of Avalon. You can rent golf carts by the hour at a few different spots in Avalon.
Another option is to rent e-bikes from Brown's Bikes, which you can easily cruise around on the same roads as the golf carts.
You will want to do the Scenic Loop with either option for multiple viewpoints and vistas to stop at along with breathtaking views along the way through roads surrounded by Eucalyptus trees and endemic plants to the island.
Check out Inland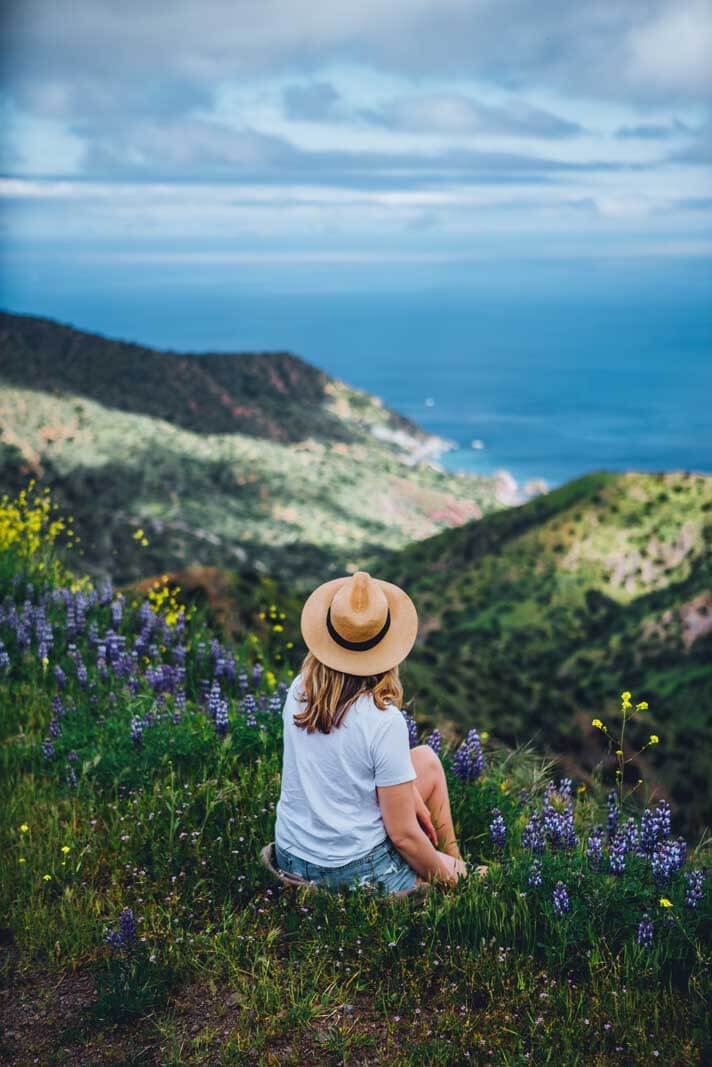 Some of the most gorgeous scenery on the island can be found inland. The inland of the island is difficult to fit in on a day trip to Catalina Island unless you arrange a guided tour with one of the many different options for exploring the interior of the island ranging anywhere from as little as 45 minutes to 3.5 hours.
Unless you're doing a multi-day trek along the Trans Catalina Trail which covers the length of the island, which if you're doing a day trip isn't possible, you'll need to be a part of the tour because the other parts of the island often require off roading vehicles as golf carts aren't allowed on the interior of the island as its dangerous. Not to mention a special pass that allows you onto the inland roads that are hard to get even for locals!
Two great options include the Eco-Tour from the Catalina Conservancy takes you on a scenic tour through Catalina's inland.
The other is joining a customized tour with Catalina Backcountry who will customize your private experience and pick spots on the island according to the time you have and interests! We used this option on more than one occassion and got to do some island exploring including insane vantage points and secret beaches on the back of the island. This is our favorite tour on the island.
If you're lucky you might even spot some of the bison that live on the island that were left over here from a movie that was filmed here decades ago, endemic fox species that are as small as a house cat, or bald eagles on your journey.
Check out the Viewpoints in Avalon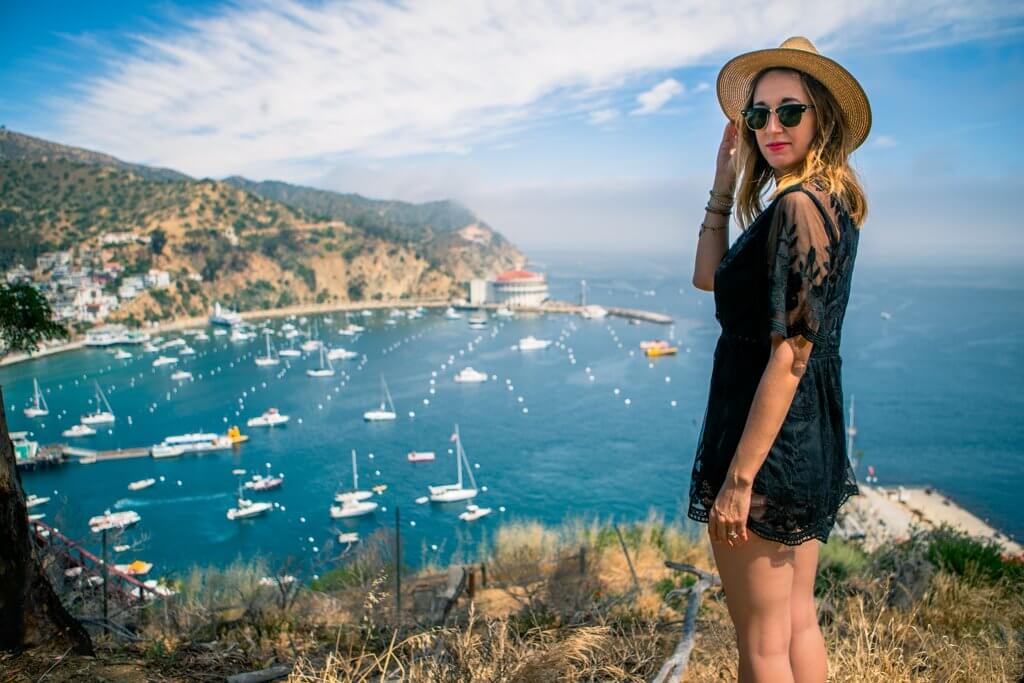 One of the easiest ways to enjoy the insane views on your day trip to Catalina Island is by walking up towards the Inn at Mount Ada on Wrigley Road, the mansion historically owned by the Wrigley family that is now the most fascinating place to stay on the island with views of Avalon and the ocean below its hilltop location.
On your way up to the Inn at Mount Ada you can take a left turn as you're approaching the top and find a quiet bench with unbelievable views known as the Buena Vista Point Scenic Overlook (on Google Maps). From here you have sweeping views of the Catalina Harbor and Casino below.
Catalina Mini Golf
Another fun activity you can fit in easily on a Catalina Island day trip is enjoying their fun mini-golf course! This 18 hole course is tucked away in a garden in the center of town! There are some fun trick shot options here and there are even little signs around the course that educate you on random facts about the Island!
Dining on Catalina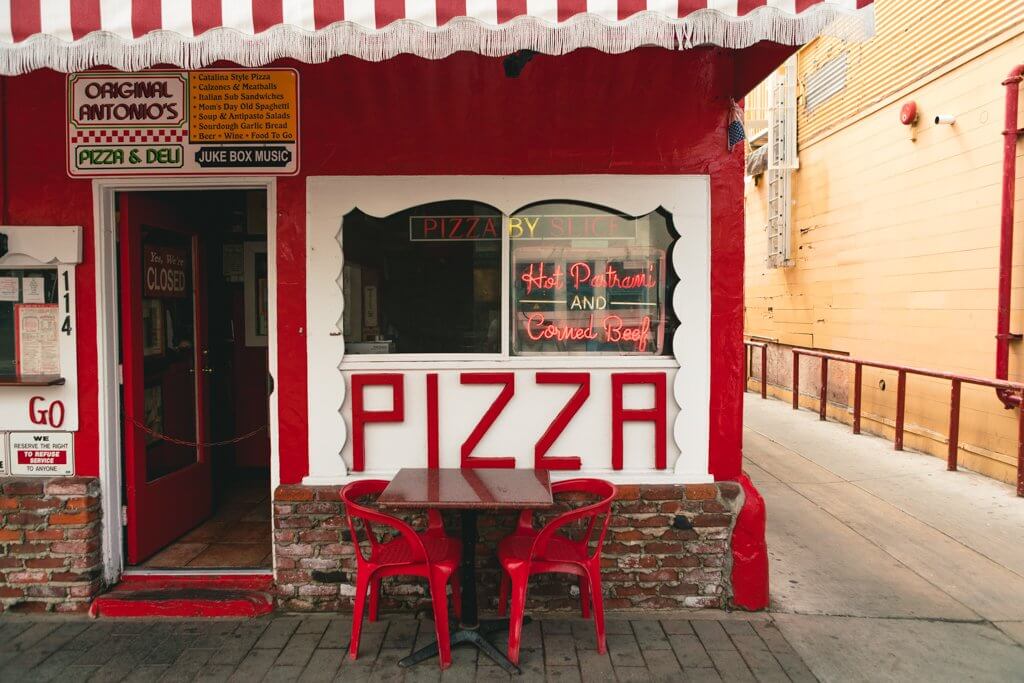 You'll work up an appetite at some point on your Catalina day trip, lucky for you the food scene is INCREDIBLE here! If you can plan your day trip to be here for both lunch and dinner, we recommend that!
After several trips to the island, here are some of our favorite dining options!
Maggie's Blue Rose – offers incredible Mexican food and margaritas overlooking Avalon Bay from their outdoor seating or enjoy your meal inside where it feels like a cozy cantina. Save some space when you order because you will absolutely crush the homemade tortilla chips and salsa that comes out!
Descanso Beach Club – This is one of my favorite places to eat plus a perfect spot to grab lunch on your day trip to Catalina Island if you want to sit back and relax on the beach with drinks and food!
Antonio's Pizza – Grab pizza by the slice, or the whole pie on Summer Ave. There are actually two locations too. This is best if you want to grab food to take and eat somewhere else!
Bluewater Avalon – This spot wins for location as its located right on the water with a great outdoor deck to enjoy delicious food and drinks. We loved the beer selection on tap and the fresh ceviche and chips.
Steve's Steakhouse – If you find yourself sticking around on your day trip to Catalina Island until dinner, this is a great spot! Located just above Maggie's Blue Rose it was fun to find out that both Steve and Maggie are married in real life! (Small island love!) This is the best spot for fine dining on the island. We recommend their coconut battered shrimp!
Catalina Coffee & Cookie Co., – Perfect for a sweet tooth or a cold drink! We recommend the raspberry white chocolate cookie, the dark chocolate pistachio bark, and the strawberry hibiscus tea!
Lobster Trap – A local's favorite and top choice if you're looking for today's fresh catch of seafood or a seafood pasta dish in this nautical-themed restaurant.
Other Catalina Travel Tips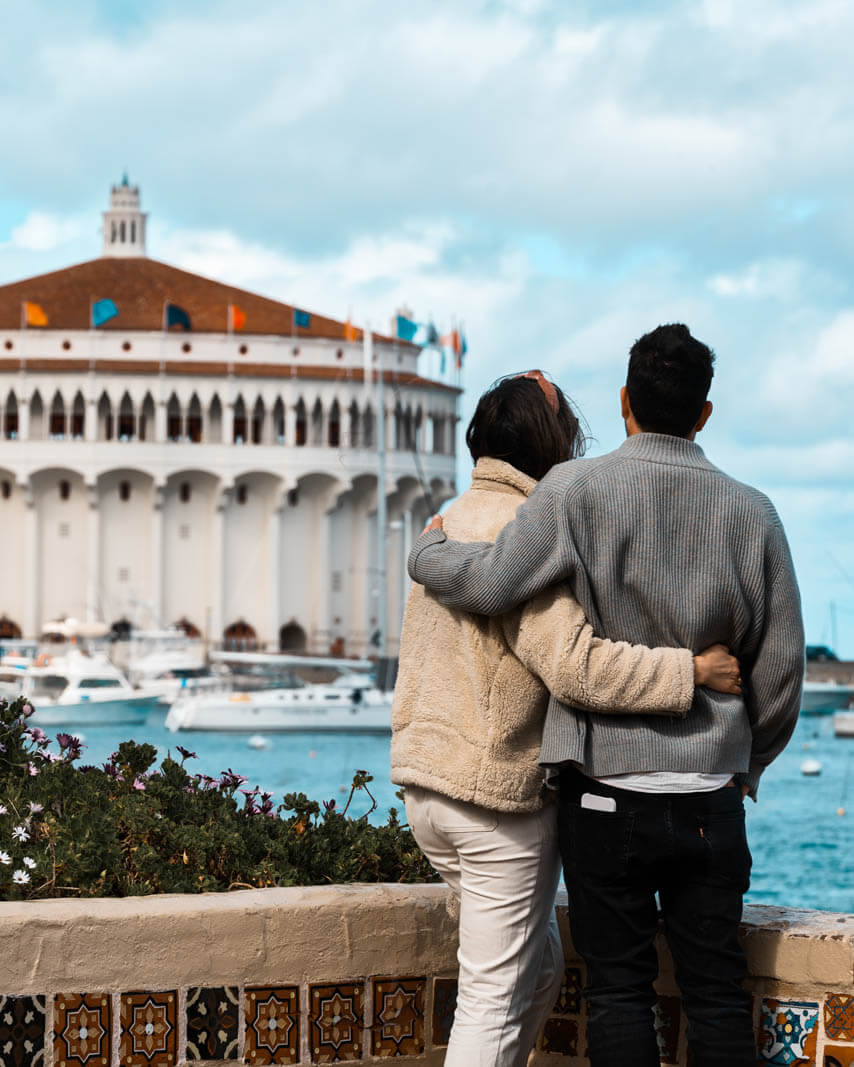 Here are a few essential tips for your Catalina Island day trip and itinerary including what to pack and a few useful resources for booking your on-island activities.
If you're prone to motion sickness you'll want to come prepared for the ferry ride to and from Catalina Island. The ferry service is very smooth, but on days with the high wind the ride is a little rocky and those who are prone to motion sickness may feel it the worst.
Come prepared with things that settle the stomach like ginger ale or purchase ginger chews, Dramamine for motion sickness, or try a motion sickness patch.
Come prepared with sunscreen too! We recommend, especially if you're planning on getting in the water, to purchase reef-safe and eco-friendly sunscreen as many brands contain harmful chemicals to the ocean that people don't realize. Unfortunately, the 'reef friendly' sunscreen label isn't regulated so you often get brands who are 'greenwashing' or pretending to be safe for the environment even though they are not – which makes things confusing for the consumer.
A few of our favorite reef-safe sunscreen products include:
There are plenty of small, charming boutiques on the island for any last-minute things you may have forgotten and even a full-on Vons grocery store too.
For booking on island activities, if you didn't purchase in advance (which is highly advised for the summer season) there is still a chance you can book all kinds of island excursions from boat rides, submarine rides, snorkeling, island tours, Casino tours and more. If you want to try your chances of booking last minute you can at several spots around the island including the blue Pleasure Pier, the information and ticketing spot at the Catalina Island mini-golf, and directly at some attractions like the Casino.
If you're visiting off-season like we did in March or April, chances are you'll be able to book last-minute activities but keep in mind they don't operate at their full schedule off-season, so it's still recommended to book in advance.
And if you do decide to stay the night – which you should!! Check out our full guide to where to stay on Catalina Island including different accommodation options for every type of traveler.
---
Is a day trip to Catalina Island worth it?
Yes, a day trip to Catalina Island is worth it for a taste of its beauty, outdoor activities, and unique attractions. Just be mindful of time constraints.
How much does it cost to go to Catalina for a day?
A day trip to Catalina Island costs around $75 to $100 per person, covering transportation by ferry and basic activities. Additional costs may apply for specific experiences and tours.
How do you get to Catalina Island for the day?
To get to Catalina Island for the day, take a ferry from mainland California ports like Long Beach, Dana Point, or San Pedro. Check ferry schedules and book in advance.
How do you get from LA to Catalina Island?
To travel from Los Angeles to Catalina Island, take a ferry from ports like Long Beach or San Pedro. The ferry ride takes about an hour.
What is the easiest way to get to Catalina Island?
The ferry is the easiest way to get to Catalina Island since there are ports in Long Beach, San Pedro, Newport Beach, and Dana Point. Other quick options include a short helicopter ride too.
---
There you have it! All of our favorite options for how to spend a Catalina Island day trip! If you found this guide helpful, consider bookmarking for later or sharing the love below on Pinterest!