Looking for the best things to do at Catalina Island? We got you! Catalina Island is one of the most underrated destinations in Southern California and worth a visit whether you live on or are visiting the West Coast. There's a reason why we have been over a dozen times and counting, it's truly one of our favorite places ever.
The island is full of history, charm, and where Hollywood's biggest stars in the 1920s would come and spend their free time. People like Marilyn Monroe and Ronald Reagan called Catalina Island home, where the Chicago Cubs used to do their spring training, and where Winston Churchill caught a marlin in record-breaking time.
There are two different places you can visit on the island, Two Harbors a tiny resort town with one restaurant and one store or Avalon, the charming 1 square mile town full of colorful homes, shops, fine dining, amazing hotels, and activities to enjoy.
Catalina Island can be sampled on an easy day trip from Los Angeles or Orange County or what we prefer a multi-day getaway on this island paradise. If you only have a short amount of time though, we recommend also checking out our picks for how to spend a Catalina Island day trip!
Check out our guide to the best things to do in Catalina Island, the girl next door you didn't know about but will fall head over heels in love once you discover her.
Is Catalina Island worth visiting?
Catalina Island is a small destination but packed with things to do and definitely worth visiting on a day trip, overnight trip, or even a few days.
How long should you spend on Catalina Island?
You can spend as little as a few hours on Catalina Island to a few days. If you only come for the day you will most likely spend your time in the town of Avalon but if you plan for more days you can enjoy inland excursions and tours of Catalina Island.
When is the best time to visit Catalina Island?
The best time to visit Catalina Island is all year. The summer (June through September) is the most popular time to visit Catalina Island and will require to you book and plan ahead, hotels are also more expensive this time of year due to demand. The fall and spring are shoulder seasons and also a great time to visit because there are fewer crowds and the temperature is still very comfortable.
How long is the ferry to Catalina Island?
The ferry to Catalina Island is anywhere from 60 to 90 minutes depending on your departure point from either Dana Point, Newport Beach, Long Beach, or San Pedro.
Table of Contents
Facts about Catalina Island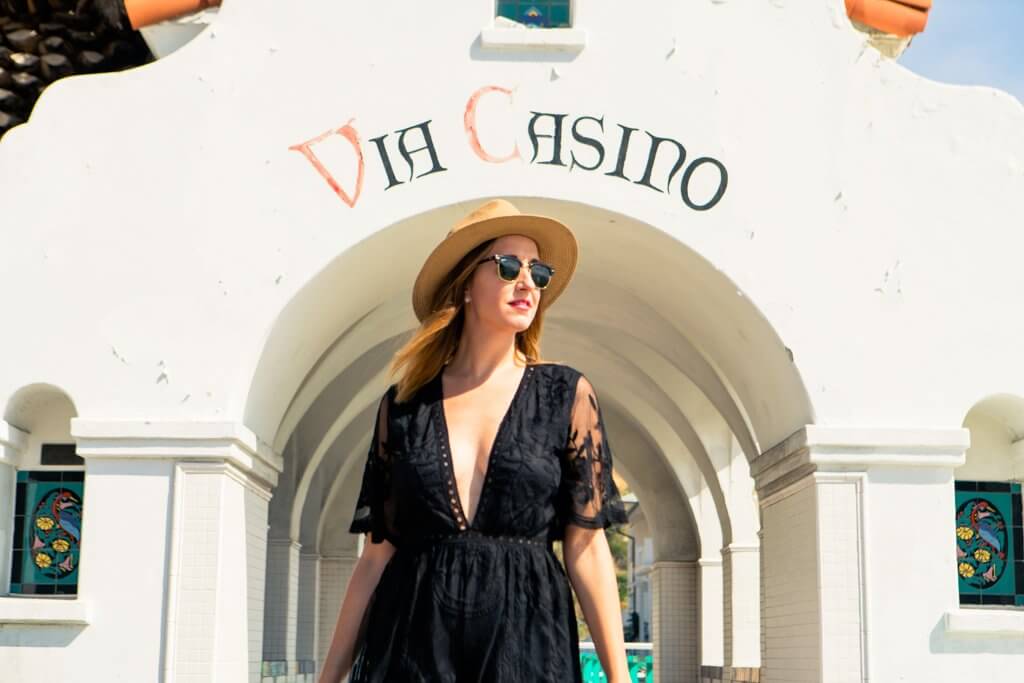 Before we dive into the best things to do in Catalina we are going to go over a few of the most notable events that took place here on the island since it was purchased by the Wrigley family.
Catalina Island was bought sight unseen by William Wrigley Jr, the chewing gum tycoon and former owner of the Chicago Cubs. He is responsible for bringing the Chicago Cubs to do their spring training annually and making the entire island a reserve and conservancy so that the island would remain pristine and not able to become overrun by resorts on this 22-mile-long island.
THANK GOODNESS for that!
The island was used as a famous filming location for Hollywood movies including the popular more recent Will Ferrel movie, Step Brothers with the famous line, "The motherf*ing Catalina Wine Mixer."
A herd of bison were brought on the island for the filming of a movie and were left behind to live on the island where some of their descendants still call home today.
Norma Jean Baker, a taffy puller at the local candy shop, was discovered here and became Hollywood's biggest starlets of all time known as Marilyn Monroe.
Ronald Reagan called Catalina Island home before making his way to Hollywood and before becoming president of the United States.
And the casino on the island, which was never actually a gambling hall and never will be, was a gathering place on the island with a movie theater featuring the first motion picture with sound!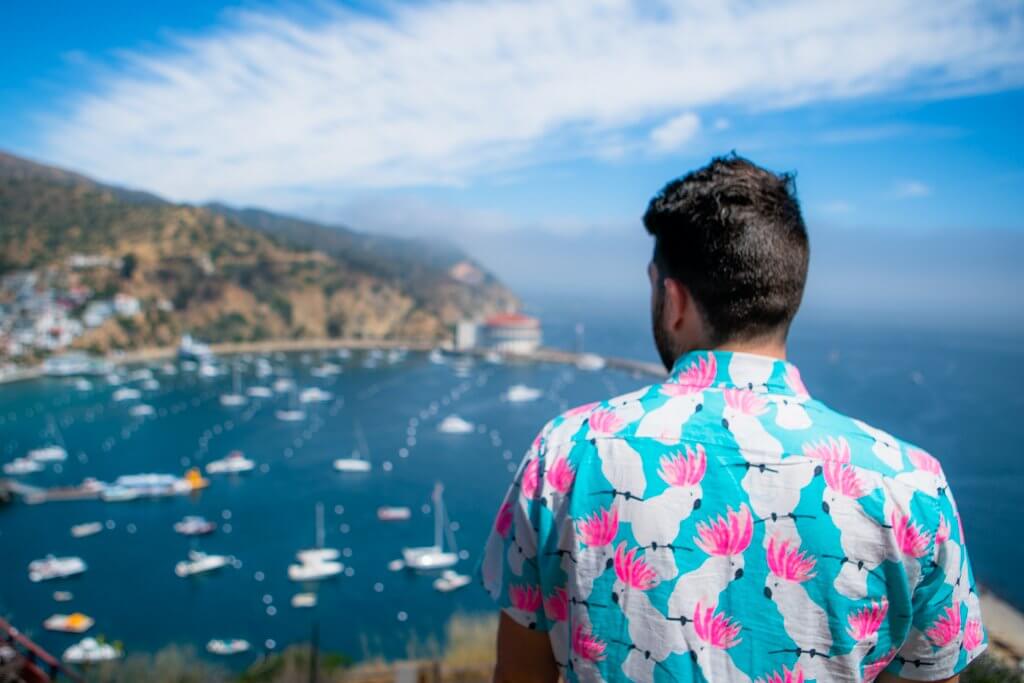 Considered to have the perfect year round climate averaging 68 degrees Fahrenheit in the winter and averaging a cool and comfortable 70s in the summer makes Catalina one of the best getaways any season.
Best Things to do in Catalina: Outdoor Adventures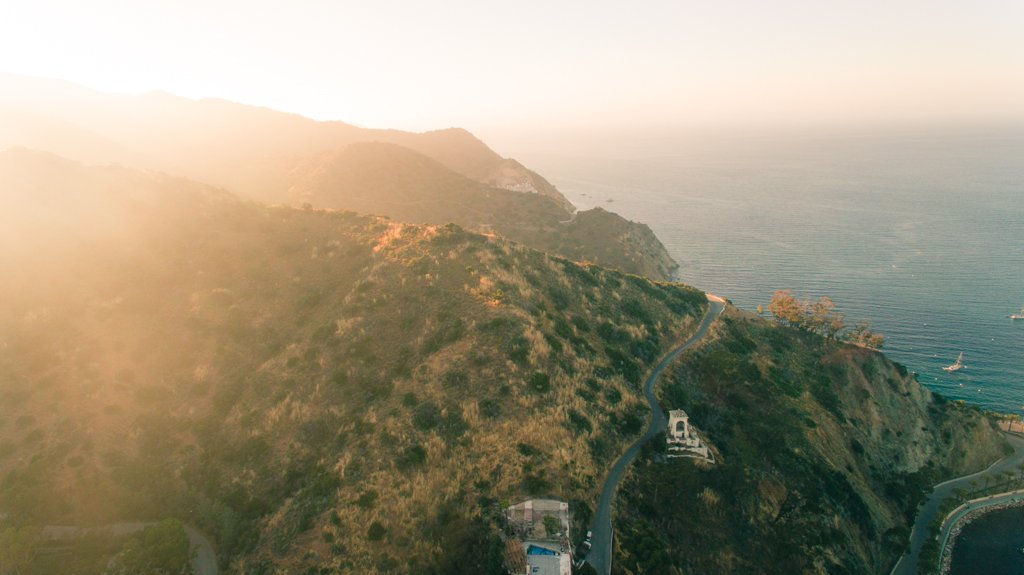 One of the best things to do in Catalina are enjoying any of the tons of outdoor adventures including everything from kayaking to ziplining.
Zipline Eco Tour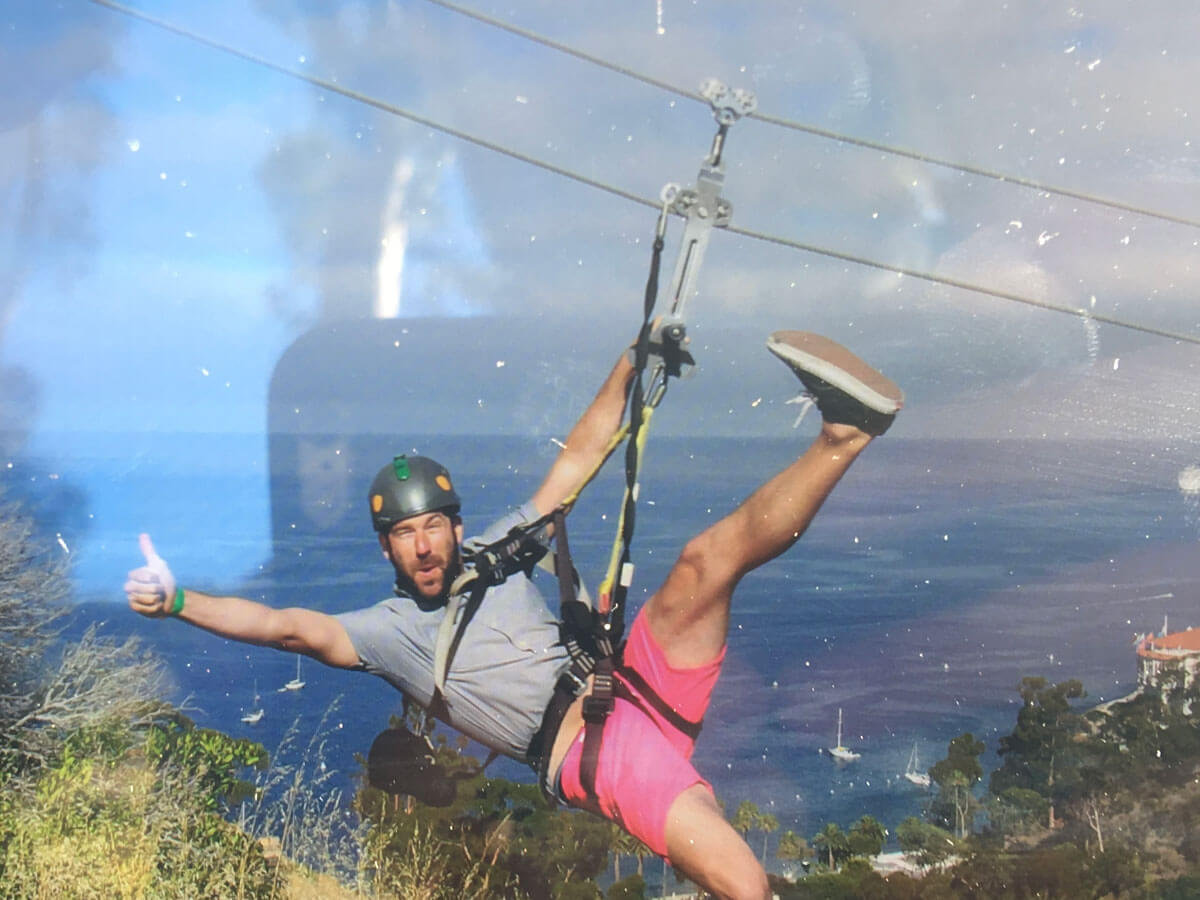 Probably our favorite of the outdoor activities and things to do in Catalina. The Zipline Eco Tour starts at the top of a hill, towering at 600 feet up, and works its way down to Descanso Beach Club after enjoying 5 different lines!
This was our first go at ziplining and it was a blast, we also had two great guides Denny and Greg who were entertaining and made our small group feel safe and have a good time!
What really stands out about this experience would be the view of the Pacific Ocean and the flora and fauna of Catalina Island as you zip on by! This experience takes around 2 hours and needs to be booked in advance.
Scuba Diving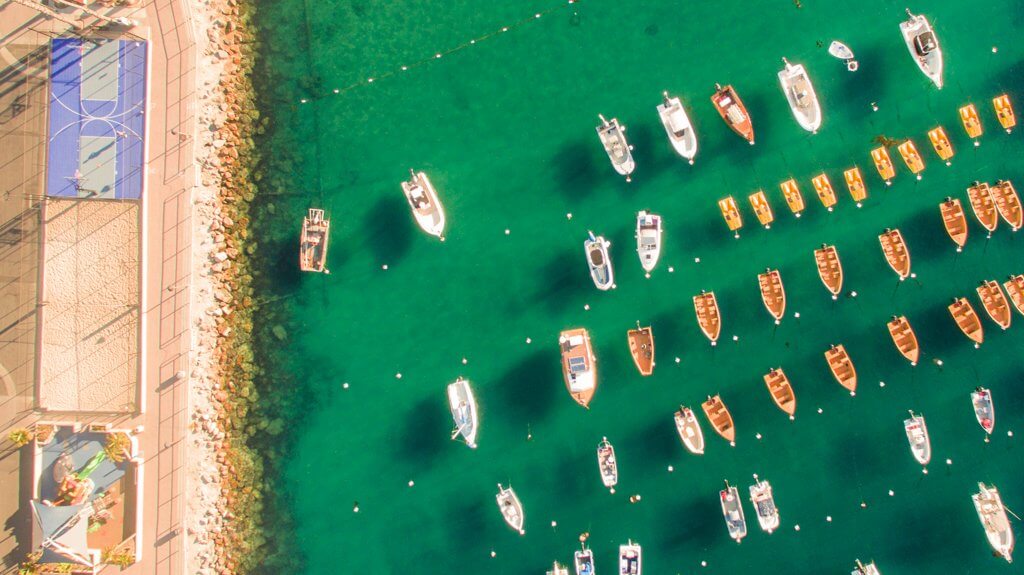 If you're into scuba diving then you're in for a treat at Catalina. Named the "World's Healthiest Marine Environment" by Scuba Diving Magazine you should really come and see it for yourself. The most popular spot is diving from Two Harbors, all levels welcome.
You can plan a scuba diving adventure with Catalina Diver's Supply on the green Pleasure Pier in downtown Avalon.
Snorkel
If you're not into scuba diving but still want to enjoy water sports this next thing to do in Catalina is for you. Take advantage of the excellent snorkeling from Catalina Island in the turquoise waters and swim with the iconic orange Garibaldi fish. Check out what's under the turquoise waters by paddling around.
We did a tour with Catalina Diver's Supply who took us to the northern point of the island for our guided snorkeling adventure. What's best is that you can enjoy this fun thing to do in Catalina all year long because they provide wet suits for all seasons, snorkel masks, and fins.
Kayak & SUP Rentals
Head over to Descanso Beach where you can rent kayaks and stand up paddle boards by the hour (pick your poison!) where you can paddle and float around the harbor while basking in the sun looking for the bright orange Garibaldi fish hanging out in the turquoise waters!
If you're ambitious you can kayak around the island a bit, but make sure you conserve enough energy to get back! This was one of my personal favorite things to do in Catalina and after working up a sweat and an appetite you can order a meal and a drink at the Descanso Beach Club when you're all done!
Boat Tours
Another one of the best water activities and things to do in Catalina are the different boat tours. There are various different boat tours available on Catalina Island including a glass-bottom boat and even an under the sea submersible boat.
There are even seasonal flying fish boat tours at night where you can literally see fish soar in the sky toward light for an unforgettable experience.
Best Things to do in Catalina: Inland Tours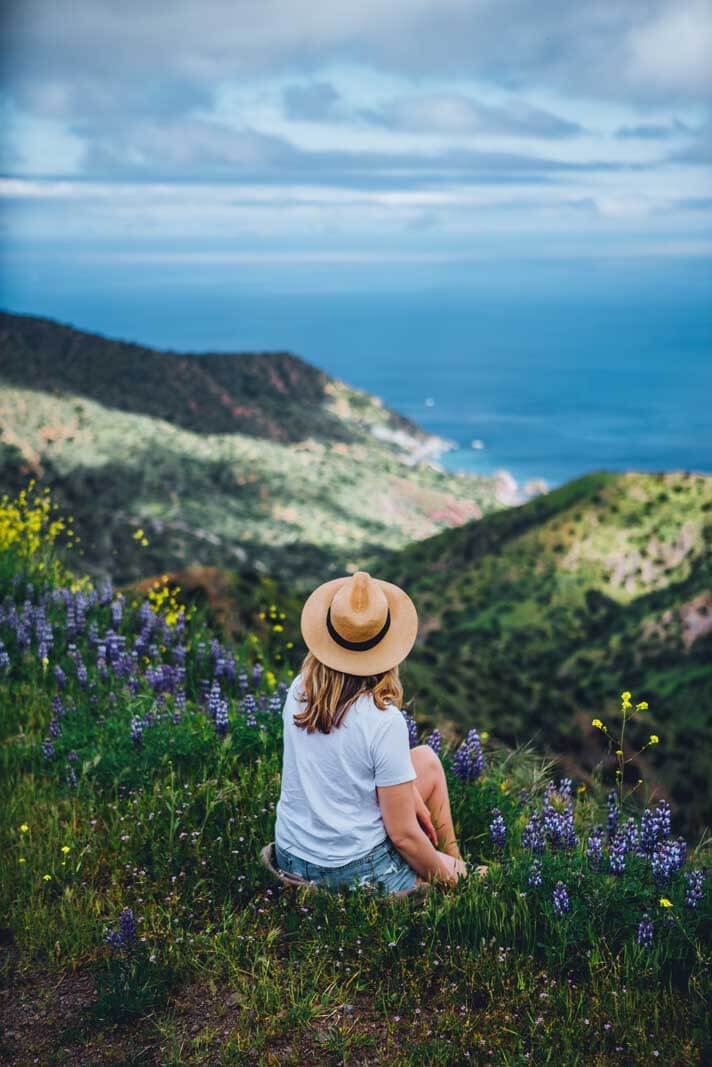 Another one of the best things to do in Catalina is leave Avalon and explore the interior of the island. Explore different parts of Catalina Island by taking an inland tour or expedition. There are different tours to choose from ranging anywhere from 45 minutes to 3.5 hours to multi-day treks on the Trans Catalina Trail.
Some of the tours take you to places you wouldn't be able to access on the island without an offroading vehicle. Golf carts aren't allowed on the interior of the island.
Inland Expedition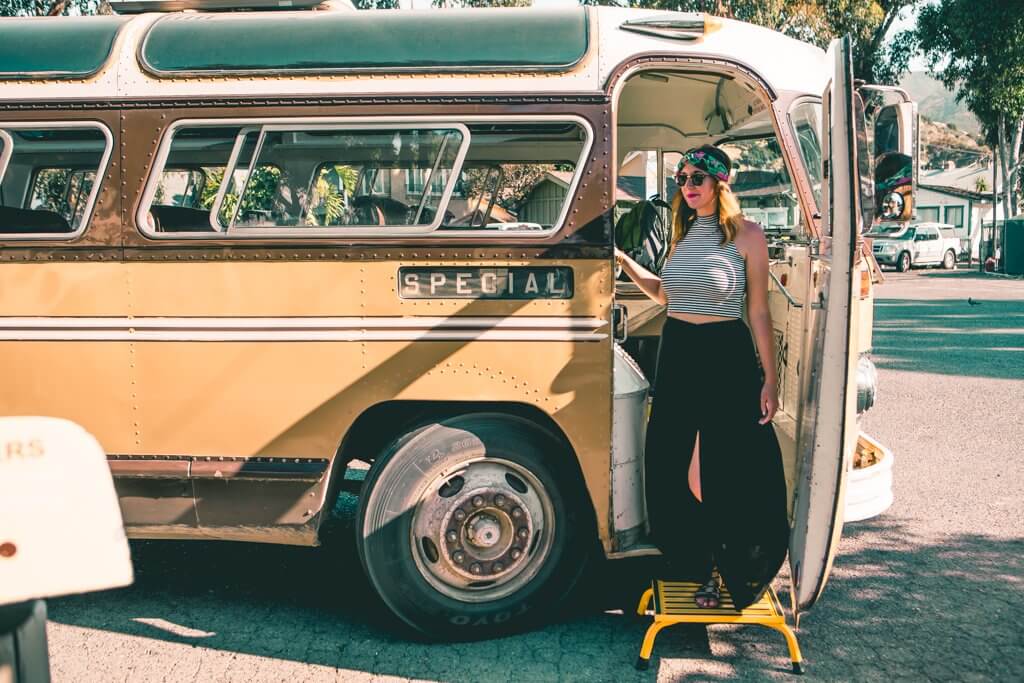 This is one of the more unique things to do in Catalina. The inland expedition with the Catalina Island Company takes you on a scenic 3.5-hour tour through 31 miles of Catalina's interior on a vintage bus. The journey takes you on the historic 19th-century stagecoach route including stops at a native plant nursery, scenic stops along the way, and even the Bald Eagle habitat on the island.
If you're lucky you might even spot some of the bison, endemic fox species, or bald eagles on your journey.
The Catalina Island Conservancy also offers Eco-Jeep tours to the interior of the island for a little more rugged and open-air experience!
Customized Interior Tours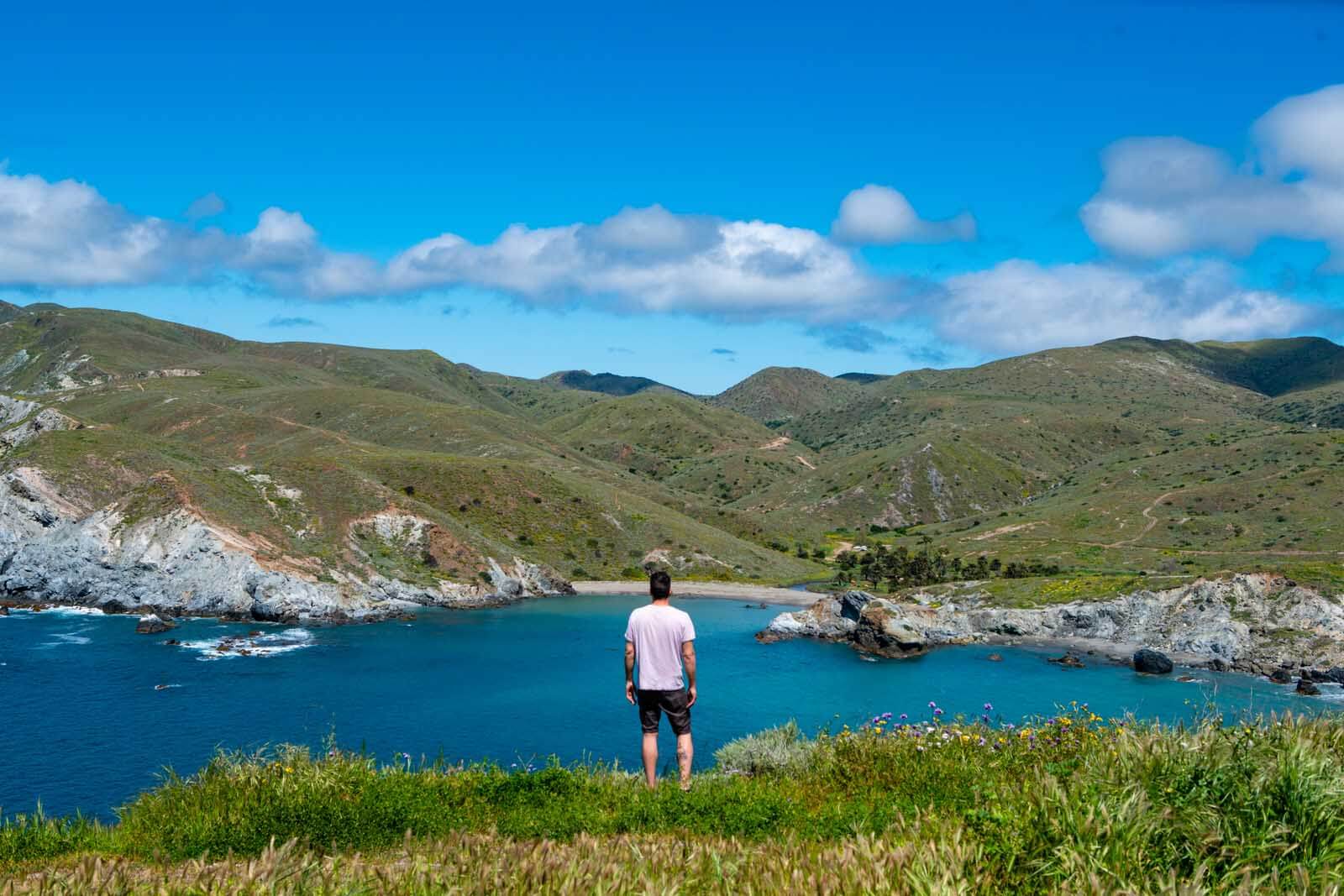 Easily one of our new favorite things to do in Catalina is go to the interior with Catalina Backcountry. This is perfect for small groups or families as you can customize your experience. Whether you want to do a private day tour to some of the best viewpoints on the interior of the island or you want to do the multi-day Trans Catalina Trail hike (TCT), Catalina Backcountry will help you have the best experience and see the best spots with a local guide who knows the island intimately.
We took a day trip with Catalina Backcountry to the interior of the island and were rewarded with EPIC viewpoints on both sides of the island as well as spotting a bison and a fox!
If you have been wanting to do the Trans Catalina Trail, the multi-day 38.5 mile trek along the ridgeline of the island, like we have then Catalina Backcountry offers a unique way to experience this even for the most luxe of travelers.
Witness remote parts of the island in style. Catalina Backcountry can do gear hauls to your daily campsite so you don't have to lug it around or even offer a more white glove service where they set up camp for you every day and cook and provide all your meals daily. By breakfast you can wake up to a freshly cooked meal by own of their guides, sent off with a packed lunch, and end your day with a fresh island seafood catch and steak at your site. They will do all the heavy lifting while you just enjoy the views and the trek with your daypack.
If you are short on time they can even just take you to some of the spots on the trail on a day trip! We love customizable tours like this because pre-packaged tours just don't fit everyone's needs.
You can learn more information on Catalina Backcountry's website.
We had a blast on our day trip! We were even rewarded with a surprise Modelo beer at the Little Harbor viewpoint. We couldn't believe that places like this existed in our own state let alone our home country. You feel like you're in some remote part of the world on an empty, idyllic beach.
If you only have time to do one thing in Catalina after exploring a bit of Avalon, this would be it.
Hiking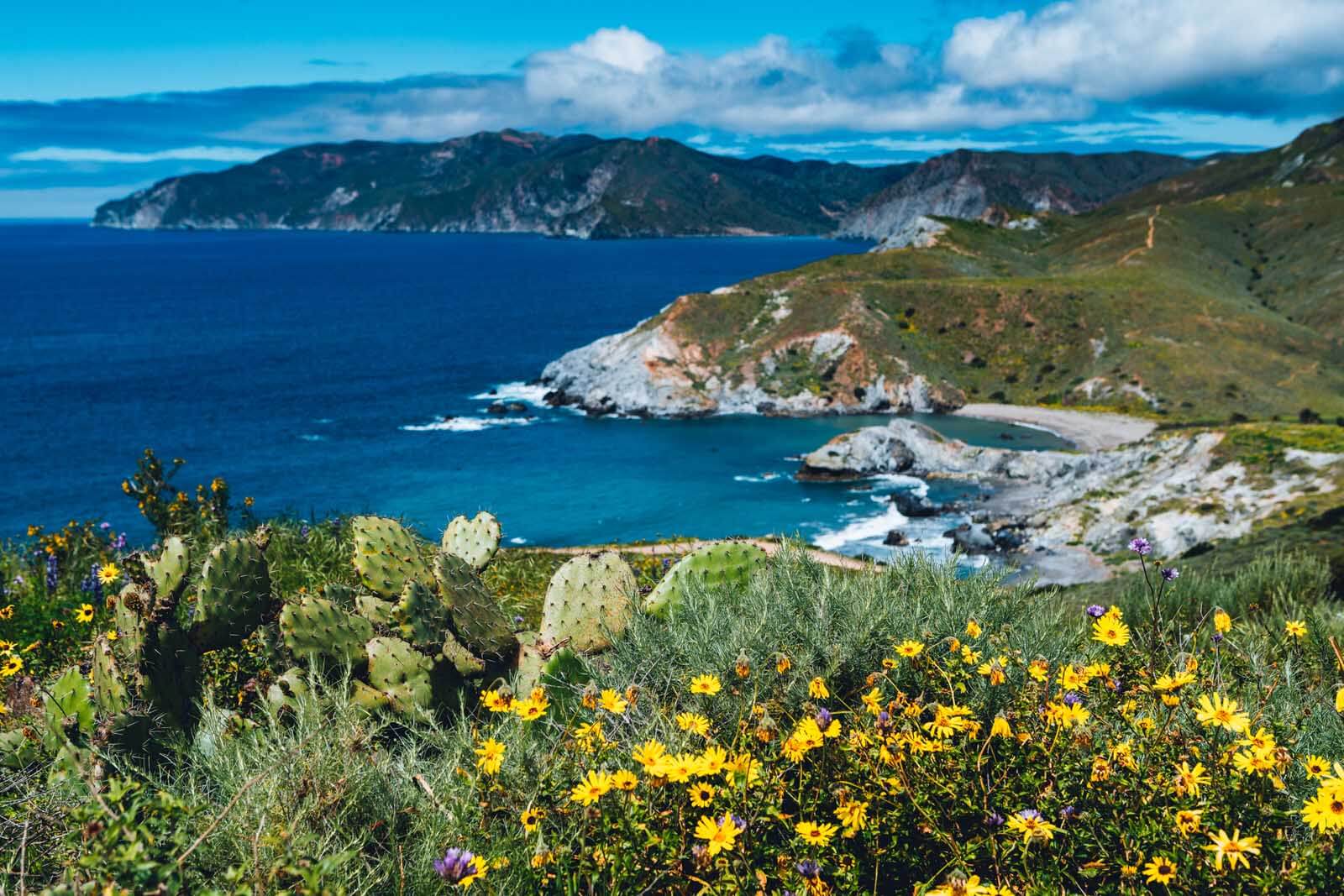 Easily one of the best things to do at Catalina Island is to take in all the gorgeous views by hiking. There are easy hikes that take just an hour to multi-day hikes along the Trans Catalina Trail, aka TCT as mentioned above.
You can prepare to do the TCT on your own or use a service like what Catalina Backcountry offers where they carry the load and set up camp while you just focus on the hiking and enjoying the views part.
Catalina Backcountry also offers customized day hikes where they take you to parts of the island that you can't get to from Avalon without a guide for a few hours or an entire day – depending on what you want to do, you will just have to organize in advance with their team.
There are also several shorter hikes that you can complete on your own from Avalon. Once you leave Avalon, you'll need a hiking permit which is easy to obtain from the Catalina Island Conservancy and is completely free.
For a day hike, we highly recommend the Garden to Sky hiking loop which is a moderate 2.5-mile hike that can take anywhere from 2-4 hours to complete starting at The Wrigley Memorial and Botanical Garden. Along the hike, you'll be rewarded with views of both sides of the island.
Just keep in mind that you have to walk to Wrigley Memorial which is a 1.5-mile walk inland to start.
If you start inside the Wrigley Memorial and Botanical Garden you will have to pay an admission. Alternatively, you can start at the Hermit Gulch Trailhead for free at the Hermit Gulch Campground, but keep in mind that this adds length and difficulty to the total trail.
There are several amazing hikes on Catalina Island to enjoy too.
Things to do in Catalina: Avalon
Descanso Beach
If you're looking for the best area to sunbathe and relax on the beach this next thing in Catalina is for you! The best area to lay out on the beach in Avalon would be the Descanso Beach Club. Bring a towel and snag a spot on the sand or take up your beach day a notch by renting a private cabana or chaise lounge with an umbrella for shade with your own personal beach butler and other perks from the Descanso Beach Club.
You don't even have to leave for food or drinks since you can get served by the local restaurant right on the sand or from their gorgeous patio.
If you're hoping to do a cabana or chaise lounge rental, you'll want to secure a reservation in advance.
Wrigley Botanical Gardens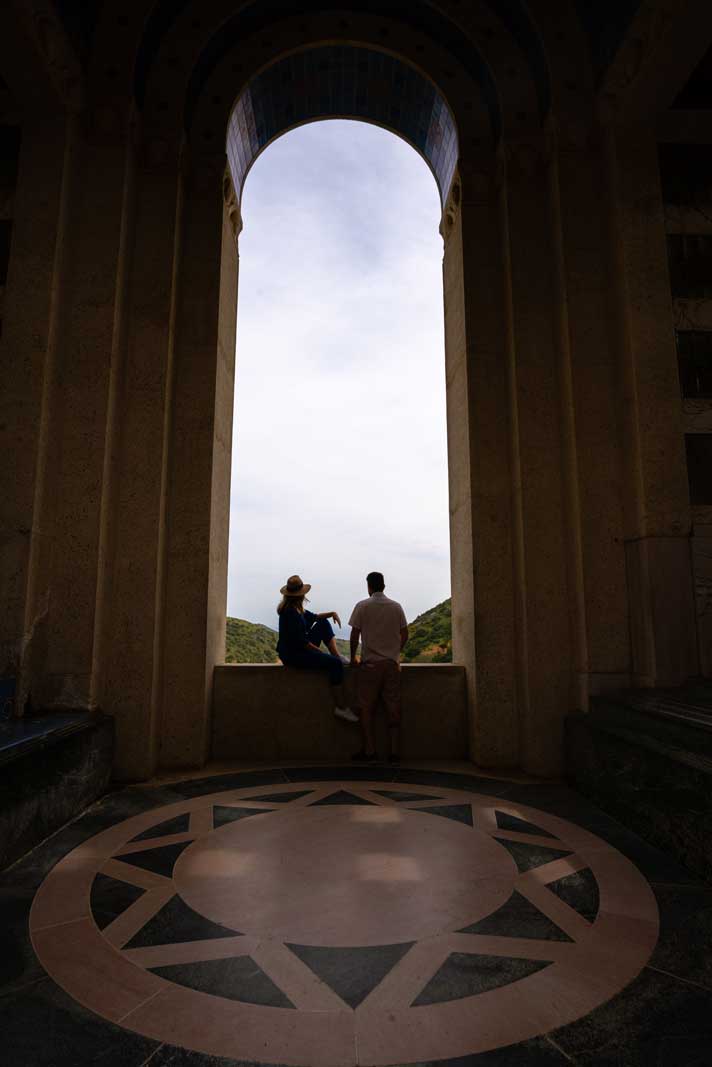 Another one of the most beautiful things to do in Catalina is check out the Botanical Gardens. The inland Catalina Island Conservancy and botanical garden and memorial to William Wrigley Jr. and truly a breathtaking place to take a stroll 1.5 miles inland on Avalon Canyon Rd.
You can walk, bike, rent a golf cart, or take the local shuttle up the entrance where you will be greeted with endemic plants to the island. With these unique discoveries, you will also see rare and endangered plant species.
We especially loved the view from the Wrigley Memorial and the beautiful Spanish tile murals.
Admission is $5, if you walk be sure to bring water and something to shade you from the sun or sunscreen! Trust us, we learned the hard way.
Buena Vista Point Scenic Overlook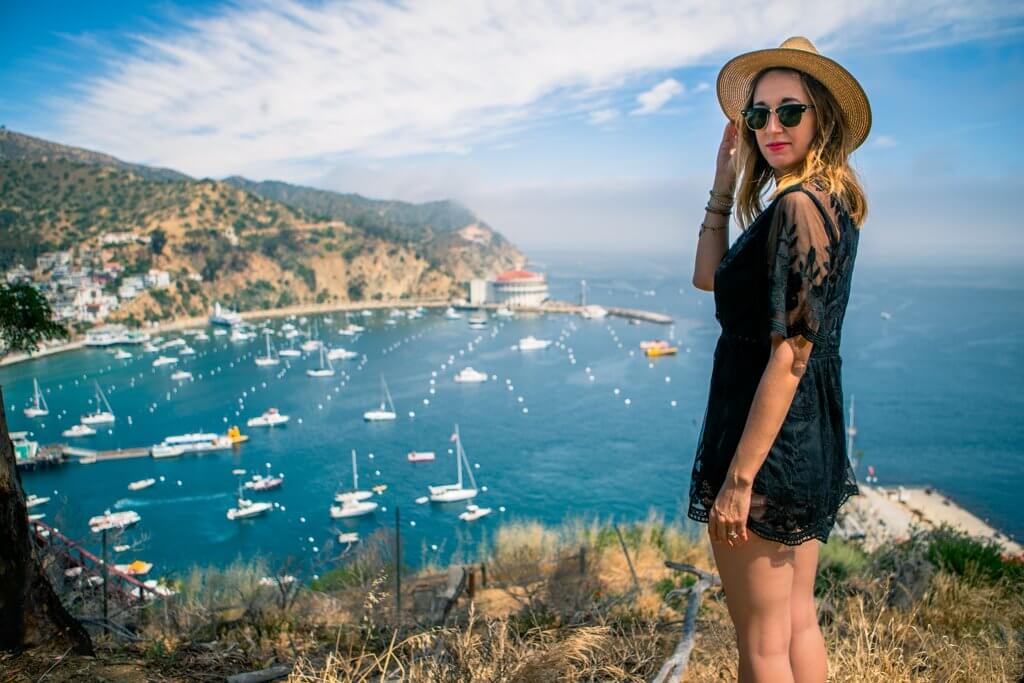 One of our favorite things to do in Catalina is find the best viewpoints and photo spots. By adventuring up to the Inn at Mount Ada for a view of the Catalina Harbor and Casino there is a not so secret viewpoint pictured above.
Take the road leading up to Mt. Ada, on the left of the road you will see a small path or spot a bench overlooking the water. The viewpoint is known as the Buena Vista Point Scenic Overlook and is easy to find in Google Maps. We also recommend it as one of the best photo spots in Catalina.
If you don't want to just snap a photo and leave we recommend bringing up a snack or drink and enjoy the bench overlooking the view here as well. Just remember to take out what you bring in!
1920s Casino Movie Theater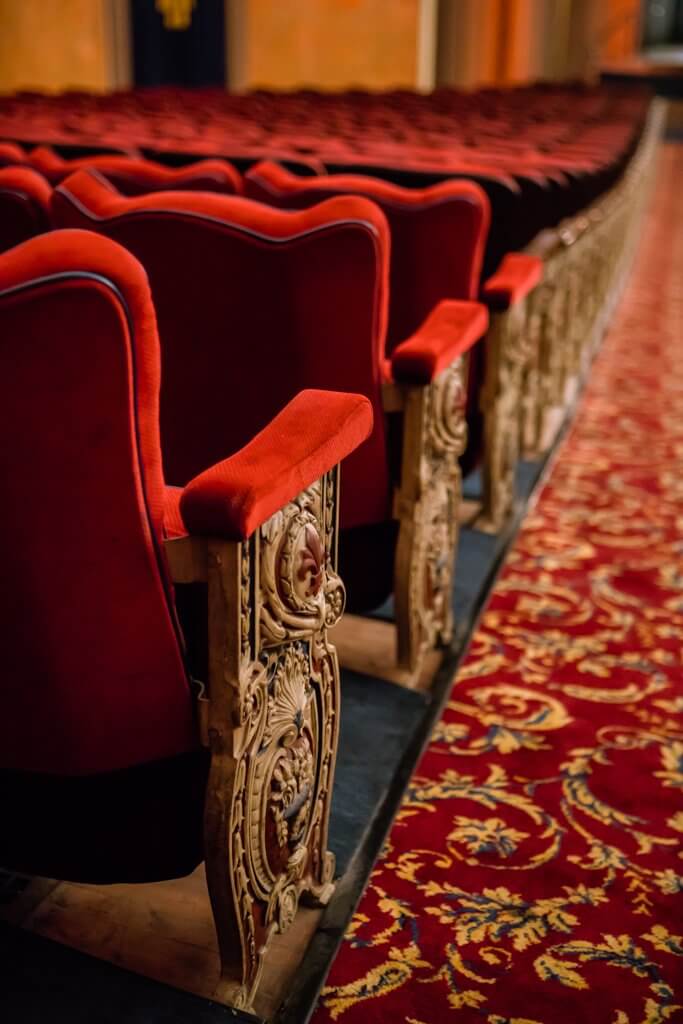 Another one of the more unique things to do in Catalina and another favorite is the movie theater experience in the Casino.
Step back in time as you enter the beautifully preserved theater with the 1920s era seats and original art deco murals and twinkling star lights on the ceiling. Every evening at 7:30 there is one showing of a current movie, we were lucky to experience Guardians of the Galaxy Vol. 2 here on our first visit and Captain Marvel on our most recent visit!
If you come wearing a hat you can use the old-fashioned hat holder men and women used in the 1920s under the seats.
Come a bit early on the weekends and you can experience a local man playing the antique organ in the cinema. The organ itself is the 3rd oldest organ in the world of its kind and only 4 left in existence!
This is truly a once-in-a-lifetime experience. We have never seen anything else like this in our travels and the Casino is one of our favorite places on the island.
Catalina Island Mini Golf
One of our favorite things to do on Catalina Island is play mini-golf, we love playing mini-golf anywhere but to have a chance to play here is extra fun!
The 18-hole course is situated in a lush garden in the center of town in Avalon. There are some great trick shots so be sure to channel your inner Happy Gilmore here. Brush up on island facts at each hole where there's a sign describing something about the island as well as the best way to tackle your shot!
Rent A Golf Cart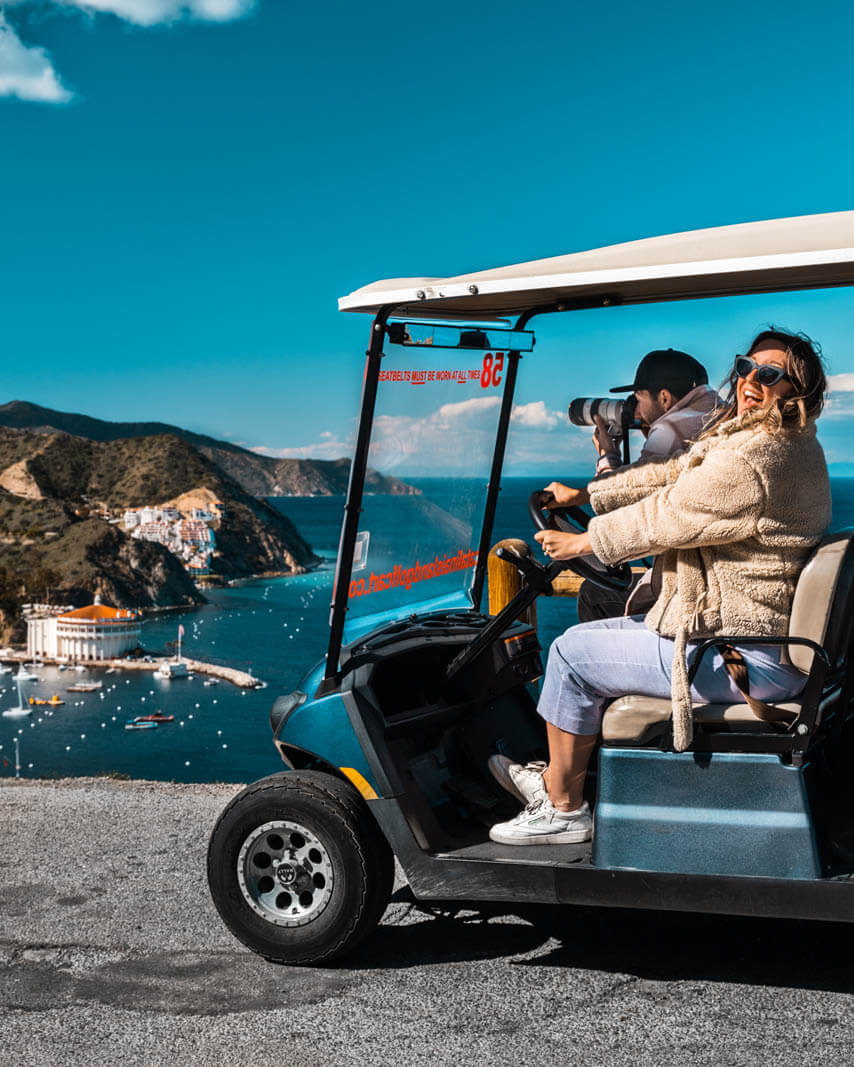 Another one of the best things to do in Catalina and the best ways to get around is by the local mode of transport. The locals get around via golf carts and you can see everyone buzzing around town with their dogs as if these carts were real cars.
If you're short on time or sick of walking this is the perfect way to explore the nooks and crannies of Avalon plus take their scenic route which covers a lot of the island, this is also a great way to get to the Wrigley Botanical Garden. You can rent golf carts by the hour at a few different spots in Avalon.
Inn at Mount Ada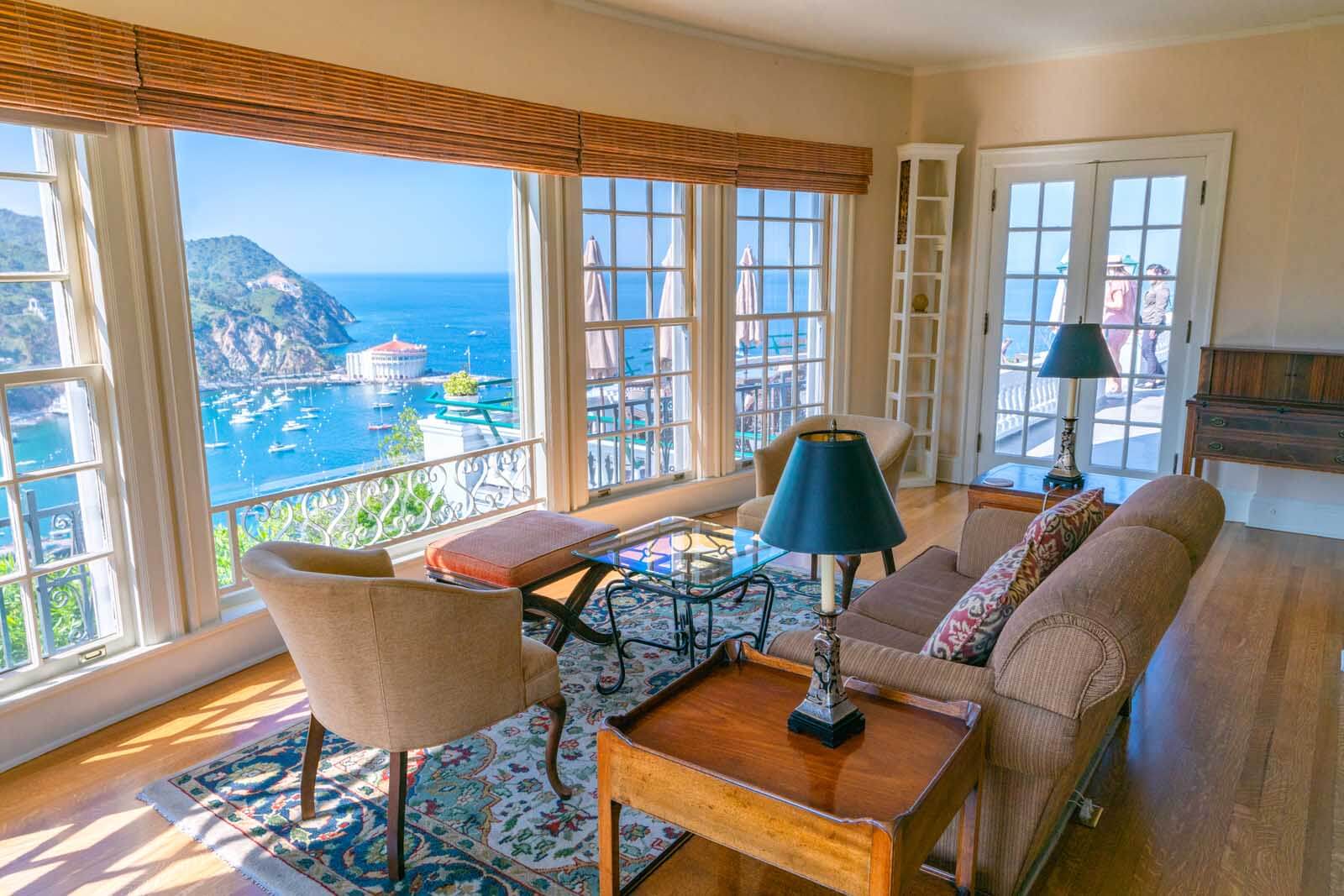 One of the most iconic places on the island is the Inn at Mount Ada. This was William Wrigley's mansion on the island and today it's a 6-bedroom B&B for luxury travelers who want the best view on the island!
If you want to stay here you need to plan well in advance especially if you're booking during peak season or holidays.
Play at the Arcade
This next thing to do in Catalina are for those young at heart, not just for kids! (or so we say since we spent our evening playing here!) Enjoy playing mini-bowling, shooting pirate games, Deal or No Deal, and many other fun arcade games at Three Palms Arcade in Avalon.
They even have a ticket system where you can trade in your winnings for fun island prizes! 
Catalina Island Museum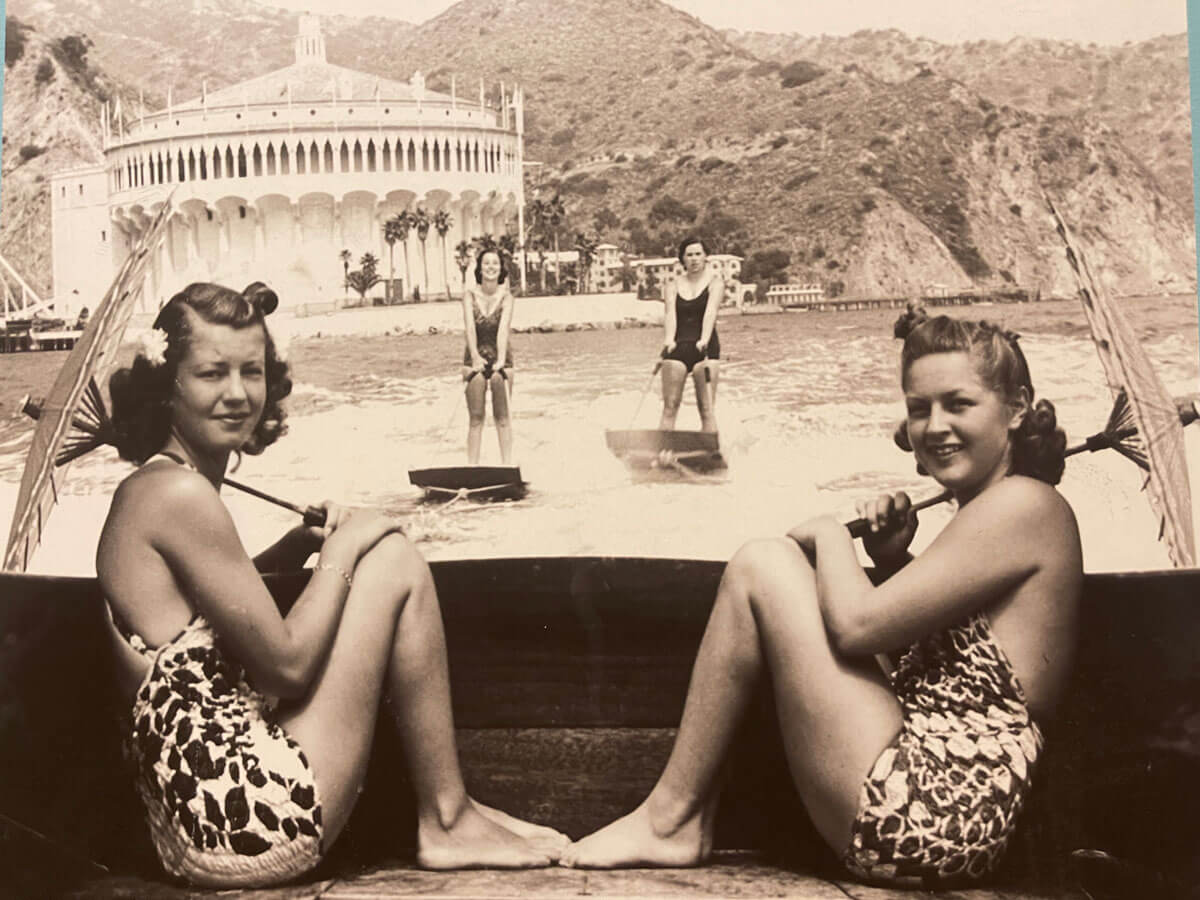 One of the best things to do in Catalina for those fascinated with the island's history is to check out the Catalina Island Museum for Art and History.
This beautiful space takes you through the history of the island including historic photos, ephemera, and stories from when the island was purchased by the Wrigley family, when the Chicago Cubs did their training on the island, its role in WWII, to the history of transportation to the island, and of course the island being a playground for Hollywood's Golden Age including the discovery of one of Hollywood's biggest stars of all time, Marilyn Monroe.
And as the name suggests, you can find art exhibits here as well including a permanent Chihuly glass installation on their outdoor terrace next to the amphitheater.
Best Things to do in Catalina: Avalon Tours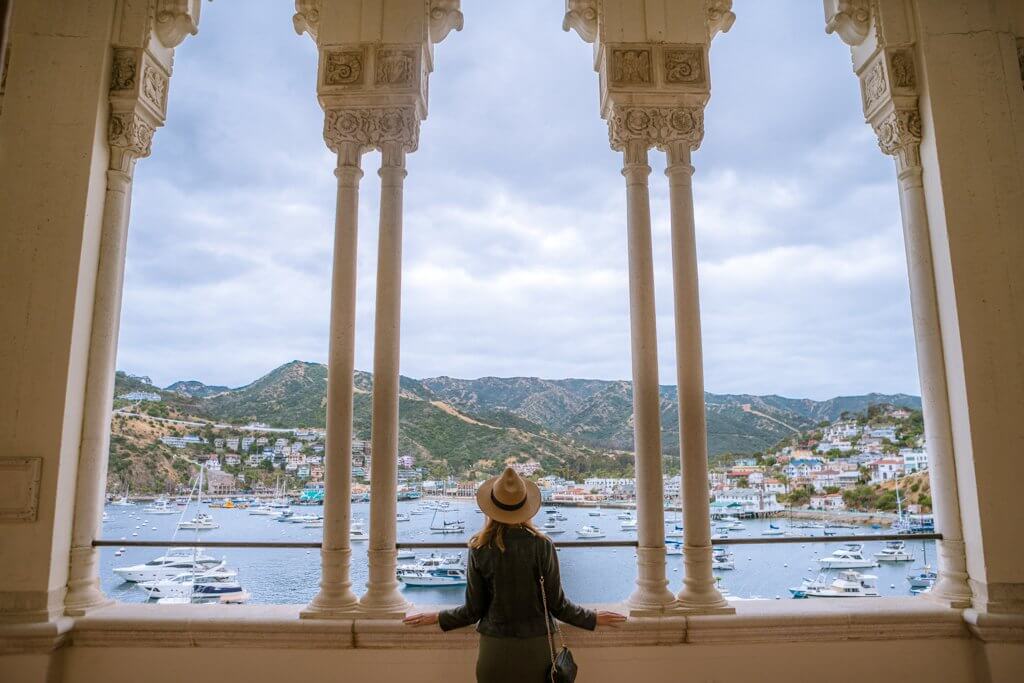 Since there is so much history and interesting information about Catalina Island why not take a tour and brush up on some knowledge from a local? If history isn't your thing then you can enjoy a scenic or culinary tour that are totally worth your time as well. By taking a tour you can experience the best things to do in Catalina in a short period of time. Here are some of our favorites.
Historic Tours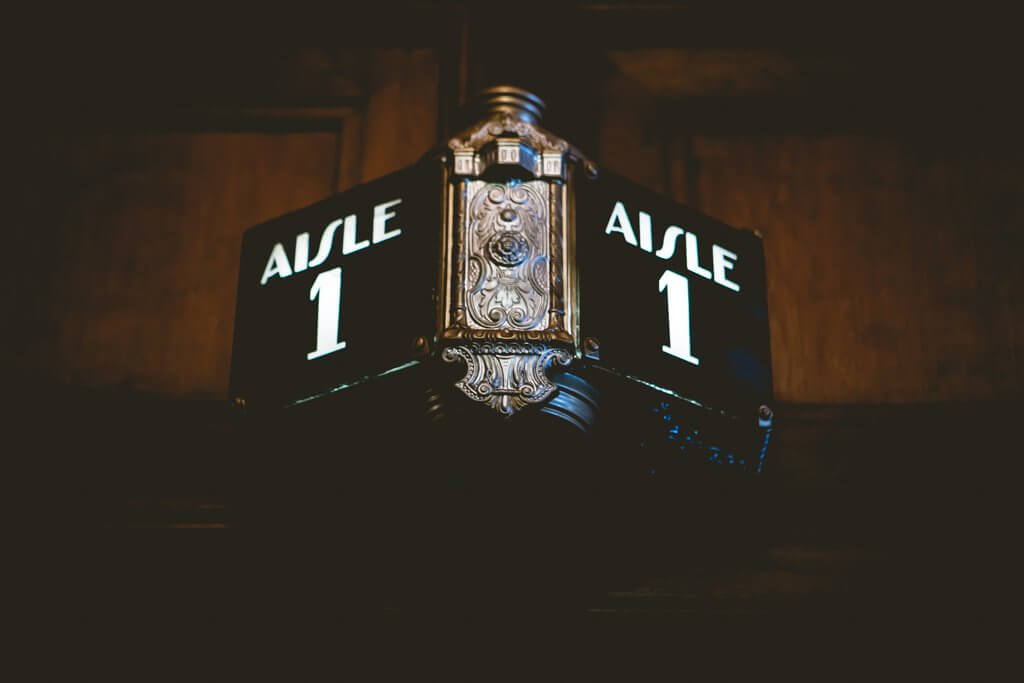 If you're a history buff then this next thing to do in Catalina is for you and we recommend taking a casino tour. There are two different tour options available, one is a 40-minute tour that takes you through the movie theater, the ballroom, and ends with a fantastic view from the top of the casino.
The other is a more in-depth 90-minute tour that gives you more of a behind-the-scenes look into the casino and all of the famous events that have been held there.
Avalon Tasting & Cultural Walking Tour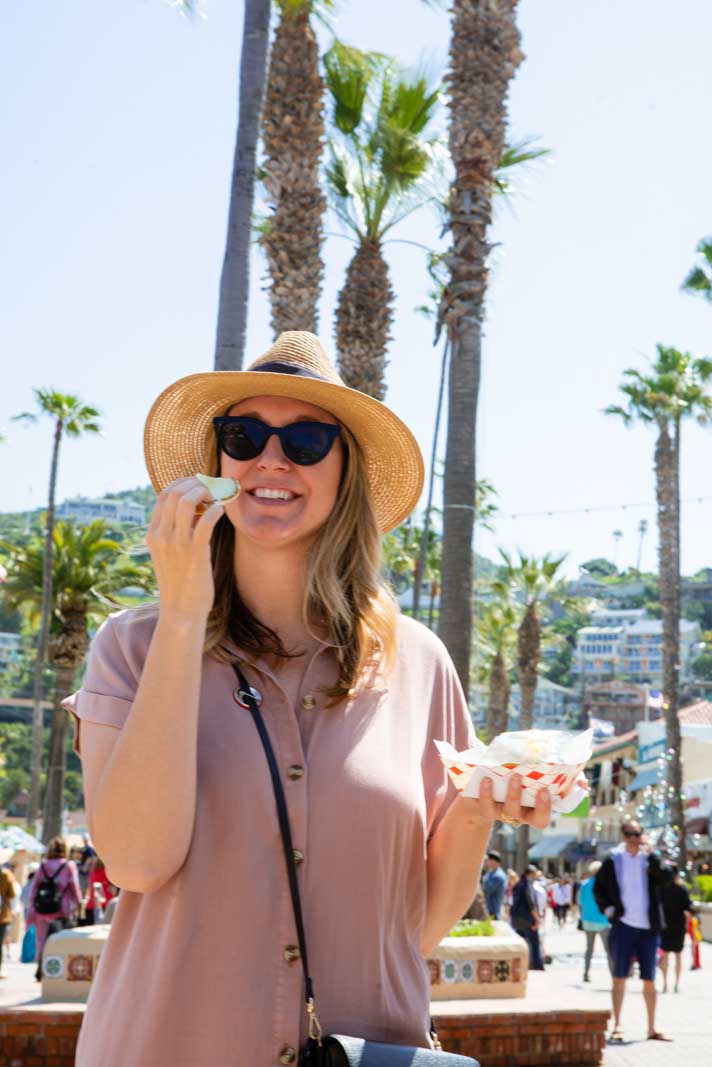 We are obsessed with food tours when visiting a new location, they are the best way to not only learn about the history of the place you're visiting but also to try some of the best dishes! That's why we recommend this tour is one of the best things to do in Catalina when you first arrive!
After doing several food tours, this one on Catalina is still one of our favorites. We absolutely adore our tour guide that we've had twice now, Lili. She's a historian and gives her crowd the most fascinating historical stories on the island that every visitor should know! From the juicy island gossip stories from the past to current day business owners who are doing great things in the area!
On the Catalina Island food tour you sample your way through 6 different restaurants having everything from appetizers to dessert. We were able to check out all the amazing dining establishments on the island in just a few short hours. This tour is perfect for day or overnight visitors!
We ended up eating the rest of our meals at the restaurants we sampled on the tour!
Night Tours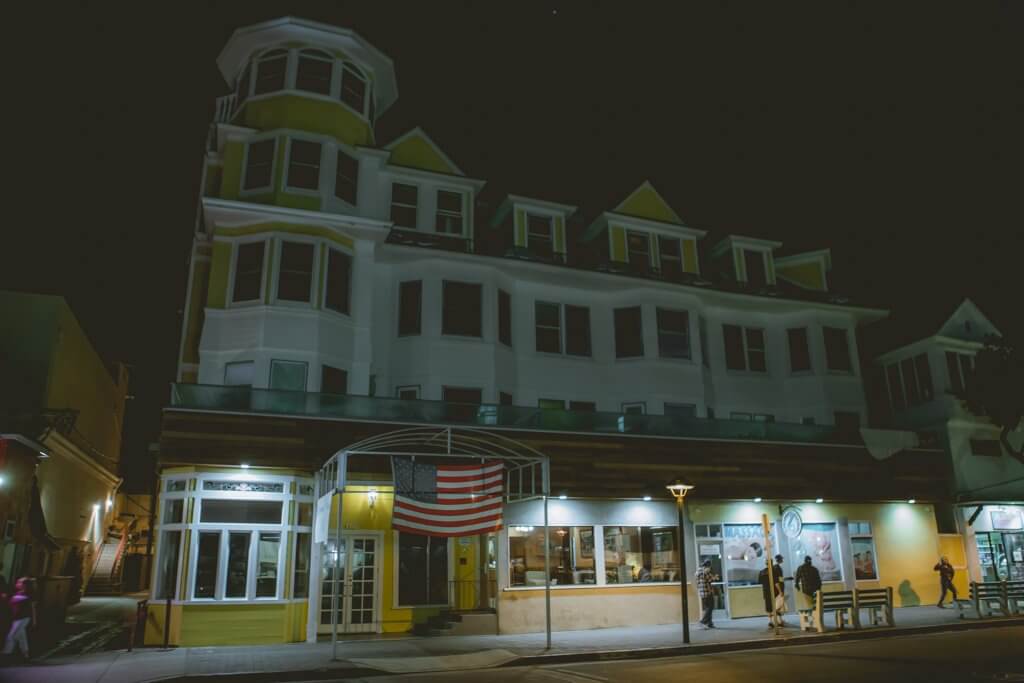 If you're an overnight visitor then this next thing to do in Catalina is for you! From spooky tours to astronomy tours there are plenty of activities to keep you busy and learning at night!
Apparently, there have been hundreds of UFO sightings on Catalina Island. Walk along the shores at dusk with a guide to hear about the local tales of UFOs on the Enchanted tour. We even had a local tell us about some strange activity they noticed when camping in the interior! If you're curious about more local stories you can always ask!
Another popular tour would be the ghost tour held in the evenings. Find out about the local and famous ghost sightings on the island from the downtown hotels in Avalon to the Casino! 
Another fun thing to do in Catalina at night for tours is an Astronomy Tour. Amateur astronomer Kathleen Hill Carlisle, featured in Westways and Sunset Magazine, will take you on a guided tour of the night skies over Catalina Island. Half of the tour will be on the boat and the other half is on land looking through a large telescope.
Where to Eat on Catalina Island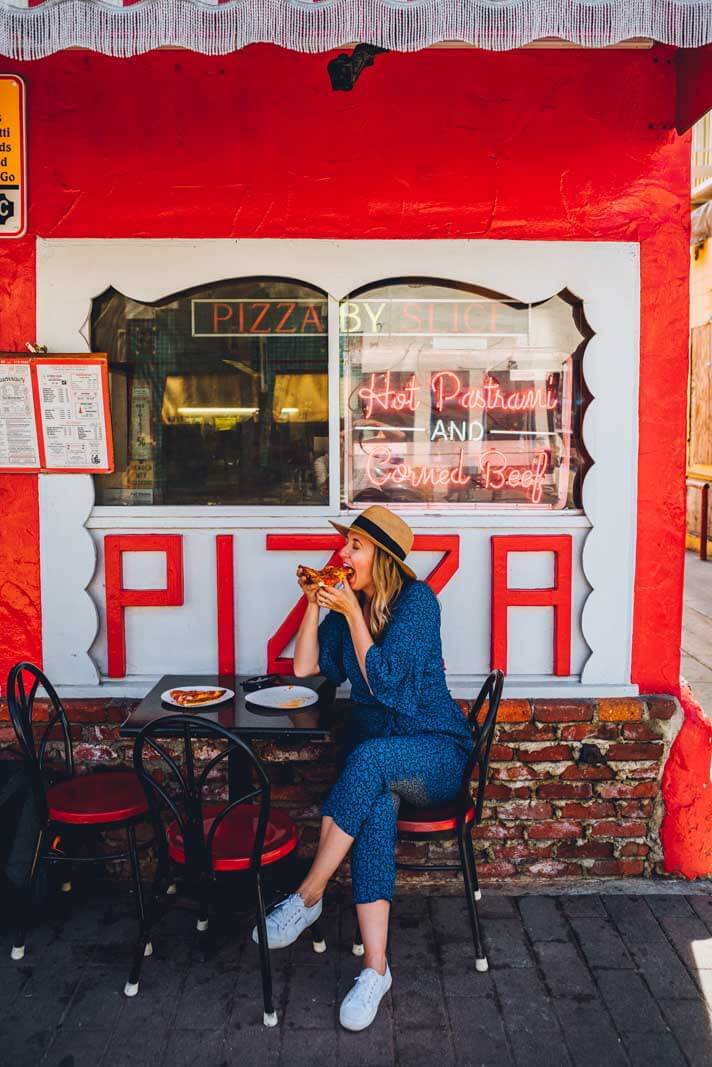 Easily one of the best things to do in Catalina is EAT! There are so many great dining options on Catalina Island that it's hard to choose just a few. We recommend doing the Food Tour mentioned earlier in the post to sample the best food on the island. Here are our picks for best places to eat in Avalon.
Maggie's Blue Rose
Overlooking Avalon Bay this is the best spot in town for amazing margaritas and Mexican cuisine. We were impressed with how delicious and addicting the homemade tortilla chips and salsa were. We decided we had the best nachos in the world here and came back twice for them during both of our trips. This is easily our favorite restaurant on the island.
Descanso Beach Club
Enjoy a drink and tasty food on the beach at Descanso Beach Club. This laidback place is the perfect spot to enjoy lunch while relaxing on the beach. Sit at the bar, on a towel at the beach, or find a lounge chair with an umbrella and enjoy your meal and drinks all day.
Lobster Trap
A local's favorite. This nautical-themed restaurant is always one of the most lively dinner spots on the island and one of the best things to do in Catalina if you want to try some of the freshest seafood and the daily catch. They also have great seafood pasta options too!
Antonios Pizza
For a quick and tasty bite to eat grab Antonio's pizza by the slice at the location on Summer Ave. There are actually two locations, one being on the water for sit down dining and the other being a grab and go pizza by the slice.
Bluewater Grill Avalon
Located right on the water with a great outdoor deck to enjoy delicious food and drinks. We loved the beer selection on tap and the fresh seafood options.
Steve's Steakhouse
Another great restaurant and great for lunch or dinner is Steve's Steakhouse. Located just above Maggie's Blue Rose it was fun to find out that both Steve and Maggie are married in real life! Besides being a great guy and local (Lili filled us in on our food tour of everything Steve does to give back to the community and those in need) the food here is award-winning and a great option for fine dining on the island. We recommend their coconut-battered shrimp!
Catalina Coffee & Cookie Co.
This is one of the best spots in town if you have a sweet tooth or are a very early riser for breakfast. The Catalina Coffee & Cookie Co. offers the best baked goods on the island. We recommend the raspberry white chocolate cookie, the dark chocolate pistachio bark, and the strawberry hibiscus tea! They are open at 5 am if you need a coffee or breakfast sandwich bright and early!
Where to Stay in Catalina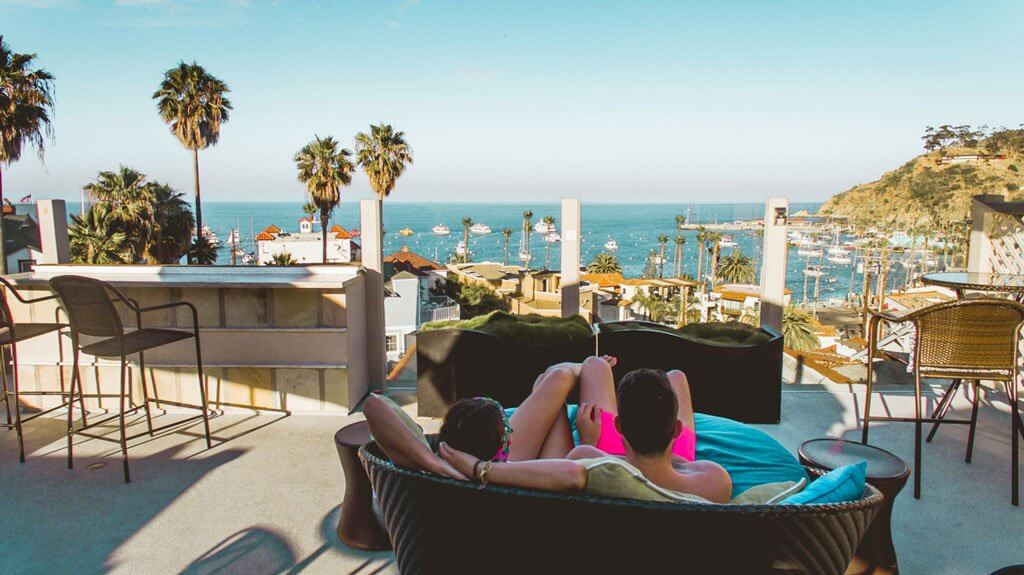 We recommend staying where we stayed, at the Aurora Hotel & Spa nestled up on the hill on Marilla Ave. We loved how Aurora Hotel was a bit removed from the downtown area and was always quiet. We especially loved the view from the rooftop patio and the friendly staff too. Be sure to read about our stay.
For more hotel options check out our full guide to where to stay on Catalina Island including different accommodation options for every type of traveler.
How to Get to Catalina Island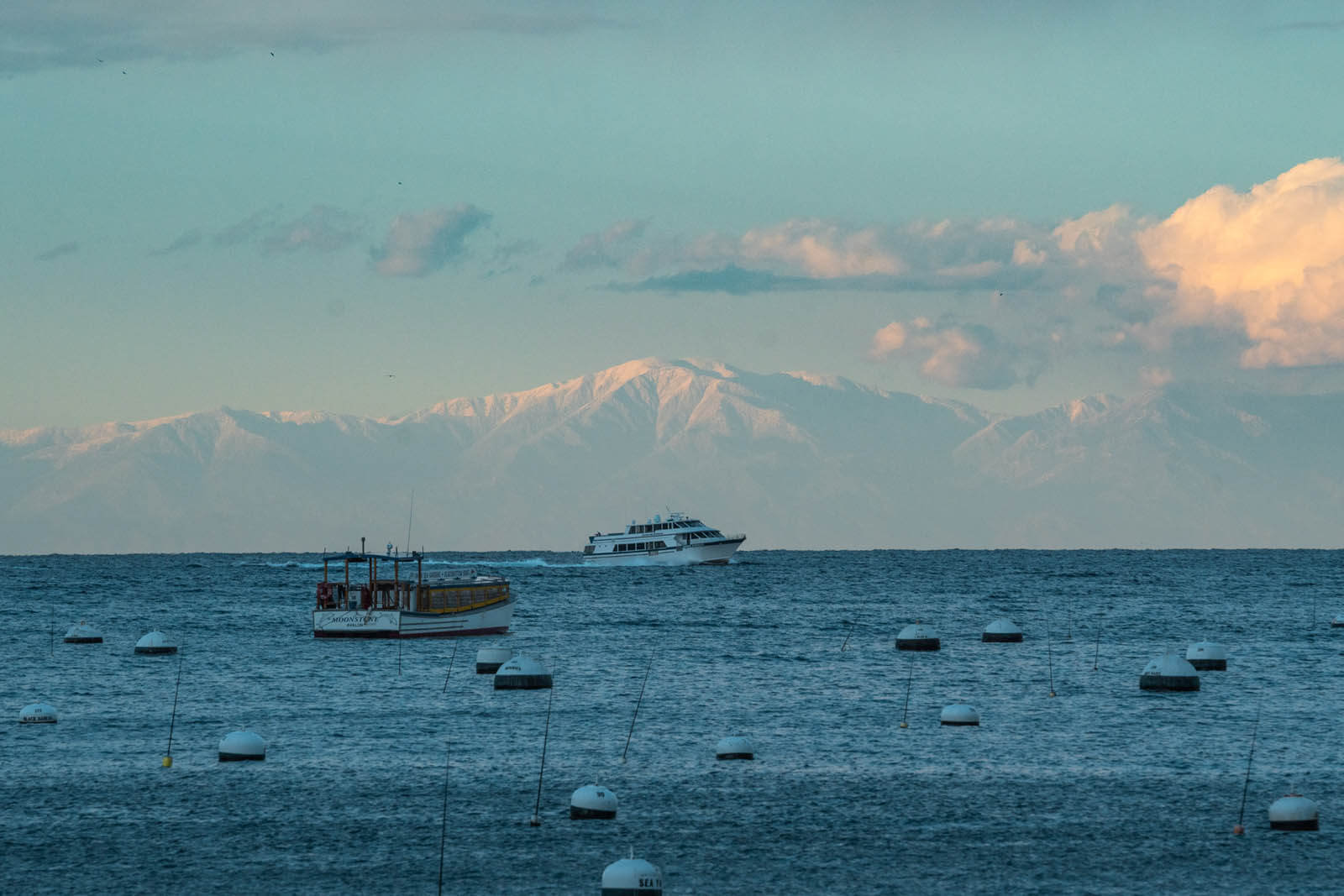 There are daily ferry routes from multiple different ports in Southern California including Long Beach, Newport Beach, San Pedro, and Dana Point and if you're looking to splurge you can take a 15-minute helicopter ride.
We recommend the Catalina Express it's the quickest boat option and has boats running from Long Beach and Dana Point. The ride is very smooth and comfortable and if you upgrade to the Commodore's Lounge you get extra comfort and a free beverage of your choice as well as a snack.
Catalina Express also has the most departure and arrival time options available.
Here are the best routes for a day trip to Catalina from mainland:
Dana Point to Catalina:
Ferry: Catalina Express
Location: 34675 Golden Lantern, Dana Point
Daily ferries at 9:30 am and 11:30 am with departure from Catalina at 2:45 or 5:00 pm
Newport Beach to Catalina:
Ferry: Catalina Flyer
Location: 400 Main Street, Newport Beach
Daily ferries at 9:00 am with departure from Catalina at 4:00 pm
Long Beach to Catalina:
Ferry: Catalina Express
Location: 330 Golden Shore, Long Beach
Summer Season (June 21-September): Daily ferries at 6:30 am, 8:15 am, and 11:00 am with departure from Catalina at 3:00 pm, 5:45 pm, and 7:30 pm (on Saturdays & Sundays there's a 9:45 pm departure from Catalina)
Check their schedule for the off-season schedule.
San Pedro to Catalina:
Ferry: Catalina Express
Location: 95 Berth, San Pedro
Summer Season (June 21-September): Mon-Thurs ferries at 7:30 am, Saturdays 7 am, Fridays & Sundays 8:00 am, daily ferries at 10:45 am.
Departure from Catalina back to San Pedro: Mon-Thurs 3:30 and 6:00 pm, Saturdays 6 & 7 pm, Fridays & Sundays 5:15 pm, & Sunday – Friday 7:45 pm.
Check their schedule for the off-season and up-to-date schedules because this location is a bit all over the place with their schedules!
Other Catalina Travel Tips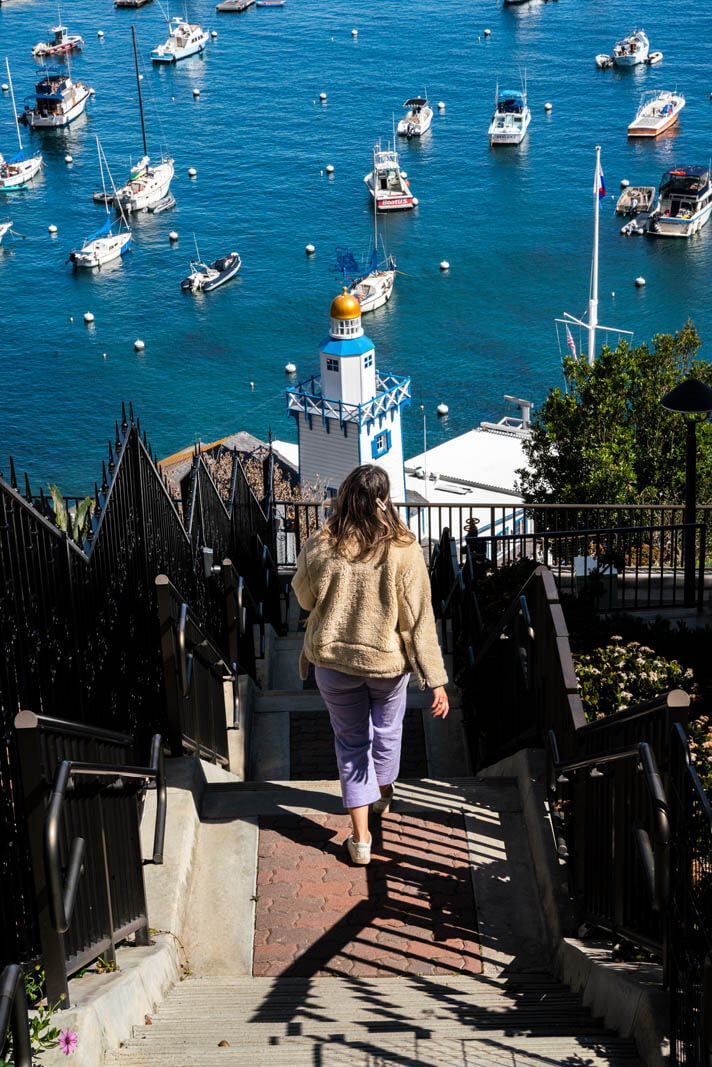 Here are a few essential tips for your Catalina Island weekend trip including what to pack and a few useful resources for booking your on-island activities.
If you're prone to motion sickness you'll want to come prepared for the ferry ride to and from Catalina Island. The ferry service is very smooth, but on days with the high wind the ride is a little rocky and those who are prone to motion sickness may feel it the worst.
Come prepared with things that settle the stomach like ginger ale or purchase ginger chews, Dramamine for motion sickness, or try a motion sickness patch.
Come prepared with sunscreen too! We recommend, especially if you're planning on getting in the water, to purchase reef-safe and eco-friendly sunscreen as many brands contain harmful chemicals to the ocean that people don't realize. Unfortunately, the 'reef friendly' sunscreen label isn't regulated so you often get brands who are 'greenwashing' or pretending to be safe for the environment even though they are not – which makes things confusing for the consumer.
My personal favorite brand is Thinksport as their formula applies evenly and doesn't leave a weird white minerally residue.
There are plenty of small, charming boutiques on the island for any last-minute things you may have forgotten and even a full-on Vons grocery store too.
For booking on island activities, if you didn't purchase in advance (which is highly advised for the summer season) there is still a chance you can book all kinds of island excursions from boat rides, submarine rides, snorkeling, island tours, Casino tours and more. If you want to try your chances of booking last minute you can at several spots around the island including the blue Pleasure Pier, the information and ticketing spot at the Catalina Island mini-golf, and directly at some attractions like the Casino.
If you're visiting off-season as we did in March or April, chances are you'll be able to book last-minute activities but keep in mind they don't operate at their full schedule off-season, so it's still recommended to book in advance.
---
When you're in Southern California make sure you have time to check out the girl next door, Catalina Island! There's so much to enjoy here and you really can't beat the breathtaking views, charming town, and friendly locals! Spend a day or spend a week.
Did you like this post about the best things to do in Catalina? Bookmark for later or share the love below on Pinterest.