Looking for the best things to do in Millbrook, New York? We got you. This Hudson Valley destination is a quiet community best known for being a countryside retreat for the ultra-wealthy. It's also popular for its arts and cultural attractions, antique shopping, and diverse culinary scene, and we are going to cover that all in this getaway guide to Millbrook, NY!
This is one of the most charming New York towns that boasts idyllic landscapes and picturesque farmland. It's home to many prestigious horse farms and equestrian events.
Millbrook is also known for its beautiful countryside estates with well-preserved 19th-century architecture. And this happens to be where Timothy Leary called home when he did his famous experiments with psychedelics in the 1960s!
Whether you're interested in history, shopping, a peaceful drive through the countryside, or unusual historical landmarks, this small town offers a surprising number of things to do. Keep reading for 15 of our favorite stops in Millbrook, New York – one of our favorite towns in the Hudson Valley to visit.
15 Must-Do Attractions in Millbrook
Millbrook Vineyards & Winery
We love a New York winery and visiting Millbrook Vineyards & Winery is one of the top things to do in Millbrook, NY. The vineyard was established in 1985 and specializes in wine varietals unique to the Hudson Valley region. Spanning over 130 acres, the winery is known for its high-quality wines and breathtaking vineyard views.
You're welcome to come for a picnic at the vineyards and sprawling lawns. Spring through fall, there are also weekend food trucks for your pleasure. Or grab a table inside the expansive tasting room. On the weekends, you can enjoy cheese plates and wine by the glass! Savor your favorite wine while you take in panoramic views of the rolling hills and vineyards.
Millbrook Vineyards also hosts a range of wine tastings and seasonal events. The vineyard is open to guests every day of the week from noon to 5 PM and extended hours on the weekends.
Millbrook Antiques Mall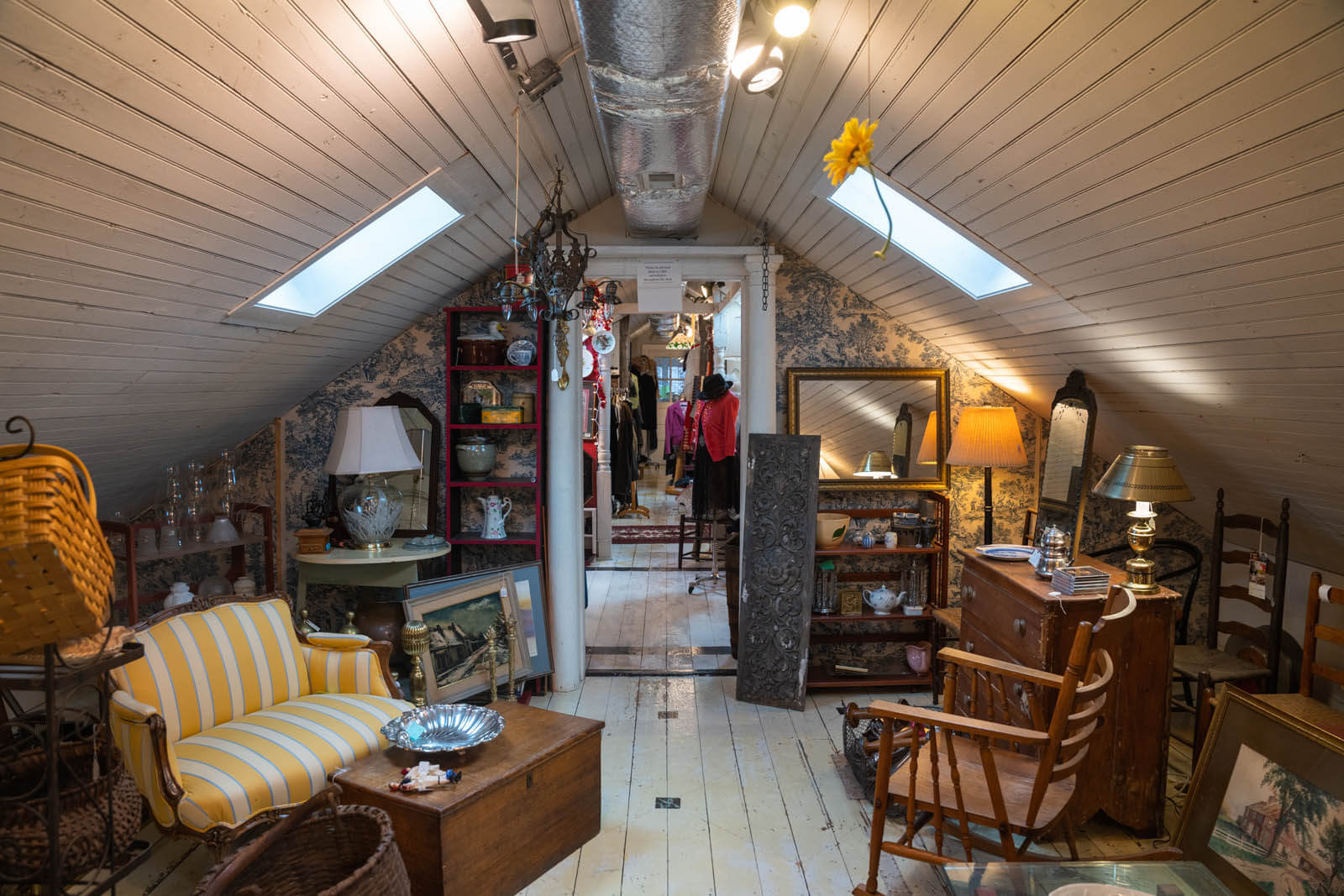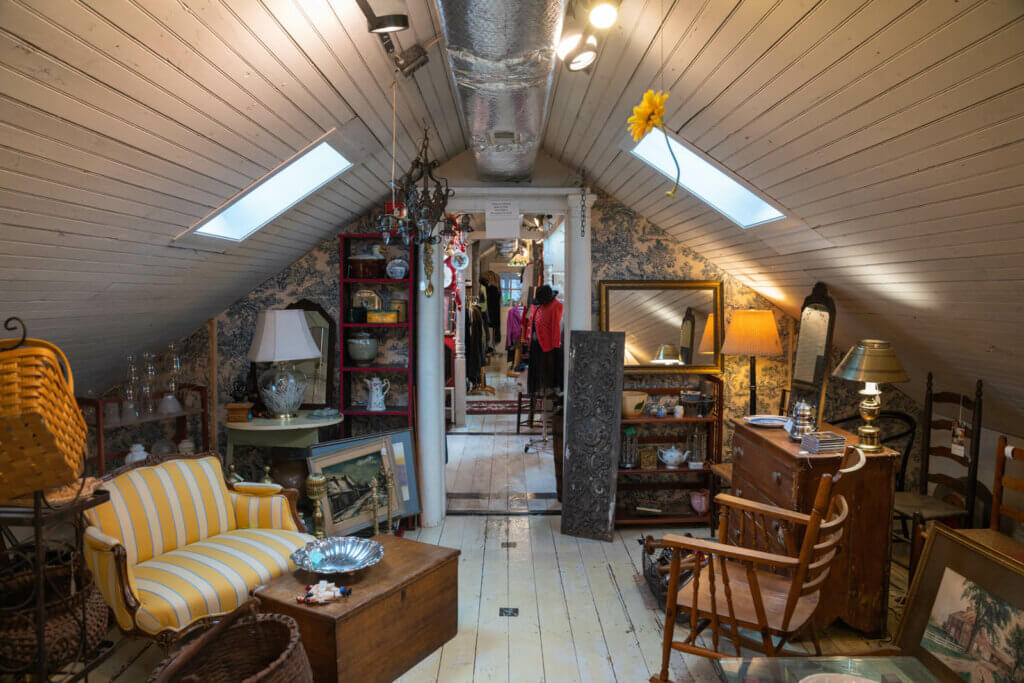 We are huge fans of antique shopping upstate, and some of the best antique shopping in Millbrook can be found at the Millbrook Antiques Mall on Franklin Avenue. Inside, there are 3 floors and over 30 vendors selling whatever vintage treasure you might be looking for!
This antique spot is in the cutest house that just seems to keep going. Since this is a wealthier and more affluent area, the antiques and collectibles you'll find here are REALLY good. There are a lot of rare items and some that have their 'certification' next to them. There were all kinds of vintage designer clothes too which was really fun to sift through as well as first-edition books and unique household items.
The store is open every day from 11 AM to 5 PM (and from noon on Sundays).
Stop at the Orangerie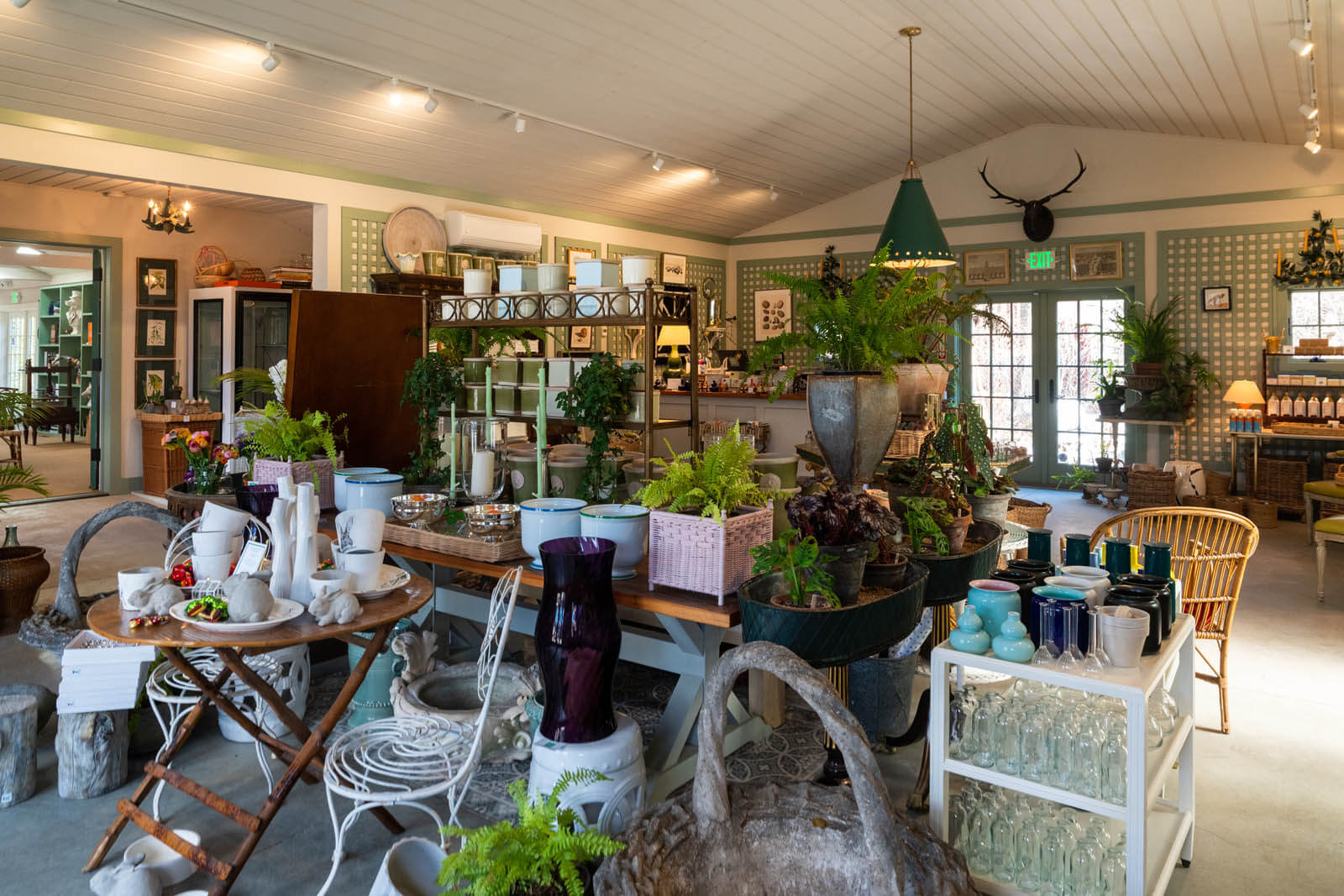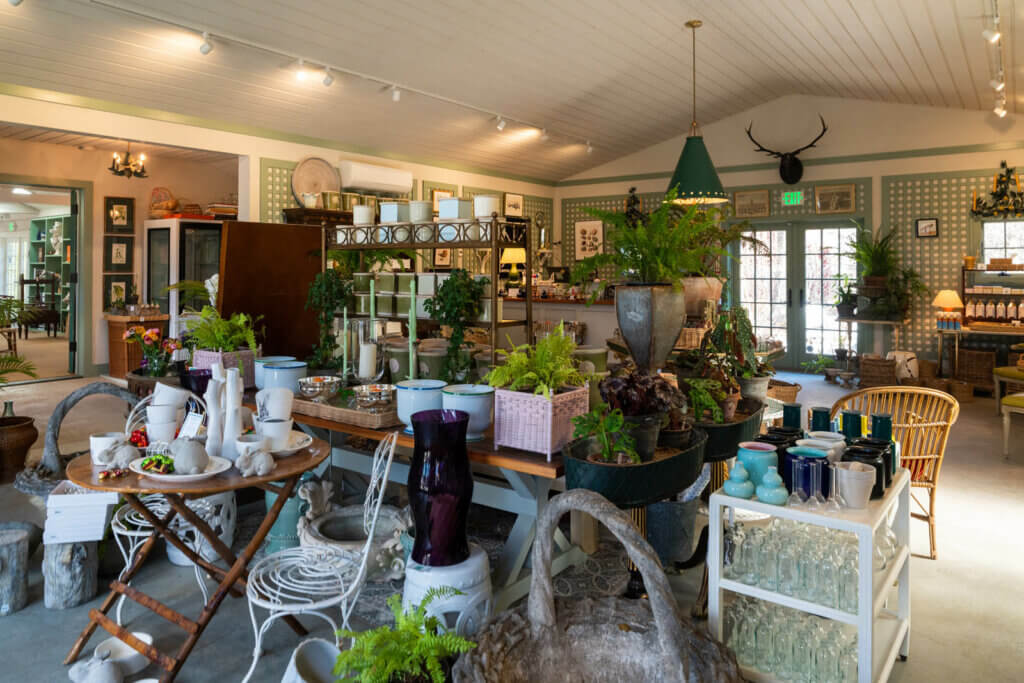 One of our favorite things to do in Millbrook, NY is stop at Orangerie, a gorgeous nursery and home goods store. And what makes the store so impressive is the curated feel of both the retail store and the greenery selections!
They offer a variety of indoor and outdoor plants, flowers, herbs, shrubs, and fruit trees. And you can take your home to the next level with a carefully chosen selection of home décor pieces, one-of-a-kind pottery, small-batch soap, patio furniture, and more!
Orangerie is open between 10 AM and 6 PM daily at the northern end of Franklin Avenue.
Browse through Creel & Gow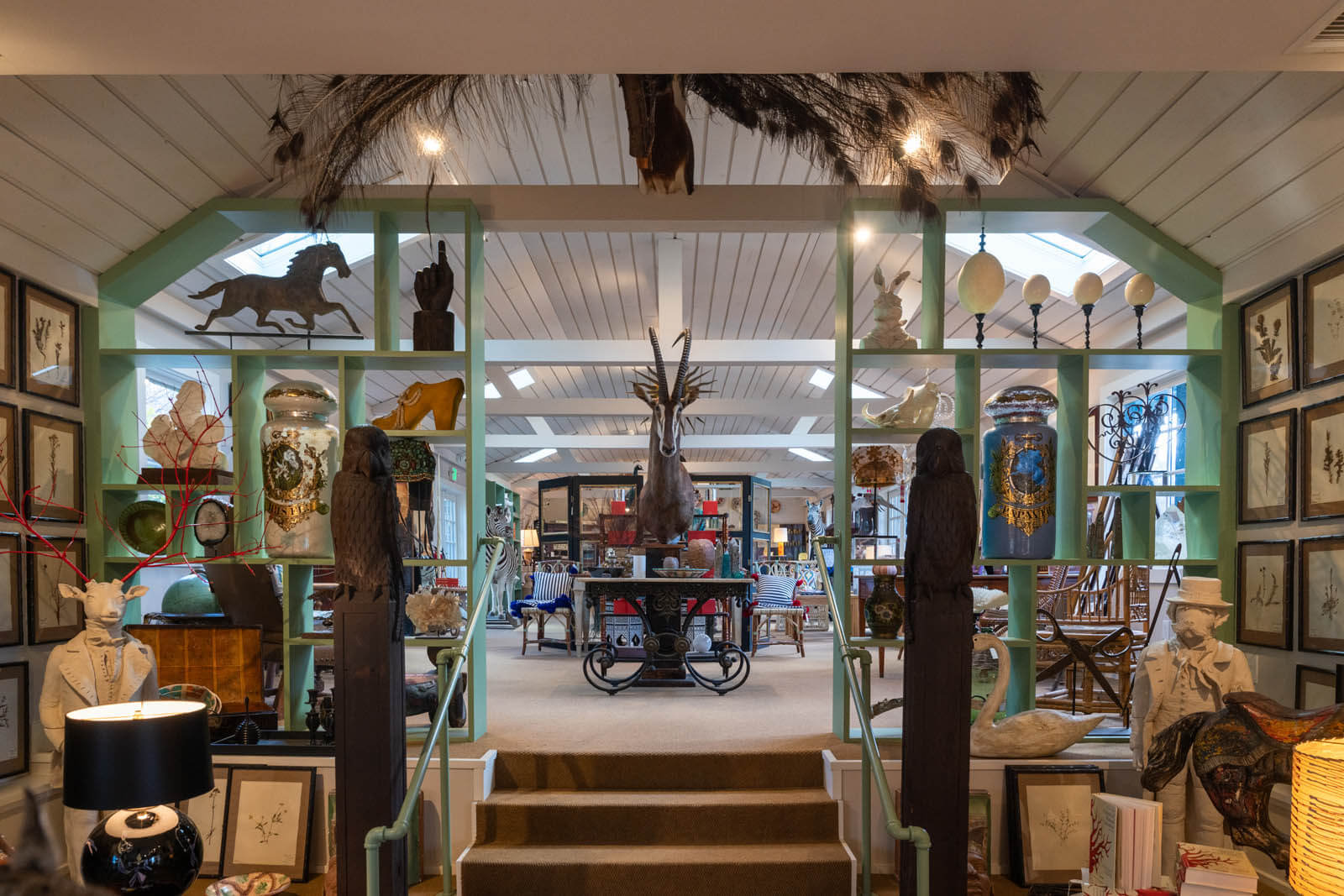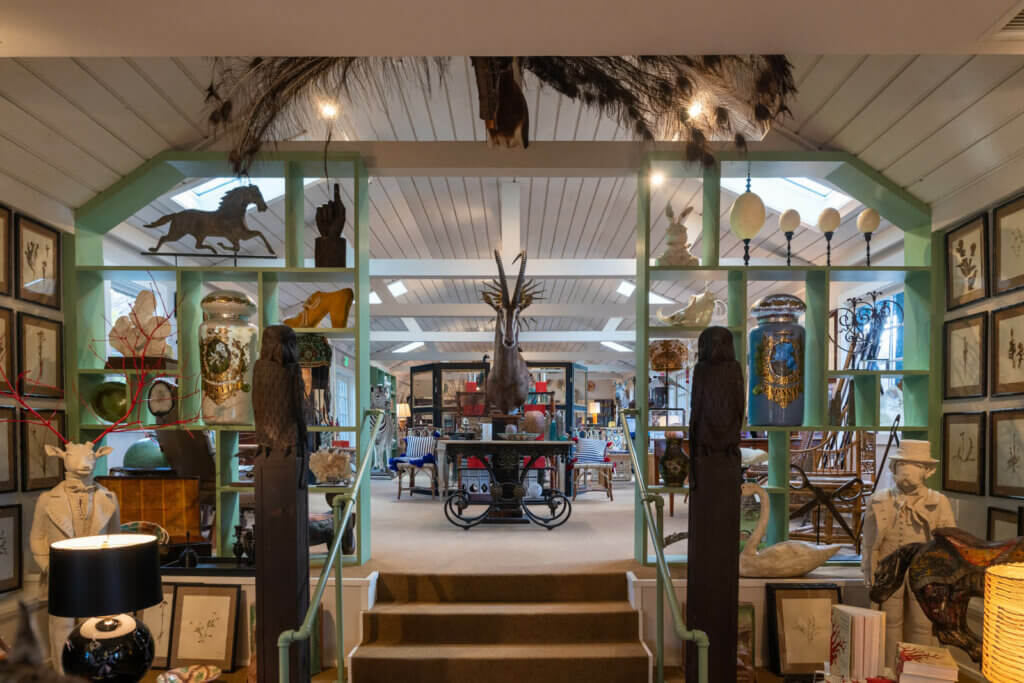 Adjacent and connected to Orangerie is Creel & Gow, more fabulous home goods shopping. This is where to come if you're looking for rare and one-of-a-kind pieces to take your home décor to the next level. Creel & Gow source their unique collection through a team that travels worldwide.
You can check out their storefront in Millbrook, or they also have a shop in NYC. Do you have a specific room in mind but you're lacking inspiration? You can also work with the experts at Creel & Gow to find the perfect addition in a variety of materials and styles. They can help you create eye-catching tablescapes or redesign a room with everything from rugs to lighting. And make sure to ask about their high-end line of jewelry.
It was so fun to walk around and browse their selection of home goods. Check out their miniature version of the store at the checkout area, one of their employees made it and it's really cool!
Hitchcock Estate Gatehouse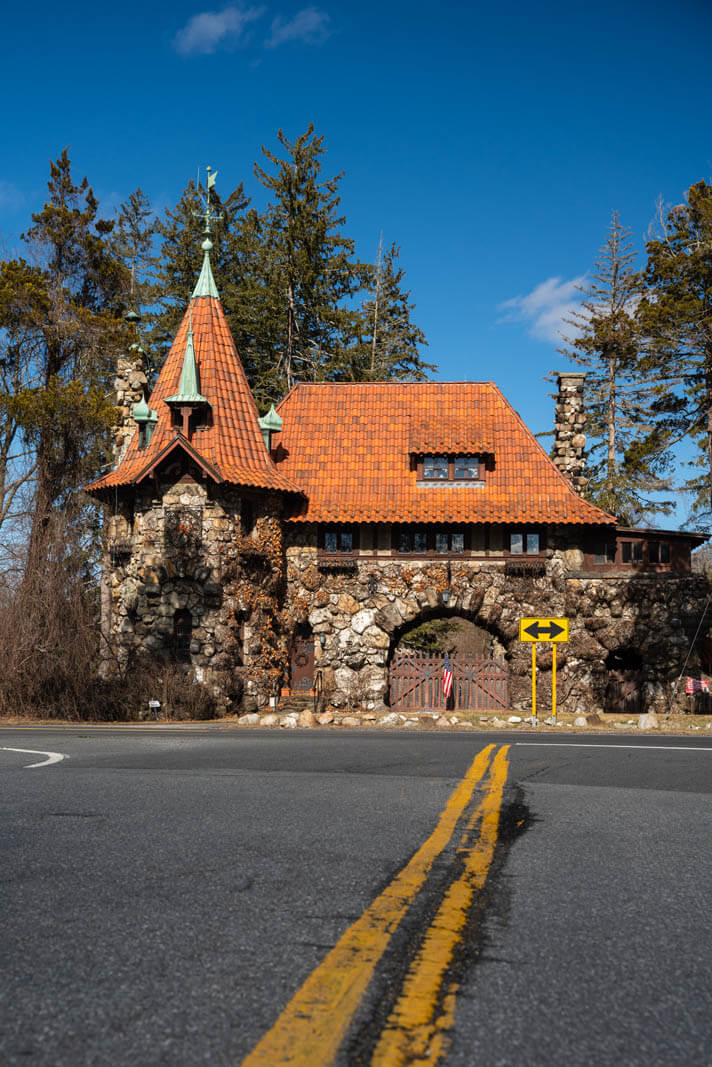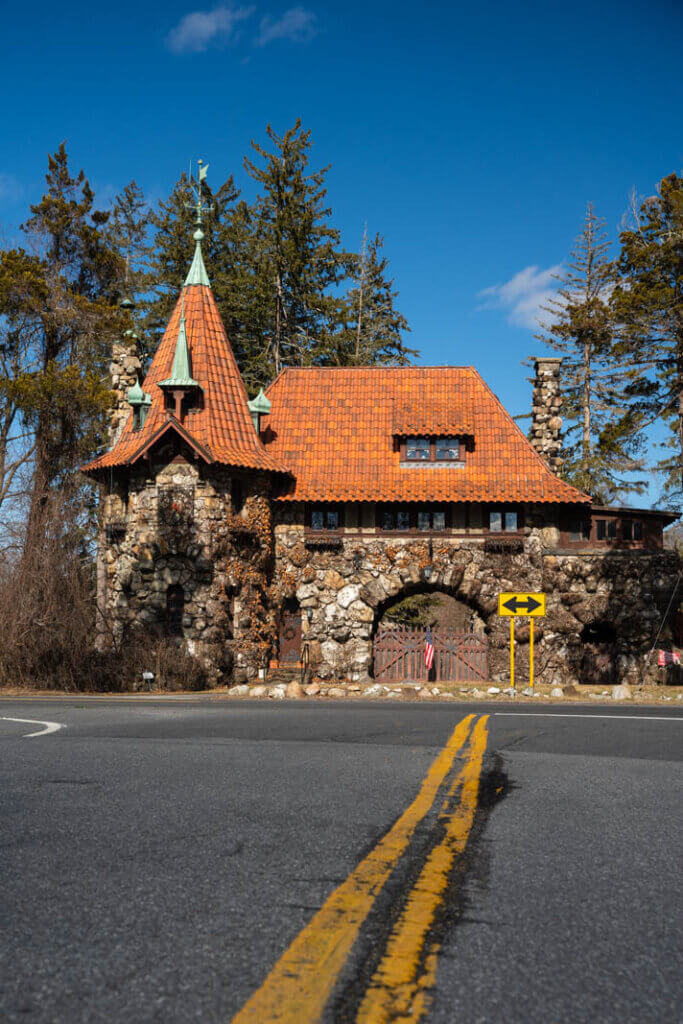 When you're at Orangie and Creel & Gow, you'll see a unique structure across the street. This is the gatehouse to the infamous Hitchcock Estate! The iconic landmark was built in the late 1800s, but it gained notoriety in the 1960s when psychologist Timothy Leary took up residence there.
Leary transformed the estate into his headquarters and a communal living space for those interested in the exploration of psychedelics!
During Leary's time at the Hitchcock Estate, there were countless psychedelic experiences, philosophical discussions, and occasional drug raids. Today, the estate maintains a reputation connected to Leary's influential and colorful work. However, the striking Queen-Anne-style mansion is private and off-limits to visitors.
While you can't see the house itself, you can enjoy the unique architecture of the Hitchcock Estate Gatehouse and think about Leary's legacy. The century-old stone gatehouse itself is a special place, designed in an old-world style, with organic curves, a steep tiled roof, and covered in ivy and is one of the most unique places to visit in the Hudson Valley.
Wing's Castle
You'll find Wing's Castle just north of the Millbrook Vineyards & Winery. Staying at this bed and breakfast is definitely one of the most memorable things to do in Millbrook, NY! The whimsical structure was handcrafted over several decades by the Wing family, a couple of artists with a vision.
You see, Wing's Castle is not your typical castle. Constructed using mostly recycled materials, the Wings transformed a simple stone cottage into a remarkable work of art! Throughout the castle, you can see intricate stonework, hand-carved woodwork, and enchanting details.
Guests can immerse themselves in their fairytale dreams by booking 4 different rooms inside the castle. Wing's Castle is open for reservations year-round, with each season offering a different magical experience! Staying here, you'll have access to free continental breakfasts and private tours of the castle. Guests also enjoy access to the castle's grounds, which offer more unique attractions and a pool.
Before 2020, you could also visit during the day for public guided tours led by the castle's owners. They would share stories about the castle's construction, its unique design elements, and the Wing family's journey. These tours are a must when visiting Millbrook and the family hopes to offer public tours once again in the near future.
Go on a Walking Tour of Millbrook
A special way to experience Millbrook, New York is by taking a self-guided walking tour of the town. Ten years ago, a special committee put together what is called Millbrook's Museum in the Streets, a wonderful outdoor exhibit that brings the town's history to life.
By accessing the virtual map for Millbrook's Museum in the Streets, you can explore at your own pace. Spanning much of the downtown area, this self-guided walking tour features over 30 informative plaques displayed on buildings and landmarks. Each plaque tells a story, offering a glimpse into Millbrook's past, important events, and influential figures.
Millbrook Farmers Market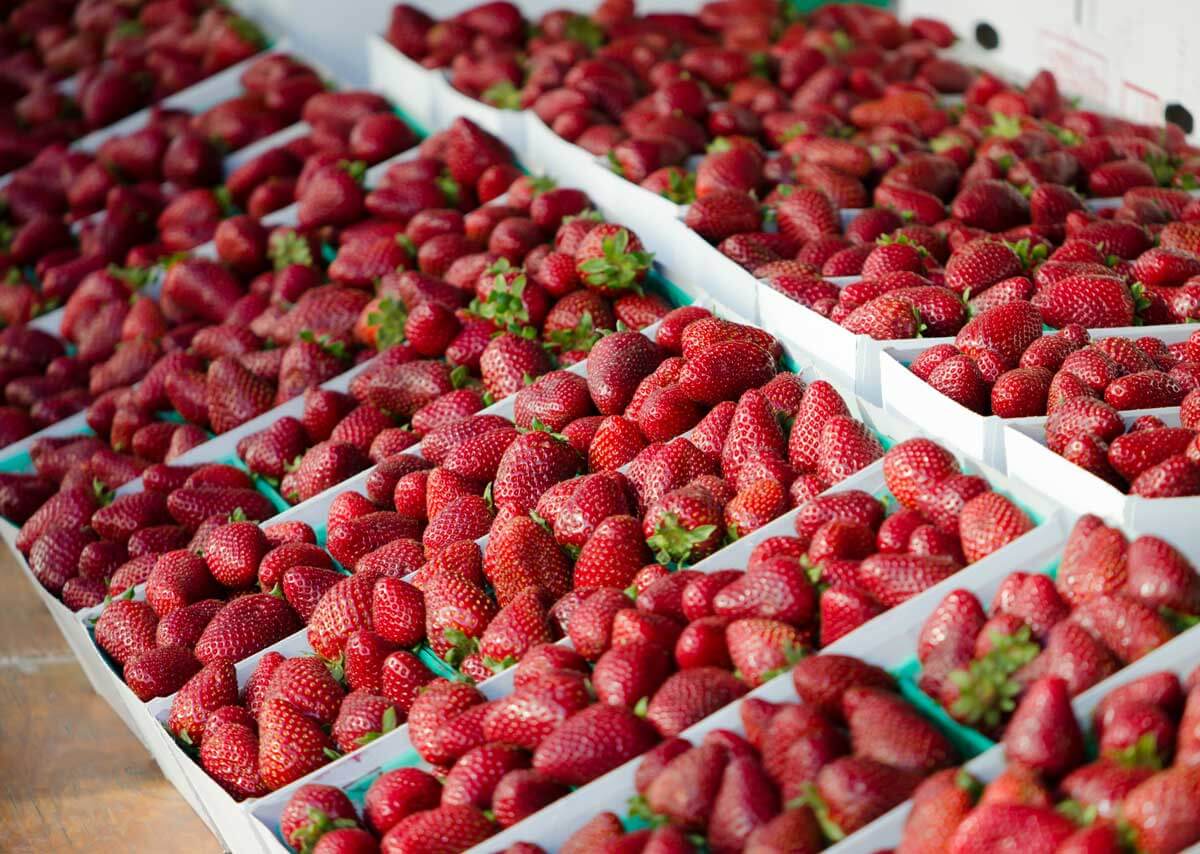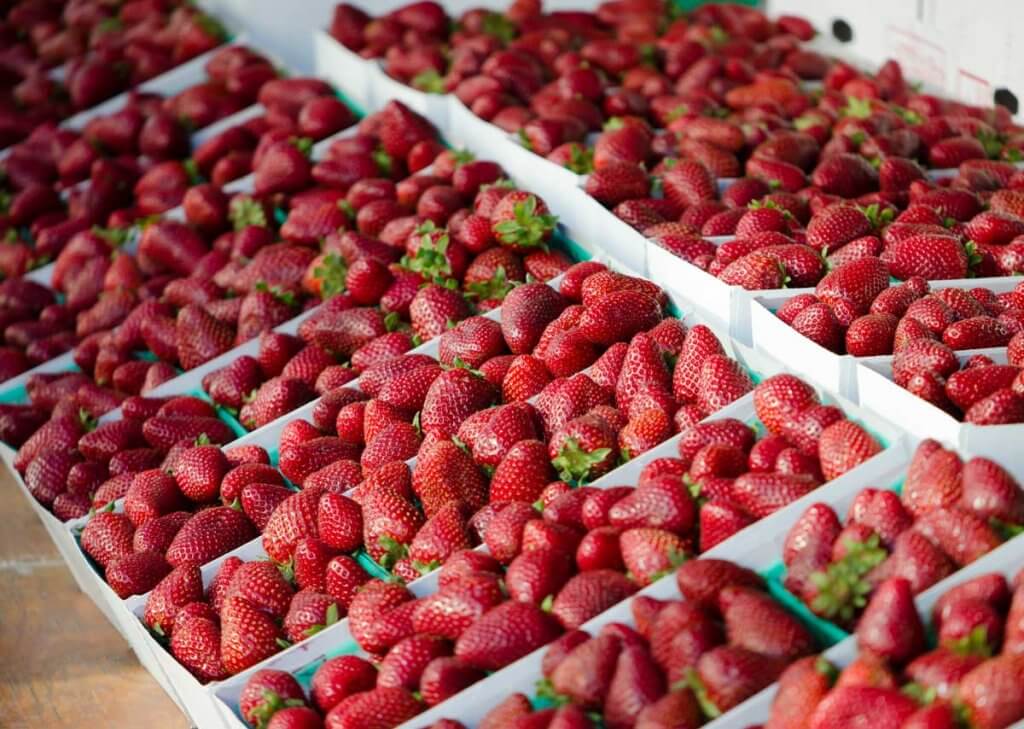 If you're heading to Hudson Valley for the weekend, think about stopping by the Millbrook Farmers Market. They're open every Saturday morning from 9 AM to 1 PM, from the end of May through the end of October. You'll find the market in a lot just off Franklin Avenue between North Avenue and Front Street.
This is the perfect place to find an array of fresh, seasonal fruits, vegetables, herbs, fish, cured meats, cheese, and more. The market also features all kinds of artisanal goods. Pick up some homemade baked goods and preserves or shop for handcrafted soaps, candles, and jewelry.
And when you visit Millbrook Farmers Market, you'll enjoy live music performances, cooking demonstrations, hands-on activities for children, and seasonal events!
Millbrook Tribute Garden
Maybe you've picked up some yummy things to eat at the Millbrook Farmers Market and you're looking for the perfect picnic spot. Or perhaps you've just finished dinner at one of the many fabulous Millbrook restaurants.
Next, it's time for a stroll at the gorgeous Millbrook Tribute Garden, located along the southern end of Franklin Avenue.
This 6-acre park is a new addition to the village. It features beautifully manicured gardens and paved walking paths lined with shade trees. There's a top-of-the-line accessible playground for kids of all ages, as well as benches and pretty gazebos. And the garden itself shines in the center of the park, with lush flowers, a pond with lily pads, grasses, babbling falls, and more.
The Millbrook Tribute Garden is a memorial to those who've served and represents the community who personally contributed to the creation of the park. While you explore walking paths all over the park, you'll see historical markers and memorial statues. It's a pretty hilly park with grassy lawns and great views of Millbrook itself!
Innisfree Garden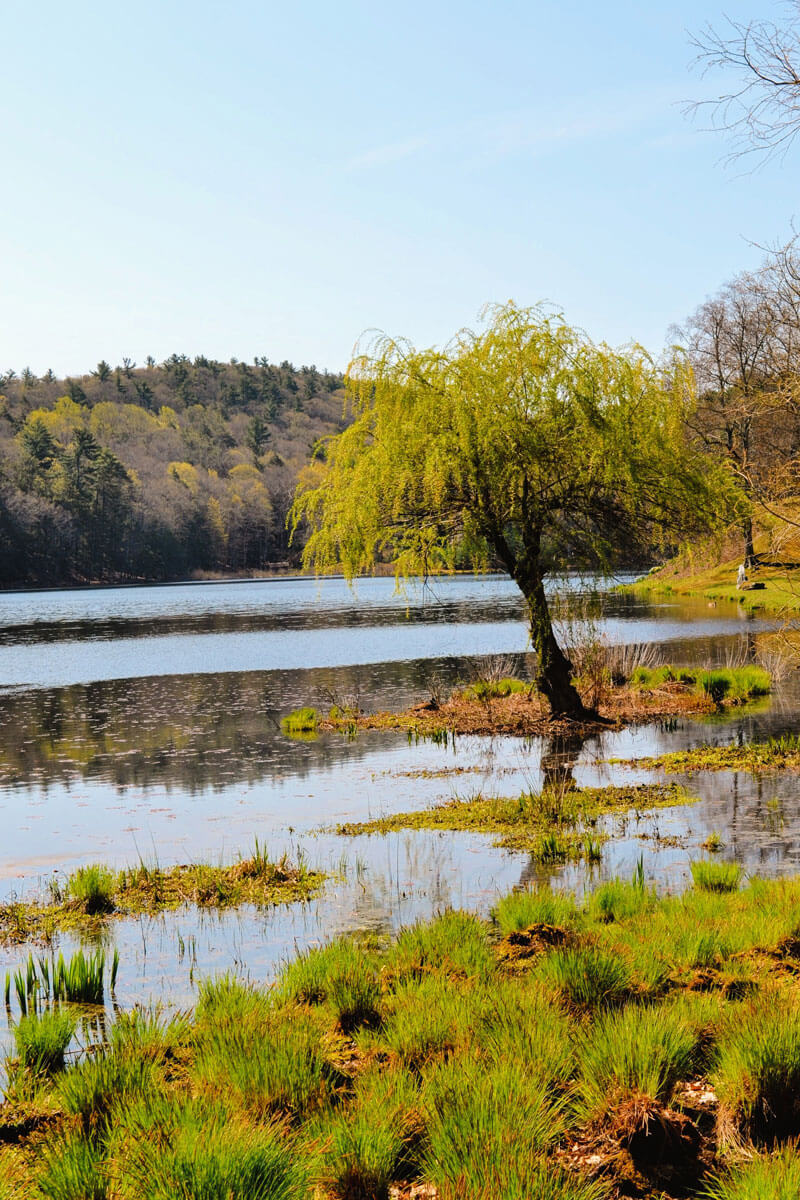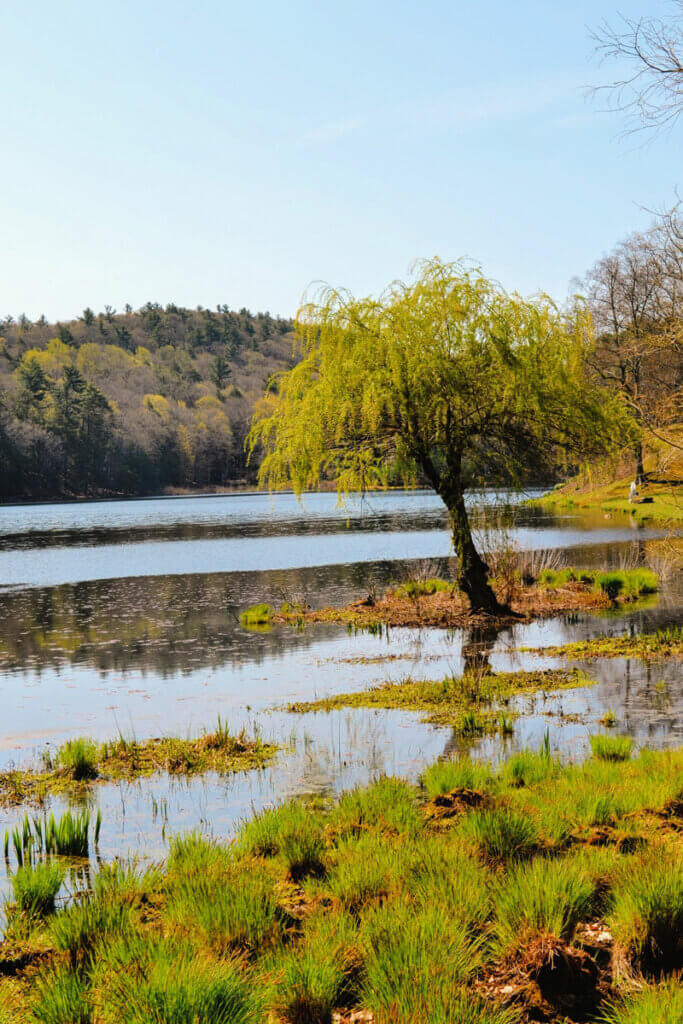 For more outdoor things to do, there's also Innisfree Garden, located less than 5 miles south of downtown Millbrook. Designer Lester Collins drew inspiration from Chinese and Japanese garden traditions. The magnificent 185-acre landscape blends nature, art, and design, and makes for a serene and inspiring nature walk.
The garden features meandering pathways, rock formations, water features, and thoughtfully placed plantings. But the centerpiece of the garden is a stunning 40-acre glacially formed lake, which beautifully reflects the surrounding landscape!
You can enjoy architectural elements such as pavilions and bridges, which blend beautifully you're your surroundings. And throughout the seasons, Innisfree Garden showcases different natural spectacles, including springtime cherry blossoms, intense fall foliage, and snowy winter expanses.
The Innisfree Garden is open Wednesday through Sunday and on holidays from 10 AM to 5 PM. There's a small fee for entry for everyone 5 years and up.
Hoofprint Cheese Company
Calling all my fellow cheese lovers, this one's for you! Drive south on NY-82 and you'll see Hoofprint Cheese Company on the right side. Visiting this dairy goat farm is one of the most fun things to do in Millbrook, NY!
The Foleys are more than happy to show you around their small production. You'll walk through the goat farm and probably get to feed a goat or 2. You'll also see the Hoofprint Creamery where all of their dairy products are made! And while you're here, make sure to support this small business by purchasing some fresh goat's milk, yogurt, or cheese.
Millbrook Restaurants to Check Out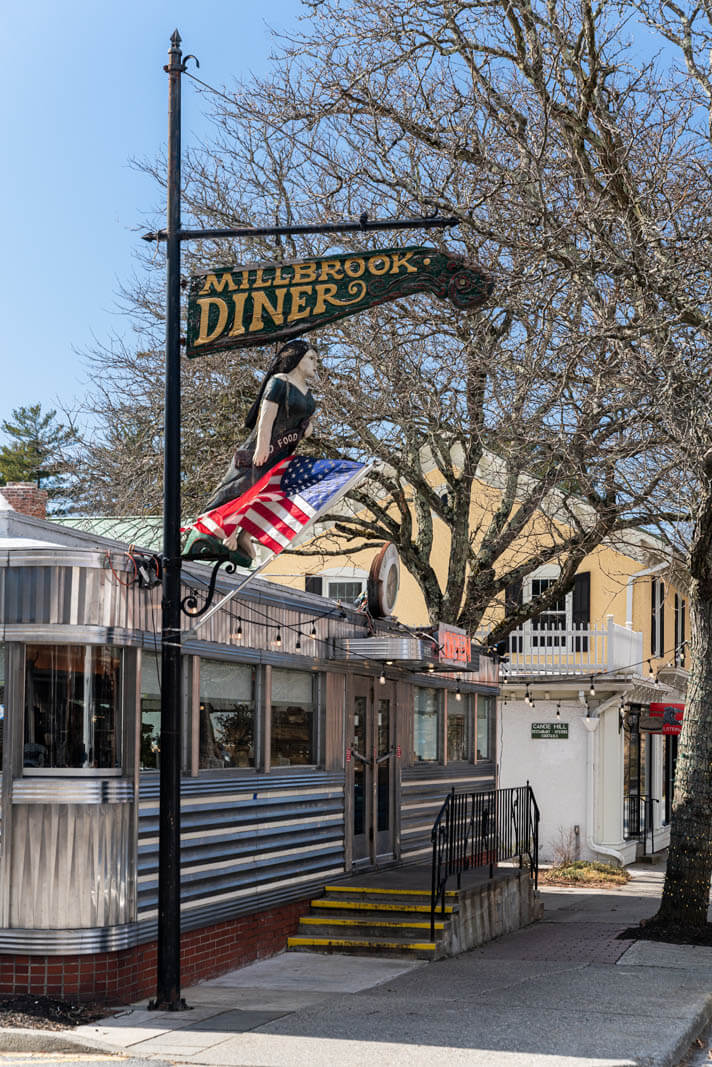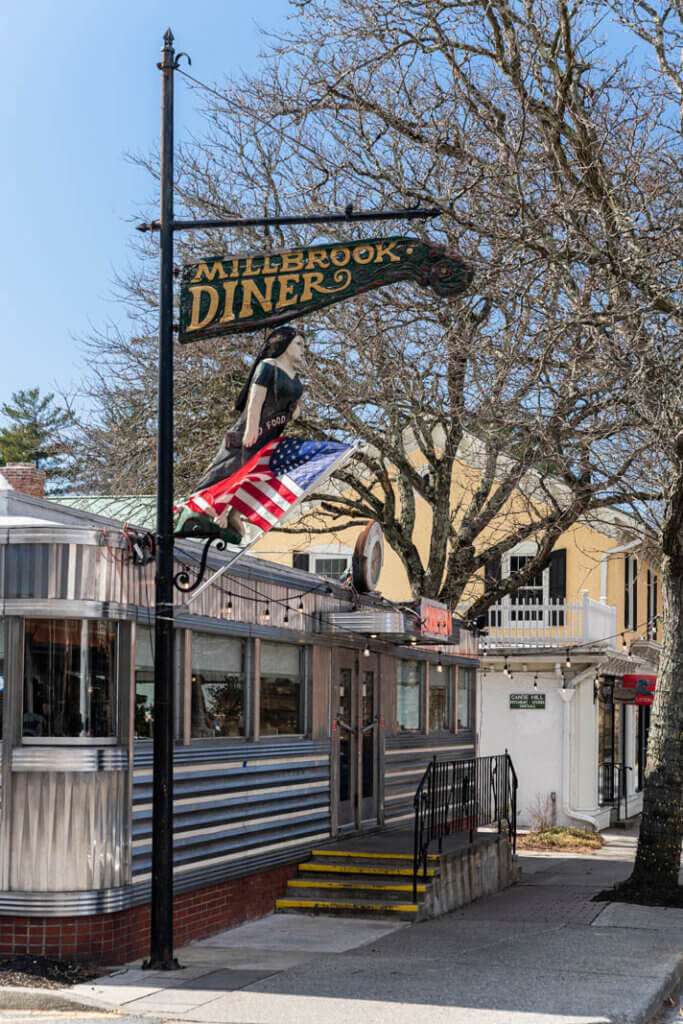 When it comes to places to eat, the tricky part is picking just which outstanding Millbrook restaurants to visit! Since you already have your work cut out for you, take a look at a few of the eateries we loved when visiting Millbrook, New York:
Canoe Hill is a great option for an elevated casual dining experience. It's the perfect cozy setting for dinner reservations any season of the year! Enjoy an evolving farm-to-table menu prominently featuring Italian favorites and a variety of quality seafood options.
Babette's Kitchen is perfect for grab-and-go or a leisurely meal. It's part gourmet market, part coffee shop. You can enjoy handcrafted sandwiches and salads made with local ingredients or stop at the storefront for homemade cookies and other baked goods to take on the road!
One of the most popular Millbrook restaurants is the Millbrook Diner! Like something straight out of the past, this retro diner drips with chrome details and all the Americana you can handle. Enjoy classic American comfort food while you soak in all the nostalgia.
If you're craving authentic Italian food, we recommend checking out Barbaro. They have a perfectly-sized menu, amazing cocktails, and a welcoming atmosphere. And if you have dietary restrictions, they're more than happy to work with you!
Browse Franklin Avenue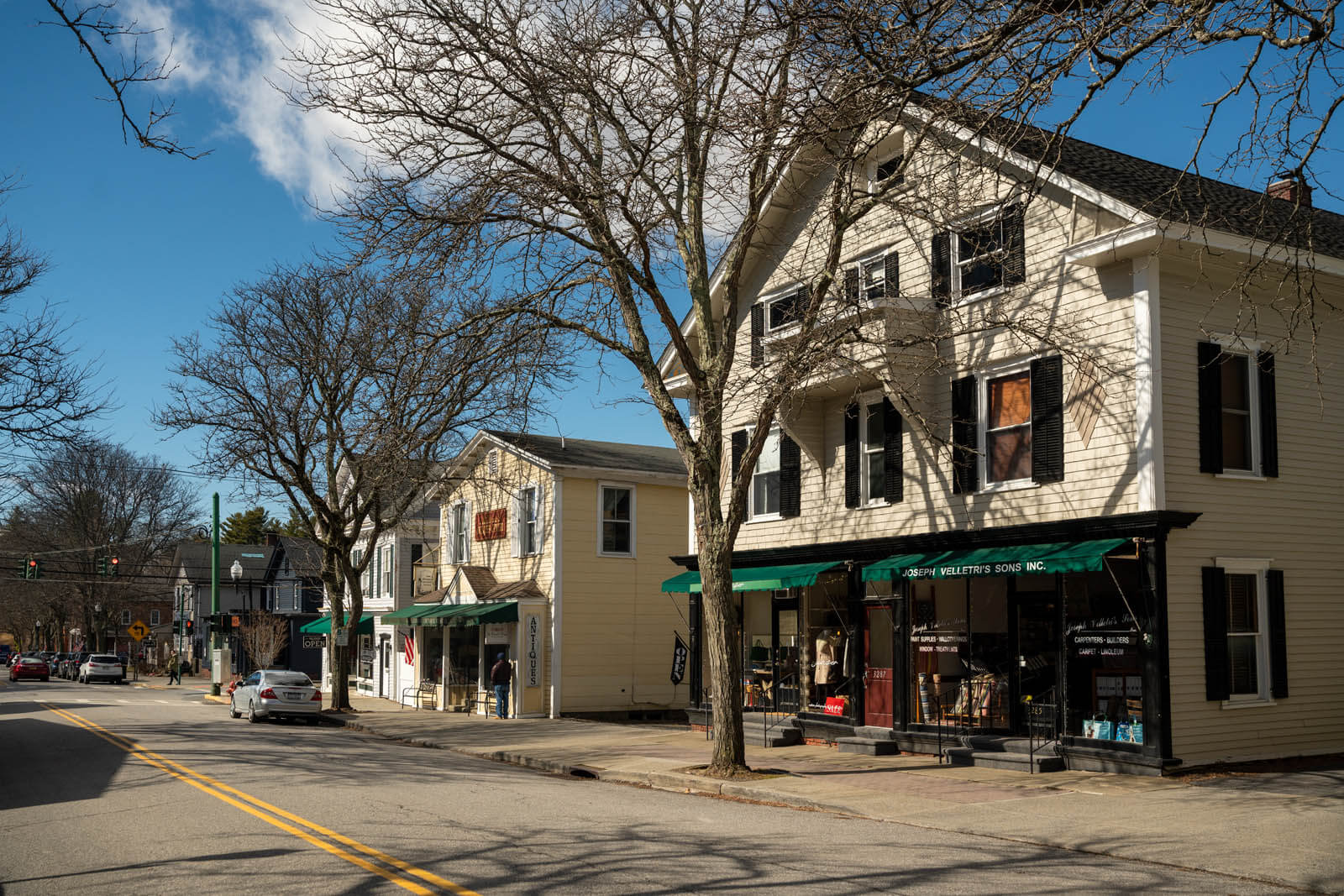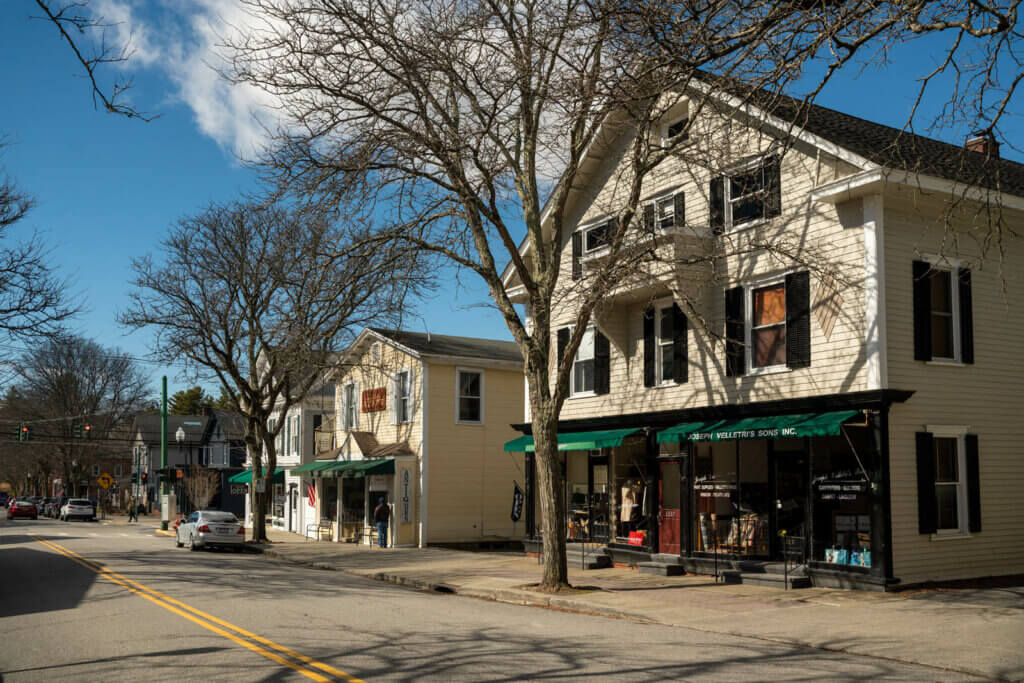 Simply walking along Franklin Avenue was one of our favorite things to do in Millbrook, NY. You'll love the white picket fences, last-century homes and businesses, and beautifully cared-for flower gardens. This is also where you'll find the best Millbrook restaurants and shops. Take the opportunity to pop into a few stores and look around!
Stop by The Millbrook Home for only the best home goods, whether you're looking for trendy bookends, designer furniture, or the perfect candle.
Or stop by Juniper, the most darling boutique selling everything from stationery and stickers to children's toys and designer handbags.
And if you love J. McLaughlin, you'll find one in Millbrook! They sell high-quality essential clothing items for both men and women.
We also came across Antony Todd Home just across the street. This stunning furniture store is the brainchild of interior designer, Antony Todd, and features one-of-a-kind pieces in a variety of styles from across the world.
Trevor Zoo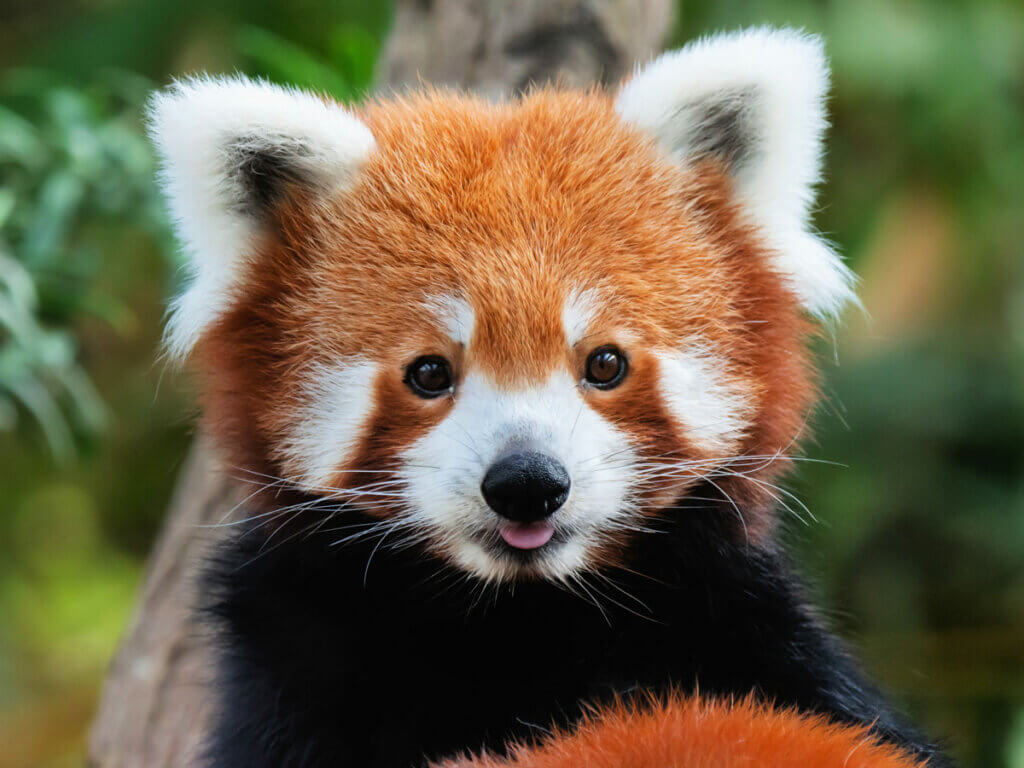 The Trevor Zoo is unique in that it's the only zoo in the US located at a high school! It was started almost 100 years ago by a resident biology teacher and is a wonderful attraction for visitors of all ages. Millbrook students work at the zoo and care for the animals as part of classes, community service, and social clubs.
The zoo cares for around 180 animals, from birds and reptiles to otters and tigers, including endangered species. A major focus of Trevor Zoo is conservation, and you can join a variety of educational experiences, including guided tours, keeper talks, and feeding sessions. All reservations must be made in advance online.
Try Clay Shooting at Orvis Sandanona Shooting Grounds
For more unique things to do in Millbrook, NY, experience the excitement of clay shooting at the historic Orvis Sandanona Shooting Grounds. Set in the beautiful countryside, this premier facility offers a top-notch clay shooting experience suitable for both beginners and experienced shooters!
At Orvis Sandanona you can choose from sporting clays, trap shooting, and skeet shooting. If it's your first time, expert instructors are available to help you feel at ease. And all your necessary equipment is provided, including shotguns and safety gear.
If you're done shooting but your group isn't, you can hang out in the clubhouse, eat at the onsite dining room, or peruse the Orvis shop. The Sadanona location hosts shooting events and competitions throughout the year. So, before you visit, make sure to check the facility's schedule for availability (you'll need to make reservations in advance anyway).
---
What is Millbrook NY known for?
Millbrook, NY is known for its picturesque landscapes, equestrian culture, and the Millbrook Winery, renowned for producing high-quality wines in the region.
How long do you need to visit Millbrook, NY?
You can easily see all the best things to do in Millbrook, New York in a day or an overnight visit.
When is the best time of year to visit Millbrook, NY?
The best time to visit Millbrook, NY is during the spring and fall seasons when the weather is mild and the picturesque landscapes showcase vibrant blooms or colorful foliage.
---
Things to do in Millbrook, NY (Post Summary):
Millbrook Vineyards & Winery
Millbrook Antiques Mall
Stop at the Orangerie
Browse through Creel & Gow
Hitchcock Estate Gatehouse
Wing's Castle
Go on a Walking Tour of Millbrook
Millbrook Farmers Market
Millbrook Tribute Garden
Innisfree Garden
Hoofprint Cheese Company
Millbrook Foodie Scene
Browse Franklin Avenue
Trevor Zoo
Try Clay Shooting at Orvis Sandanona Shooting Grounds
---
Enjoyed this guide for the best things to do in Millbrook, New York including attractions and the best Millbrook restaurants? Bookmark for later or share the love below on Pinterest!