Looking for the perfect Central Florida road trip? Or your next fun adventure? How about setting off exploring 'Old Florida' through the historic citrus growing region surrounding Orlando in Lake County, Florida?
That's just what we did and let me tell you – if you're into finding fun roadside attractions (orange and citrus related), enjoy a bit of a scavenger hunt (finding vintage citrus label signs scattered throughout towns), and love visiting small towns stopping and shopping, eating, and exploring – then THIS right here is for you!
You can explore the famous Florida citrus industry and its history by taking 3 or 4 days on a Central Florida road trip through Lake County. Along the way, you'll stop at charming towns, stay at historic inns, see where the famous Florida citrus groves were that dominated this region for over a century! In the 1960s, Lake County had over 100,000 acres of citrus groves that war more than any other county in the US at the time!
So get ready to plan one of the best scenic drives in Central Florida through this suggested road trip itinerary!
Disclaimer: This Central Florida road trip was in partnership with Visit Lake County. As always, all experiences and opinions are our own!
Florida Citrus Industry History & The Citrus Label Tour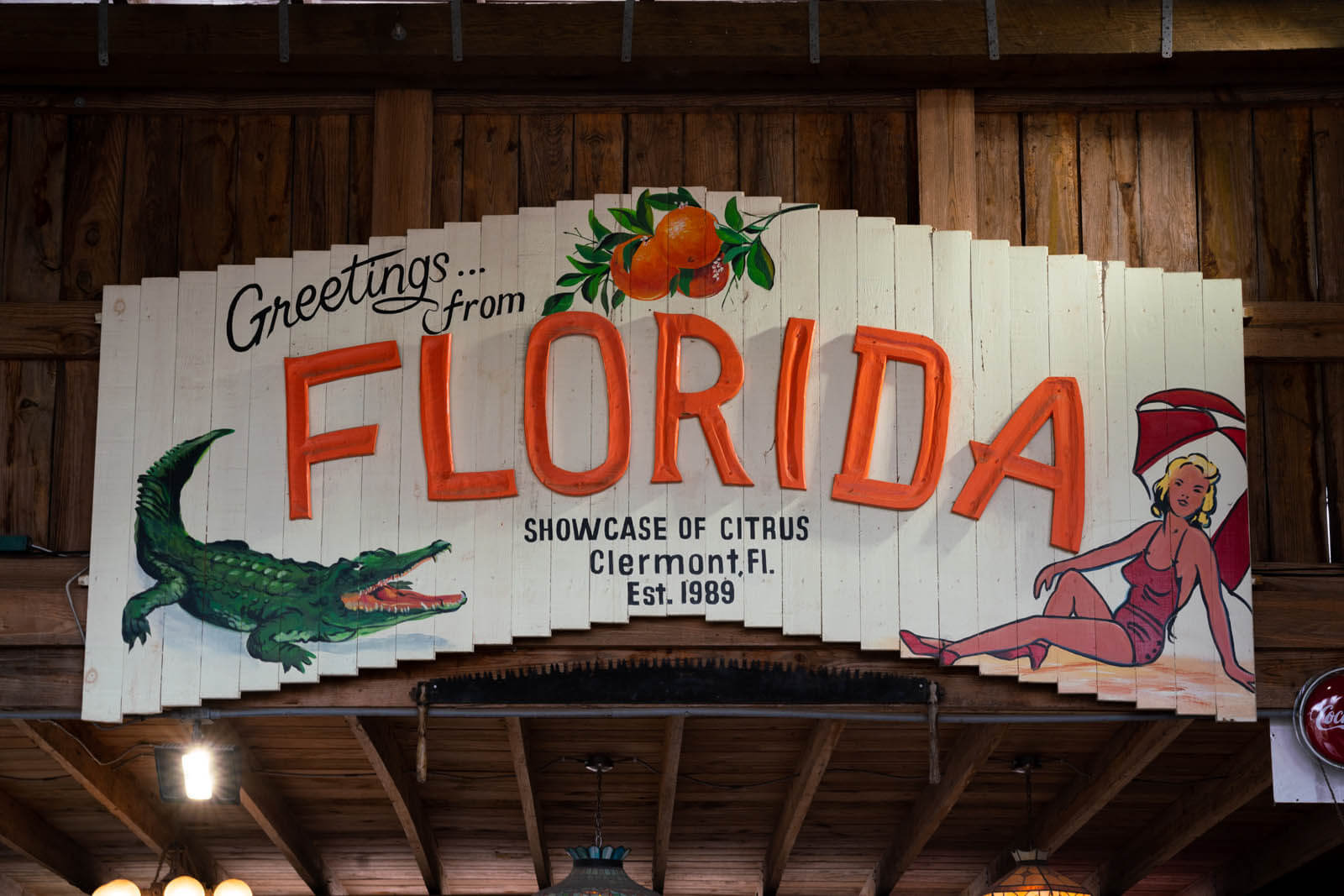 Did you know that citrus wasn't actually native to Florida? Yep! The Florida citrus industry history all starts with when citrus was brought to the Americas by Spanish colonizers as far back as 1565. It's believed that it could have been Ponce de Leon who grew the first citrus tree in St. Augustine, Florida.
Florida happens to have an ideal subtropical climate and soft, sandy soil that helped the fruit thrive over time creating a multi-billion dollar industry and an integral role in Florida's identity.
You can explore Florida's citrus industry history around Lake County, the focus on this Central Florida road trip, by visiting many of the small towns that've played a role in this historic citrus growing region and following the Citrus Label Tour!
What is the Citrus Label Tour?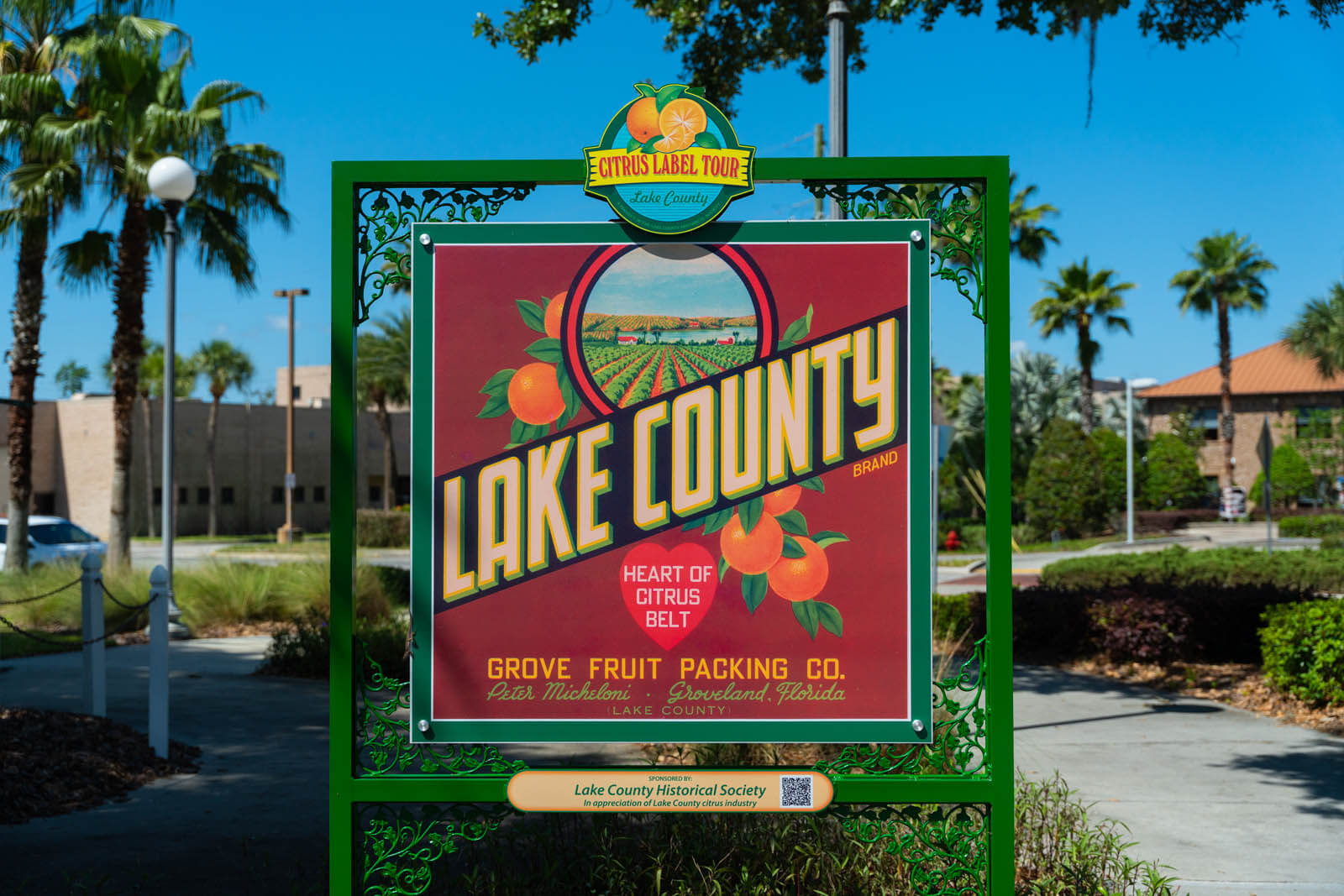 The Citrus Label Tour through Lake County (there are actually several of these tours throughout the historic Florida citrus grove regions!) is basically a fun scavenger hunt looking for signs that pay homage to the historic, artistic labels that once were placed on the wooden crates that citrus was stored and sold in, whether they were being shipped off to markets around the country or sold locally, these labels were the marketing of the early 1900s.
These beautifully designed labels were a way for citrus growers to stand out in the market and attract customers to buy their product. Which, we love because we personally make purchasing decisions at our own grocery store based on branding, packaging, and the artistic flair of modern marketing! Haven't you ever bought a product based on its packaging?!
These citrus labels were common practice from the early 1900s until around World War II when there were shortages in supplies, specifically wood and metal. This resulted in cardboard boxes being used instead.
History lovers, branding enthusiasts, and collectors seek out these original labels. And road trip enthusiasts like ourselves set off to find the recreations of the historic citrus labels throughout the 22 signs spread throughout Lake County, Florida, and its small, charming towns that were a magnate in the Florida citrus industry history for over 125 years!
Think of this Central Florida road trip as a fun 'citrus themed' scavenger hunt through 'Old-school, Florida countryside,' with fun roadside stops like an observation tower that served as one of Florida's first attractions, a giant orange, u-pick farms, quirky citrus-inspired shops and items, and of course food and drinks infused with citrus flavors!
This Central Florida road trip surrounds Orlando – a perfect addition, or alternative to Orlando tourist attractions – yes there is more to Orlando than theme parks! And this road trip makes stops in towns like Mount Dora, Tavares, Umatilla, Clermont, Groveland, Eustis, Leesburg, and Howey-in-the-Hills!
Beyond finding the vintage citrus label signs, we will recommend cool stops, places to eat, other citrus-related activities, and fun things to do at each of these!
If you want to dive deeper into the Florida citrus industry history, we recommend checking out the small museums along the way, many of which are only open on the weekends through limited hours. So if you're hoping to stop at a specific museum, be sure to plan your Central Florida road trip around that stop!
Central Florida Road Trip through Lake County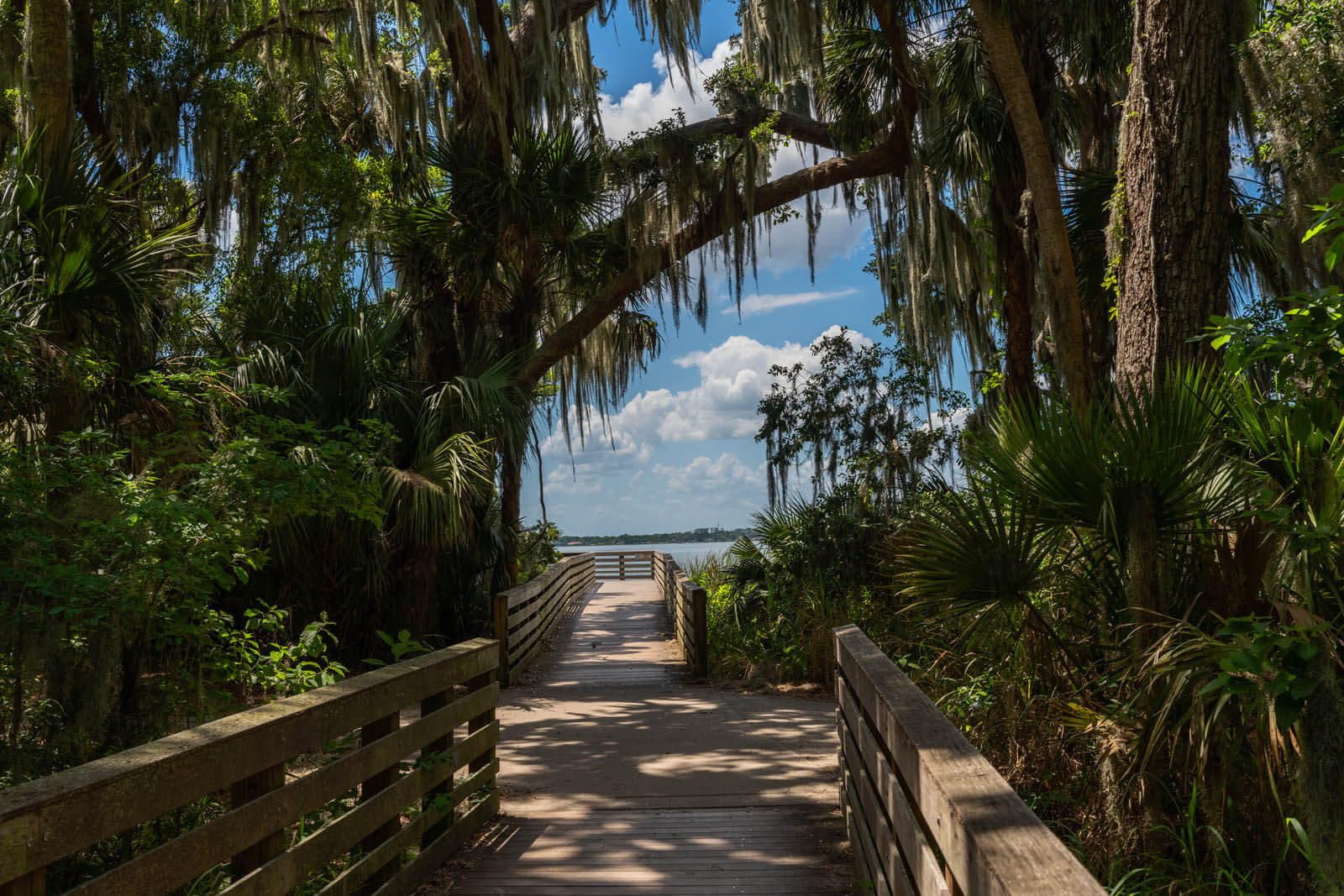 Before you set off on one of the most scenic drives in Central Florida on this road trip, you'll want to decide how long you're going to do your road trip. We spent 4 nights and 5 days, although the trip could be condensed to a shorter road trip if you don't have as much time or are wanting to add on a few days to a fun Orlando trip exploring Lake County, Florida – which most of these stops on this Central Florida road trip are anywhere from a 40-minute to 60-minute drive away from Orlando.
We recommend starting and ending your Central Florida road trip from Orlando, this is where it's easy to fly in and out of as well as rent a car from Orlando International Airport (MCO).
This scenic drive through Central Florida and road trip itinerary is going to follow what we did, feel free to customize as it's easy to do so as most of these spots are no more than a 30-minute drive from one another! And as noted above, keep in mind if you want to visit any of the museums along the way, check their opening hours and plan around that as many are only open on the weekends.
Day 1: Central Florida Road Trip (Mount Dora)
Start off your Lake County, Florida exploring in one of the most charming towns in Florida! Mount Dora has an incredibly adorable downtown filled with independent shops, cafes, antique stores, and pretty buildings nestled close to the scenic Lake Dora.
For the first day of your Central Florida road trip, we are going to have you stay in Mount Dora, where we will have you base for two nights. Following a full day in Mount Dora, you will enjoy some of the best areas for scenic drives in Central Florida hitting up a few of the citrus label signs to hunt, the surrounding lakes (hence the name Lake County, Florida), and the historic Florida citrus grove region!
The second night, you'll come back to Mount Dora where you can use the dining sections for dinner mentioned below as well!
Citrus Label in Mount Dora: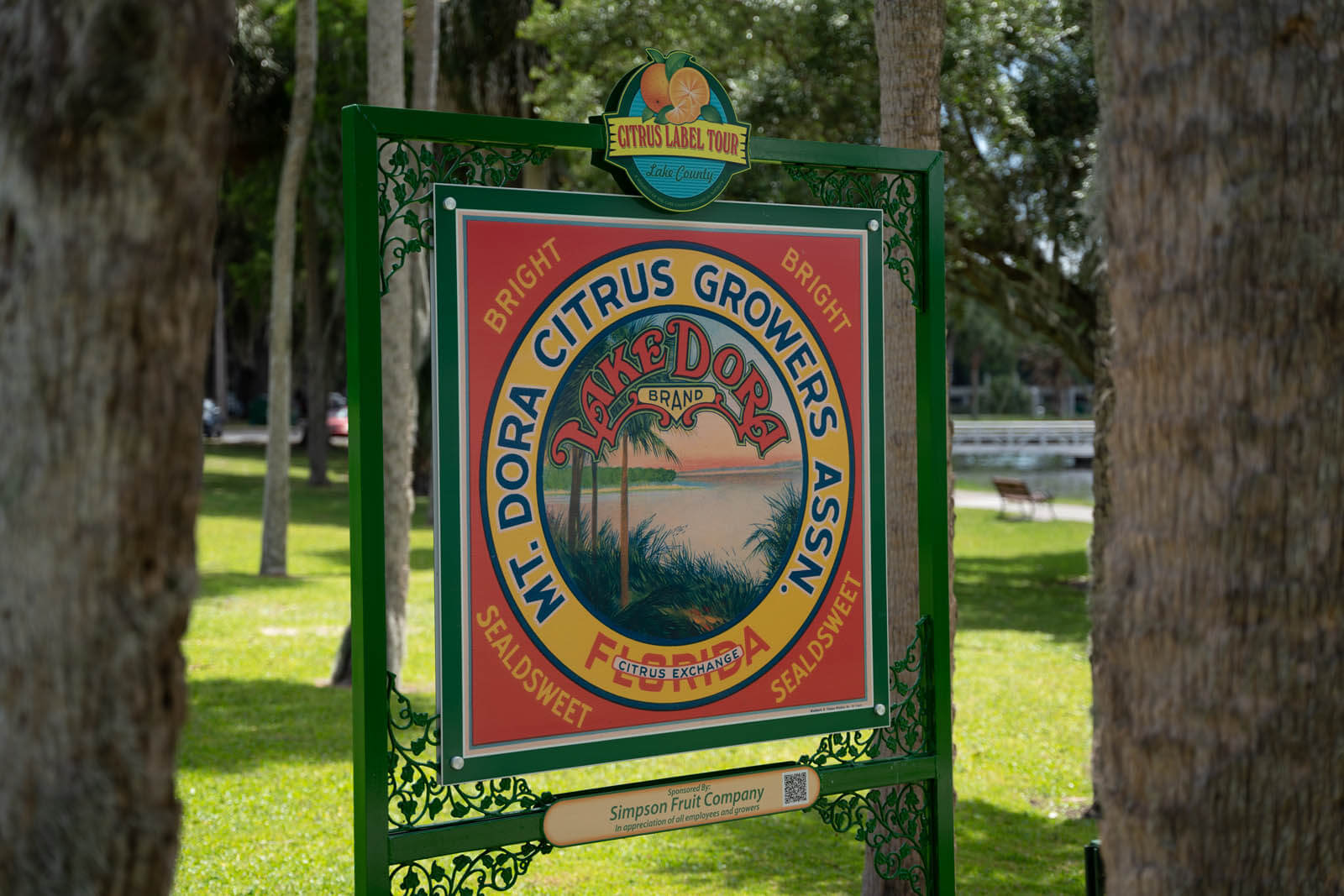 First thing's first, on this Central Florida road trip based around the citrus labels we are going to have you find that!! Head towards Grantham Pointe Lighthouse which is along Simpson's Cove on Lake Dora where you'll spot one of three freshwater lighthouses in Florida!
At this location, you'll spot your first two citrus labels (on one sign). The Simpson Fruit Company, which continues to this day, had one of their Florida citrus groves at this location, which is now a park for everyone to enjoy!
Be sure to check both sides of the sign, on the one you'll spot the "Roxy" crate label their canine mascot.
When you're done, be sure to walk to Palm Island Park, an 8-acre nature preserve and boardwalk that is teeming with wildlife along with Lake Dora under a canopy of ancient trees and Spanish moss.
What to Do in Mount Dora: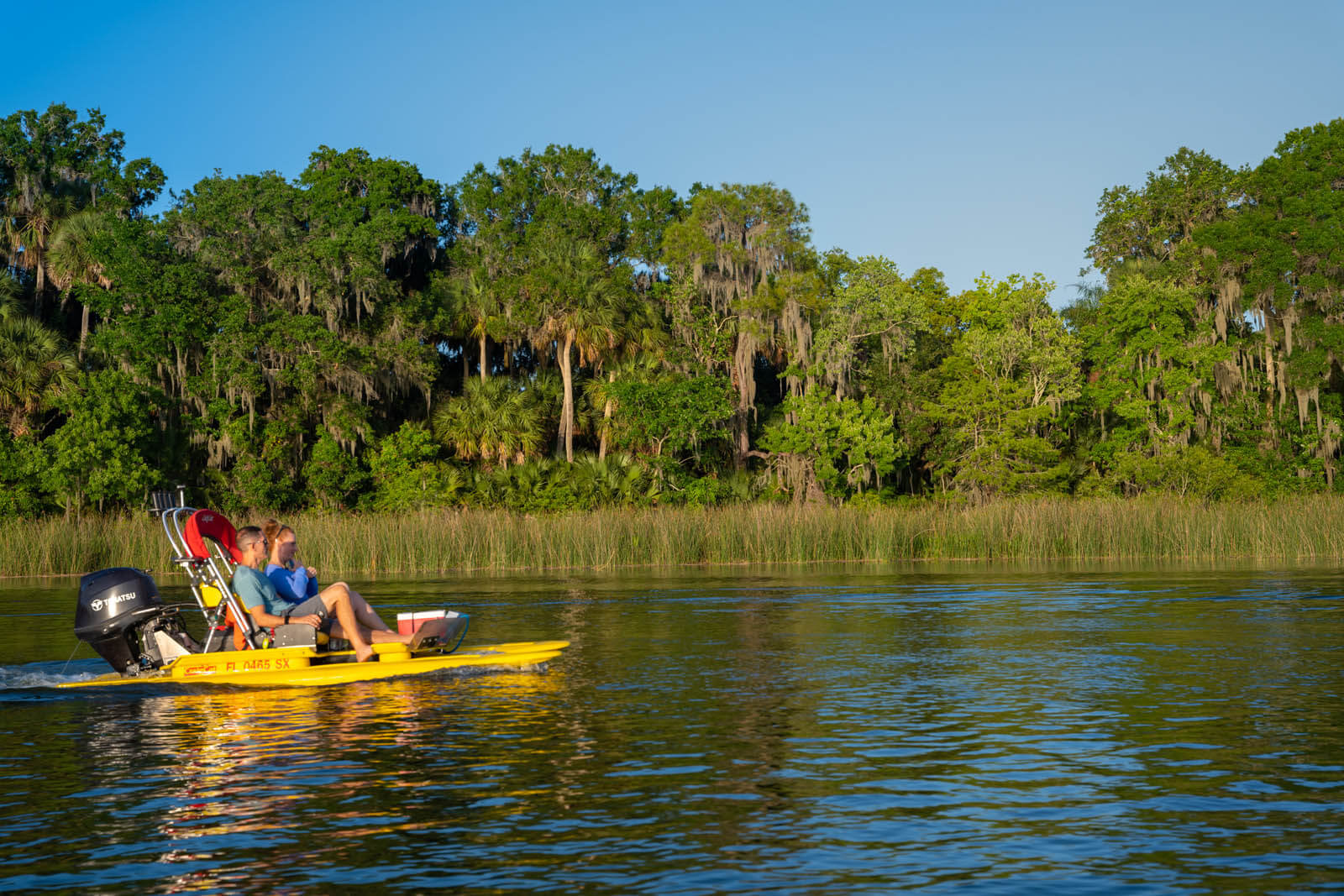 If you're looking for more citrus-themed activities in Mount Dora, head downtown to start exploring the cute shops including the Salt and Tea Exchange (432 N Donnelly St) where you can pick up all kinds of spices and their signature spice, salt, or sugar blends including citrus-infused salts you can bring the flavors of Florida back to your kitchen! We picked up the Florida Sunshine Salt blend!
Be sure to stop in more of the shops and if you have time, check out the Modernism Museum (145 E 4th Ave) which features a collection of modern art and furniture, they also have a shop across the street too to pick up souvenirs.
One not to be missed activity on your Central Florida road trip is the guided Catboat Tour setting off from Lake Dora exploring the lake, Dora Canal, and Lake Eustis following a guide on your own, personal two-person catamaran. We did the sunset tour with Captain Ron and this was one of the best highlights of our visit to Lake County, Florida! Don't just take our word for it, check out these reviews on TripAdvisor too!
Dress appropriately because you will get wet! There is a dry box on your personal catboat so you can toss a few items in there while you speed across the lake in this educational and adrenaline-pumping lake activity encountering wildlife along the way including gators!
If this all seems a bit too adventurous or wild for you, you can always opt to do a scenic (and dry) group tour on a pontoon boat departing from Lakeside Inn with Premier Boat Tours, who also has great reviews.
Where to Eat: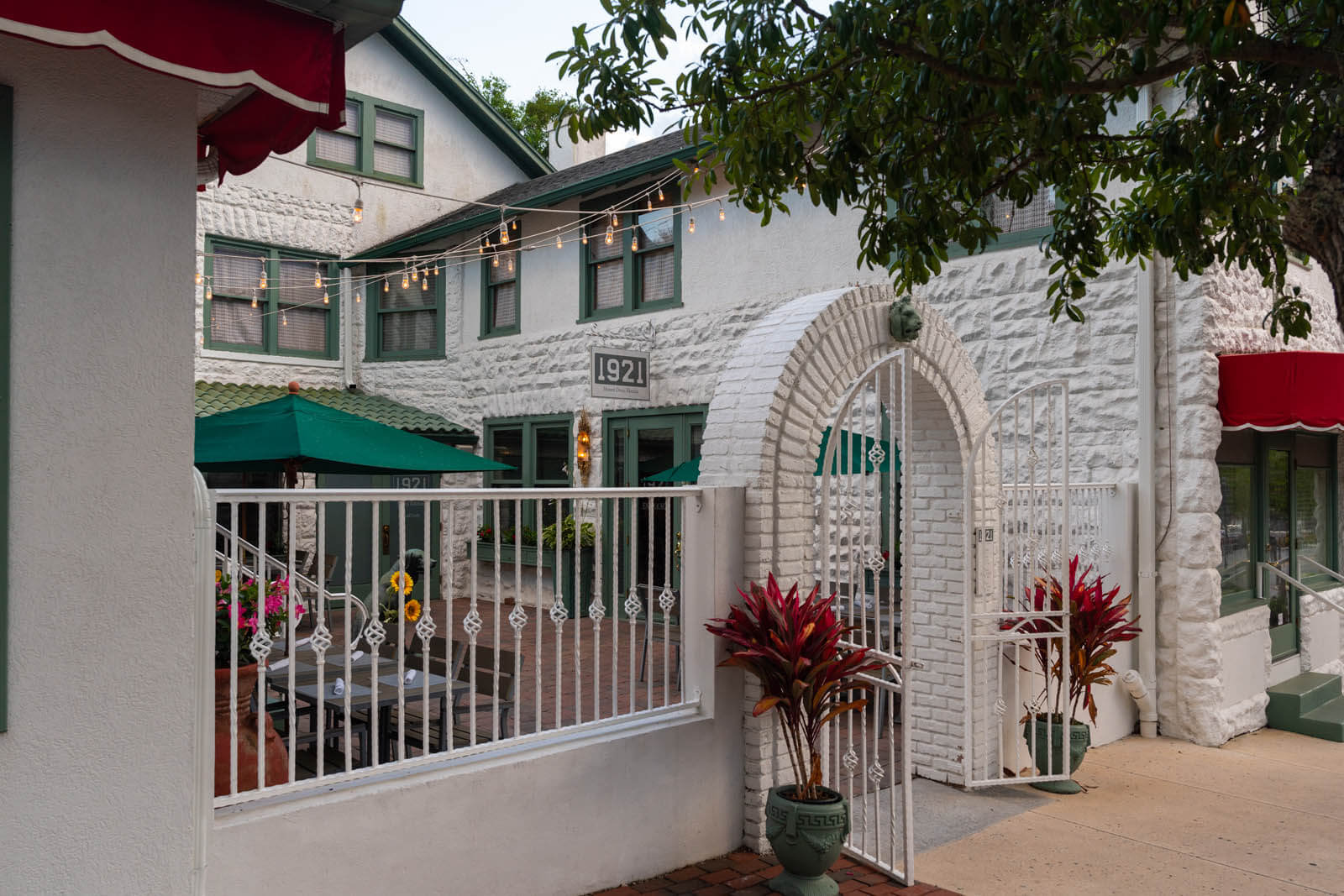 You have a ton of great options for dining in Mount Dora, and since we are suggesting you spend two nights based in Mount Dora on your Central Florida road trip around Lake County, we are going to give a few suggestions here to spread out during your stay depending on how you customize your road trip itinerary.
For a light breakfast and coffee, head to Edge Coffee (112 W 3rd Ave) which serves up freshly brewed, quality cups of joe in an inviting atmosphere. If you are a light breakfast eater, pick up one of their pastries too.
Don't miss lunch at Fifth Avenue Streatery (846 5th Ave) set at a former gas station. Grab something from their fully stacked menu of classic southern dishes and Florida home cooking.
For dinner, you don't want to miss Pisces Rising (239 W 4th Ave) serving up upscale, casual dining with a focus on fresh Florida seafood. Another fantastic dinner option is 1921 Mount Dora (142 E 4th Ave), an award-winning eatery with a rotating menu serving up modern Floridian cuisine with locally sourced ingredients.
Where to Stay in Mount Dora: Lakeside Inn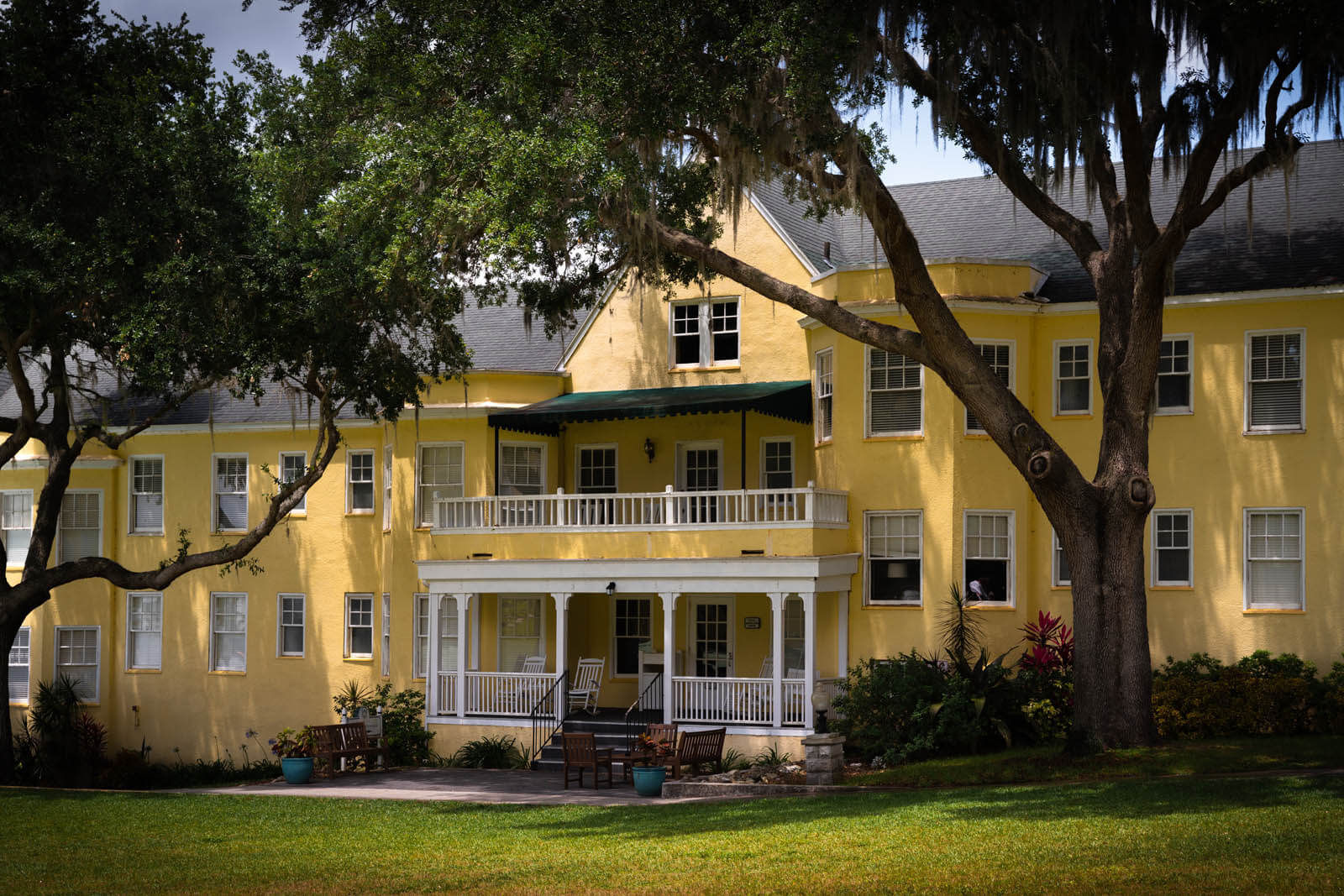 A visit to Mount Dora isn't complete without staying a night, we suggest two nights, at the historic Lakeside Inn located right on Lake Dora. This stunning, historic inn dates back to 1883 and is the oldest continuously operating hotel in Florida.
For anyone who loves old buildings and historic stays, this is a dream! We loved how cozy the rooms were and of course, ours came with an incredible view of the property and the lake.
Guests can enjoy dining on their wrapped porch Veranda, cocktails at the historic Tremains Tavern, stroll the gardens, or lounge around poolside before enjoying a majestic sunset over Lake Dora right here from the property.
Notable guests include U.S. President Calvin Coolidge spent a month here with the former first lady after his presidency kicking back and unwinding. Guests can choose to stay in his room, which has a portrait of Coolidge on the wall and you can sit and work at the desk overlooking Lake Dora, just as he did.
Speaking of history, Scarface, aka Al Capone, who was rumored to have been linked to Lake Dora and the Inn through rum-running during the prohibition and would frequent Tremains Tavern. There's even a hidden speakeasy door beneath the carpet where you check-in at Lakeside Inn.
This historic inn is no doubt an experience in itself and a must for your stay in Lake County, Florida. Book here.
Day 2: Central Florida Road Trip (Tavares, Eustis, Umatilla, Overnight in Mount Dora)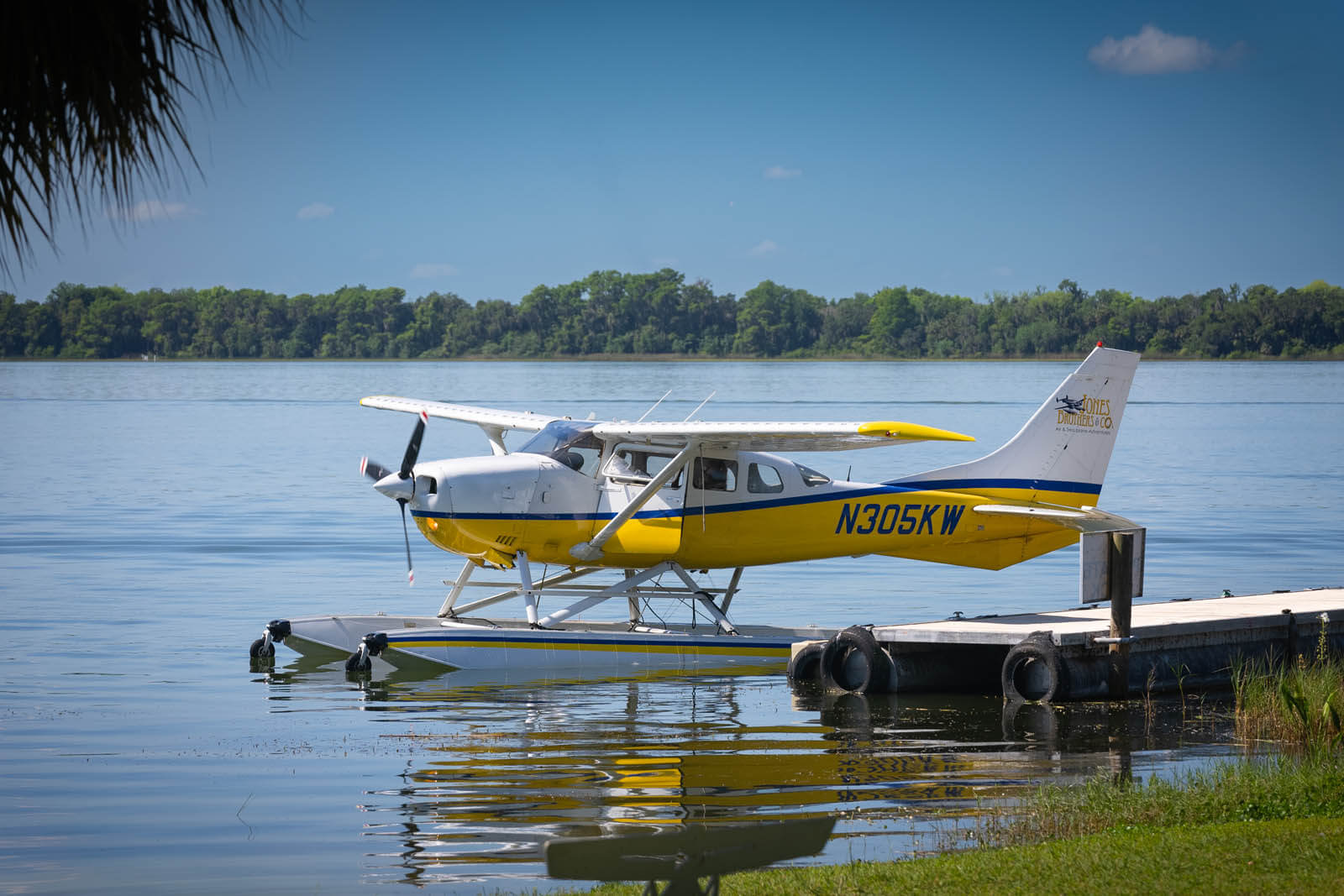 On your day 2 of your Central Florida road trip, we are going to suggest starting early in Mount Dora with a coffee before making your way to Tavares for an exciting morning seaplane adventure over the scenic lakes of Lake County, Florida, to exploring a few more citrus-y stops in Eustis and Umatilla before making your way back to Mount Dora for dinner and your evening.
Tavares – America's Seaplane City
Mount Dora to Tavares (~5.5 miles, 13 minutes drive)
Seaplane Adventure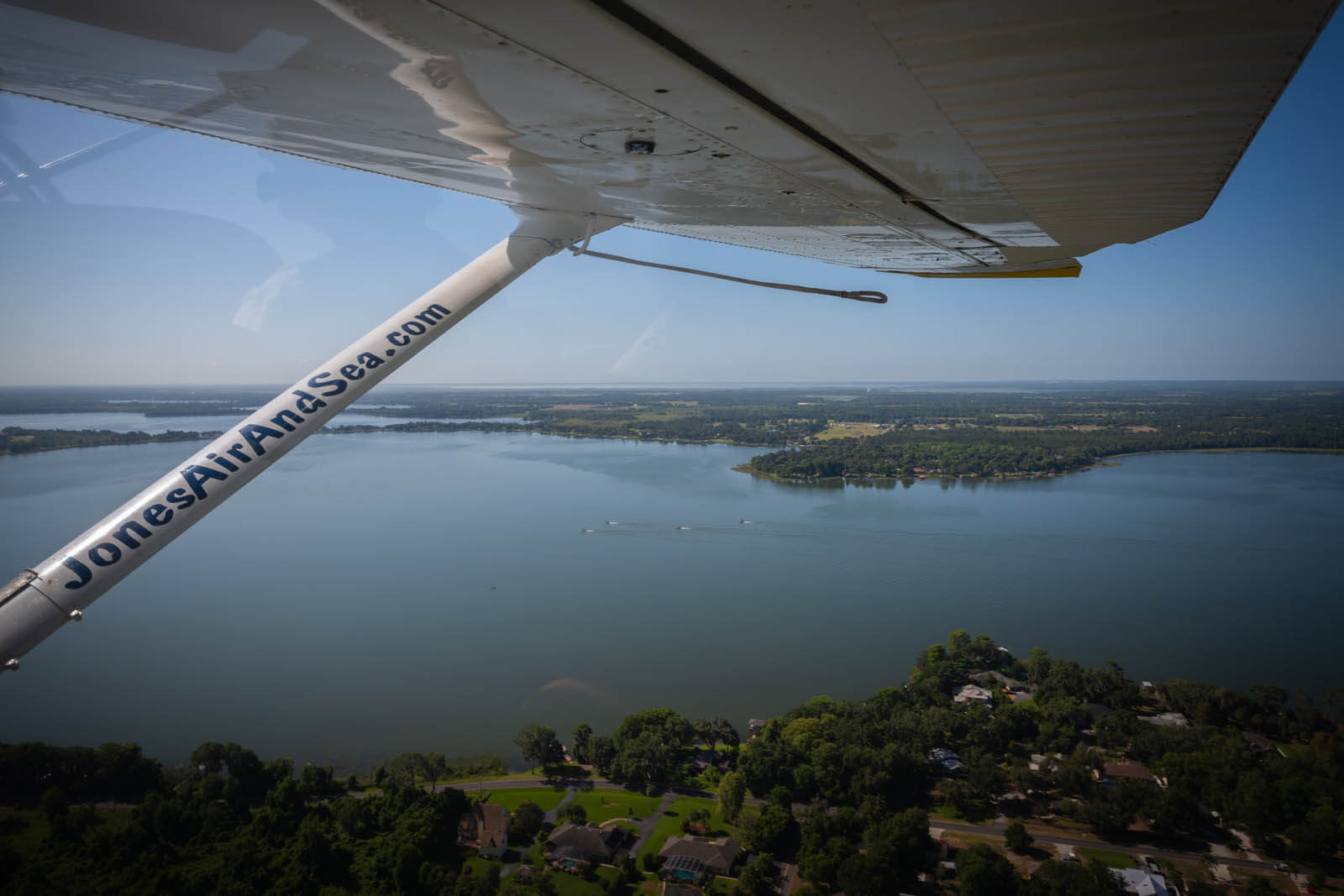 Start your morning by seeing Lake County, Florida and the Harris Chain of Lakes from above in America's Seaplane City, Tavares! Yep, this is the Seaplane Capital of the World!
You're going to want to book your 35-minute scenic seaplane ride in advance with Jones Brothers & Co. Seaplane Adventures, (210 E Ruby St) we suggest getting an early/mid-morning flight so you have time to hit up all the next historic citrus stops we have on this exciting road trip and scenic drive through Central Florida in store for you today!
With your pilot, you'll fly high over what is nicknamed the 'land of 1000 lakes' and get some informational tid bits while you're at it! Be sure to wear your gator goggles, while you're in the sky and looking down you'll spot some! We happened to be visiting at the end of April, which we were told was a great time for spotting them, and saw TONS.
Tavares Citrus Labels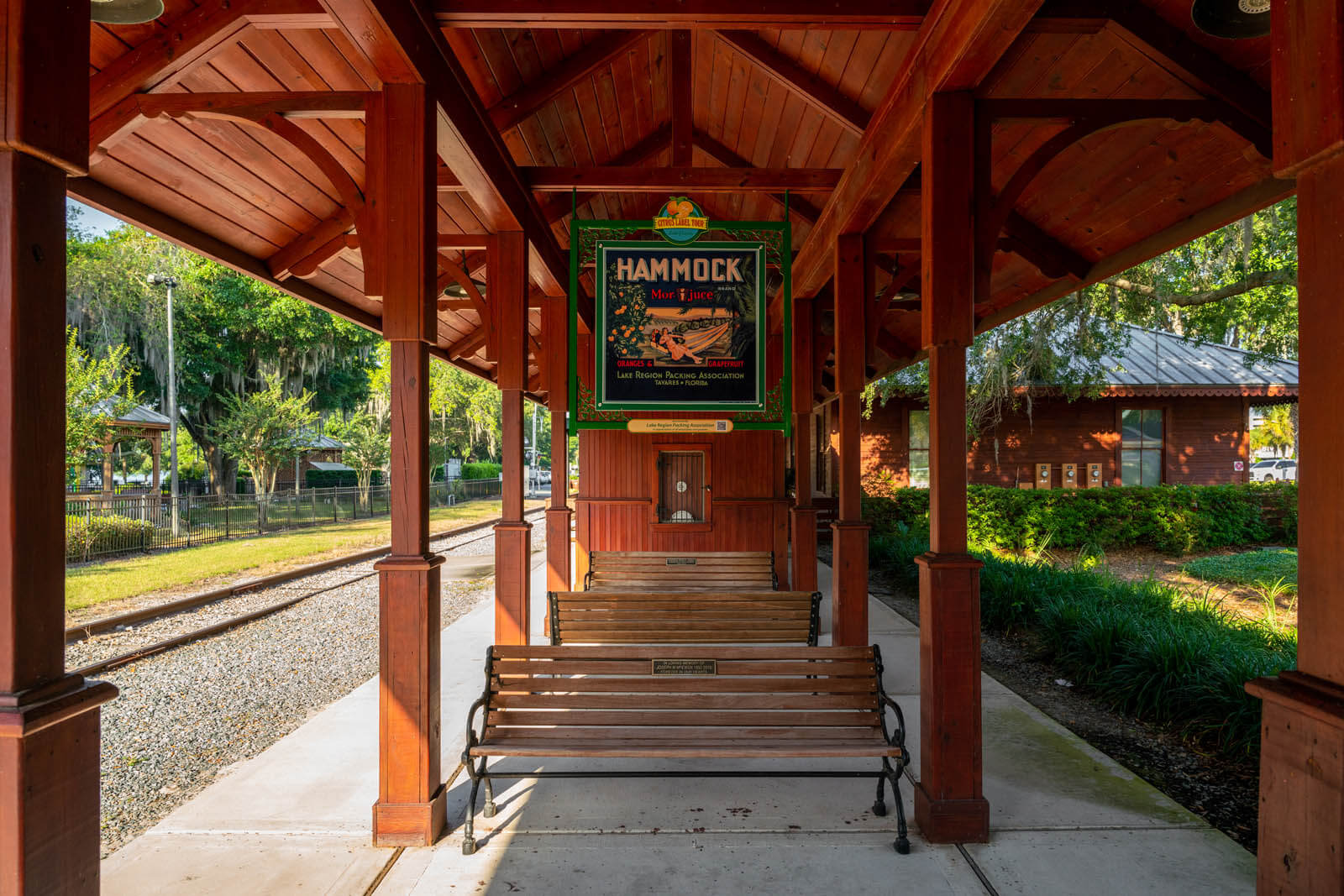 When you're back on land, walk over to the Tavares Train Depot (305 E Ruby St) in Wooton Park, which is where citrus from the region would be shipped off on trains! At this location, you'll spot the double-sided citrus label sign above the benches at the depot.
If you want to see a few real, antique citrus labels, head inside the Tavares History Museum (open Tuesday, Thursday, Friday 10 am to 2 pm), housed in the historic train depot, and see them on display inside along with other historic artifacts from Tavares. You'll recognize a few of the real citrus labels on display on the signs you're hunting down on your Central Florida road trip too!
Be sure to do a lap around the winding pathways through Wooton Park before heading over to the next citrus label around a 5-minute walk away. The pathways here are surrounded by gorgeous trees draped with Spanish moss and even a fun splash zone for the kids if you're traveling with little ones.
Walk to the Lake County Museum (317 W Main St) where at this location you'll spot the next double-sided citrus label sign.
Lunch in Tavares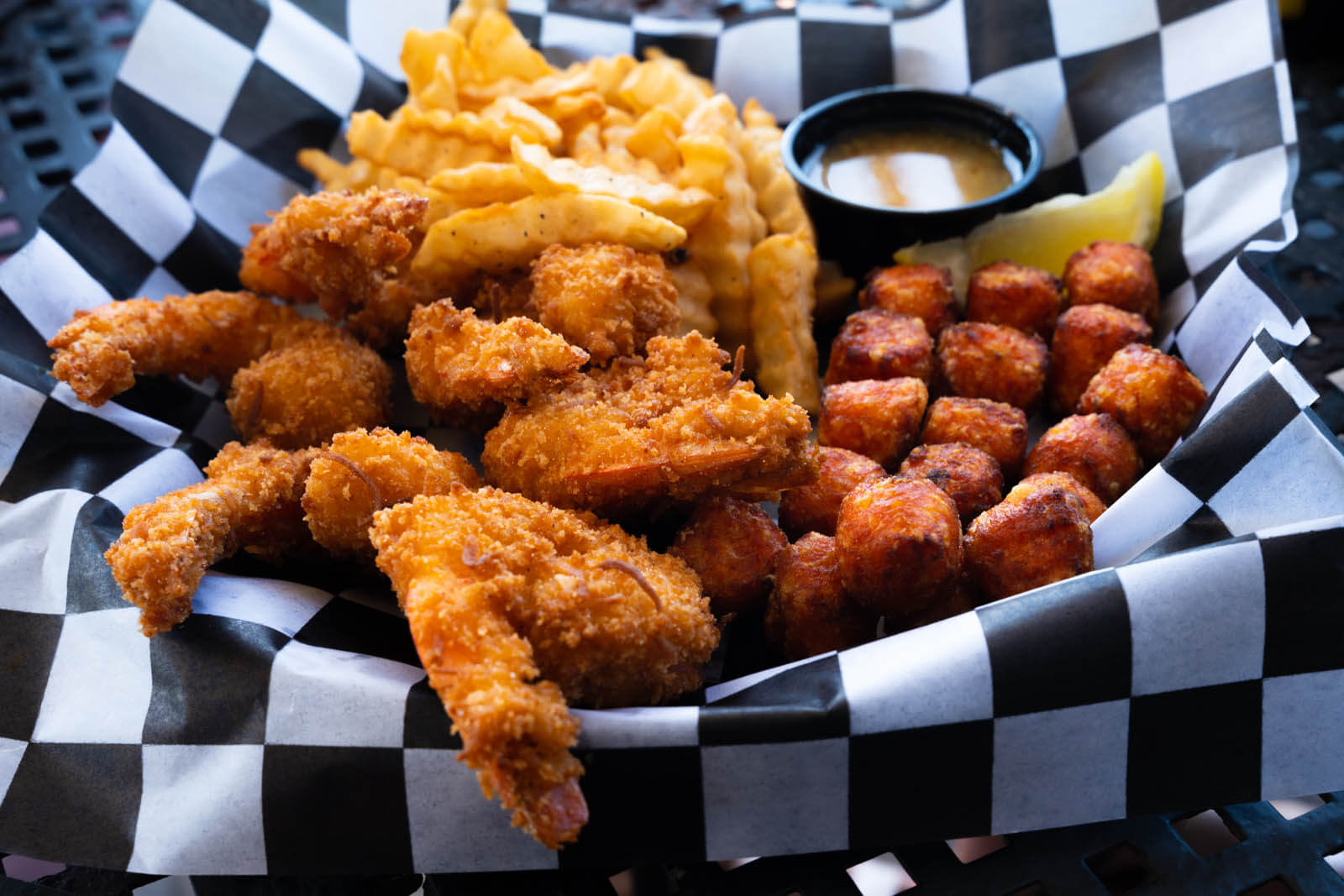 If you've built up an appetite, this is a great time to have lunch before continuing on your scenic drive through Central Florida's citrus-growing towns of Lake County!
We ate at Puddle Jumpers Lakeside Grill & Bar (111 W Ruby St) which serves up fried foods from fish bites, coconut battered shrimp, fish tacos, and other tasty items on their menu. If you're a fan of margaritas, be sure to try their Florida citrus margarita which is a classic margarita with an extra citrus twist.
If you save room for dessert, there's a Twistee Treat ice cream stand on the next stretch driving from Tavares to Eustis! There are actually several locations scattered around Lake County, Florida so if you miss this one you'll have other opportunities along your Central Florida road trip! But, we LOVED these little ice cream stands as the building itself is in the shape of an ice cream cone!
And if you have time, be sure to check out our full guide for all the best things to do in Tavares!
Eustis – Former 'Orange Capital of the World'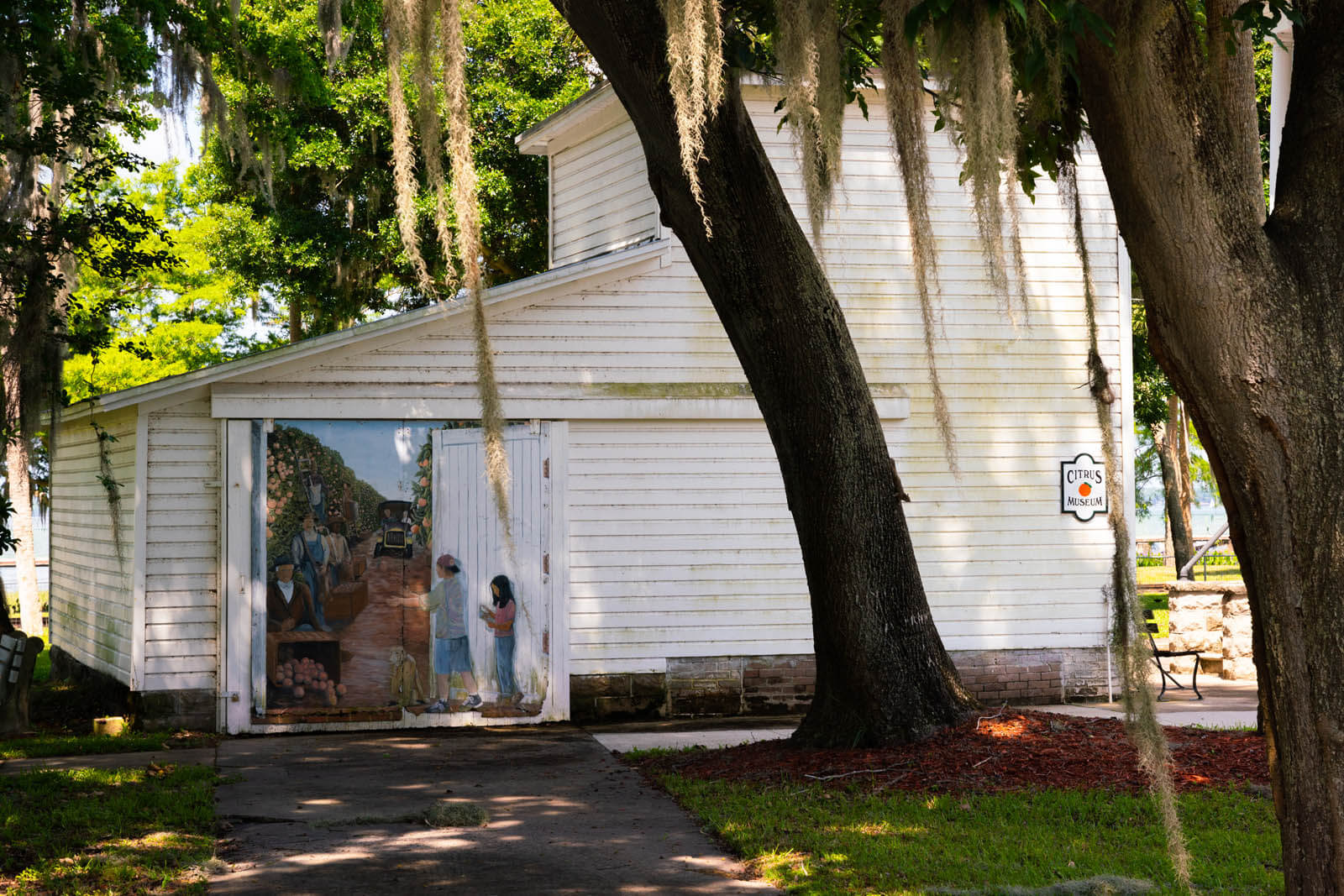 Tavares to Eustis (~5.5 miles, 13 minutes drive)
Your next stop on your Lake County, Florida road trip is at the former 'Orange Capital of the World,' in Eustis! Park at Ferran Park and make your way to this location by foot to see the double-sided citrus label sign that is adorned with many different labels unlike the others you'll find on this Central Florida road trip!
Afterward, be sure to take a walk along the boardwalk on the Eustis Lake Walk. If you weren't quite ready for lunch in Tavares, the Crazy Gator (402 N Bay St) restaurant right here is a great alternative choice!
Make your way to the Citrus Museum (536 N Bay St), the only one of its kind in the state (open Fridays & Saturdays 1-5 pm). The museum houses memorabilia from its citrus growing heydey when it was the orange capital of the entire world! They actually have a unique device on display that would turn ripe green colored oranges to the orange color on display here too! We didn't even know that was possible!
The museum wasn't open during our visit since we were not there on a Friday or Saturday, but just outside is where you'll spot another citrus label sign that you can check out from the sidewalk at this location.
Umatilla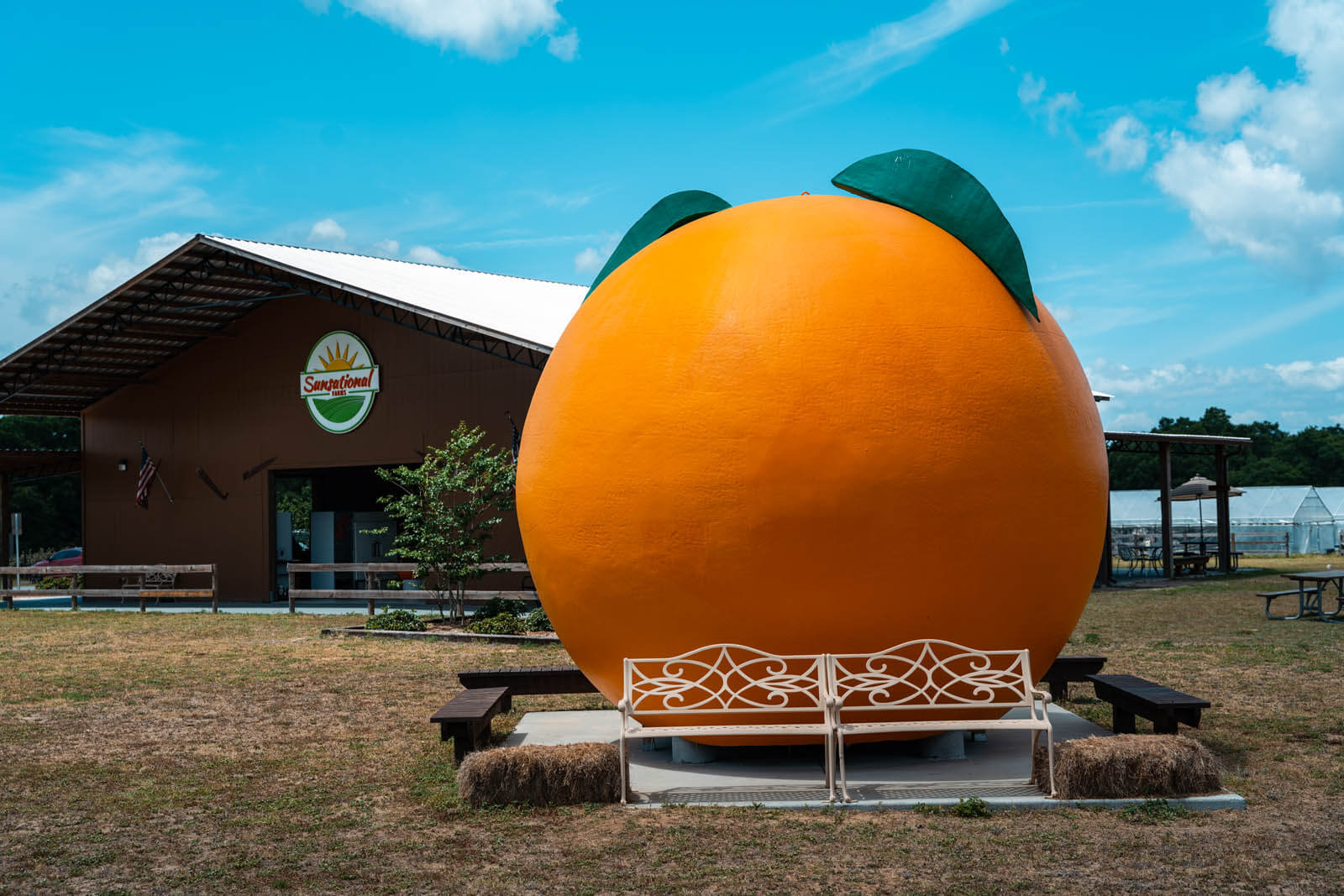 Eustis to Umatilla (~6 miles, 11 minutes drive)
You can still find dozens of Florida citrus groves at this next stop on your road trip! Umatilla is home to Florida's Natural orange juice brand warehouse, one of the most recognizable OJ brands in the country as well as being the 'Gateway to the Ocala National Forest,' where visitors can enjoy the great outdoors through their various trails, natural springs, lakes, and ponds.
Umatilla Citrus Labels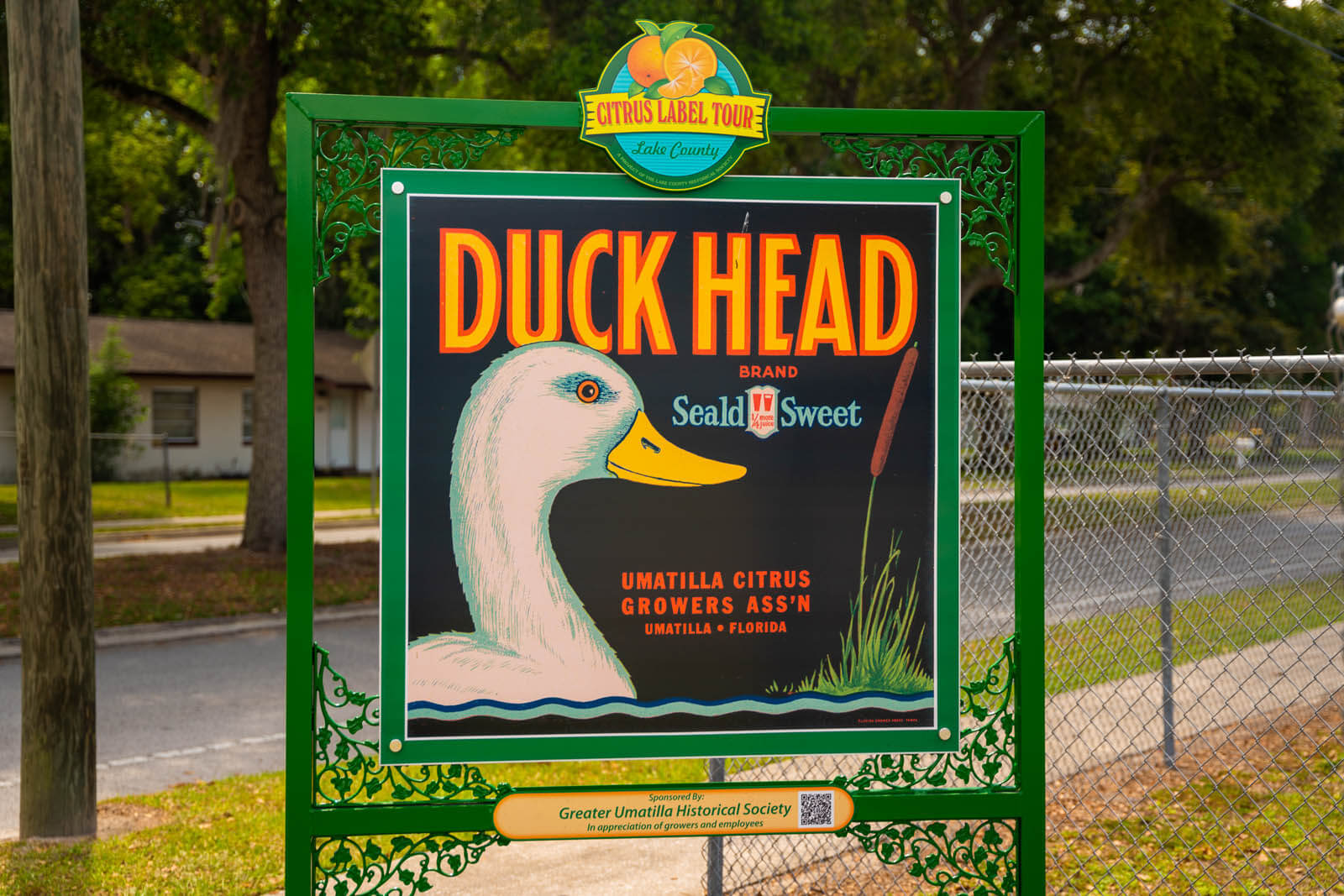 First, stop at Cadwell Park at this location to find your first of two different citrus label signs located in Umatilla. You'll notice one side of this historic citrus label has multiple vintage label designs as well!
After you've snapped your photos get back in your car and head to the Greater Umatilla Historical Museum (299 N Trowell Ave) where at this location you'll spot another citrus label sign, one of the sides has multiple vintage logos on it as well! The museum was closed and it wasn't clear when they are open, so we just came for the Florida citrus industry history through the citrus label sign here!
The Big Orange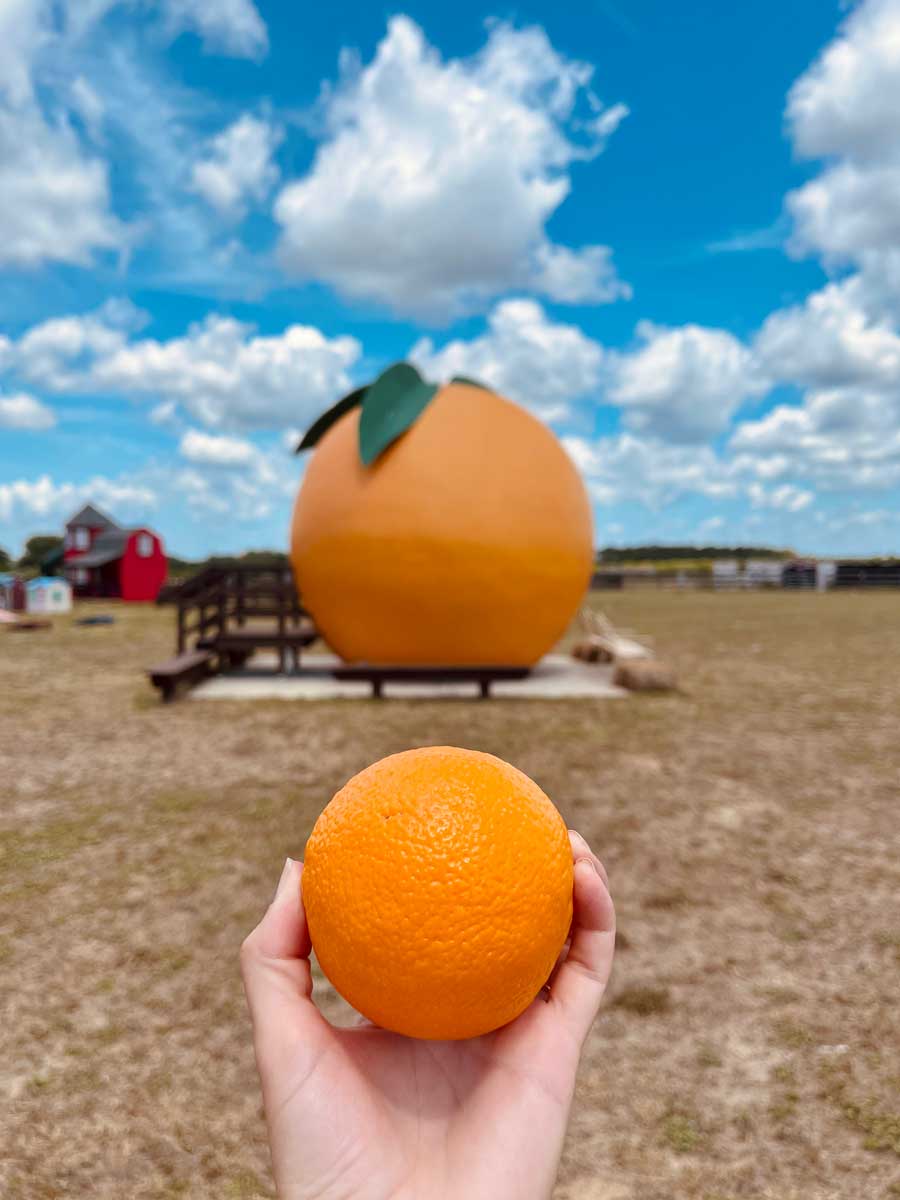 Now, what you've all been waiting for! Your first exciting roadside attraction in Lake County, Florida! Make the 5-minute drive to Sunsational Farms (40541 Roger Giles Rd), home to the 'Big Orange.'
This giant orange has a storied past and was found it covered in weeds in a field by a local citrus grower in 1971. After inquiring about it, he discovered that there had been three of these giant oranges made, one had been destroyed and the other's location is still a mystery.
Because this was such a part of the Florida citrus industry history, he purchased the orange and then brought it to Mount Dora on Highway 441, where it served as many different uses from a floral shop to produce stand before being unused again for a period until it eventually given another chance to pay homage to Florida citrus and its legacy here at Sunsational Farms where it has been since 2012 and was fully restored.
Be sure to pop a selfie with this fun Central Florida road trip attraction and then head into their gift store and pick up a bag of fresh Florida oranges, and orange-flavored goodies like their orange-creamsicle milkshake!
Overnight at Mount Dora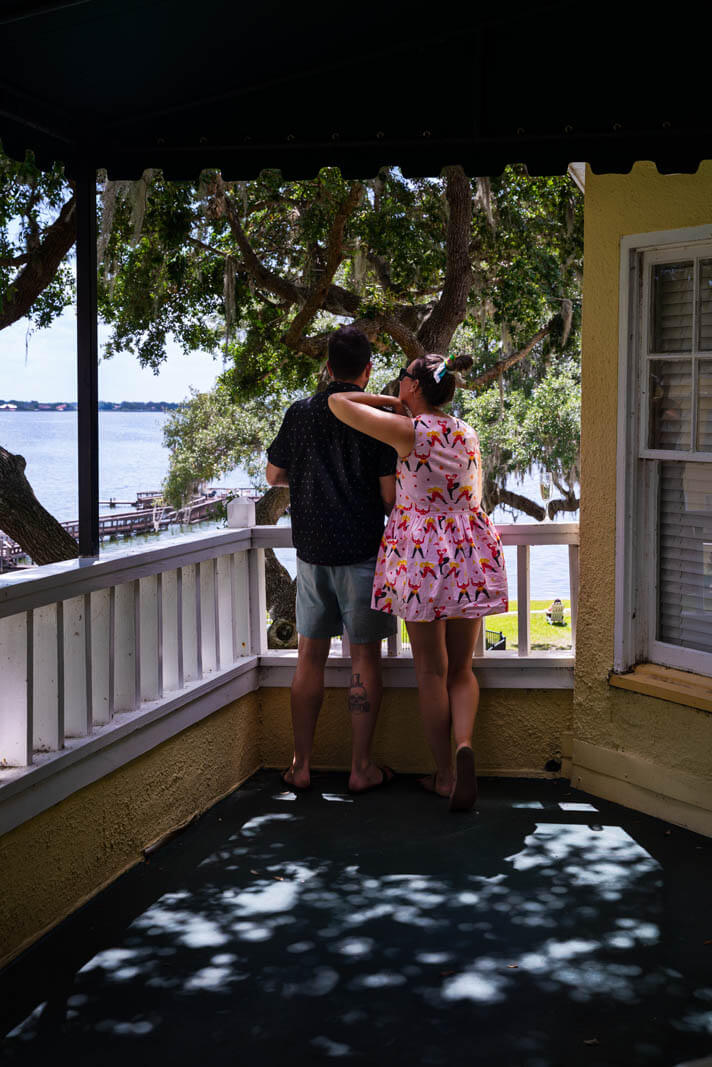 Sunsational Farms to Mount Dora (~11 miles, 22 minutes drive)
We recommend heading back for your second evening in the charming, historic town of Mount Dora sleeping at the historic Lakeside Inn.
If you've finished your day 2 Lake County, Florida road trip stops early, take advantage of hitting up more of the shops in Mount Dora or head to the famous antique shops around here including the Village Antique Mall (405 N Highland St, open until 5 pm).
Then have dinner at one of the Mount Dora recommendations we put under Day 1 before resting up for your next exciting day exploring more historic citrus stops along one of the most scenic drives in Central Florida!
Day 3: Central Florida Road Trip (Leesburg & Howey-in-the-Hills)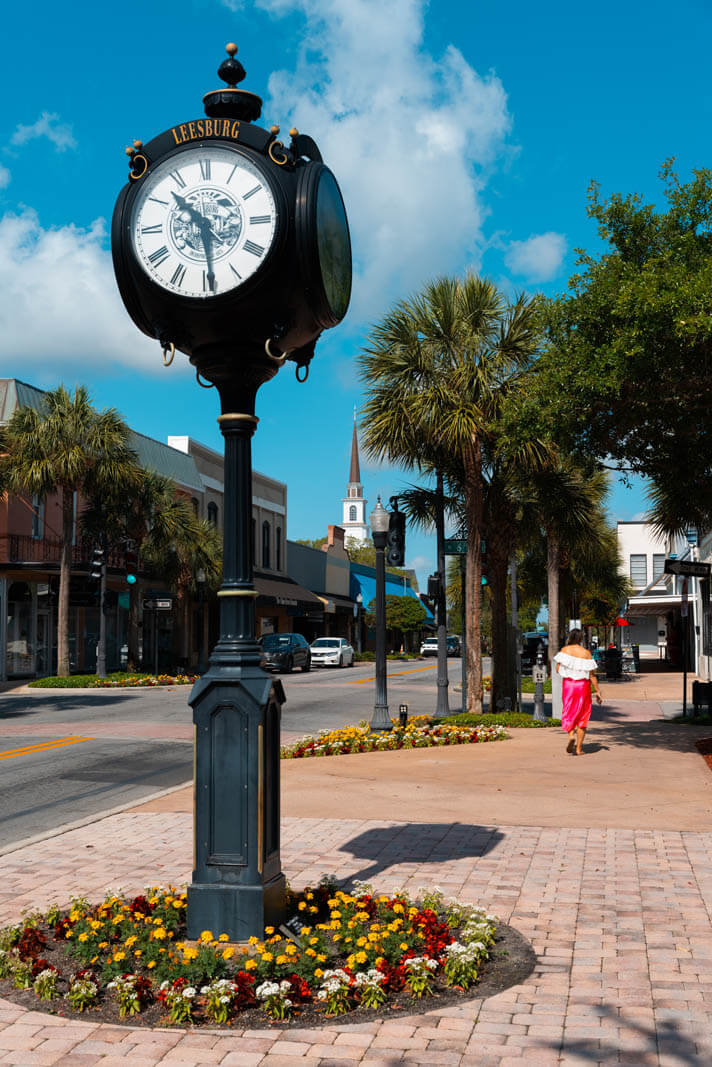 On your day 3 of your Central Florida road trip, we are going to suggest starting early in Mount Dora with a coffee and breakfast before making your way to Leesburg where you'll spot another citrus label have the option to pop into a few antique shops in this cute downtown before heading off to see a giant live oak tree and making your way to Howey-in-the-Hills, not only a famous and historic spot for Florida citrus groves but also a premier golfing destination.
Leesburg & Lake Griffin State Park
Mount Dora to Leesburg (16.6 miles, 30-minute drive)
Leesburg Citrus Labels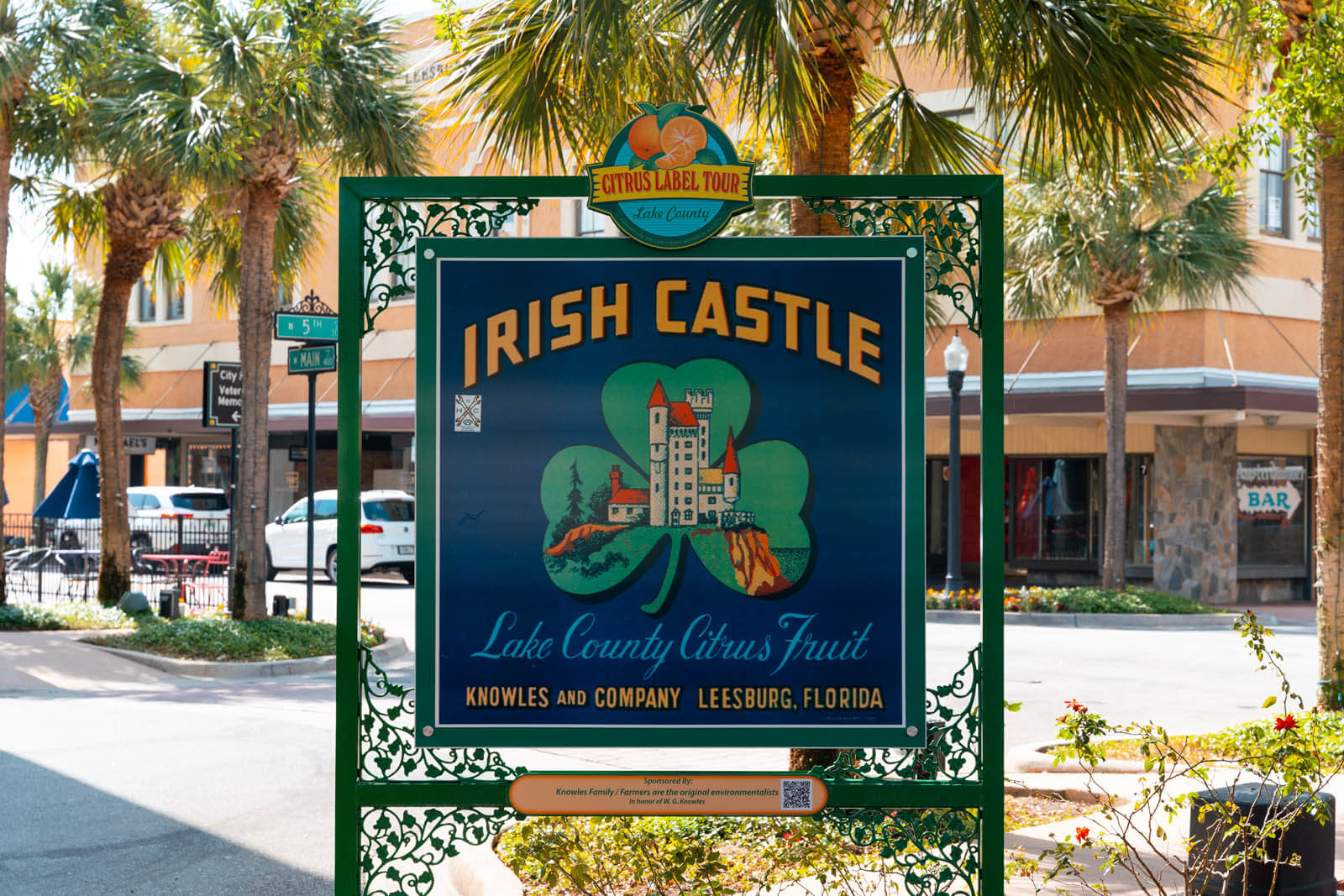 Make your way to the town of Leesburg to find a fun citrus label sign with a castle on it! At this location, you'll find the citrus label sign which pays homage to the Florida citrus groves that once were very prominent here. But another fun fact is that Leesburg was actually also really well known for its watermelon production too! So much in fact, they used to hold an annual Watermelon Festival here!
After you snap your photos of this citrus label sign, take a little time to walk downtown and check out the antique shops and other little stops that catch your eye here.
Florida's Second Largest Live Oak
When you're done exploring downtown, hop back in the car for another one of the most scenic drives in Central Florida to Lake Griffin State Park where you can find the state's second-largest live oak tree that's estimated to be between 300 to 500 years old!
You can find the Mammoth Live Oak along the Live Oak Trail (.4 miles round trip trail) and if you're up for a little more walking before getting back in the car and exploring more of Lake County, Florida here along Lake Griffin – then take advantage of some of the trails here, all of which are pretty short so it's not too much of a time commitment if you're unsure of how long you want to stay outside – especially if you're not used to the humidity like us!
Howey-in-the-Hills
Lake Griffin State Park to Howey-in-the-Hills (~16 miles, 30 minute drive)
Lakeside Lunch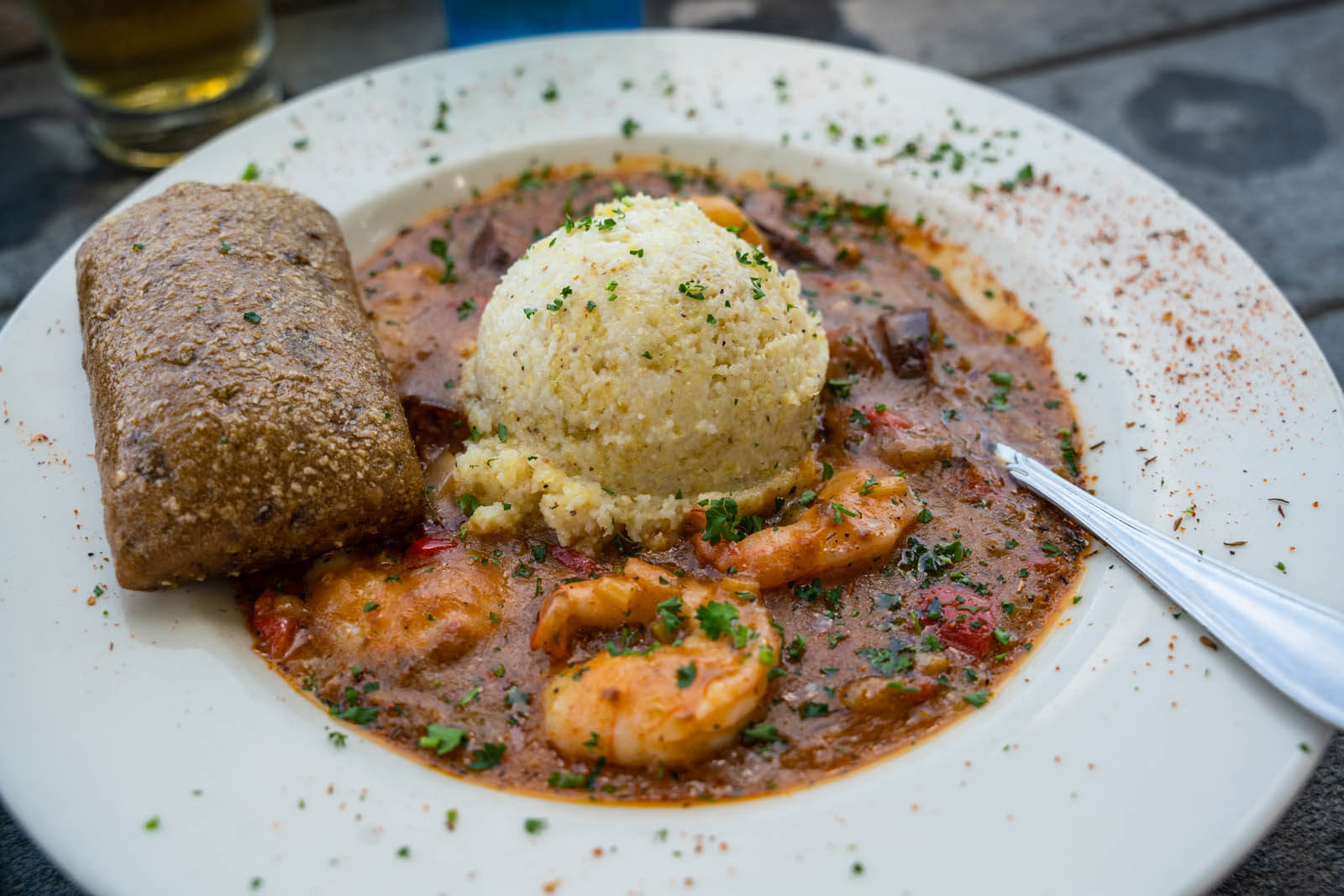 We hope you worked up an appetite because your next stop was one of our favorite restaurants during our entire Lake County, Florida visit! Head over to JB Boondocks Bar & Grill (704 S Lakeshore Blvd). Try to nab one of the outdoor tables overlooking the waterfront of Little Lake Harris where boaters dock up and eat right here on the lake.
They have a really good menu, I am drooling thinking of the shrimp and grits I ate here! We loved how laidback this lakeside spot was and the seats were perfectly shaded from that Florida sun and heat.
Tour Howey Mansion
After you fuel up, make your way to the historic Howey Mansion (1001 Citrus Ave) for a docent-led tour of this renovated mansion that was once home to one of the biggest names in Florida's citrus industry history and its golden age, William Howey. Howey purchased over 60,000 acres in Lake County, Florida for citrus groves. His role played a huge contribution to the Florida citrus industry history.
The only way to see this 20-room Mediterranean Revival mansion and citrus history landmark is by booking a tour in advance online.
The 90-minute guided tour will show you around the house, now a popular wedding venue as well, along with its interesting features like the hidden speakeasy basement and the history of Mr. Howey's power and influence over this famous citrus growing region.
Howey-in-the-Hills Citrus Label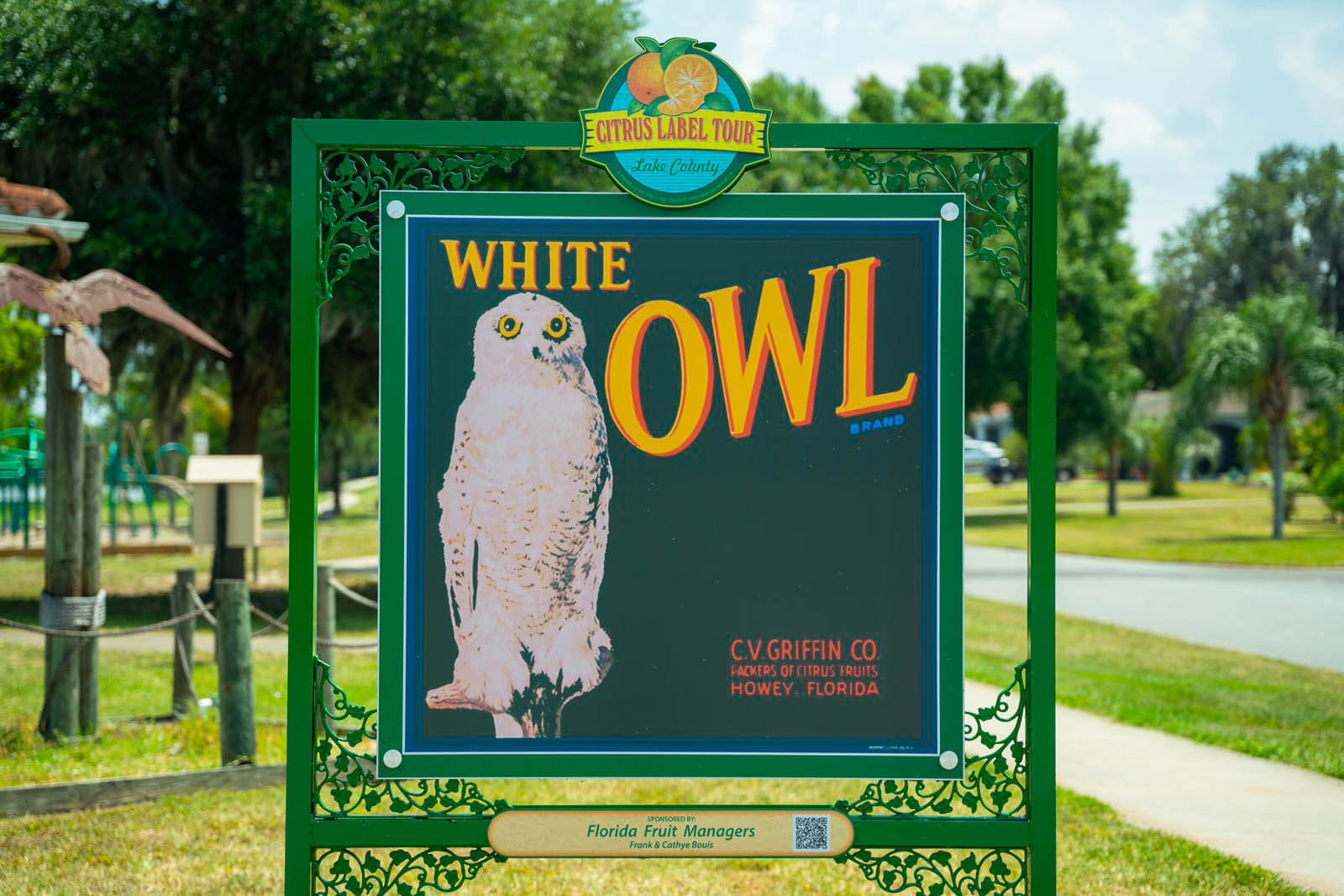 Your next stop on the fun citrus label hunt on this Central Florida road trip is at Griffin Park, not to be confused with Lake Griffin State Park in Leesburg. At this location, you'll find your next citrus label sign!
Technically, we are making you slightly backtrack, so if you have time to stop here on your way from lunch to the Howey Mansion, that makes the most sense. But the backtracking is less than a few minutes so we did it this way.
In a park overlooking Little Lake Harris you'll spot your sign with the White Owl on one side and Apshawa on the other. After you snap your pictures, get ready for some much-needed relaxation.
Overnight at Mission Inn Resort & Club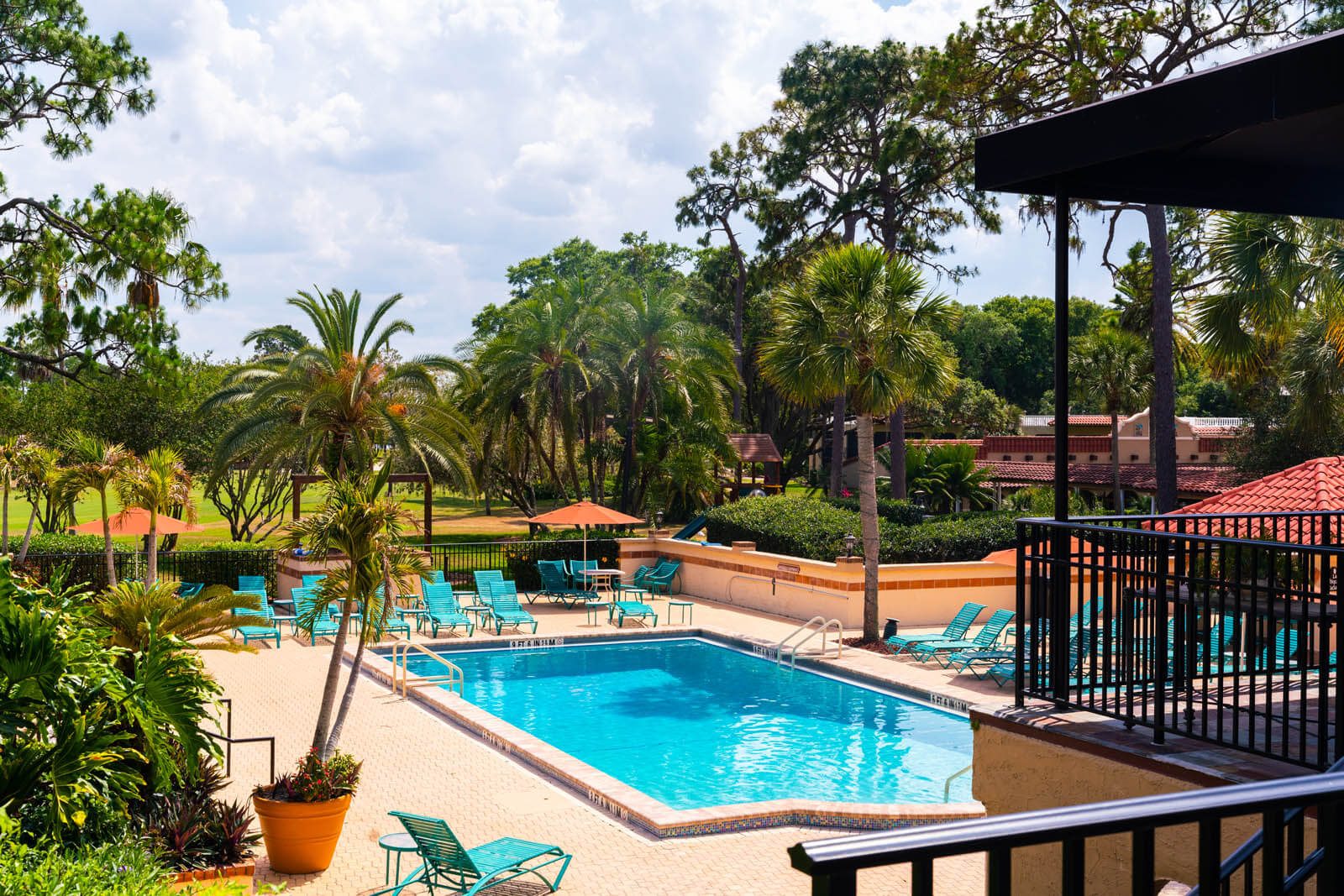 During your overnight in Howey-in-the-Hills we suggest staying at an over century-old family-owned and operated resort with two world-renowned golf courses, multiple onsite restaurants, and a great pool for lounging around the rest of your day at Mission Inn Resort & Club.
We checked in and took a much-needed break from the car and all the scenic drives in Central Florida we had been doing the past few days.
If you're an avid golfer, then you will want to make sure to schedule time in the afternoon/evening or first thing in the morning as they have the El Campion course and the Los Colinas course which are both famous.
The El Campion course dates back to 1917 and was one of the oldest in the state. We also saw a sign that said it was the 13th best golf course in Florida, and when we realized there are well over a thousand golf courses in the state of Florida we were pretty impressed!
And if you're up for a quick little walk through the gorgeous lush Trails of the Conquistador which is in the El Campion golf course. The trail explores 1/3 mile of untouched Florida landscape that recreates what it might have looked like when Spanish colonizers explored the area back in the early to mid-1500s. Book your stay here.
Day 4: Central Florida Road Trip (Groveland & Clermont)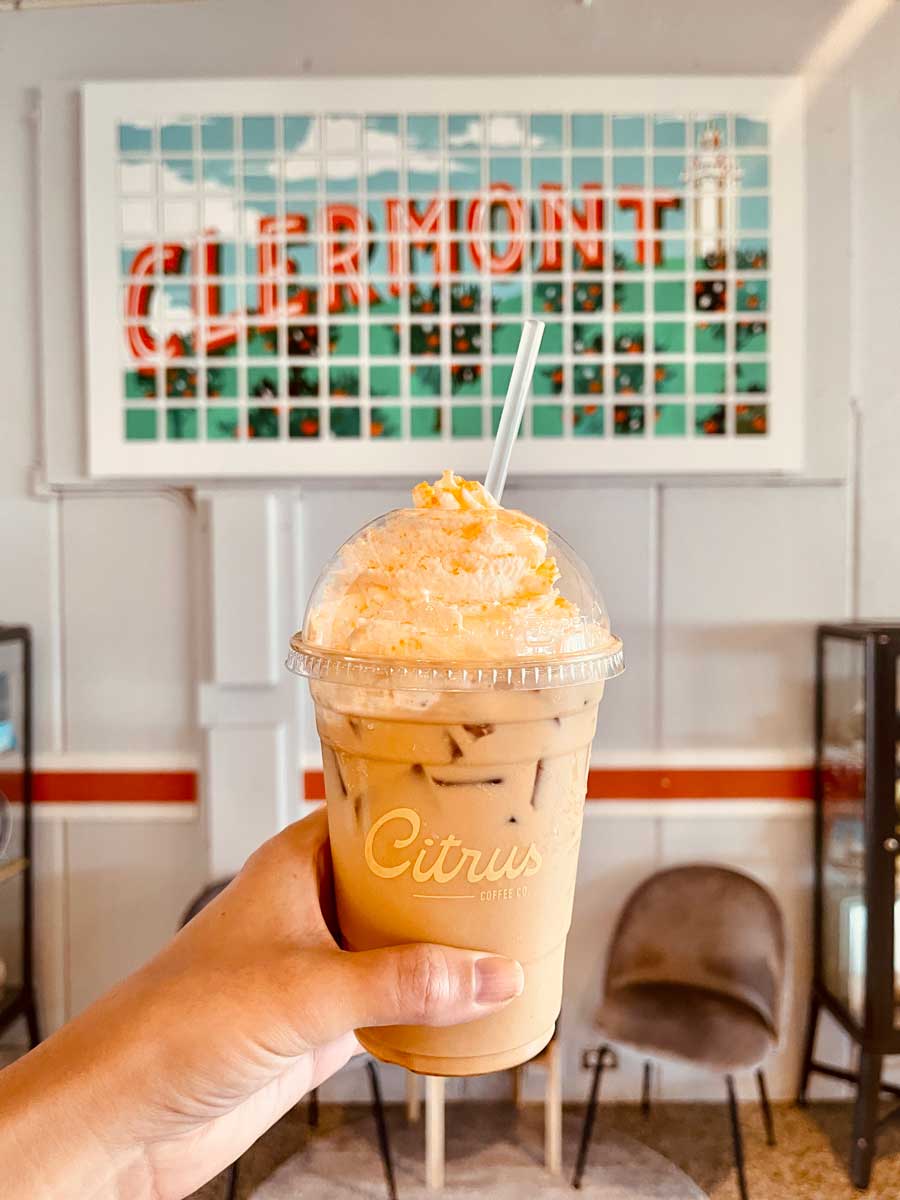 Get ready as we are giving you a fun and action-packed day hitting up the final citrus labels on this Central Florida road trip through Lake County, visit not one, but TWO fun roadside attractions that are both citrus themed, and also visit a u-pick farm where you not only get to enjoy one of the most scenic drives in Central Florida to the farm, but you can walk away with some fresh Florida produce before ending your day in Clermont.
Groveland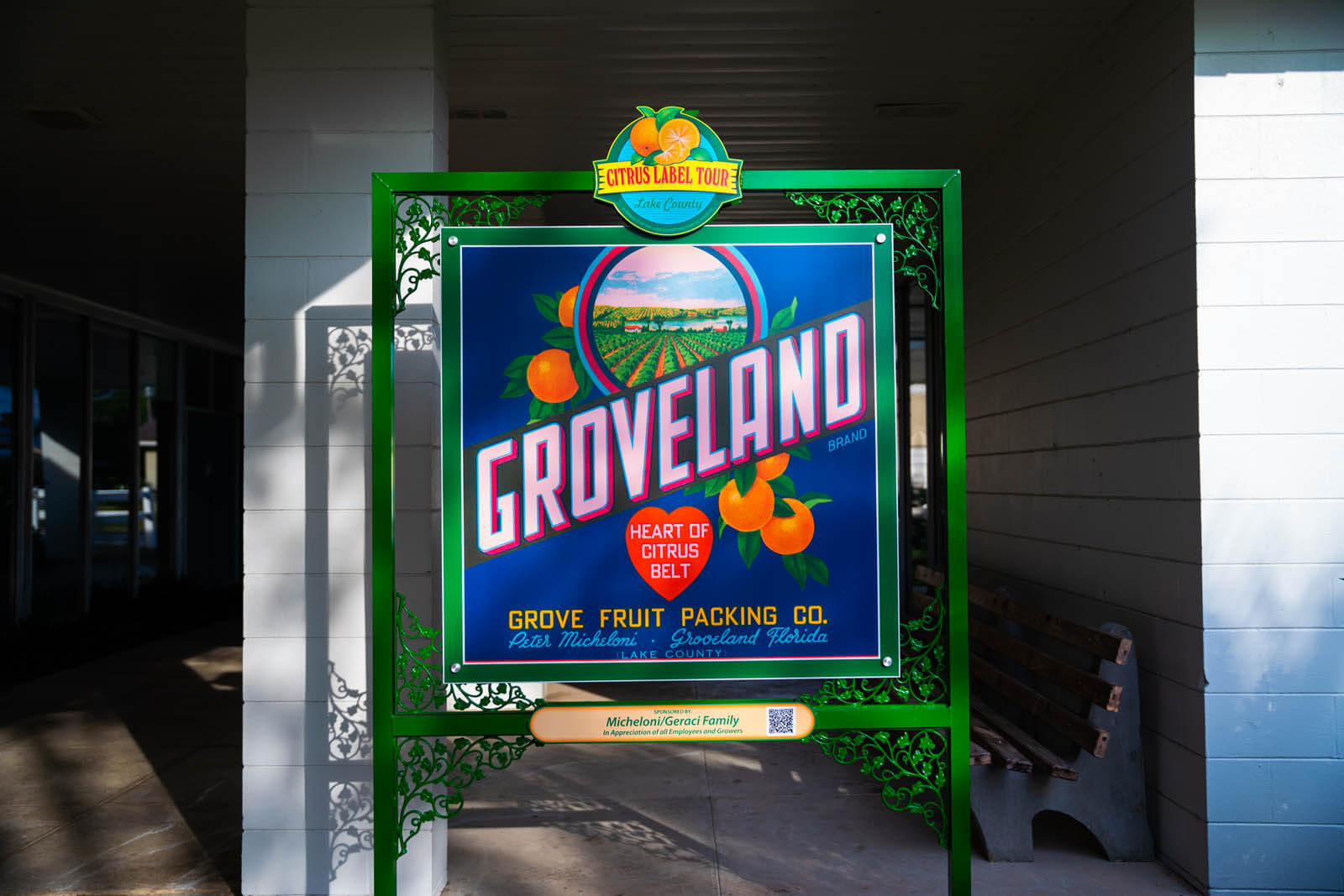 Howey-in-the-Hills to Groveland (~13 miles, 20-minute drive)
Next stop on your Lake County, Florida road trip takes you to Groveland, a city named after the Florida citrus groves around it! Groveland will be a quick stop visiting the citrus label sign found near Lake David Park at this location which pays homage to the Grove Fruit Packing Company, a driving force in the citrus growing in Groveland and nearby Mascotte owned by an Italian immigrant who moved here from Chicago!
Clermont – Citrus' Old Florida Haven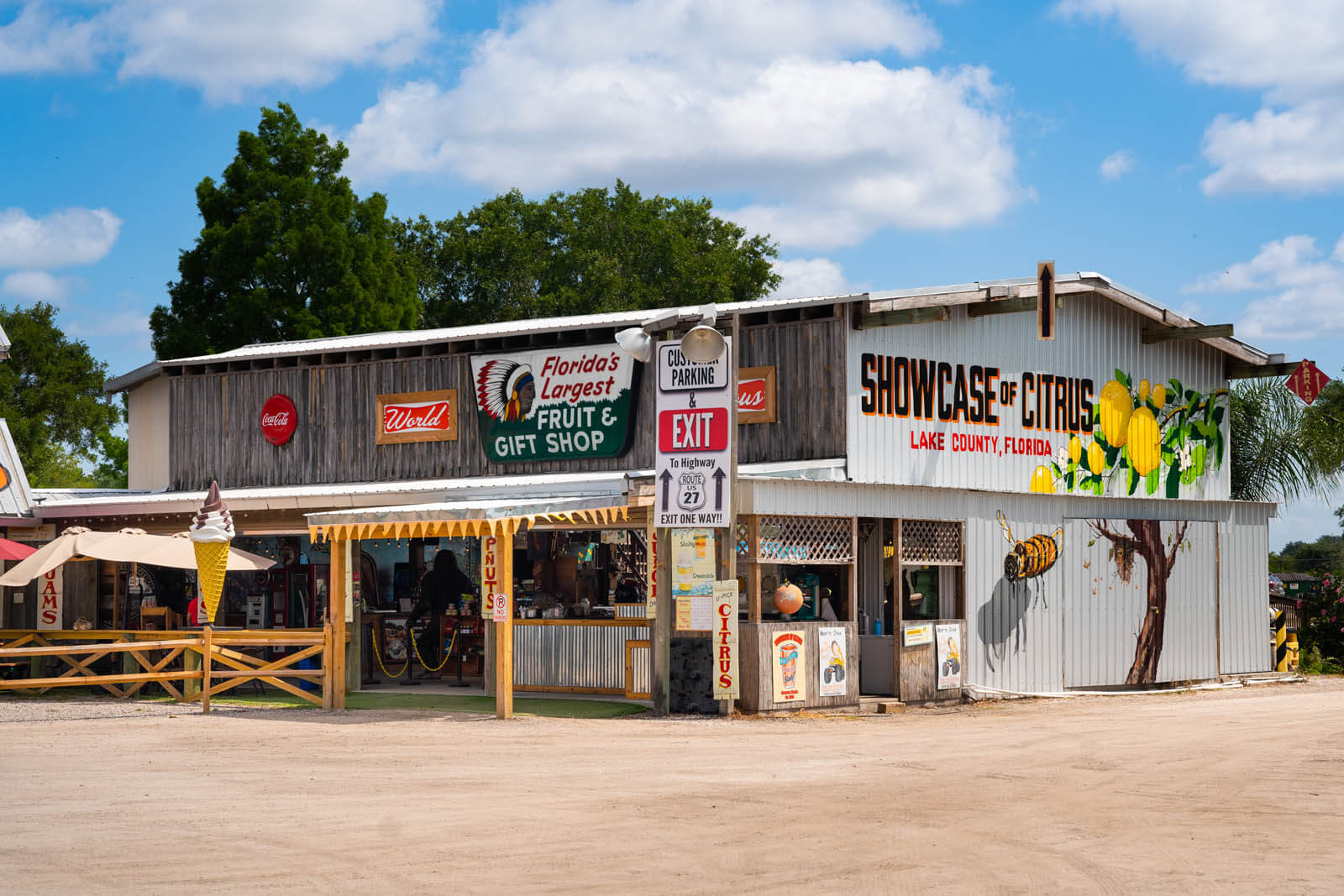 Groveland to Clermont (~5 miles, 8-minute drive)
Florida Citrus Tower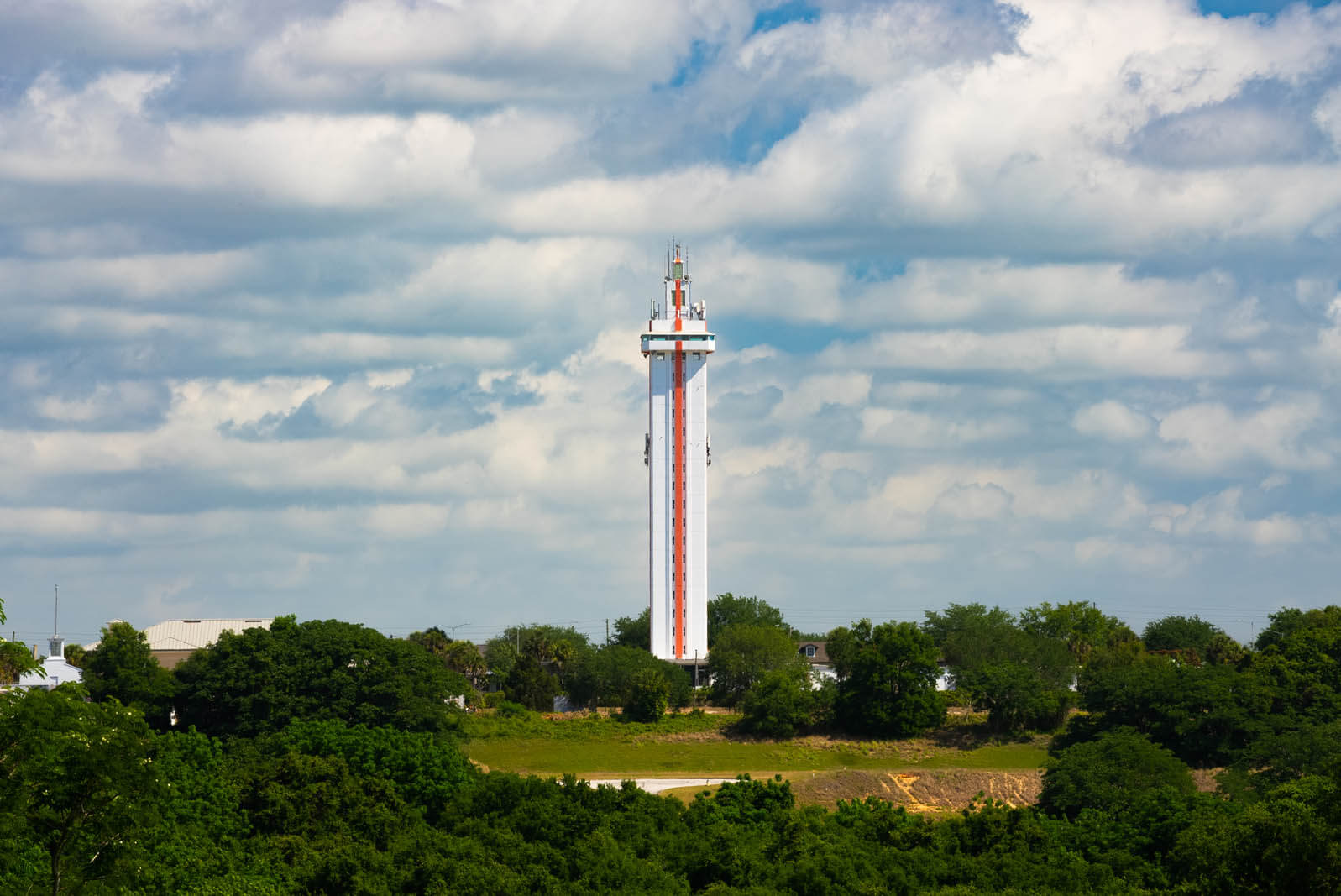 141 S Highway 27
One of the most fun stops on your citrus-themed road trip through Lake County, Florida is the famous Citrus Tower! Towering 226 feet in the air above Clermont, this tower was one of the first tourist attractions in Florida (predating Walt Disney World!) opening in 1956 with 360 views of the Florida citrus groves and the surrounding landscape.
First things first though, you will want to enjoy an iced orange latte and a berry citrus muffin from the Citrus Coffee Company at the base of the tower where you can also purchase your ticket to go up to the top.
Enjoy your drink and snack at the bottom, or take it up to the top where you can sit back and enjoy the surrounding views! On a clear day you can spot iconic Central Florida landmarks like Epcot at Disney World!
Before taking off, be sure to walk around and check out all the old photos and memorabilia tied to the glory days of this fun and historic attraction.
If you're into quirky museums, next door you can visit the President's Hall of Fame (123 N Highway 27) which will only take a few minutes and has a miniature replica of the White House.
Southern Hill Farms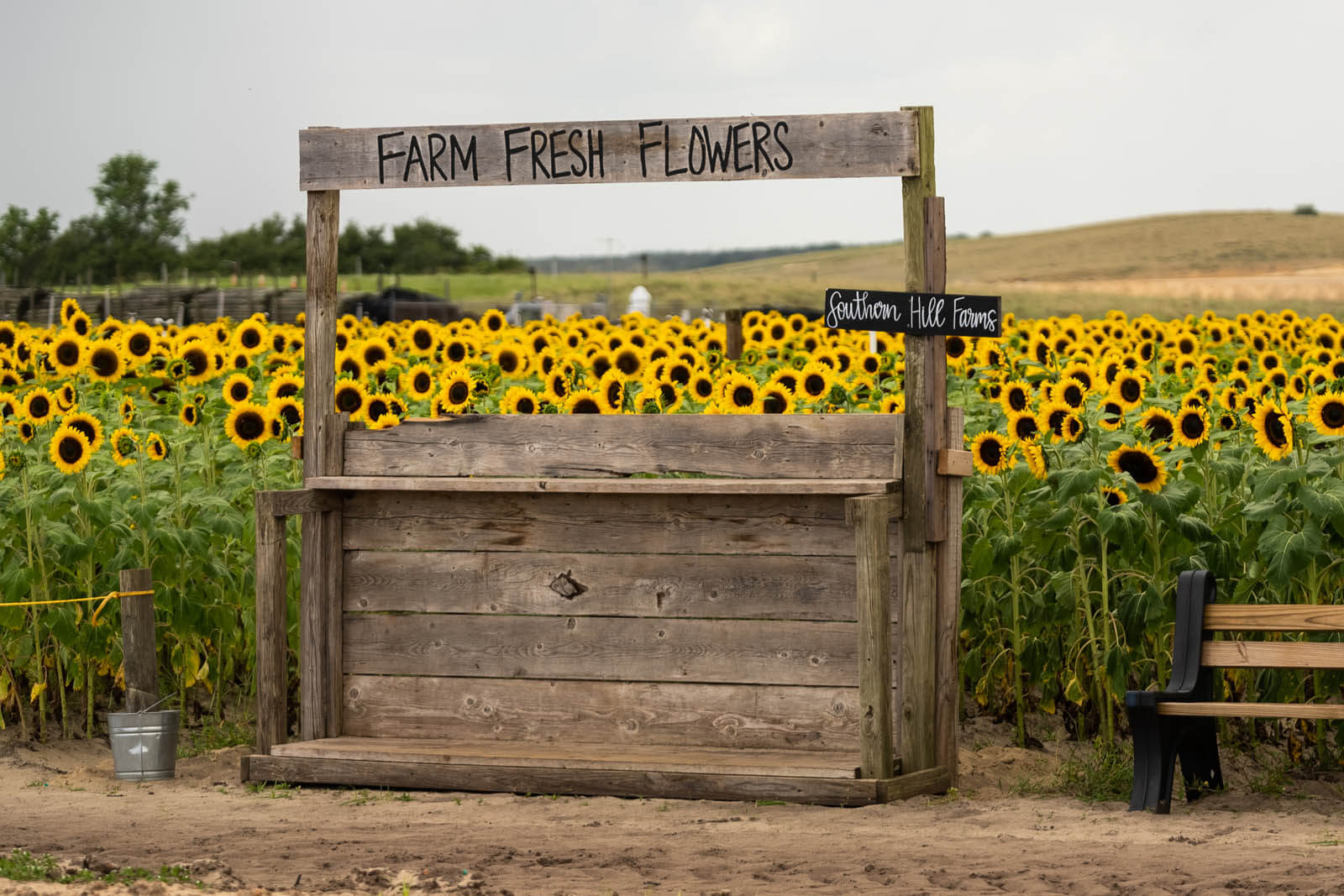 16651 Schofield Rd – look for the parking area on Google Maps (10 miles and a 22-30 min drive from Citrus Tower, closed Mondays & Tuesdays)
After you've enjoyed the views from the Citrus Tower you'll make your way to one of the most scenic drives in Central Florida down the 5 Mile Road, a dirt road with great views! The drive on the dirt roads to Southern Hill Farms, a popular u-pick farm in the region known for their blueberries especially but also sunflowers, zinnias, peaches, pumpkins, strawberries, and vegetables!
The drive to the farm is a journey in itself where you're surrounded by fields and beautiful Florida countryside scenery on a dirt road (hope you didn't just wash your car!). Once you make your way on this beautiful scenic drive in Central Florida, you'll be welcomed to the farm where you can arrange to get situated for what you'd like to pick.
During our visit, blueberries, sunflowers, and zinnias were available and just walking through the fields was a joy! We had a flight the next day so we didn't partake in the u-pick part of the adventure! Guests are welcome to take photos, but you'll need to purchase a photography pass (smartphone photos are still okay, but if you have professional cameras you're going to have to get a photography pass).
There are several areas for kids to play including carnival rides and drink and food trucks on site with an ample amount of space for picnicking. This is a really beautiful stop in Lake County, Florida so it's worth planning a visit – and if you're hungry stick around and grab a bite to eat before making your way to our next FUN stop!
Showcase of the Citrus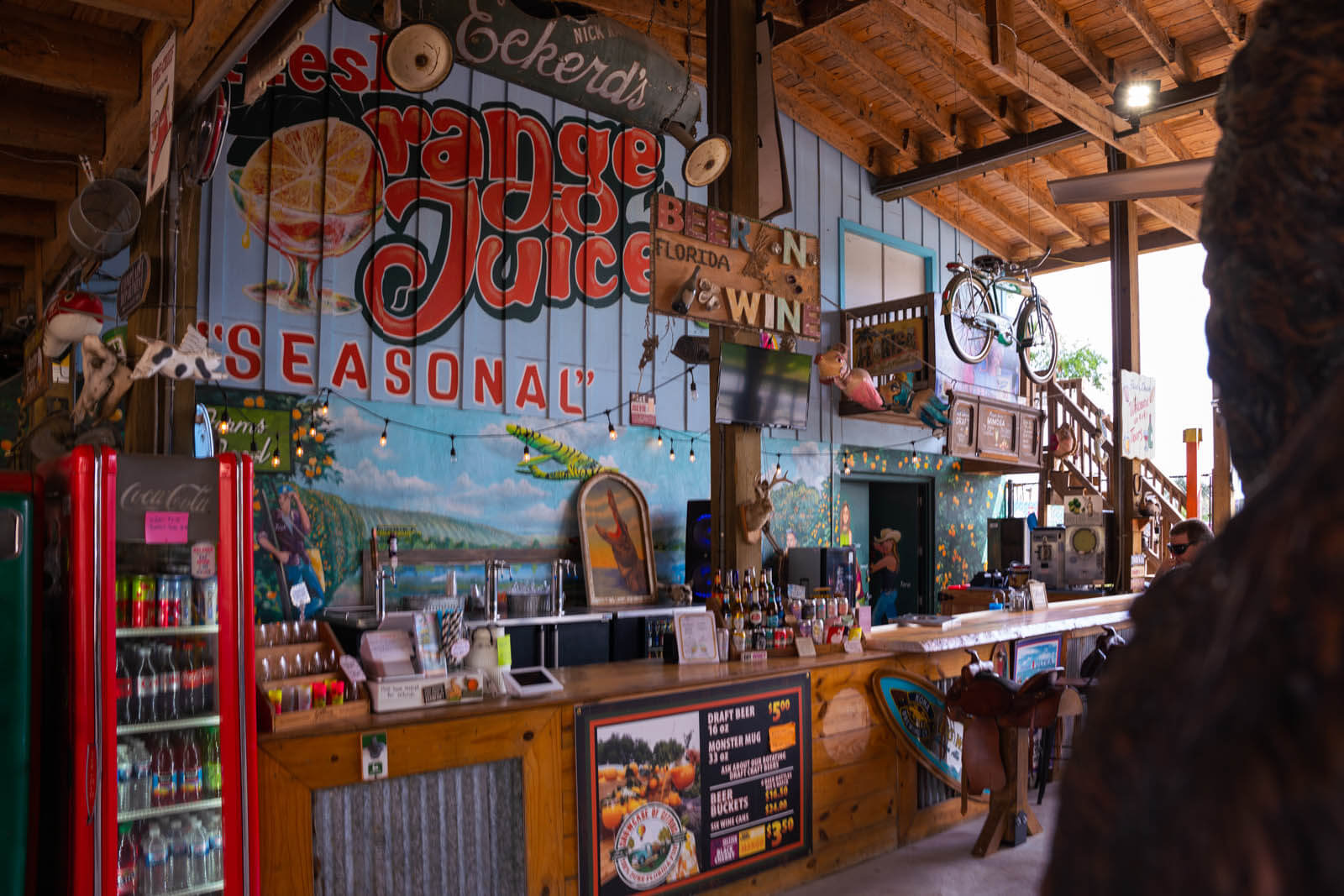 5010 Highway 27, 9 miles, 25-minute drive from Southern Hill Farms
On our entire Central Florida road trip and visit to Lake County, this was one of the most fun stops! If you like quirky roadside attractions packed with all kinds of activities and fun, this is going to be a highlight of your trip too!
The Showcase of the Citrus not only is one of the best u-pick Florida citrus groves (over 50 varieties!) but they have a fun old-time general store and emporium with all kinds of citrus related products you can buy for souvenirs covered floor to ceiling with fun decor and even a bar serving up great drinks and beers on draft that have orange or citrus flavors! Not to mention mimosas and non-alcoholic options like orange creamsicle drinks and slushies!
That is reason enough to visit, but in addition to u-pick citrus, the fun store, and bar – they also have a petting zoo with all kinds of fun creatures from miniature donkeys, mini horses, pint-sized goats, ostrich, and other fun critters!
If you want to stay and play for awhile you can also book a monster truck ride to their cattle ranch! We didn't get to do this as we already spent well over an hour here doing everything else the Showcase of the Citrus had to offer.
Even just walking around and looking at their decor – which reminds you of Old Florida as much of the decorations are vintage signs, antiques, and other fun setups that pay homage to Florida's citrus industry history!
Dinner in Clermont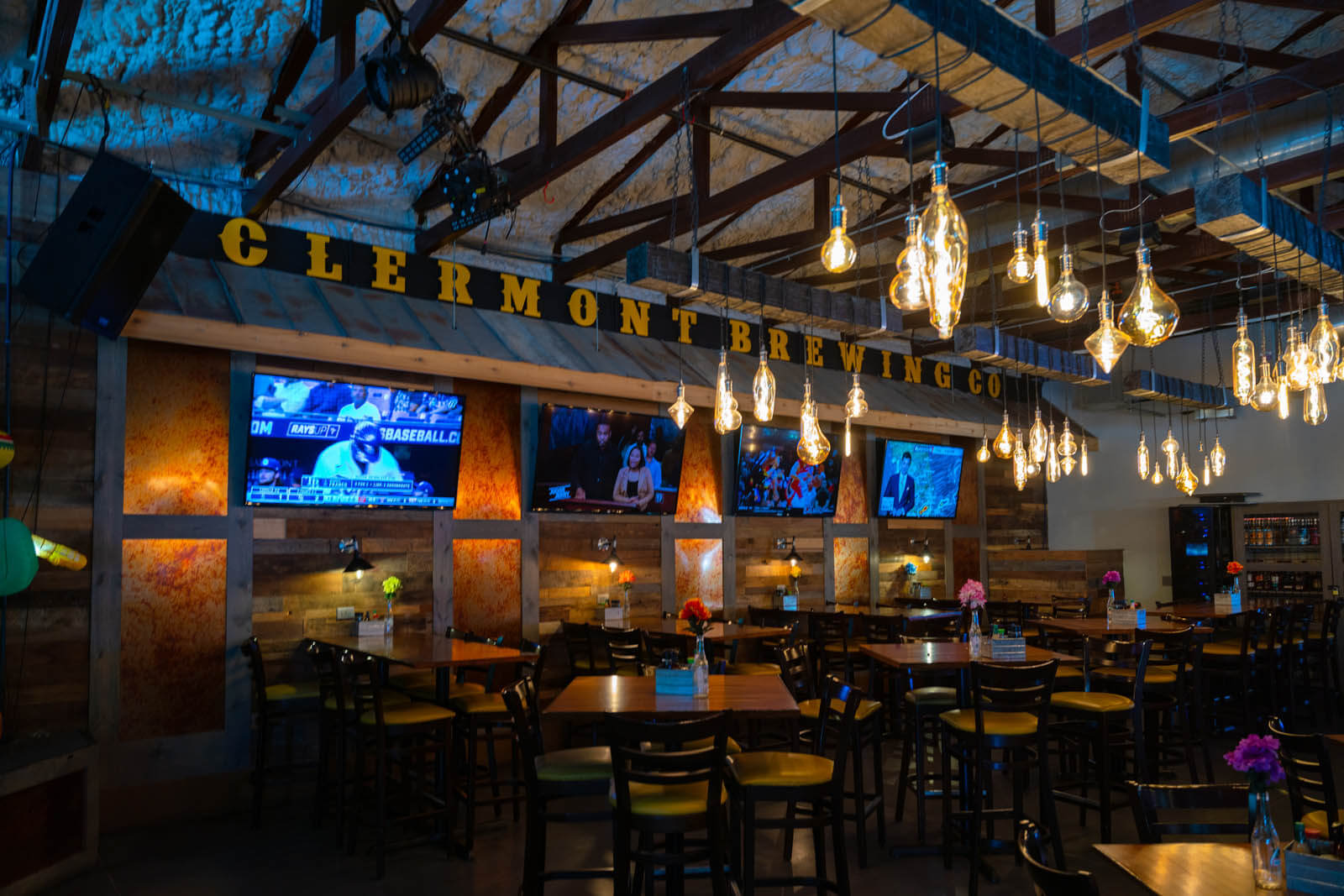 You're going to want to drive back to Clermont to wind down your exciting final full day of your Lake County, Florida road trip! If you haven't built up an appetite yet, feel free to check in to your hotel, if you're hungry we recommend having dinner either at Clermont Brewing Company (750 W Desoto St) or Southern on 8th (801 W Montrose St).
We grabbed a brew at Clermont Brewing Company before having dinner at Southern on 8th which serves up delicious southern cuisine with everything on the menu from Fried Green Tomatoes to fried catfish and fried chicken, everything we ate here was REALLY good, just a warning though, their portions are huge!
Overnight at Lake Minneola Inn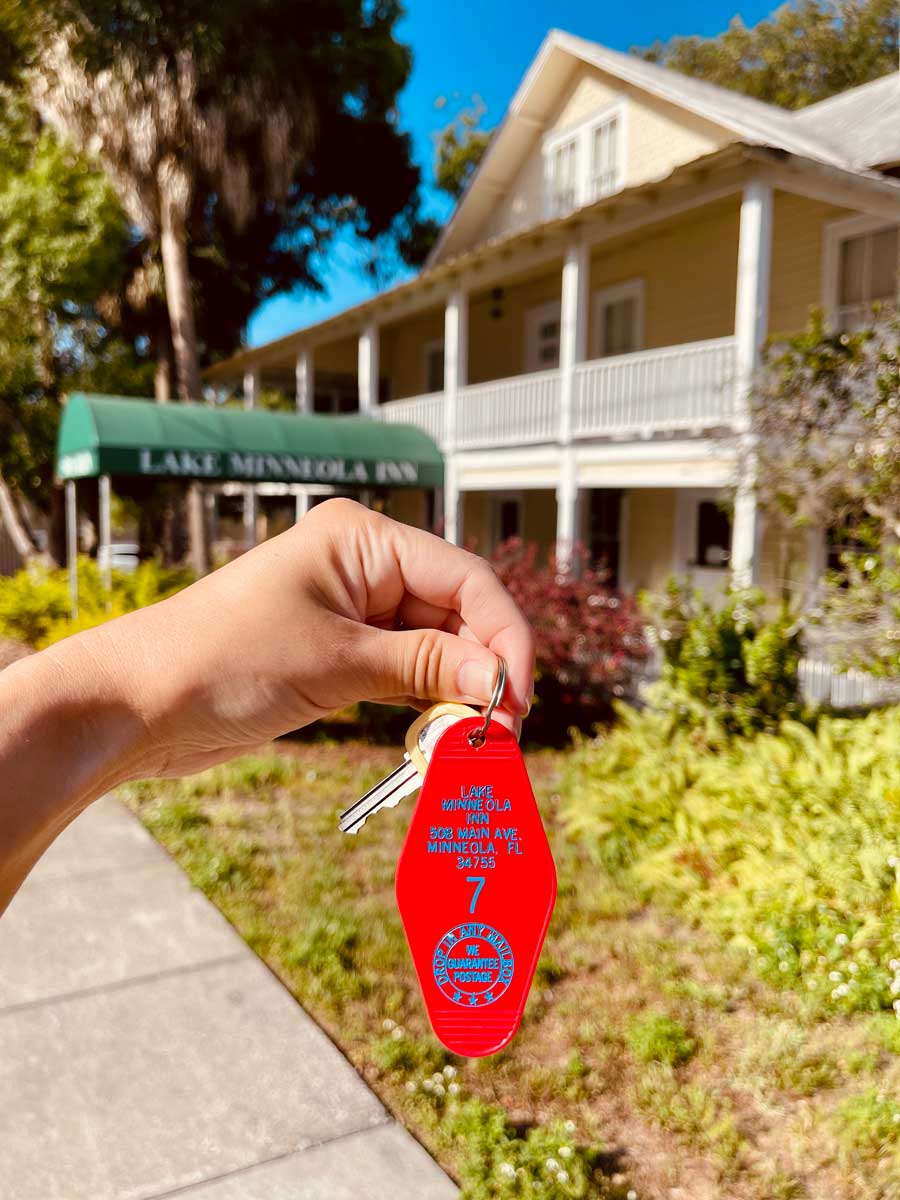 Another charming historic inn and stay in Lake County, Florida that reminds of the 'Old Florida' we have been talking about throughout this guide and road trip! While you're in Clermont you will want to book a stay at Lake Minneola Inn (508 S Main Ave), situated right on the water with cozy rooms.
This is another historic and quaint inn that's been hosting guests for over 150 years! While the building definitely has its historic charm and beauty, the rooms have been renovated with modern amenities and we really enjoyed our time in our PINK room!
There is a beautiful wrap-around porch and common areas guests can enjoy with snacks. But you'll want to walk down to the lakefront not only for a sunset (if you have enough time to catch it) but for their tiki bar by the water! This fun watering hole is where guests and locals gather near the waterfront (don't worry – you won't hear it from the rooms as it's far enough away).
Follow the tiki torch path to the lakeside bar for some drinks and a good time before you call it a night! Book Lake Minneola Inn here.
Day 5: Central Florida Road Trip (Clermont & back to Orlando)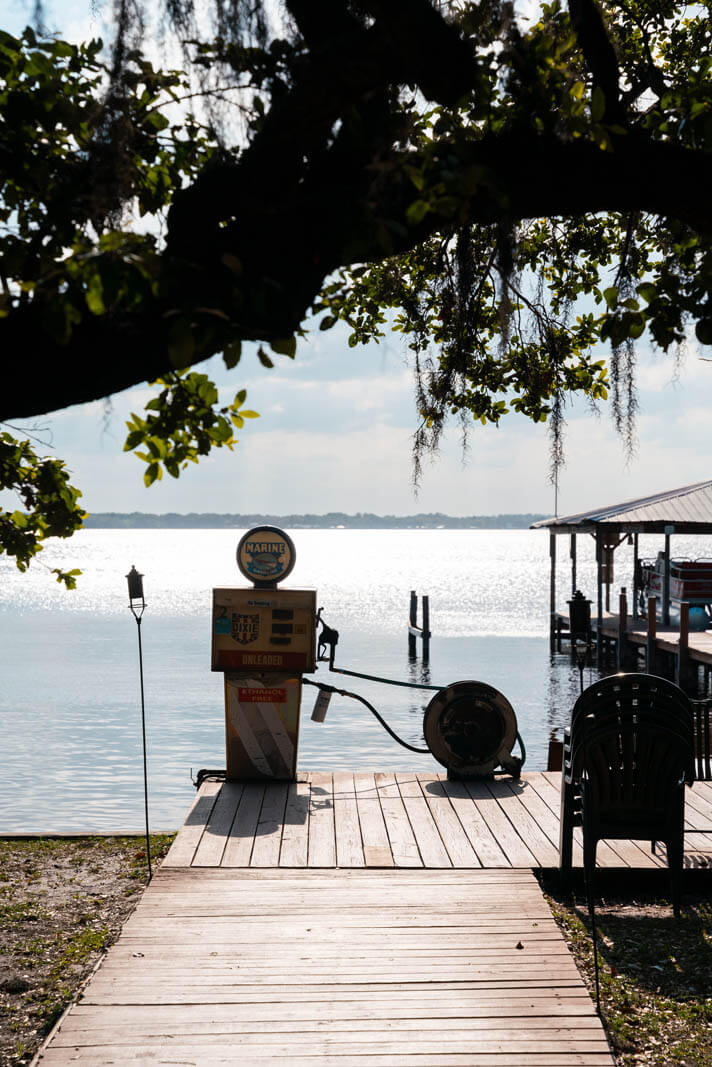 You have a fun few options on the final day of your Lake County, Florida road trip and adventures! If you wish to spend a little time before going back to Orlando, which around a 40-minute drive, we recommend exploring downtown Clermont or taking advantage of the boat rentals available at Lake Minneola Inn for a morning on Lake Minneola. We also have you stopping at the final citrus label sign before taking off located in Clermont!
Breakfast in Clermont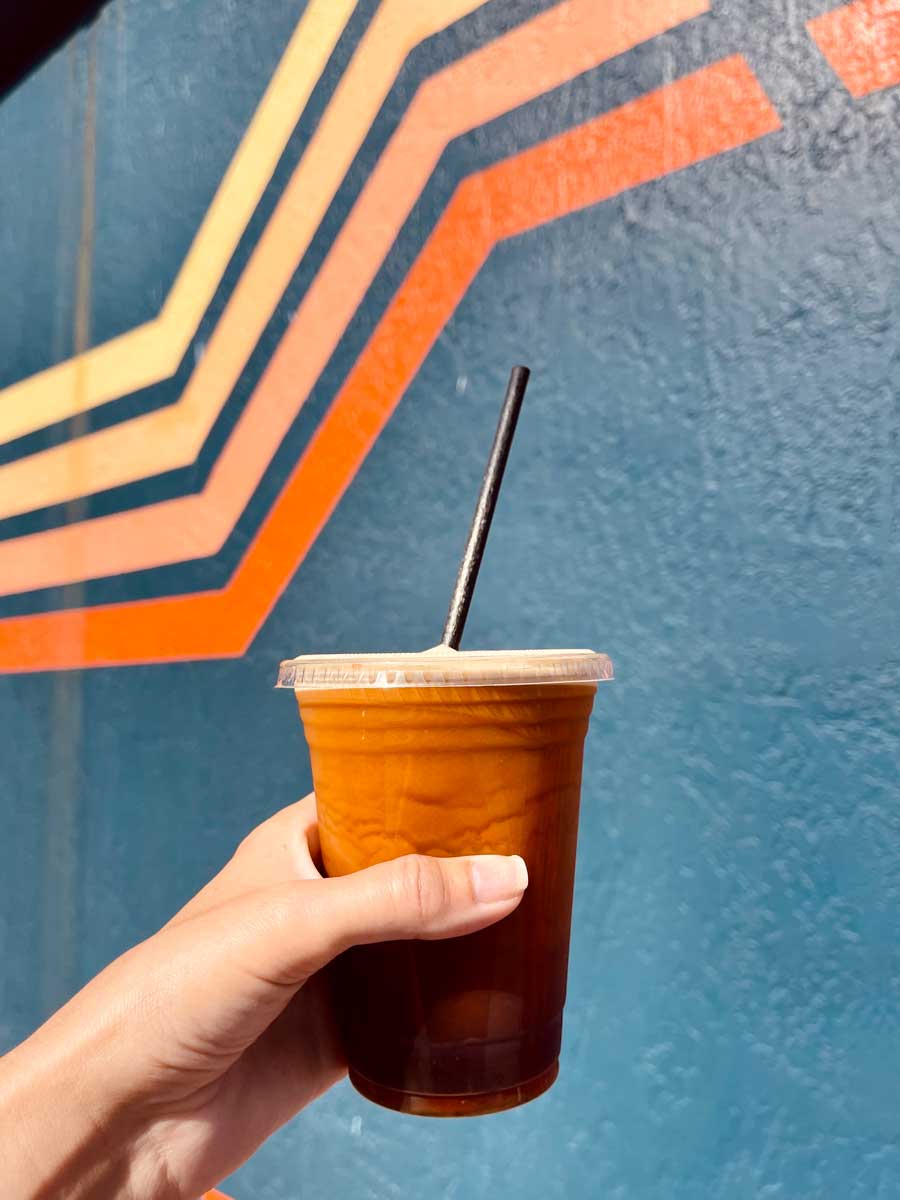 If you're looking for a quick breakfast we recommend stopping by Energy Lab Cafe (528 8th St) which offers coffee drinks and a few small pastry options. Their location is great, situated along the shore of Lake Minneola and Waterfront Park where you can take your coffee to go for a scenic stroll.
If you're looking for more of a sit-down meal, check out Cheeser's Palace Cafe (707 W Montrose St) which has a fully loaded menu of breakfast item from crepes to egg dishes.
Clermont Citrus Labels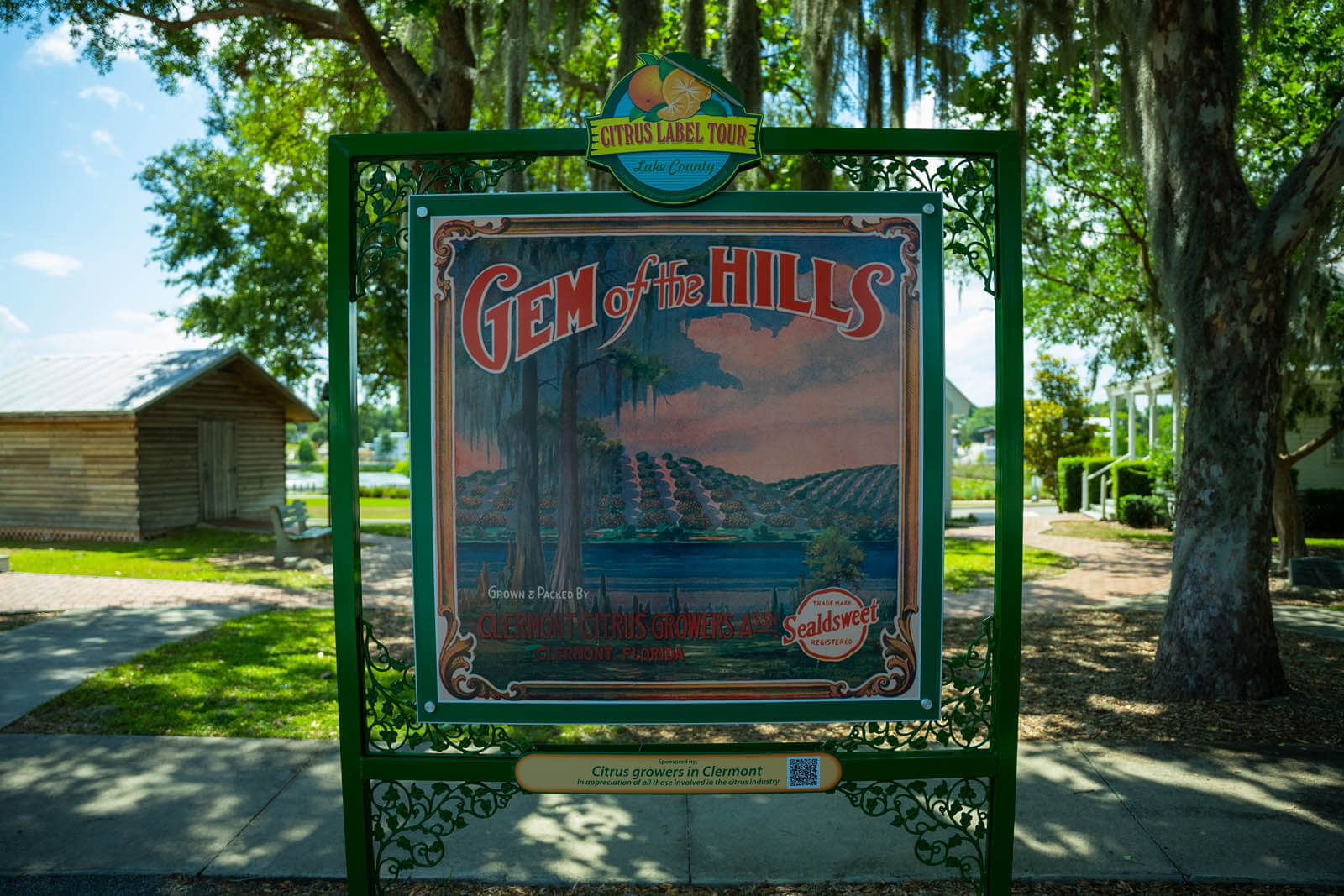 After breakfast, you'll want to stop by your final citrus labels on your Lake County, Florida adventures! Located at the Clermont Historic Village Museum at this location, you can find the final sign of your vintage citrus label scavenger hunt! After checking out both sides of the sign, be sure to take a stroll through the open-air museum which has preserved buildings and artifacts from the late 1800s to WWII.
---
There you have it! One of the most scenic drives in Central Florida filled with fun stops and historic gems that truly is an 'Old Florida' countryside experience!
Use this guide to plan your trip or curate your own Central Florida road trip itinerary around Lake County, consider bookmarking for later or sharing on Pinterest below.