Wondering what the best things to do in Tavares, Florida are? You've come to the right place! Just a 10-minute drive away from the charming town of Mount Dora, Florida (and less than an hour outside of Orlando) is this historic hidden gem of a town located in Lake County.
As a matter of fact, this was one of our favorite stops on our Central Florida road trip through the historic citrus-growing region of the Sunshine State! Situated on shores of Lake Dora as well as surrounded by Lake Harris and Lake Eustis (a few of the 1,000 lakes in Lake County), this cool town is famous for being America's Seaplane City and is the Seaplane Capital of the World!
There are so many amazing things to do in Tavares, Florida from visiting the gorgeous parks filled with giant oak trees and Spanish moss, getting sky high over the lakes in a seaplane, to amazing food! We recommend stopping in Tavares for at least a few hours to check out all the amazing attractions here – a great addition especially if you're staying in Mount Dora!
What to See & Do in Tavares
Jones Brothers & Co. Seaplane Adventures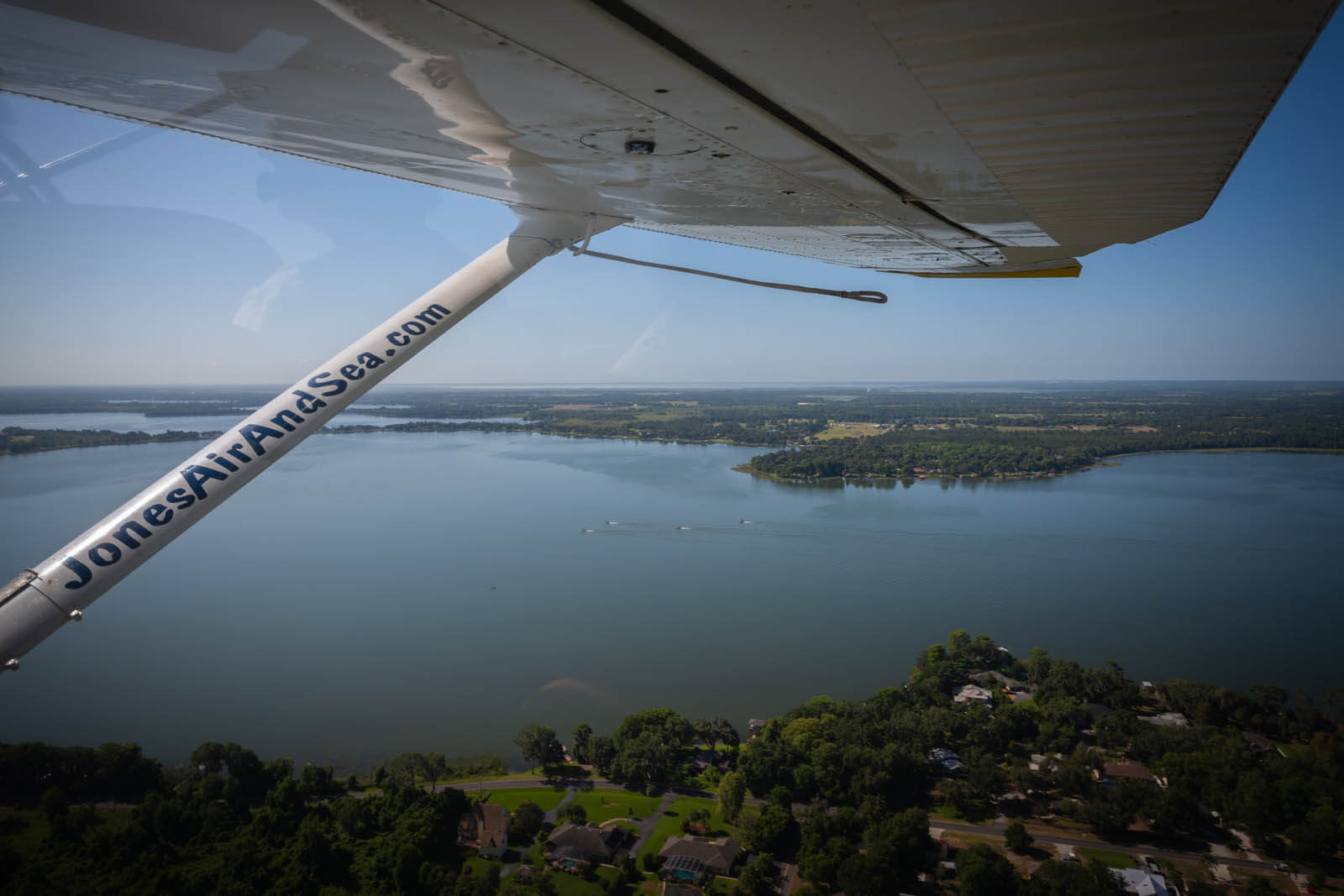 It may not surprise you to know that one of the best things to do in Tavares, Florida is to go on a seaplane adventure! Lake County, Florida is known as the land of (over) 1,000 lakes, and as mentioned earlier – Tavares is the seaplane capital of the world.
In fact, this is where the annual Seaplane-A-Palooza takes place! At Seaplane-A-Palooza, there are many seaplane competitions to watch and even a twilight air show.
One great way to enjoy the seaplane scene of Tavares, Florida is to book a seaplane adventure! Jones Brothers & Co. Seaplane Adventures offers many seaplane tours, excursions, and day trips.
They have a few different flight options, we did the 40-minute excursion over several lakes where we spotted tons of gators from above as well as the historic citrus growing region from above.
If you're looking for a more extensive outdoor activity, you can take a seaplane to a nearby lake and spend the day on a paddleboard or kayak on one of their featured excursions! Then, the seaplane will take you back to the original base at the end of the day. There are also seaplane tours that take you to various restaurants and bars on the water!
There are also full-day trips to places like the Florida Keys too if you're feeling a bit more adventurous!
If you are prone to motion sickness, like myself, come prepared with ginger chews or take something for motion sickness relief before embarking on this small aircraft!
Wooton Park
Another great outdoor activity in Tavares, Florida, is visiting the Wooton Park! This gorgeous waterfront park is right along Lake Dora and even has a seaplane-themed kid's splash zone for the young ones (or those young at heart – not going to lie I was tempted to go play in it).
Wooton Park also has lots of picnic tables and is great for anyone that wants to watch the seaplanes go by!
Even though the park itself is relatively small, there are many nearby walkways along Lake Dora. On these walkways, you can find majestic swamp creatures like gators and even eagles that fly by throughout the day.
Don't miss walking through the few pathways here too that are covered by a canopy of ancient trees here that are covered in Spanish moss!
Tavares History Museum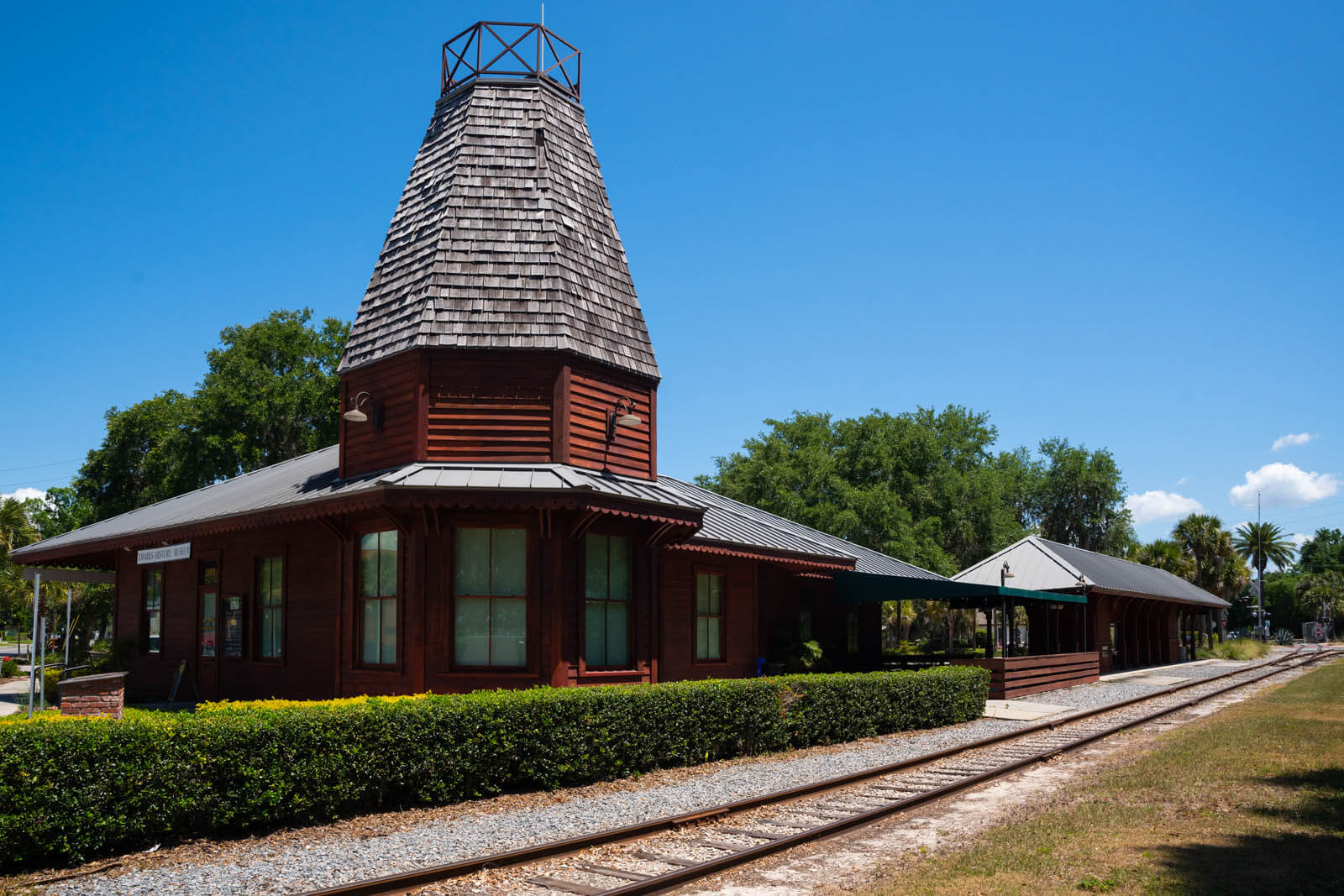 Right along Wooton Park, inside of the old Tavares Train Station Depot, is the Tavares History Museum! The museum is housed in the Tavares Train Station which was used during the heyday of the citrus growing in the region to export out the region's citrus.
This is a great place to visit if you want to learn more about Tavares, Florida, and its past through various artifacts from its citrus growing past including old citrus labels to antique barber shop equipment and other fun items given by the Taveres Historical Society. You'll also find a large interactive display with ten buttons that you can press to activate different pieces of art throughout the building!
Don't miss outside of the history museum too where you can find benches at the old outdoor waiting area and a sign featuring the artwork of two of the famous citrus labels artwork!
Tavares Citrus Labels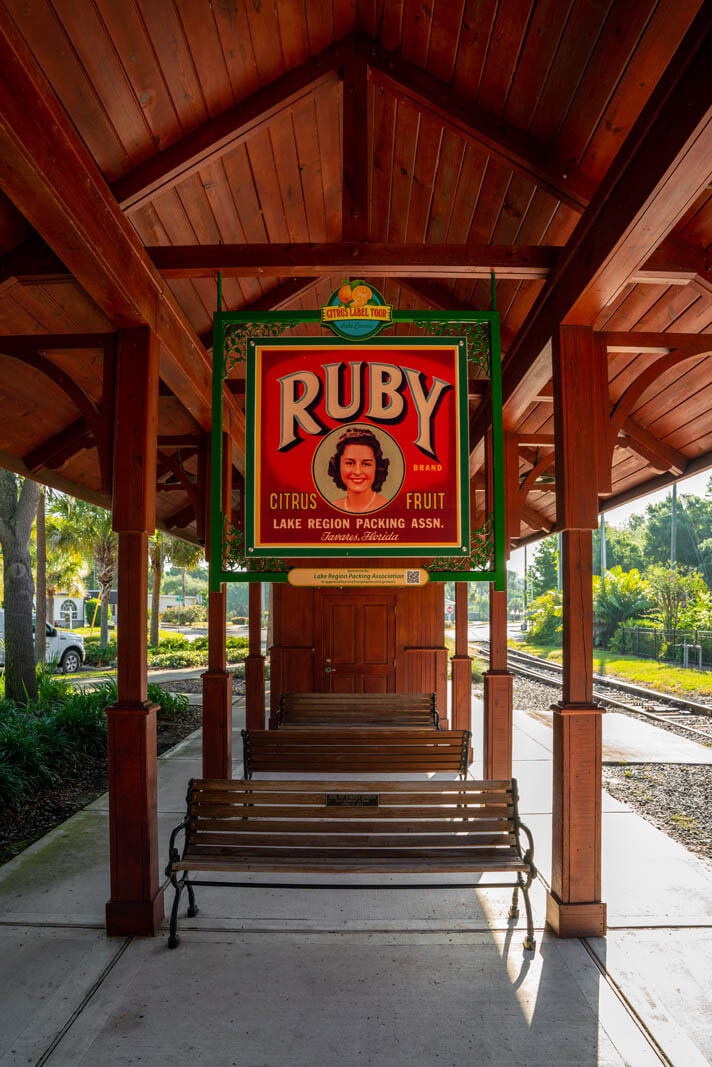 While you explore Tavares, Florida, be sure to look out for the Tavares Citrus Labels! The tropical climate in Florida has made it the go-to place for growing citrus. There is still proof of the booming citrus market surge that happened here too.
If you're a fan of history and vintage branding, these are pretty cool points of interest. Lake County, Florida was one of the top citrus producers in the country before a giant cold snap that devastated the industry in the 1980s. From the early 1900s, until WWII, the local citrus producers and growers would create unique labels to entice shoppers to buy their products through design.
To pay homage to these old, and really cool labels (that some people even collect from antique shops) you can visit the Citrus Label Tour signs throughout the county which have two different vintage label designs on each sign. During our trip, we did a bit of a scavenger hunt to find them all!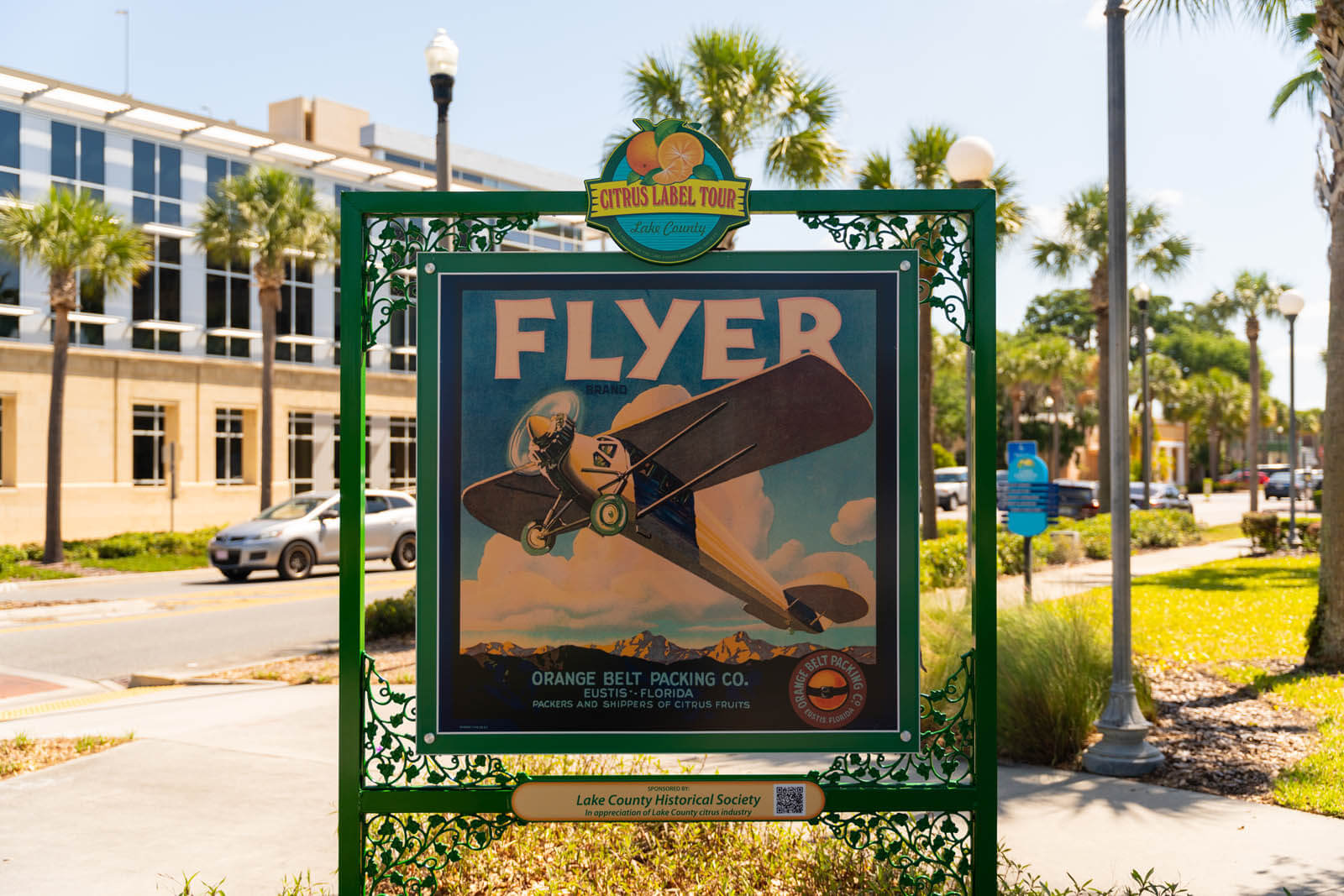 As mentioned, these citrus labels were initially created by citrus growers and farmers that wanted to stand out in the booming market that Florida had become. These creative advertisements are really fun to see even to this day.
In fact, there's one sign with two labels at the train station (above the benches at the outdoor waiting platform area) that is now the Tavares History Museum: Tavares Train Depot! Years ago, citrus packing companies would ship tons of fruit crates to customers from that train station.
Another place where you can find a citrus sign with two labels is at the Lake County Museum (317 W Main Street).
Dine at Puddle Jumpers Lakeside Grill & Bar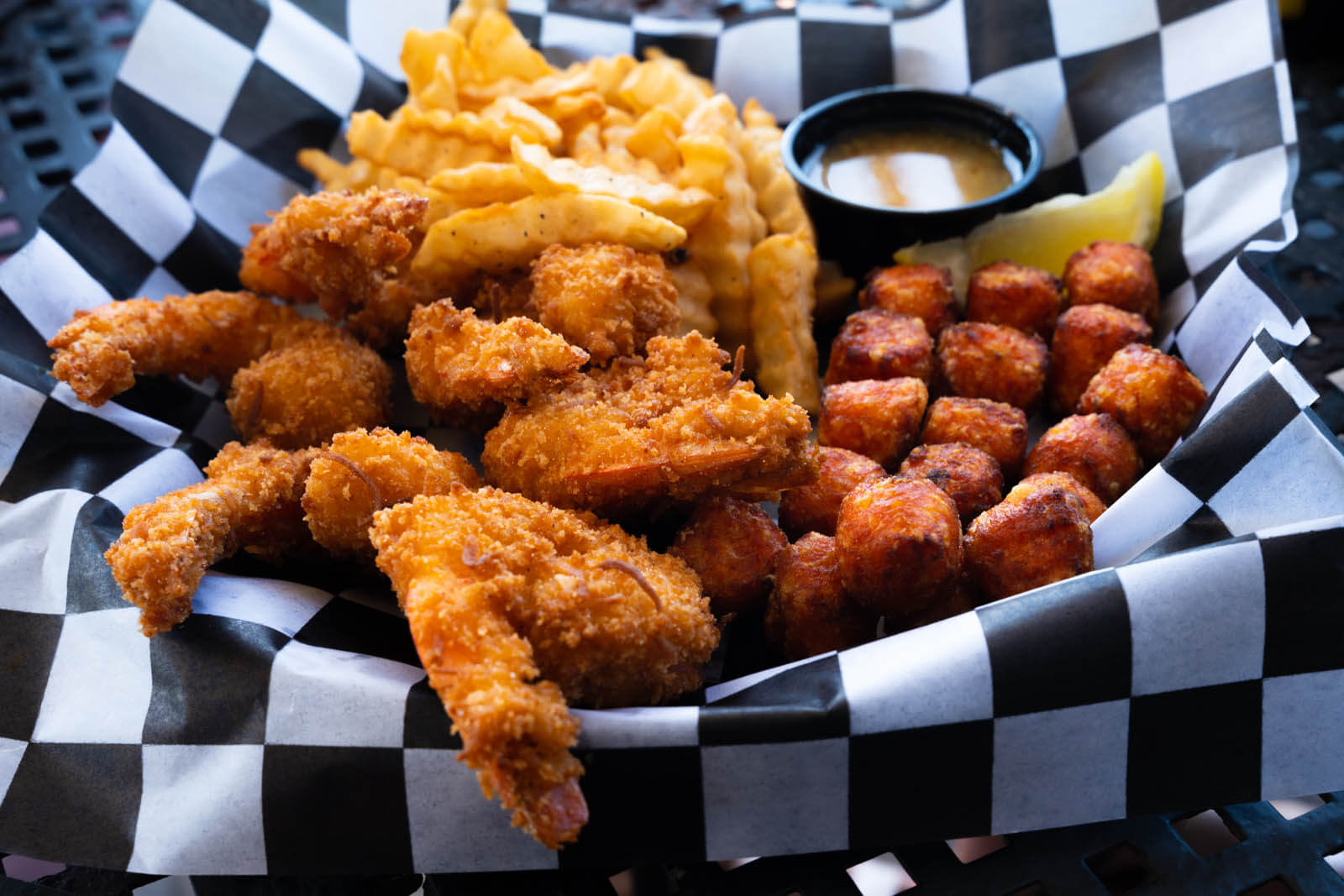 Right along Wooton Park is one of the best places to eat in town, Puddle Jumpers Lakeside Grill & Bar. Here, you can find all kinds of southern deep fried goodies as well as citrus-inspired menu items like their citrus salmon or their Florida citrus margarita!
Sit outside on their patio and you can also enjoy the view of Lake Dora!
This popular American restaurant has something for everyone, including wings, soups, and salads. They also serve wine, sangria, beer, and more! After enjoying all the best things to do in Tavares, this is a great meal or pitstop – even if you're just stopping by for an extra-citrusy margarita.
Lake Dora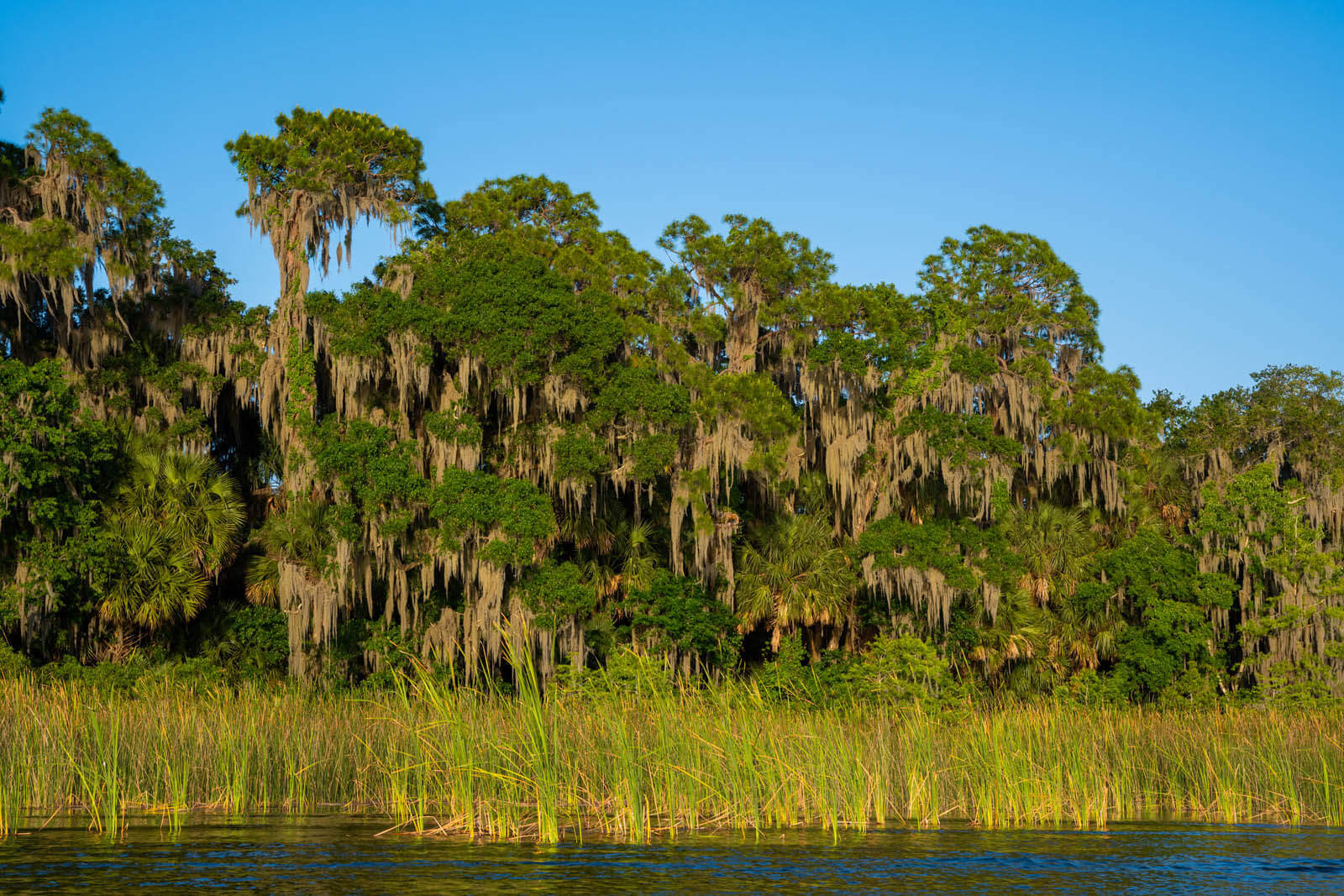 Many things to do in Tavares, Florida, take place around Lake Dora, which Wooton Park bellies up to the shores here and where the seaplane adventures embark from. This six-mile lake is home to a marina that offers many of the activities here and some of the best views.
If you don't want to take a seaplane tour, there is no need to worry because at Wooton Park and at the shores of Lake Dora in Tavares is a great place just to sit and enjoy the waterfront view.
If you're lucky you might spot some eagles or gators from here too! There are also many palm trees and older trees covered in Spanish moss nearby that are very picturesque. Be sure to also walk over to the Tavares Pavillion on the Lake too.
Memorial for the Groveland Four
A historic landmark and spot in Tavares that we recommend learning about and visiting is the memorial for the Groveland Four. Located on the front lawn of the courthouse, this memorial commemorates the four Black men who were wrongly convicted of assaulting a woman in 1949 during the Jim Crow era. These four men became known as the Groveland Four.
As a small part of reconciliation, although the families of the Groveland Four are still waiting for the state to exonerate these men, this memorial was erected in 2020.
There is 4-foot granite memorial that features a bronze plaque with a written account that the four men's families helped do to clear their names in this wrongful conviction case. In fact, this memorial is something that both the family and the community have been urging for.
Although this may be a heavy topic, acknowledging this history is essential and an educational moment of the continued atrocities and racism in our country.
Lake County Museum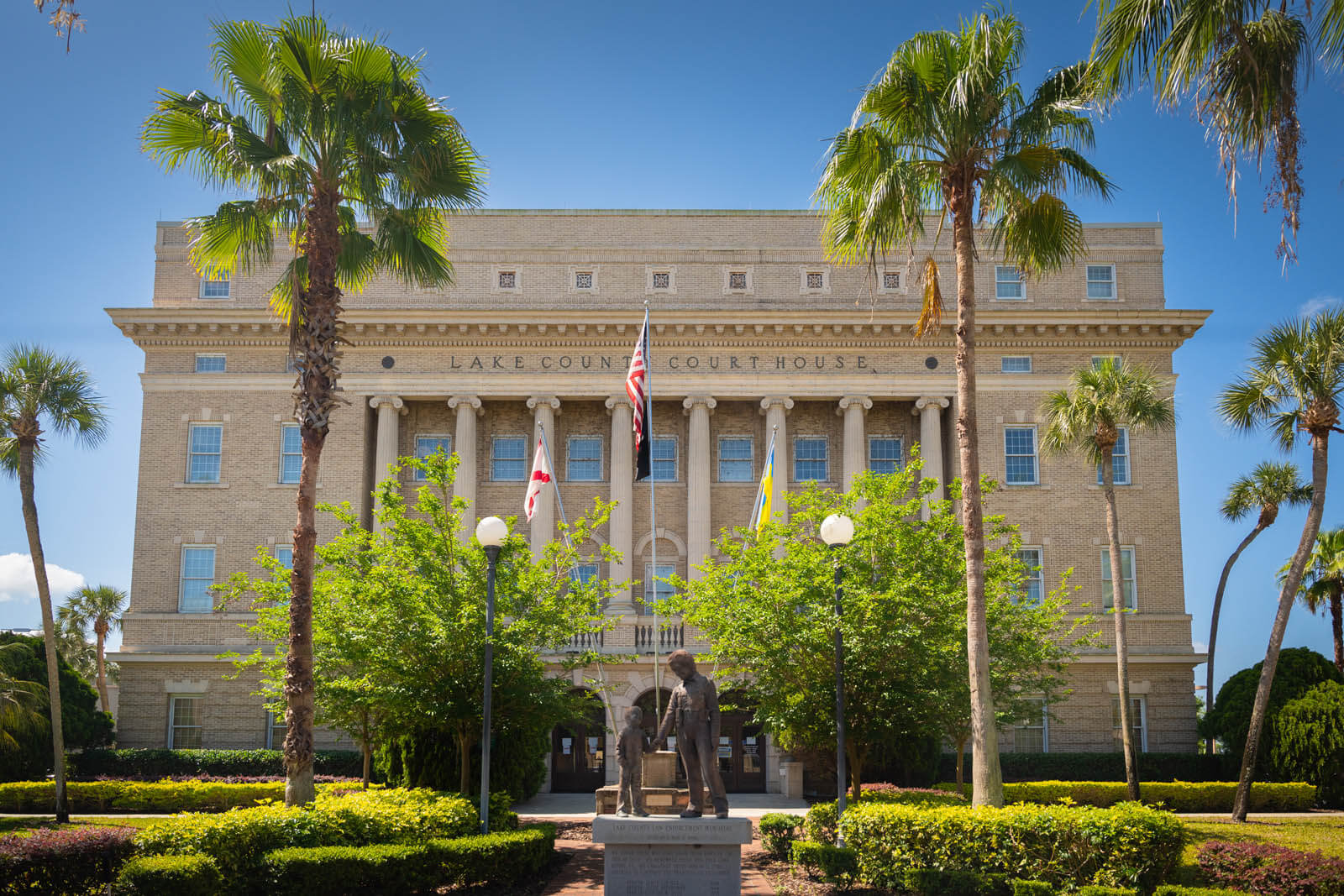 If you're not sure what to do in Tavares, another great option is visiting the Lake County Museum located on the first floor of the historic courthouse (317 W Main Street)! This popular, small town museum has fine art exhibitions that change each month. These exhibits highlight local & regional arts and showcase many important moments of Lake County's history!
The Lake County Museum also offers many fun activities, including a kid's summer camp and art classes for those of all ages. The museum also has a community art center! Keep in mind that this museum is only open from Thursday through Sunday from 12-4 PM.
Outside the Lake County Museum of Art is where you can find one of the Citrus Label signs in Tavares and the Groveland Four Memorial.
Tavares Nature Park
If you're not sure what to do in Tavares, but you know you want to explore the outdoors, check out Tavares Nature Park located along Milwaukee Ave. This hidden gem is a great place to have a serene nature walk.
This nature park has a long trail that is regularly maintained but is still very much so immersed in nature. Walking along this trail is a great way to immerse yourself in nature and see wildlife, including bears, snakes, squirrels, and birds.
The ancient trees that make up this park make the trail extra picturesque and shady. As you follow this trail, you can expect to quickly circle around the park and find lots of public picnic tables.
Twistee Treat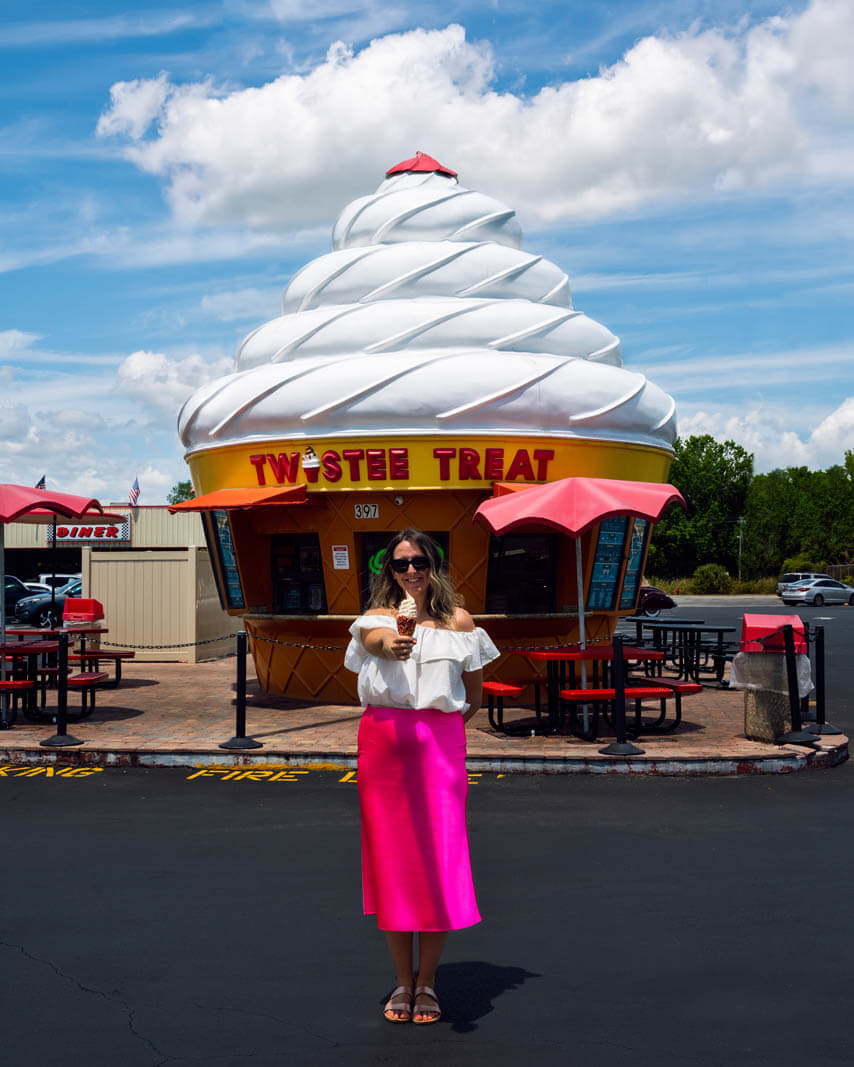 No list of things to do in Tavares is complete without a visit to Twistee Treat! This iconic ice cream shop is in the shape of a giant ice cream cone that's 25 feet tall!
This Florida-based chain serves soft-serve ice cream, milkshakes, slushies, and hot dogs. They also serve super popular banana splits, but we recommend going for a soft serve cone with a dip. There's something about the fun ice cream cone building that just makes us feel like a kid again.
The Tavares, Florida Twistee Treat location can be found at 397 E Burleigh Blvd – but if you miss this one and you're in a car, there are several in the area you can hit up!
Tavares Community Theater Company
The Tavares Community Theater Company is a great place to watch a play put on by local artists! This non-profit theater puts on a new play every two months and has been putting on shows since 2014.
Be sure to check out their website for all their current and upcoming shows plus score tickets for your visit.
Adventure Outdoor Paddle
One of the best ways to explore Tavares, Florida, is to go through the various lakes and canals! Adventure Outdoor Paddle is a canoe and kayak tour agency that offers many group water activities. Many of these excursions go through the Dora Canal and various nearby lakes.
Adventure Outdoor Paddle's guided tours are great for seeing gators and getting a tan! Thanks to the tour guides that lead each tour, you'll be able to learn more about the town's history and the local wildlife.
Deer Island Country Club
Did you know that Florida is one of the best states for modern golf courses? It probably has to do with that fact you can play all year long in the warmer temperatures that are found here.
If you like golf, be sure to check out the Deer Island Country Club. This country club has a massive golf course that actually has quite a bit of wildlife sightings, including alligators. eek!
This golf course is challenging but is still fun for beginners. There are tiny bodies of water scattered throughout the course, and you'll have a great view at each hole. This country club also has a clubhouse with lots of food options. Watch out for those gators so you don't have a Happy Gilmore moment like Chubbs Peterson.
Through the Years Vintage Market
Through the Years Vintage Market is one of the most unique markets you'll ever go to. Located in a 2-story house, this market has vintage furniture, artwork, books, and more!
Through the Years is especially popular during the holidays since they fully decorate for each one! They also have many great gifts and decorations that change depending on the season. There is also coffee and snacks that are regularly served here!
Get Wet Watersports
Another great way to explore Tavares is to rent a kayak, jet ski, or boat from Premiere Get Wet Watersports! They have many boats to choose from and offer jet skis by the hour.
No matter what you decide to rent, you'll be able to explore the Dora canal and the other nearby Harris chain lakes! The knowledgeable staff can also give you tips on where to go during your outing.
---
Enjoyed this guide for the best things to do in Tavares, Florida? Bookmark for later and enjoy your travels!