Looking to explore the different charming towns in the Finger Lakes? We have you covered as this has become one of our favorite havens and escapes in New York that we've been to many times and continue to do so not only because they have an amazing wine country, gorgeous lakes, an abundance of cascading waterfalls, scenic drives, great food, friendly people, and adorable and charming Finger Lakes towns that are easy to fall in love with!
The Finger Lakes are a group of 11 lakes in western New York, famous for being one of the best areas for lake vacations in NY. Known as the state's largest wine-producing region and a picturesque stretch of land and bodies of water, the Finger Lakes are great for travelers who love road trips, looking for a romantic getaway, friends getaway, and even family vacations every season of the year.
While we continue to explore everything the region has to offer, plus all the best things to do in the Finger Lakes, this list will continue to grow. As I said before, we have been at least a dozen times already and seem to uncover another gem the region has to offer on each visit.
Here are a few of our favorites and picks for best towns in the Finger Lakes to visit on your next visit including recommendations for what to do in each from waterfalls, outdoor activities, wineries and other craft beverage tastings, and more! Plus many of these make for some of the best romantic getaways in Upstate New York!
For more great places to check out in the state read our guide on the most charming towns in New York to add to your trip!
Charming Finger Lakes Towns
Corning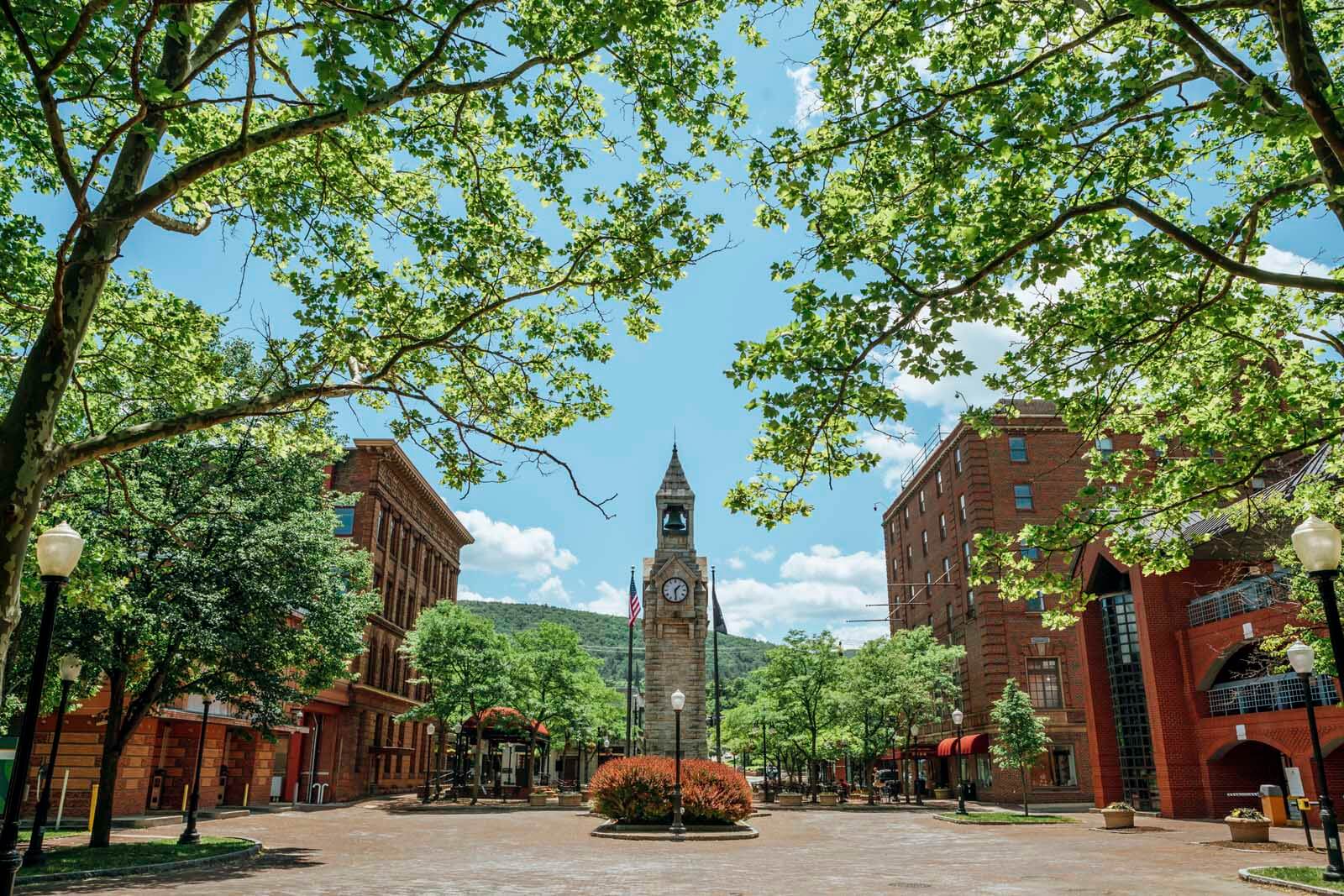 One of the most popular and best Finger Lakes towns is Corning located in Steuben County and a popular base for exploring the region and home to the famous Corning Museum of Glass.
Known as America's Crystal City, Corning is the home of many innovative inventions, from the light bulb to gorilla glass thanks to Corning Inc., which is based here who brought us everything mentioned above and famously Corning Ware that was used in our family's kitchens for generations.
As mentioned above, one of the most popular things to do in Corning is to visit The Corning Museum of Glass. The Corning Museum of Glass is the world's largest museum of glass art, boasting over 45,000 pieces of glass and other fascinating artifacts plus is the spot where the Netflix series, Blown Away is filmed and where visitors can witness glass blowing demonstrations, and even try it themselves!
Another popular museum in Corning is The Rockwell Museum, which focuses on American art and is an official Smithsonian affiliate museum.
Don't miss all the action on Market Street either, here, you'll find restaurants, boutiques, cafes, and other shops such as the well-known feminist book store, Card Carrying Shop.
This is a charming Finger Lakes town to stay in and also use as a base to explore the various wine trails of the region as Corning is about a 30-minute drive to the base of Keuka Lake and Seneca Lake, both of which have their own wine trails and abundance of outdoor activities to enjoy.
Owego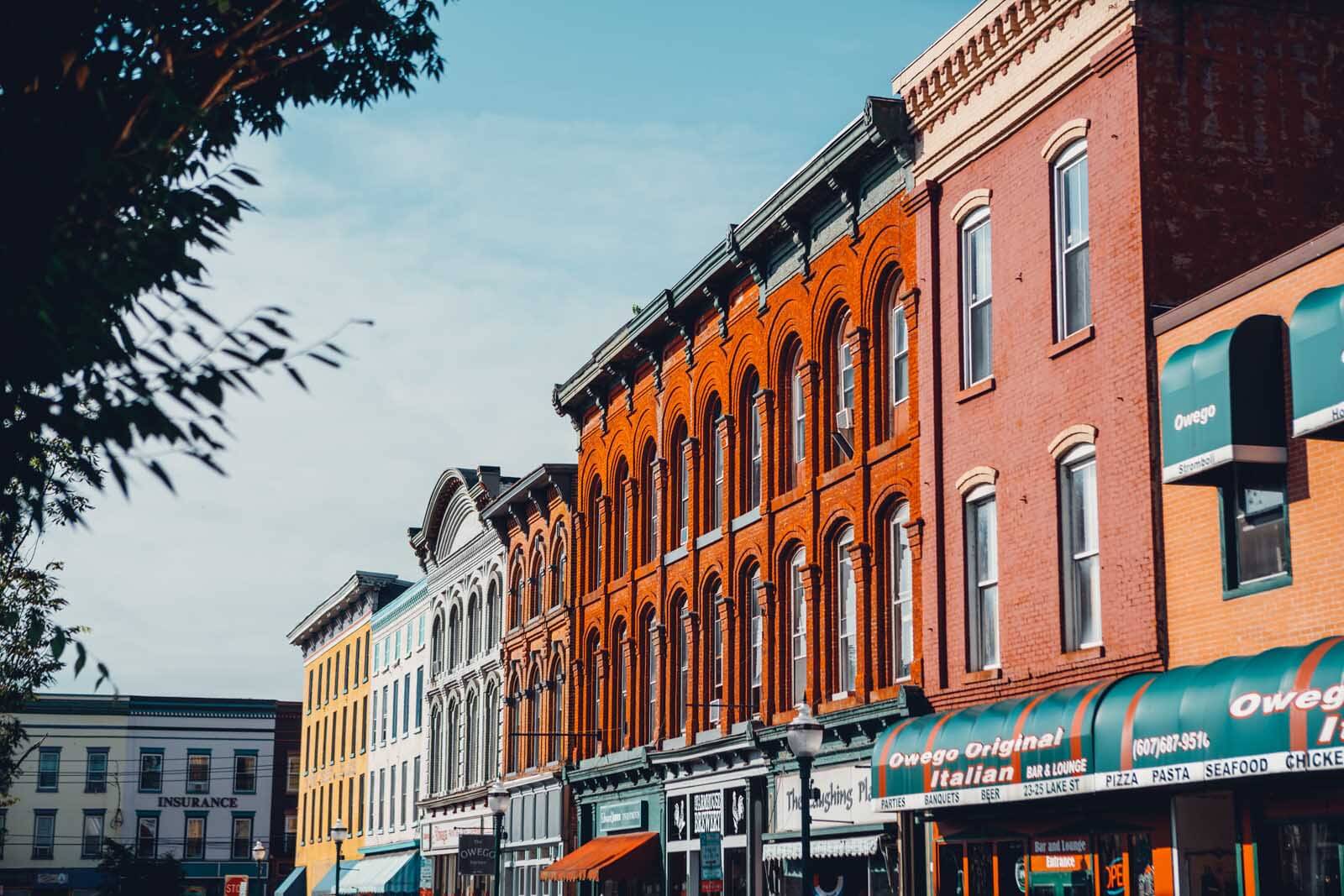 A personal favorite of ours for best towns in the Finger Lakes is the charming village of Owego in Tioga County located right on the scenic Susquehanna River.
Every time we drive from the city to the region, we always make a planned stop here for lunch and a stop to my favorite antique shop, the Early Owego Antique Center on Lake Street.
So what makes Owego one of the best Finger Lakes towns to visit? For starters, there are a lot of great things to do in Owego, so be sure to read our whole guide on it, but to make it brief, the scenic River Walk, the beautiful bridge leading to the town, and all the shops, eateries, and places to drink on Lake Street are a great place to start when exploring Owego.
Although Owego is a great town to visit all year round, one of their most popular events takes place during the summer. The Owego Strawberry Festival takes place each year in June at the Historic Owego Marketplace which is a favorite among locals and even attracts visitors from all over to enjoy the fun!
You can also immerse yourself in a bit of nature by visiting Tioga Gardens, where you can take a tour through the 11 full greenhouses!
And one of our favorite highlights of Owego is actually a historic stay at Belva Lockwood Inn which pays homage to this former Owego resident who spent her entire life in the 19th century fighting for equal rights for women and was an abolitionist. She also was the first female to run for president, not once but twice in 1884 and 1888. You can enjoy a historic stay in this gorgeous restored 1872 home.
Penn Yan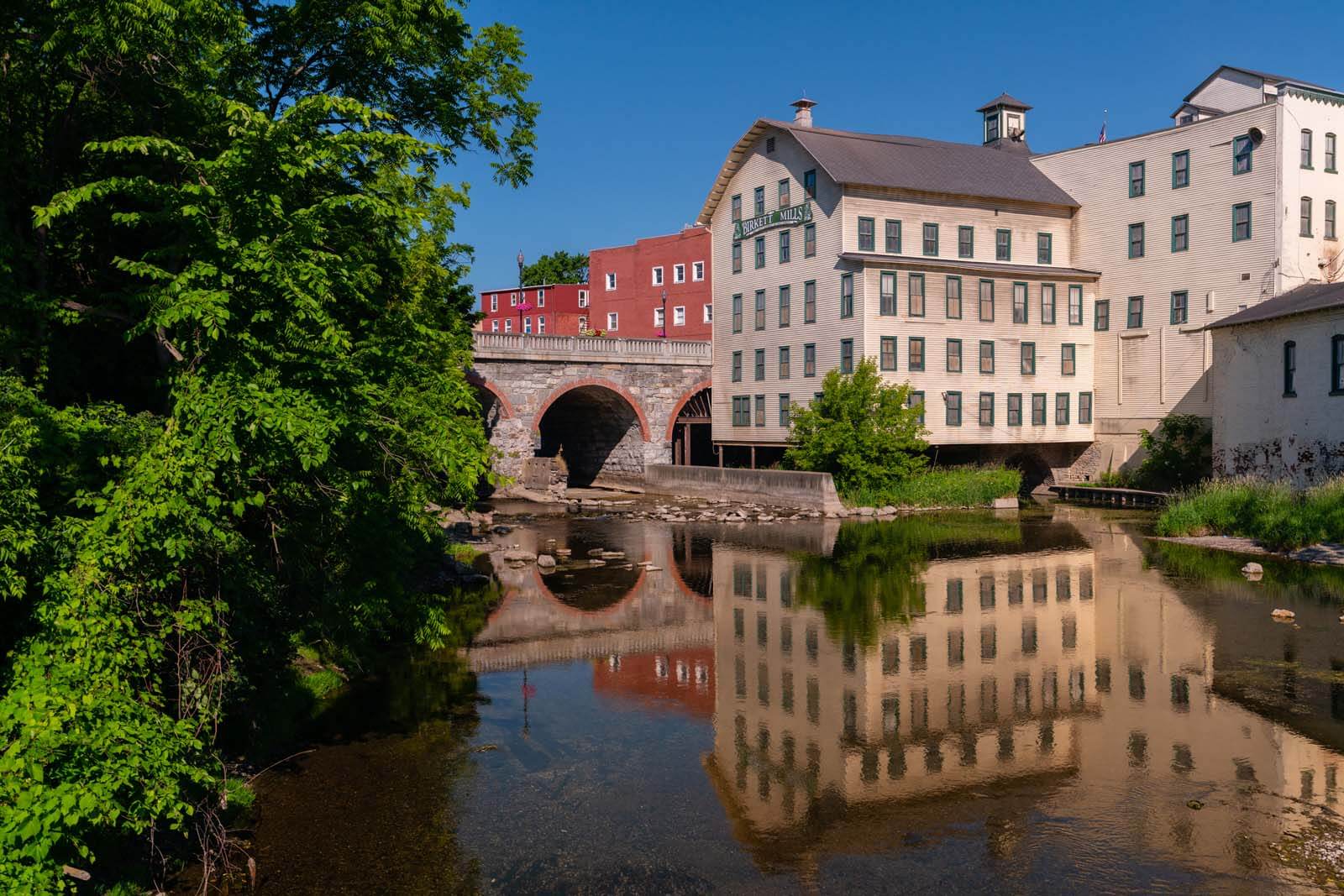 Penn Yan is another quaint village and town in the Finger Lakes located in Yates County. Once you're in Penn Yan, you can expect to come across cafes, classic old-school diners, restaurants, shops, and fun activities including outdoor hikes passing waterfalls.
Located on the north end of the east branch of Keuka Lake, Penn Yan is one of the best Finger Lakes towns for anyone that likes sightseeing or hanging out near the water.
If you're looking for a great meal be sure to stop at Union Block for great Italian cuisine that come in extra large portions (split with a friend if you're not super hungry) or if you want something more nostalgic, the Penn Yan Diner is always one of our favorites in the mornings or around lunch. One of the best cafes in the region is located right here in town as well at Amity Coffee Co.
Also, one of the best-hidden gems of the region is located nearby. The Keuka Outlet Trail, a perfect place for a scenic walk, jog, or bike ride, runs along the outlet that connects both Seneca and Keuka Lakes. This quiet, 7-mile trail passing some of the prettiest New York waterfalls along the way.
Don't worry, you don't have to do the entire 7-miles to enjoy the waterfalls either. Drive and park near Seneca Mills Falls (in Google maps) then you can walk to one of the waterfalls here in just a few short minutes.
Another cool thing to check out in Penn Yan ties into the town's history. This interesting Finger Lakes town is home to one of the oldest mills in America, Birkett Mills. The Birkett Mills produces buckwheat products, and outside of the mill, you'll find the world's largest pancake griddle!
While you're here, don't miss exploring the nearby wineries and farms too! Check out Fox Run Vineyards, Pleasant Valley Wine Company (the oldest winery in the region), and one of our favorite Keuka Spring Vineyards who has amazing Gewürztraminer wines!
If you're visiting in the fall, check out Apple Barrel Orchards for a beautiful U-pick orchard and their farm store for local products. Be sure to check out our guide to all the best things to do in Penn Yan for more ideas.
Hammondsport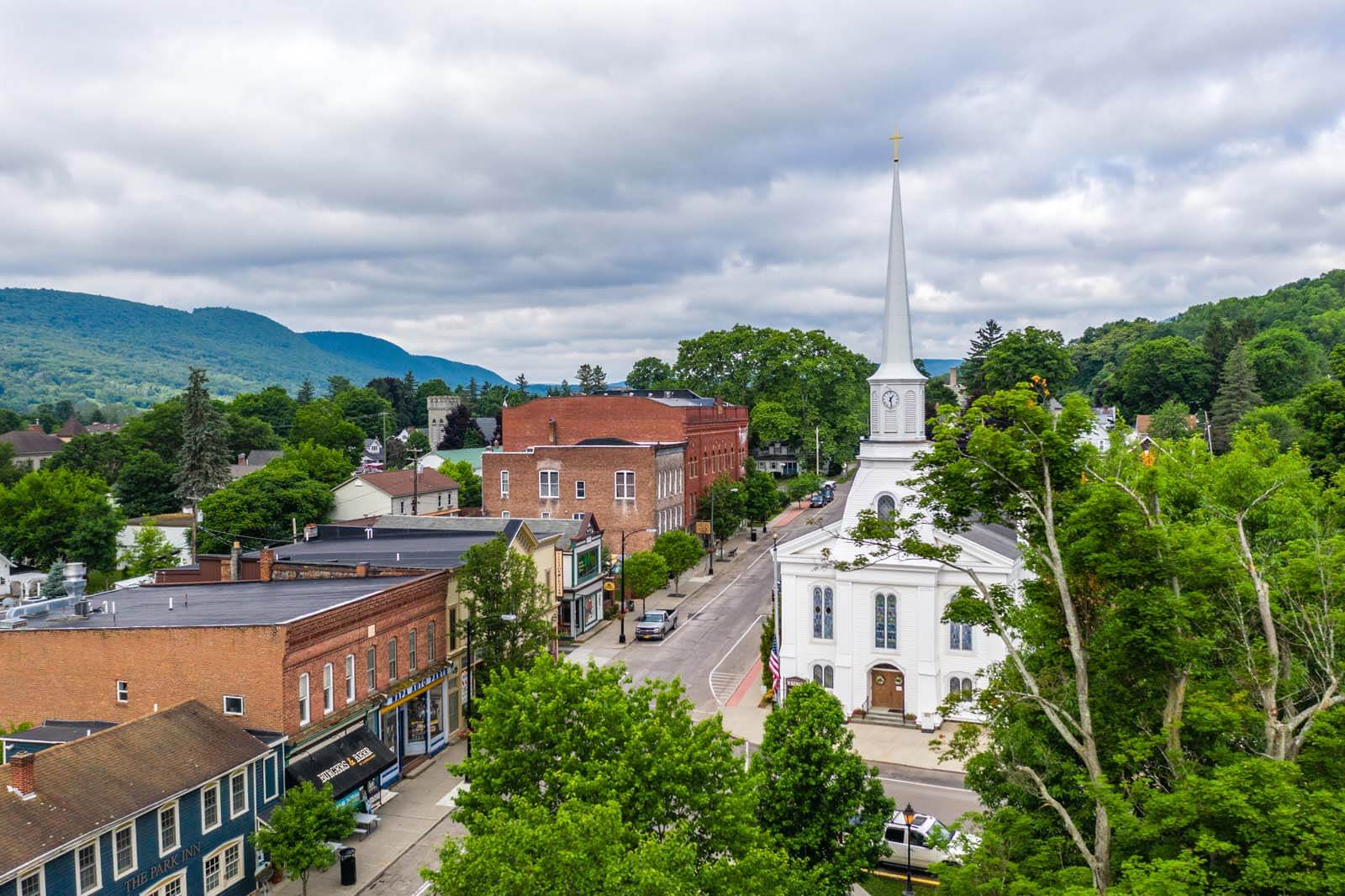 Hammondsport is a popular Finger Lakes town located at the south end of Keuka Lake in New York. Besides being a scenic village with beautiful homes and a perfectly manicured town square outfitted with a gazebo, Hammondsport is one of the best Finger Lakes towns for visiting museums that tie to the local history, wine tasting, lake activities, and more options for dining and shopping.
Depot Park is the waterfront park on Keuka Lake where you can rent a boat for the day, sit on a bench and enjoy a romantic sunset, and or grab a bite to eat to go and eat it here while enjoying the view as the restaurants in town are less than a two-minute walk away.
You can rent a pontoon boat for the day or a kayak or stand up paddle board from Keuka Watersports here to enjoy a little time ou on Keuka Lake too.
Like many of the towns in the Finger Lakes, Hammondsport offers many great wineries nearby on the Keuka Lake Wine Trail, many of which have stunning views like Heron Hill Winery, Bully Hill Vineyards, and Dr. Konstantin Frank Winery to name only a few.
Don't miss the Glenn H. Curtis Museum while you're here either where you can learn about the maven behind early aviation and motor vehicles. Be sure to check out our full guide to the best things to do in Hammondsport for more ideas.
Geneva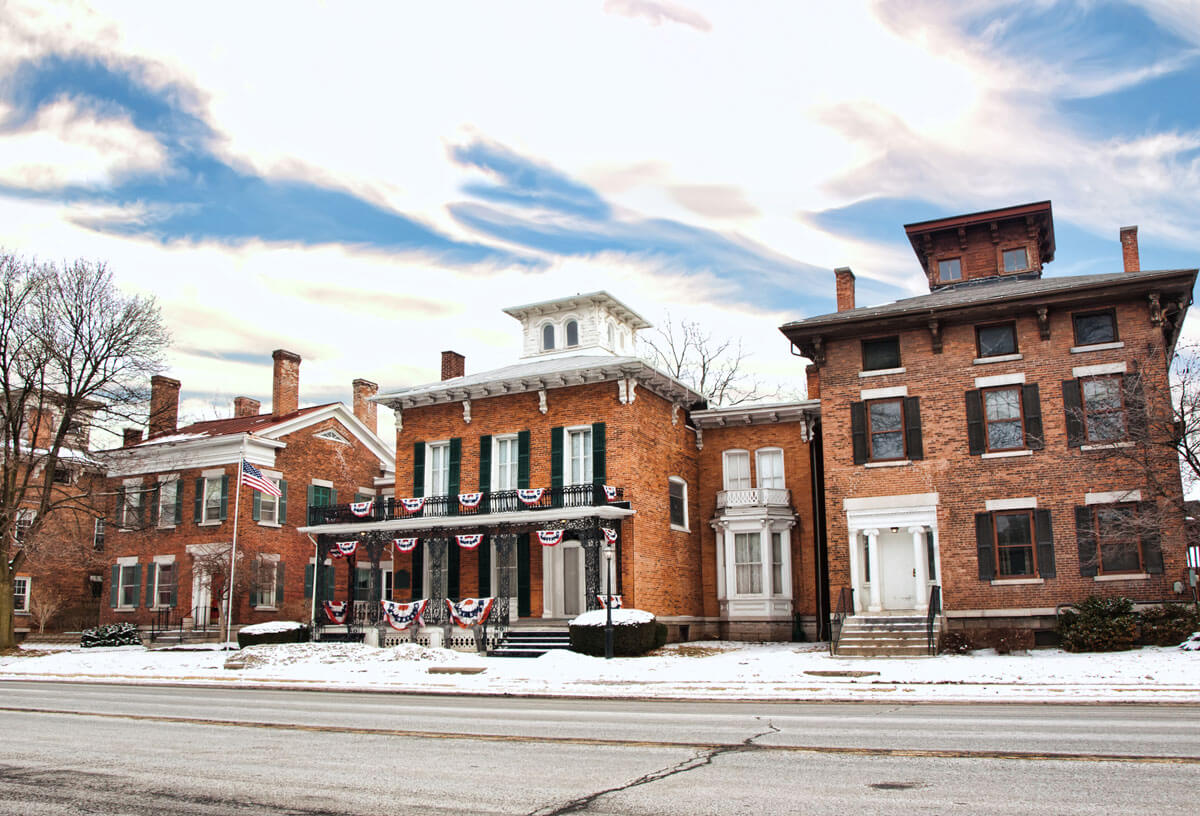 Located on the northern tip of Seneca Lake is another one of the most popular towns in the Finger Lakes to visit, Geneva. Geneva is also one of the larger Finger Lakes towns and is extremely picturesque.
For views and outdoor activities, head to Seneca Lake State Park where you can picnic, hike, bike, boat, and more at this waterfront park and marina.
Another popular daytime or nighttime activity is The Smith Opera House which is open year-round and offers live music and popular theater productions.
If you're looking for more historic and cultural visits, check out Rose Hill Mansion, a historic landmark and former working farm turned into a residential mansion that was occupied in the 1800s. While taking a tour of The Rose Hill Mansion, you'll learn more about the families that have lived there and the history of the town.
Belhurst Castle is another historic landmark that is also one of the more luxe accommodations in the region including wine tasting.
If you're in love with beautiful homes, don't miss Geneva Rowhouses on South Main Street which will make you feel like you're walking through the historic neighborhoods of Boston and Georgetown in Washington DC.
Naples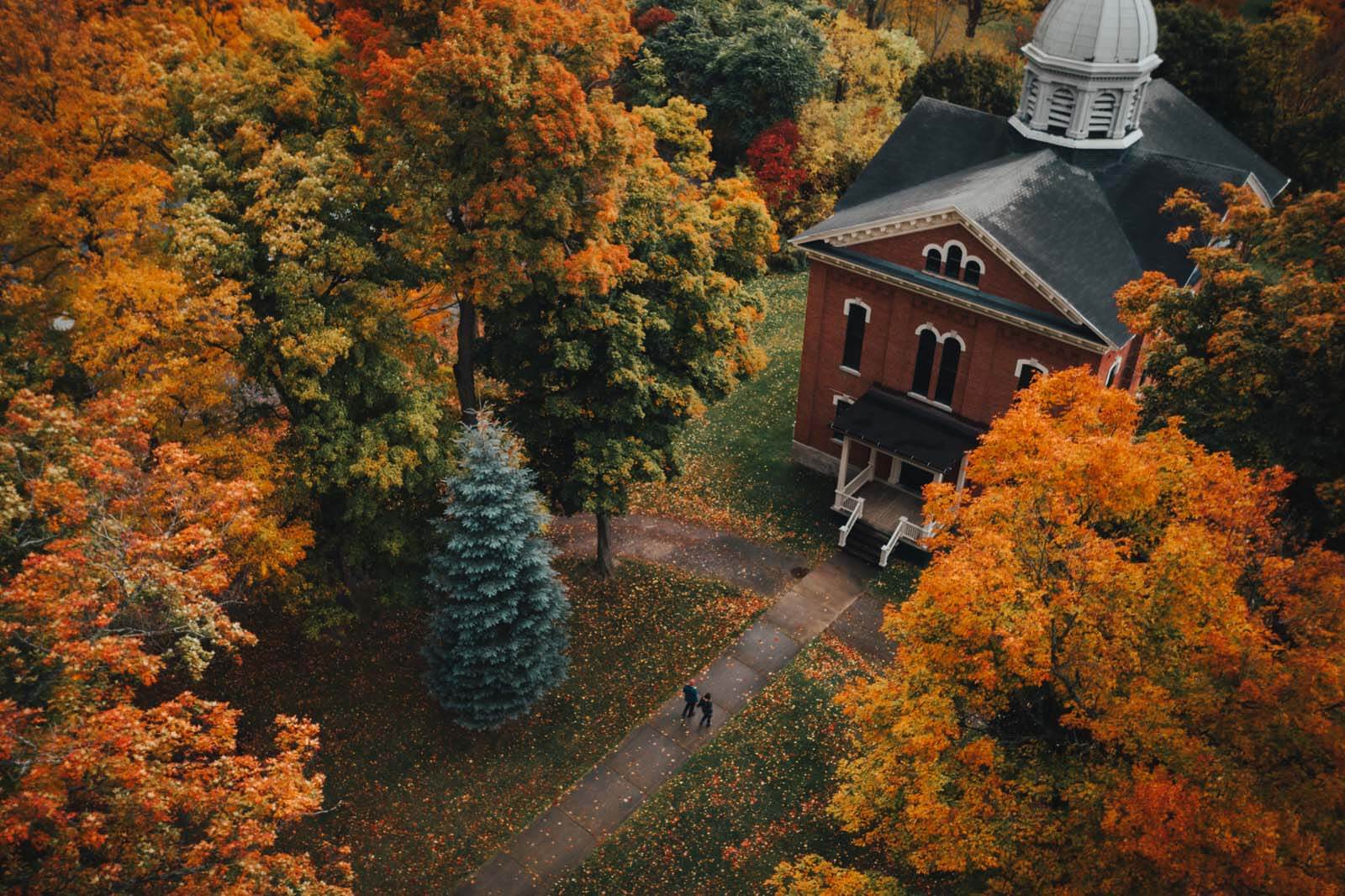 Naples is a picturesque town in the Finger Lakes located in Ontario County, New York near Honeoye and Canandaigua Lakes and the Grape Pie Capital of the World, so don't miss trying one of the famous grape pies while you're here!
It is also one of the best towns in the Finger Lakes for those who like spending time in nature as there are the beautiful waterfalls of Grimes Glen Park here accessible by trail. One of the most popular outdoor things to do in Naples, New York is to go hiking and sightseeing.
Another popular park that won't require as much hiking is The West Hill Preserve, which is part of The Finger Lakes Trail. This forested landscape is great for both sightseeing and educating yourself about the nature of Naples.
If you're into the arts, Bristol Valley Theater, a 5-star rated theater located in the heart of Naples, is the perfect place to check out! Bristol Valley Theater offers professional theatrical productions in the heart of Finger Lakes, making it the perfect activity during a day full of excursions.
Naples, while being on the smaller side of Finger Lakes towns to explore, has a great food scene. Don't miss the famous Roots Cafe, a community-driven restaurant and a foodie favorite, as well as some wine tasting at Inspire Moore Winery next door before or after your meal.
Watkins Glen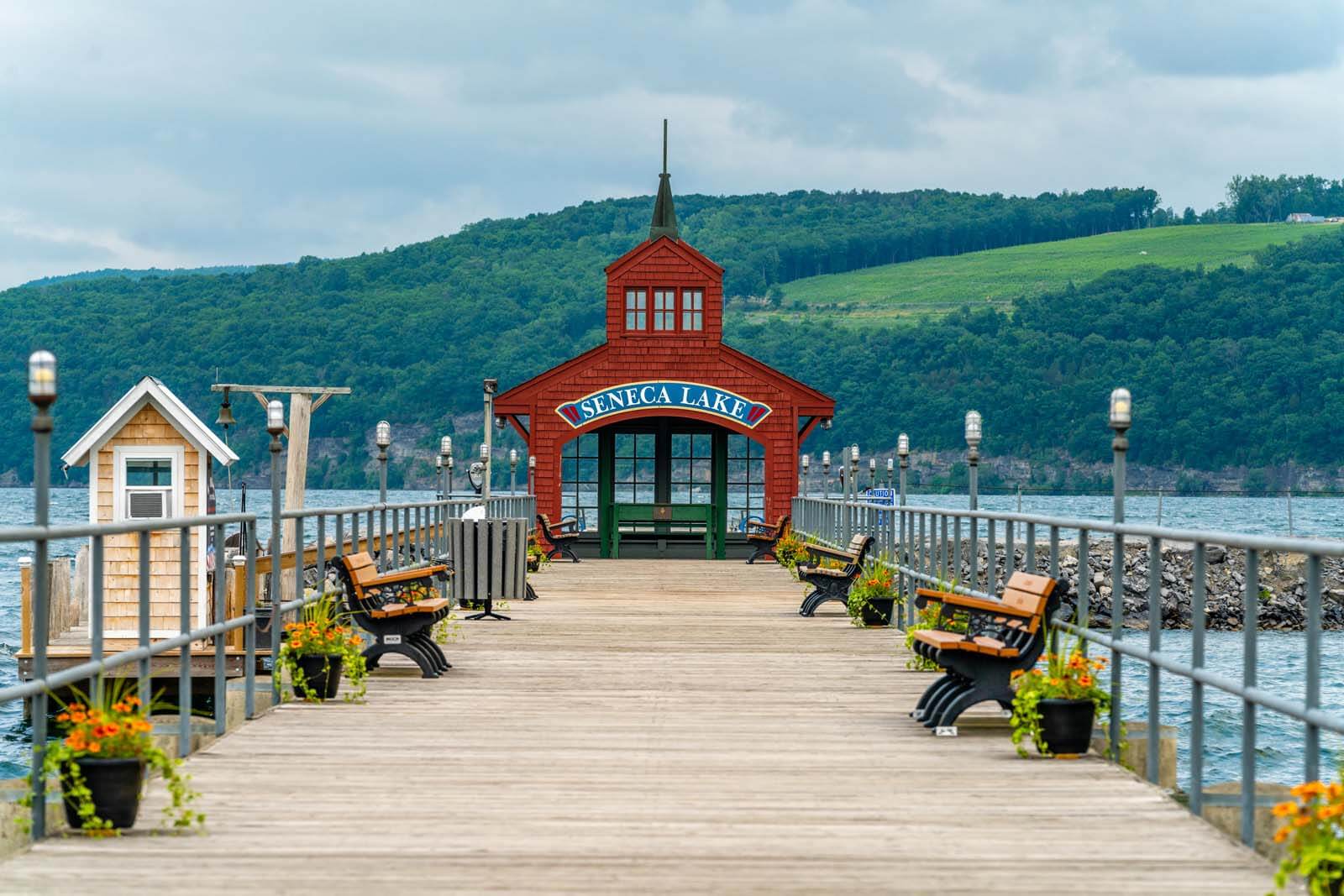 One of the most famous Finger Lakes towns is Watkins Glen, home to Watkins Glen International is one of the most famous road racing tracks in all of America. If you're visiting in July the town also hosts the Finger Lakes Wine Festival here annually!
Be sure not to miss the magical cascading waterfalls of Watkins Glen State Park, where you can find 19 enchanting waterfalls along gorgeous green and cobbled pathways and bridges on this 1.5 mile Gorge Trail through the scenic glen.
Along Franklin Street, you can find an ample amount of places to dine and if you walk to the harbor you can enjoy the breathtaking views of Seneca Lake from the south end of the lake.
Toward the outskirts of Watkins Glen, you can find the village of Montour Falls, which could technically be shared on its own as the best towns in the Finger Lakes due to the gorgeous waterfalls here!
This small village is less than a 3-minute drive from Watkins Glen and has a picturesque backdrop of She-Qua-Ga Falls tumbling over rocks overlooking the town.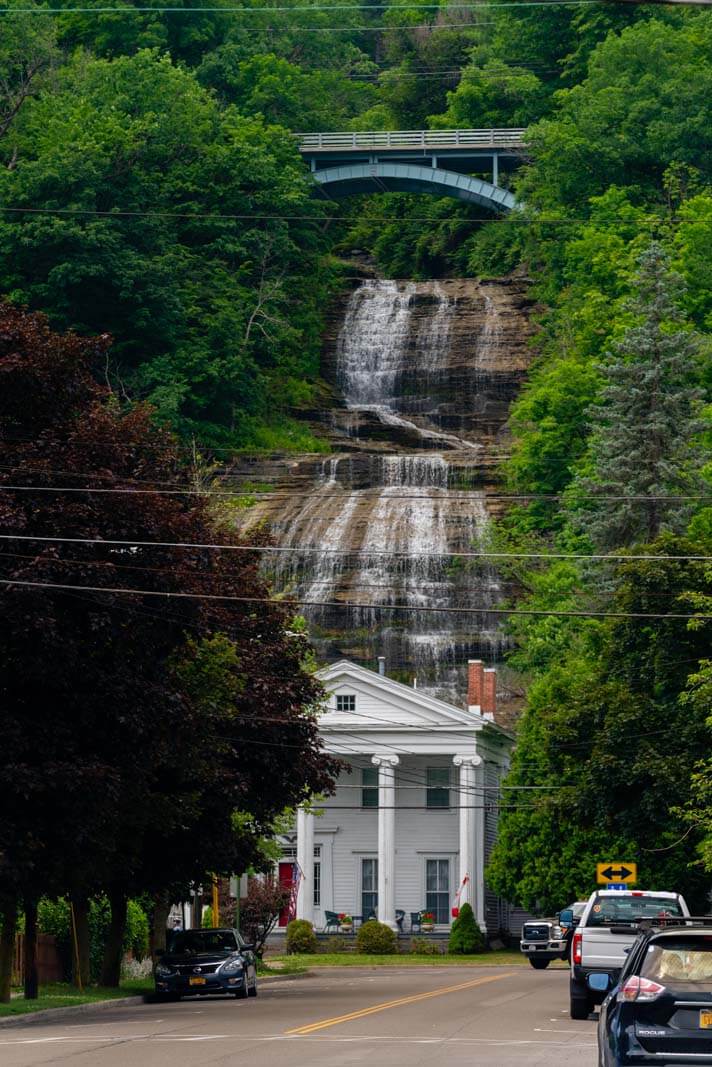 This waterfall can be recognized even from a painting hanging in the Louvre in Paris! In 1820, Louis Philippe, who would go on to be the King of France, dabbled in painting and was so taken aback by the beautiful waterfall here that he painted it and it's recognized in the most famous art museum in the world!
In Montour Falls, you can also expect to find Havana Glen Park, where you can hike along the creekside trail and end at a popular sightseeing point with more waterfalls in the Finger Lakes opportunities like Deckerton Falls and Eagle Cliff Falls.
Another roadside waterfall found nearby is Aunt Sarah Falls on Route 14 as well as Hector Falls on route 414.
Ithaca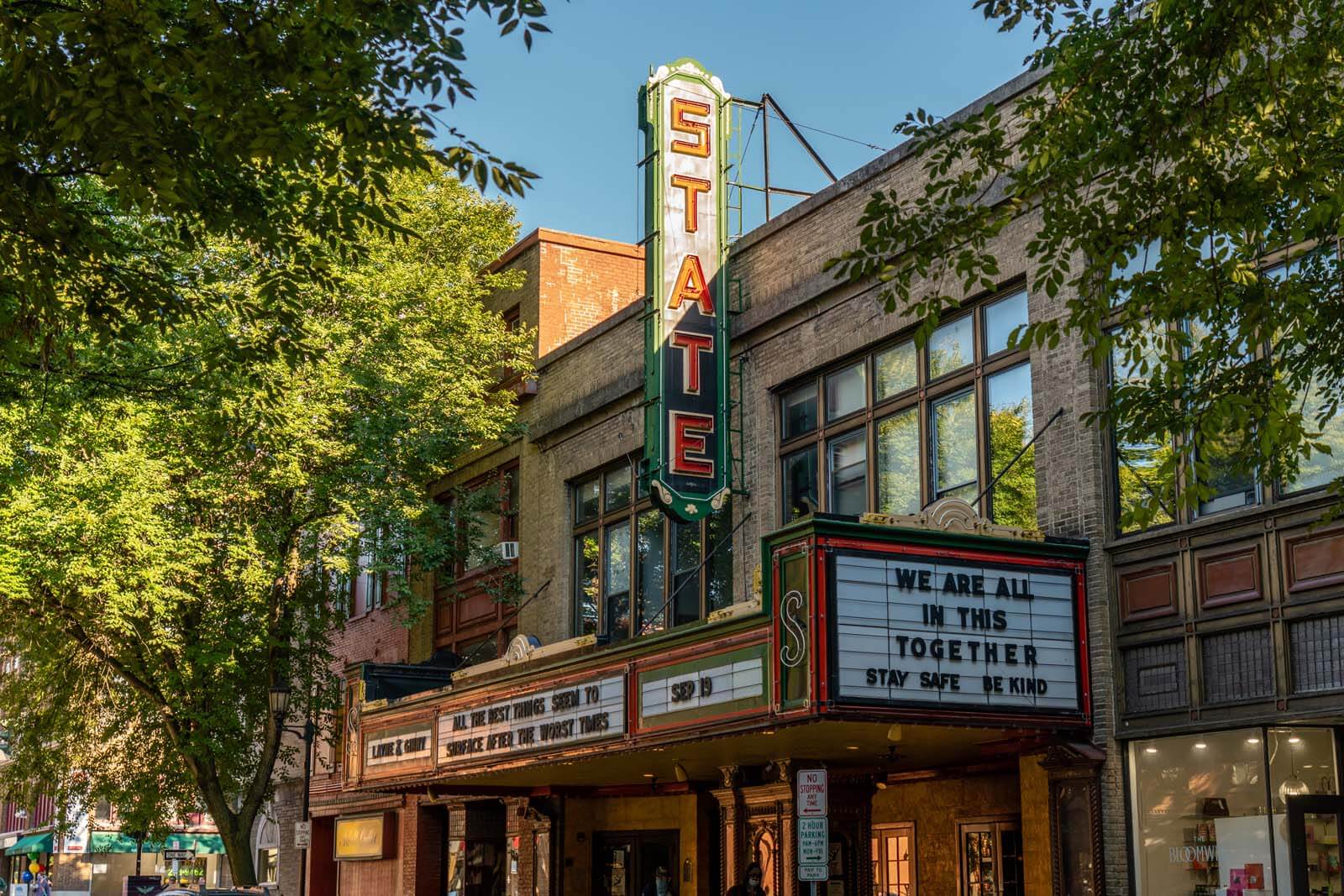 Known as one of the prettiest towns in the Finger Lakes, which we'd have to wholeheartedly agree, Ithaca is a town located on the southern tip of Cayuga Lake and is home to not one but two famous universities including Ivy League, Cornell University.
There are so many wonderful things to do in Ithaca from dining, shopping, lake activities, more wine tasting, and of course the famous Ithaca waterfalls, where they flow like champagne as there are over 150 waterfalls in a 10 mile radius here! We aren't talking about puny waterfalls either, we are talking about some of the most stunning falls we've ever seen which is one of the many reasons we love it here and why we think the Finger Lakes is one of the most underrated destinations in the US.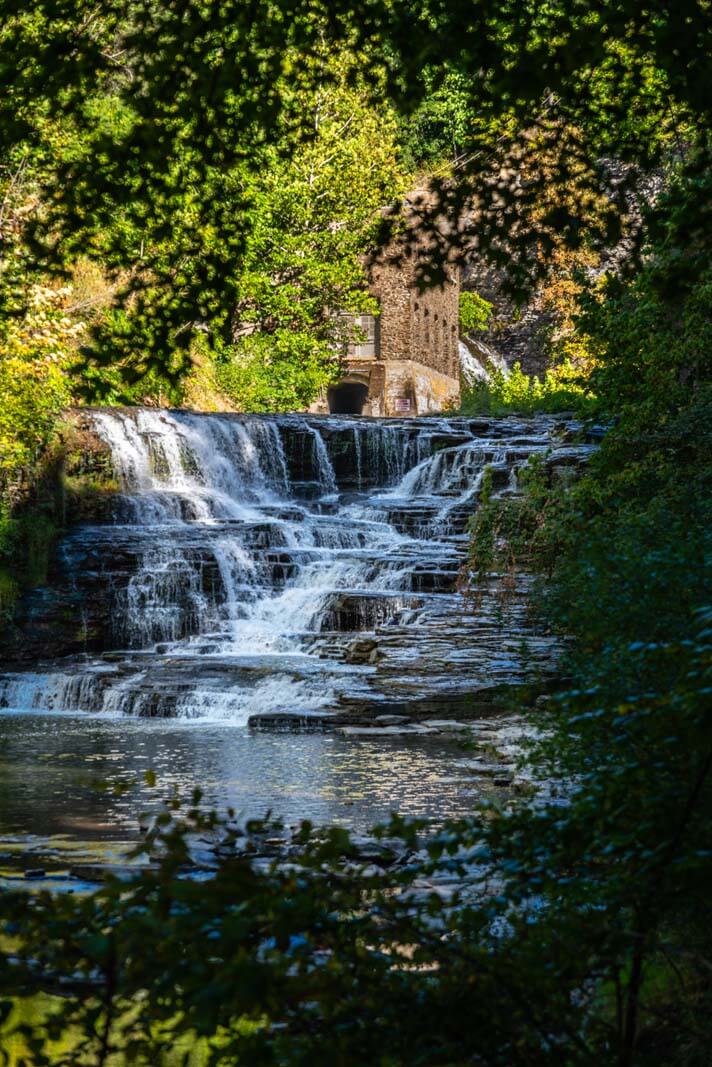 With many forests and waterfalls, Ithaca is a great town for those who love spending time in nature, hiking, and sightseeing.
Ithaca is steeped with history and historic sites as this beautiful place, naturally and culturally is one of the most academic Finger Lakes towns and former home to planetary genius, Carl Sagan.
Ithaca is known for its gorgeous waterfalls which you can see at many locations, including Fall Creek, Cascadilla Gorge, and Six Mile Creek. These are all great spots to hike and see the waterfalls in the heart of the town! Literally, the waterfalls of Fall Creek and Cascadilla Gorge run through the campuses downtown. Students actually traverse past waterfalls on their way to and from class.
Another popular daytime activity located in downtown Ithaca is shopping at The Ithaca Commons. This pedestrian mall serves as the city's cultural center and is known for its annual festivals, fine dining, and shops.
Nearby you can also explore more wineries, breweries, and more scenic state parks with waterfalls including Robert H. Treman State Park, Buttermilk Falls State Park, and Taughannock Falls State Park. For all of these reasons, plus more, this is one of our picks for best towns in the Finger Lakes because there is just so much packed into one destination.
Seneca Falls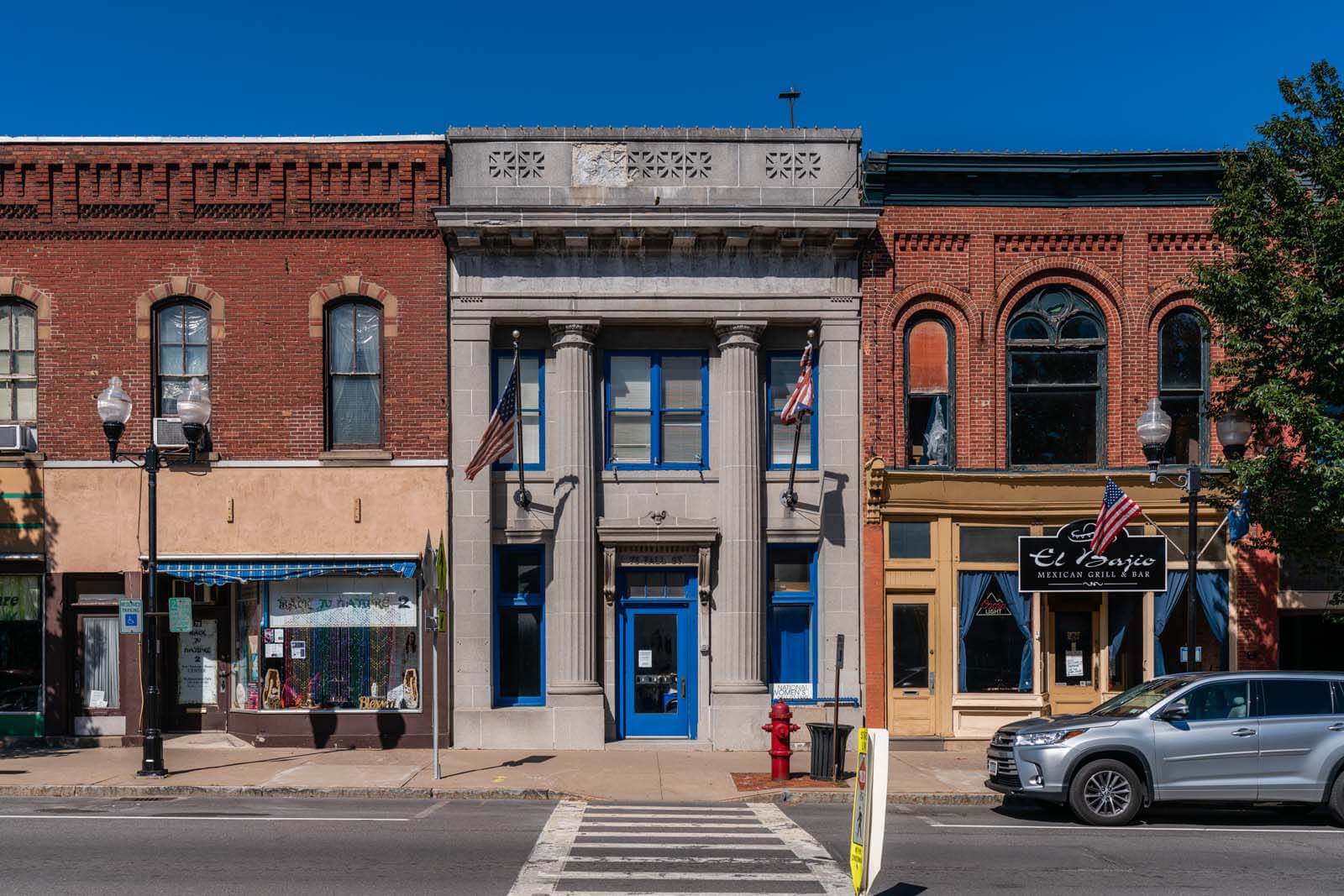 One of the most historic towns in the Finger Lakes is Seneca Falls located in Seneca County, New York. The historic significance of this town is that Seneca Falls is the birthplace of women's rights in the United States!
One of the best places to learn about the town's history is The Women's Rights National Historical Park that offers 6 acres of land and historic tours, this museum tells the story of the first women's rights convention that was held in Seneca Falls and also gives you different landmarks throughout the area where you can stop and appreciate the pioneering figures behind the women's suffrage movement!
Another great way to learn about the history of Seneca Falls is to visit Elizabeth Cady Stanton's home that has now been turned into a historical landmark. You can visit this site and tour the home to learn more about Stanton's life, the women's rights movement, and the history of Seneca Falls.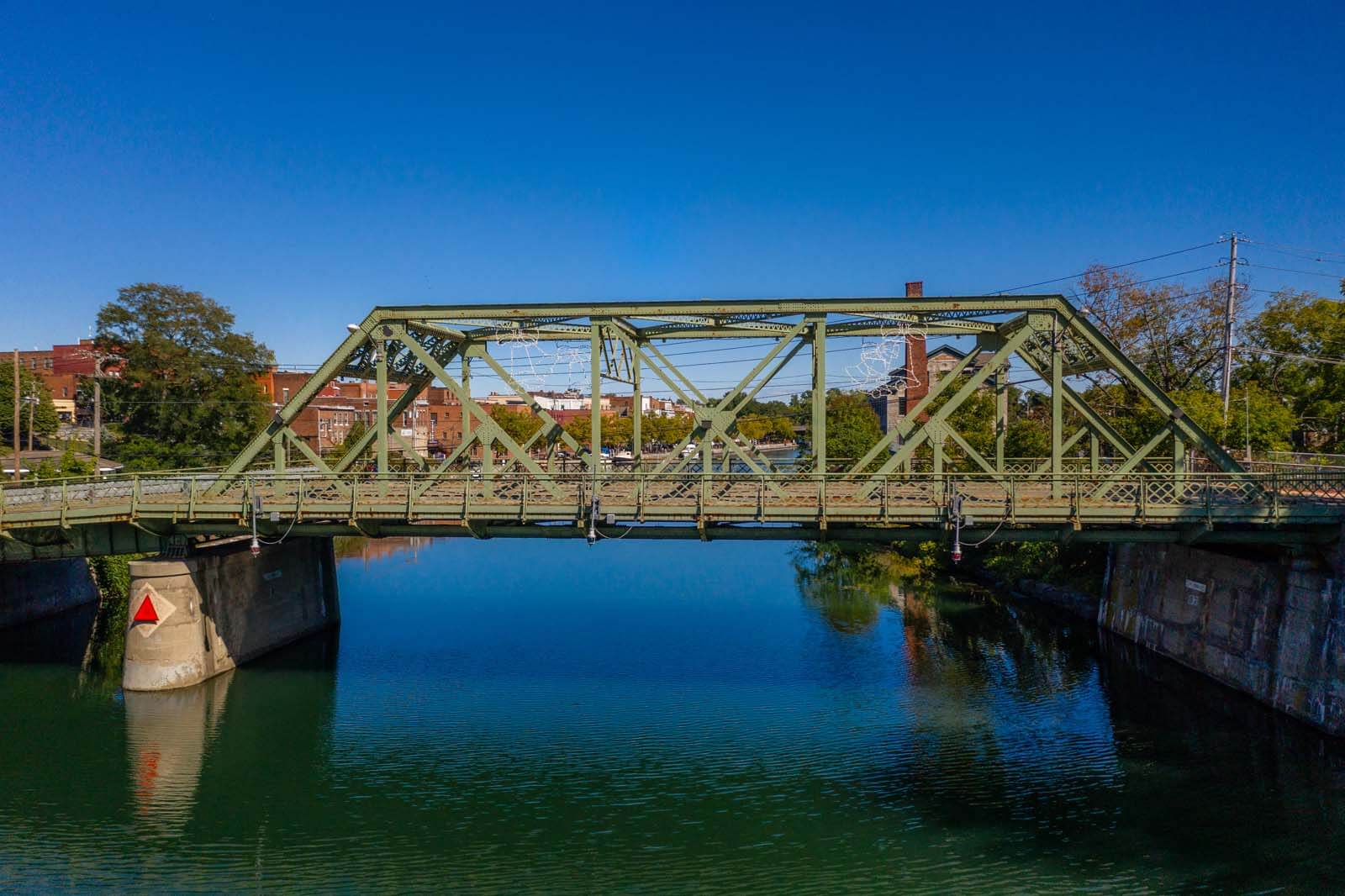 Seneca Falls is also known for its striking resemblance to the town of Bedford Falls in the classic film It's a Wonderful Life. It is thought that Frank Capra used Seneca Falls as the model for the movie! In fact, you can visit the It's a Wonderful Life Bridge and visit the other town attractions nearby that resemble other spots in the movie.
Aurora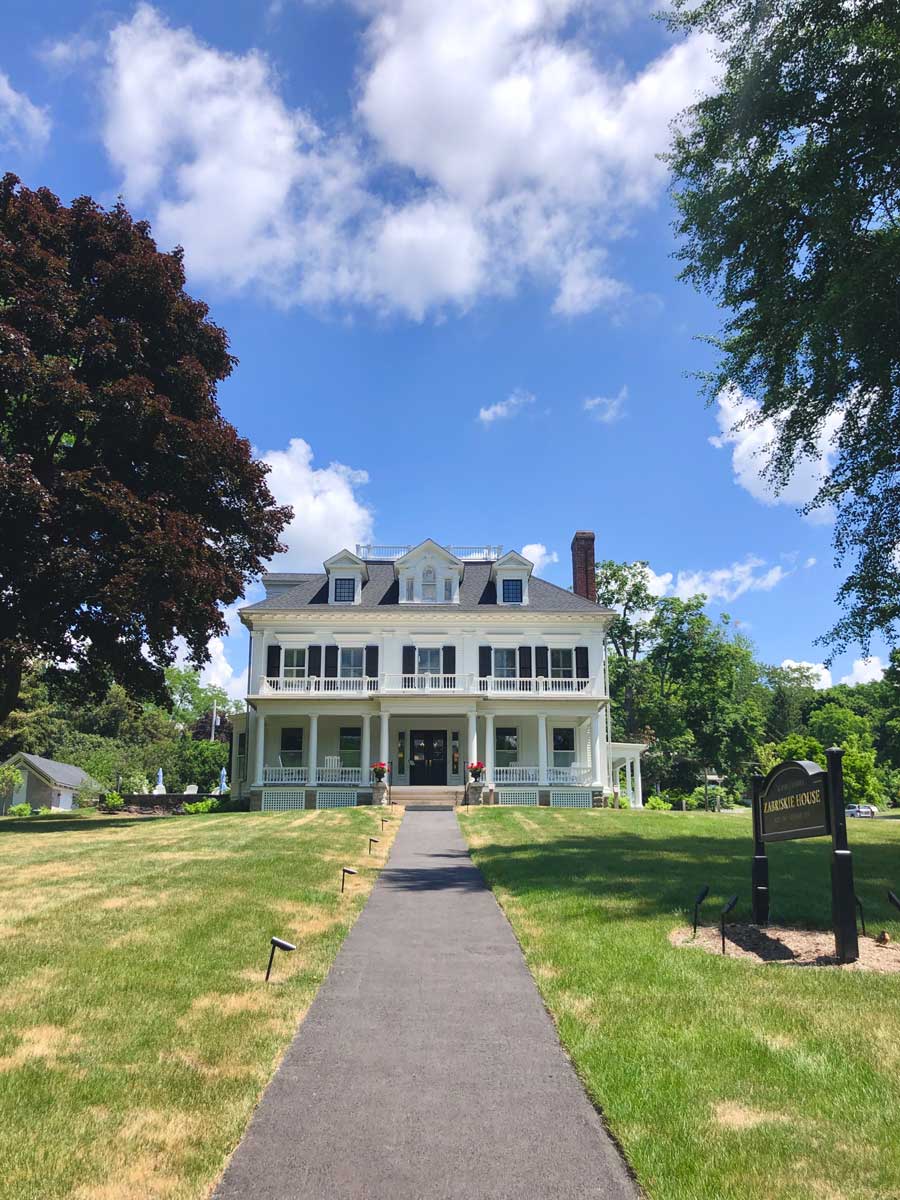 Aurora is a village and college town in the Finger Lakes located in Cayuga County on Cayuga Lake. Aurora is most commonly known for its charming village and Wells College, a small liberal arts college in the area.
This is such a small one-road town, but it's worth mentioning as you can't help but ooh and ahh at the large lakeside mansions and historic buildings here.
One of the most interesting landmarks in this Finger Lakes town is the Morgan Opera House which is housed in a
Victorian, half-timbered Tudor-Revival building that also houses a library.
This Finger Lakes town has an interesting history in particular with the creator and founder of the American Girl Doll Company, Pleasant Rowland who graduated from Wells here in Aurora which according to her interview with Vogue, changed her life, so 25 years after graduating she returned back to Aurora and restored many of the beautiful, old homes here that were falling into disrepair as well as the entire town and even businesses that were suffering here, although not everyone was a fan.
Another great place to see is The Long Point Winery, which is an off-the-beaten-path winery that's known for their great views and extensive selection of red wines.
The Howland Stone Store Museum is another great place to check out if you want to learn more about Aurora. This museum has a gift shop and offers tours for those who want to learn more about the history of the town!
Lastly, if you're into shopping, The Village Market in Aurora is the perfect place for you to visit. This is a great place, near many popular hotels, to grab a quick bite to eat or a delicious cup of coffee.
Elmira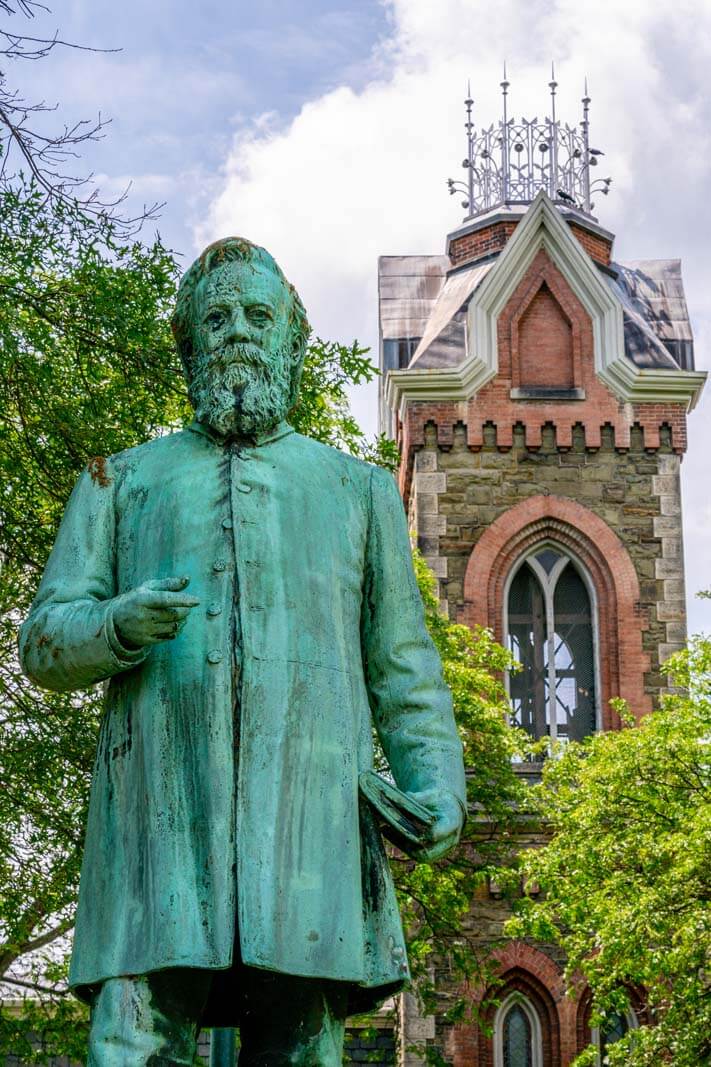 Known for its rich history and beautiful architecture, visitors have many options when it comes to visiting another one of the most beautiful and historic Finger Lakes towns in Elmira.
Elmira is home to 'Mark Twain Country' as this legendary American writer and humorist and father of American Literature, known by his pen name spent his summers in Elmira for over 20 years.
Twain professed his love of the area which inspired much of his work including The Adventures of Tom Sawyer and The Adventures of Huckleberry Finn which were written in his study that you can visit at its re-located location at Elmira College.
Hop on the Mark Train trolley where you can stop at more of his landmarks around the area including his final resting place, his gravesite at Woodlawn Cemetery.
Elmira is also known for its unique and outstanding architecture and fine art. One of the most popular places to visit is The Arnot Art Museum. This museum is located downtown and showcases a private art collection that was created in the late 1900s.
If you want a gorgeous view with your meal, head up to the Hill Top Inn which overlooks Elmira from above with a gorgeous patio dining area with panoramic views of the Chemung Valley.
There are also great options for dining and drinking here, but our favorite part is really just appreciating the architecture.
Honeoye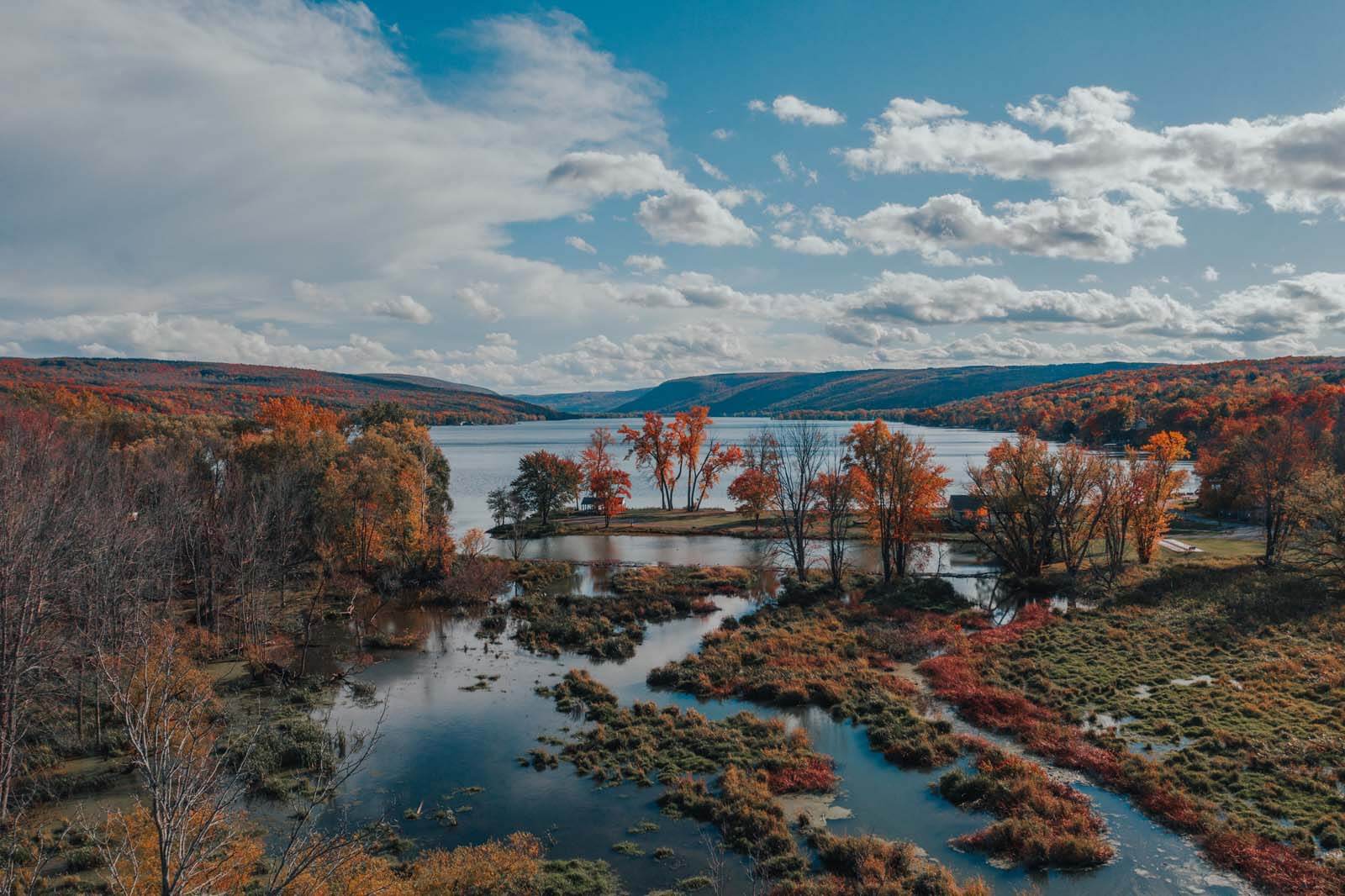 One of the more quiet Finger Lakes towns and lakes to check out is Honeoye and Honeoye Lake in Ontario County. This small town is the second smallest of all of the Finger Lakes towns, making it great for those who like a more subdued trip.
Honeoye is known for its fun outdoor activities, breweries, vineyards, and nature centers. One of the most popular breweries is The Noble Shepherd Craft Brewery located in an interesting geodesic dome and next to other interesting shops like the Wizard of Clay!
If you're visiting during the colder months, The Bristol Mountain Ski Resort isn't more than a quick drive from Honeoye. Many visit this ski resort to go on the Comet Express chairlift, where you can expect to see a vast view of Canandaigua Lake on a clear day. This resort also offers skiing and snowboarding with over 130 acres of land to enjoy!
In downtown Honoeye you can find a pretty park with scenic walking trails along Honeoye Creek to the lake, and more great drinking and dining options like Mill Creek Cafe and the Birdhouse Brewing Company.
Where to Stay in the Finger Lakes
When planning a trip to visit the region and all the charming towns in the Finger Lakes, there are many options for where to stay. For the purposes of this guide, we are going to recommend a few, we recommend heading to our guide on where to stay in the Finger Lakes for more options as well as some of the best cottages in New York to find the best option for you!
CORNING
Corning is a great base for exploring not only Finger Lakes towns, but the wine region around both Seneca and Keuka Lakes. Both Watkins Glen and Hammondsport are about a 30-minute drive from Corning making it a great in-between point.
Radisson Hotel Corning is a great option and is within walking distance to all the attractions in Corning. The hotel has a terrific location, cozy rooms, a great outdoor patio with fire pits, and just a few minutes walk to Market Street. There's a fitness center on the property as well as plenty of parking.
Book Now | Compare Prices for Later | Check out More Corning Hotels Here
WATKINS GLEN
Watkins Glen is an excellent choice to base located right on Seneca Lake. The Harbor Hotel located right on the harbor at the south end of Seneca Lake. Some rooms even come with balconies overlooking the lake. Rooms are contemporary and have very comfortable beds with a gorgeous outdoor seating area with firepits.
Book Now | Compare Prices for Later | Check out More Watkins Glen Hotels
ITHACA
Ithaca is naturally a great choice for where to stay in the Finger Lakes region, not only is there plenty to do in Ithaca but your just a 40-minute drive to Watkins Glen and other amazing waterfalls in the region. The Hotel Ithaca in the heart of town. The rooms are brightly decorated and cozy, suites offer separate living rooms and parking is free. There's a heated indoor pool accessible year-round and a lovely deck with lounge chairs.
Book Now | Compare Prices for Later | Check out More Ithaca Hotels Here
OWEGO
This charming town has some of the best quaint Inns and B&B experiences in the region which is a Finger Lakes attraction of its own. Not to mention there are plenty of little shops and amazing eateries to try out. Belva Lockwood Inn is more than just a hotel room for the night, it's an entire experience.
The owners take extraordinary care of their guests and make you feel like you're at home away from home under their roof. This property was also featured on an episode of House Hunters and the owners have put their heart and soul into redoing this historical home and making each of their five rooms a unique experience. Book on Airbnb
CANANDAIGUA
1840 Inn on Main is a perfect pick for if you're looking for an authentic bed and breakfast in a turn-of-the-century Victorian House. You're just steps away from restaurants and shops in downtown Canandaigua from your quaint and comfy room. There are 6 different themed rooms to choose from that all include continental breakfast.
Book Now | Compare Prices for Later | See More Options in Canandaigua
---
Enjoyed this guide to the most charming and best towns in the Finger Lakes to visit? Save or bookmark this post for later!