Visiting Las Vegas anytime soon? You might need a break from Sin City's flashy lights, casinos, and gambling and that's where this guide comes in handy! Be sure not to miss some of the best places and day trips from Los Vegas on your next trip.
You won't believe all the incredibly beautiful places that are easily visited from Las Vegas full of things to do in Las Vegas with kids, from state parks, national parks, to man-made sites and even aliens – well sort of!
Every spot featured in this article is no more than four hours away from Las Vegas so you can easily visit in one day and making it back to Sin City by night. Or if you're feeling extra adventurous you can even plan to overnight at any of these picks for best day trip from Las Vegas.
Best Day Trips from Las Vegas
Valley of Fire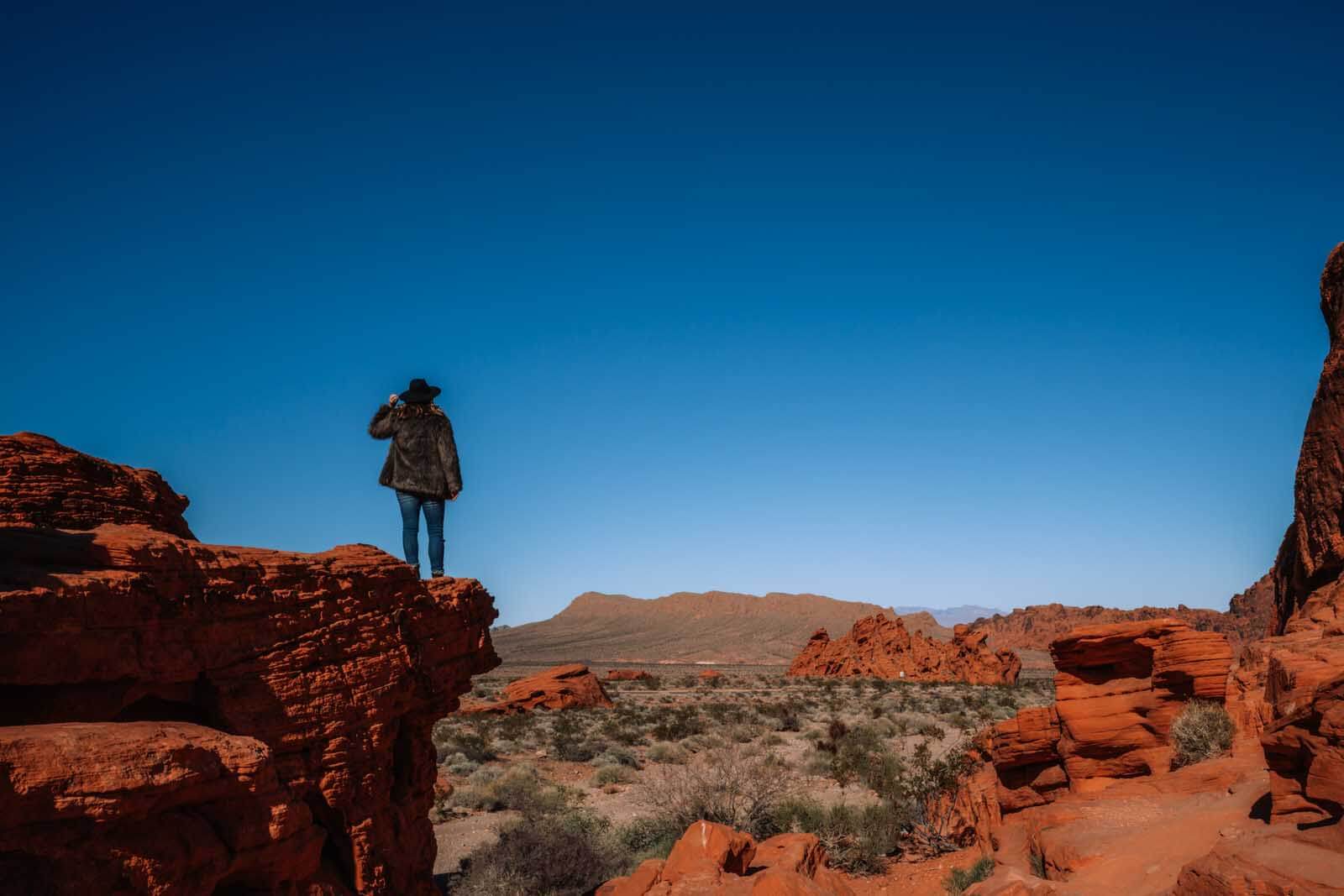 One of our favorite day trips from Las Vegas and one of the most underrated gems of the Southwest is the Valley of Fire just a 30-minute drive away. There are many amazing things to see in Valley of Fire State Park is really awesome and it's small enough to see most of the main highlights easily in one day.
There are gorgeous red rock formations, ancient petroglyphs from earlier civilizations, petrified trees, and great hikes to enjoy including the Fire Wave hike that leads you to a beautiful formation of white and red lines and stripes in the rocks in a wave motion.
Other incredible stops include the Beehives which are really interesting rock formations and a great photo stop, Atlatl Rock which has ancient petroglyphs etched on the rock walls, and the White Domes Trail which is a really beautiful 1-mile loop hike with an even more scenic drive on Mouse Tank Road to get there.
You can also see the Valley of Fire on a tour. This small, intimate tour inclues hotel pick up and drop off and lasts up to 6 hours depending on your hiking ability.
Book your Valley of Fire day trip and tour from Las Vegas here.
Horseshoe Bend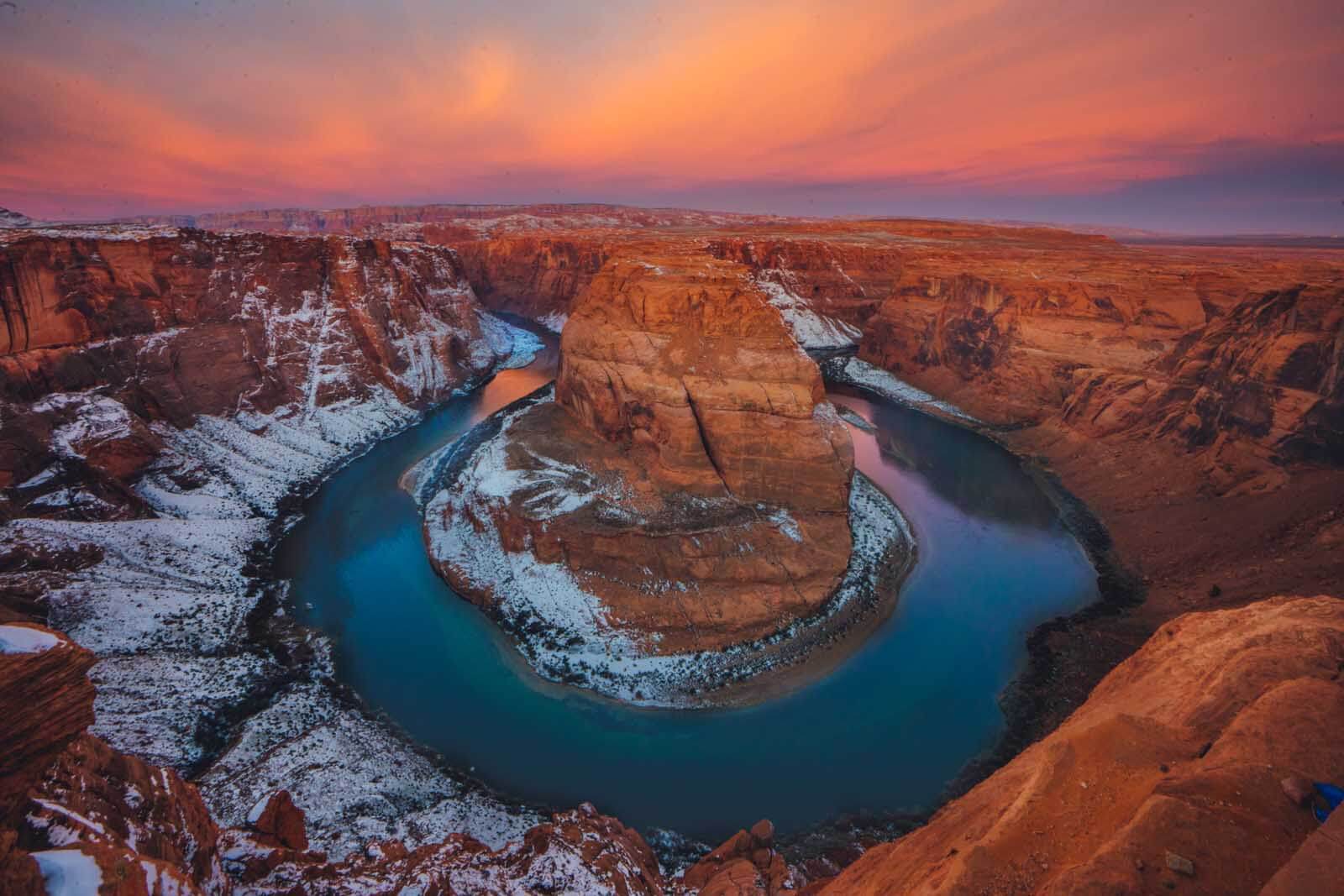 One of the most iconic spots in the Southwest and an incredible day trip from Las Vegas is Page, Arizona where you can find Horseshoe Bend and the Glen Canyon Recreation Area.
This day trip from Las Vegas is a bit longer than the rest but totally worth it if you leave early enough for the 4-hour drive. Horseshoe Bend is easily visited and only requires a short easy walk to the dramatic overlook of the Colorado River below.
While you're in the area you can also visit Lake Powell's Wahweap Marina where you can rent kayaks and paddleboards and wander around Antelope Island or just get a drink at the hotel overlooking the water.
The most popular option would be to visit Horseshoe Bend and also arrange a tour for Antelope Canyon, one of the most photographed slot canyons in the US. Antelope Canyon is protected by Navajo Parks and Recreation so having a Navajo guide is necessary to visit, you can literally find tons of tour companies offering tours daily in Page.
Don't want to plan this day trip from Las Vegas yourself? No worries, you can join a tour that includes your tour through Antelope Canyon and stop at Horseshoe Bend from Las Vegas.
Book your Day trip to Antelope Canyon and Horseshoe Bend here.
Grand Canyon
Witness one of the natural wonders of the world on this day trip from Las Vegas. Just a two hour drive from Sin City is the Grand Canyon West Rim where you can see stunning sweeping views of the Grand Canyon and even walk along the glass bottom skywalk overlooking the canyon with nothing but a drop to the bottom below you.
If you plan on visiting this glass bottom bridge you must be aware you cannot just show up and purchase a ticket, you need to buy a package that includes multiple stops. Many guided tours already have this included in the price and it makes it easier.
The most basic package includes the entrance to the Hualapai Tribal lands, the skywalk ticket, and a hop on hop off shuttle to three different viewpoints. You can upgrade packages to include a meal and other services. You can find packages and pricing here.
Don't want to do this day trip from Las Vegas by yourself? No worries. Book a tour! This tour to the Grand Canyon from Las Vegas takes you to the West Rim stopping at the Hoover Dam along the way including lunch. You can even upgrade your tour to include a helicopter or boat ride for a different perspective as well as add on the skywalk ticket.
Book your Grand Canyon Tour from Las Vegas here.
Hoover Dam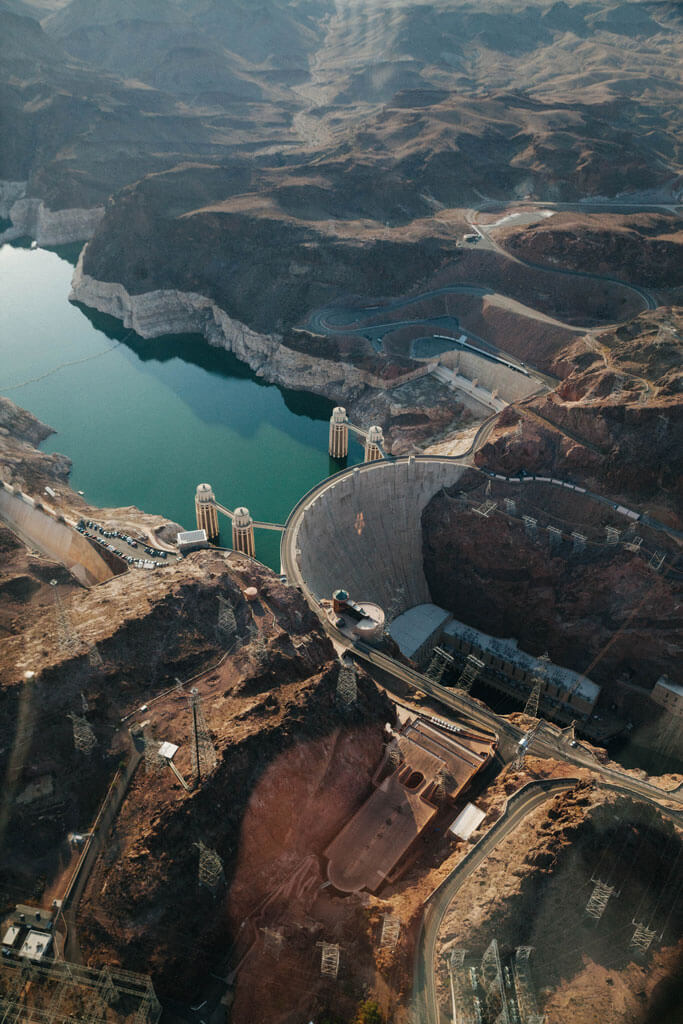 One of the easiest day trips from Las Vegas is one of the greatest man-made sites in the west. The Hoover Dam, located in the Black Canyon, soars 725 feet tall and is visited by millions each year at the border of Nevada and Arizona. This is considered the tallest concrete dam in the Western Hemisphere and generates enough power for three US States including California, Arizona, and Nevada.
If you don't have your own car you can join a tour from Las Vegas to Hoover Dam. Buy your tour tickets here.
Seven Magic Mountains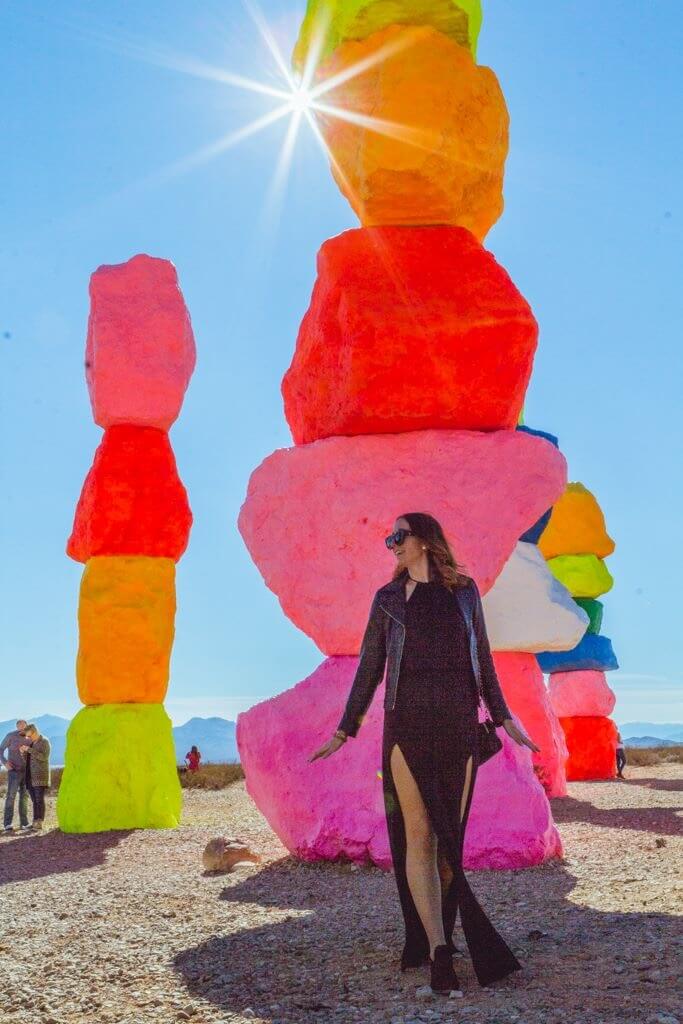 Not really a day trip from Las Vegas per say because it's so close but one of the most photographed things to do near Sin City is visit the colorful art installation Seven Magic Mountains. This art installation was supposed to be a temporary two-year exhibit, but its already been up well over two years and judging by its popularity it isn't going anywhere anytime soon.
Only a 30-minute drive from Las Vegas near the border of California you can find this colorful art installation made of painted colored rocks that are said to represent physically and symbolically mid-way between the natural and the artificial according to artist Ugo Rondinone.
This is a quick but fun stop if you want to adventure more if you head to the state line to Primm where there are a few casinos including Buffalo Bill's which has an epic rollercoaster. The rollercoaster known as the Desperado is considered one of the tallest and fastest in the country, while I'm not quite sure about that since I grew up near Cedar Point in Sandusky, Ohio, I still think this rollercoaster looks pretty cool! They only run three trains per hour, so make sure to go in and get your tickets so you don't have to wait too long for your thrill-seeking adventure.
Death Valley National Park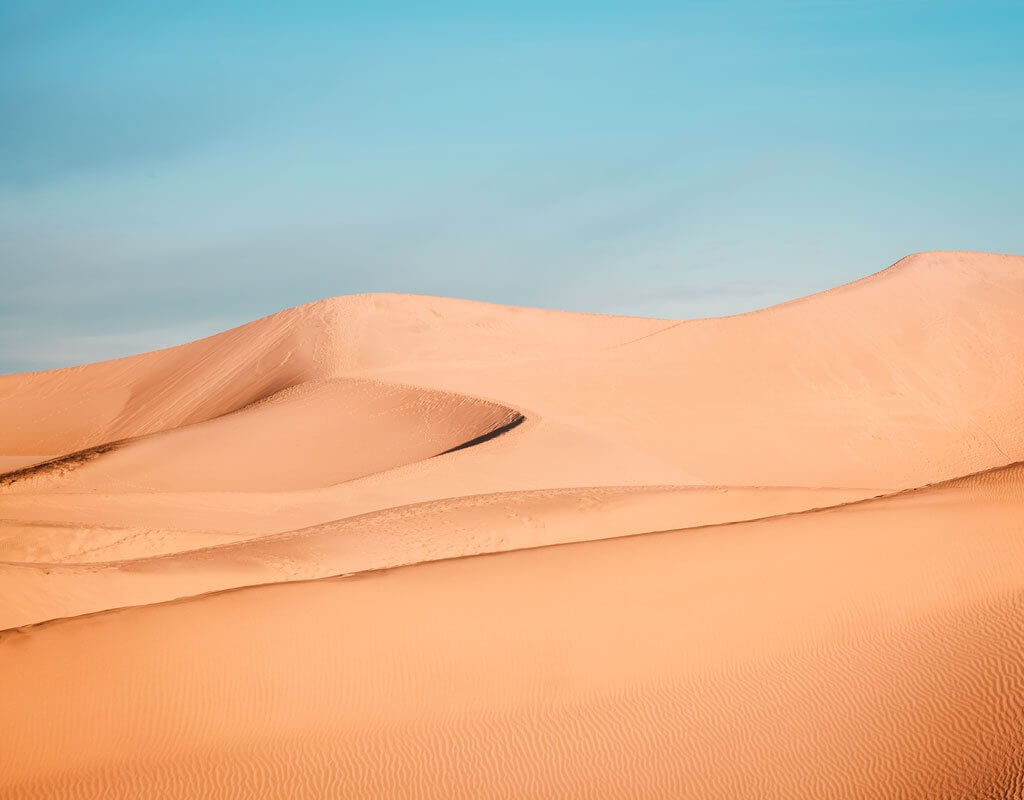 This day trip from Las Vegas is another National Park! Who knew there were so many national parks so close to Las Vegas? Just a 2-hour drive from Las Vegas you can explore this national park in the scenic and the desolate Mojave Desert.
From visiting an old imploded volcano at the Ubehebe Crater to the scenic drive through Artist's Palette and the Mesquite Sand Dunes. This is an incredibly photogenic and interesting terrain, but you will want to pick your time of year carefully unless you come prepared with plenty of water! It's called Death Valley for a reason, it's hotter than Hades here! You can stop at the visitors center at Furnace Creek to get more information.
There's also more ghost towns around here including the Rhyolite Ghost Town in Badwater. Also, Badwater Basin is the lowest point in the US at 282 ft below sea level.
Stop at all of these spots mentioned on a tour from Las Vegas. The tour includes an experienced and knowledgable guide who will teach you about the area as well as transportation to and from your hotel in Las Vegas.
Book your Death Valley day trip and tour from Las Vegas here.
Red Cliffs National Conservation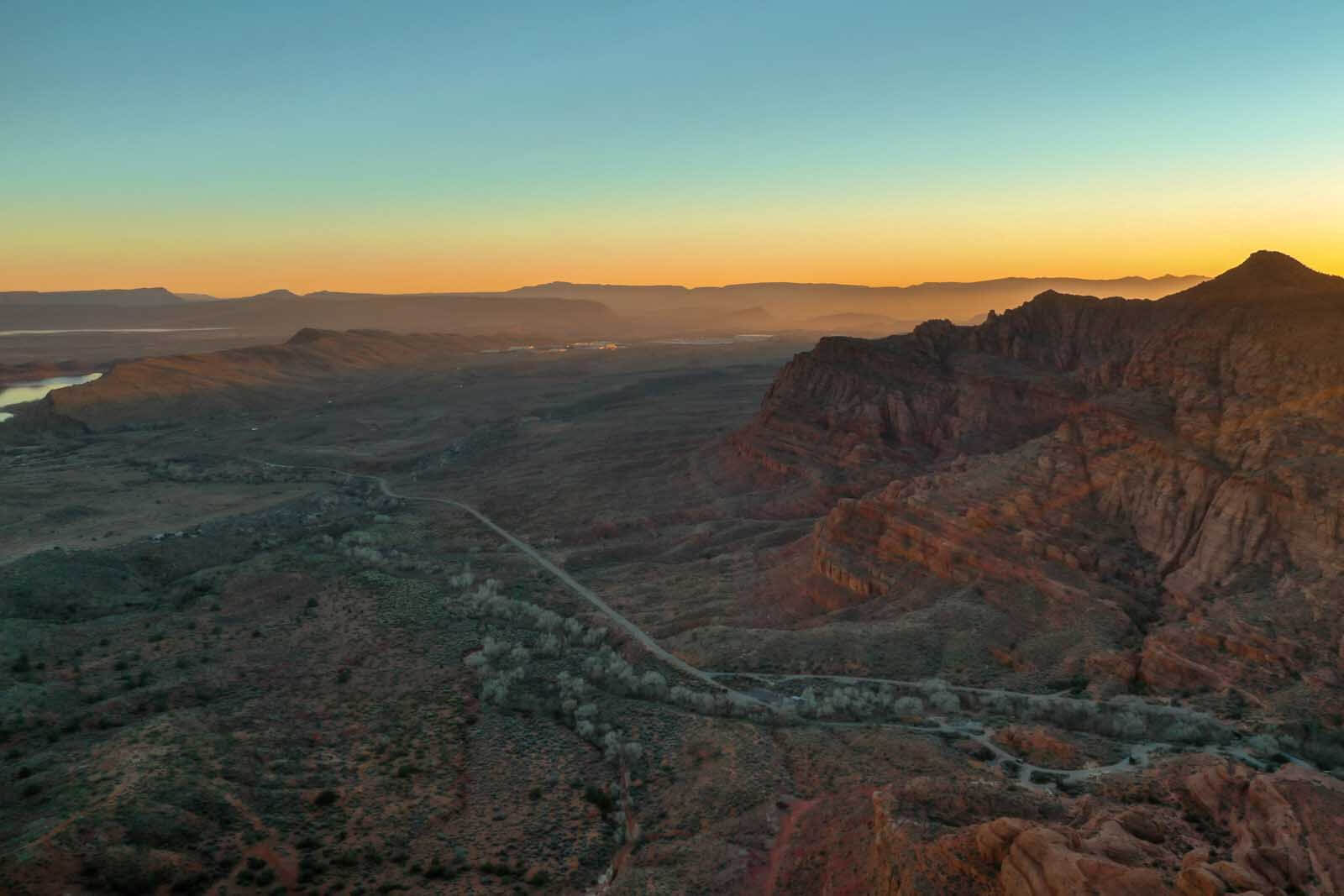 Just a two-hour drive and a great day trip from Las Vegas is the Red Cliffs National Conversation. This area is overseen by the Bureau of Land Management and has tons of trails and gorgeous views of red rocks to enjoy. Since this spot isn't super popular there's a good chance you can have the trails all to yourself as well.
There are plenty of hikes, but we recommend the most well known for Red Cliffs, the White Reef Trail. This trail is a 3.5 mile hike passing through incredible terrain with views of the white reef below.
This is also one of our suggested stops on our Southwest roadtrip itinerary.
Zion National Park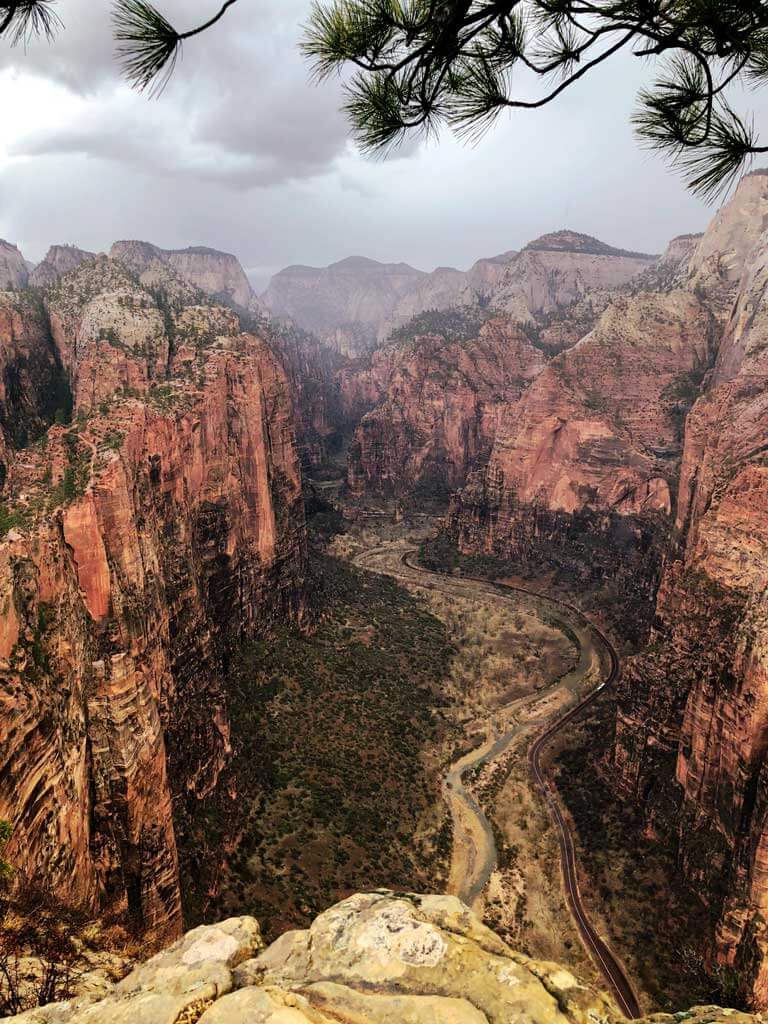 A gorgeous day trip from Las Vegas would be to Zion National Park, just a 2.5 hour drive away. This is one of the most incredible National Parks in the Southwest known for its remarkable vistas and steep red cliffs.
While you can easily spend a few days here you also can make an epic day trip from Las Vegas too seeing some of the best sights on the Zion Canyon Scenic Drive which takes you along some of the most famous scenic spots and vistas the park has to offer with minimal hiking.
If you don't want to do this day trip from Las Vegas on your own you can easily book a guided tour to Zion National Park that also stops at Bryce Canyon. The tour is 14 hours and includes many scenic stops in one day!
Book your day trip to Zion National Park and Bryce Canyon here.
Extraterrestrial Highway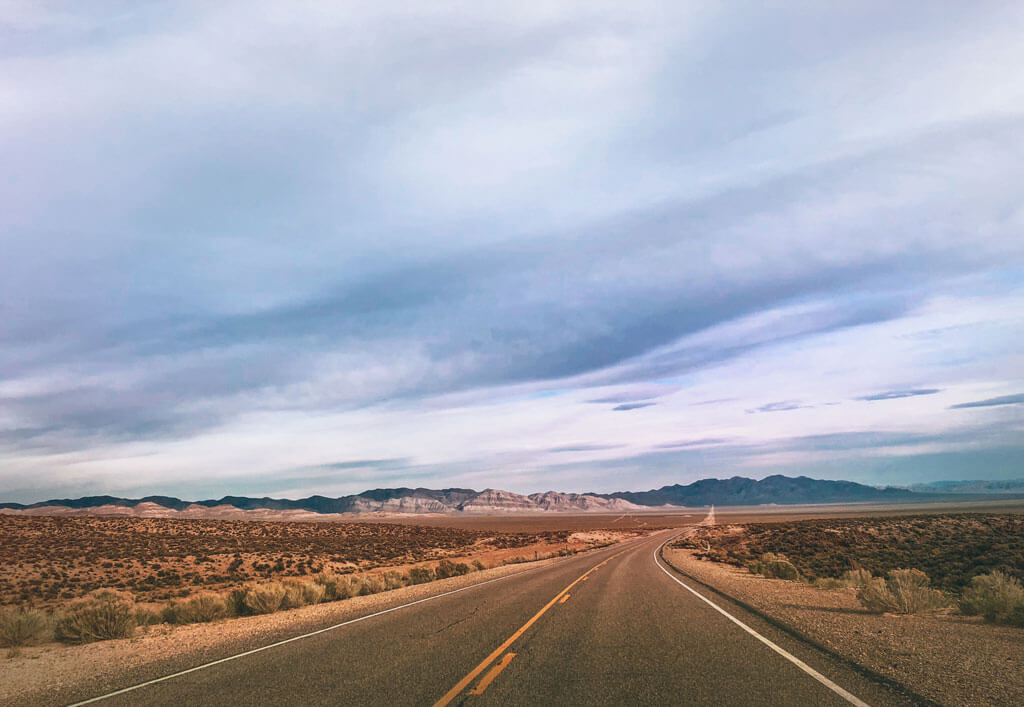 One of the most interesting day trips from Las Vegas we recommend is driving along the Extraterrestrial Highway near the elusive and top-secret Area 51 on Nevada State Route 375. The Extraterrestrial Highway stretches for 98 miles mostly across a barren desert with not much to see, but its the journey not the destination on this day trip from Las Vegas.
This road passes right along Area 51, a top-secret government base notoriously rumored to harbor aliens and UFO encounter information our government hides from the general public. It is believed that this road is a hotbed for alien and UFO activity which is why it eventually became known as the Extraterrestrial Highway.
If you need a stop, check out the small town (population of 98!) of Rachel where you can find other alien hunters and UFO-themed businesses. You can also check out the ghost town of Crystal Springs while you're traveling out this way!
Note: Be sure to fuel up your car well before heading this way, there are not many options in this area and the gas station in Rachel is now closed. The closest is Ash Springs (50 miles south) and Tonopah (110 miles north).
---
Liked this post about the best day trips from Las Vegas? Bookmark for later or share the love below on Pinterest!