New Orleans, the Big Easy has been and still is one of the biggest party destinations in the United States. People flock here to escape their everyday lives during Mardi Gras and let loose, but the party doesn't stop on Bourbon Street or around the entire city when Mardi Gras is over. New Orleans is a nonstop party and with no open container laws in the city means you're going to see people all over the place walking around with their drinks in hand and enjoying all the fun NOLA has to offer.
Just like how you have to try a famous New Orleans beignet when you visit, there are drinks that have become a must try while you're in the city. There are many places around the French Quarter that have made a name for themselves based on their famed drink or cocktail.
Check out our picks for the best drinks in New Orleans you have to try during your visit!
Hurricane from Pat O'Briens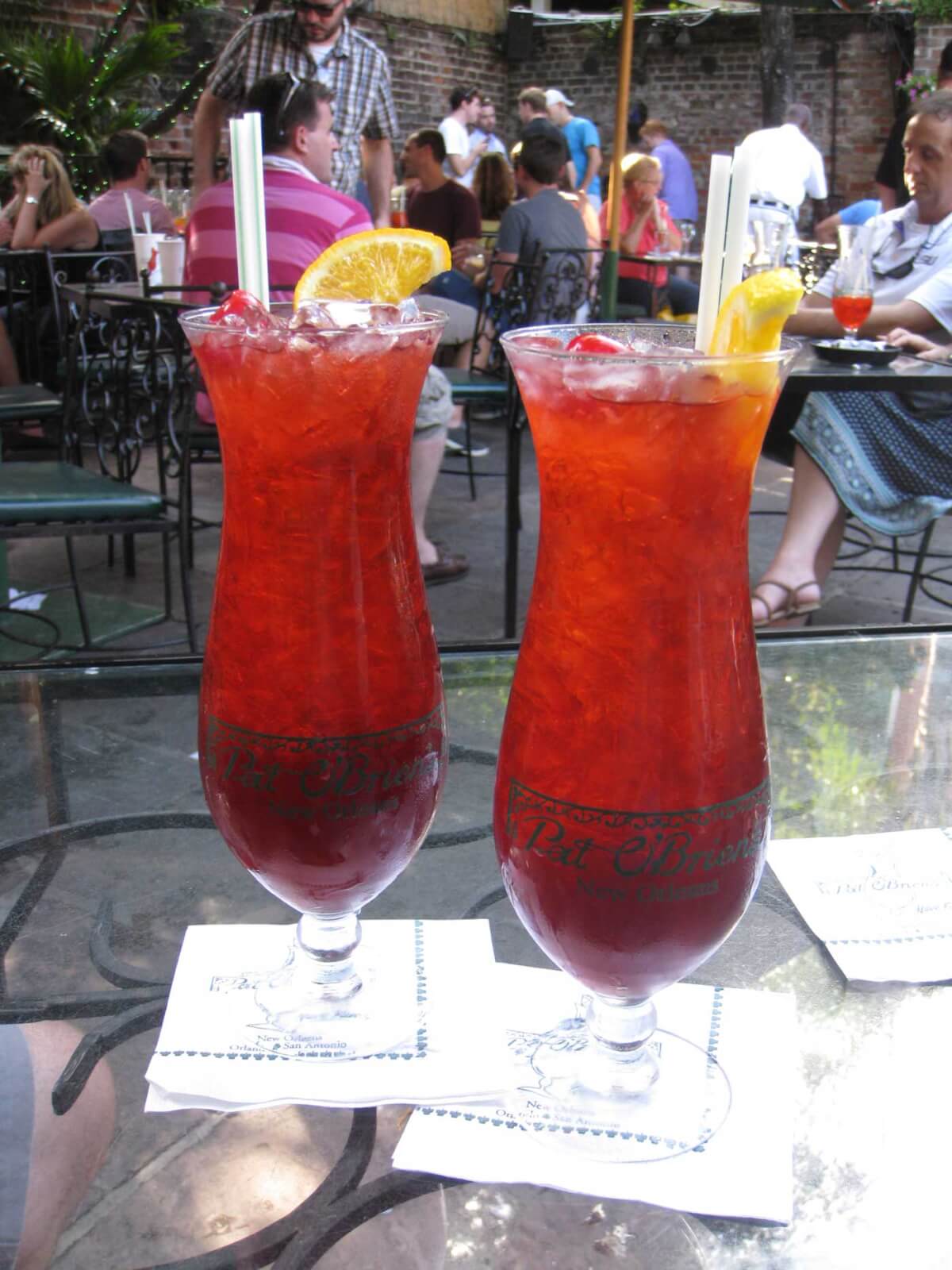 One of the most iconic cocktails in New Orleans is Pat O'Brien's Hurricane. The syrupy red drink was created during World War II when rum was plentifully available, and other liquors weren't. Whenever we go to New Orleans, our first stop is always Pat O'Brien's for a Hurricane, served in their souvenir hurricane glass. It's not that the drink itself is so good – in fact, it's incredibly sweet – it's just what you do when you're in New Orleans.
---
---
$.25 Martinis at Commander's Palace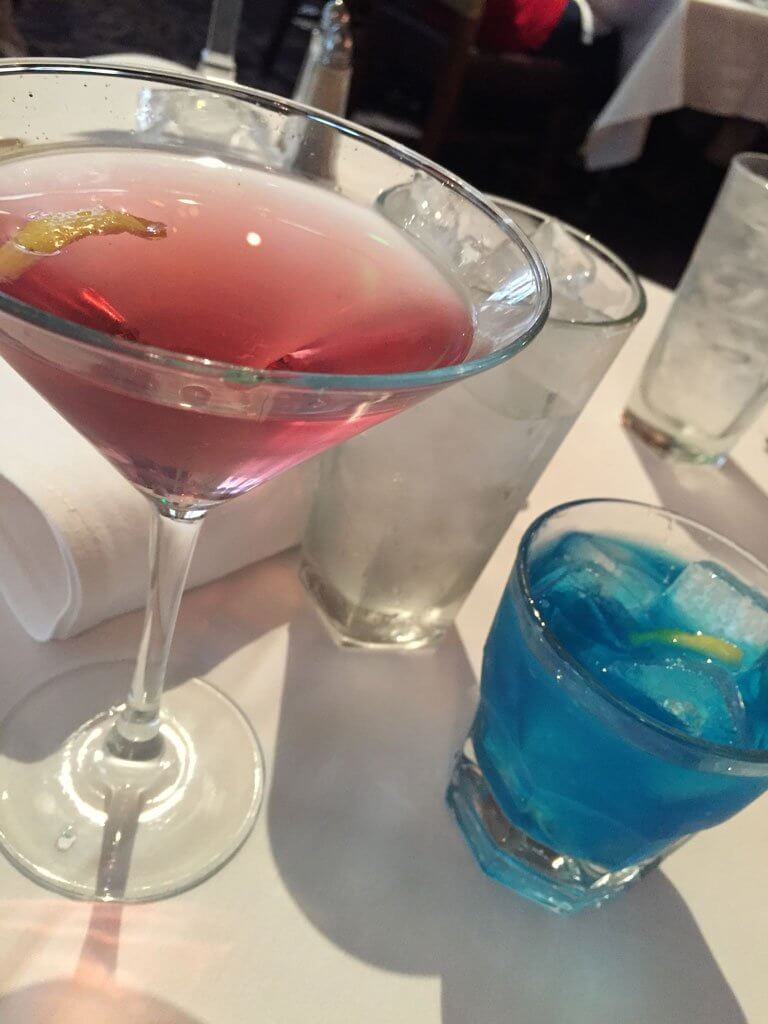 When in New Orleans, you must check out Commander's Palace for .25 cent martinis. It's basically the perfect mid-day cocktail as it is offered during lunch Monday thru Friday with the purchase of any entree. Famous for their turtle soup, gumbo, and bread pudding soufflé, Commander's Palace has a super fun vibe. The menu even says "Limit 3 per person 'cause that's enough." Pretty entertaining if you ask me!
Contributed by Jennifer Aspinwall of World on a Whim
Sazerac from St. Roch Market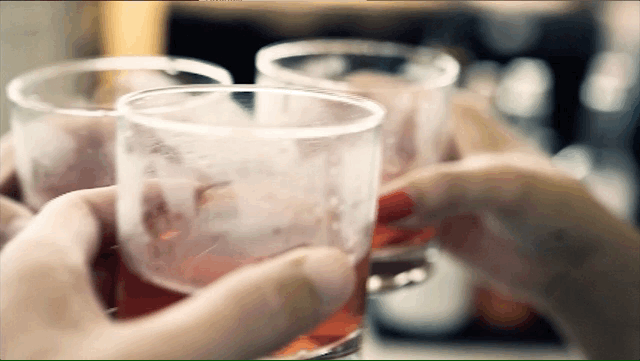 One of the newer, trendy spots to hang out in New Orleans is St. Roch Market in Faubourg Marigny about a 5-minute streetcar ride outside of the French Quarter. St. Roch Market is full of amazing food stalls and an amazing cocktail bar in the back end serving up the best Sazerac we tried in the city. This absinthe and whiskey drink is served up with a fresh lemon rind and too easy to drink! Better yet, come at happy hour and get this amazing cocktail for $5!
---
Voodoo Daiquiri from Laffite's Blacksmith Shop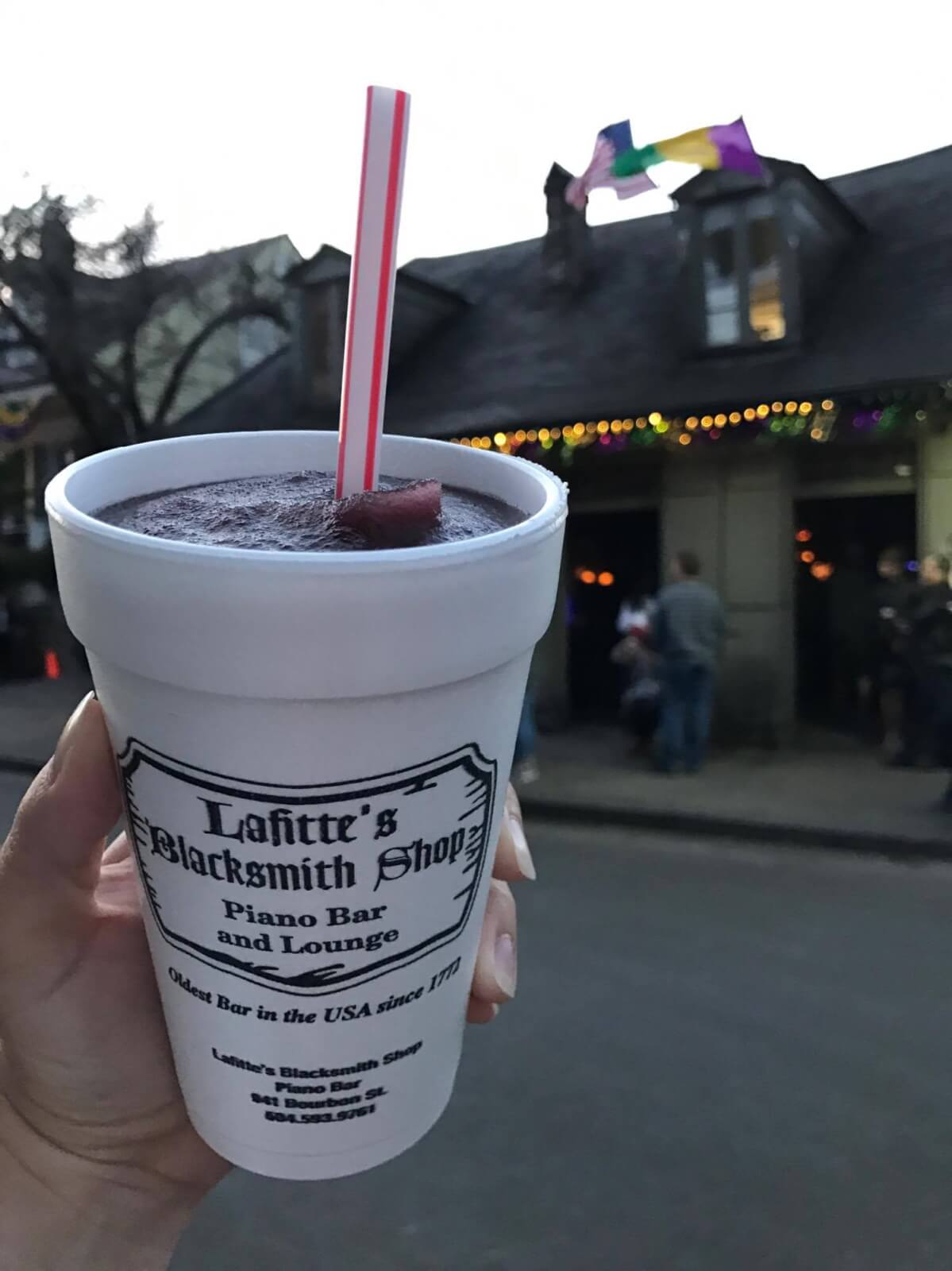 A must try drink in New Orleans is the purple voodoo daiquiri from Laffite's on Bourbon Street. The bar itself is considered a historical spot in the city since it dates back to the early 1700s making it one of the oldest buildings in the city. The vibe here reminds you of a dim lit old pirate hangout. The daiquiri is a tasty grape flavor slushie like a cocktail that hits the spot but if you're not careful you will get a brain freeze!
Contributed by Cailin O'Neil of Travel Yourself
---
Ramos Gin Fizz from Bourbon "O" Bar
Did you know the Gin Fizz was invented in New Orleans? The award-winning head bartender, Cheryl Charming from Bourbon "O" went to extra lengths to make Gin Fizz the same way Carl Ramos did when he invented the drink in 1888 at his local bar. Ramos famously hired "shaker boys" off the street to come in and shake each fizz for 12 minutes before being served to customers. Charming wanted the cocktail to still have that same frothiness that Ramos fizz's had so she had a special shaker made to shake the fizz for several minutes making Bourbon "O" the only place to get the original Gin Fizz shaken like it's supposed to be in town!
Pimm's Cup from Bourbon "O" Bar
We are partly biased towards Bourbon "O" Bar because we stayed at the Bourbon Orleans hotel and this bar is amazing! Not only do they have live jazz music every night but all their cocktails are amazing including their famous Pimm's Cup. This refreshing cocktail may taste light but has a punch to it and is strong. The original was invented in London but it made it's way to New Orleans in the 1950's at Napolean House and become one of the most popular drinks visitors enjoy.
Hand Grenade Drink from Tropical Isle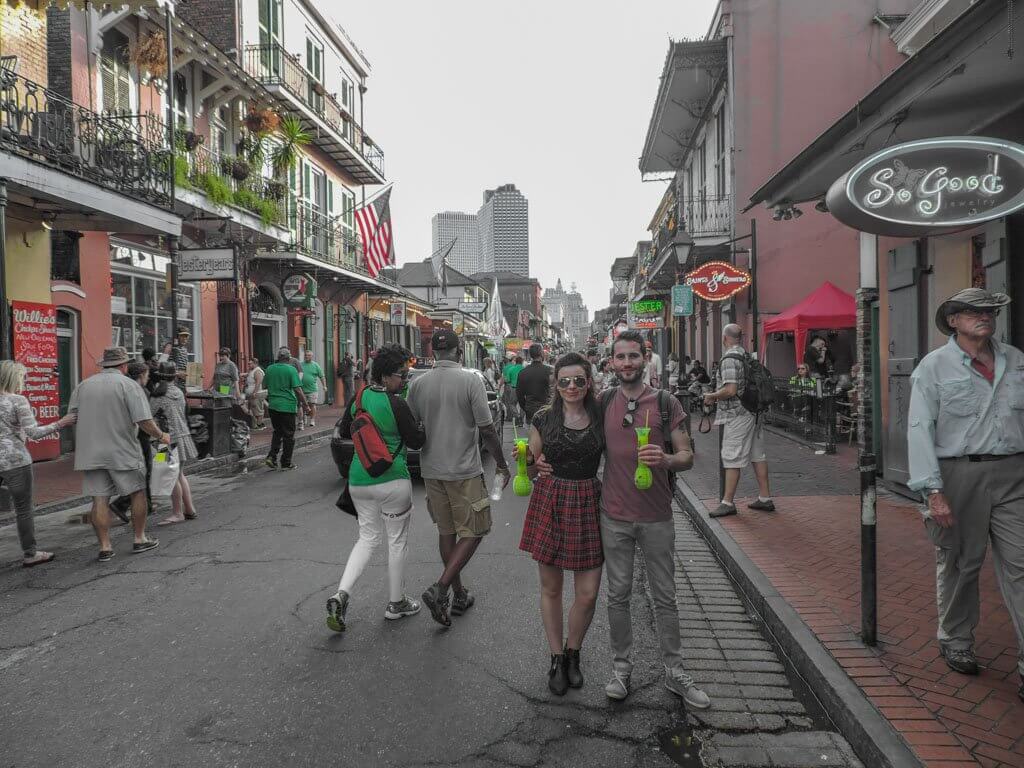 What's luminous green and consumed through a tube? NOLA's hand grenade of course! And yes, it's as mental as it sounds. Purchased on Bourbon Street (where else), this refreshing alcoholic beverage drink consists of gin, grain alcohol (what?), melon liqueur, rum and vodka and is sucked through a straw which sits in a long fairground drink like container. This Tropical Isle tipple is responsible for many hangovers, don't be fooled by the smiley alien face on the cup.
Contributed by Gemma Armit of Two Scots Abroad
---
French 75 at Arnaud's
---
This elegant drink is made up of champagne, cognac and lemon juice and is a must try drink in New Orleans. The most famous spot to get your French 75 is at the historic Arnaud's French 75 bar dating back to the 1800s. The drink is rumored to be invented during WWI by American soldiers who wanted a Tom Collin's but didn't have all the correct ingredients, so they threw together a concoction of what they did have and viola they had a French 75 named after the 75 mm gun made by the French used in the war.
---
Vieux Carre at Carousel Bar
---
The Vieux Carre is also the French name for the French Quarter is another classic drink in New Orleans. This rye and bitters based cocktail was created in New Orleans in the 1930s at the Carousel Bar at Hotel Monteleone, there's really no better place to get this drink than where it was invented!
---
Those are our picks for best drinks in New Orleans. Did we miss any? Let us know in the comments below!
Looking for more to do in New Orleans? Check out this three-day itinerary by Our Escape Clause.
Liked this post? Share the love on Pinterest below!