Looking for the best things to do in Hudson, New York? You've come to the right place. Whether you're looking for the perfect weekend getaway and escape from New York City, a day trip, passing through on a New York road trip, or looking to explore more of what the Hudson Valley has to offer!
After visiting recently, we definitely decided we need to come back, this is now one of our absolute favorite towns in New York to visit! From the cool lighthouse smack dab in the Hudson River, beautiful downtown with historic buildings full of cool shops and restaurants, and of course, the antique shopping here is next level!
Oh and fun fact about Hudson, NY. Did you know Hudson holds the remarkable distinction of being the first incorporated city in the United States? Its origins trace back even before the signing of the Treaty of Paris following the formation of the thirteen colonies!
Getting to Hudson, NY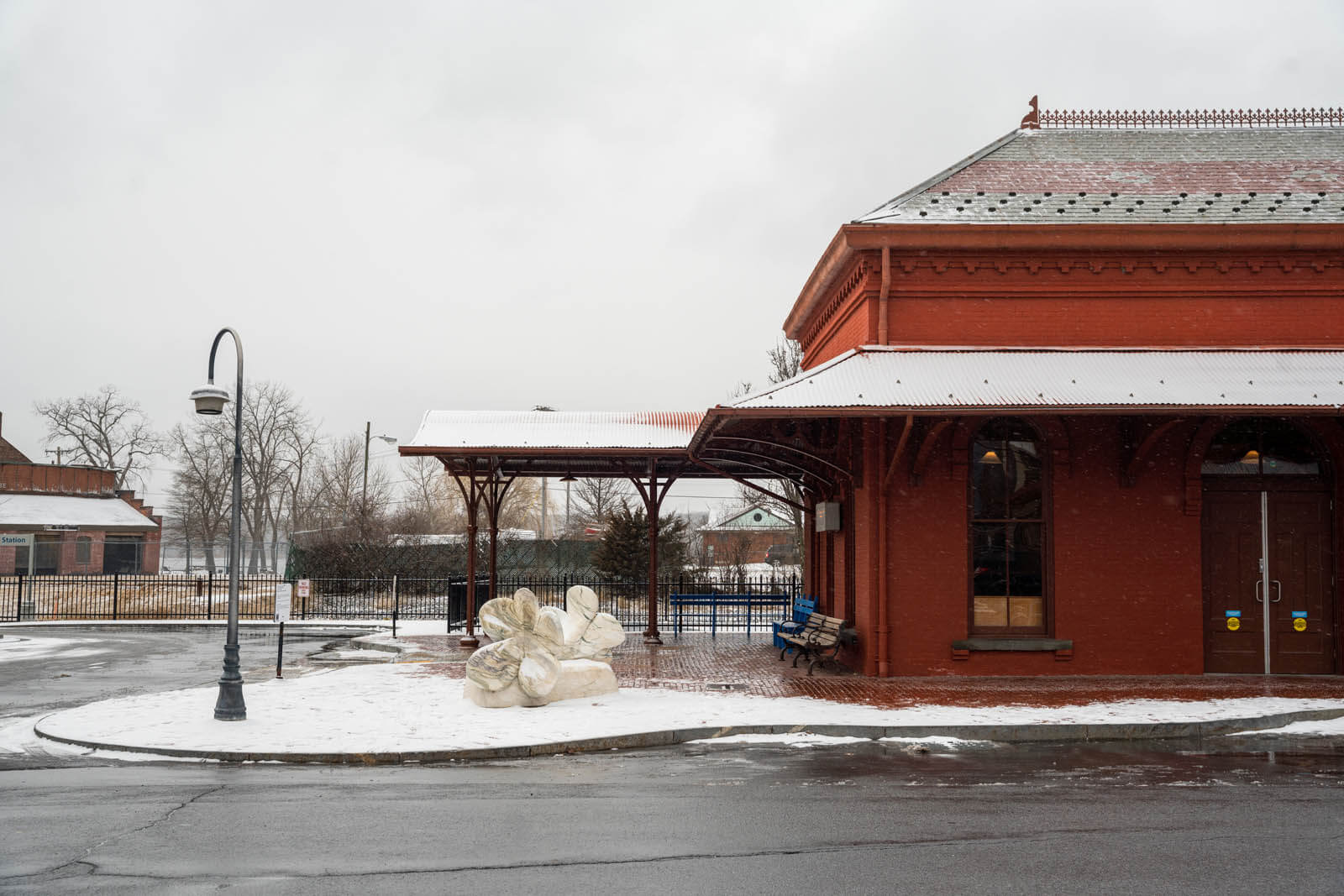 If you haven't already started planning your trip to Hudson, New York you might be wondering your options to get here. While if you plan on making a weekend getaway out of stopping in Hudson or want to take advantage of exploring all the amazing things to do in the Hudson Valley and amazing things to do in the Catskills nearby, you'll definitely want to have a car.
If you're coming from New York City and just want to visit the town and explore what to do in Hudson for a day trip or overnight, you're in luck! The Amtrak stops at the Hudson Station in downtown Hudson along the Empire Service Train. You can take the Amtrak train here and easily spend the day or two just enjoying the best things to do in Hudson around downtown by foot.
What to do in Hudson, New York
Shop Up and Down Warren Street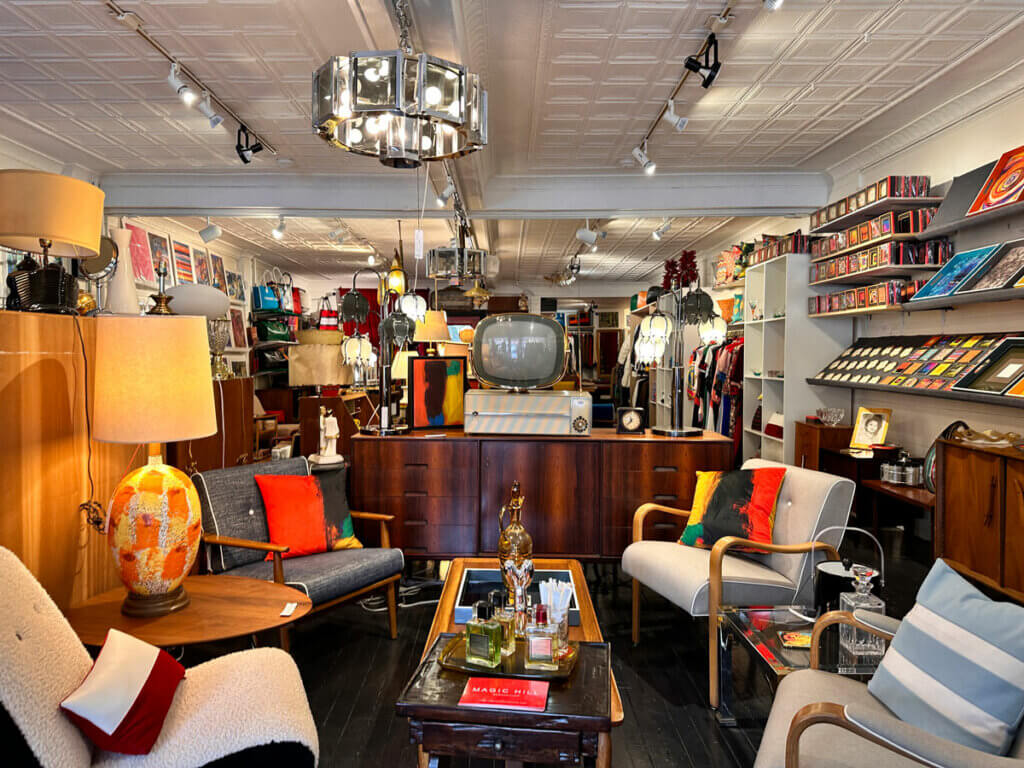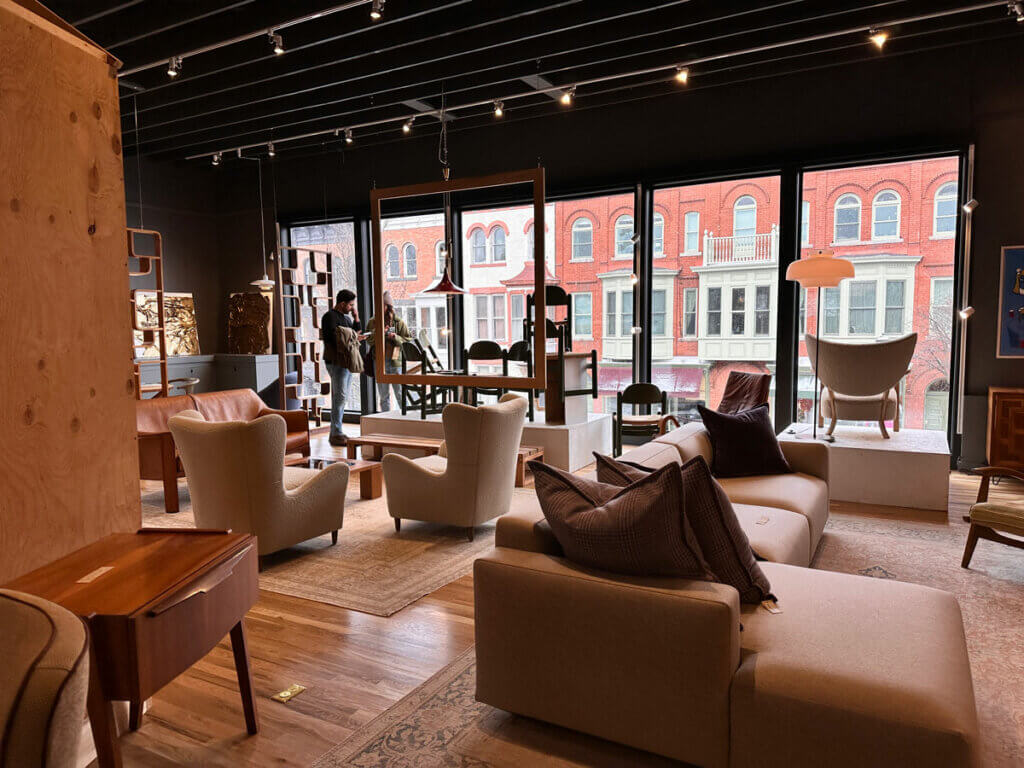 I am a big shopper when we travel, more specifically I really like vintage stores, record stores, antique shops, and just really cool independent boutiques even if I am just 'window shopping'. One of my personal favorite things to do in Hudson was wander up and down Warren Street!
From the Public Square to Promenade Hill Park, it's exactly one mile. This mile features the most darling 19th-century storefronts, street art, eateries, and fabulous shopping at all the small boutiques.
We mention a few of our favorites as their own in this guide, but so many great shops. Batterby House is a beautifully curated home goods store, and John Doe Records is full of gems like rare vinyl and used books. FINCH Hudson is another home goods store with a graceful industrial vibe.
MINNA is a treasure trove of ethically handmade household items and accessories. Westerlind has a lovely selection of quality essential outdoor wear was fun to browse, we actually saw a few of their shops around the Hudson Valley on this trip.
And Magic Hill Mercantile was charming with its quirky midcentury modern designs. They also have their own line of clothing and accessories based on original art pieces!
Olana State Historic Site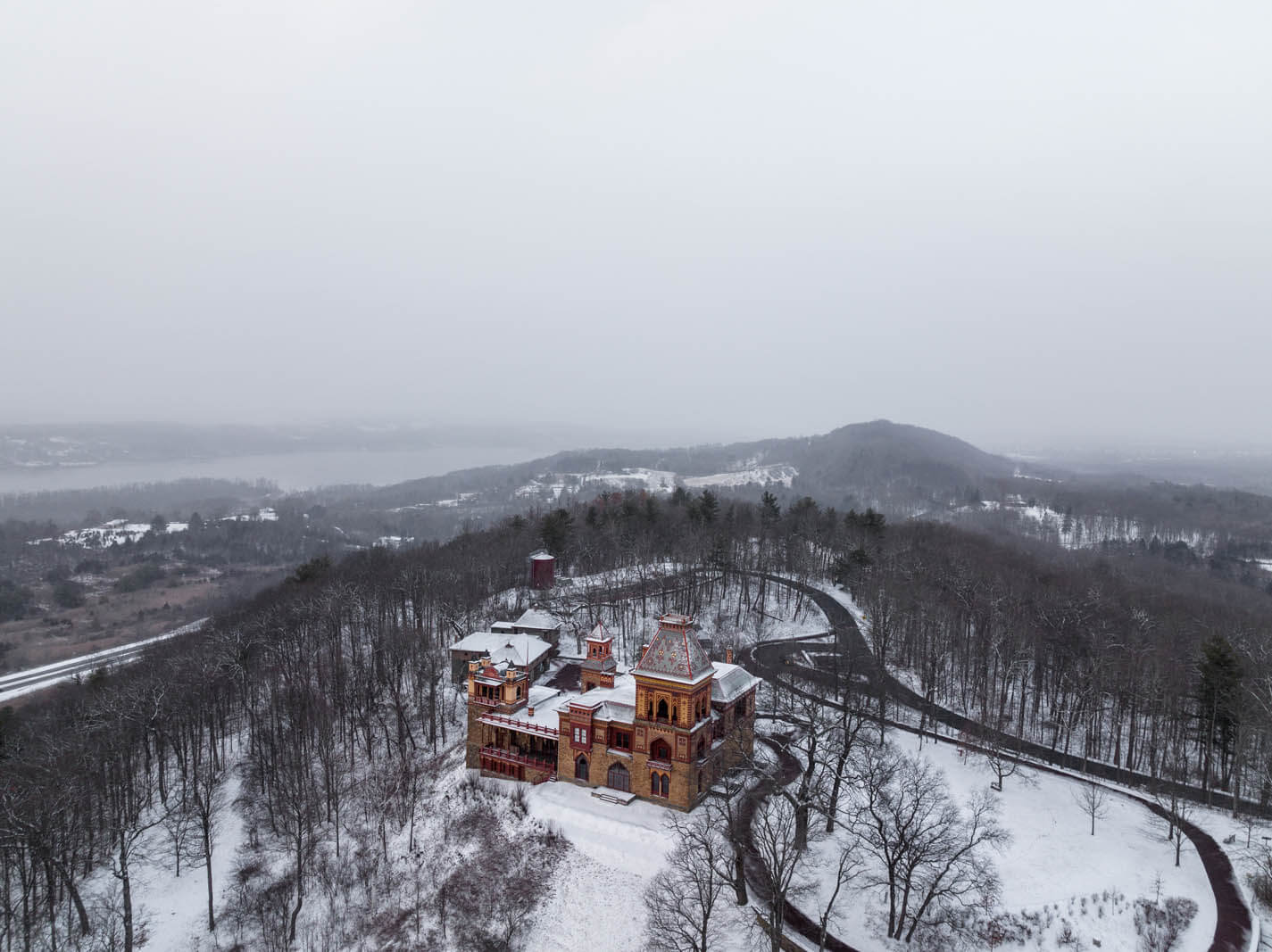 Just a 9-minute drive south of Hudson, New York is Olana State Historic Site. This gorgeous old estate is perfect if you love historical sites, unique architecture, and the natural beauty of the Hudson Valley and Catskills.
Olana was an estate created by Frederic Edwin Church, a well-known and prolific landscape painter in the Hudson River Valley. Church bought the estate to create a home for himself and his wife and it was a continuing project of Church's in the last half of the 1800s.
Today, the breathtaking estate is a house museum and park with amazing hillside views of the Hudson River. Designated as a National Historic Landmark, the main villa of Olana features Orientalist architecture with a blend of Victorian, Persian, Italian, Moorish, and Middle Eastern styles.
You can tour the house and see the unique home and collections from Church's travels around the globe. Olana includes Church's art studio, and there's a museum and gift shop as well.
The park is open daily until sunset and is open to the public for free, but if you want to take a tour inside the estate, you can only do that Friday through Sunday from 11 AM to 3:45 PM.
There are different hour-long tours, including walking and riding tours of the beautiful 250-acre estate, as well as main-floor and second-floor tours. The rest of the time, you have access to the ground which is perfect for enjoying a walk or picnic with sweeping views.
Shop at John Doe Records and Books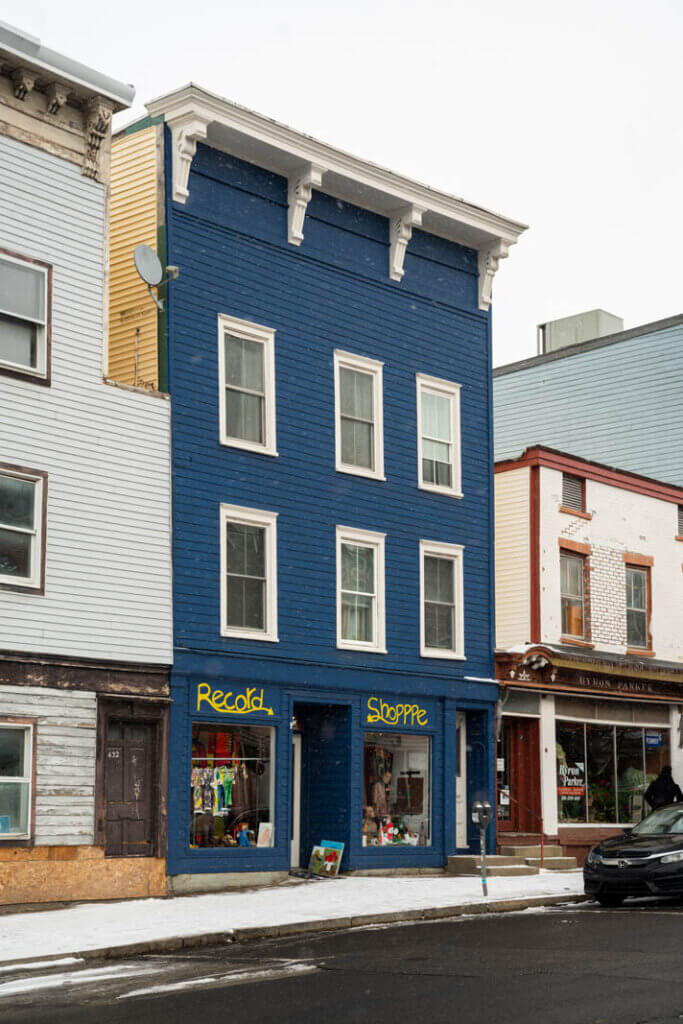 One of the most fun things to do in Hudson for vinyl lovers is spend time browsing the collection at John Doe Records. Definitely take some time here, this is the spot for vinyl in Hudson.
There aren't many places like this place left anymore, but we have to say that there are nice amount of these types of shops scattered throughout the charming towns in the Catskills and towns in the Hudson Valley.
When you walk in, you're hit with that comforting smell of old books, vintage items, and of course a vast collection of used music from vinyl to CDs.
Searching for a specific LP record or a favorite CD from the early 2000s? They've got you covered, and everything is reasonably priced.
John Doe Records is the kind of place you can pop into or spend a few hours knocking through the bins. There are old vinyl records, towers of CDs, used books, comics, posters, vintage clothing, and more. Stop by any day between noon and 6 PM when you're on Warren Street.
Dine at Kitty's Restaurant and Market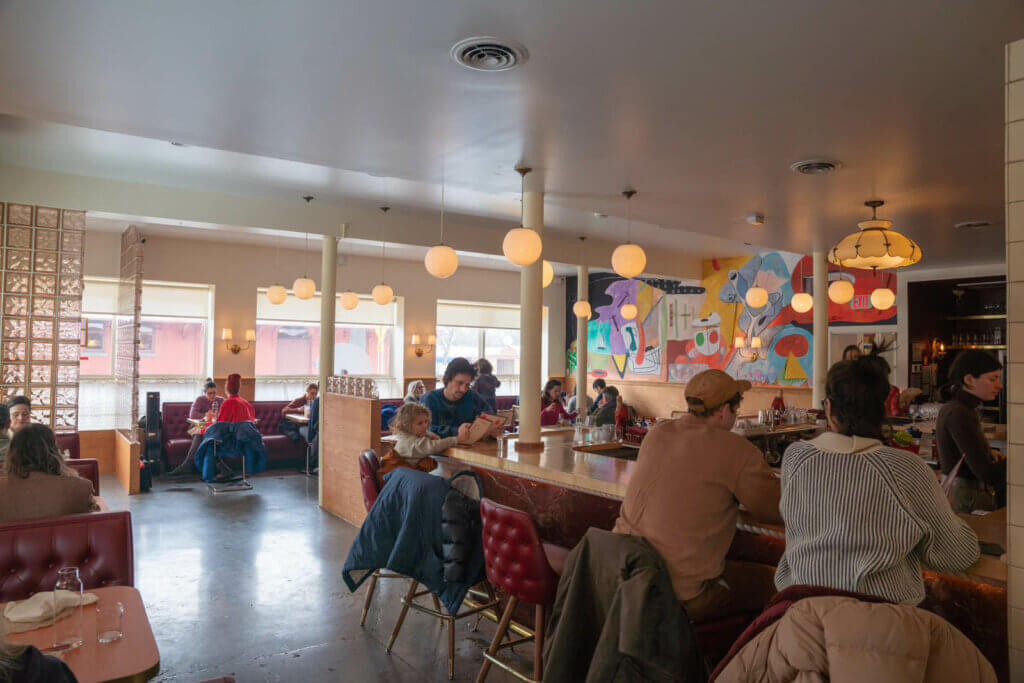 Ahh, one of our favorite things to do in Hudson, New York was eating! Across Front Street from the Hudson Amtrak station is Kitty's Restaurant. They have the BEST brunch in town and you should make it one of your first stops while you're here!
What makes it one of the best things to do in Hudson, NY is the entire ambiance of the place, we loved the interior, the food, and of course their grocery/pantry section.
If you don't have time to dine in, grab some snacks and drinks at the front on your way to explore Hudson or make reservations (recommended but not required) for brunch at the light-filled café. You'll enjoy hot coffee, breakfast sandwiches, fresh pastries, and wedge salads made with local ingredients.
If you're doing a day trip from New York City to Hudson, we recommend planning your first meal here since it's next to the train station!
After 5 PM, the restaurant opens for dinner reservations, which is an entirely different experience! Kitty's serves up American comfort classics with elevated touches that include seasonal ingredients found in the region. And if you come for dinner, the drinks are top-notch and include local brands.
Henry Hudson Riverfront Park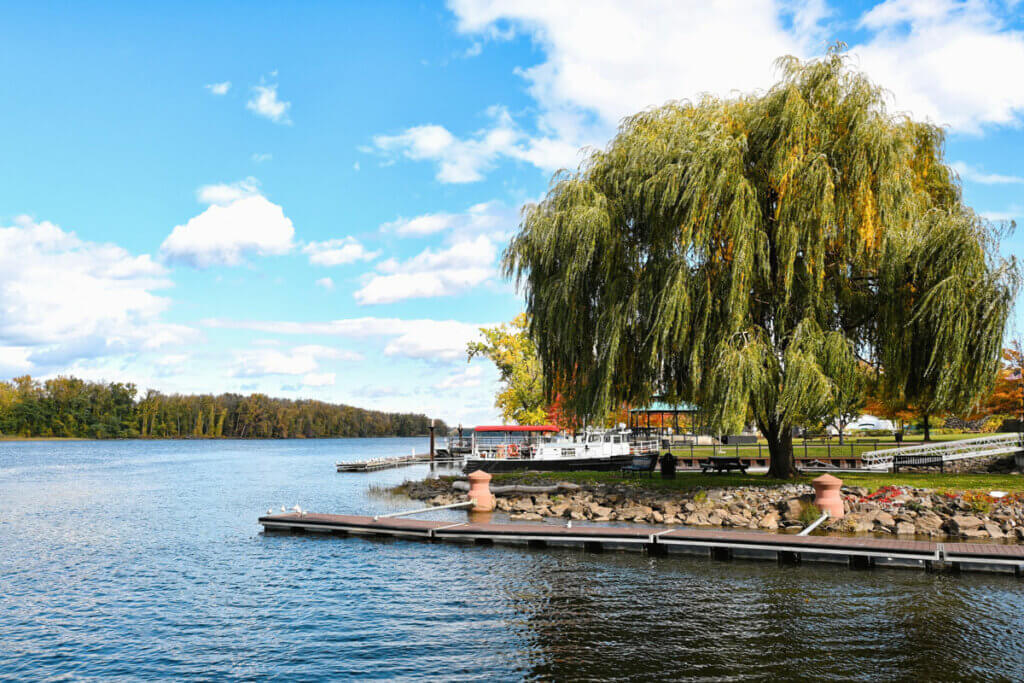 On the other side of Front Street, along the banks of the Hudson River is Henry Hudson Riverfront Park. It's named after Henry Hudson who was a voyage exploring the area commissioned by the Dutch East India Company in search of a northwest passage to Asia, this is when he came across what we know now as the Hudson River, named after him.
This is a beautiful park that's perfect for a nice walk with views of the Hudson River. You can watch the boats go by, read historic markers, and check out a few landmarks.
At the northern end of the park is a boat launch. There are walking paths and a pavilion with benches where you can enjoy the sights.
You can see the Hudson Athens Lighthouse from the park and look for the statue of Henry Hudson. At the southern end of the park are a playground and restrooms.
Hudson Athens Lighthouse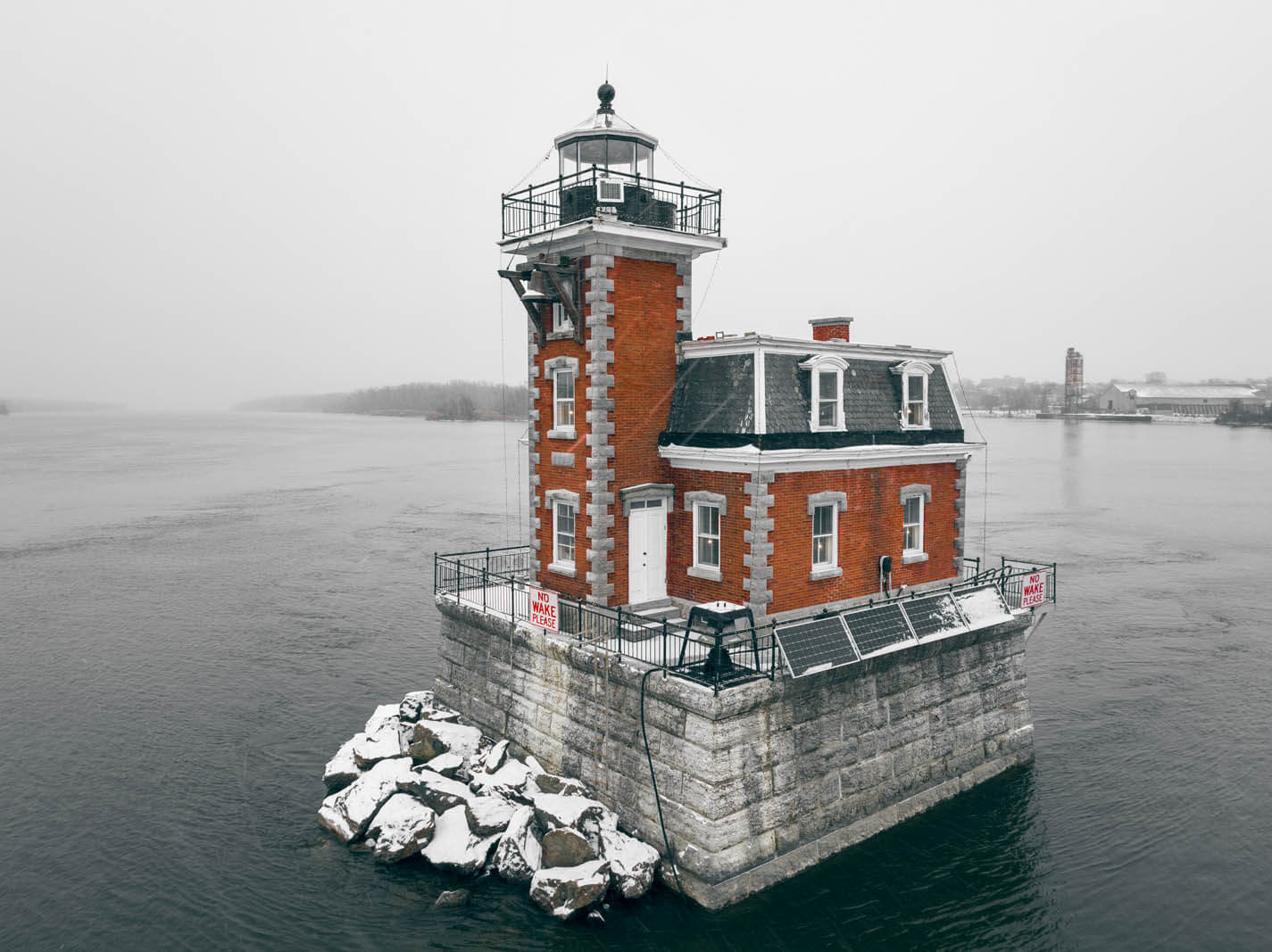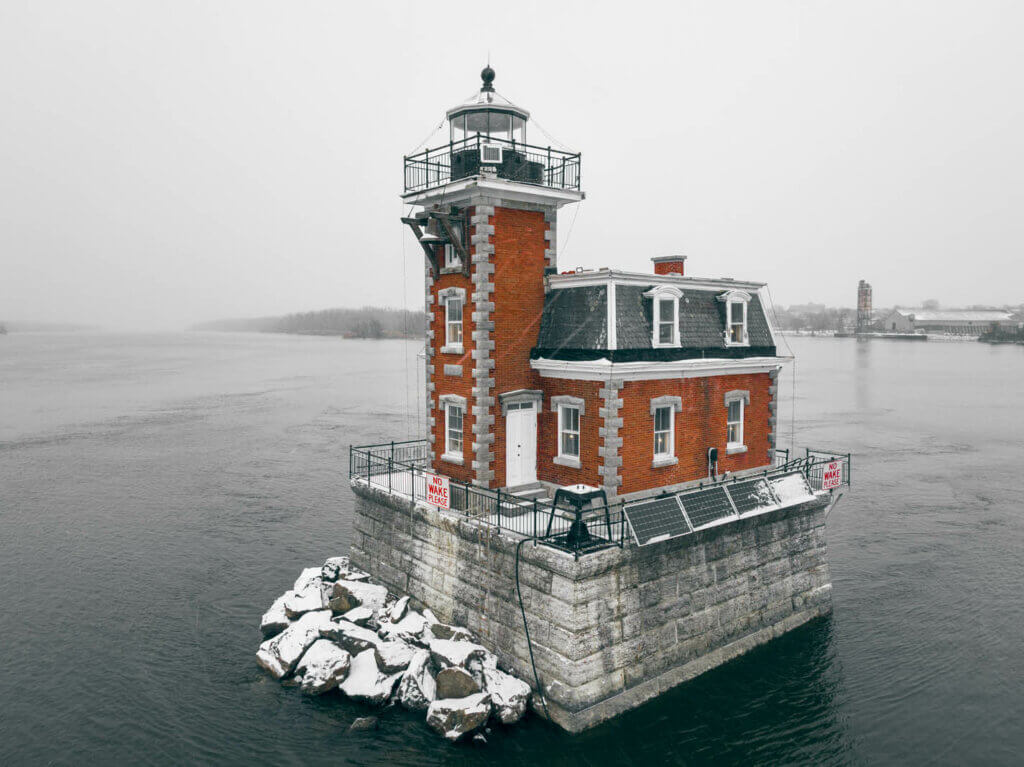 I'm not going to lie, this is one of my favorite lighthouses in New York! It's smack dab in the middle of the Hudson River (there are actually currently 7 lighthouses on or in the Hudson River, but there used to be a dozen!), and during our trip, it was starting to have a bit of a flurry and it just looked so isolated and cool out there all alone.
In the 1850s, Hudson was a bustling port city with boats coming through on their way between Albany and New York City. But a shallow spot in the river called the Middle Ground Flats caused accidents and so a lighthouse was built to navigate boats around it! Thus, the Hudson Athens Lighthouse was born.
The lighthouse was a manned lighthouse from the 1870s through the 1950s when it became automated. Today, the Hudson Athens Lighthouse is a beloved historical landmark where you can tour a museum and learn about the history of the uniquely square structure.
From early April through September or early October, seasonal tours are offered that leave from the docks near Henry Hudson Riverfront Park. You make reservations through the Hudson Ferry Company website.
Then, on the given date and time, you'll meet your guide near the gazebo and cross over on a ferry. You'll learn about the history of the lighthouse, go inside and see what it was like to be a lighthouse keeper, and climb the tower!
Drink and Shop at Spotty Dog Books & Ale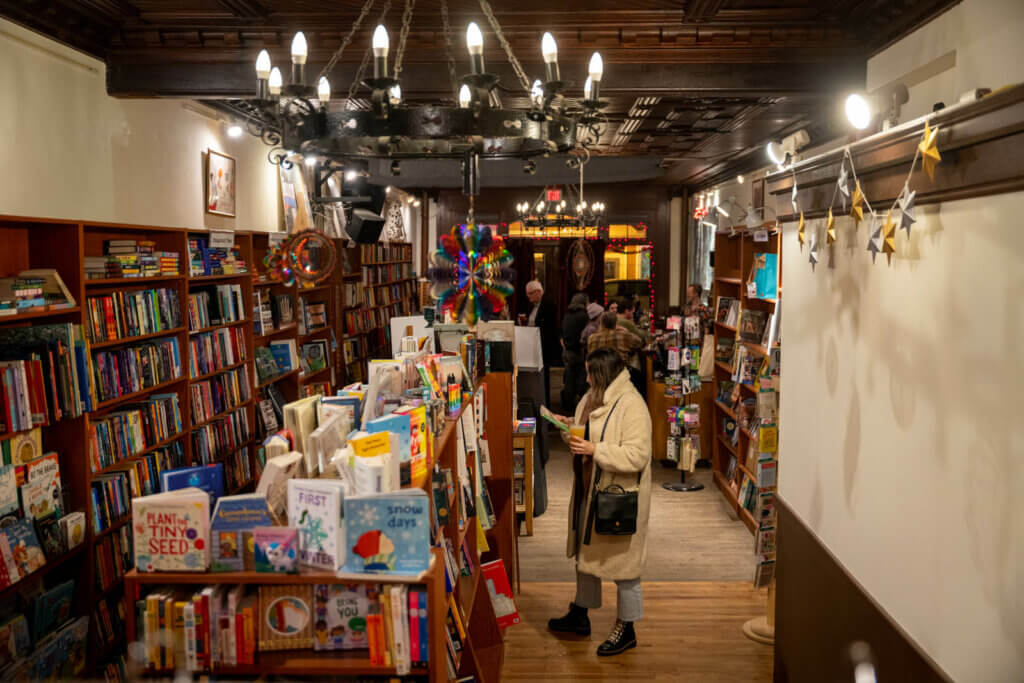 One of our favorite things do to in Hudson was enjoy an after-dinner drink (and shop for books) at the Spotty Dog Books & Ale. It's a charming bookstore inside a historic firehouse, and there's a bar inside!
Spotty Dog opened in 2005, and the owners have done a wonderful job honoring the memory of the firehouse. We both just love this combination of things! And let me tell you, after having a drink and feeling a little tipsy, I definitely get more adventurous when buying books!
The architecture is stunning and features reclaimed wood and iron fixtures. It's a beautiful place to pick up your next read and relax with a beer or glass of wine. The store features all the topics you might be looking for, including local history and children's books. If you're looking for a gift, Spotty Dog also sells unique gifts and children's toys. And they have a great art supply section.
At the bar, you can tell they love what they do! Spotty Dog carries a selection of mainly local ales (and can give great recommendations if you're not familiar) and sustainably-sourced wines. And if you don't drink, don't worry. There's coffee, tea, kombucha, soda, and more. Plus, they offer high-quality cheese plates that pair well with their drinks and are perfect for nibbling while you read.
Eat Dinner at Lil' Deb's Oasis
We already mentioned that one of the best things to do in Hudson was eat, and Lil' Deb's Oasis is one of the reasons why! Located on Columbia Street, a short walk from Public Square is the most fun and delicious restaurant in town and a total must for dinner!
This vibrant restaurant fills up, so it's best to make a reservation or be prepared to wait for a table. Even if you wait, it's worth it!
Inside, Lil' Deb's is a wild and fun experience with neon lights, disco balls, different colors, local art, and excellent music. The establishment is very LGBTQIA+ affirming and it's a warm, welcoming environment for all guests.
The restaurant serves a variety of authentic dishes from across Latin America, including plantains, fish fries, rice and beans, tamales, and more. Lil' Deb's uses only seasonal local ingredients and the menu is known to change weekly, or even daily! The restaurant also keeps different craft beers in stock and has a list of fun cocktails.
We loved our time here so much that we even bought their cookbook!
Spend Hours at The Antique Warehouse
One of the best things to do in Hudson for antique and vintage lovers is exploring the massive Antique Warehouse, located off the southern end of Front Street. Antique shopping in the Hudson Valley is like no other place, and this spot is on steroids! We spent over 3 hours here and could have spent more!
The warehouse is 40,000 square feet, and they claim to be the largest antique warehouse in the northeast. It's the kind of place that rents space out to different vendors, so you have a wide range of prices and specialties. You'll find vendors selling reclaimed architectural items, including entire historic bars and every kind of light fixture.
There was even an old apothecary in the mercantile section. We saw enough antique furniture to fill a castle, and there we talked to the coolest vintage clothing vendors who sell wardrobes for big productions and TV shows for studios' wardrobe departments! I found a few cool items from her actually! (her booth was called Vintage Clothing of the Past).
In fact, Scott and I both found cool vintage clothing here, he found a cool on hunting jacket and we both walked out of here feeling like we hit the jackpot.
Plus, it's where the Hudson Brewing Company is located, so your trip can be an entire relaxing afternoon.
Check out the Antique Warehouse in Hudson any day of the week. They open at 10 AM most days, except for Tuesdays and Wednesdays when they open at 11. And the warehouse closes at 5 PM during the week and at 6 Friday through Sunday.
More Antique Shopping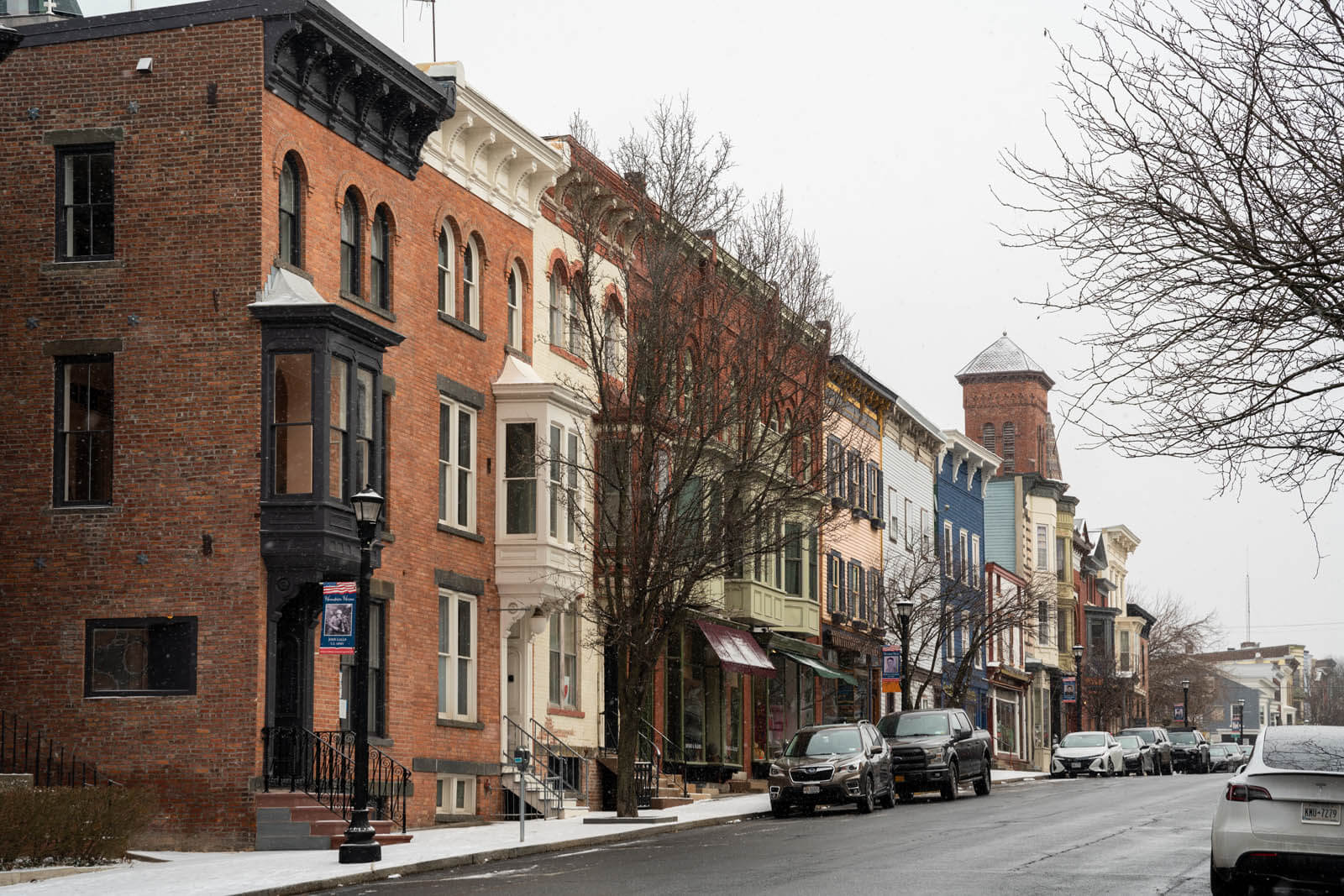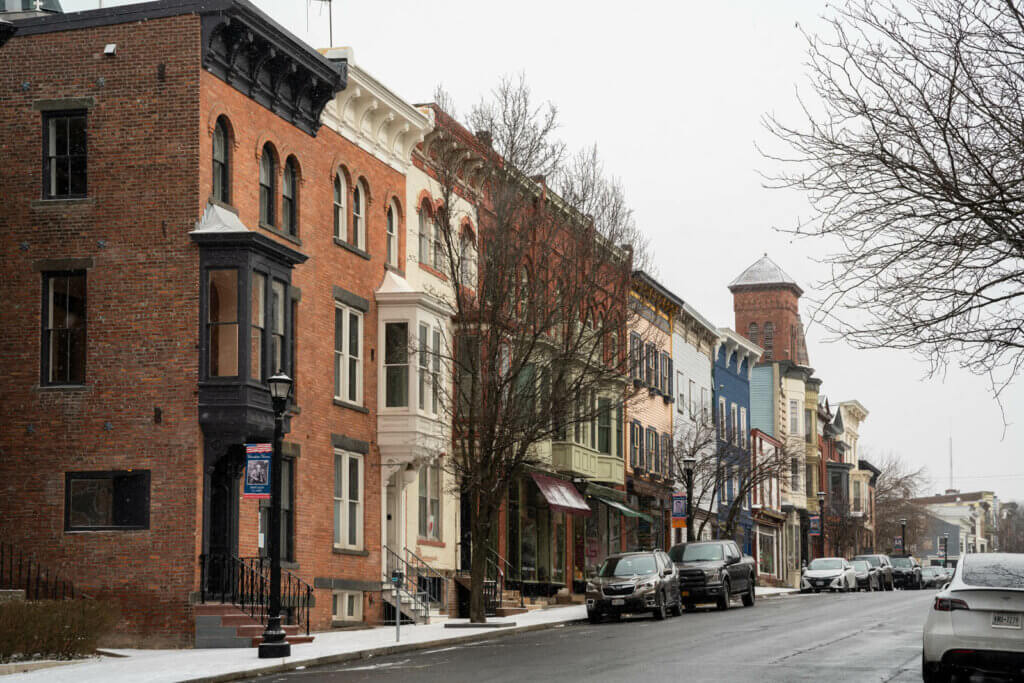 Up and down Warren Street are a ton of other antique shops you don't want to skip over. There's Antigo, with its organized chaos of costume jewelry, antique clothing, tchotchkes, and nostalgic pieces.
We thought White Whale Limited WAS AWESOME. Unlike many antique stores, it was light and airy, and not at all overwhelming with bric-a-brac stuffed everywhere. And this place is one of a kind, with unique collections from around the world. You'll find things like vintage Kenyan loincloths, tribal masks, early 20th-century medical implements, and more! This is a great place to pick up artwork, too.
And another stop that really stood out to us was A Collector's Eye. This is your classic antique store, and it's definitely where to come if you're looking for World War II memorabilia! The owner has a huge collection with everything from clothing to weapons, and they're more than happy to find what you're looking for.
Hudson Brewing Company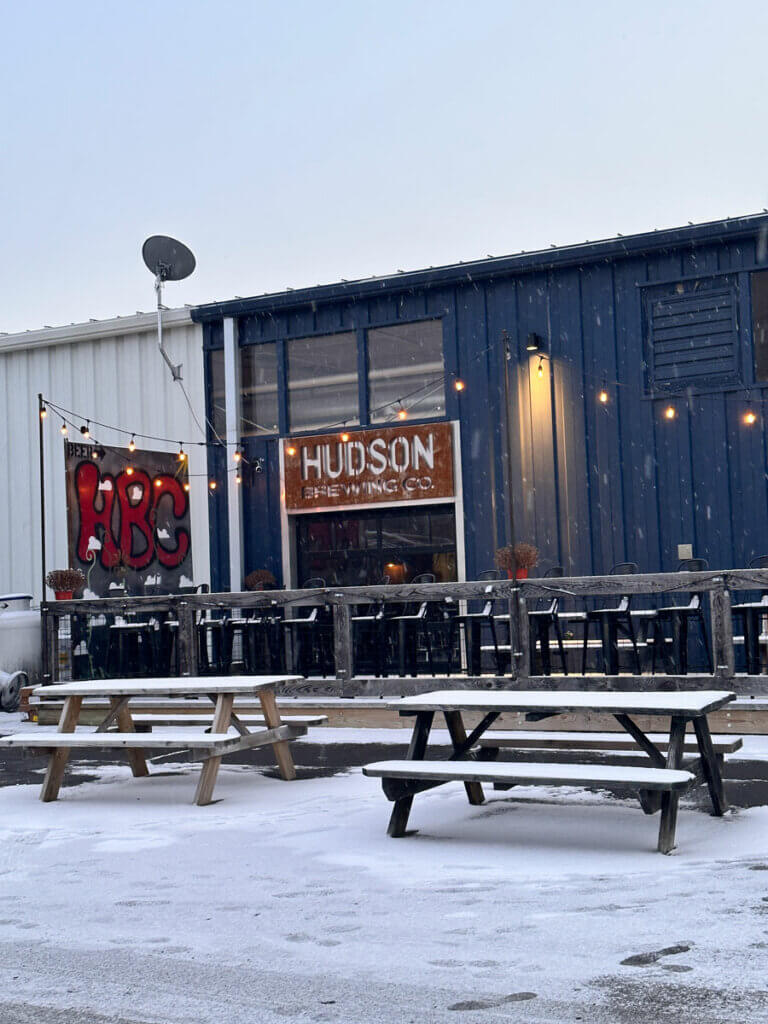 The Hudson Brewing Company is a great stop on the backside of the Antique Warehouse. It's a nice place to enjoy a drink after all that shopping and we think it's one of the best things to do in Hudson.
The taproom is spacious with tons of indoor and outdoor seating, we visited in winter and took advantage of the spacious indoor area with games.
There's a relaxed, upbeat atmosphere with regulars and music. The menu at the Hudson Brewing Company is impressive with a variety of the brand's stouts, ales, sours, ciders, and more. They also offer wine, spirits, and classic cocktails. And the food menu features a solid list of bar food, like burgers, wings, and pizza.
At the Hudson Brewing Company, you'll find families, couples, and singles all hanging out. There are games throughout the space and their calendar includes fun events like drag shows and luaus! And they're a dog-friendly place as well.
The brewery is open every day of the week, but hours vary. Monday, they're only open from noon to 5. Tuesday through Thursday they're open from 2 to 8 PM, and Friday through Sunday from noon to 10 PM.
Where to Stay in Hudson
While you're planning what to do in Hudson, consider an overnight trip with a stay at The Maker Hotel. You'll find this dream of a hotel on the corner of Warren and N 3rd Street. It's a beautiful place to stay, with a timeless bohemian feel and unique touches.
The owners of The Maker ran a successful fragrance brand by the same name before they decided to open the hotel! In fact, you can shop the brand's entire line in the lobby. Or ask for a tour of the gorgeous historic building which features an eclectic blend of industrial, Art-Deco, and midcentury-modern styles.
You can choose from decadent studios, rooms, and suites that continue the elevated interior design. Guests have access to parlors and libraries where they can cozy up with a book by the fireplace. And The Maker has a café and juice bar, a restaurant, and a speakeasy-type lounge.
Or, if you are visiting by car and don't mind driving a short distance around 20 minutes away is Gather Greene. This is where we stayed during our weekend in the Hudson Valley, which is a great base for exploring around.
They have such a cool little retreat overlooking the Catskill Mountains from their hillside tiny cabins. These thoughtfully designed cabins may seem small, but they have the perfect nooks and crannies to tuck away your luggage and you can wake up to an incredible view!
During the summer months its near impossible to stay here as they prioritize wedding parties. However, in the late fall through early spring it's much easier to book one of their cabins for a romantic or cozy stay! If you ask us, in the winter it's really cool because it's fun to feel like you're in a snow globe watching the snowfall!
They have complimentary breakfast items in the main lodge area every morning, games you can borrow, and common areas to hang out if you're with a party. At night they do s'mores by the fire and you can sit under the stars while you warm up fireside.
The cabins do not have wifi or tvs, but we found ourselves spending hours playing board games! It's a really cool stay and a cool option for where to stay near Hudson, New York!
---
Best Things to do in Hudson (Post Summary):
Shop up and down Warren Street
Olana State Historic Site
Shop at John Doe Records and Books
Dine at Kitty's Restaurant and Market
Henry Hudson Riverfront Park
Hudson Athens Lighthouse
Drink and Shop at Spotty Dog Books & Ale
Eat Dinner at Lil' Deb's Oasis
Spend Hours at The Antique Warehouse
More Antique Shopping!
Hudson Brewing Company
---
What is Hudson, New York famous for?
Hudson, New York is famous for its historic charm, vibrant arts scene, and its location along the picturesque Hudson River, which played a crucial role in the region's trade and transportation history.
Is Hudson, NY walkable?
The town of Hudson, NY is very walkable! Most of the top things to do in Hudson are along or around Warren Street. There are a few things to do nearby that you can easily call a rideshare to and it will be less than a 5-minute drive.
Can I take the train to Hudson, New York?
Yes you can take the train to Hudson, the Amtrak Empire Service Line stops at Hudson Station, which is in the heart of downtown.
Can you visit Hudson, NY in a day?
Yes! Hudson, NY is easily visited in a day or two days at most. It's a small town loaded with great shopping and restaurants!
---
Enjoyed this guide for what to do in Hudson, NY? Bookmark for later or share the love below on Pinterest!