Looking for the best things to do in La Jolla, California? We got you. We love and consider this one of the most charming California beach towns and one of our favorite places to visit in Southern California!
Combine an artsy coastal enclave, beach culture, and all, with weathered natural beauty and you've got La Jolla. This picturesque spot is home to lush forests and sightly rock formations inland, as well as abundant marine activity and distinctive sea caves at the bottom of rocky bluffs out in the waters.
And if you're an art person, La Jolla has several art galleries to see some interesting collections and exhibits. Keep on reading to find out everything you will want to include on an itinerary for this welcoming beachside spot whether you're visiting on a San Diego itinerary and trip or planning a whole vacation around La Jolla, this guide will help you plan your visit!
Disclaimer: This post contains affiliate links
What to do in La Jolla, California
La Jolla Cove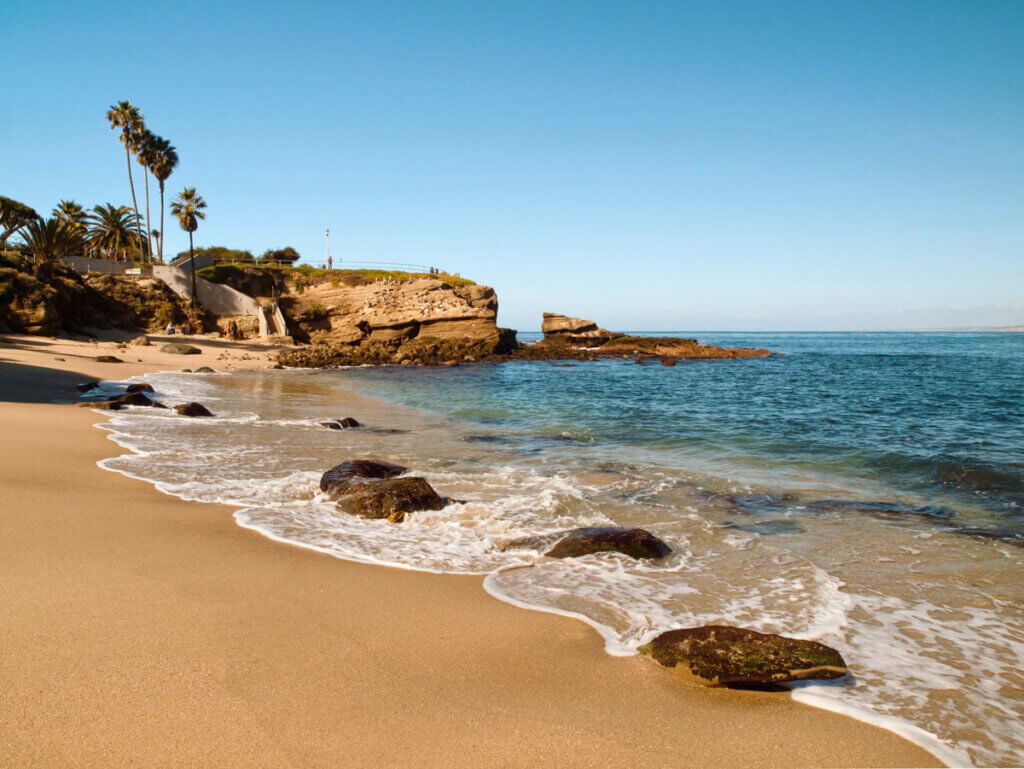 One of the most popular and scenic La Jolla attractions is La Jolla Cove. This beach, consisting of a small cove, shoreline, and weathered cliffs, is the perfect place to enjoy the gorgeous coastal landscape here.
La Jolla Cove includes the 6,000-acre La Jolla Underwater Park, which means there is a plethora of marine life to observe, like seals, barracuda, and orange garibaldi.
In particular, this is a fantastic place for snorkeling. So if you have snorkeling equipment, be sure to bring it with you to La Jolla Cove. Or, you can rent snorkeling equipment from a local shop. There are several great snorkeling spots here and be prepared to see different varieties of fish, sea kelp, and possibly even sea turtles.
La Jolla Cove is also one of the best scuba diving spots in San Diego, you can rent your gear or join a scuba diving tour with La Jolla Dive.
Other activities to do at La Jolla Cove include kayaking, swimming, and stand-up paddleboarding.
For a break from water-based activities, hop on a bike to explore the area. There are guided tour options, as well as bike paths to check out on your own. La Jolla Cove is near the shopping and dining areas of Prospect Street and Girard Avenue.
One thing to note is that parking can be crowded and somewhat difficult, so for an alternate method of transportation, La Jolla Trolley's route swings by the Cove.
See Seals & Sea Lions at the Children's Pool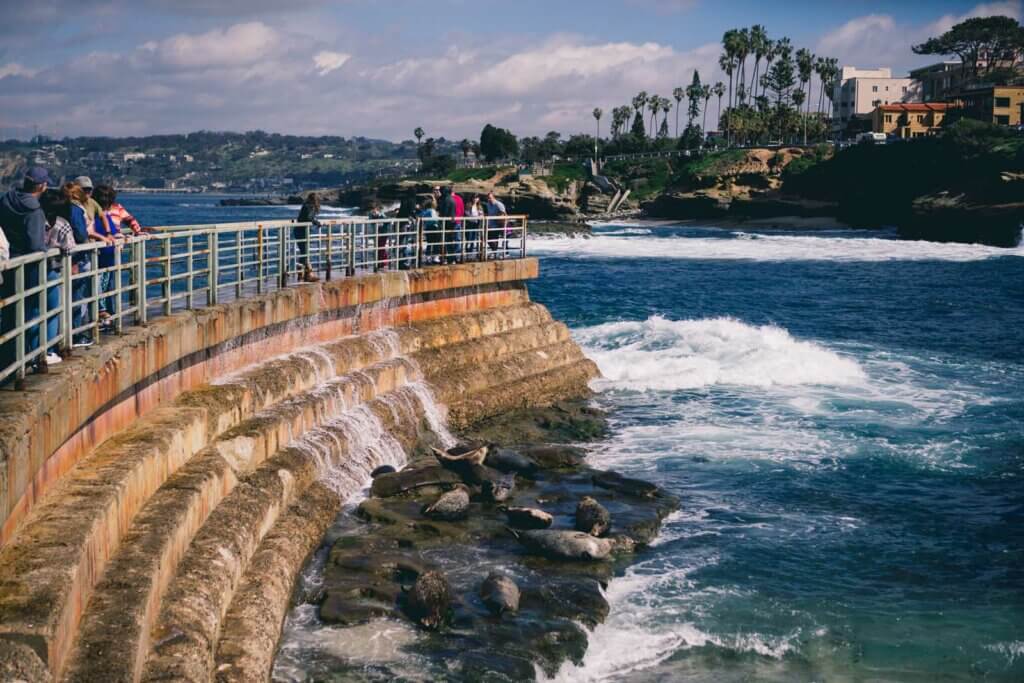 One of the most famous picks for what to do in La Jolla is visit Children's Pool Beach for the colony of seals and sea lions that frequent here! This beach was originally designed to shield the beach from waves and breakwater for children to swim in safely in 1931.
Since the 1990s though, a colony of seals has sort of taken over the beach which has lead to local controversy. In our humble opinion, we like that this has become a sanctuary for these marine animals as they sunbathe on the beach and rocks here and it's where people can observe them from a safe distance in their natural environment.
There's an elevated pathway on the seawall visitors can walk and enjoy the view of the beach below. While you are technically allowed to go down to the beach and swim, it's not advised due to the bacteria in the water caused by a large amount of seal feces and alot of people lack common sense when it comes to getting too close to nature and disturbing the animals here.
For this reason, we recommend staying on the elevated walkway on the seawall and observing the animals from a safe distance.
From December through May, the seals actually birth their pups and raise them here! So there's a chance you'll see little ones during this time of the year, but since this is now a protected rookery, beach access will be closed off to the public from December 15 through May 15 to people.
There are typically sea lions and seals, and you can even spot them at a few other beaches in La Jolla too including Seal Rock, Boomer Beach, and spots like La Jolla Cove have frequent seal and sea lion visitors.
Birch Aquarium at Scripps Institution of Oceanography
Taking a break from the outdoors, an interesting thing to do in La Jolla is explore the Birch Aquarium at Scripps Institution of Oceanography. This unique aquarium is based at the University of California San Diego.
The roots of the Birch Aquarium date back to the early twentieth century, and it has the distinction of being the first freestanding aquarium. It is home to over 60 habitats, showcasing marine life from the chilly Pacific Northwest to warmer waters in the southern part of the world. Some of the exhibits to check out include Seadragons & Seahorses, the Giant Kelp Forest, and the Hall of Fishes.
In addition to gazing at marine life, you can also see scientific discoveries made by researchers about the climate, the ocean, and the earth. When you leave this La Jolla attraction, you should feel inspired and energized about the ocean and the creatures that inhabit it.
You will need to reserve and purchase tickets online before your visit, as walk-up ticket sales are not available.
Torrey Pines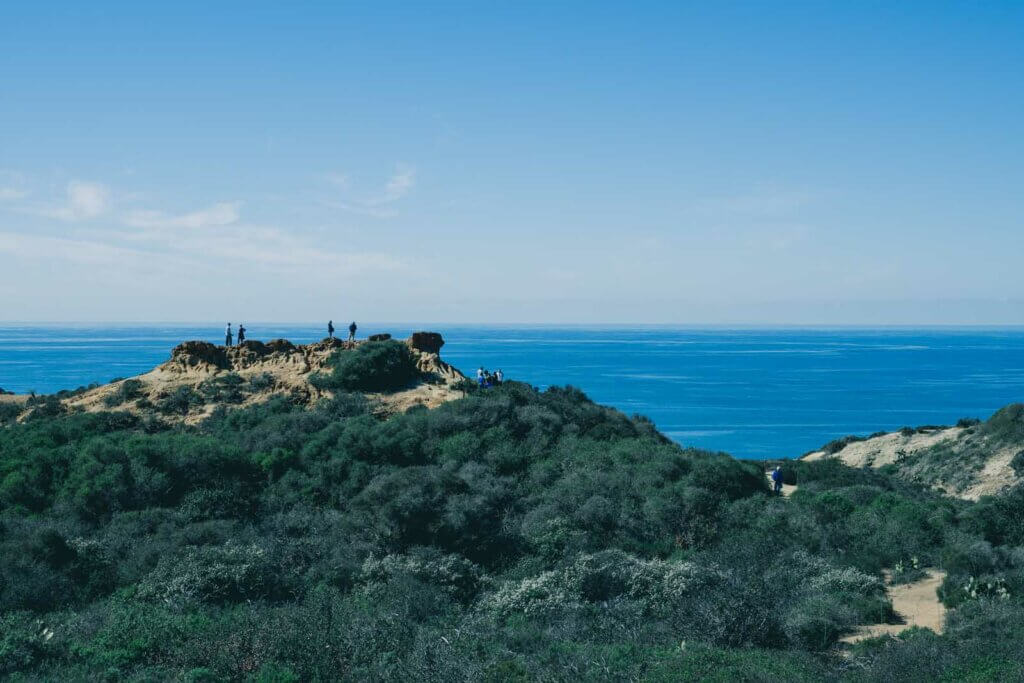 Among the most famous La Jolla attractions is Torrey Pines, the almost 1,800-acre State Natural Reserve. One of the park's purposes is to protect its namesake tree, the Torrey Pine.
The landscape of this area includes lots of pine forests and sandstone canyons. Additionally, it is one of the remaining salt marshes and waterfowl refuges in Southern California. One of the best things to do in. La Jolla is to come here to enjoy the scenery and hike along the several trails, ranging from easy to difficult, to hike the terrain.
The Guy Fleming Trail is the least strenuous trail in the park. It passes by the North and South Overlooks, and offers great views of the Pacific.
The Razor Point Trail is almost one and a half miles, and takes you by ravines and badlands.
The High Point Trail has a steep section with steps that lasts about 100 yards, but the prizes at the end are sweeping views of the reserve and lagoon.
The Beach Trail is a quarter of a mile, and leads you to Torrey Pines State Beach. It is a rather sharp descent, making it a somewhat tough path. And speaking of beaches, there are some terrific beaches at Torrey Pines.
The aforementioned Torrey Pines State Beach is sandy and wide with weathered cliffs, and is over 4 miles long. Swimming, surfing, and fishing are popular activities here, and there's a picnic area as well.
Black's Beach is located at the southern end of Torrey Pines State Beach. The waves here make it a great spot for surfers. And be forewarned, this is a nudist beach.
Del Mar City Beach is north of Torrey Pines, and it's a terrific place to spend a relaxing day. Go swimming or surfing, play volleyball, sunbathe, or have a picnic.
Additionally, you can explore the gorgeous slot canyons in Torrey Pines. This two-hour guided tour of the slot canyons offers spectacular scenery and takes you to difficult-to-reach spots.
La Jolla Sea Caves Kayak Tour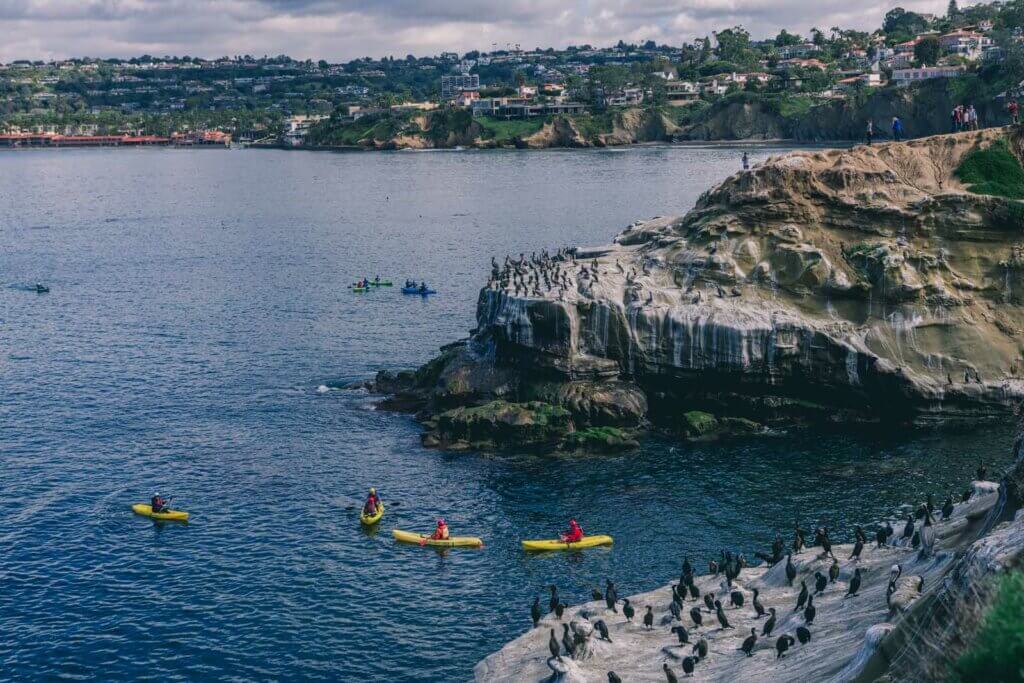 A fun fact about La Jolla, California is that there are seven distinctive caves in this Southern California destination. These caves are estimated to be about 75 million years old, and each cave has its own fun name: White Lady, Little Sister, Shopping Cart, Sea Surprize, Arch Cave, Sunny Jim Cave, and Clam's Cave.
With the exception of the Sunny Jim Cave, which is discussed in the next section, the other six caves are not reachable by land. So, how can you check out these other caves? By kayak!
The La Jolla Sea Caves Kayak Tour takes you out on the water for 90 minutes, where you will see marine life, like dolphins and sea lions, as well as the kelp beds that populate the waters.
And, if conditions are agreeable when you embark on your tour, the guide will take you in some of the sea caves which is without a doubt one of the most unique and best things to do in La Jolla!
Sunny Jim Cave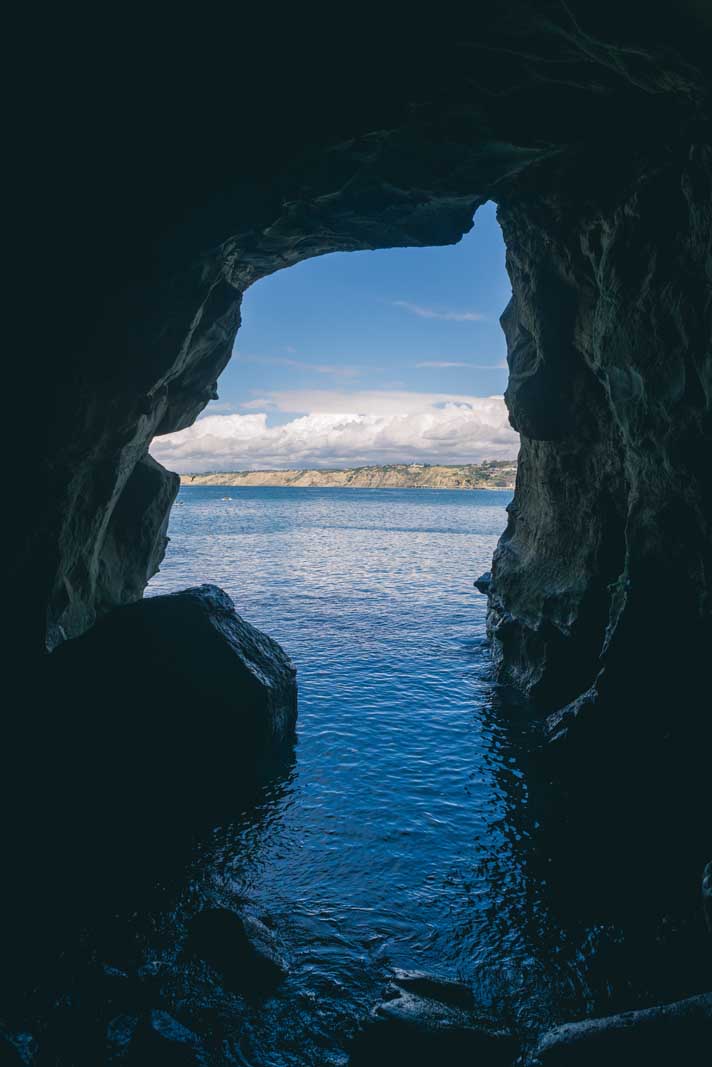 Speaking of the seven distinctive caves in La Jolla, California, the Sunny Jim Cave is one of them. And, it is the only cave that you can explore by foot, because a tunnel was created to access the cave.
The mastermind behind the tunnel to this cave was Gustav Schultz, a German mining engineer. Starting in 1902, it took over a year and a half to dig the tunnel to the Sunny Jim Cave. And when the cave was opened to tourists in 1903 which would go on to make it one of the most popular things to do in La Jolla to this day, they would have to use a rope to lower themselves to get to the cave. Thankfully, when you visit the Sunny Jim Cave today, there is a staircase instead of a rope.
You can embark on a self-guided, 15 minute tour to see the natural beauty of this spot. There is a 145-step staircase that descends down to the cave, where you will be rewarded with a spectacular view out of the cave and towards the open waters. And then, you will certainly get your steps in, as you have to go back up the stairs to exit the cave.
Tours start from the Cave Store, which happened to be the residence of Gustav Schultz. You can purchase tickets at the door, and note that advance reservations are not available.
La Jolla Underwater Park and Ecological Reserve
A unique feature of La Jolla is the 6,000-acre Underwater Park and Ecological Reserve. You will find just about all of the city's most recognized marine landmarks here. In 1970, the City of San Diego established the La Jolla Underwater Park, with the mission to preserve marine life.
The Ecological Reserve goes from La Jolla Cove to La Jolla Shores Beach and includes all of the Sea Caves. It is primarily made up of reefs, kelp beds, sand flats, and submarine canyons. The creatures that call the La Jolla Underwater Park and Ecological Reserve home include seals, stingrays, sea urchins, sea turtles, and spiny lobsters.
Strict rules prohibit disrupting marine life, which includes plants, animals, and inanimate objects. Therefore, it is not surprising that surfing, fishing, and boogie boarding are not allowed.
A distinct area of this park is the Marine Life Refuge, which is used for academic research. It includes the Scripps Pier, which is part of the Scripps Institution of Oceanography.
Great ways to enjoy and explore this area include snorkeling, diving, and especially kayaking. One of the coolest things to see here are the leopard sharks. The best time to see them is June through September, when large populations of these creatures journey to La Jolla for their mating season. Leopard sharks are harmless, and you can go snorkeling alongside them. With so much to take in at just this one destination, it is easily one of the ultimate things to do in La Jolla.
La Jolla Beaches
With La Jolla being one of Southern California's coastal cities, there are several fantastic beaches to hit up.
La Jolla Shores Beach is known for being an active, popular beach that has one of the longest shorelines in La Jolla. Kayakers can depart from this beach and head over to La Jolla Cave. Activities here include surfing, volleyball, scuba diving, sunbathing, swimming, kayaking, and stand-up paddleboarding. The amenities at La Jolla Shores Beach include fire pits, picnic tables, grassy areas, and equipment rentals.
Next, Windansea Beach is known for being a popular surf spot for experienced surfers. Also, the fact that Windansea sounds like "wind and sea" is no coincidence. At this beach, you can go surfing, scuba diving, or check out the tide pools.
La Jolla Tide Pools Beach is known for being a rocky beach with excellent conditions for exploring tide pools. There are lots to look at here, and you'll want to make sure to wear shoes with a good grip. La Jolla Tide Pools Beach is next to Whispering Sands Beach.
Lastly, Marine Street Beach is known for big waves, which draws surfers at the top of their game. It's not as populated as other nearby beaches, which makes it feel more private. Come here to sunbathe, go scuba diving, or surfing. And while this is an excellent spot for surfing, it is actually not a great place for swimming due to the strong waves. Hitting up the beach is one of the best things to do in La Jolla.
Learn How to Surf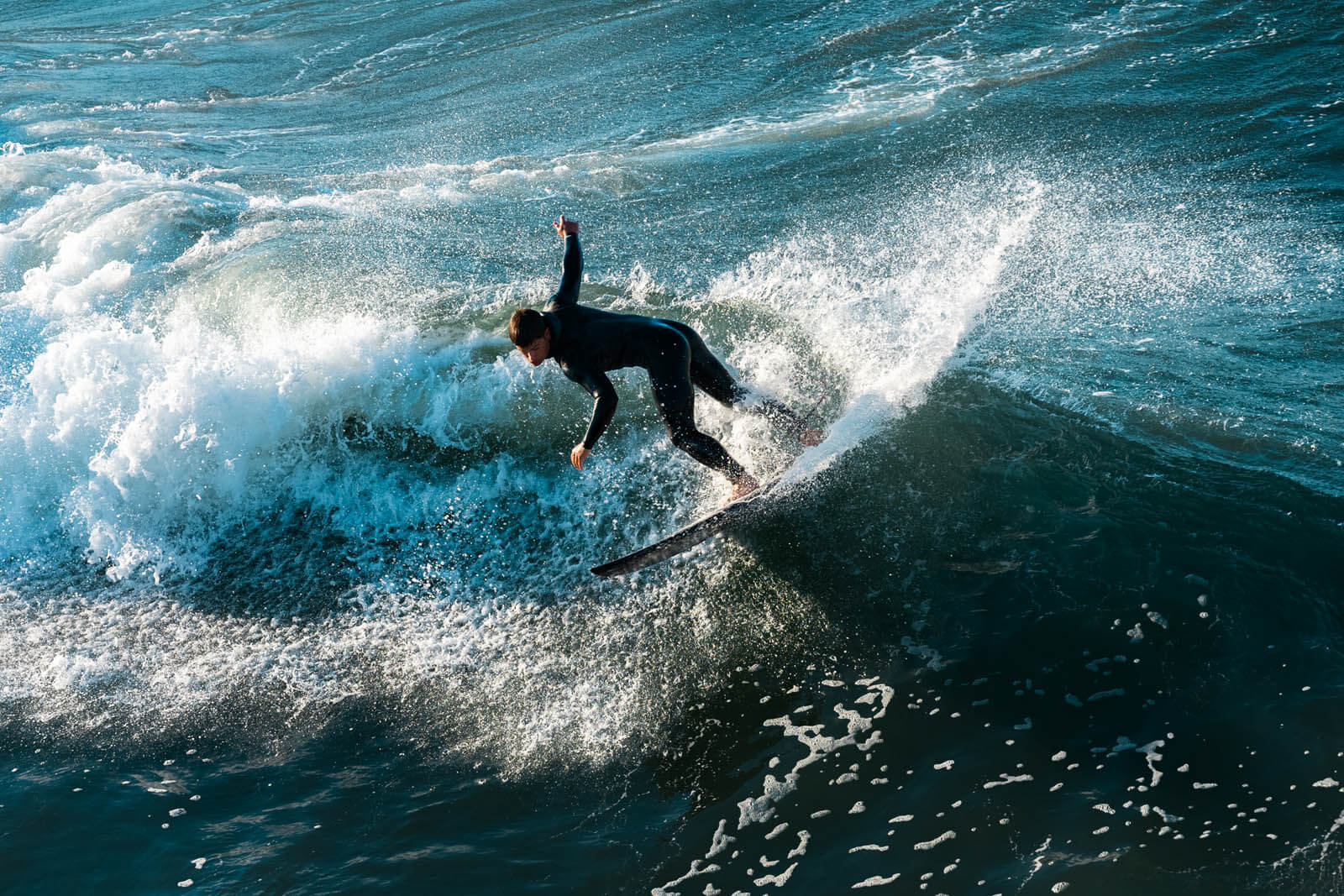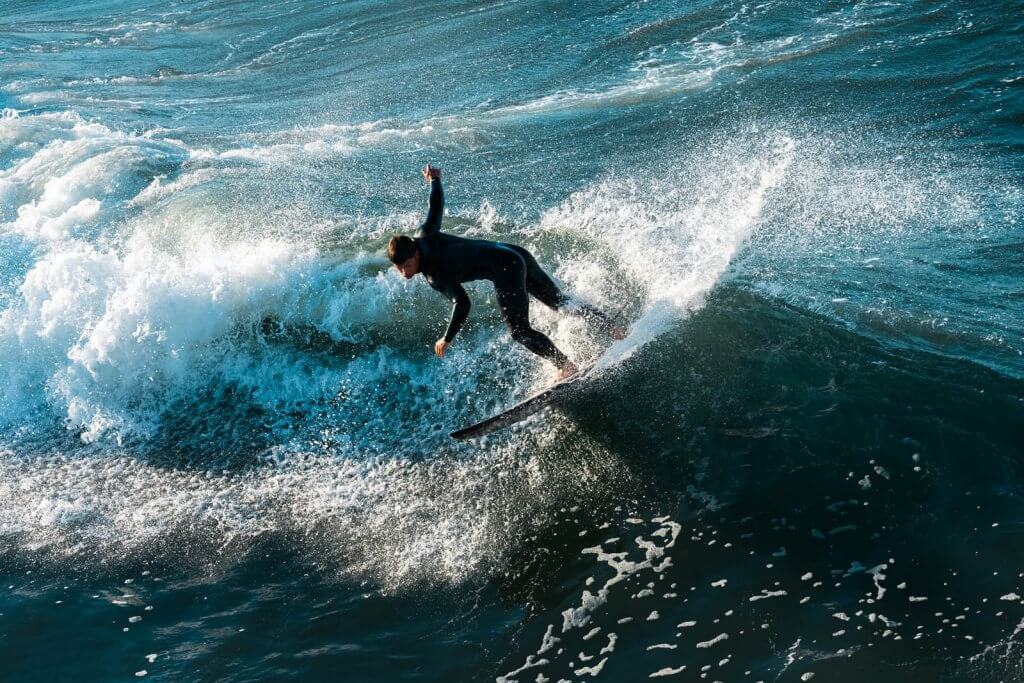 Southern California and surfing go hand in hand, so when you're visiting La Jolla, why not learn how to surf! La Jolla has lots of great surfing spots, which is a great way to immerse yourself in the city's culture and enjoy the ocean. If you're a beginner, hit up La Jolla Shores Beach for some mild waves.
And if you're experienced, head over to Black's Beach or La Jolla Cove for some awesome surfing conditions. If you have never surfed before, or need to brush up on your skills, check out this surfing class and lesson that teaches you how to learn to surf.
The 90-minute, instructor-led class will teach you what you need to know to get out in the water with the surfboard. The class meets at La Jolla Shores, and the board and rash guard are included when you buy a ticket for the class. Experiencing the surf culture is among the top things to do in La Jolla.
Museum of Contemporary Art San Diego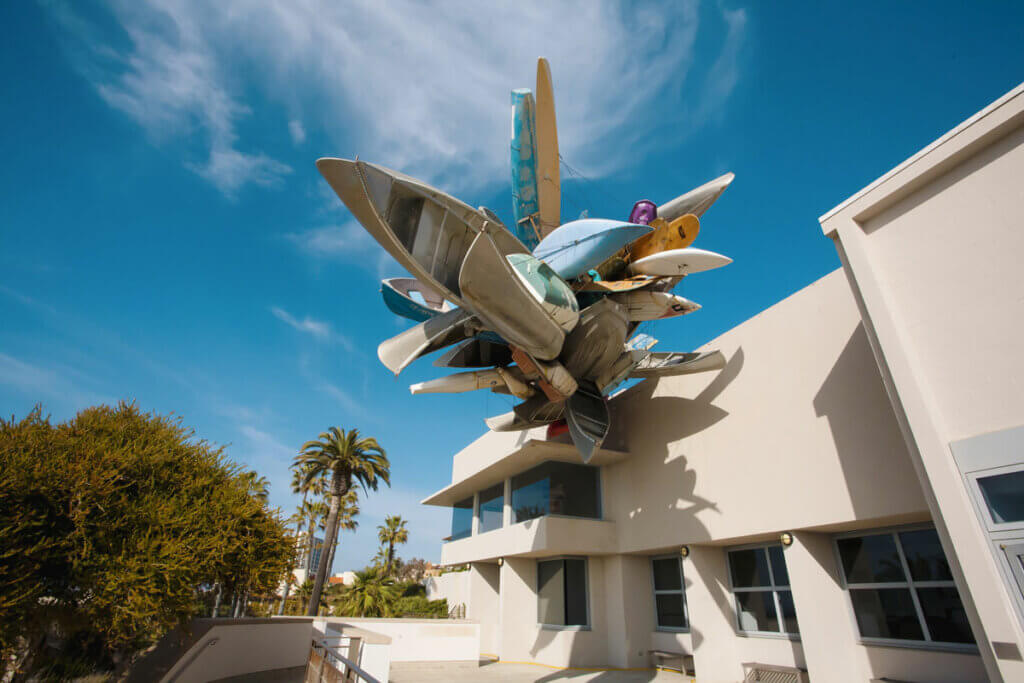 For a change of pace from the sun and sand, head over to one of the cultural La Jolla attractions, the Museum of Contemporary Art San Diego. This museum was established in 1941, and it was known as the The Art Center in La Jolla.
It showcases works of art created after 1950, and the collection includes more than 4,500 pieces. In particular, there is a strong collection of the 1960s and 1970s Pop Art. There are paintings, sculptures, works on paper, photographs, videos, and installations.
The museum features artists in all stages of their careers, from young artists to renowned artists. Many of the pieces in the museum came through artist residencies or were commissioned by the museum.
There is a fee to get into the Museum of Contemporary Art San Diego. If museums and especially art are your thing, this is one of the best things to do in La Jolla.
Stuart Collection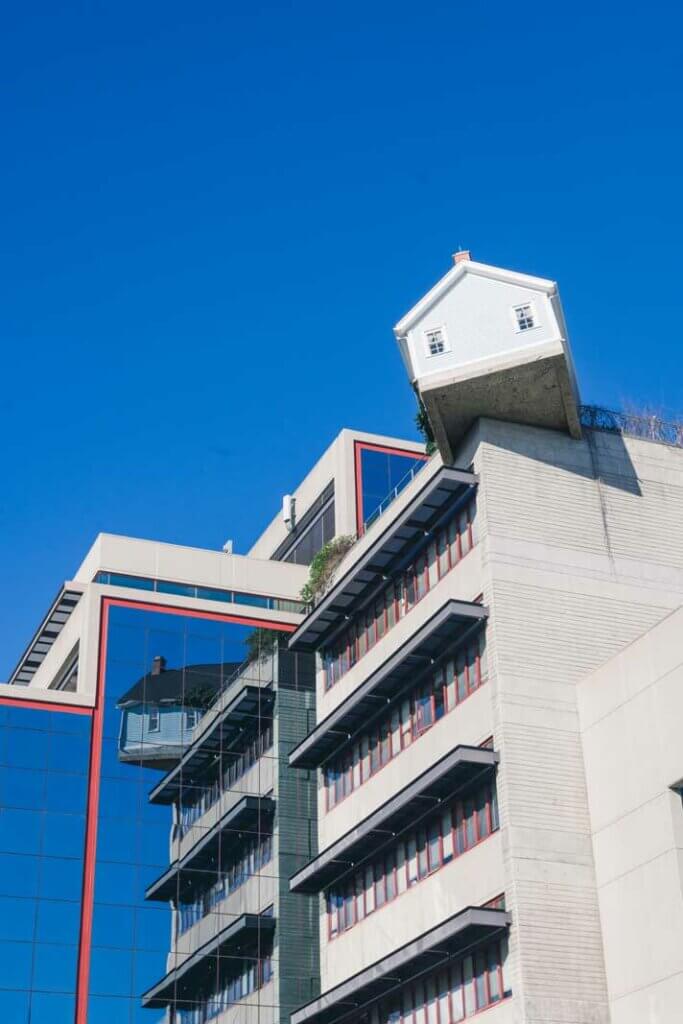 Another La Jolla attraction that falls in the artistic category is the Stuart Collection. This is a collection of about 20 sculptures and installations at the University of California, San Diego. A large number of the sculptures have been merged with university buildings and incorporated into the surroundings.
One of the pieces is the larger-than-life bear sculpture by artist Tim Hawkinson that appears to be made out of rocks, titled "Bear".
Switching gears a bit, one of the installations includes neon pairs of words that can be seen blinking atop one of the buildings on campus. Created by Bruce Nauman, it's titled "Vices and Virtues", and accordingly features pairings of words like hope and envy.
Another really cool installation is "Fallen Star" by South Korean artist Do Ho Suh which has a house teetering off the top of Jacobs Hall on campus.
There are truly a range of sculptures and pieces to view around the grounds of the college. To visit the Stuart Collection, just head over to the UC San Diego campus, make sure you have your walking shoes on, and get going!
Browse the Art Galleries
There are tons of galleries in La Jolla, California to wander around. LIK Fine Art La Jolla features photographs from Australian photographer Peter Lik. Here, you will find an array of landscape photographs of California.
Edna Pines Gallery and Studio in the Village is another great spot to check out. Edna Pines is an abstract and contemporary artist. She uses acrylic, oil, and mixed media, and draws from nature for inspiration. If you would like to visit the Edna Pines gallery, visiting is by appointment only.
The Contemporary Fine Arts Gallery has been in business for over 30 years, and features paintings, sculptures, and limited-edition pieces.
Last but not least, Thumbprint is a cool gallery that's been around for a little over a decade. The focus at this gallery is on modern pop culture, nostalgia, urban art, and pop surrealism. Thumbprint also has monthly exhibitions, so there's just about always something new to check out.
Art aficionados, browsing the galleries is absolutely one of the top things to do in La Jolla to include on your itinerary.
Enjoy A Meal With A View
With the beautiful scenery in La Jolla, California, you must visit one of the city's restaurants where you can get a meal with a view.
The Marine Room is a fine dining restaurant on the water and historic establishment that's over 80 years old. It's a great place to come for an upscale dinner and cocktails and waves quite literally crash on the glass next to the dining room, which is truly a one of a kind experience and one of the best things to do in La Jolla if you're looking for a special experience like this!
At George's at the Cove, you can sip a beverage from their rooftop bar, while looking out at La Jolla Cove. This buzzy spot is ideal for sweeping views of the ocean, and contemporary dishes for lunch and dinner.
For oceanfront patio dining, check out Shores Restaurant. This elevated-yet-casual establishment has great views and a sustainable menu featuring typical California fare.
Duke's La Jolla is a two-story restaurant with outdoor seating and a Hawaiian-inspired menu. This is the place to come for weekend brunch, lunch, and dinner. 
Where to Stay in La Jolla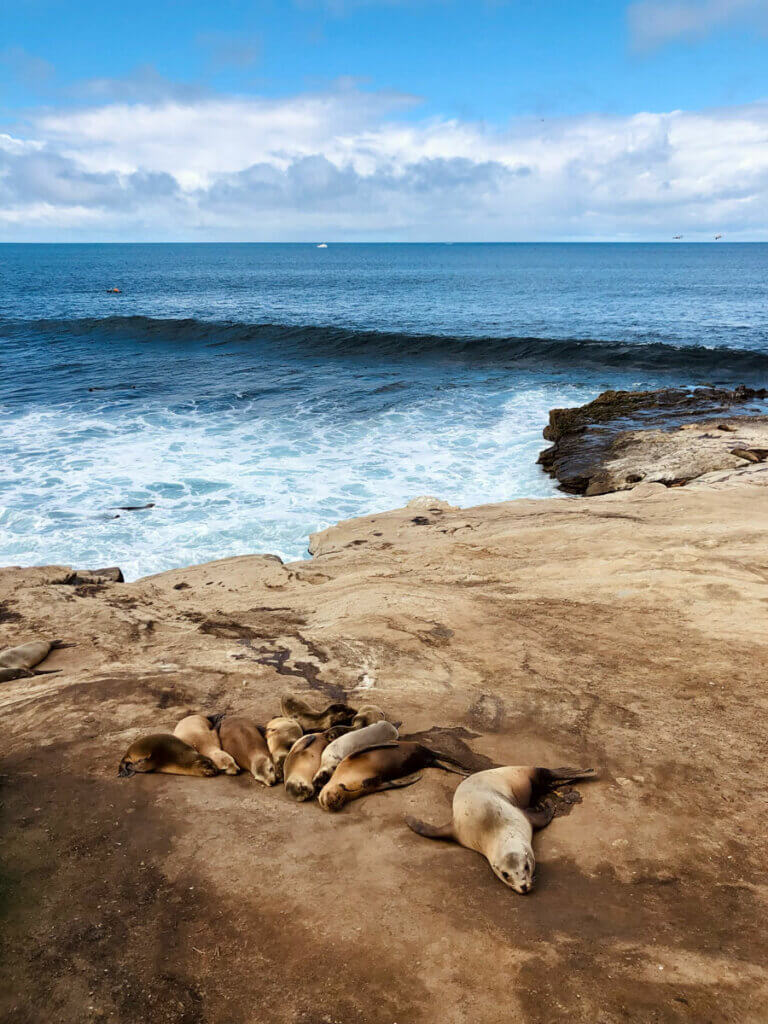 The hotels in this SoCal city are welcoming and offer close proximity to some of the best things to do in La Jolla whether you're exploring the best things to do in San Diego and basing here, stopping here on a California coast road trip, Southern California road trip here, or basing your entire vacation here in La Jolla.
The Pantai Inn is situated close to the shops and restaurants of La Jolla Village, and it's right by the ocean. This boutique hotel has an outdoor area with fire pits for lounging, parking on site, and is incredibly close to Ellen Browning Scripps Park.
The grounds of the property are rather picturesque, and the hotel has Polynesian-inspired touches. The Pantai Inn is perfect for a luxurious-yet-relaxed getaway in La Jolla, California. We stayed here when we first started dating and LOVED our time here.
The Hilton La Jolla Torrey Pines is an upscale hotel near the Torrey Pines State Reserve. The centerpiece here has to be the famous Torrey Pines Golf Course. If you enjoy playing a round of golf, this hotel is for you.
There are also fabulous on-site dining options, which include a bar, poolside cafe, restaurant, and room service. Other amenities include a pool, two spacious outdoor gardens, and tennis courts. When you visit La Jolla, you will have excellent accommodations to keep you cozy while you explore the city!
---
What is La Jolla, California known for?
La Jolla, California is known for its stunning coastline, picturesque beaches, upscale lifestyle, and renowned institutions like the University of California San Diego and the Scripps Institution of Oceanography. It's a vibrant community with world-class golf courses, art galleries, and a rich marine life, attracting visitors from around the world.
Is it worth going to La Jolla?
From the beaches, marine life including seals, art galleries, and outdoor activities, La Jolla, California is definetely worth visiting.
Why visit La Jolla?
Visiting La Jolla is amazing if you're looking for somewhere quiet only about a 20 minute drive north of the heart of downtown San Diego with beautiful beaches, a dramatic coastline, wonderful shopping and art galleries, and great outdoor activities from hiking to snorkeling and kayaking.
---
Enjoyed this guide to what to do in La Jolla, California? Bookmark for later or share the love below on Pinterest.
And if you're looking for more California travel inspiration, be sure to check out more guides including all the best stops on the San Francisco to San Diego drive!