Look no further, we have the perfect two day Seattle itinerary for you to plan the perfect weekend in Seattle getaway!
This Seattle itinerary and getaway guide features where to stay, what to do, and recommendations for where to eat to help make your trip to this Pacific Northwest city a breeze.
Before we visited, we made a nice big list of what to do in Seattle, and promptly fell in love with the city! While it would be ideal to have more time to explore, a weekend in Seattle is enough to see what makes this place so special. Check out our suggestions and feel free to customize and personalize to your liking.
Day 1 of 2 Days in Seattle Itinerary
Breakfast at Biscuit Bitch
Start off your two day Seattle itinerary with a hearty, unhealthy, and delicious breakfast at Biscuit Bitch! There are different savory southern inspired dishes featuring loaded biscuits and gravy.
You can almost feel your arteries clogging after each delicious bite. We opted to split a dish since their servings are generous and we wanted room for sampling the market later.
There are currently three locations throughout the city, but we recommend heading to the Pioneer Square location to stay on track.
Explore Pioneer Square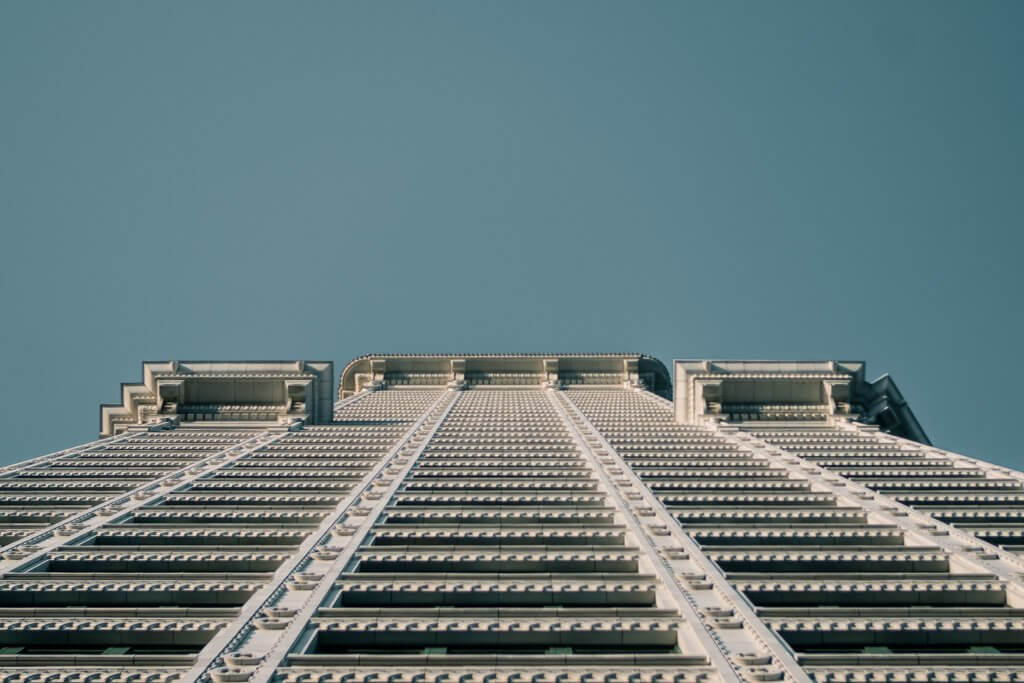 Considered Seattle's original neighborhood, Pioneer Square was one of my favorite and most aesthetically charming area of Seattle. We loved the old stone and brick buildings.
We recommend doing a day tour through the area to get a little history lesson while wandering through this historic neighborhood.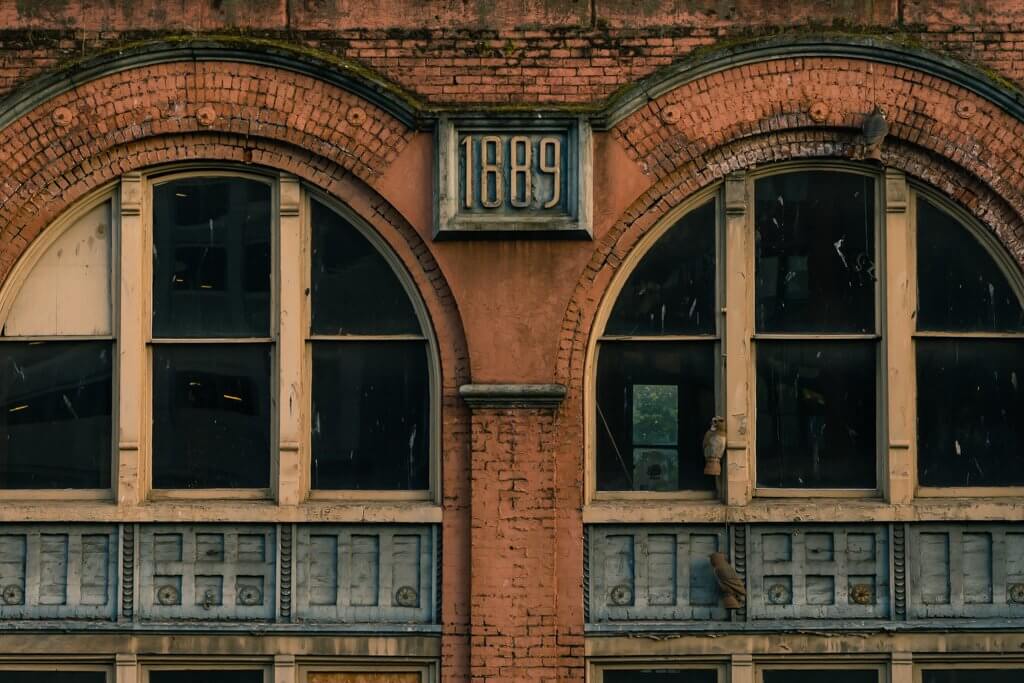 You can tour the famous interconnected Seattle underground, the original city containing underground rooms and passageways that were built on top of after the great fire of 1889. See the underground tour for all the information including how to book.
Or if you want to sample the underground with some ghost stories, take a tour with Spooked in Seattle. The guides are real paranormal investigators and give a riveting tour full of history, evidence and examples to support their stories, as well as a peek into some of Seattle's underground city!
Eat your way through Pike Place Market
Really this should be a staple of any Seattle vacation! Hopefully wandering through Pioneer Square built up your appetite because Pike Place Market is one of the best markets in the US as well as a real treat for any food lover.
In our opinion, it's best to take a Pike Place Market food tour so you can try tons of things and the best of the best! We did this tour and it was one of our favorite food tours we have ever done!
We recommend first taking a lap through the different levels of the market, sampling your way through, peeking at the World Famous Giant Shoe Museum, look at the comic book store Golden Age Collectables, checking out the Nepalese apothecary, see one of the original Starbucks, and walk through the famous Gum Wall.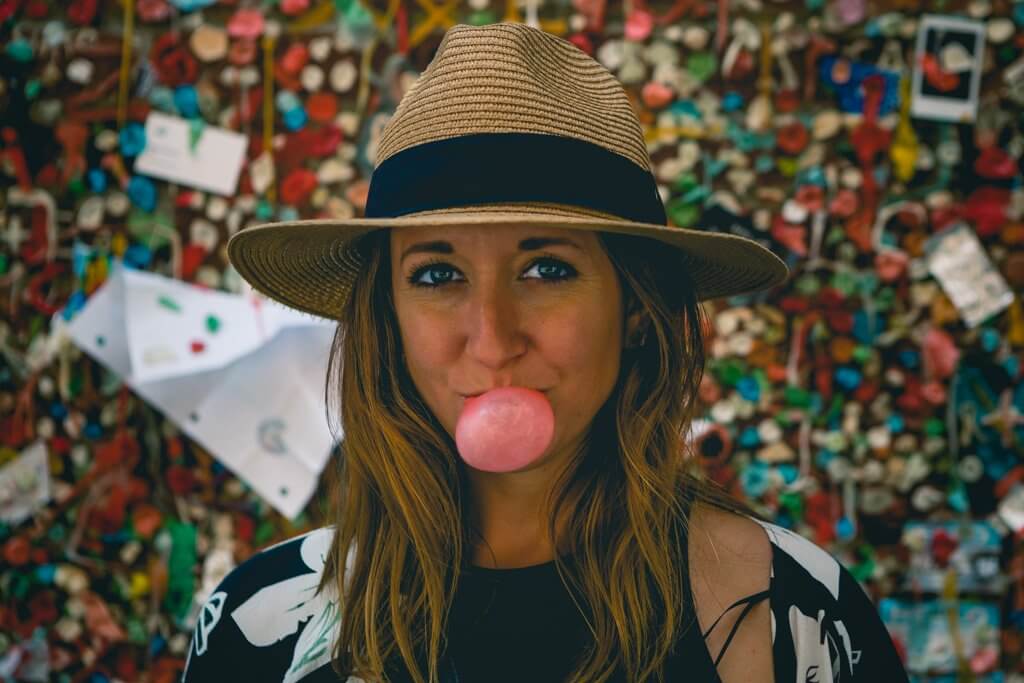 After you've had your fair share of samples we recommend enjoying award winning Pike Place Chowder for the best New England Chowder in the world or Beecher's Homemade Cheese for their delectable, creamy mac & cheese that Oprah has named one of her 100 favorite things!
Both are sublime choices, if you're with a friend perhaps each gets one and split both!
You can easily spend a few hours exploring Pike Place Market, if you need a rest and want to cleanse your palette, check out Rachel's Ginger Beer.
Walk down to the Pier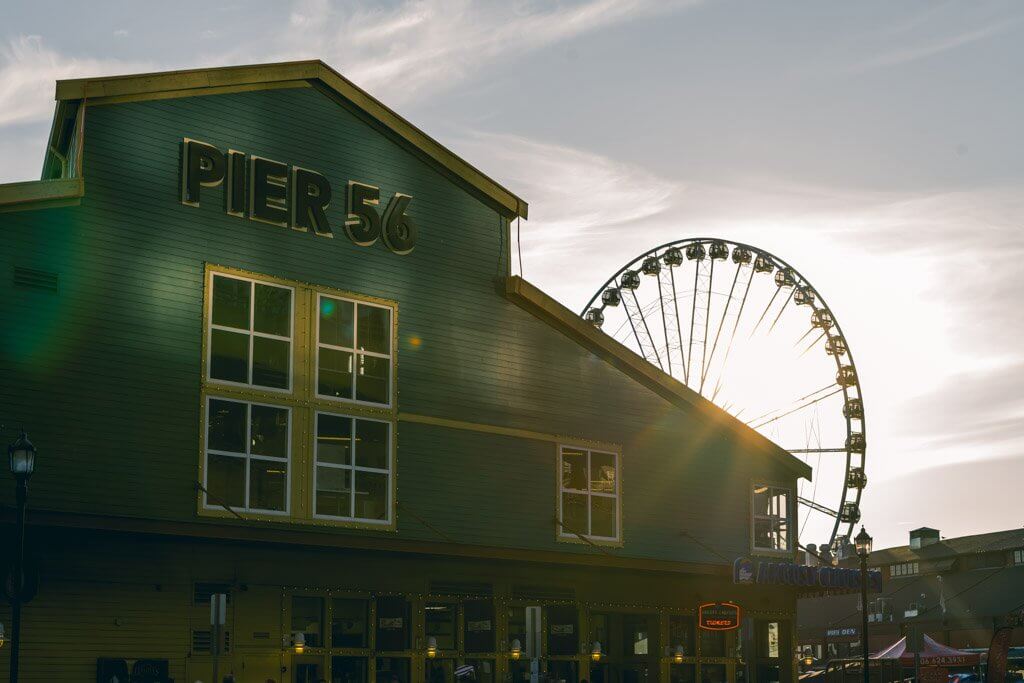 After you just ate your way through Pike Place Market you can enjoy the cool breeze from Elliot Bay and make your way down to the different piers. Luckily there piers are just a few steps and a crosswalk away.
You can just enjoy the gorgeous views down here or enjoy activities like the Seattle Aquarium or the Ferris Wheel and interactive ride touring you through the beautiful state of Washington.
There are also restaurants on the pier, but you won't be coming hungry if you just came from Pike Place! We used the pier as a place to grab a cup of coffee and sit and relax a bit before dinner.
Enjoy dinner at the hidden Pink Door restaurant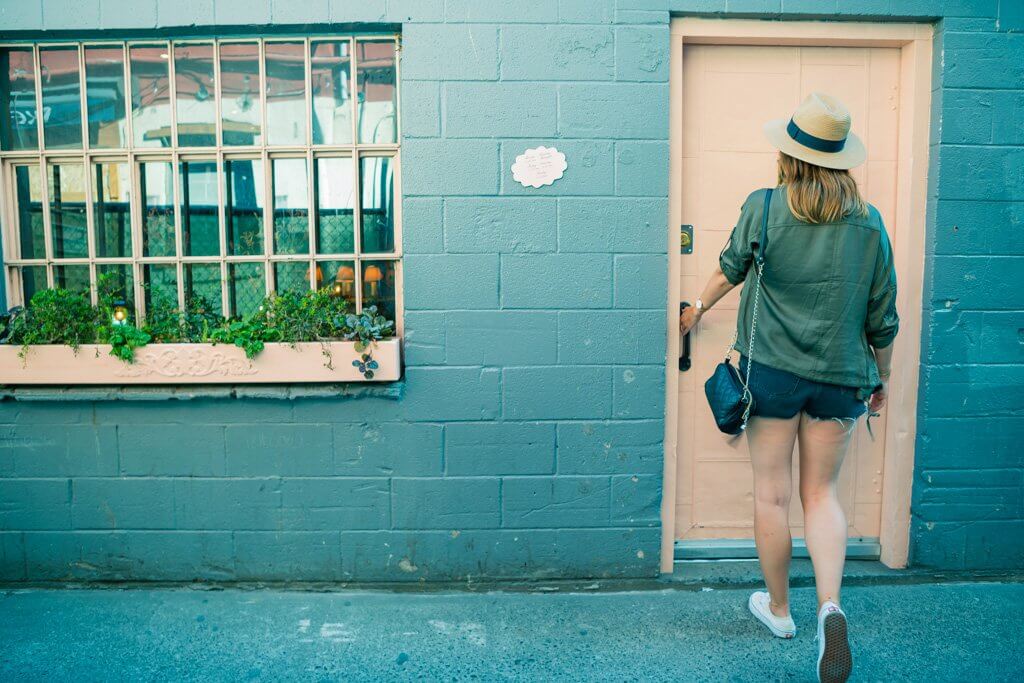 Tucked away semi secretly with no sign in Pike Place Market is the Pink Door Italian restaurant. You can find the restaurant by spotting it's light pink door.
Be sure to call ahead and make a reservation as this not so secret spot anymore is popular and for a good reason, their food is delicious!
Scott tried the pappardelle al ragu bolognese and I tried the squid ink spaghetti Pescatore. Both dishes were incredible and paired well with our carafe of table wine.
The entire atmosphere of this restaurant is fun, we sat on the patio because the day we went had great weather, but the indoor seating is probably the best with a stage for performances and whimsical decorations all around.
Sunset at Smith Tower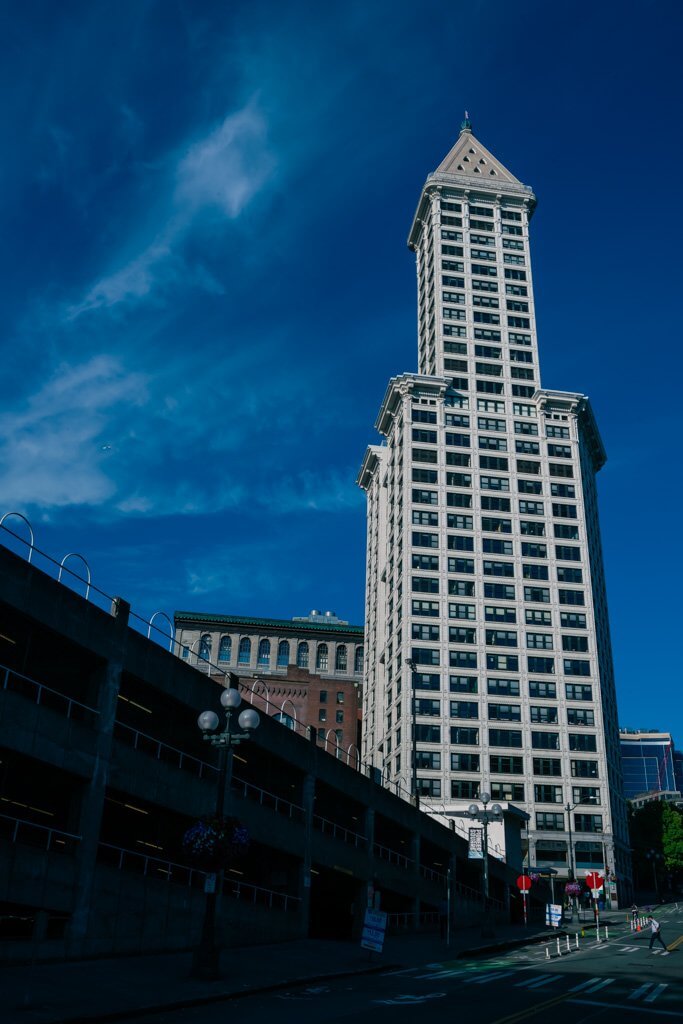 Once the tallest building west of the Mississippi River, Smith Tower is one of the coolest and lesser known landmarks and unique things to do in Seattle.
Ride to the observatory to the top of the building in one of the only remaining man operated elevators left in the US. The operator will be wearing period attire and make you feel like you're entering Disney's Hollywood Tower of Terror rather than a famous Seattle building.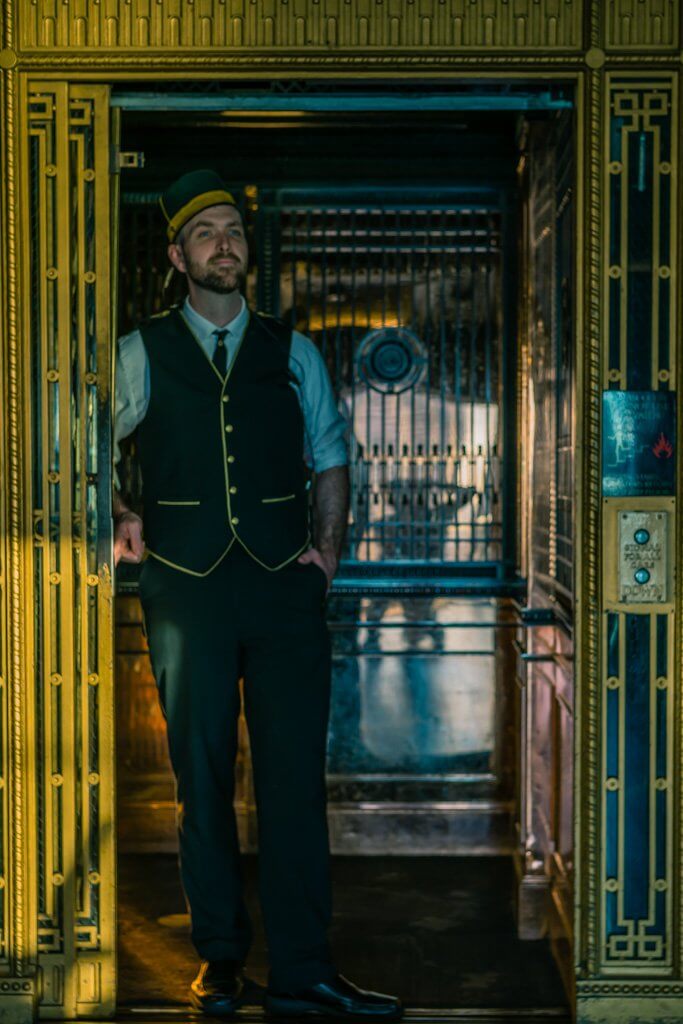 Once you get to the observatory you will be taken back in time to the roaring 20s with the Gatsby esque decor and preservation. There is a walkway around the entire outside of the building offering gorgeous panoramic views of the city.
While you're up here you can enjoy one of their incredible cocktails while enjoying this scenic experience.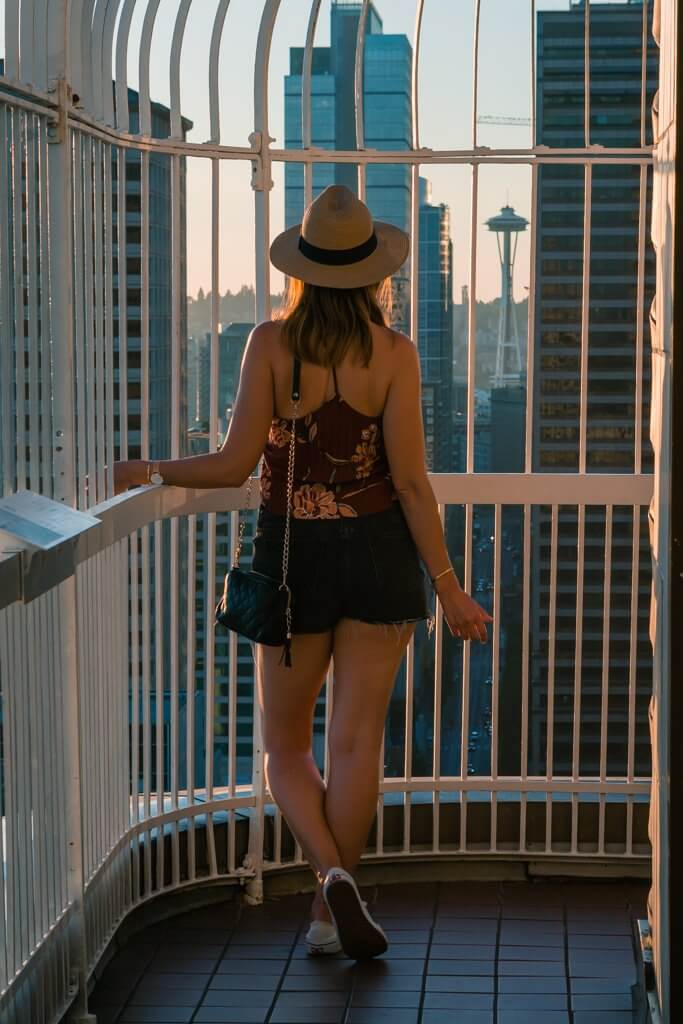 Smith Tower ended up being one of our favorite things we did in Seattle because it wasn't very crowded and it's an entire experience. This is a must for your two day itinerary in Seattle.
Flatstick for drinks and mini golf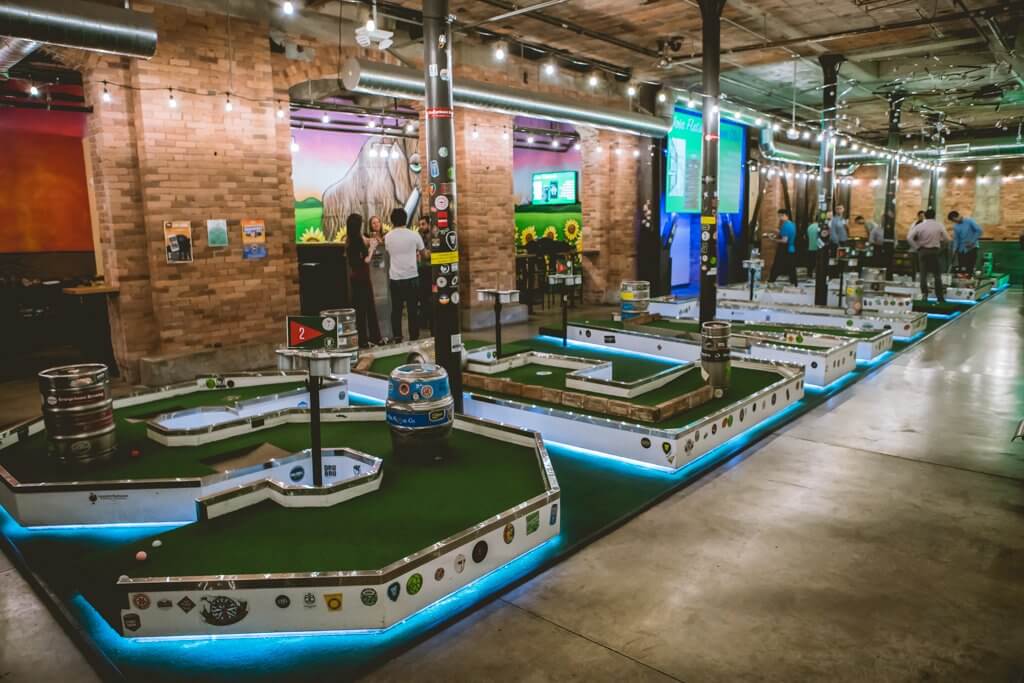 End the first day of your Seattle itinerary with a few drinks and fun games at Flatstick Pub in Pioneer Square. Located just around the corner from Smith Tower you can order a craft beer and play a fun round of hand stick or miniature golf. The last hole is the iconic Space Needle!
There are also other games like giant jenga blocks and giant connect four! What makes this place even better is they allow people to bring their dogs. We thought this entire idea of a bar and mini golf was genius and had a blast. This is something you have to check out while you're in Seattle!
Day 2 of 2 days in Seattle
Breakfast at Pike Place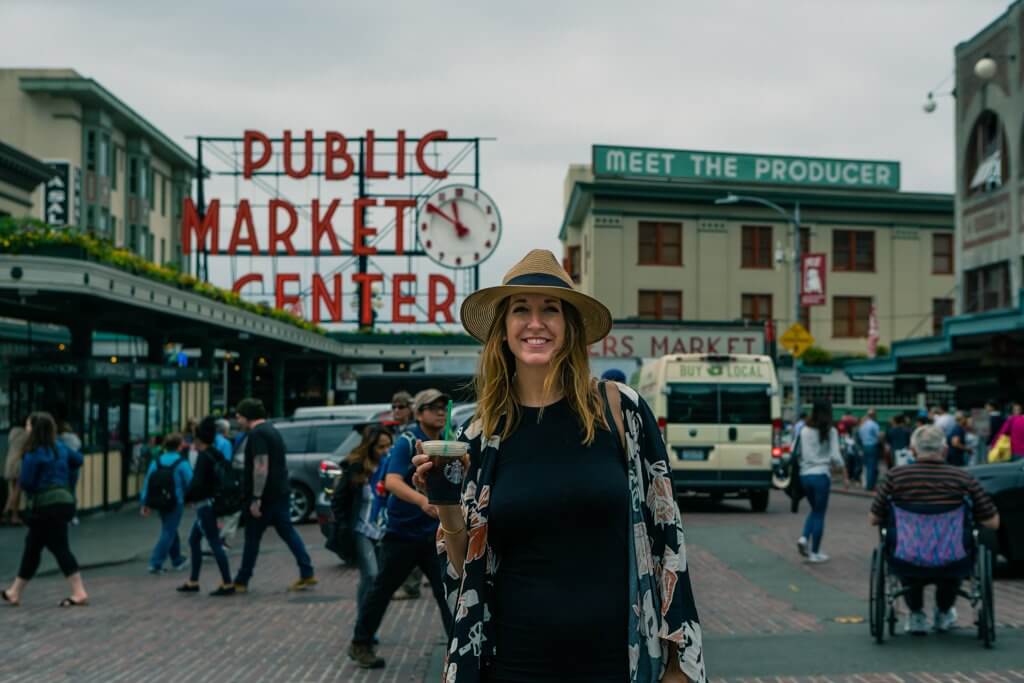 We recommend starting off day two of your Seattle vacation by grabbing a cup of coffee to go and heading back down to Pike Place Market where you can enjoy two of the tastiest things we tried on our trip.
Ellenos serves up authentic greek yogurt, it turns out the grocery store kind isn't really greek yogurt after all and has additives to make it thick. Once you try a taste of Ellenos you'll realize you've never had yogurt like this before. Each bite is silky with a little bit of sweetness depending on what your fruit topping is!
We were impressed with the passion fruit flavor! After head over to the Daily Dozen for scrumptious tiny donuts, you won't be able to get enough of. Their signature donut is the sugar donut, however, we were drooling over the maple bacon mini donuts.
Can't make a decision on a flavor? No worries, you can get an assorted bag with a dozen featuring each flavor!
Space Needle & Chihuly Garden and Glass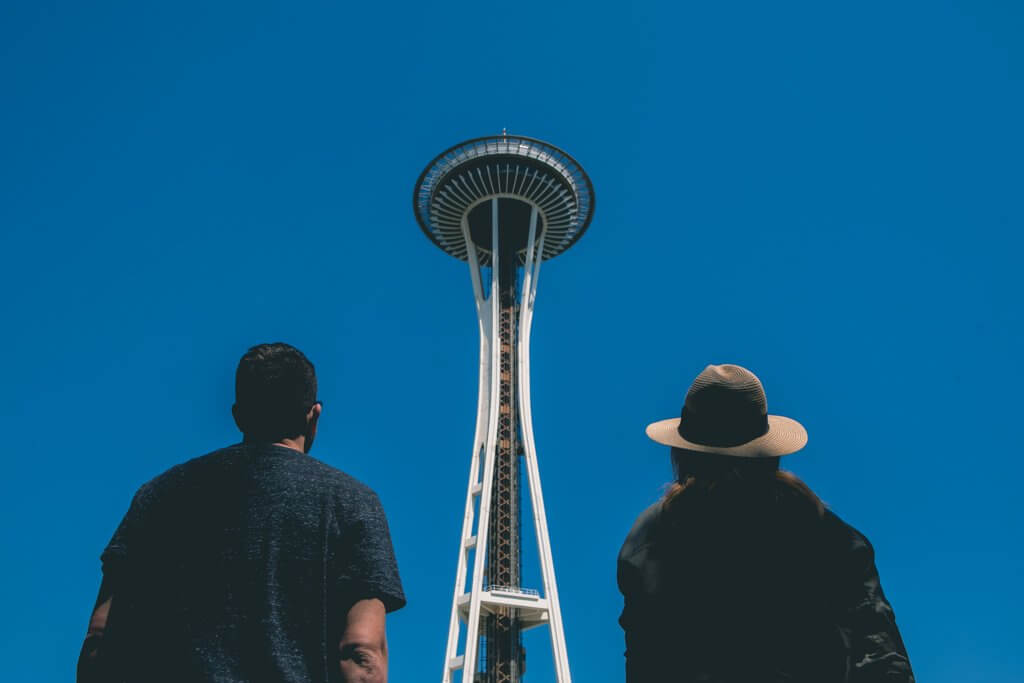 After breakfast head on over to the Space Needle. You can't visit Seattle without at least looking at this iconic symbol of the Pacific Northwest. We opted not to go up to the top because of the mass crowds but enjoyed walking around the park and snapping a few pictures.
This is also where you can visit the Chihuly Garden and Glass exhibit. Walk through the beautiful glass blown works by Dale Chihuly, which is another staple activity to enjoy in Seattle.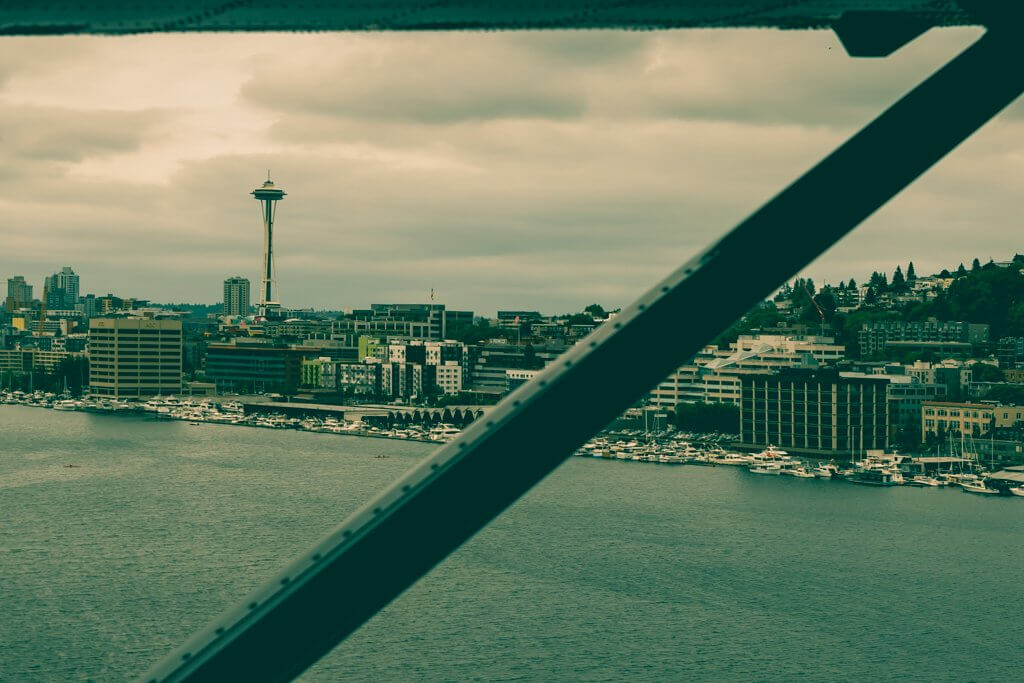 If you want to skip both the Space Needle and Chihuly altogether, we recommend doing a seaplane tour instead. Head on over to South Lake Union to Kenmore Air where you can do a 20-minute scenic seaplane tour seeing the best of the city from above, including the Space Needle!
Spend lunch and the afternoon in Capitol Hill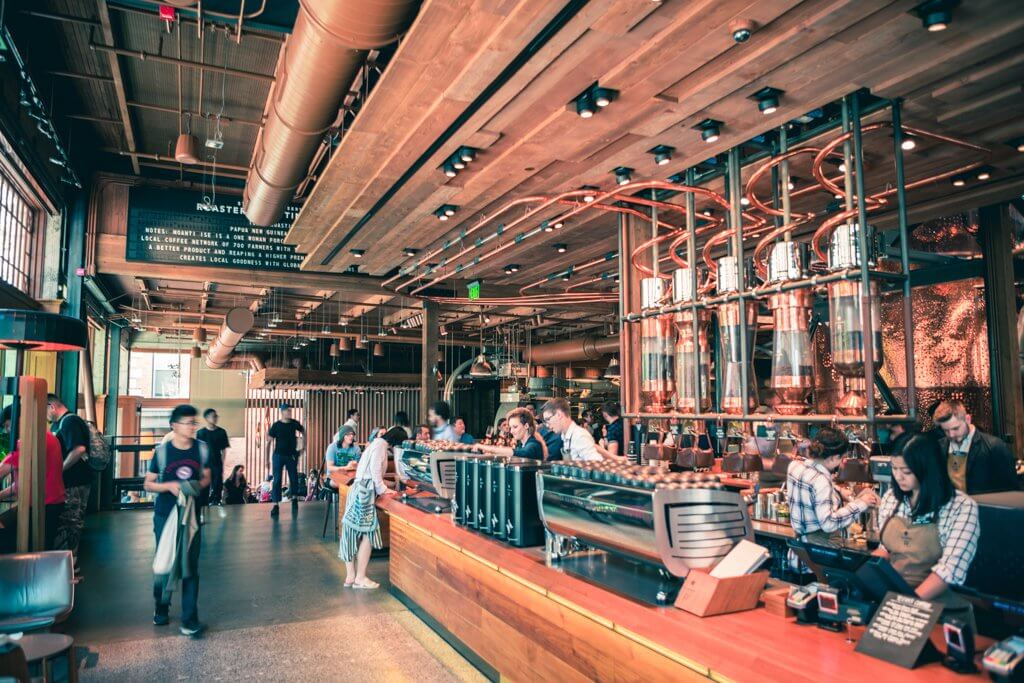 After your late morning activity, we recommend heading to the popular neighborhood, Capitol Hill. Here you'll find tons of restaurants, bars, and cool shops to fill an entire afternoon.
We recommend grabbing a bite to eat then heading to Starbucks Roastery and Reserve for the ultimate coffee experience. If you're a coffee lover this is your version of the Guinness Storehouse in Dublin, but for coffee. You have to try the nitro cold brew float while you're at it.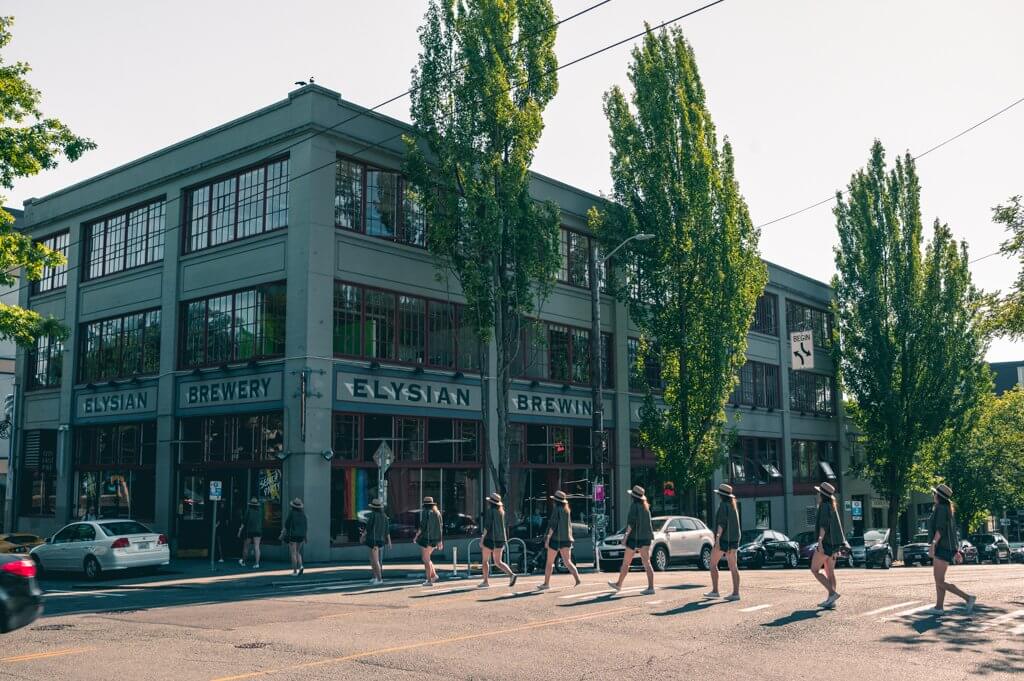 After checking out some great shops after lunch and enjoying the relaxing afternoon in this artistic neighborhood you can chill out by getting a drink at Elysian microbrewery or at Unicorn where you can play pinball games or even when an X-rated adult prize out of a claw machine.
Capitol Hill is also the LGBTQ neighborhood in the city, you'll notice the beautiful rainbow crosswalks and all the pride flags hanging in store fronts.
Dinner at Dunbar Room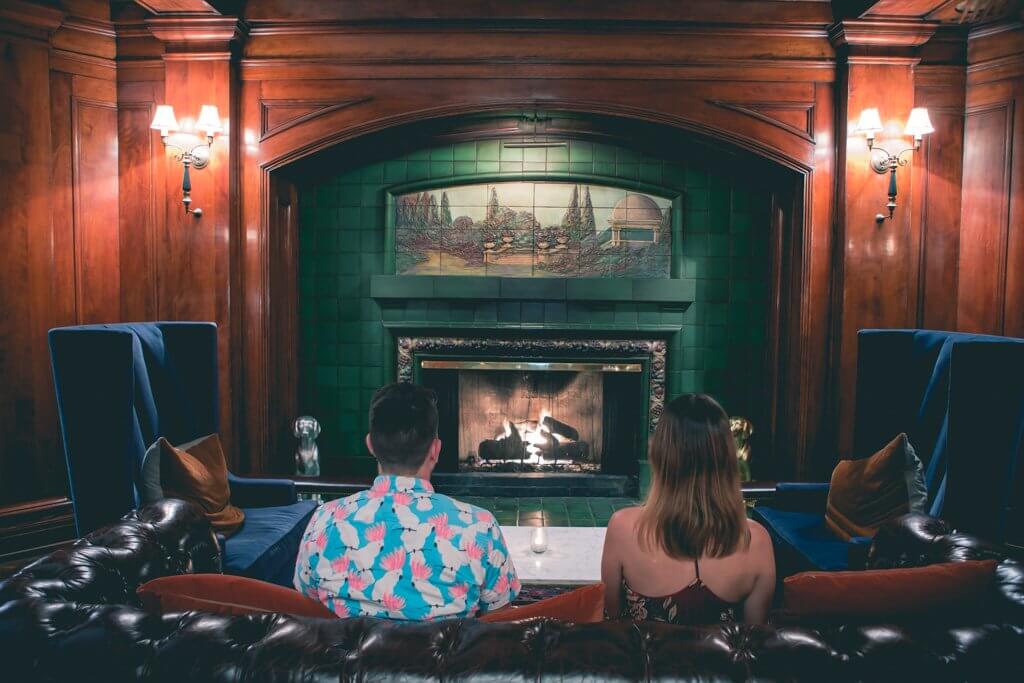 After another long and successful day in Seattle you may want a chill dinner. We suggest the Dunbar Room at Sorrento Hotel.
We loved the vibe here because you felt like you were straight out of a Wes Anderson film set. Enjoy a tasty dinner and cocktails fireside or in one of their chic dining areas. Not only is this spot a bit under the radar, but the hotel has an interesting history to the city as well.
We were lucky enough to stay here during our trip in Seattle and would love to return.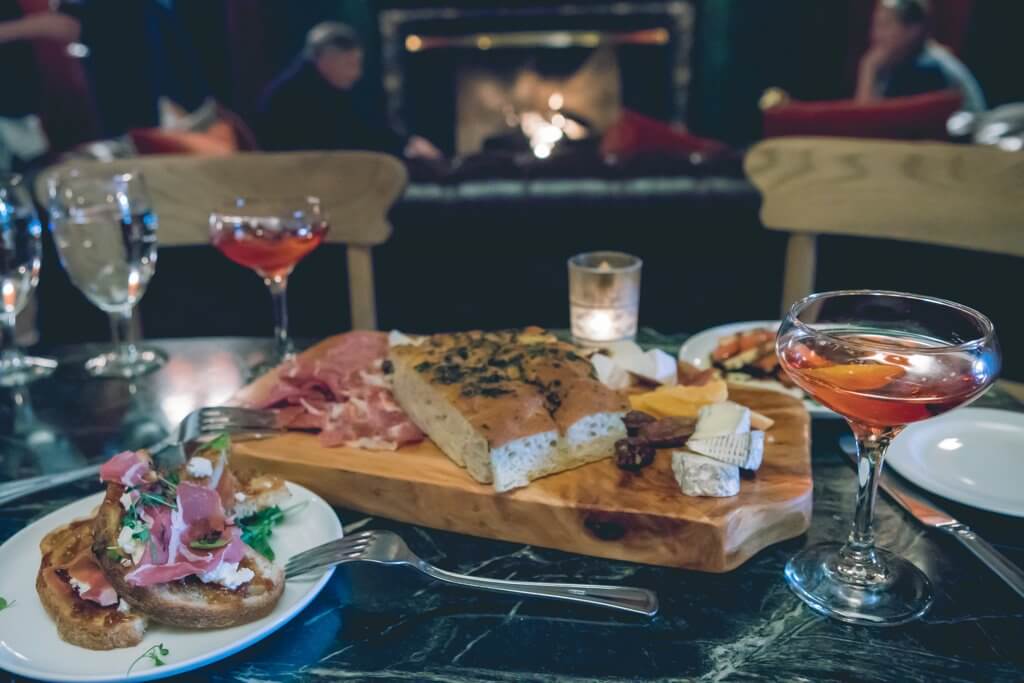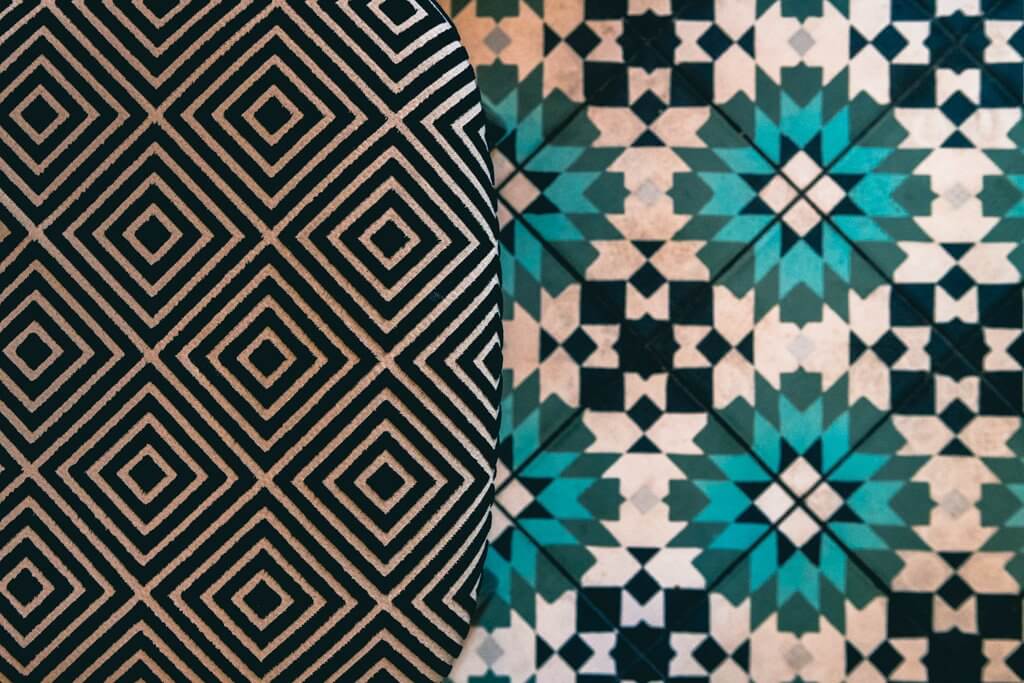 Night views from Colombia Tower
End your two day Seattle itinerary with another breathtaking view of the city, but this time from another sky scraper, Colombia Tower.
Just next to Smith Tower, but a little taller you can make your way up to the observatory for enchanting night views of the city and more cocktails if you desire!
Have a longer than a weekend in Seattle?
If you have extra time outside of your two-day Seattle itinerary, we recommend getting a car and driving out of the city for a taste of the beauty of the state of Washington just outside the heart of the city. Or check out our picks for the best day trips from Seattle.
We also recommend checking out all the romantic cabins in Washington for an unforgettable getaway!
Snoqualmie Falls & Twin Peaks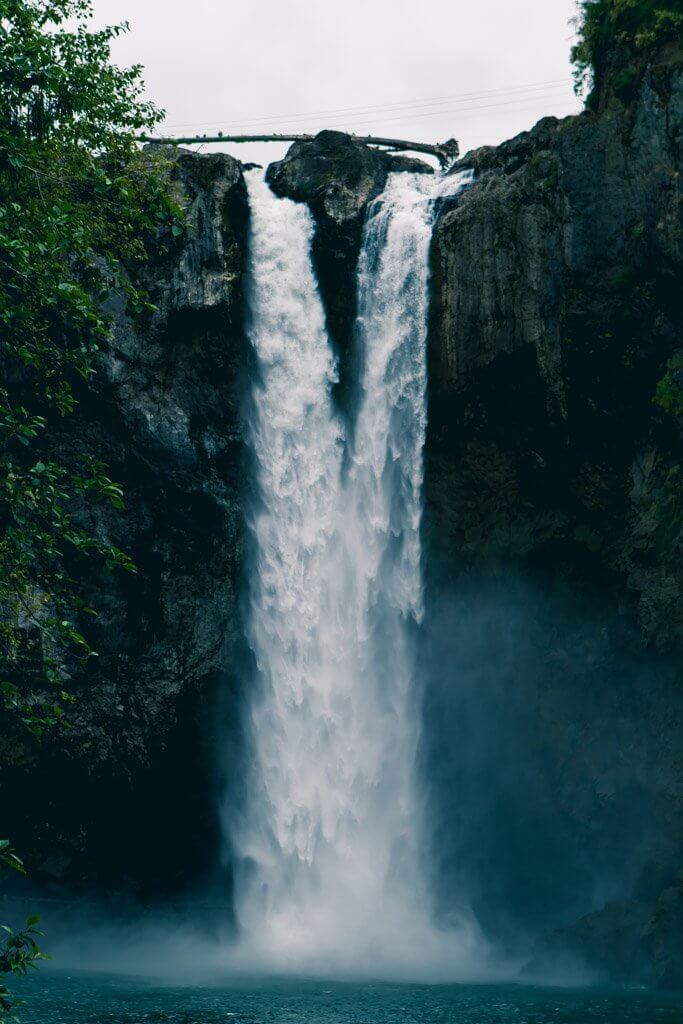 Around a 40 minute drive outside of the city is one of the most popular tourist attractions near Seattle. Snoqualmie Falls is a gorgeous waterfall visitors flock to everyday.
View the waterfall from the upper viewing platform or walk or drive down to the lower viewing platform.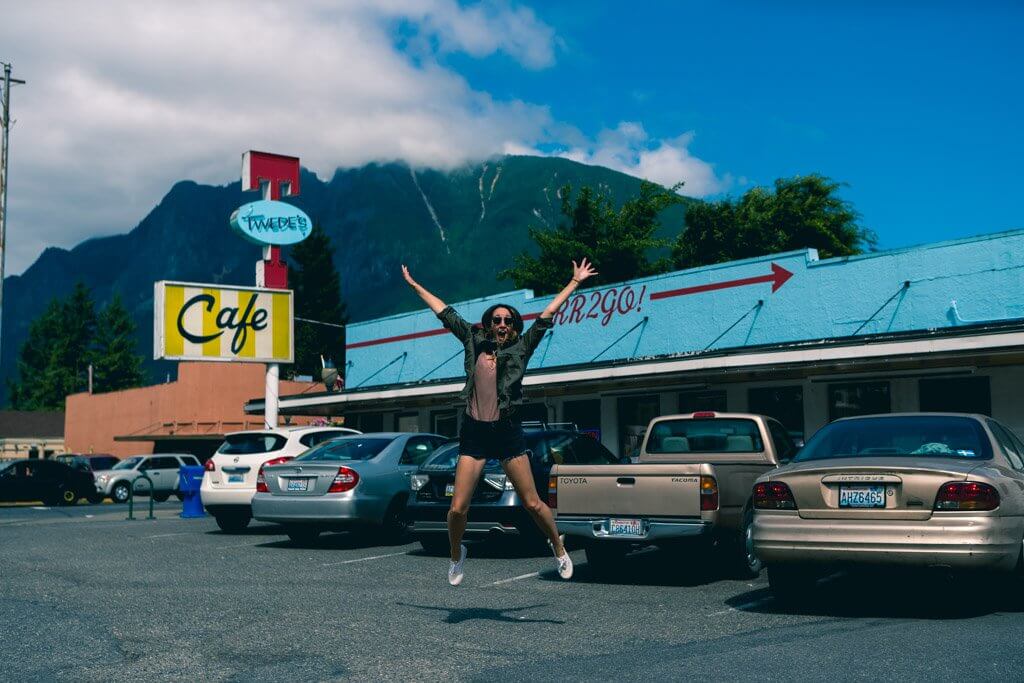 Nearby you can also visit the famous Twede's Cafe from 90s TV series Twin Peaks. If you want to try your luck, there's also a casino nearby!
Diablo Lake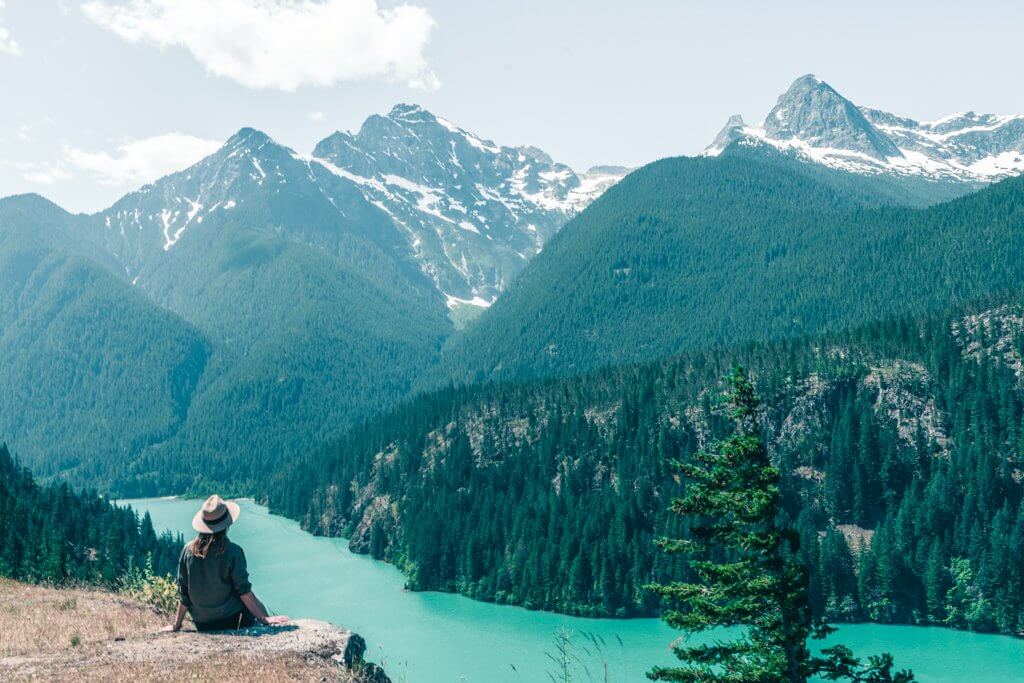 A little further, but totally worth the drive is Diablo Lake in North Cascades National Park. This gorgeous turquoise blue water is surrounded by beautiful mountains and is a dream-worthy panoramic landscape.
Bainbridge Island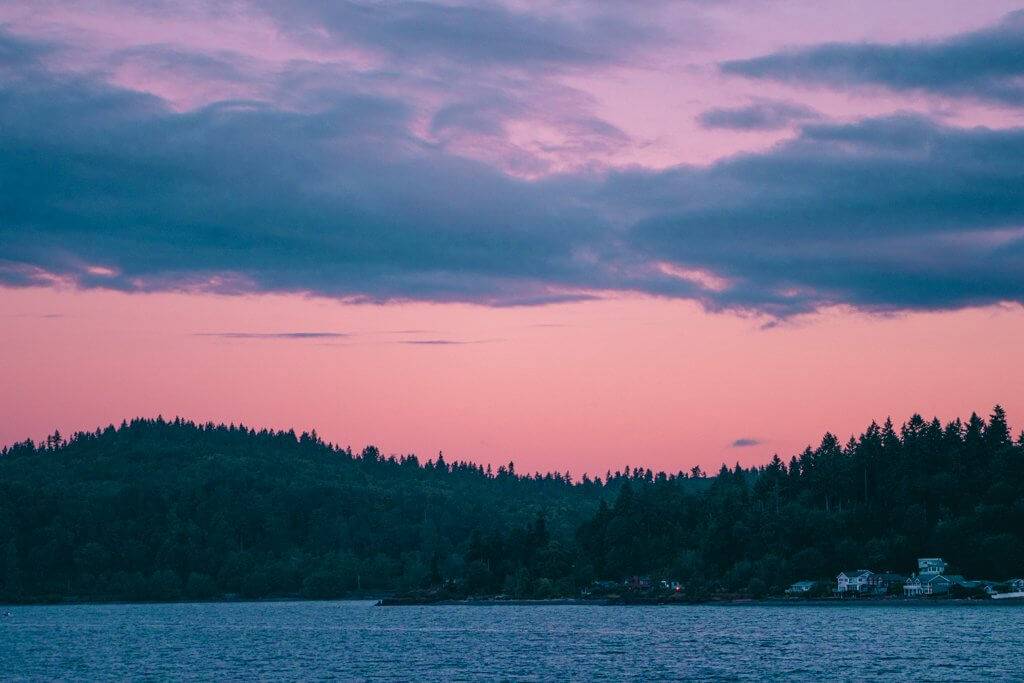 Technically you could visit any of the islands in Puget Sound or as far north as the San Juan Islands, but Bainbridge Island is just a short 30-minute ferry ride from downtown Seattle and a fun day trip. With plenty of dining options you can easily spend a whole day on Bainbridge shopping, eating, and wine tasting!
---
Where to Stay in Seattle
You'll need a place to stay in Seattle, we put together a guide for where to stay in Seattle by neighborhood and budget or browse hotels below! We also have a guide to all the best houseboat rentals in Seattle for those who want to experience a truly unique Seattle experience during their trip!
---
We hope your trip was as amazing as ours and this two day Seattle itinerary was helpful! If you think we missed anything let us know in the comments below!
If you liked this post or found it helpful, share the love on Pinterest below!