W
hile spending a few days in Tat Lo we contemplated whether or not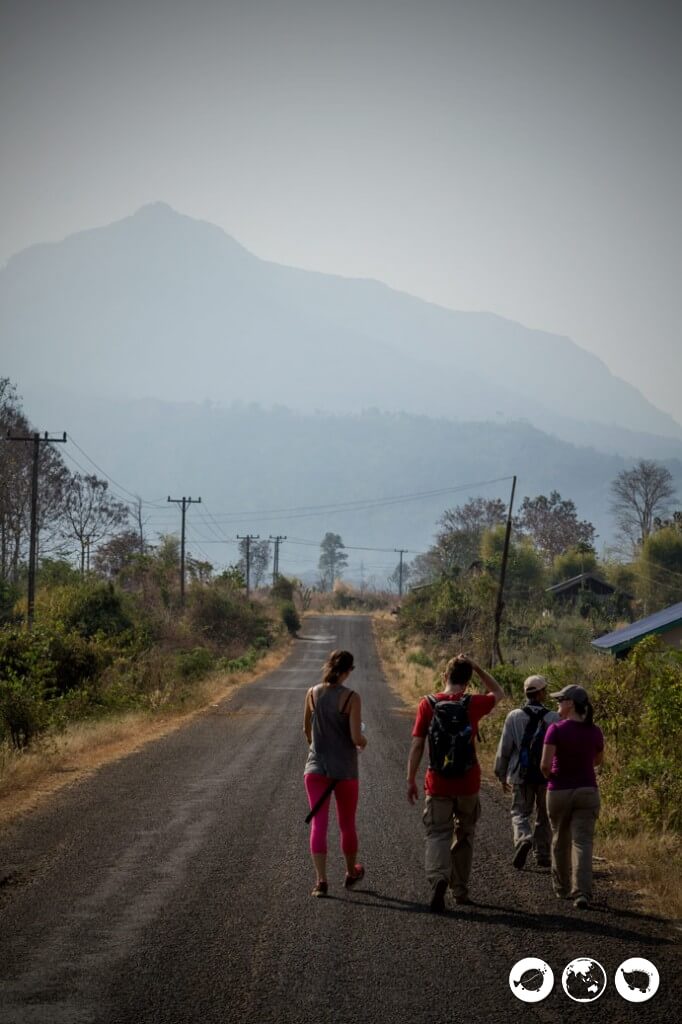 to spend the money to go on a guided trek with and English speaking guide. Like most places in S.East asia hiring a guide is a
crapshoot. 20 percent of the time it's worth it, the other 80 you're herded like sheep in the heat without understanding wtf is going on. It was a tough $20 a person fee that included a full day trek to three waterfalls and four villages (3 different ethnic tribes) including lunch. Only after a failed attempt to reach the third waterfall on our own and a trip to only one of the villages did we decide to hire a guide to do some trekking in Tat Lo.
The crapshoot paid off because our guide was able to explain to us the beliefs of each tribe as well as take us to places we would never have found on our own. It was honestly worth every penny.
Tad Lo Waterfalls
Tad Hang Waterfall
This waterfall is visible from the heart of Tat Lo. Most guesthouses are built right next to the waterfall and if you're lucky like us you can snatch up one of the rooms that has a view of the falls. You can relax and have a BeerLao from your guesthouse and enjoy the waterfall without having to take a step.Some brave/crazy locals bathe and swim in the river and even the pools above the falls. We don't recommend doing this yourself because the local dam authority releases water everyday and if you are in the water it could be fatal. Some people were unaware of the time the levy let water out and were playing on the rocks when all of a sudden the water was rising. Luckily, no one was hurt, but if you are visiting make sure you take caution.
[justified_image_grid preset=c3 ids="11596,11595″]
Tad Lo Waterfall
The Tad Lo Waterfall is easy to trek to on your own. A little larger than Tad Hang this falls is a great place to find a spot along the river and hang out for a bit and enjoy a little taste of nature. Tad Lo is near the first Katu village, so you may see local tribe members bathing or fishing in the water. While we were walking to the falls we saw Katu men hunting for a snake to make their snake soup. We were surprised to see them come out of the forest with this long snake. We later found out the snake is not harmful, but locals find them to be delicious. Again, you must be careful at what time you are hanging out close to the water as the damn effects this waterfall too.
Tad Soung Waterfall
This waterfall is the largest and most impressive of the area. Estimated to be about 100m in height this beauty is worth the trek. We failed to find the route to this on our own. And even if we did find it, we wouldn't have found the awesome view points our guide took us to.
We got to enjoy our lunch from the top of the falls where our guide gave us a serious warning that the falls were extremely dangerous and that no one knew when the water would rise and if we slipped we would die. Again warning us to not cross the river to the other side of the waterfall. Then of course, he took off his shoes walked across and yelled for us to come over. The four of us had no flippin clue what to do.
After a pep talking and psyching ourselves up we decided to cross with him by walking on top of the falls.
There was a temple in the center and a great picnic spot. Again, our guide calmed our minds by warning us we could die if we don't cross back over the waterfall very soon. Making for an extremely comfortable and relaxing lunch. This was our favorite of the three waterfalls not only because it was the largest, but it really is the most beautiful of the three falls.
Tat Lo Tribes
Katu Village 1
This was the first village we saw on our trek. The people here were welcoming to our visit and were kind enough to let us get close and take photos. This tribe is famous for their giant bamboo water bongs they smoke strong tobacco out of. People of all ages smoke the bongs, yep children too. We were told they mix the tobacco with sugar cane to help the flavor. It was fascinating to see these in person.
[justified_image_grid preset=c3 ids="11618,11619″]
These tribe members also start to build their own coffin at the age of 40 and you can see them underneath the village homes. It was also interesting to see how hard the women work. We saw women chopping wood with an ax and carrying heavy loads in the baskets on their backs. The Katu tribes believe in animism and have a ceremonial sacrifice of a buffalo every three years as an offering to their spirits. In the center of each village is a ceremonial spirit house where the sacrifice takes place.
[justified_image_grid preset=c3 ids="11608,11605,11619,11607″]
Katu Village 2
We next visited another Katu village that literally neighbors the TAT OI village. If you were visiting on your own there is no way you would know where one village ends and the other begins. What was most interesting about this village is that the Katu and the Tat Oi completely speak different languages even though they are neighbors. The children attend the same school where they speak strictly Lao. The tribes are not allowed to marry someone from a different tribe either. Again, they are animist and have a spirit house in the center of their village for their buffalo sacrifice for the spirits.
Tat Oi Village 2
[justified_image_grid preset=c3 ids="11627,11626″]
Our tour guide showed us where the dividing line was between the Katu and the Tat Oi Village. It was interesting to see the two different villages next to eachother. Again, this village believes in animism. We were shown a water pump that was built from a program where Korea was helping this village get water and toilets in ther homes. We were also shown an interesting water bottle the field workers use made out of a gourd that provides cold water all day.
Right after the Tat Oi village was the school that both villages children attend. Our guide took us right up to the classroom and showed us where and how the students learn. This was interesting to us to see how different schools are across the world as we just finished teaching in South Korea. The children were asking us for pens because even those are hard to come by in the village. So bring some legit pens with you if you want to give a gift to the kids, it will go much further than candy!
[justified_image_grid preset=c3 ids="11624,11625″]
Nyet Village 2
This was the last village we visited. This was the village we stumbled upon on our own when the men were hunting snakes for soup. We spent more time learning about customs and traditions of this animist tribe with our guide. We sat on the edge of the spirit house where they have an annual buffalo sacrifice during the full moon of March. We visited just a few weeks before this event!
[justified_image_grid preset=c3 ids="11632,11631″]
The head men of the village dress up in masks with shields and spears and dance around the buffalo to drumming and kill the buffalo for their spirits. You are not allowed to get too close to the previous sacrificed buffalo horns or any of the ceremonial accessories, as it is taboo for the locals. They take this sacrifice seriously because they believe it affects their harvest for the following year. We also learned if you do you break the law, like having sex before marriage, your punishment is to buy a cow for the village. If you want to get married or build a house then you must also provide a cow for the village. This is insanely smart punishment if you think about it!
While learning about their village we were watching the kids collecting the cow manure to sell the coffee plantations for 5,000 kip per bag.
This was definitely a time where we were glad we didn't skimp out and not pay for the tour. Scott can vividly remember not taking a zip lining sunset tour through the Mehrangarh fort in Jodhpur because the price was too expensive. There's never a day that goes by where he doesn't regret that. When your traveling there are times where we just can't get the experience we want on our own. Sometimes it pays dividends to stop being such a frugal freddy and pay for these experiences. Don't kick yourself in the ass later like Scott did his first travels and not do the things you really want because of the price, the memories will last you a lifetime!
We highly recommend doing the tour during your visit. To book you need to go to the tourist information center in Tat Lo next to Sabai Sabai guesthouse. Or try to convince Mr. Kong at Sisapheth guesthouse, he can speak all 4 languages of the tribe and is a freaking sweetheart. He currently doesn't do tours but we tried to talk to him about it.
Do you have any travel regrets? If so let us know in the comments below.