We are huge fans of Wes Anderson and his beautiful, unique style of cinematography. It's hard for us to even pick a favorite of his films but if we had to do so, mine is Grand Budapest Hotel, and Scott's is The Darjeeling Limited. Both films have a bit of sense of wanderlust.
So you could imagine how excited we were when we showed up to Sorrento Hotel in Seattle and felt like we were smack dab in the set of a Wes Anderson film. Everything from the front desk in reception, the sitting room with a fireplace and live piano performances, the Dunbar Room, to our gorgeous corner suite on the third floor. Each and every room had details that felt straight out of a Wes Anderson set.
Check out where to stay in Seattle for more on Sorrento Hotel and other neighborhoods to stay in the Seattle area.
Our Room
Where do I begin? The moment we stepped foot in our door we both were awestruck. We quickly toured the corner suite and both said this would be so cool if we could just live here. Our room was huge and beautifully decorated.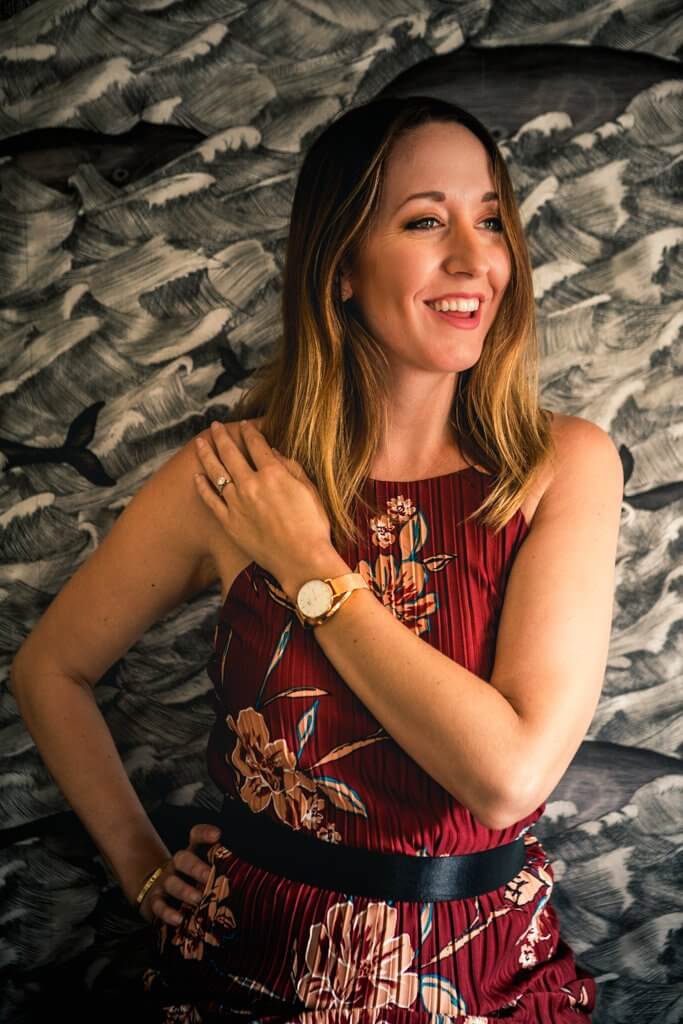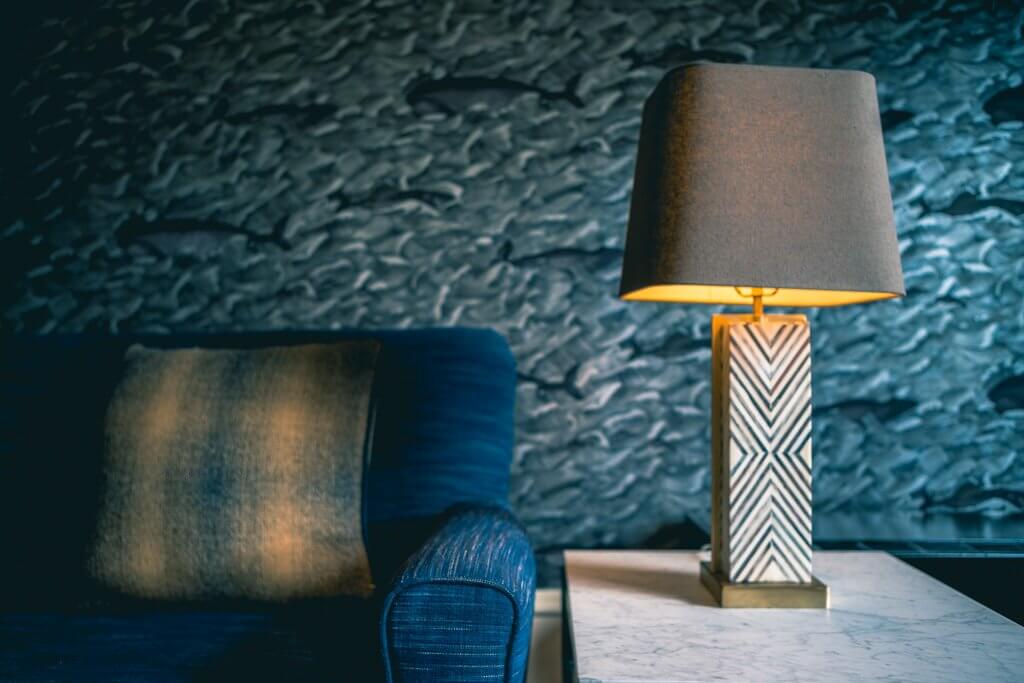 Our living room was complete with an entire wall of windows overlooking downtown Seattle, a mini bar, a great desk and workspace, tv, sofa, and our favorite touch – the whale wallpaper. Everything from the wallpaper to the furniture had a modern-vintage feel to it and a perfect place to take Wes Anderson inspired photos that could have been straight out of The Royal Tennenbaums.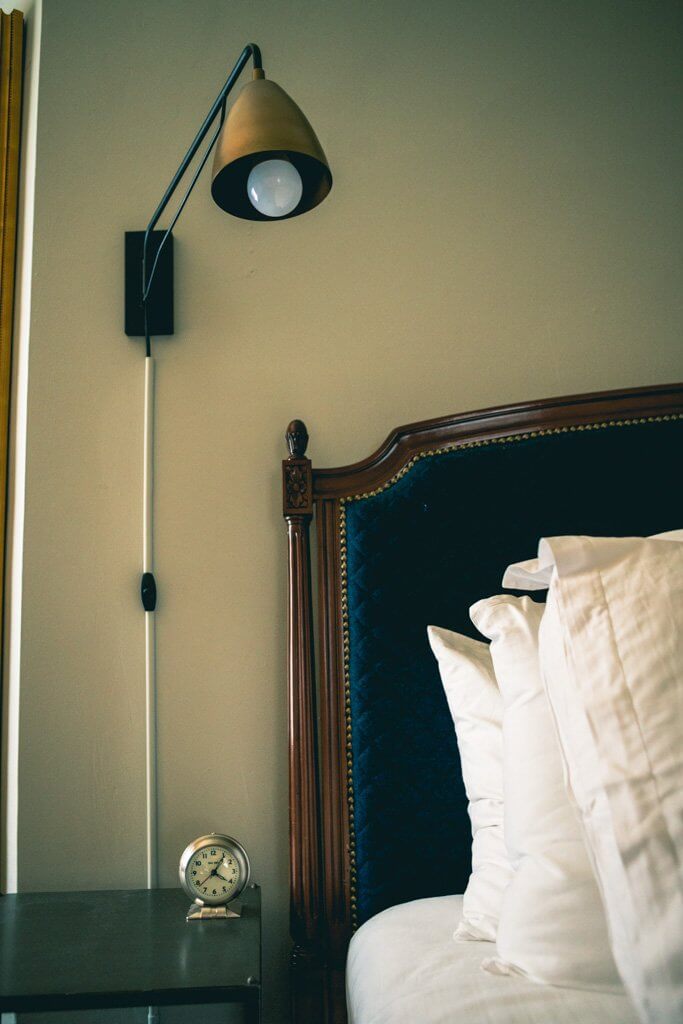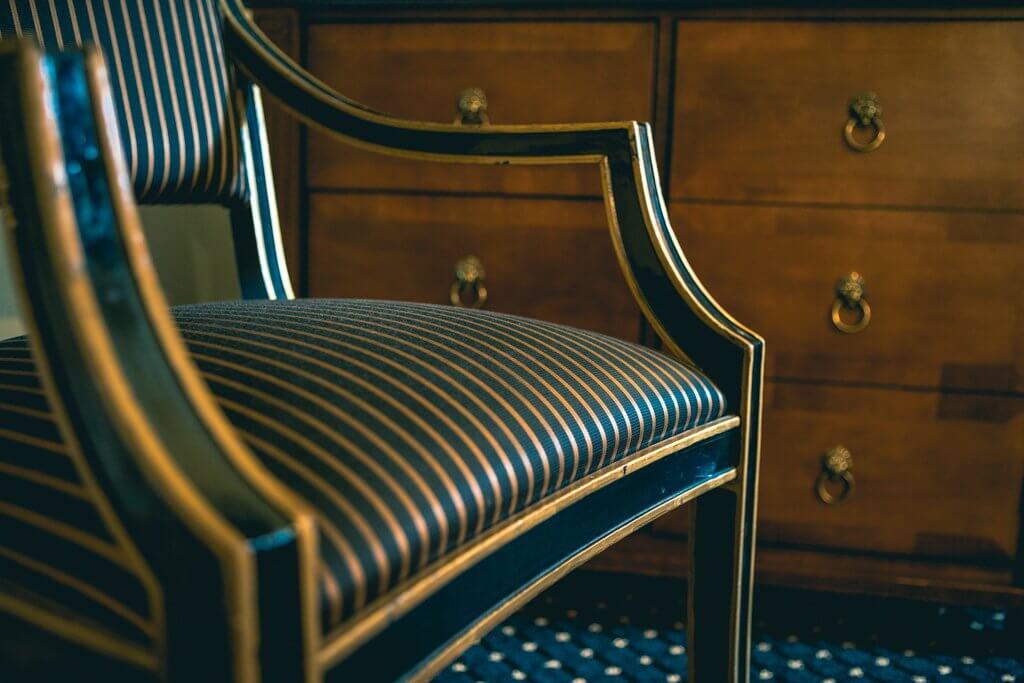 Walk through the hall to our bedroom where we had a cozy bed, beautiful vintage headboard, dresser, and spacious closet to store all of our belongings. This room was by far overshadowed by the living room and that fun wallpaper.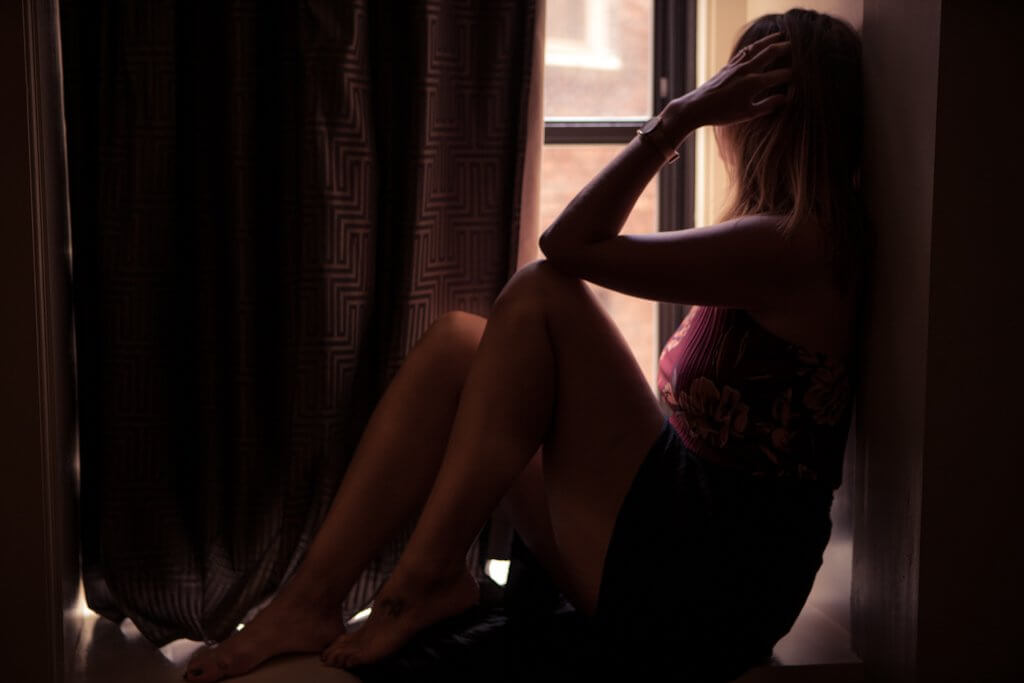 Wander down to what seemed like our neverending hallway to a beautiful white tile bathroom with an antiquey looking sink and mirror. I couldn't help but be reminded of my great grandfather's house that still has the original decor in it from the 50s. The sink and tiles reminded me of one of the bathrooms in his home that seemed perfected preserved in time.
We spent most of our time in our hotel room in the living area to finish up work and enjoy a glass of red wine with some television in the evenings. We couldn't help ourselves and had to channel our inner Wes Anderson and try to take some photos that reflected the way we felt about the room, straight out of one of his movies!
A sweet bonus would have to be the Caswell Massey toiletries! I have loved this brand since I was young and was excited that they had their soaps and even lotion in travel sized toiletries.
The Hotel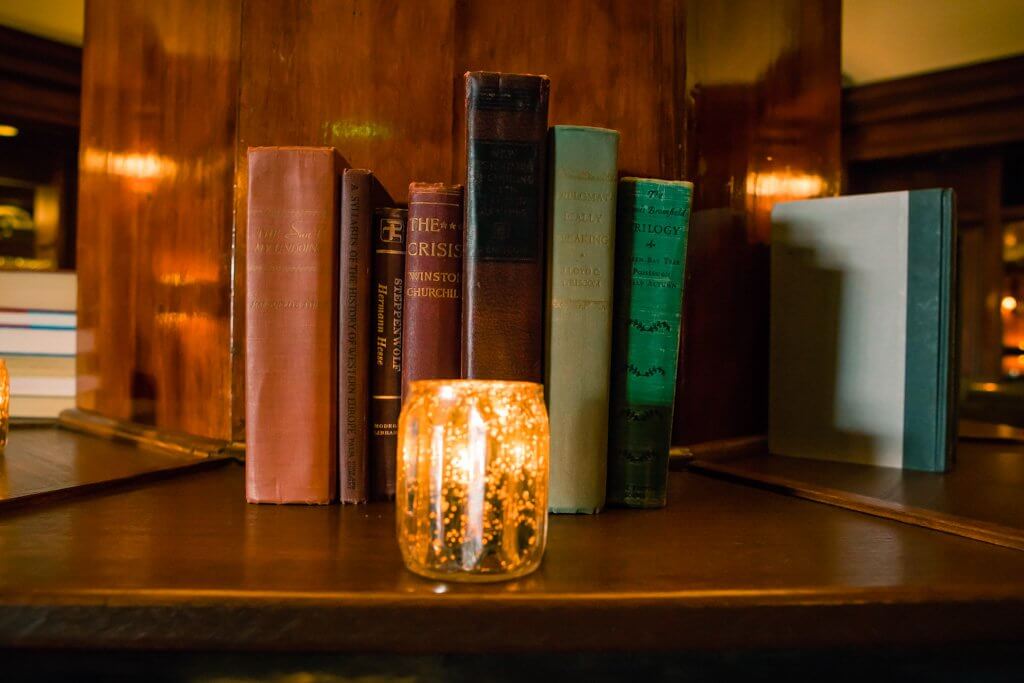 As I mentioned before, even the lobby looked straight out of a movie. Behind the grand wooden reception desk I could imagine the bell hop from Grand Budapest Hotel. There was a giant wooden chest with rows tiny slots where each hotel room key belonged, just like it must have in the early 1900s.
Walk towards the elevator and you'll notice the frames on the wall containing old menus from the 1920s -1930s from Sorrento Hotel's restaurant.
Walk into the Fireside Room and be taken back by the live in house musician who's beautiful voice and piano playing sets the entire mood. The entire Fireside Room is filled with antique books, furniture, ornate woodwork, and of course a cozy fireplace.
Certain evenings Hotel Sorrento offers free wine for its guests to sit and enjoy this area and the live music. The entire scene feels like it could be out of a Wes Anderson movie.

Head outside and there is a gorgeous patio where you can order drinks and food from the Dunbar Room. You also can admire the lovely brick exterior of Hotel Sorrento inspired by The Vittoria Hotel in Sorrento, Italy.
If you look you can see the historic touches and elaborate Italian-Renaissance style still around in Hotel Sorrento, being one of the earliest hotels for the famous world exposition and for prospectors in the Pacific Northwest opening its doors for the first time in 1909.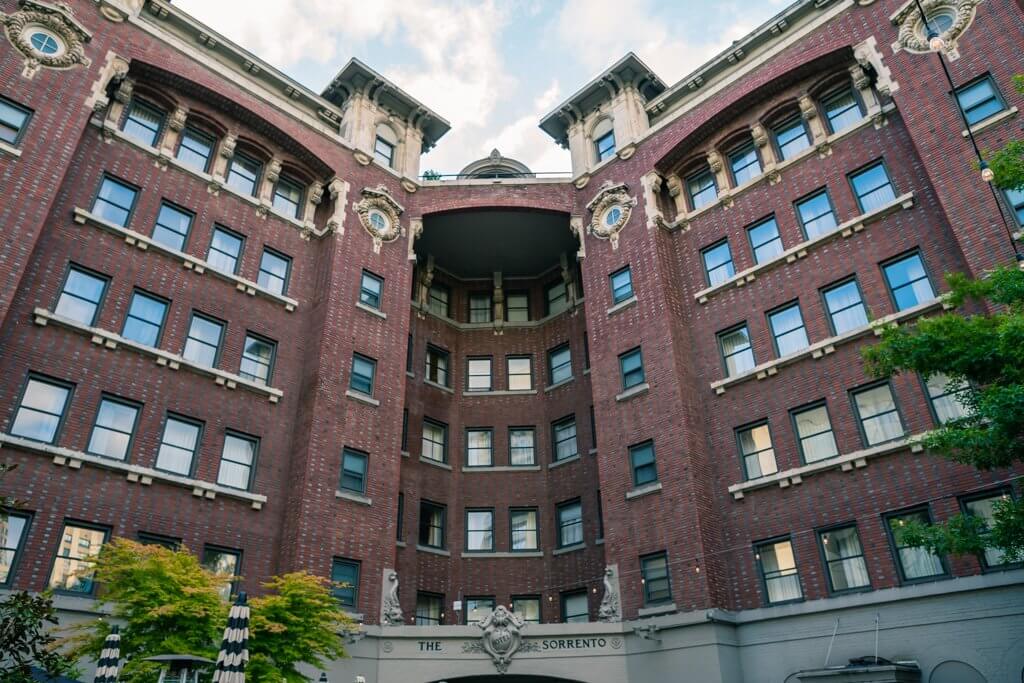 From the 1930s to 1950s the view from Hotel Sorrento's 7th floor was considered one of the best in the city at the time. Deserving the nickname, "Top of the Town," where their original restaurant and dining room used to be. Now this area is the penthouse rented out for weddings and meetings but still offering a fine view, even if the city has built up around it since then.
The Dunbar Room
If you aren't staying at Hotel Sorrento, you can still enjoy the Wes Anderson vibe by visiting the Dunbar Room for drinks of a meal. Grab a drink at the beautifully restored wooden bar, sit in the dining area with gorgeous mosaic tiled floors, grab a seat outside in the lovely courtyard and patio, or snag a spot in the fabulous Fireside Room for some live music and that incredible fireplace scene.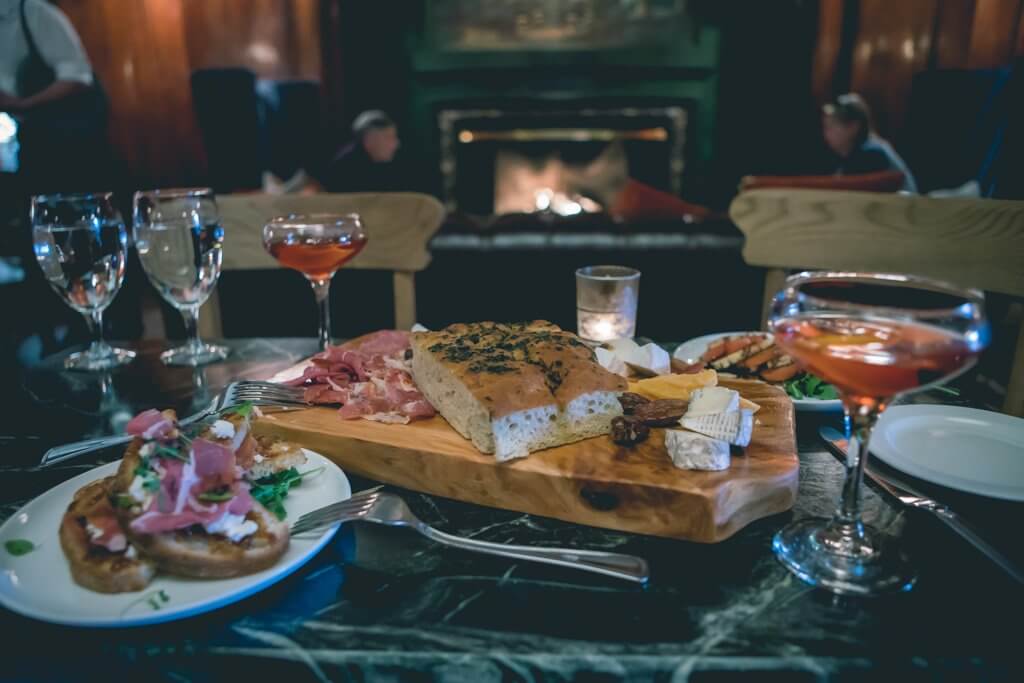 When we were visiting we enjoyed a light dinner facing the fireplace in the Fireside Room with cocktails and a delicious charcuterie spread topped off with a refreshing lemon tartlet for dessert. The entire atmosphere was intimate and romantic with the fire going on in the background.
We couldn't help but love the entire vibe going on in here as well as admire the decor we have been raving about. We couldn't help but love the little details around us including all the antique books.
On our last day before checking out, we enjoyed one of their signature cocktails at the bar. The entire room where the bar is feels almost like a speakeasy and is preserved from another era. There aren't many places left where you can stop and have a drink and just feel like you've time traveled back in time during the prohibition.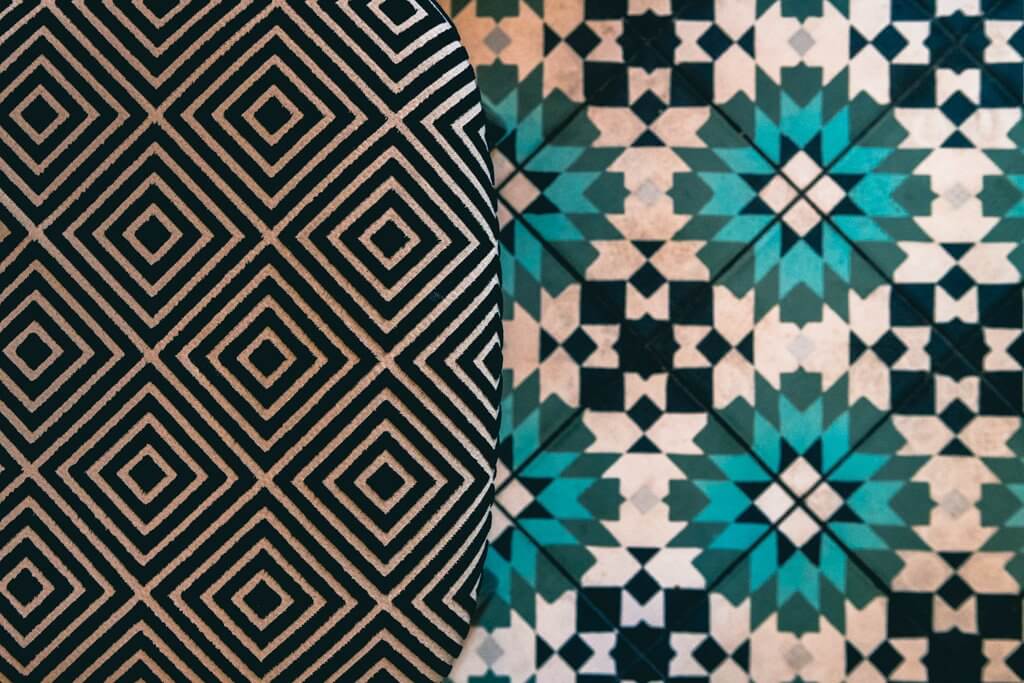 In the morning we enjoyed a breakfast buffet in the main dining are of The Dunbar Room. We loved the tiled floors and the black and white patterned cushions on the chairs. There was an artistic contrast to the look that we couldn't help but try to capture.
We highly recommend coming to Hotel Sorrento, if not to stay at least to eat or get one of their signature cocktails to experience the feeling of being in a Wes Anderson film!
Location
Another great feature about Sorrento Hotel would be its location and close proximity all the best things to do in Seattle. We were about a 15-20 minute walk to Pike Place Market, 15-minute walk to Pioneer Square, and about the same distance up to Capitol Hill making it the best possible location if you don't plan on having a car in Seattle. We loved that we were able to get almost everywhere by foot.
Check out our guide for what to do in Seattle for a first time visitor.
---
Hotel Sorrento was a meeting place back then and it is still today. Enjoy your few days in Seattle by staying in one of their unique rooms, all rooms are different by the way, or swing by for a fantastic meal and/or drinks at the Dunbar Room. If you're a Wes Anderson film and style lover you'll feel that vibe when you're here.
Hotel Sorrento
900 Madison St, Seattle, WA 98104
(206) 622-6400
Check their current rates and availability.
Share the love below on Pinterest!