Looking for the best neighborhoods in Washington DC to explore? We've got you covered in this DC neighborhood guide which offers some of the best areas to explore for your visit to DC including what each neighborhood is known for, what there is to do, see, and eat!
Let us help take the heavy lifting of trip planning off your plate by helping you decide which neighborhoods in Washington DC to visit. And if you need helping planning, be sure to check out our guide to how to spend 3 days in Washington DC itinerary for the perfect weekend trip!
Best DC Neighborhoods to Visit
Union Market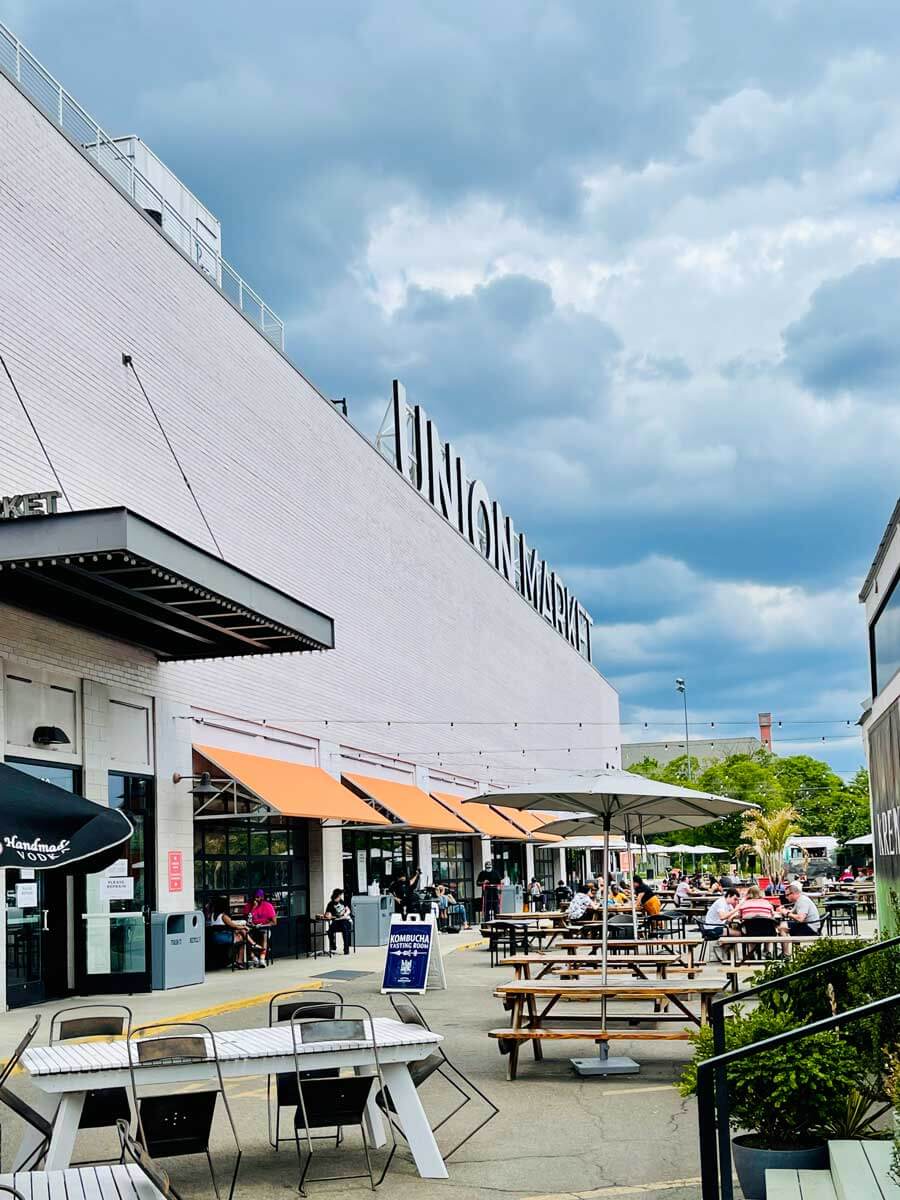 Formally known as Union Terminal Market, Union Market is known as the most important part of Washington's food infrastructure!
This neighborhood in Washington DC has a rich history and first came to life when it was a replacement market center for the Center Market in 1931. This is one of the best neighborhoods in Washington DC for eating and shopping, making it a first pick on just about any DC neighborhood guide.
Whether you want to watch a Top Chef competition, buy ingredients for a home-cooked meal, or dine at a fancy restaurant, Union Market will have what you're looking for! This feasting ground's most popular dining spots include St. Anselm and 2Fifty's.
Although Union Market is one of the best Washington DC neighborhoods for foodies, this area is great for spotting some of the best street art in the city!
Also, next to Union Market is Gallaudet University, the first school and advanced education center for the deaf and hard of hearing community.
U Street Corridor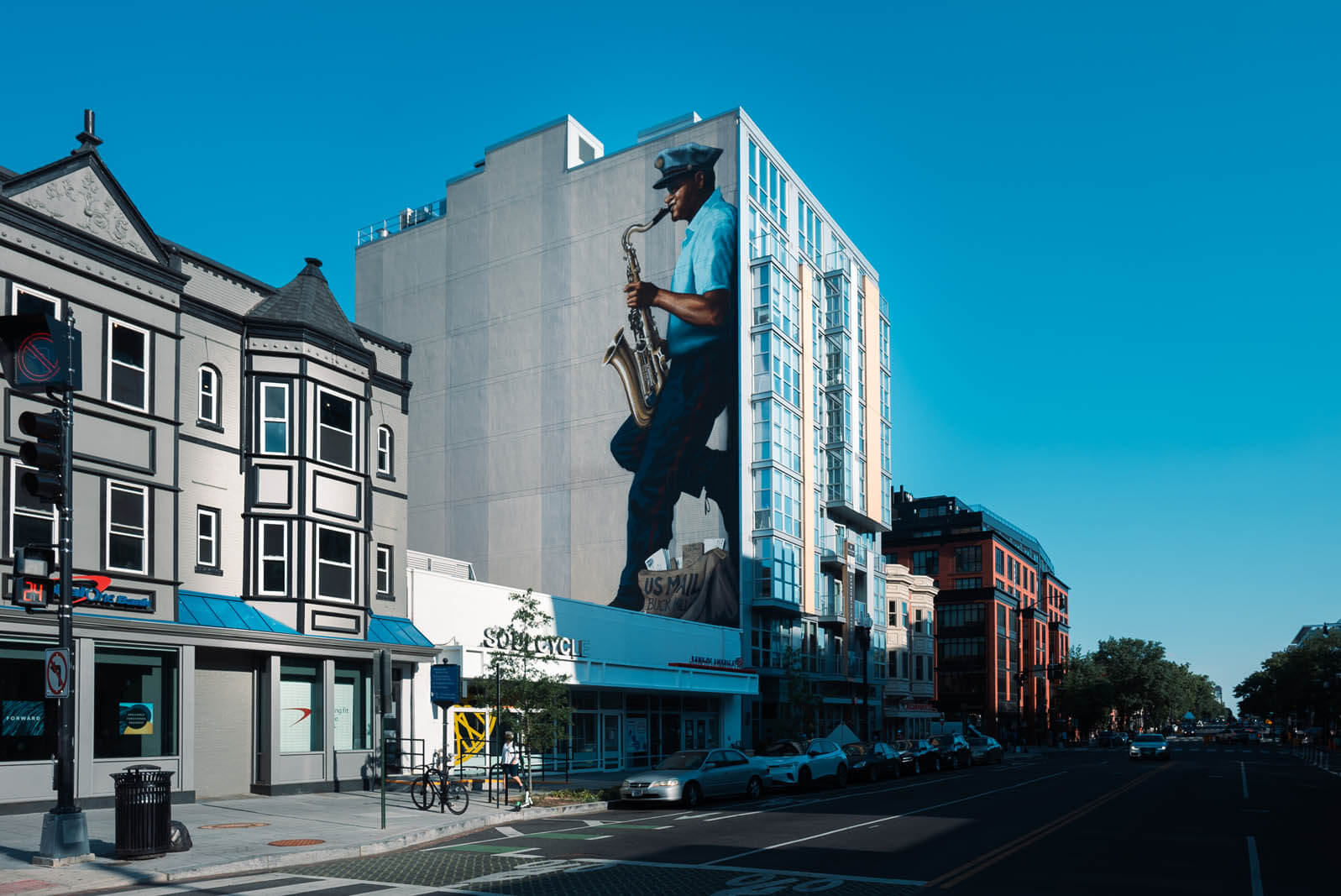 One of the best DC neighborhoods worth checking out on your visit or stay in the city is U Street Corridor, home the country's 'Black Broadway' during the peak of the Jazz era in the 1920s and 1930s being the place that legendary jazz musician and local Duke Ellington spent a considerable amount of his career along with Nat King Cole, Ella Fitzgerald and more creatives like poet Langston Hughes.
Before the Harlem Renaissance in New York City, U Street was the largest African American urban community in the United States. This DC neighborhood is steeped in culture and history and is one of the best neighborhoods in Washington DC for nightlife, entertainment, dining, and some seriously great street art and murals of some of the legends that are connected to this Washington DC neighborhood.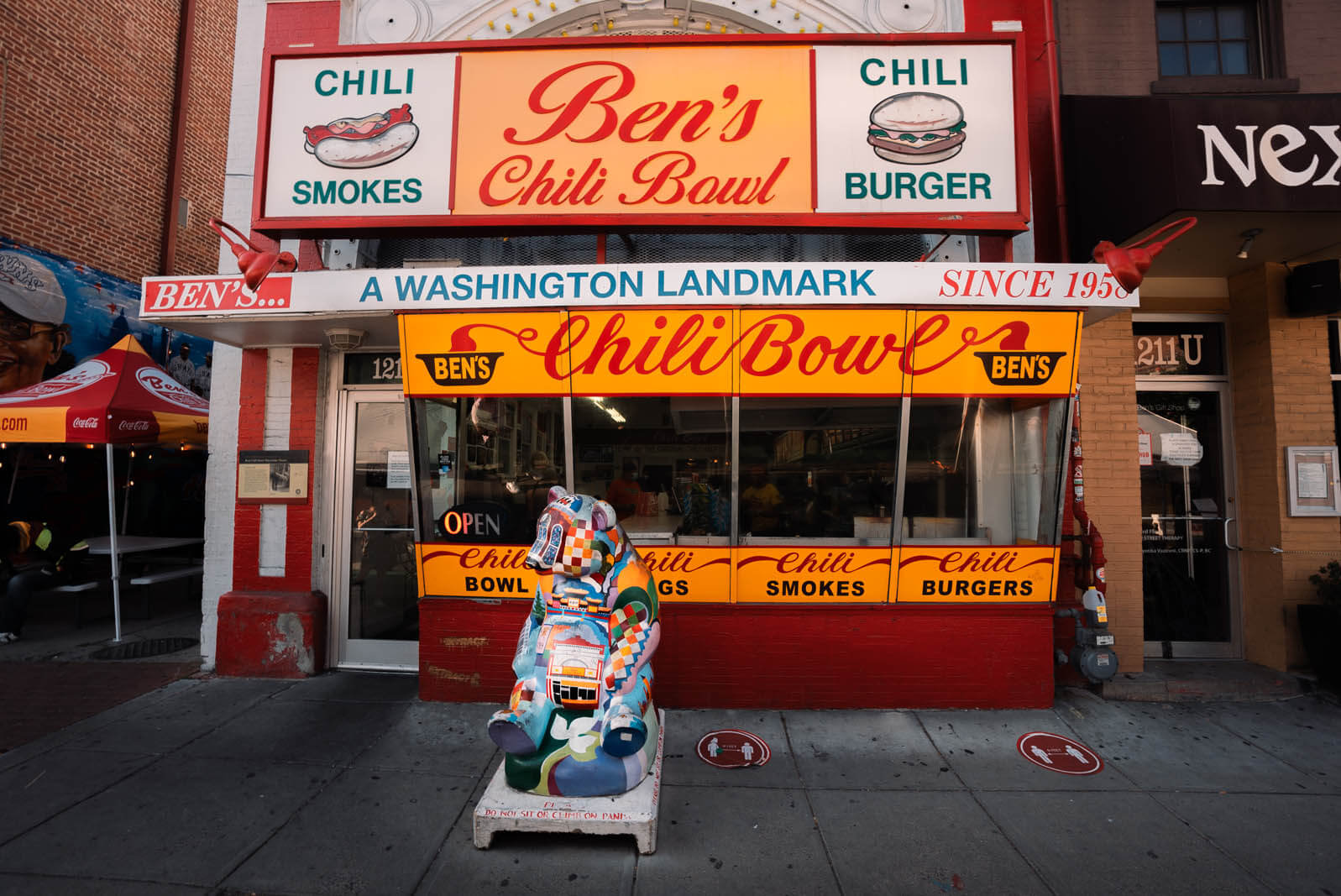 Don't miss Ben's Chili Bowl, one of the oldest eateries in this DC neighborhood and a staple to the community that has been a hot spot for neighborhood celebrities like Duke Ellington, Miles Davis, and even Barack Obama. Try the chili on a hot dog paired with some fries and take in this historic spot or the DC half-smoke loaded with chili!
Busboys and Poets is another great stop in this DC neighborhood that combines a coffee shop, bookstore, and restaurant whose name pays homage to Langston Hughes who worked as a busboy at the Wardman Park Hotel in the 30s before becoming famous. This spot is centered around creative thinkers, artists, social activism, and the community which has received a positive reception from not only this historic community but a popular spot among other creatives, writers, and celebrity clientele.
For more food, check out Dukem Restaurant where you can find Ethiopian fare which pays homage to the DC neighborhood of U Street being nicknamed in the past, Little Ethiopia due to its amount of restaurants in the neighborhood. Few still stand as many relocated to Alexandria and Silver Spring.
Hit up the contemporary jazz scene in the neighborhood too by stopping by Jojo Restaurant & Bar and Twins Jazz for live performances.
If you want to opt for a more historic venue, check out Howard Theater which reopened in 2012. This theater opened in 1910 and was known for being a venue where some of the greatest Black musicians of the 20th century performed.
Meriden Hill Park, aka Malcolm X Park, is a great green space to relax and witness the longest cascading fountain on the continent!
Another great way to learn more about this must-see DC neighborhood is by joining the African American History Walking Tour of U Street Corridor. On this tour you'll learn all about Black Broadway and the history of the communities who have lived here stopping at the neighborhood's best highlights along the way!
Foggy Bottom
Foggy Bottom is a popular DC neighborhood, government hub, and cultural hub in the city. This Washington DC neighborhood is home to the U.S. Department of State, The Kennedy Center, and The Washington National Opera. You'll quickly find that this neighborhood is especially suited for young professionals, students, and foodies that are searching for more casual spots!
This old historic district originally got its name from the mist that rises from the Potomac in the morning. However, the Potomac isn't the only landmark worth visiting. Many tourists love visiting Foggy Bottom to stop by the U.S. Capitol or Supreme Court building!
This neighborhood consists primarily of private residences and casual cafes. It's also not far from Georgetown, making it one of the best Washington DC neighborhoods for college students and young professionals.
What makes this one of the best DC neighborhoods to check out is that its quieter but still as events like free shows at the Kennedy Center, head to the famous Watergate Hotel for drinks with a view over the Potomac, paddle on the water with a rental, or take a peaceful stroll through Rock Creek Park.
PS this DC neighborhood was named after the fog that lingers here from the Potomac.
Capitol Hill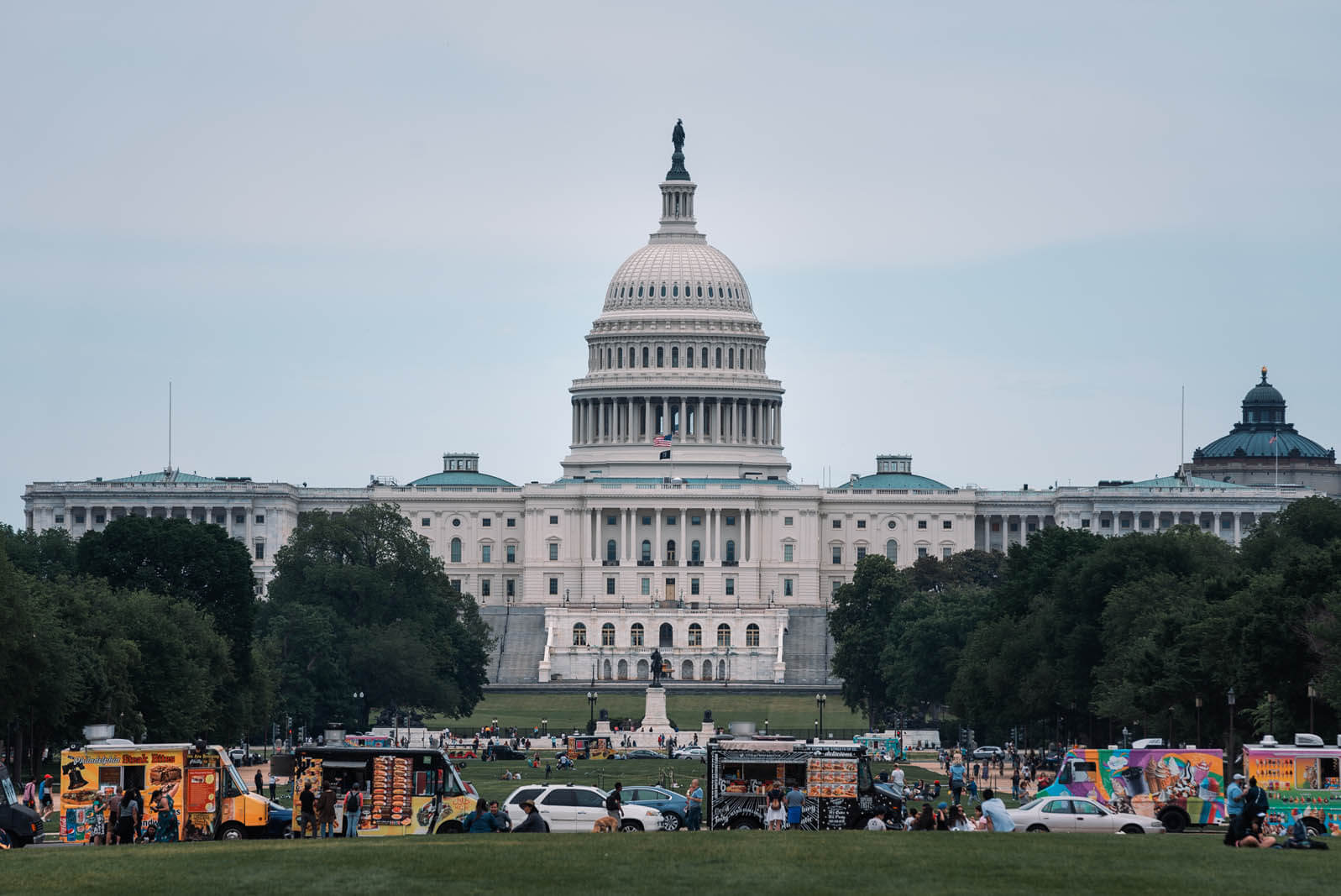 Capitol Hill is a historical neighborhood in Washington DC. This part of town is home to the U.S. Capitol, Houses of Representatives, and the Supreme Court!
Besides its rich history and importance regarding the U.S. government, Capitol Hill is also known for its extensive food options for dining as well as great shopping. Capitol Hill's Eastern Market showcases a large array of food vendors and antiques!
Barracks Row is also lined with many cafes and famous restaurants and is the city's oldest commercial district. This spot is a foodie haven with multiple Michelin eateries like Pineapple & Pearls, Little Pearl, and Rose's Luxury.
Any DC neighborhood guide will tell you that this is one of the best Washington DC neighborhoods for families and children due to its extensive greenery and popular parks, including Marion Park, Stanton Park, and Garfield Park. If you make your way to one of these hot spots, you won't have trouble finding a playground for your kids!
Pack in some traditional sightseeing like touring the Library of Congress, visiting the Congressional Cemetery, tour the Capitol building, visit the Supreme Court, and visit the museums.
When you need a break, head to The Tune Inn for a popular, historic dive spot where you can grab a drink and a bite to eat.
H Street Corridor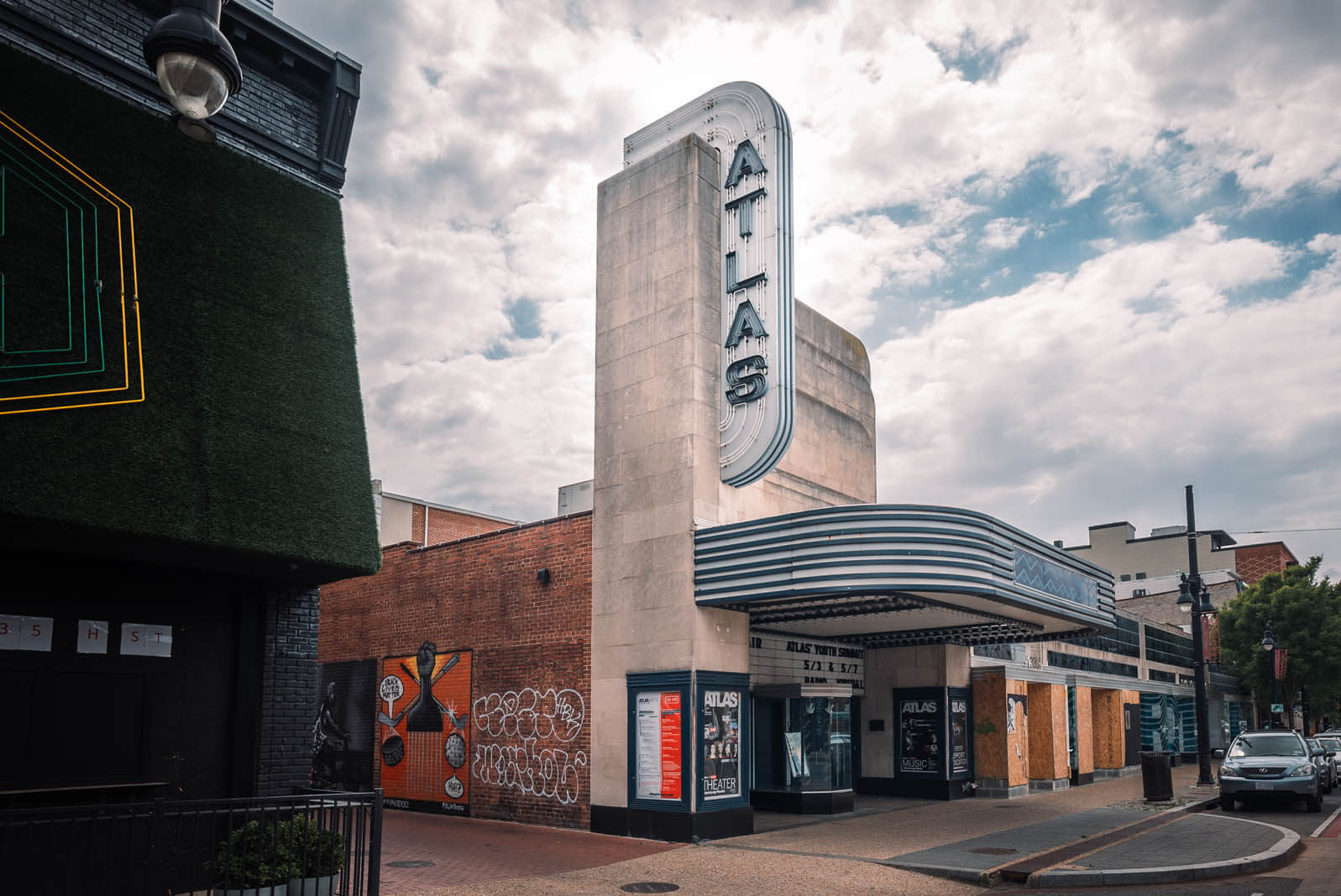 H Street Corridor is a quirky, tight-knit neighborhood in Washington DC. If you make your way to H Street Corridor, you can expect to find many hip coffee shops and independent boutiques to browse and shop during your trip.
H Street Corridor is also home to The Atlas Performing Arts Center. This performing arts center has been putting on plays, concerts, and films since the 1930s and is a centerpiece for the neighborhood's arts and culture scene.
If you're a foodie, H Street Corridor is one of the best neighborhoods in Washington DC for you! Home to many weekly farmers' markets, this neighborhood is a great place to grab unique ingredients and local produce. You can also find great street food at the annual H Street Festival that's known for its food and music!
If I can recommend one place to eat at in this DC neighborhood, which is difficult because it's full of one impressive restaurant after another, I would recommend Maketto.
This restaurant, cafe, and retail space is a unique combo and has a really special set up with seating options inside, outside, upstairs, and in their garden lounge featuring mouthwatering Southeast Asian fare specifically with flavors influenced by Cambodia and Thailand.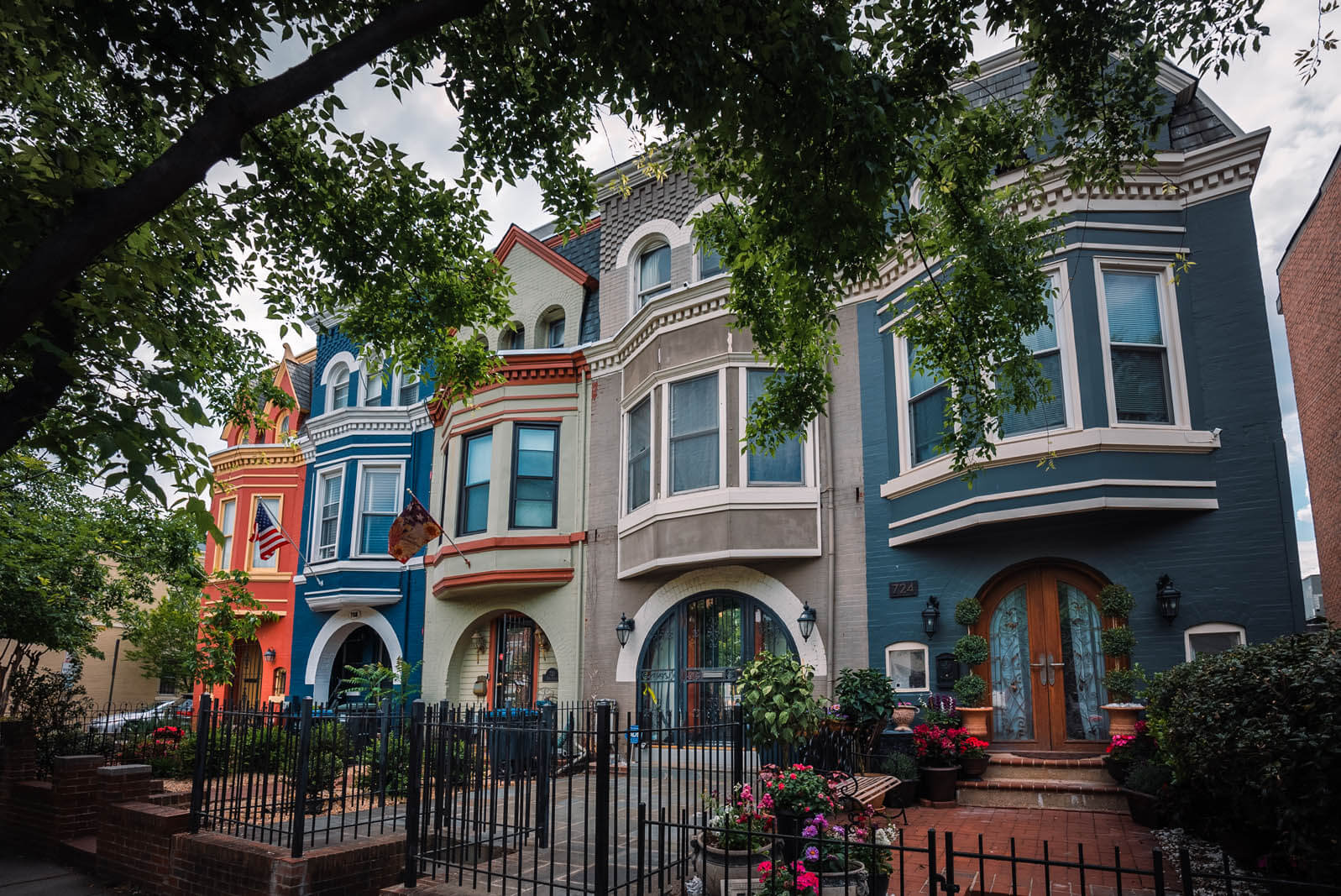 Another thing we loved about exploring this area and why it's one of our picks for best neighborhoods in Washington DC to explore is also the murals and pretty streets here. Be sure to wander up and down a few streets like Linden Pl and Wylie St to see some of the beautiful, colorful row homes.
Georgetown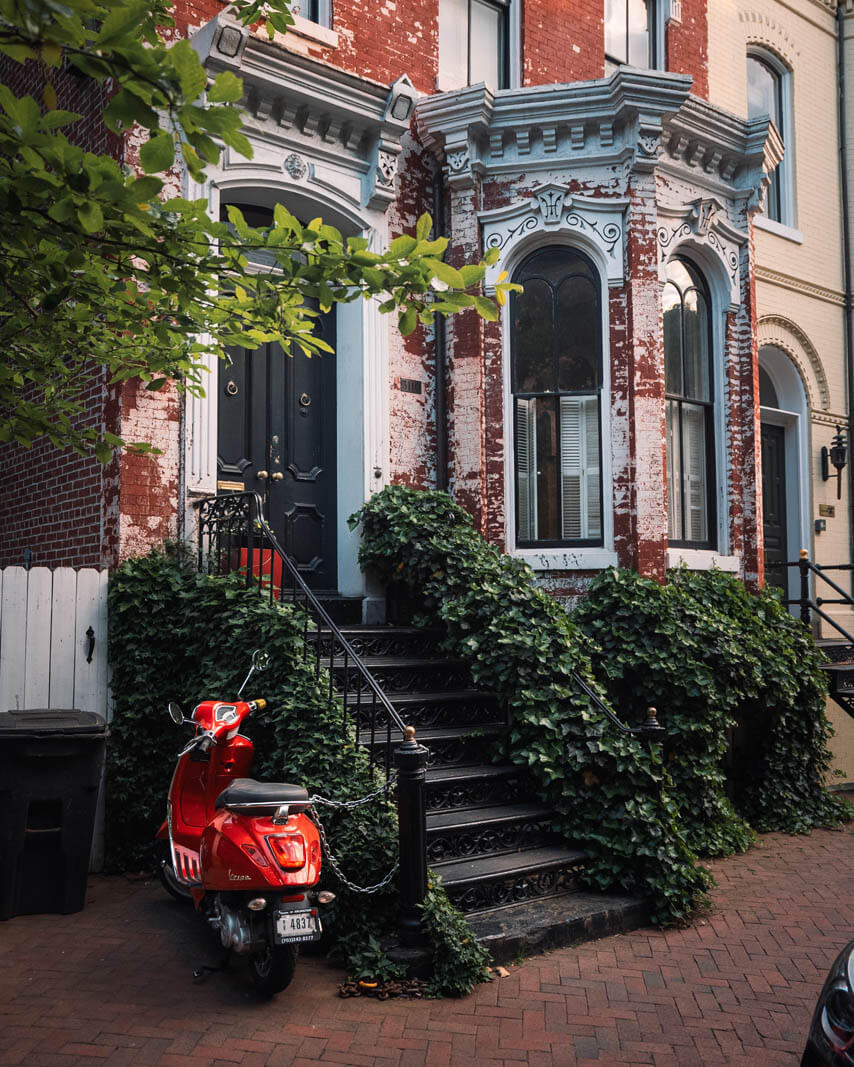 Any DC neighborhood guide wouldn't be complete without one of the most famous and beautiful neighborhoods in Washington DC. Georgetown is an upscale, trendy neighborhood in Washington DC.
Famous for its Federalist-style homes and historic buildings, Georgetown is one of the best neighborhoods in Washington DC for sightseeing and shopping at upscale shops on the charming cobbled streets.
Georgetown is also home to Georgetown University, so you can expect to find a young, thriving college scene here as many of those lucky students get to call this neighborhood home along with the other wealthy residents.
Be sure to walk around and visit Georgetown Waterfront Park, where you can find a bike path along the C&O Canal, gorgeous gardens, and many live music lounges!
Hit up the best things to do in Georgetown and historic points of interest like the Old Stone House which is one of the oldest in the city, tour Tudor Place which is home to generations of descendants of the first First Lady of the United States Martha Washington, or find the staircase from the Exorcist!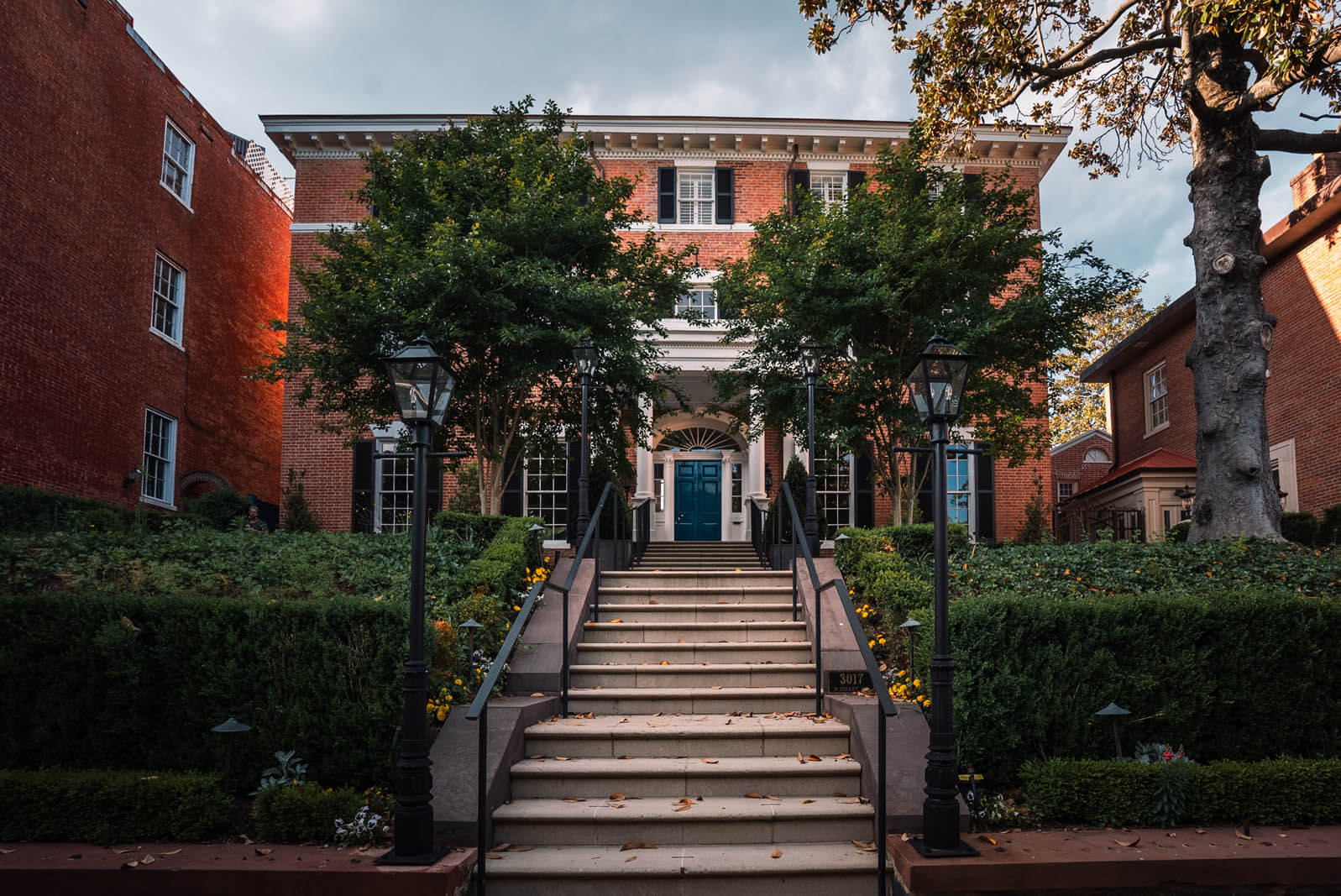 Also, if you're into history and love JFK and Jackie Kennedy, you can do a DIY Kennedy walking tour through the neighborhood taking you to many of the residences and homes that are tied to the Kennedys in this neighborhood.
Overall, this charming area is one of the best DC neighborhoods for anyone looking to experience waterfront dining, gorgeous greenery, and entertaining nightlife with young professionals!
Don't miss the colorful, Instagrammable, pink Call Your Mother bagel spot either! Coming from NYC, we were impressed with this bagel spot and their bagel sandwiches!
Dupont Circle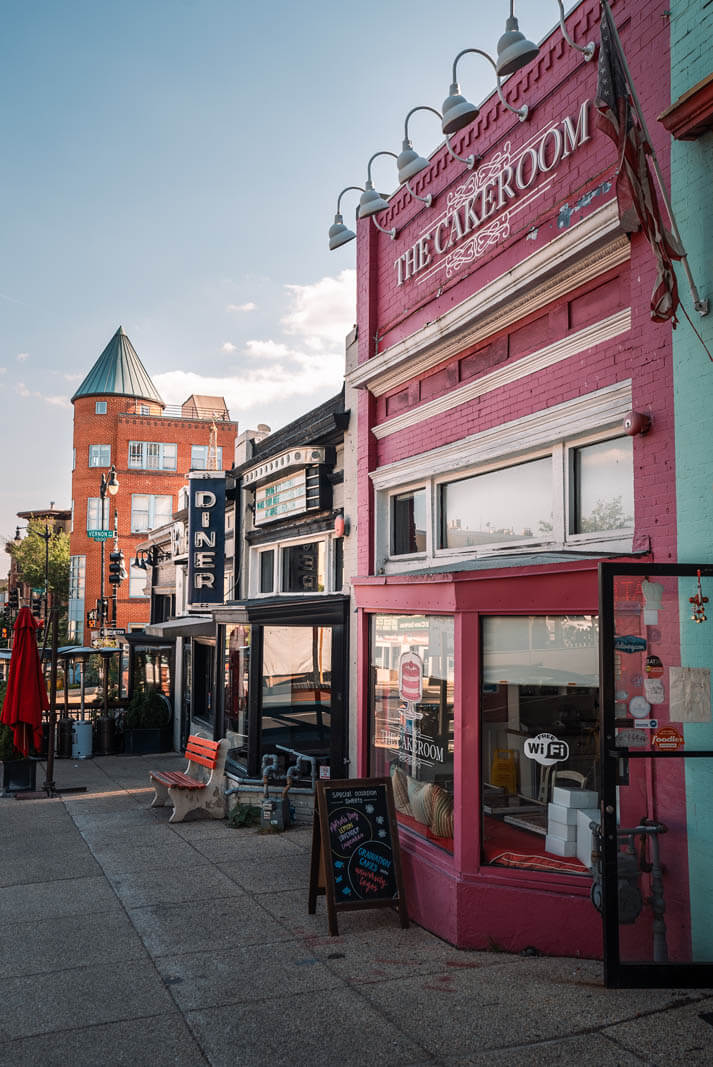 Dupont Circle is a residential neighborhood in Washington DC that's known for its nightlife and eclectic eateries with the centerpiece of this neighborhood being the traffic circle with the giant fountain in the center.
Dupont Circle is one of the best neighborhoods in DC for those who want to learn more about the history of America especially as this neighborhood was historically a stronghold for social activism in the 1960s and 1970s including anti-war activism, LGBTQ activism, and the Black Panther Party had offices here.
More historic spots to check out in this DC neighborhood are The Heurich House Museum, a historic house occupied by immigrant and successful brewer Christian Heurich, the Larz Anderson House which houses a collection of 17th and 18th-century military and war archives founded by American Revolution officers in the late 1780s, The Phillips Collection which is the country's first museum of modern art, and the Woodrow Wilson House to name a few.
At M Street Northwest, you can find many historical museums, upscale restaurants, and cafes with delicious coffee! You'll also find many stores and boutiques that can keep you busy for hours. Some of the most popular hot spots at M Street Northwest include The Wilderness Society, The Chinese American Museum, and The O Street Museum.
Navy Yard
Navy Yard and Capitol Riverfront is a waterside neighborhood in Washington DC that is home to the Nationals Park baseball stadium and many great drinking and dining spots.
If you want to learn more about American history, Navy Yard is one of the best neighborhoods in Washington DC for you! Here, you can find the U.S. Navy Museum, The Cold War Museum, and many other historical landmarks that tourists and locals love.
Navy Yard is also known for its great sightseeing options. The Anacostia Riverwalk Trail and Yards Park both have riverside boardwalks that are great for walking and biking! These spots are also known for housing many concerts and live events during the summer.
One of the most famous places to eat and drink at here is Bluejacket, a brewpub and microbrewery with a gastropub menu to pair with your freshly brewed beer.
Head to the Yards for a lifestyle venue packed full of amazing eateries and shopping not to mention a stylish place to live in this DC neighborhood too.
Adams Morgan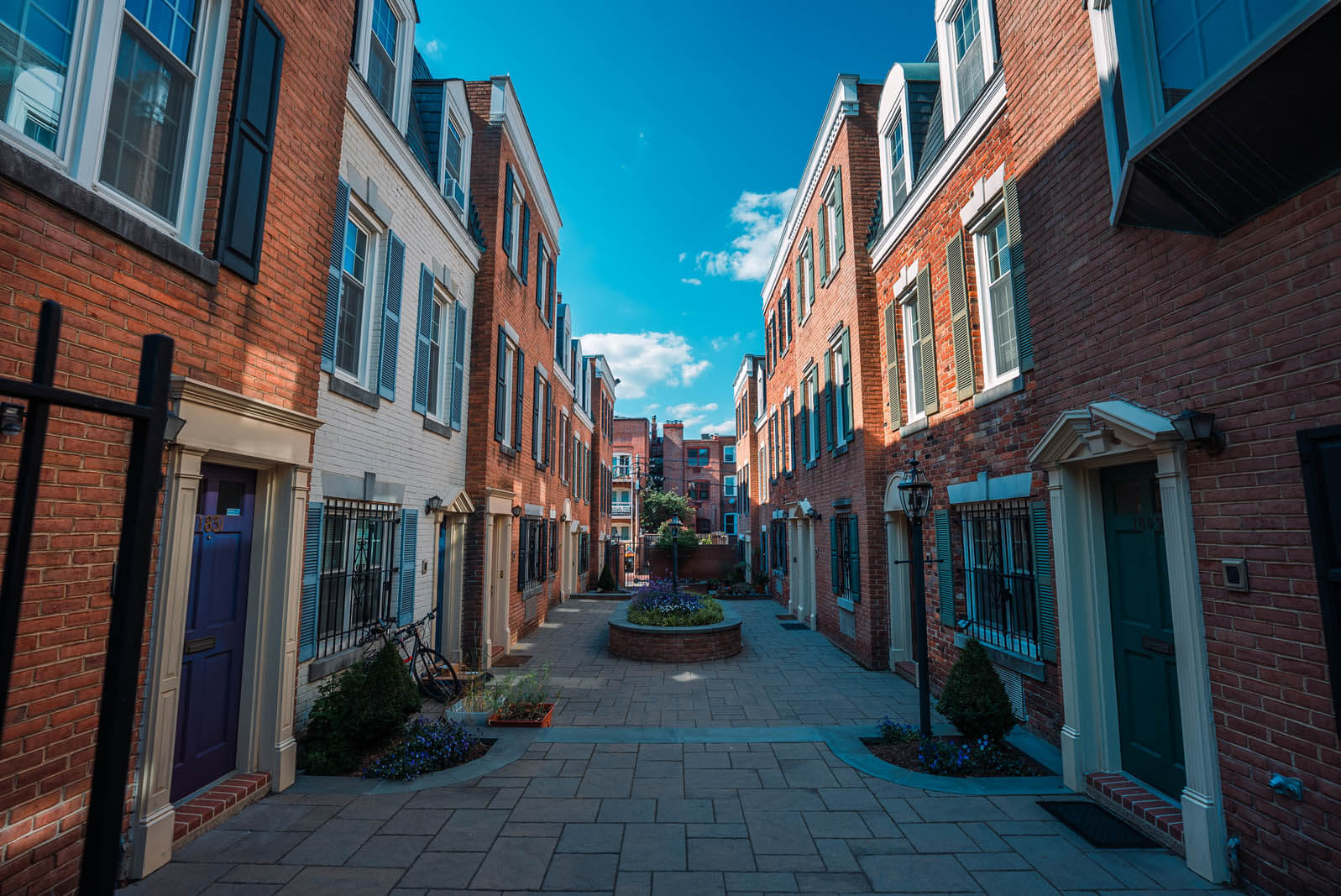 Adams Morgan is a lively DC neighborhood located on 18th street known for its great nightlife scene. This popular neighborhood in Washington DC is a great spot for anyone looking for clubs, bars, fine dining, and more gawking at gorgeous homes.
Known for its brick row houses, eye-catching street art, and artisan cafes, Adams Morgan is a great place for anyone looking for an active, lively scene.
You can find many popular yoga studios, bookstores, and vintage clothing shops while you're exploring this area, one of the best neighborhoods in Washington DC! Whether you're searching for a unique antique store or a delicious coffee shop, you'll be sure to find it on 18th Street.
Adams Morgan is mostly known for its dining, bars, and parks. The most popular restaurants in this area include Smoke & Barrel and Southern Hospitality. The most popular parks in this area are Rose Park, Mitchell Park, and P Street Beach Park, to name a few.
While you're here don't just focus on the partying, walk along the Adams Morgan Heritage Trail which is identified with historic signs that trace the past of this neighborhood's culturally diverse history from the meaning of the name of the neighborhood which is tied to school desegregation and history of the neighborhood tied to presidents, Native Americans, immigrants, activists, and creatives likes poets and authors.
Southwest Waterfront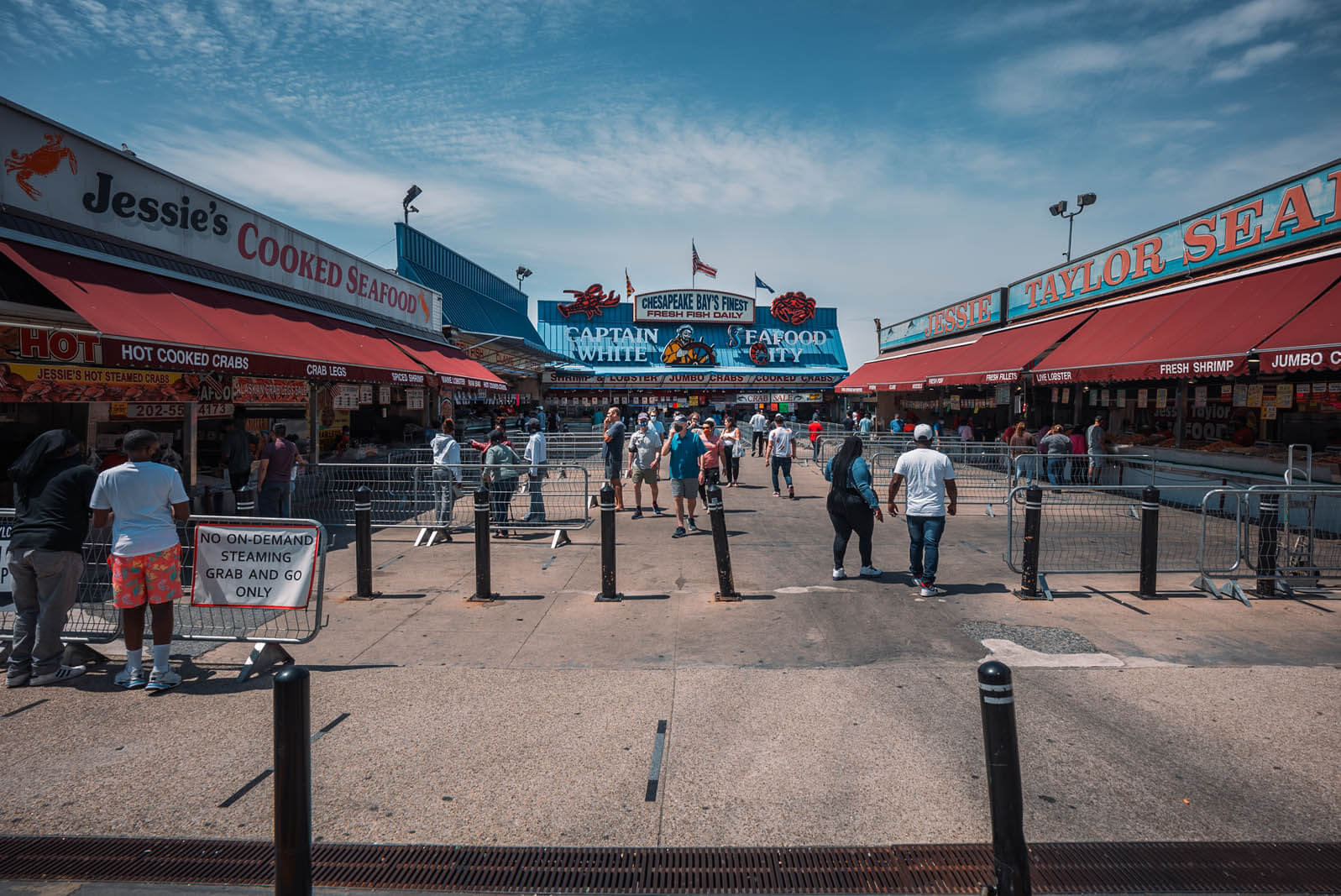 Southwest Waterfront, commonly referred to as The District Wharf, is a popular area on the marina and District Wharf. Although tourists love this area, it has become increasingly popular among locals who love coming here for some of the best seafood in the city.
The District Wharf is a mile-long stretch of waterfront land and neighborhood in Washington DC along the Potomac. Here, you can find the Municipal Fish Market, the oldest continuously operating open-air fish market in the country, as well as many other great places to grab seafood like Rappahannock Oyster Bar and Hank's Oyster Bar.
Southwest Waterfront is home to many great art centers, music venues, and where you can find talented locals performing on the street.
The Arena Stage for American Theater is a great place to go and watch the classic, old-school plays or head to Pearl Street Warehouse for live music performances.
Walk along the piers and parks along the waterfront for quiet views. Better yet, you can walk around 5 minutes to museums and attractions in the Capitol Hill neighborhood of DC. We walked over here for lunch after visiting the International Spy Museum which was one of the coolest, immersive museums we've ever experienced and fun for all ages.
Logan Circle
Logan Circle is a gorgeous neighborhood in Washington DC that draws in a young, fashionable crowd looking to enjoy the nightlife, dining, and shopping on 14th St. Here, you'll be able to find many clothing shops, home decor stores, entertainment venues, and hip eateries. Take a turn down streets like P Street to find more options.
Logan Circle is also home to Studio Theatre, a long-established theater that showcases progressive, contemporary plays as well as acting lessons for locals. Nearby this theater is lots of Victorian architecture that makes for a great sightseeing adventure or walk along the streets.
The Black Cat is one of the most popular spots in this lively neighborhood. In this two-level music hall, you can expect to find frequent concerts, an underground lounge, and an onsite cafe!
Just like Adams Morgan, Logan Circle has its own Heritage Trail you can follow with 15 signs marking the information about this neighborhood in Washington DC including history, social, and cultural heritage along 1.5 miles.
Woodley Park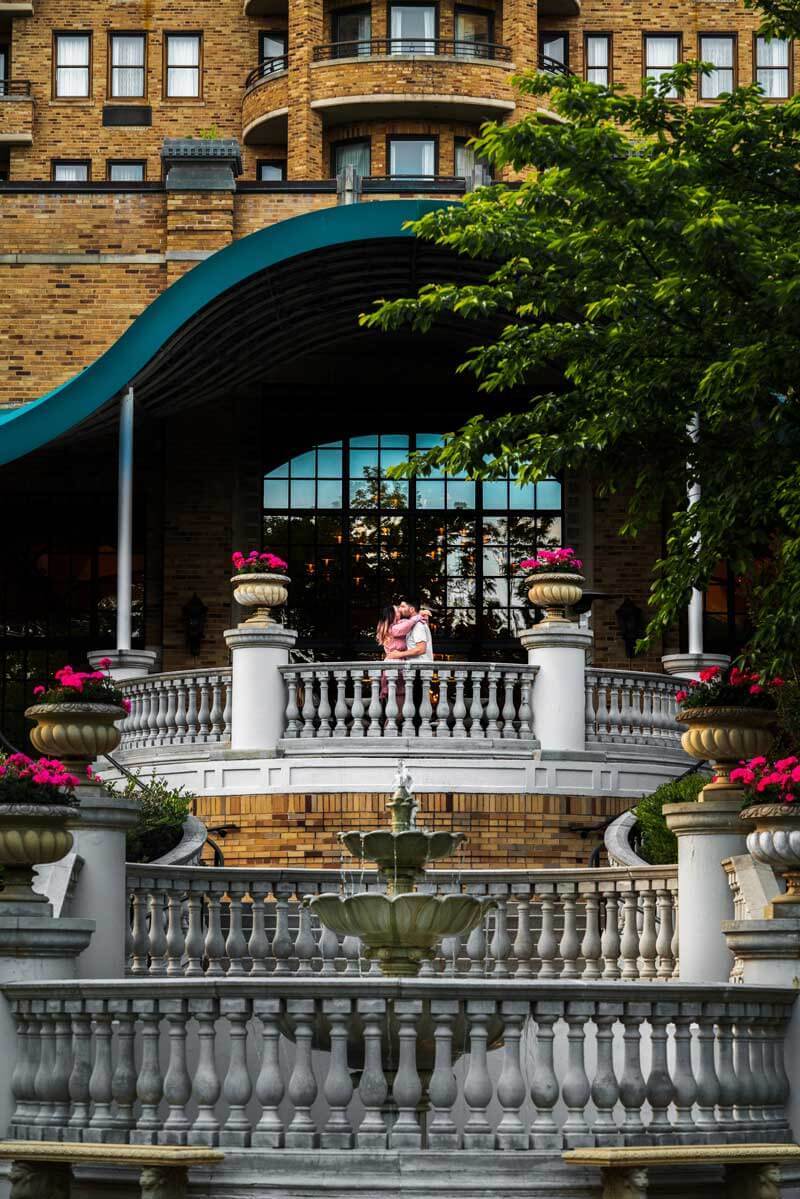 Woodley Park is an affluent neighborhood in Washington DC that's most known for The Smithsonian's National Zoo and is a great place to base while staying in the city. This zoo is known for its giant pandas and nearby Rock Creek Park, which makes for a great hike or bike ride.
Woodley Park's main strip is Connecticut Avenue. This bustling street is home to many unique eateries and the famous Omni Shoreham Hotel that has formerly housed The Beatles during their American debut. If you go to the lobby and ask, you'll be pointed to the wing on the right and in a display case you can see the Beatles handwritten setlist for that performance here!
Besides the Beatles, this historic hotel has been a venue for every presidential ball from FDR to Obama and where Bill Clinton gave his famous saxophone performance. Pamper yourself at the spa here or lounge at the pool.
If you're on the hunt for lush greenery, Woodley Park is one of the best neighborhoods in Washington DC for you. Here, you can explore more of nature by visiting The Tregaron Conservancy, Lamont Plaza, or Montrose Park.
Penn Quarter & Chinatown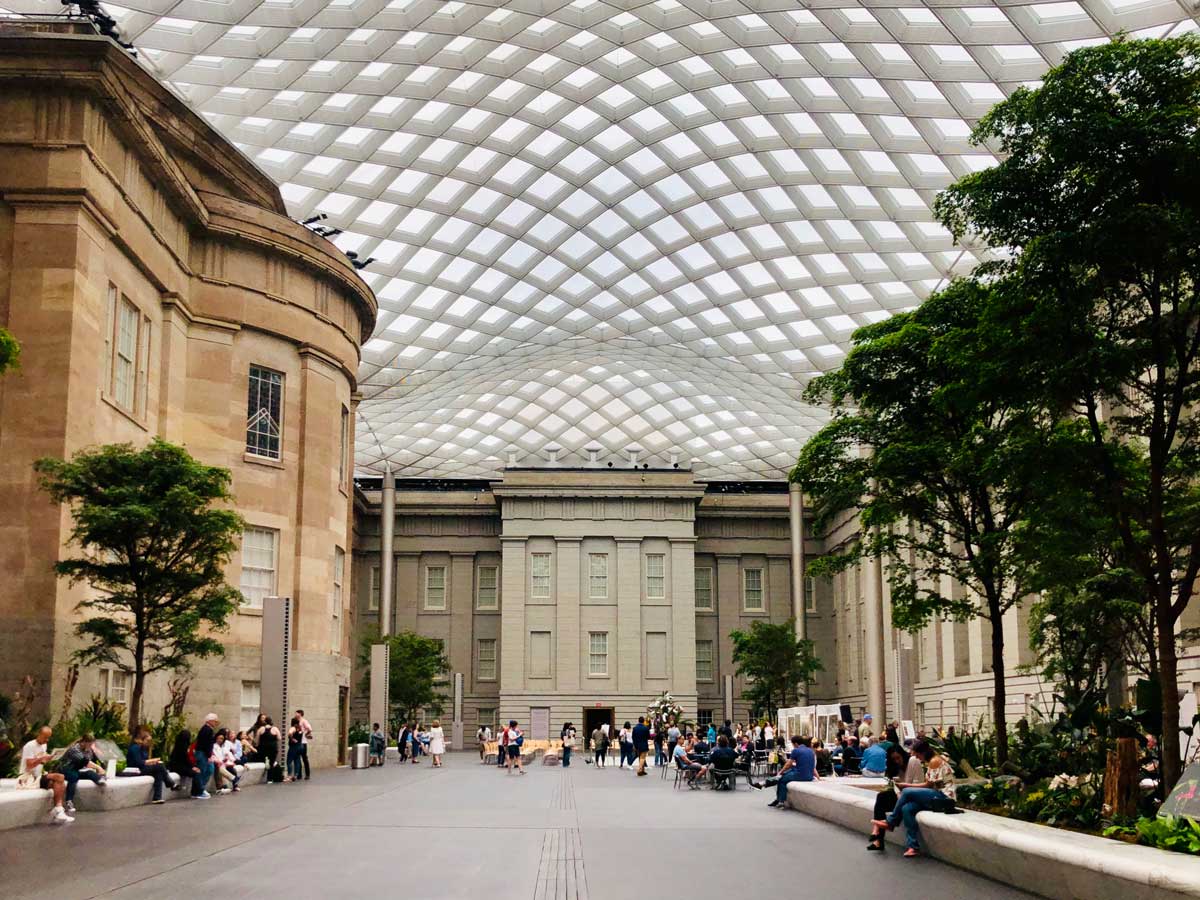 We are going to combine two of the best neighborhoods in Washington DC together here. Chinatown and Penn Quarter is a central area and neighborhood in Washington DC that's known for its high-energy vibe, sports bars, and musical theaters.
This historical neighborhood is also a great spot to see museums. Some of the most popular museums in this area include the Smithsonian National Portrait Gallery & American Art Museum, National Law Enforcement Museum, US Navy Memorial Plaza, and The Clara Barton Missing Soldiers Office to name a few.
Penn Quarter is also home to The Capital One Arena, one of the most popular sports events hubs. Nearby is The Ford's Theatre, a playhouse where Abraham Lincoln was fatally shot. This historical spot still functions as a popular neighborhood theater and is a great spot to see some American-themed shows, including their annual showing of A Christmas Carol by Charles Dickens.
If you're looking for nightlife that never ends and lots of foot traffic, Penn Quarter is the perfect neighborhood in Washington DC for you!
Head to the Friendship Arch to make your way into Chinatown where you can find plenty of delicious spots to eat and some amazing dim sum!
Bloomingdale
One of the smaller neighborhoods in Washington DC, but still one worthy of checking out is Bloomingdale. Bloomingdale is a lowkey neighborhood in Washington DC that is home to many famous restaurants and stunning parks.
For parks and green spaces, check out Crispus Attucks Park named after the African American and Native American man who was killed during the Boston Massacre and believed to be the first American casualty of the American Revolutionary War.
LeDroit Park is another great park in this DC neighborhood and where you can admire some of the most beautiful homes and architecture this area has to offer, although we quickly found out many neighborhoods had breathtaking homes!
This family-friendly neighborhood is home to many dive bars and well-known restaurants. One of the neighborhood's most popular restaurants is Red Hen, where you can expect to find a rustic farmhouse theme with unique Italian dishes. They also offer an extensive wine list.
If you want to go wine or cider tasting, ANXO Cidery is your place. This Bloomingdale restaurant and bar features a tasting room and a large cider menu with many food pairing options. Another great place to grab a bite to eat and some wine is Tyber Creek. This restaurant and wine bar is perfect for anyone craving larger dishes and a gorgeous view.
NoMa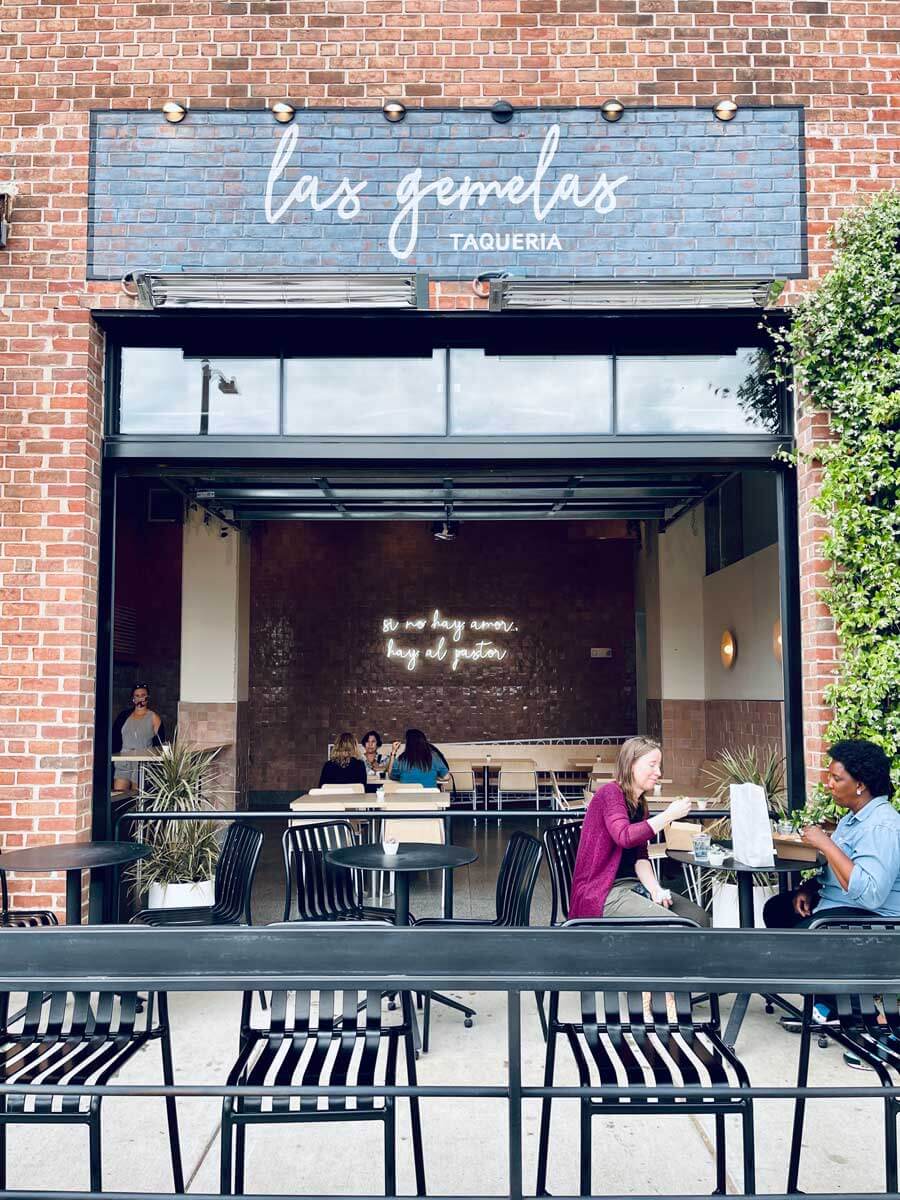 NoMa, located North of Massachusetts Avenue, and is next to Union Market, another one of the best neighborhoods in Washington DC that's known for its outstanding art and extensive shopping options, but most significantly the culinary scene.
At Union Station in NoMa, you can expect to find a shopping arcade, an indie movie theater, home decor stores, and eateries with just about every type of food you can think of.
This creative neighborhood is also a great spot to learn more about American history. The neighborhood's most popular museum is The National Postal Museum, where you can learn more about the history of U.S. mail!
NoMa is also home to the NPR Headquarters. This popular radio station offers free tours every weekday at 11:00 AM! Nearby this landmark is Union Station, the second busiest Amtrak spot in America. Here, you can find places to tour, places to shop, and places to eat.
This unique neighborhood is also home to La Cosecha, a Latin American marketplace that celebrates centuries of heritage. Here, you can find many coffee shops, bars, and restaurants!
Serenata also has a Michelin star here, so be sure to pop in and check this Colombian spot out paired with their inventive cocktails.
---
Enjoyed this guide to the best neighborhoods in Washington DC to visit? Or maybe we skipped your pick for your favorite Washington DC neighborhood, let us know in the comments below, and if you found this guide to the best DC neighborhoods guide helpful consider bookmarking or sharing on Pinterest below!