Looking for the best things to do in Georgetown DC? We've got you covered! Uncover the best historic, cultural, and other attractions in one of the most beautiful Washington DC neighborhoods you can visit, not to mention the oldest neighborhood in the city.
Georgetown, DC is famously home to the prestigious educational institution of Georgetown University as well as a large collection of beautiful historic Federal Style era homes and architecture from the years of 1789 to 1825 and Washington DC's oldest building pre-dating the Revolutionary War.
Over the 300 years Georgetown, DC has been home to notable figures from our country's earliest days like Francis Scott Key who wrote the Star-Spangled Banner, presidents like John F. Kennedy, to famous explorers, journalists, and politicians like John Kerry and Nancy Pelosi.
This neighborhood is chocked full of historic sites and landmarks for the history buff, gorgeous homes and cobbled lanes for those who love admiring architecture, outdoor activities along the trails and Potomac River waterfront, and great places to shop, dine, and drink offering something for everyone.
Check out the best things to do in Georgetown, DC to help you plan your visit including what to expect at each stop, recommendations for where to eat and drink, fun tours to try, and where to stay during your Washington DC getaway.
Also be sure to check out our guide on how to spend a fun weekend in Washington DC in a full 3 day itinerary of what to do, see, eat, and where to stay!
Best things to do in Georgetown
Shop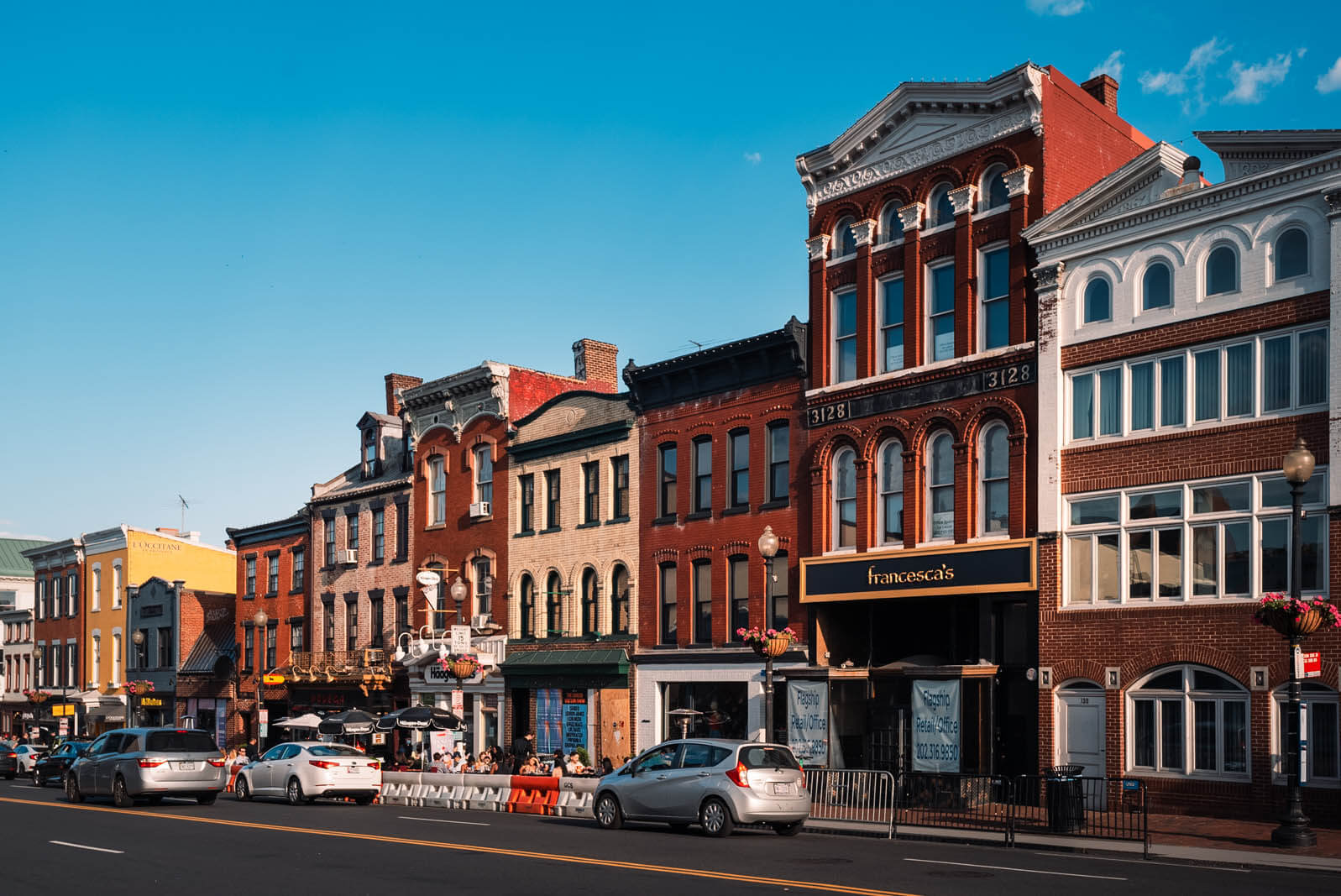 One of the best things to do in Georgetown, DC is to go shopping! This neighborhood is one of the best places in the city for shopping from finding unique stores to upscale boutiques and higher-end labels. This is one of the more affluent neighborhoods in the city, so the shops tend to match that type of consumer.
If you're more on a budget, there are some more moderately priced retail stores available to browse and shop too.
Most of the upscale boutiques and shops can be found around M Street NW and Wisconsin Avenue. Don't miss Cady's Alley either which is a narrow, hidden alcove filled with shops that can be found down a flight of stairs off of a brick archway off of M Street.
C&O Canal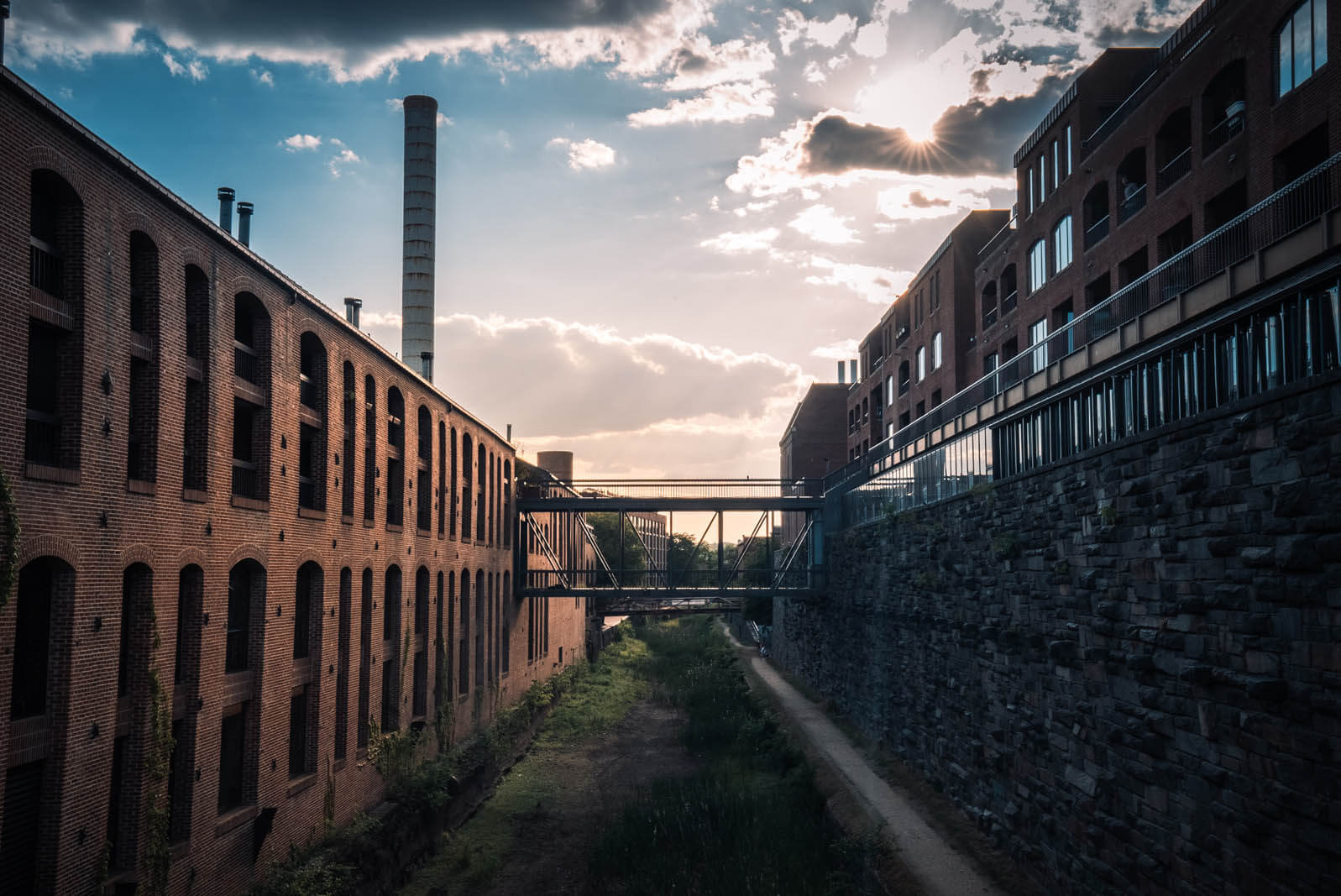 The C&O Canal or Chesapeake & Ohio Canal is another one of the best things to do in Georgetown DC or at least check out! This historic canal operated from 1831 to 1924 along the scenic Potomac River between Cumberland, Maryland and Washington DC (184.5 miles) transporting cargo like coal from the Allegheny Mountains.
This was all a part of George Washington's plan and vision to access the west and was crucial to the local economy.
The C&O Canal is now a popular towpath for runners, walkers, and cyclists and is a National Park. This section specifically offers a scenic view and overlooking the canal you can find many great restaurants for fine dining or a picnic spot in Georgetown DC.
Some of the most popular restaurants include Filomena, Bourbon Steak, and il Canale, where you can find some of the best pizza not only in Georgetown DC but the city!
The one-mile section of the C&O Canal, which is the first mile of the canal, that runs through Georgetown is also under a revitalization project.
Georgetown Waterfront Park
Georgetown Waterfront Park is a newer National Park located along the waterfront of the Potomac River in Georgetown, DC. This popular park is part of the Georgetown Historic District that stretches along the Potomac River from 31st Street to Key Bridge.
Locals and visitors gather here for lounging with a picnic, watching the sunset, listening and watching the live performers, and get on the water whether you paddle or take a scenic Potomac cruise.
Since this park is direct across from a strip of stores, it's common to bring food to the park or go shopping nearby!
This waterfront park is a great place to bike or walk, while exploring don't miss the art installations throughout the park!
Potomac River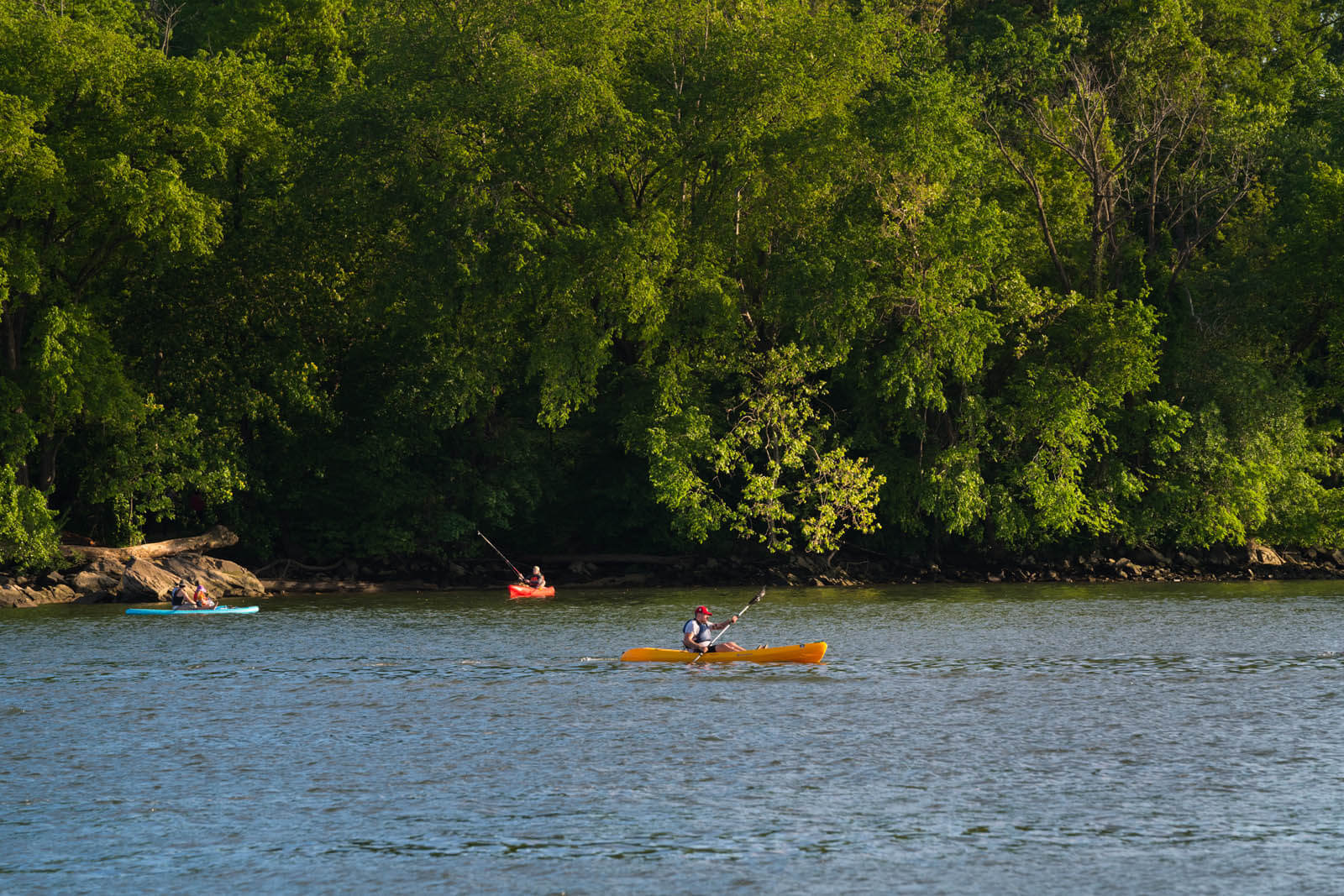 There are many waterfront spots on the Potomac River in Georgetown that are great for sightseeing, lounging, dining, and more! There is also a free water taxi that can take you to East Potomac Park!
Many excellent restaurants along the Potomac River offer outdoor or waterfront dining. Some of the most popular restaurants include Tony and Joe's Seafood Place and Sequoia.
If you want to spend time in the water, which in our opinion is where you can find the best views of the Potomac, you can rent canoes, kayaks, and stand-up paddleboards from the Key Bridge Boathouse. They also offer floating yoga classes on stand-up paddleboards if you want to test your balance!
For those not looking to splash around in the water, consider taking a scenic Potomac River Cruise departing from Georgetown DC that passes the US capital's historic monuments along the river all the way to Old Town Alexandria. There are different tour options available ranging from 45 minutes up to 4 hours with options for one-way tickets or round-trip tickets.
You can expect to pass monuments like the Washington Monument, Jefferson Memorial, and Lincoln Memorial along the way with a unique vantage point from the water. This is a great way to see alot at once while relaxing which is why we think this is one of the best things to do in Washington DC. Book your tour here.
Call Your Mother Deli
Call Your Mother Deli is one of the most famous bagel shops in the city and one of our favorite places to grab a bite to eat in Georgetown, DC!
The outside of this bagel shop is a picturesque bright pink building with charming mint colored trim making it super Instagram-worthy. The bagels that they serve are known to be creative and now that we can call ourselves New Yorkers, they are pretty authentic and delicious.
Although Call Your Mother Bagel is known for its bagels, this spot is also a popular deli that's great for anyone craving a panini, doughnut, or breakfast sandwich.
We both ordered different things, which were both great but the one that stood out to use the most was The Horizon which has smashed avocado, red onion, jalapeno, and a bit of crunch with Fritos on an everything bagel. We have even recreated this at home since we loved it so much!
If you're looking for a great breakfast spot, this is definitely one of the best things to do in Georgetown DC for you!
Kennedy Walking Tour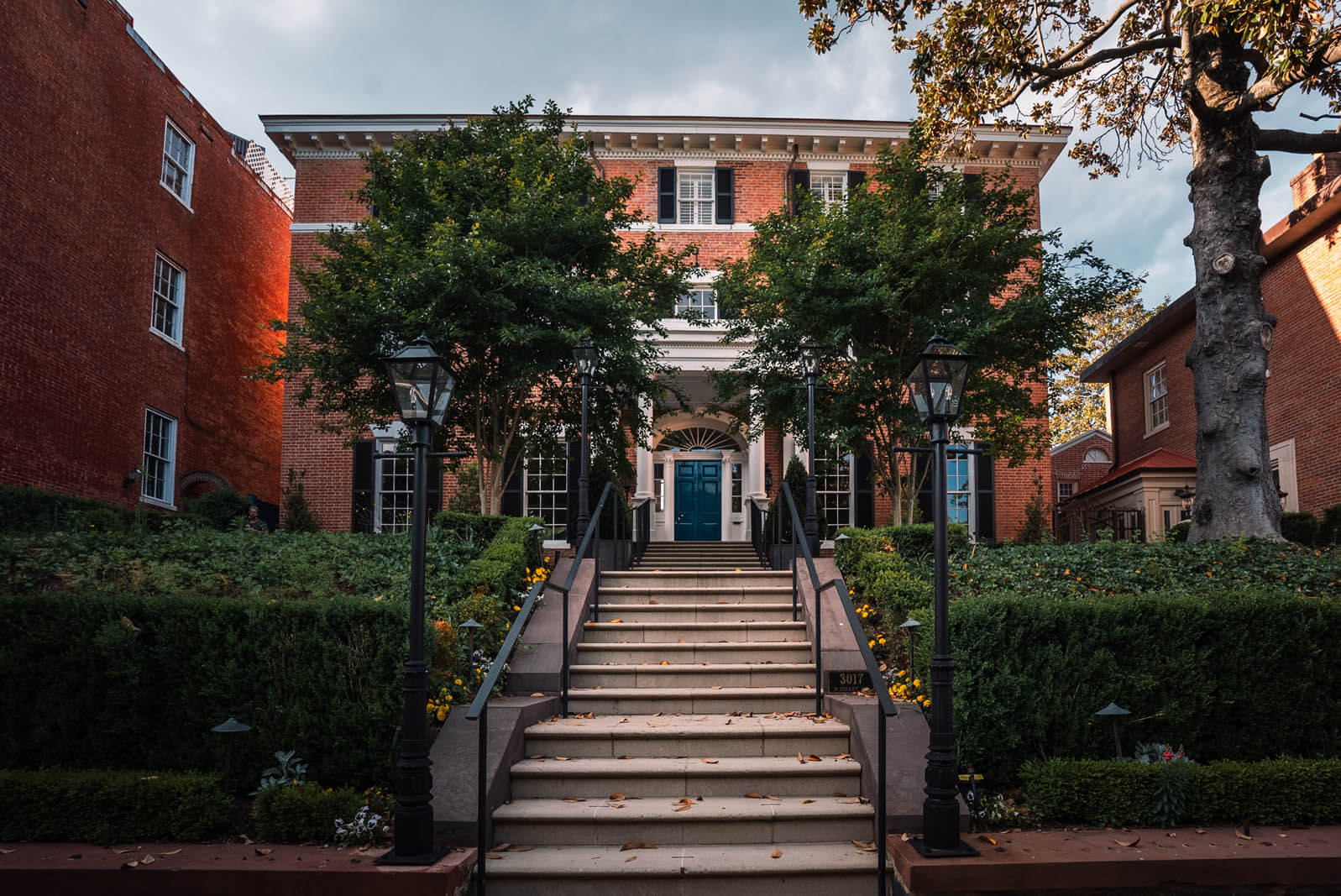 Some of the most famous and notable residents of Georgetown, DC were the Kennedys! President John F. Kennedy and Jacqueline Kennedy haves ties or connections to many of the gorgeous homes of Georgetown, DC through their mose triumphant times to the tragic times.
Visitors who are fans of the Kennedys and their ties to this neighborhood can explore a self-guided tour by stopping at some of the gorgeous homes through this historic neighborhood.
When JFK was the elected Congressman for Massachusetts he resided here which is also the same time he met, dated, and married Jackie O continuing their residency here through his presidential election and Jackie stayed even after his tragic assassination.
You can find the full self-guided walking tour to the Kennedys residences in Georgetown, DC here, which includes information about each location as well as what order you should walk in.
A few of the 11 stops include:
3260 N Street where JFK resided from 1951-1953 during the time he was running for Senate
3307 N Street is where JFK and Jackie O lived during his presidential election and inauguration period from 1957-1961
Martin's Tavern which has a 'proposal booth' where it is rumored JFK and Jackie got engaged, you can reserve this booth today!
1528 31st St where JFK lived from 1946-1949 making his presidential plans
3038 N Street is where Jackie mourned the loss of her husband from this residence in 1963
3017 N Street is where Jackie lived in 1964 until being forced to move out due to security issues
Georgetown Dining Scene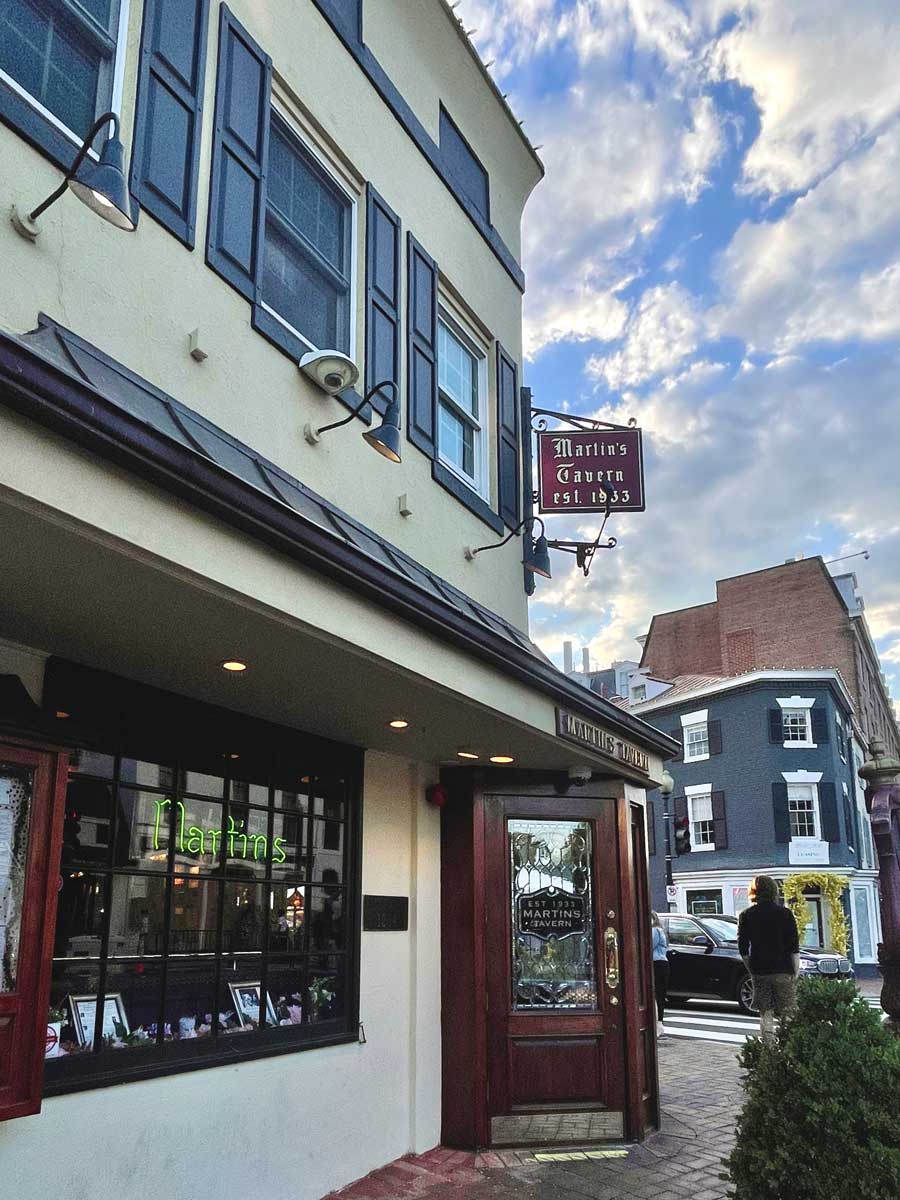 Another one of the best things to do in Georgetown DC is explore the extensive dining opportunities in this historic neighborhood. Whether you're seeking an Italian bistro, seafood restaurant, or a vegan sandwich, you won't have trouble finding options in Georgetown DC.
Filomena Ristorante is one of the most popular Italian spots in town. Guests love their homemade pasta that you can watch being made fresh through the window at the front!
Baked and Wired is one of the most popular bakeries in this area. At this hot spot, you can expect to find great coffee, pastries, and cupcakes. You can also get loaves of bread or quiches to take home! La Jolie Bleue is another bakery in Georgetown, DC that offers Mediterranean-style baked goods.
If you're in the mood for fine dining, Bourbon Steakhouse is the place to go. This popular restaurant is a fancy American steakhouse known for its great steak, burgers, and seafood. Guests particularly love their shrimp, oysters, and famous burger!
Martin's Tavern is where you can find DC's oldest family-owned restaurant and where John F. Kennedy allegedly proposed to Jacqueline Bouvier as well has other US presidents being regular patrons here. Guests can request the 'proposal booth' to enjoy the tavern's American-fare menu.
Church Hall is a cool, laidback beer hall and restaurant overlooking the C&O Canal offering great brews and popular bar food like wings.
Admire Historic Homes
View this post on Instagram
One of the best things to do in Georgetown is check out the historic homes! There are three famous historic homes and museums you can visit in Georgetown DC including Dumbarton Oaks, Dumbarton House, and Tudor Place. These historic estates are great places to see gorgeous gardens and their private art galleries and collections.
Dumbarton House is a beautiful Federal-style house, the popular style and era of architecture you can find around Georgetown, DC. This house dates back to around 1800 and was the home of the first Register of the Treasury, Joesph Nourse.
Visiting this property you'll witness the collection of over 1,000 items from paintings, furniture, textiles, silver, and more from the Federal period which was from 1789 to 1825. They also include temporary exhibits and talk about the lives of the enslaved Black people who cared for this estate.
Visitors can also walk through the grounds various gardens. You can visit for self-guided tours Fridays through Sundays, be sure to plan ahead as the museum closes at 3 PM. Admission is $10.
Dumbarton Oaks, not to be confused with Dumbarton House, is another historic estate that opens its garden, museum, and collections to the public. This is another Federal Style period home that was occupied by Robert Woods Bliss and Mildred Barnes Bliss.
Visitors can explore the museum, gardens, or join a guided tour. The museum is famous for its collection of Byzantine and Pre-Columbian art. They are closed on Mondays and it's best to reserve your tickets in advance online directly through their site which are starting at around $7 per person.
Tudor Place is another one of the best things to do in Georgetown DC if you love exploring the past of historic figures. Tudor Place is another Federal-style mansion that was occupied by the granddaughter of Martha Washington. George Washington left $8,000 in his will that was used to purchase this property in 1805.
This estate in Georgetown, DC went on to house 6 generations of Martha Washington's descendants and houses the largest Washington collection outside of Mount Vernon. Visitors can explore the museum and collection as well as learn about the lives of those who were enslaved on this property.
Visitors can book a visit in advance on the website for the museum and gardens for free or with a suggested donation of $5 a person.
Stroll the Pretty Streets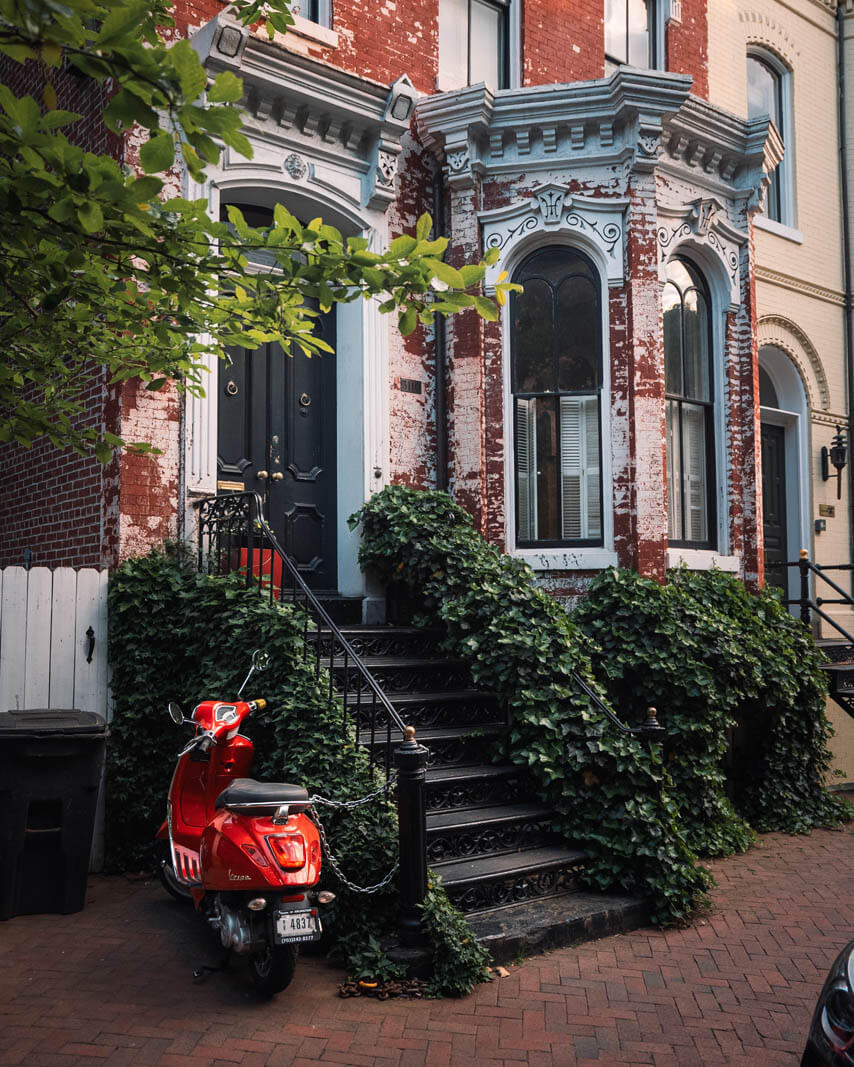 My personal favorite thing to do in Georgetown was to admire the architecture and residential streets. Georgetown is known for its federalist architecture, as mentioned earlier, famous frame row houses, and gorgeous tree-lined streets.
Some of the best residential streets to check out include N Street, where you can find many frame row houses, and The Holy Trinity Church!
If you want to see larger homes and more federalist-style architecture, 34th and 31st streets are also great areas to check out.
If you do the self-guided Kennedy walking tour of Georgetown, DC you'll pass some of the many gorgeous homes that make up this neighborhood.
Old Stone House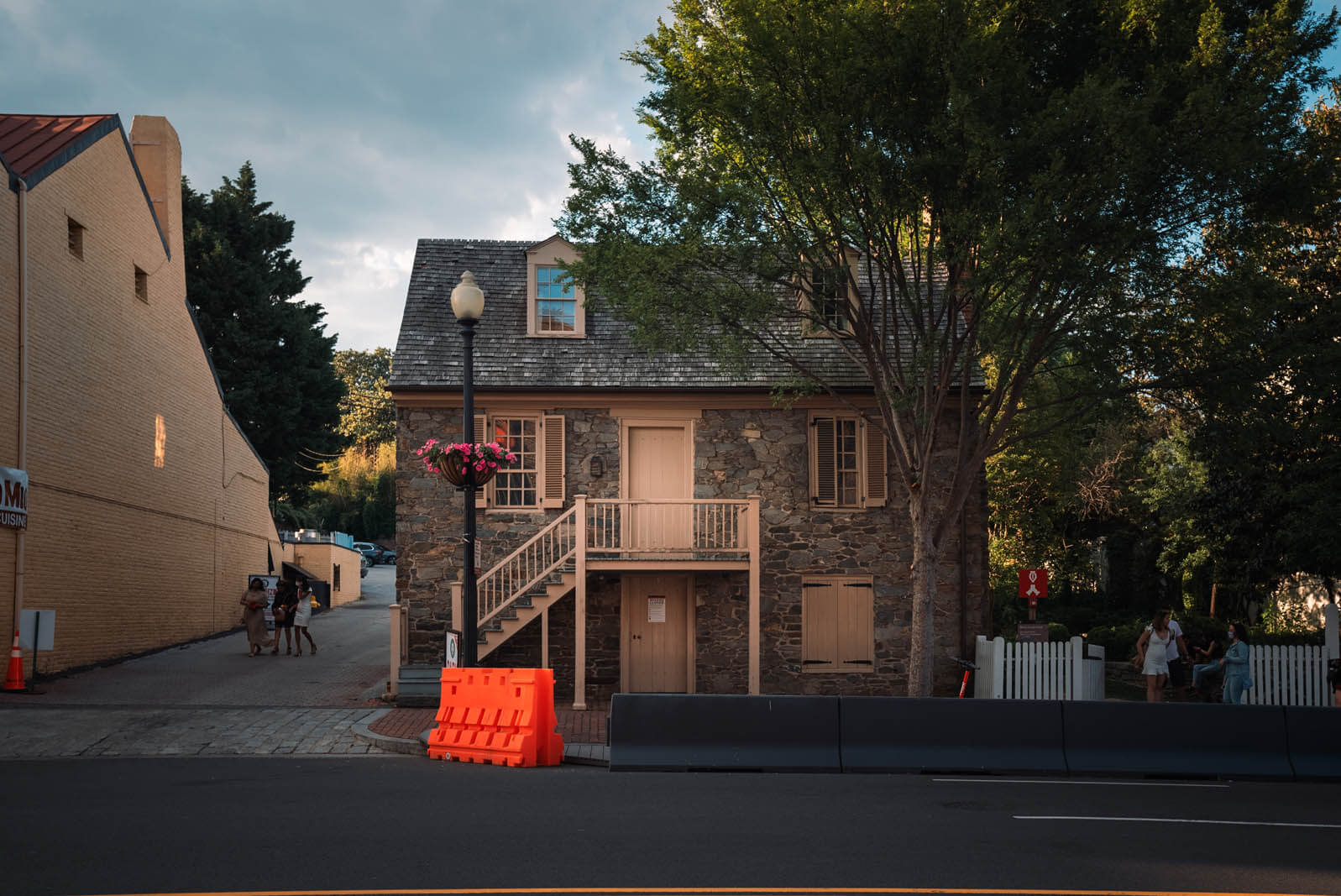 Another amazing thing to do in Georgetown is visit the oldest unchanged building in the city, dating back before the Revolutionary War to 1765. The Old Stone House is also the only pre-revolutionary colonial building in Washington to still be sitting on its original foundation in existence.
The Old Stone House is on the National Register of Historic Places and claimed at one point that it served as George Washington's Engineering Headquarters.
Today, visitors can enjoy the museum for free every day of the week except for major holidays.
Book Hill
Book Hill is a charming area in Georgetown, DC known for its art galleries, vintage stores, and delicious bakeries!
There is no shortage of French bakeries in Book Hill. Two of the most popular bakeries in this neighborhood are Patisserie Poupon and Boulangerie Christophe. You can expect to find macarons, croissants, sandwiches, salads, and coffee at both of these spots!
If you like shopping for vintage or antique items, Book Hill is one of the best things to do in Georgetown for you! Some of the most popular antique shops include David Bell Antiques, Pillar & Post, and Cote Jardin Antiques. Whether you're looking for antique jewelry or dishware, these shops will have fun treasures from the past to browse.
Book Hill is also a great neighborhood to go art gallery hopping. Calloway Fine Art specializes in contemporary art and abstract paintings. Next door to this popular spot is Washington Printmakers Gallery specializing in fine art prints and modern art galleries.
Blues Alley
Calling all music lovers, this next thing to do in Georgetown DC is for you! Blues Alley is a popular jazz nightclub and restaurant that's had a long list of famous performers who've taken the stage here from Ella Fitzgerald, Tony Bennet, and Eva Cassidy to name a few.
This jazz club has been around since 1965 and is the country's oldest continuously operating jazz supper club.
Today, Blues Alley offers live music almost every night of the week and is always a great place to go if you're looking for some nightlife! Be sure to check it out too before it's too late, word on the street is that this spot might get relocated.
Buy your tickets online in advance, seats are first come first serve, and there's a minimum $12 spend on food or drink for each person.
Walk Along the African American Heritage Trail
Learn more about the neighborhood's history through the African American Heritage Trail in Georgetown. African Americans have been faced with discriminatory public housing policies and gentrification despite living, working, and practicing their faith since Georgetown's earliest of days.
At one point in time, 30-40% of the residential population here were African American, and while systemic racism policies were put in place to push much of the community out during the period of the 1930s through the 50s, their community's history and impact on this neighborhood remain and visitors can walk along sites including homes and institutions along the African American Heritage Trail to learn more.
You can learn more about the trail and the stops here.
Food Tour of Georgetown
If you've used our guides before, you might notice that one of our absolute favorite things to do when we visit a destination is try a food tour early in the trip. Food tours not only showcase some great restaurants you can try in the area, but they also give you information and the history of where you're exploring.
One of the best ways to discover all of the amazing eateries that Georgetown has to offer is by taking a food tour! The Taste of Georgetown Food Tour is a walking food tour where you can try new foods and learn more about the history of each neighborhood.
You'll also be able to learn more about the history of food in Georgetown and how each restaurant has played a role.
So, if you want to explore cultural landmarks and visit as many local restaurants as possible, the Taste of Georgetown Food Tour is a great option for you.
Try a Spooky Ghost Tour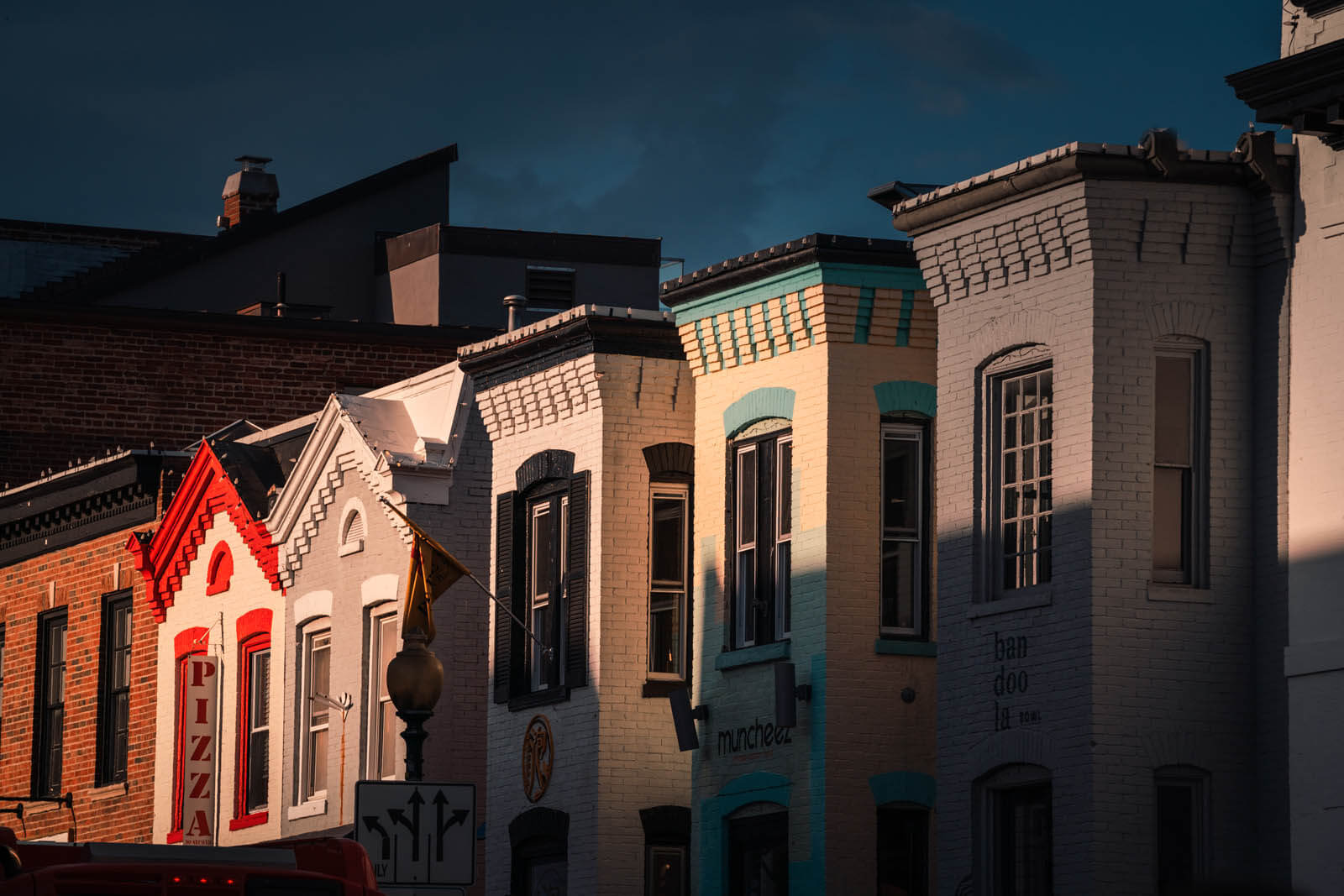 Another fun thing to do in Georgetown explores the supernatural side of this historic part of the city! Many of Georgetown's most popular cultural and historical landmarks are thought to be haunted.
One of the best ways to immerse yourself in this rich history is to take a Ghost Story Walking Tour! These tours will guide you through many of the historical landmarks throughout town. At each stop, your guide will teach you more about what has happened at each spot and what movies, if any, have been shot there.
If you want to walk the Exorcist Steps, hear haunted tales, and learn more about the history of Georgetown in a fascinating way, taking a ghost tour is a great option for you!
Visit Georgetown University
View this post on Instagram
Georgetown University is the oldest Jesuit university in all of America! Visiting this university is a great way to learn more about the history of the town and familiarize yourself with the stunning architecture of this prestigious educational institution.
I'm not going to lie, I was a little jealous after exploring the beauty of this neighborhood that college students got to live here among the beautiful homes, historic landmarks, and all of the amazing things there are to do in Georgetown!
Taking a self-guided tour is a great way to explore Georgetown University at your own pace. Many also offer a free audio tour, like this one by Free Tours by Foot that's great for anyone who wants a more guided experience!
Find the Exorcist Steps
View this post on Instagram
Another spooky thing to do in Georgetown, DC is find the Exorcist steps! The Exorcist Steps, formerly known as the Hitchcock Steps, in Georgetown, DC is a popular tourist attraction that was used as a filming location in the 1973 film The Exorcist.
When filming, the stuntman had to fall down the steps twice! It is said that students to Georgetown University paid $5 to watch this scene be filmed from a nearby rooftop. The steps were padded so that the fall would be less dangerous to the stunt actor
This 75-step stairway has been in existence since 1895 and connects Prospect and 36th Street with M Street. This area is also a great place to check out if you want to walk along the cobblestone streets and see beautiful architecture, but most of all, this is a photo opportunity!
Where to Stay in Georgetown
Since there are so many great things to do in Georgetown, DC this is a great place to base yourself when enjoying a trip to the city. Besides being incredibly beautiful, I love how walkable this neighborhood is and you can find some great hotel options, especially if you're looking for a luxury stay while in the city.
$$ The Georgetown Inn is a great choice for where to stay in Georgetown, DC if you're looking to stay somewhere on a budget. This cozy hotel offers polished rooms and is less than a 10-minute walk to the Georgetown Waterfront. Book here | Compare Rates
$$ Omni Shoreham Hotel is a great choice that's technically located in Woodley Park which neighbors Georgetown, DC and is separated by Rock Creek. While you can walk down the park through to Georgetown, this historic hotel is less than a 5-minute drive to all there is to do in Georgetown.
This is where we stayed on our DC visit and loved the beautiful property that also was the location of many presidential inaugural balls and was where the Beatles stayed during their American debut! The property also as a gorgeous pool, spa, and lobby. Book here | Compare Rates
$$$ The Ritz Carlton Georgetown this gorgeous 5-star property offers luxury rooms with options to upgrade to living suites with kitchenettes and living spaces. Guests love the amenities such as the luxe spa, beautiful garden space, and terrace. Book here | Compare Rates
$$$$ Four Seasons Hotel Washington this is the most luxurious stay in the city, this 5 star, 5 diamond property is where the highest-profile guests stay in the city. Besides being an ultra-elegant stay, this Georgetown hotel is also a culinary destination with a Michelin Star chef Michael Mina on the property.
Enjoy one of their elegant rooms or upgrade to a suite with a private outdoor terrace with views of Georgetown, DC below. Book here | Compare Rates
---
Enjoyed this guide to the best things to do in Georgetown, DC? Bookmark for later or share the love below on Pinterest.