A trip to Japan isn't complete for foodies without making a pitstop in Dotonbori Osaka. For us, Dotonbori Street was exactly what we wanted to kick off our trip to Japan on the right foot. As soon as we landed we knew we wanted to arrive hungry and sample all the street foods Dotonbori had to offer.
Before we start talking about the delicious Dotonbori street food and what we did and didn't try let's just talk about the friggin street for a second.
THE FEELS
It's like Las Vegas meets a futuristic version of the 70's.
Dotonbori Osaka has an energy quite unlike any other place we've ever been to. Each restaurant had us dying to try their entire menus, especially the spots that have lines for hours coming out the doors. If you're only visiting once it would be tough to pick what to eat.
You can tell you are getting close to Dotonbori when your senses start getting inundated with delicious aromas, the buzz and clamor of energy, and crowds of people wandering aimlessly for some yummy food. We got the most excited as soon as I saw the famous 3D animatronic signs that you see in every tourists photo of Dotonbori street.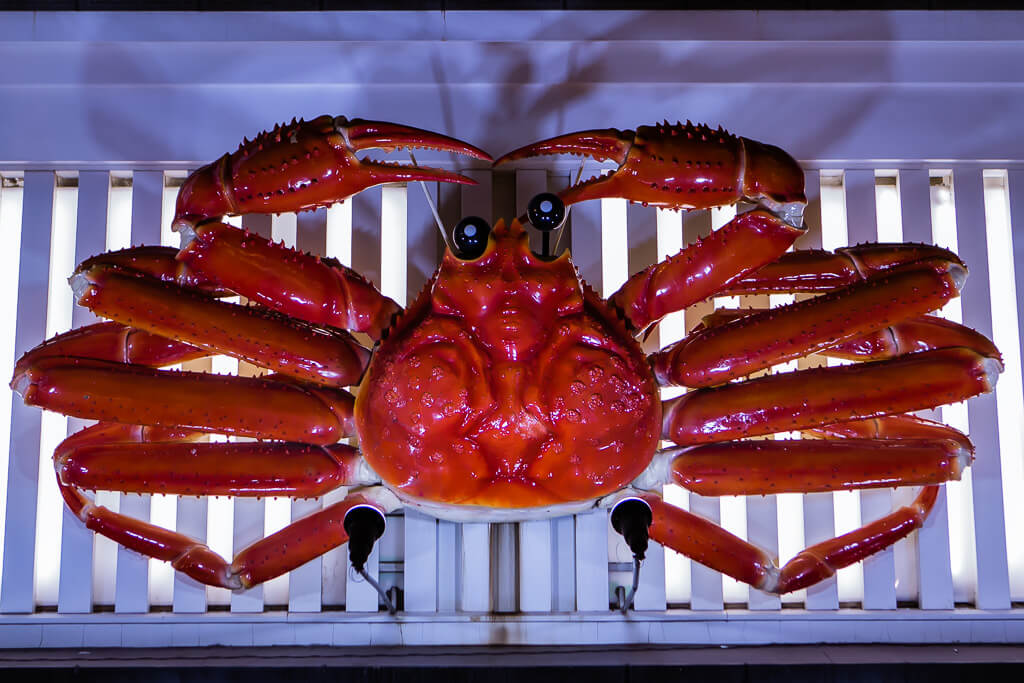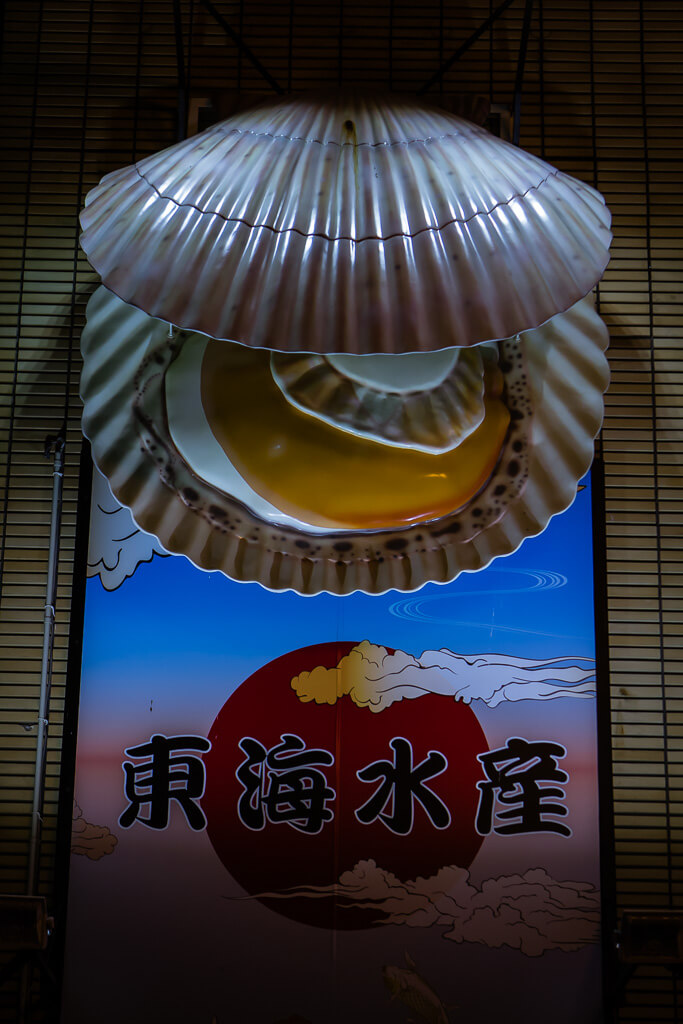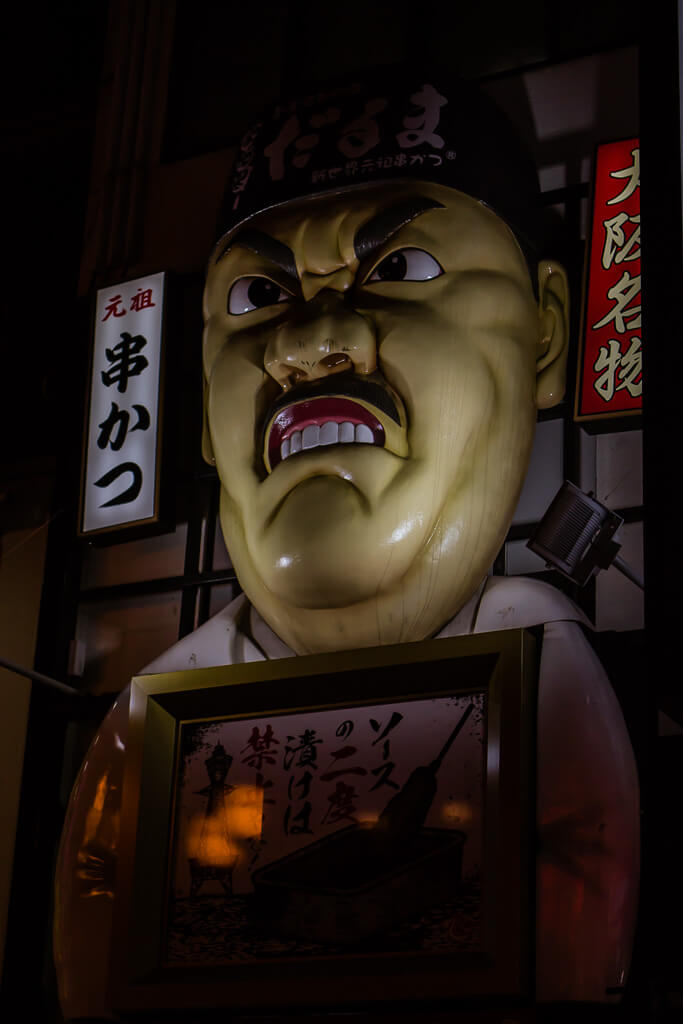 A walk down Dotonbori isn't done until you've passed over the Dotonbori canal towards the illuminated signs to Shinsaibashi shopping district. You know you've headed the right direction if you pass the famous Glico running man sign that's an icon of this area. I felt like I was in Times Square with all the bright lights and big brand stores like H&M, then a few steps further I felt like I fell into a stereotypical Japanese shopping mall with Hello Kitty and Harajuku clothing stores all around. We couldn't have been more excited.
Our game plan for Dotonbori was walk up an appetite. Luckily it is super easy because you can easily lose a day rummaging through all the stores looking for all the interesting and foreign clothes, accessories, and gadgets.
Eventually, there was nothing but hunger in our bellies after a day of sightseeing and window shopping. Time for the master plan. EAT DOTONBORI STREET FOOD! EAT IT ALL.
THE EATS
We began our street food hunt with Takoyaki, which we kept calling squid balls all night. Only to learn later they were octopus balls instead. The sauce made this dish otherwise it was a bit boring.
Afterward, we sampled some Gyoza (fried dumplings) which was really tasty and delicious. We found these bad boys at a random stall and loved every bite.
Afterward, we set our bellies for some Okonomiyaki which is a grilled savory pancake full of delicious ingredients.
Our favorite of the three street foods were the fried dumplings and found the other two to be a bit boring but maybe that was just the luck with the stalls we chose. We've heard they are delicious and tried them again elsewhere and loved them.
So most importantly, what should you eat? Since this was the first leg of a year-long trip,  we didn't want to go too crazy here. We ended up being fine with our choices, but it would have been nice to try some of the Kobe Beef or Crab places down the street. Maybe elsewhere in Japan, we will.
Some foods that are iconic to the area are Kani Doraku with the giant moving crab sign above the store (be sure to stop at the original as there are many imposters),  Kinryu Ramen with the famous 3D green dragon signs (there are 3 locations on this street alone), Zubora-ya with the giant blowfish sign serving up Japanese fugu, and Ramen Taishokudo which has 8 famous ramen stands connected from around Japan.
We tried Kinryu Ramen and it was divine. You can order double pork, which is totally worth it, and add as much garlic as you like which turns your ramen into broth nirvana. We highly recommend trying this ramen! We also are big fans of Ichiran Ramen (located right across from the Glico running man sign on the canal) where you can custom order your ramen to your liking. Although, if you only have one chance to eat ramen in Osaka go for the Kinryu as it's unique to the area and you can find Ichiran all over Japan!
We've noticed Osaka is very proud of their takoyaki balls because we've seen pictures and animations of it sold on souvenir items such as socks, Hello Kitty bandaids, men's underwear, and notepads to name a few.
Overall Impressions of Dotonbori Osaka
Dotonbori Street doesn't mess around when it comes to food. As a matter of fact this area has a term called kuidadore, which means to ruin oneself from overindulgence with food. We can easily see how area could be the place to over do it with food!
We loved this area and will dream of returning one day. We loved that there were options for all budgets, even though we couldn't eat at the expensive restaurants we still had incredible food. Our favorite had to be the Kinryu Ramen and some street gyoza dumplings we tried. I also will miss the energetic vibes this part of the city gives off and of course those giant 3D signs above the restaurants.
Where's your favorite foodie spot? We'd love to hear about it, share yours in the comments below!
Sharing is caring, if you love Pinterest as much as us then do us a favor by sharing the love below!