The Florida Keys are easily considered one of America's greatest paradises and vacation spots full of coastline with gorgeous blue waters, exotic wildlife both underwater and above, delicious food, and incredible activities that make up a dream vacation.
Having just finished a road trip where we were blown away by some of the incredible local businesses and organizations who give back to the local community and environment. We have put together some of the best sustainable Florida Keys attractions to stop at along the way.
If you're looking for activities that will restore your faith in humanity, these are it!
These sustainable Florida Keys attractions we are highlighting are using all their efforts to protect their community and environment. It's quite incredible to learn about different species, causes, and just by stopping by you're helping all while enjoying your vacation.
Use your visit and tourist dollars to go towards funding local businesses or organizations who are doing something positive for the local community or environment just by visiting! From organizations helping rehabilitate injured wildlife, visiting a protected environment, to sustainable eating and drinking!
These Florida Keys attractions are suitable for all kinds of travelers from families to couples like us. From seeing sea turtles, exotic birds, drinking a beer towards a cause, to eating delicious fish who are evasive and NEED to be eaten. We really enjoyed learning about the different organizations and businesses who are using their efforts for a positive impact. Check out our picks for great stops and sustainable Florida Keys attractions for your next visit on your Miami to Key West drive and road trip.
John Pennekamp Coral Reef State Park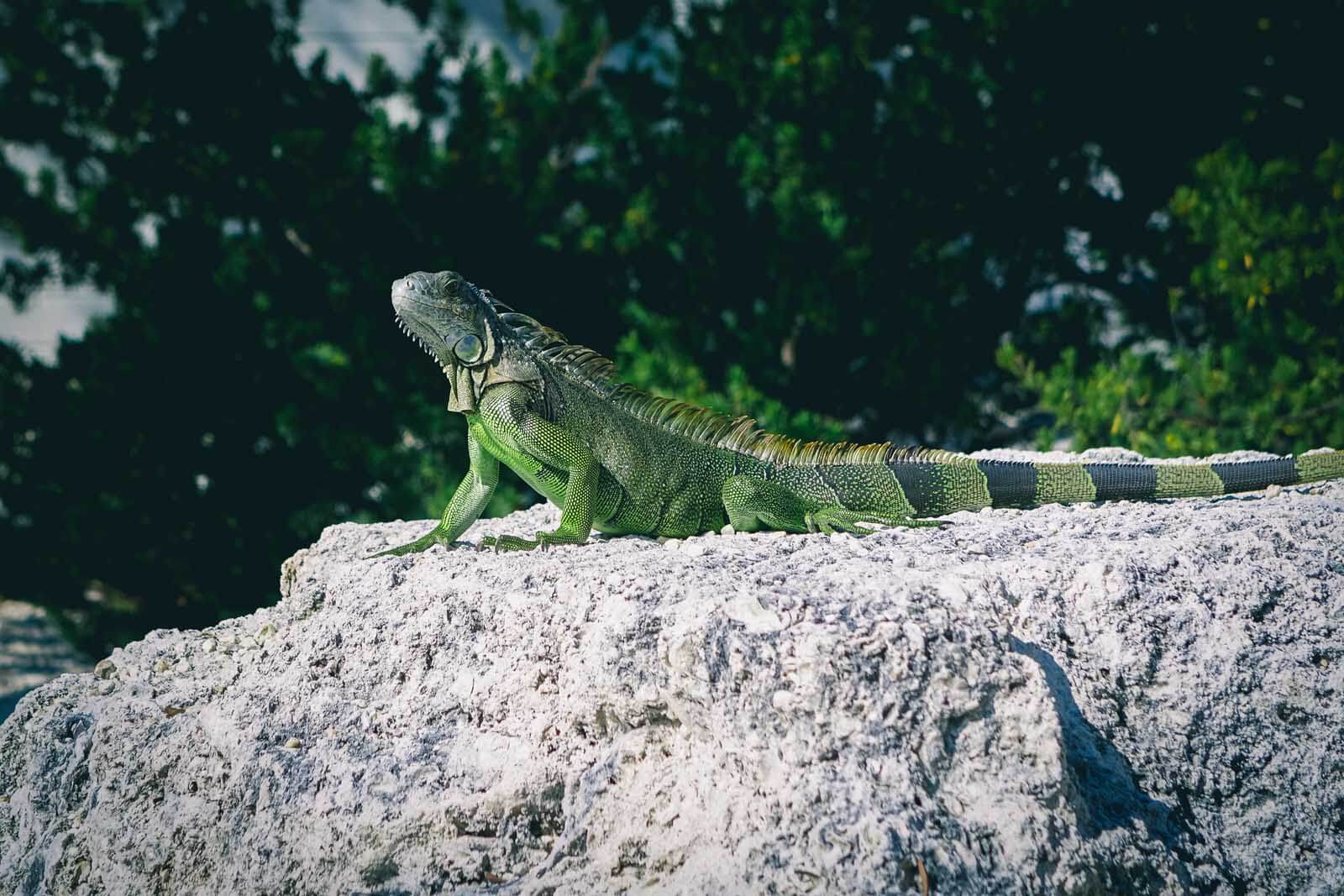 Our first sustainable Florida Keys attraction is John Pennekamp Coral Reef State Park in Key Largo, the United States first underwater preserve protecting the Florida Keys barrier reef over 70 nautical miles.
John Pennekamp State Park includes mangroves, seagrass beds, and the underwater barrier coral reef system.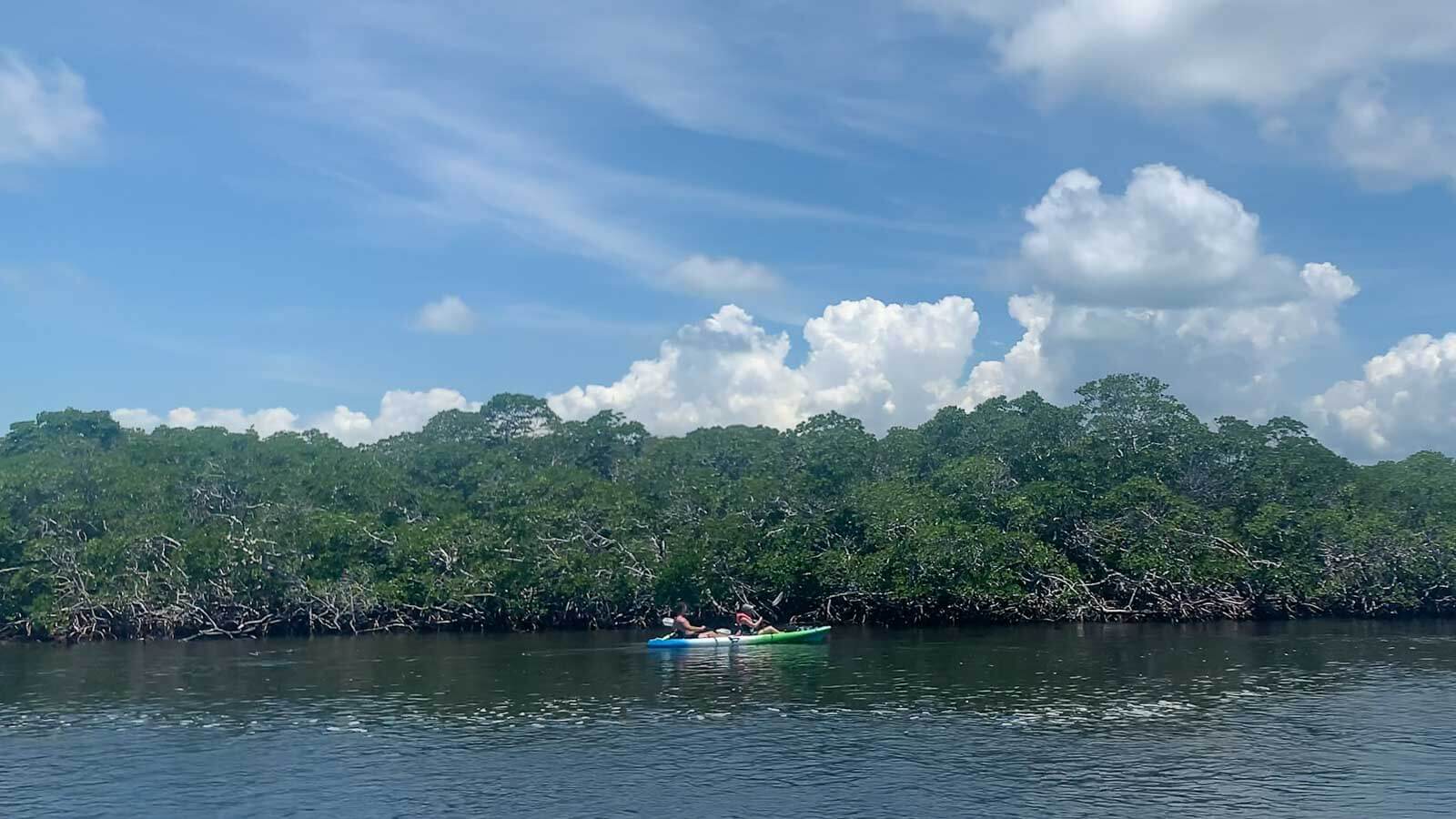 Pennekamp is also incorporated in the Florida Keys National Marine Sanctuary, which covers the Florida Reef, the only barrier coral reef system in the continental US and protects just short of 3,000 square nautical miles of ocean waters throughout South Florida and the Florida Keys.
John Pennekamp State Park was founded in 1963 as an underwater preserve to protect the marine ecosystem and coral reefs.
Visitors can enjoy walking through the mangroves on a trail, hanging out on the beaches, snorkeling, scuba dive, and kayak. This is a protected area with wildlife, so you will definitely see iguanas basking in the sun, fish, and perhaps even crocodiles just by hanging out around the coastline near the visitor's center.
John Pennekamp is also the best Florida Keys attraction if you are a fan of snorkeling. Key Largo has some of the best snorkeling in the Keys due to its location near the Florida Reefs. The visitor center does multiple snorkeling trips a day.
We went on a snorkeling tour to the Key Largo dry rocks where you can snorkel among the coral reef with tropical fish and visit the Christ of the Deep underwater statue.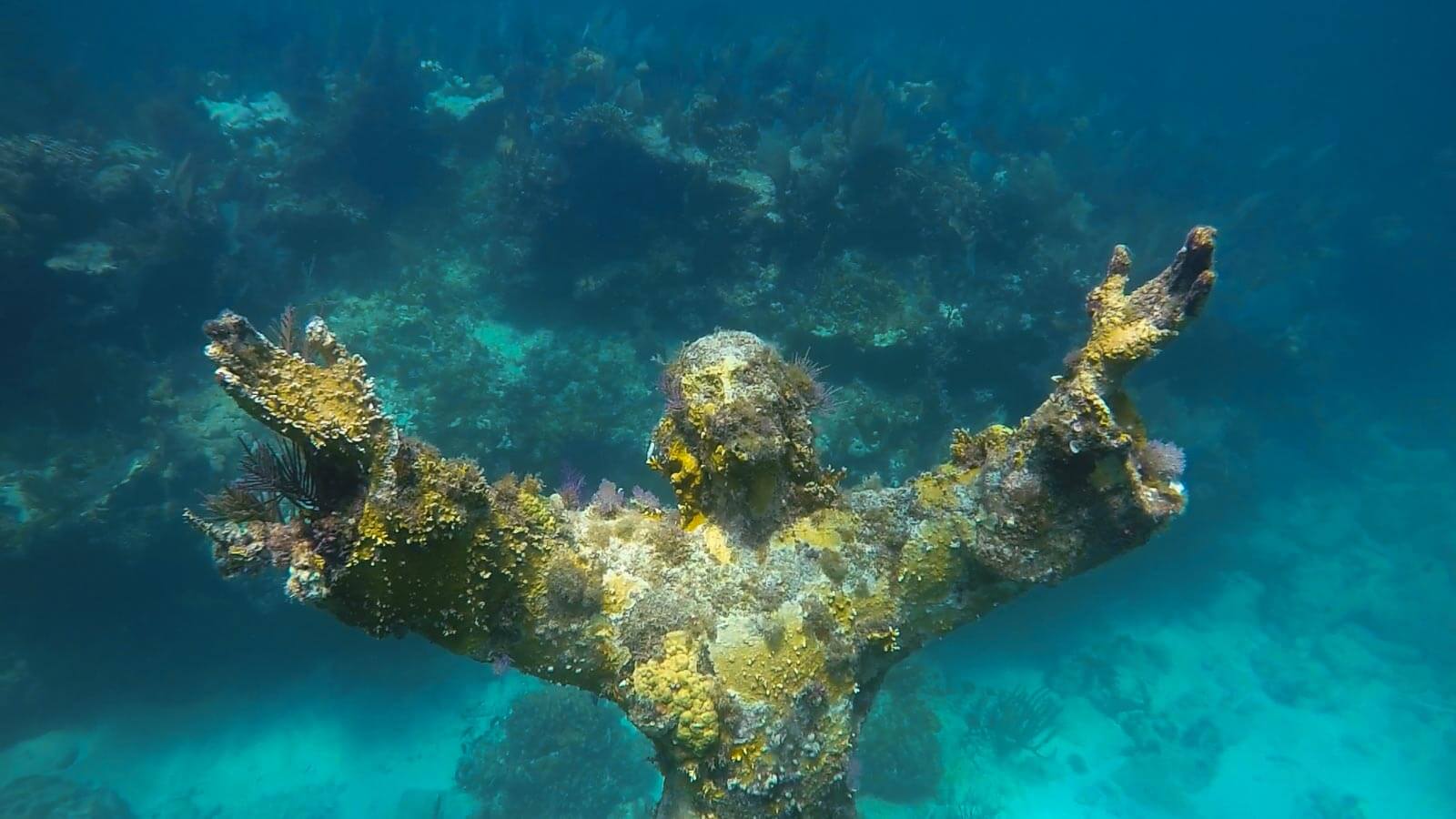 The Christ of the Deep is a 4,000 lb bronze statue placed underwater in 1961. The Italian artist Guido Galletti is responsible for the mold of the statue which the original cast is located in the Mediterranean Sea as an ode to lost men at sea off the coast of the Italian Riviera.
This one is one of the many duplicate casts made that have been placed worldwide, many of which are underwater but you can find some in churches and museums across the world. This one was donated to the Underwater Society of America as a gift which was placed here.
You can snorkel right up to the statue as the hands reaching above his head are just a few feet below the surface of the water. However, we highly recommend not touching the statue as there is fire coral all over the statue which you will be sorely sorry if you touch.
We recommend spending an afternoon visiting and snorkeling John Pennekamp Coral Reef State Park, one of our favorite sustainable Florida Keys attractions and things to do in Florida to support protecting the natural areas surrounding the area from the coral reef, mangroves, to grass beds making it a sanctuary for the wildlife who live in the area.
If you're looking to get involved you can volunteer at John Pennekamp.
Protect your Skin Responsibly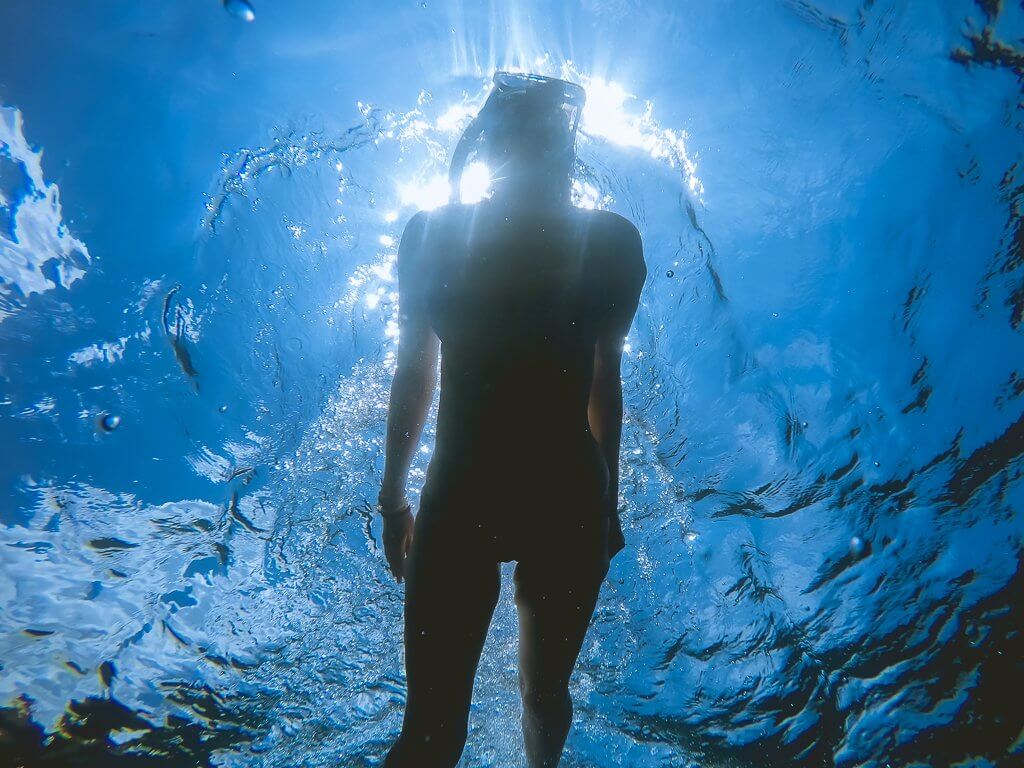 If you plan on getting in the water we urge you to use reef safe sunscreen. Did you know that most sunscreens are filled with chemicals that are toxic and harmful to the environment? Two harmful chemicals often found in sunscreen are oxybenzone and octinoxate that contribute to coral bleaching. Other harmful chemicals include petrolatum and titanium dioxide.
Shockingly, the visitor center doesn't sell reef safe sunscreen so you will need to come prepared yourself and plan in advance. We have picked out a few you can purchase online in advance to prepare for your trip below.
Note: many reef safe sunscreens require a bit more time to 'apply' as there is often zinc in the sunscreen, some leave a white appearance. We found Thinksport to be one of the easier reef safe sunscreens to apply. If you apply a small amount at a time it's much easier to apply!
Florida Keys Brewing Company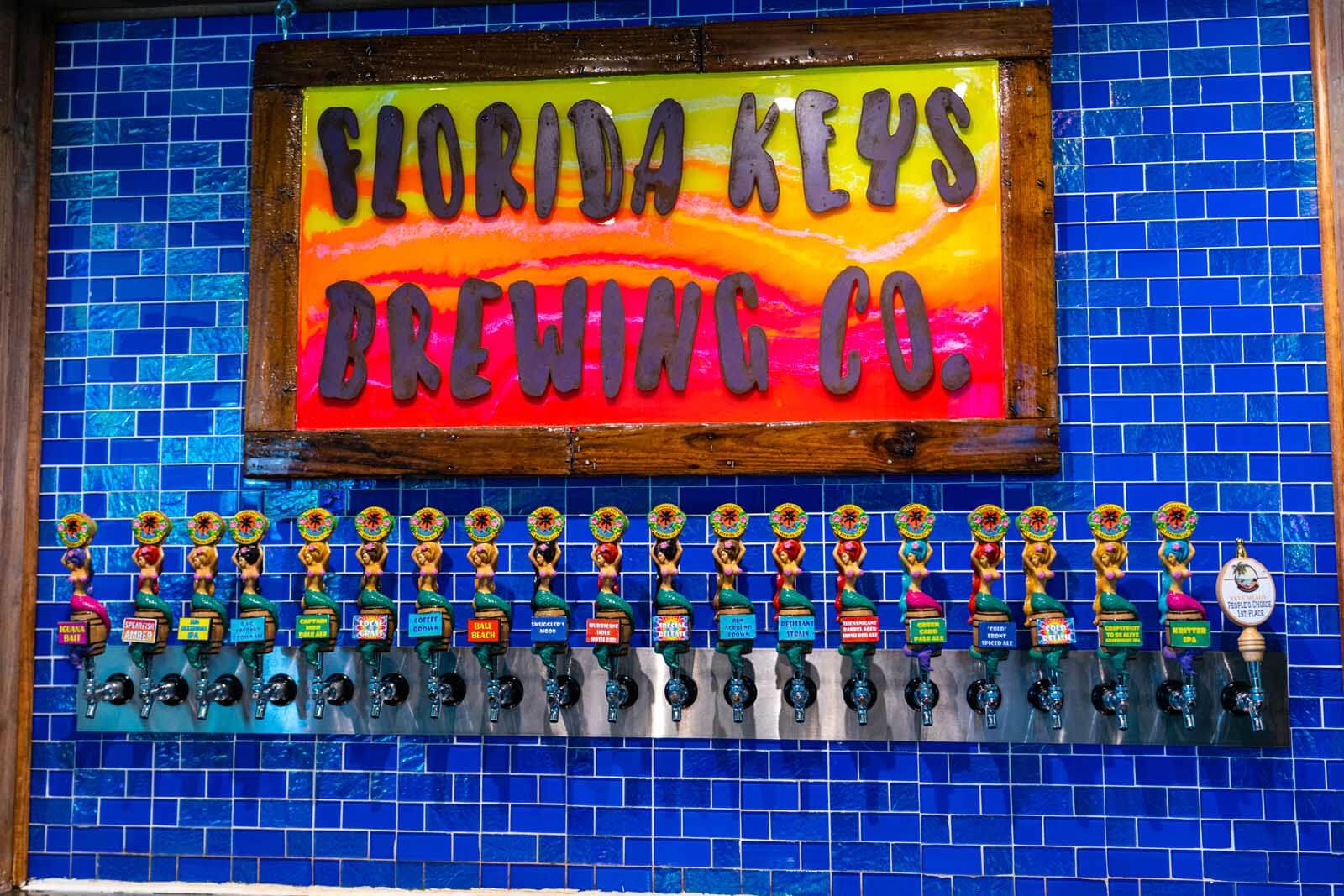 One of our favorite Florida Keys attractions that give back involves one of our favorite things to do, drinking beer! The Florida Keys Brewing Company located in Islamorada is the first brewery in the Upper Keys with an impressive array of different beers to try on tap and a must visit when you're visiting the Florida Keys if you're a beer enthusiast like we are.
You might be wondering why a brewery has made it on this list of sustainable Florida Keys attractions.
Besides having an impressive amount of beers on tap to try, the Florida Keys Brewing Company also often has a rotational tap that goes towards a local cause.
During our visit, they were serving a limited edition Double Hibiscus Kolsch made with local honey. Part of their sales go towards the nonprofit organization the Mote Marine Laboratory who is working on the Florida Keys disease outbreak known as the Coral Tissue Loss Disease that has coral mortality rates of 80% putting their reefs at risk of extinction.
Scientists at the Mote Marine Laboratory are working on disease research to restore the reefs. By ordering this beer and drinking it you are helping fund this cause.
The taps and causes change. While we were visiting the Wild Bird Center, another sustainable Florida Keys attraction we mention next, we learned that the Florida Keys Brewing Company also had a beer on tap a few years back that raised funds for the bird center. They named the beer after one of the celebrity bird residents who now call the bird center his permanent home since he can't thrive in the wild, a masked boobie named Boobie.
We really admire seemingly regular businesses who are doing cool initiatives like this to help their local community and environment and its a cause we can drink to!
Be sure to stop along your Florida Keys vacation and see which cause you can drink to. You'll also find that they have a fun colorful environment and a gorgeous beer garden to enjoy your cold brew on a hot Florida Keys kind of day.
Florida Keys Wild Bird Center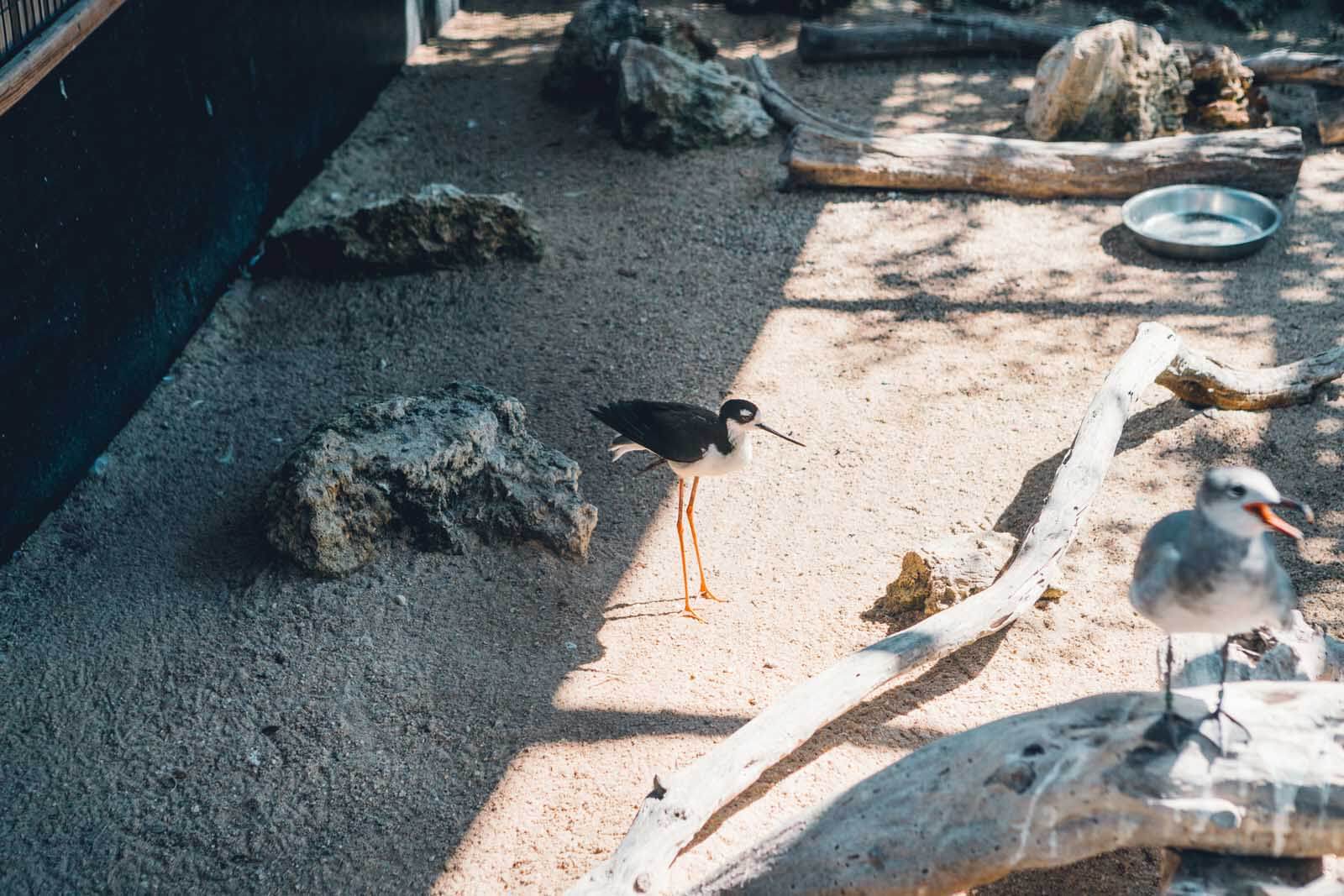 Another incredible sustainable Florida Keys attraction is the Florida Keys Wild Bird Center in Tavernier, Florida. This is a family-friendly activity where you get to see and experience all kinds of wild bird species while your visit helps fund a good cause. There are two facilities here, one is the Mission Wild Bird Hospital where they accept injured birds and rehabilitate them for release and the second being the Laura Quinn Wild Bird Sanctuary where the injured birds who couldn't fully recover and thrive in the wild have their new permanent loving forever home.
The Mission Wild Bird Hospital isn't open to the public for the areas where they are treating and working on the birds, however, this is where you can find the education center and gift shop.
The Laura Quinn Wild Bird Sanctuary is a must stop. Walk along the boardwalk to the permanent residents here and see wild birds you may have never seen before. The birds have open-air enclosures and you can read each bird's story along the way walking through including the background of the species, the bird's name, and the injury that brought them here.
Most of the injured birds brought here for medical help are fully rehabilitated and released back into the wild. They also offer an emergency bird hotline if you encounter an injured bird that seeks medical help.
This entire facility is a conservation nonprofit organization and runs off of donations and grants and the help of volunteers. When you visit the Bird Sanctuary there is no admission, just a suggested donation you could give. They recommend $10 per person, but you're able to pay what you can afford or desire to give.
Once you walk through this facility, meet the birds, and read their backstory you can't help but want to donate and give back. Our favorite bird was Booby, a masked booby who greeted us with curiosity when we were walking through the sanctuary. He just stood at the fence looking at us looking at him, he had a really adorable personality.
It turns out that Booby is somewhat of a local legend and its not just our hearts he's won over, visitors love Booby. He's so famous that in 2017 the Florida Keys Brewing Company actually named a limited edition beer after Boobie, a salted caramel milk stout, and they gave some of the proceeds from sales on this particular beer back to the Wild Bird Center to help fund their rehabilitation programs.
It was really heartwarming to see local companies looking after one another like that and supporting a good cause.
How you can help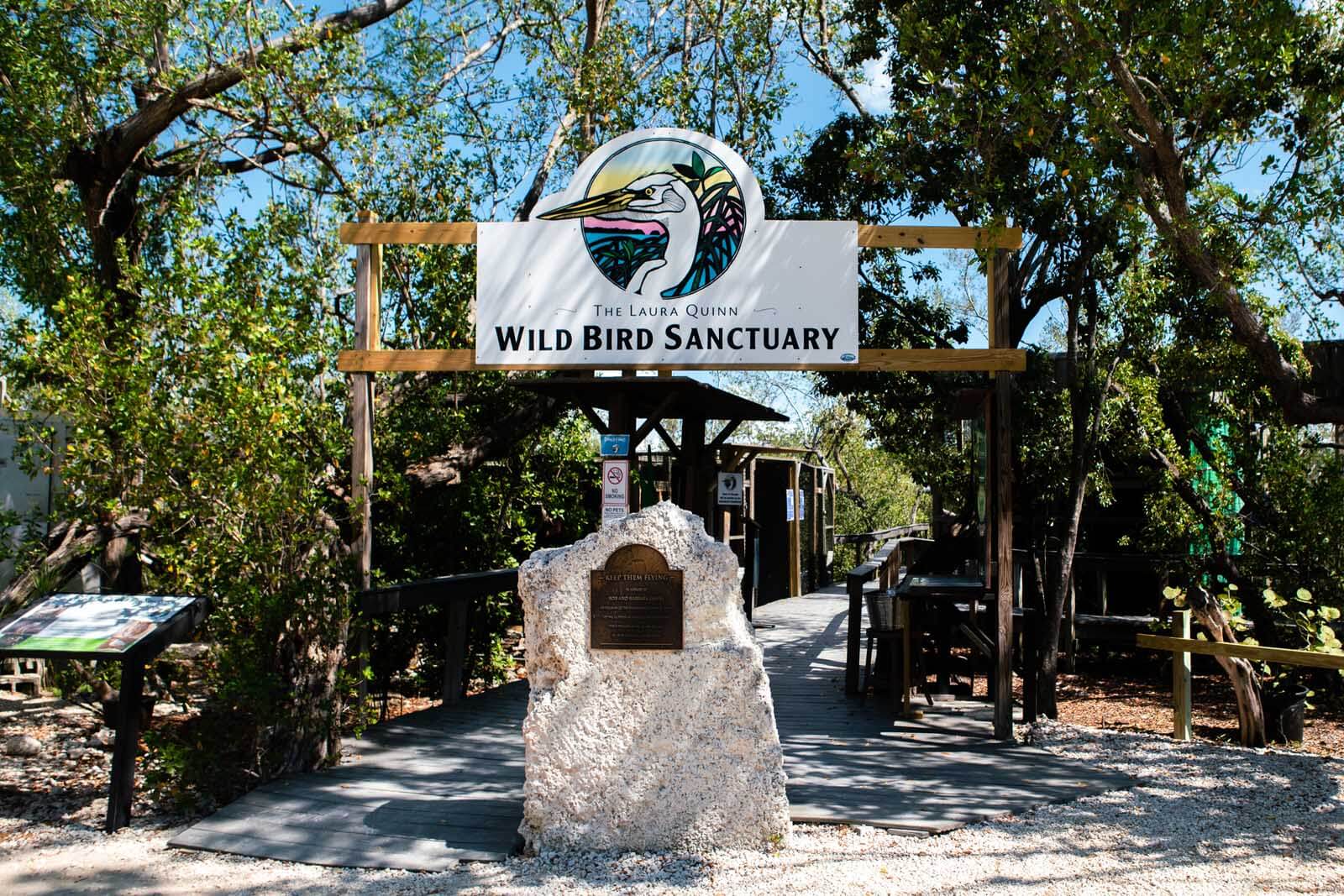 Visitors who want to help more can also donate online or even adopt a bird! The bird adoption programs money goes towards diet, care, and maintaining the animal's enclosure for either one to three years of adoption programs. Every adoption comes with information on the bird you are helping. This is a fun gift idea for animal lovers!
Turtle Hospital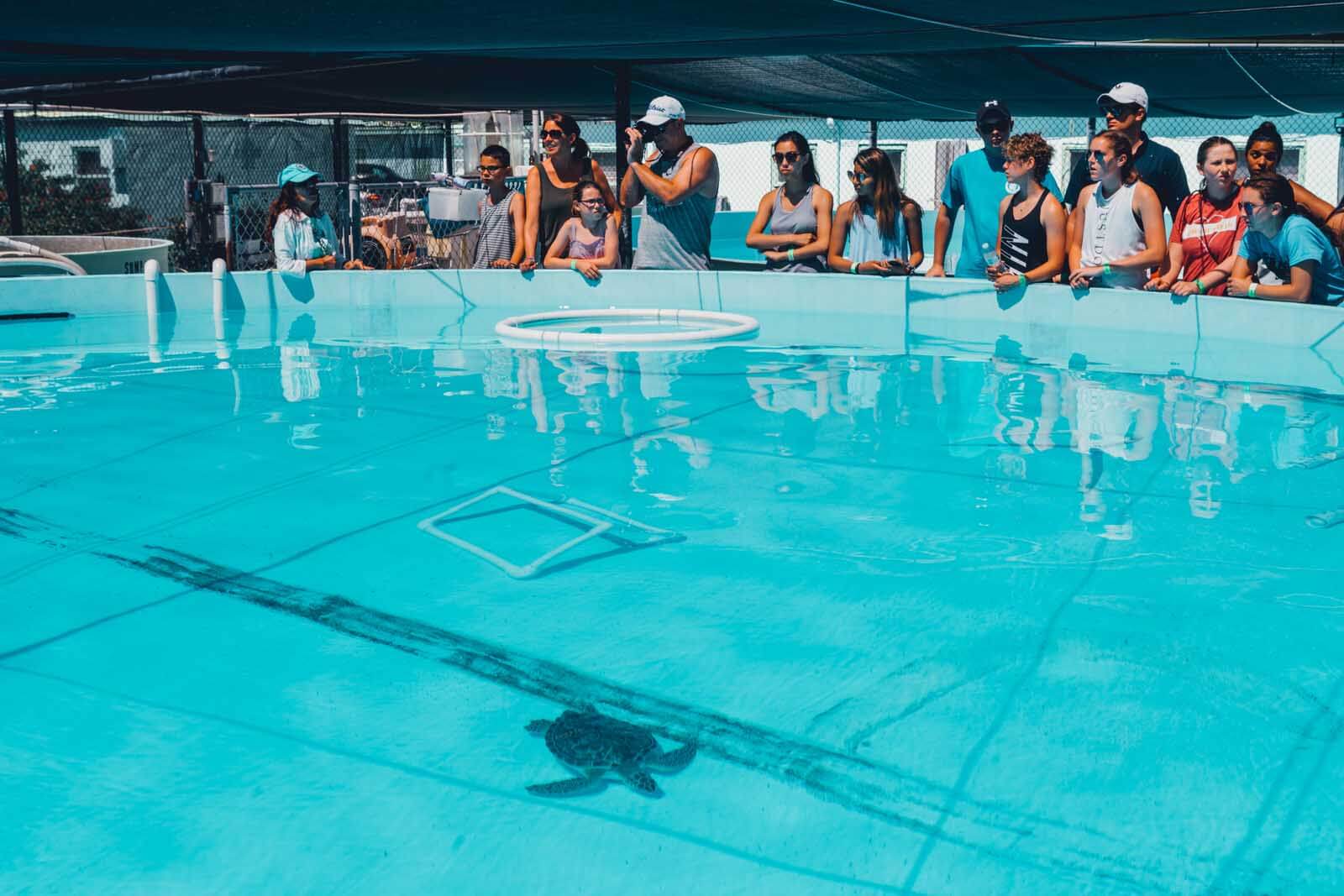 Another amazing sustainable Florida Keys attraction for animal lovers is the Turtle Hospital in Marathon, Florida. The Turtle Hospital is much like the Florida Keys Wild Bird Center, it's a nonprofit organization that's dedicated to the rehabilitation and rescuing of injured endangered sea turtles.
This is actually a very popular roadside attraction in the Keys and requires a reservation to hop on a spot on the tour where you get to learn about these endangered species and tour the facilities where you get to see turtles in the rehabilitation process.
This is the world's largest Turtle Hospital that can hold up to 300 turtles. During our visit there were 55 sea turtles in the facility who were being treated. The three main reasons for turtle injuries and why they are brought for medical attention is due to human waste in the waters, pollution, and boat strikes.
Once a turtle is struck by a boat they often get an injury to their shells that make it impossible for them to dive underwater as their tail end floats and they can't go below the surface to eat. This is known as 'bubble butt' because of their inability to not dive below the surface because of their floating rear end. While this sounds like a cute name, it's very sad because if the turtles do not seek medical help they can't get their food.
Often the turtles who come in with a severe case of bubble butt can't ever be released back into the wild. They have to have special weights attached to their shells so they can sink. Often, these turtles remain a permanent resident here at the Turtle Hospital or are found forever homes at aquariums throughout the US because they will never be able to survive the wild on their own.
Other turtles don't have such a tragic fate though, there are many that are successfully released back into the wild after receiving treatment and full rehabilitation.
It was incredible to learn how many sea turtles lives they have saved and being able to see them in person was fascinating. The guided tours are 90 minutes and start with a background on information on the different species of turtles you'll meet, a tour of the hospital including a stop at where the turtles receive treatment and surgery, and last a walk through the rehabilitation tanks where the sea turtles are spending their time getting healthy again.
This is another great stop for families or animal lovers, we do highly urge you to call in advance and set up an appointment as their guided tours fill up fast.
Call the Marathon Turtle Hospital to reserve your spot on a tour (305) 743-2552
How you can help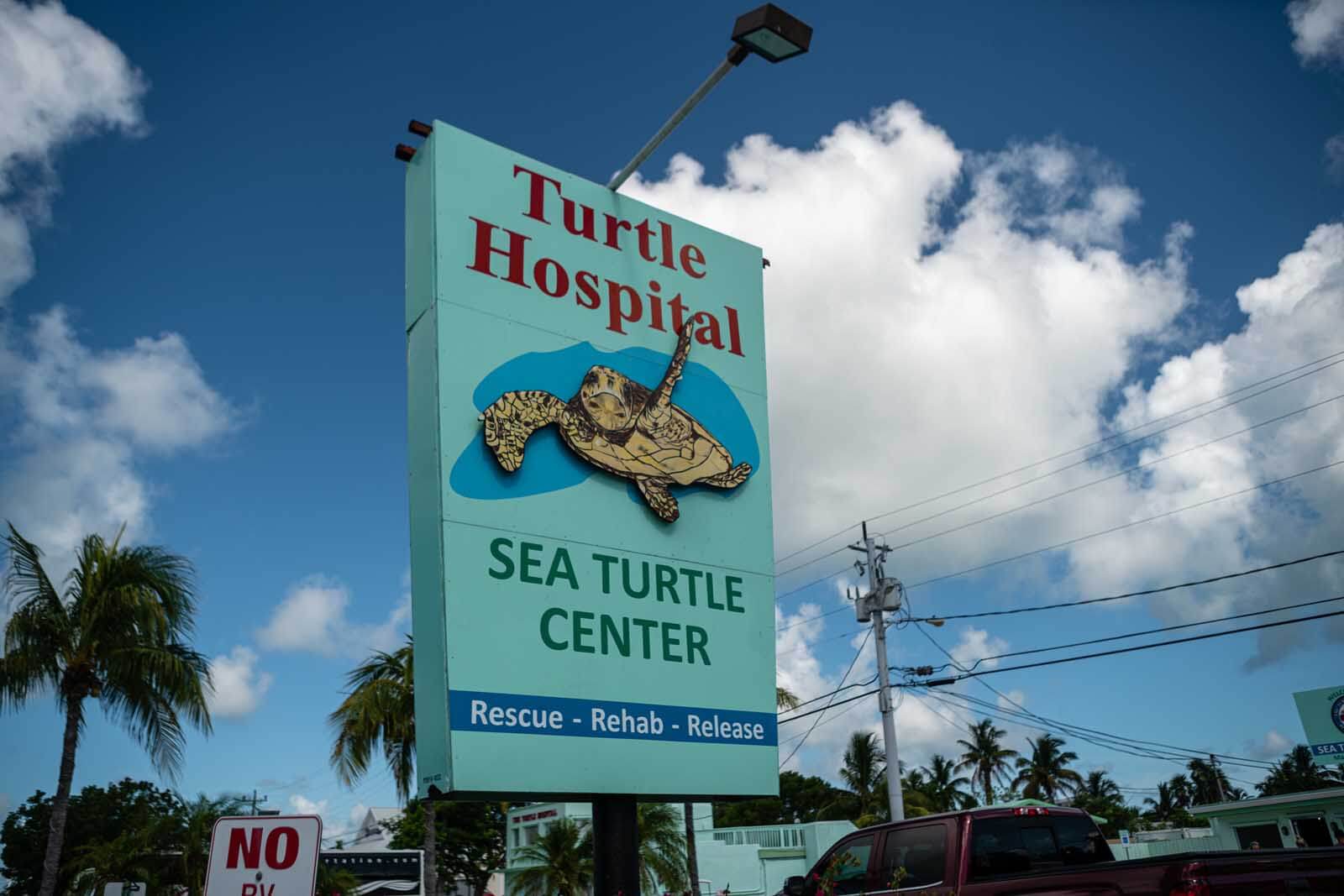 Just like the Wild Bird Center, the Turtle Hospital is run completely off donations. The tour does cost $25 per adult and $12 per child. You can donate additional money online as well as adopt a permanent resident turtle for $35 a year. With the adoption, you will receive updates from your turtle throughout the year and help fund its care. Another great gift idea for animal lovers!
Castaway Waterfront Restaurant & Sushi Bar in Marathon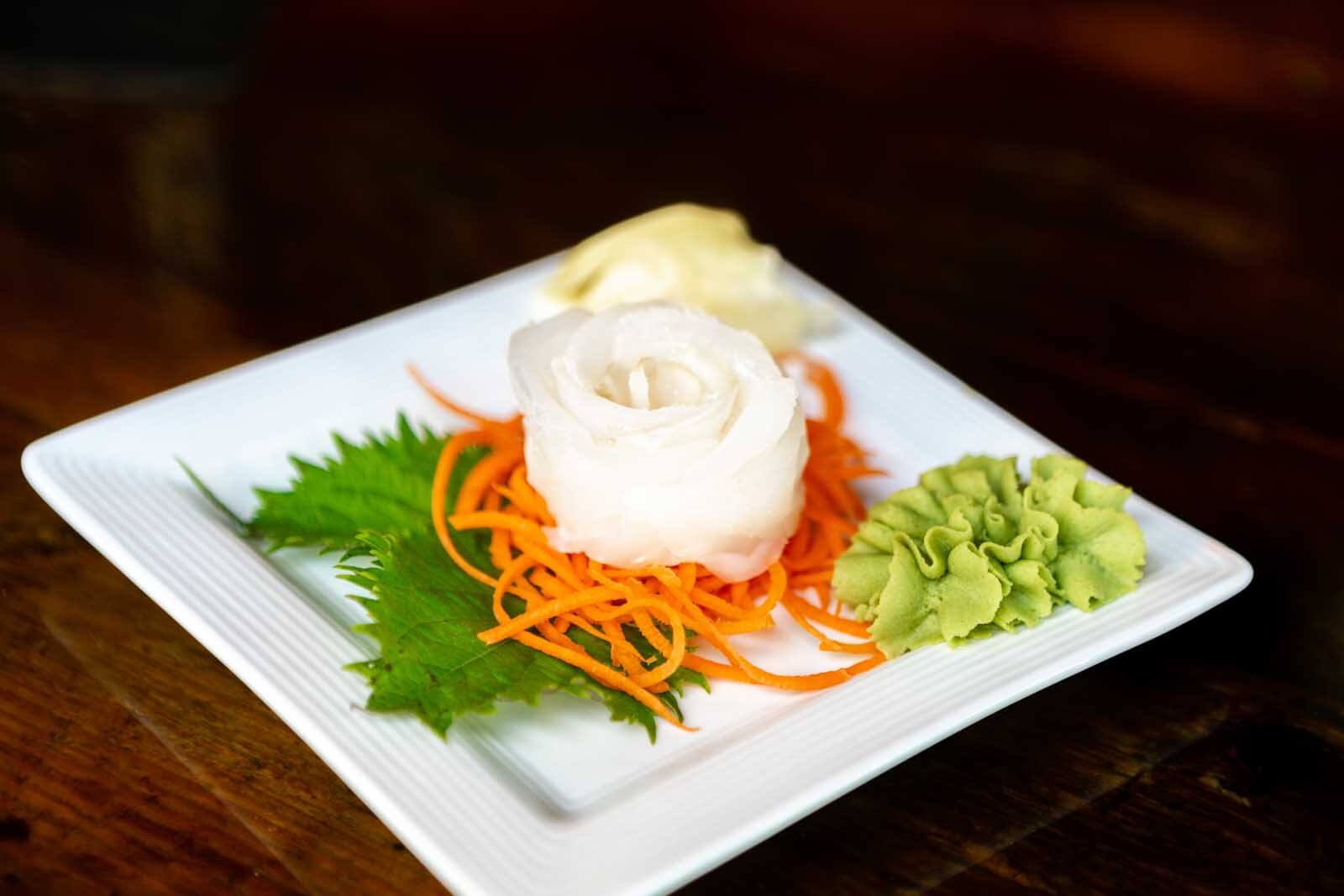 After checking out all these sustainable Florida Keys attractions you might have built up an appetite. Castaway Waterfront Restaurant & Sushi Bar in Marathon doubles as a great place to eat and a sustainable Florida Keys attraction.
During recent years, nonnative lionfish have been threatening the marine environment off the Florida Keys. The lionfish are an invasive species that are capable of causing the extinction of native plants and animals. These venomous fish have a spine that stings which makes them a species that doesn't have many predators. Their presence in the waters here was a surprise seeing how they are native to the Indo-Pacific waters to everyone here. Without many predators, their population quickly grew.
The lionfish were quickly wiping out juvenile schools of fish at such a rate that the local fish populations saw a threat as these fish are not able to reach adulthood with this new predator around. In addition, lionfish females can spawn up to 2 million eggs per year. The population quickly grew and it was a problem and threat to local species.
Fishing for lionfish is even more difficult. Their spines are venomous and they hang out in deeper waters. You really can only catch lionfish by spearfishing making them a bit harder to hunt in general.
Their lack of predators, large appetite, speedy reproduction, and fast growth create havoc for the local fish population.
But, it turns out lionfish is actually quite a tasty fish to eat too! Hunting in mass quantities is hard since you need skilled spear fishermen to get them. Some restaurants in the Florida Keys do offer lionfish on their menus including Castaway Waterfront Restaurant & Sushi Bar.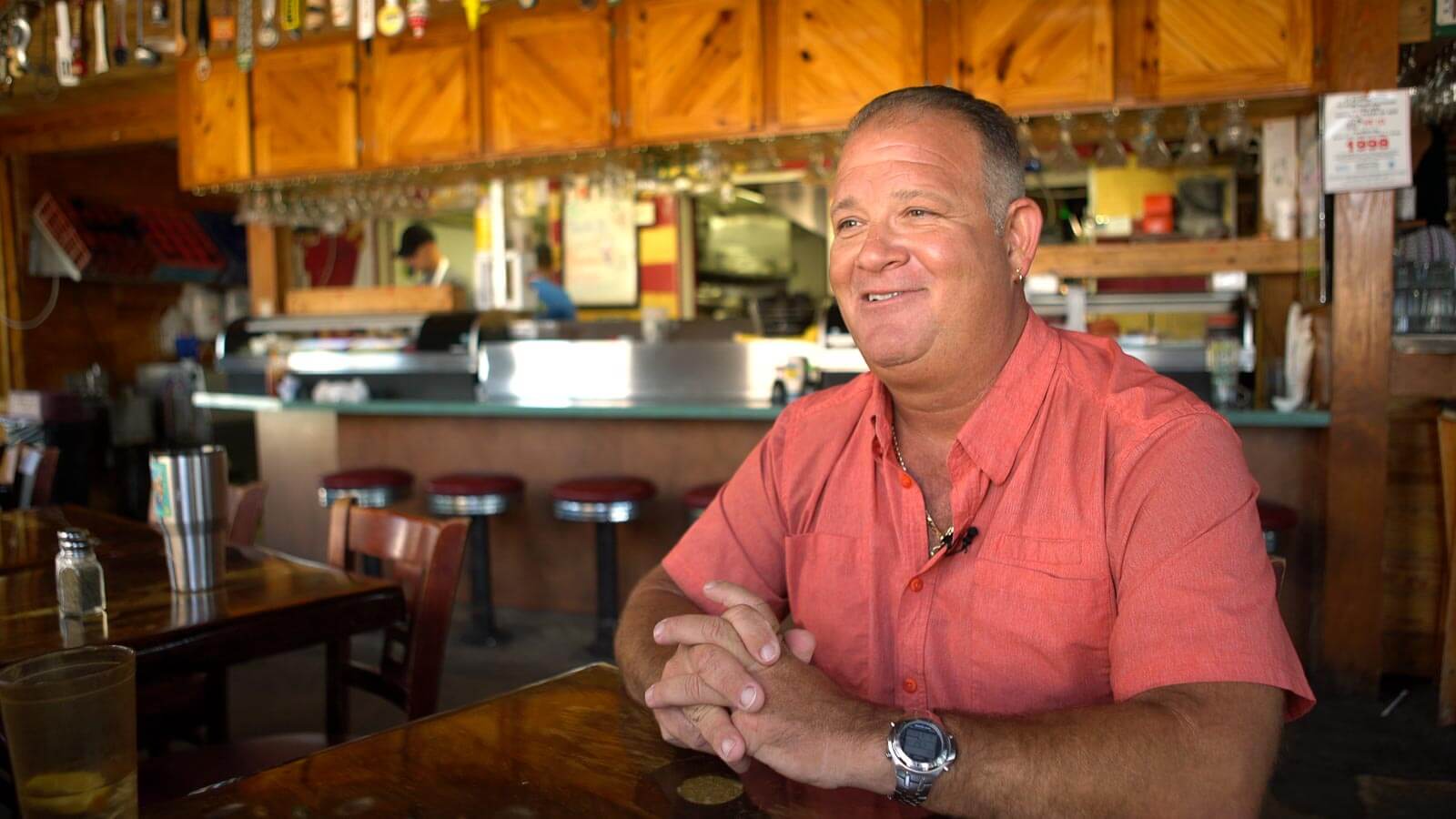 John, the owner of Castaway, sat down with us and discussed the background of these fish, why they are harmful, and what he's done to help with this invasive species. Being an avid underwater fisherman himself he and his team catch their own fish and lionfish that they serve in their restaurant.
You can always find lionfish on the menu here. We were able to try it in sushi form which was FANTASTIC!
This is one of the most sustainable fish you can eat since hunting and eating them directly helps the local underwater ecosystem!
---
Planning a trip to the Florida Keys? Be sure to check out our planning guide for the best places to stay in the Florida Keys to help you prepare for your trip and if you're headed to Key West, check out all the amazing things to do in Key West to help you plan your visit.
Disclaimer: This content was produced in partnership with the Florida Keys & Key West. However, all opinions and content shared are our own.
---
Liked this post on the best sustainable Florida Keys attractions? Bookmark for later or share the love below on Pinterest!