Welcome to all the best things to do in Woodstock, New York the famous town that is synonymous with that famous music festival that took place in 1969, that famous 1960s hippie culture, and even a strong art and music scene to this day.
A Catskills getaway is not complete without checking out the town of Woodstock, NY, and what there is to do around here from cultural activities, outdoor leisure activities, to shopping, and dining.
There are also a ton of amazing things to do near Woodstock, New York which makes it a great base for also exploring the Catskill Mountains region and popular other nearby Catskill destinations like Hunter Mountain and the town of Phoenicia.
This guide will help you plan your trip plus inspire you visit Woodstock, NY no matter what season you end up visiting. If you do end up coming in the colder season though, be sure to check out all the other best things to do in the Catskills in winter to help you plan your vacation to this amazing region if you plan on enjoying the magical winter season!
Where is Woodstock, New York?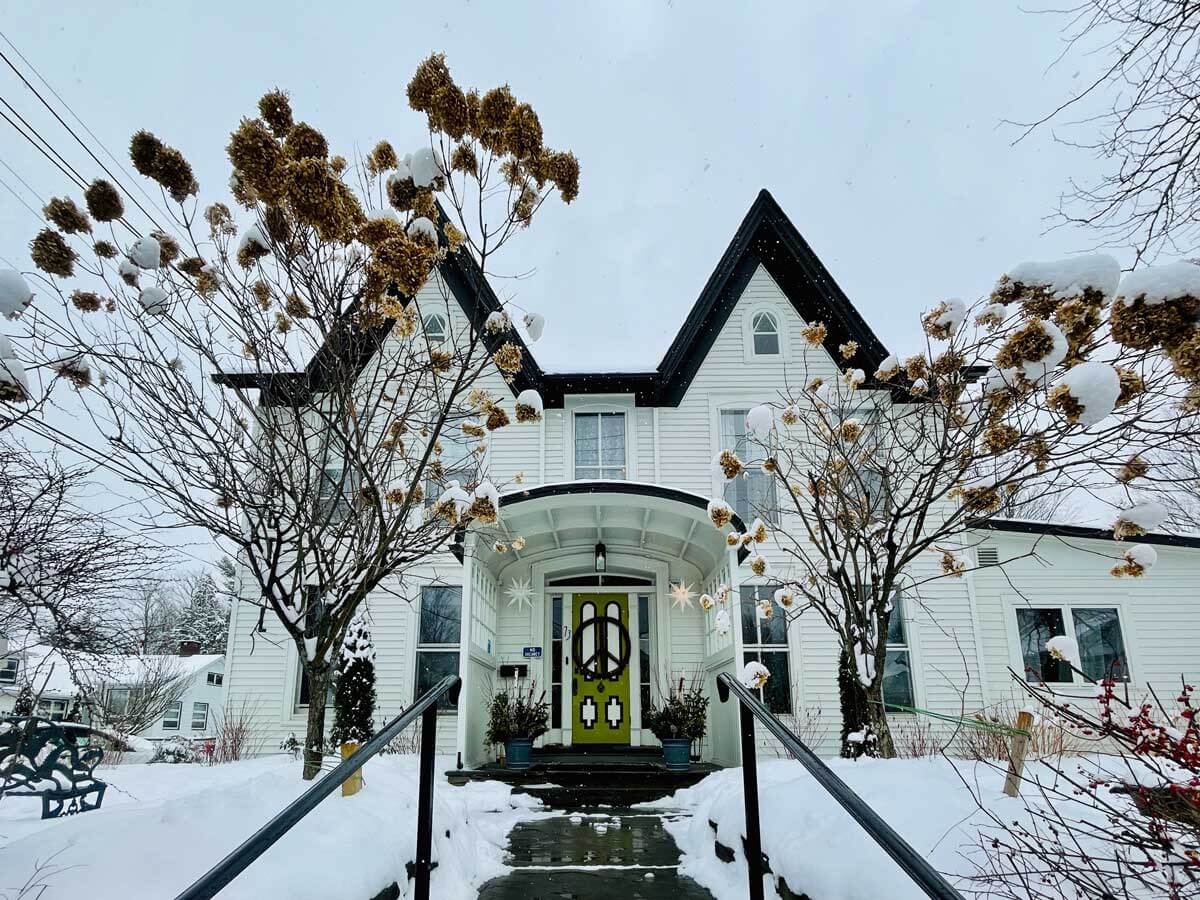 Woodstock, New York is a quaint little village located in the northern portion of Ulster County, New York. Technically speaking, Woodstock lies within the borders of Catskill Park and is located in the Catskill Mountains region.
This reputable destination is just a short drive from some of the surrounding major cities, including (ranked closest in proximity to farthest) Albany, NY; Newark, NJ; Jersey City, NJ; New York, NY; Philadelphia, PA; Boston, MA; Longueuil, Canada; Rochester, NY; Montreal, Canada; Baltimore, MD; and Ottawa, Canada.
The exact distance from Woodstock, New York is recorded below in miles, as well as the estimated driving time in hours and minutes.
Distance from:
Albany, NY: 53 miles, 1 hour 2-minute drive
Newark, NJ: 103 miles, 1 hour 15-minute drive
Jersey City, NJ: 104 miles, 1 hour 56-minute drive
New York, NY: 108 miles, 2 hours 2-minute drive
Philadelphia, PA: 189 miles, 3 hours 37-minute drive
Boston, MA: 202 miles, 3 hours 11-minute drive
Longueuil, Canada: 273 miles, 4 hours 18-minute drive
Rochester, NY: 274 miles, 4 hours 34-minute drive
Montreal, Canada: 274 miles, 4 hours 51-minute drive
Baltimore, MD: 285 miles, 5 hours 13-minute drive
Ottawa, Canada: 378 miles, 6 hours 30-minute drive
Things to do in Woodstock, New York
Shop on Tinker Street
One of the first things you should do when you visit Woodstock, NY is going on a shopping spree on Tinker Street. Of all the shops in the Catskills, Tinker Street is one of the best located in the town of Woodstock.
To begin your shopping extravaganza, consider stopping by Overlook Bicycles to rent some wheels for your spree, which isn't necessary, but on a pretty day it might make it easier to go a bit further and take it slow.
Head east on Tinker Street and you'll see friendly little mom and pop-type shops on each side of the road, with a cluster around the intersection of Tinker Street and Tannery Brook Road, and right before Tinker Street splits into Rocky City Road and Mill Hill Road.
Whether you're looking for vintage treasures or novel, one-of-a-kind gifts, Tinker Street has got you covered. Some gift shops that are not to be missed (listed from west to east) include Timbuktu, Birchtree, Shop Little House, Marigold Home of Woodstock, Modern Mythology, and Maverick Road.
In need of a new wardrobe? Try Three Turtle Doves or Rock City Vintage for some antiquated wear and Lily's Boutique for those must-have, hidden fits.
Pegasus Footwear is great for shoes, while Sparkle features highly affordable knick-knacks, clothing, and accessories. It is no wonder why one of the best things to do in Woodstock involves shopping!
Enjoy the Foodie Scene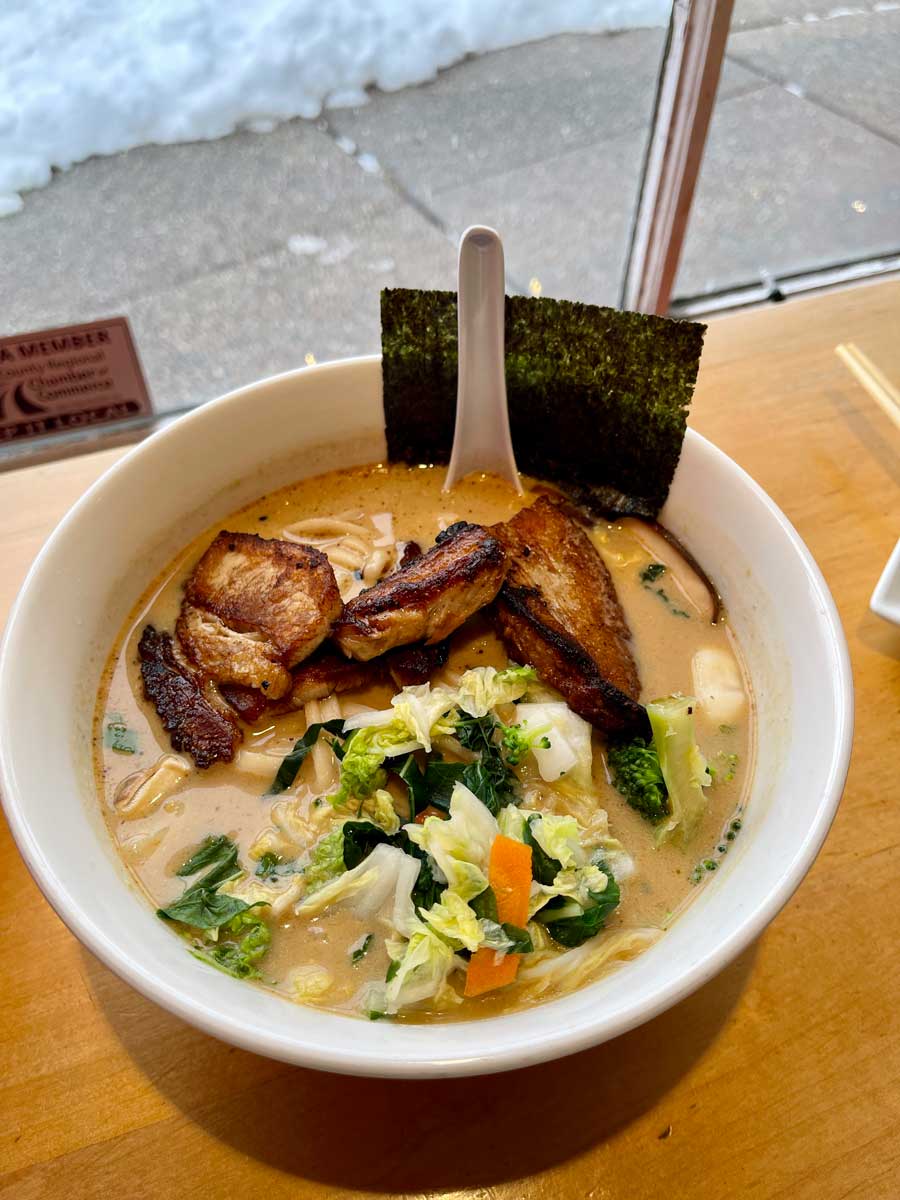 During our trip, one of our favorite things to do in Woodstock was hit up the dining scene here, which is top-notch. Even if you're just passing through the town of Woodstock, plan a meal to grab some grub from a renowned food establishment.
Some of our favorites include Yum Yum Noodle Bar, Station Bar & Curio, Tinker Taco Lab, and Garden Café.
Yum Yum Noodle Bar is a fabulous take on Japanese noodle bowls and Southeast Asian street food, the bowls are customizable too which means you can tailor the flavor to exactly what you like, and we were really impressed. Be sure to check out their specials in advance as they frequently adjust their menu with the changing of the seasons, giving guests the best flavors at the ingredients' peak.
Located a 5-minute walk from the Woodstock village green is Station Bar & Curio, known for their crafty cocktails and delicious brew. Fun fact – Station Bar & Curio hasn't always called Woodstock, New York home. Rather, the station originally lived 10 miles south in Brown's Station before landing in the town of Ashokan, and then finally, Woodstock in 1970.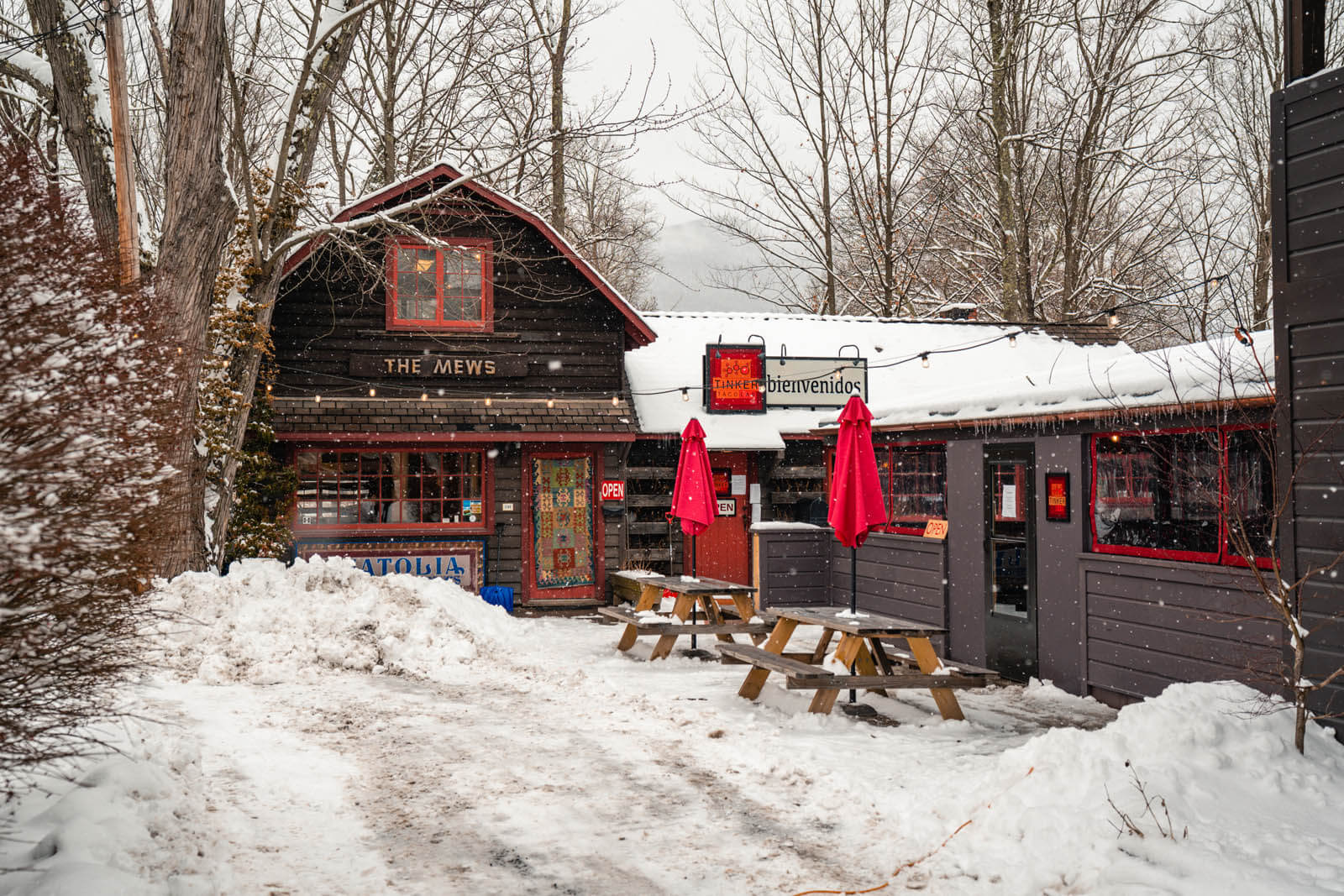 Remember those shops on Tinker Street? Well, Tinker Taco Lab happens to be the spot for some incredibly fresh, and satisfyingly tacos, plus you can sit outside or eat at the tequila bar next door and pair with a great drink. Don't miss the sweets from Peace, Love, & Cupcakes here too!
While you're in the area, consider quenching your thirst with some cold pressed juice from Little Apple. Don't consume animal products? No worries, Woodstock offers plenty of vegan options, with Garden Café coming in on top, one of the cutest little establishments in the town of Woodstock. Their sweet pea guacamole is absolutely to die for!
No matter where you choose, it won't be long after your first bite that you realize why one of the best things to do in Woodstock eats.
Karma Tryana Dharmachakra Monastery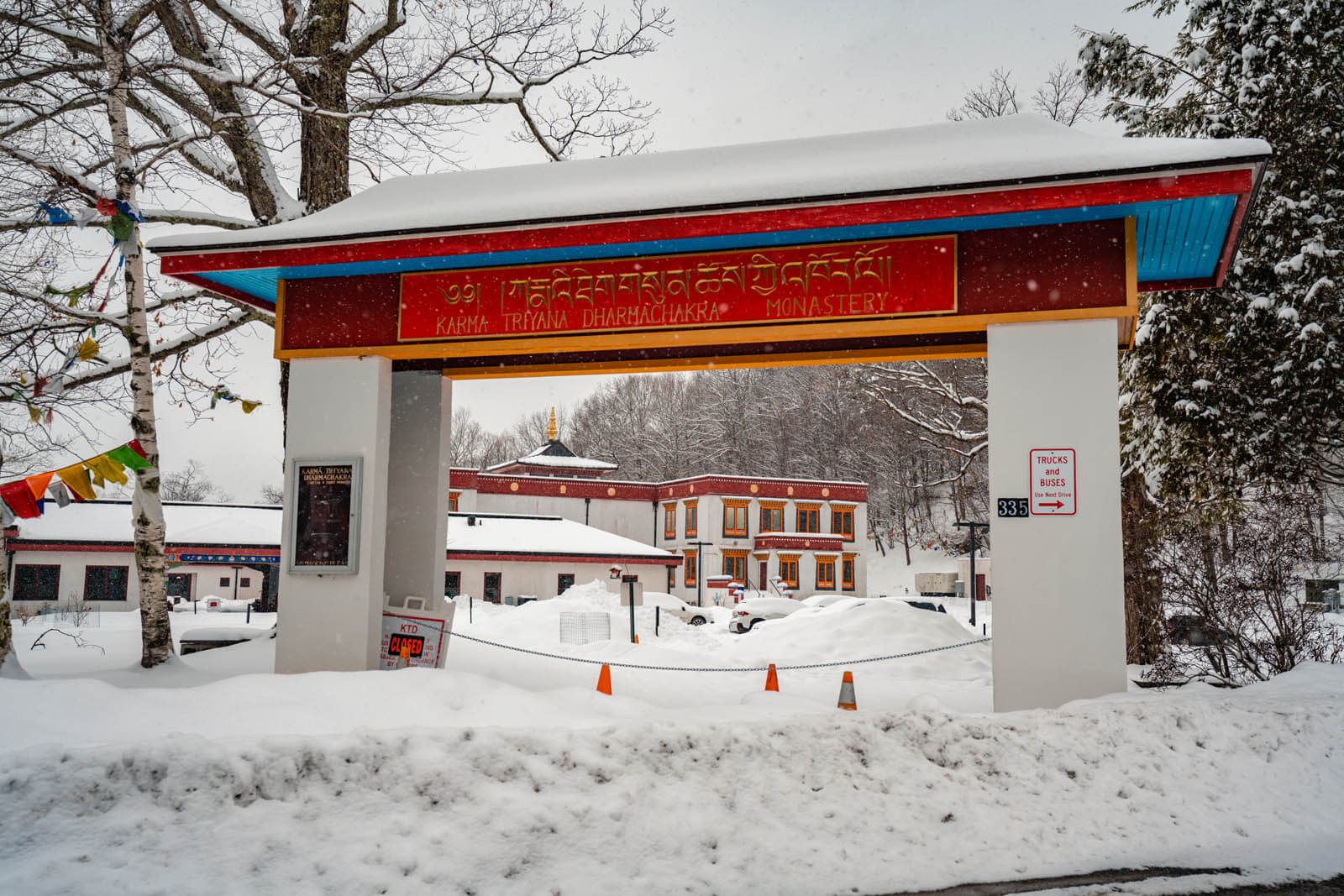 One of the most unique places to check out when you visit Woodstock is none other than Karma Tryana Dharmachakra (KTD), a Tibetan Buddhist Monastery and one of the most unique things to do in the Catskills.
KTD is the North American seat of His Holiness the 17th Gyalwang Karmapa. The grounds of this monastery are breathtaking, and visitors describe their experiences to be spiritually invigorating.
Try a monastery tour on the weekend and pair it with a meditation lesson to ease the mind. While you stimulate your soul and nourish your mind, don't forget to wish your peers tashi delek, which means goodness and happiness.
Be sure to visit their official website to check out any upcoming events and secure seats before they sell out.
Directly across from the entrance to the monastery are the trailheads to Overlook Mountain and the Overlook Mountain ruins, another one of the best reasons to visit Woodstock, NY if you're looking for some peace and serenity in nature.
Overlook Mountain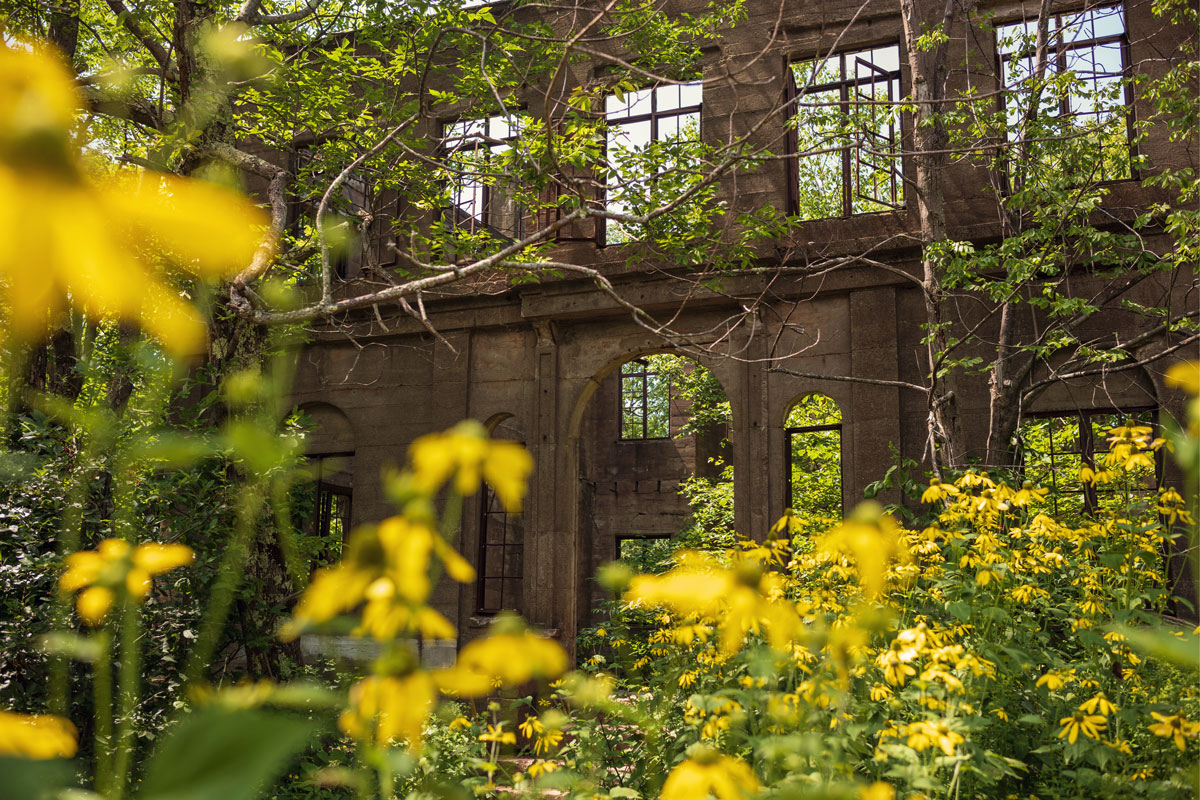 Another one of the best things to do in Woodstock, NY for anyone looking to enjoy the great outdoors is head off on one of the hikes available on Overlook Mountain. The main trailhead parking lots are located right across and down the road from the monastery, meaning you can hit up two of the best things to do in Woodstock in a row!
One of the most active things to do in Woodstock involves taking the Overlook Mountain Trail all the way to its peak. This 4.6-mile round trip adventure is of moderate difficulty and takes roughly 3 hours to complete. It can also be extended to 9.3 miles if you want to include a trip to the nearby Echo Lake (we highly recommend)!
Begin your hike at the main trailhead, located directly across from Karma Tryana Dharmachakra. Parking is free at the trailhead, but keep in mind that summer weekends tend to fill up very quickly.
During your hike, you'll find that the ascent is a steady climb on an old carriage road. Make it to the top and you'll be rewarded with the ruins of an old Catskills hotel, a soaring fire tower, and sweeping views of the Hudson Valley.
Feel free to run up the stairs of the Overlook Mountain Hotel Ruins, just don't forget to snap some photos for the 'gram! While mountain biking, snowshoeing, and of course hiking are permitted, horseback riding and snowmobiling are not allowed on the trails.
Visitors beware – this hike happens to have the highest population of Timber Rattlesnakes in the Catskill Mountains, so keep an eye for these slippery serpents while you trek. And be smart, if you see one don't do anything to cause it distress and increase your chances of getting a bite, brush up on these snake encounter tips before your hike.
Woodstock Music Festival Site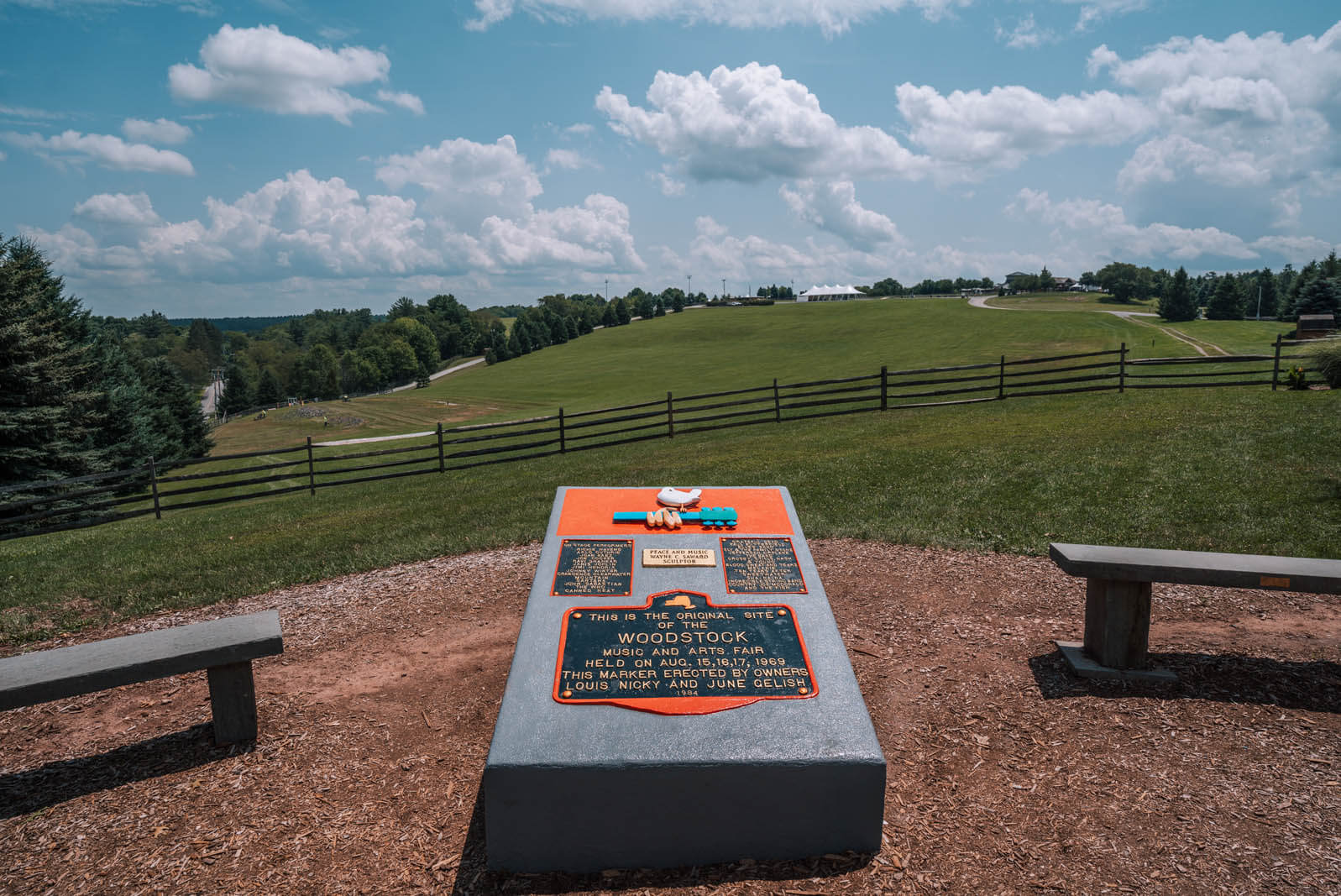 What is Woodstock without its wild reputation for lending its name to the music extravaganza – the Woodstock Music Festival in 1969.
Originally, this music festival was held August 15-18, 1969, and offered "an Aquarian Exposition: 3 Days of Peace & Music." Some referred to it as the Woodstock Rock Festival and it was a place where many young people at the time who vehemently opposed the Vietnam War went to escape the civil unrest and protests to spread the message of unity and peace through music at this outdoor celebration.
While the town of Woodstock is famed for its name to this historical music festival, which raised the spirits of the 1960s and 1970s, this music sensation actually took place 46 miles south at Max Yasgur's dairy farm in Bethel, New York, contrary to popular belief.
Nonetheless, the cultural phenomenon transformed an old field into a historic landmark filled with top performers who played for more than 450,000 people and is still one of the most popular things to do in Woodstock, NY.
If you're visiting, be sure to check out the Woodstock Museum at Bethel Woods Center for the Arts, where the legends of the 1960s come to life. Tickets can be purchased through their official website for a discounted rate.
Fun tip – they have recently added a new augmented reality tour, where visitors get the chance to explore the festival and actually experience it visually, as an attendee from the past, via a rented iPad. You'll be dazzled by the 3D model of the stage as it appears right where it really stood back in 1969. This truly is the story of a generation.
Woodstock Waterfall Park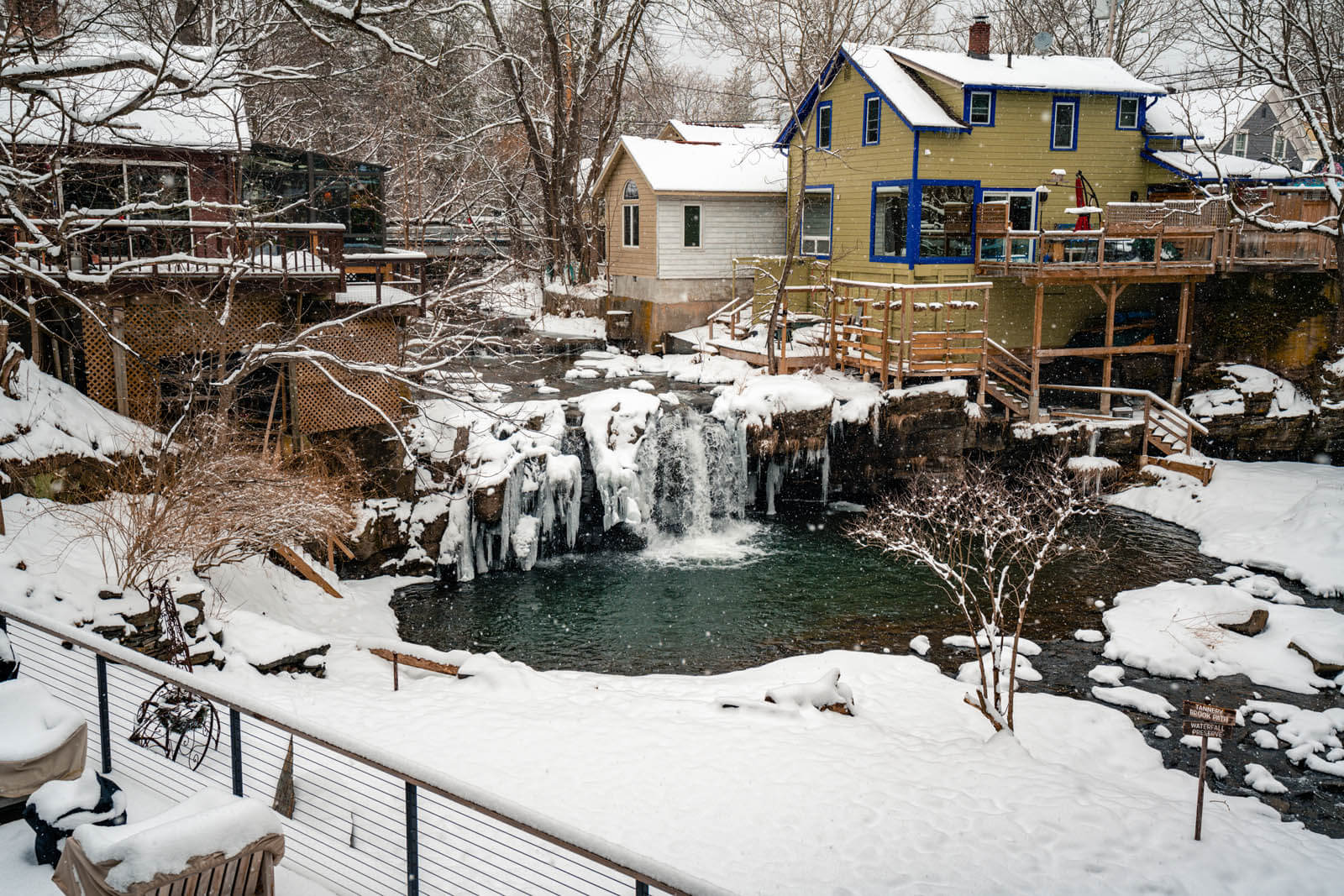 If you get a chance to visit Woodstock NY, frequenters will say one of the best things to do in Woodstock is to visit its waterfall park. The Woodstock Waterfall Park is a park where you can marvel at the water cascades that fall over the rocks of a brook at this site.
This community park is open 24 hours, 7 days a week, and located just off of Tinker Street. This tiny park is less than 10 feet wide and 50 feet long, but don't let its size fool you – one of the most tranquil views in the town of Woodstock can be found here.
This sweet spot gives visitors the chance to see a small, yet enchanting, waterfall on Tannery Brook. While there are many wonderful falls in the Catskills as well as many impressive New York waterfalls to explore if you have time, this site is not to be missed.
In fact – it is prudent to note that since the waterfall itself is surrounded by homes and businesses, the only place you can really view the falls from is at this park.
Opus 40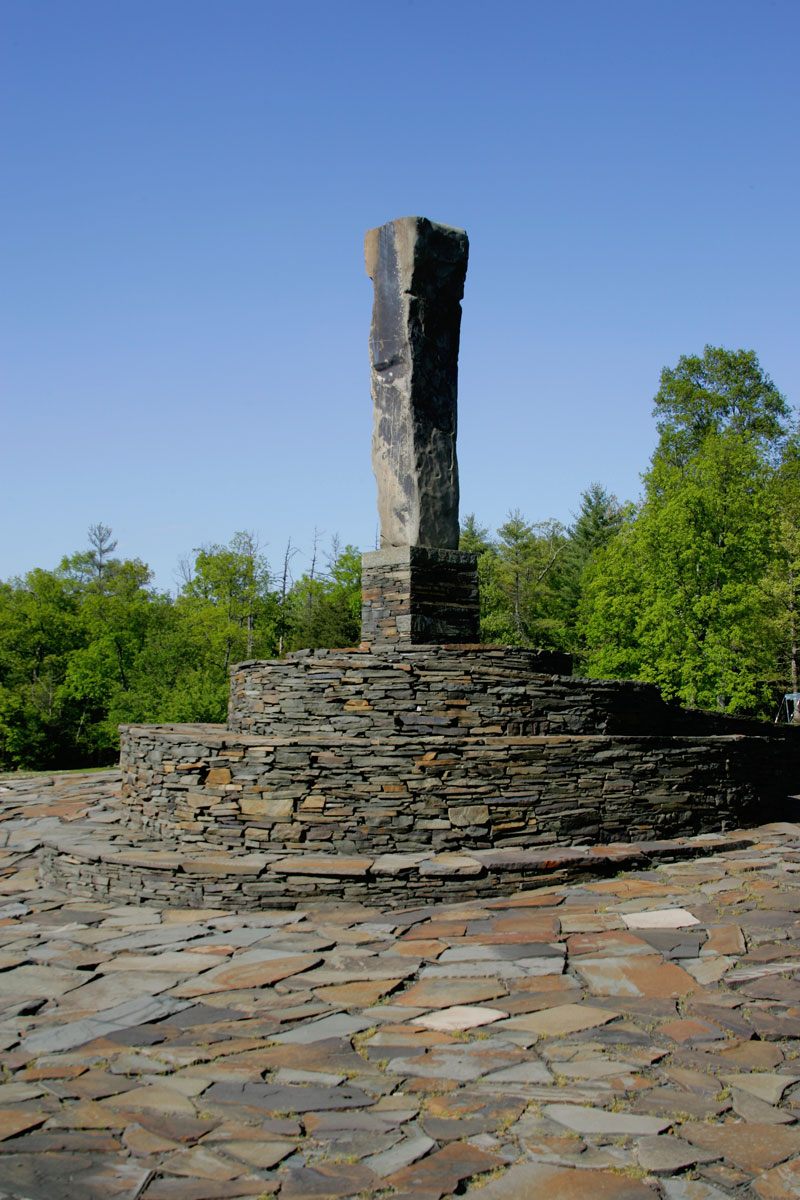 On your way out of the town of Woodstock, New York, consider taking a trip to a neat little arts organization in Saugerties. This 7-acre architecturally ravishing site is home to Opus 40, a large environmental sculpture that comprises of a series of dry-stone ramps, pedestals, and platforms of a bluestone quarry.
This Natural Historic Registered site was hand-sculpted from harvested bluestone by a pioneering artist and professor, Harvey Fite, and took a series of four decades to complete.
The nonprofit sculpture blends ancient Mayan and Aztec stonework, and the natural surroundings of the local ecosystem are central to the site. While this is a seasonal attraction, tickets can be purchased online for visits in the spring.
Ashokan Reservoir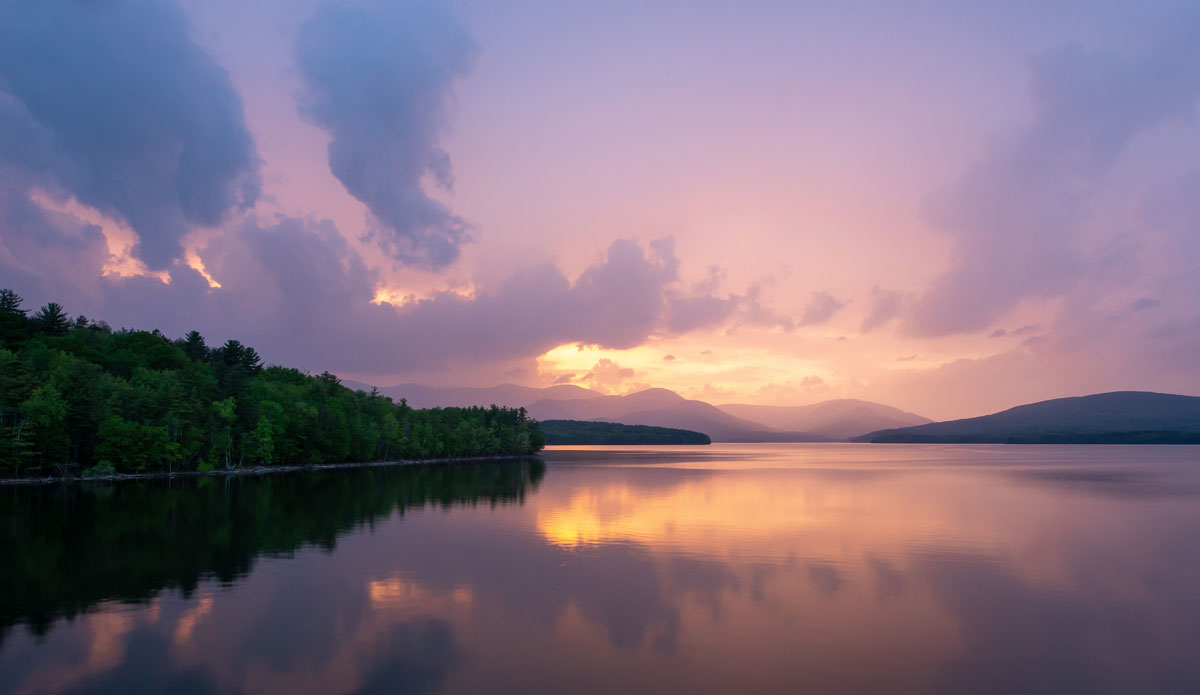 Once you're out of the town of Woodstock and exploring all the best things to do in town, head over to the Ashokan Reservoir, located at the eastern end of the Catskill Park.
Fun fact – this reservoir is one of several in the region that was actually created to provide water to New York City. This is also known to be the deepest reservoir of the city and reaches a depth of 190 feet.
This picturesque reservoir features a paved waterfront trail, with panoramic views of the lovely Catskills. Parking can be accessed from Route 28A, where an information kiosk is located at the eastern portion of the paved walkway.
If you are not taking in the scenic views by car or feet, perhaps fishing (with a permit) might suit your fancy. Some fish to be caught include rainbow trout, brown trout, and walleye.
Woodstock Playhouse
If theatre is your thing, then this is the next thing to do in Woodstock for you! You have got to add the Woodstock Playhouse to your itinerary when you visit Woodstock.
Known as one of the most theatrical things to do in Woodstock, this American summer stock theatre was founded in 1938 and is currently owned by the Pan American Dance Foundation.
Head over to 103 Mill Hill Road in Woodstock, New York, to check out their theatre, music, and other presentations hosted throughout the year.
If you are planning a trip to the town of Woodstock, be sure to check out the Woodstock Playhouse's official website beforehand to get a list of their upcoming events. You do not want to miss out on these performances!
Nearby Woodstock, New York
Kaaterskill Falls, Hunter & Tannersville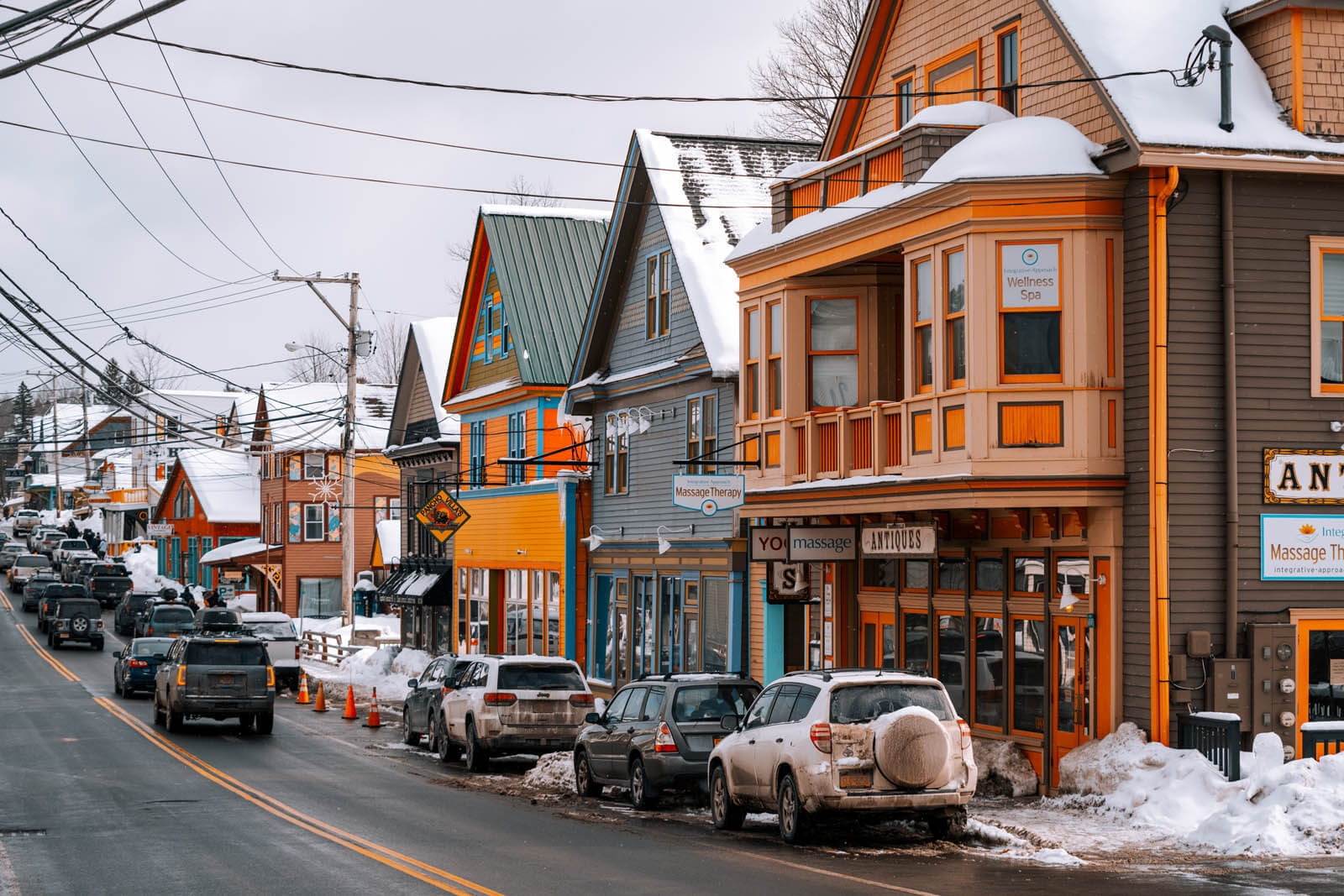 If you haven't had your fair share of magnificent views just yet, set out to Kaaterskill Falls and the villages of Hunter and Tannersville, two of the most beautiful and best towns in the Catskills to visit!
Kaaterskill Falls has two cascades on Spruce Creek and features a 1.4-mile roundtrip hike. A short drive away will bring you to the town of Hunter, comprising of two villages, Hunter and Tannersville.
The village of Hunter is home to Hunter Mountain Ski Resort, while Tannersville is dubbed as the "painted village in the sky" for boasting hundred-year-old buildings, painted with lively colors. You'll definitely want to work these sites in when you visit Woodstock.
Bethel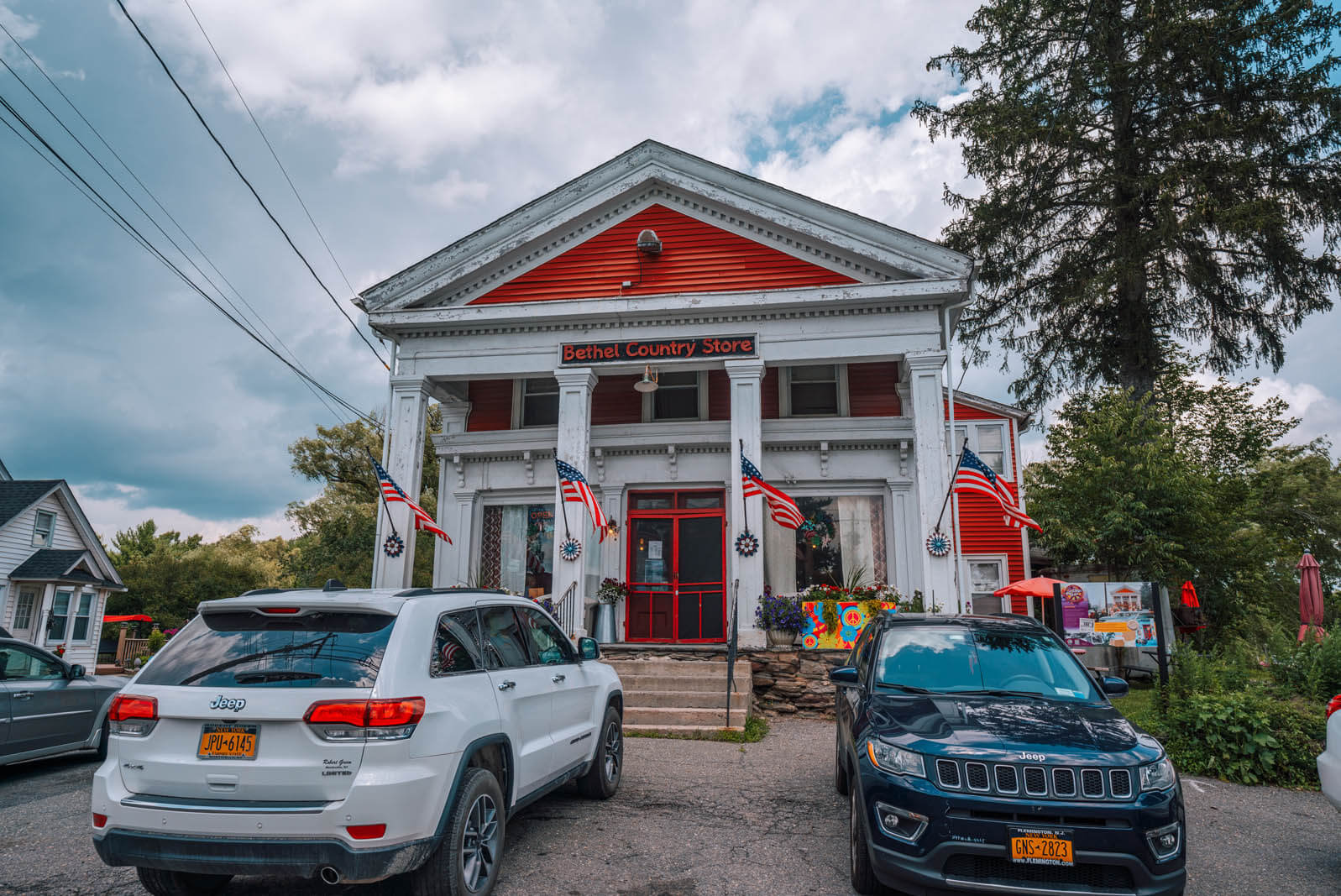 Some may visit Woodstock to relish in the historical delight of the 1960s and 1970s Woodstock Music Festival, visitors should know that the actual site took place at a dairy farm in Bethel, New York as already mentioned above.
This primarily rural town welcomes tourists at Max Yagsur's dairy farm, but since this is not 1960, no camping is allowed. Come visit the Bethel Woods Center for the Arts, sporting an 800-acre campus that features the original grassland where the concert was held, along with an amphitheater pavilion, and a museum with a conservatory for arts and education.
Phoenicia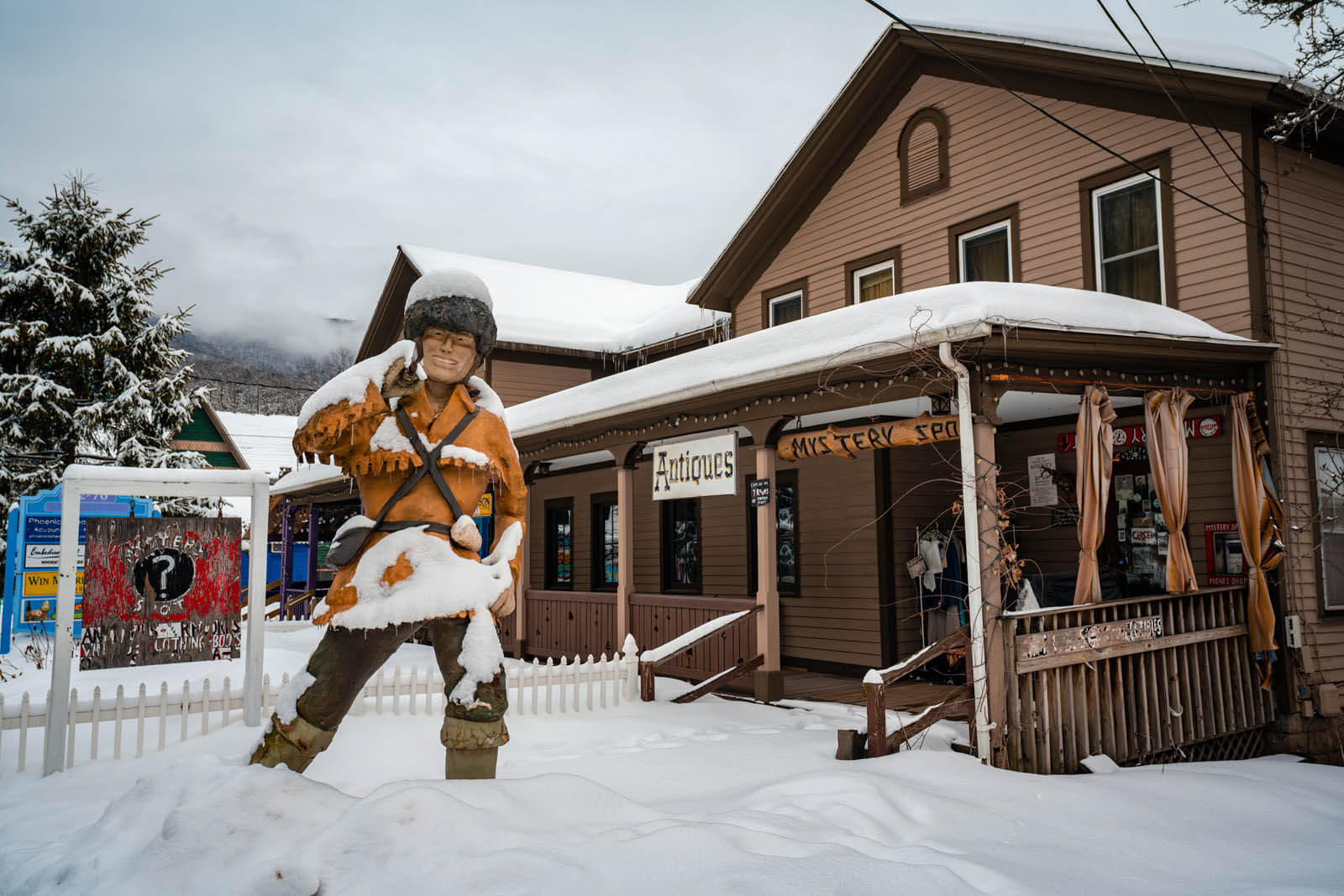 After you visit Woodstock, take a short 20-minute drive to the rural town of Phoenicia, New York. You won't be disappointed as this pleasant area features plenty of good eats and brews, mountains for all levels of hiking, and the world's largest kaleidoscope.
Check out Woodstock Brewing before hiking through Phoenicia Mount Tobias Wild Forest for a serene nature walk.
Where to Stay Near Woodstock, NY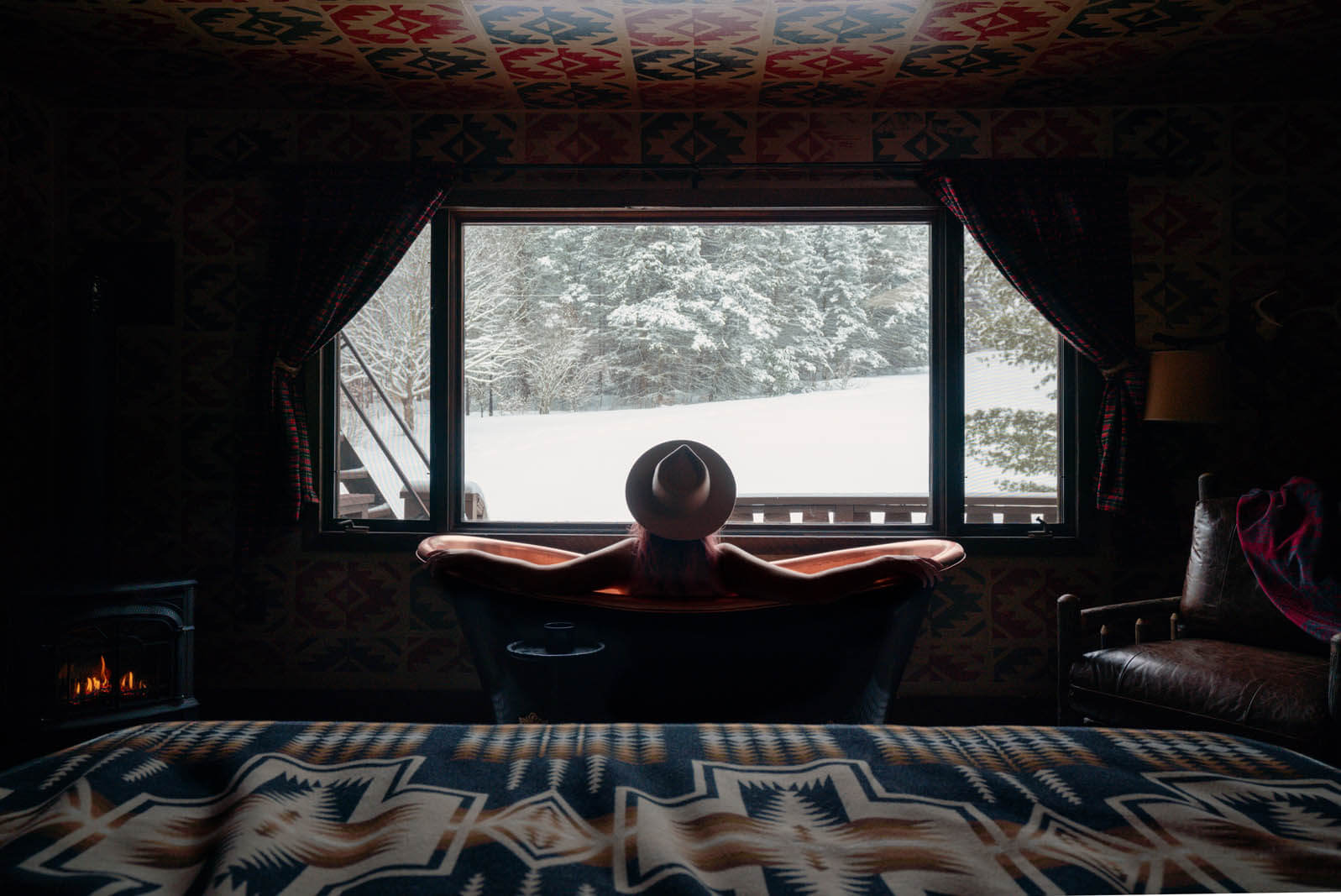 There are plenty of options for where to stay while exploring all the best things to do in Woodstock, New York from cabin rentals in New York to lodges and hotels. We've picked a few of our favorites, but be sure to check out our guide for where to stay in the Catskills for more options.
See the map below to book directly in the town of Woodstock, or do what we did and stay in one of these amazing properties just outside of Woodstock to explore the best of the region.
Urban Cowboy: This lodge in Big Indian along Slide Mountain is where we stayed and makes for the perfect base for exploring the best things to do in Phoenicia, New York as it's just about a 15-minute drive away to downtown.
This former Bavarian lodge was owned by the same family for nearly 70 years before retirement, they sold the lodge and its five standalone buildings to the creatives who brought a luxury, curated, wilderness lodge experience. Each room has something special to offer and is individually designed and is what aesthetic dreams are made of not to mention the clawfoot bathtubs next to a fireplace next to the giant windows overlooking the snowy mountains.
Urban Cowboy Lodge is a place to unplug and unwind, rooms have no televisions, instead, bring a little speaker, turn on some tunes and soak in the tub with the view or play one of the board games they lend out, borrow their sleds, and snowshoes for some outdoor fun, and unwind with great cocktails and delicious food! 10/10 recommend and we will be hoping to visit again.
Emerson Resort & Spa: Featuring spacious accommodations with huge windows and tasteful Victorian decorations, this resort is one of the best places to stay in Phoenicia, New York. Emerson Resort & Spa is one of the most popular and well-known luxury properties located in Phoenicia.
You can also stay in and experience restoration, relaxation, and the healing hands of nature in their award-winning spa and don't miss visiting the world's largest kaleidoscope here too, mentioned earlier! (Non-guests can visit as well but have to pay admission)
The Graham & Co.: Another one of the most popular places to stay not only in Phoenicia, New York but in the Catskills is this beautiful, chic boutique motel located in the village of Phoenicia. The location is already amazing but this experience is an elevated one while still somehow remaining unpretentious.
There are 3 acres of property which offers 2o rooms, a swimming pool, hammocks to lazy in during the warmer months, a badminton court, fire pits, picnic spots, and bikes you can borrow if you're a guest. Don't miss trying one of The Graham & Co.'s cocktails either as they've created a space you don't mind hanging out in and taking a break from all the other wonderful things to do in Phoenicia.
---
Enjoyed this guide to the best things to do in Phoenicia, New York? Bookmark for later or share the love below on Pinterest! And be sure to also read our guide to how to spend a Catskills summer getaway too!