Looking for the best things to do in Bonaire? We got you. This island getaway in the Dutch Caribbean is full of incredible shorelines teeming with vibrant coral reefs and marine life, stunning landscapes, cultural experiences, and historic landmarks.
Located around 50 miles off the coast of Venezuela, Bonaire is a part of the ABC Islands which also include Aruba and Curacao.
Known for its breathtaking coral reefs and being the shore diving capital of the world, there are endless opportunities for shore diving and snorkeling here to experience their pristine underwater ecosystems. In fact, Bonaire is recognized for its commitment to environmental conservation, with a designated marine park and a focus on sustainable tourism. The island also boasts stunning nature reserves, including mangroves and flamingo sanctuaries, as well as a welcoming and relaxed atmosphere that attracts nature lovers, adventure seekers, and those seeking a tranquil tropical escape.
We will help you explore the best things to do in Bonaire, from uncovering hidden treasures, indulging in water sports, taking advantage of all the beautiful nature, and embracing the laid-back island vibes that make Bonaire a paradise like no other.
Disclaimer: This post contains affiliate links.
Bonaire Travel Tips & Information You Need to Know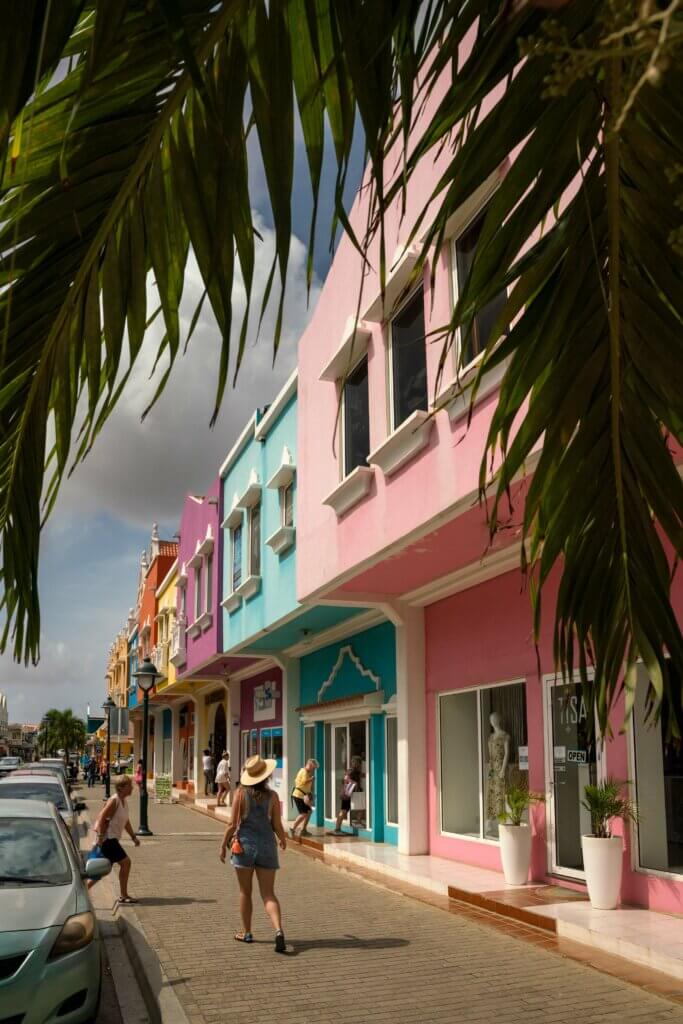 Before we dive into all the best things to do in Bonaire, we want to you to be set up for success for your trip! Every visitor to Bonaire needs to pay a tourism tax. You will need to do this before arriving, although if you forget you can do it upon arrival, but it will slow things down.
All international visitors will need to pay the tax online before visiting. It's a pretty quick and straightforward process, I did it 24 hours before departing Curacao for Bonaire and was able to get the QR code almost immediately. When you get off the plane, you will need to present your QR code for scanning to show you already paid your tourism tax.
Have this loaded and ready on your phone so that it's available offline. I took a screenshot of our proof to have it ready.
The Bonaire Visitor Tax is $98.00 per person and includes the $75.00 Bonaire government tourism tax.
Cruise ship passengers will have a $10 tax that will be collected by the cruise line. If you're arriving by cruise, be sure to double-check that this process is taken care of before arriving.
You'll want to rent a car to get around to the best things to do in Bonaire! If you're a cruise ship passenger, you may want to join a tour or shore excursion since your time is limited (don't worry we recommend a few of those in this guide).
There are really not any great options for public transportation, unfortunately. If you're planning to visit Washington Slagbaai National Park during your trip too you'll need to rent a high-clearance vehicle or something with 4×4 as you'll need that to drive through the unpaved roads in the park.
As mentioned, Bonaire is a part of the ABC islands and is home to the shore diving capital of the world! So you can bet there is some incredible snorkeling and diving to be done at pretty much all the best beaches in Bonaire! There are over 85 shore diving and snorkel sites marked with a painted yellow rock with the dive site name on it.
In addition, all of the ocean surrounding Bonaire and Klein Bonaire is protected and a part of the Bonaire National Marine Park, the first of its kind in the world founded in 1979.
You'll need to pay a Nature Fee to access BNMP-protected areas as well as visit Washington Slagbaai National Park, which is good for an entire calendar year. We paid ours when we went to the national park, but you can pay for your Bonaire nature fee online. Whichever way you pay for this, be sure to keep your proof of purchase so you don't have to pay the fee again elsewhere.
You'll want to bring your own snorkel! Trust us, you're going to want to snorkel while you're visiting as you won't want to pass up seeing all the vibrant coral reefs life like swimming with sea turtles and all the colorful tropical fish there are here. If you're shore diving, you probably can skip the snorkel gear, but it's still handy to have!
The beaches you'll visit while doing some Bonaire sightseeing don't really have facilities, so you won't have opportunities to rent snorkel gear. It's so easy to buy a snorkel set for everyone in your family. We both bought this snorkel set which included a mask, snorkel, ear plugs, flippers, and carrying bags which were perfect for beach hopping. (we both pack carry-on only and were able to easily fit it in our bag too!)
It's also necessary to have a pair of water shoes too to wear under your flippers! Some beaches have fossilized coral, a rock shelf, or other things that are a bit harder to step on to get in and out of the water and since this island is more rugged, you'll need to carefully choose your entry and exit points when snorkeling as you'll have to watch out for critters like urchins. These also fit in the snorkel set bag we bought!
You'll want to pack sun protection when visiting and exploring Bonaire!
Get reef-safe sunscreen to protect the local environment too, during our week-long trip we went through a few bottles and were able to easily find more at grocery stores. But, you'll definitely want to pack a bottle and be ready to apply it every 60-70 minutes. We were being cautious and still got a little sunburn on days when we spent more time at the beach.
A few of our favorite reef-safe sunscreen products include:
Don't forget something to take underwater photos! For those who are looking for something on a budget, you can get a waterproof pouch for your smartphone to take underwater photos. Just be careful to keep this sealed correctly so no water gets in. This does do the trick but can be a bit tricky to play with to get focus.
Or bring a waterproof camera like the classic waterproof GoPro action camera or the waterproof Insta360 camera which are both great for snorkeling and don't require the waterproof housing if you're not diving into deeper water!
Bring your own towel! We also pack our own beach towel on trips with us too, not the bulky traditional beach towel you're thinking of though.
We both always use a sarong or Turkish towel because they are lightweight, dry quickly, easy to pack, and do the job!
What to do in Bonaire
Washington Slagbaai National Park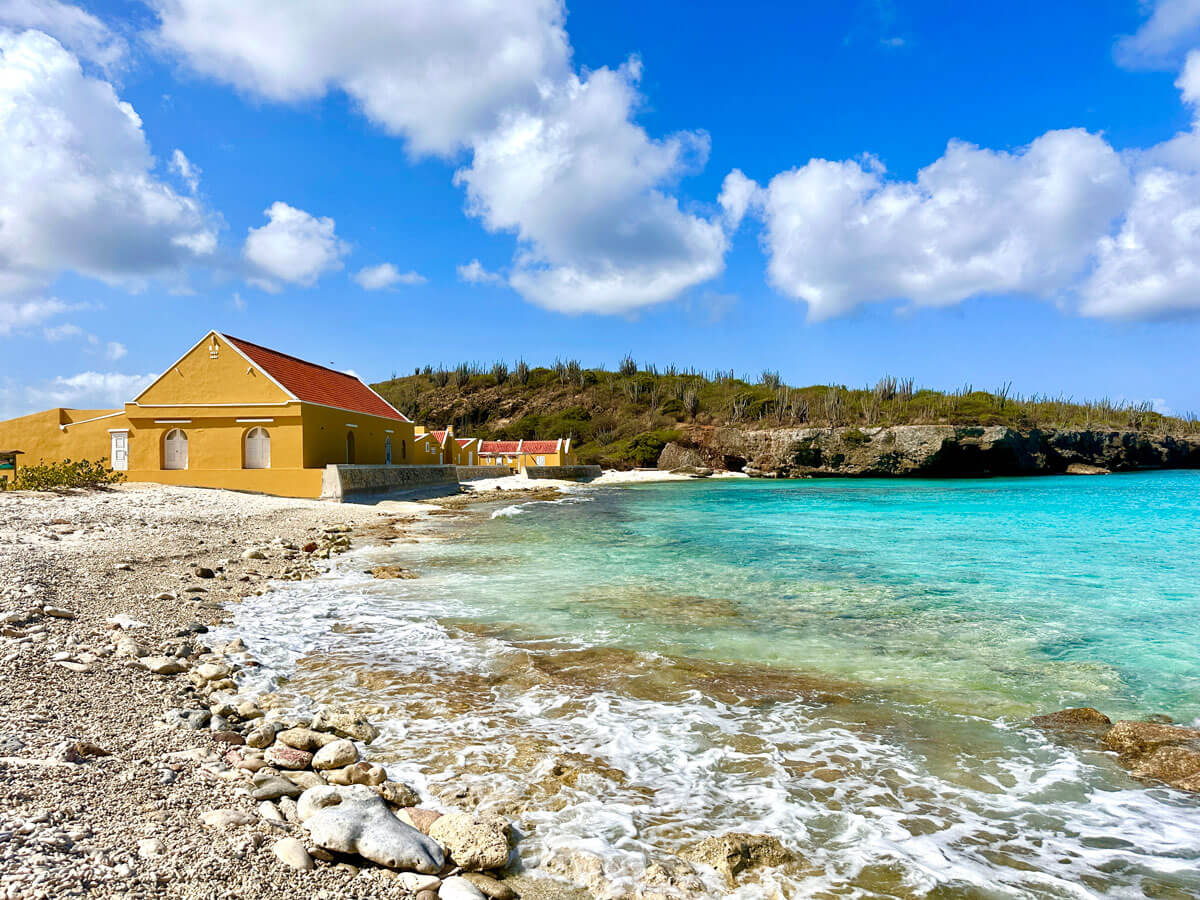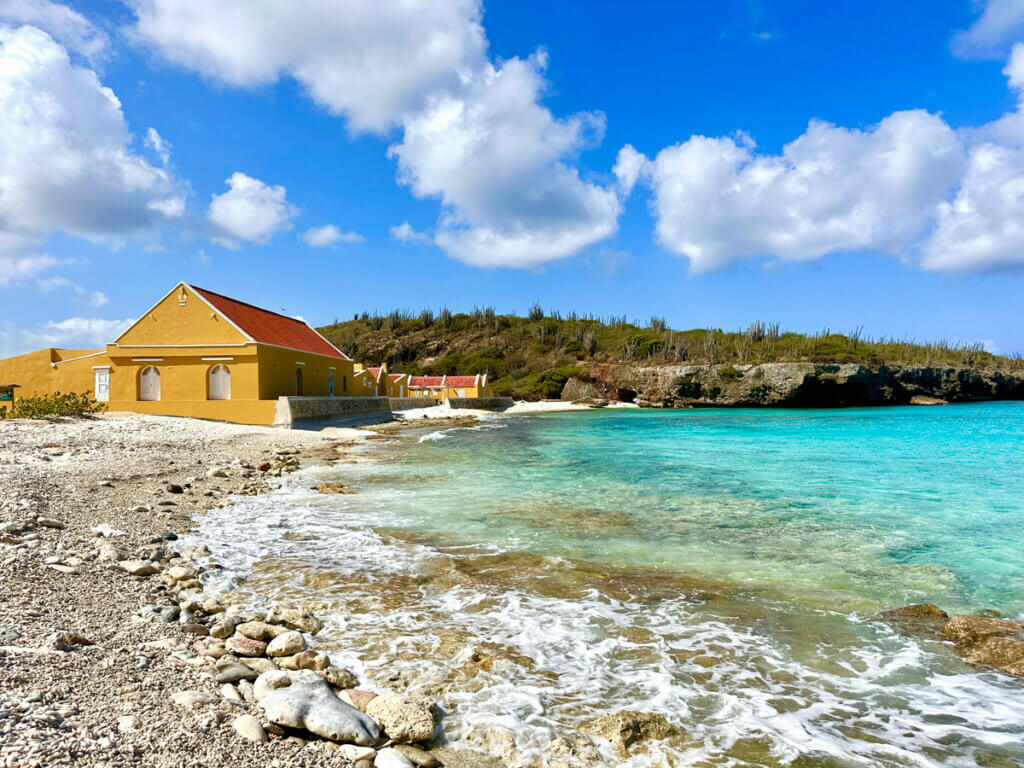 One of the best things to do in Bonaire is explore Washington Slagbaai National Park. This is a protected area covering nearly 14,000 acres of land on the northern side of the island. In fact, Washington Slagbaai National Park takes up roughly 20% of the entire island!
You'll want to check out our guide for everything you need to know about visiting Washington Slagbaai National Park, as visiting does require a little planning, but it's nothing to be intimidated by and totally worth it!
The park boasts a variety of landscapes, including beaches, rocky shores, mangrove forests, cactus fields, and rugged hills. The park also includes important historic sites, like the remains of slave huts and a former plantation house at Boka Slagbaai.
It's also a great spot to catch a glimpse of local wildlife, like flamingos, iguanas, parakeets, wild donkeys, and more. The beaches in Washington Park are also major nesting areas for 4 different species of sea turtles. Head to one of the many great snorkeling and scuba diving spots in the park to catch a glimpse of them!
Washington Slagbaai National Park also has hiking trails. The Lagadishi Walking Trail is the easiest. It's a scenic 2-mile walk along a flat path that winds along the shore's ever-changing landscape. And the Subi Brandaris Trail is a moderately difficult trail that takes about 45 minutes. You'll hike to the top of Mount Brandaris, the highest point on Bonaire, for amazing views of the island!
If going on your own seems intimidating, you can join a tour of Washington Park instead! This full-day tour of Washington Slagbaai National Park includes transportation, lunch, hiking, snorkeling, and a tour of the Boka Slagbaai historical site.
Getting Around Washington Slagbaai National Park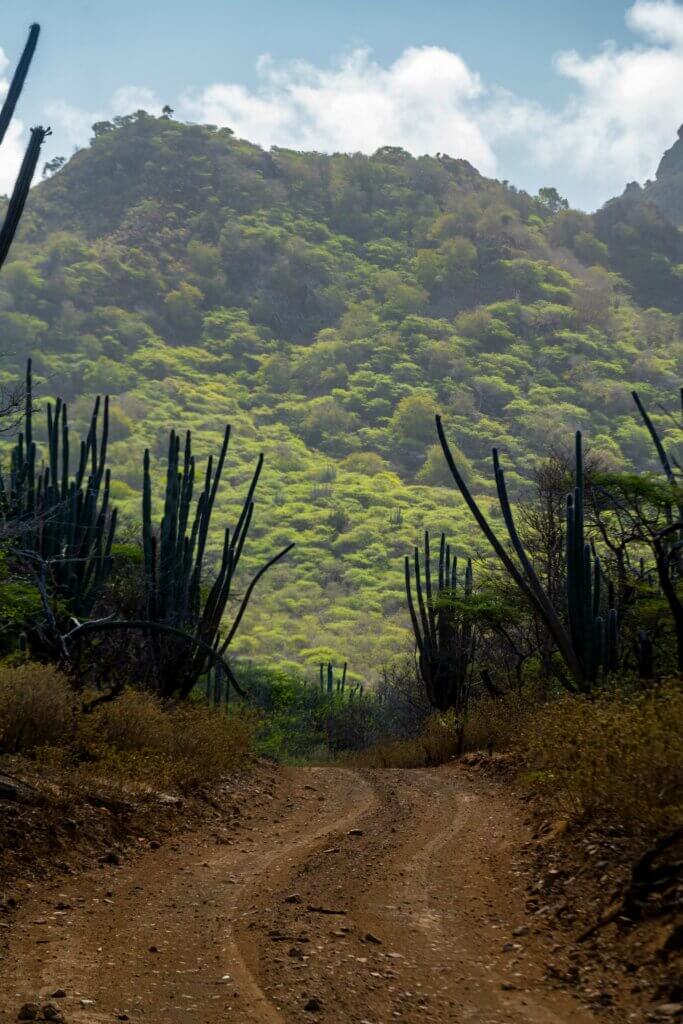 There's one main entrance into the park, where you'll pay a $40 entrance fee, but if you've already paid your nature fee you will need to present this so you can enter at a discounted rate. You can visit every day but Monday from 8:30 AM to 5 PM (the last entry is at 2:30 PM). You'll need a high-clearance vehicle to get around the park (many of the roads are dirt roads). So, when you rent a car, make sure you get the right kind!
Once you're in the park, you can take the long route or the short route. The long route takes you along the coastline. If you're interested in Bonaire sightseeing, this is the way to go. It's a 2.5 hours drive and takes you along a lot of the best beaches, the cactus fields, the old lighthouse, and more.
Or you can take the shorter route through the middle of the park, which takes at least 1.5 miles to drive. And this is the route to take if you plan to hike the Subi Brandaris Trail.
As mentioned, check out our full guide for everything you need to know and plan before visiting Washington Slagbaai National Park, we cover it all plus the best stops to check out.
Bonaire National Marine Park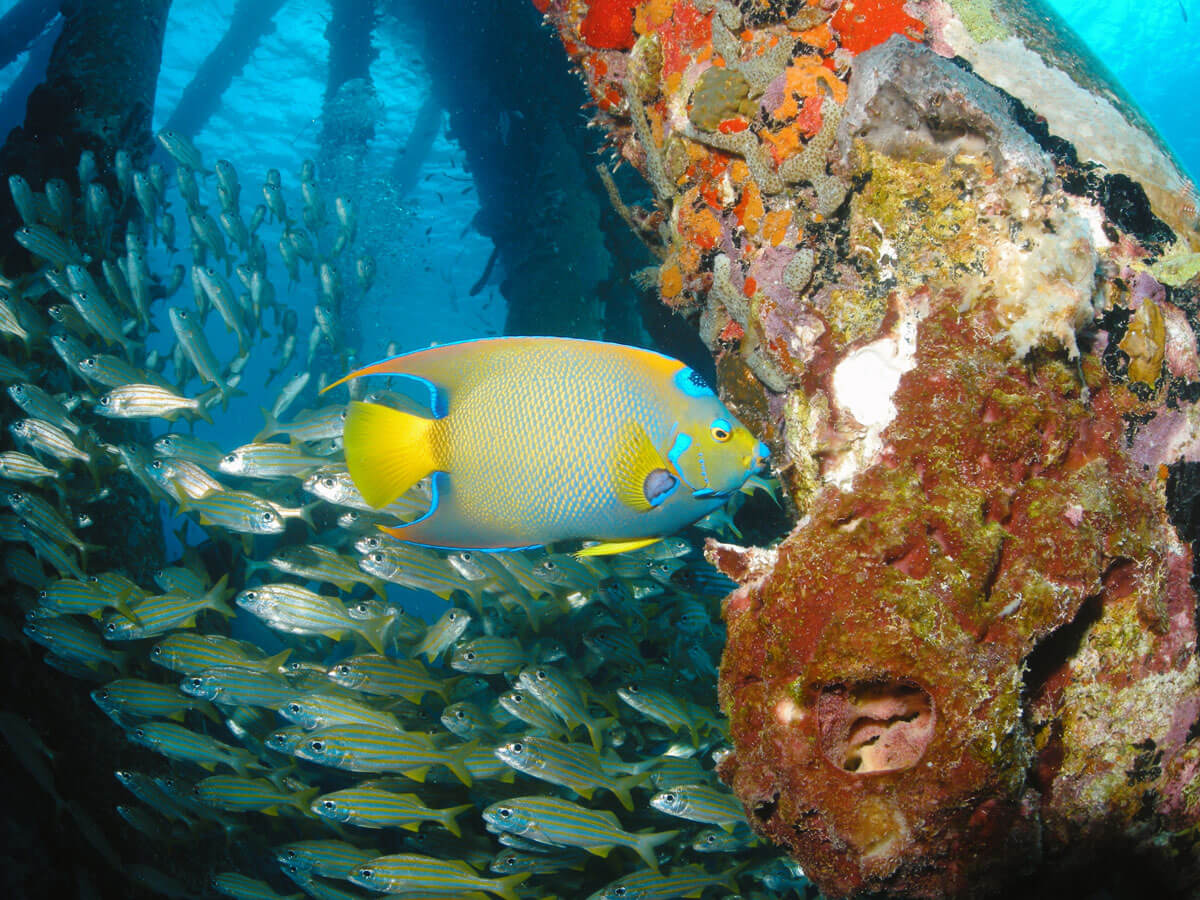 Bonaire National Marine Park is a protected marine area that includes all of the seas around Bonaire and Klein Bonaire. So, technically, you're visiting anytime you're in the water!
The park covers over 6,700 acres of coral reef, seagrass beds, and mangrove forests. It's also home to over 350 species of fish and 57 species of coral, and its crystal-clear waters offer excellent visibility for exploring.
It's no surprise that the marine park is one of the most popular Bonaire attractions, with some of the best diving and snorkeling in the world. You can go kayaking or canoeing through the island's mangrove forests. And many come to Bonaire for underwater photography opportunities. The island has companies that offer photography excursions and gear rental.
And one of the most unique features of the park is its "reef balls." These are artificial structures designed to mimic natural coral reefs and provide a habitat for marine life. They're a great way that STINAPA, the organization that cares for the marine park, is handling marine conservation in Bonaire.
Visit the Donkey Sanctuary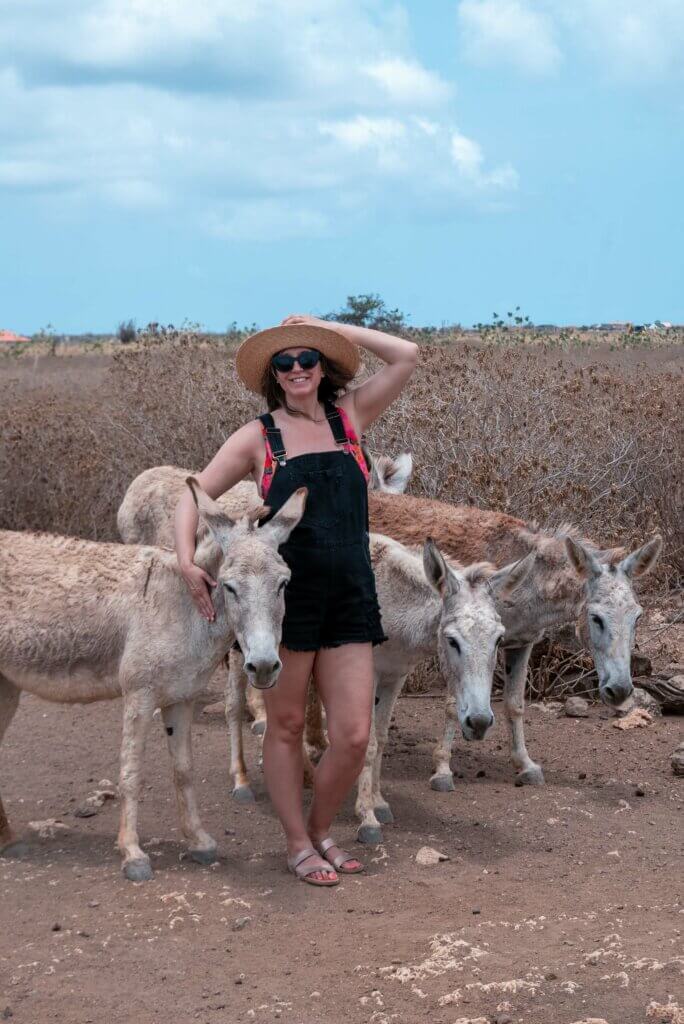 Bonaire has a large population of wild donkeys, which is surprising to see if you don't know about this in advance as you'll likely spot them driving around the island.
The animals were brought to the island by the Spanish in the 17th century to be used for transportation and labor. As modern transportation methods were introduced, the donkeys were left to roam free.
By the early 20th century, the donkey population on Bonaire was well in the thousands! As the island developed, they became a nuisance and it wasn't a safe environment for them.
Over the years, there have been efforts to control their population, but none were successful until The Donkey Sanctuary was established in 1993.
Not only does the non-profit organization care for sick and injured donkeys, but they also run sterilization and adoption programs. The sanctuary also has a passion to educate visitors about the donkeys' history, as well as Bonaire's conservation efforts.
You can visit the Donkey Sanctuary that's located on the southern side of Bonaire. It covers nearly 15 acres and is home to almost 800 donkeys. You just pay a small entry fee, which goes towards helping the donkeys of the island, and you can stop at the gift shop to purchase feed to give the donkeys.
Most of your visit is a self-guided safari drive around a 150-acre enclosure where donkeys roam free. They'll come right up to your car and stick their head in your window so you can pet them! It's one of the most memorable things to do in Bonaire and it's so much fun to interact with these sweet animals. 
After your drive, you'll go into another "special care" area where you'll get up close with the animals who need more care, like babies and elderly donkeys! You can also participate in volunteer activities, including grooming and feeding the donkeys.
Go Scuba Diving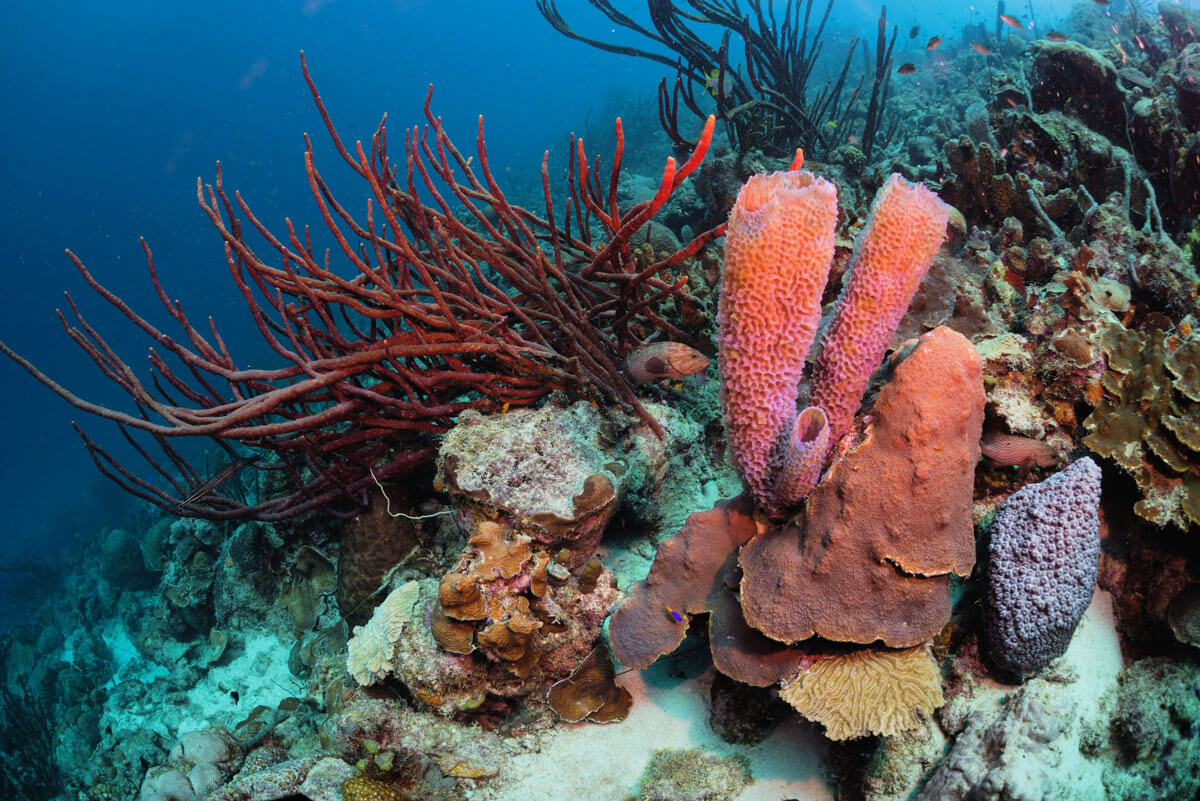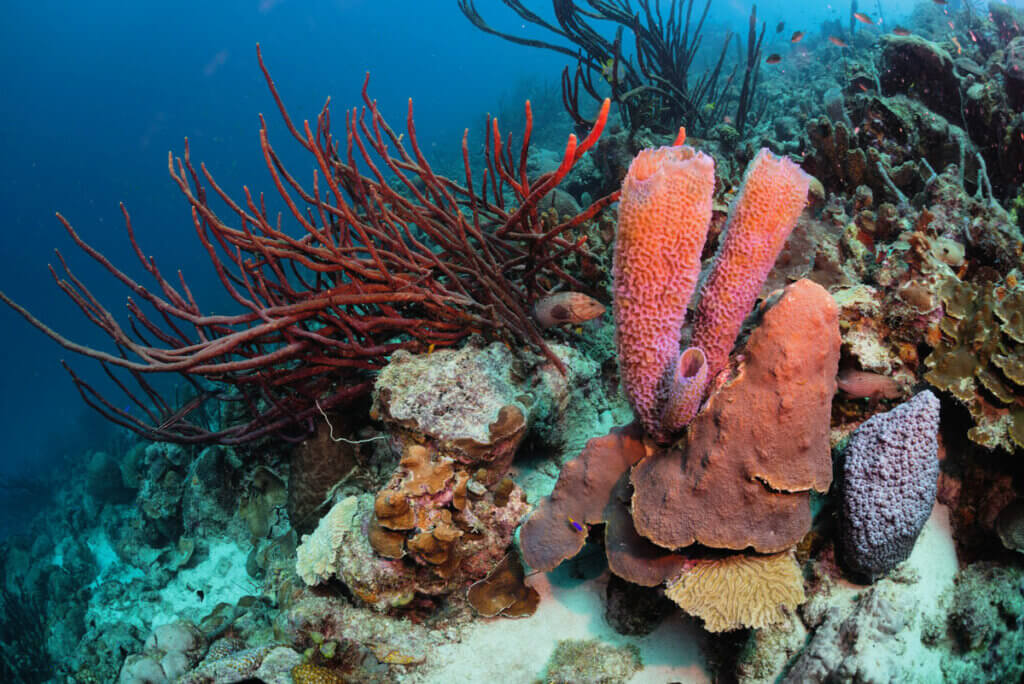 If you're looking for what to do in Bonaire, scuba diving is a must since you're at the shore diving capital of the world! There's no place like Bonaire's National Marine Park, offering over 60 official diving sites which you'll spot as you're doing Bonaire sightseeing as they are marked by yellow painted rocks with the name of the site.
This includes sites accessible from shore and several boat-accessible sites. And there are opportunities for divers of all levels.
The island's clear waters provide excellent visibility for divers, with visibility often exceeding 100 feet. Bonaire's coral reefs are home to over 350 species of fish and almost 60 species of coral. You'll also find a variety of other sea creatures, such as sea turtles, rays, and octopuses.
You can join boat tours and go scuba diving at the remotest parts of the marine park or bring your own gear to a dive site and jump in!
And if eco-tourism is important to you, show your support by visiting Bonaire. The island developed an innovative plan for marine conservation that has helped to preserve this part of the island's natural beauty.
Go Snorkeling!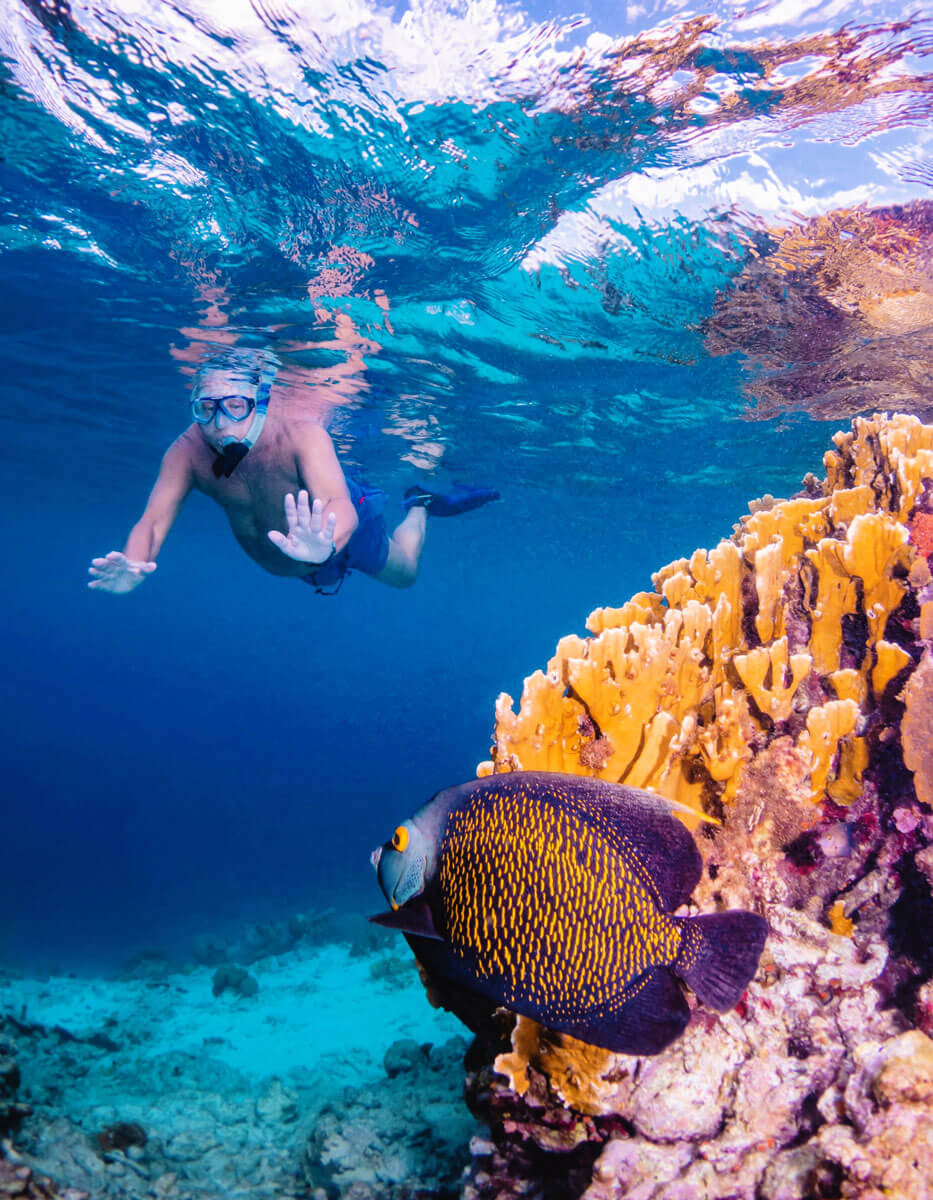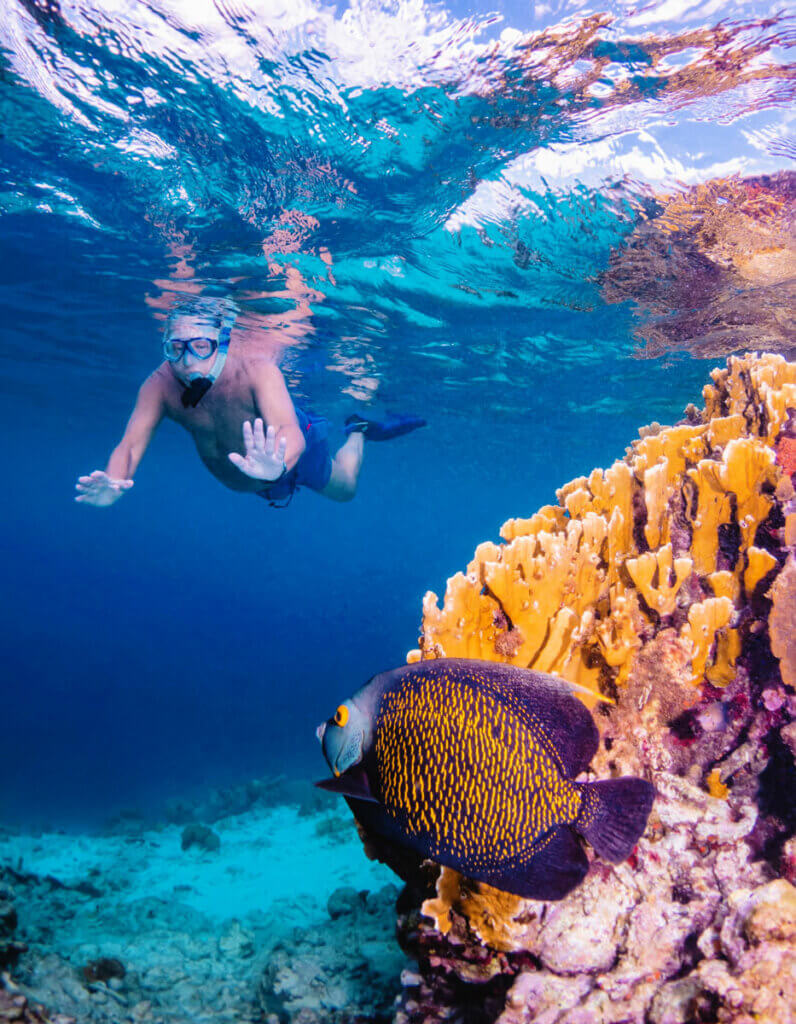 If you're not into scuba diving (I am not certified), snorkeling is a great alternative. Many of the same sites are perfect for snorkelers too, making this another one of the best things to do in Bonaire.
You can still experience the island's abundant marine life and stunning underwater scenery, without the need for specialized equipment or training. You just need to know how to swim!
We have a whole guide to the best spots for snorkeling in Bonaire. A great spot for snorkeling is Bachelor's Beach, a small beach on the southeastern coast of Bonaire. It has shallow reefs, tons of colorful fish, and more.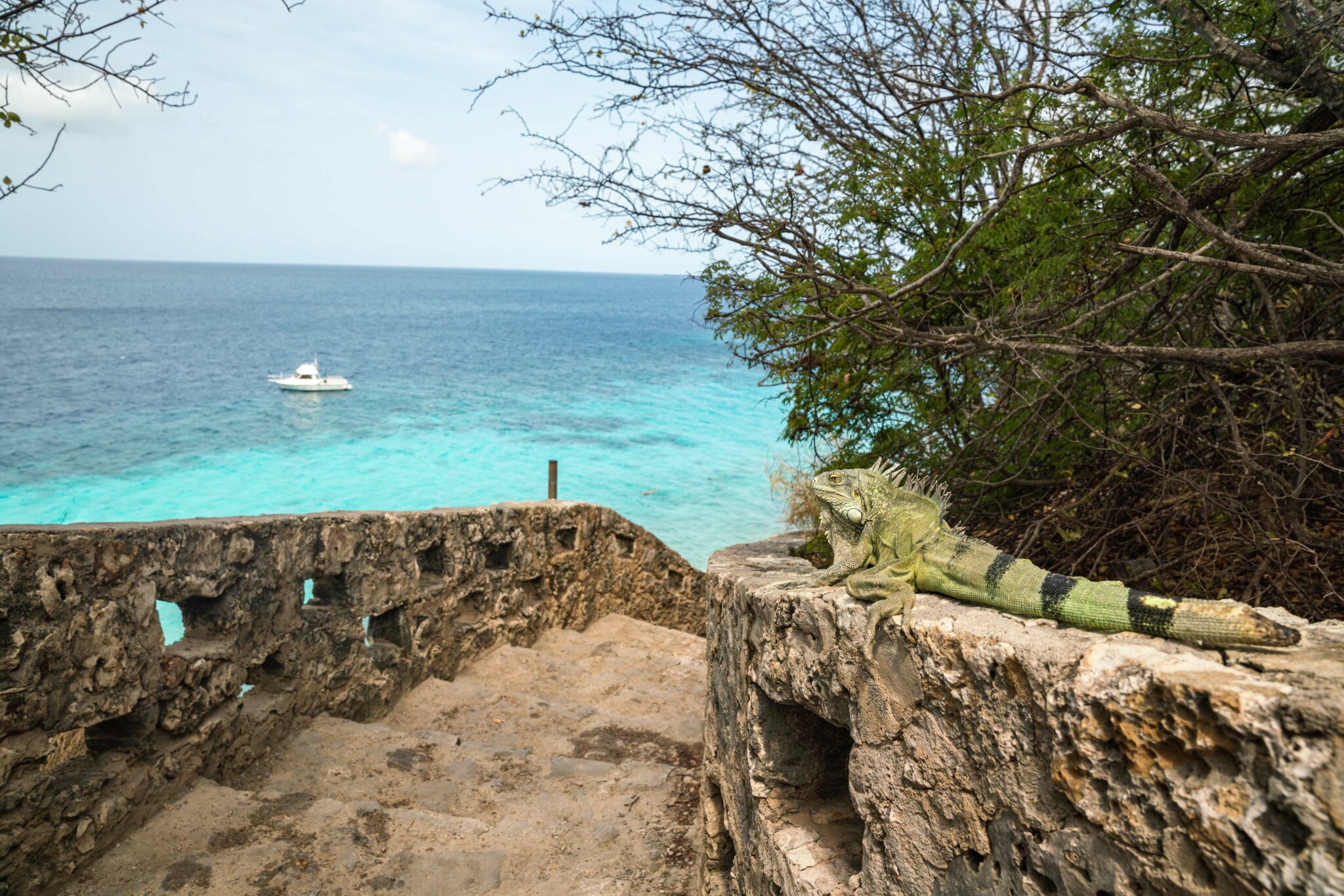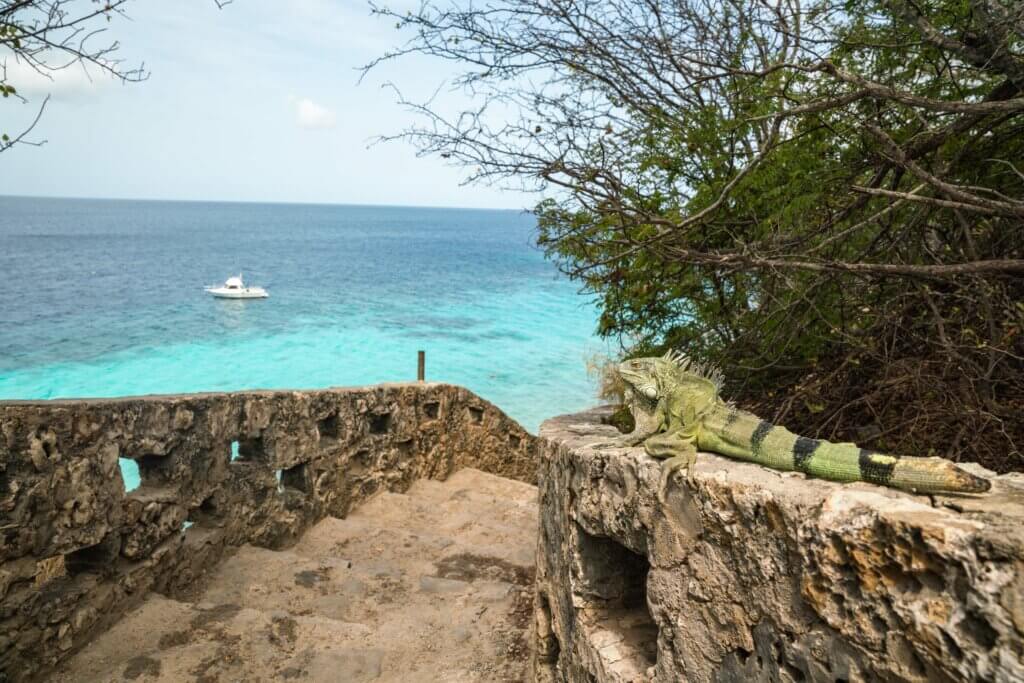 One of our favorite spots was 1000 Steps. You descend a flight of stairs built into the cliffside down to the beach below, not to mention the drive here is also stunning.
We also loved Karpata, another popular snorkeling beach on Bonaire. This site is known for its beautiful coral formations and underwater statues! Plus, the snorkeling area at Karpata is relatively shallow, making it a great spot for beginners.
See Flamingos!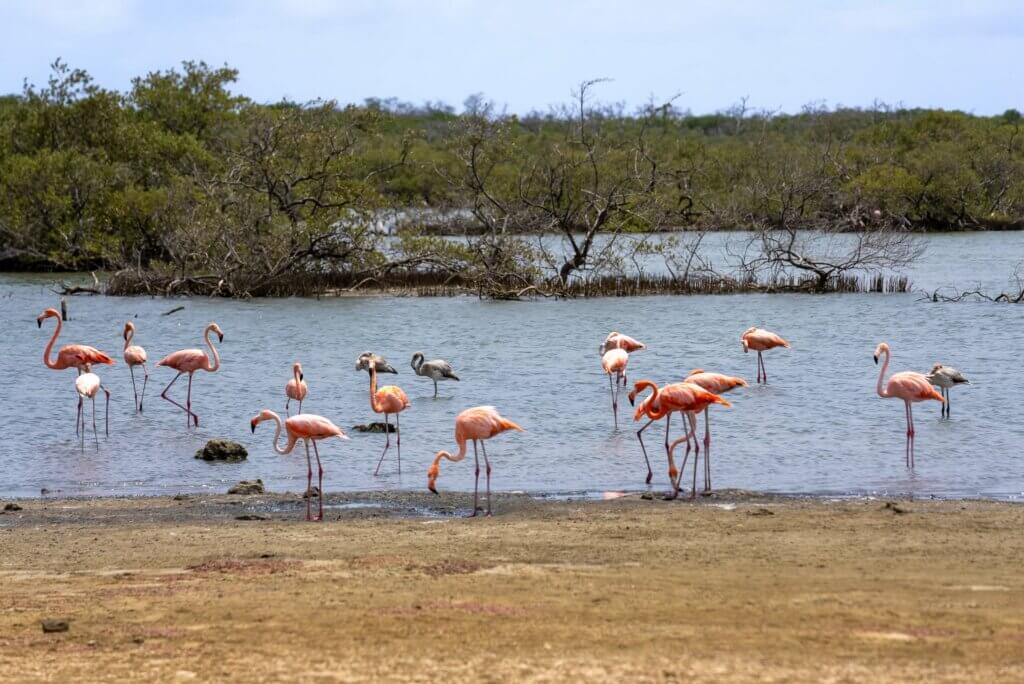 One of the most iconic Bonaire attractions is all the flamingos! Bonaire's natural environment, conservation efforts, and plentiful food sources have made it a haven for flamingos. The island is home to the Caribbean flamingo, also known as the American flamingo, the largest and most vibrant of the flamingo species.
One of the best places to see flamingos in Bonaire is at Goto Lake, a large, shallow lagoon located in the center of the island. You can also see them at the salt pans, which are located on the southern end of the island. These shallow pools of water are used to harvest salt, and they provide a perfect habitat for flamingos. They use their long beaks to sift through the brine and extract food.
Lac Bay is another popular spot to see flamingos, especially during the winter months when large flocks of the birds gather there. The bay is a shallow, protected lagoon, and it's an important breeding ground for many species of birds, including flamingos.
And of course, the Pekelmeer Flamingo Sanctuary is a must-visit spot for anyone interested in seeing flamingos in Bonaire. This protected area is located on the southern end of the island. It's home to thousands of flamingos who use the area as a breeding ground and feeding habitat.
Take a Trip to Klein Bonaire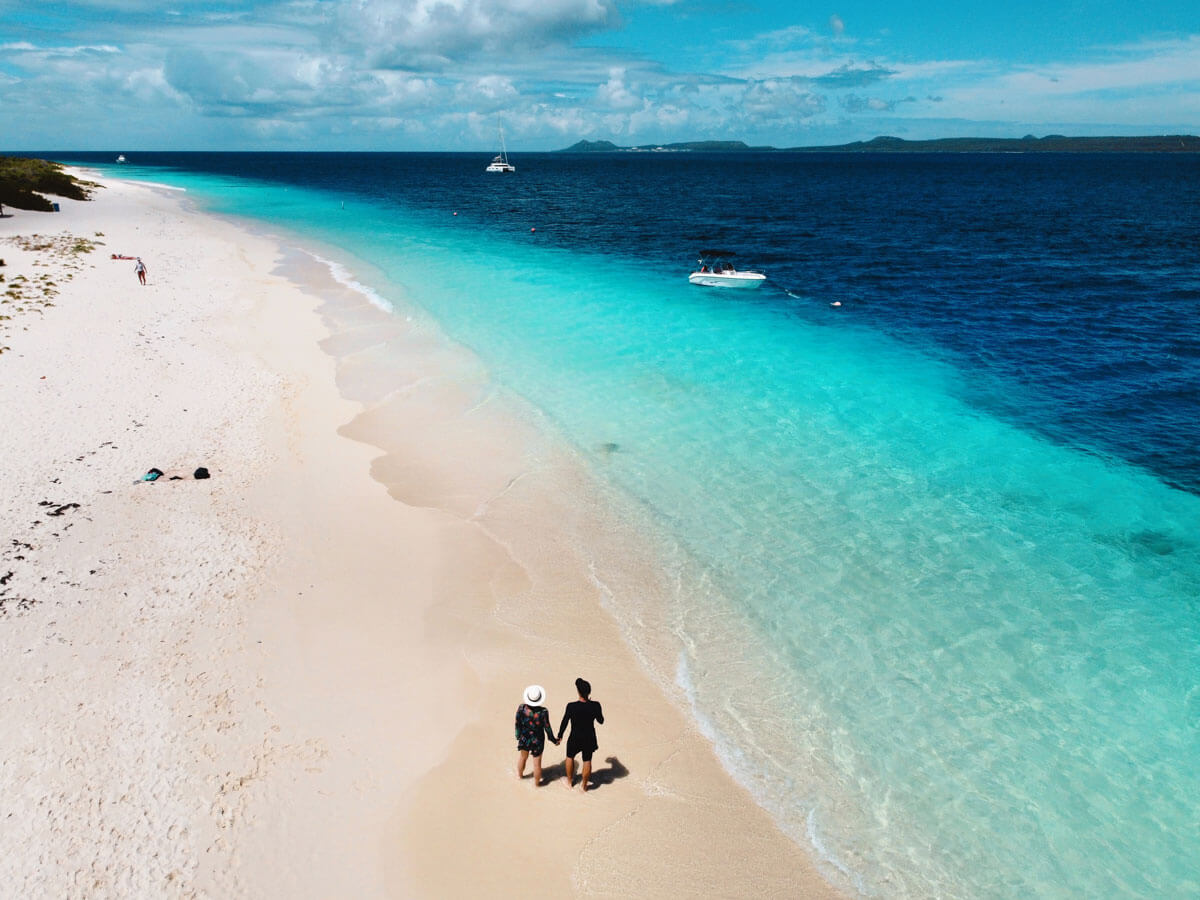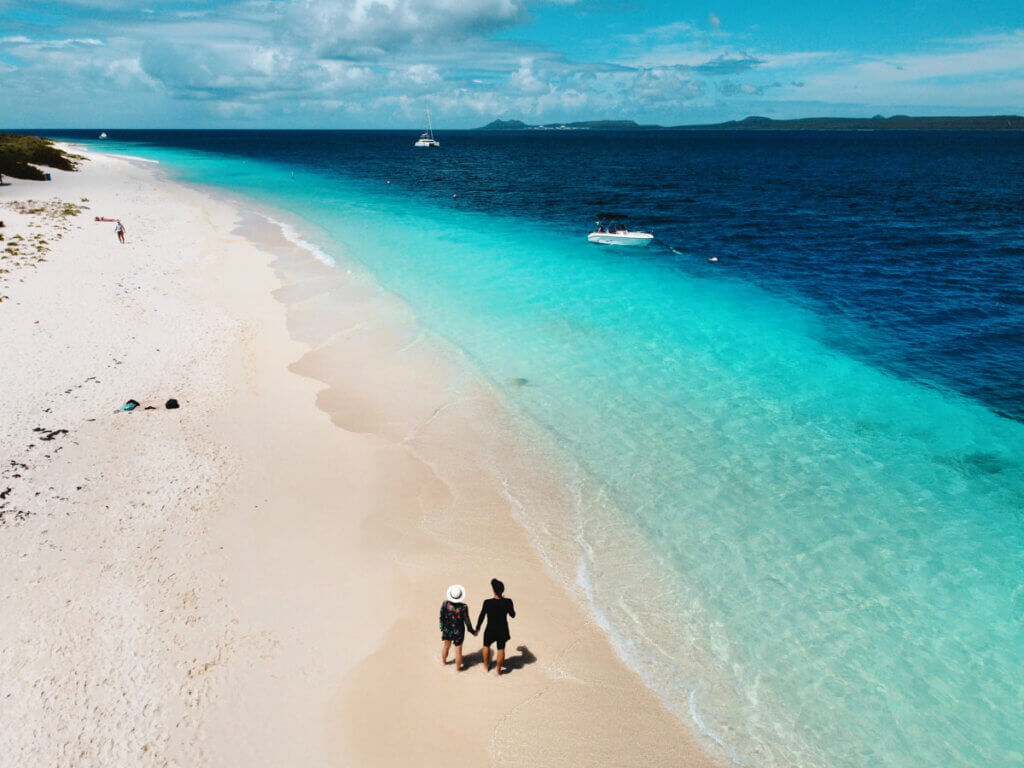 Klein Bonaire is a small uninhabited island located half a mile off the coast of Bonaire. The island is home to some of the best snorkeling and diving spots in the Caribbean, as well as beautiful white-sand beaches.
One of the top things to do in Bonaire is take a trip to Klein Bonaire. There's a water taxi departing every 25 minutes from both Karel's Beach Bar and Eden's Beach Resort.
You can find great Bonaire sightseeing tours to the island that include activities like snorkeling, diving, and exploring nature trails.
Since the island is uninhabited, you'll want to bring your own gear and explore the island on your own. Keep in mind there are no facilities on the island. So, remember to bring everything you'll need for your time here including water and snacks (and take everything with you when you leave, including your trash).
Some of the top things to do on Klein Bonaire include snorkeling or diving at No Name Beach. This area is known for its stunning coral formations and colorful fish. Another popular spot is Bari Reef, which is home to a wide variety of marine life, including sea turtles and eagle rays!
Try Wind Surfing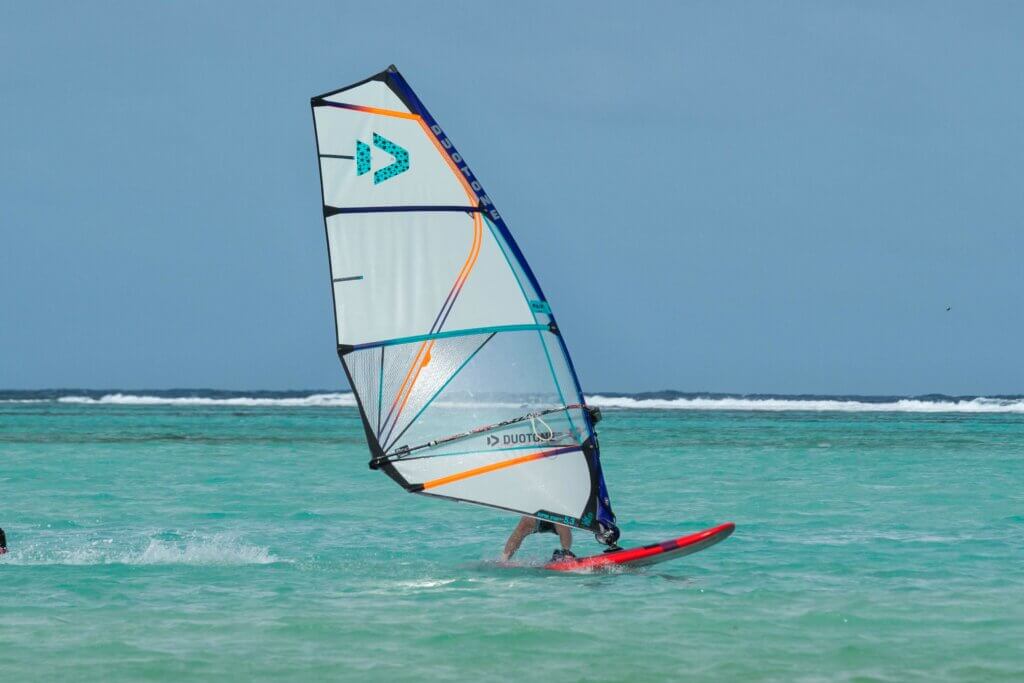 Bonaire Island is known for its consistent trade winds, making it an ideal destination for windsurfing. The island's warm waters and pristine beaches offer ideal conditions, and windsurfers come here from all over the world!
The best spot for windsurfing on Bonaire is Lac Bay's Sorobon Beach, on the east coast. Lac Bay is a shallow, turquoise lagoon with flat water that's perfect for freestyle and slalom riding. The water depth varies from knee-deep to waist-deep, so it's a safe environment for beginners but also works for the more advanced maneuvers of experienced riders.
There are a few places to watch windsurfers on Sorobon Beach. We watched most of the windsurfers at the popular Jibe City windsurfing center and beach bar. They offer equipment rentals and lessons. But even if you're not able to windsurfer, they're just a chill place to hang out! The center also hosts events and competitions throughout the year, making it a hub for the windsurfing community on Bonaire.
Kite Surfing
Bonaire offers some of the best conditions for kite surfing in the Caribbean, making the thrilling sport one of the most popular things to do in Bonaire. The place to be for kite surfing is Atlantis Beach, AKA Kite Beach. It's located on the south coast of the island, near the salt pans.
Kite Beach has a long stretch of shallow, turquoise water that's perfect for beginners. There are also more challenging areas with waves and choppy waters for advanced riders. Scattered along the beach, you'll find several kite surfing centers that offer a variety of services, including gear rentals.
Land Sailing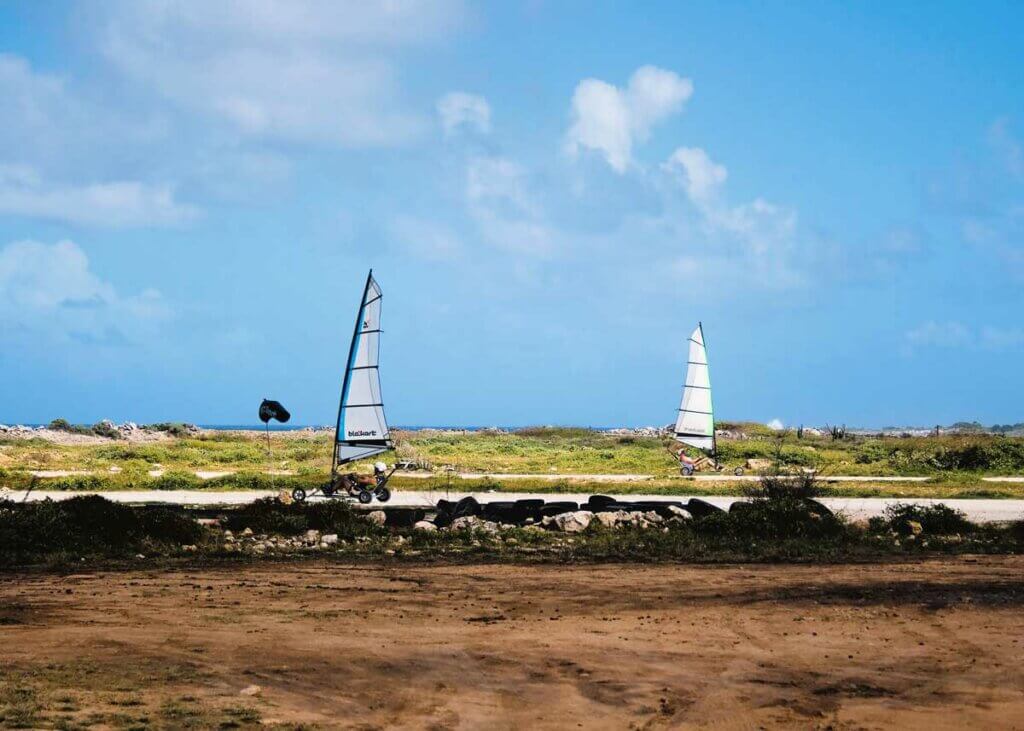 Land Sailing is another popular activity on Bonaire that takes advantage of the island's windy conditions (as well as Bonaire's flat, open terrain). If you've never tried this fun sport, a trip to Bonaire is the perfect opportunity!
One of the best places for land sailing on Bonaire is on the southern end of the island, near Bonaire's capital, Kralendijk. The whole area has wide, open spaces and plenty of wind, providing ideal conditions for land sailing.
The land sailing center at Kite Beach is a popular place to rent equipment and take lessons. And another great spot is Sorobon Beach on Lac Bay. Here, the shallow lagoon provides a stunning backdrop for land sailing and perfect winds.
You could also go on a land sailing small group tour with the experts! They provide all the gear you'll need, they know the best land sailing locale, and they provide snacks and drinks. All you have to do is show up! After they properly fit you with gear, you'll have an hour on the track. No experience is necessary.
Visit the Colorful City of Kralendijk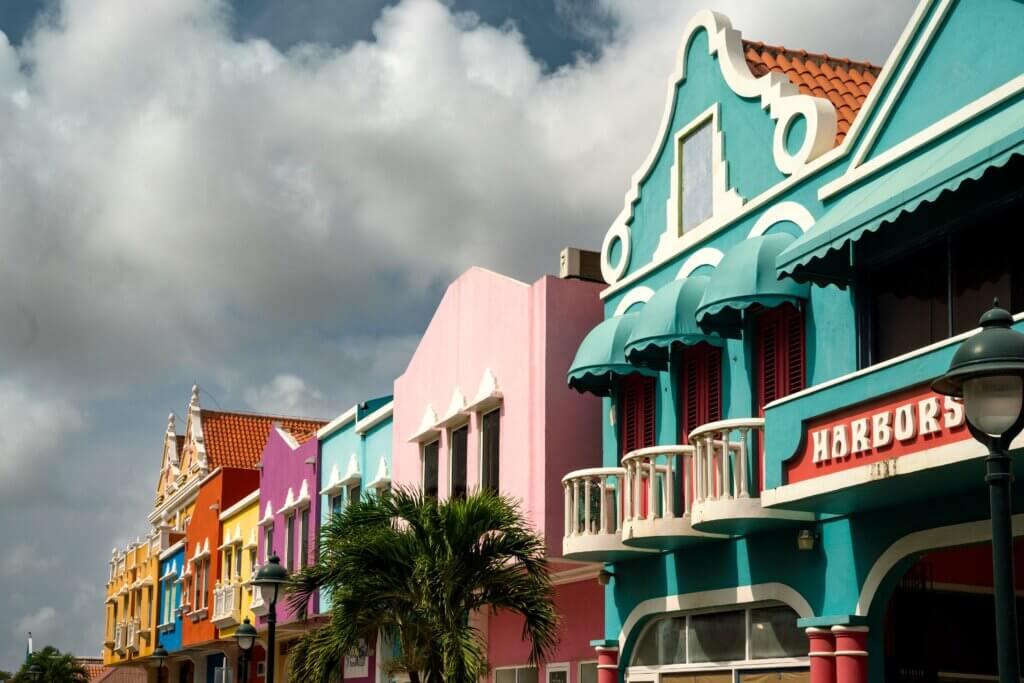 Visiting the city of Kralendijk is one of the most memorable things to do in Bonaire. The city is located on the west coast of the island and is the largest city of Bonaire. It offers a unique blend of Dutch and Caribbean culture, beautiful architecture, and stunning waterfront views.
For the best Bonaire sightseeing, head to the historic downtown area. This is where you'll find colorful Dutch colonial buildings, painted in bright colors like blue, green, pink, and yellow. You can have a fabulous time simply wandering through the streets, taking in the vibrant colors and unique architectural details found throughout the city. And there are some great local shops and eateries, especially along Kaya Grandi.
You can also visit the Terramar Museum to learn about Bonaire's history and culture or stroll along the beautiful waterfront promenade. If you're interested in a boat tour, a lot of them leave from here.
Explore and Relax at Lac Bay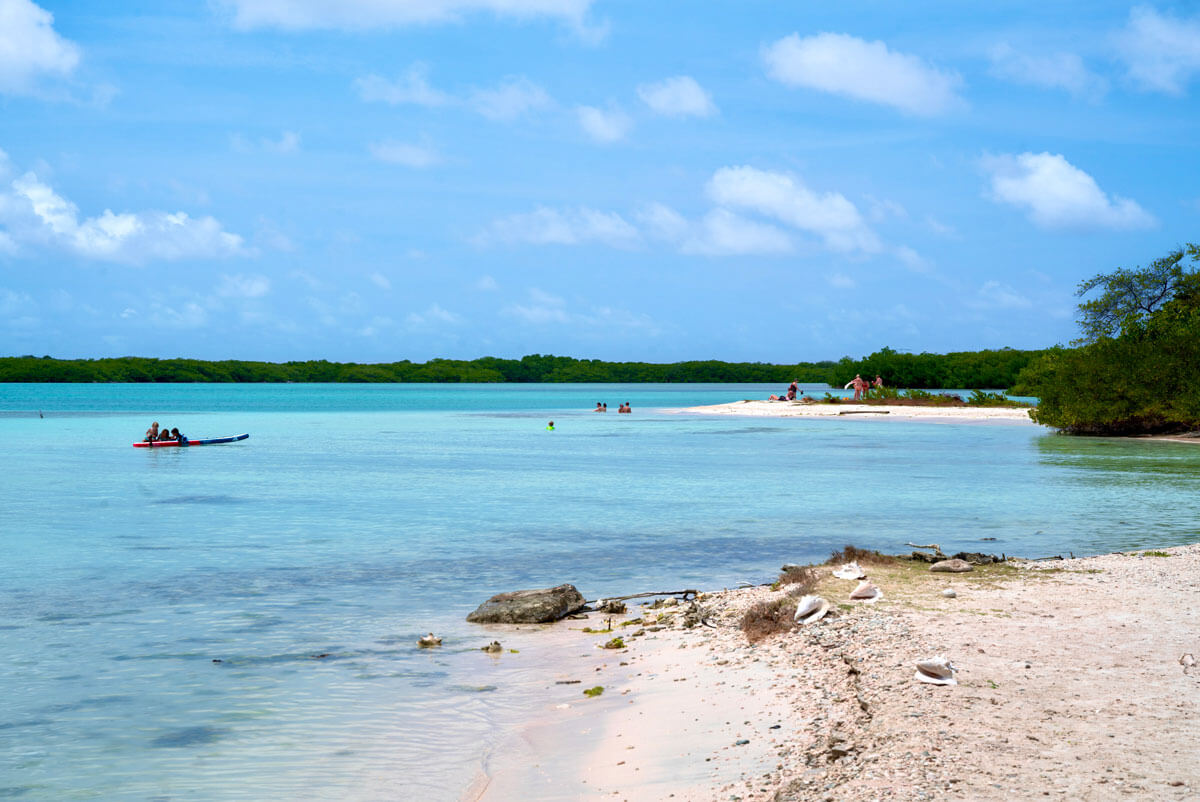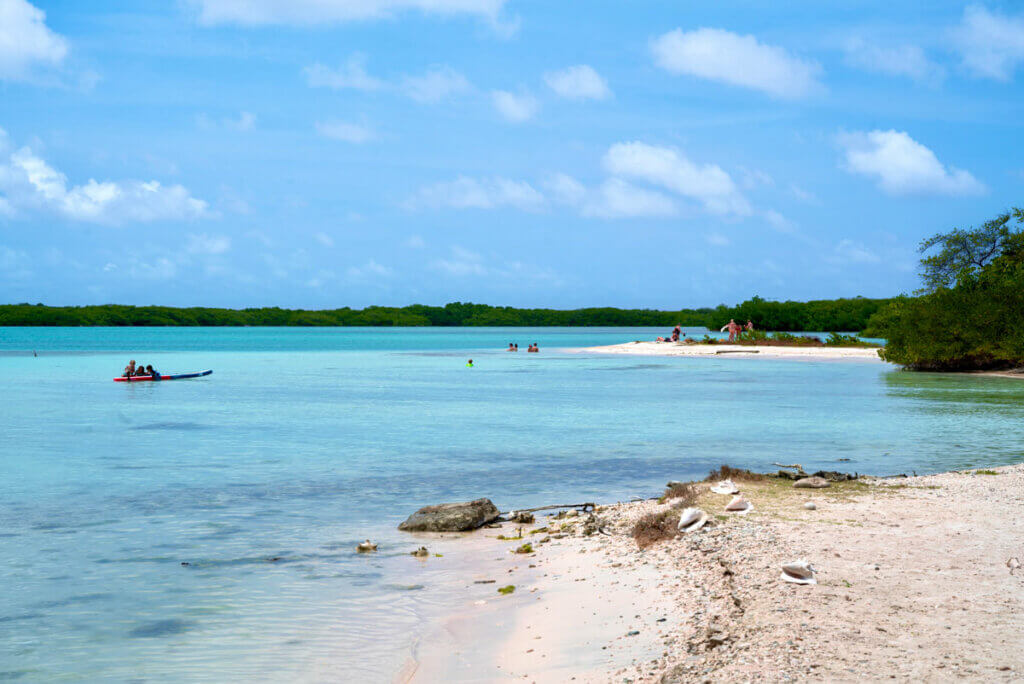 Whether you want to try adventure sports, enjoy nature, or relax on a beach, you'll find some of the best things to do in Bonaire around Lac Bay. This stunning coastal area on the east coast of Bonaire has turquoise waters, white sand beaches, and a variety of activities to choose from.
Lac Cai Beach was one of our favorite beaches in Bonaire to hang out at. It's quiet and has calm waters and beautiful views. There are Queen conch shells everywhere and it's a pink sand beach! And if you get hungry, there's a seafood bar near the beach.
Sorobon Beach on Lac Bay is on the opposite side of the bay and is where you'll find the windsurfing as well as more nice white sandy beach to hang out at. Plus, there are a few great beach bars here where you can watch or join in on windsurfing. We loved sitting on the beach beds at Jibe City (they don't charge you to use their beach beds, which we were used to after visiting all the great beaches in Curacao before coming here) and watching the windsurfers while having a drink!
Lac Bay is also home to a large population of flamingos, and you'll often see them wading in the water looking for food around the bay. There are also mangroves at Lac Bay you can visit and kayak around.
The good snorkeling is over by Sorobon Beach, past the windsurfers there are healthy coral reefs and a huge variety of marine life, including vibrant tropical fish, jellyfish, sea turtles, and more!
Visit Rincon – The Oldest Village of Bonaire
Rincon is a small historic town located in the northern part of the island. Bonaire's oldest settlement, Rincon offers a glimpse into the island's cultural heritage. We highly recommend exploring the town on foot. You can soak up the laid-back atmosphere and interact with friendly locals.
One of our favorite things to do in Bonaire in Rincon was visit the Cadushy Distillery, where the island's signature cactus liqueur is produced. Cadushy is the name of the cactus you see all over the island!
You can take a tour of the distillery, learn about the production process, and sample delicious local liqueurs.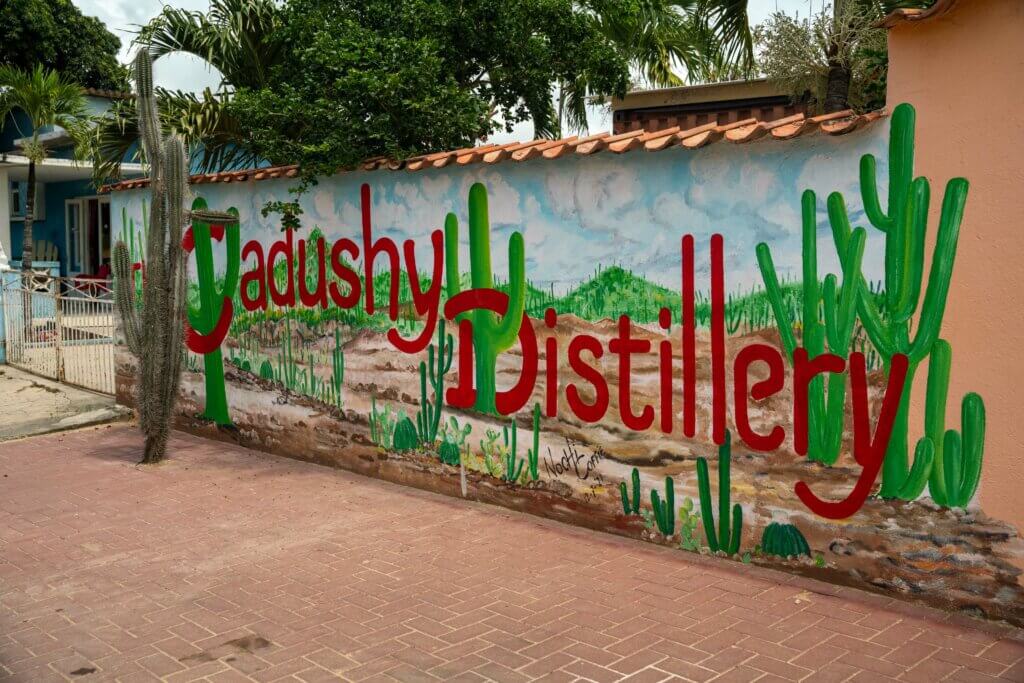 And have lunch at Kos Bon So, a little BBQ stand that serves traditional Bonairean dishes. It's one of the few options around, and it's fantastic.
The town is also known for its annual festivals such as the Dia di Rincon. If you're visiting Bonaire around April 30, you can experience this exciting celebration of Bonairean culture with music, food, and more.
Rincon is also known for its cultural and historical sites. There's the Mangazina di Rei, a restored 19th-century plantation house. Inside, the island's history and cultural heritage are showcased through exhibits and artifacts.
And in the heart of Rincon is the San Ludovico Beltran Catholic Church. The gorgeous yellow structure is a beautiful example of traditional Caribbean architecture. It dates back to 1827, making it the second oldest building on the island!
See the Salt Pyramids of Bonaire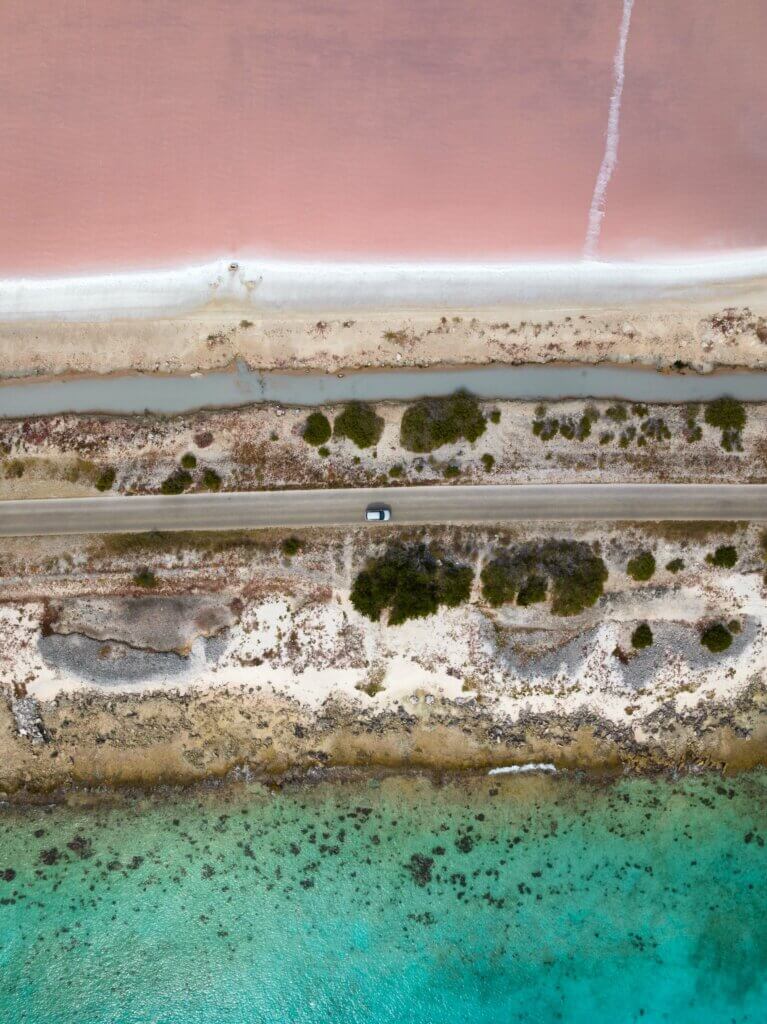 The salt pyramids of Bonaire are a remarkable sight and visiting them is one of the unique things to do in Bonaire. These massive, white pyramids are located in the southern part of the island at the salt pans.
The salt pans have been used for salt production since the 17th century, and the pyramids are formed from the harvested salt. The Dutch West India Company established the salt pans and slaves were brought from Africa to work in them. The salt industry played a significant role in shaping the island's economy and cultural heritage.
Salt production provided employment opportunities and contributed to the island's prosperity. It also influenced the development of Bonaire's architecture – buildings were constructed using coral blocks and salt-resistant materials.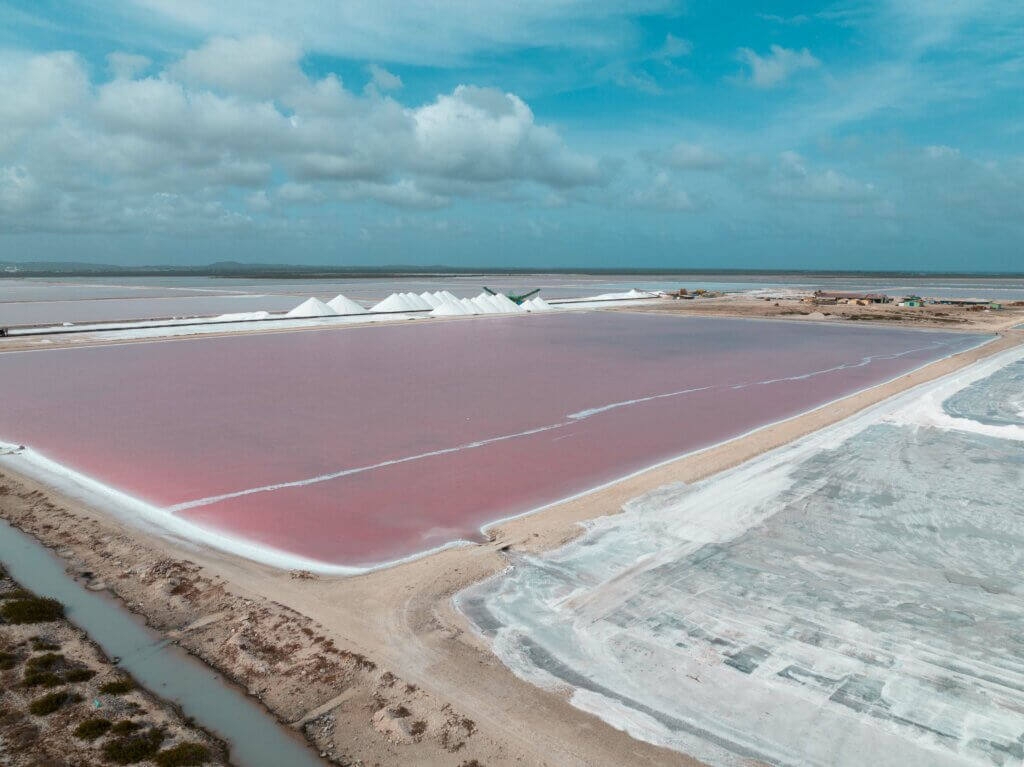 Today, the salt industry in Bonaire continues to operate, but on a smaller scale. The salt pans are managed by the Bonaire Salt Company, and the salt is exported globally.
We stopped to look at the pyramids from the nearby beaches and by driving by. The pyramids create a striking visual against the turquoise ocean beyond. They also offer a glimpse into the ecological importance of the area. The salt pans are home to different species of birds, including the iconic flamingos.
Visit the Historic Slave Huts and Obelisks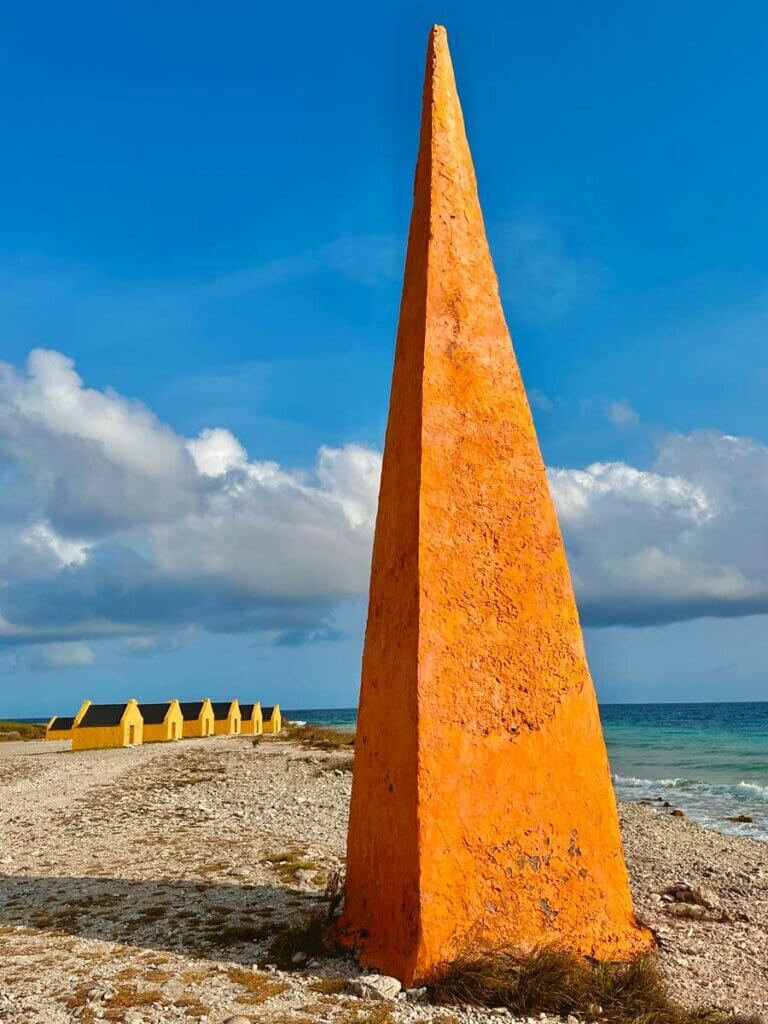 The slave huts on Bonaire Island are historically significant structures that offer a glimpse into the island's dark past of slavery.
Today there are 3 sites where you can find these humble stone huts. One is located near the salt pans on the southern side of the island, and the second is further south, almost at the southernmost tip of the island. The 3rd site is at Boka Slagbaai inside the Washington Slagbaai National Park.
The slave huts were once used as shelter for enslaved people who labored in the salt industry during the 1800s. These huts are small and showcase the harsh living conditions endured by the enslaved population. They serve as a powerful reminder of the inhumane treatment and labor exploitation that took place during that era.
At the Old Slave Hut site near the salt pans, you'll notice a white obelisk. There's an orange one at the second site, called Red Slave, as well as a blue obelisk right at Salt Pier. At the height of the salt production on Bonaire, these obelisks told cargo ships where to dock.
Passing through the bay of Kralendijk, there would be either a red, blue, or white flag flying. This would tell ships which location to go to! Today, the obelisks work as a monument to the enslaved people who suffered and labored here.
We always advocate for mindful tourism, in which every story is honored. Today these sites are tourist attractions, but that can be for good. The site reminds you of the painful history of slavery in Bonaire and pays tribute to those who suffered. It's also an opportunity to gain a deeper understanding of the island's past and the lasting impact it has on the present.
Willemstoren Lighthouse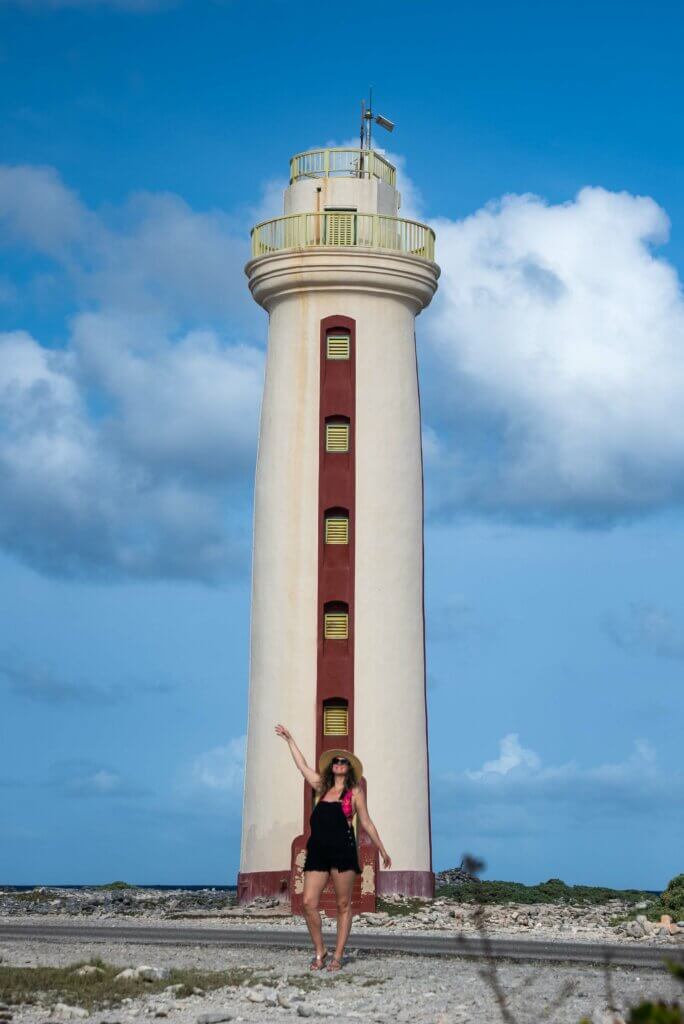 The Willemstoren Lighthouse is located on the southern coast. Built in 1837, it's the oldest working lighthouse on the island and has become an iconic symbol of Bonaire. It was originally constructed to guide ships safely along the coast, helping them avoid the reefs that surround the island.
Today, you can visit the exterior of the Williemstoren Lighthouse on a scenic drive around the southern tip of Bonaire en route to other Bonaire attractions! It's on a quiet strip of the coastline, just off the road.
Nearby there are the ruins of an abandoned lightkeeper house, and you might see wild donkeys and flamingos around here as well.
You can explore the area surrounding the Willemstoren Lighthouse, but you can't go in. It's a great spot to enjoy sunsets with panoramic views of the water. The area is also one of the best diving spots on the island.
Visit the Mangroves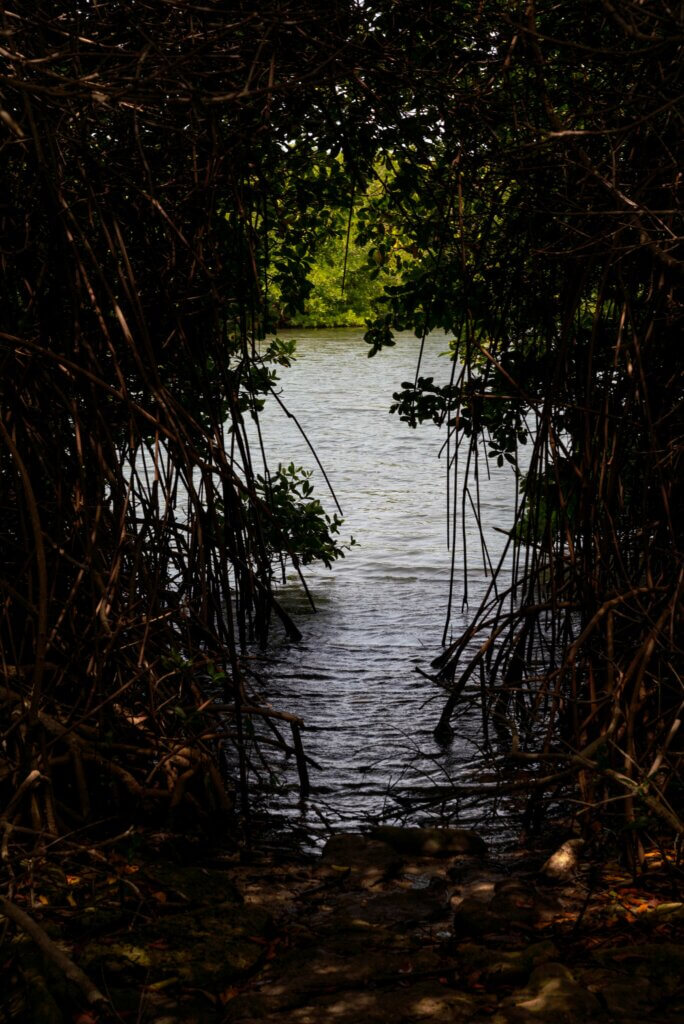 Did you know that Bonaire is home to lush mangrove forests? It actually plays a vital role in the island's ecosystem, protecting the coastline from erosion. These unique forests are home to an array of marine and bird species and serve as nurseries for young marine life!
Experiencing these amazing habitats is definitely one of the best things to do in Bonaire. There are actually a few ways to see the mangroves too.
You'll find the mangrove forests on Bonaire along the eastern coast of the island, particularly in Lac Bay and around the Pekelmeer Flamingo Sanctuary. Lac Bay is the biggest and most popular with visitors.
You can only enter the Lac Bay mangrove forest with a guide. This kayak and snorkeling tour with the Mangrove Center is a great way to experience the unique ecosystem. Over 2 hours, your nature guide will teach you all about the mangrove trees and the animals that live there.
We were unable to go on our trip, but would have loved to do a kayaking tour! Instead, we got a glimpse of the mangroves up close from hanging out at Lac Cai Beach. So if you're tight on time, this is one way to catch a glimpse of the mangroves!
Check Out the Views from Seru Largu
Seru Largu is one of the highest hills on Bonaire Island. At the peak is a beautiful monument painted bright yellow with a large white cross. But the main attraction of Seru Largu is the breathtaking view it offers. From the hilltop, you'll enjoy panoramic views of Bonaire's rugged coastline, the Caribbean Sea, and the capital city of Kralendijk.
There are areas to hike all around or you can simply drive to the hilltop, where you'll find plenty of parking.
And if you're wondering what to do in Bonaire during the holidays, Seru Largu is a popular gathering point for locals and visitors alike. On New Year, everyone comes here to watch fireworks being set off!
Enjoy One of Bonaire's Scenic Drives
Want to know what to do in Bonaire for some great views? Take a scenic drive! Bonaire is not an intimidating destination to drive and to enjoy most of the best things to do on Bonaire, it's best reached by car anyway!
The island is full of scenic drives, especially if you're going to drive through Washington Slagbaai National Park. Start here for some of the best Bonaire sightseeing whether you are doing the short route or long route.
As mentioned earlier, we highly recommend visiting. There are ancient limestone ledges carved out by the ocean waves, fields of towering stalks of cacti, and the ruins of an old lighthouse. You could stretch your legs with a swim at a cove beach like Boka Kokolishi or hike Bonaire's highest point, Mount Brandaris.
Other scenic drives include following the road around the southern tip of the island. We did the drive from Lac Bay to the southern tip and then all the way back to Kralendijk (which can be done in reverse too). This coastal route passes the Willemstoren Lighthouse, beaches, old slave huts, salt pans and pyramids, plus a few opportunities to see flamingos. Plus, there are plenty of opportunities along the way for shore diving and snorkeling!
Another scenic drive (and my personal favorite) is the Queen's Highway north of Kralendijik. Sections of this route are one-way, so you'll want to start in Kralendijik and head north. You'll pass coastal views of some of the most incredible blue water and cacti. You can make stops like 1000 Steps and Karpata to snorkel or dive. Then end your scenic drive by visiting Goto Lake to look for flamingos.
While scenic drives in Bonaire are a popular way to see the island, there are a few things to keep in mind. A lot of gas stations have limited hours, so fill up when you get the chance. And keep your tank filled if you're going to take longer trips to remote locations.
Also, you need to pay for gas with cash here, we luckily had enough fuel in our tank but we found ourselves in a tricky spot when the gas station wasn't open and our US debit card and credit card weren't working at the pump.
Relax at the Beach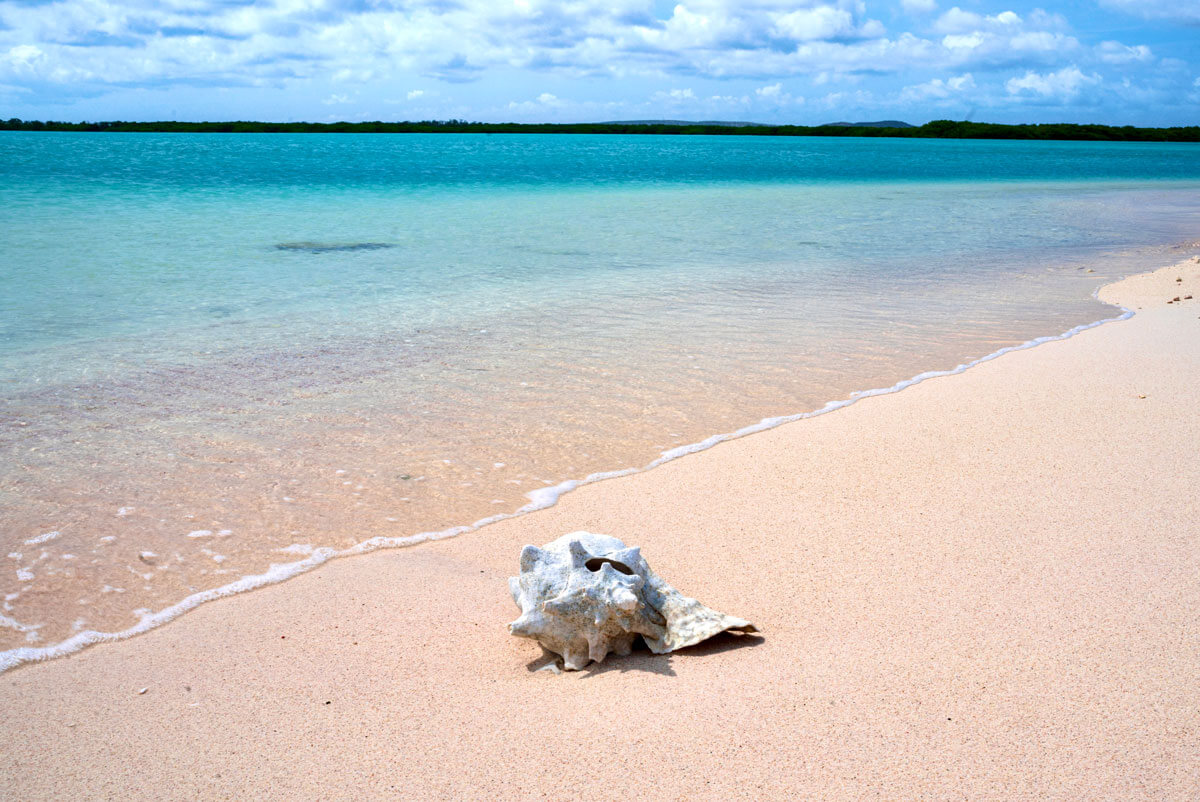 Relaxing on the beach is undeniably one of the best things to do in Bonaire! The island boasts a range of stunning beaches, each with its own character. Many of the beaches in Bonaire are hubs for snorkeling, diving, or wind sports, but there are a few that are also great for beach lounging!
Keep in mind, many of the beaches feature more of a rugged coastline and are better off for water sports. Some have crushed coral as well and are tough to walk on barefoot. This is why we recommend water shoes. However, there are a few white sandy beaches perfect for lounging and swimming at!
Lac Cai Beach is on the eastern side of Bonaire at Lac Bay. It's a secluded beach known for its calm and shallow waters, making it perfect for swimming and snorkeling. There are calm waters, soft pink sand, and queen conch shells. There's a restaurant here, too. It's the perfect setting for relaxation and sunbathing.
This was probably my favorite beach for lounging in Bonaire. I really liked how gentle the shoreline was, people were even reading off their tablets while sitting in the water! This is definitely great if you're traveling with kids as the bay and position of this beach protect you from the tradewinds and rough current that is found on the windward side of the island.
No Name Beach is situated on the uninhabited island of Klein Bonaire. It's known for its powdery, white sand and stunning turquoise waters. Plus, it's not far from the water taxis that frequent the island. The beach is a popular location with visitors for swimming and snorkeling and is well worth a beach day trip.
Just keep in mind there are no facilities here and you'll want to come prepared with everything you need for your time at the beach plus take away anything you bring to the island including your trash.
Boka Slagbaai, located within Washington Slagbaai National Park, is one of the top Bonaire attractions and another picturesque beach worth visiting. There are the historic slave huts just off the cove beach. You can sunbathe on the beautiful white sand, swim, snorkel, or go cliff jumping on the rocks nearby.
There are also picnic tables and bathrooms here, the only place in the national park beyond the entrance to have a bathroom!
Te Amo Beach near Flamingo Airport is a popular spot for lounging at the beach, with lots of shade trees and even food trucks. It's also one of the few beaches without rocky beds covered in coral. It has a soft sand bottom, making it perfect for swimming (just don't go too far into the boat harbor).
PSST…if you don't want to drive to the beach, you can join a tour!
| | | | |
| --- | --- | --- | --- |
| Tour | Highlights | Bonaire Beaches | Book |
| Rent Your Own Private Boat for 4 Hours | Comes with use of snorkeling equipment, watersports equipment, towels, and jug with ice, cruise-friendly | Customizable with option to visit Klein Bonaire on your own | Book here |
| Brunch & Snorkel Catamaran Tour | 4.5 hours, breakfast and drinks included, snorkel gear included, cruise-friendly | Snorkel spots between Bonaire and Klein Bonaire | Book here |
| Roundtrip Beach Transfer (from cruise or hotel) | air-conditioned roundtrip beach transfer from cruise ship or hotel to beach of your choice | customizable | Book here |
| Snorkel, Fishing, & Grilling at Donkey Beach | 3-hour experience to learn local fishing methods including meal and snorkel equipment, cruise friendly | Donkey Beach | Book here |
| Catamaran Snorkel & BBQ Tour | 4-5 hours, catamaran boat, snorkel gear included, BBQ lunch and drinks included, cruise-friendly | Snorkeling around Klein Bonaire and Bonaire | Book here |
| Private Snorkeling Tour with Underwater Photos Included | 2.5 hours, private tour for max 4 people, includes snorkel gear, 5 underwater photos, cruise-friendly | local snorkel spots | Book here |
| Private Charter with Captain | 3 hours, option to customize activities/locations, includes watersports gear and snorkel gear, drinks and snacks included, pick up & drop off included to hotel or cruise port, cruise-friendly | customizable | Book here |
Go on a Sailing Adventure
Want to get on the water but not sure what to do in Bonaire? Leave the planning up to the experts and book a boat tour with a fun and relaxing itinerary! You could take this private catamaran tour to Klein Bonaire. Enjoy the air quarters of the Catamaran Maxim, sample charcuterie boards, and sip on champagne. Then enjoy the views from the boat or go on a snorkeling adventure in the bay!
This Chill and Grill Catamaran Tour offers a relaxing day on a luxurious catamaran. You can choose to sunbathe on the decks or use complimentary snorkeling gear to explore the marine park. End your day with a seafood barbecue grill while you enjoy the sunset over the Caribbean waters.
If you're visiting Bonaire while on a cruise, this snorkel tour is a great option for you! It's designed for cruise-ship passengers with times set to your cruise's arrival and departure times. Enjoy the best of Bonaire with a scenic cruise, snorkeling, and a delicious local meal before heading back to the pier.
Go Off-Roading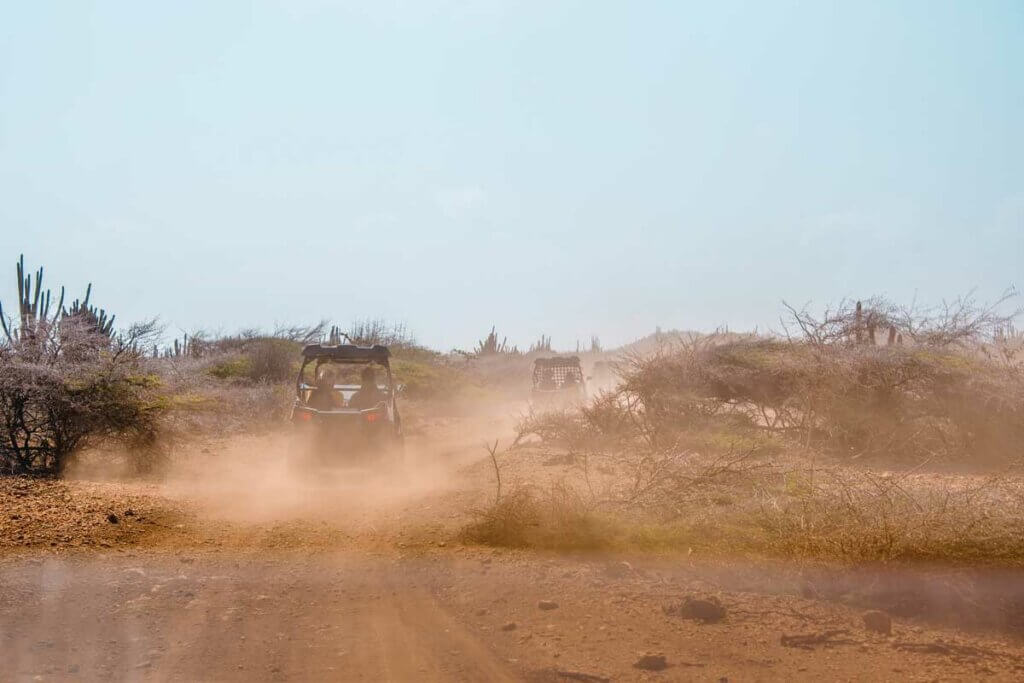 Off-roading is just one more of the exhilarating things to do in Bonaire for lovers of outdoor adventures! It's another great way for you to explore the island's rugged landscapes and discover hidden gems. With its network of unpaved roads and diverse terrain, Bonaire offers ample opportunities for off-road enthusiasts.
You can take this ATV and UTV Off-Roading Trip with Rento Fun Adventures. It's 2.5 hours of fun on Bonaire's east coast. See major landmarks, glimpse local wildlife, enjoy coastal views, and more as you race along on 4×4 vehicles!
Try the Local Cuisine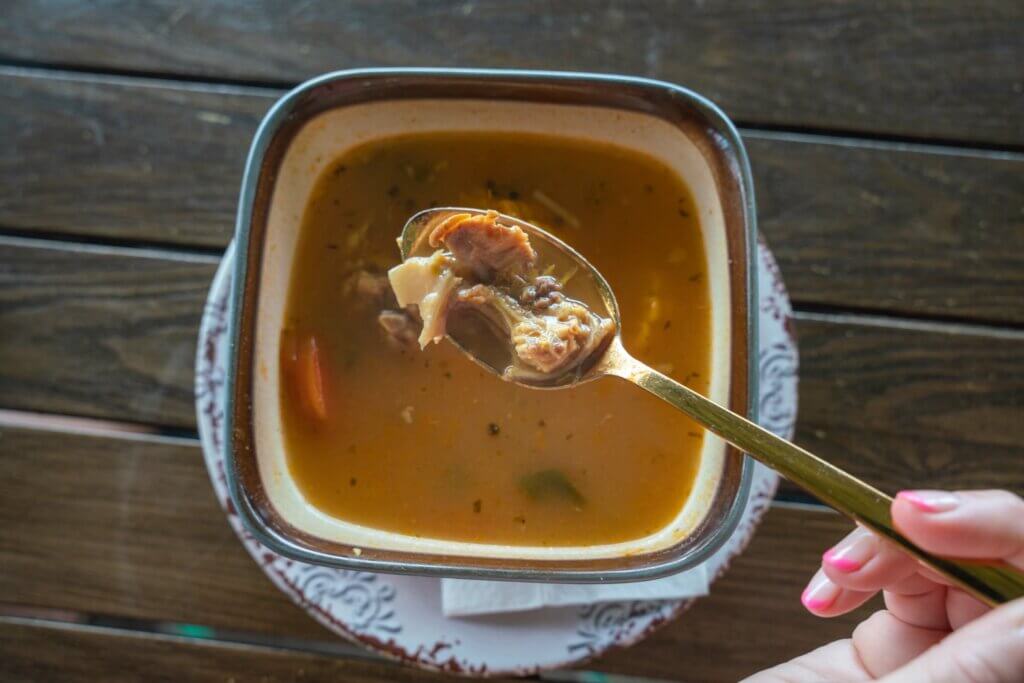 One of the best things to do in Bonaire is enjoy the unique flavors of the local fare. It's a great way to learn about the island's cultural history and traditions. Bonaire's cuisine is influenced by its diverse heritage, including Dutch, Caribbean, and Latin American ingredients and preparations.
Here are a few local dishes you should try:
Stoba Kabritu is a rich stew made with tender pieces of goat meat, slow-cooked with aromatic herbs, spices, and vegetables, and is Bonaire's national dish.
A unique and traditional Bonairean dish, Yuana Stoba is a soup made with iguana meat! It is a cultural delicacy, though it may not be to everybody's taste. We tried it and it was a bit more bony than we were anticipating, so that's something to be prepared for if you do try it!
Pastechi is a popular street food in Bonaire that makes for a quick snack. It consists of half-moon-shaped fried dough pockets filled with savory ingredients like cheese, meat, fish, or vegetables.
Sopi Kadushi is a soup made from the prickly pear cactus, locally known as Kadushi. The cactus is cooked with vegetables, herbs, and spices, resulting in a tasty broth.
You'll find amazing seafood all over Bonaire, including Sopi Piska. This soup is made with fresh fish, vegetables, herbs, and spices in a broth. It's a local favorite and is eaten as comfort food! 
Fort Oranje
Fort Oranje is not only a historical site located in the heart of Kralendijk but also an important part of Bonaire's present-day life. Built in the early 1600s, it's the oldest standing structure on Bonaire Island. The fort served as a strategic defense structure against potential invasions.
Today, you can explore the fortifications and admire the architecture that reflects the Dutch influence on the island. The fort is also home to government buildings and serves as a hub of activity on the island.
You can take a stroll around the fort's grounds and enjoy the scenic views of Kralendijk's waterfront. And all around are shops, restaurants, and cafes, as well.
Where to Stay in Bonaire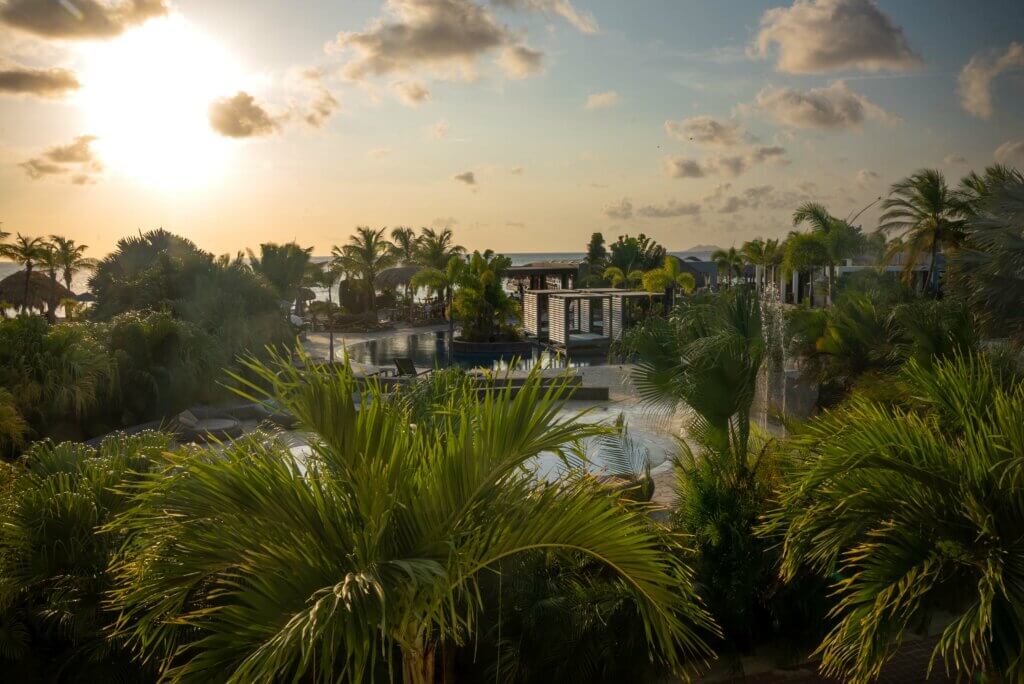 During our time in Bonaire we stayed at Delfin's Beach Resort located just south of Kralendijk. They not only have the largest pool in Bonaire, but it's a great location if you are renting a car to explore the best things to do in Bonaire as you're just a short drive to many attractions.
You have the option to book apartments, studios, or villas with sweeping views of the pools or ocean at this 4-star resort. Our room overlooked the pools and you could still see the water off in the distance.
Delfin's Beach Resort has an ample amount of parking for guests only, the pools are fantastic which also includes a swim up bar, and they have a great beach! In fact, they have a shore diving site and snorkel site on the property.
They also have a dive shop on site where you can exchange your tanks and take care of your gear in between dives as well as rent gear and even sign up for training if you're new to diving or need a refresher.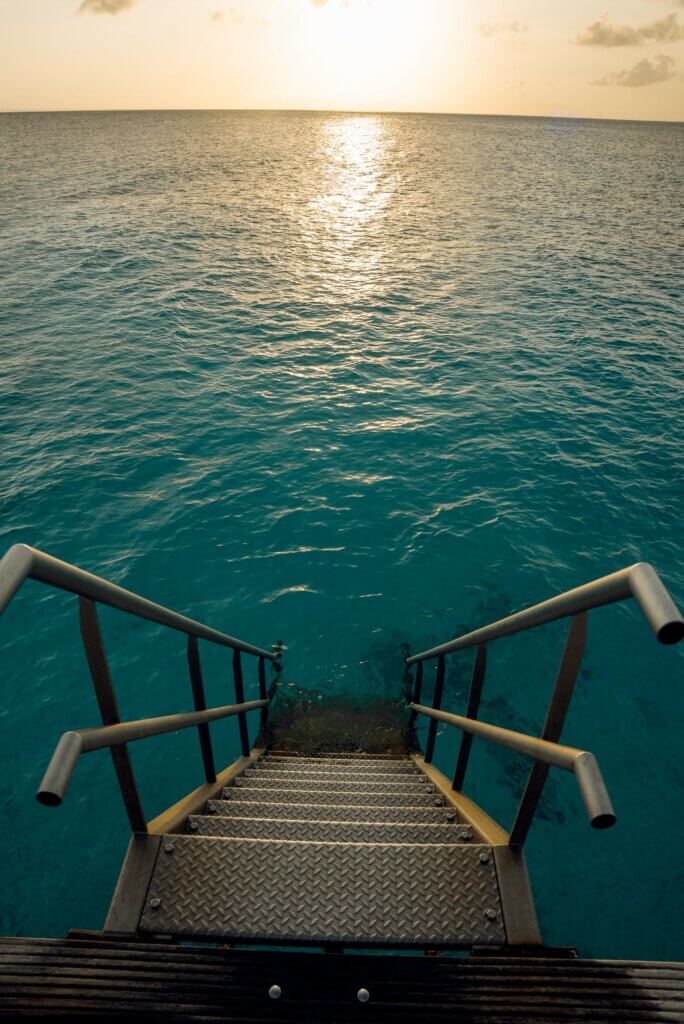 You can lounge around at the beach on the beach chairs under a palapa umbrella and order drinks and food from the restaurants and bars on site.
Since we were busy exploring the best Bonaire attractions by day, this was the best place to sit back and watch a sunset at night.
---
When is the best time to visit Bonaire?
Bonaire has ideal weather for 9 months of the year and the best time to visit Bonaire is from January through September, as October through December can bring on tropical storms and more rainfall.
What are Bonaire beaches known for?
Bonaire beaches vary from soft, sandy shores, some of which even have pink sand to beaches that are made up of crushed corals and rocks. Almost all the beaches have some rocks or pebbles so water shoes are great for enjoying Bonaire beaches, which are also famous for their shallow coral reefs and being the shore diving capital of the world as well as an excellent snorkeling destination.
What is Bonaire best known for?
Bonaire is best known for its pristine coral reefs and world-class diving opportunities being the shore diving capital of the world. Bonaire also is a great windsurfing and kitesurfing destination.
What currency does Bonaire use?
Bonaire uses the United States Dollar USD.
Is Bonaire or Curacao better?
Both Bonaire and Curacao are great destinations, Bonaire is better known for its watersports including shore diving, snorkeling, kitesurfing, and windsurfing, and is a much smaller island to explore. Curacao also has great diving opportunities but better beaches for lounging and is a larger island to explore.
How do you explore Bonaire?
Bonaire is best explored by renting a car. You'll want to get a high-clearance vehicle if you plan on visiting Washington Slagbaai National Park, otherwise, any rental car will do for exploring the island. If you don't want to drive you can stay in Kralendijk and take day tours and excursions, but your trip will be limited for getting around beyond your tours as there's no real public transportation.
Can you drink the water in Bonaire?
The tap water in Bonaire is safe to drink as it's distilled from sea water meeting the highest quality standards for safe drinking water of the World Health Organization.
---
Things to do in Bonaire (Post Summary):
Washington Slagbaai National Park
Bonaire National Marine Park
Visit the Donkey Sanctuary
Go Scuba Diving
Go Snorkeling!
See Flamingos
Take a Trip to Klein Bonaire
Try Wind Surfing
Kite Surfing
Land Sailing
Visit the Colorful City of Kralendijk
Explore and Relax at Lac Bay
Visit Rincon the Oldest Village of Bonaire
See the Salt Pyramids of Bonaire
Visit the Historic Slave Huts and Obelisks
Willemstoren Lighthouse
Visit the Mangroves
Check Out the Views from Seru Largu
Enjoy One of Bonaire's Scenic Drives
Relax at the Beach
Go on a Sailing Adventure
Go Off Roading
Try the Local Cuisine
Fort Oranje
---
Enjoyed this guide for the best things to do in Bonaire? Bookmark for later or share the love below on Pinterest!