Welcome to the beautiful Caribbean island of Bonaire, where clear turquoise waters and some of the best snorkeling and diving await. With so many stunning Bonaire beaches to choose from, it can be hard to decide which ones are worth your time. But have no fear, we've hit up all the top beaches on Bonaire and compiled a list of the absolute best Bonaire beaches that you simply must visit during your Caribbean vacation to the shore diving capital of the world.
From secluded beaches to bustling hotspots, we've got you covered with all the information you need for a perfect time in paradise including the best beaches in Bonaire near the cruise port in Kralendijk for day visitors.
And if you decide you don't want to explore beaches on Bonaire on your own, we recommend a few great beach hopping and snorkeling tours you can try out at the end of this guide that take care of all the transportation and anything else you may need for the day, many of which are cruise-friendly as indicated below!
So grab your sunscreen and snorkel gear and let's dive in! Oh, and if you need more help planning your trip, consider checking out our guide to the best things to do in Bonaire so you don't miss a thing!
Disclaimer: This post contains commissionable links.
Tips for Visiting Bonaire Beaches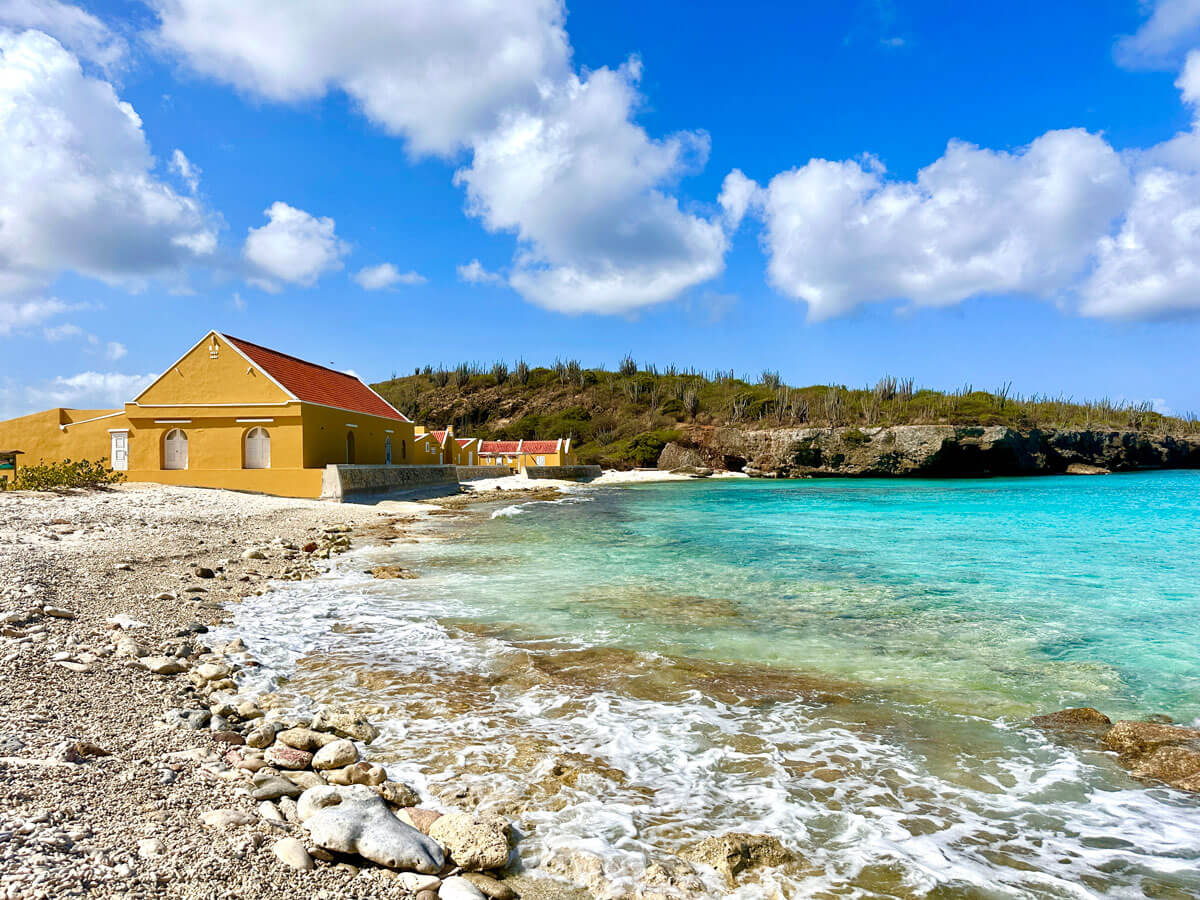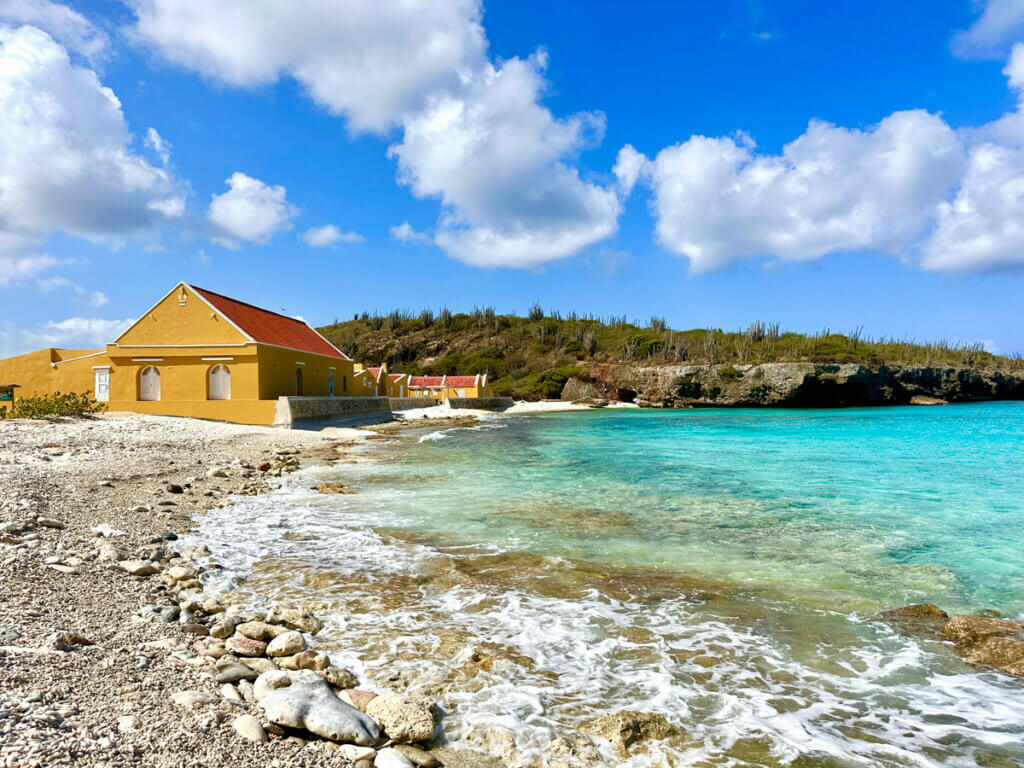 You'll want to rent a car to get around to the best beaches in Bonaire! There are really not any great options for public transportation, unfortunately. If you're planning to visit Washington Slagbaai National Park during your trip too, which is where one of our favorite Bonaire beaches is located, you'll need to rent a high-clearance vehicle or something with 4×4 as you'll need that to drive through the unpaved roads in the park.
Bonaire is a part of the ABC islands and is home to the shore diving capital of the world! So you can bet there is some incredible snorkeling and diving to be done at pretty much all the best beaches in Bonaire! There are over 85 shore diving and snorkel sites marked with a painted yellow rock with the dive site name on it.
In addition, all of the ocean surrounding Bonaire and Klein Bonaire is protected and a part of the Bonaire National Marine Park, the first of its kind in the world founded in 1979.
You'll need to pay a Nature Fee to access BNMP-protected areas as well as visit Washington Slagbaai National Park, which is good for an entire calendar year. We paid ours when we went to the national park, but you can pay for your Bonaire nature fee online. Whichever way you pay for this, be sure to keep your proof of purchase so you don't have to pay the fee again elsewhere.
You'll want to bring your own snorkel! Trust us, you're going to want to snorkel while you're visiting the best Bonaire beaches as you won't want to pass up seeing all the vibrant coral reefs life like swimming with sea turtles and all the colorful tropical fish there are here.
The beaches in Bonaire don't really have facilities, so you won't have opportunities to rent snorkel gear. It's so easy to buy a snorkel set for everyone in your family. We both bought this snorkel set which included a mask, snorkel, ear plugs, flippers, and carrying bags which were perfect for hopping beaches in Bonaire! (we both pack carry-on only and were able to easily fit it in our bag too!)
It's also necessary to have a pair of water shoes too to wear under your flippers! We also visited Curacao beaches on this trip and between both destinations, we did a lot of snorkeling (yes, Curacao snorkeling is also fantastic)! Some beaches have fossilized coral, a rock shelf, or other things that are a bit harder to step on to get in and out of the water and since this island is more rugged, you'll need to carefully choose your entry and exit points when snorkeling as you'll have to watch out for critters like urchins. These also fit in the snorkel set bag we bought!
You'll want to pack sun protection when visiting Bonaire beaches! That goes for exploring anywhere in Bonaire actually as the sun is extra strong here.
Get reef-safe sunscreen to protect the local environment too, during our week-long trip we went through a few bottles and were able to easily find more at grocery stores. But, you'll definitely want to pack a bottle and be ready to apply it every 60-70 minutes. We were being cautious and still got a little sunburn on days when we spent more time at the beach.
A few of our favorite reef-safe sunscreen products include:
Don't forget something to take underwater photos! For those who are looking for something on a budget, you can get a waterproof pouch for your smartphone to take underwater photos. Just be careful to keep this sealed correctly so no water gets in. This does do the trick but can be a bit tricky to play with to get focus.
Or bring a waterproof camera like the classic waterproof GoPro action camera or the waterproof Insta360 camera which are both great for snorkeling and don't require the waterproof housing if you're not diving into deeper water!
Bring your own towel! We also pack our own beach towel on trips with us too, not the bulky traditional beach towel you're thinking of though.
We both always use a sarong or Turkish towel because they are lightweight, dry quickly, easy to pack, and do the job!
Best Beaches on Bonaire
Lac Cai Beach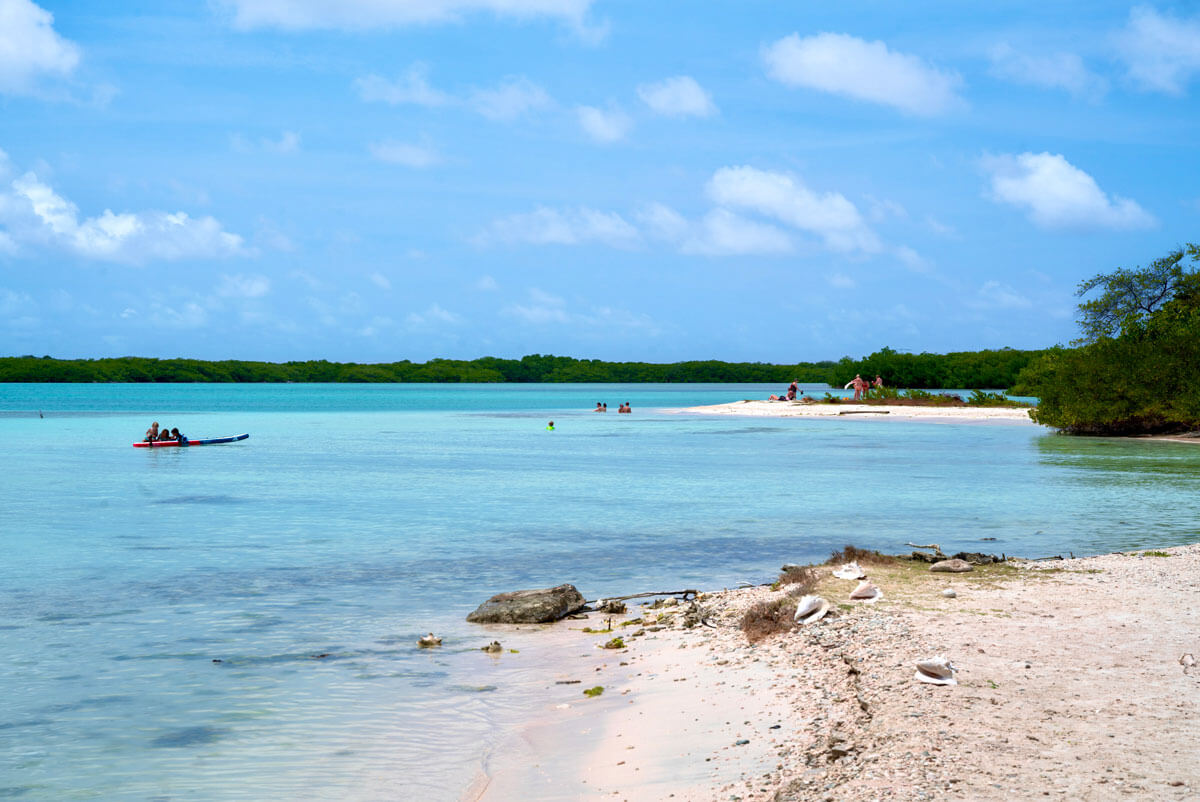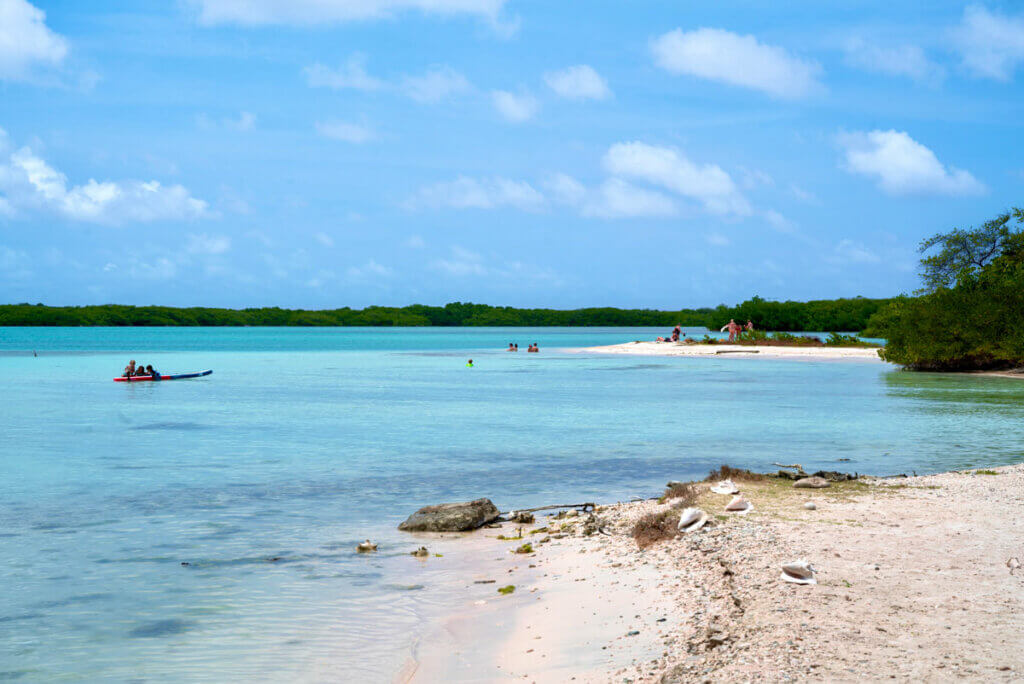 Located on the tip of Lac Bay near the mangrove forests is without a doubt the best of Bonaire beaches for relaxing. This serene beach in Bonaire is home to calm, crystal-clear waters where you may spot a sea turtle and tons of Queen conch shells!
What's interesting about this beach is that when you arrive, since you're on the eastern windy side of the island, the water and currents look impossible to swim in. Continue to the parking area past the Queen conch shell graveyard piles and Lac Bay Bar to a stretch of beach and lagoon protected by the trade winds with calm waters at Lac Bay.
At this protected lagoon you'll spot soft, white and hues of pink in the sand with crystal clear turquoise water. The water is so calm at the lagoon that people were sitting in the water reading and it's the perfect place to bring your beach towel and relax for a few hours.
Better yet, this Bonaire beach has a bar and restaurant. The Lac Bay Bar, which had a live band during our visit is great as you can grab a nice ice-cold beer or bite to eat while you're enjoying Lac Cai Beach, and it's surrounded by piles and piles of Queen conch shells!
This was truly one of the most unique beaches in Bonaire and one of the best for a quiet day at the beach.
There is snorkeling here, but it's recommended you go with a certified guide as you will be exposed to strong currents and rip tides in the snorkeling area that can force you out to sea, not to mention boat traffic. Snorkelers are interested in spotting sea turtles here in the seagrass beds on a clear visibility day. If you do wish to snorkel or see sea turtles in this spot, please go with a certified guide to ensure your safety as it's dangerous.
Keep in mind it is forbidden to take the Queen conch shells from the beach and Bonaire!
Bonaire Beach Recap:
protected lagoon with calm, clear water for swimming and lounging
soft white and pink sand
The Lac Bay Bar offers food and drinks, toilets are available for use for a small fee
Piles of Queen Conch shells on display here
Mangroves
Spot sea turtles here
May see flamingos on the drive here
1000 Steps Beach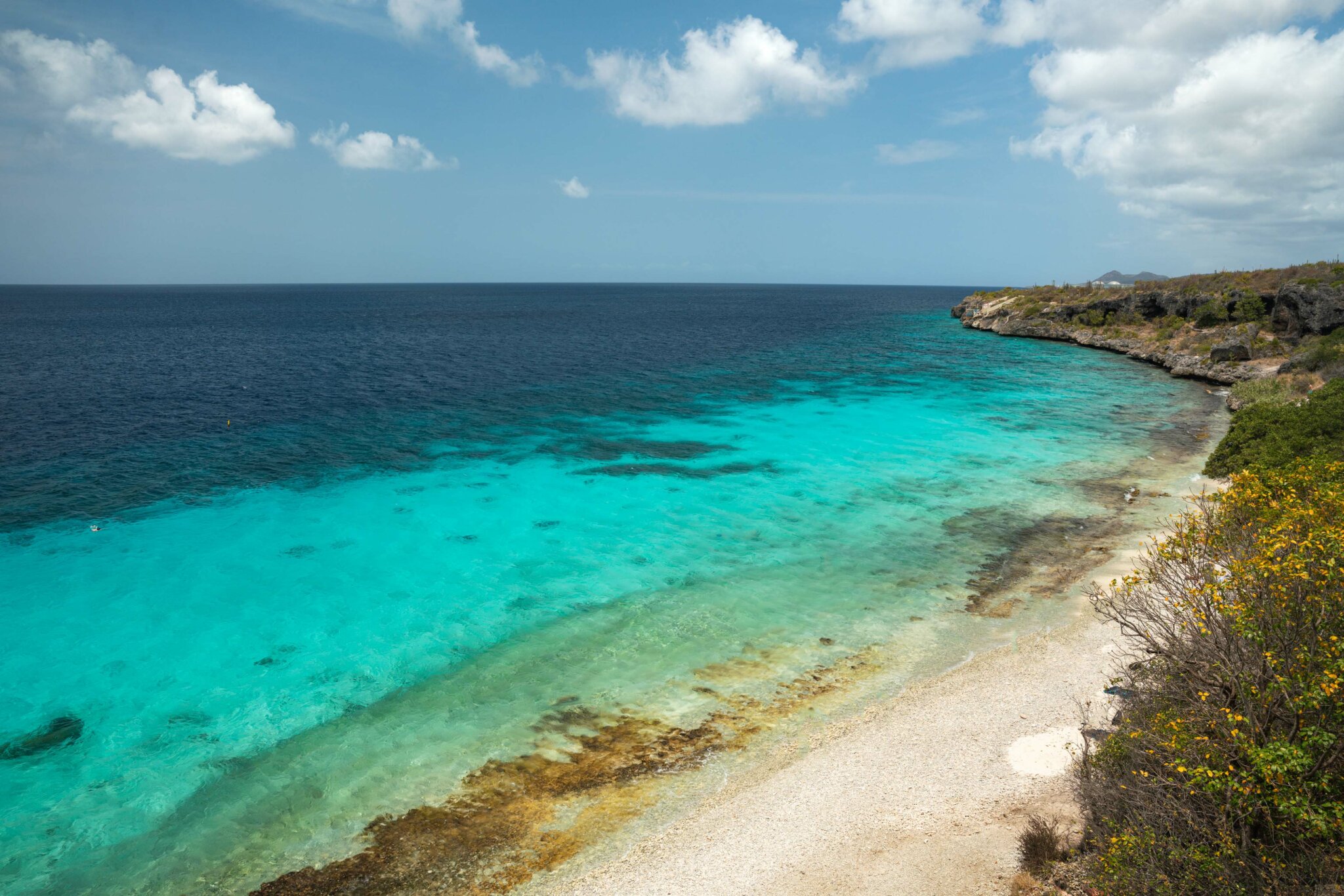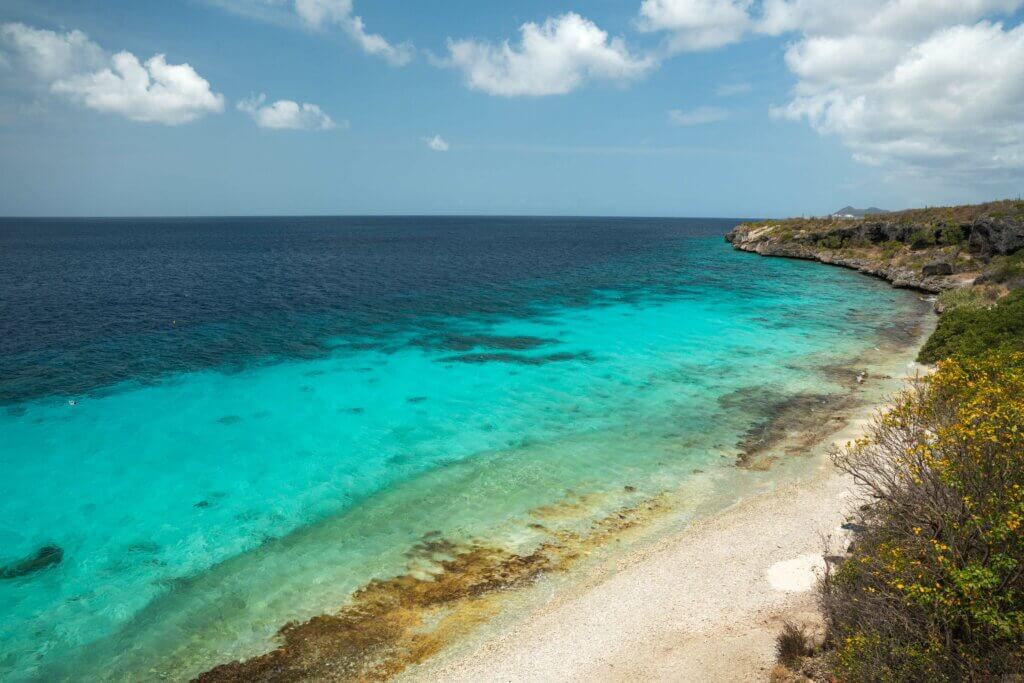 Easily one of the most popular beaches on Bonaire, and for a good reason, is 1000 Steps Beach north of Kralendijk along the scenic Queen's Highway on the west coast.
Driving Queen's Highway is without a doubt one of the best things to do in Bonaire, cruising along this road you'll be rewarded with scenic vistas and views of the gorgeous shades of blue and turquoise water to one side and kadushi cacti. Then you're rewarded again with great stops and Bonaire beaches like 1000 Steps.
Despite the name, 1000 Steps doesn't actually have 1000 steps. There are around 60-70 steps on a staircase down to the beach. So keep that in mind when you have to lug your gear back up when you're done!
The beach here is a little rockier, so you'll want water shoes and you'll definitely want to have your snorkel gear handy as this is one of the best places for snorkeling in Bonaire! This beach is better suited for those who want to get in the water vs hang out on the sand as the beach is more narrow here, rocky, and is surrounded by cacti.
That being said, we did throw our towel down on a sandier patch to apply our sunscreen and wait a few minutes before getting in the water and it was fine – so there are a few spots that are more comfortable to sit at, you just have to find those.
This is one of the more popular Bonaire beaches, so you can expect this to be one of the busier stops and tour buses do stop here. While this beach did have other people around, it still wasn't overcrowded during our time here.
You'll likely spot iguanas while you're here and if you packed snacks or food with you, you'll want to keep that in the car while you swim or snorkel here as those ornery little lizards and iguanas have been known to snatch people's food!
Bonaire Beach Recap:
Rocky beach with beautiful clear, blue water
Popular snorkeling and shore diving location
beautiful drive along the Queen's Highway north of Kralendijk
Sorobon Beach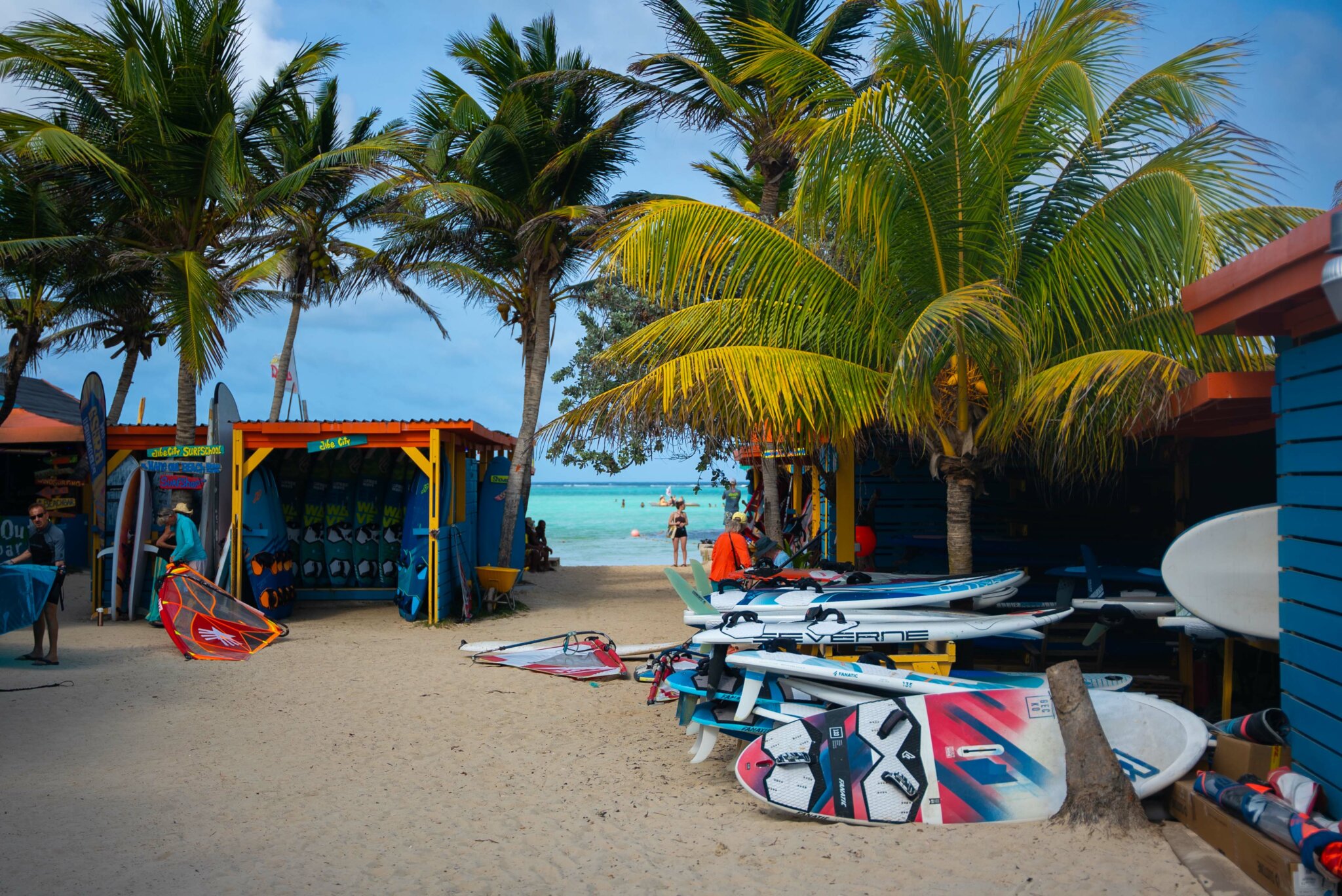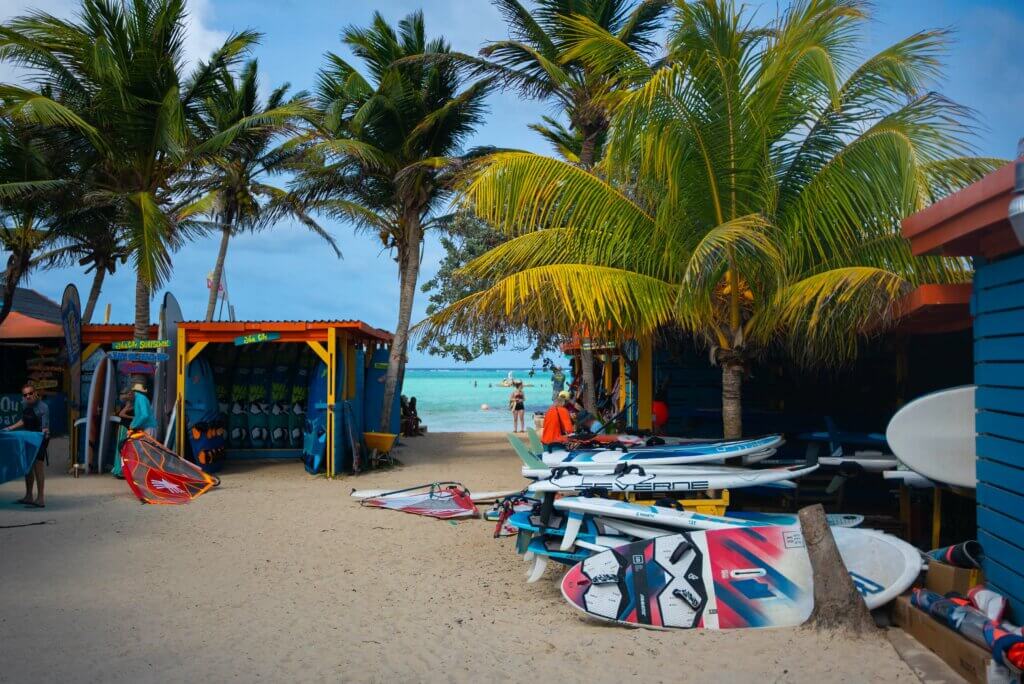 On the opposite side of Lac Bay as Lac Cai Beach is Sorobon Beach, another one of the best beaches in Bonaire and where you'll spot all the windsurfers taking advantage of the eastern trade winds!
Because of Lac Bay, Sorobon Beach has a protected lagoon that's ideal for sunbathing and watching the windsurfers zip by on windier days. The water here is shallow, and clear, and there are calm spots that are fantastic for cooling off.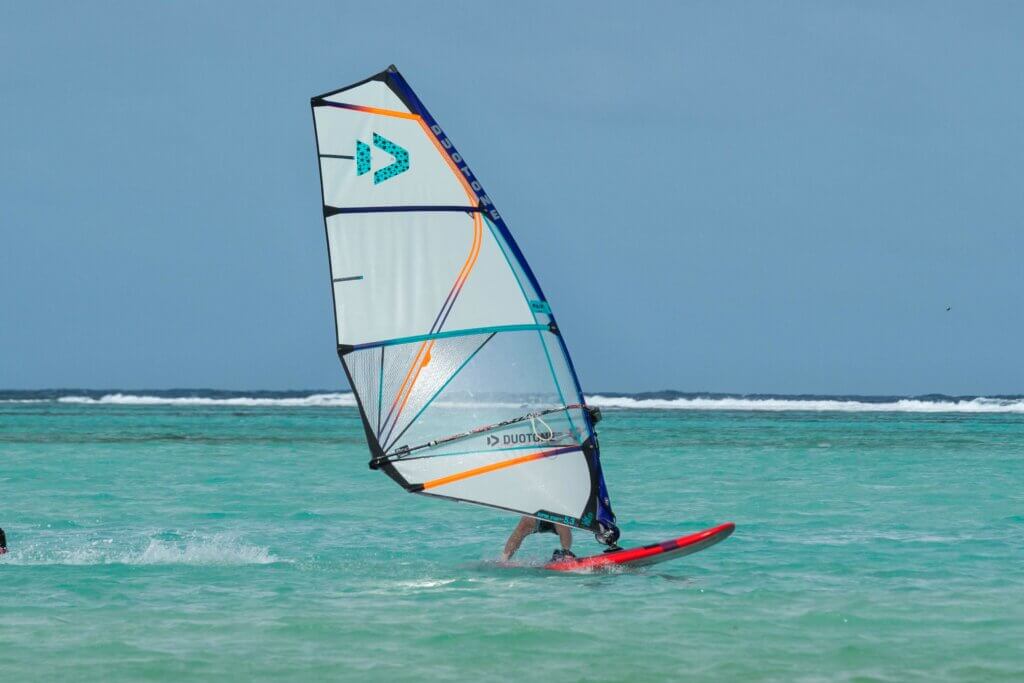 The best part of hanging out at this Bonaire beach is that there are several windsurf shops with beach bars and restaurants like Jibe City. This is where you can rent your gear, take lessons, and windsurf. Their restaurant and bar has sun beds, tables, and lounging areas where you can sunbathe, drink, eat, and watch windsurfers!
There are sections of the water you can get in and cool off before the area where the windsurfers are, you won't want to go swimming in that area as it's dangerous not only for you but also for the windsurfers.
What's great about this beach in Bonaire is that you have alot going on here from dining and drinking options that also provide a great space to hang out along the waterfront all day, windsurfing whether you want to watch or try it yourself, and there's a great snorkeling spot here too!
For snorkelers, you'll want to be more experienced as you have about a 1/2 mile walk/swim to the snorkeling reefs which are past the windsurfers. On days that there are no wind and windsurfers, you're able to access the reef easier. When there are windsurfers, you'll only be able to get to the snorkeling spot from the fishing shack south of where the windsurfers take off. This website gives detailed instructions for how to access the snorkeling at Sorobon Beach including what you can expect to see there.
What's awesome about this Bonaire beach is no matter the weather/wind forecast there are things to do here. On windy days this is the island hotspot for windsurfers, in fact global competitions are held here annually. And on those not-so-windy days you can rent stand-up paddle boards, kayaks, and snorkel gear, and just swim in the clear water.
We highly recommend hanging out at Jibe City, they had a DJ playing music and comfortable beach chairs to enjoy drinks and food at. Plus if you need any gear you can rent here too.
Bonaire Beach Recap:
protected lagoon with shallow, clear water
windsurfing hot spot
several beach bars and restaurants to dine/relax at with beach beds and chairs for guests like Jibe City
kayaking, stand-up paddleboarding, and snorkeling are popular on days with no wind
Te Amo Beach & Donkey Beach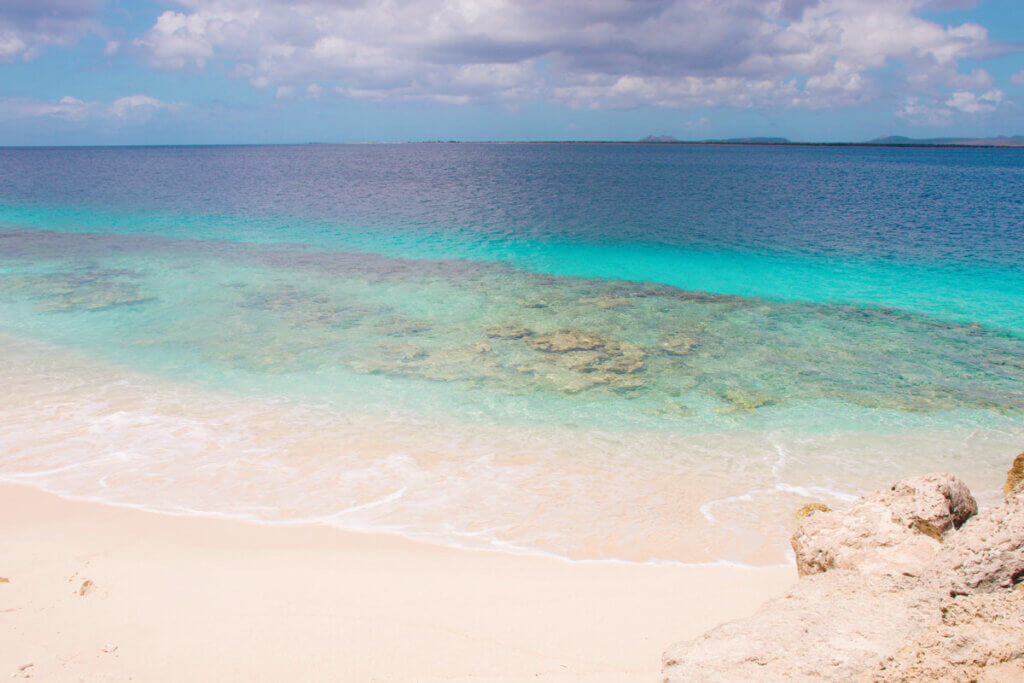 Located right by the Flamingo International Airport is one of the best beaches in Bonaire near the cruise port that's also great for snorkeling for all ages and levels. This white, sandy stretch of beach has shallow coral reefs that are home to tons of tropical fish. Sadly, alot of the reef here is damaged but they still manage to attract an array of colorful fish that you'll see if you come to this beach and snorkel!
Because of how close this beach is to the heart of downtown Kralendijk, this is one of the best beaches in Bonaire for cruise passengers to enjoy.
Just avoid the far right-hand side of Te Amo Beach where the boats come in and out of the harbor. Not to mention, this area is where jellyfish are often spotted so be sure to just keep an eye out here for those and stay away from where boats are entering and exiting the harbor.
If you continue south that's where you'll find Palu di Mangel Beach aka Donkey Beach, which is also a gorgeous stretch of white sand and clear blue water. This beach gets its name from the donkeys that can sometimes be seen or spotted here. We didn't see any at the beach, but we did see them all over the island and in the Donkey Sanctuary.
What's nice about these Bonaire beaches is not only their proximity to the cruise port and downtown Kralendijik, but they also have food trucks so you can grab a bite to eat while you're at the beach.
Bonaire Beach Recap:
white sandy beach with calm, clear waters great for swimming and snorkeling in the shallow reef
can combine a visit to Donkey Beach located at the south end of Te Amo Beach
food trucks park at Te Amo Beach
best Bonaire beaches for cruise passengers visiting for the day as these are the closest beaches to the Kralendijk cruise port.
Sea Turtles lay their eggs at Te Amo Beach
Boka Slagbaai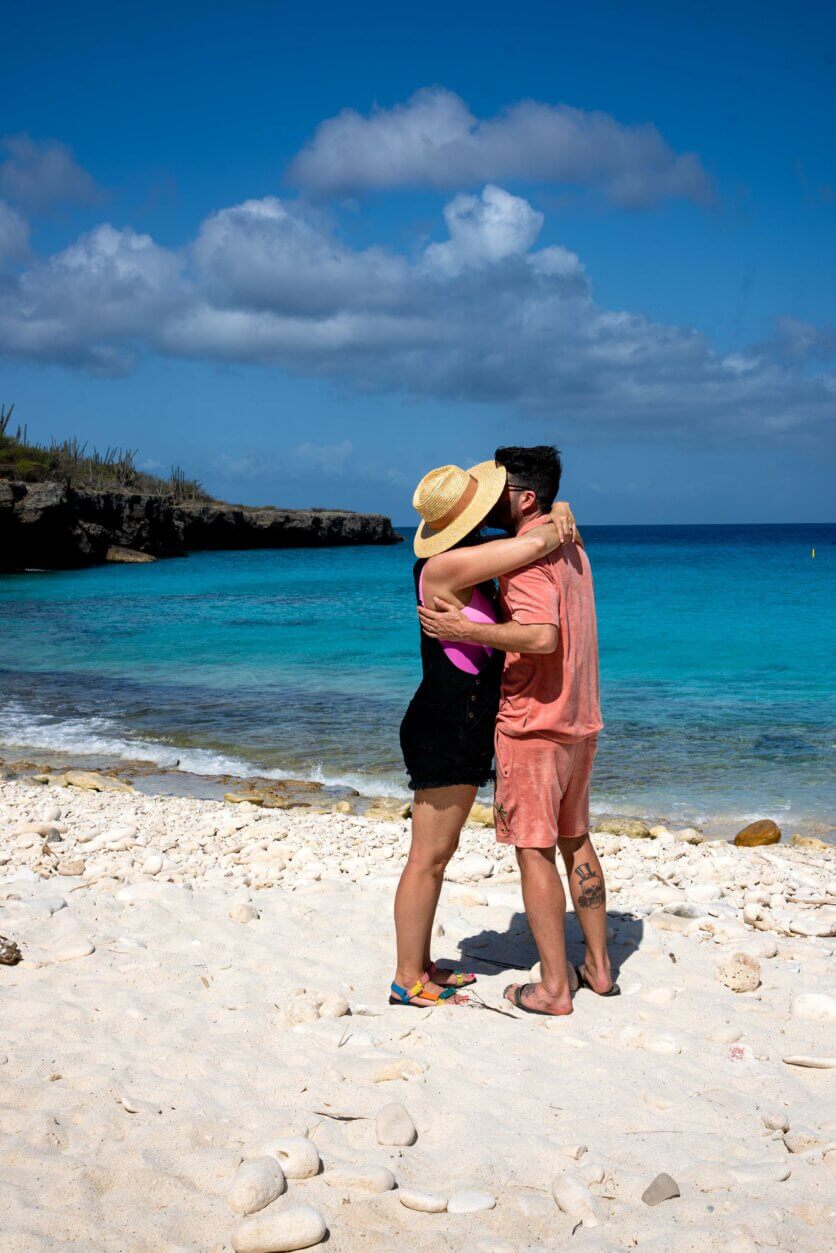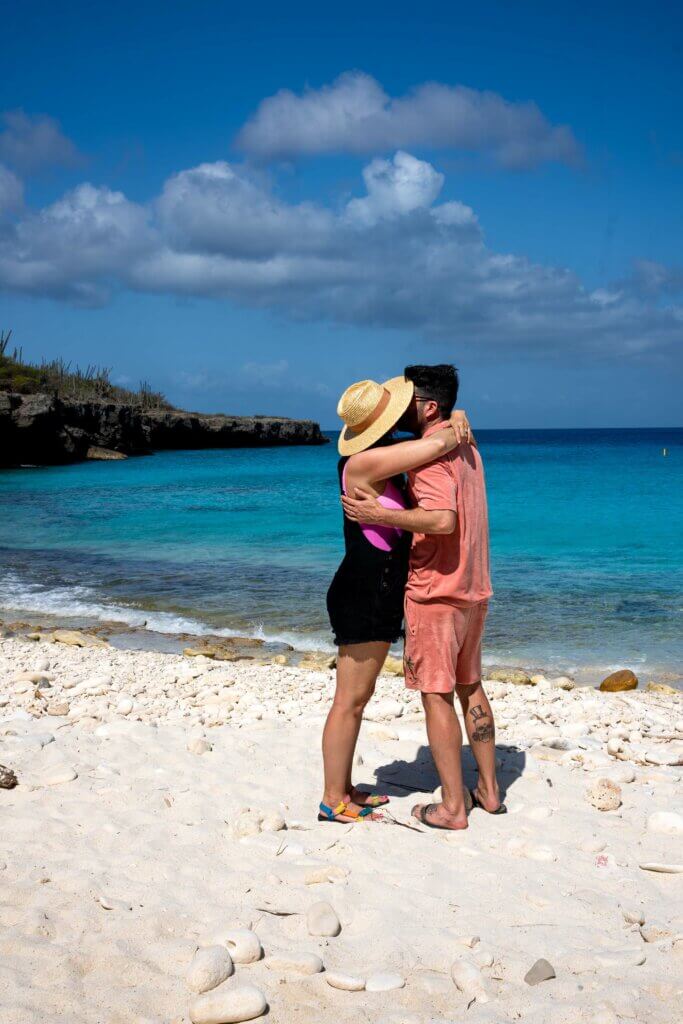 Located in Washington Slagbaai National Park is another one of the most beautiful Bonaire beaches. Whether you're visiting Washington Slagbaai National Park on the short or long route, both merge together at the end for one final stop that is Boka Slagbaai.
Located inside this natural sanctuary you'll be rewarded with stunning views at Boka Slagbaai Beach only made prettier by the dramatic yellow buildings located here which were once port buildings as this was one of the two main ports on the island.
Inside you can find the only restroom in Washington Slagbaai National Park beyond the entrance and visitor center when you first enter.
This serene, blue beach is not only a great place to swim and cool off after an exciting day in the park, but it's also a popular diving and snorkel site as there are coral gardens located underwater along with old canons underwater!
While the main beach is soft, white sand when you enter the water you'll want to wear water shoes as there are some rougher patches and you'll want to protect those feet!
Visitors are also rewarded with the salt pans opposite of Boka Slagbaai Beach where you can often see the American Flamingo flock hanging out too at Salina Slagbaai.
There are also picnic tables here and a spot where you can cliff jump into the water if you're more of a thrill seeker.
Keep in mind if Bonaire had any recent heavy rain that access to Washington Slagbaai National Park may be limited or closed as all the roads are unpaved. If the roads need to dry out they will close the park, this is something to keep in mind and check on if you experience heavy rainfall during or around your visit.
You will need to rent a high clearance vehicle with 4×4 or AWD to access Washington Slagbaai National Park.
Since visiting Washington Slagbaai National Park requires alot of planning and driving on dirt roads, you can sit back and relax by joining a Washington Slagbaai National Park guided day trip where your guide takes care of everything and you can sit back and relax, including stops at Boka Slagbaai Beach.
Bonaire Beach Recap:
white sandy beach with calm, clear waters great for swimming and snorkeling and diving in the shallow reef
Inside Washington Slagbaai National Park (will need a high clearance vehicle to access)
bathrooms and picnic tables here (no other facilities and you will want to bring your own food and water)
cliff jumping and underwater treasures like cannons in the coral reefs
flamingos can be spotted opposite of the beach at Salina Slagbaai
Another 20-30 minute drive to exit of Washington Slagbaai National Park so you will need to watch your departure time carefully to exit the park before closing
You can join a tour of Washington Slagbaai National Park instead of going on your own
No Name Beach at Klein Bonaire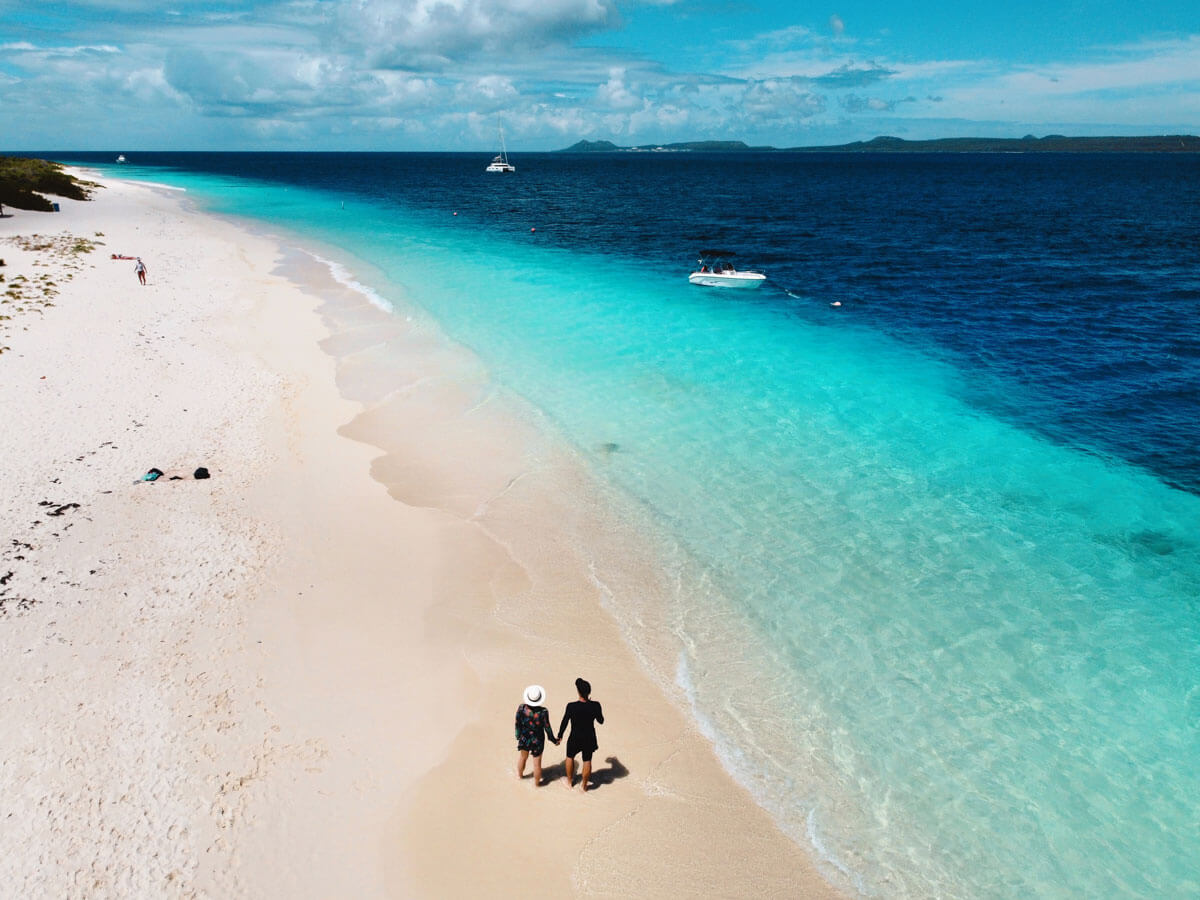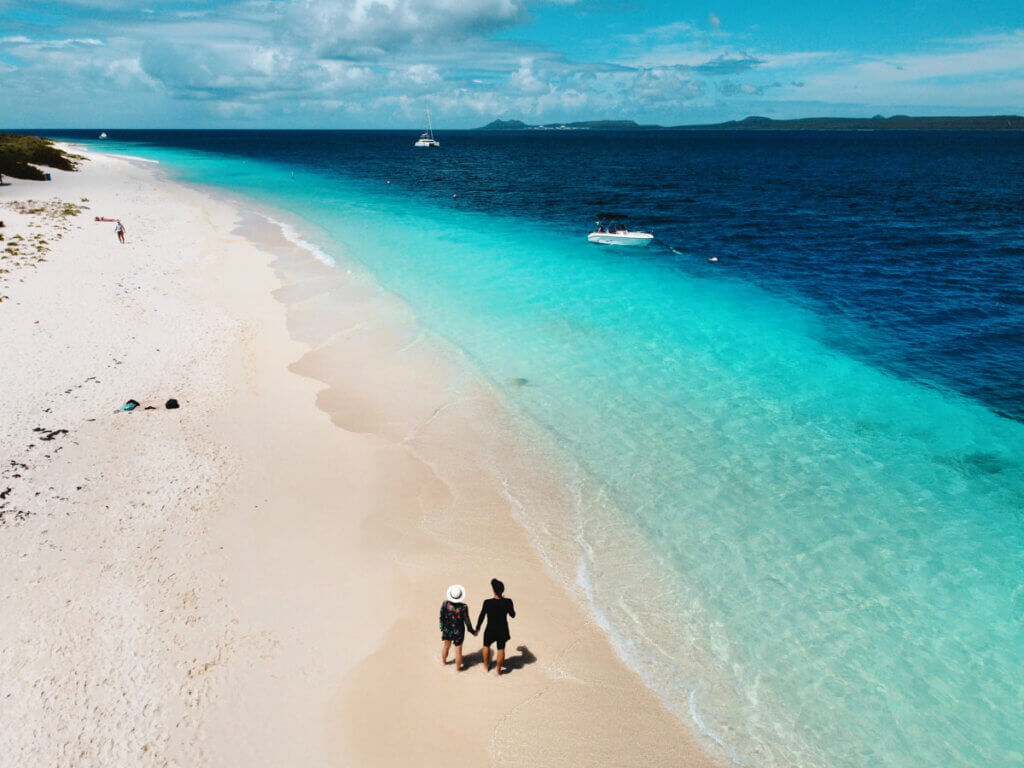 Located on the small, uninhabited island of Klein Bonaire, aka Little Bonaire, off the coast of the main island is one of the most incredible, untouched beaches in Bonaire for swimming, diving, and snorkeling.
In addition to being one of the most beautiful Bonaire beaches to visit, this is where sea turtles do their breeding and nesting as well as flocks of flamingos in the salt ponds that are on this island just a half mile offshore from the main island.
Getting to Klein Bonaire couldn't be easier, you can grab a ticket and hop on the 15-20 minute water taxi from Eden Beach Resort and Karel's Beach Bar, both of which are in Kralendijk.
The watertaxi is $25 USD for adults and $15 for children round trip operating every hour starting service departing from Bonaire at 9:15 AM with the last departing water taxi from Klein Bonaire at 4:45 PM.
Be sure to check the water taxi schedule in advance as they weren't operating from Eden Beach Resort during our visit!
Because of how close this is to Kralendijk, this is one of the best day trips and Bonaire beaches for cruise passengers too since it's easy to plan a few hours and be back in time for your boat.
There are no facilities on Klein Bonaire. You'll want to pack everything you'll need during your time on the soft, white sandy shores of Klein Bonaire from your sunscreen, snorkel gear, and plenty of water and any snacks or food you might need during your time here. Just remember to take any trash or anything you bring with you back off the island!
Once you get to Klein Bonaire, you'll want to find a good place to leave your belongings and then grab all your snorkel gear (and wear watershoes) and head east until you see a yellow sign for No Name Beach. This is where you will enter the water as there's a split in the reef here. When you're in the water, you'll let the gentle current carry you as you ooh and ahh at the tropical colorful marine life in the coral reefs here and if you're lucky you'll spot some of the sea turtles who nest here.
The water taxi sometimes offers 'snorkel drop offs' where they will take you to one end of No Name Beach to drop off your belongings, then take you further up (than the yellow starting point via walking) to hop in the water and drift down to the exit point where your belongings are.
It's also possible to join a Klein Bonaire snorkeling tour (cruise passenger friendly) where they will take you to different reefs you can't access otherwise around the island if you're really into snorkeling. Or charter your own private boat for 4 hours and take it to Klein Bonaire! If you want a captain to take you around, you can choose a private 3 hour boat charter with a guide/captain to take you around too.
Otherwise, taking the water taxi to No Name Beach offers you one of the most beautiful sandy beaches in Bonaire with opportunities to snorkel as you please and leave when you're ready. (Just don't miss the final water taxi!).
Bonaire Beach Recap:
beautiful white sandy beach on an uninhabited island
incredible relaxing snorkeling destination where you're able to drift along the coastline and reef
no facilities on the island, bring your own water and food (take out what you bring in)
daily water taxi service from Eden Beach Resort and Karel's Beach Bar in Kralendijk ($25 for adults & $15 for children round trip)
great day trip and Bonaire beach option for cruise passengers
option to join a snorkeling tour of Klein Bonaire for snorkeling spots not accessible via water taxi trips
Bachelor's Beach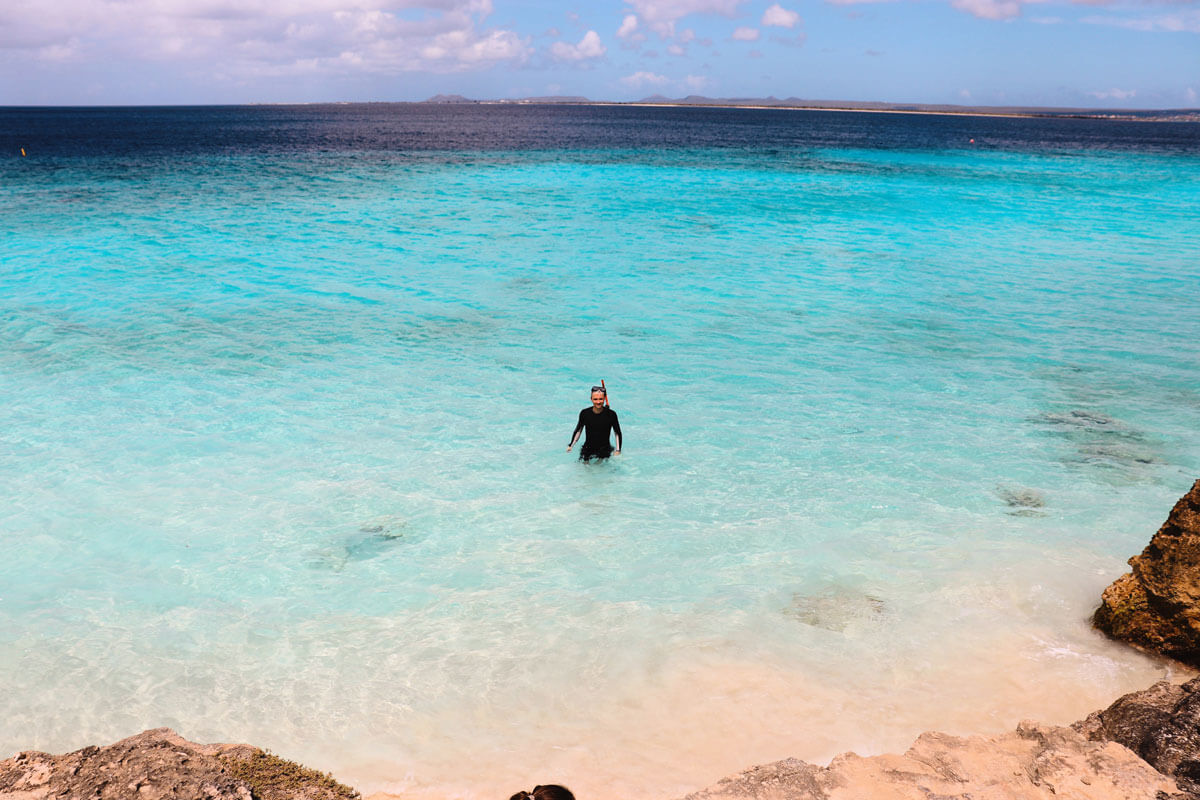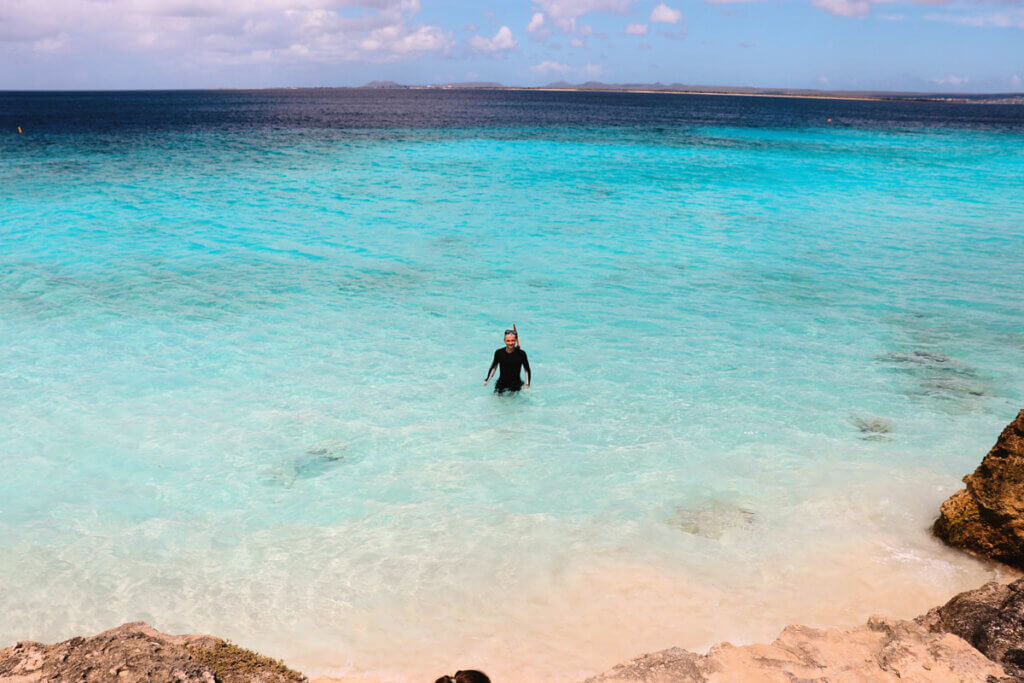 Located near the airport is another incredible small, white sand beach in Bonaire not to be missed! Bachelor's Beach is a quiet beach perfect to visit with calm waters great for all levels of swimmers and snorkelers.
After parking you will follow a set of stairs down to this hidden beach in Bonaire backed by a cliff wall. The sand here is soft and white, unlike most Bonaire beaches that have more of a pebbly entrance although if you have water shoes you may still want to wear them as there are some underwater rocks you may encounter in the shallow waters here.
Like most beaches in Bonaire, Bachelor's Beach is also a popular shore diving and snorkel spot. Something to keep in mind is that at high tide this beach practically disappears as the stretch of sand is so narrow that it really is only a 'beach' at low tide.
There's sometimes a food truck parked here too if you need a bite to eat! Keep in mind this hidden beach in Bonaire is easy to miss, so make sure to follow the directions in your GPS and then look for the parking area near the top of the stairs.
Bonaire Beach Recap:
beautiful white sandy beach near Kralendijk
popular snorkeling and diving spot
sometimes there's a food truck
there's no sandy beach during high tide
Playa Lechi & Eden Beach Resort
Another one of the best beaches in Bonaire for cruise passengers or those who are wanting to stay in the Kralendijk area can be found at Playa Lechi next to Eden Beach Resort as well as Eden Beach Resort's beach. These are public beaches that offer crystal clear turquoise water and is perfect for swimmers, snorkelers, and those looking to do some shore diving.
Hang out beneath the palm trees along this sandy shoreline at Playa Lechi. You will want water shoes as the sand can be pebbly and have rocks in it to protect your feet.
If you choose to go to Eden Beach Resort, you can even as non-guests and rent comfortable beach chairs and beds with an umbrella and order food and drinks making your Bonaire beach day incredibly comfortable and relaxing! They even have live music and DJs sometimes to really set the vacation mood.
Bonaire Beach Recap:
Playa Lechi is white sandy public beach in Kralendijk (near Eden Beach Resort)
Playa Lechi has pebbly and rocky entrance, wear water shoes
great for snorkeling and swimming
Eden Beach Resort is a full-service resort and non-guests can visit their beach club and rent chairs, umbrellas, and order food and drink
Some of the best beaches in Bonaire near the cruise port
Pink Beach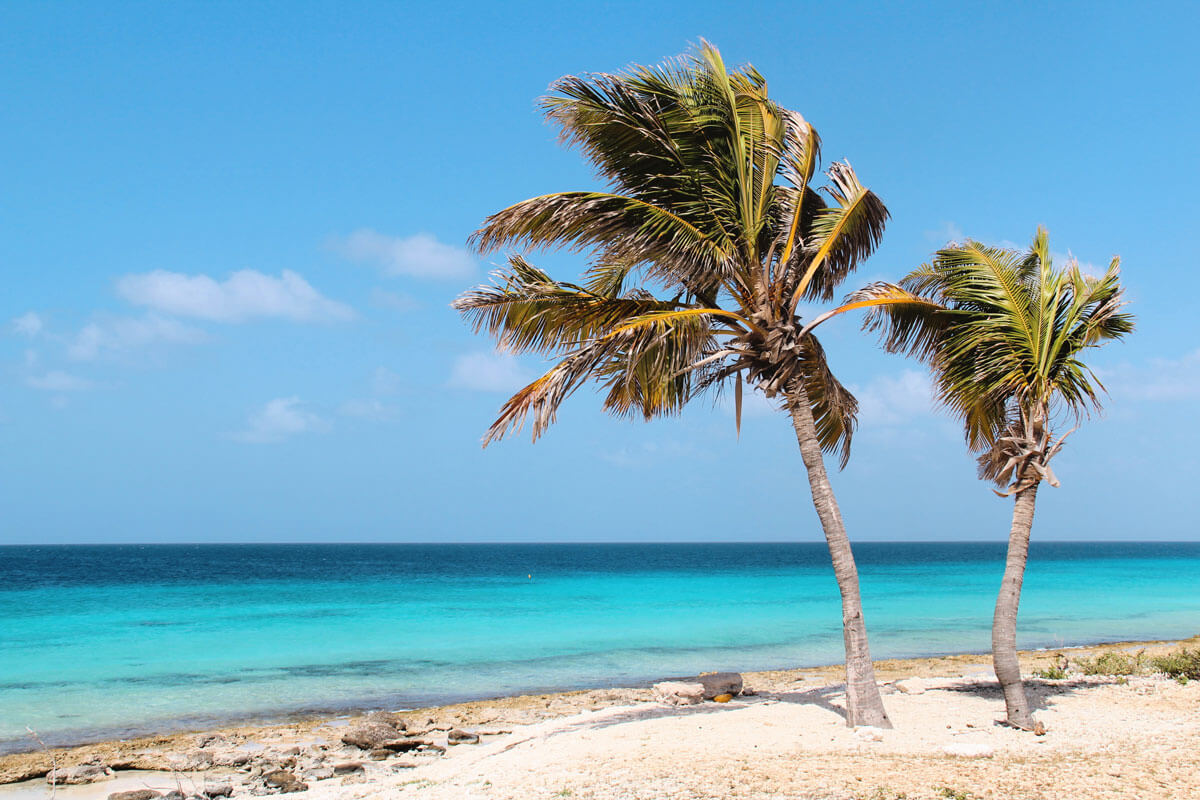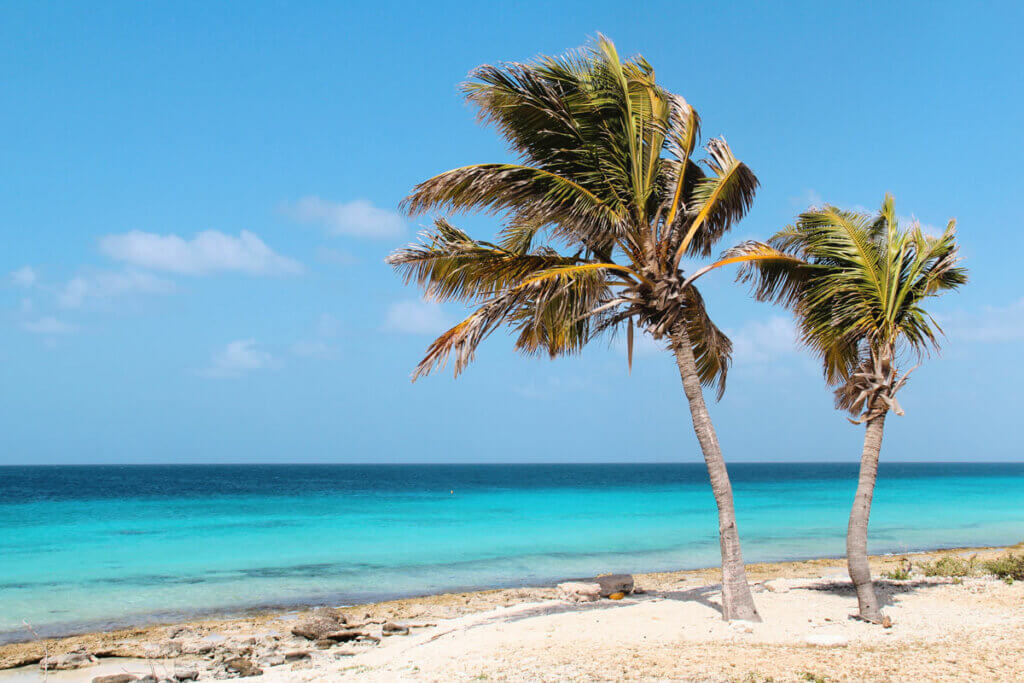 Located near the salt flats of the west coast is another one of the most breathtaking and beautiful beaches on Bonaire to check out! Just as the name suggests, Pink Beach is one of the pink sand beaches you can find in Bonaire due to crushed-up foraminifera which causes the pink hues in the sand, just like the pink sand beaches of Bermuda!
The beach here is more narrow, but it's truly beautiful nonetheless and a great addition to exploring Bonaire's west coast including the salt pyramids and flamingos around the pink lakes!
Like most Bonaire beaches, this is also another popular snorkeling and diving spot. Like many of the beaches too, there are no amenities here so bring everything you'll need from water, snacks, and your own snorkel equipment.
All of the beaches in Bonaire along the west coast around the salt pans you're going to want to have water shoes for getting in and out of the water.
Bonaire Beach Recap:
Gorgeous narrow pink sand beach near the salt pyramids and salt flats
popular snorkeling and diving location
wear water shoes getting in and out of the water here
no amenities/facilities
Atlantis Beach/Kiteboarding Bonaire
One of the prettiest beaches in Bonaire we stopped at for photos was Atlantis Beach also known as Kiteboarding Bonaire as this is where alot of kiteboarders launch off to cruise with the wind in the ocean! With that in mind, you do have to stay clear of kiteboarding areas as they have to enter and exit via the beach.
Located on the southwest coast of Bonaire, what really makes Atlantis Beach stand out is the beautiful pink-hued sand here contrasted with bright, clear, turquoise water.
Like most beaches in Bonaire, you can find shallow coral reefs here which are fun to explore via diving and snorkeling. Just be mindful of kitesurfers.
If you are able to time up your visit on a day that's less windy you'll have less kiteboarders to worry about to enjoy this beach. If it is a windy day, try to avoid areas where the kiteboarders are as they may not have as much control to avoid you. We were there when there was only one kiteboarder out on the water and a wide open beach that would have been easy to enter/exit for swimming, snorkeling, and diving.
And if you ever wanted to learn how to kitesurf/kiteboard this is one of the best places in the world to do so! You can get lessons here!
Bonaire Beach Recap:
Beautiful pink sand beach
famous kiteboarding/kitesurfing destination
kitesurfing lessons available
best visited for snorkeling on a day with no wind (you want to avoid kitesurfers)
Bonaire Beach & Snorkeling Tour Options
Not feeling like you want to hit up the best beaches in Bonaire on your own? Or maybe you don't want to rent a car. Or maybe you're visiting Bonaire beaches as a cruise passenger. Don't worry, you can join one of these tours.
| | | | |
| --- | --- | --- | --- |
| Tour | Highlights | Bonaire Beaches | Book |
| Rent Your Own Private Boat for 4 Hours | Comes with use of snorkeling equipment, watersports equipment, towels, and jug with ice, cruise-friendly | Customizable with option to visit Klein Bonaire on your own | Book here |
| Brunch & Snorkel Catamaran Tour | 4.5 hours, breakfast and drinks included, snorkel gear included, cruise-friendly | Snorkel spots between Bonaire and Klein Bonaire | Book here |
| Roundtrip Beach Transfer (from cruise or hotel) | air-conditioned roundtrip beach transfer from cruise ship or hotel to beach of your choice | customizable | Book here |
| Snorkel, Fishing, & Grilling at Donkey Beach | 3-hour experience to learn local fishing methods including meal and snorkel equipment, cruise friendly | Donkey Beach | Book here |
| Catamaran Snorkel & BBQ Tour | 4-5 hours, catamaran boat, snorkel gear included, BBQ lunch and drinks included, cruise-friendly | Snorkeling around Klein Bonaire and Bonaire | Book here |
| Private Snorkeling Tour with Underwater Photos Included | 2.5 hours, private tour for max 4 people, includes snorkel gear, 5 underwater photos, cruise-friendly | local snorkel spots | Book here |
| Private Charter with Captain | 3 hours, option to customize activities/locations, includes watersports gear and snorkel gear, drinks and snacks included, pick up & drop off included to hotel or cruise port, cruise-friendly | customizable | Book here |
---
Does Bonaire have good beaches?
Bonaire has exceptional beaches for shore diving and snorkeling plus a few sandy lagoons calm for swimming and lounging at the beach all day including pink sand beaches!
Can you walk to the beach from the cruise port in Bonaire?
There are a few beaches in Bonaire just a short 5-10 minute car or taxi ride from the cruise port in Kralendijk. Te Amo Beach is a 6-minute car ride or a 40-minute walk from the cruise port.
What are Bonaire beaches like?
Bonaire beaches vary from soft, sandy shores, some of which even have pink sand to beaches that are made up of crushed corals and rocks. Almost all the beaches have some rocks or pebbles so water shoes are great for enjoying Bonaire beaches, which are also famous for their shallow coral reefs and being the shore diving capital of the world as well as an excellent snorkeling destination.
---
Best Beaches in Bonaire Summary:
Lac Cai Beach
1000 Steps Beach
Sorobon Beach
Te Amo Beach & Donkey Beach
Boka Slagbaai
No Name Beach at Klein Bonaire
Bachelor's Beach
Playa Leche & Eden Beach Resort
Pink Beach
Atlantis Beach/Kiteboarding Bonaire
---
Enjoyed this guide to the best beaches on Bonaire? Bookmark for later or share the love below on Pinterest!