Looking for the best things to do in Mammoth Lakes, California? We got you. Mammoth Lakes is a stunning destination in the Eastern Sierras throughout the entire year. Famous for its winter recreation on Mammoth Mountain, you can enjoy the beauty and outdoors here throughout the year.
In the warmer months you'll find plenty of hiking, biking, lakes, and mountain activities, and come winter, you're in a winter wonderland at one of the best places on the West Coast for skiing and snowboarding. And if it's been a winter with a big snowfall, you might just find that the snowy mountain activities linger in through early summer. After heavy snowfall in winter 2023, we were snowboarding on Mammoth Mountain in June!
That's not all though, from several alpine lakes, rugged wilderness, and even natural geothermal activity where you can find hot springs in the wild to soak in, you'll find other natural landmarks like Devil's Postpile National Monument and Mono Lake nearby.
So, if you're looking for a trip that packs a punch, in terms of being outdoors and exploring Earth's natural beauty in a variety of forms, the place you want to go to is Mammoth Lakes, California.
And better yet, if you're visiting in Mammoth Lakes in the summer, you're only about an hour away from exploring all the best things to do in Yosemite National Park! You can access Yosemite from Mammoth via the eastern entrance on Tioga Pass (CA-120). Although, this road is only open seasonally typically from late spring to early fall due to the snowfall at higher elevations.
We actually visited Yosemite on our trip in early June of 2023 and because of the heavy snowfall the road wasn't open and we had to do the LONG drive all the way around. While this was abnormal, you'll want to plan your trip accordingly if you plan on doing both during your trip and it's around the shoulder season and budget more time for traveling.
What to do at Mammoth Lakes
Bike the Town Loop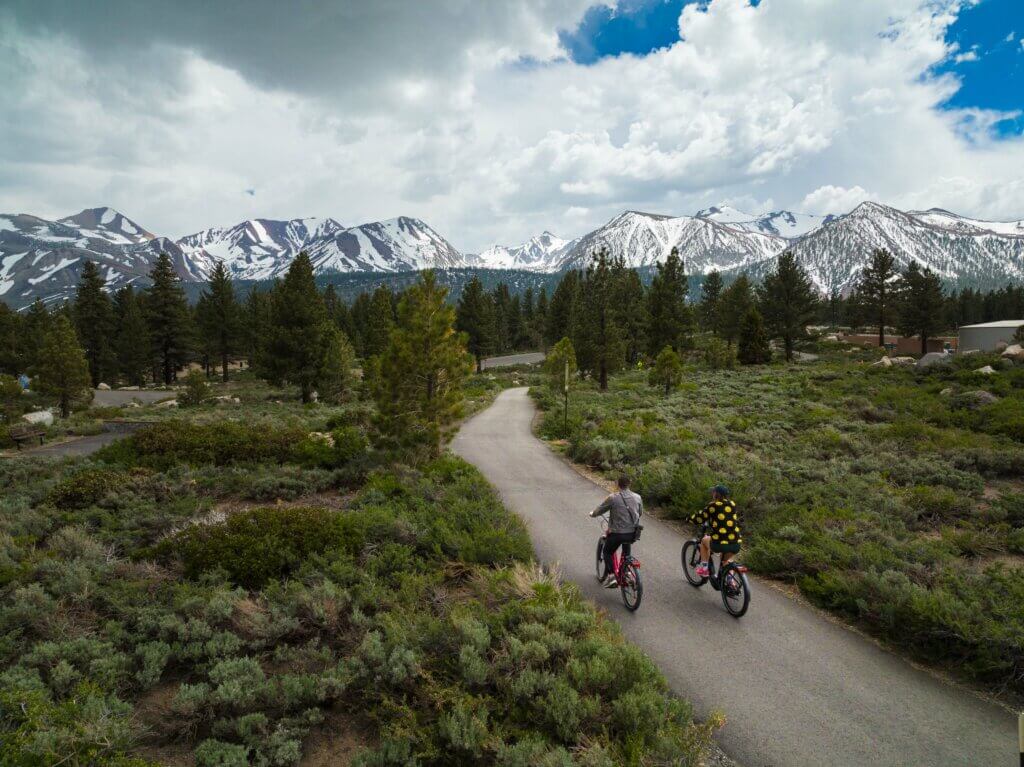 One of our absolute favorite things to do in Mammoth Lakes in the summer was biking the Town Loop bike trail. This is a paved, multi-use path covering almost 8 miles passing some gorgeous scenery.
Along the trail, you'll have views of the White Mountains, the Sherwin Range, Mammoth Rock, and Mammoth Mountain. The surroundings alternate between the natural beauty of the pine forests, sagebrush flats, and seasonal wildflowers, contrasted with the town's shopping and dining destinations, residential areas, and local parks.
The Town Loop also passes by Mammoth Brewing, which makes for a great stop on your way back!
Many spots around Mammoth Lakes have bike rentals. Footloose Sports is a great option and where we got our e-bike rentals, they also have regular bikes as well for rent.
Once you've secured your bike, there are several places to hop onto the path. These spots include Eagle Lodge, Mammoth Creek Park, Sherwin Street, and the Welcome Center & Ranger Station.
Visit the Natural Hot Springs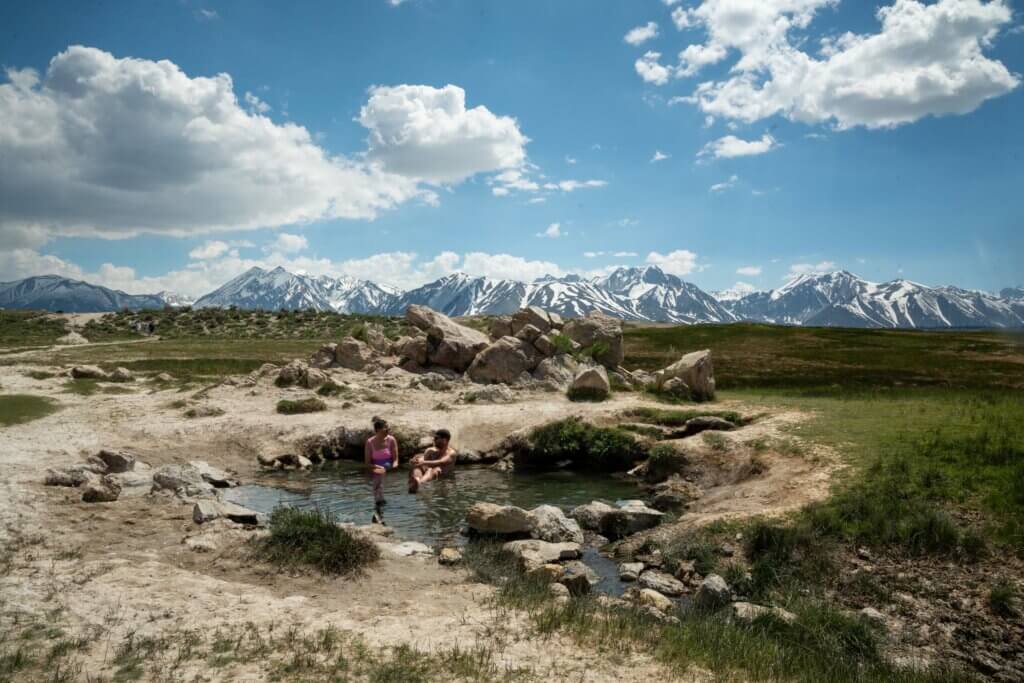 Did you know there are several natural hot springs surrounding Mammoth Lakes? The Eastern Sierra, where Mammoth Lakes is located, lies in a seismically active area characterized by fault lines and volcanic activity. This geological activity has led to the presence of underground geothermal reservoirs.
That means you have opportunities to soak away and relax in any of the several hot springs surrounding Mammoth! This was another one of our favorite things to do in Mammoth Lakes and what's even better is that the hot springs have parking areas with walkways to them, so they are easy to visit.
Most of these hot springs are located between Bridgeport and Mammoth Lakes. Two popular hot springs that are well worth a visit are Wild Willy's and HillTop.
Both of these hot springs are close by and easy to visit. Wild Willy's is located off Benton Crossing Road, and once you park it is a quarter of a mile walk on a wooden walkway to reach the hot springs. The area is very scenic, and the one pool is even heart-shaped!
HillTop is a stone and cement tub with hot springs water piped in, and it has the stunning Eastern Sierra in the distance. This is a picturesque spot, but it can come with crowds of people, so you may very well enjoy this hot spring with several people.
This Mammoth Lake activity can be enjoyed any time of the year, but they can be hard to access in the winter due to snow.
Hit the Slopes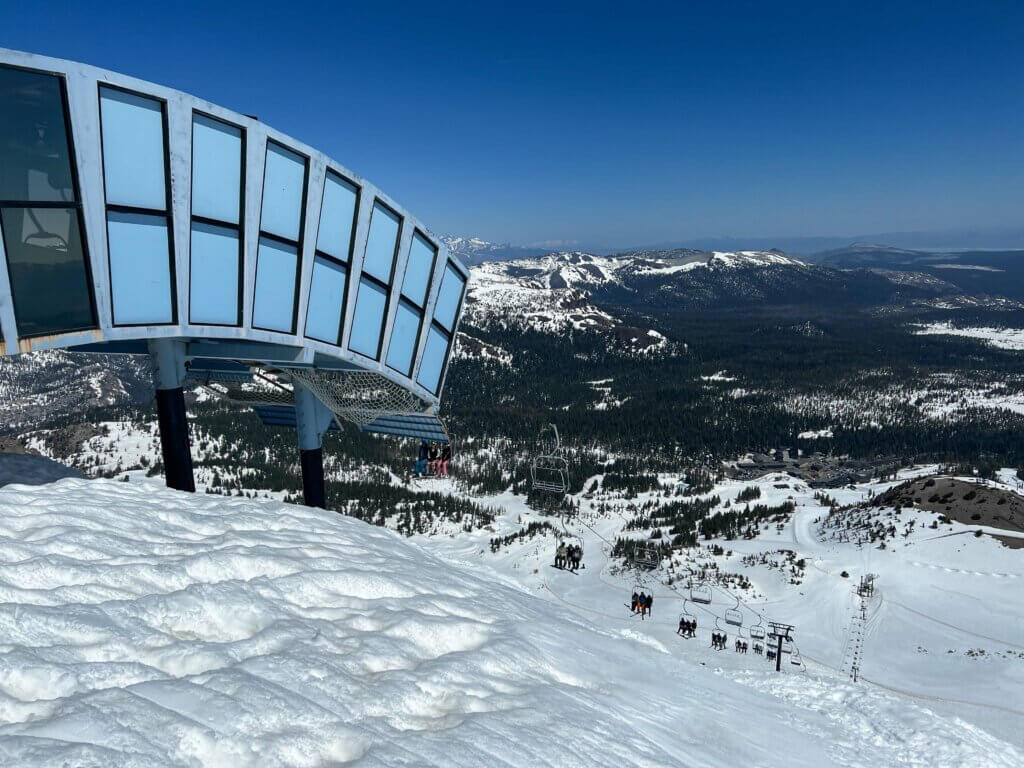 When you're in Mammoth Lakes, you're in one of the best destinations for skiing and snowboarding! So one of the best things to do in Mammoth in winter is hit the slopes at Mammoth Mountain! And if it was a big snowy winter, you may even be able to do this well into the summer season too like we did!
Clocking in at an elevation of 11,000 feet, there is plenty of area to ski with 3,500 acres available to explore. Mammoth Mountain is known for having the highest chairlift-accessible ski resort in the state.
A huge perk is that the season can last for a while, even going into summer when there is heavy snowfall. In fact, this past 2022/2023 winter there was snowboarding on areas of the mountain through July.
You will have all-around incredible views starting at the top of the mountain, and plenty of ground to cover as you start your lengthy trek down. There are 150 named trails and 11 terrain parks, and the Mammoth Mountain offers equipment rentals as well as lessons. (They do not offer clothing rentals though!)
Also, this is a big mountain for snowboarding. During our visit there was a half-pipe competition going on which was really fun to spectate from the main lodge.
Shop and Dine in the Village at Mammoth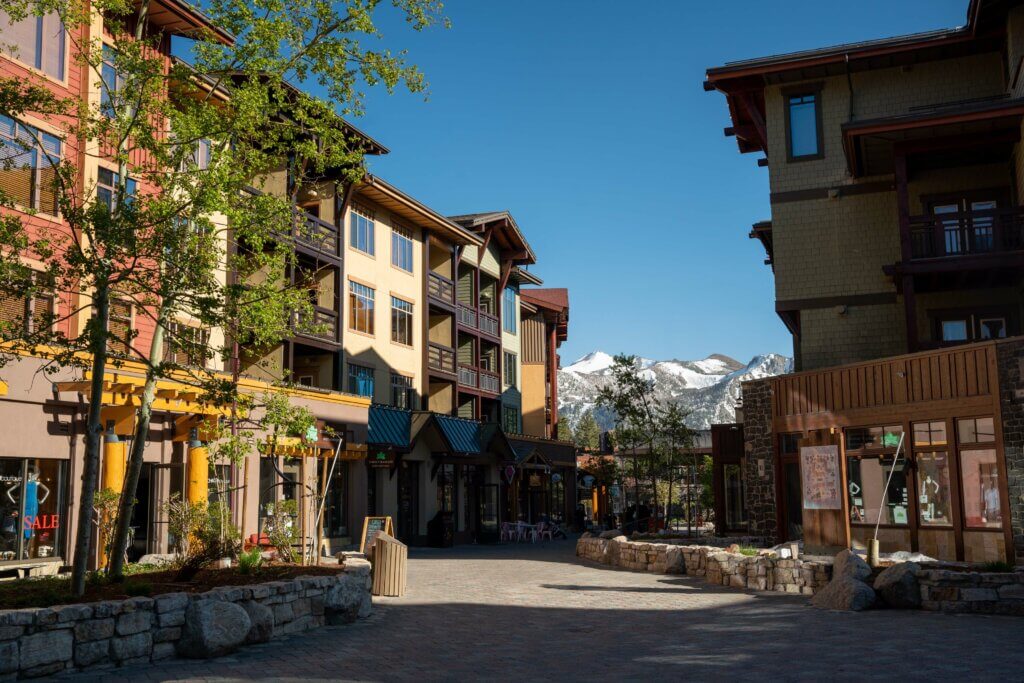 Mammoth Lakes is home to some excellent shopping and dining options, from casual dining to fine dining, as well as coffee shops, bakeries, and breweries.
The Village at Mammoth is kind of the hub for restaurants and shops, and it's definitely one of the fun things to do in Mammoth that you'll want to check out.
Shelter Distilling is a distillery where you can enjoy one of their local spirits while listening to live music and indulging in some tasty food.
Side Door Wine Bar & Cafe is the spot to hit up for a crisp glass of wine accompanied by offerings like paninis and crepes.
For a great cup of coffee to start your day, head to Vida Coffee for a cup of joe and pastry.
And to pick up souvenirs and other trinkets, head to Eastern Sierra Mountain Club for home decor items and all kinds of other fun items.
Take a Scenic Gondola Ride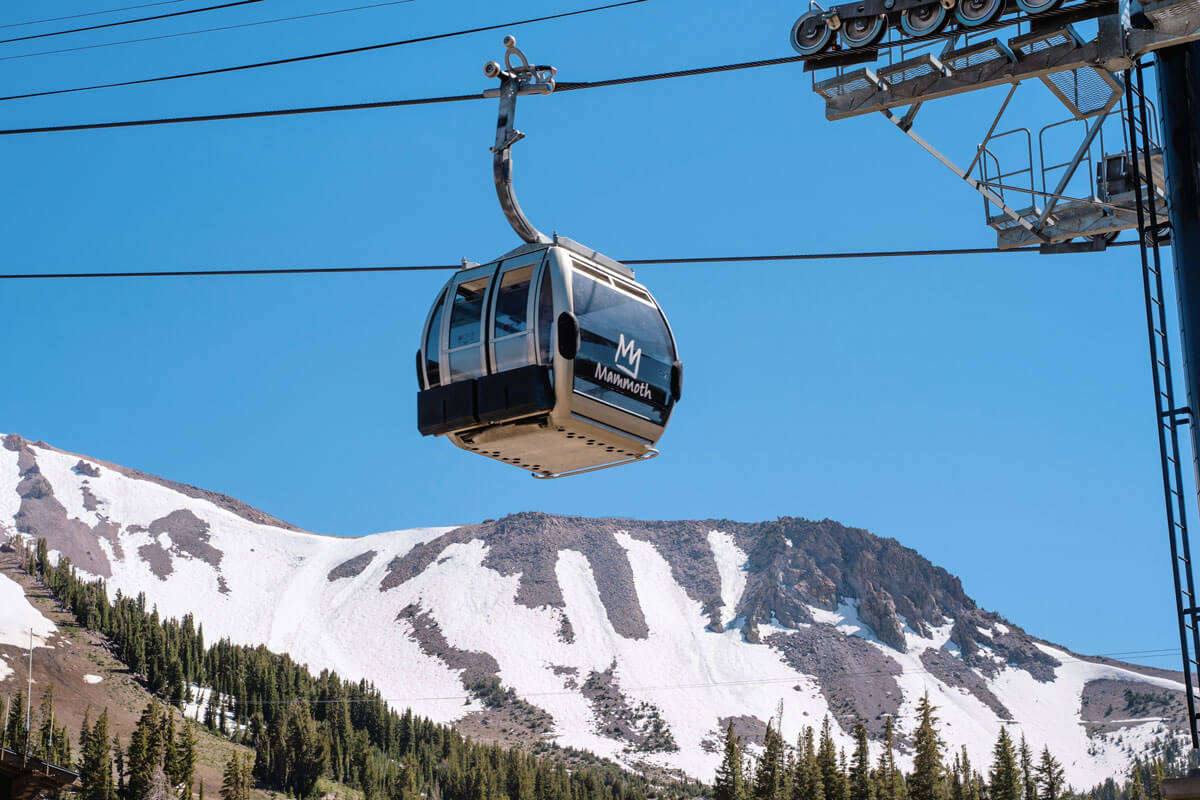 If heights don't scare you, then one of the Mammoth Lake attractions you must visit is taking a scenic gondola ride at Mammoth Mountain. This excursion takes you up to the mountain's summit at an elevation of just over 11,000 feet.
You will be treated to panoramic views as you make your way to the top. The ride takes about 10-15 minutes each way, and once you reach the top there is the Eleven53 Interpretive Center & Cafe, which is free to visit with the purchase of the gondola ride.
Here, you will have even more incredible scenery of the Sierra to take in, as well as exhibits that cover the geology, history, and culture of the area.
Additionally, there is a cafe that serves lunch options like soups, salads, and sandwiches. Make sure while you're here that you take the short walk to the totem sign for a photo op!
This is the type of activity that you can do year-round, weather permitting making it a wonderful thing to do in Mammoth throughout the year!
Have a Beer at Mammoth Brewing Company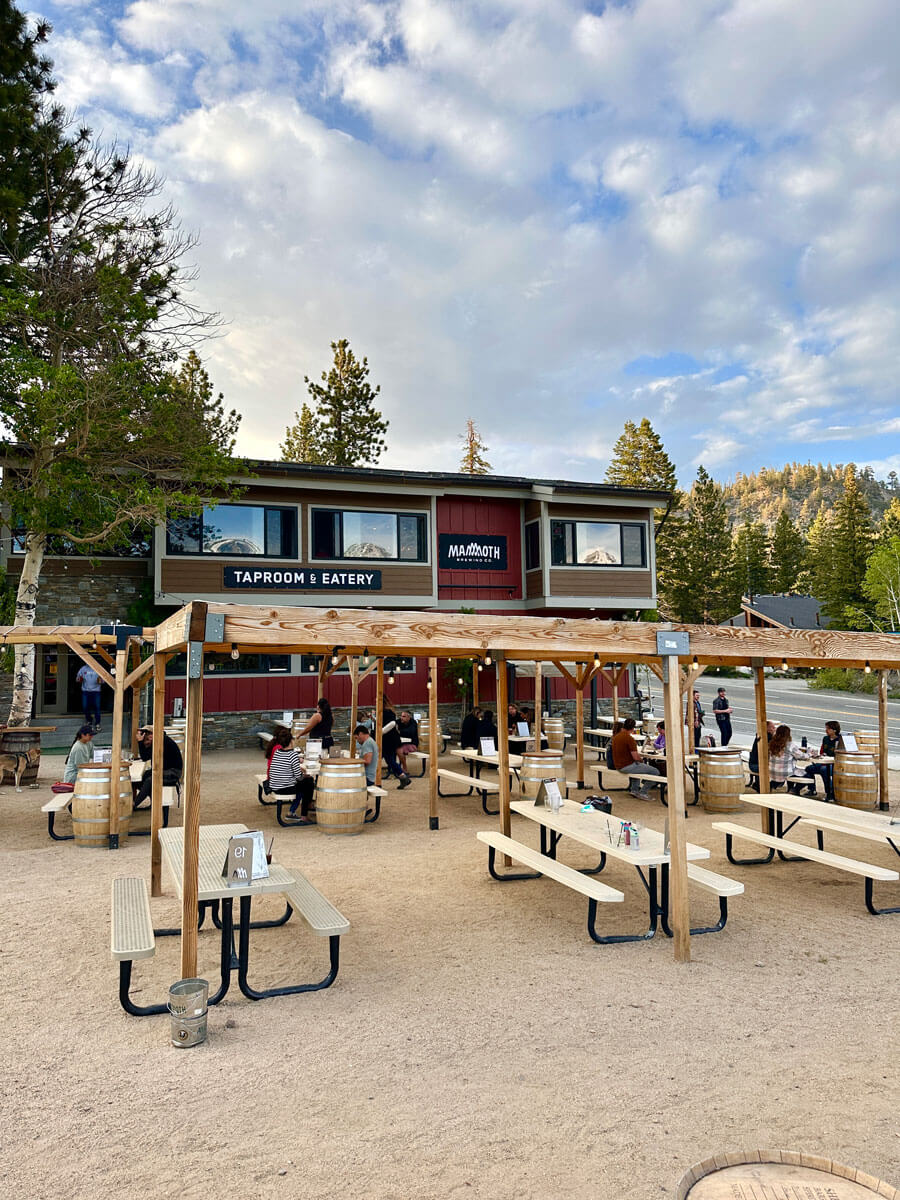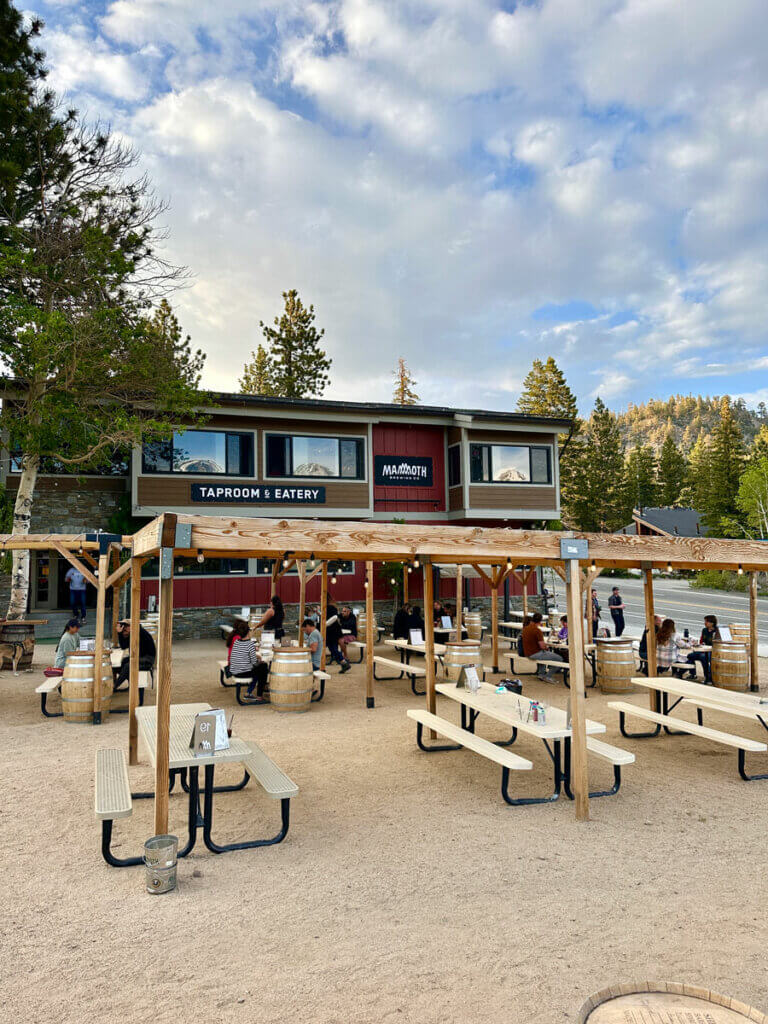 Another one of the best things to do at Mammoth is check out their local brewery at Mammoth Brewing Company. This brewery has been around since 1995, and they have a full restaurant with a tasting room, beer garden, and retail store.
With a fantastic selection of microbrews, including original and seasonal options, you can bring your dog or human companion and sit outside at one of the picnic tables in the natural surroundings while you sip on your beer in the warmer months.
Their rustic-inspired tasting room has the EATery, which offers a good selection of food that compliments the beer, like sandwiches, flatbread pizzas, and tacos. Or, you can pick up beer to-go to enjoy later.
Mammoth Brewing Company is open seven days a week, so make sure you check out this awesome thing to do in Mammoth!
Devil's Postpile National Monument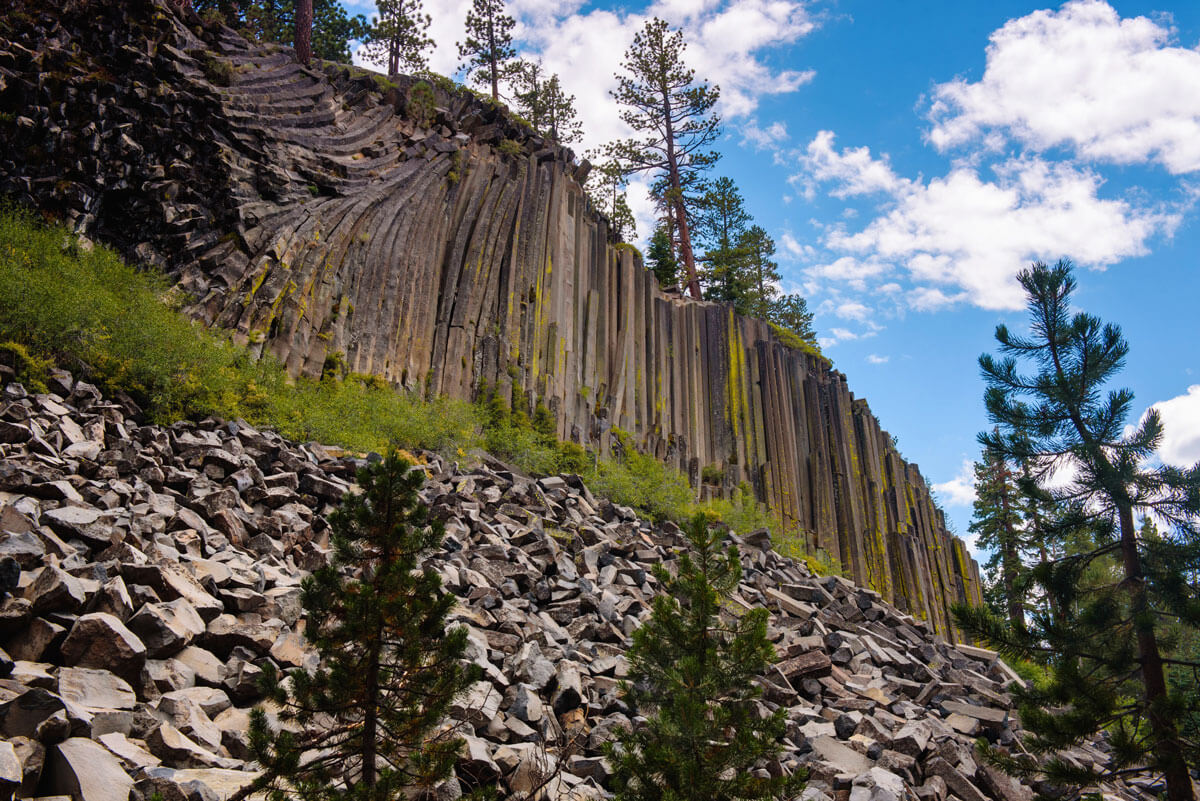 Mammoth Lakes has many interesting natural and geological landmarks, and one of the most impressive can be found at Devil's Postpile National Monument. This Mammoth Lakes attraction is a unique rock formation that has been designated as a U.S. National Monument.
So, what makes this place special? Imagine a load of skinny trees that have just been cut down in the forest, with one pile stacked upright and another pile stacked on their side. Now imagine those skinny trees are actually rocks, with some curvature, and that's what Devil's Postpile looks like.
These rock formations are made of columnar basalt, and you can do a half-mile hike to this landmark and see it in all its glory.
Devil's Postpile is only open during summer months, typically mid-June to mid-October but weather dictates exact opening and closing dates. You will need to ride the shuttle to get here, and there is a fee to ride the shuttle.
The shuttle's "home base" is close to the Mammoth Mountain Adventure Center, so your journey to Devil's Postpile will start from there.
Hike to Rainbow Falls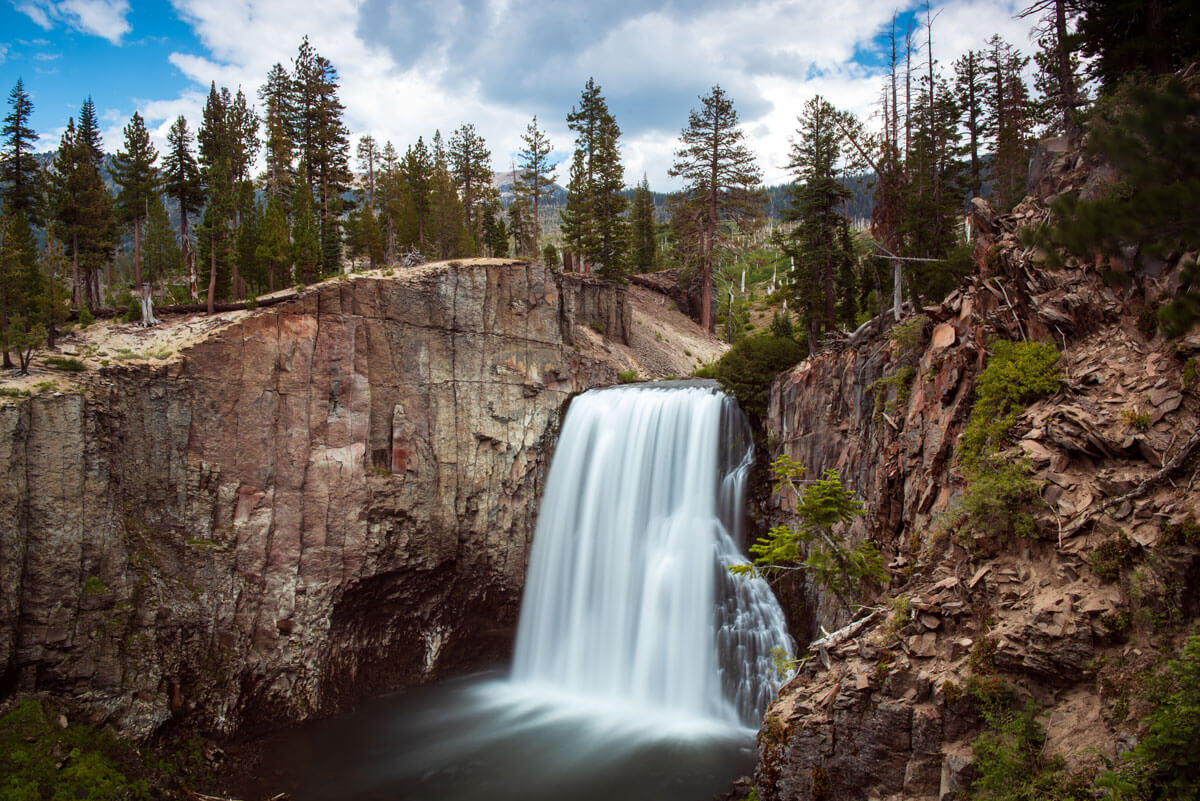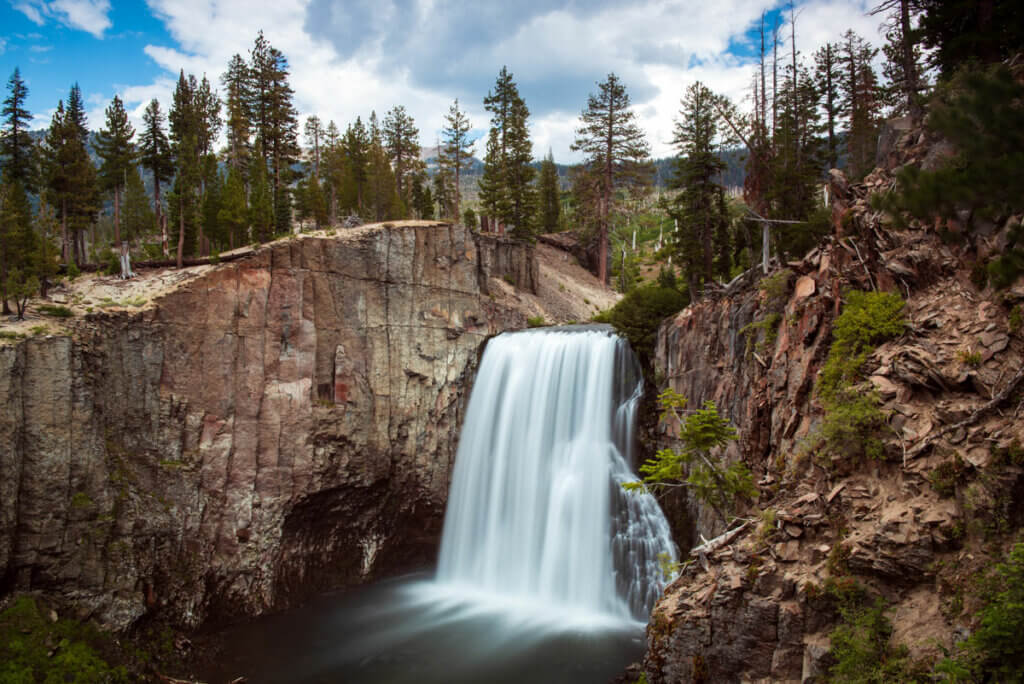 Another great Mammoth Lakes activity that you can easily do while visiting Devil's Postpile is hiking to Rainbow Falls. This is the highest waterfall on the Middle Fork of the San Joaquin River, and it is part of the Devil's Postpile National Monument area.
Standing at 101-feet tall, this spot gets its name from the rainbows that can be seen on sunny days in the mist from the waterfall. If you can get here during mid-day, you'll be rewarded with fantastic views of the rainbows.
To hike here, you will start at the ranger station, it's a 2.5-mile walk to Rainbow Falls, and then you'll have to walk that same distance back.
There are not many shady areas at all, so be prepared to hike in the sun. To get here and then come back, you will need to take the shuttle.
Awe at the Views at Minaret Vista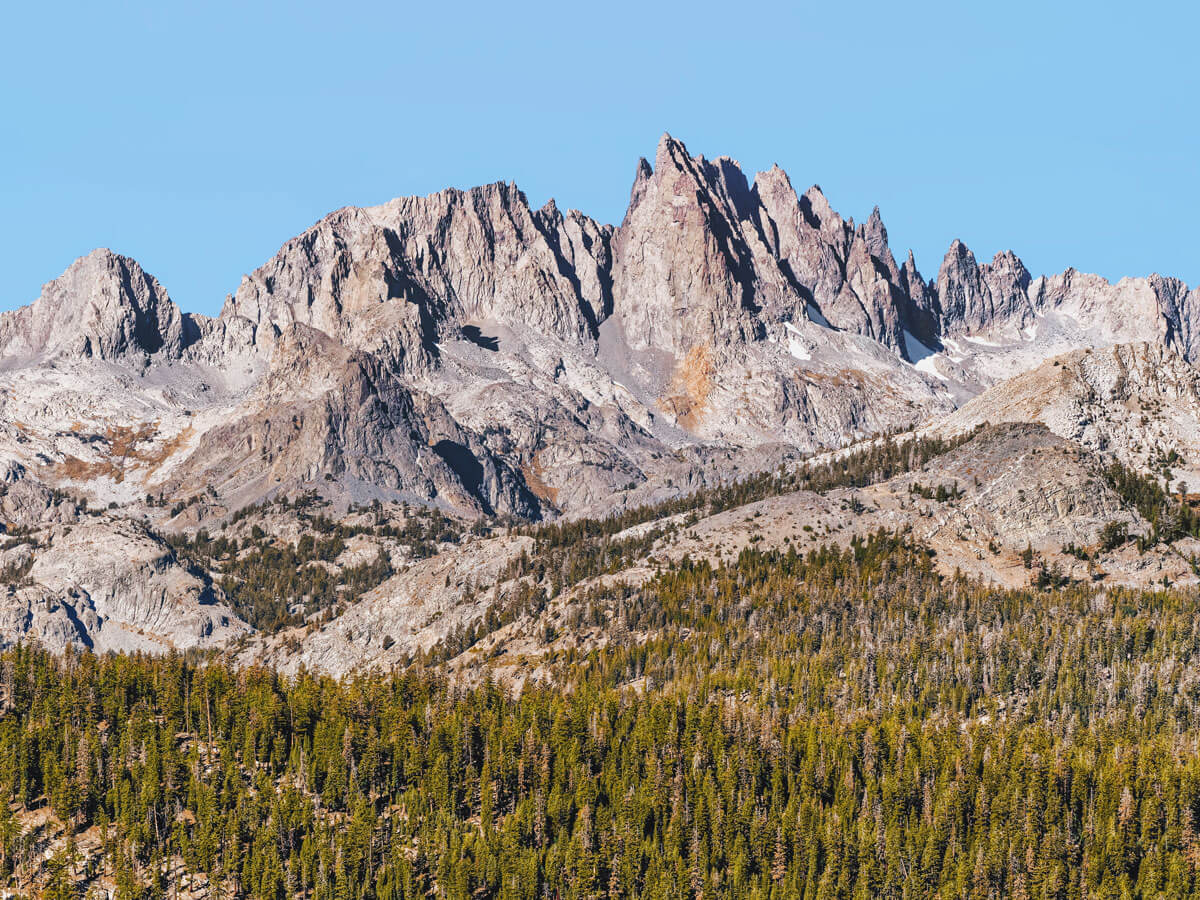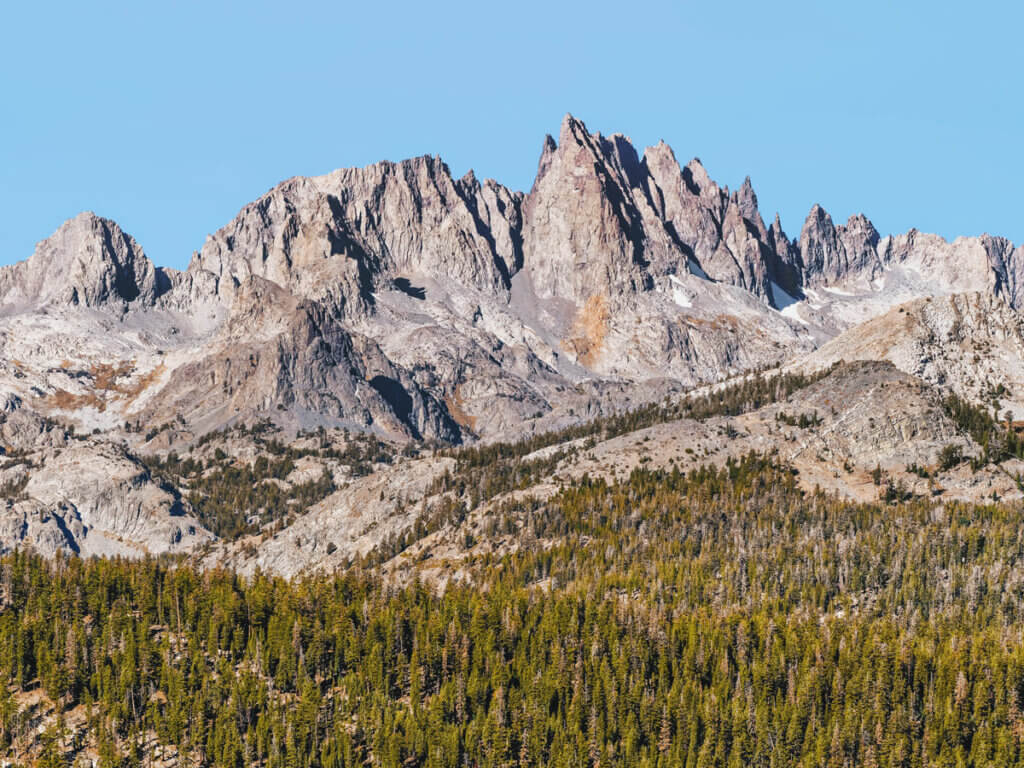 Checking out all the scenic spots is easily one of the best things to do in Mammoth Lakes. Minaret Vista is on San Joaquin Ridge and has views of the upper San Joaquin drainage, which extend from the Junction Bluffs to the Ritter Range.
This includes views of two of the tallest peaks in the mountain range and provides great scenery of Mammoth Lakes' natural and dramatic skyline.
To get here, you can hike the Minaret Vista Trail, which is a 1.2-mile path with an access point at the Mammoth Mountain Ski Area Main Lodge. The trail is open to the public at no fee to use it. A
t Minaret Vista, there are signs and viewing tubes to get better looks, and it is a popular spot for stargazing. This destination is open throughout the year, and during the winter, you can get here by snowmobile, snowshoes, or snow skiing.
Check Out the Inyo Craters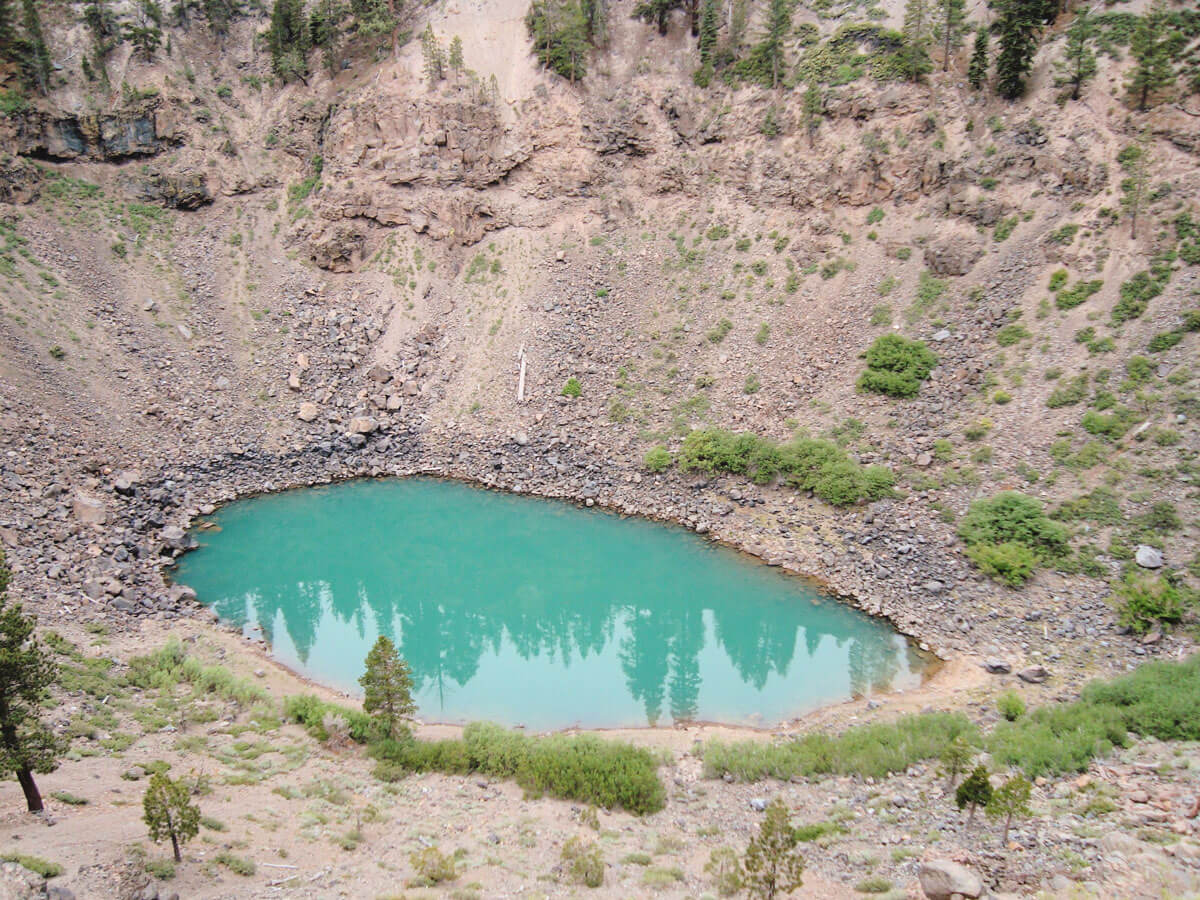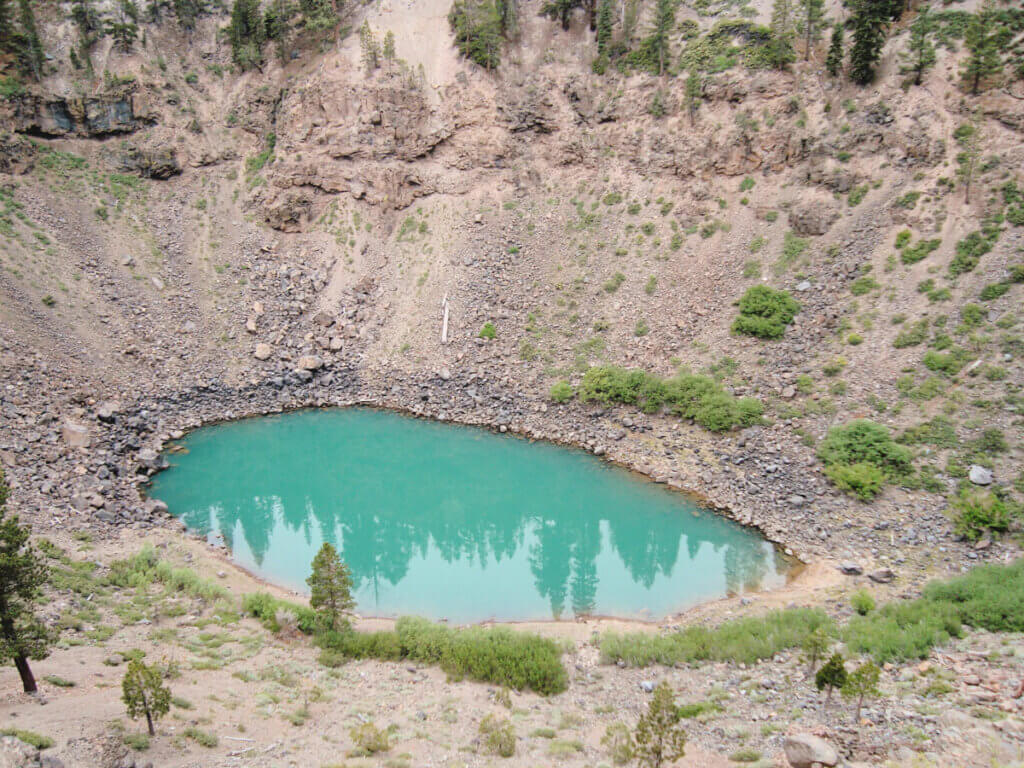 Six hundred years ago, a huge explosion created another natural Mammoth Lakes attraction known as the Inyo Craters. The explosion intensely heated the rock and groundwater, forming empty craters. Today, rainwater and melted snow fill up the craters and they turn into vibrant green pools.
If you enjoy hiking, a great thing to do in Mammoth in summer is to hike to the Inyo Craters. It's almost 1.5 miles roundtrip, much of it uphill, and you'll get to see the craters and peer down 600 feet into these natural wonders.
To check out the Inyo Craters, the parking area to start the hike is three miles north of the Mammoth Scenic Loop.
While summer is a great time to visit, checking out the Inyo Craters is a wonderful thing to do in Mammoth in winter. You'll just need to reach the craters by snowmobile, snow skiing, or snowshoeing.
Convict Lake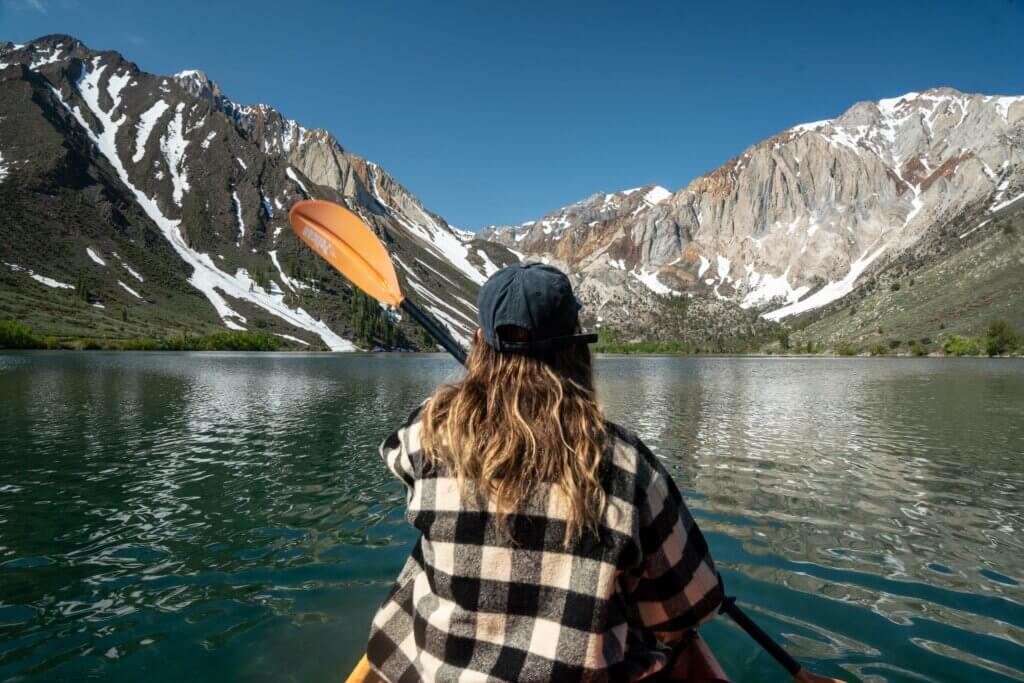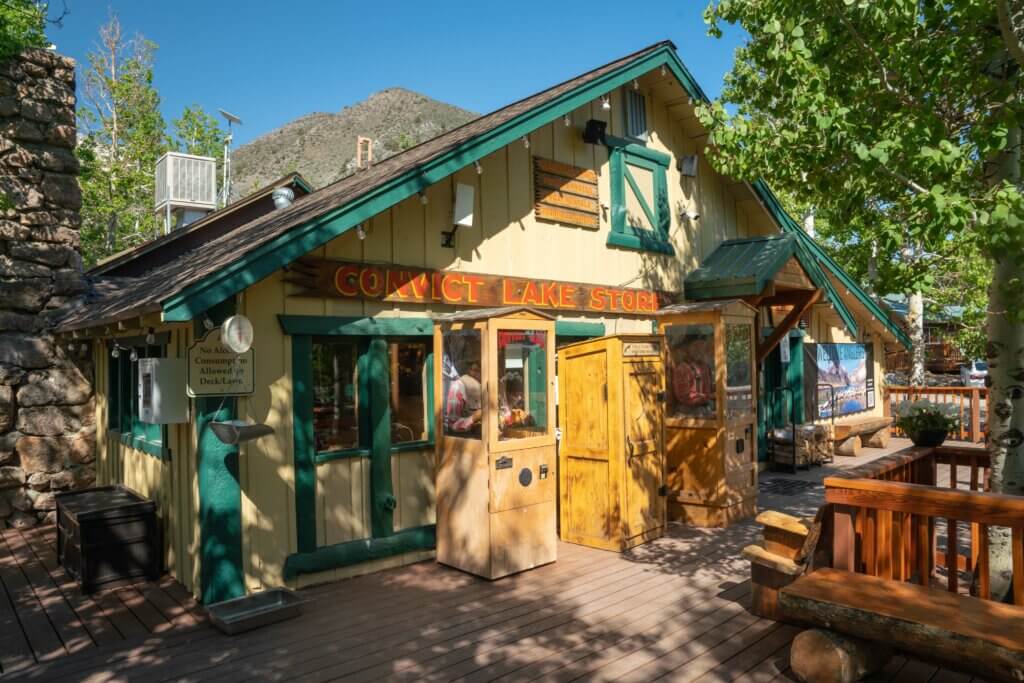 This next Mammoth Lakes attraction is a beautiful spot with a distinctive name and one of the most memorable spots from our trip. Convict Lake is so picture-perfect that it's been featured in television commercials and print advertisements.
So, where does its name come from? There was a dramatic incident here that took place in 1871 when a group of convicts escaped from a prison in Carson City, Nevada. They sought refuge in the Easter Sierra wilderness until the law eventually caught on to where they were hiding and pursued them which lead to a confrontation and shootout.
Convict Lake is great for hiking, fishing, and just enjoying the scenery in general. The water is clear, with a light jewel-tone blue color, and the Sierra Nevada mountains are in the background. If you're going to fish, there are plenty of trout in the lake, and for hiking, there is a three-mile trail that hugs the shoreline of the lake.
You can rent kayaks and paddleboards here too. We rented a tandem kayak and took it to the opposite side of the lake where we were able to beach it and walk around part of the trail. We visited in June and were able to walk on the boardwalk section where the snow melt rushed below us into the lake, which was really cool to experience!
Pay a visit to Convict Lake Resort for their cute general store, which also has some food and even breakfast burritos.
Lake George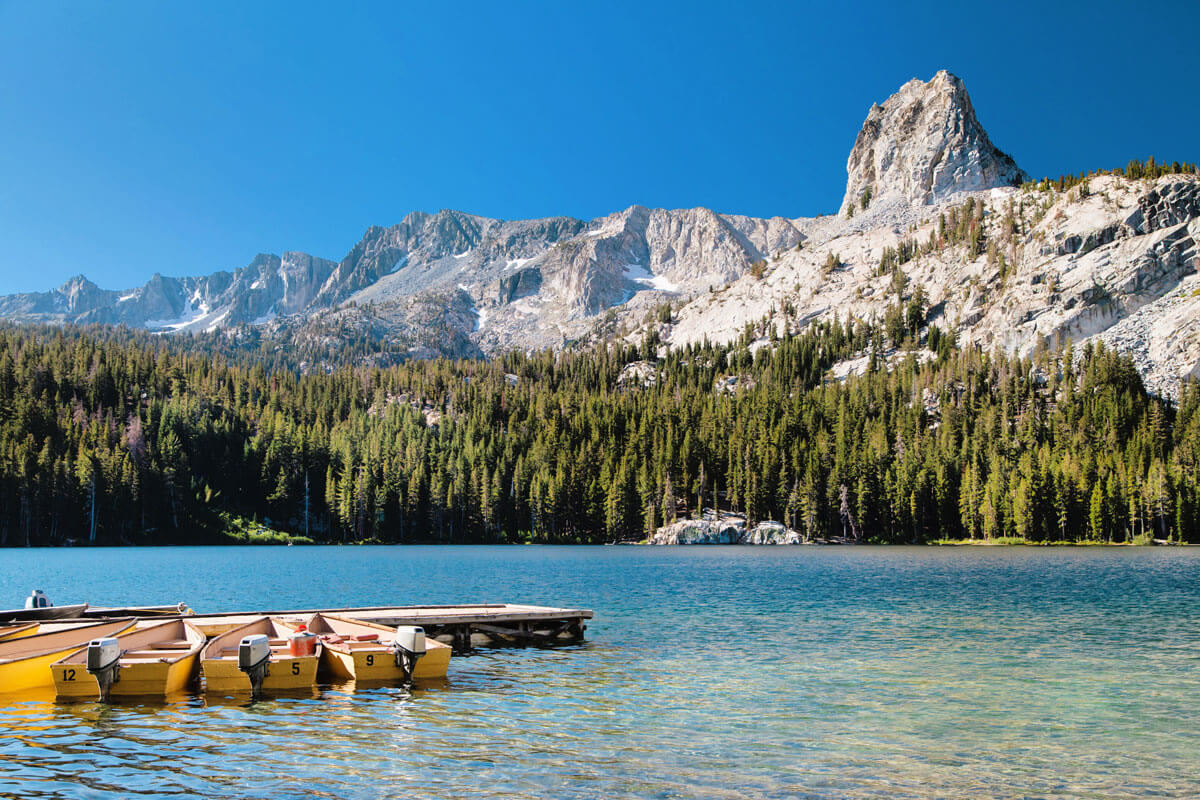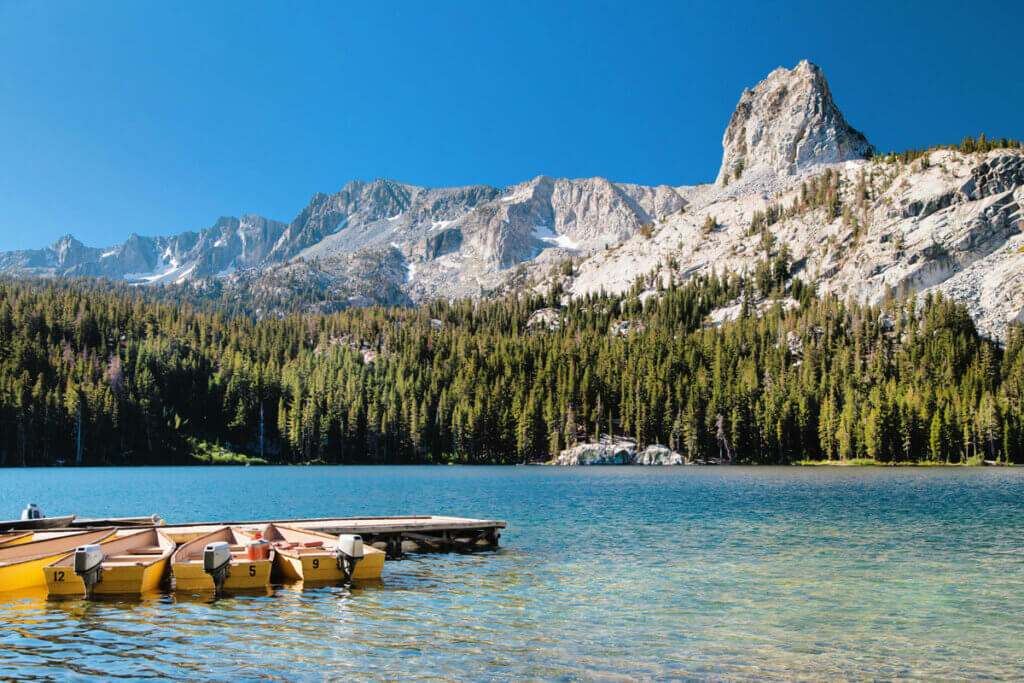 There are plenty of lakes in Mammoth Lakes, so checking out all of these spots are among the best things to do in Mammoth. Lake George is known for being the lake at the highest elevation that can be reached by road in the Lakes Basin.
Coming in at an elevation of 9,000 feet, Lake George is great for camping, hiking, and fishing. Camping is available late June through early September, and available sites are first-come, first-served making it one of the more popular things to do in Mammoth Lakes in summer.
Folks can visit in the winter, but you have to be a bit more adventurous to do so as you can only access Lake George by ski or snowshoes.
As far as fishing goes, there are lots of rainbow trout in the lake's waters. And for hiking, you can actually hike to Crystal Lake and TJ Lake from here.
One trail starts in the parking lot and goes to Crystal Lake, Barrett Lake, and TJ Lake. Another trail goes just to Crystal Lake, and it's just two and a half miles roundtrip.
Additionally, you can kayak and canoe in the pristine alpine water. In the summer, you can visit a modest store at the lake that has boat rentals, tackle, and snacks.
Lake George is open throughout the year, and there is a parking area with bear-proof food storage, numerous picnic and camping sites, cabin rentals, lakeshore and boat dock access, and this parking area is the entry point to several popular trailheads.
Lake Mary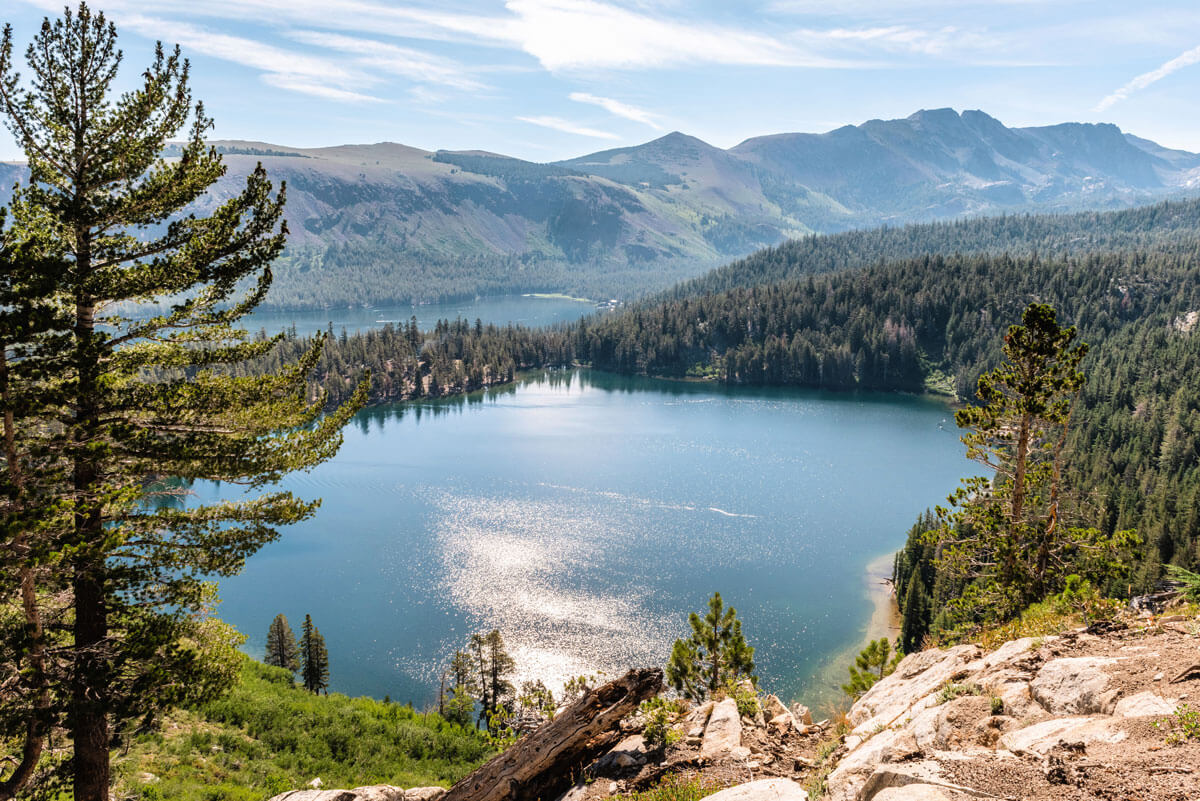 As far as things to do in Mammoth, there are no shortage of lakes to visit. Lake Mary has two Inyo National Forest campgrounds, picnic areas, and fisherman's trails by the lakeside.
The Crystal Crag Lodge on the southwest portion of the lake has cabins for rental. In summer, the Pokonobe Lodge and Lake Mary Marina have boat rentals, fishing tackle, and snacks.
When visiting Lake Mary, be sure to drive the Lake Mary Scenic Road. You can see the Mammoth Lakes Basin and the Valentine Reserve Ecological Study Area. Lake Mary Scenic Road goes for about seven miles, and takes about twenty minutes to complete.
It starts in town at the intersection of Route 203 and Lake Mary Road. Lake Mary is open throughout the year, but the store and marina are only open during the summer.
You can get here by road in summer and by groomed trails in winter for access by snowshoeing and cross-country skiing. During our visit in early June, since there was so much snowfall in the winter, the roads were not clear yet and most visitors were hiking over to Lake Mary from the Twin Lakes area.
Horseshoe Lake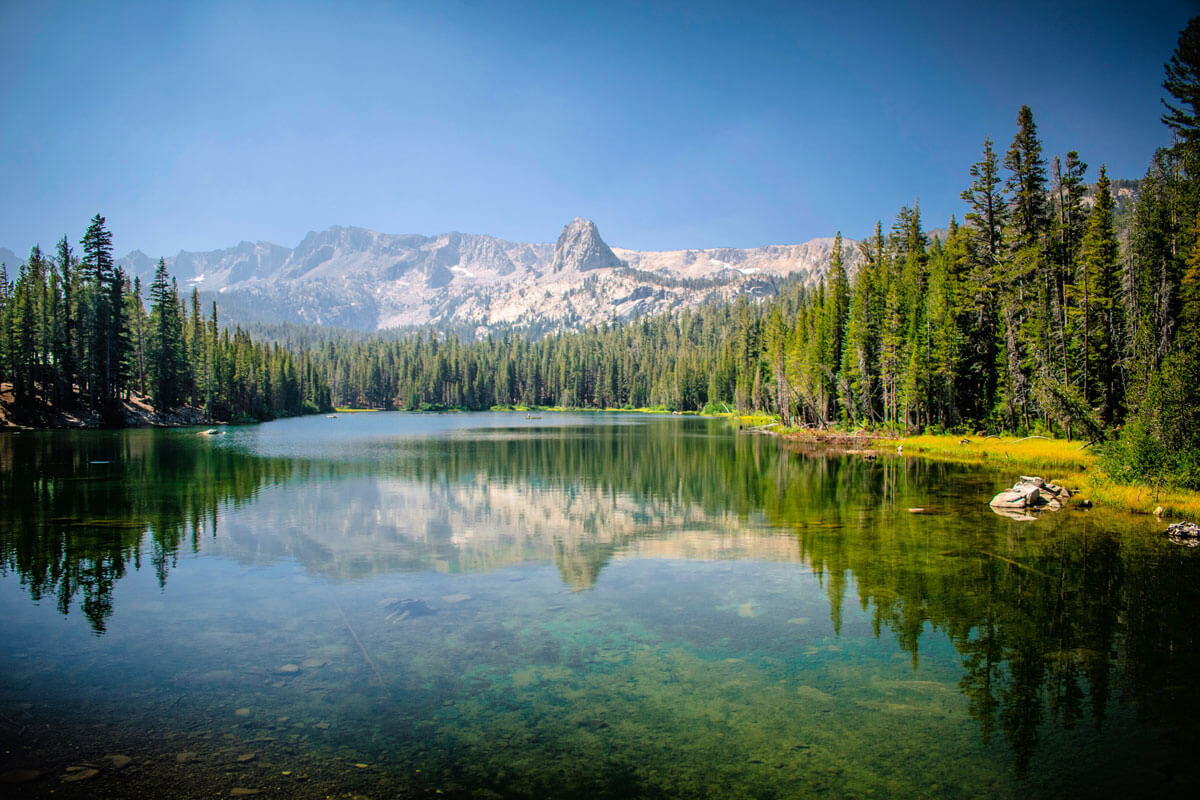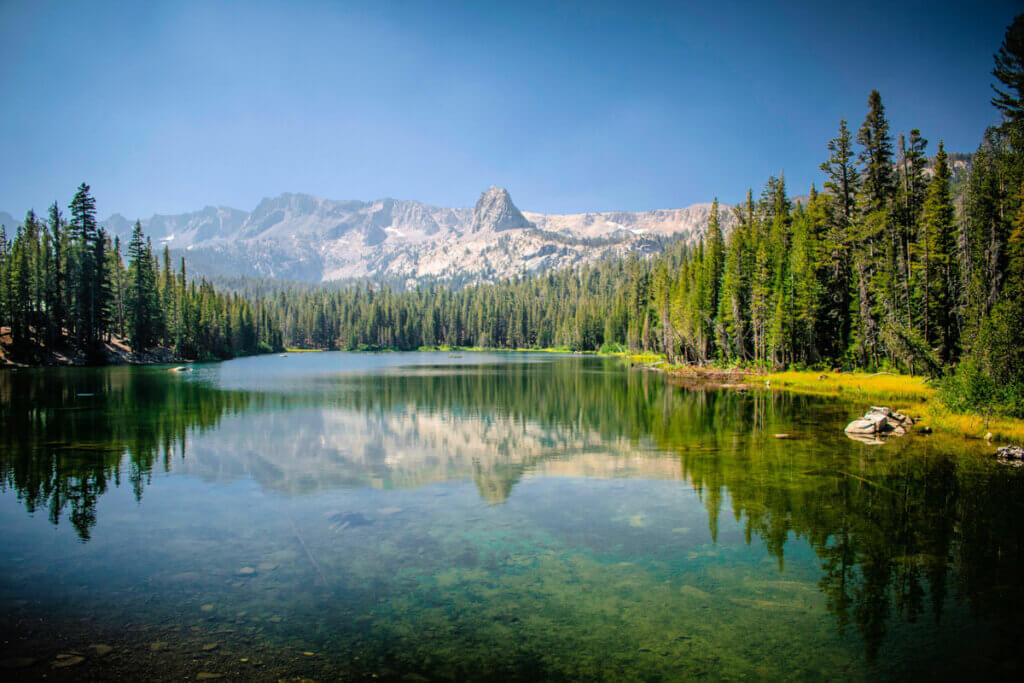 This next spot is the only lake in the Mammoth Lakes basin where swimming is permitted! Horseshoe Lake is great for hiking, mountain biking, and swimming. And since this is the only spot where you can actually feel the crisp water in Mammoth Lakes, this is absolutely one of the best things to do in Mammoth Lakes in the summer months.
For biking, there is a 7-mile loop which is great for just about all levels. And for hiking, the Horseshoe Lake Trail is a pretty easy 1.5-mile path.
Daytime activities here are terrific, but camping is not permitted for a specific reason. Horseshoe Lake is known for the soil around the lake containing a high amount of carbon dioxide. When it trickles out from the soil, the carbon dioxide kills trees and can be threatening to humans.
But again, spending an afternoon here is all good, you just want to pay attention to any signs or closures, which should be posted and you'll want to stay on designated areas or trails during your visit.
Horseshoe Lake is close to Mammoth Mountain ski resort, in the Mammoth Lakes Basin. From the Lake Mary Junction, Horseshoe Lake is a mile and a quarter to the west.
Lake Mamie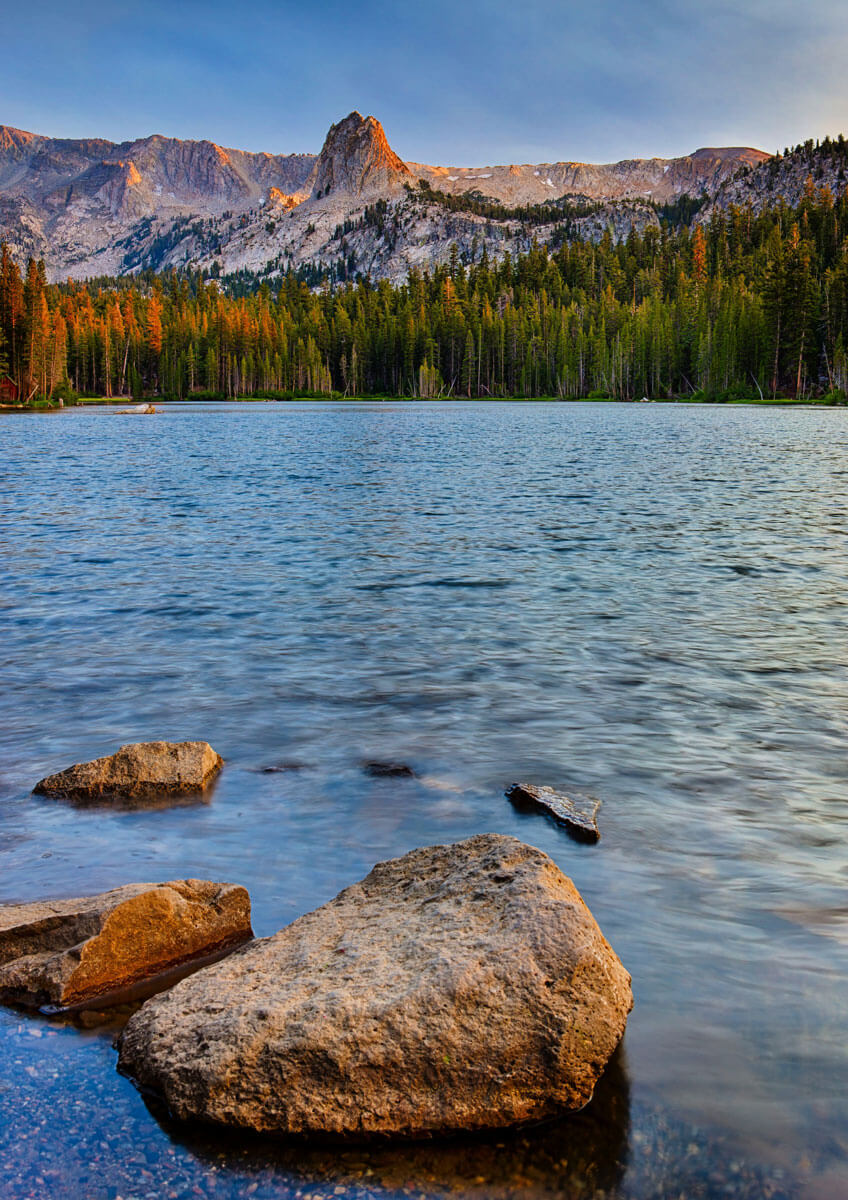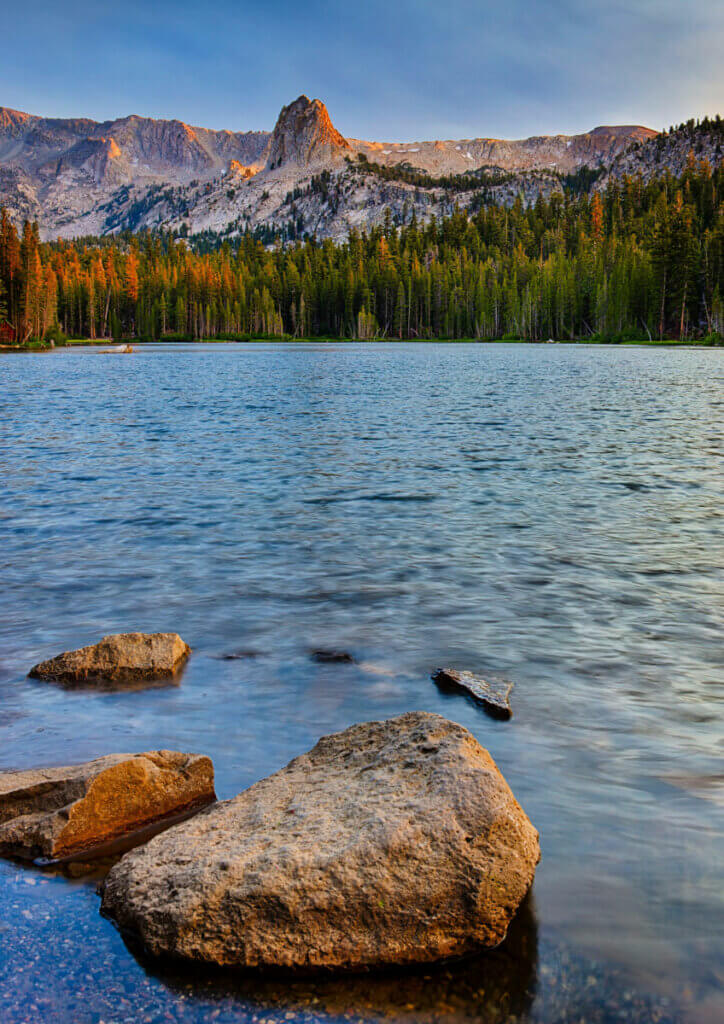 Between Lake Mary and Horseshoe Lake, downstream from Lake Mary, is Lake Mami. This Mammoth Lake attraction is on the smaller side, at 19 acres, but its smaller size gives it a comfortable feel.
This is an ideal spot for fishing and boating, and enjoying a picnic. There are picnic areas throughout Lake Mary Road and the Lakes Basin Path, and these spots provide views of Mammoth Mountain and the spillway to Twin Lakes.
In the summer, be sure to check out Wildyrie Lodge, which has cabin rentals, boat rentals, tackle, and snacks. Scoping out Lake Mamie is a perfectly casual thing to do in Mammoth Lakes for a calm few hours.
Twin Lakes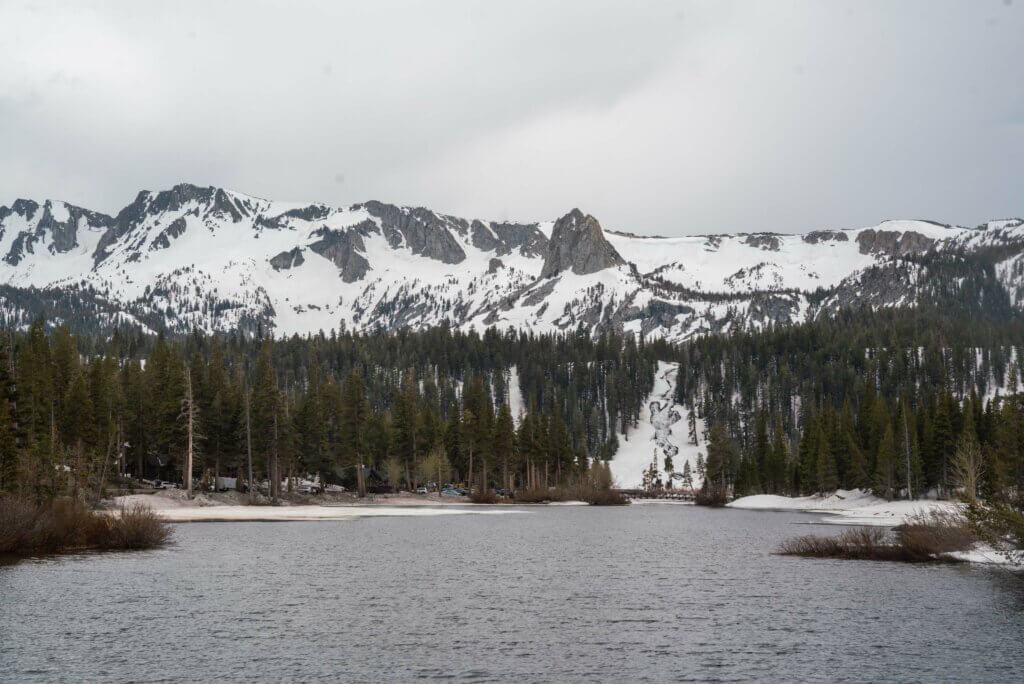 As the name suggests, this is a set of twin alpine lakes in Mono County, outside of Bridgeport. Referred to as "Upper Twin" and "Lower Twin", Upper Twin covers almost 400 acres, and Lower Twin covers over 250 acres.
Twin Lakes runs along the Sawtooth Ridge and Sierra Crest, and activities to do here include fishing, boating, and camping. Twin Lakes basin is excellent for trout fishing, and there are several options for camping and cabin rentals.
Make sure to check out Twin Lakes Vista, which is a roadside viewpoint with interpretative signs from which you can see Twin Lakes, Twin Falls, Mammoth Crest, Mammoth Creek drainage, and Long Valley Caldera.
Another distinctive spot is known as "Hole in the Wall", which is part of Lower Twin. A long time ago, lava flowed down the rock and once it cooled, it carved out what can best be described as a "hole in the wall". This is a popular spot for backcountry skiing, and in the summer you can walk and get a look at this unique formation.
Accessibility is great here, as it's easy to park and walk around. From Highway 395, drive for 10 miles on Twin Lakes Road, and you will reach the beginning point of the Twin Lakes Basin. Spending time scoping out everything at Twin Lakes is one of those Mammoth Lakes activities that you should include on your itinerary.
This is also an easy place to e-bike too if you have extra time on your rental from the Town Loop! Then you can end right at Mammoth Brewing Company before returning back to Footloose Sports!
McLeod Lake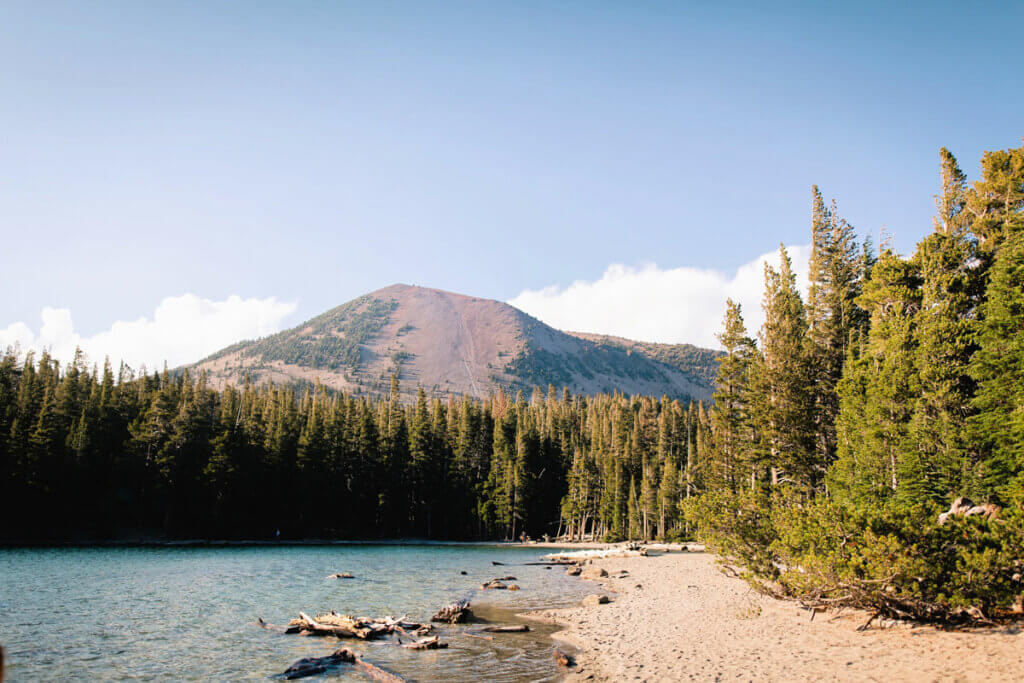 Perhaps the closest you will get to an easy beach-like setting in Mammoth Lakes is at McLeod Lake. A great thing to do in Mammoth in the summer, McLeod Lake has sandy beaches and lots of sunny areas to explore.
There are views of the backside of Mammoth Mountain, as well as Mammoth Crest. The McLeod Lake Trail is a terrific, easy trail that goes for almost two miles and should take about an hour to finish.
McLeod Lake is just a modest distance from Horseshoe Lake's parking area, so you could definitely spend an afternoon hitting up Horseshoe Lake and McLeod Lake.
Drive Along the June Lake Loop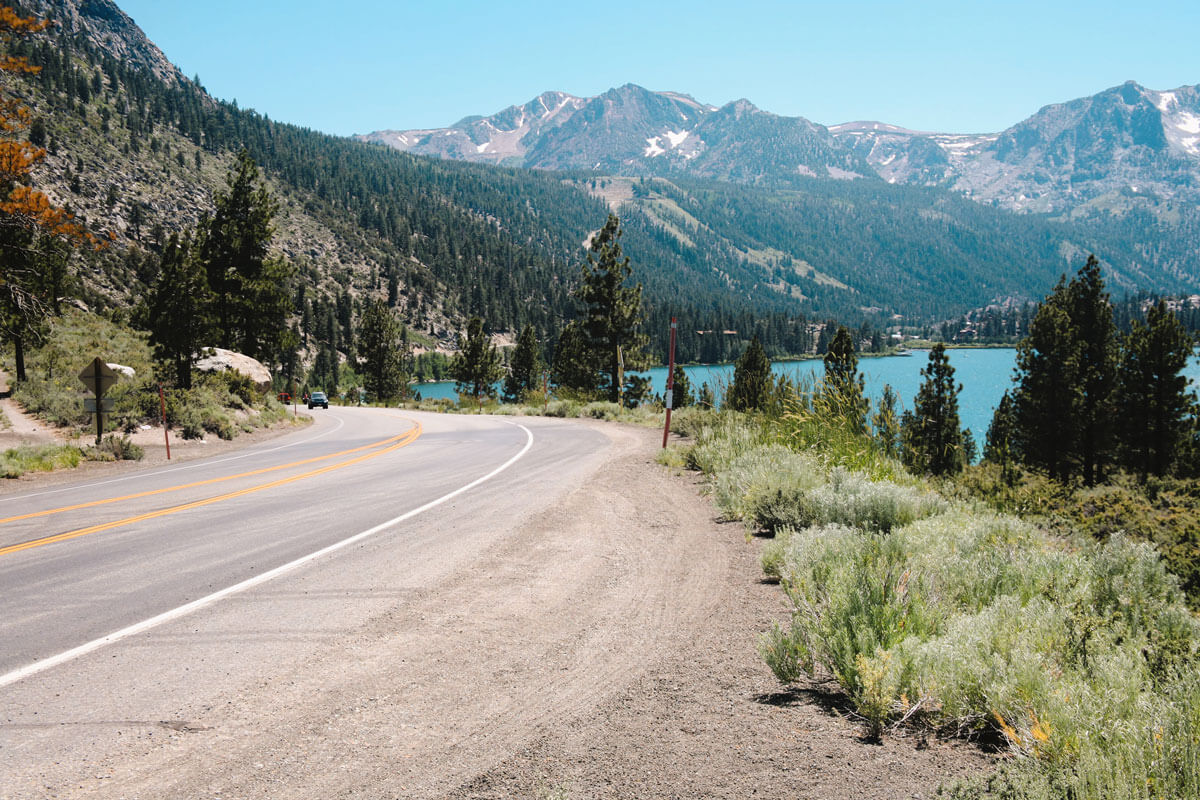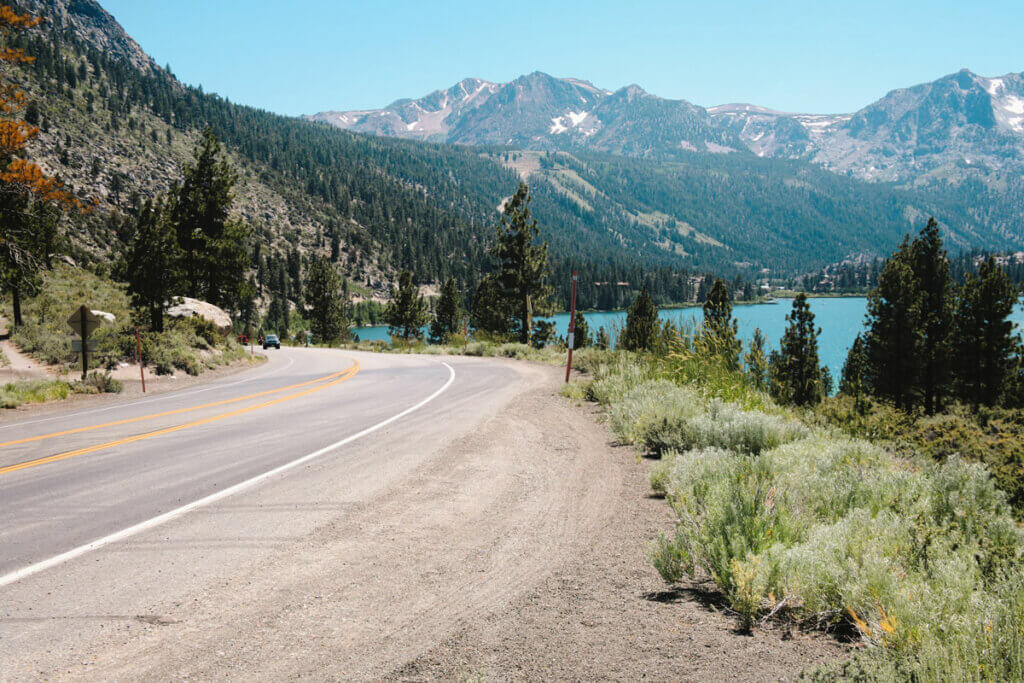 Among the top things to do in Mammoth Lakes is taking a drive along the June Lake Loop. Starting at Mammoth Lakes, you will go north on Highway 395 to State 158, and then travel west towards June Lake.
Spanning about 15 miles, this road makes twists by the pristine glacial lakes in this area, marked by the mountain peaks in the distance. No matter what season you drive this route, the scenery will be gorgeous.
June Lake itself expands across 320 acres, and activities to do here include fishing, hiking, canoeing, kayaking, sailing, and picnicking.
At the end of a fun day, head over to June Lake Brewing for a local beer and offerings from food trucks. This is even a great thing to do in Mammoth in winter, because you can even hit the slopes.
Marvel at the Geological Formations at Mono Lake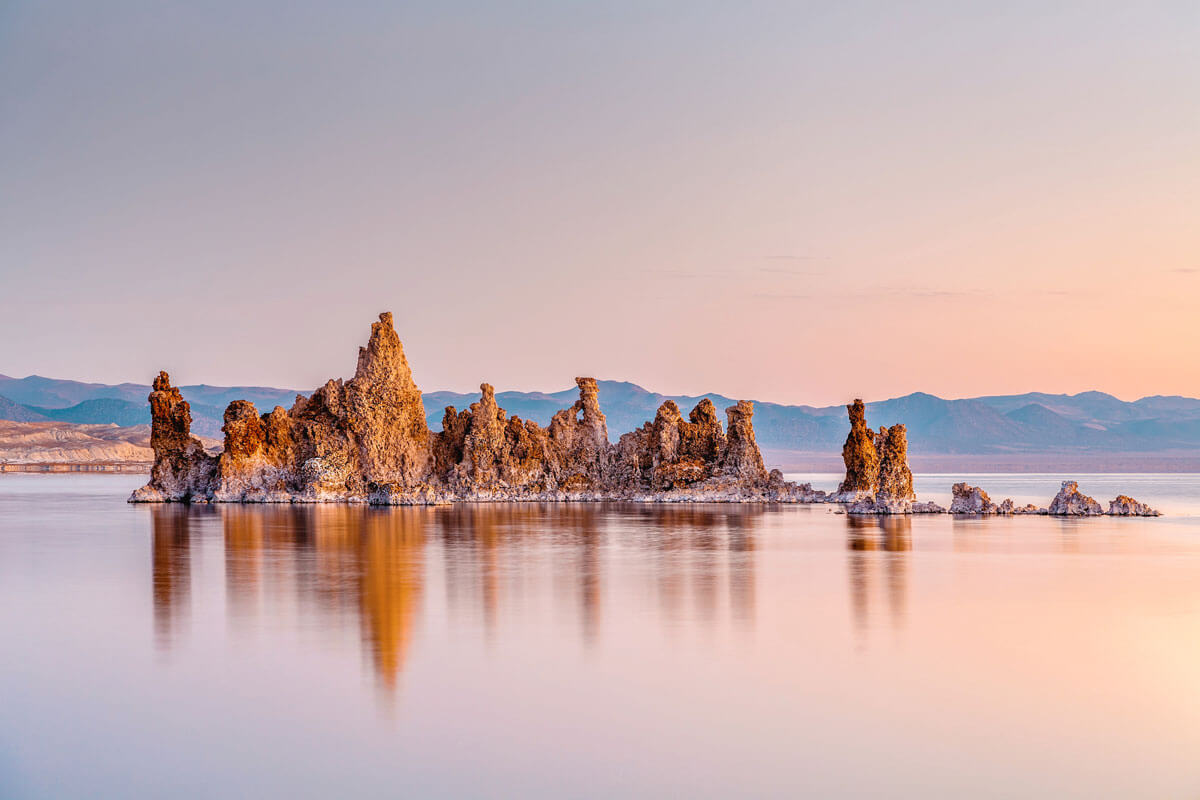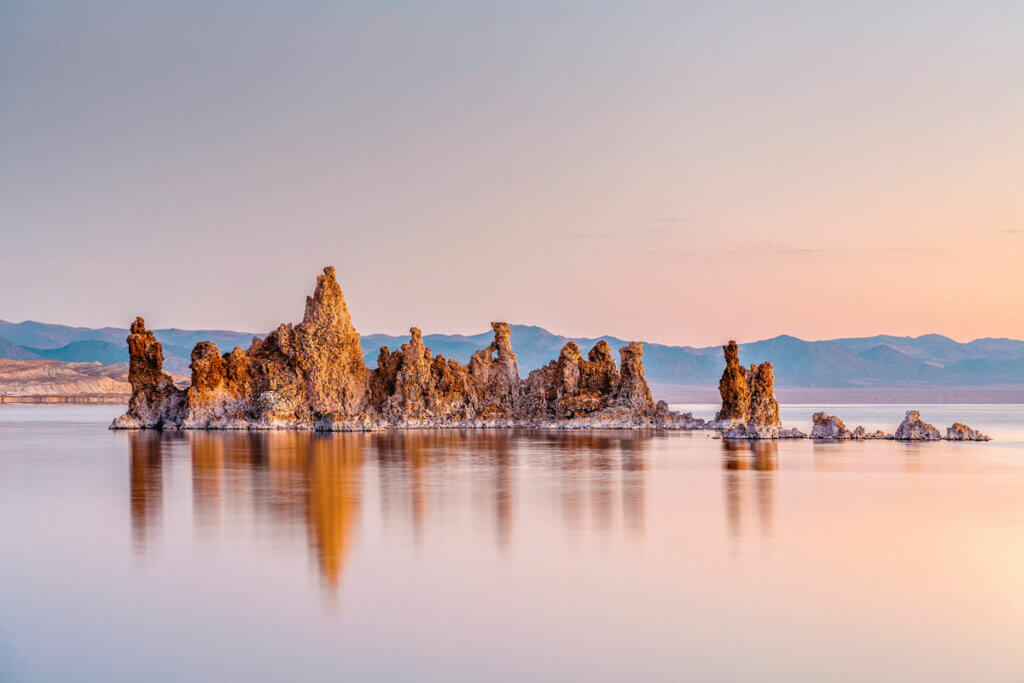 In addition to Mammoth Lakes, this is one of the coolest places to visit in Northern California as far as natural wonders go.
Mono Lake is one of the Western Hemisphere's oldest lakes, and scattered throughout the lake are mystical-looking natural creations that look like they belong underwater but have crept up and burst through the surface.
Known as "tufa towers", these are mineral structures that are the outcome of fresh-water springs bubbling up through the lake's alkaline waters. This is an interesting and fun thing to do in Mammoth since it's a short drive away and this type of natural wonder is really special and hard to find.
For what you can do here, hop in a kayak and paddle around the lake to get a closer look at the tufa towers. Birdwatching is also a great activity, since the lake has tons of shrimp due to the salty water which birds flock to. There are hiking and interpretative trails to check out as well.
Be sure to also check out the Mono Basin Scenic Area Visitor Center for more trails and information, plus there are bathrooms here.
Mono Lake is located in nearby Lee Vining, and from Highway 395, it's about a half-hour drive from Mammoth Lakes.
See Hot Creek Geological Site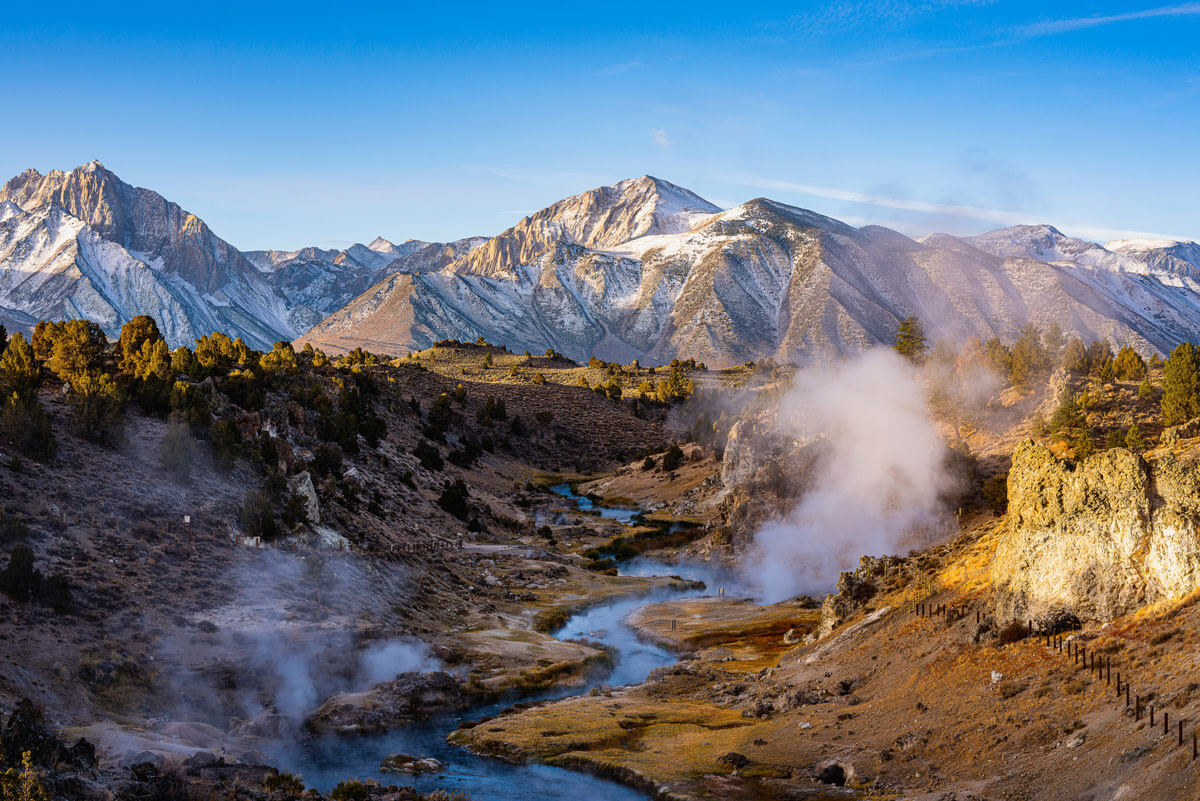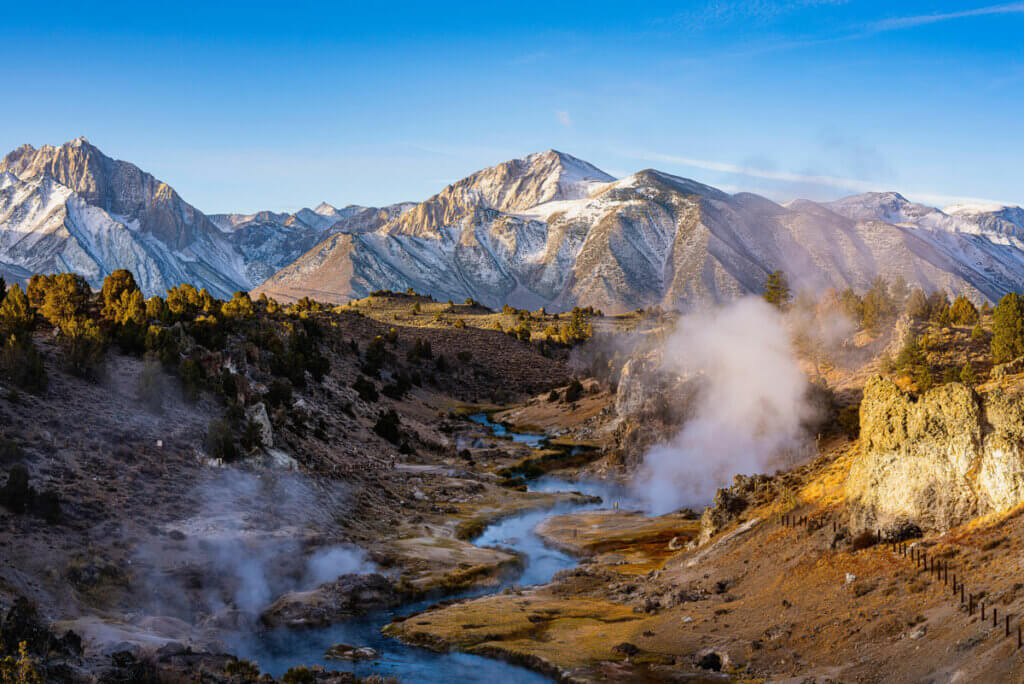 Another one of the coolest things to see in Mammoth is another natural wonder! There is a reason the next place is named the Hot Creek Geological Site. Dozens of natural hot springs, against the backdrop of the peaks of the Eastern Sierra Mountains, are located at this Mammoth Lakes attraction that reminds us of Yellowstone National Park!
This is an active site, where there is boiling water fizzing from the creek bed, fumaroles, and spontaneous eruptions from the geyser.
Additionally, there is a collection of hot magma about three miles beneath the earth's surface. Watch out for the steam along the Hot Creek drainage.
Activities to do here include bicycling, hiking, nature viewing, and picnicking. Plus, an interpretative site to explore.
Also, winter sports that you can do at Hot Creek Geological Site include snowmobiling, snowshoeing, and cross-country skiing.
Note that swimming and fishing, really just entering the water at all, is strictly prohibited.
This destination is open from sunrise to sunset, and it's accessible during the majority of the year. From the parking area, there is a trail to follow that takes you by the hot springs and interpretative site. Hot Creek Geological Site is about a 5-mile drive off of Highway 395 using paved and gravel roads.
Witness the Crowley Lake Stone Columns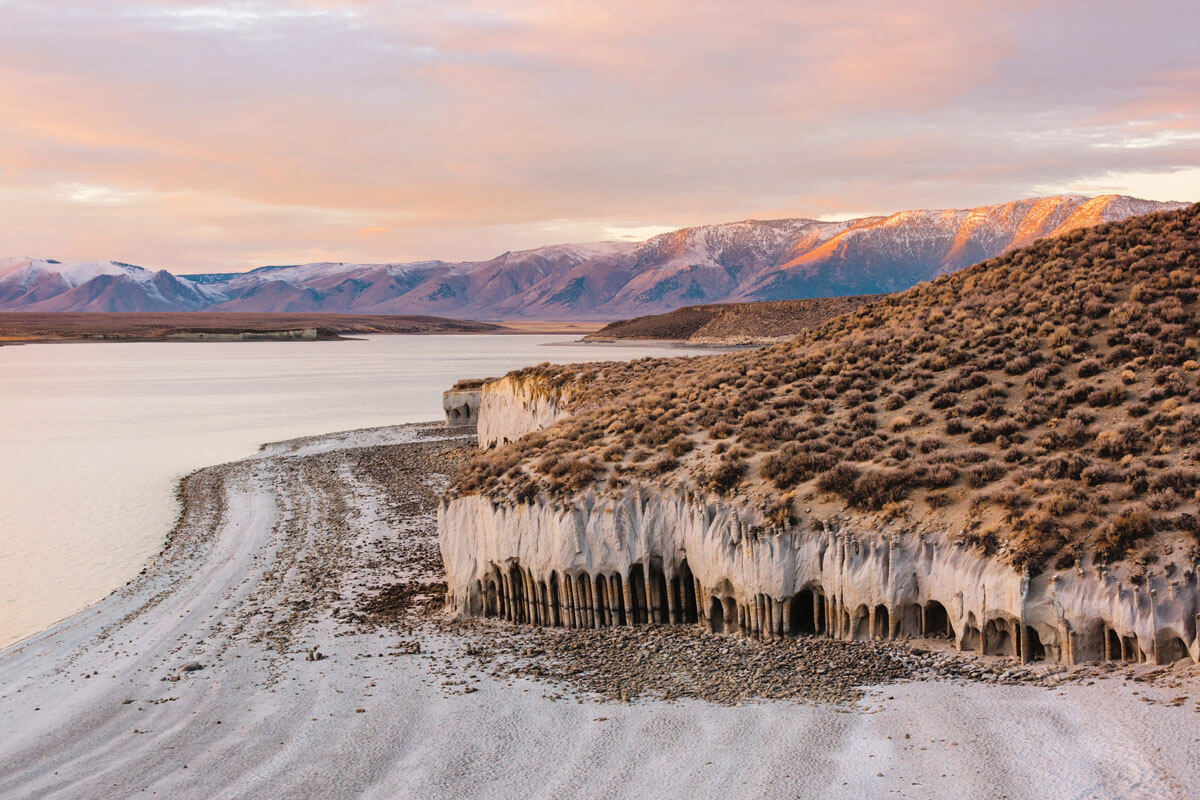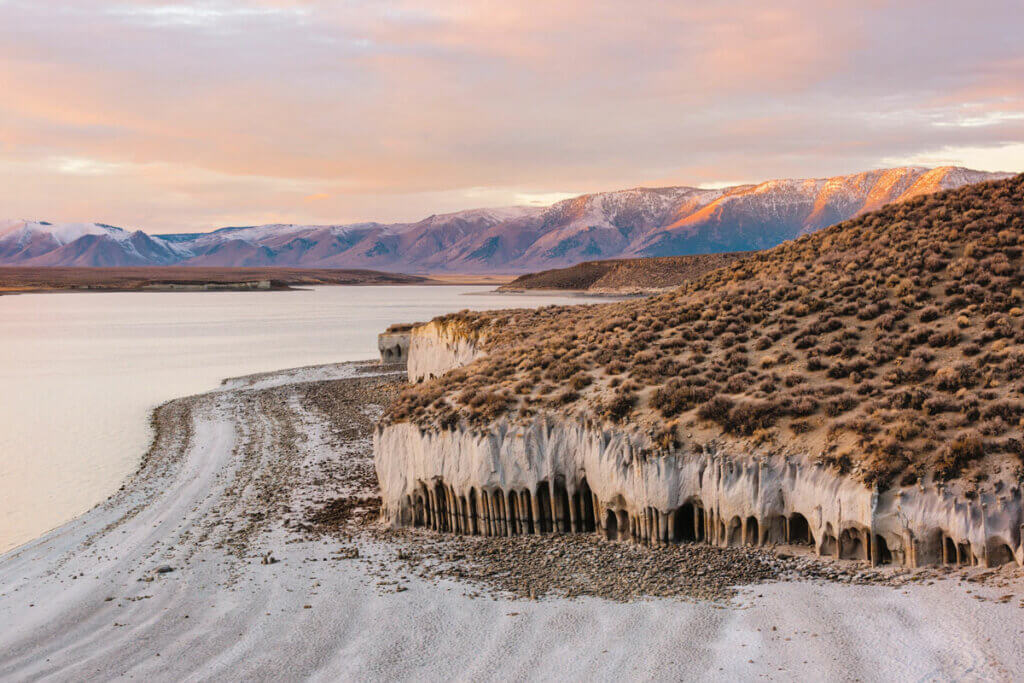 The next unique thing to do in Mammoth is yet another natural wonder located at a lake! The Crowley Lake Stone Columns are unique and super cool-looking column rock formations on the shore. It's believed that these rock formations were created by a volcanic explosion thousands of years ago.
Looking at the formation, the top is light sandy-colored solid rock, and moving downwards it turns into creamy off-white skinny spindles of stacked rocks.
You can visit this interesting geological spectacle, and get close enough to touch the columns and check out the caves behind them. However, note that getting here is difficult. Water levels may not permit visitation. If you are attempting to get here by car, it must have 4WD or AWD.
From the first parking area, it's an almost two-mile hike each way to get to the Crowley Lake Stone Columns. If attempting to hike here, it's an added two miles there and added two miles back. To get here, on Highway 395, this landmark can be found off the eastern shore of Crowley Lake.
Visit the Earthquake Fault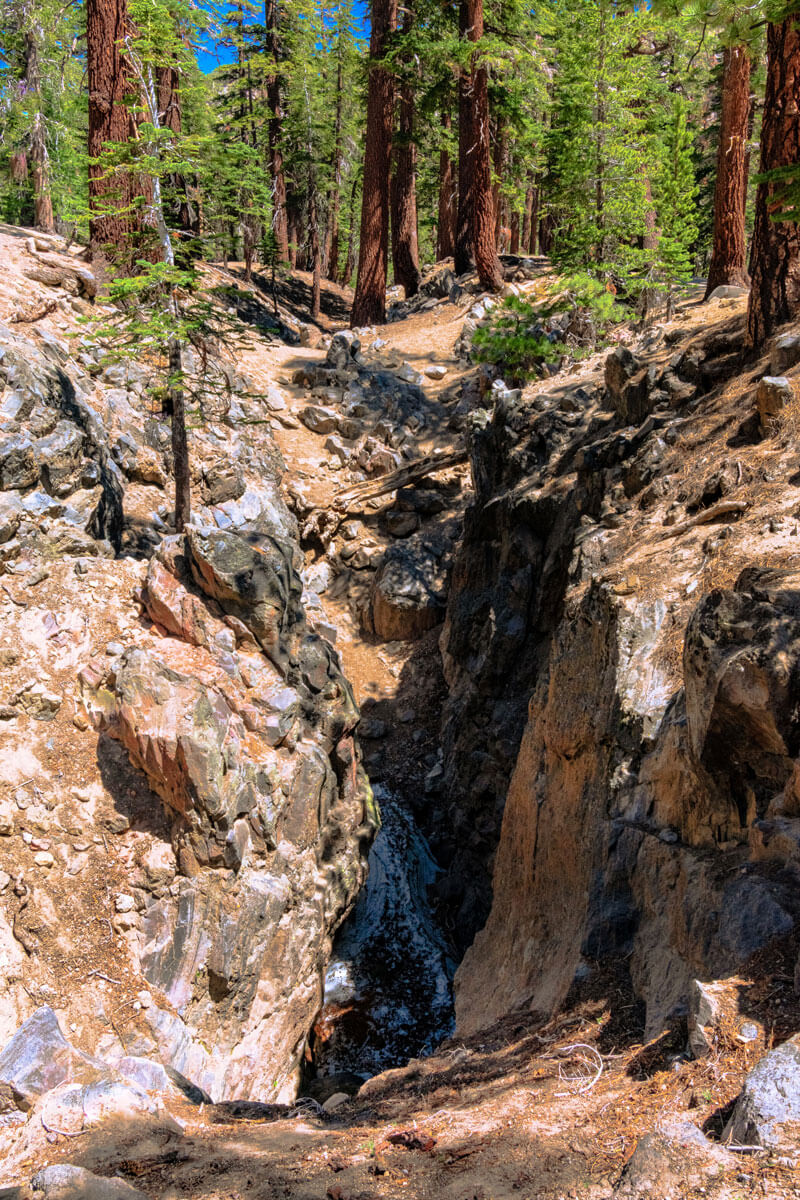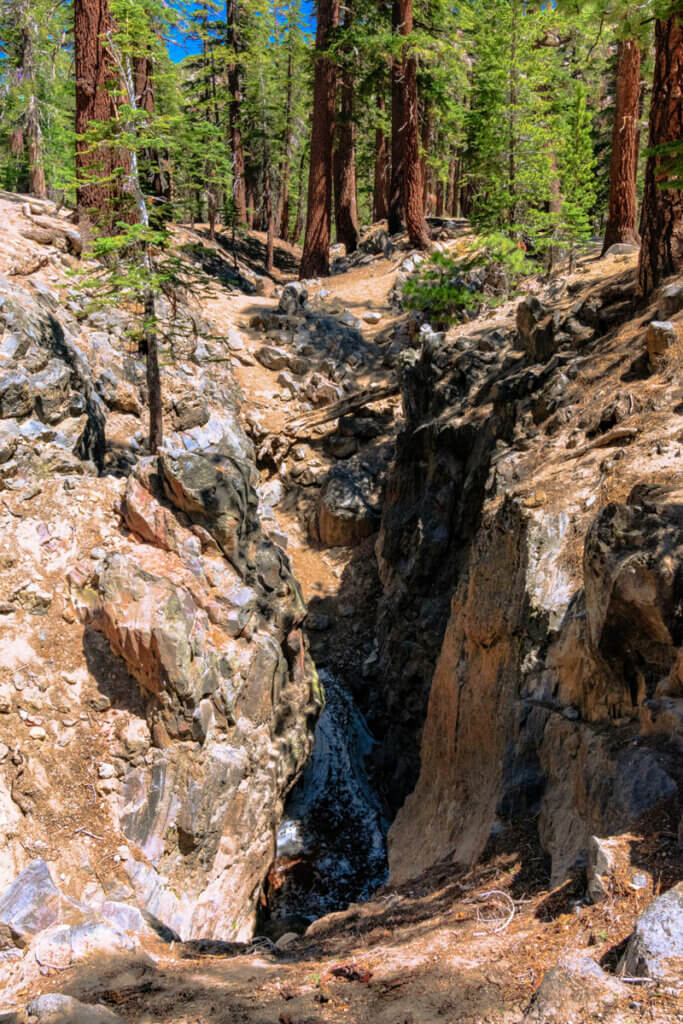 As you've probably noticed by now, there are many fun things to do in Mammoth related to scoping out natural landmarks, and one that should not be missed is the Earthquake Fault.
This is a massive fracture in volcanic rock that showcases the power of natural geological events. It's estimated that this fissure developed about 600 years ago, spurred by one of the Inyo/Mono craters. It has a length of several hundred feet, and depth of up to 60 feet.
There is an Earthquake Fault interpretative area to check out, which is a 0.3-mile self-guided hiking trail with signage along the trail to provide insight into the surroundings. While traversing the path, you will see old-growth red fir, Jeffrey pine, and lodgepole pine.
It is located at the bottom of Mammoth Mountain, in the foothills. From downtown, it is just a handful of minutes away.
Skate or Spectate at Volcom Brothers Skate Park
Taking a little detour from all of the natural beauty of Mammoth Lakes, if you enjoy watching or participating in popular board sport activities, be sure to check out the Volcom Brothers Skate Park.
Featuring a 40,000 square foot giant cradle that includes a burnside wall, humps, lumps, and a big wall, there is lots of space and different features, perfect for those just starting to learn or those more experienced.
The energy is great here, and this is a fantastic thing to do in Mammoth to take a break from hitting up all of the lakes and geological formations around.
Volcom Brothers is located in Trails End Park, and it is open from sunrise to sunset from May through the end of October, as long as the weather conditions are agreeable. There are no bikes allowed, only skateboards and in-line skates, and helmets and pads are mandatory.
There is parking and restrooms available when the park is open, and there's also a playground nearby.
Learn at the Mammoth Museum
A fun thing to do in Mammoth to learn about the history of the town is to explore the Mammoth Museum at the Hayden Cabin. Here, you can check out historical exhibits about the town and area, housed in a log cabin that was built about a century ago.
The cabin was built by locals Emmett and Margaret Hayden almost a century ago. Emmett Hayden was a map-maker and created maps of the area, so visitors could get an idea of where they could fish and hunt. The cabin was used as a lodge for hunting and fishing, and multiple rooms were rented out.
Today, the cabin is available as a venue for weddings and other events, in addition to being the town's museum. The exhibits here cover topics like Native American history, the gold rush period, and Mammoth City, Mammoth Mountain, and the town as it is today.
The museum is located by Mammoth Creek, and it is only open from Memorial Day Weekend through the end of September. Entry is free, and donations are welcome.
For a fun afternoon activity, explore the museum, then enjoy a picnic just outside the cabin. Spending a couple of hours at the museum is a great Mammoth Lakes activity to get a deeper understanding of the town and its history.
Enjoy a Drive Along Mammoth Scenic Loop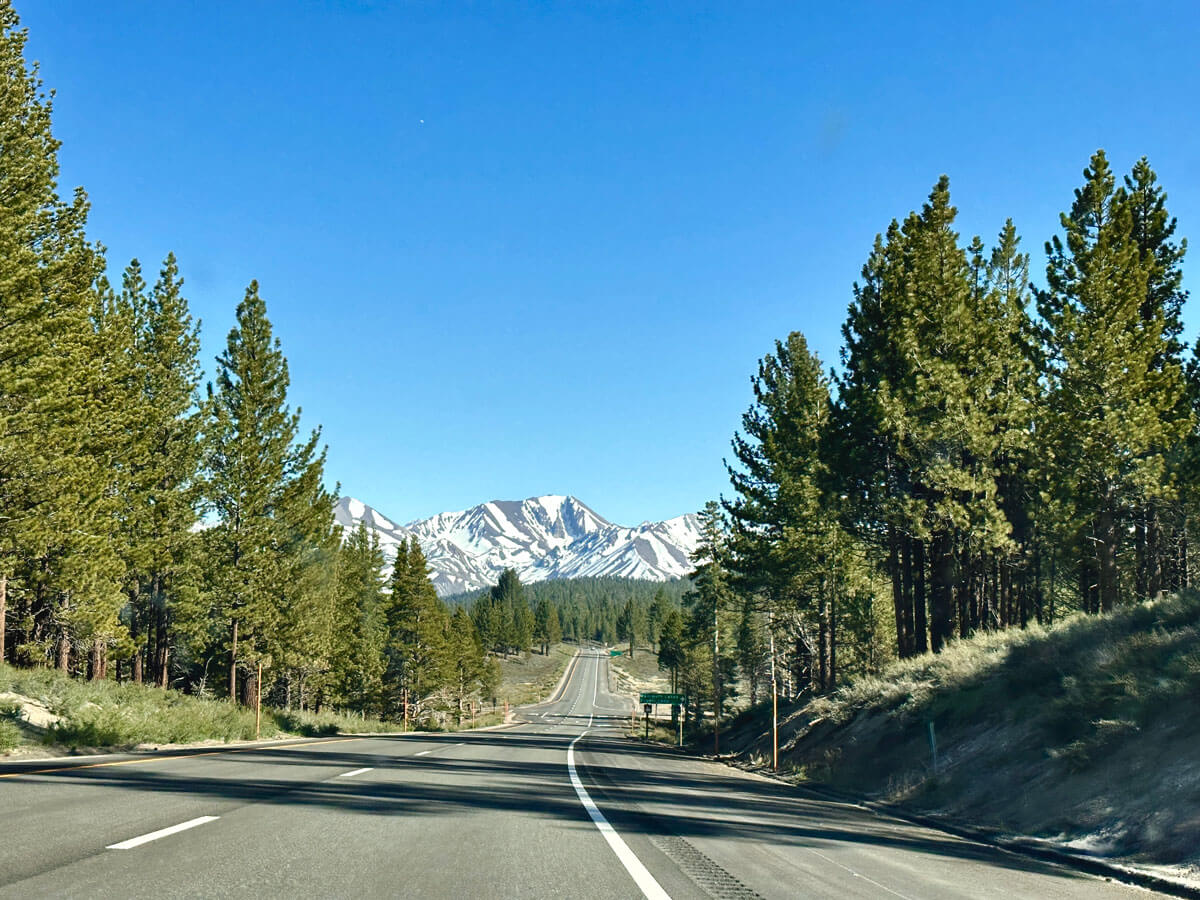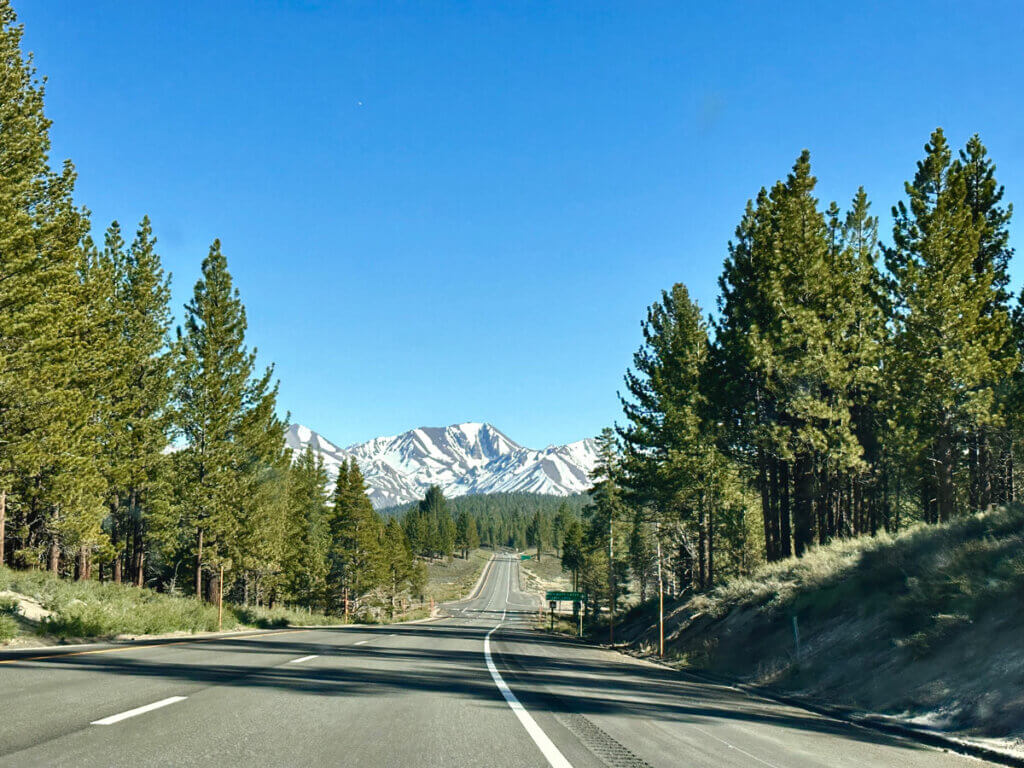 Sometimes, enjoying the scenery from the comfort of your car is the way to go. For a "quiet" thing to do in Mammoth Lakes, get in the car and take a scenic drive on the Mammoth Scenic Loop.
This road takes you by spots like the Inyo Craters, and through a forest of Jeffrey Pine trees. For those who like to cycle on the road, this is a great place to hop on your bike and get going.
To take this road, you will start in the north end of town, off of Highway 203. There is a turn to take onto Mammoth Scenic Loop, and then you can sit back, relax, and enjoy the scenic drive.
Where to Stay in Mammoth Lakes
The Westin Monache Resort is an ideal place to stay during your time at Mammoth Lakes! Located in the heart of The Village at Mammoth, you're within walking distance to plenty of great restaurants, bars, and shops as well as access to The Mammoth Village Gondola which provides direct access to the Main Lodge at Mammoth Mountain Ski Area.
The property is beautiful and rooms have mountain or village views. Kitchenettes are available in suites and studios, which is great if you're looking to have a little home away from home.
The resort fee also includes a shuttle transfer to and from the Mammoth Yosemite Airport. Book here.
---
How many days do you need at Mammoth Lakes, California?
To fully experience Mammoth Lakes, California, 3 to 5 days is recommended. This allows time for outdoor adventures like hiking and skiing, exploring natural attractions, and enjoying the town.
What is Mammoth Lakes, California known for?
Mammoth Lakes, California, is renowned for its exceptional outdoor recreational opportunities, including world-class skiing and snowboarding in the winter and hiking, fishing, and mountain biking in the summer, all set against the backdrop of stunning mountain landscapes and natural beauty.
When is the best time to visit Mammoth Lakes?
The best time to visit Mammoth Lakes, California, depends on your interests. Winter offers superb skiing, while summer is ideal for hiking and outdoor activities. Fall showcases vibrant foliage, and spring offers fewer crowds for peaceful exploration.
Is Mammoth Mountain open year-round?
Mammoth Mountain typically operates year-round, offering skiing and snowboarding in the winter and mountain biking, hiking, and other activities in the summer. However, specific opening and closing dates may vary depending on snowfall and weather conditions.
Can you enter Yosemite from Mammoth?
Yes, you can enter Yosemite National Park from the Mammoth Lakes area. The eastern entrance via Tioga Pass (CA-120) provides access to the park, but the road is typically open only seasonally, from late spring to early fall, due to snowfall at high elevations.
Best Things to do in Mammoth Lakes (Post Summary):
Bike the Town Loop
Visit the Natural Hot Springs
Hit the Slopes
Shop and Dine in the Village at Mammoth
Take a Scenic Gondola Ride
Have a Beer at Mammoth Brewing Company
Devil's Postpile National Monument
Hike to Rainbow Falls
Awe at the Views at Minaret Vista
Check out the Inyo Craters
Convict Lake
Lake George
Horseshoe Lake
Mamie Lake
Twin Lakes
McLeod Lake
Drive Along the June Lake Loop
Marvel at the Geological Formations at Mono Lake
See Hot Creek Geological Site
Visit the Crowley Lake Stone Columns
Visit the Earthquake Fault
Skate or Spectate at Volcom Brothers Skate Park
Learn at the Mammoth Museum
Drive Along the Mammoth Scenic Loop
---
Enjoyed this guide to the best things to do in Mammoth Lakes? Bookmark for later or share the love below on Pinterest!