Looking for the best things to do in Big Bear in winter? Scott grew up in Southern California with access to Big Bear Mountain in winter and has been here countless times! So we got you!
There aren't many places in the world where, in the middle of winter, you can surf in the morning and be skiing down a snow-covered mountain in the afternoon. That's just one of the reasons Big Bear Mountain is so unique and one of the best places to visit in Southern California.
For locals and visitors alike, Big Bear is a great place to take a vacation and one of the best mountain towns in California. You're just a 2-hour drive from LA making it one of the best weekend trips or day trips from Los Angeles and Orange County, with access to all the best things to do in Big Bear in winter.
If you're looking for the perfect skiing and snowboarding retreat where you can also tie in surf and sand, keep reading! Find out all the top Big Bear activities in winter and see why we love this Southern California mountain getaway so much, and every season including the summer!
Average Weather in Big Bear in Winter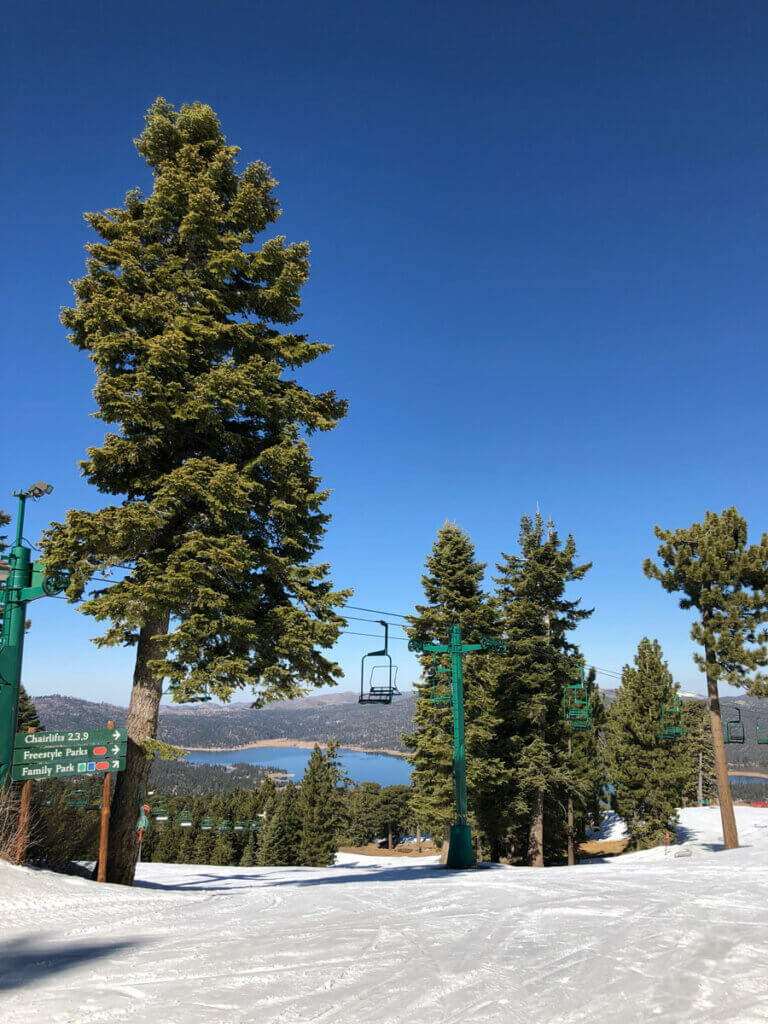 If you're planning things to do in Big Bear in winter, schedule your trip between the end of November and the beginning of April. This is the region's peak season, and when it snows!
Winter temperatures in Big Bear usually range between the low 20s and upper 40s, with the coldest month being December. But for the best conditions for snow activities in Big Bear, go in December, January, or February.
Also, keep in mind that when you're traveling to Big Bear Mountain during the winter months, you're required to carry chains. Even if it isn't snowing during your drive, have them handy!
Spectacular Big Bear Activities in Winter
Skiing and Snowboarding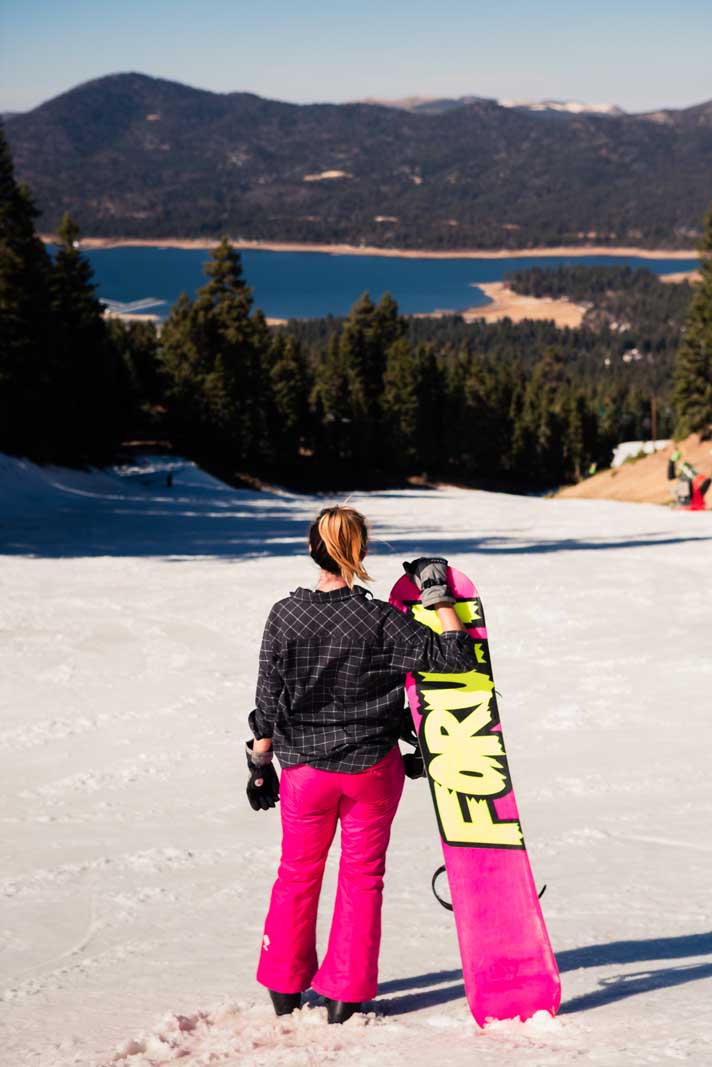 Hitting the slopes is arguably the best thing to do in Big Bear in winter! The snowboarding and skiing scene here is what attracts most visitors during the peak season. This is where Scott grew up snowboarding the most since it's only a 2 hour drive away!
Anyway, this mountain is sentimental to us as this is also where I learned how to snowboard when we first started dating.
Our most recent Big Bear winter trip was during the month of February and experienced some really warm winter weather up at Big Bear Mountain. But thanks to manmade snow, we were still able to ski and snowboard in the milder weather. Temperatures were in the mid-60s and we were able to snowboard without jackets.
Of course, ideal conditions would be natural powder. But it's nice to still enjoy all the snow activities at Big Bear during warm winter weather patterns, thanks to the manmade snow.
At Big Bear, you'll have two skiing and snowboarding resorts to choose from: Bear Mountain and Snow Summit. Snow Summit is better suited for families and beginner skiers. Bear Mountain offers a range of terrains for all skill levels (this is a prime location for beginner snowboarders, too).
You also have another option for snowboarding and skiing close by. About a 30-minute drive from Big Bear, there's Snow Valley Mountain, Southern California's oldest ski resort.
Plus, when you buy your lift ticket, you have access to all 3 mountains. For those planning a multi-day trip, which we highly recommend, you'll have time to try out 3 different slopes during your stay!
There are several places in Big Bear to get snowboard and ski rentals. Keep in mind, they do not do clothing rentals like some resorts.
Snow Tubing
One of the most popular Big Bear activities in winter for families is snow tubing at Big Bear Snow Play! This small park has a snow hill that's open from mid-November to Easter. And even if there's no snowfall, Snow Play's snow machines ensure that there's manmade snow for tubing every day during peak season.
After a long day on the slopes, you can also go Glow Tubing! This is where they light up the snow after dark with black lights on the weekends and holidays.
Admission is rather pricey, and it's cash-only. Expect to pay $30 for guests between 36- and 42 inches tall and $35 for guests over 42 inches tall. However, this full-day admission comes with a tube and a magic carpet ride to the top every time you want to take a whirl down the hill.
Note: Snow Play closes from 4 to 5 PM daily to prepare new snow for the night tubers!
Snowshoeing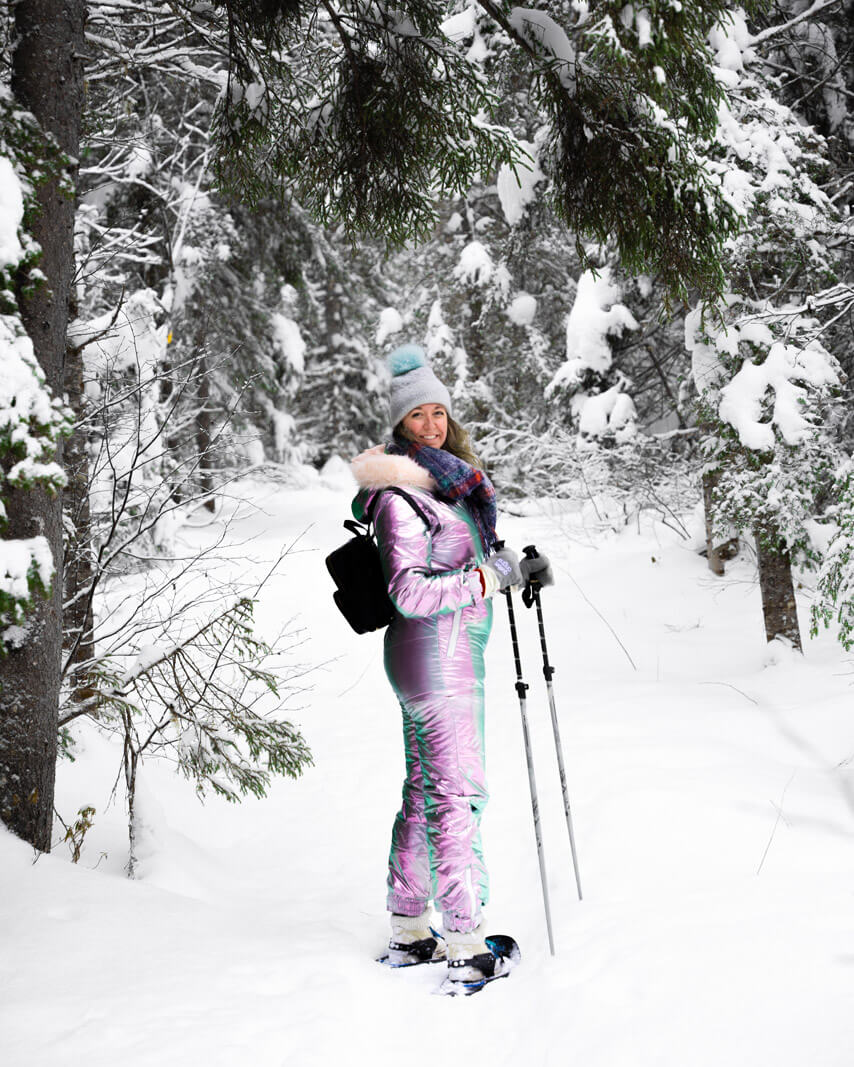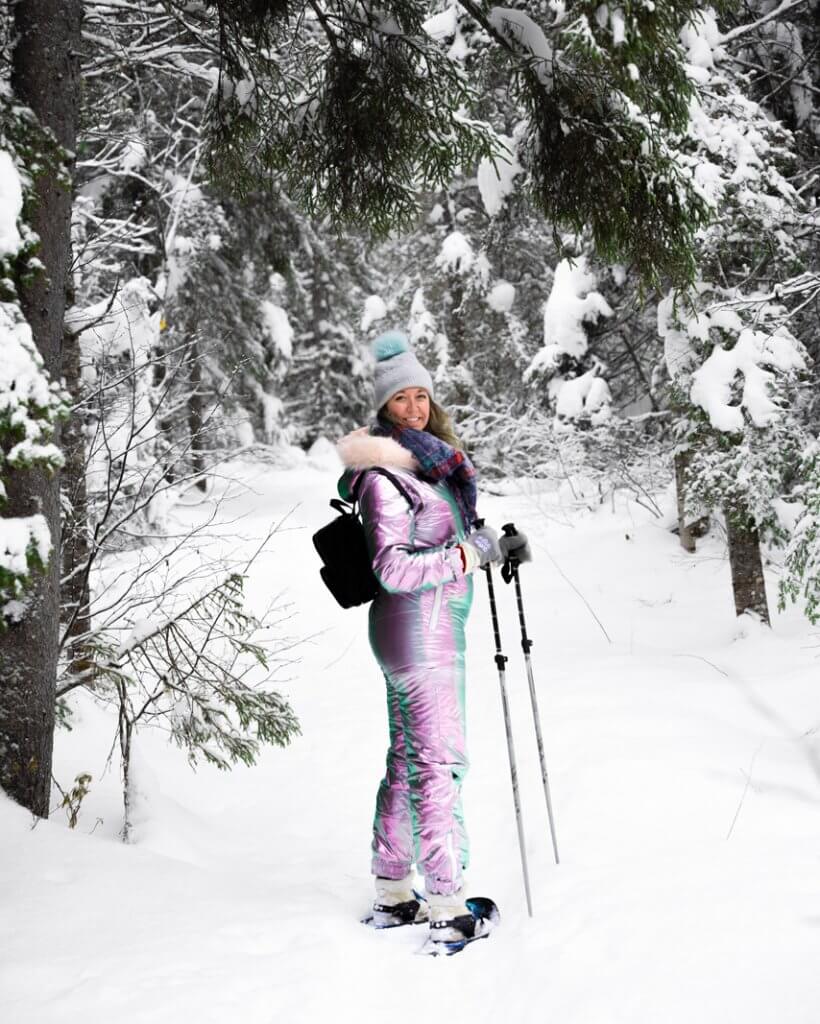 If skiing isn't your thing, or if you're looking for another way to enjoy the great outdoors, consider snowshoeing. A great place for this is at the Big Bear Discovery Center.
This visitor center on the north shore of the lake offers fascinating exhibits, summer nature walks, and special events throughout the year. And in the winter, the Discovery Center hosts snowshoeing tours.
These tours are one of the most memorable things to do in Big Bear in winter! There's nothing like being in the snowy woods with stunning views of the lake and the town beyond. Your guides will point out different native plants and trees, as well as winter birds and even animal tracks in the snow! Never been snowshoeing before? The tours offered at Big Bear Discovery Center are great for visitors of all experience levels.
Note: You'll need to bring your own snowshoes. If you don't have any, you can find several rental shops and ski shops along Big Bear Boulevard that rent them for the day. Shop attendants can also show you how to put them on.
Go on the Alpine Slide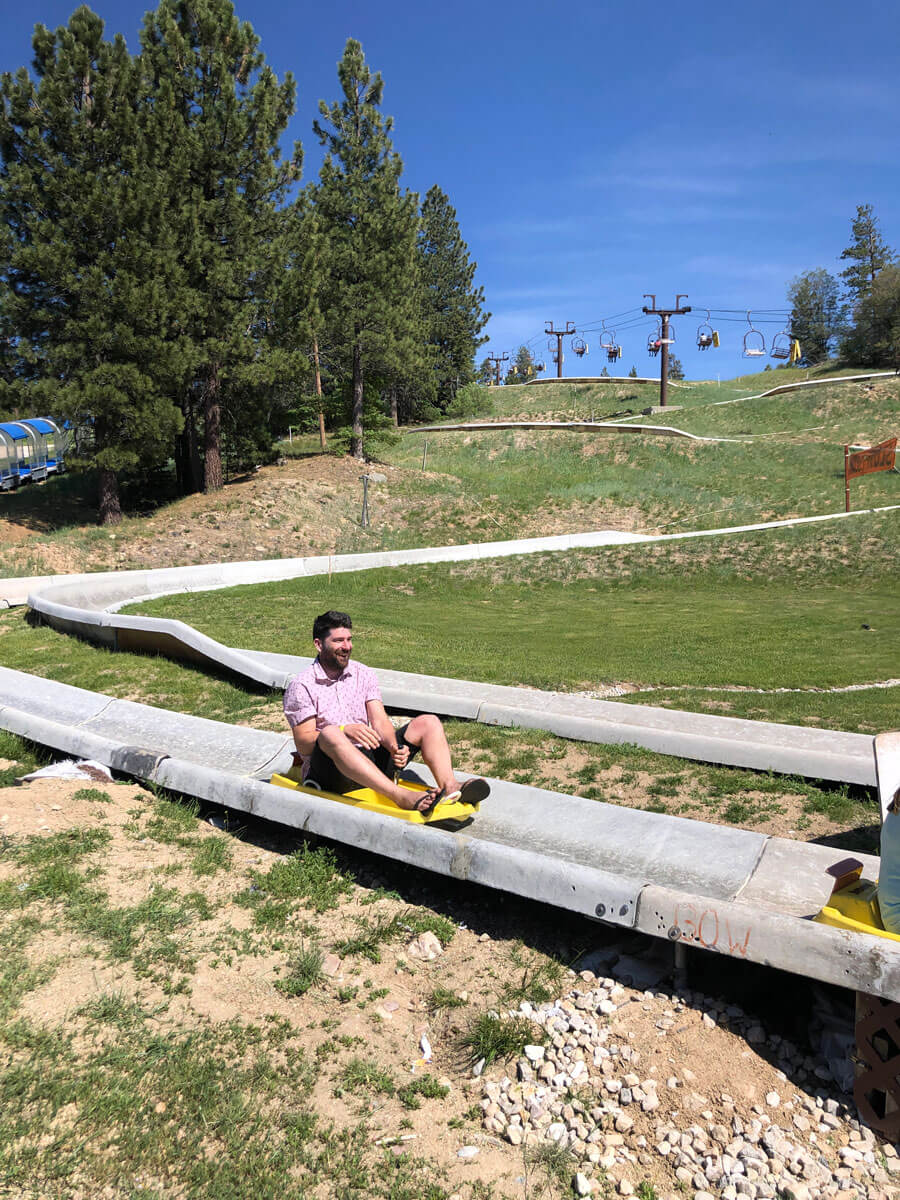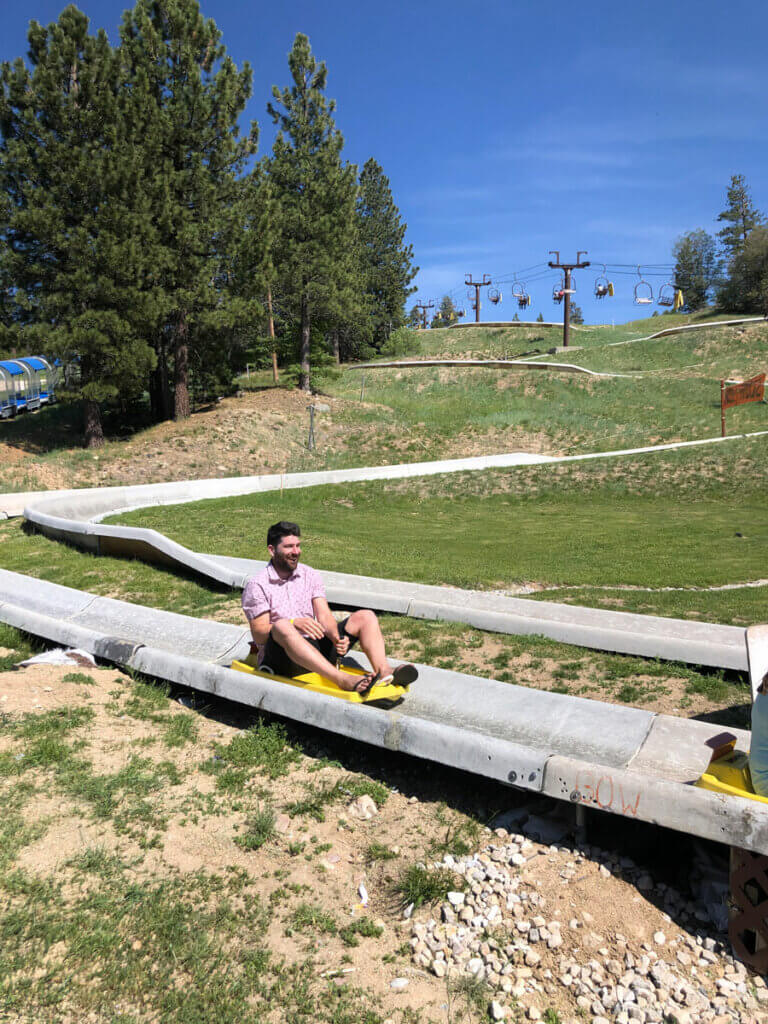 For more snow activities in Big Bear for families, there's the Alpine Slide at Magic Mountain. This outdoor fun park centers around a mountainside bobsled that's open year-round. In the winter, you can go snow tubing here too.
Magic Mountain is great for a few hours outside, and there's something for everyone in the family. General admission is $30 for those 36-42 inches tall and $45 for anyone over 42 inches tall. Just keep in mind that the park sells some snacks, but there's not a lot of food.
Take a Helicopter Ride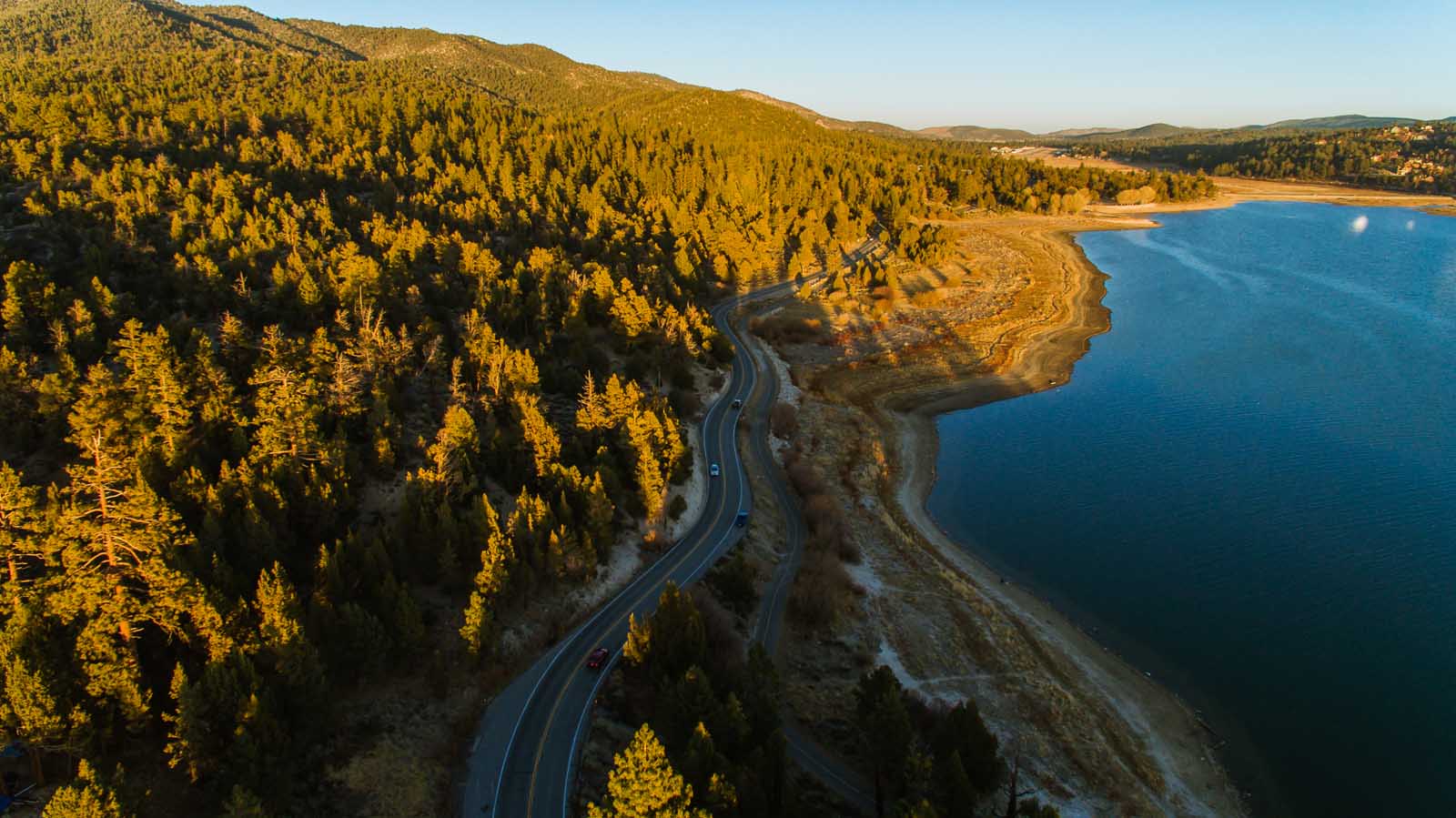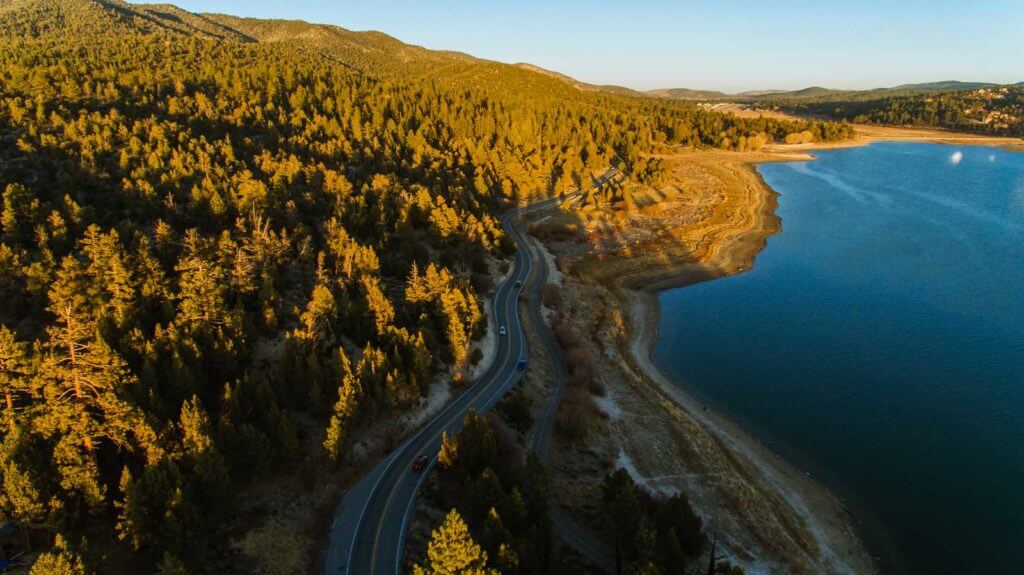 Seeing Bear Mountain covered in snow is a magical experience, but a helicopter ride gives you a whole new perspective! One of the most memorable things to do in Big Bear in winter is book a private helicopter ride with Helicopter Big Bear.
Perfect for a couple on a romantic weekend in Big Bear or for a single traveler, helicopter rides can accommodate up to 3 guests. Enjoy different routes between 20- to 45 minutes long that offer the most amazing views of Big Bear Mountain and Big Bear Lake from above!
Wander Around Big Bear Village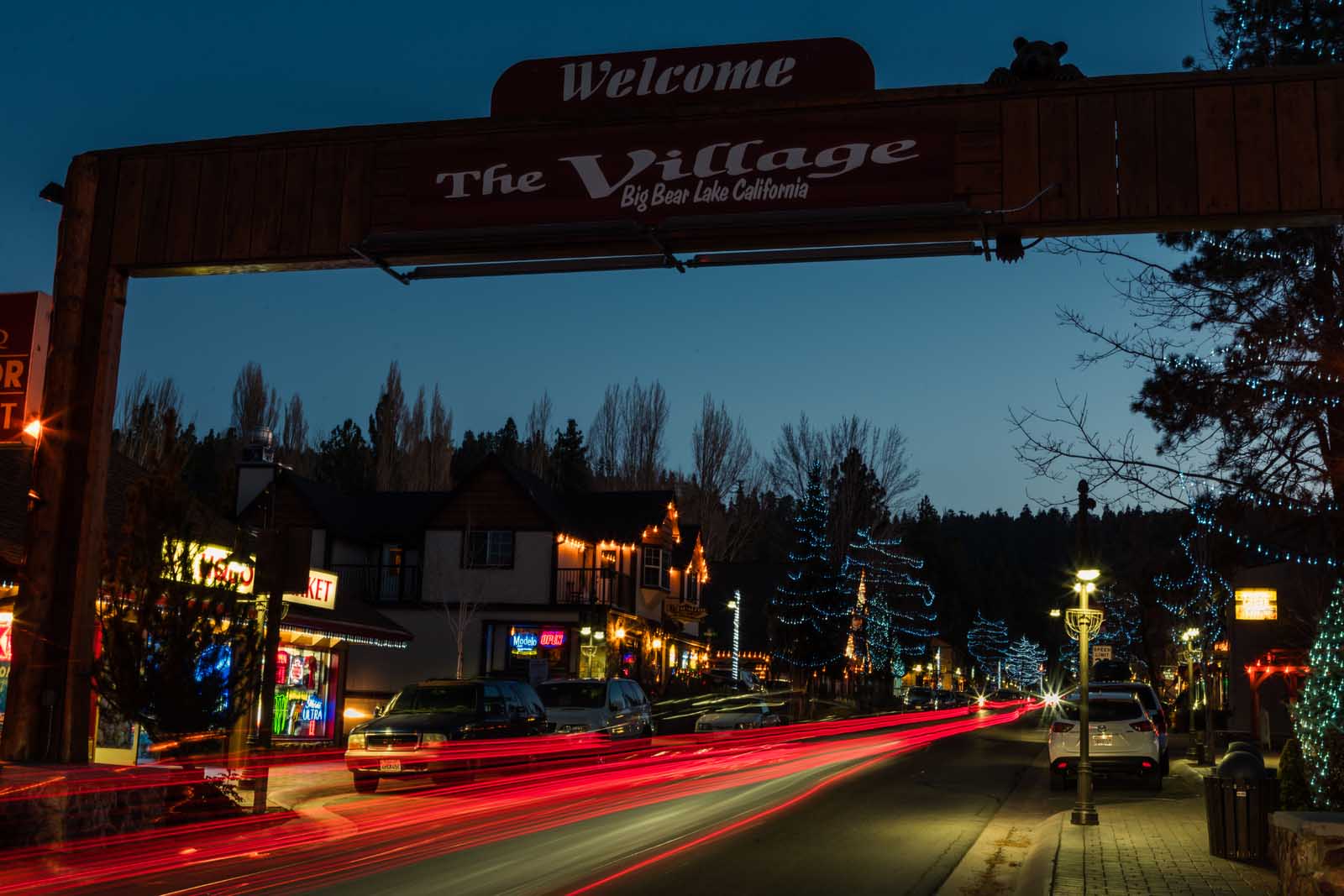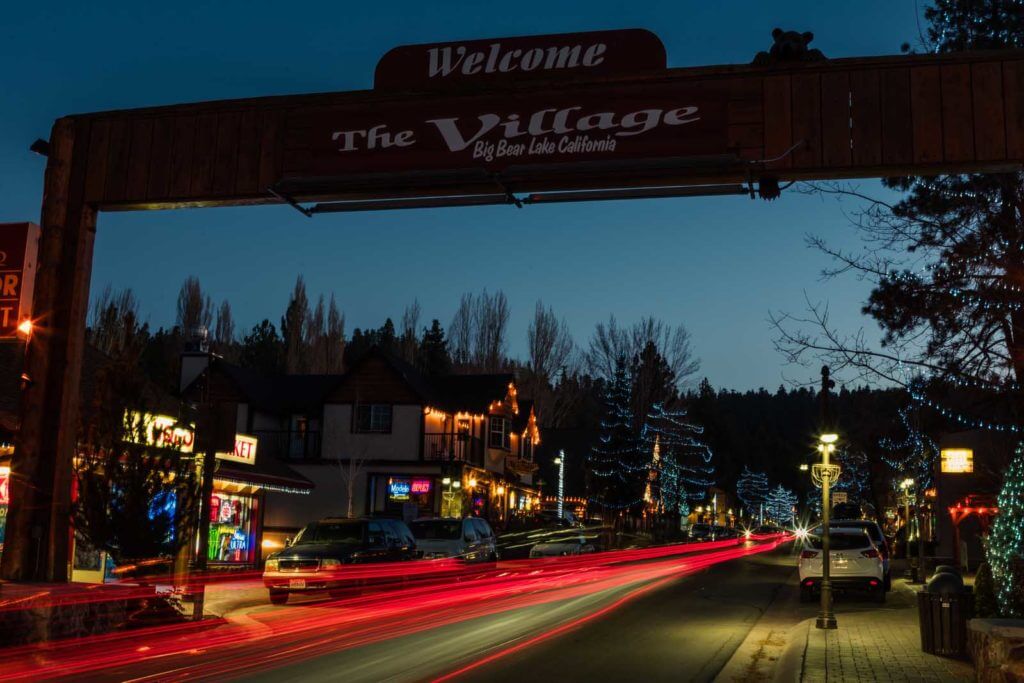 After a day of snow activities in Big Bear, head to Big Bear Village for food, drinks, and shopping! There are tons of great dining options here as well as great beer spots. And you can find cute little shops where you can get winter gear or a souvenir to take home. The village is charming and a great spot to hit up day or night!
Big Bear Alpine Zoo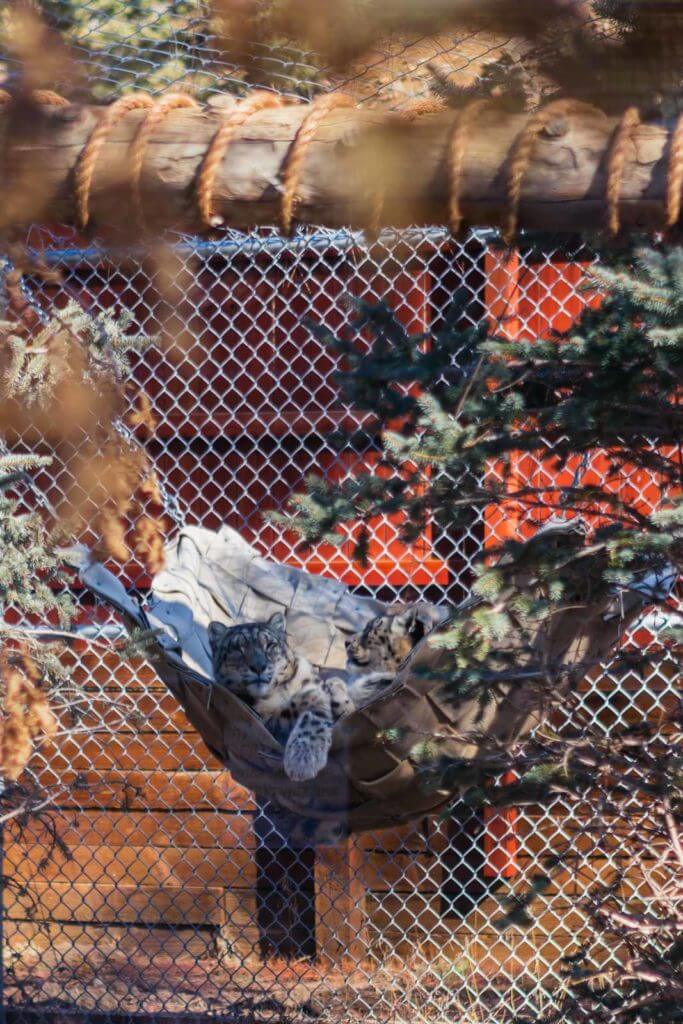 Hands down, one of our favorite things to do in Big Bear in winter or any other time of the year is visit the Alpine Zoo. We've been to zoos, but we never walked away with as much information as we did on this trip.
We had a tour with Bob, the curator of the Alpine Zoo. Bob took over the zoo several years ago and has really turned the program and zoo around. He also educated us on US zoos and we didn't realize how little we knew until our tour!
Bob came from the San Diego Zoo. When he took over, the previous zoo owner had left the place a mess. There are photos of an obese and unhealthy mountain lion from when Bob took over. Fast forward to a few years later, and now the mountain lion is healthy and active again. Had it not been for the new crew looking after the health of the animals, and especially this mountain lion, they probably wouldn't be alive today.
We also learned that the Alpine Zoo only takes in animals from breeding programs to help conserve species. They also take in injured wild animals, which go through rehabilitation at the zoo. The rehabilitated animals that aren't strong/healthy enough to go back to the wild become a part of the family at the Alpine Zoo.
Besides having a great mission and heartfelt conservation programs, the Alpine Zoo at Big Bear also strives to educate visitors about these animals. Bob told us that the US hasn't actually taken any animals from the wild for zoo placement since the 1940s! There are a lot of misconceptions about zoos and how they're actually really helpful for animal species! You can read more in this piece by Time.
Bowling Barn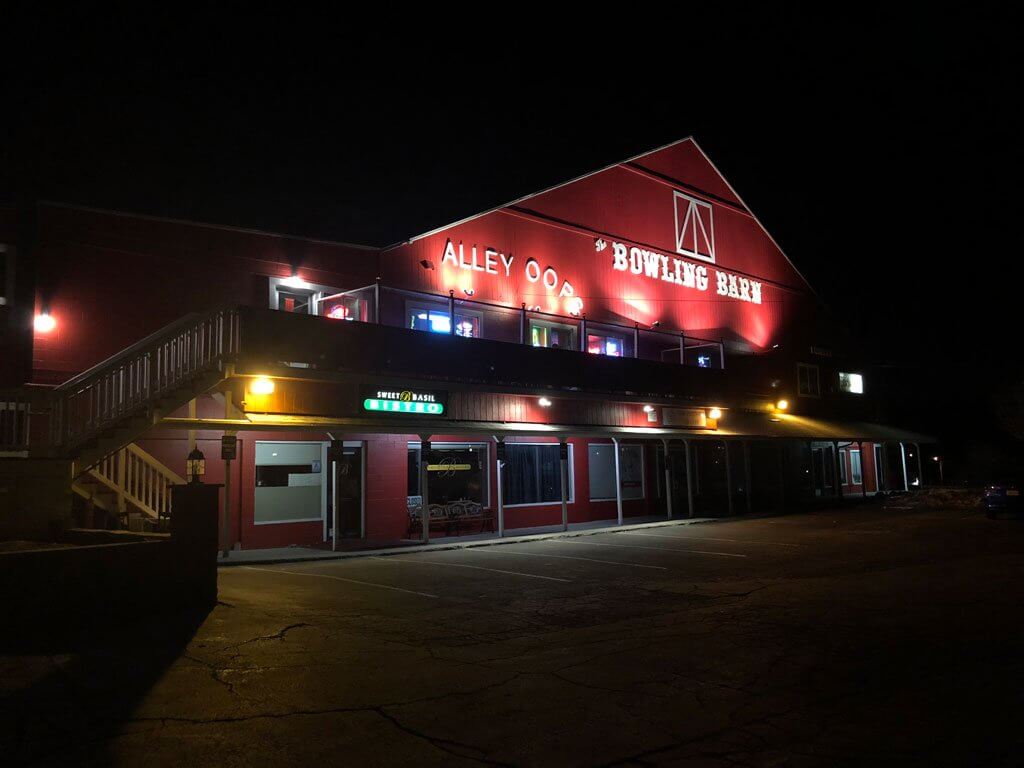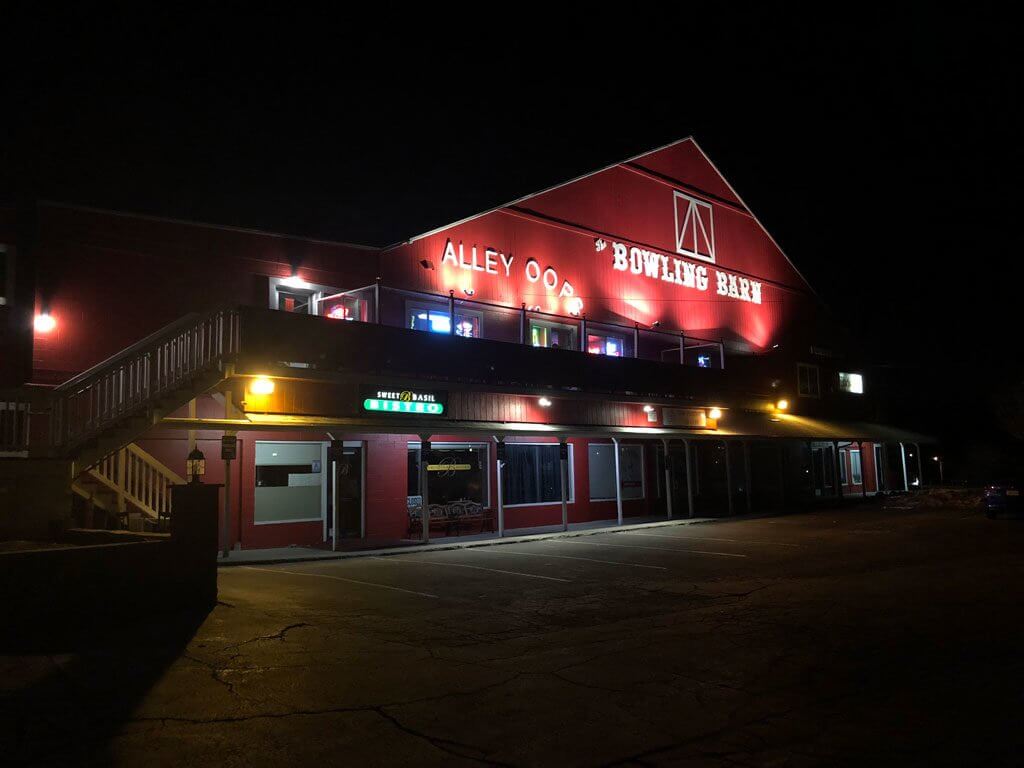 Don't miss out on a chance to visit Bowling Barn when you're in Big Bear Village! This is one of our favorite Big Bear activities in winter, after a long day of snowboarding or skiing. And every time we're in Big Bear, we come here.
In the evenings, the lights go dim for glow bowling! There's also the Alley Oop sports bar, so you can take your breaks between games with a nice refreshing beverage of your choice. There are also arcade games and billiards. It's always a fun place to end the night.
Where to Eat in Big Bear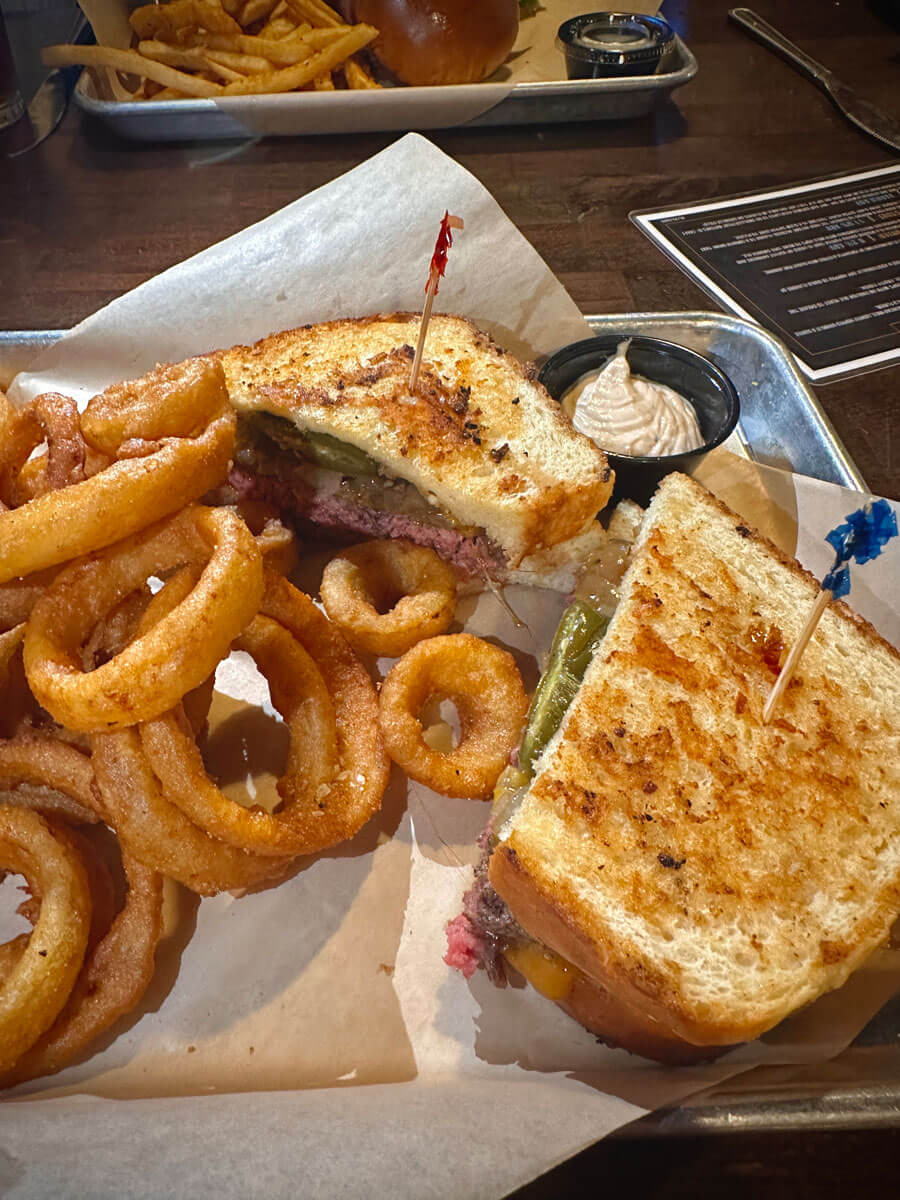 One of the absolute best things to do in Big Bear in the winter is warm up with good food at some local spots! For being such a small mountain community, Big Bear has a variety of different dining options. You'll find everything from fast food joints like McDonald's to small eateries and local breweries. Check out our picks and some other top picks by LA Weekly.
Big Bear Mountain Brewery
One thing we love doing when we go to different places is to try the local craft beer! We recommend dining at Big Bear Mountain Brewery if you're a beer lover like us.
They have an extensive menu, with popular starters like their deep-fried avocado bombs and wings. In fact, we have been guilty of just ordering off the starter menu before.
This is the perfect spot if you're craving great bar/comfort food alongside a local brew after a long day on the slopes.
Grizzly Manor
Grizzly Manor Café is a popular breakfast joint that's not to be missed. It's one of the best things to do in Big Bear in the winter, in our opinion. If you don't get here early enough, expect to wait in a long line. But this stop is worth the wait!
Inside, the cafe can only seat a small number of people. But the food is amazing, hence the line. We must warn you, though, that the portions here are HUGE. They're honestly bigger than any other restaurant we've been to. We highly recommend splitting a dish if you come to Grizzly Manor.
Peppercorn Grille
If you're looking for more of a fine dining establishment after an exciting day enjoying Big Bear winter activities, Peppercorn Grille in Big Bear Village is your best choice. Set in an old-school dining room, you can get great steaks here along with a curated wine list and beer.
This is actually where we had our romantic date night when we came to Big Bear in winter for the first time together!
Fire Rock Burgers & Brews
Our last restaurant pick for Big Bear is Fire Rock Burgers & Brew. They serve up great burgers, fries, and a selection of craft beers. A Big Bear resident recommended this place, and we're glad we listened! It's a lovely spot to thaw out after a busy day of snow activities in Big Bear.
We split the Bat Country burger, which came with bacon-infused Angus beef, smoked gouda, garlic sauteed mushrooms, bacon, and black truffle aioli. The burger was too small to split, though, so we ended up getting a big order of the sweet potato fries as well. The food was great, the location was cozy, and the beer was the cherry on top.
Where to Stay in Big Bear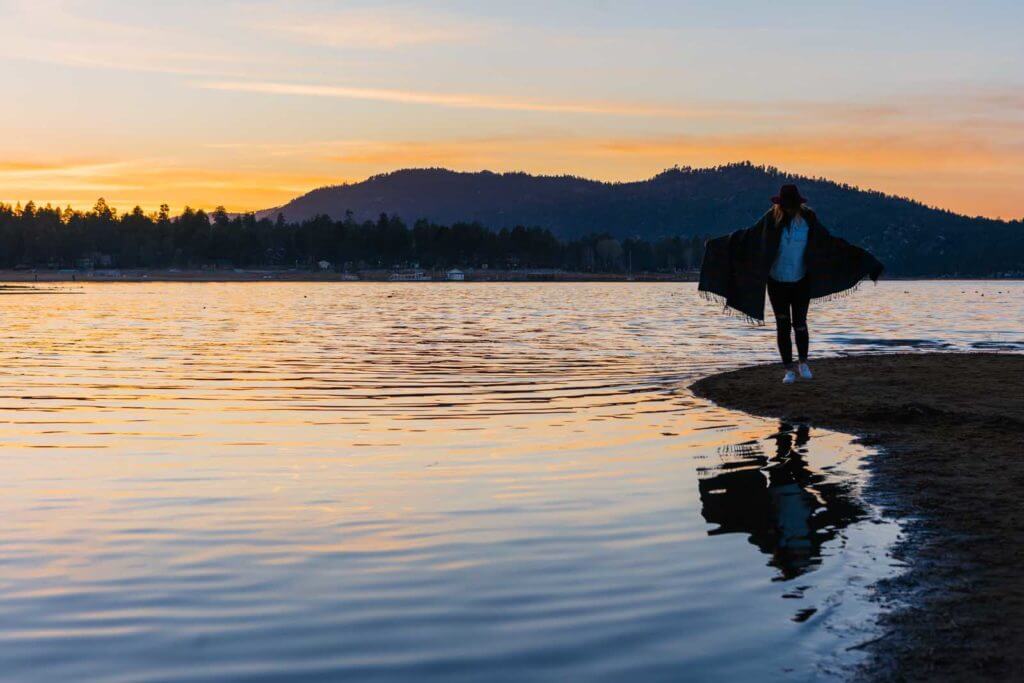 While you're thinking about all the exciting things to do in Big Bear in winter, don't forget about finding a place to stay! You have your work cut out for you, with every kind of lodging available from hostels and motels to vacation rentals, resort villages, and more! Take it easy and go with one of our suggestions below.
Hotel Marina Riviera
We recommend staying where we have stayed— the Marina Resort right on the shore of Big Bear Lake is not only a great location but they have cozy rooms. The exterior is a bit dated, but don't judge a book by its cover. Rooms are newly renovated with a rustic, mid-century modern feel. They're super cozy and come complete with a fireplace and amazing views of Big Bear Lake.
The fireplace is especially cozy in the winter months! Guests have access to a private beach area on the lake, as well as a heated pool, hot tub, and spa. There's also a brand-new onsite restaurant and bar.
There are mini fridges in the rooms and complimentary hot water and coffee at reception. We ended up buying oatmeal from the grocery store and adding hot water for a DIY quick and easy breakfast as well as drove to Dank Donuts for breakfast too! Book here.
Noble + Proper
For a one-of-a-kind stay in Big Bear, consider booking a luxury cabin with Noble + Proper. The first boutique lodge on Big Bear Lake boasts 8 stunning and meticulously designed cabins that can hold between 4 and 14 guests.
Every cabin is uniquely decorated and furnished and features top-of-the-line linens and toiletries. You'll have your own living area with a wood-burning stove, a complete kitchenette and dining area, as well as a walk-in shower. Guests can also enjoy private patios with fire pits and amenities like free bicycle rentals. Book here.
Enjoy a Cabin Stay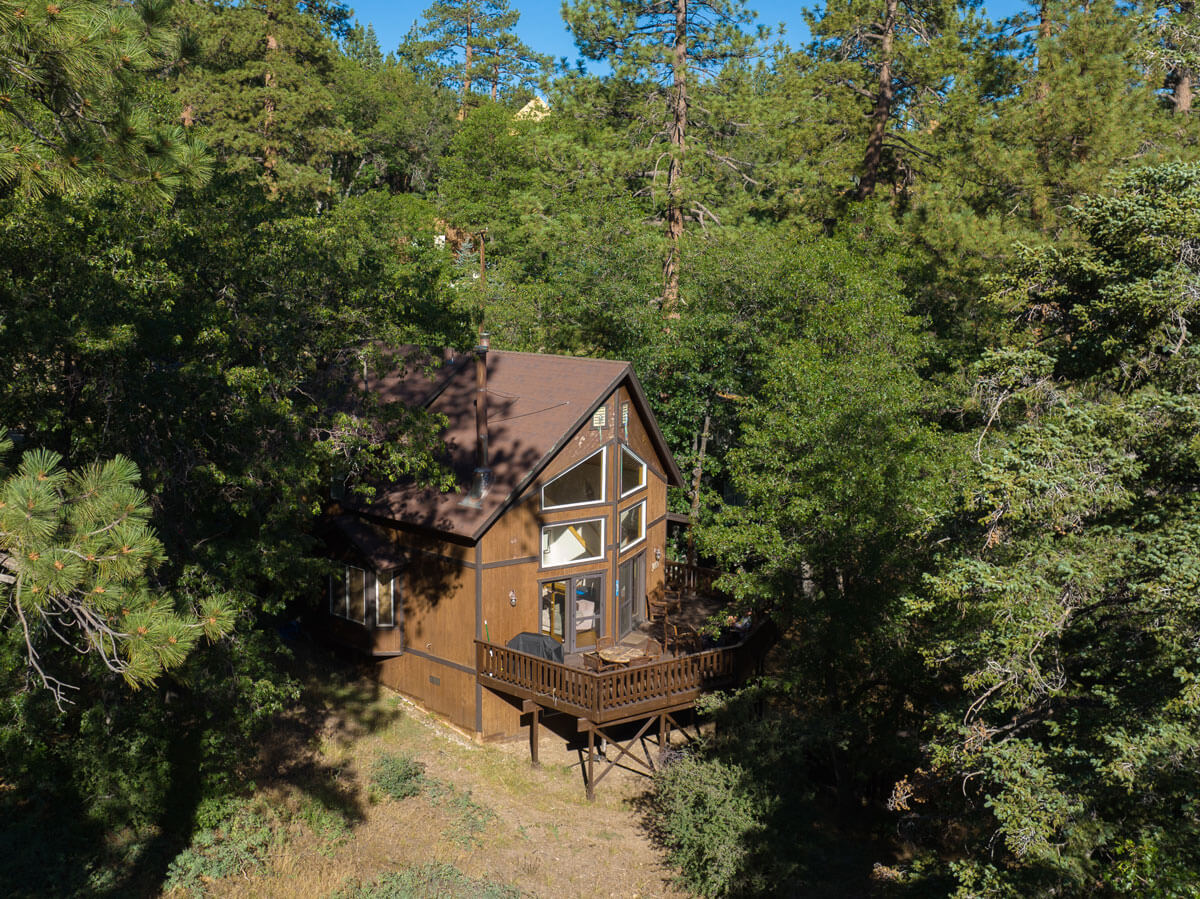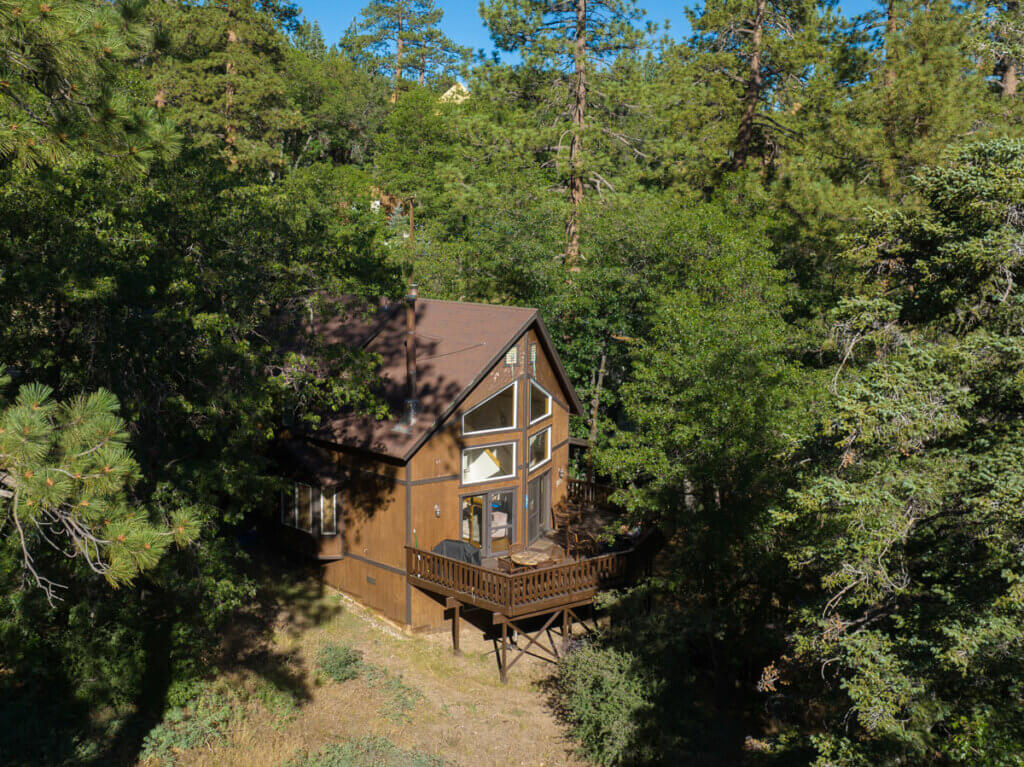 There's nothing more cozy than staying in a cabin rental during the winter months! Destination Big Bear has tons of home and cabin rentals from local owners who let visitors rent their homes during their vacation.
We stayed at Hidden Oaks during our most recent visit to Big Bear and it was an incredibly spacious and beautiful property complete with a hot tub (what better way to soak away those winter aches and pains after a day on the mountain!).
Many of the cabins are suitable for families or larger groups too. Hidden Oaks had a game room and area with multiple twin size beds perfect for families with children.
---
Is Big Bear nice in winter?
Yes, Big Bear, California, is a popular and picturesque destination in the winter. It offers excellent skiing, snowboarding, and snow-related activities, along with beautiful winter scenery and a charming mountain town atmosphere.
When is the best month to visit Big Bear?
The best month to visit Big Bear, California, depends on your preferences. For winter sports, December to February is ideal. Spring and summer (May to August) are great for hiking and outdoor activities. Fall (September to November) offers pleasant weather and fewer crowds.
Is it safe to go to Big Bear when it's snowing?
Big Bear can be safe to visit when it's snowing if you are prepared for winter conditions, have appropriate equipment including the required tire chains, and drive carefully on snowy roads. Be cautious of icy or slippery surfaces and follow local advisories.
How much snow does Big Bear get in the winter?
Big Bear, California, typically receives about 67 inches of snow annually. However, snowfall can vary significantly from year to year due to weather patterns, with some seasons receiving more substantial snowfall.
How cold does Big Bear get in winter?
Big Bear, California, experiences cold winter temperatures, with average lows ranging from 15°F to 25°F (-9°C to -4°C) in the winter months. However, temperatures can drop lower during cold snaps.
Are chains required for Big Bear in winter?
Yes, chains or cables must be carried in your vehicle at all times during the winter months at Big Bear.
Best Winter & Snow Activities in Big Bear (Post Summary):
Skiing and Snowboarding
Snow Tubing
Snowshoeing
Go on the Alpine Slide
Take A Helicopter Ride
Wander Around Big Bear Village
Big Bear Alpine Zoo
Bowling Barn
---
Enjoyed this guide to the best things to do in Big Bear in winter? Bookmark for later or share the love below on Pinterest!