With so many amazing places to visit in Northern California, it can be hard to decide where to go. In fact, there are so many incredible Northern California destinations it can be quite overwhelming to decide as this incredibly diverse and vast region on the West Coast has one of the best wine countries in the world, numerous national parks, natural wonders including waterfalls, mountains, valleys, lakes, geothermal activity, and rare formations, not to mention a dramatic coastline with cool cities and small towns to check out.
That's where this guide comes in handy to help you dial down where to visit and the best places to see in Northern California! We've curated a selection of what we think are the top 25 places to see and things to do in Northern California, plus what each destination is known for to aid you while planning a trip of a lifetime.
Disclaimer: This post contains commissionable links.
Best Northern California Destinations to Visit
San Francisco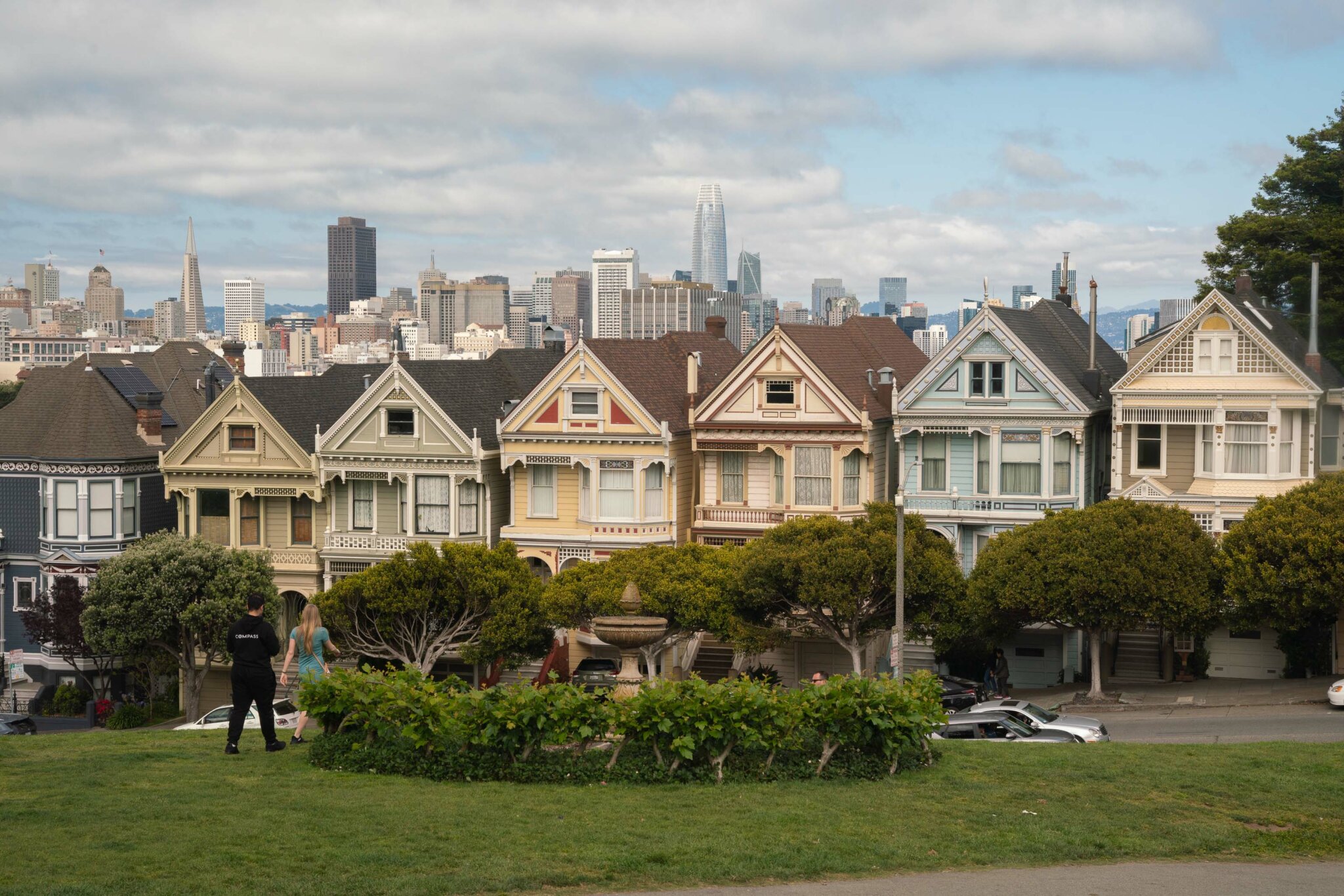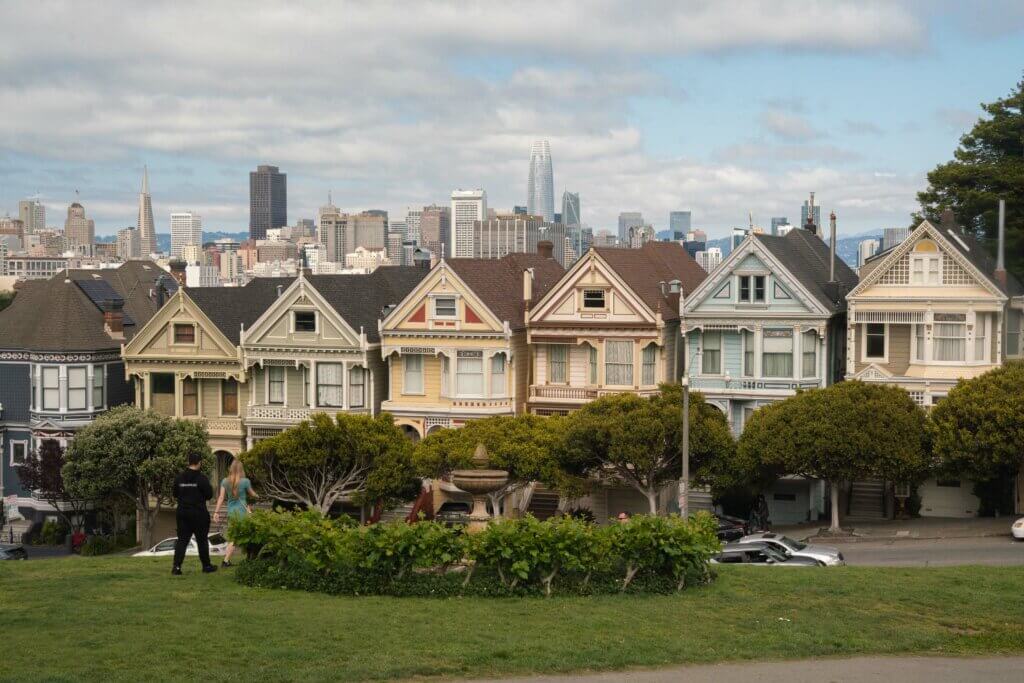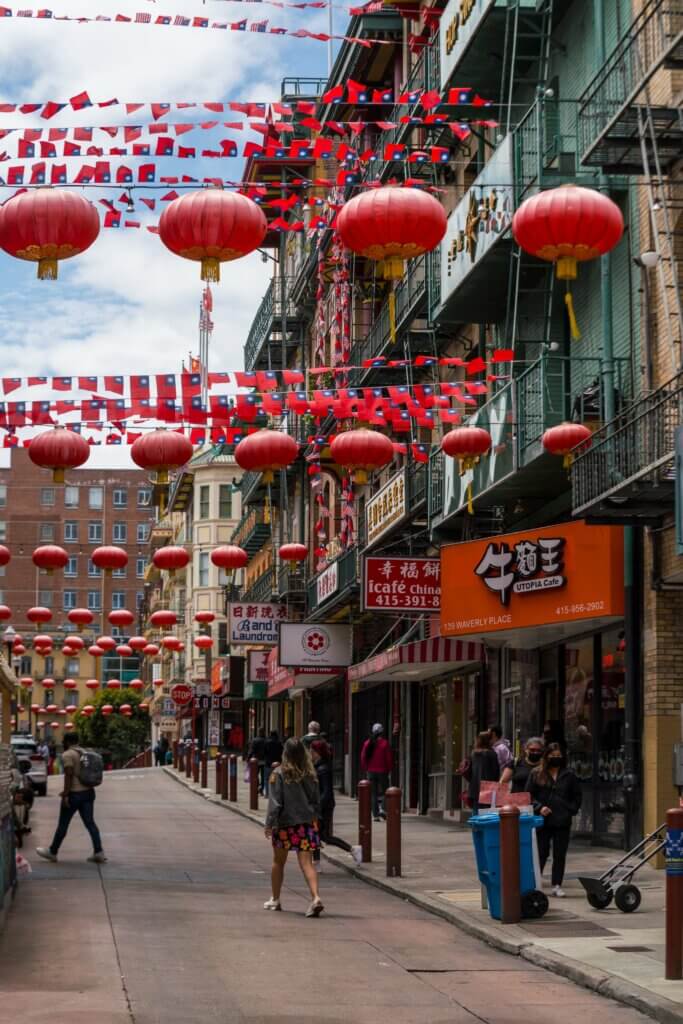 The most famous city in the heart of Northern California, San Francisco stands out as one of the most iconic and best places to visit in Northern California! This city is an exciting mix of cool landmarks, cultures, and nature.
San Francisco is probably best known for the Golden Gate Bridge. Walk or drive across the bridge to take in panoramic views of the city's skyline.
Nearby, you can enjoy all the outdoor activities and museums in the iconic Golden Gate Park. And you can't visit San Francisco without riding the iconic cable cars, a great way to take in the hilly streets and bay views.
A must-visit location (and one of our favorite things to do in Northern California, not only just in SF) is eating your way around the bustling waterfront area and exploring all the best things to do at Fisherman's Wharf. Come here for the amazing seafood, souvenir shops, and street performers. This is also where you can take tours of Alcatraz Island, another one of the most popular things to do in San Francisco.
To experience San Francisco's arts and culture scene, visit the historic Mission District, with its colorful street art and murals. And for first-timers, a visit to the bohemian neighborhood of Haight-Ashbury is a must! The area features colorful homes, fun shops, and street art, but it's most famous for being the birthplace of the 1960s counterculture movement!
Last but not least, one of the best highlights during any San Francisco itinerary is exploring Chinatown. This is the first Chinatown in the US, where the fortune cookie was invented, and is one of the most culturally beautiful neighborhoods to visit.
Napa Valley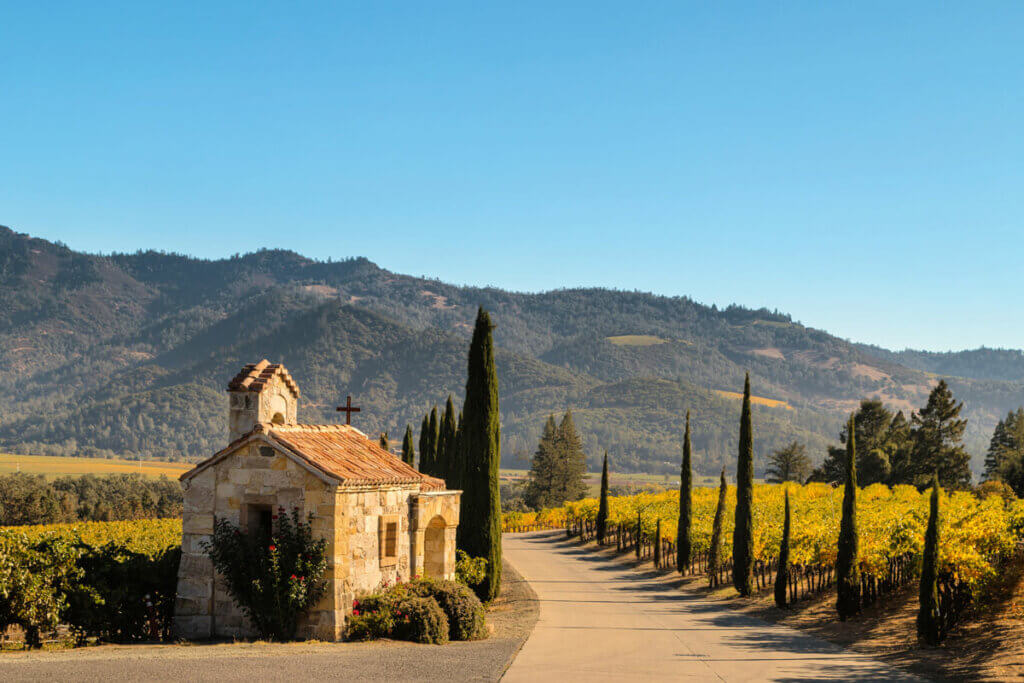 Napa Valley is one of the dreamiest Northern California destinations! With its world-class wineries, local art scene, and stunning landscapes, this place has something for everyone.
Located just north of San Francisco, Napa Valley is a paradise of vineyards and wineries. You can take a tour through the scenic grapevines, learn about winemaking, and, of course, taste some of the finest wines around. By booking a driver and tour for the day you don't have to worry about a thing, just sit back and enjoy wine tasting and the beautiful landscape.
Or for a more unique way to see wine country, you can enjoy a winery tour with a guide from the sidecar of a motorbike with a friend!
And foodies are in for a treat! There's everything from Michelin-starred restaurants to quaint cafes awaiting you.
Beyond the vineyards, Napa Valley offers so much more to do! Go on a hot air balloon ride to soak in the valley's breathtaking beauty from above. Or take in the picturesque landscape at one of the state parks and giant redwood trees. You can enjoy a variety of hiking and biking trails, as well as opportunities for camping, picnicking, kayaking, and more.
Napa Valley, specifically the town of Napa, is one of the top places to go in Northern California for art. The region boasts thriving art galleries and galleries. And don't forget about relaxation! You can pamper yourself at luxurious spas and resorts set in the serene valley.
Lassen Volcanic National Park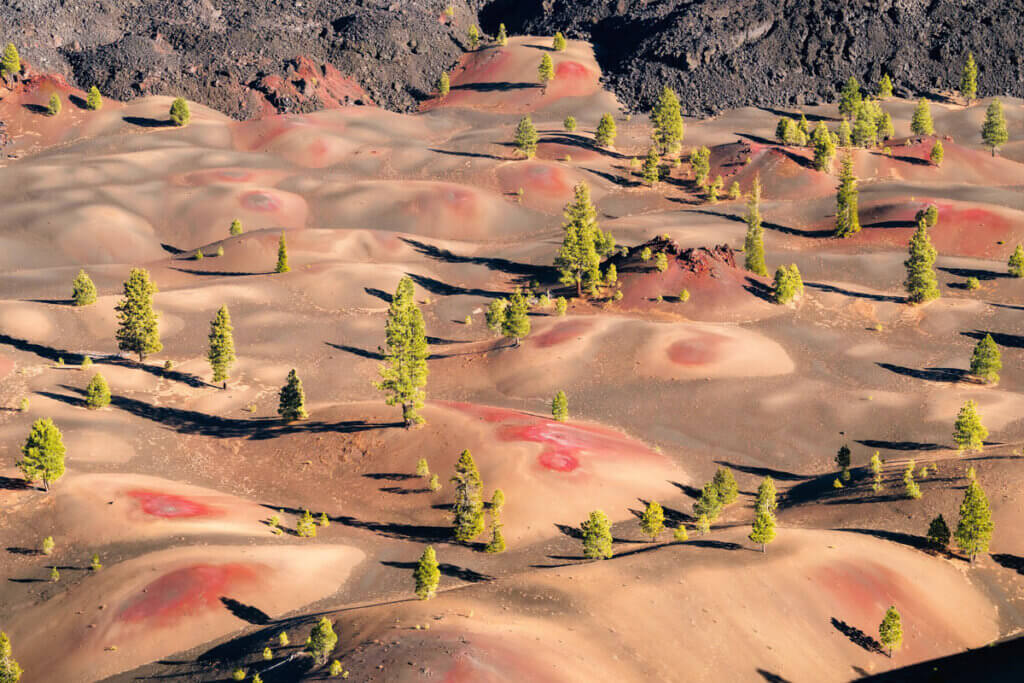 Lassen Volcanic National Park is just one of the many breathtaking national parks in the state of California and a treasure trove of outdoor things to do in Northern California as well as otherwordly landscapes.
This hidden gem of a national park features majestic volcanoes, bubbling mud pots, painted sand dunes, fields of wildflowers, and colorful hot springs to name a few of the natural wonders that can be found here!
You'll enjoy the scenic 30-mile drive through the Lassen Volcanic National Highway, although it isn't for the faint of heart! The drive traverses through ridgelines, thick forests, and volcanic slopes.
You can explore the amazing Lassen Peak along scenic trails to Helen Lake and Bumpass Hell. Take the boardwalk over the geothermal area to experience hissing fumaroles and boiling springs.
In addition to the otherwordly landscapes here, the wildlife and vibrant wildflower displays are why Lassen Volcanic Park is one of the best places to see in Northern California, especially in the spring. Keep an eye out for cute critters like marmots and pikas! And the dark night skies and high elevation here make it the perfect spot for stargazing and astrophotography.
Parts of the park are more of a seasonal Northern California destination as certain roadways do close during snow season. June through November are when almost all the snow is cleared and all roadways are open in the park. There are areas that are open in the winter though!
Lake Tahoe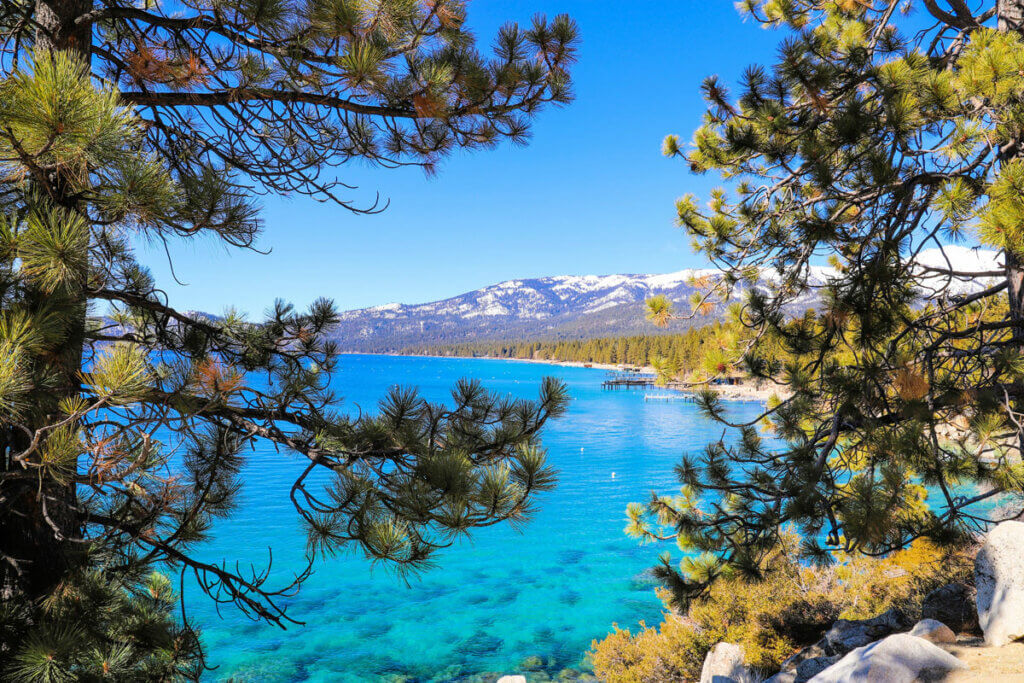 There are so many Northern California destinations, but none quite like Lake Tahoe! This breathtaking alpine lake is a haven for nature lovers and thrill-seekers, with a different experience across all four seasons.
Boasting crystal-clear waters framed by majestic mountains, Lake Tahoe offers a paradise for outdoor lovers. During summer, you can swim, paddle around on a see-through kayak, enjoy sailing on the lake, or simply relax on the sandy shores. There are hiking trails for all levels, as well as stunning views of the lake and lush forests. This is also a really popular Northern California destination for renting bikes or e-bikes and taking a scenic ride.
There are beautiful lodges and a variety of campsites where you can stay in tents, RVs, yurts, eco-cabins, and more! And in the colder months, Lake Tahoe transforms into a winter wonderland. Head to ski resorts for skiing, snowboarding, and other snow sports.
Lake Tahoe is more than just a pretty sight. The surrounding towns offer charming shops, quality restaurants and cafes, and fun-filled entertainment. Or you can try your luck at the casinos!
Point Reyes National Seashore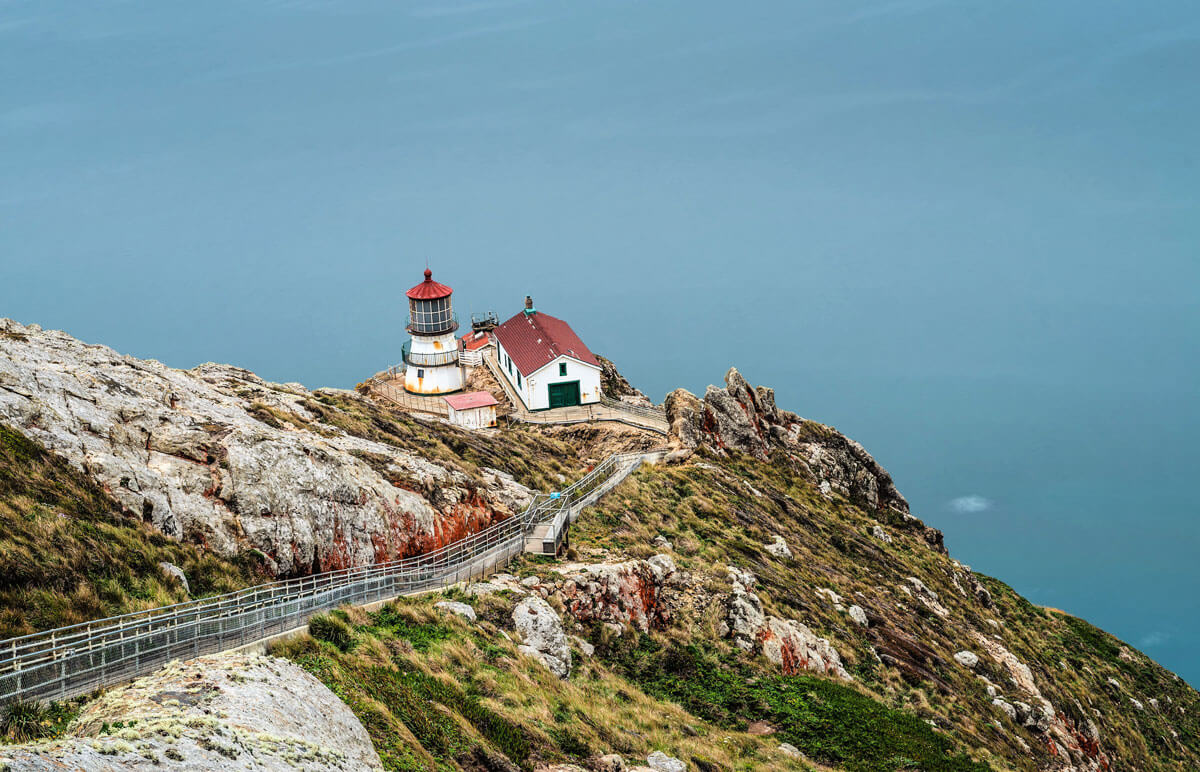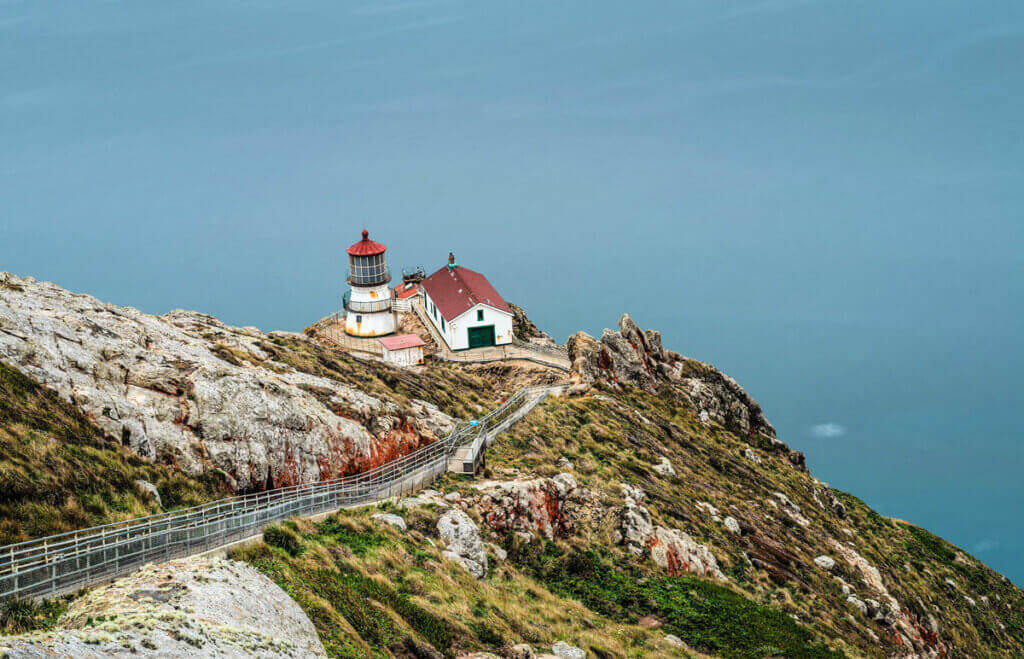 Point Reyes National Seashore has something for every type of outdoor adventurer or anyone who just loves a gorgeous coastal view, in fact this is one of our favorite stops on a California Coast road trip! This protected coastal area offers unobstructed ocean views, untouched natural areas, wildlife, breathtaking vistas, a gorgeous lighthouse, hiking trails, quiet beaches, and more!
Enjoy having the isolated sandy beaches of Ten-Mile Beach all to yourself or explore the stunning coastline along coastal bluffs! This is also a hotspot for whale watching in the winter, or you can spot elephant seals that come to sleep on the beaches.
And a must-see is the iconic Cypress Tree Tunnel, a road lined with cypress trees that create a magical canopy.
Point Reyes is one of the most popular places to visit in Northern California for wildflowers and mushrooms! Hiking aficionados will love the park's scenic trails, like the out-and-back Tomales Point Trail. This moderate half-day hike will take you through an elk reserve with stunning ocean views and rolling hills covered in wildflowers.
Point Reyes also serves as a haven for birdwatchers, boasting over 490 bird species. And Point Reyes is one of the best places to visit in Northern California for historical sites. You can take a self-guided audio tour to sites like the Point Reyes Lighthouse, the Point Reyes Shipwrecks, and Pierce Point Ranch.
Redwood National and State Parks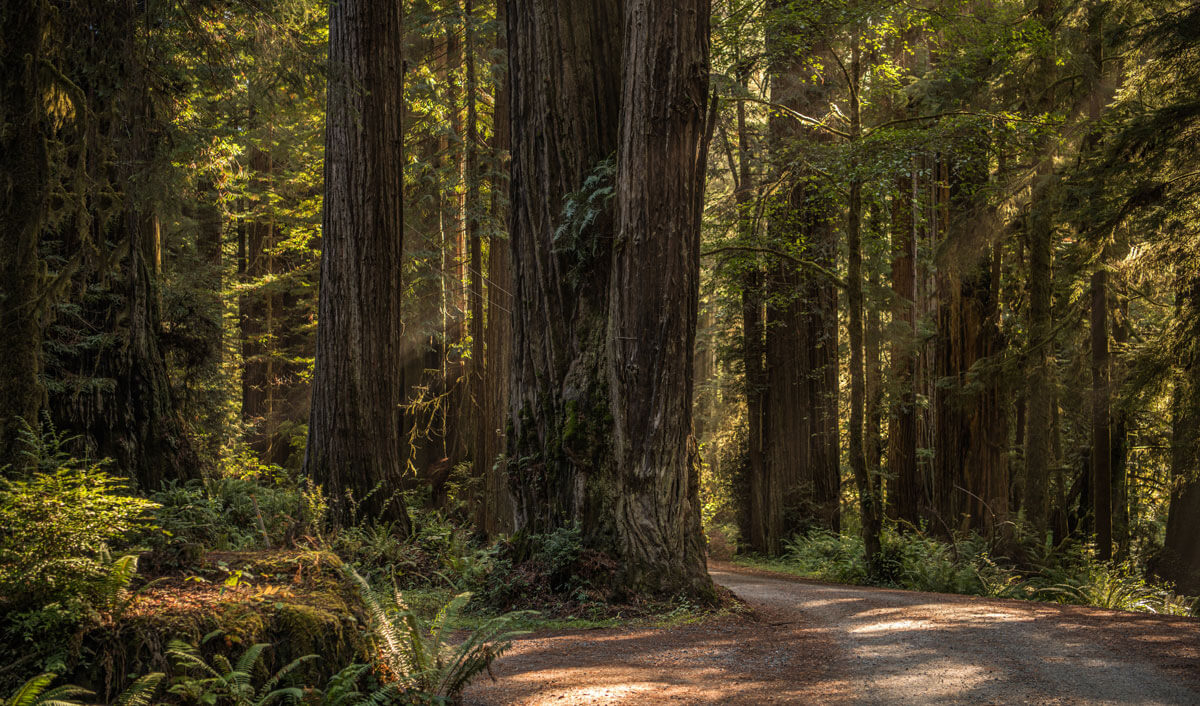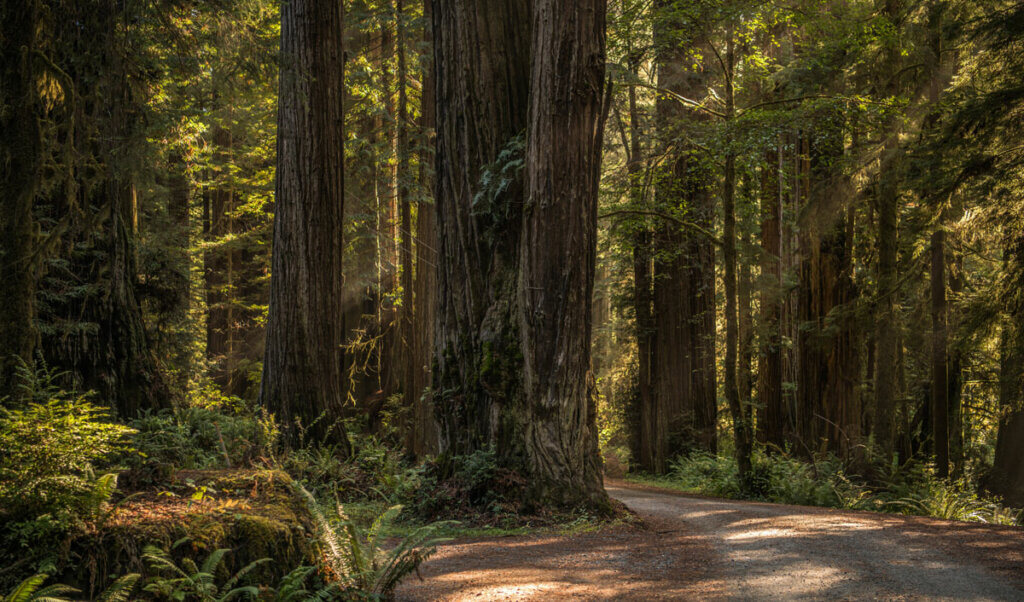 Of course, we had to include on our list Redwood National and State Parks, one of the most unforgettable places to see in Northern California! This massive area includes both national and state parks and is a haven of towering redwood trees and exciting outdoor activities.
Hiking through the ancient groves is a must-do experience. The towering redwoods, some reaching over 300 feet tall, will leave you feeling tiny! Take the famous Lady Bird Johnson Grove loop trail, where you can stroll through forests of ferns and redwoods. And you can explore the rugged coastline and discover hidden beaches.
When you visit the Redwood National and State Parks, you're sure to see lots of local animals, including majestic Roosevelt elk, black bears, and giant salamanders! Or scramble through tide pools and spot marine life.
One of the most popular things to do in the Redwood National and State Parks is to take scenic drives along the Newtown B. Drury Scenic Highway or Howland Hill Road. There are campgrounds and small towns to explore. Or you can visit the parks' cultural sites and learn about the region's indigenous tribes.
Humboldt Redwoods State Park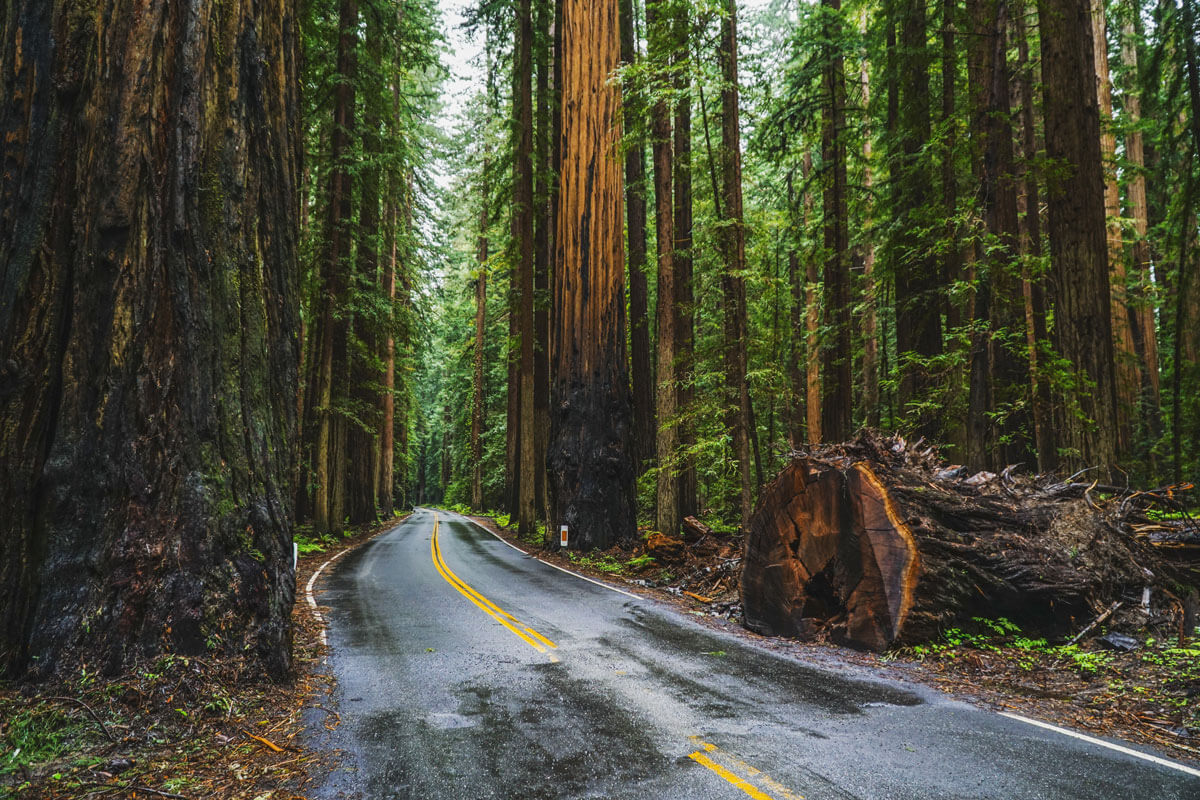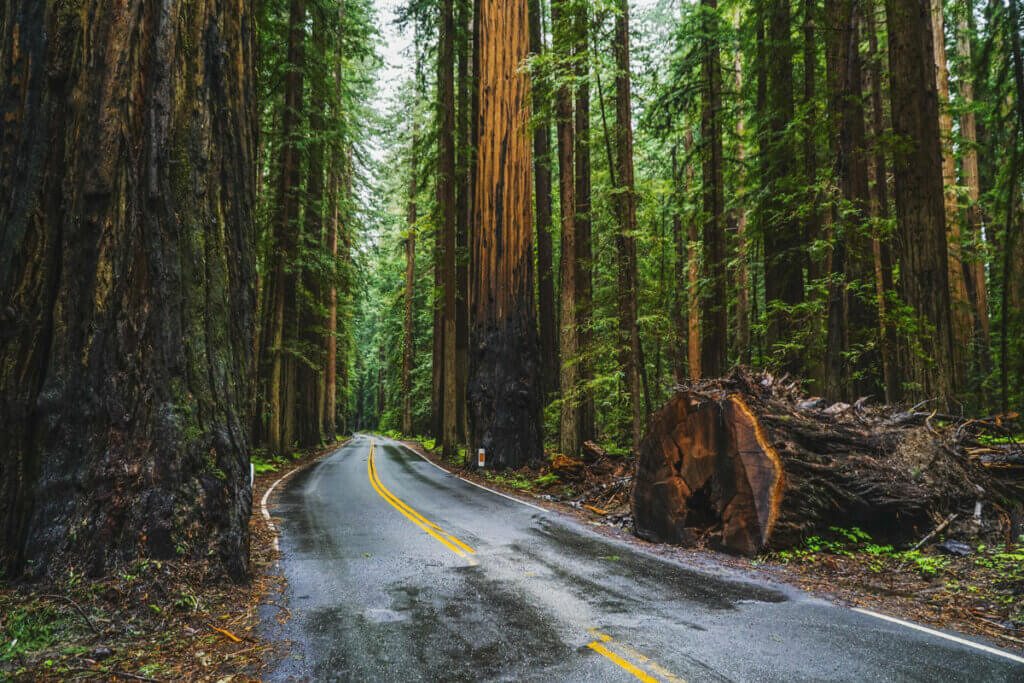 Humboldt Redwoods State Park is another natural gem among the best places to visit in Northern California! Nestled in the heart of the region, this breathtaking area is home to ancient redwood trees, some of the tallest and oldest trees on Earth!
Though not technically part of the park, the famous Avenue of the Giants is a must-see attraction when you're here. It's probably the most well-known scenic drive (or you can walk along the route) where you'll be surrounded by towering redwoods on both sides!
Humboldt Redwood State Park also offers boardwalk nature trails and an extensive network of hiking trails, catering to various difficulty levels. You can check out day-use areas with picnic tables or stay at tent-camping sites.
Mammoth Lakes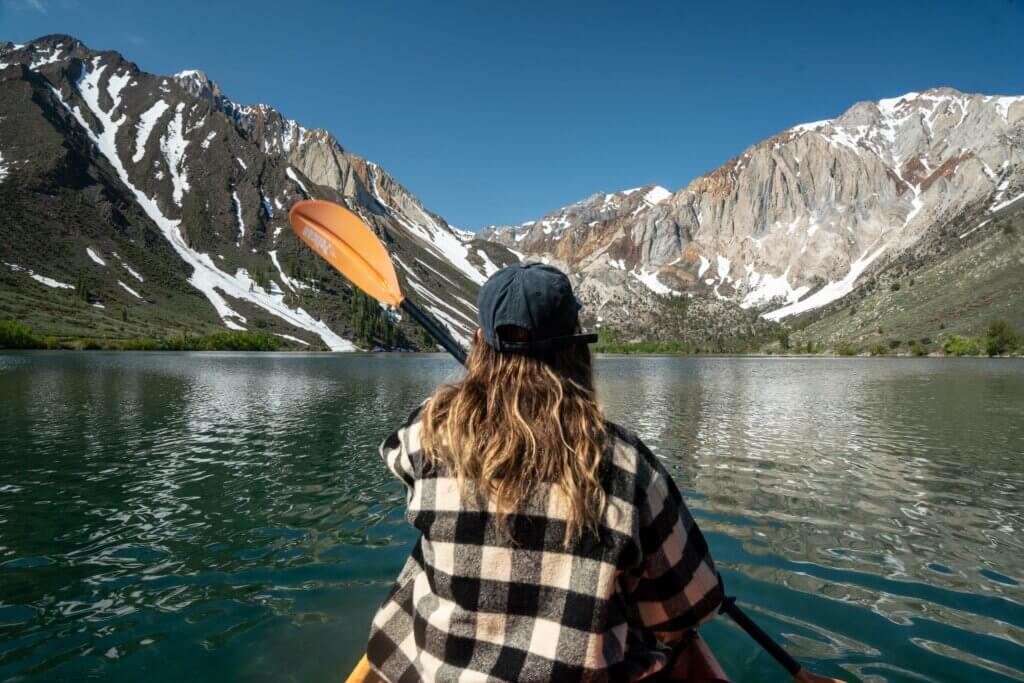 Set in the picturesque Sierra Nevada Mountains, Mammoth Lakes is one of the best Northern California destinations for winter activities. But it's also a wonderful getaway the rest of the year, with stunning landscapes and outdoor activities. We visited in June and were blown away by all that there was to see and do (and still have some snow left over from winter!).
First off is the famous ski resort town of Mammoth Lakes, where winter sports enthusiasts come from all over to ski and snowboard at Mammoth Mountain. In summer, the mountain transforms into a mountain biker's paradise with thrilling trails to explore. In town, there are charming shops, restaurants, and even a really cool bike loop to explore.
Nearby are more places to go in Northern California for natural beauty, like Lake Convict, just one of the hundreds of lakes that make up Mammoth Lakes. This is a popular mountain lake for fishing and boating, surrounded by breathtaking mountain views, this is where we rented kayaks and hiked for a few hours. Or discover the unique Devil's Postpile National Monument, a rare formation of hexagonal basalt columns.
For a memorable experience, take the opportunity to soak in the nearby natural hot springs at Wild Willy's Hot Spring, even in the snow! What's better than relaxing in a heart-shaped pool while you take in uninterrupted mountain views around you? There are also several natural hot spring pools nearby and other beautiful natural formations to enjoy like the Crowley Lake Stone Columns nearby are just some of the many amazing things to do in Mammoth Lakes.
Yosemite National Park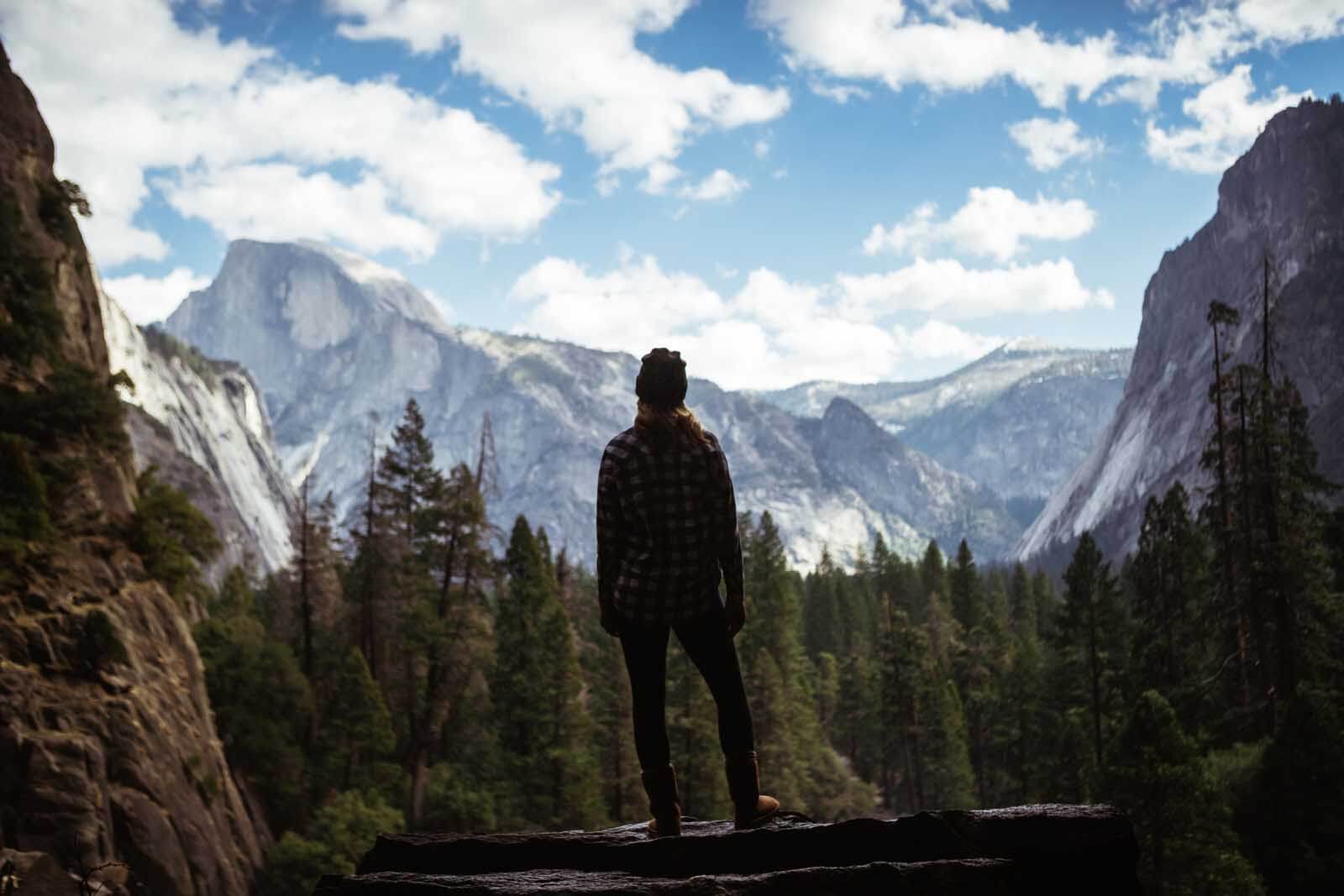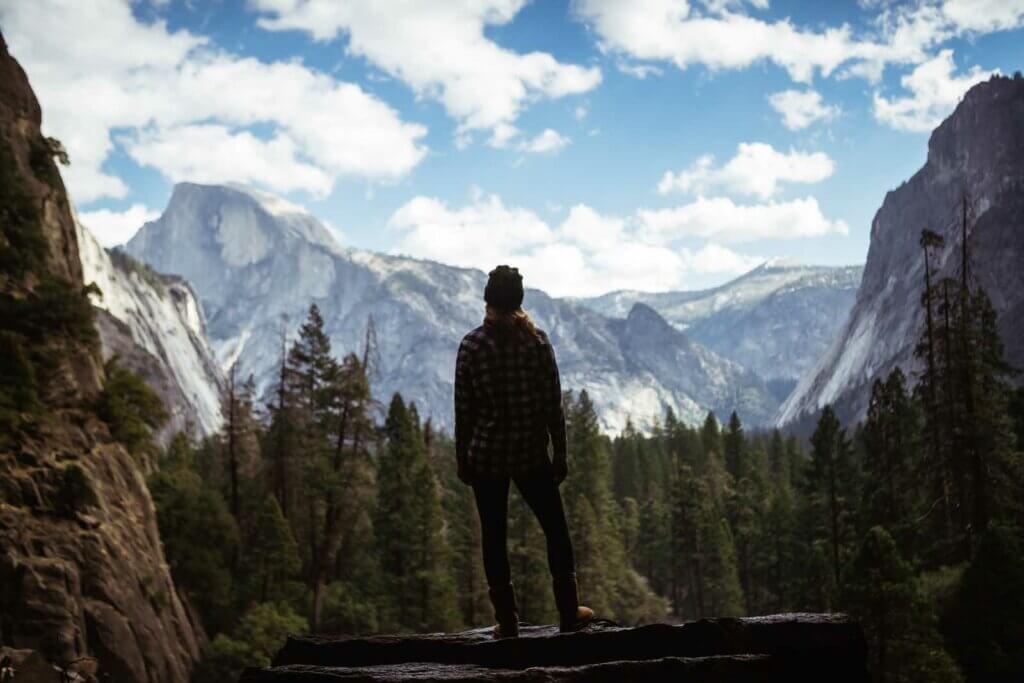 With its captivating beauty, Yosemite National Park is by far one of the most enchanting places to visit in Northern California. This park is a dreamscape of outdoor adventures and there are plenty of cool things to do in Yosemite National Park for every type of adventurer.
There's the postcard-perfect Yosemite Valley in the heart of the park. This is where you'll find towering waterfalls like Yosemite Falls, the tallest in North America. And the valley's sweeping meadows and granite cliffs create a stunning landscape any time of the year!
For the most experienced outdoor enthusiasts, Yosemite provides challenging hiking trails like Half Dome and Glacier Point, offering unbelievable views of the park's splendor. Or you can hike or drive to lookout points for famous views like Tunnel View, showcasing El Capitan and Bridalveil Fall in all their glory! There are viewpoints and hikes suited for all levels of adventurers.
Don't miss out on hidden gems, like Hetch Hetchy Valley nearby. You'll love this glassy reservoir surrounded by granite walls and waterfalls. It's a lesser-known spot perfect for peaceful hikes and enjoying nature without another person for miles around. And to the south is Mariposa Grove. This area is home to giant sequoia trees, including the famous Grizzly Giant.
Yosemite National Park is also home to Badger Pass Ski Area. It's a small ski slope that opens every winter to welcome visitors for snowy fun with skiing, snowboarding, and snowshoeing.
It's definitely worth exploring not only all the incredible places to see within the park, but the amazing things to see around Yosemite National Park too.
Gold Rush Towns of Tuolumne County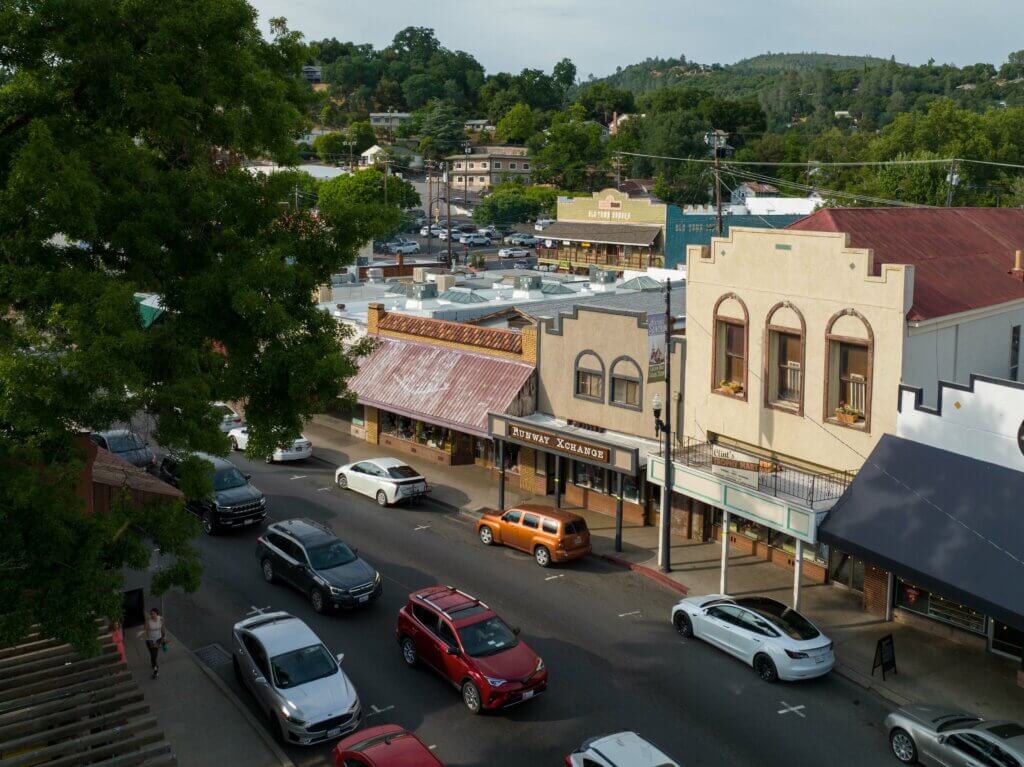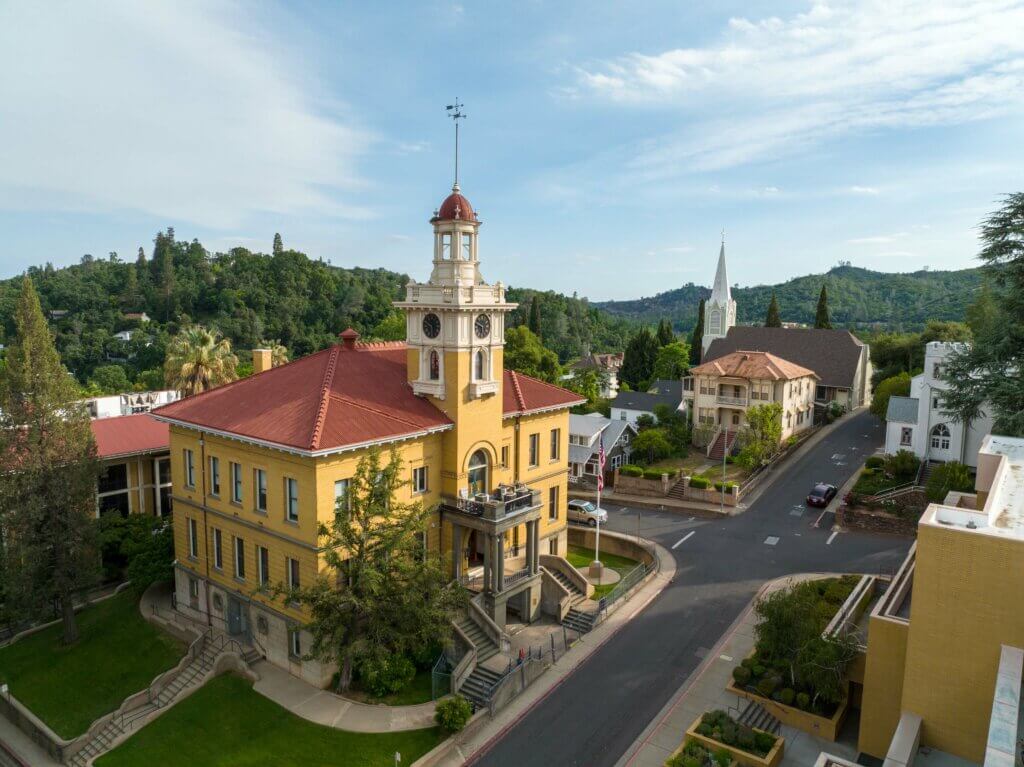 For historic things to do in Northern California, explore the historic Gold Rush towns during a weekend in Tuolumne County. History comes alive here among stunning landscapes, while each town offers its own unique treasures.
Travel back in time to the 1850s when you visit the Columbia State Historic Park. You'll explore well-preserved buildings, pan for gold, ride a stagecoach, and savor old-fashioned candy in this living museum!
Sonora, the county seat, was established during the Gold Rush and today features historical sites, museums, and a bustling downtown area that you'll want to visit. This is where you'll find charming shops, galleries, and eateries. Don't miss the historic Red Church, a beautiful landmark dating back to the 1850s.
Many people visiting Tuolumne County for the Gold Rush history start Jamestown since this small town is where gold was first discovered in 1848! Downtown, there are many historic buildings, housing shops, eateries, breweries, hotels, and more. Or hop on the historic steam train at Railtown 1897 State Historic Park for a scenic ride through the Sierra foothills and see trains featured in Hollywood films!
And Groveland is near the entrance to Yosemite National Park, making it a popular stop for tourists. Enjoy its quaint charm, explore the Groveland Yosemite Gateway Museum, and experience the thrill of white-water rafting.
Eureka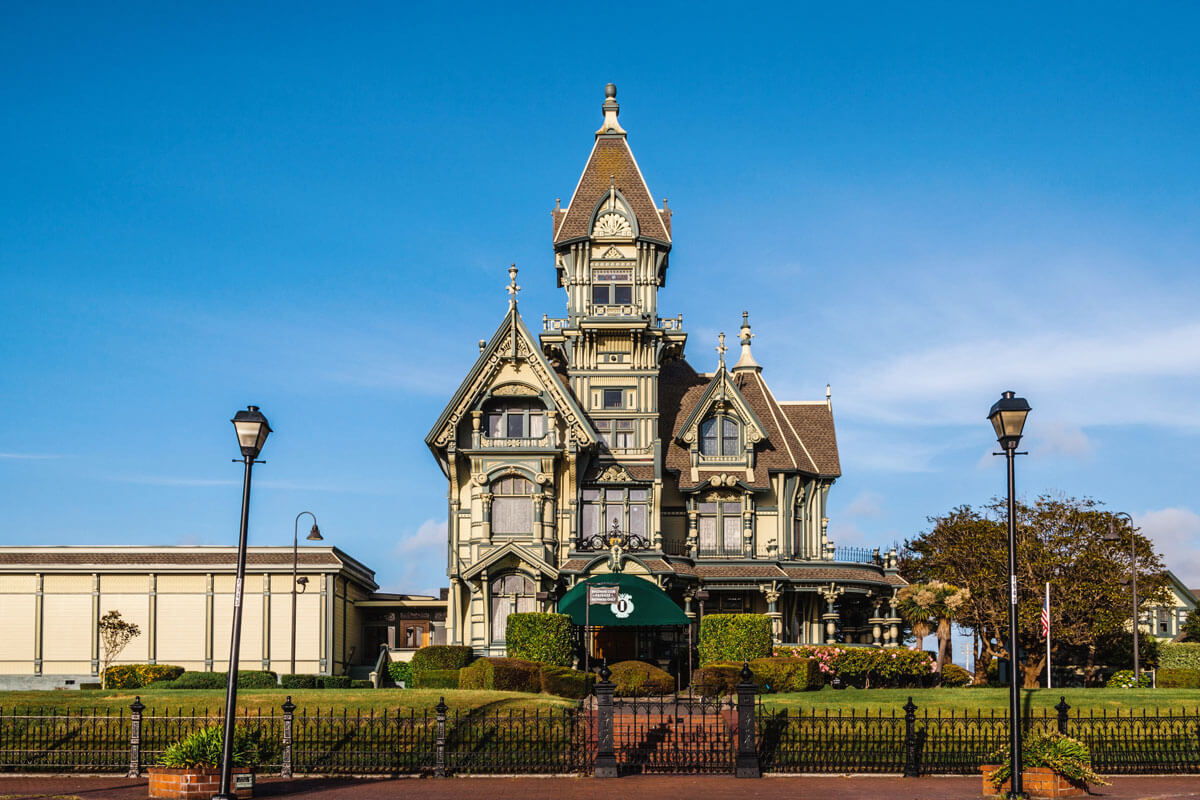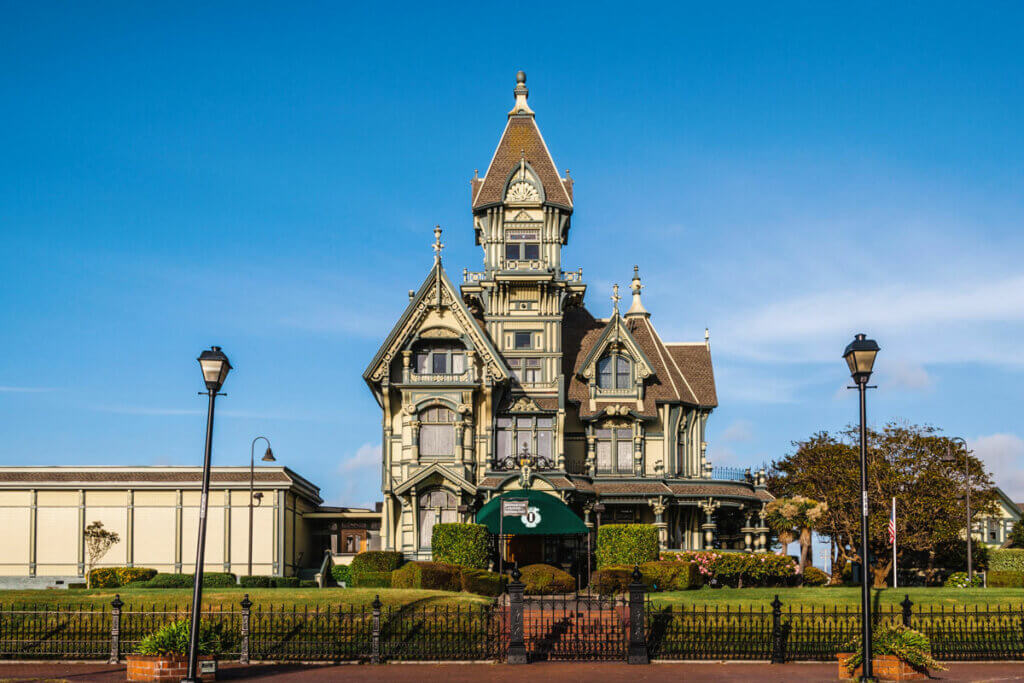 Discover the allure of Eureka, one of the most charming California beach towns! This picturesque port town is brimming with history and natural beauty. Stroll through the Old Town and Waterfront area, where colorful Victorian buildings house shops and restaurants. Don't miss the Eureka Boardwalk and Marina, offering scenic views of Humboldt Bay.
If you love haunted houses and old mansions, Eureka is one of the best places to go in Northern California! Close to the waterfront, you'll find the Carson Mansion. If it feels familiar, that's because the mansion's elaborate Victorian architecture inspired many haunted houses! Across the street, you can book a stay in another historic house, the Pinc Lady Mansion.
Other popular attractions in the town include the Morris Graves Museum of Art, harbor cruises, and kayaking on Humboldt Bay. You can also take horse carriage rides through Old Town or book haunted history tours there.
Eureka is also a popular launching point or base for exploring the nearby Redwood National and State Parks. Enjoy the towering redwood trees, and then return to rest at your booking in Eureka!
Mendocino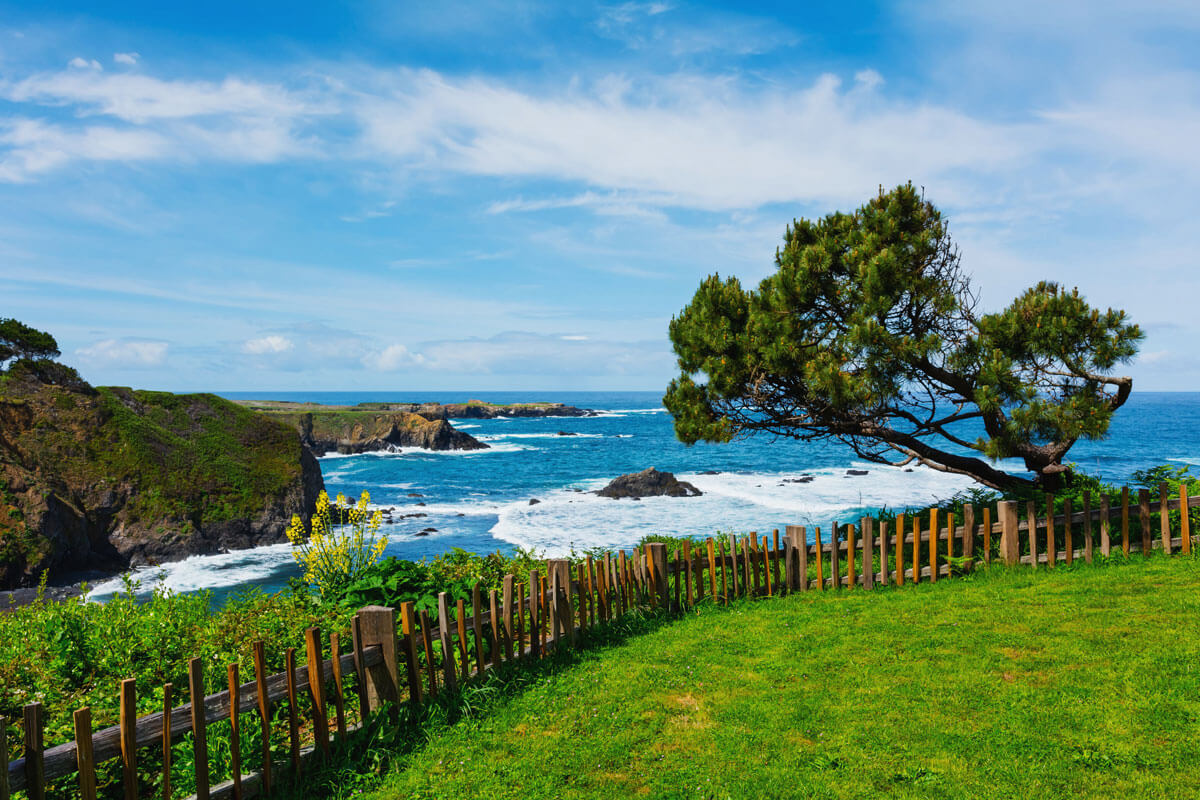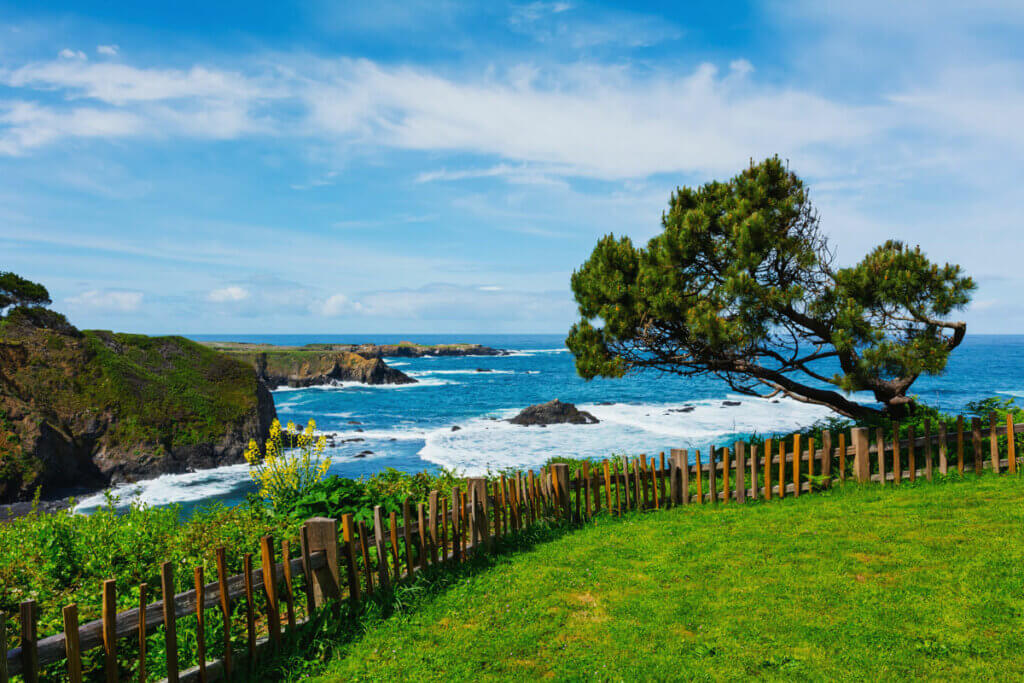 Looking for an ideal coastal escape in a sleepy historical town? Look no further than Mendocino, a picturesque town with historic streets lined with charming cottages and unique shops! And all around you're surrounded by thriving natural areas for outdoor excursions.
Spend your days exploring the boutiques, galleries, and restaurants in town. Wake up in a historic hotel or inn with fabulous ocean views. Or enjoy a wine tasting at one of the local wineries.
Then head out for a coastal hike in Mendocino Headlands State Park, where dramatic cliffs meet the crashing waves of the Pacific Ocean. And make sure to visit the Point Cabrillo Light Station, a historic lighthouse that you can tour.
Kings Canyon and Sequoia National Park
Kings Canyon and Sequoia National Park are one of the best places to visit in Northern California. Discover towering sequoia trees, cascading waterfalls, and breathtaking vistas. Immerse yourself in the wonders of these parks and create memories in the Sierra Nevada mountains.
Located in east-central California, the parks are a popular destination for visitors coming from both San Francisco in the north and Los Angeles in the south. All year round, you can visit for excellent outdoor activities while you're surrounded by awe-inspiring nature.
Hike the scenic trails, like Moro Rock and the Congress Trail, to encounter giant sequoias and witness stunning views of the surrounding landscape. Marvel at General Sherman, one of the world's largest remaining trees. For winter adventures, head to Grant Grove for snowshoeing and cross-country skiing.
You can also get seasonal tickets to tour the underground Crystal Cave or explore the subterranean paths of Boyden Cavern. And if you want to camp at the parks, there are several tent camping sites with amenities (just make sure to make reservations in advance).
Lava Beds National Monument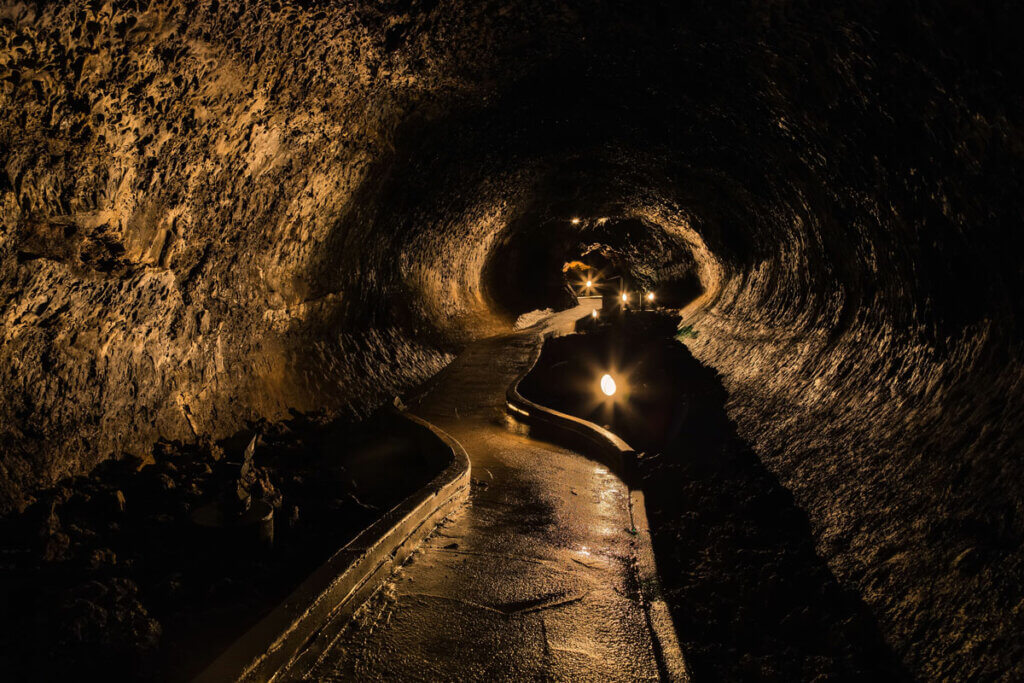 One of the most unique Northern California destinations is definitely Lava Beds National Monument! Come here if you're interested in a blend of geological attractions and Native American history.
Explore the lava tube caves, like Mushpot Cave and Skull Cave. These are just 2 of many caves formed by ancient volcanic eruptions. You can wander through these underground passages and see geological formations.
You can also see Native American rock and ancient pictographs by hiking to Symbol Bridge Cave! Or take the Thomas-Wright Battlefield Trail to learn about the Modoc War and Captain Jack's Stronghold, where Native Americans defended their homeland.
Another popular site is the Schonchin Butte, where you can climb to witness panoramic views of the surrounding volcanic landscape. And birdwatchers come all over to watch the hawks and falcons that nest along the cliffs at Petroglyph Point.
Sonoma Valley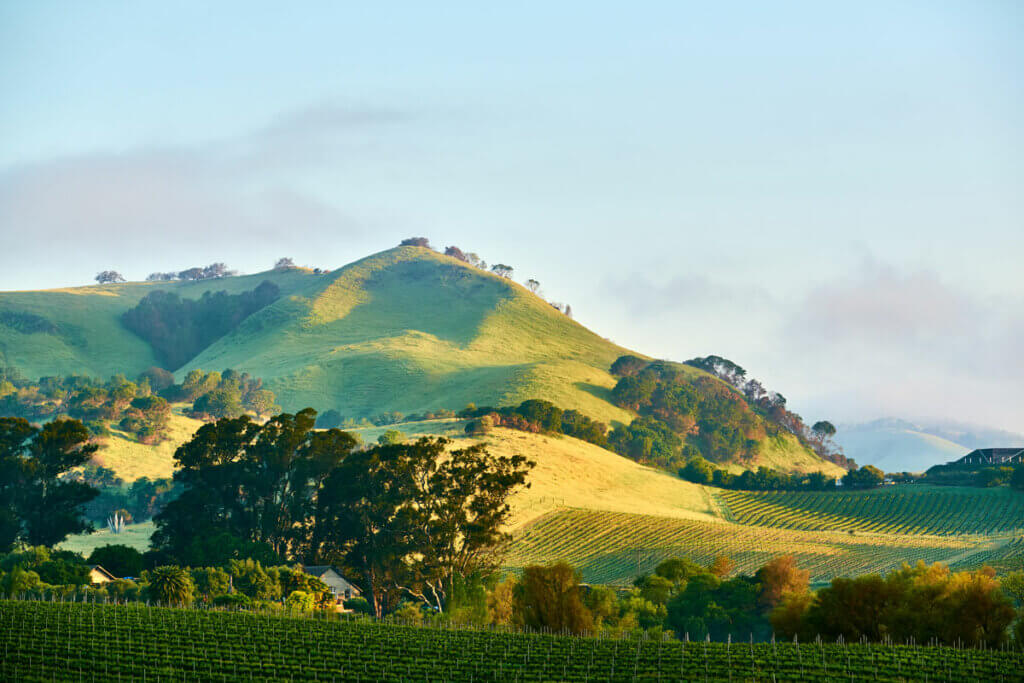 Neighboring Napa Valley and just north of San Francisco is the popular Sonoma Valley. Boasting charming vineyards, award-winning wineries, historic landmarks, and beautiful outdoor spaces, it's a playground of things to do in Northern California!
Start your exploration in the town of Sonoma. The historic Sonoma Plaza in the heart of the town features cute shops, art galleries, and delicious dining options. Make sure to visit the historic Mission San Francisco Solano, the last Spanish mission built in California.
You can't visit Sonoma Valley without going for a wine tasting! So, check out famous local wineries, like Buena Vista and Benziger Family Winery. You can also book a wine trolley tour where you hop aboard an old San Francisco trolley that takes you from winery to winery!
And Sonoma Valley has some stunning landscapes to explore, and many ways to do just that. You can hike through the stunning Jack London State Historic Park, named after a famous author who lived in Sonoma Valley. Or take a hot air balloon ride for views of the vineyards and rolling hills.
San Jose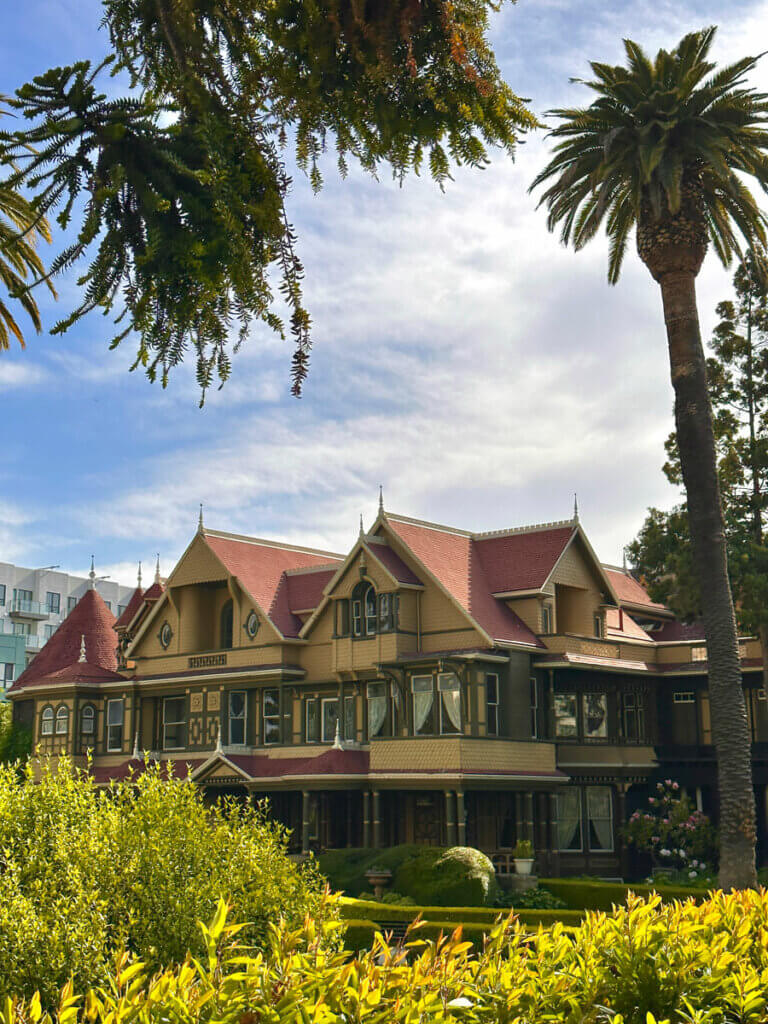 A little south of San Francisco, San Jose is a vibrant city in the heart of Silicone Valley that offers an interesting blend of modernity and history. As one of the best places to visit in Northern California, it brims with exciting attractions for all ages.
San Jose is home to historical attractions, including the Rosicrucian Egyptian Museum. There's also the iconic Winchester Mystery House, filled with unique architectural features that have inspired many mysterious theories. You can take a variety of themed tours, including haunted tours. Or take an architectural tour where you'll learn about stairs that lead nowhere!
The city of San Jose benefits from a variety of green spaces. In the downtown area, there's Guadalupe River Park where you can enjoy almost 3-miles of hiking trails and beautiful gardens. Or you can visit the San Jose Municipal Rose Garden, where thousands of vibrant roses bloom from May through July. Further out, Alum Rock Park is the perfect escape, with hiking trails, picnic areas, and scenic views of the valley.
Or head back into the city where you can enjoy all the modern touches in a gorgeous setting. The vibrant Santana Row is a beautifully designed upscale shopping center filled with shops, restaurants, and live entertainment.
Big Sur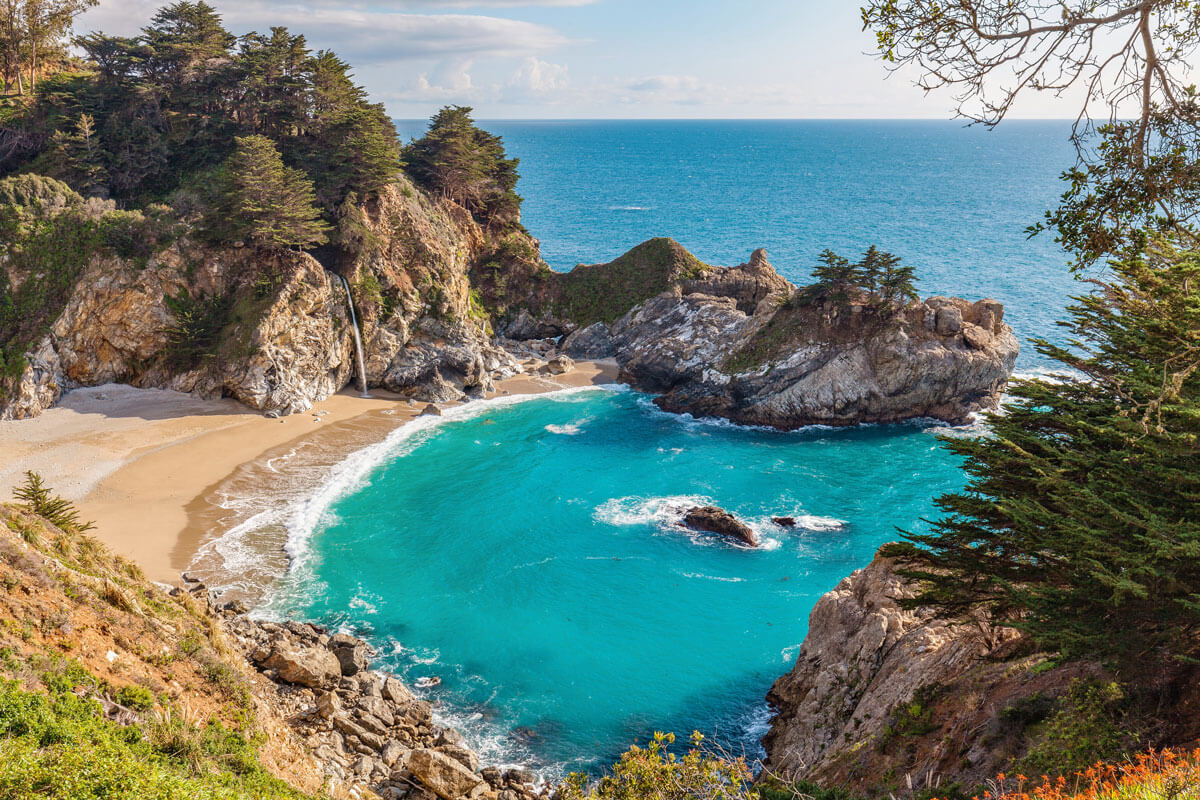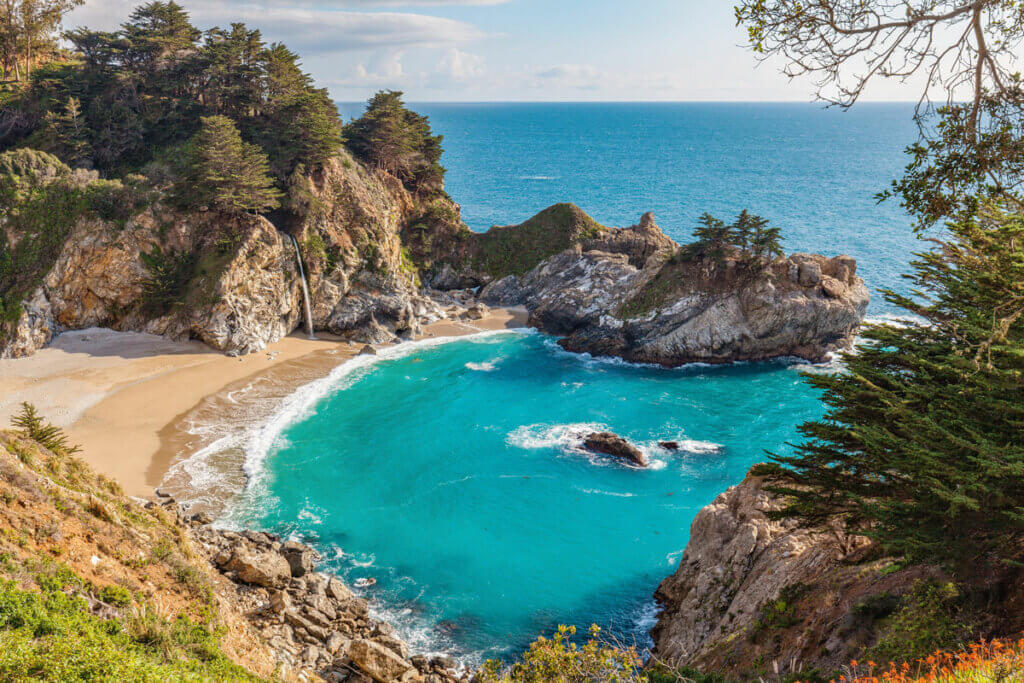 Nestled along California's breathtaking coastline is Big Sur. This rugged and sparsely populated region spans 90 miles along the Pacific Coast Highway, between Carmel to the north and San Simeon to the south.
Big Sur is famous for its towering coastal cliffs, quiet beaches, majestic redwood forests, and ocean views. It is a popular destination for nature lovers, hikers, and travelers seeking a tranquil escape from the cities.
Within the Big Sur region, there are various state parks, campgrounds, and recreational areas where visitors can explore and enjoy the outdoors. You can explore Pfeiffer Big Sur State Park and find waterfalls like Pfeiffer Falls and Valley View.
Or check out McWay Falls, a mesmerizing waterfall cascading directly into the ocean at Julia Pfeiffer Burns State Park with an easy hike to scenic viewpoints to see this postcard perfect view.
You can also experience the unique charm of Big Sur through its iconic landmarks like the iconic Bixby Bridge that you probably didn't know you would recognize!
And the Henry Miller Memorial Library is a one-of-a-kind stop for those who appreciate American history. Or just take a drive through Big Sur along the legendary Pacific Coast Highway and take in the jaw-dropping coastal views.
Santa Cruz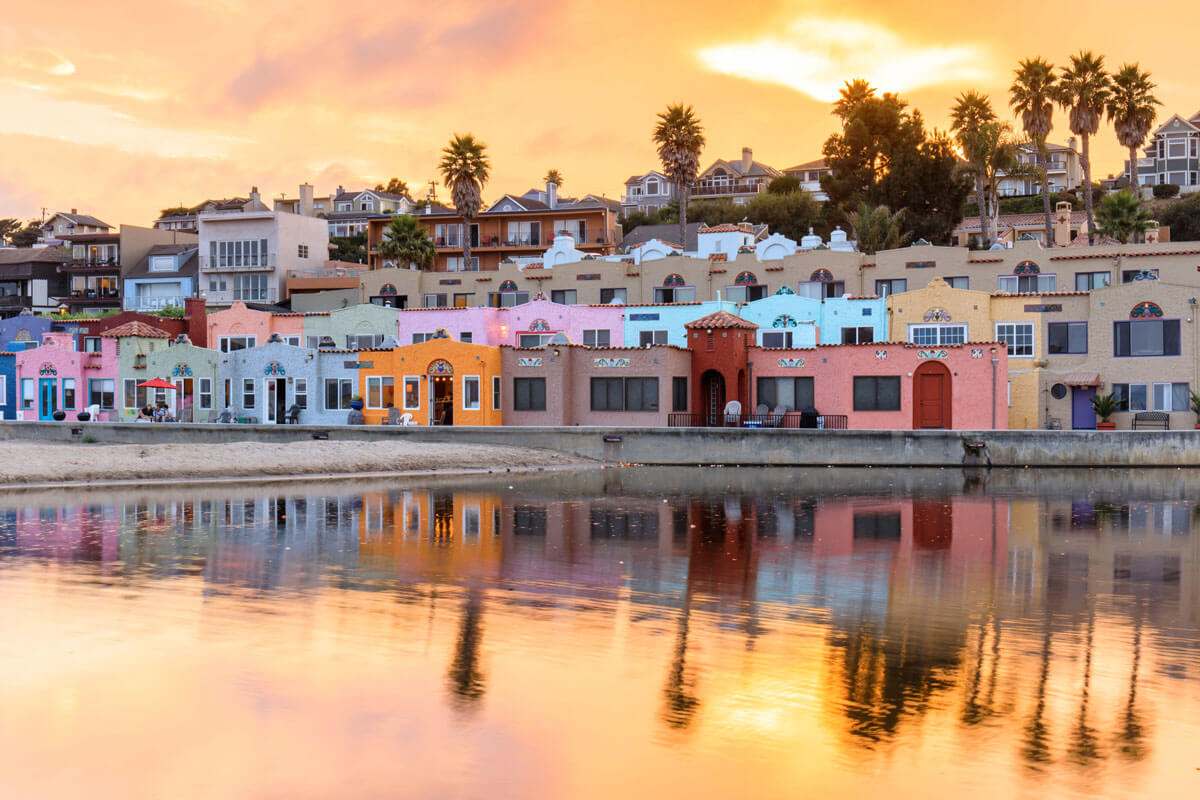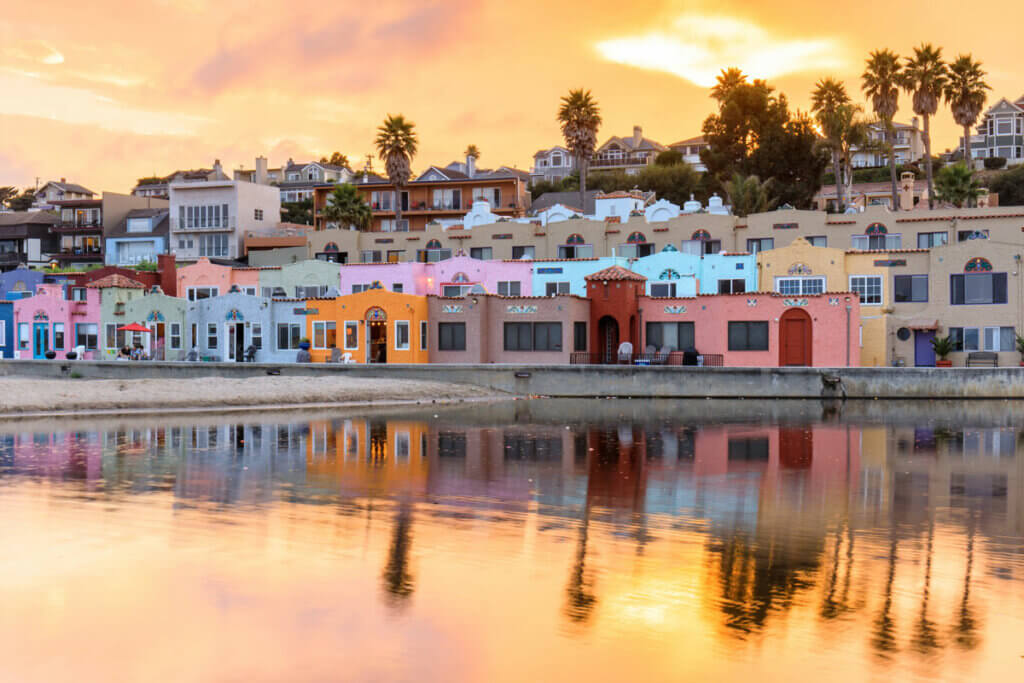 Santa Cruz is known for its stunning beaches, surf culture, outdoor recreation, and eclectic charm. Nestled between old-growth redwood forests and a calm wharf on the Pacific Ocean, this city offers an array of iconic things to do in Northern California.
People flock to Santa Cruz to enjoy the water and experience the laid-back beach culture. Specifically, Santa Cruz is famous for its excellent surf conditions and has earned a reputation as a surfing mecca. Come catch a wave or watch the surfers at popular surf spots like Steamer Lane and Pleasure Point.
And no visit to Santa Cruz is complete without a trip to the iconic Santa Cruz Beach Boardwalk. It's an iconic seaside amusement park with a historic wooden roller coaster, classic arcade games, and all your favorite treats. Or you can head straight to famous beaches like Main Beach and Natural Bridges State Beach.
For more outdoor activities inland, head to DeLaveaga Park. Here, you can explore a sprawling green oasis with hiking trails, disc golf courses, and great views of Santa Cruz and the ocean beyond.
Just north of the city, you can experience more unique attractions, like the Mystery Spot. Open in 1941, this is a fun park built around a gravitational anomaly where the laws of physics seem to bend, creating optical illusions! Another activity we loved in Santa Cruz was riding the Redwood Forest Steam Train. This is your chance to enjoy a scenic ride through the majestic redwood forests on a vintage steam locomotive from the 1800s!
Half Moon Bay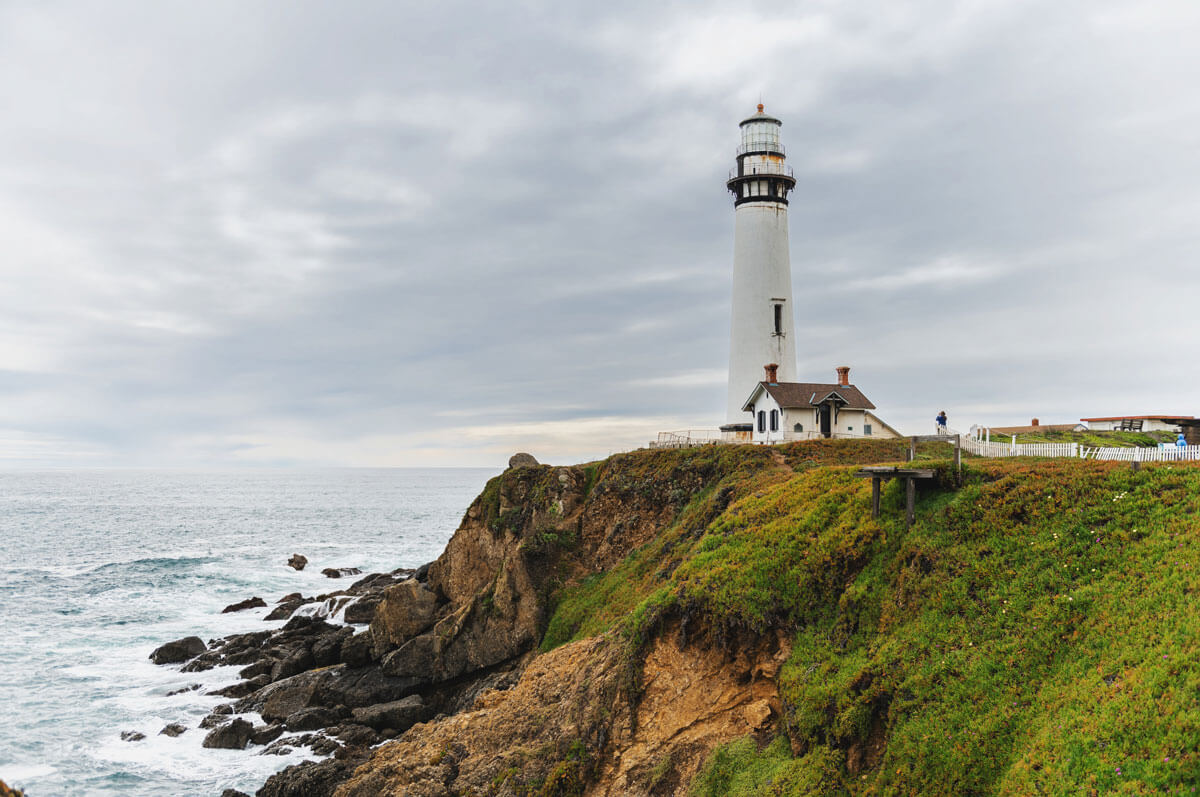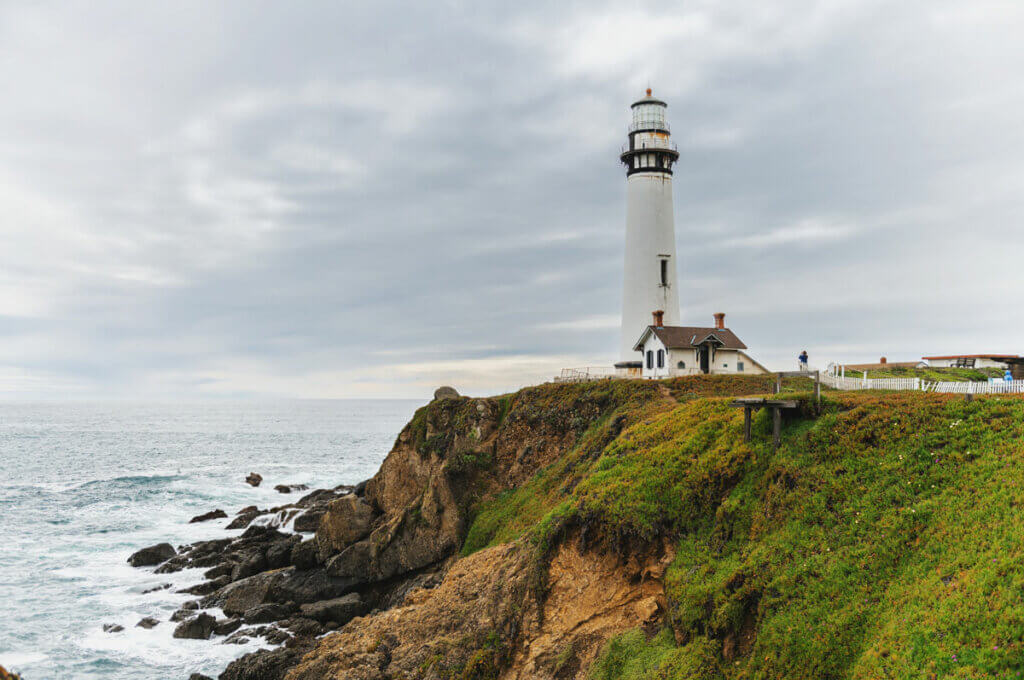 Nestled along the Northern California coastline, Half Moon Bay is one of the top places to see in Northern California. This adorable town with warm your heart with a walk along Main Street! You can embrace the town's unique character as you check out charming boutiques, gift shops, and art galleries.
Relaxation awaits at Half Moon Bay State Beach, where sandy shores and rhythmic waves set the tone for a perfect beach day. Another highlight of Half Moon Bay is Pillar Point Harbor, which reminded us of a New England fishing village! Hang out along the marina, where you can shop at waterfront shops and enjoy lots of delicious seafood spots!
If you love lighthouses, you'll want to visit the Pigeon Point Lighthouse, just a short drive south of Half Moon Bay on the PCH. This gorgeous tower is one of the tallest lighthouses in the US and you can take a tour or even stay at the hostel here.
And if you want to get outdoors and enjoy California's infamous redwoods, a visit to the Purisima Creek Redwoods Open Space Preserve is in order. You can hike or bike scenic trails through forests of towering redwoods and lush ferns.
Monterey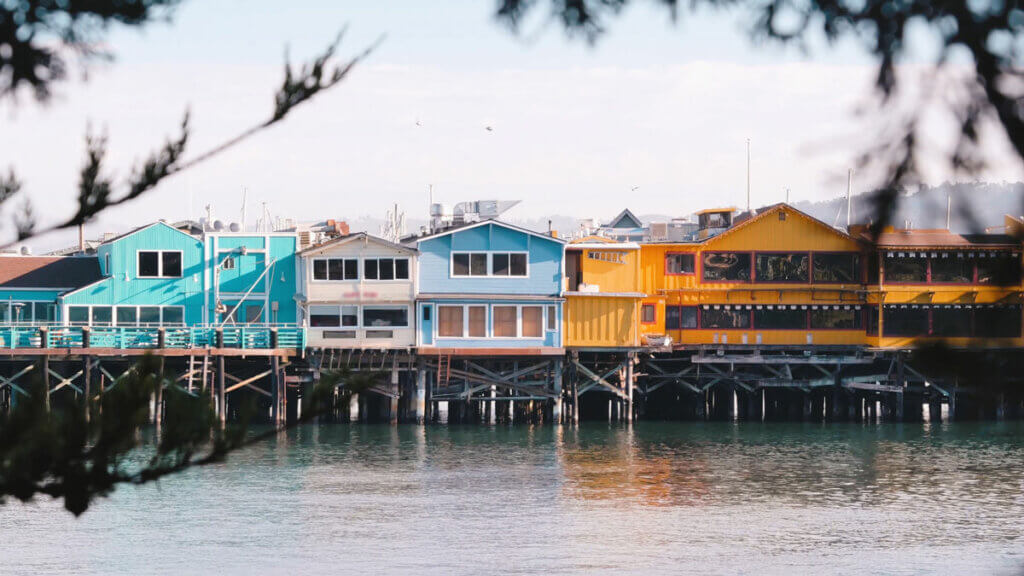 Monterey's long, romantic history makes it one of the best places to visit in Northern California! The town was the capital of Alta California under Spanish and Mexican rule! You can still see remnants of that time through well-preserved historic buildings and adobe structures.
And the town's maritime past comes alive at the renowned Monterey Bay Aquarium, where interactive exhibits showcase Monterey's connection to the sea and its thriving marine life. Along historic Cannery Row, remnants of the once-booming sardine canning industry now house charming shops and places to eat.
If you're craving fresh seafood, head to Fisherman's Wharf. This is also where you can watch sea lions, who have made the wharf their favorite spot for rest and relaxation! Or book a whale-watching tour and witness majestic marine creatures. You'll see humpback whales and orcas as they spend the winter in Monterey Bay.
For more Monterey history, embark on a cycling tour of the iconic 17-Mile Drive. Along this route, you'll enjoy breathtaking ocean scenery and famed landmarks like the Lone Cypress. But the tour also offers a glimpse into the town's past as an exclusive retreat for the rich and famous.
Carmel-by-the-Sea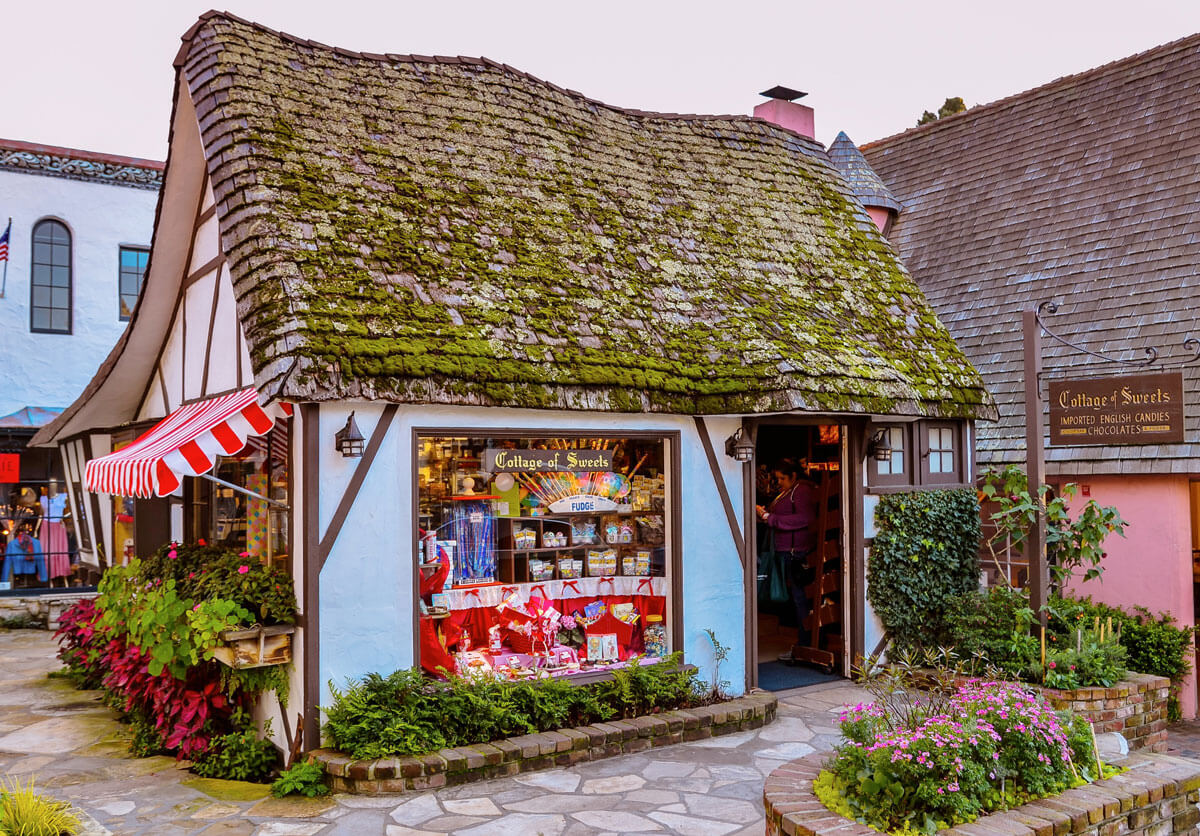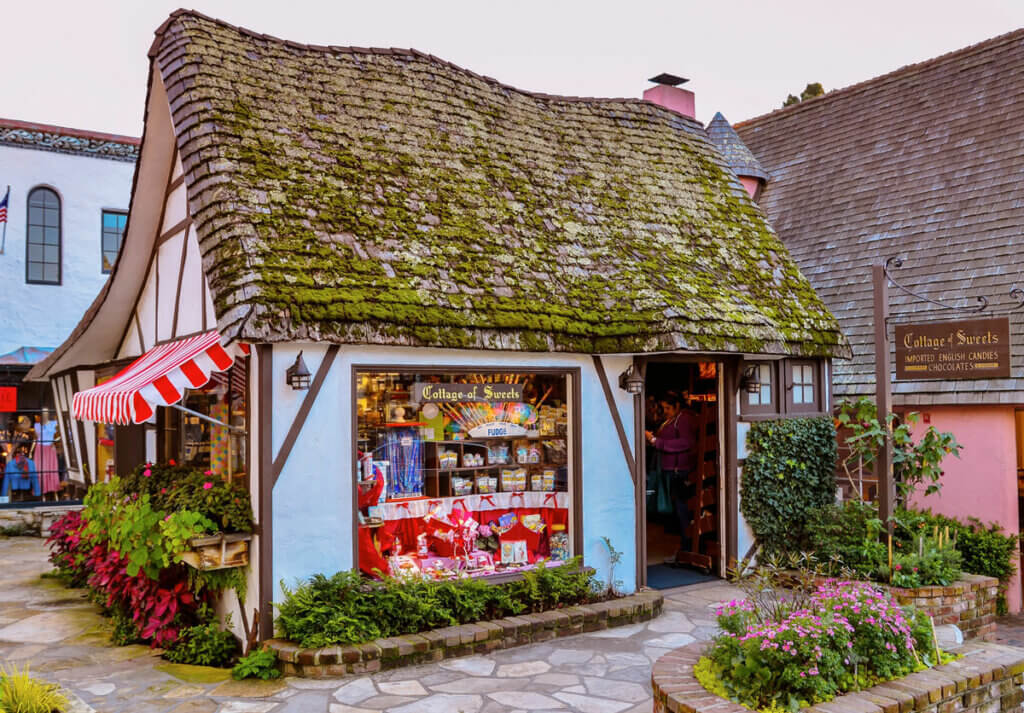 One of the most charming things to do in Northern California is see the enchanting town of Carmel-by-the-sea. This charming town feels like something straight out of a fairytale, known for its cobblestone streets and storybook cottages. Just stroll down Ocean Avenue, with its delightful boutique shops and art galleries!
Everything in Carmel-by-the-Sea feels handcrafted, and that's intentional! You won't find a McDonald's here, but the food scene is spectacular. All the restaurants and cafes are top-notch. It's also a great place to enjoy California's wine scene at any of the many wineries and tasting rooms around town!
There's also a great food scene here, so why not join a food and wine-tasting tour around Carmel-by-the-sea?
This beautiful town is also home to the historic Carmel Mission Basilica, where you can enjoy Spanish colonial architecture and serene gardens. And fans of Frank Lloyd Wright can catch a glimpse of his designs at the Clinton Walker House, located just off Carmel Beach!
And you can't visit this darling beach town without exploring the iconic Carmel Beach, a pristine stretch of white sand popular with surfers. Nearby, Scenic Road is a favorite spot for leisurely walks and scenic drives. Not to mention there are really beautiful places for a scenic bike ride along the ocean too with e-bike rentals.
Or plan the ultimate beach day at Carmel River State Beach. Nestled along the Carmel River, this peaceful beach is perfect for scuba diving and just enjoying the picturesque setting.
Mount Shasta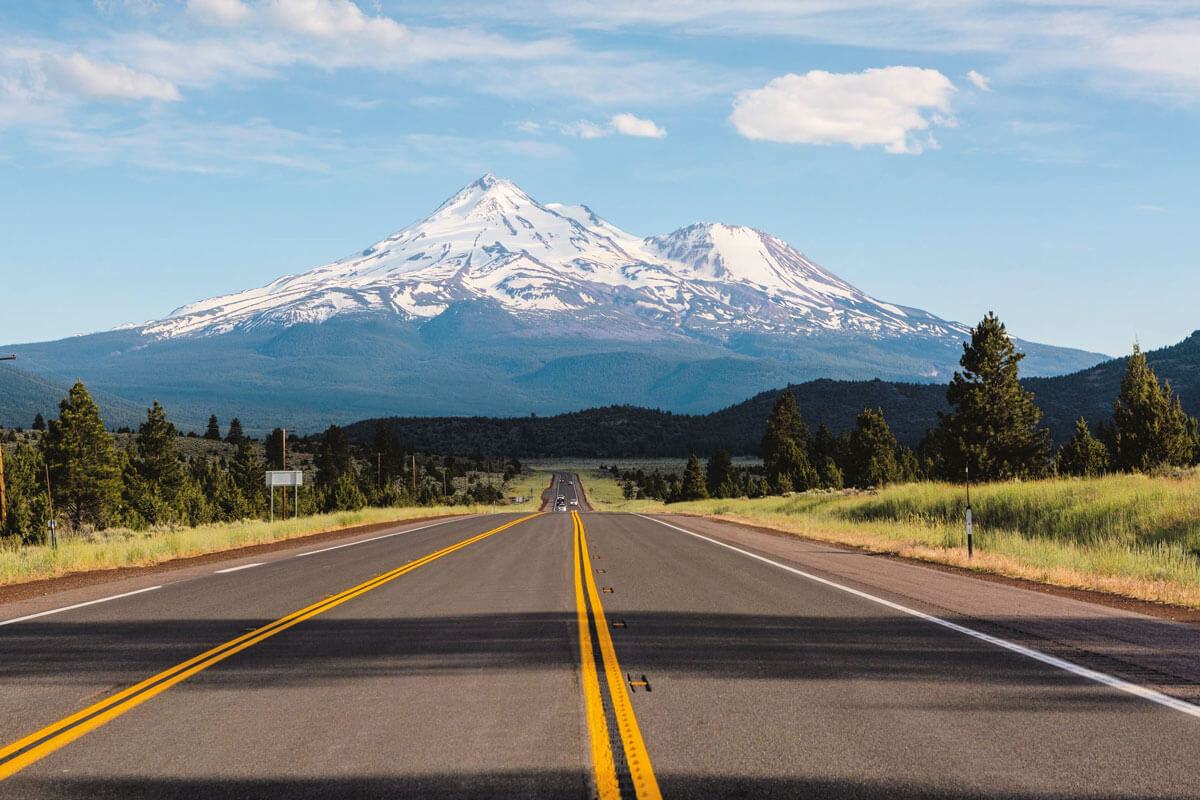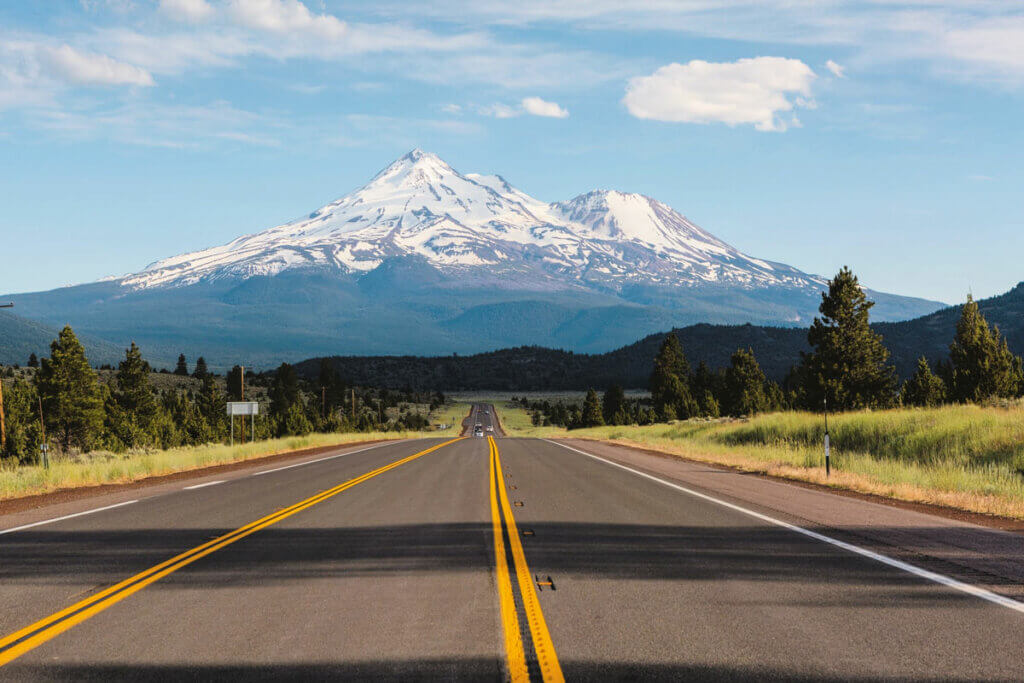 One of the most beautiful places to see in Northern California is the majestic peak of Mount Shasta. The mountain is popular all year round for outdoor activities. Most notably, Mount Shasta is a popular winter destination, when it transforms into a snowy wonderland. Head to Mount Shasta Ski Park for a day of skiing and snowboarding.
During the warmer months, you can take on hiking trails that lead to breathtaking vistas and serene alpine lakes! A short distance away, you can visit McArthur-Burney Falls, a spectacular 129-foot waterfall surrounded by lush forests.
From the small town of Mount Shasta, you'll enjoy amazing views of the mountain peak! This is the perfect base for exploring the surrounding area. You'll find all kinds of places to eat, shop, and stay, including a wide range of inns and hotels. Consider a stay at the hip (and affordable) LOGE Mt. Shasta motel!
Mono Lake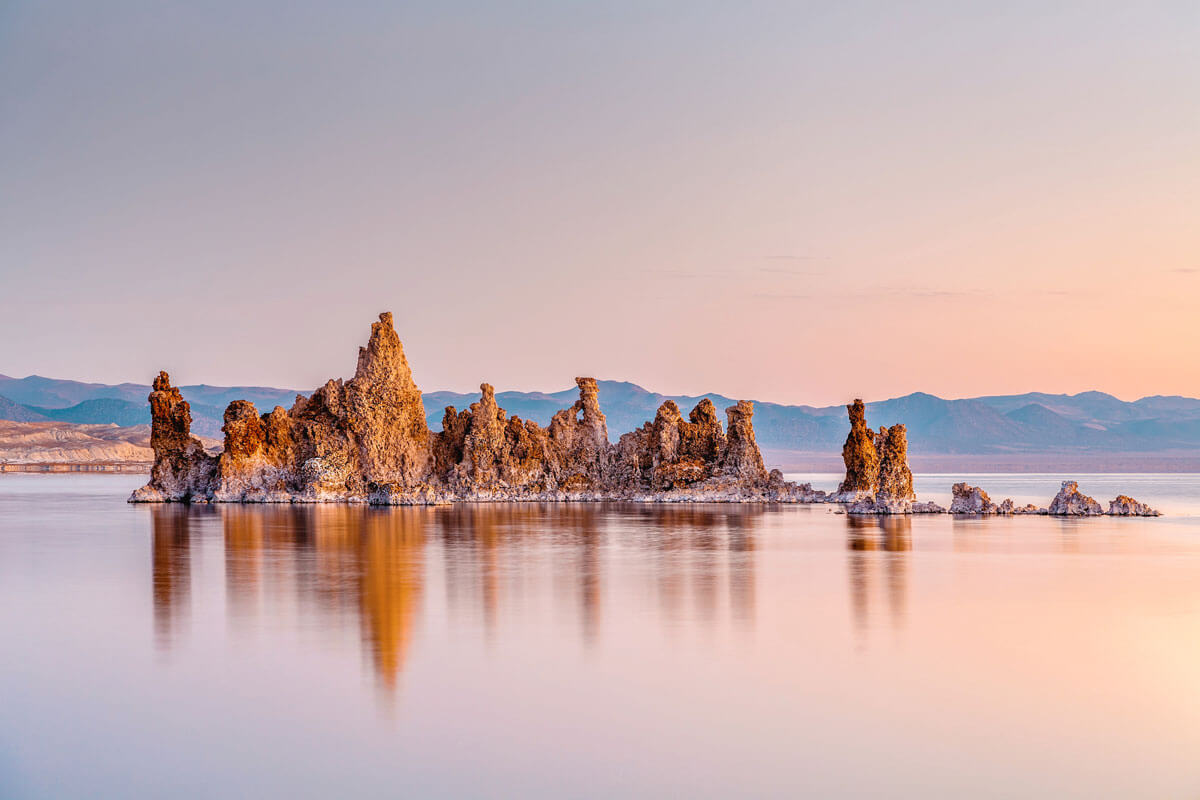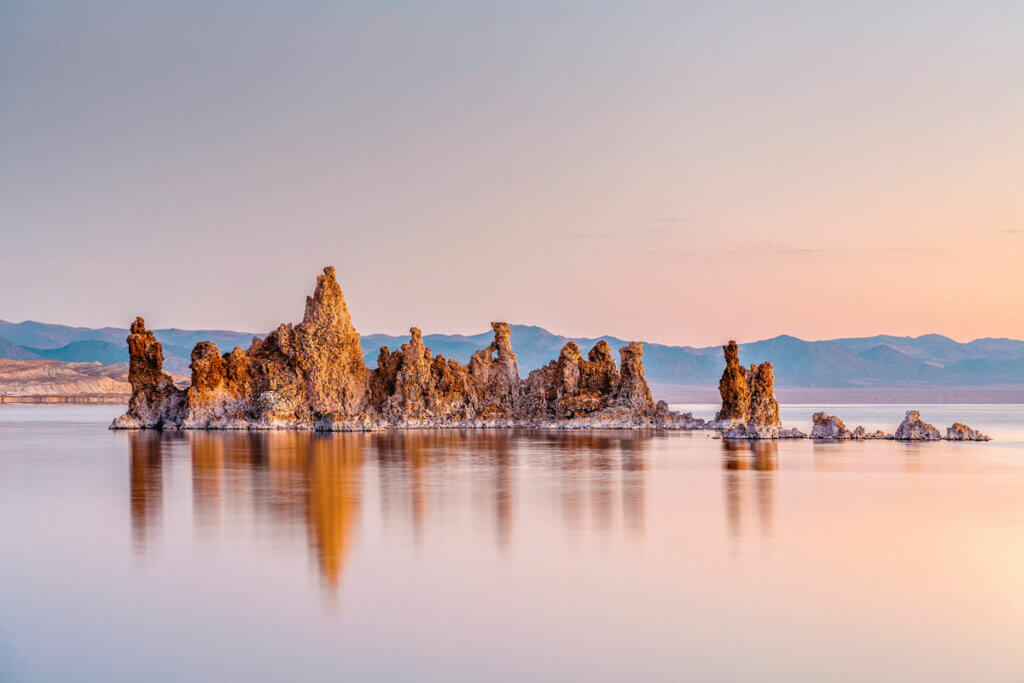 By far, one of the most unique places to go in Northern California is Mono Lake. This captivating destination in the Eastern Sierra features a saline lake with unusual calcium carbonate formations called tufa towers!
You can visit the Mono Basin Scenic Area Visitor Center to learn about the lake's ecological significance and its delicate ecosystem. Or explore Mono Lake County Park, providing access to the lake's shoreline. There are different easy and moderate trails (depending on how far you want to go) where you can take in the surreal scenery. Or you can hike to a paddle launch on Navy Beach.
And if you're interested in photography, Mono Lake is a hidden gem! It's fun to get otherworldly shots of the stark landscape. The area is home to all kinds of birds and animals, and you can take natural walks in fields of wildflowers, too. All of this makes pictures of Mono Lake that much more interesting.
Sausalito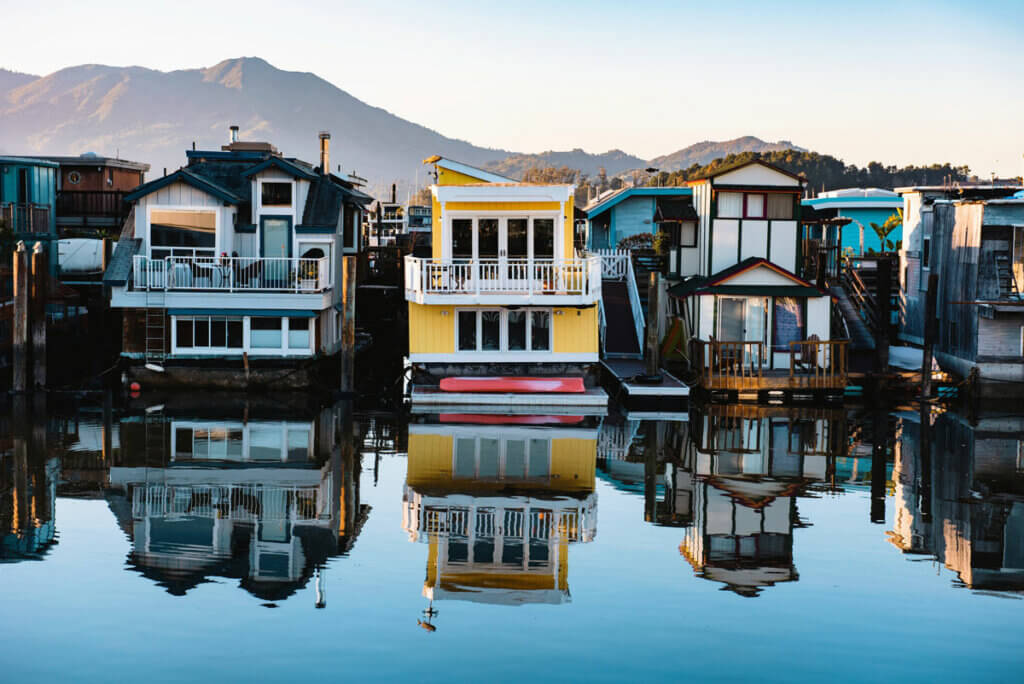 While you're exploring nearby San Francisco, consider visiting the bayfront town of Sausalito, one of the best places to visit in Northern California. Start with a walk north on Bridgeway, where you'll find a mind-blowing collection of galleries, art studios, and artist boutiques showcasing local art and crafts.
But Sausalito is perhaps best known for the breathtaking views of San Francisco's skyline, the iconic Golden Gate Bridge across the bay, and cool houseboats (which you can stay in!)! Enjoy the views from one of the many amazing waterfront restaurants serving up local seafood. Or rent a bicycle and cycle along the scenic shoreline.
Nearby, Gold Gate Bridge National Recreation Area features a variety of outdoor activities and landmarks you can visit. You can hike different trails to scenic vistas, sandy beaches, or historic old lighthouses. And a visit to the Marine Mammal Center is a must! Here, you can learn about local marine life conservation and rescue efforts.
Muir Woods National Monument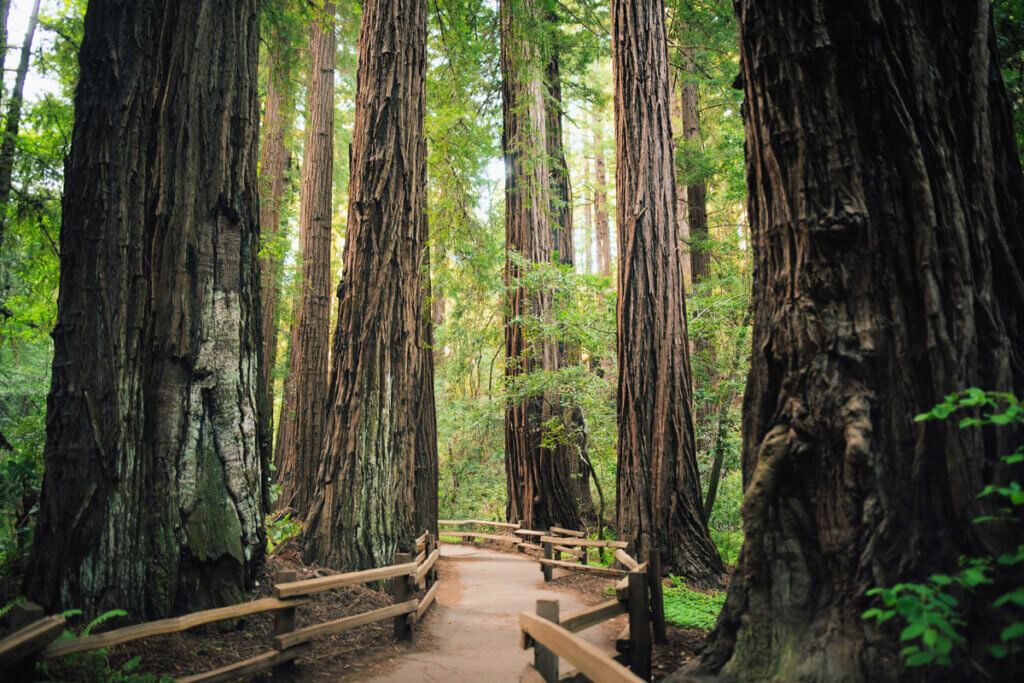 Want to see California redwoods but don't want to venture too far from the Bay Area? Bring your camera and explore one of the best things to do in Northern California – Muir Woods National Monument. Retreat into this peaceful forest as ancient coastal redwoods tower overhead.
After stocking up on snacks and water at the visitor center, head out on the popular Main Trail, an easy walk through the heart of the redwood grove. The trail leads to the tranquil Cathedral Grove, where filtered sunlight creates a spiritual atmosphere. Lots of people stop here to meditate under the breathtaking beauty of the trees, some of which are over 1,000 years old!
Other extensive trails take you across the length of the park to different points of interest. You can also drive to parking lots and explore (just keep in mind that this is a busy destination during the summer).
Head to Muir Beach for a rewarding swim. Or check out the Cushing Memorial Amphitheater, where Mountain Play hosts summer productions!
---
Best Places to See in Northern California (Post Summary):
San Francisco
Napa Valley
Lassen Volcanic National Park
Lake Tahoe
Point Reyes National Seashore
Redwood National and State Parks
Humboldt Redwoods State Park
Mammoth Lakes
Yosemite National Park
Gold Rush Towns of Tuolumne County
Eureka
Mendocino
Kings Canyon and Sequoia National Park
Lava Beds National Monument
Sonoma Valley
San Jose
Big Sur
Santa Cruz
Half Moon Bay
Monterey
Carmel-by-the-Sea
Mount Shasta
Mono Lake
Sausalito
Muir Woods National Monument
---
What is unique to Northern California?
Northern California is unique for its diverse landscapes, encompassing the iconic redwood forests, wine regions like Napa and Sonoma, Silicon Valley's tech hub, and vibrant cultural cities like San Francisco.
When is the best time to visit Northern California?
The best time to visit Northern California is in the fall (September to November) when pleasant weather, fewer crowds, and wine harvest festivals make it an ideal time for exploration.
What is Northern California known for?
Northern California is known for its stunning natural beauty, including the redwood forests, Pacific coastline, wine regions, and diverse cultural hubs like San Francisco and Silicon Valley.
What is the best season to visit Northern California?
The best season to visit Northern California is typically spring (April to June) or fall (September to November) when mild weather and fewer crowds enhance the travel experience.
---
Enjoyed this guide to the best things to do in Northern California? Bookmark for later or share the love below on Pinterest.
Looking for more California travel inspiration? Check out all our favorite stops on the Los Angeles to Yosemite drive!