Looking for how to spend a weekend in NYC? This 2 days in NYC itinerary and weekend getaway guide is just what you need to help plan an unforgettable getaway for a bite-sized trip to one of the best cities in the world. (we might be biased!)
Sure, exploring New York in 2 days isn't going to be enough. Heck, multiple days isn't enough, and even though we live in the city and do more sightseeing than you're average local, or transplant we have still have yet to do it all and doubt we will ever come close!
This weekend in NYC itinerary will be based out of Chelsea since this is one of the BEST neighborhoods to use as a launchpad to explore some of our favorite picks for how to spend 2 days in NYC (if you only have a weekend).
It's really tough to pick the best places to explore – especially for one weekend so we went with the neighborhood we stayed in and based in when we house sat here which ultimately turned into the reason why WE moved to NYC. And since rent in this neighborhood is a bit unattainable for most – staying here is the next best thing.
This guide will cover things to do and see, neighborhoods to explore, a few suggestions of our favorite places around to eat and drink, and a few more suggestions in case you have extra time on your weekend in NYC or you have more than 2 days in New York.
This guide and itinerary covers mostly Chelsea and Midtown West including the Meatpacking District and Hudson Yards along with exploring neighborhoods like the West Village, Greenwich Village, SoHo, and NoHo.
And you'll notice on this NYC itinerary we are skipping some of the touristy hot spots like Times Square, Statue of Liberty, and Central Park – not because they aren't great but because we wanted to share a few cool areas to explore and it just didn't fit. See our section later on in the guide for more suggestions if you end up having more than 2 days in NYC or have extra time on your weekend in New York.
We also have planned a lot of walking on this NYC itinerary. Wear comfortable walking shoes, you can always take the subway and/or grab a yellow cab to get around although keep in mind sometimes walking is just as fast as taking a cab if you don't have very far to go!
Disclaimer: This post was done in collaboration with Motto by Hilton New York City Chelsea, as always all opinions are our own.
Day 1: 2 Days in NYC Itinerary
Breakfast at Brooklyn Bagel & Coffee Co.
286 8th Avenue
Start your weekend in NYC off right with one of the best breakfast options and quintessential food to try when you're in the city – a fresh New York bagel!
We both have been spending the past few years tasting our way around to figure out who has the best bagel in the city and well, Brooklyn Bagel & Coffee Co. comes in at the number one spot.
Their doughy bagels are perfection. We personally are fans of the flavored cream cheese spreads, although breakfast sandwiches are an option.
There is a small seating area outside, however, we recommend grabbing your bagel to go and walking over to the High Line to find a bench to enjoy your breakfast at! You'll walk around 2.5 blocks, you'll want to enter the High Line at 23rd Street (at 10th Avenue).
Walk the High Line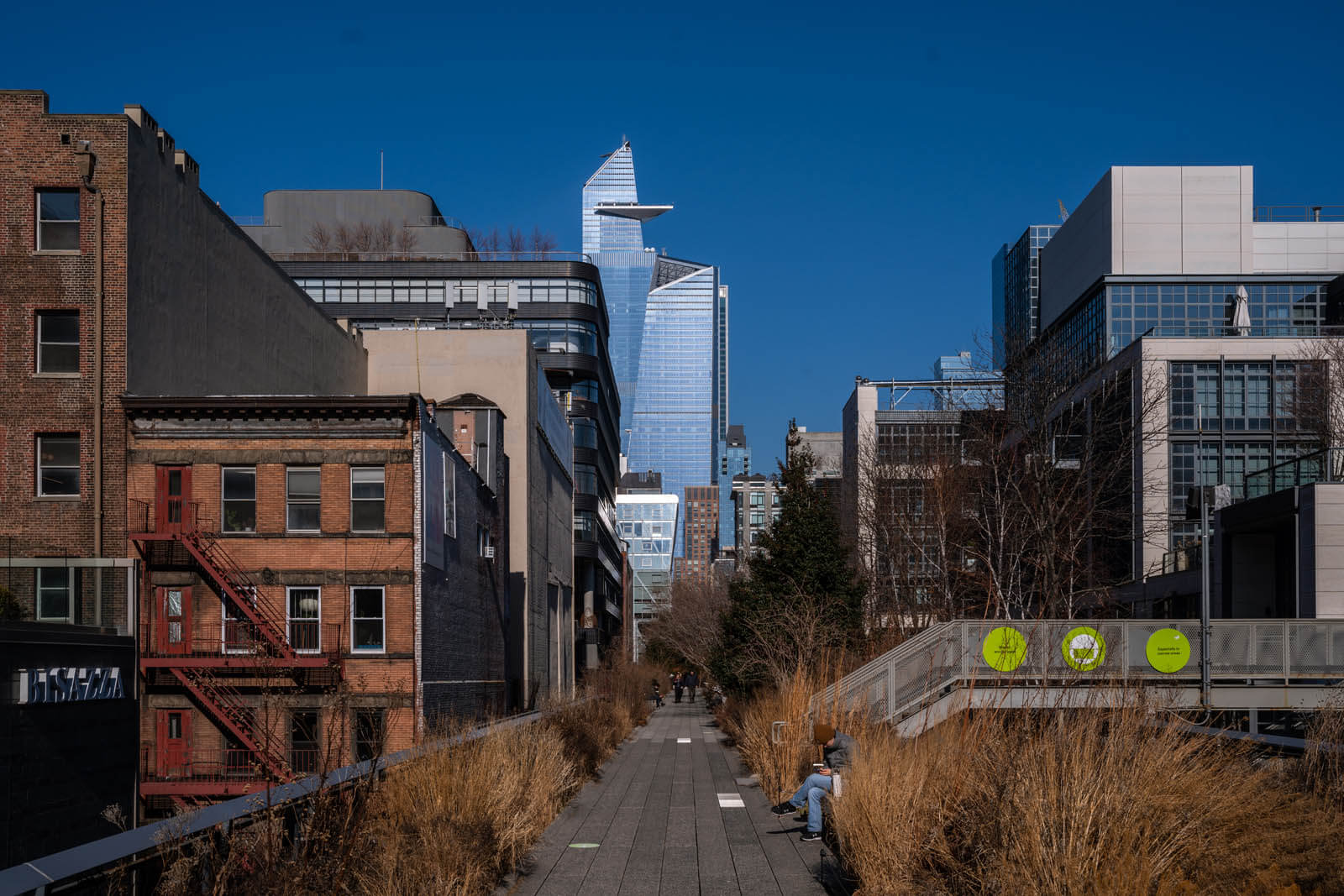 If you've grabbed your bagel and made your way to 23rd St (at 10th Ave) you will enter the famous Chelsea High Line, one of the most unique parks in the city located on a former elevated railway. The entire High Line is 1.4 miles stretching from the Meatpacking District to Hudson Yards.
We recommend walking towards Hudson Yards first, then we suggest turning and walking the opposite way to build up an appetite for lunch. Along the way, you'll have plenty of opportunities to find a bench to take a seat.
As you're walking the skyline you'll pass public sculptures, impressive architecture from historic buildings to modern buildings, see murals, NYC traffic from above, and of course you can make as many stops as you wish along the way.
If you want to learn more about the High Line and some of the fascinating stops along the way, they do offer free public tours too. These are not always available, so it's best to check to see if there are any during your 2 days in NYC.
Something to keep in mind is that you can't enter the High Line anywhere. There are designated entrances usually every few streets, check which entrances are open during your visit.
Hudson Yards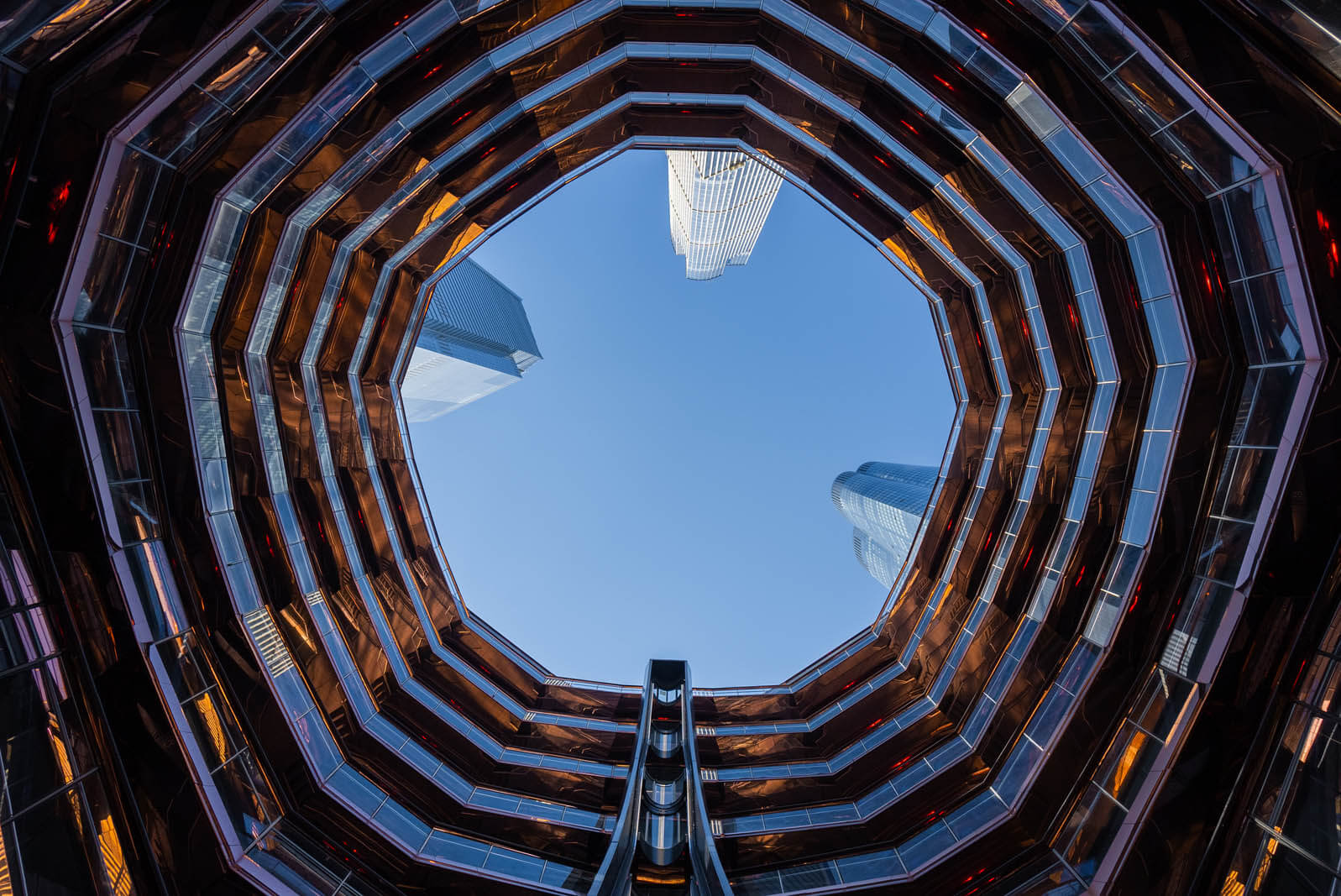 Walk to the end of the High Line to Hudson Yards on Manhattan's West Side. This posh neighborhood was born out of high-end developers and has a few fun attractions worth visiting.
One thing you don't want to miss (and it's hard to miss) is the Vessel. This towering, honeycomb-shaped structure is an impressive outdoor installation that was first opened as an observation deck where visitors could climb the stairs and landings. Due to a few unfortunate events that took place here, the observation and ability to climb the Vessel are closed indefinitely.
That being said, the Vessel is still really cool to check out and they let visitors take a peek looking up from the center of the Vessel from the base.
There's also a mall here and if you're already feeling peckish make you're way to Mercado Little Spain, the Spanish market located at the lower level of Hudson Yards.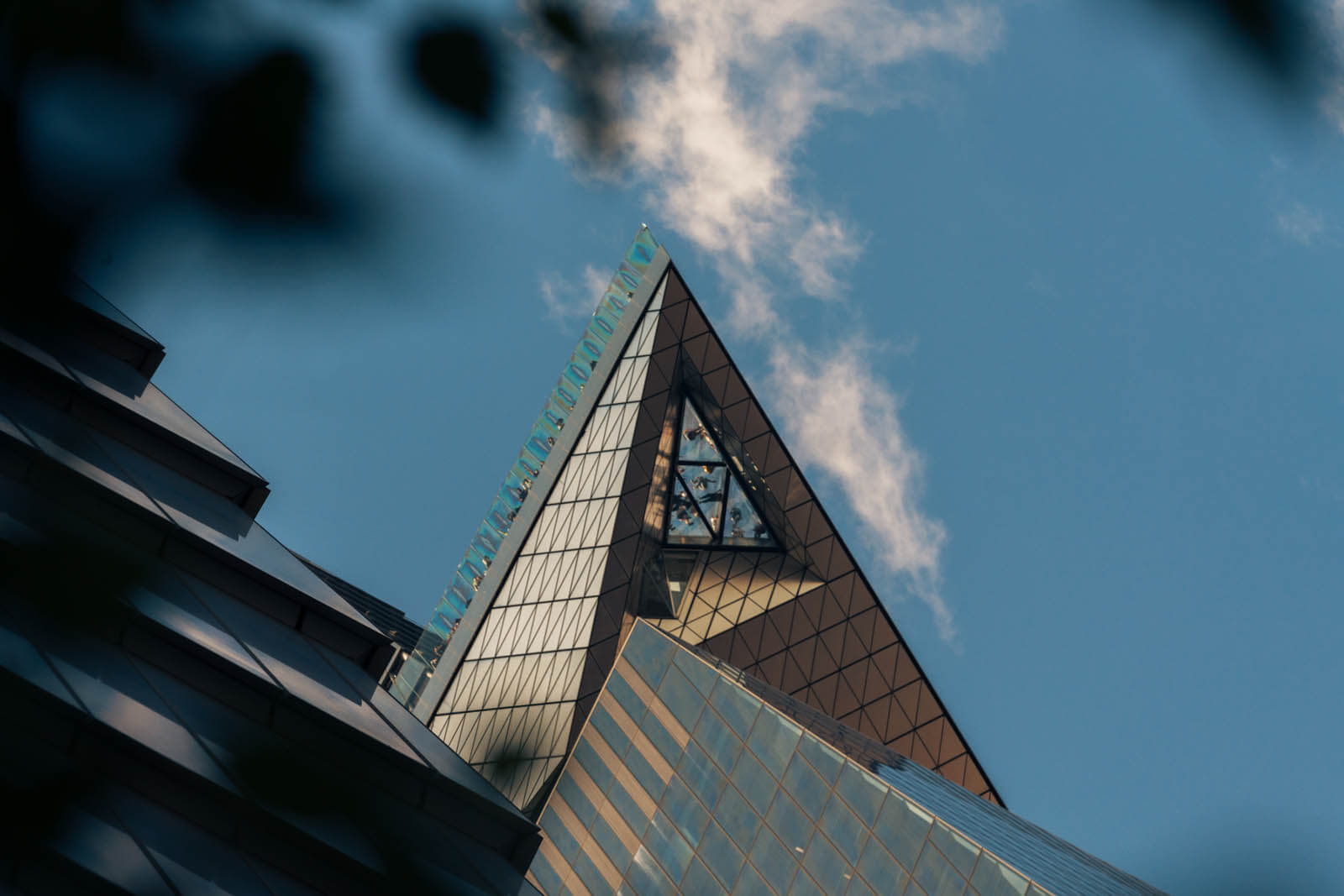 If you're looking to see the city from sky high, check out the Edge NYC, the highest outdoor Skydeck in the Western Hemisphere! This is one of the newest, sexiest observation decks that has opened that past few years in the city and you've probably seen images shared from the outdoor corner where it looks like the person standing is floating above the city on a sliver of glass.
Besides the cool photos, you also get incredible views of the city like the Statue of Liberty, One World Trade Center, and other iconic landmarks like the New Yorker.
Purchase your Skip the Line Edge tickets in advance so you don't have to wait in any queues on the day of.
Visit Chelsea's Art Galleries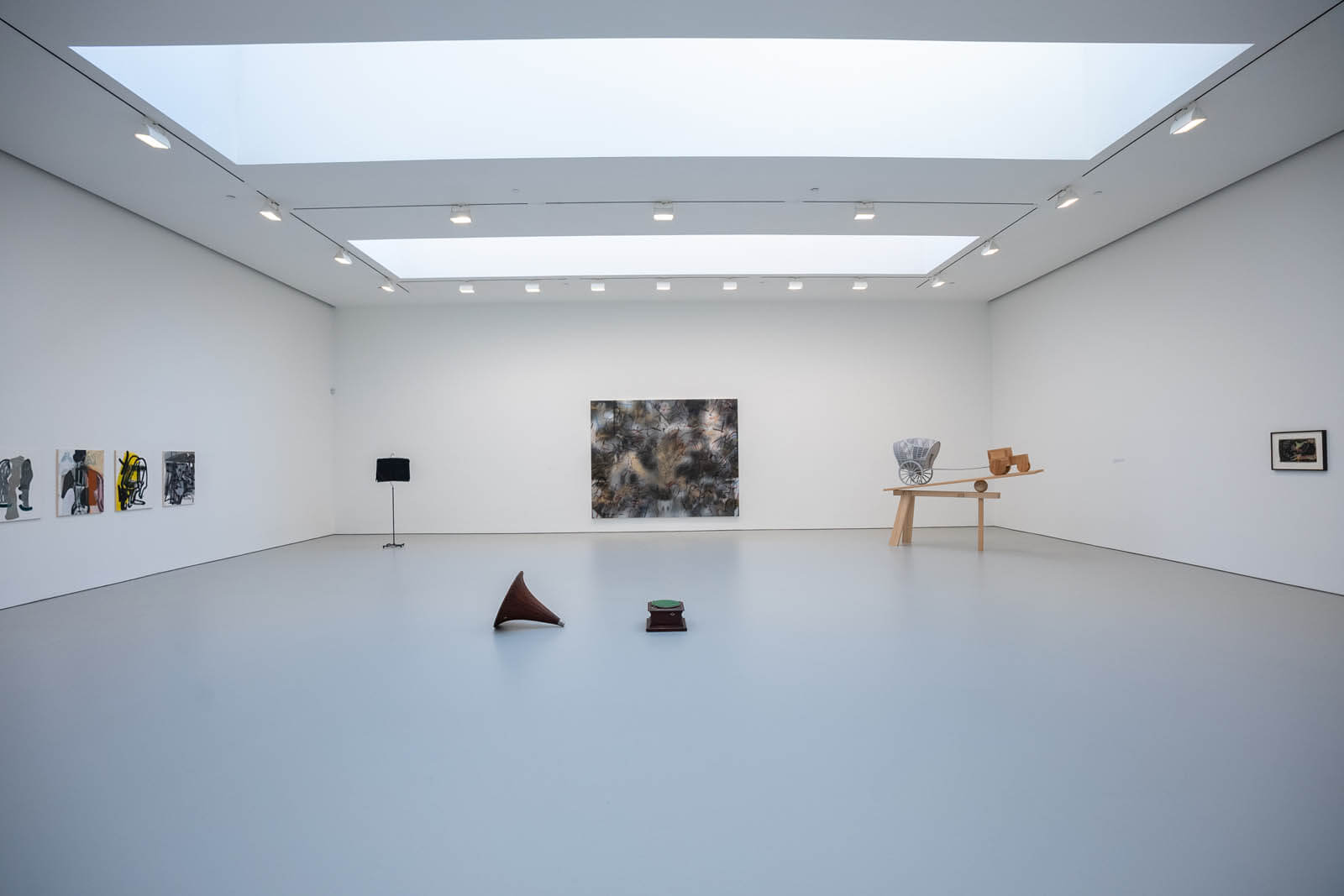 As you start heading back the opposite way on the High Line during your weekend in NYC itinerary, we suggest popping up and down – on/off the High Line to make a few stops along the way towards the Meatpacking District.
The neighborhood of Chelsea is known for its contemporary art scene and its hundreds of galleries. This neighborhood has always been a gathering place for artists (visit the historic Chelsea Hotel to pay homage to many of the artists that were residents here from Jackson Pollock, Andy Warhol, to musicians like Bob Dylan and Patti Smith at 204 W 23rd St) and you can find the sea of galleries that make this one of New York's best cultural hubs.
There are literally hundreds of galleries in Chelsea, too many to fit in 2 days in NYC, so we are going to recommend a few of our favorites. You will find most galleries in a 10 block section on 10th and 11th Avenues from around 18th to 28th Streets.
Guy Hepner – (521 W 26th St 5th Floor) This is one of the best galleries in the neighborhood if you're wanting to see some of pop art's biggest names work like Andy Warhol and Roy Lichtenstein or other contemporary and mixed artists like Jeff Koons, Keith Haring, Invader, Yayoi Kusama, and Damien Hirst to name a few.
Taglialatella Galleries – (229 10th Ave) is known for its impressive collection of street art and pop artworks from some of the most famous artists in the space like Banksy, Invader, Mr. Brainwash, Keith Haring, Jerkface, and Jean Michel Basquiat to name a few of the impressive names whose artwork is on display.
Jim Kempner Fine Art – (501 W 10th Ave) Located next to Taglialatella Galleries, this gallery specializes in contemporary art featuring works like master prints, paintings, sculptures, photography, and more.
David Zwirner Gallery – (525 W 19th St) This contemporary art gallery has not one, but three locations in the city as well as locations in Hong Kong, London, and Paris. The exhibits change, so it's always great to pop in and see what's currently on display. During our visit, there was a really great exhibit about Toni Morrison's Black Book.
Little Island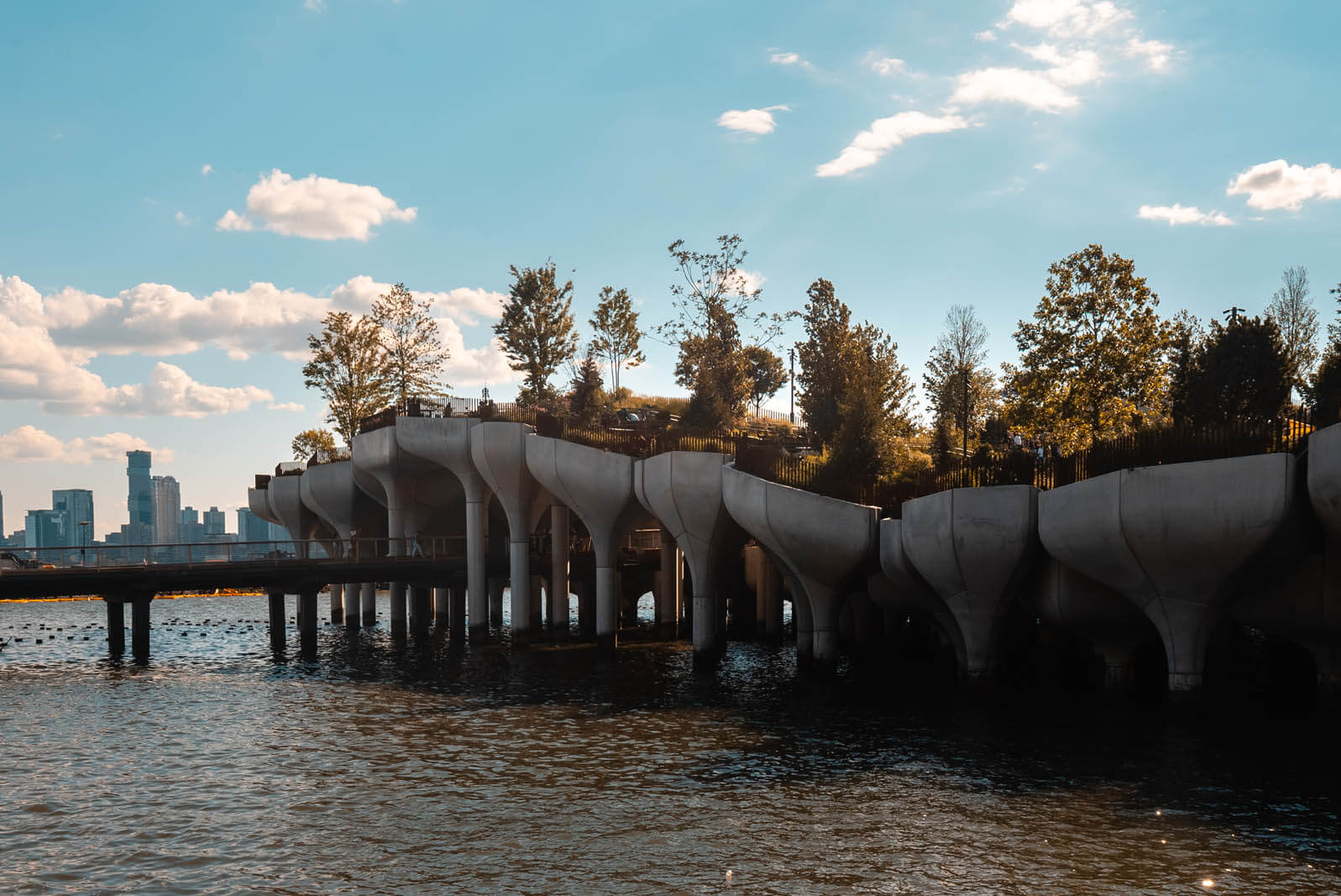 On a beautiful day, you need to add this to your weekend in NYC itinerary. Another one of the city's newest highlights is Little Island at Pier 55, an urban eco-friendly park with a unique design featuring sloping paths, small garden spaces, lawns, event spaces, and food vendors floating above the Hudson River.
If you're running tight on time on your weekend in NYC, check out the park from the Hudson River Esplanade for the coolest view of the park, from the side!
Chelsea Market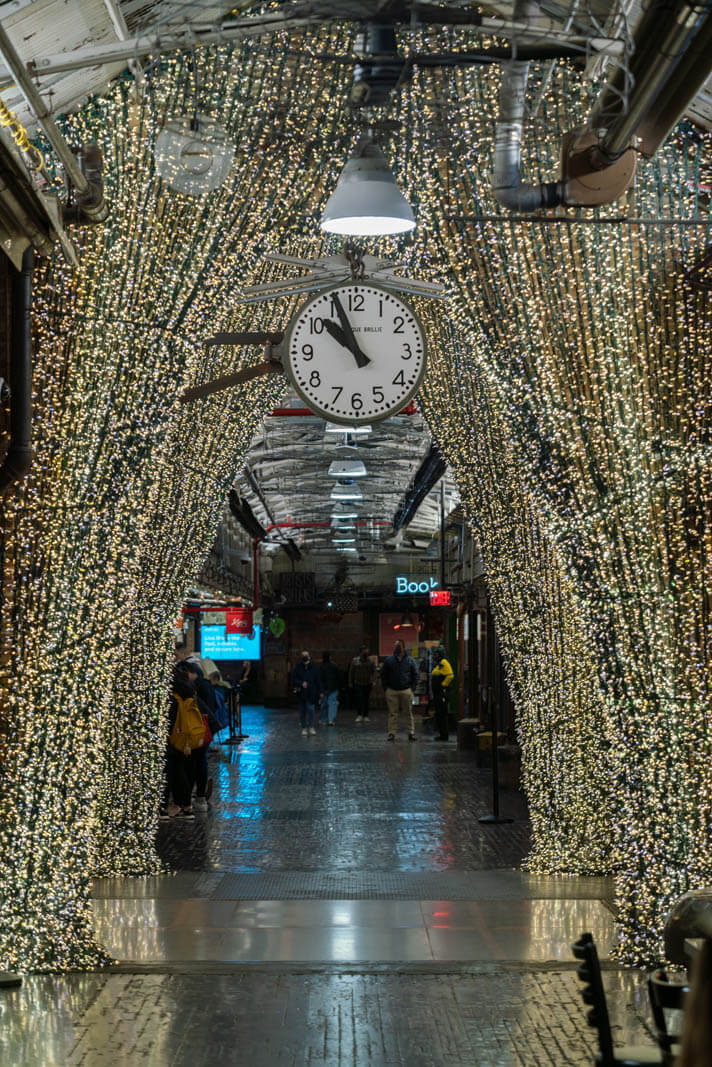 We hope you worked up an appetite with all your exploring around the High Line! Chelsea Market is legendary for its selection of food vendors and shops to check out all under one historic roof. The building was home to the National Biscuit Company, aka Nabisco, and was where the Oreo cookie was invented!
There are some great stores to stop in and more importantly, there are great food options which is great if you're not sure what you want to eat. If we were to give one recommendation, it's always going to be Los Tacos No. 1 who sells street-style tacos and who always has a line if that indicates how incredible these are (don't worry it moves quickly0.
What you won't be able to see is that this building is also home to a few networks on the upper floors including the Food Network and Oxygen Network!
Take a lap through this historic building and market paying mind to some of the old photos and artifacts throughout the market paying homage to the past when this spot was where the Oreo was invented!
Starbucks Reserve Roastery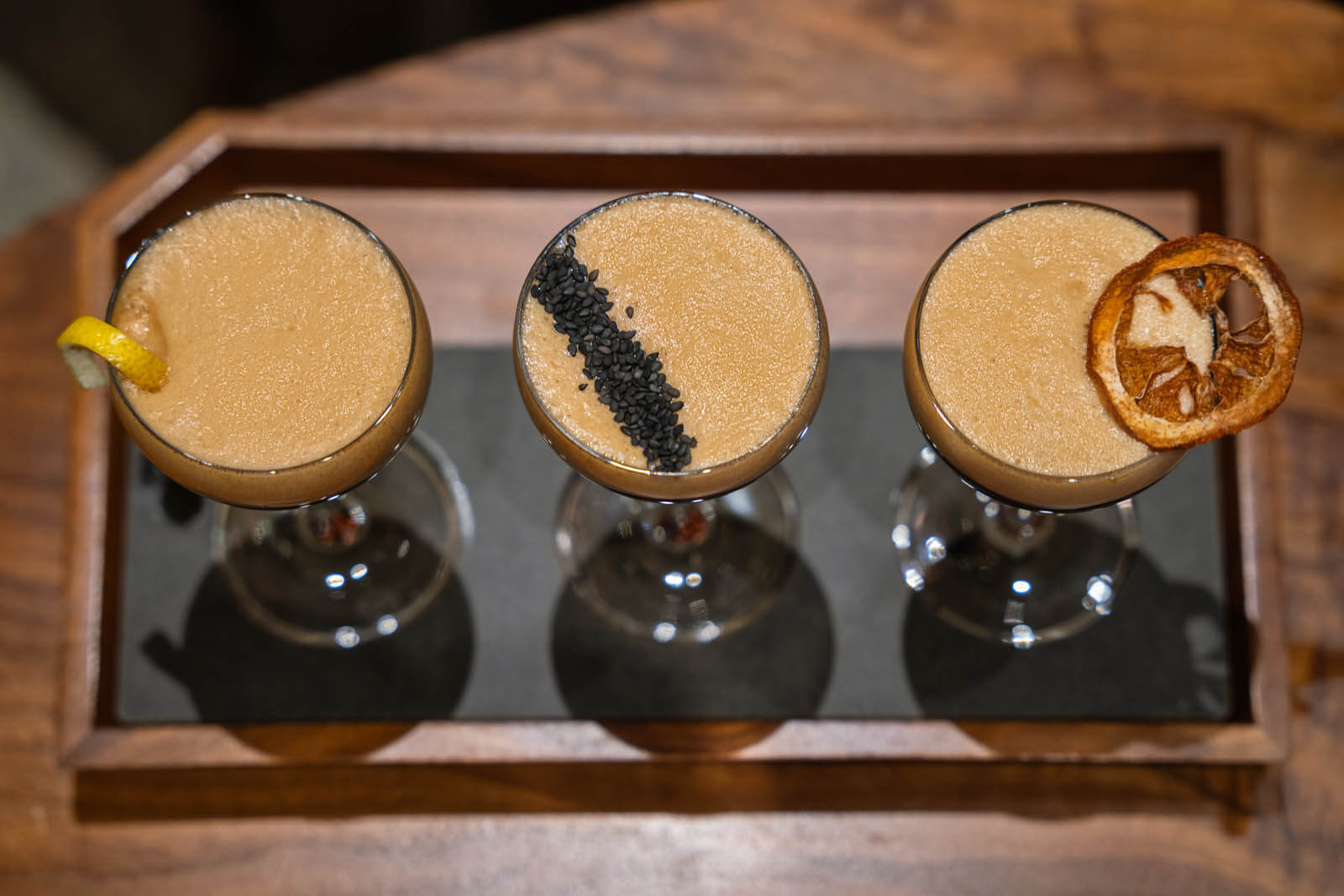 61 9th Ave
After all that walking on our weekend in New York itinerary and a meal at Chelsea Market you might be needing a little 'pick me up' and Starbucks Reserve Roastery is the perfect place for this. We fell in love with this experience back when we were exploring Seattle, where Starbucks was born and their first Reserve location is.
For those unfamiliar, this is not your average Starbucks, it's more like a Willy Wonka version of Starbucks where you're surrounded by the roasting of beans happening through the exposed and see-through pipes and spacious setting for a cup of coffee, snack, or cocktail at their different areas within the space.
We recommend heading up to the Arriviamo Bar on the upper level where you can sample an Espresso Martini Flight or Cold Brew and Whiskey Flight for those wanting to taste a few things or order a signature coffee drink off their bar list.
This is the perfect way to kick off a weekend in NYC all while also getting a little jolt of caffeine from all that urban exploring you're doing in and around Chelsea, the High Line, and Meatpacking District.
Whitney Museum of American Art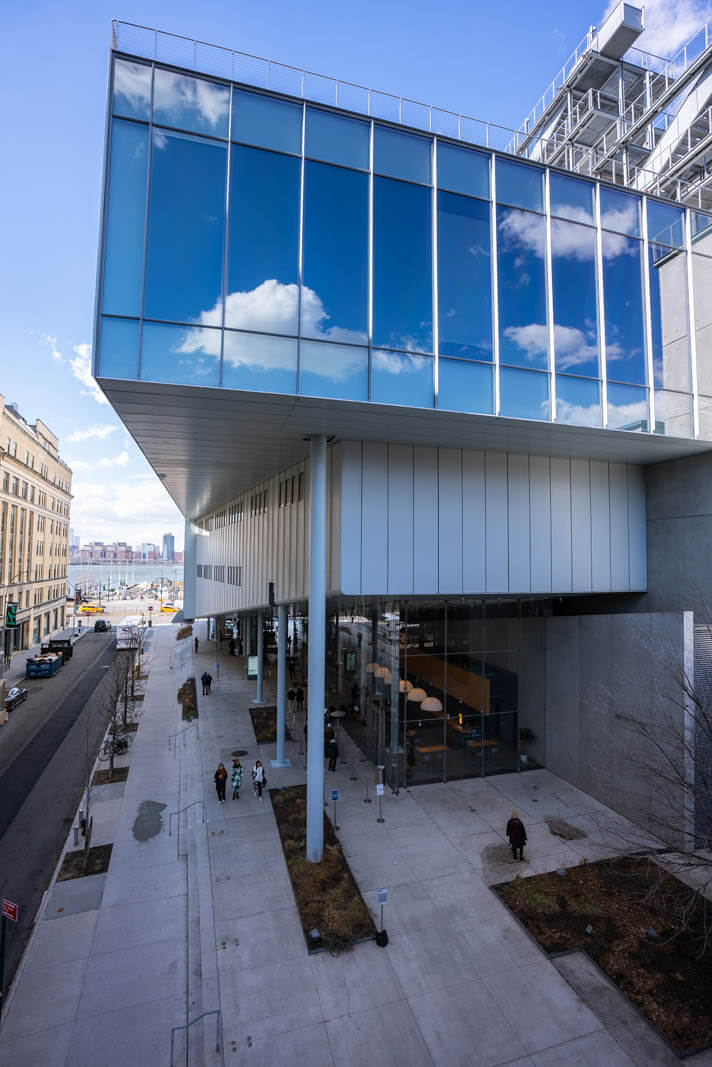 99 Gansevoort St
You can't spend 2 days in NYC and not mention at least one museum, although I feel like the art galleries do count for something! One of the best museums in the city is the Whitney Museum of American Art, aka the Whitney.
Their collection includes works from some of the best American artists from the 20th and 21st centuries including works from Edward Hopper, Robert Henri, Georgia O'Keefe, Andy Warhol, and Theodore Robinson to name a few not to mention their focus on featuring living American artists too.
Dinner at the Mermaid Inn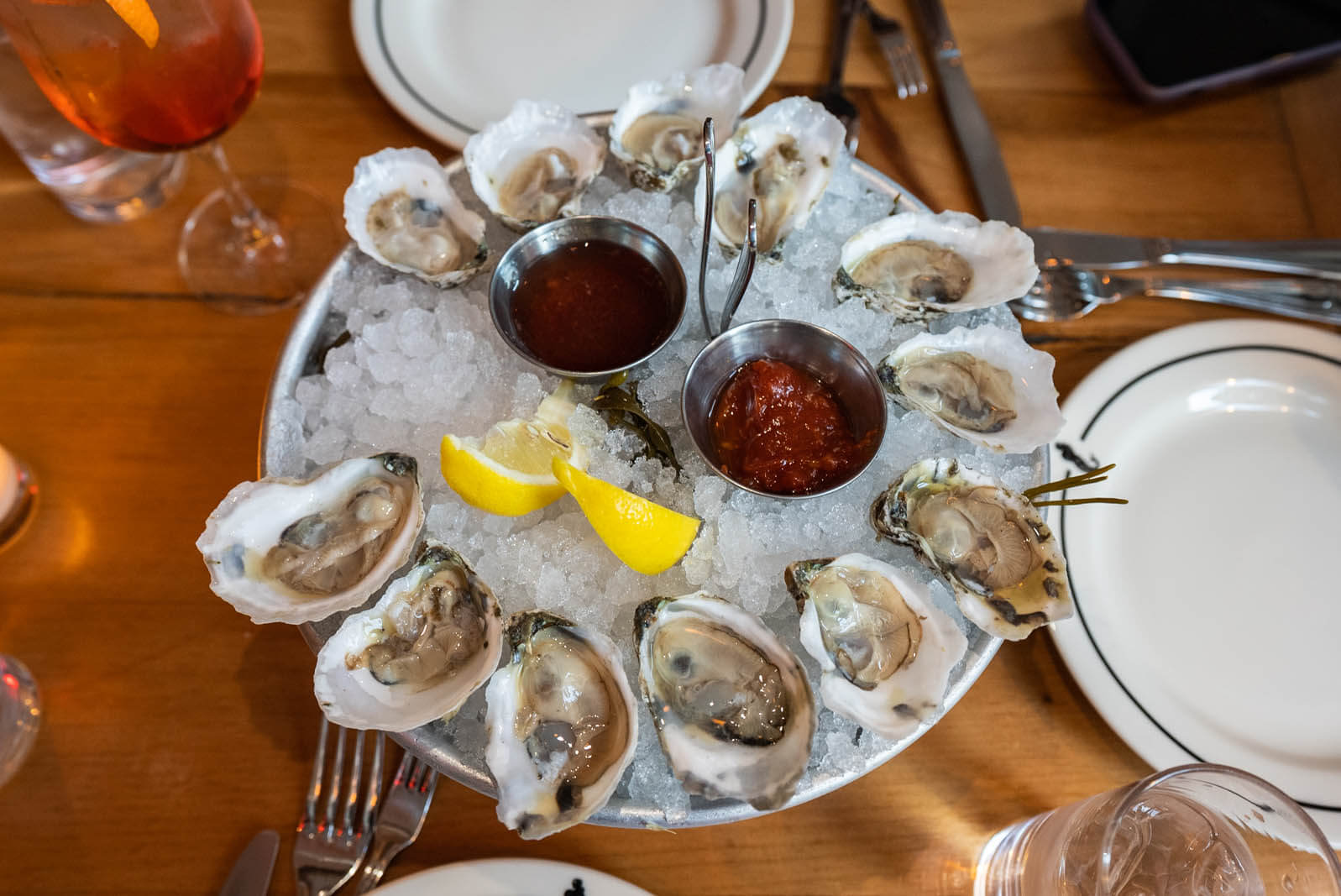 227 10th Ave
We recommend spending some time checking out the Meatpacking District whether that means shopping around the different retail spaces, spending a few hours in the Whitney, or making your way back to Chelsea to hit up a few more galleries before working up an appetite for our favorite oyster happy hour at the Mermaid Inn, which is also a great seafood restaurant.
This is one of the few places that also has happy hour specials on Saturdays and Sundays too making it a perfect stop during your 2 days in NYC itinerary over a weekend! On Mondays, through Sundays from 4:30 to 6:30 pm you can find incredible specials including $1.25 oysters of the day, drink specials, and other appetizers.
We come to the Mermaid Inn anytime we get a chance to just for their happy hour and an excuse to enjoy their oysters. Beyond oysters, they also have a great selection of entrees.
This is popular, so if you're not coming close to 4:30 when they open you'll want to secure a seat by making a reservation!
Barcade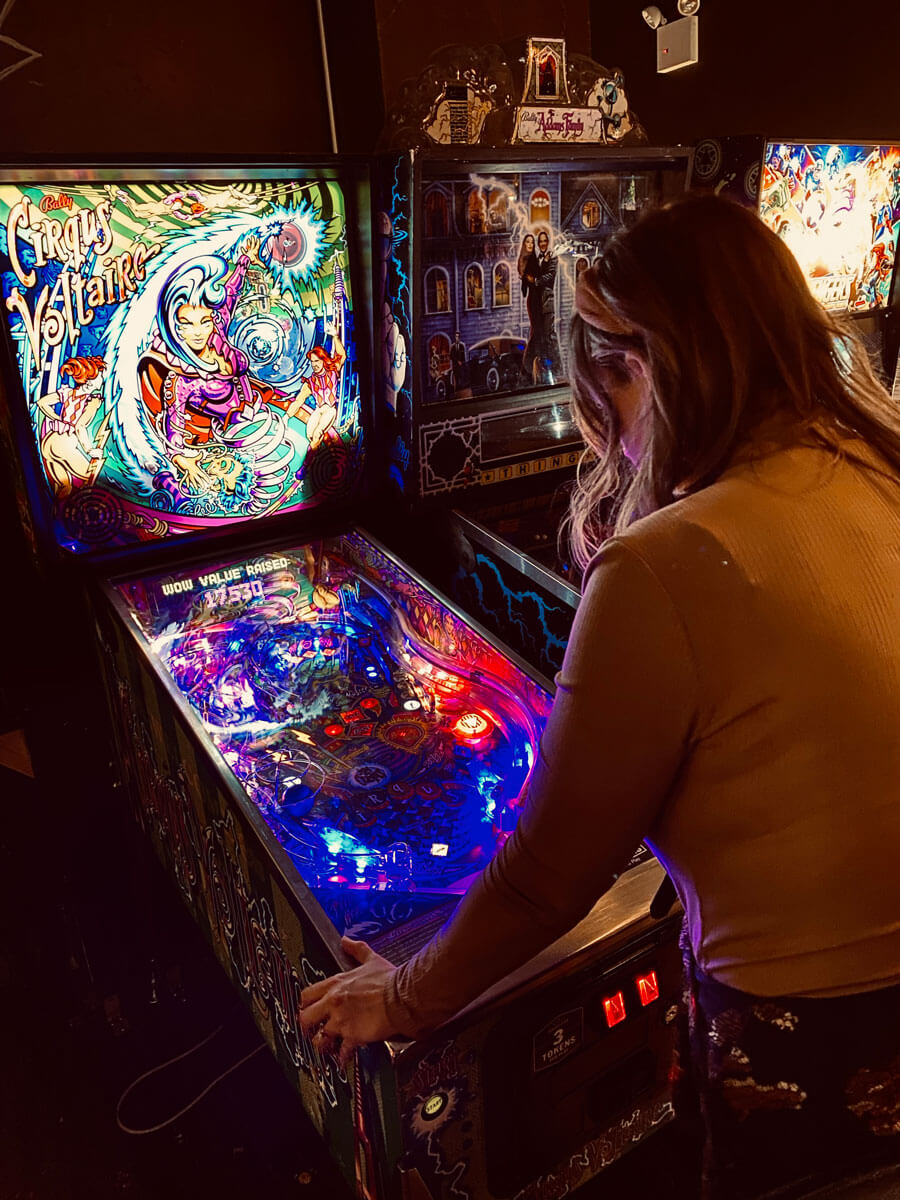 148 W 24th St
End the first day of your weekend in NYC itinerary with a bang by heading to Barcade, a Bar + Arcade that has tons of fun vintage arcade video games, pinball games, and a great draft list to enjoy your evening!
When ordering your drink you can either purchase tokens with your card on your order or if you have cash you can exchange for tokens in the machines around the space.
We are huge fans and have even visited their Brooklyn location a few times too. Better yet, this happens to be less than a 1-minute walk to the hotel we suggest as your launchpad for this weekend in NYC itinerary, but more on that later!
Day 2: 2 Days in NYC Itinerary
Light Breakfast at Bar Cicchetti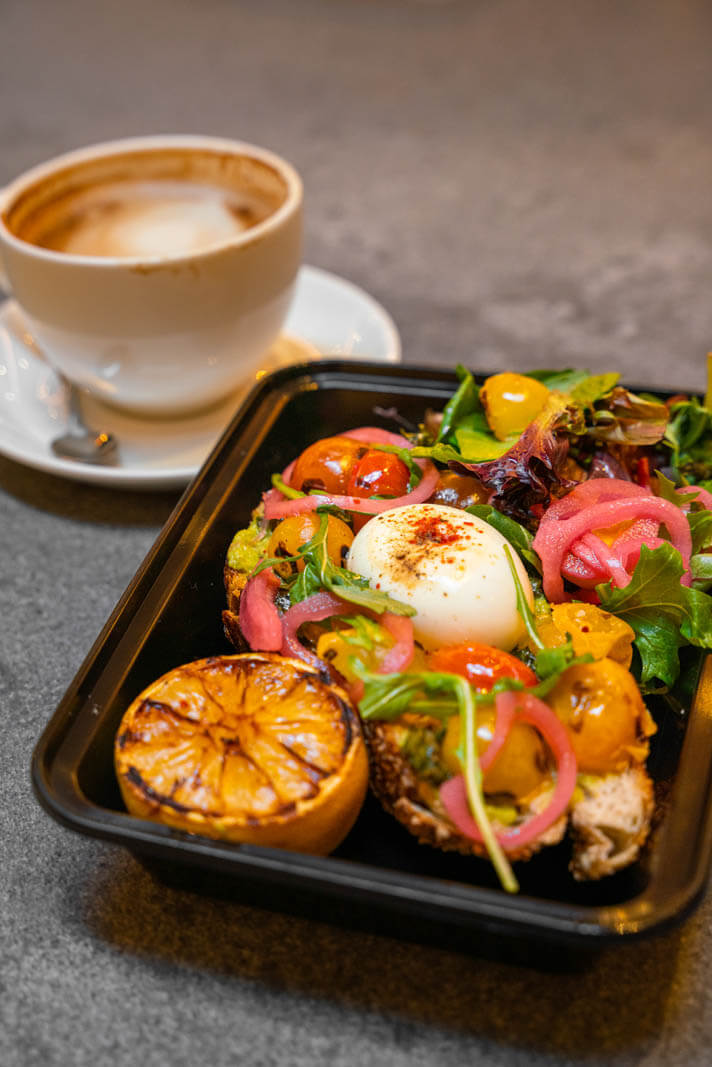 113 W 24th St
Located at the ground level of Motto Chelsea hotel, Bar Cicchetti is a great stop for a light breakfast (trust us you'll want room for your meals throughout the day) and a nice cup of coffee in their stylish restaurant and craft bar space.
While this is a great dining spot for lunch and dinner, their breakfast menu features light bites from pastries to avocado toast and other fresh options like breakfast bowls over a bed of greens and farro.
This option especially makes sense for those staying here, which we did during our little staycation exploring this area of New York in 2 days.
Explore the West Village (Shopping, Sightseeing, Lunch)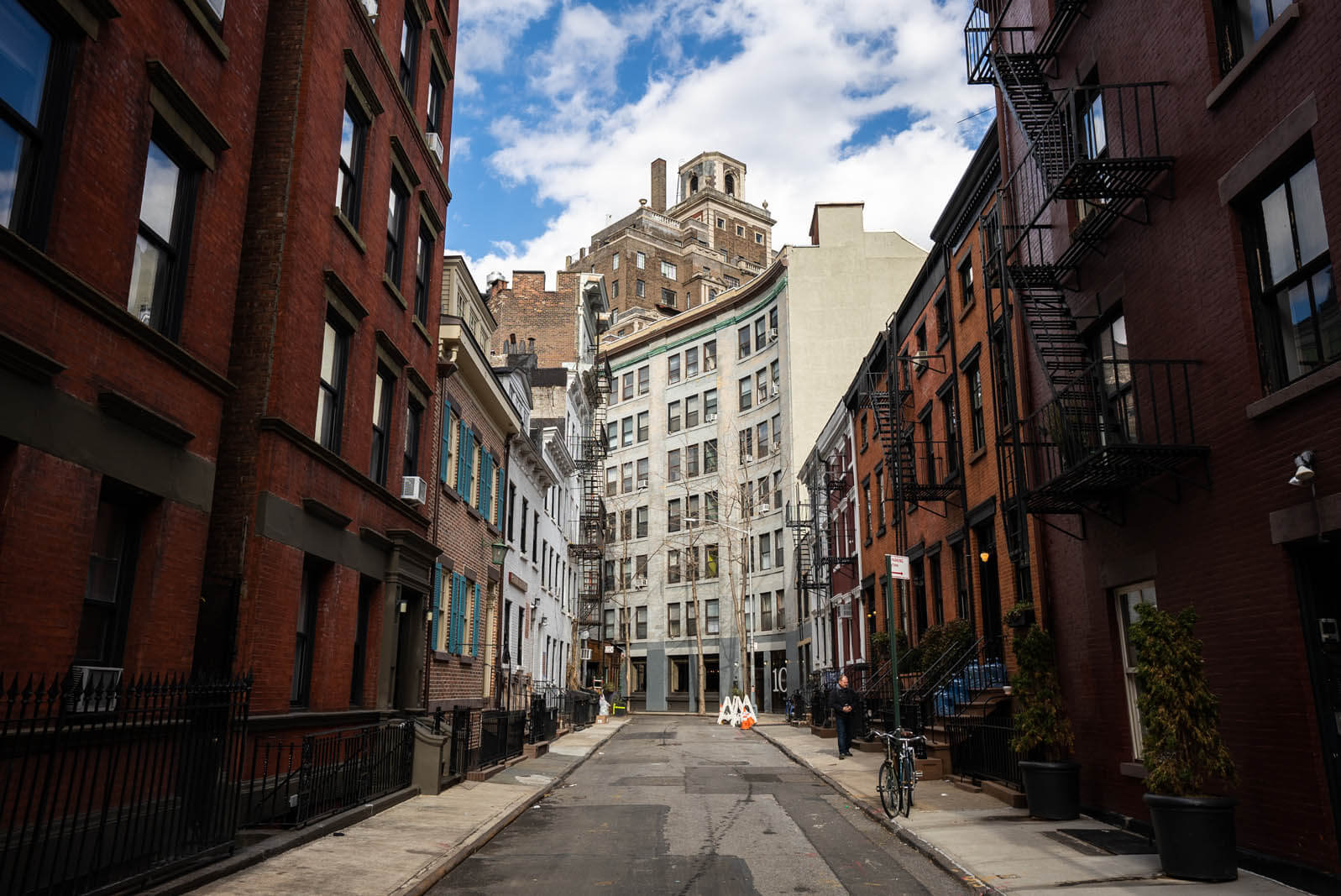 Something that's awesome about basing in Chelsea during your weekend in NYC is that you're just a short walking distance to some of the city's coolest neighborhoods to explore including the West Village, a neighborhood known for its notoriously 'cool' bohemian residents, beautiful brownstones and architecture filled streets, and its role in the LGBTQ+ Rights Movement.
Hit up the trendy shops along Bleecker Street and swoon over the neighborhood adorable eateries and cafes along with keeping an eye out for street fashion as the people who tend to walk through here dress like they are living works of art.
If you're a fan of popular New York City based TV shows like Sex and the City or Friends then you'll be happy to be exploring the neighborhood these shows were 'set' in.
Be sure to walk to Carrie Bradshaw's iconic brownstone (66 Perry St), it's said that Sarah Jessica Parker actually does live on this street too just a few doors down with her husband Matthew Broderick, so maybe you'll score big and get a 'Carrie sighting' as you stroll by.
Please keep in mind that this is a private residence, so if you do visit respect the sign that asks people not to go on the steps and consider donating any loose change or dollars you have to the donation box for a good cause too!
Continuing to explore the West Village through cult-classic tv series, you can make your way to the 'Friends' apartment building (90 Bedford St) just a few minutes walk away. While the show was filmed in Los Angeles in a studio, this building was used as a facade for the establishing shots of their famed apartment building.
We recommend stopping and having lunch in the area, we love Jeffrey's Grocery (172 Waverly Pl). This stylish American eatery has a noteworthy oyster bar (if you didn't get your fill the night before), seafood entrees, incredible brunch options, burgers, salads, and unbelievably delicious brussels sprouts with maple and bacon.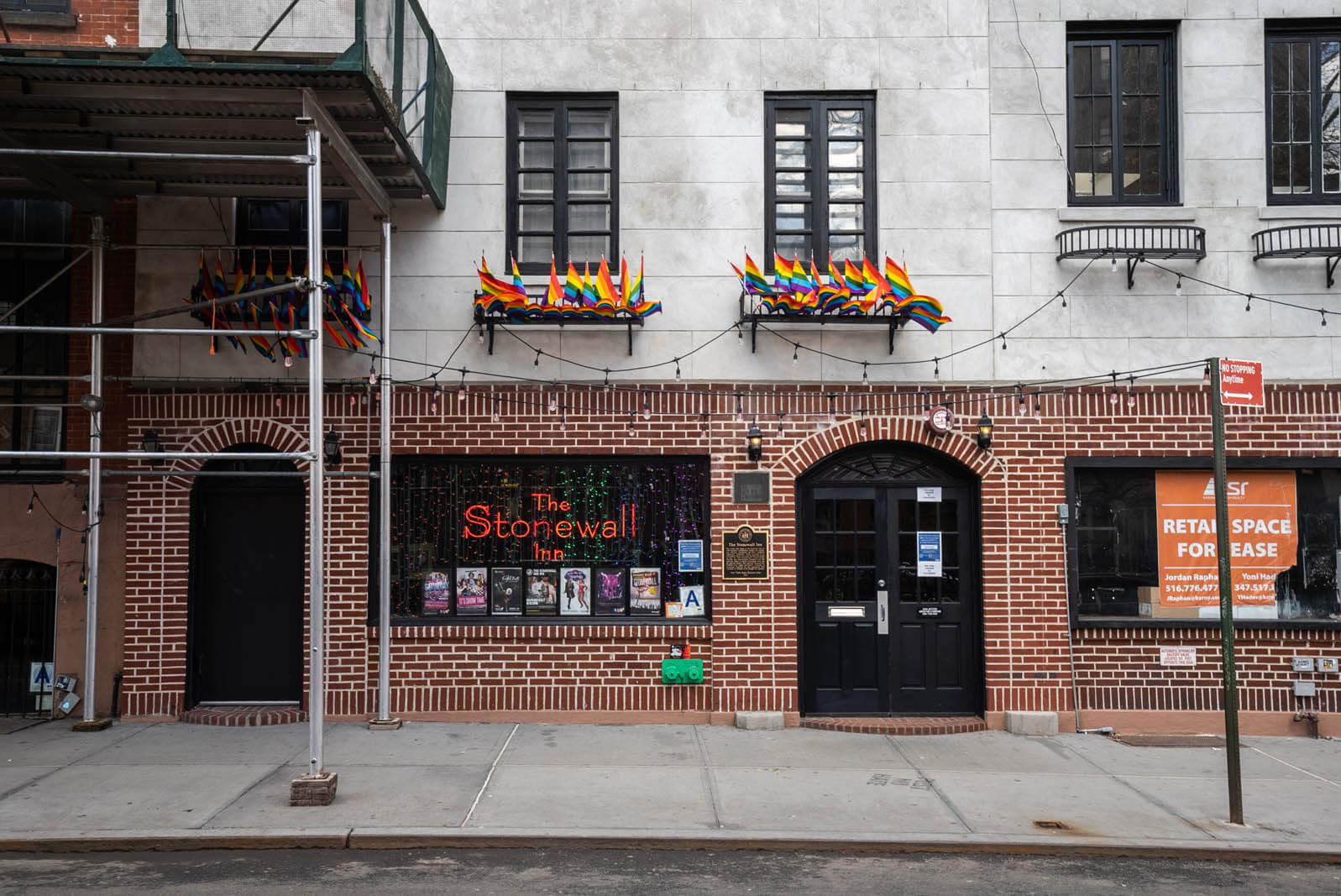 Be sure to also stop and check out the Stonewall National Monument, which is right here, and the location of the Stonewall Inn where the modern LGBT Rights movement kicked off after the 1969 riots that took place here.
Another not-to-be-missed stop in the area while you're exploring and wandering during your weekend in New York make your way to Washington Square Park. This is PRIME people watching as there are always impromptu performances, skateboarders, dancers, musicians, and even recently there was a surprise performance by the legend and the man Bill Murrary right here under the iconic arch!
This park is surrounded by the NYU campus so there's always a young, college scene going on mixed with all the things that make NYC so whacky and wonderful all gathered here at this public park. Be sure to look under the arch and get a great view of the Empire State Building framed up neatly just beneath it, and looking the opposite way you get the WTC lined up under it.
Soho & Noho Exploring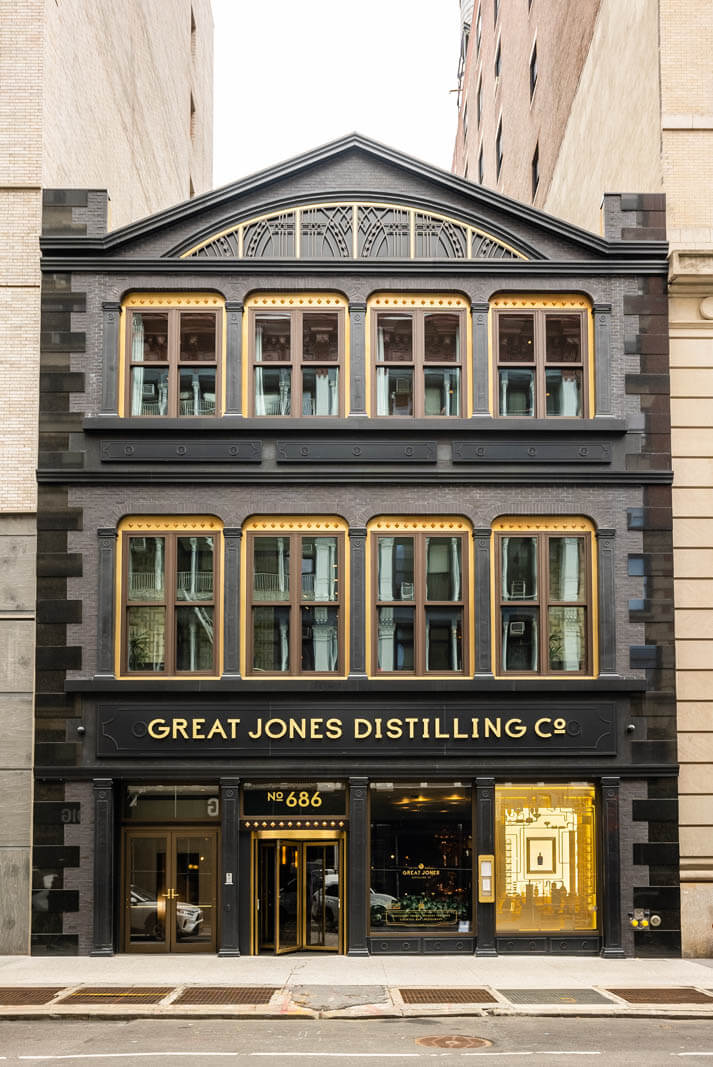 Next up on your itinerary for 2 days in New York, we are suggesting you explore two other cool neighborhoods which are known for shopping, gorgeous architecture, and area to get a great sense of what makes New York City so enchanting. I particularly love the architecture in these two neighborhoods and really enjoy just walking around and stopping in shops that catch my eye along the way.
SoHo and NoHo are named based on their location to Houston (pronounced HOW-STUN) St, a major west to the east thoroughfare in Lower Manhattan.
SoHo (South of Houston) was a popular creative community through the 70s and 80s and now is a high-end neighborhood with incredible shopping including luxury and upscale boutiques that can be found on Broadway and Spring Street.
If you're looking for photo-friendly places to check out stop by Felix Roasting Co. (104 Greene St) for one of the most stylish and beautiful cafes in the city. Or the oh-so-popular Museum of Ice Cream (558 Broadway) is located in the neighborhood and made specifically with Instagram photo opportunities in mind. Believe it or not, this is one of the most popular attractions in NYC, so booking a ticket in advance is required.
Make your way North of Houston to NoHo on Broadway and make a stop at Great Jones Distilling Co. (686 Broadway). This insanely beautiful distillery is the first whiskey distillery in Manhattan since the prohibition, which is a surprising fact since this distillery didn't open until 2021!
The distillery itself is a masterpiece and caught our eye from Broadway as the exterior is beautiful and the interior, well is even more so. Join a distillery tour or head up to the bar on the second level where you can enjoy a whiskey tasting or a cocktail. Not a whiskey drinker? No worries, they have gin and vodka cocktails too.
Dinner at Eataly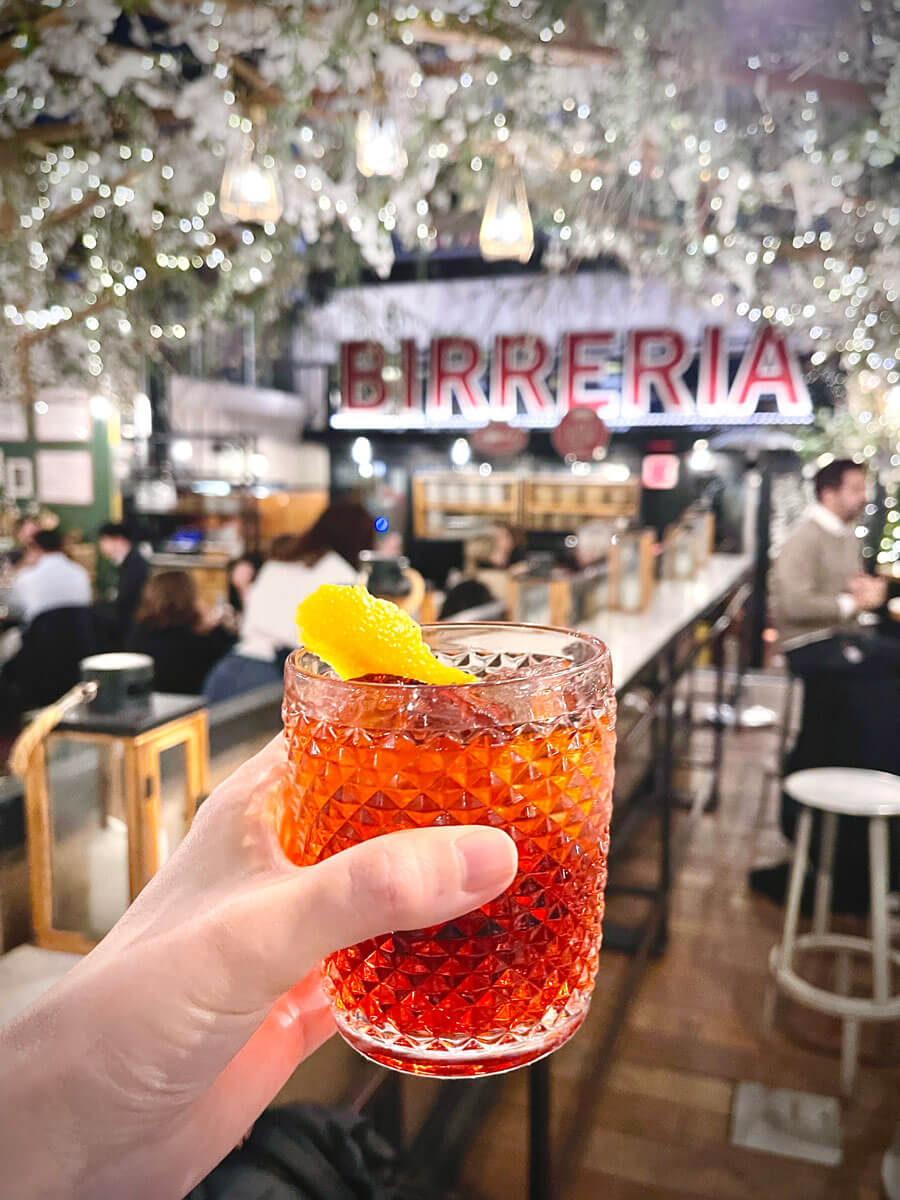 Walking as much as we are suggesting during your 2 days in New York you're going to be tired out a bit which is why we recommend coming back closer towards our base in Chelsea, but to the Flatiron District to enjoy Eataly and dinner here at SERRA By Birreria, a seasonal rooftop restaurant that changes out its beautiful decor with the seasons along with its menu.
First walkthrough Eataly and work up that appetite. You can find all kinds of incredible imported goods from Italy from cheese to kitchenware along with pop-up eateries in the middle of this food heaven.
Make your way over to the elevator to head up to the rooftop restaurant and the star of the show here, SERRA. As mentioned, this popular restaurant changes out its look and menu throughout the seasons and the decor is always a canopy of flowers or winter lights which make for the most gorgeous setting.
Their plates are family style and the menu is rotating, everything we've tried here was spectacular and we've been a few times. Reservations are strongly advised to ensure you get a table.
Post Dinner Drinks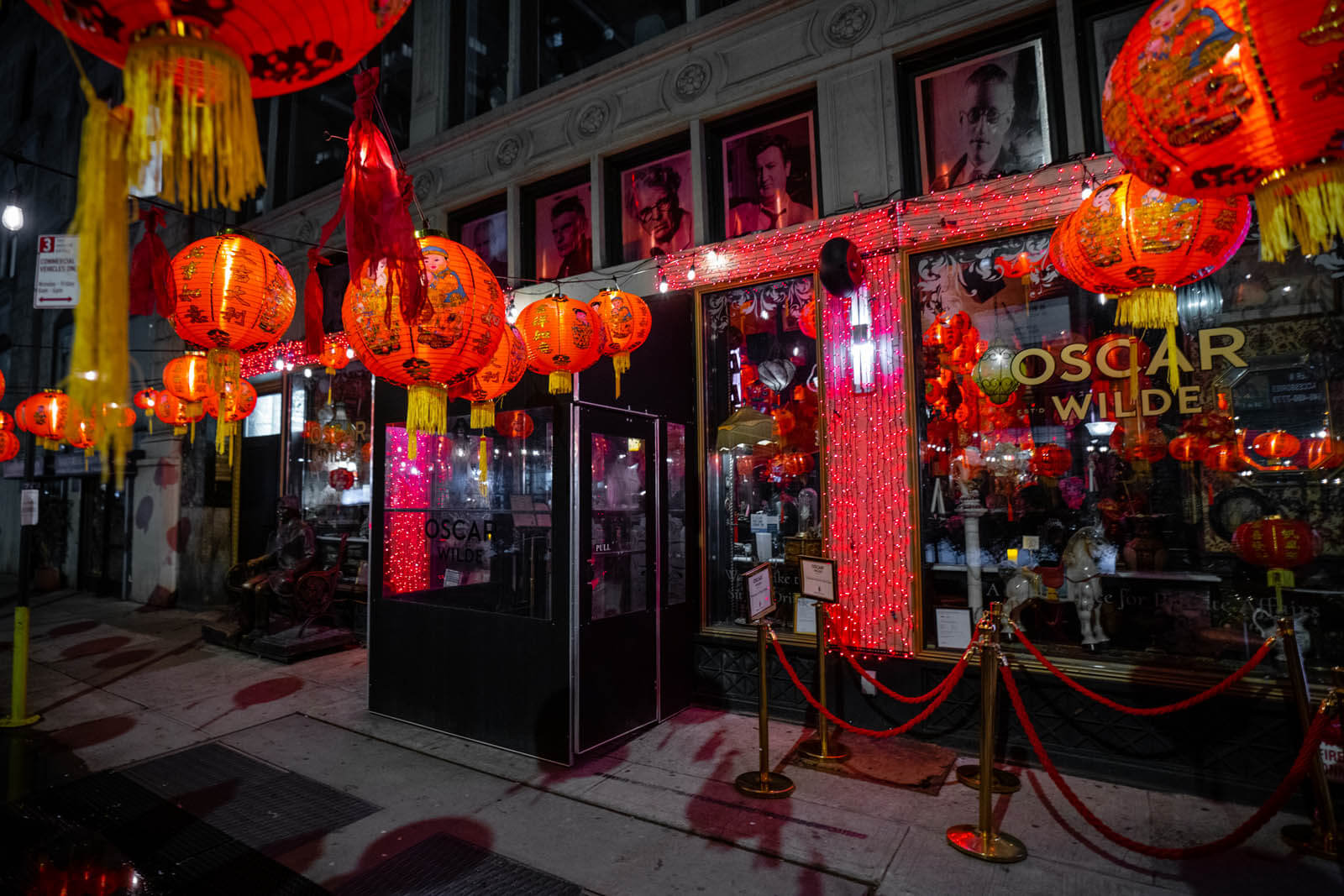 We hope you saved room for another drink and another unique spot that always has something exciting going on. Oscar Wilde (45 W 27th St) is a Victorian-style bistro and bar that decorates with over-the-top decorations for just about every holiday.
During our visit they had some really fun Lunar New Year decorations up and we've also seen this place around Christmas which is always over the top and really exciting!
Besides being known for the quirky and elaborate decorations, Oscar Wilde has the longest bar in New York City at 118.5 feet in length! Their whiskey bar is also made of a repurposed player piano from 1819 and they have over 300 whiskeys to offer along with season cocktails that have something for everyone.
This is such a cool spot to check out during your weekend in NYC itinerary and end night 2 with a perfect nightcap.
More Time During Your 2 Days in NYC?
Have room for more activities during your 2 days in NYC? Or maybe you are enjoying a long weekend in NYC and have extra days. In that case, we made a few suggestions which also include getting to know other boroughs of the city!
Peru in NYC Tour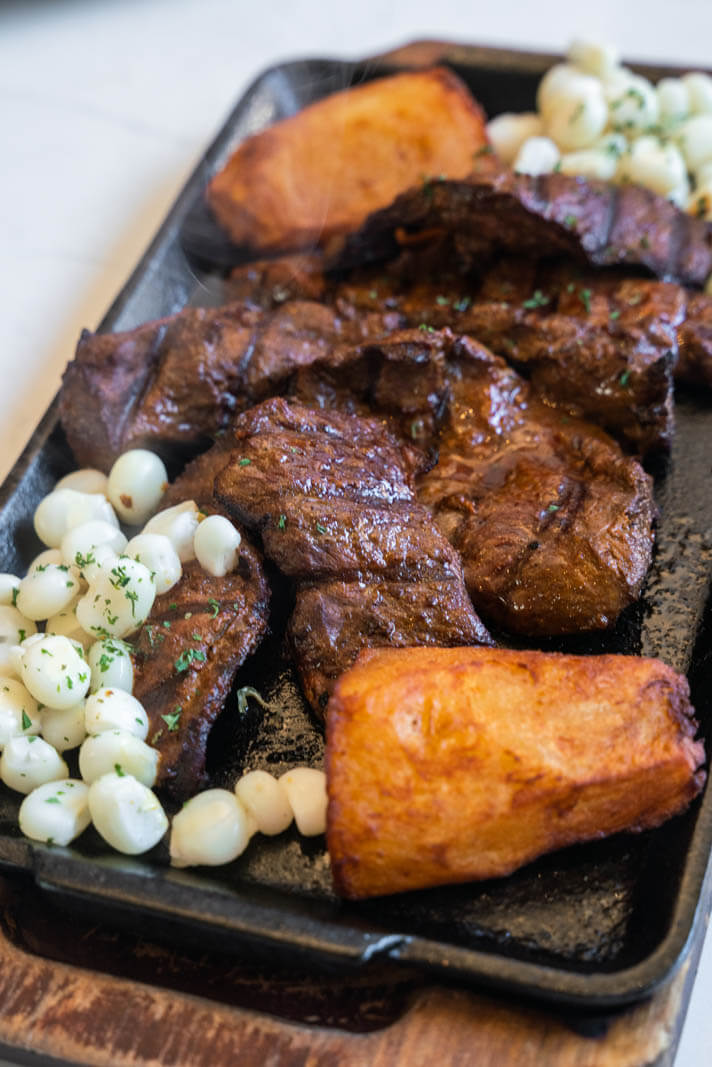 One of our favorite things to do anywhere we go is join a food tour. Not only does food in every culture bring people together, but the food of a place often tells the history and explores the culture of where you're exploring.
We can't recommend checking out the Peru in NY tour which is 3.5 hours long in Jackson Heights, Queens a neighborhood known for its immersion of several cultures including South America (in addition to being home to Little India).
Through this tour we learned more about the sub-cultures of Peru including a visit to a local supermarket and a full menu of incredible Peruvian dishes from Warique Restaurant. During our sampling of every dish on the menu including lomo saltado, ceviche, and tamals to name a few paired with a Pisco sour.
All of the incredible flavors throughout the menu paired with a live demonstration and learning about Afro-Peruvian percussion instruments and dances as well as a live Andean musician who played music as we ate. Check out En Noble to see how you can request a tour during your weekend in NYC.
Spend a Day in Brooklyn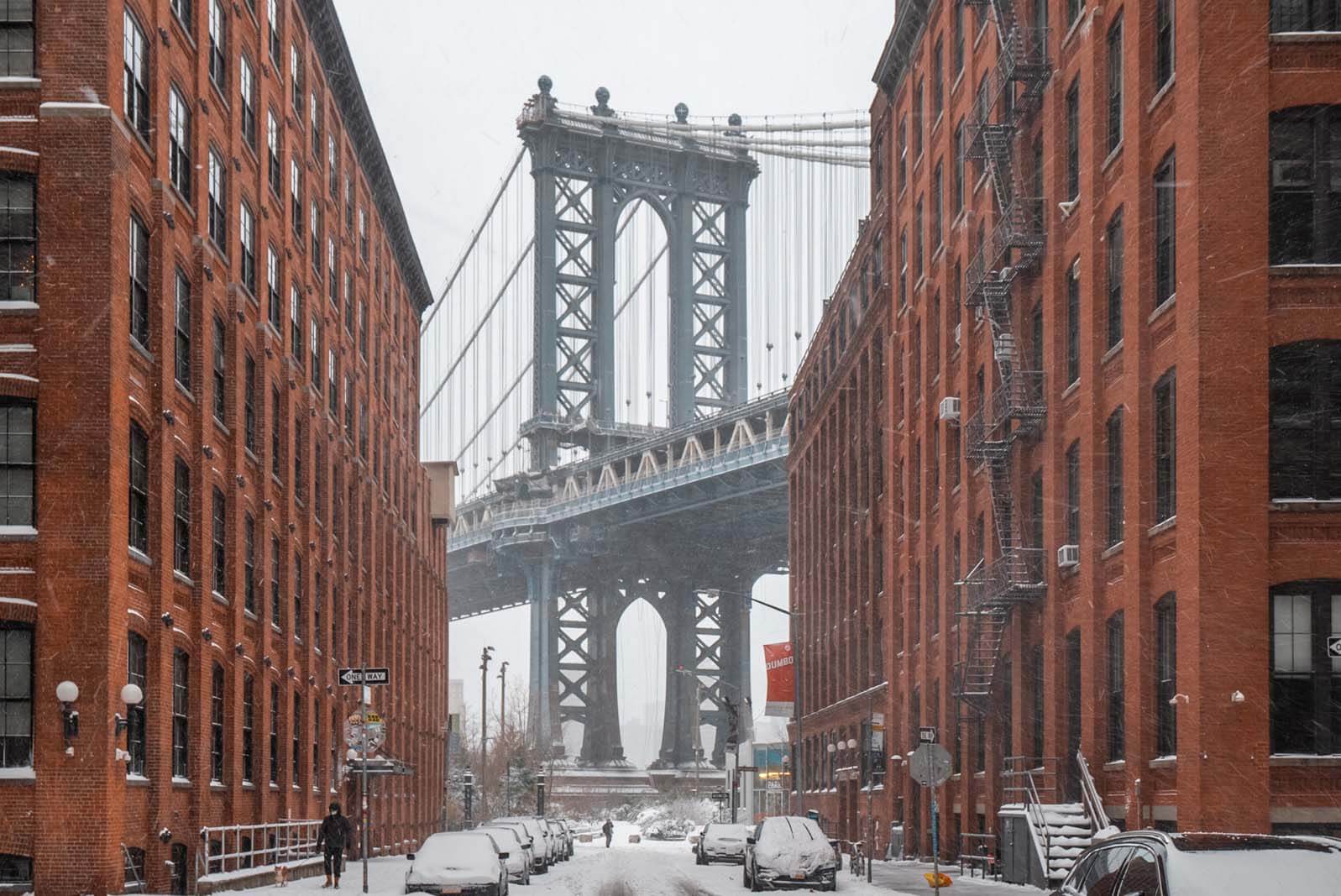 We are biased, but we love Brooklyn and it's one of the places that really made us fall in love with the city. Whenever people ask us where to go and what to see in the city we always ask if they have time to get to know Brooklyn or spend a half-day here.
We have an entire website dedicated to Brooklyn and all there is to do and see. If you're looking for a place to start we recommend walking the Brooklyn Bridge into Brooklyn and checking out the neighborhood of DUMBO.
Grab a bite to eat at Time Out Market or pizza at Juliana's. Walk around Brooklyn Bridge Park for unbelievable views of the city skyline across the East River and hit up the shops and breweries in DUMBO.
If you're wanting to beat the crowds that gather here, walk about 10 minutes up to Brooklyn Heights Promenade for unbelievable views and perhaps a chance to have a sighting of one of the many celebrities who live here.
Alternatively, you can head to Williamsburg for the day where you are greeted with more incredible views of the NYC skyline from Domino Park, hit up all the cool vintage stores and boutiques, and have no shortage of places to eat and drink along Bedford.
It pains me to only recommend those two neighborhoods as Brooklyn is SO much more, but those two spots are the Brooklyn hot spots if you only have a short time to visit. You'll have to check out our other site for more ideas and see why you can easily spend your entire weekend in NYC in Brooklyn too!
More NYC Attractions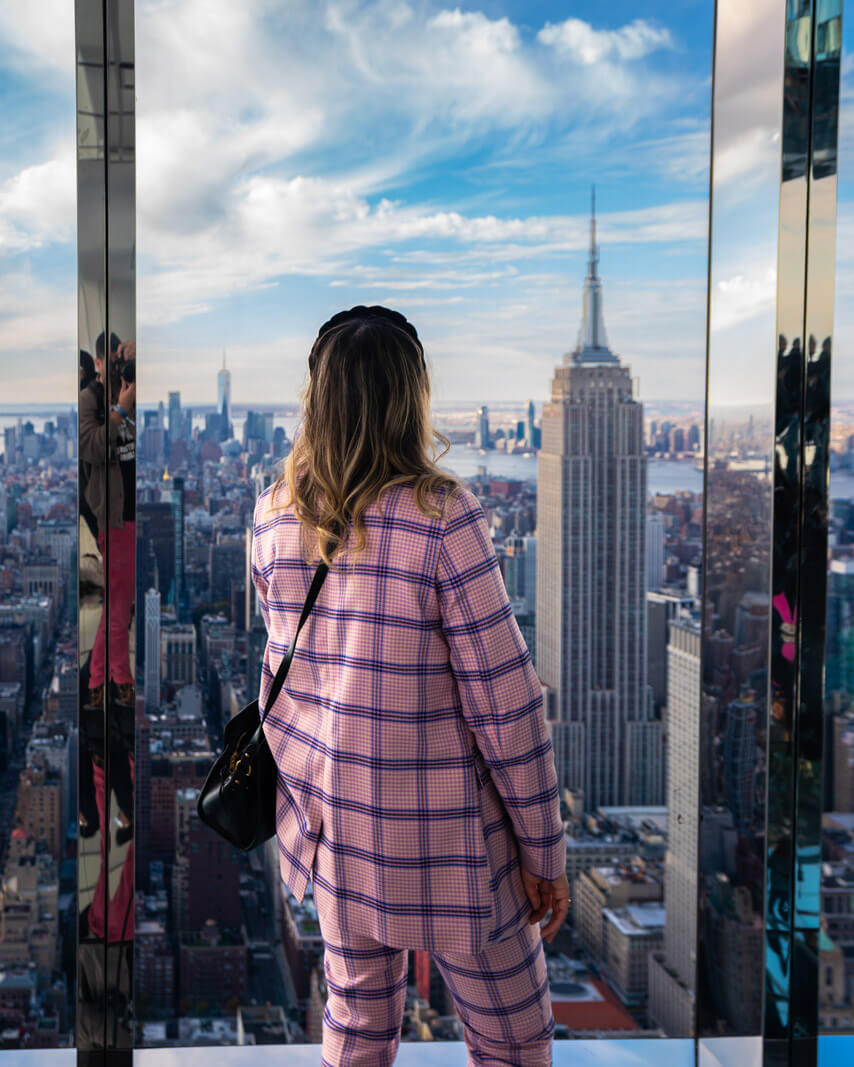 If you only have a few extra hours on your weekend in New York then you most likely will only be able to fit in one more activity which we will recommend based on the proximity of Chelsea and where we suggested your base for this trip as it's one of the best places for where to stay in New York City!
Summit One Vanderbilt – the newest observation deck in the city that also is full of interactive art installations including the insanely cool mirrored floors and ceilings with a front-row view of the Empire State Building, exhibits by Yayoi Kusama, and even the bathrooms have floor to ceiling views towering above the city directly facing iconic landmarks like the Chrysler Building. Book your ticket here.
Explore Nolita – even if you only have a few hours, walk through the streets and check out the best things to do in Nolita from the dining and drinking scene, historic landmarks, Godfather filming locations, and great shops all around the popular Little Italy neighborhood.
Empire State Building – Check out the iconic symbol of the city and check out the classic observatory which offers great views of Central Park and Lower Manhattan from the observation deck here and afterward check out Macy's at Herald Square (the largest department store in the country) or the gorgeous Morgan Library Museum. Book your ticket here.
Bryant Park and New York Public Library – Check out one of the most famous parks in the city which is extra special in the winter when they have their winter village kiosks set up and ice skating rink. Be sure to visit the New York Public Library's Rose Reading Room and pay a visit to the original Winnie the Pooh and friends characters as they are located in the children's section of the library.
Where to Stay during your Weekend in NYC
We highly recommend staying at Motto by Hilton New York City Chelsea which is conveniently located on 24th Street and an incredible launchpad for exploring New York City as everything mentioned on this 2 days in NYC itinerary is within ~15 minutes either by walking or train which is an impressive feature for anyone familiar with the city!
Besides having a great location, their travel-sized rooms were made with every detail even the most seasoned of travelers like us can appreciate. There are several places to store and hide your luggage in the room, making it easy to access them at any time and the ability to book connecting rooms with friends with a flex room in between that can be used as a sleeping room or a living room thanks to the murphy bed set up.
There are also options to book a bunkie room that has a Queen size bunk bed. If you're enjoying the connecting rooms you can easily open the doors and create a private hallway to the rooms you're using!
In addition to comfortable and stylish rooms that have city views, the common areas and food and beverage options at Bar Cicchetti were also convenient. Book here.
Getting Around During Your Weekend in NYC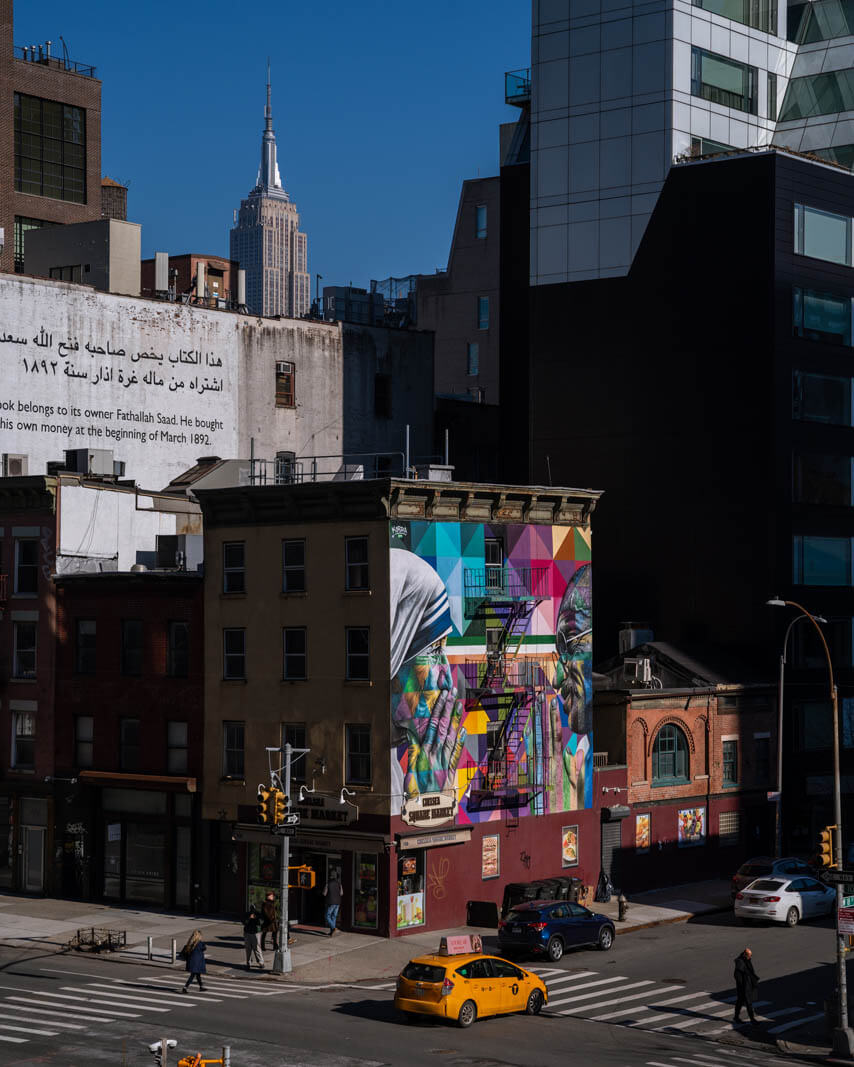 While most of the things we suggested on this guide for your weekend in New York City are walkable, your feet might be tired if you're not used to exploring places on foot all the time. Lucky for you the city has quite a few and easy to use transportation options.
The subway is the easiest option. The best bet is to plug where you're trying to go into your Google maps and look at the route they suggest, you can even look up directions by customizing your departing or desired arrival time to see which trains to take.
You no longer need to get a MetroCard and load it with funds, every subway station in the city now accepts payment via OMNY, the new contactless payment method to enter the subway station. Simply tap your credit card and it charges you automatically.
We love this so much better than being almost late for a train and realizing we need to upload more funds to our MetroCard and miss the train!
Another option is using a yellow taxi which you'll spot driving through all the areas you'll be exploring. Make sure you are getting in a REAL taxi, this should be obvious but if you're not familiar, here's a guide on how to spot a fake taxi in NYC.
You can always use rideshare apps like Uber and Lyft too. Keep in mind that sometimes taking a taxi or rideshare can be longer than the subway or walking if it's a shorter distance due to traffic.
Last but not least, you have the option to rent bicycles from Citibike which has docking stations all over the city. You need to download the Citibike app and set up payment, then you can rent, unlock, and re-dock bikes using the app.
Keep in mind the summer months can be tricky as this is popular and sometimes docking stations are full or empty, use the app to determine the availability at the time of you renting. This is one of our favorite ways to get around in nice weather as you get to look around you as you're biking and see the city another way!
---
Enjoyed New York in 2 days using our guide? Or maybe you need to save this NYC in a weekend itinerary to use to plan your future trip! Bookmark for later or share the love below on Pinterest!