Looking for all the amazing things to do on Whidbey Island, Washington? You've come to the right place. Located in Puget Sound, just north of one of our favorite cities ever, Seattle, this PNW island getaway is littered with opportunities for enjoying the beauty and outdoors, incredible seafood, historic landmarks, and charming towns to visit.
While it's possible to visit Whidbey Island on a day trip from Seattle, we highly recommend giving yourself at least a few days to explore around as there are a few towns you won't want to miss, the scenery at Deception Pass, hikes, food, and craft beverages that could fill an entire vacation.
Oh, and don't forget the incredible views of the Cascade Range and the Olympic Mountains you can see from here too! Or that you have opportunities to see different breeds of whales including Orcas here. And for those who are into aviation, you'll probably notice one of the US Navy Jets that fly overhead during your visit.
There are quite a few things that make visiting Whidbey Island, Washington worth a multiday trip, so make planning your trip a breeze by using our guide to the best things to do on Whidbey Island!
First Timer's Guide to Whidbey Island, Washington
Visit the Town of Coupeville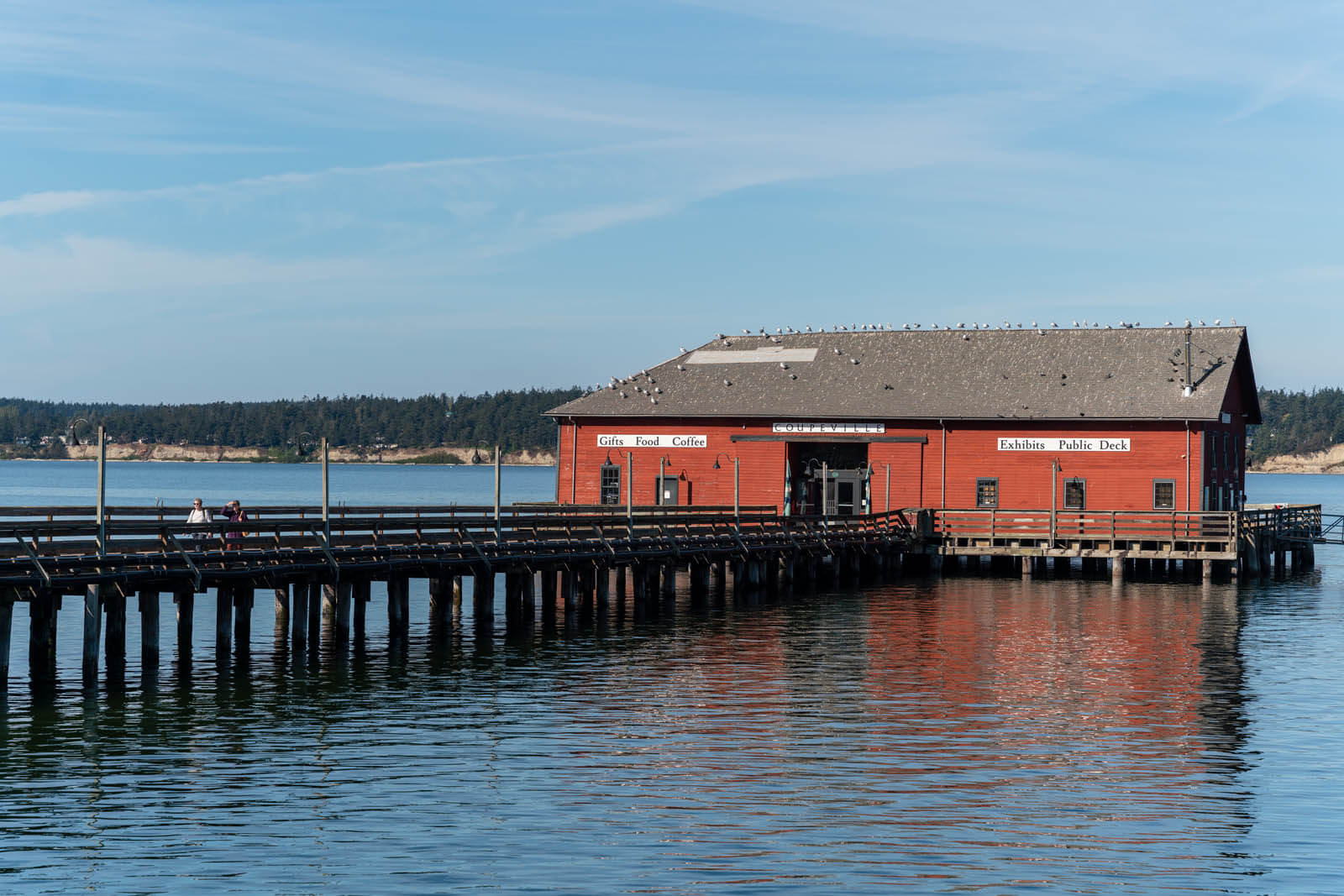 A trip to Whidbey Island, Washington isn't complete without seeing the historic town of Coupeville. It's the island's oldest town, dating back almost 180 years. Come here if you love seeing charming fishing villages with 150-year-old buildings and delicious eateries. But it's also one of the most popular Whidbey Island attractions because it's where the 1998 movie, Practical Magic, was set!
Take a walk down Front Street around the Coupeville Wharf and you'll understand why it was picked to be in Practical Magic. The pretty storefronts feel moody up and down the winding street, especially in the fall! True fans will immediately recognize The Little Red Hen Bakery on Grace Street. It was transformed into Sally's beautiful botanical shop for filming.
Another film location was Coupeville's own Toby's Tavern. It was used as The Catch and the Fly in Practical Magic, but we just loved it as a great local watering hole. The waterfront pub feels like a small-town gathering spot with a great atmosphere and fun PNW paraphernalia all over the place inside! It's a great place for a beer and Penn Cove mussels.
There's even a store on Coveland Street dedicated to the movie, called Praktical Magik. It's a fun place to walk around with memorabilia all around and nods to the film. But it's also a great place to pick up botanical bath products like soaps and oils. Or if you need actual spellbinding materials, they have a curated collection of those as well!
Coupeville sits on a bluff overlooking Penn Cove at about the halfway point of the island. While you're on Front Street, make sure to stroll down the iconic Coupeville Wharf that juts out into the water. It's a lot of fun to watch for whales on the outer deck, and if you see one, you ring the bell! The views of the cove are out of this world, and it's a great stop for visitors with a café, gift shop, and visitor's center at the end of the dock.
And for some of the best mussels we've ever tried, go to Front Street Grill in Coupeville for lunch or dinner.
Check Out Langley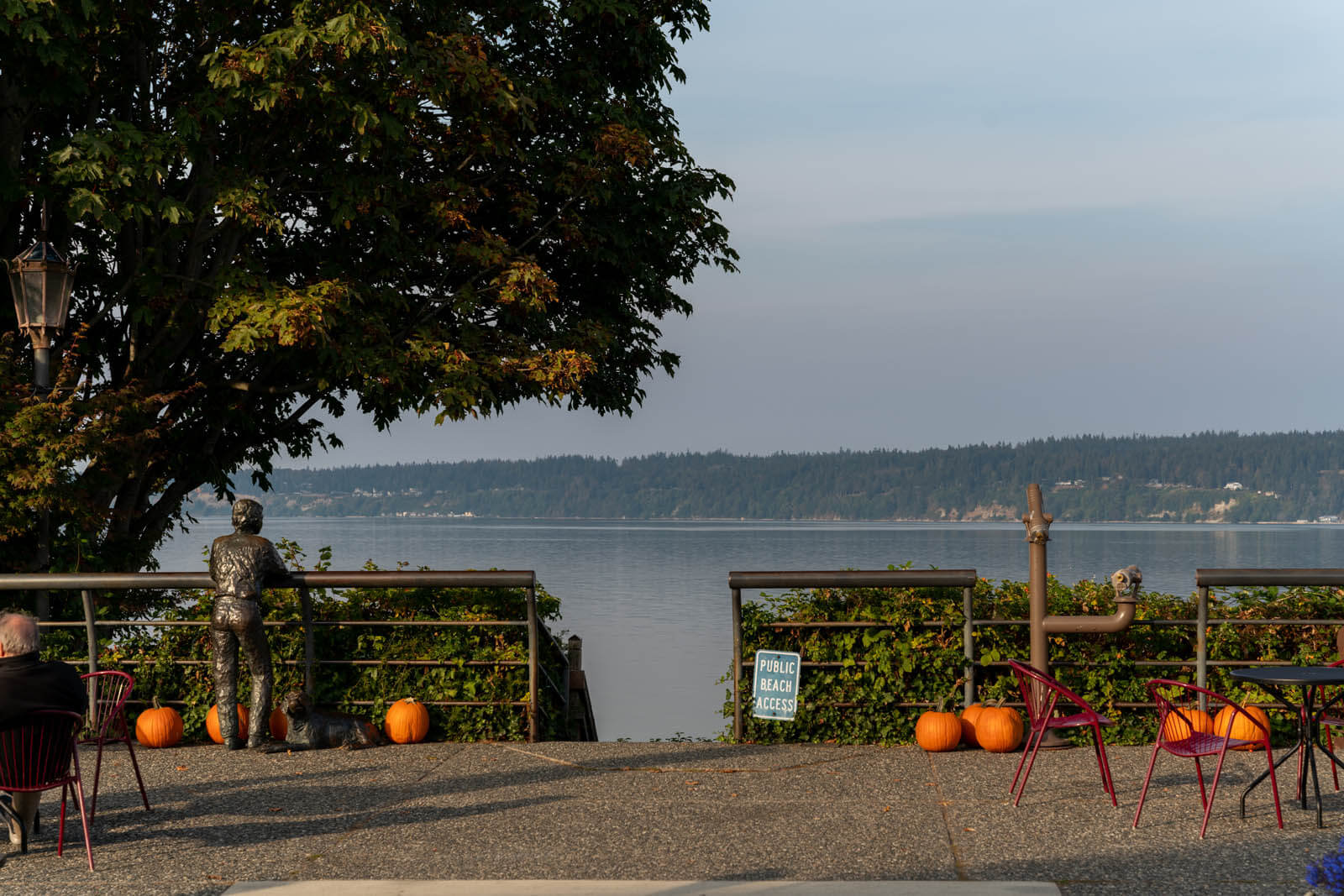 On the southeast side of Whidbey Island is the adorable town of Langley. The sweetest part about this place is the rabbits running around everywhere! Apparently sometime in the last half of the 1900s, a bunch of domestic rabbits escaped from their cages. Every few years, it becomes a big local issue as the rabbit population explodes. Currently, the rabbits call Langley home just like everyone else. Just don't feed or touch them because they're wild!
Langley is a warm and inviting place, with pedestrian side streets everywhere, as well as public gardens, art murals, and curbside tables with umbrellas. You can talk a walk along the water in peaceful Seawall Park. And a must-see on First and Second Street are all the pastel-colored century-old storefronts. They're filled with house art galleries, bookstores, boutiques, thrift shops, and more.
Popping in and out of the shops is one of the best things to do on Whidbey Island. We thought Spyhop Public House on Second Street was such a cute bar. There's indoor and outdoor seating, and there's just a great cozy atmosphere where you can enjoy pub food and local brews.
Or if you love old theaters, check out the 1-room Clyde Theatre on First Street. It's a quaint, family-owned movie house that has survived since 1937.
When you get hungry, we recommend Orchard Kitchen, which is 4 miles south on Bayview Road. You'll have a refined food experience at this farm-to-table restaurant on what's left of a 100-year-old farm. You'll dine at rustic family-style tables inside the old barn or outside among the wildflowers while you enjoy a multi-course meal. Many have said it's Michelin-star-worthy!
See the Stunning Deception Pass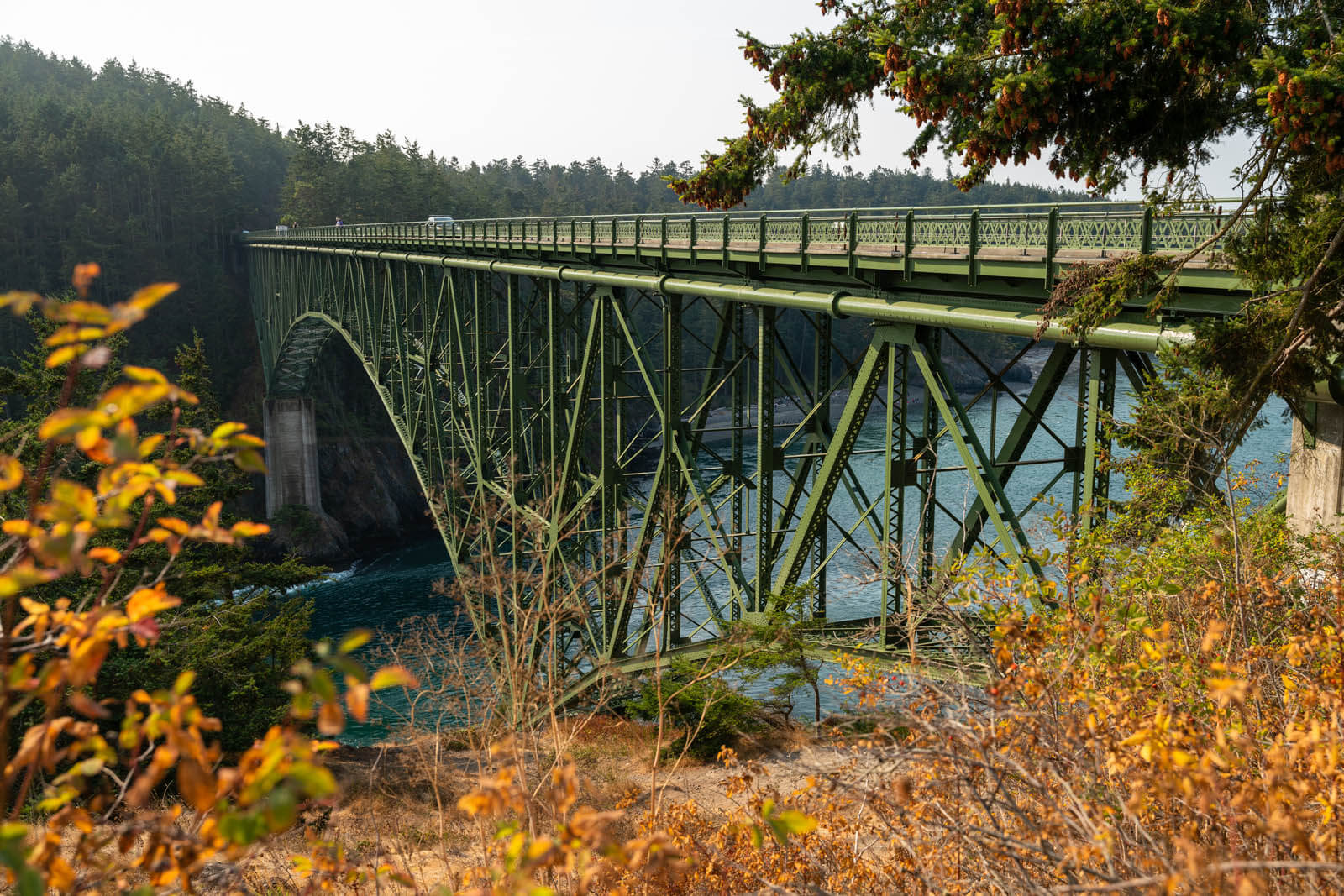 We took some time at Deception Pass on the northern tip of the island, and we can attest that it's breathtaking. It's a straight between Whidbey Island and Fidalgo Island with several islets in between. Deception Pass contains a massive 4,000-acre state park with amazing viewpoints and lots of outdoor activities.
For those okay with heights, take time to walk across the bridge. It's a 2-lane bridge with narrow passenger lanes on each side. Be prepared because you have to wind up some pretty narrow staircases to get to the bridge, and it can get really windy up there! But once you're on the bridge, you can enjoy some amazing views of the strait with the water passing between the land masses. If you're lucky, you might spot a pod of Orcas too!
And the views from the water's surface just can't be beaten. The currents in the strait at high and low tide make conditions too rough for the average kayaker or swimmer. But you should definitely book a jet boat tour to experience them. April through September, you can ride a catamaran through the strait while you hear interesting facts about local sea life and the history of Deception Pass and Whidbey Island. Sadly, we missed the tours by just a few days by visiting early October, but even without doing the boat tour, we were blown away by Deception Pass.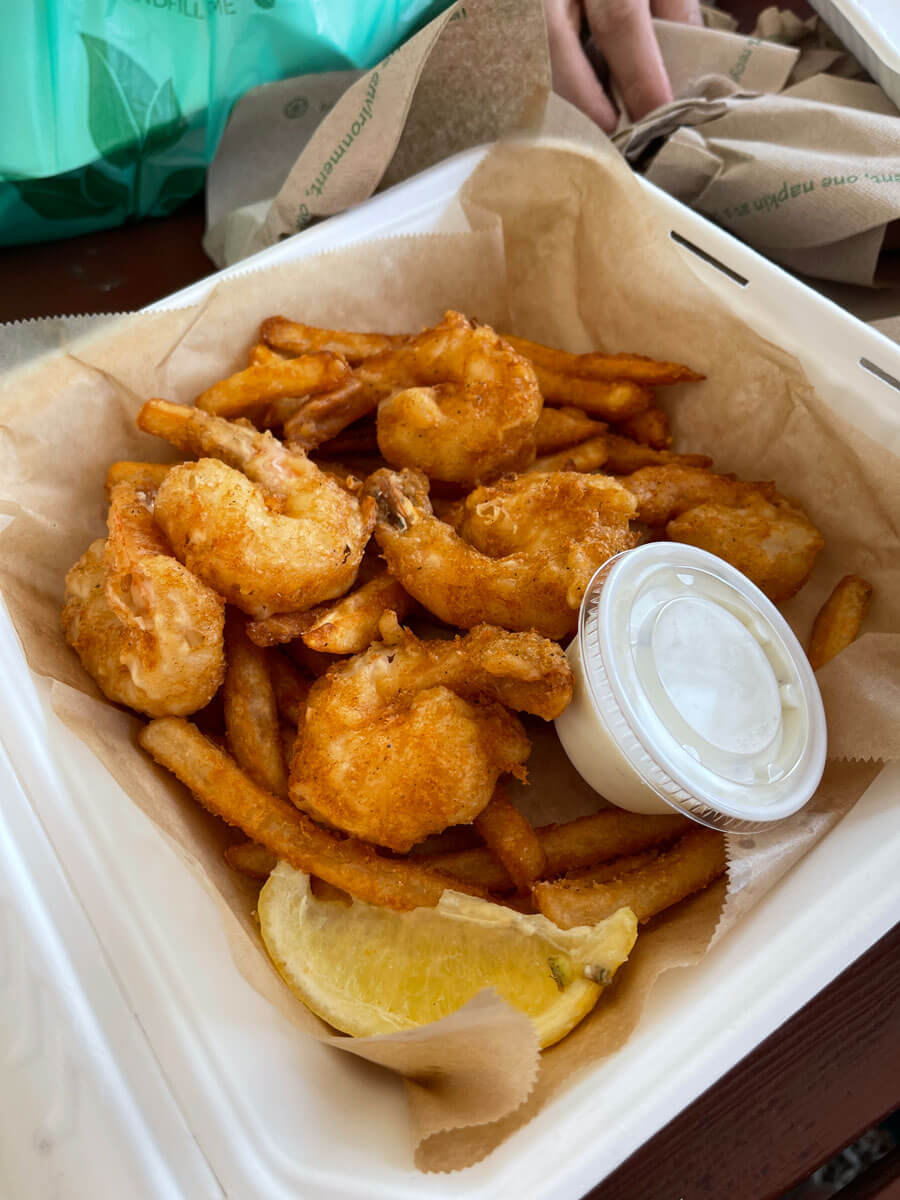 While you're here, head to the Shrimp Shack on the Fidalgo Island side of the pass. They're super popular for their amazing, fresh PNW seafood at this roadside stop. If you want to avoid a wait, go during the week, or just embrace the crowds and look forward to the delicious food! You can get Dungeness crab, mussels, and shrimp prepared in every way you can think of. They also have burgers, fries, hush puppies, and more.
Take a Whidbey Wild Mushroom Tour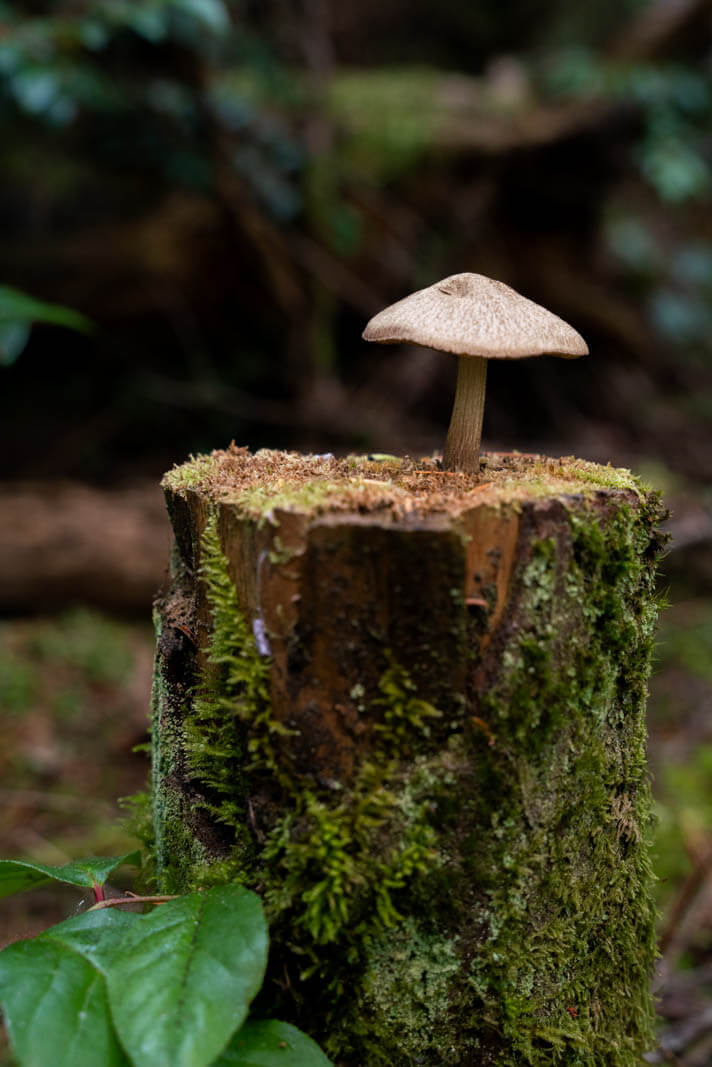 One of the coolest things to do on Whidbey Island is taking a Whidbey Wild Mushroom Tour. Your knowledgeable guide, Travis Furlac starts things off with an informational session. It's packed with tons of information on how to identify different types of mushrooms and how to forage them properly in the Pacific Northwest.
After you learn a bit, then you're off to explore the forest and look for mushrooms. You can even bring your own basket (or brown paper bag) to collect mushrooms if they're abundant.
Keep in mind that the location of tours changes depending on conditions. Travis scouts everything out beforehand and your tour will be at a spot he picks, always offering a great educational and interactive tour all about PNW mushrooms.
He hosts 3-hour tours in the morning and afternoon on Saturdays during the mushroom season (typically October through late November or early December). And you can choose between a larger open group tour that's open to individuals or a private tour.
This is absolutely one of the best things to do on Whidbey Island if you want to learn more about finding or foraging your own food! We will definitely be looking out for tours like this on our travels as we really enjoyed this experience.
Visit Captain Whidbey Inn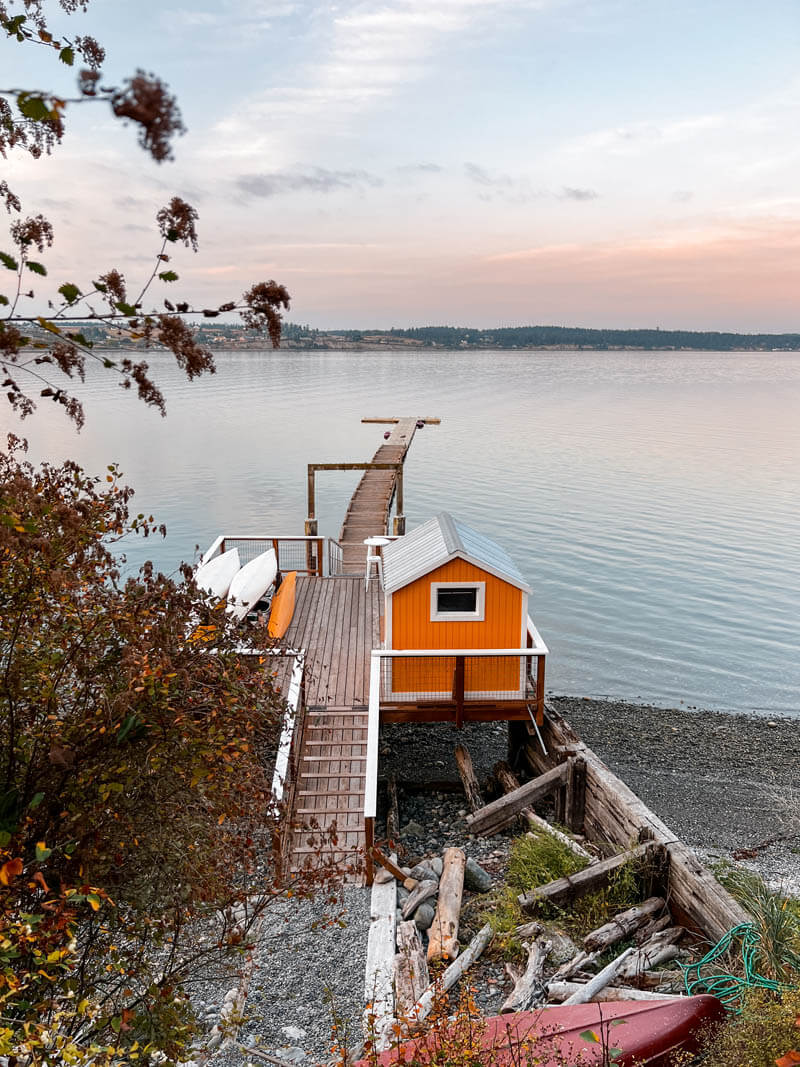 Overlooking the western bank of Penn Cove is the beautiful Captain Whidbey Inn. Located inside Ebey's Landing National Historic Reserve, the historic inn is framed by old-growth trees, grassy lawns, and sandbars. The 6-acre waterfront property was built in 1907 and has had many lives over the years, including as a boarding house. You can stay here, or at least come for a meal.
The Restaurant at Captain Whidbey is open for dinner, offering classic American dishes centered largely around locally sourced seafood and other ingredients. There's also a full bar, so you can enjoy cocktails before or after dinner.
To really experience Captain Whidbey, come via the ferry (you can drive, too). For a long time, most guests arrived by water, and not by car! You can stay in 30 different rooms, suites, and cabins, all impressively designed with a mix of rustic PNW style and clean, sleek touches.
The inn also has many curated experiences for its guests, including a wellness center. You can take a yoga class, meditate, or spend time in the sauna. There are wine tastings, s'mores by the bonfire, and many more unique activities.
Eat all the Seafood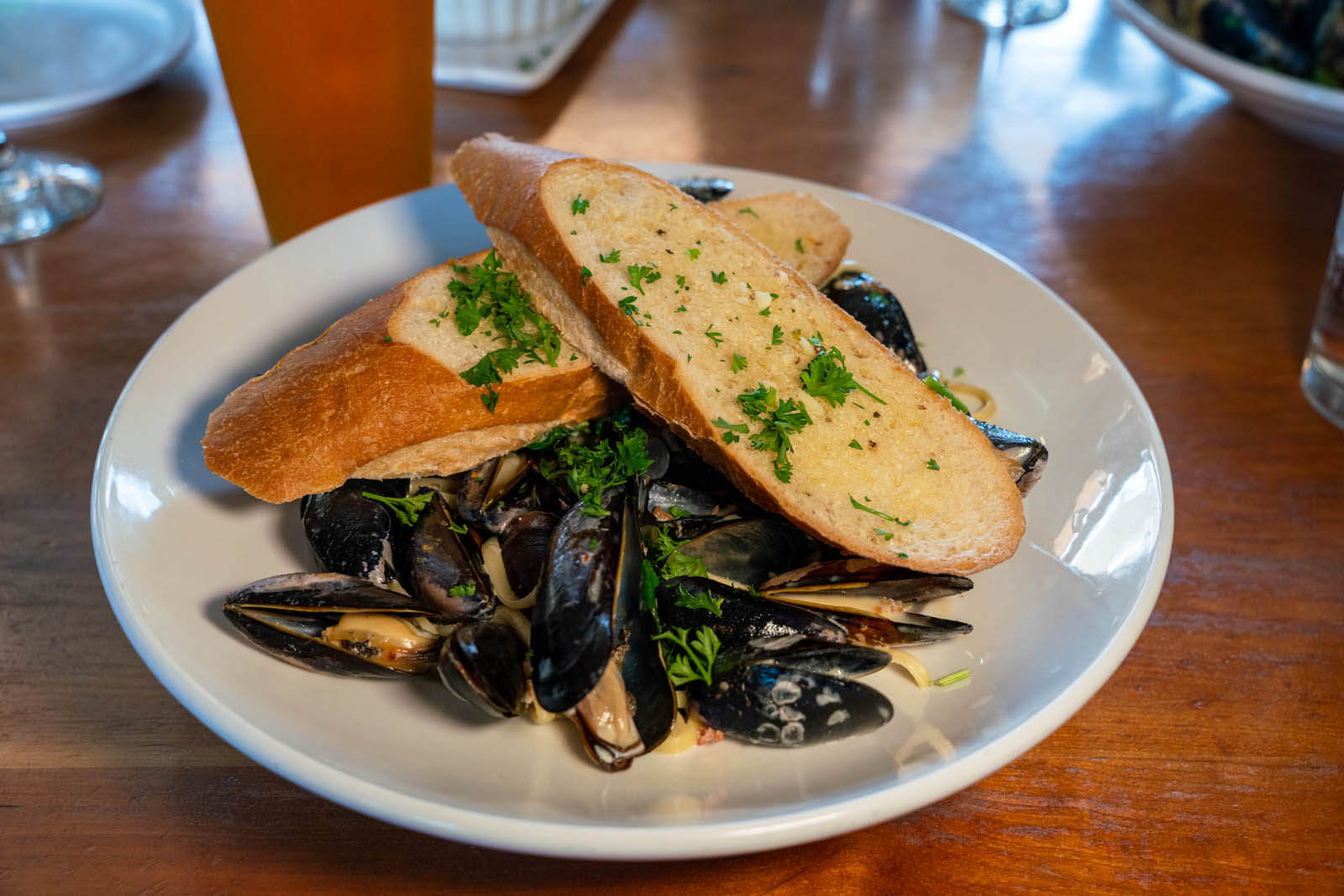 Whidbey Island, Washington enjoys perfect conditions for prime seafood harvests, including mussels, trout, crabs, and dozens of varieties of oysters and clams! You could literally go to the beach and dig up butter clams on the beach. Or trust the experts and head to one of the many top-notch seafood restaurants on Whidbey Island for the freshest catch of the day!
Two of the best meals we had on our trip include Saltwater Fish House & Oyster Bar in Langley. If you love seafood classics like lobster rolls or fish and chips with a crisp beer, come to Saltwater Fish House & Oyster Bar.
Enjoy a rustic setting at this bistro with a full beer, wine, and cocktail bar. Their raw oyster menu has several different kinds of local oysters that you can mix and match for your order!
And for the best mussels we've ever had next to the Coupeville Wharf, check out Front Street Grill. This restaurant has a beautiful open dining room with fabulous views of the cove and mountains beyond. They're an elevated seafood restaurant that shines with classics like seafood pasta dishes.
Hands down, their mussels and linguini were some of the best we've ever had, everyone at our table ordered a different flavor – all of which were amazing!
Go to Greenbank Farm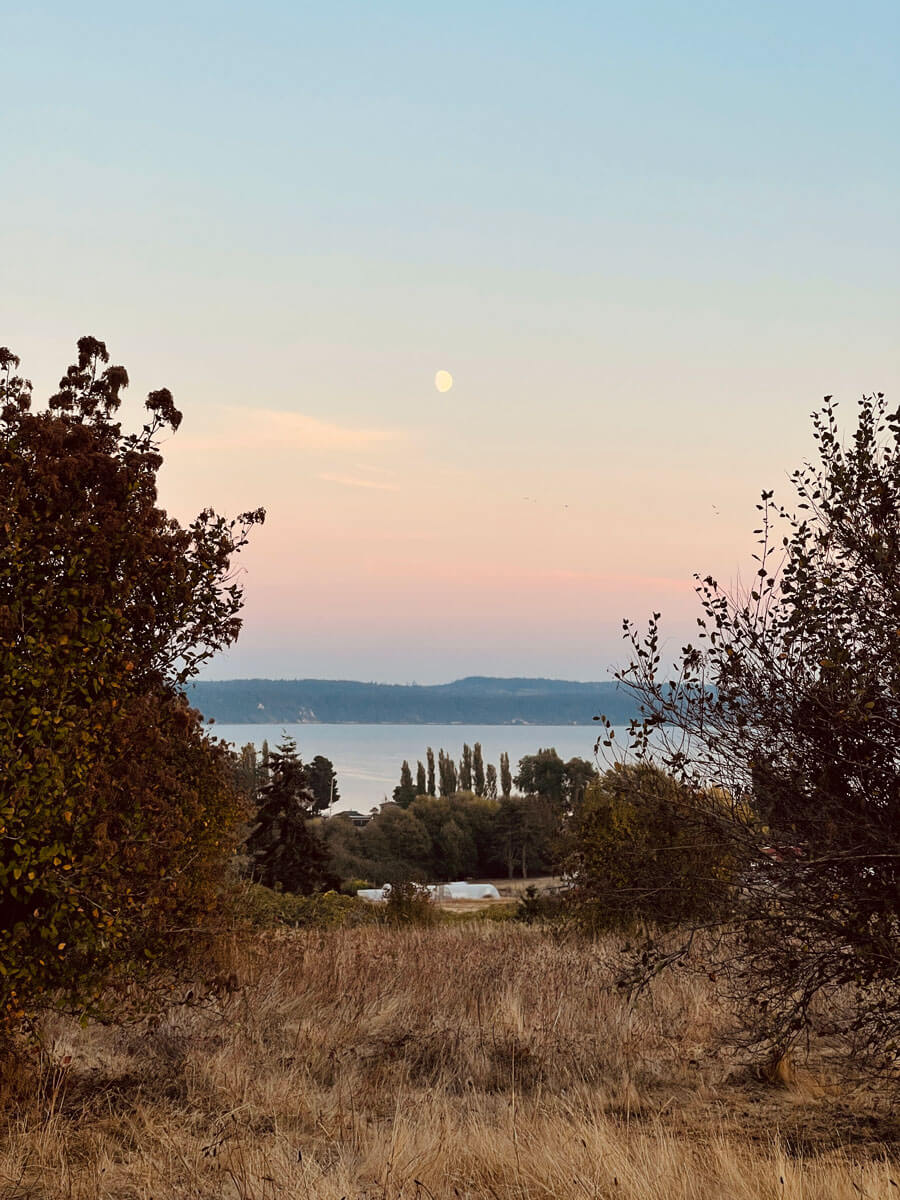 Get outdoors and burn off all that buttery seafood goodness with a walk at a beautiful local park. Greenbank Farm is just north of the town of Greenbank, just off N Bluff Road. It's an old farm that's been turned into a local public park with nature trails, educational gardens, and shops.
The trails offer a great up-close look at local flora and fauna. You might catch glimpses of eagles, herons, marsh wrens, and much more! The paths are dog-friendly and you'll see a lot of locals who use the paths for daily walks. Take the longer Forest Trail for a nice view of the water from the top of the hill.
You can take a class in the gardens or observe others at work. Try to stop at the Greenbank Cheese Shop, where you can find packaged delicacies and gifts. There's also a great bistro with coffee beverages, and a homemade pie shop. At one time the farm largely produced Loganberries, and the pie shop makes a great Loganberry pie!
Fort Casey State Park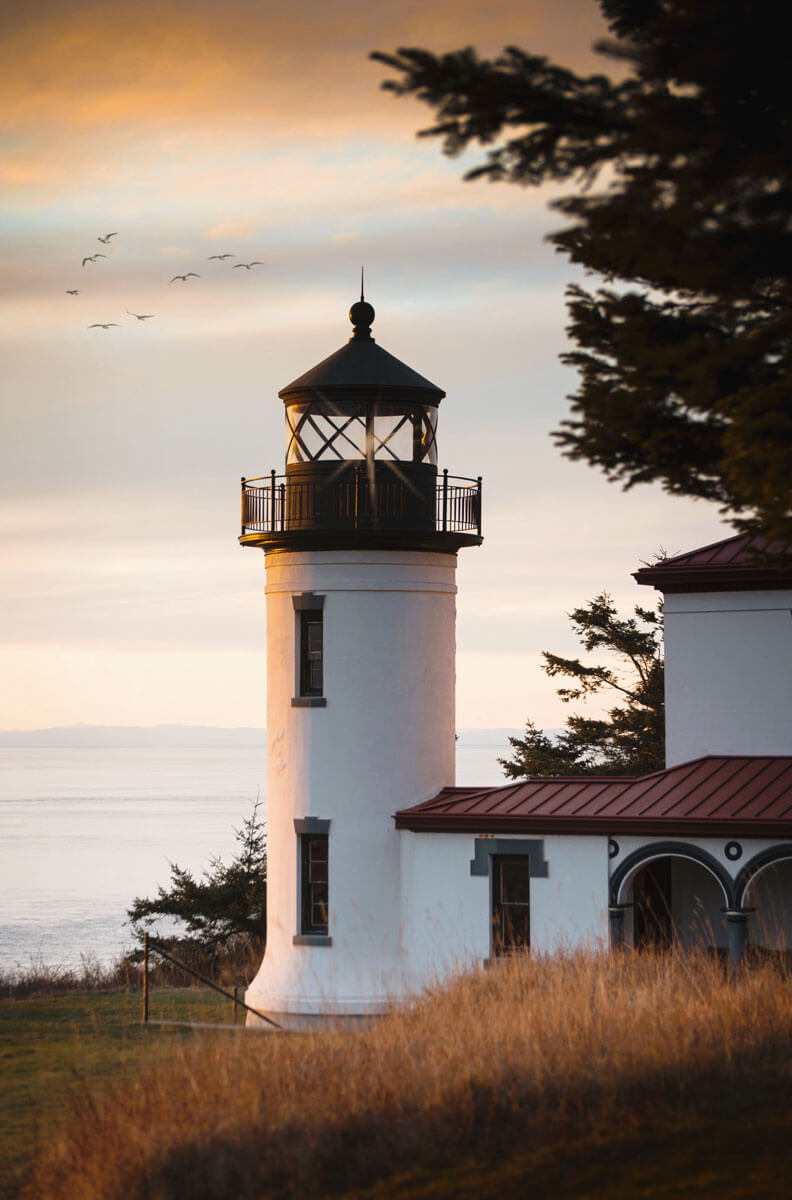 For more outdoor Whidbey Island attractions, check out Fort Casey State Park. At the end of the 19th century, Fort Casey was one of several forts built on the banks of the Admiralty Inlet. The strategic vantage point these forts offered was thought to be an important defensive position for any invading ships coming through the Puget Sound.
The forts quickly fell out of use, even before World War I, and by the 1950s it was dedicated as a state park. Most of the canons and mortars of the fort were removed well before this. But a key feature of the fort that remains is giant canons set on disappearing carriages. You can get up close to these massive guns when you visit the park!
More than just the historic landmarks, Fort Casey offers views that are out of this world gorgeous! You can see the Puget Sound and the Olympic Mountain Range beyond, as well as ships passing through the inlet. You can use hiking trails along the water or explore different historical structures. And the park also has a campground for both RVs and tents.
Washington has dozens of historic lighthouses, including Whidbey's beloved Admiralty Head Lighthouse at Fort Casey State Park. It's a Spanish-style structure that was built in 1901. It went in and out of service over the years before being restored in 2020 to full working condition. Today you can visit the lighthouse's museum and gift shop, walk the grounds, and learn all about lighthouse technology.
Fort Ebey State Park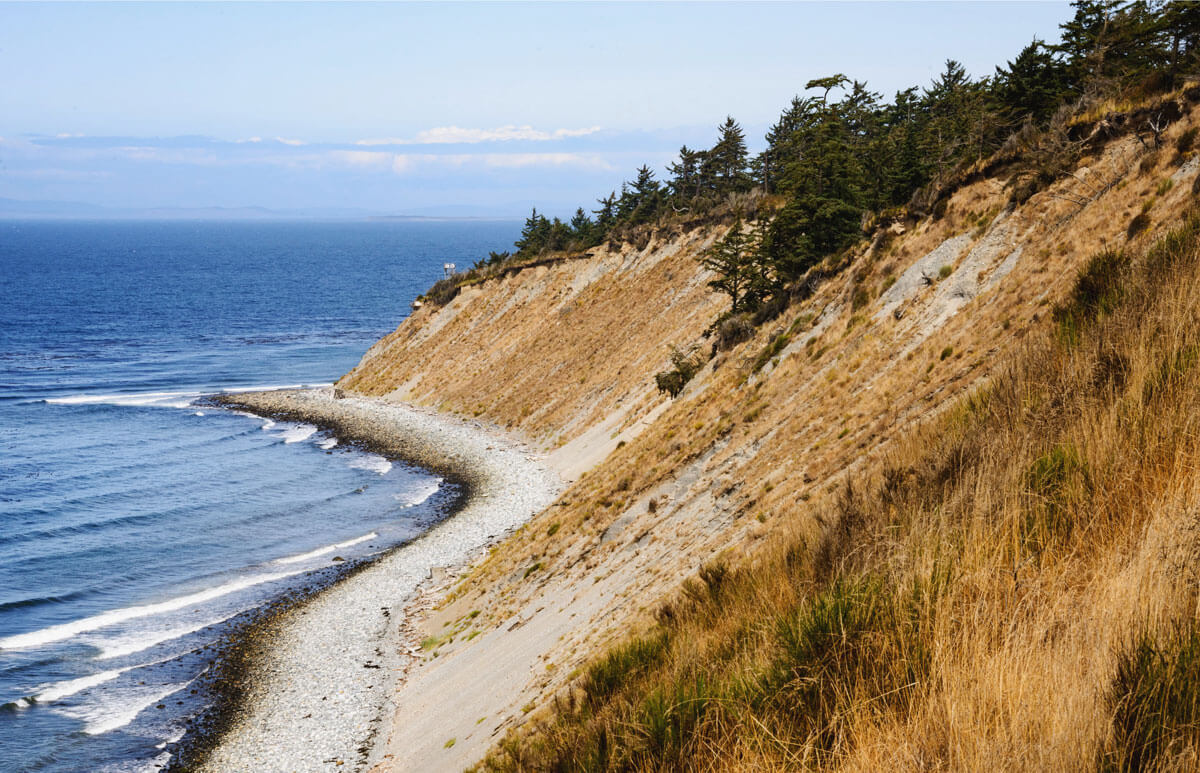 Outside of Coupeville, on the west coast of the island is Fort Ebey State Park. The roughly 650-acre park has 25 miles of paved nature trails for pedestrians and cyclists. You can explore cool old ruins from the period when Fort Ebey was a military defense post during World War II. It's also a popular place to go camping. Or look for the picnic tables and grills and enjoy lunch in the park with views!
You'll want to add watching the sunset at Fort Ebey State Park to your list of things to do on Whidbey Island. There's really no better place with unobstructed western views over dramatic sandy cliffs next to rocky beaches. You have full views of the Olympic Mountain Range AND Mt. Rainier off in the distance. And the scenery is what you think of when you imagine classic Washington scenery, with hemlocks and towering firs next to grass bluffs that go all the way to the beach below.
Every season offers different things to do in the park. You can fish for trout at Lake Pondilla (the lake isn't accessible by car, so just be prepared to walk). You'll find some beaches that are perfect for paragliding and surfing. Or just hike a section of the famous Pacific Northwest National Scenic Trail that runs along the shoreline of the park!
Visit The Craft Beverage Spots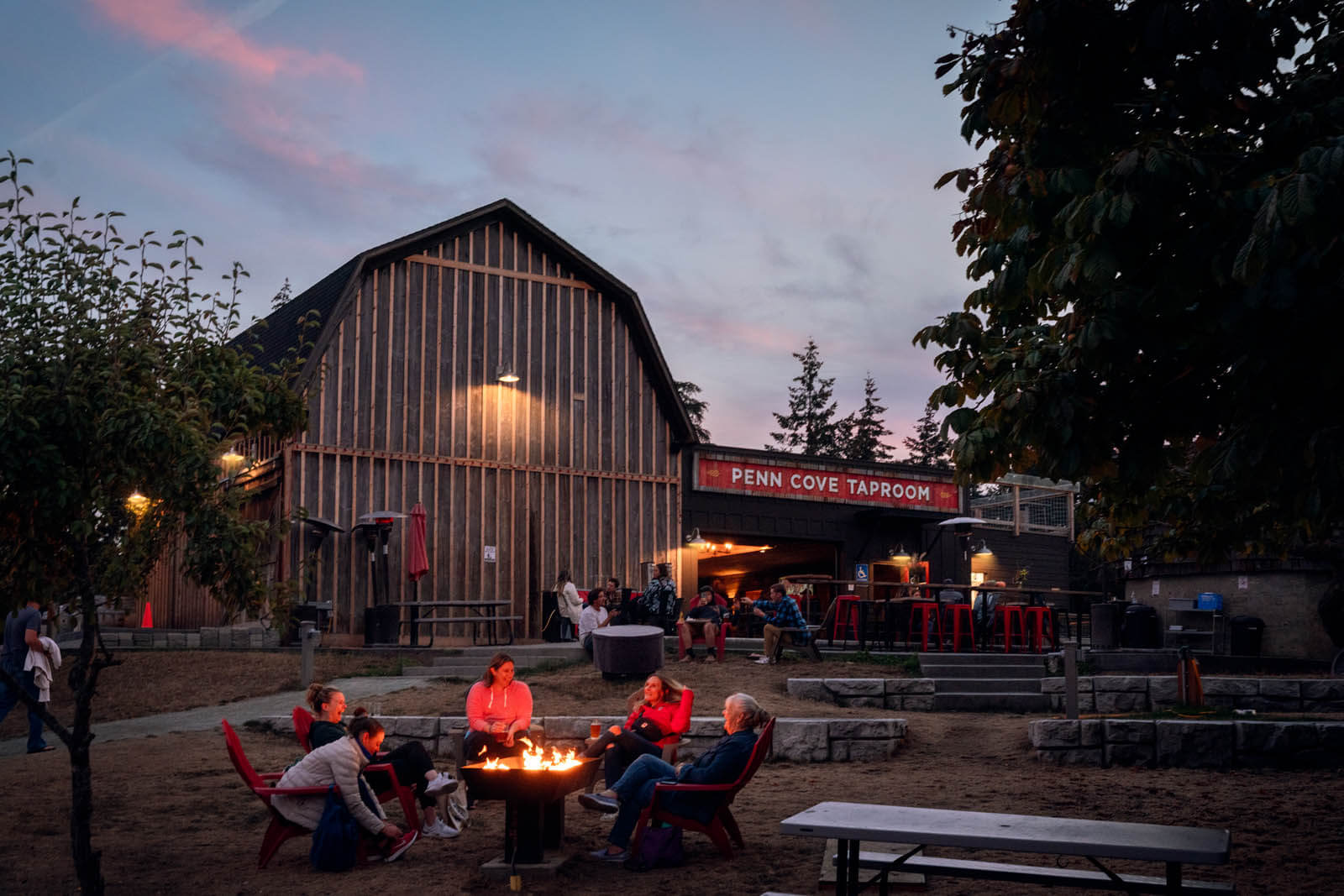 One of the top things to do on Whidbey Island is checking out all the amazing microbreweries and wineries across the island! No matter where we go, we love to savor a good drink in an inviting setting. These are just a few of our favorite places, but Whidbey Island has even more distilleries, vineyards, and farms that you can check out.
Visit the winery at Comforts of Whidbey, which doubles as a bed and breakfast near Langley. Come to the tasting room on Fridays from 1 to 5 PM or on Saturdays and Sundays from noon. You can a variety of red, white, rose, and sparkling wines grown and produced at Comforts of Whidbey. It's nice to sit on the patio with views of the water, and you can enjoy bites to eat. We loved their woodfired pizza.
Look for Double Bluff Brewing tucked away off Second Street in Langley. You'll find the cobblestone patio down Anthes Avenue, lined with twinkle lights, colorful stores, and potted flowers. This dog-friendly and family-friendly brewery is a fun little place to hang out and enjoy a good beer. Try fun They don't offer much food beyond salted pretzels, but you're welcome to bring food in! It's really casual with covered patio seating, fire pits, and heaters when it's cold.
For a completely different experience, visit Ott & Hunter Wines in Langley! Inside the spacious, elegant tasting room, you'll sit at beautiful white and gray tables with flowers. Out large windows are the best views of the Sound. It's the perfect place to come after dinner at one of the restaurants all around Ott & Hunter on 1st Street. Plus, there's live music on the weekends for the best ambiance.
Just outside of Freeland, Dancing Fish Vineyards is a beautiful place to spend an afternoon. The small, family-owned property features a tasting room inside the refurbished barn. There's also a patio and manicured lawns with more outdoor seating. You can enjoy Dancing Fish's reds and whites while you play lawn games or sit by the fire and listen to live musical performances (every Friday night).
Driftwood Cider Company was started over 20 years ago south of Langley, but the orchards are over 100 years old! The family-owned farm also recently launched Spoiled Dog Winery. You have to visit this picturesque property with apple and pear trees, vineyards, plus dogs and chickens running around! Come on the weekends to the beautiful outdoor seating area and pair cheese, crackers, and chocolate with your choice of beverage.
Less than a mile from the ferry is Thirsty Crab Microbrewery, a recent and welcome addition to the town of Clinton. Come hungry and enjoy a variety of brews with brats from the food truck out front! Thirsty Crab is a small, casual place with seating outside of the brewery.
Visit Penn Cove Brewing Company at their Coupeville location on S Main Street. The taproom is a beautiful, casual space with a fun vibe (and live music). There are always dozens of beers on tap, including other local brands. On the menu, you'll also find cider, wine, seltzer, and more. Order a flight or just a pint and choose from a limited but stellar food menu. We loved the mussels next to a good pale ale!
Whidbey Island Distillery is the only distillery on Whidbey Island, and the only location offering a complimentary tasting! Try their award-winning line of rye whiskey and berry liqueurs that are made using local ingredients. The retail shop at the distillery is open daily for guests. Enjoy a beautiful setting outside Langley with a full tasting before you get to shop for a bottle to take home.
Go for a Hike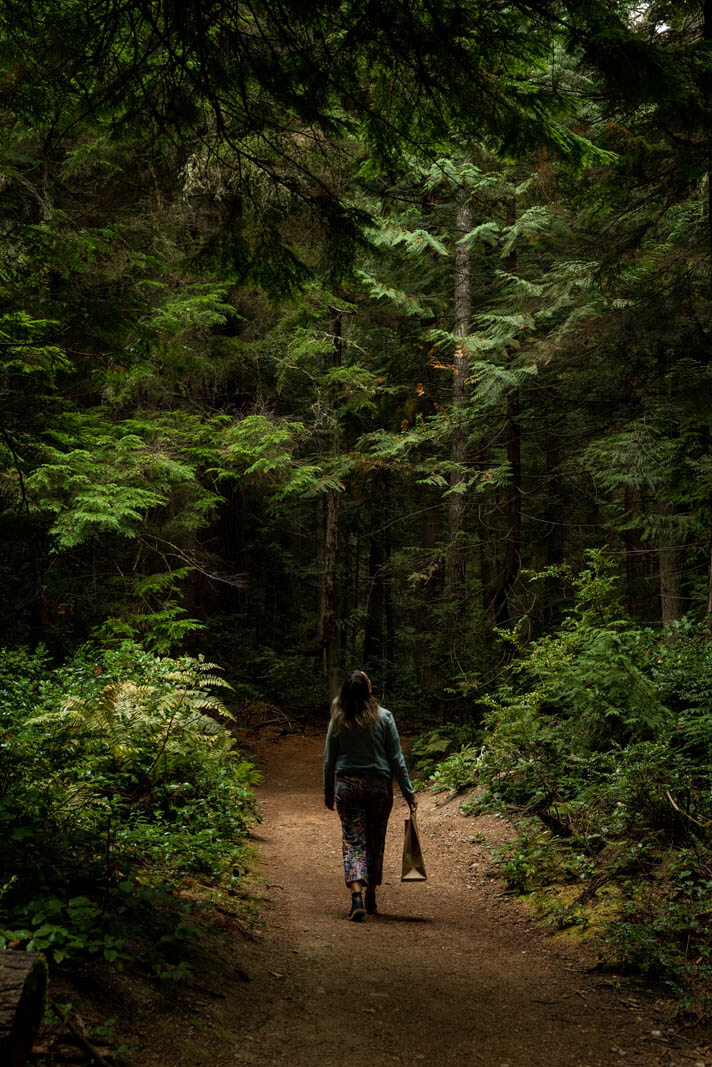 A big reason locals take a day trip out to Whidbey Island is because of how close it is to Seattle, Washington. As the 4th largest island in the United States, you'll find a variety of terrains, including beachside trails, grassy trails, paved walking paths, old-growth rainforest hikes, and more. A lot of the state parks we've already mentioned are popular places for hiking, but there are so many more options!
Dugualla State Park near Deception Pass is a less crowded place with a variety of user-friendly trails where you can take your dog and go for a quiet 2 to 5 mile hike in the fern-covered forest. Or for something a little different, head to Meerkerk Gardens south of Greenbanks where you can walk over 4 miles of trails through stunning, lush gardens!
For a bit of a challenge on a decent-sized trail, visit Strawberry Point Preserve Trail outside Oak Harbor on the northeast side of the island. It's a large nature preserve with defined but a 1.5-mile moderate to difficult trail through marshes, grassy meadows, and PNW forests.
And if you want to enjoy Washington's gorgeous old-growth forests, take a stroll through South Whidbey State Park Old Growth Forest. What's great about the trails here is that they all connect to a 2.5-mile loop around the entire park that's adaptable to all skill levels. Stay on clear paths with a shorter 1-mile loop, or add in some more scenic routes with a few rock scrambles and enjoy the ancient trees.
For another scenic trail that's shorter and has an ADA-compliant loop, head to Trustland Trails off of Highway 525. This newer trail is still a work in progress, meaning that there will likely be more trails in the future. During our visit we enjoyed the 1.7 mile loop through the second-growth forest and using our skills from our mushroom foraging tour to try to forage some mushrooms!
Smith Park
If you're in Oak Harbor, you should stop by Smith Park. It's a special place and a unique stop on the list of Whidbey Island attractions. That's because Smith Park is the only park in the state of Washington that's made up entirely of Garry Oak trees, the town's namesake. And it's almost like a glimpse into the past before Whidbey Island was colonized.
In 2014 one of the trees fell, and when its rings were counted, they discovered that the tree was 330 years old! Once, the island was covered with these trees, but as towns grew, the trees were cut down. Today, they're considered close to extinction in the state. While the park might not be flashy or have a lot of things to do, it feels almost reverent to walk through it knowing about the trees' past.
Take some time and stroll through Smith Park. There's a small playground for the kids, as well as picnic tables and a gazebo. Think about the knotty, 300-year-old trees and imagine the entire island covered in them. You can read information panels about the trees and enjoy views of the water down the hill. Today, the Oak Harbor Garry Oak Society works to cultivate and plant new Garry Oaks around Whidbey Island.
Kayaking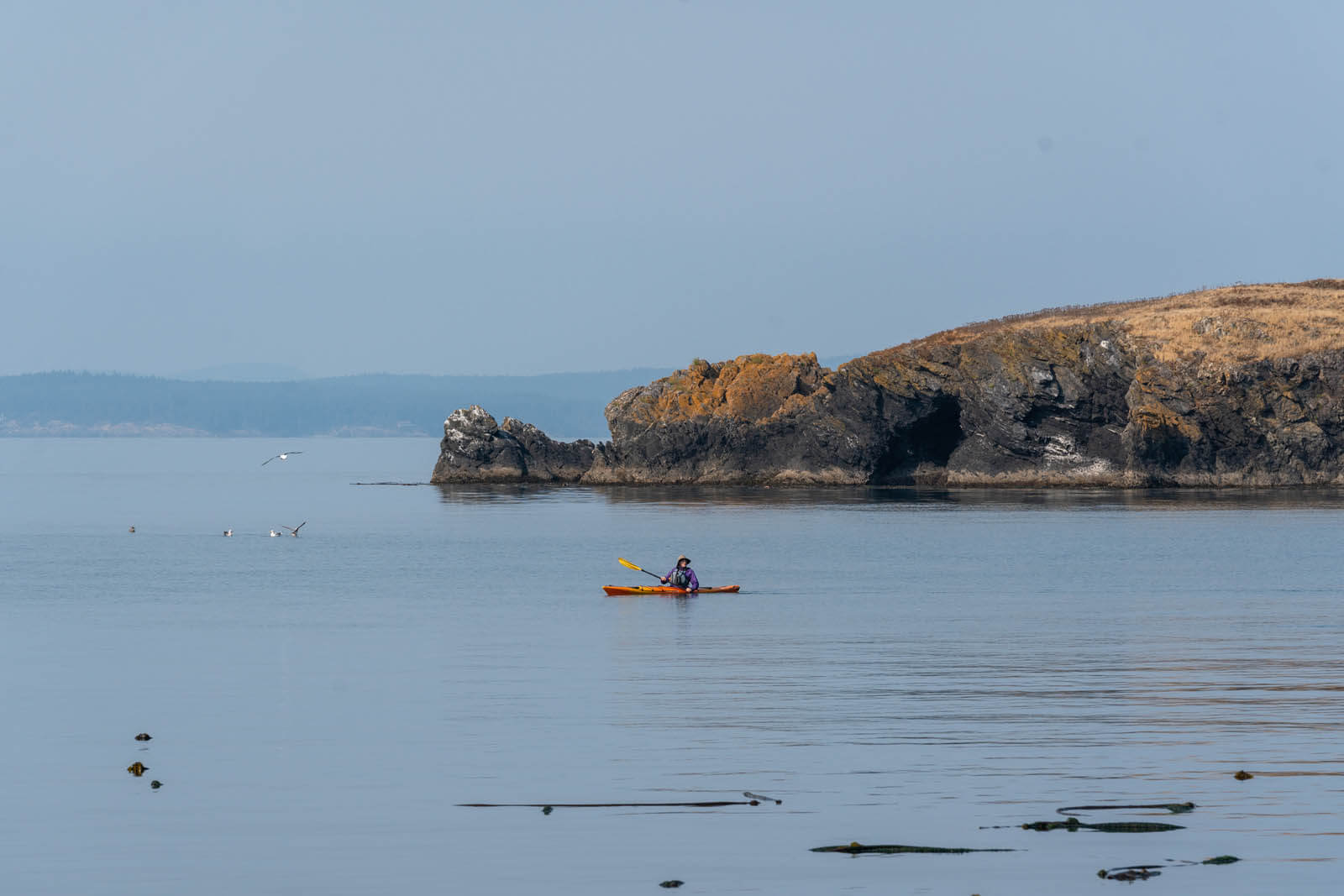 A great way to experience Whidbey Island, Washington is by kayaking the waters around it! You can see a lot of the island at once, and it's pretty affordable.
There are several local companies in Coupeville, Langely, and Clinton that rent canoes and SUP boards in 1-hour segments. Most docks and beaches are great launching points to explore the coastline and the surrounding island. Or go on a kayaking tour with local guides who know the best places to visit on the water.
Whidbey Island Kayaking offers both rentals and tours. Go on a quick 2-hour tour of Penn Cove and Captain Whidbey Inn or try out a full 5-hour tour around the island. You'll see sights like Saratoga Pass towering overhead, Camano Island, and more. Your guide might point out sea lions sunning on the rocks, or even whales!
Pacific Northwest Naval Air Museum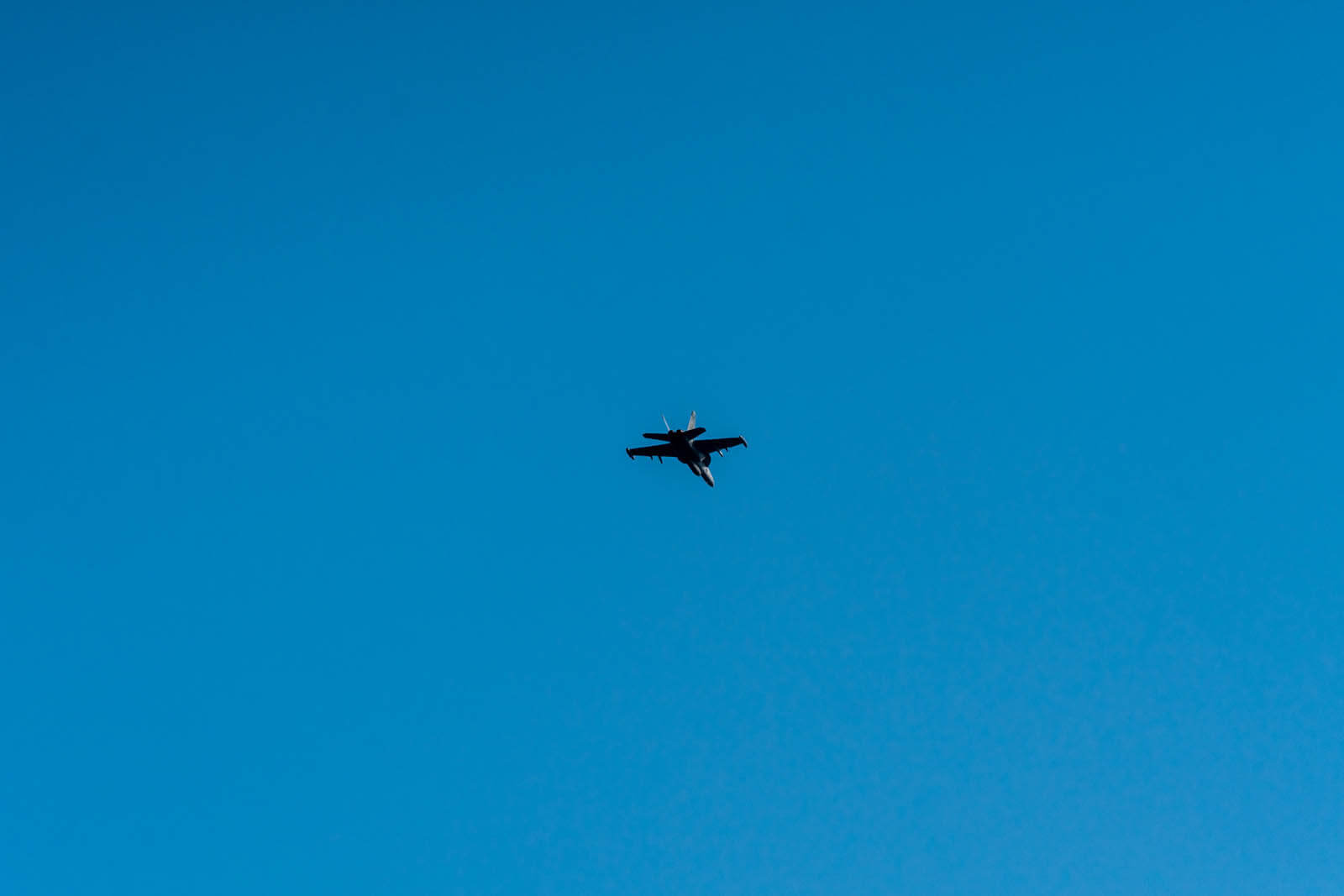 Plan half a day at the Pacific Northwest Naval Air Museum if you're looking for historic Whidbey Island attractions. The island's strategic location on the northeast corner of the continental United States made it the ideal location for a naval base. North of Oak Harbor, there's actually the Whidbey Island Naval Station, and you can even see jets flying when you're visiting!
The museum itself is in Oak Harbor and offers interactive and extensive exhibits about World War II, the Korean War, the Gulf War, and more current conflicts. You can see iconic WWII seaplanes that launched from the sea base on Whidbey Island, and learn about conflicts in which the island base played an important role. Put on night vision goggles, check out military artifacts, and try out 2 different flight simulators.
Stop by Clinton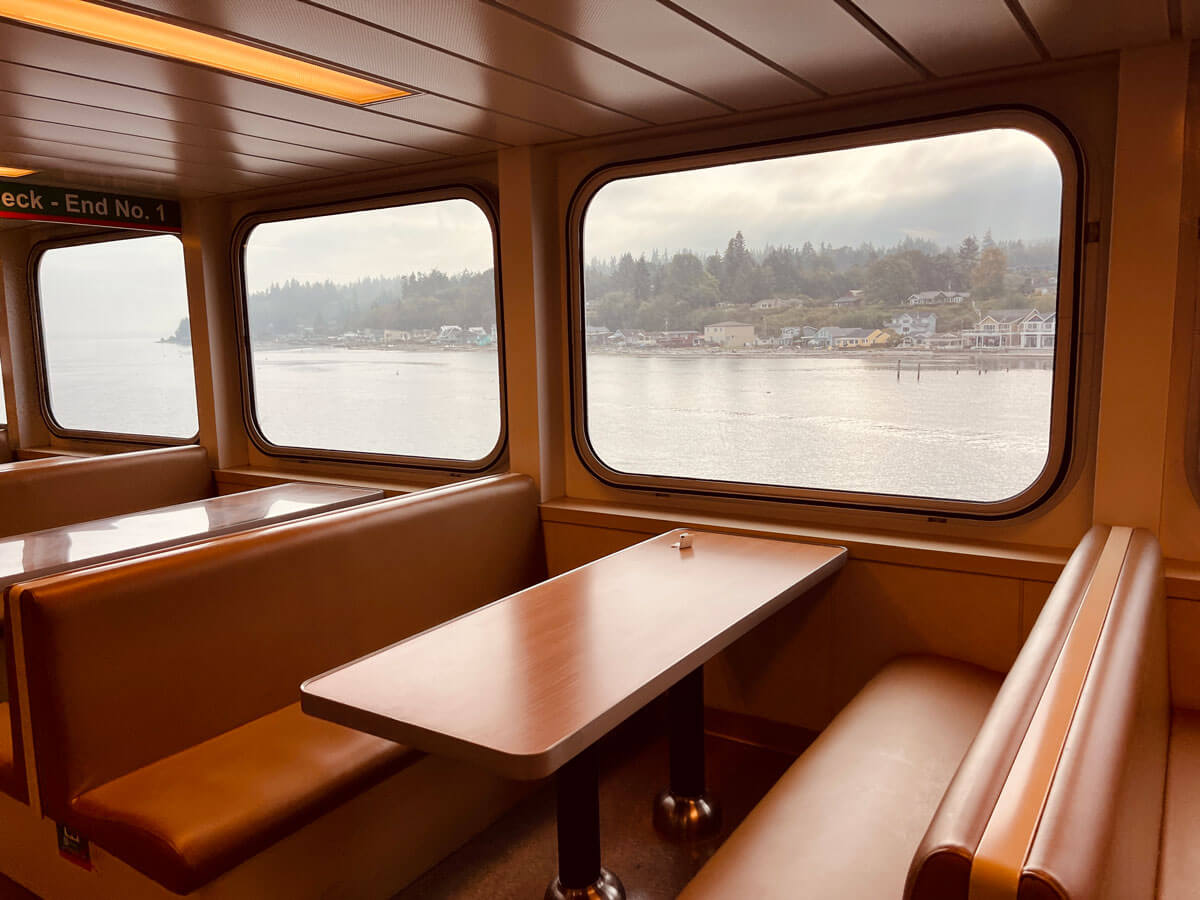 The town of Clinton is a great place to start if you're looking for things to do on Whidbey Island. The Mukilteo ferry comes in here, so you'll end up here at least twice. There are some great dining options here too.
Besides that, the area is largely residential. However, there are two places we recommend taking time for in Clinton. The first is Skein & Tipple. This is an adorable hand-dyed yarn store that also has a speakeasy selling craft cocktails in the back!
Then there's Madrona Supply, whose window displays will catch your eye. It's a cute gift shop right off the ferry with what feels like a handpicked collection of gifts, apparel, snacks, and home goods.
Where to Stay on Whidbey Island
Captain Whidbey Inn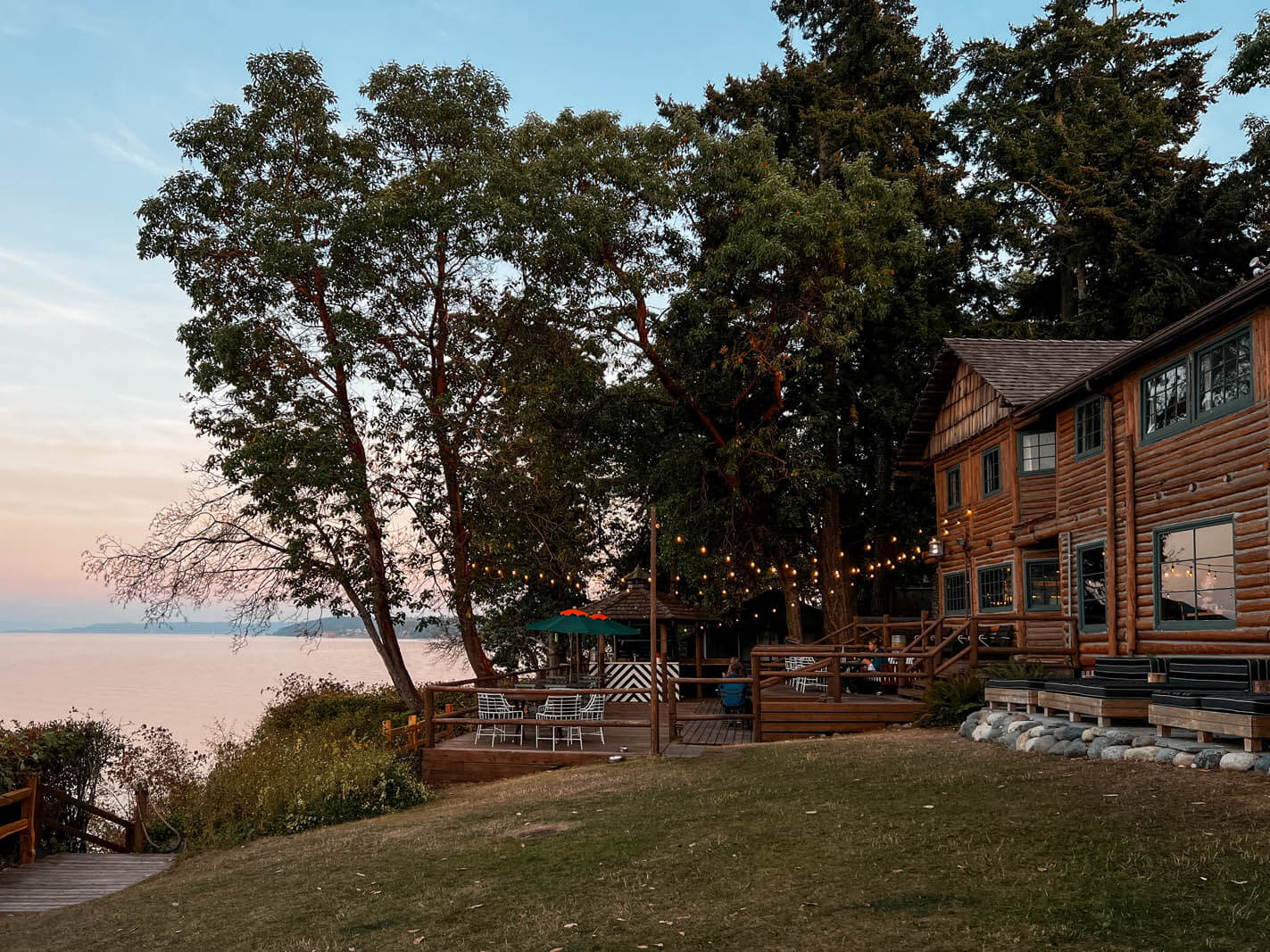 As already mentioned earlier in this guide as one of the best Whidbey Island attractions you need to visit, for at least a meal, if not a stay is Captain Whidbey Inn just outside of Coupeville. Nestled on the shores and surrounded by old growth fir trees, this rustic lodge is an institution on Whidbey Island since 1907.
Choose between their different lodging options ranging from rooms, and suites, to individual cabins all elegantly designed with PNW flair and accents. Don't miss their curated experiences for guests or take advantage of the stunning view from the pier at sunrise and sunset.
And if you're not able to stay here, at least come for a meal and you'll see why this is one of the top places for an escape in the Pacific Northwest. Book here.
Inn at Langley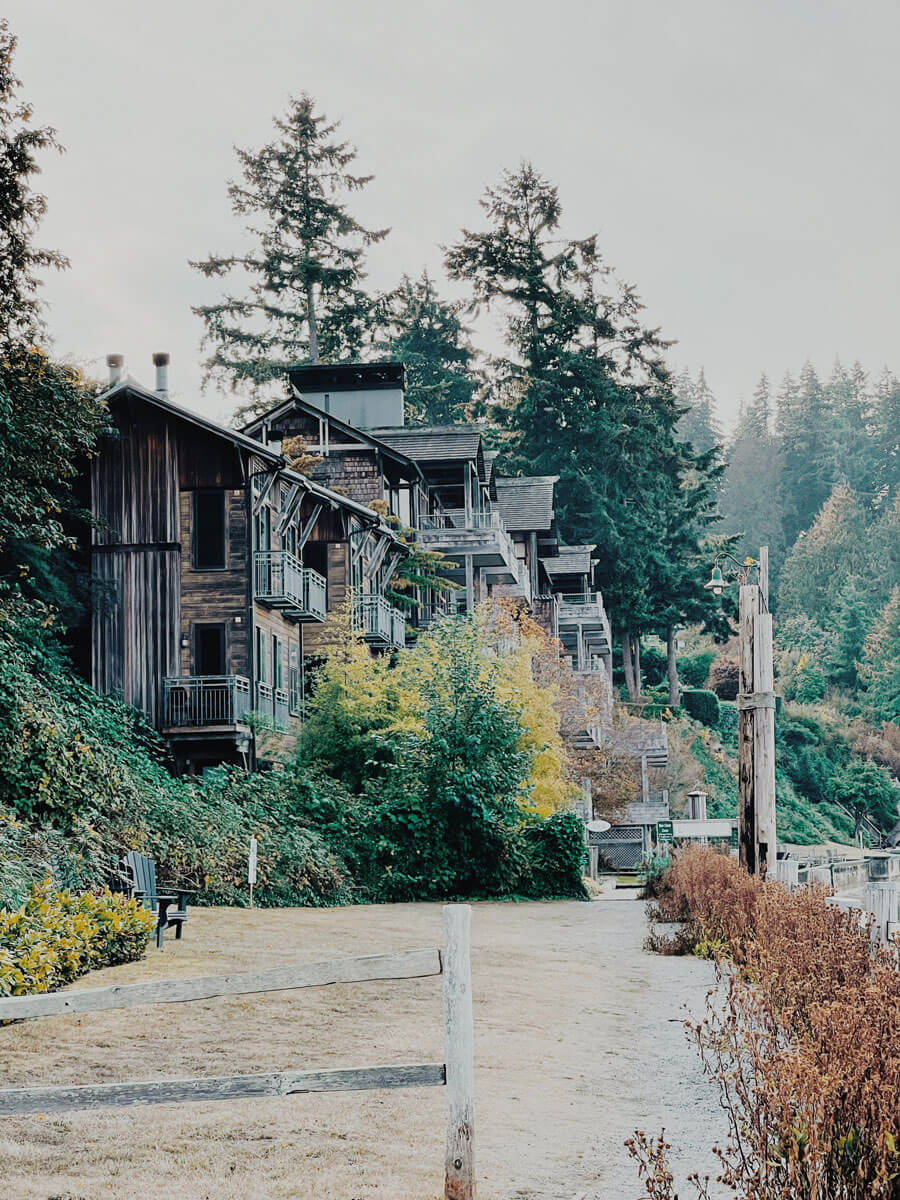 Located on the waterfront in Langley just steps away from incredible Whidbey Island attractions (plus the cute free-roaming bunnies of Langely) is the Inn at Langley. Every room, whether you pick a suite, king room, or cottage has a waterfront view with their own private patios or balconies.
Stay cozy by enjoying a soak in their deep soak tubs, snuggle up next to the wood-burning fireplace, and enjoy complimentary breakfast each morning during your stay.
Better yet, there's a spa on site so you can also book a treatment and have a fully relaxing getaway at this stunning property that Travel & Leisure even considers one of the top 500 resorts in the world. Book here.
Auld Holland Inn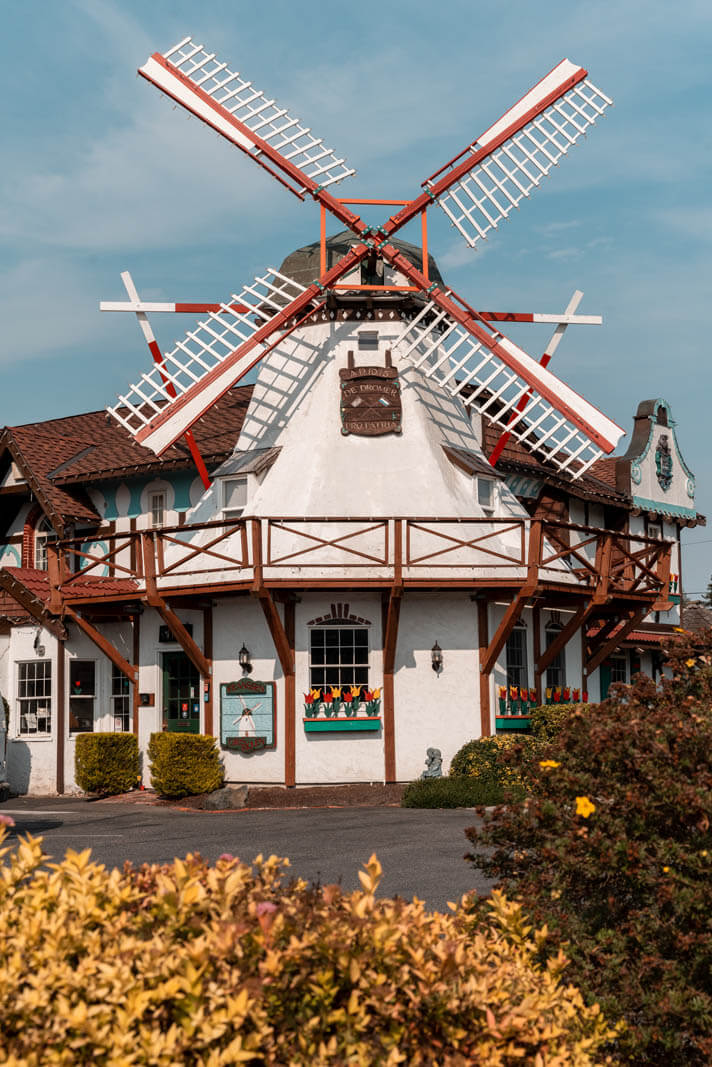 Located in Oak Harbor, one of the best launching off points for exploring around Deception Pass is the charming Auld Holland Inn, which feels straight out of the Netherlands in this fun Dutch-themed hotel complete with a windmill and tulips!
The rustic rooms are cheerful and have vintage touches, not to mention the "Old World" beauty this unique hotel offers! Not to mention this stay is more budget-friendly compared to the resorts and lodges on the island. Book here.
---
What is the cutest town on Whidbey Island?
Langley is often considered the cutest town on Whidbey Island. It boasts charming streets, art galleries, shops, and scenic waterfront views, making it a delightful destination.
When is the best time to visit Whidbey Island?
The best time to visit Whidbey Island is during the summer months (June to August) when the weather is pleasant, outdoor activities flourish, and festivals occur.
What is Whidbey Island famous for?
Whidbey Island is famous for its scenic beauty, outdoor recreation, picturesque beaches, and vibrant arts communities, offering a serene retreat near Seattle, Washington.
How far is Whidbey Island from Seattle?
Whidbey Island is approximately 30 miles (48 kilometers) from Seattle, accessible by ferry or road, making it a convenient getaway from the city.
How do you get to Whidbey Island?
To reach Whidbey Island, you can take a ferry from the mainland, drive over the Deception Pass Bridge, or use a small airport like the Whidbey Island Airport for flights.
What's the best way to get to Whidbey Island from Seattle?
The best way to get to Whidbey Island from Seattle is by taking a ferry from the Mukilteo terminal to Clinton on Whidbey Island or driving via the Deception Pass Bridge.
How much time do I need for Whidbey Island?
A weekend getaway is ideal for exploring Whidbey Island, but spending 3-4 days allows you to fully enjoy its scenic beauty, outdoor activities, and charming communities.
Can you visit Whidbey Island as a day trip from Seattle?
Yes, you can visit Whidbey Island as a day trip from Seattle by taking a ferry to explore its highlights, but an overnight stay offers a more leisurely experience.
What to see on Whidbey Island, Washington (Post Summary):
Visit the town of Coupeville
Check out Langely
See the Stunning Deception Pass
Take a Whidbey Island Wild Mushroom Tour
Visit Captain Whidbey Inn
Eat All the Seafood
Go to Greenbank Farm
Fort Casey State Park
Fort Ebey State Park
Visit the Craft Beverage Spots
Go for a Hike
Smith Park
Kayaking
Pacific Northwest Naval Museum
Stop by Clinton
---
Found this guide to all the wonderful things to do on Whidbey Island for a first time visitor helpful? Bookmark for later or share the love below on Pinterest!