Looking for all the amazing things to do in Yosemite National Park? You've come to the right place! Without a doubt, this is one of our favorite national parks of all time (along with many others, of course!).
Scott growing up in California has been going his entire life and during my decade plus living in California, we have both been several times and are excited to share what we think are the top places to see in Yosemite National Park!
Nestled within the heart of California's Sierra Nevada mountains lies a wilderness sanctuary of unparalleled beauty. This iconic national treasure, renowned worldwide for its breathtaking landscapes, rugged terrain, and towering waterfalls, beckons adventurers, nature enthusiasts, and wanderers from across the globe all seasons of the year!
In this comprehensive Yosemite National Park travel guide, we will help you plan your unforgettable journey through Yosemite, where we'll unveil the park's most cherished secrets and guide you through the most popular and best things to do, ensuring your visit to Yosemite is nothing short of extraordinary.
From iconic vistas to some of the park's best hidden gems, prepare to be enchanted by Yosemite's magic and discover what makes it one of the most sought after destinations in the United States.
But first, before we dive into all the best places to see in Yosemite National Park, here are some essential tips for visiting.
Disclaimer: This post contains affiliate links.
Yosemite National Park Entrances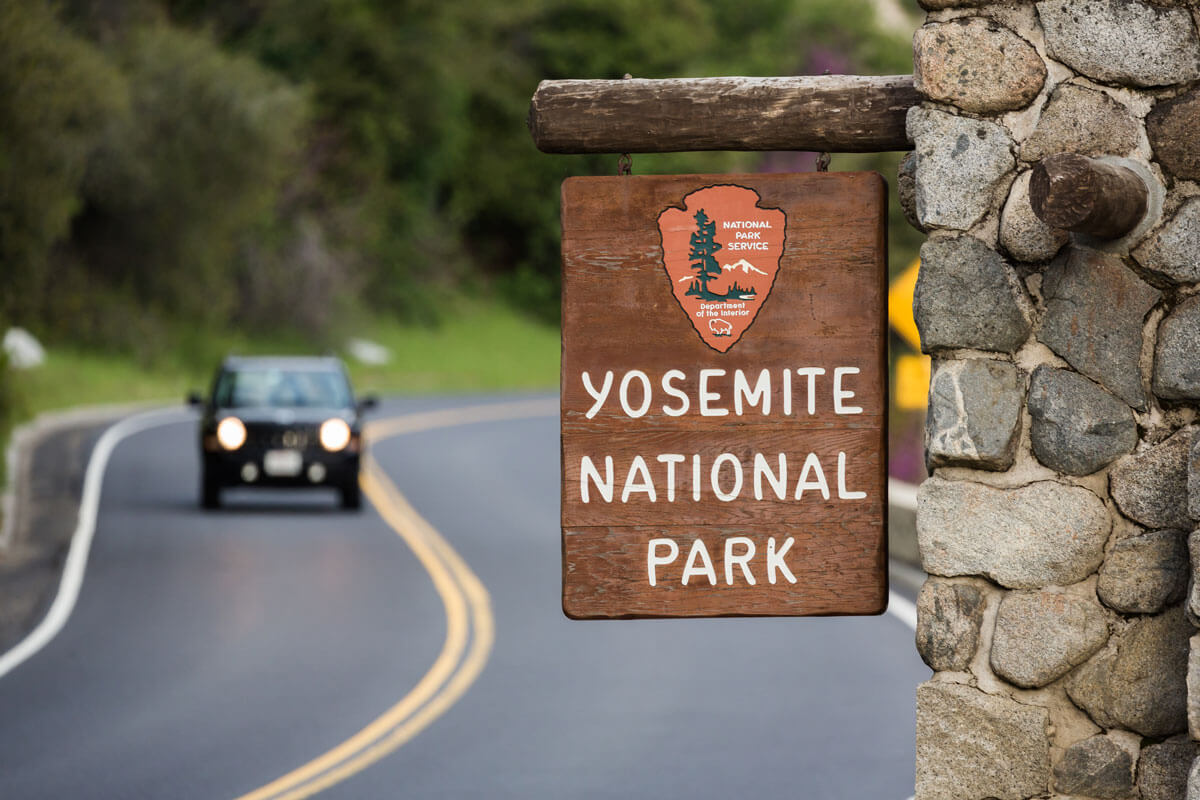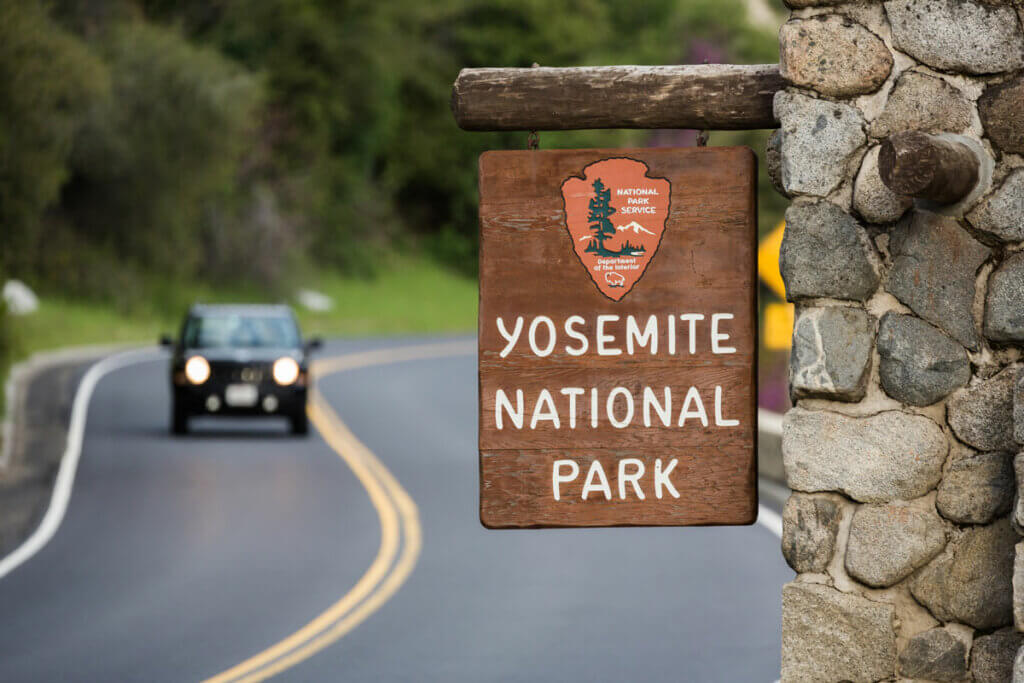 There are a total of 5 entrances to Yosemite National Park, four of which give you access to the famous Yosemite Valley.
Something important to keep in mind is that the opening and closing of the entrances may vary depending on weather conditions, particularly during the winter months when snowfall can affect road accessibility. It's always recommended to check the current conditions and road closures on the official Yosemite National Park website or contact the park directly before planning your visit.
Tioga Pass Entrance (Highway 120) (typically May-October depending on snow conditions) passing through the Sierra Nevada Mountains
Big Oak Flat Entrance (Highway 120) near Groveland and usually open year round as long as weather is cooperating! Access to Yosemite Valley and Tioga Road when it's open
Arch Rock Entrance (Highway 140) near the town of Mariposa open year-round with access to Yosemite Valley.
South Entrance (Highway 41) near town of Fish Camp open year round with access to Yosemite Valley.
Hetch Hetchy Entrance – typically open year round and only provides access to Hetch Hetchy Valley
When Is The Best Time To Visit Yosemite National Park?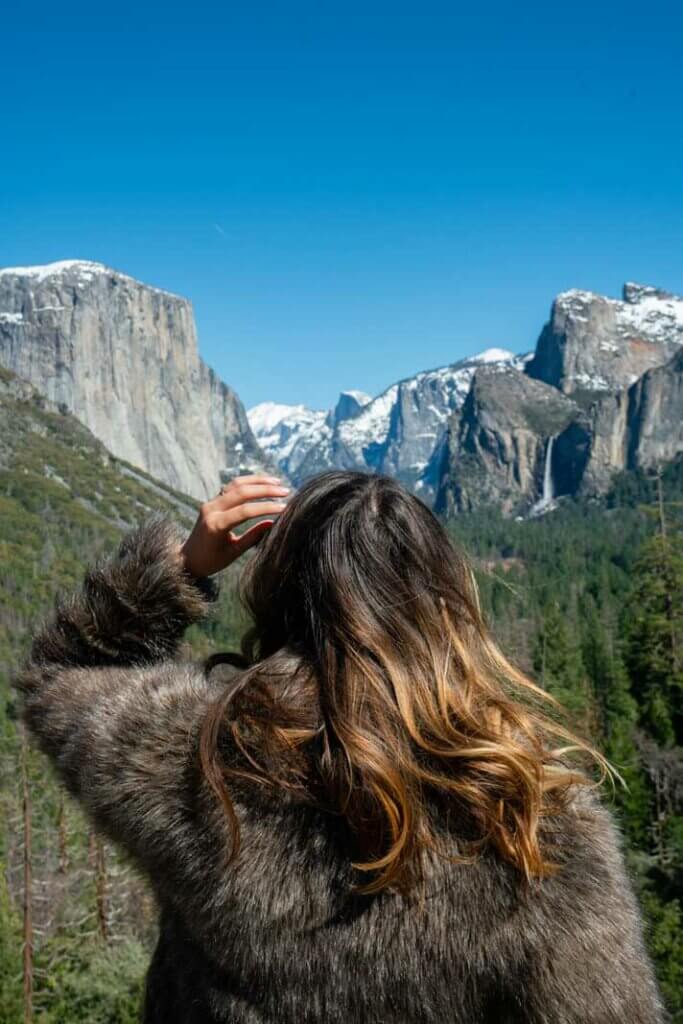 Okay, so there is no wrong answer to when the best time to visit Yosemite National Park is as each season offers something unique and different from the season before. That being said, during certain months, especially around winter, access to different parts of the park may be closed due to road conditions and snowfall.
It's also important to note that while summer is the most popular season to visit Yosemite National Park and one of the most beautiful times of year to see the park, it also can be the worst in terms of traffic and crowds and can hinder your experience.
There are actually many people who want a reservation system (much like Glacier National Park) to be put in place to help curb the crowds and keep the park to a certain capacity to make it more enjoyable to visit and also not strain resources and harm the environment. If this is put in place, you'd just have to plan your trip to Yosemite National Park during the summer more carefully. We quite enjoyed it when we went to Glacier National Park as it made the visit more enjoyable and knowing that visitation wasn't harming the park and the beauty of the area.
We have also been to Yosemite National Park several times in the winter and spring time too. While some roads were closed, you have access to the Yosemite Valley throughout the year and this is a more serene time of year to visit.
Here's a breakdown of what Yosemite National Park is like each season:
Summer in Yosemite: This is the busiest season and there is quite a large amount of traffic and alot of time might be spent sitting in gridlock traffic or trying to find a parking spot. Be prepared to be waiting and see more crowds during this time, there is an overcrowding problem this time of year!
Fall in Yosemite: The crowds start to trail off this time of year and it's gorgeous to witness fall foliage. However, some of the waterfalls can be dried up in the fall and do not have as much flow or any flow at all depending on the snowfall the winter prior.
Winter in Yosemite: This is an underrated time of year to visit Yosemite National Park as the snowfall is quite stunning here. Some roads are closed as well as entrances to the park due to snow conditions. This is a great time to experience the parts of the park that are open without the crowds and activities like snowshoeing.
Spring in Yosemite: Spring is a great time to visit if you want to see the waterfalls with the most amount of power and water as the winter snow melts, it's fed into the rivers and waterfalls. Some roads may not be open yet due to clearing of the snow still. This is also a beautiful time to visit when the wildflowers are in bloom.
Visiting Yosemite National Park Tips: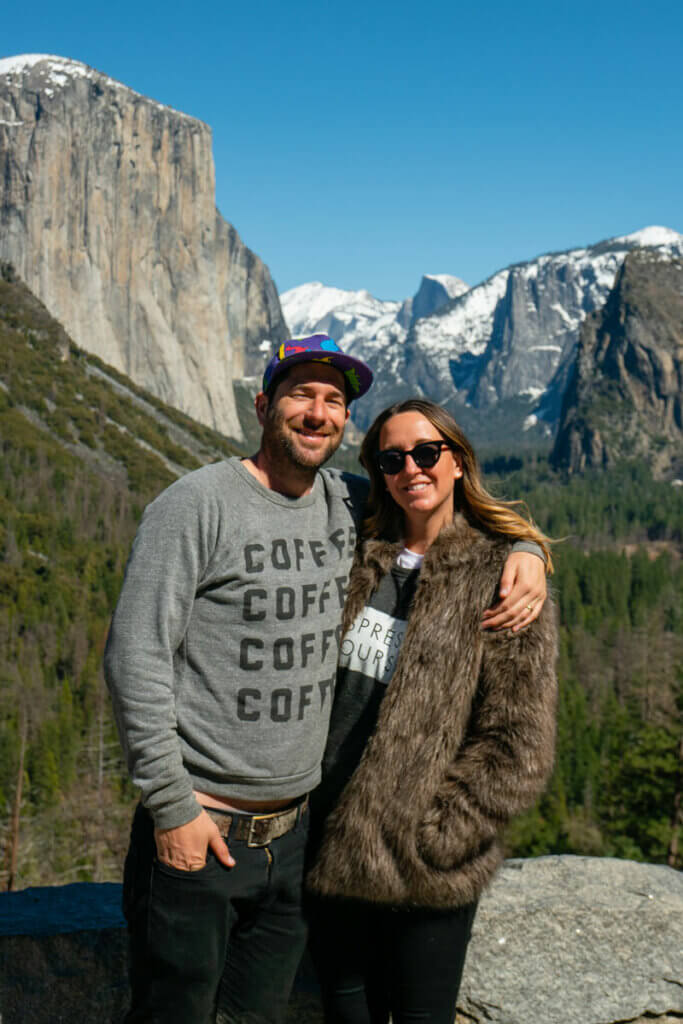 Here are a few essential Yosemite National Park tips to keep in mind when visiting.
Yosemite National Park has the Yosemite Valley Shuttle, which is free and saves you from worrying about parking. This is a great option, especially during the summer months to save time by not trying to compete for the very few parking spaces available in the park. This shuttle shows up at the different stops every ~10-30 minutes providing access to trails, lodges, campsites, and stops in the Yosemite Valley.
For those wanting to visit Yosemite National Park with dogs, dogs are only allowed in parking or paved areas, so only around the Yosemite Valley stops like Bridalveil and Yosemite Falls.
Yosemite National Park is in bear country. All food needs to be stored in a bear-proof case and NEVER leave food in the car. Before you visit, brush up on wildlife encounter safety, just in case you run into something unexpected.
You'll want to plan ahead and check any road or trail closures during your visit. Research park information, road conditions, and trail closures before your visit. Check the park's website and weather forecasts regularly.
If you want to camp or stay at the lodging options inside Yosemite National Park you'll want to secure lodging or camping reservations in advance. Yosemite has limited accommodations and if you're booking last minute you might want to look into options like spending your time in Tuolumne County and driving into the park.
Always follow the Leave No Trace principles. Pack out all trash, stay on designated trails, and respect wildlife.
General waterfall safety is required. Yosemite's waterfalls are stunning but can be dangerous. Stay on marked trails and platforms, and never climb or swim near waterfalls. Fatal Waterfall accidents happen regularly in the park. Please use extra caution around rivers and waterfalls in the park.
If backpacking or planning to do hikes that require permits like Half Dome, you will need to plan and obtain the necessary wilderness permits. Yosemite's wilderness is stunning but requires preparation and knowledge.
What To See In Yosemite National Park
Glacier Point
Hands down, the top thing to do in Yosemite National Park is taking in all the picturesque, natural beauty of the landscape.
And Glacier Point, which is a viewpoint on the south wall above Yosemite Valley, comes in strong with absolutely stunning scenery. With an elevation of about 7,200 feet, it provides you with a sheer drop-down view into the Yosemite Valley.
From here you can enjoy views of Yosemite Valley, Half Dome, Yosemite Falls, and the Vernal and Nevada Falls. Make sure you stay for the sunsets, where gleamy streaks of pink and orange glaze the blue sky.
Glacier Point can be reached by car, bus, or hiking. If getting here by car, drive 32 miles from the Valley to Glacier Point Road off of Highway 41. Once you are on Glacier Point Road, it is 16 miles to the parking lot for Glacier Point.
The 16-mile drive is not for the faint of heart, as it's a winding road along cliffsides and is dangerous.
Something to keep in mind is that Glacier Point Road, the road you drive to access this scenic vista in Yosemite National Park is closed typically from November through May (but varies year to year depending on the amount of snow needed to be cleared)
If getting here by bus, service runs from the Valley to Glacier Point.
If you have the physical stamina to hike to Glacier Point, be prepared for an 8-hour excursion at an elevation of up to 6,400 feet. You will be hiking from the Valley to Glacier Point Trail by way of the Four-Mile Trail, and only really experienced hikers should attempt this trek.
If you're wondering what to do in Yosemite first, this definitely makes the cut!
Hetch Hetchy Valley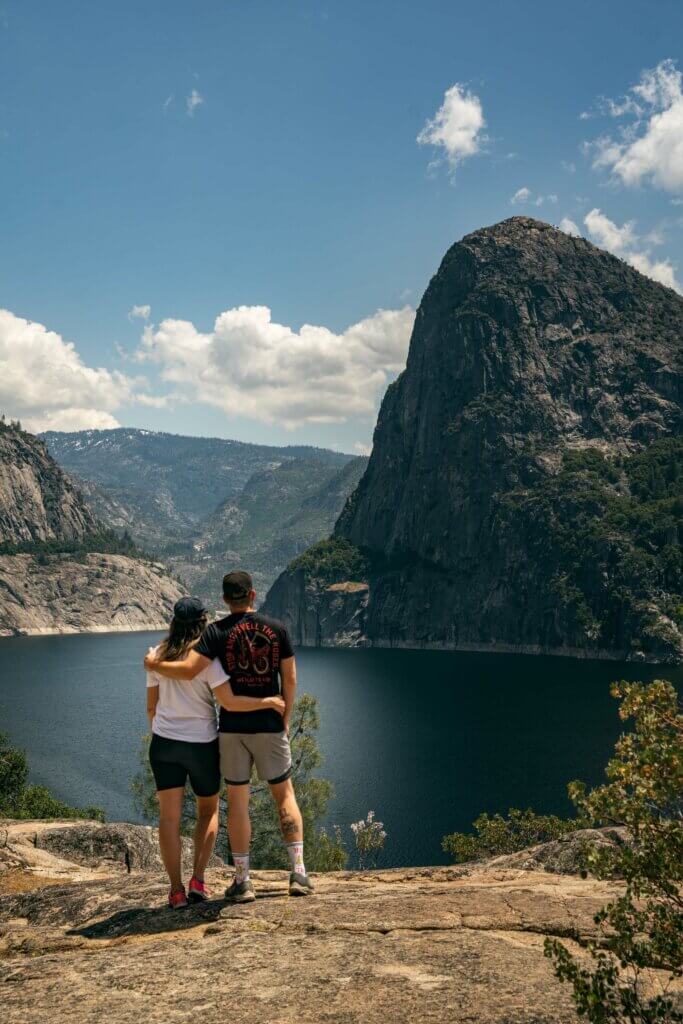 One of the best hidden gems in Yosemite National Park that many people don't visit or even know about is the Hetch Hetchy Valley. This less-visited area of the park is accessible by Highway 120, near the Big Oak Flat Entrance Station in Yosemite National Park's northwestern area.
What's really cool about Hetch Hetchy Valley and why it's one of the best things to see in Yosemite is that it has all of the beauty the popular Yosemite Valley offers including waterfalls and dramatic granite cliffs. The big difference is that Hetch Hetchy was flooded to serve as a reservoir and water supply from San Francisco and you'll be able to see the enormous dam during your visit.
This is a great place to do some hiking, and there are paths along the reservoir by waterfalls. The hike to Tueeulala Falls is quite stunning, although we visited in the spring and couldn't quite make it all the way to the falls as the heavy water flow covered the path.
In addition to hiking, you can go backpacking, do some birdwatching, or go fishing if you have a valid California fishing license.
Looking around in the wilderness, you will see gray pine, incense cedar, California black oak, and manzanita bushes. Look down, and you will find a variety of wildflowers, including lupine, wallflower, monkeyflower, and buttercup.
The best time to visit is the beginning of spring through the end of fall. Note that if you are going to stay overnight, a wilderness permit is required.
The only way to reach the Hetch Hetchy Valley is by car, by way of Hetch Hetchy Road. The distance from Yosemite Valley to Hetch Hetchy Valley is about 38 miles, and over an hour by driving. Hetch Hetchy Road is open during daylight hours only, in part because it is a narrow and winding road.
Valley View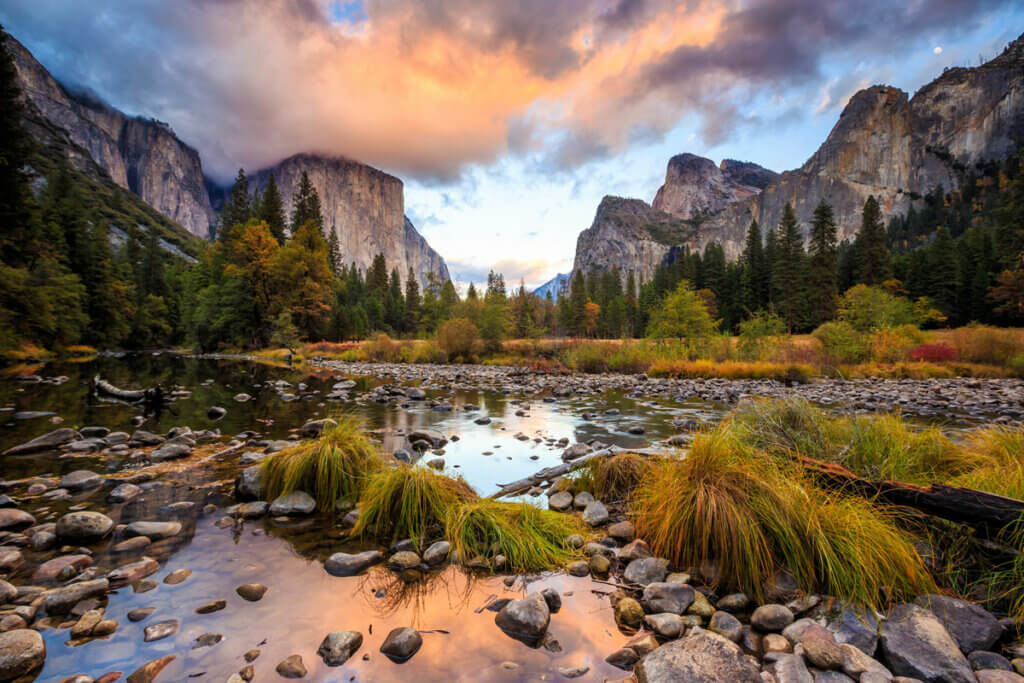 Sweeping, rugged rocks anchored by a thick grove of trees and a glistening body of pristine water is the gorgeous scenery you can find at Valley View. For a visual feast for the eyes, Valley View is one of the best things to see in Yosemite.
The landmarks within the park that makeup Valley View include El Capitan, Bridalveil Falls, Sentinel Rock, Cathedral Rocks, and the Merced River. The body of water in front of the rock formations create a reflection that distinguishes this view from other views in the park.
This lookout spot has been crafted by glaciers over a long period of time, and truly looks like a geological wonder. It somewhat resembles a Bob Ross painting, in the best way.
Be sure to check out the historical and interpretative informational exhibits in this area. Valley View is open year round, and it's located close to Yosemite Valley's western edge, on Northside Drive. When you are deciding what things to do in Yosemite, a stop by Valley View is a must!
Tuolumne Grove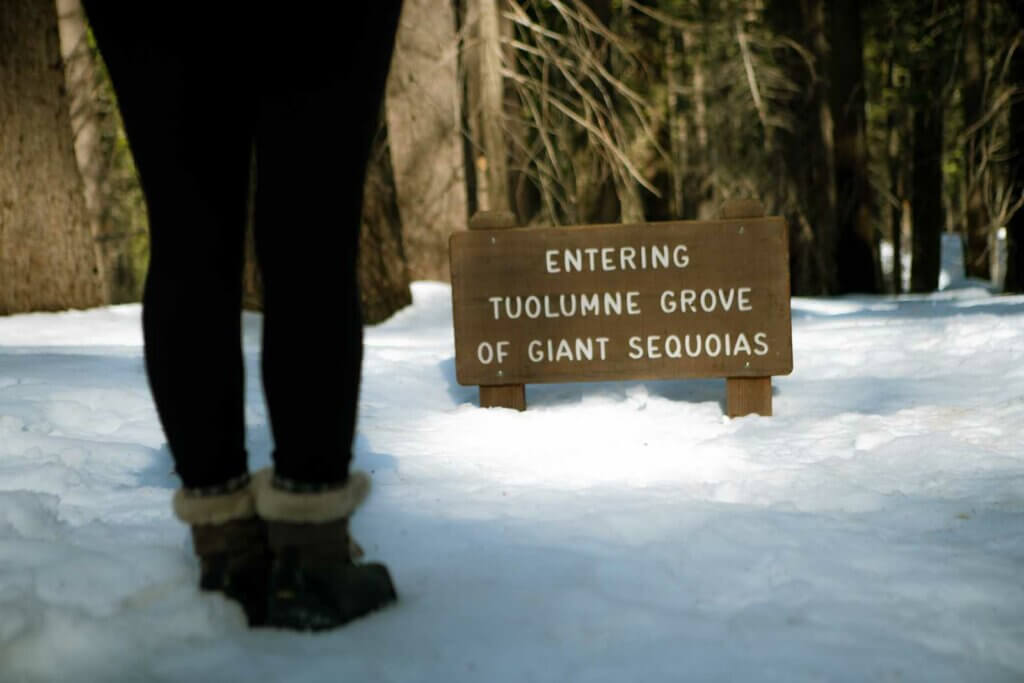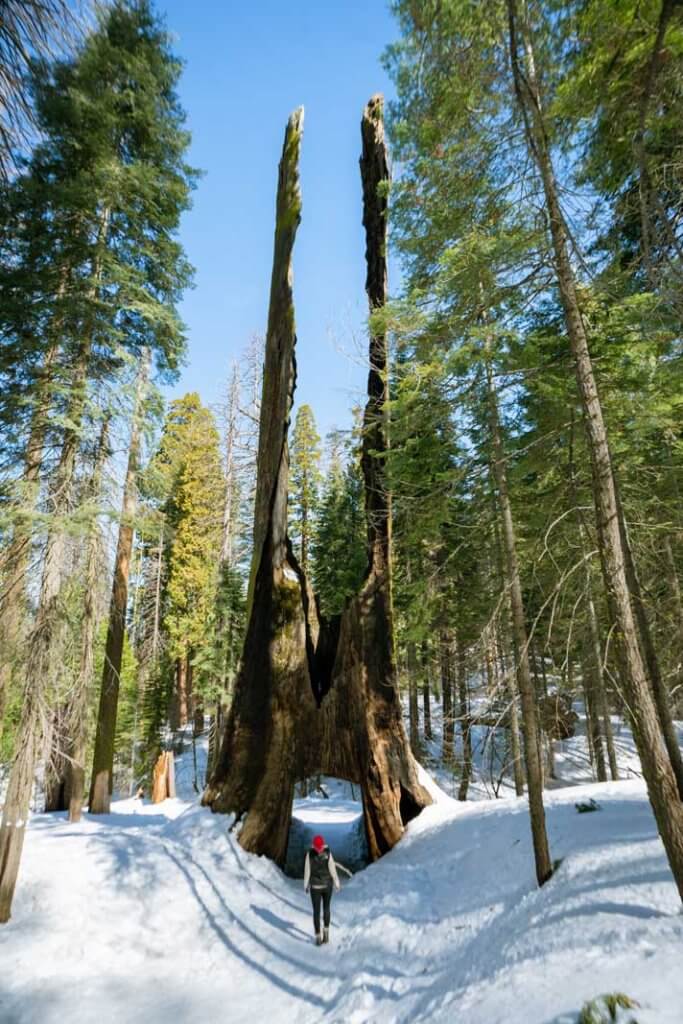 Have you seen photos of the enormous, fairytale-like trees that almost look unreal, like they're out of a movie? Well, at Tuolumne Grove, you will have the opportunity to see these dreamy creations from Mother Nature up close, since it is a massive grove of sequoia trees!
There are about two dozen mature Giant Sequoias, including one that you can walk through! In the colder months, when there's snow on the ground, you can hike or snowshoe through the hole in the tree. Cool! We actually did this with Echo Cooperative on a really fun winter tour!
And if you visit in the fall, you will be treated to the vibrant changing colors of the deciduous trees. There really isn't a bad time to visit.
From the trailhead, it's a two-and-a-half-mile round trip to get to Tuolumne Grove and back. It's a downhill hike to the sequoia grove, but to return to the trailhead, it's a 400-foot climb back up.
And once you reach the grove, there are marked trails that take you to designated areas. An interesting fact about this destination is that the road leading to Sequoia Grove, Old Big Oak Flat Road, was one of the first roads into Yosemite Valley.
You will find Tuolumne Grove off of Tioga Road, and without question, this is one of the top things to see in Yosemite.
If you find yourself in this part of the park, check out some of our favorite things to do around Yosemite National Park in Tuolumne County which is a treasure trove of cool gold-rush-era towns, more outdoor areas to check out, and really cool options for where to stay around the park.
Sentinel Dome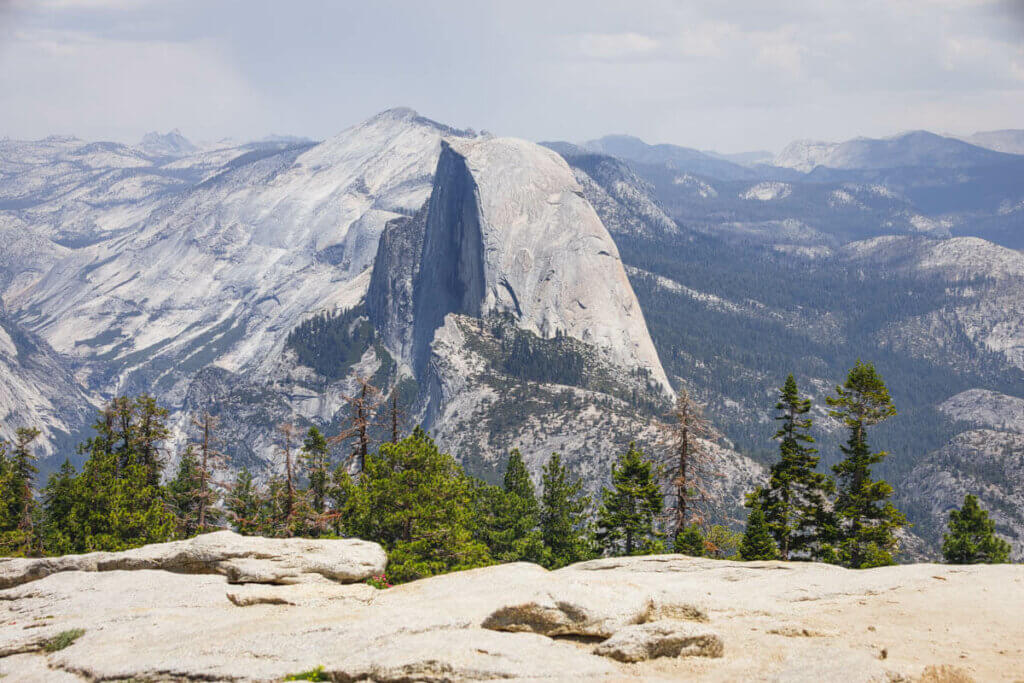 The next destination has a tree that used to be one of the most famous trees across the globe. Sentinel Dome is a granite dome situated on the south wall of Yosemite Valley, and a Jeffrey pine used to stand alone at the top of this landmark, on the summit. It made for an unusual sight to see a pine tree sprouting up from granite at the top of an enormous rock formation.
In 1977, the tree was unfortunately killed by drought, and it slumped over in 2003. It was actually an iconic photo by Ansel Adams taken in 1940 titled "Jeffrey Pine, Sentinel Dome" that made this such an iconic Yosemite landmark. His photo captured the tree in a dramatic and majestic light, with the backdrop of the Sierra Nevada mountains.
As far as things to do in Yosemite, at Sentinel Dome, it's a great hiking spot! The hike is about 2.1 miles and is an out-and-back trail, and it should take about one to two hours. The hike is moderate, there is a short but steep section, and you will be hiking on granite for the majority of the time.
And, the highest elevation is over 8,000 feet, so keep that in mind before embarking on this trail.
The reward for your effort of traversing the Sentinel Dome hike is amazing panoramic views! Take a break, whip out the camera, and enjoy the views of Yosemite Falls, Nevada Falls, Half Dome, and El Capitan.
From the trailhead and parking area, it's about a one-mile walk to the start of this hiking path. Additionally, this trailhead and parking area also leads to Taft Point. You can choose to do both by doing the Sentinel Dome and Taft Point Loop trail.
To get here, if Glacier Point Road is open, then you will be able to reach the parking area for Sentinel Dome.
Bridalveil Falls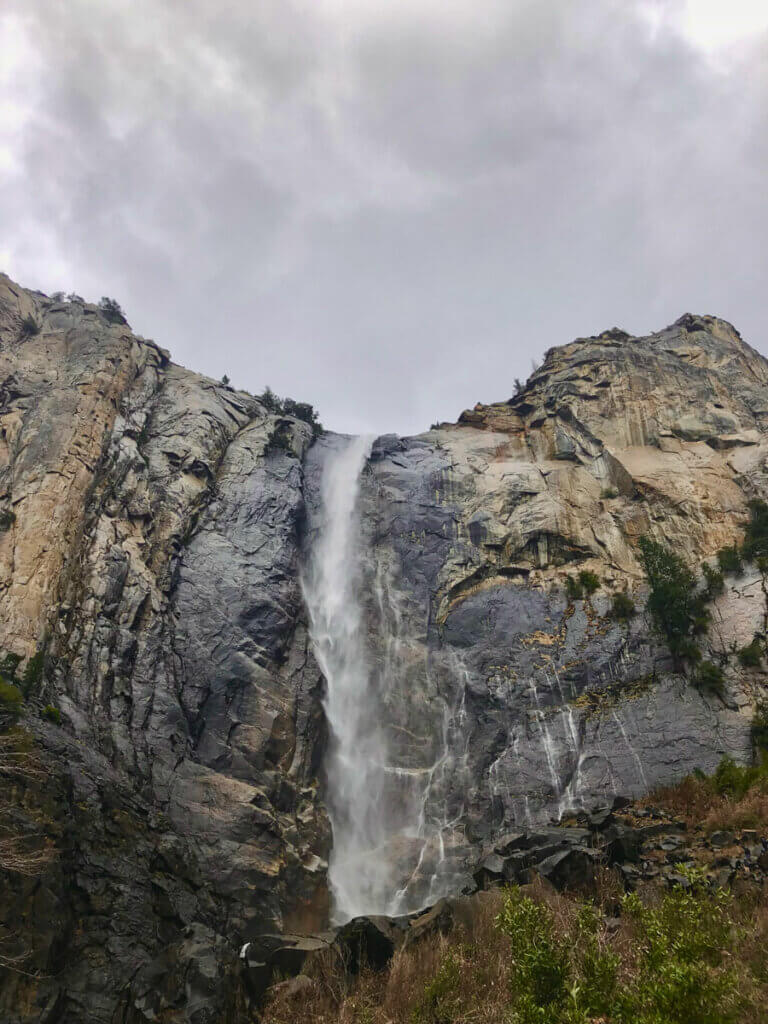 One of the first things to see in Yosemite upon entering the Yosemite Valley is Bridalveil Falls. This spectacular waterfall clocks in at 620 feet, and you will notice a lot of mist coming off of the water. It has the resemblance of a sheer, wispy bridal veil, hence the name Bridalveil Falls.
There is an easy, paved path that you can take to reach the waterfall. From the Bridalveil Falls parking area, it is a short half-mile round-trip walk that should take about 20 minutes and is an easy hike to do with a family with young kids.
This landmark is open year round, and is a great stop and is even one of the few trails you can bring a leashed dog to since it's paved. There are also restrooms in the parking area here too.
From Yosemite Valley, hop on Highway 41, and the parking lot for Bridalveil Falls comes pretty quickly after getting on the highway.
Yosemite Falls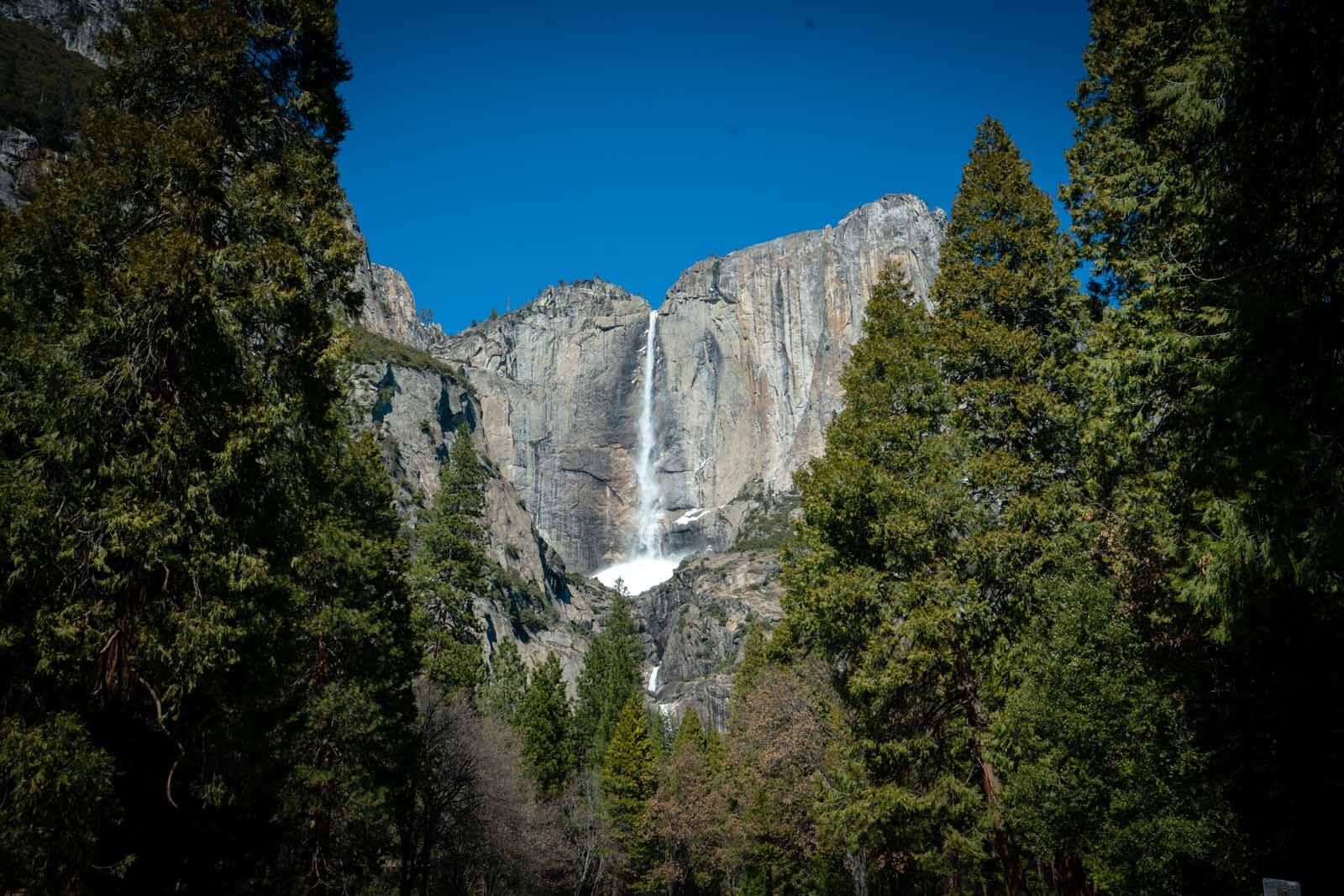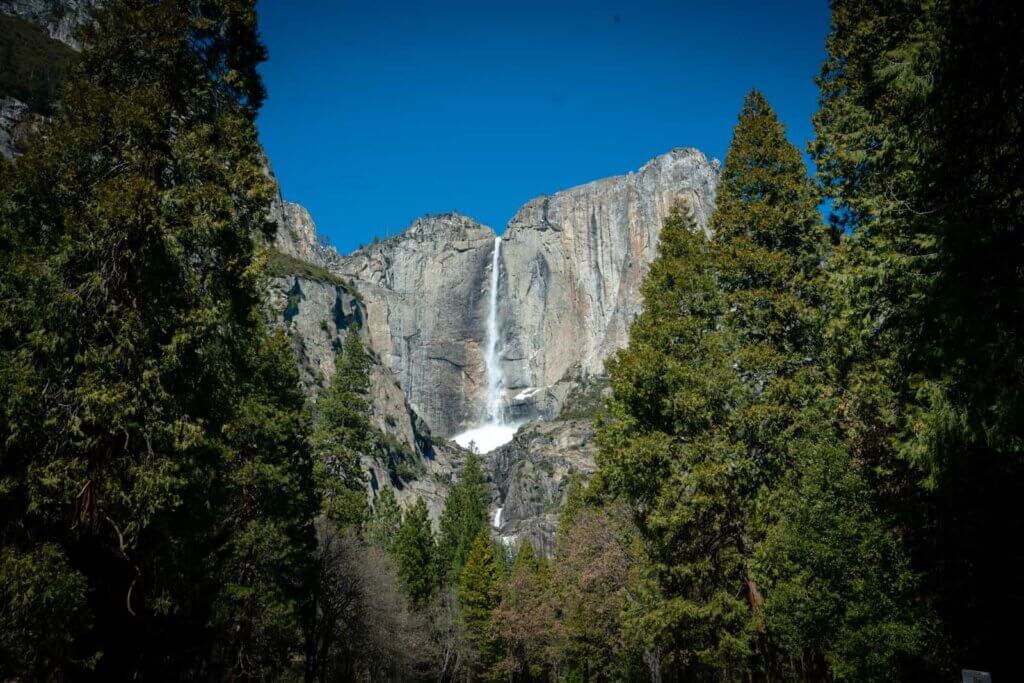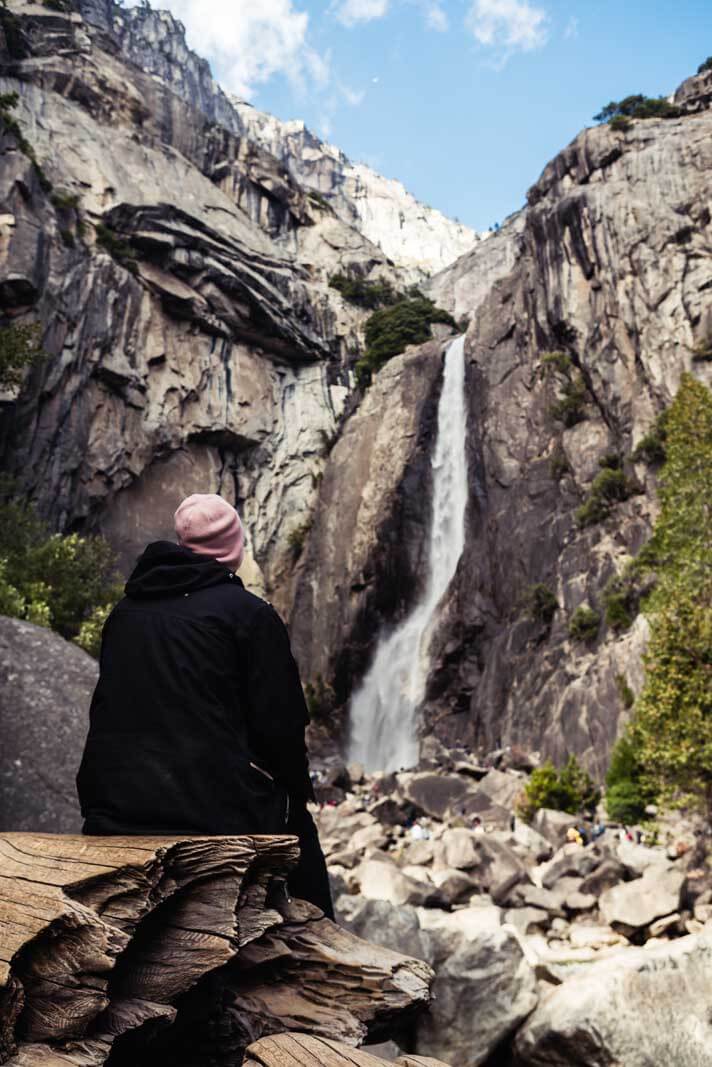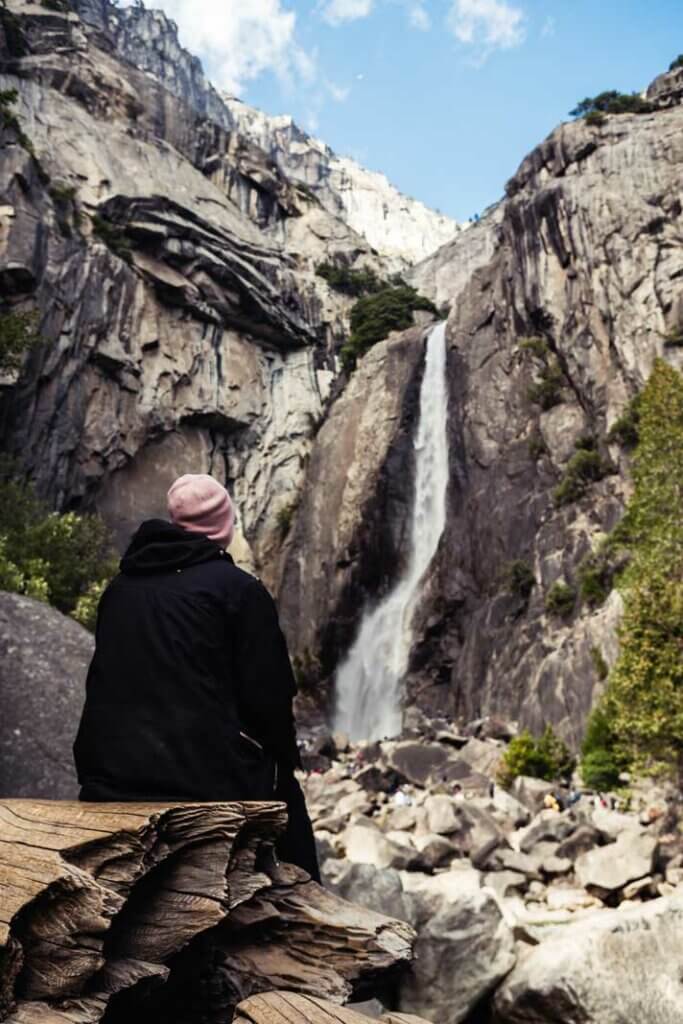 Would you like to see the highest waterfall in Yosemite National Park, and one of the tallest waterfalls in the world? Better yet, this is another one of the easiest places to visit in Yosemite National Park as it's right in the Yosemite Valley.
When deciding what to do in Yosemite, a stop by Yosemite Falls is absolutely mandatory! This waterfall drops almost 2,500 feet from top to bottom. Incredible! Yosemite Falls is broken up into three sections, referred to as Upper Falls, Middle Cascades, and Lower Falls.
Visiting Lower Falls is easy, since it is a one-mile loop on a paved surface. For the best views of Yosemite Falls, it's recommended to take the loop in a clockwise direction. The eastern part of this trail is wheelchair accessible, except when it's icy or covered in snow. And leashed pets are allowed on the paved portion of the trail.
To visit Upper Falls, you will have to embark on a difficult hike that is 7 miles round trip and takes around six to eight hours. The path to get to the Upper Falls is on one of the oldest trails in Yosemite National Park, and it is called the Yosemite Falls Trail.
A popular time to visit is late spring, because the water flow is at its highest. This is also a dangerous hike, so if you're doing this hike be very careful and don't get too close to the water as people accidentally go over the falls and when this happens, there are rarely survivors.
In the fall, the falls can dry up so it may not be the best time of year to see but is still worth a stop as the trail is nice.
Tunnel View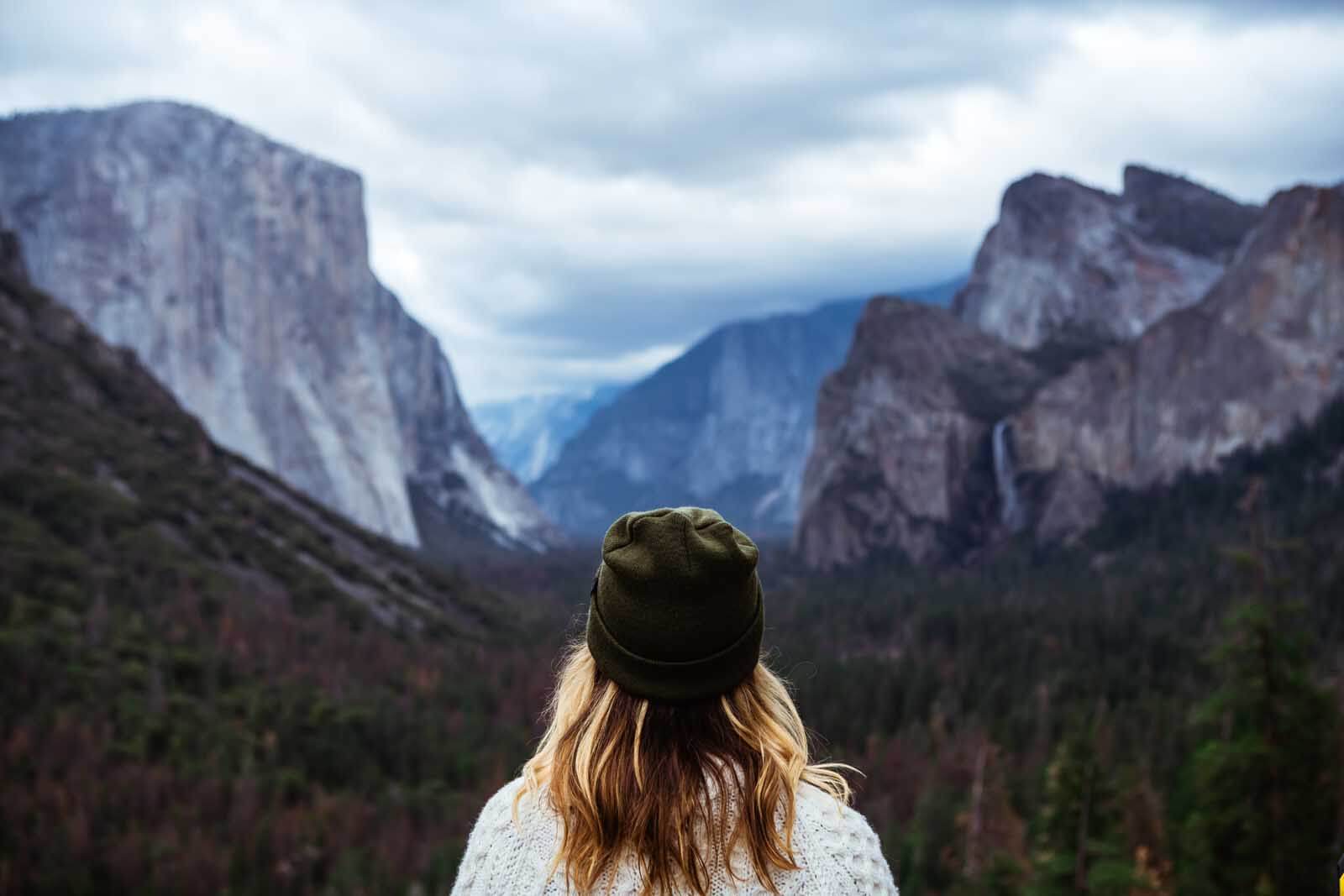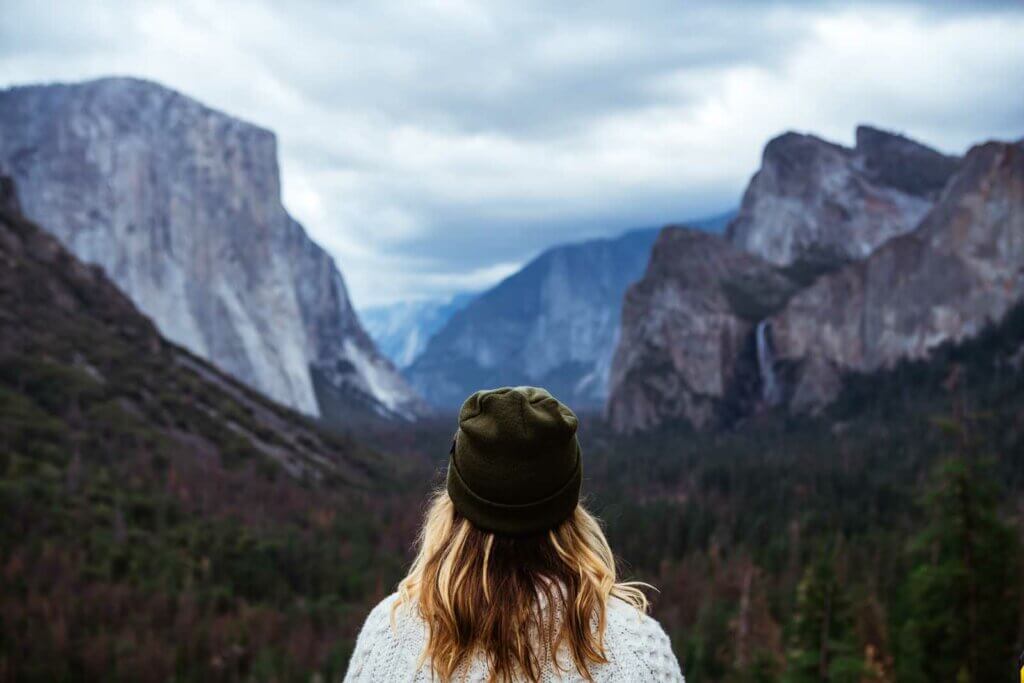 As far as what to do in Yosemite in terms of famous or scenic vistas, you must check out Tunnel View. This spot was famously photographed by Ansel Adams, in a photo titled "Thunderstorm".
The landscape here just makes for a breathtaking view of the surroundings. You will see El Capitan, Half Dome, and Bridalveil Falls.
And there is no hiking to be done here, just enjoy the beautiful scenery. The entrance to Tunnel View is on State Highway 41, by the Wawona Tunnel. All you have to do is park and walk!
If you visit in early spring, Bridalveil Falls will be at its maximum flow. In the summer, this destination is very popular, so expect crowds. And in the winter, the domes are snow-capped, which looks like something out of a painting. Make sure that stopping by Tunnel View is on your list of things to do in Yosemite National Park.
Half Dome
Now for one of the most famous spots in all of Yosemite, the iconic Half Dome. Located in Yosemite Valley's eastern end, this landmark is made up of quartz monzonite and it looks like a dome that's been sliced in half, hence the name.
An interesting fact is that the ashes of famous photographer Ansel Adams were scattered here.
The most popular and most accessible for the general public is just enjoying the views of Half Dome. This is what we prefer to do if I am being honest. If you prefer to view instead of hike, Glacier Point and Tunnel View provide great lookout spots.
Or, serious hikers and adventurers can do the very difficult, long, and treacherous hike to the top of this rock formation. As for the hike, it is not for the faint of heart, as this is a very difficult climb with a few sketchy areas including cable climbing. Not to mention, you'll need to secure a permit.
This hike has claimed several lives over the years and cannot be attempted if rain is in the forecast as the rock surface becomes very slippery even with the slightest amount of rain.
The permit is competitive to get, and you have to enter a lottery in March before your visit. You can include up to 6 people on your permit. If you don't get the permit, there's a chance you could get it in the daily lottery, which you can apply 2 days in advance during your visit.
The hike takes 10-12 hours and is very dangerous. The most famous and menacing part of the hike is the last 400 feet, which is a sharp upward climb using two steel cables to hold onto and bolts in the rock and raised onto metal poles.
Regardless of how you enjoy Half Dome, whether you're looking at it or looking from it, this is one of the top things to see in Yosemite!
Vernal and Nevada Falls Hike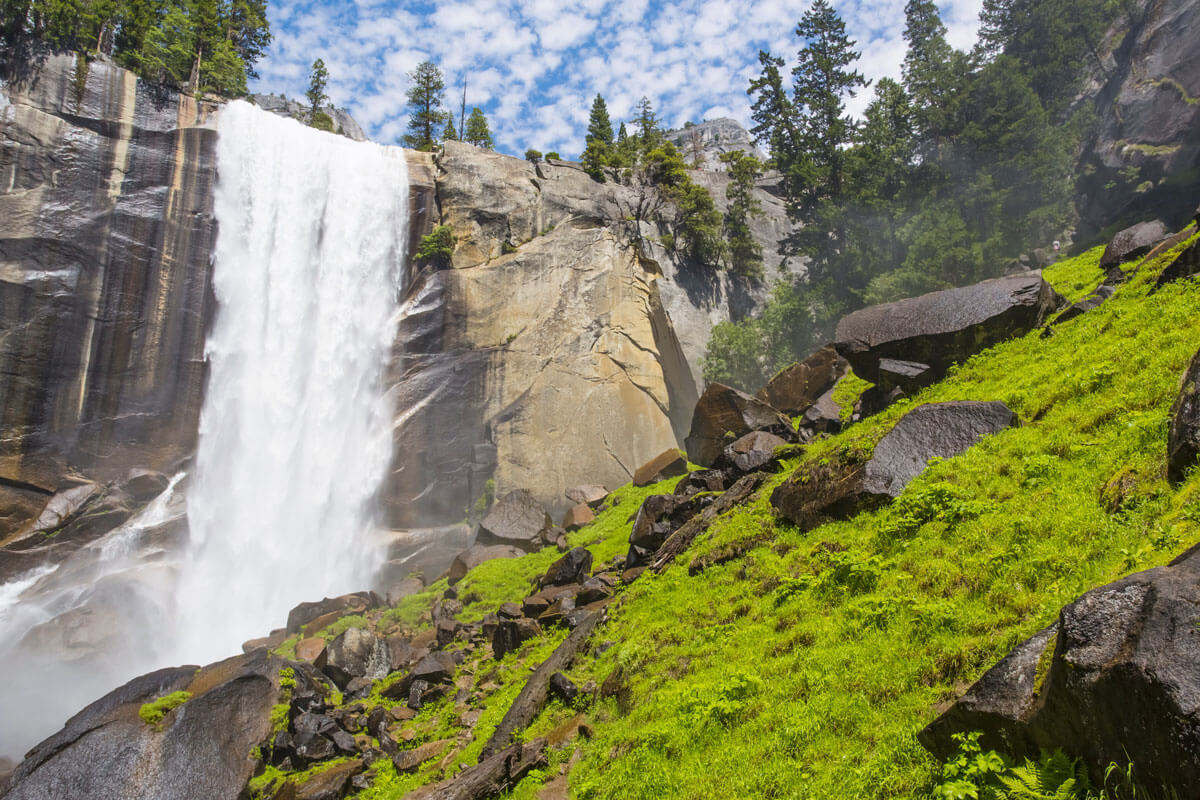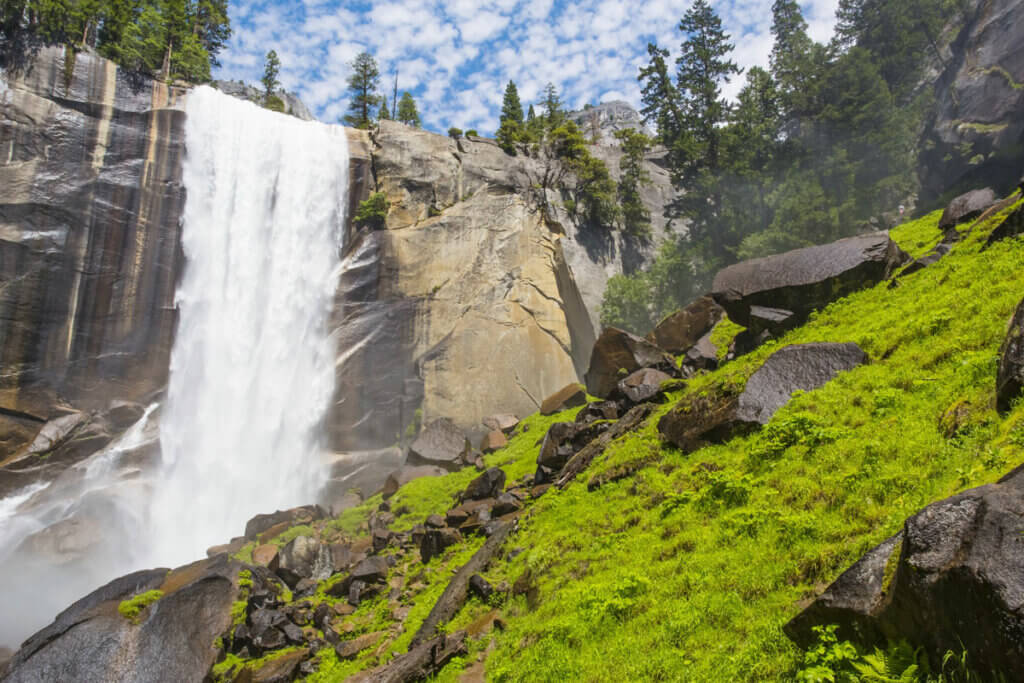 You get double the fun on this hike since you'll pass not one waterfall, but two! Starting on the popular Mist Trail, which begins at a trailhead in the Valley called Happy Isles, you will first make your way to Vernal Falls.
It is a rather short hike to Vernal Falls at just over 1.25 miles, and you will feel the mist from the waterfall spray onto you as you pass by. Vernal Falls is a more than 300-foot waterfall downstream, and you will be able to get a good close-up view by taking the Mist Trail. Vernal Falls flows all year, but the peak is in late May and its strength decreases in late summer.
Continuing on the Mist Trail for another two miles, you will wind up at Nevada Falls, which is upstream and is double the height of Vernal Falls. You can ascend to the top of Nevada Falls, and take a well-deserved rest.
But make sure you do not get in or near the water at the top of the waterfall. The water may look calm, but it can be incredibly dangerous and people have died getting swept away and going over the falls!
The Mist Trail is actually the most deadly trail in Yosemite and the reason may surprise you. While many have succumbed by accidentally going over the falls, the accident that actually claims the most lives are people who fall into the river downstream from the falls as the current is very strong (despite what they eye might tell you) and they are unable to get out.
In the spring, it is impossible to get to the top of Vernal Falls without getting completely soaked. The rocks are also slippery. If you're visiting this time of year, make sure to have really good footwear with good traction and be prepared to get really wet and be mindful not to slip.
The total hike can take anywhere from 3 to 6 hours and is 5.5 miles round trip and is fairly strenuous. On my very first visit to the park, this was the first trail I ever did and it was super rewarding and still one of my favorite things to do in Yosemite National Park.
Tuolumne Meadows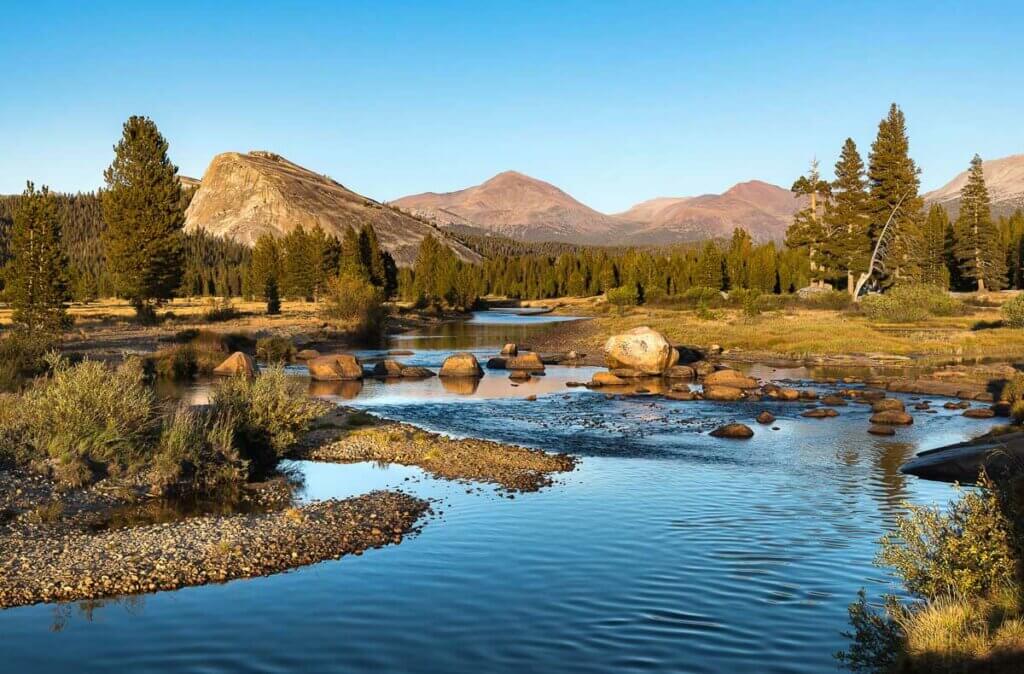 Yosemite National Park has one of the biggest meadows at a high elevation in the Sierra Nevada, Tuolumne Meadows, clocking in at 8,600 feet. Located in the eastern part of Yosemite, off of Tioga Pass Road, Tuolumne Meadows has views of Cathedral Range, Unicorn Peak, Lembert Dome, and Mount Dana.
The Tuolumne River cuts through the meadows, and this river was designated as a Wild and Scenic River by Congress in 1984 and is just as serene as it sounds to look at.
Things to do in Yosemite at Tuolumne Meadows include hiking and rock climbing. Backcountry hiking and backpacking trails start here, and there are trails for day hikes, as well as longer and more extensive trails.
In particular, the day trails are popular, especially during peak season. The rock climbing season runs from June through September, and Tuolumne Meadows has many short to medium length climbing routes on just over 10 major domes and several minor domes.
And if camping is your idea of what to do in Yosemite, there is a campground here, you'll just need to secure a permit.
Something to keep in mind is that this is a seasonal destination. To get to Tuolumne Meadows, which is accessible by Tioga Pass, which closes in the winter and doesn't reopen until the snow is cleared. The typical season the Tioga Pass is open is from June through October, but that can change depending on the snowfall.
Badger Pass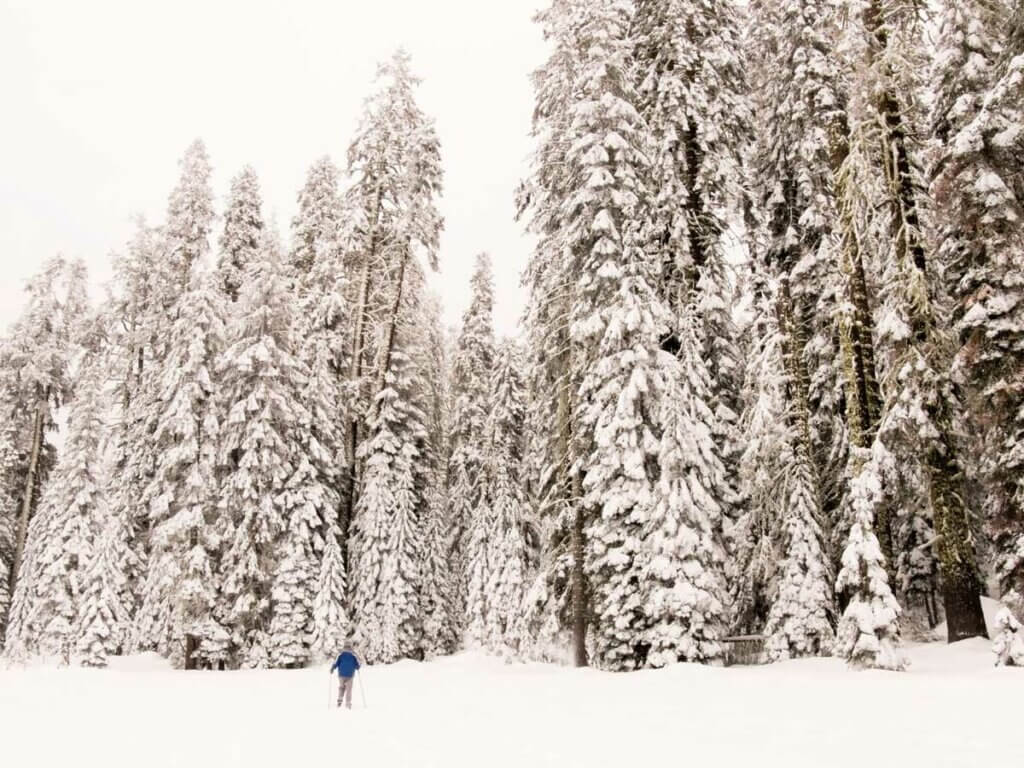 Next up, did you know that there's a ski resort in Yosemite National Park? One of the best things to do in Yosemite in winter is head to Badger Pass, which is now called Yosemite Ski and Snowboard Area.
There are trails and a chairlift for cross-country skiers, a terrain park for snowboarders and skiers, and a tubing area which is great for families. The activities to do here include backcountry ski tours, cross-country skiing, cross-country ski trip to Glacier Point, downhill skiing and snowboarding, snow tubing, and snowshoeing.
Additionally, you can rent equipment and take lessons at the Badger Pass Ski Area School. Just keep in mind that you'll have to bring your own ski and winter clothing as they do not rent those items in most California ski destinations!
This Yosemite spot is only open in winter, and there is a fee for the ski lift and season passes. To get here, shuttle service comes in the morning, and returns in the evening.
Stop at the Ahwahnee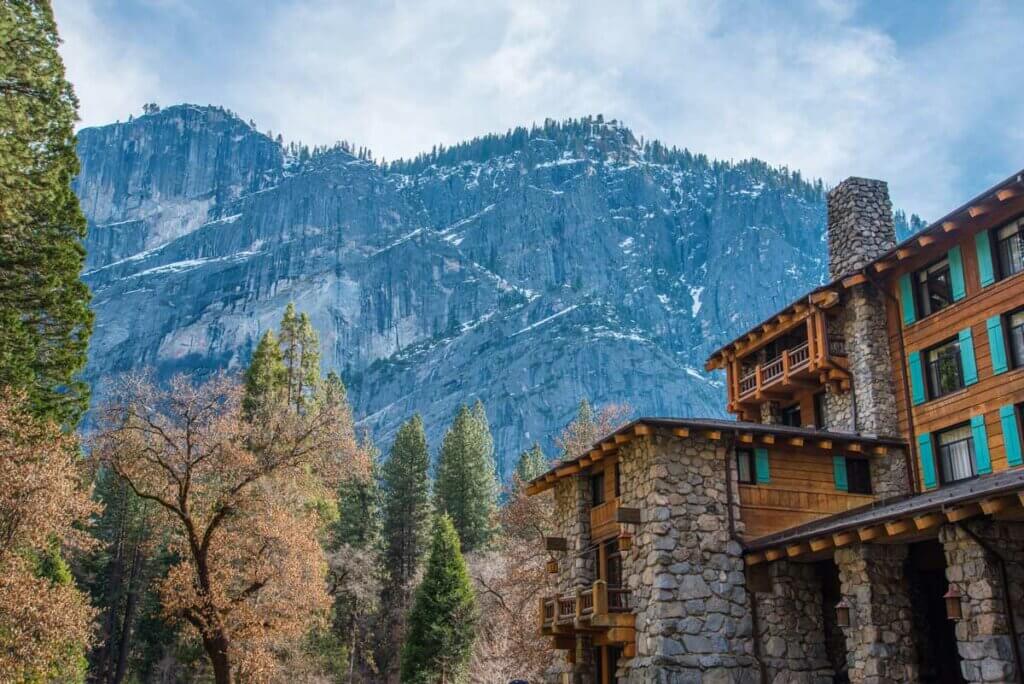 A special gem in the heart of Yosemite Valley is The Ahwahnee, a sprawling rustic hotel and National Historic Landmark. If you ever watched the television show Twin Peaks, it has a similar vibe to The Great Northern.
This luxury hotel was constructed in the 1920s, and notable people like Presidents and royalty have stayed here.
Perhaps the best thing to do at The Ahwahnee, if you are stopping by for a visit, is to have a meal. Their dining room has floor-to-ceiling windows over 30 feet high, and there is a separate bar area as well. As you are enjoying your food and beverage seated inside or outside, take in views of Half Dome, Glacier Point, and Yosemite Falls.
Also, at the gift shop, you can browse American Indian pottery, jewelry, clothing, photograph prints, items focused around Yosemite, and much more.
To make your way to The Ahwahnee, shuttle service comes to the hotel, so getting here is pretty accessible. Additionally, the hotel is close to a few hiking paths. Make sure you include a stop at The Ahwahnee in your itinerary of things to do in Yosemite.
Also, if you want to stay inside the park. This is one of the most special places to book a hotel room, you'll just need to do so in advance as it's a very popular hotel since its location is in the heart of Yosemite Valley and it's steeped in history.
Drive Tioga Pass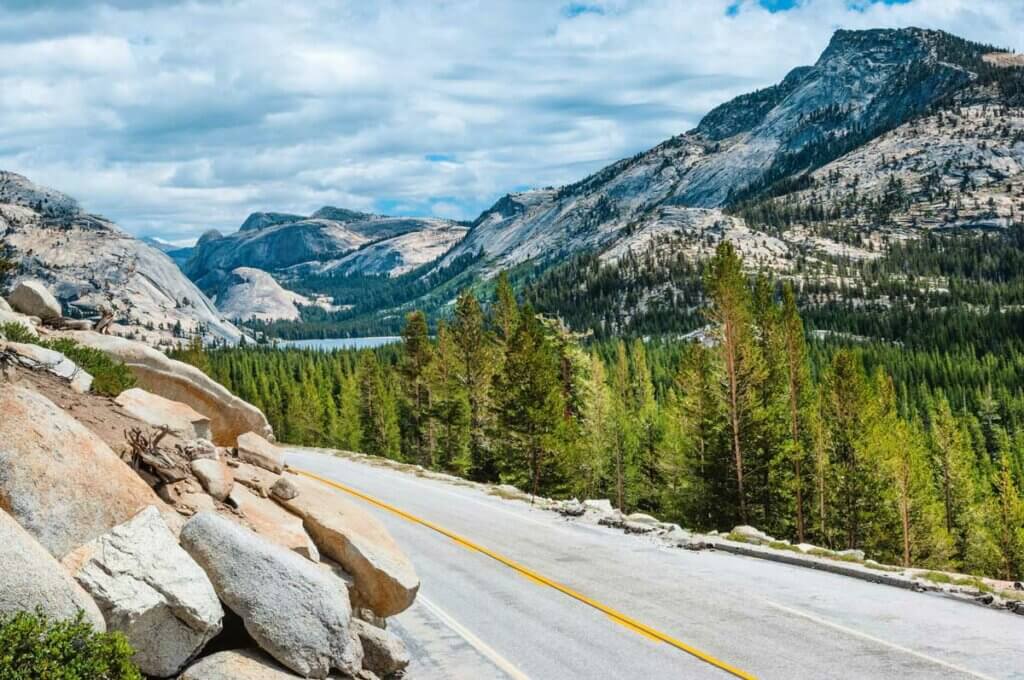 One of the most standout things to do in Yosemite National Park is to take a scenic drive on Tioga Pass.
Tioga Pass is part of Tioga Road, which is a continuation of Highway 120, and it goes through the Sierra Nevada Mountains from the northeast entrance near Mammoth to Big Oak Flat Road.
As you drive this mountain road in the high country you will have Mount Dana to the east and Gaylor Peak to the west. You'll be taken through various elevations, and have the opportunity to see so much of the incredible landscape of the park.
Put some good music on, or just roll the windows down to listen to the sounds of nature, and enjoy the drive along the winding roadway.
The road is only open seasonally, typically May through October, and only if conditions are favorable.
Tioga Pass is a cool way to access Yosemite and leave as you're just a 1.5-hour drive from all the cool things to do at Mammoth Lakes too, which has everything from natural hot springs, cool geological formations, lakes, trails, and more.
Do a Guided Adventure with Echo Cooperative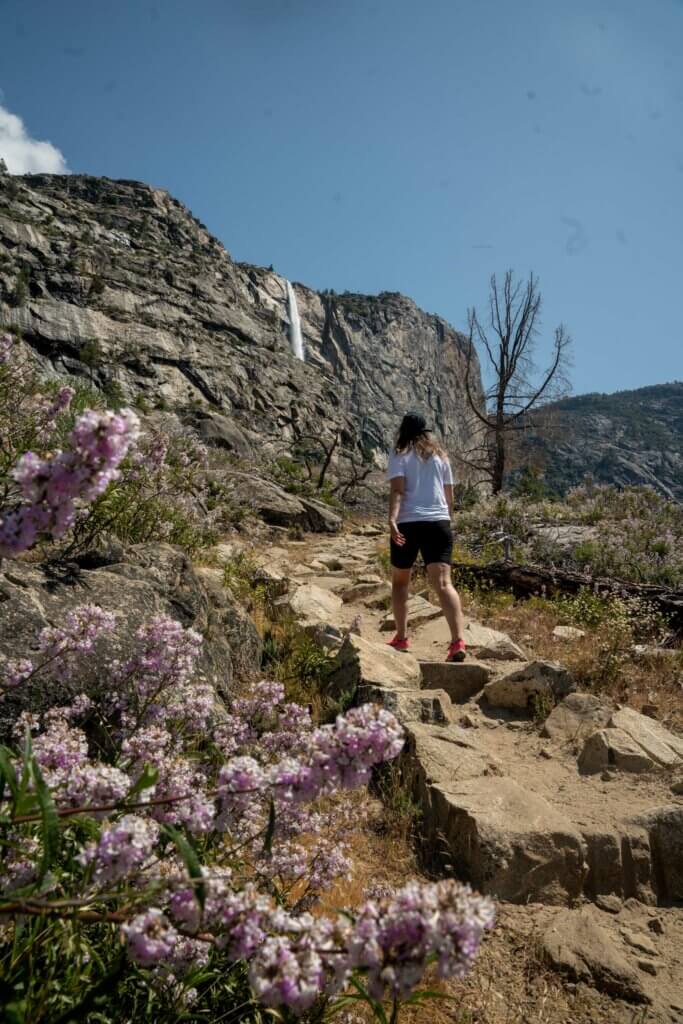 If having a guide take you around the park sounds up your alley, check out Echo Cooperative. We have been to Yosemite National Park several times and every season of the year. No matter how well you think you know a destination and no matter how many times you visit, there are hidden gems to uncover and it's awesome to have a local guide take you to those treasured hidden gems and secret areas of the park without any crowds.
Echo Cooperative is a worker-owned cooperative that offers guided adventures and experiences in Yosemite National Park with a huge emphasis on sustainability. They offer hiking, fly fishing, snowshoeing, backpacking, off-road tours, and rafting.
And if you need equipment for your experience, they offer gear rentals year-round.
We've done two excursions with them, once in the winter we did a snowshoeing adventure through Tuolumne Grove as well as a visit to fun stops in Yosemite Valley and this past spring we did a fun Hetch Hetchy Valley day trip.
Each adventure you book comes with a really good lunch and a very personable guide. Certain adventures are seasonal, and others are year-round. Age restrictions apply for specific adventures, and the price for each activity varies. Additionally, basecamp lodging is offered for an additional price.
Echo Cooperative has you covered for what to do in Yosemite and they even have a limited number of guests they take on the Half Dome hike if you want to do this with experienced locals who also takes care of the acquiring of the permits.
Just Outside of Yosemite National Park
Groveland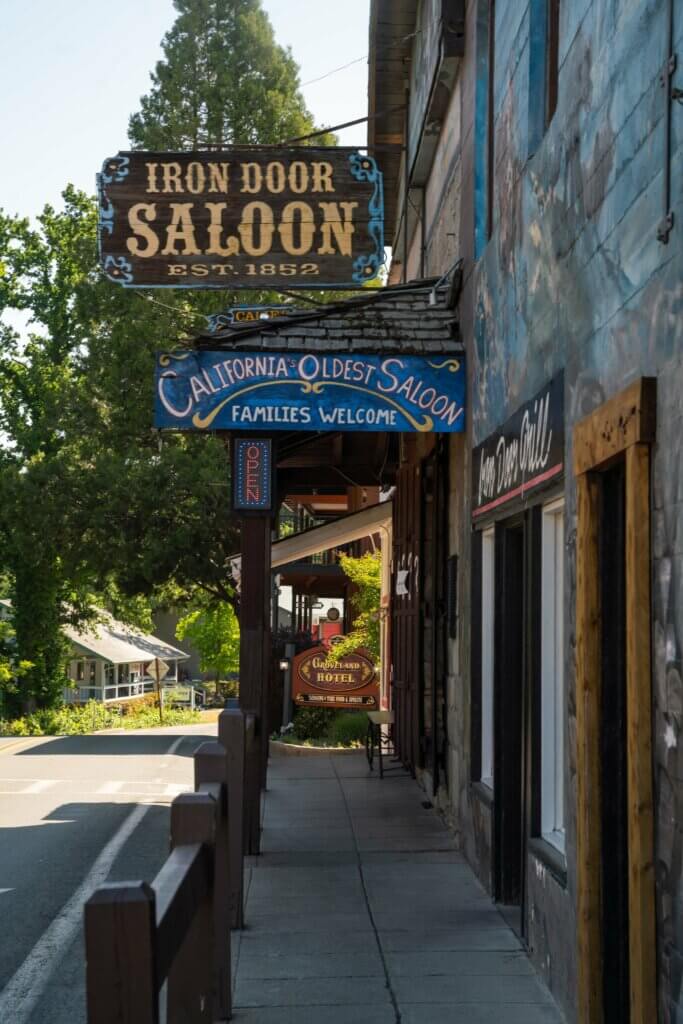 Once you've maxed out things to do in Yosemite National Park, head over to Groveland, one of Tuolumne County's oldest Gold Rush towns. In fact, hitting up the gold rush towns are some of our favorite places to visit in Northern California and if you can't secure lodging or accommodations inside Yosemite National Park, these towns are your next best option.
Groveland is a great spot to explore and stay near Yosemite National Park. A fun fact about Groveland is that California's oldest saloon is here. The Iron Door Saloon opened in 1852, and it is the longest continually operating saloon in California.
The Groveland Yosemite Gateway Museum is here, and you can learn about the Gold Rush, the indigenous people of the region, the pioneers who settled in Groveland, and the building of the Hetch Hetchy Reservoir. Be on the lookout for the enormous California Black Bear clocking in at 565 pounds at the front doors.
Next to the museum is the Mary Laveroni Community Park, which has bathrooms, picnic tables, BBQ grills, a play area for kids, skate park, basketball courts, and a stage with a bandstand.
Stop at Top of the Trail Tea and Coffee for a good pick me up and take it around town. You can also do a walking tour of Groveland, and check out special spots in the area. The walking tour is published by the Southern Tuolumne County Historical Society.
If you are visiting from May through October, the Groveland Visitor Center has a Yosemite National Park Ranger there with park entry passes for purchase, and can answer questions about visiting the park.
Sonora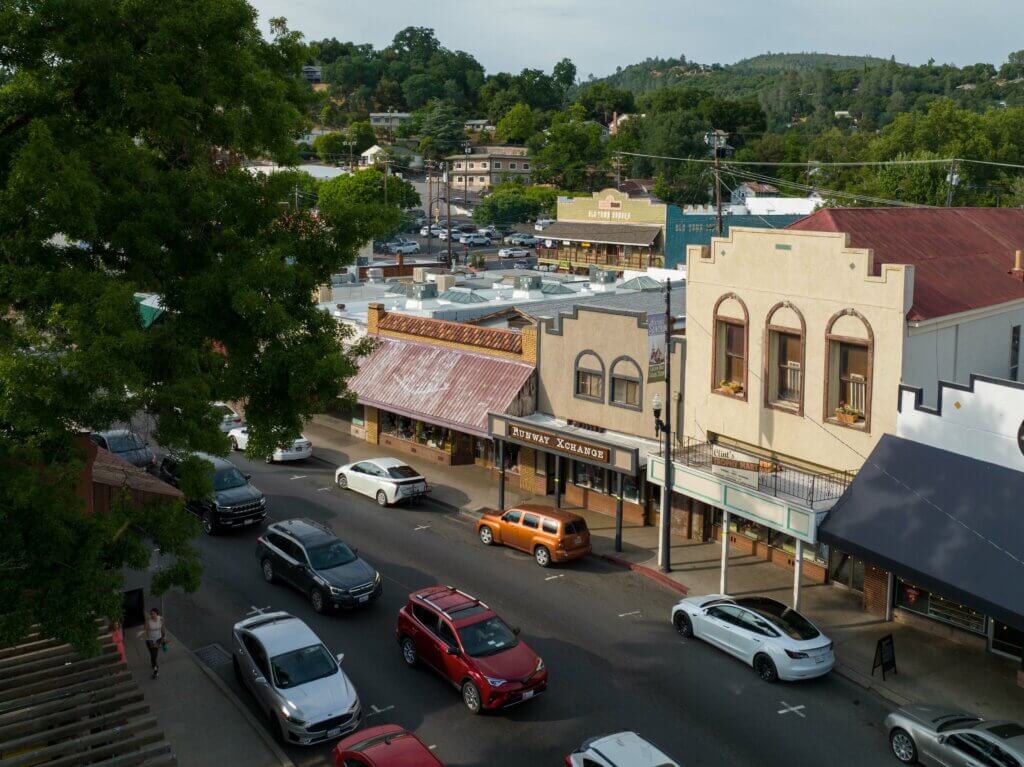 This next spot is known as "Queen of the Southern Mines", and it's another cool old gold rush town. Sonora is located in the Sierra Nevada Foothills, and the name comes from the miners of Sonora Mexico, who settled here in 1848.
A fun thing to do here is hike the Dragoon Clutch Trail. It has 3.1 miles of easy to difficult trails in oak woodlands, and provides great views of Sonora and the nearby mountain ranges. Parts of the trail are paved, parts of the trail are surfaced and ADA accessible, and every other trail has a natural surface.
Our favorite thing to do here though is to walk up and down Washington Street. You'll find all kinds of restaurants, cute local shops, cafes, and bars to check out as well as tons of cool 19th-century storefronts that are well-preserved. Don't miss the most recognizable landmark of Sonora either, "The Red Church"!
Sonora is located near Yosemite National Park, as well as the Columbia and Railtown State Historic Parks.
Columbia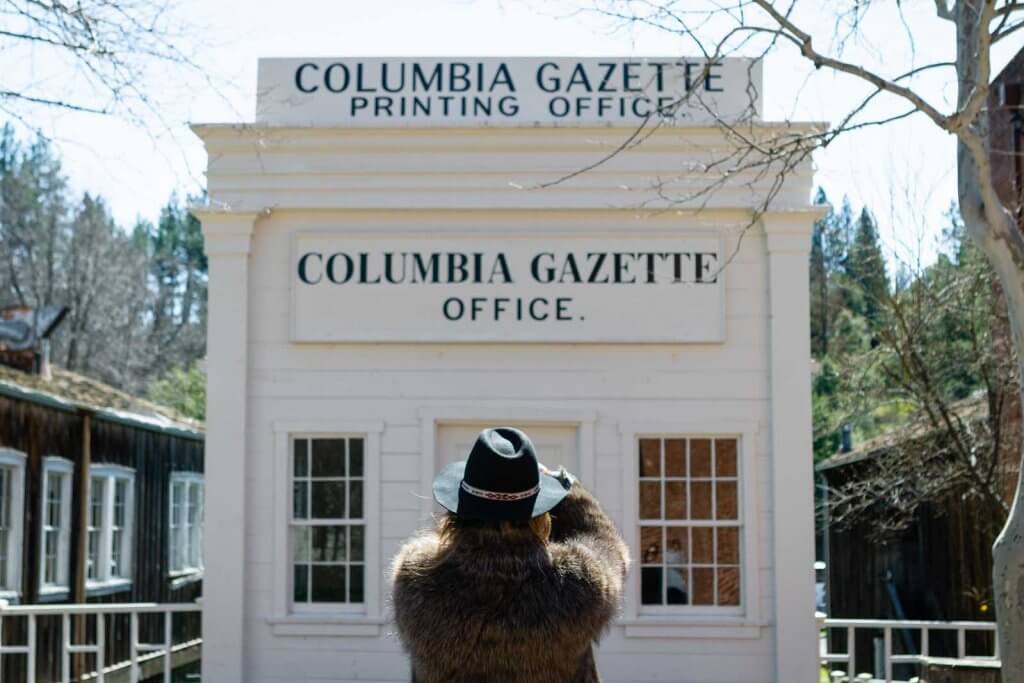 You have already visited Yosemite National Park, so why not visit a different kind of park, a historic state park? Columbia Historic State Park feels like an old western, and it boasts the biggest sole collection of still-standing structures from the gold rush period in California.
Columbia is located smack dab in the center of the California Mother Lode, otherwise known as the Gold Rush Belt.
So, what can you do here? Pan for gold, take a ride on the stagecoach, stop in an antique bowling alley for a bit of free bowling, and pop into the portrait studio and get an old-timey photo!
There is even a blacksmith shop where you can watch iron being crafted. Employees here absolutely dress the part, and docents provide free guided tours of the town.
There are a variety of shops where you can buy all kinds of items from the nineteenth century, and dining options include ice cream parlors, a saloon, and a tea house.
Columbia is a particularly great place for families. It is located off of Highway 49, and it is close to Sonora, Angels Camp, and Jamestown.
Jamestown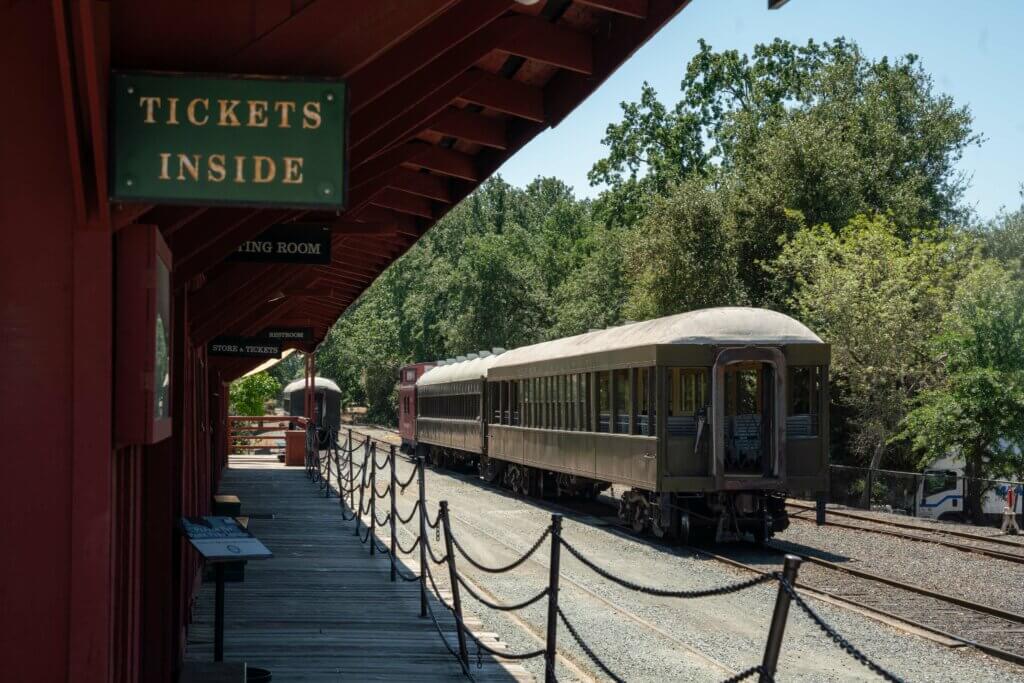 If you like trains, this spot is for you! Jamestown is a historic gold rush town with a train park. It has the distinction of being the first place in Tuolumne County where gold was found, and many of the original structures that were built in the 1870s and 1880s have been repurposed into a variety of shops, restaurants, and inns.
The Railtown 1897 State Historic Park is known as "The Movie Railroad" because the trains here have been showcased in lots of movies and television shows. The park is 26 acres, and you can take a train ride behind a historic steam or diesel engine through Gold Country. Also, the Railtown 1897 park offers roundhouse and movie prop tours daily.
Another fun thing to do here is the Walk of Fame, which is a walkway that has decorative pieces to commemorate the movies and television shows filmed in Jamestown.
Switching gears a bit, the Chicken Ranch Casino has bingo, slots, and card tables. Jamestown is situated on the Highway 108/49 corridor.
Stanislaus National Forest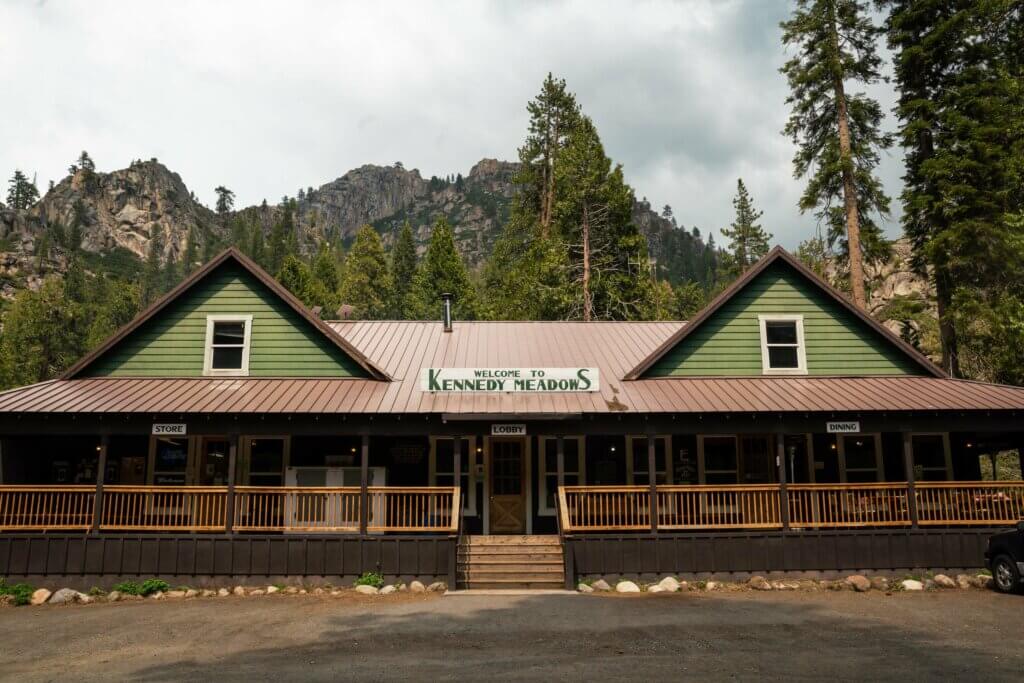 The last place on this list is a U.S. National Forest, and it's one of the oldest National Forests. Stanislaus National Forest was named after the Stanislaus River, and it spans across almost 900,000 acres of land.
Expect to see lakes, wildflowers, and lots of natural beauty. With more than 78 lakes and over 800 miles of streams and rivers, fishing and canoeing are terrific activities to do here. Plus, the Tuolumne River is good for rafting.
As far as hiking goes, there are hundreds upon hundreds of miles of trails. And the trails could be in any condition, so come prepared. Mountain biking is permitted on the majority of the trails, and most of the trails are suitable for horseback riding.
There are also campgrounds at Stanislaus National Forest, perfect for those who want to spend even more time in the great outdoors.
We recommend stopping by Kennedy Meadows, an historic pack station along the Sonora Pass where you can find a historic saloon or enjoy a peaceful picnic or moment along the river.
Where to Stay in Yosemite & Nearby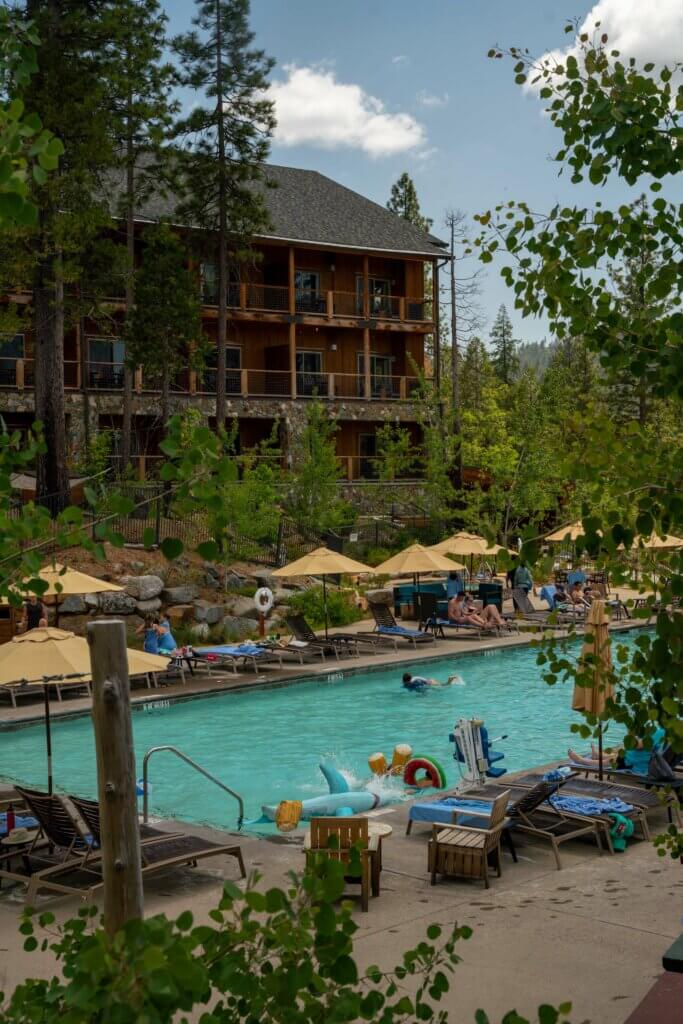 There are a couple of great options for where to stay in Yosemite National Park. The only issue is that booking accommodation inside the park can be very competitive and may require booking well in advance. The good news is, if you don't score a Yosemite National Park hotel, there are options just outside the park mentioned here too.
The Ahwahnee
As mentioned earlier, The Ahwahnee Hotel is one of Yosemite's premier accommodations due to its iconic historic charm, stunning Yosemite Valley location, and luxurious amenities. Guests can enjoy breathtaking views, fine dining, and a sense of timeless elegance, making it an exceptional place to experience the park's natural beauty while enjoying comfort and style. Book here.
Yosemite Valley Lodge
Yosemite Valley Lodge is a top choice for its prime location within Yosemite Valley, providing easy access to iconic landmarks like Yosemite Falls. Its comfortable rooms, proximity to nature, and excellent dining options make it a great base for exploring the park, offering both convenience and a close connection to Yosemite's wonders. Book here.
Curry Village
Curry Village offers a unique Yosemite experience with its cozy tent cabins nestled in the heart of the valley. Its affordability, family-friendly atmosphere, and proximity to outdoor adventures make it a beloved choice for budget-conscious travelers seeking a rustic yet comfortable stay in Yosemite National Park. Book here.
Tenaya Lodge at Yosemite
Tenaya Lodge at Yosemite stands out as one of Yosemite's premier resorts due to its upscale amenities, luxurious accommodations, and serene mountain setting just outside the park's entrance. Guests can enjoy spa services, fine dining, and family-friendly activities, making it an ideal blend of comfort and adventure for Yosemite visitors with easy access to the park's Wawona area which is approximately 2 miles from the park's southern entrance station.
We've stayed here before and it really is a gorgeous property and you can choose to stay in a cabin or inside the main lodge. Book here.
Rush Creek Lodge
If you're looking for a more luxury stay near the Big Flat Oak Entrance of Yosemite National Park you'll want to check out Rush Creek Lodge in Groveland. This gorgeous resort is very family-friendly with activities and areas suited for children of all ages. As a child-free couple, we didn't find the resort to be overrun by children either!
Take advantage of all the great amenities on-site too from the great restaurant and bar, outdoor heated pool open year-round, evening s'mores, and fire pits, and be sure to take full advantage of The Spa at Rush Creek here too. We stayed in a forest villa and loved our room. Our bed faced a balcony overlooking the property and forest and the rooms had such thoughtful design details and touches plus eco-friendly toiletry products. Book Here
Yosemite Pines RV Resort
One of the most unique places to stay is Yosemite Pines RV Resort, which is not only a campsite and RV park, but they offer unique stays including cabins, yurts, and decked-out covered wagons near the Big Oak Flat Entrance of Yosemite National Park.
We stayed in the covered wagons, which are far from the covered wagon experience used by travelers out west in the past! These are luxury and this was one of the most comfortable beds we've slept on! And yes, they are heated in the winter and offer AC in the summer months. Book here.
---
How many days do you need at Yosemite?
To fully experience Yosemite National Park and its major attractions, plan for a visit of at least 3 to 4 days minimum. This allows time for hiking, sightseeing, and immersing yourself in the park's stunning natural beauty.
What is the most visited place in Yosemite?
Yosemite Valley is the most visited area in Yosemite National Park. It's renowned for iconic landmarks like El Capitan, Half Dome, and Yosemite Falls, attracting millions of visitors each year with its awe-inspiring scenery.
When is the best time to visit Yosemite?
The best time to visit Yosemite is during the late spring (May and June) when waterfalls are at their peak, or in the early fall (September and October) for pleasant weather and fewer crowds. Avoid the busy summer months for a more tranquil experience.
What should I look out for in Yosemite National Park?
While in Yosemite National Park, be cautious of wildlife encounters, rapidly changing weather, rushing water, and the potential for wildfires. Follow park safety guidelines, stay on designated trails, and pack essential supplies.
What is a good month to go to Yosemite?
September is an excellent month to visit Yosemite. The weather is pleasant, waterfalls are still flowing typically, and the crowds begin to thin out after the summer rush.
What is the best way to tour Yosemite?
Exploring Yosemite is best done by combining car and short hikes. Utilize the park's shuttle system within Yosemite Valley to reduce traffic congestion during the summer season. Guided tours and ranger programs also offer valuable insights into the park.
Is Yosemite open in the winter?
Yes, Yosemite National Park is open year-round, but some areas and roads may close due to winter weather. Yosemite Valley and Badger Pass Ski Area remain accessible in winter.
Top Things to See in Yosemite National Park (Post Summary):
Glacier Point
Hetch Hetchy Valley
Valley View
Tuolumne Grove
Sentinel Dome
Bridalveil Falls
Yosemite Falls
Tunnel View
Half Dome
Vernal and Nevada Falls Hike
Tuolumne Meadows
Badger Pass
Stop at the Ahwahnee
Drive Tioga Pass
Do a Guided Adventure with Echo Cooperative
---
Enjoyed this guide for what to see in Yosemite National Park and Yosemite National Park travel guide? Bookmark for later or share the love below on Pinterest.
If you're coming from Los Angeles up to Yosemite, be sure to check out all the best stops on the Los Angeles to Yosemite National Park drive!