Bermuda is a one-of-a-kind place to visit and getting around Bermuda is just as unique. There are so many things to do in Bermuda and amazing places to stay in Bermuda. Moving around Bermuda takes a little planning, which is why we put together this guide plus others like useful tips you need to know before visiting Bermuda to help make your trip a breeze.
In this post, we'll share with you how to get around in Bermuda, from the limited rental options available to public transportation options.
Especially if you're traveling with more than 2 or 3 people, you'll want to plan Bermuda transportation in advance of your visit. You'll see that on the islands you can't just rent a car for your crew! Or if you're visiting at peak season, you'll want to secure your rental in advance!
This guide is meant to prepare you for your trip as there is so much to do and see here from the best Bermuda beaches to caves, hikes, restaurants, and other fun activities that you'll definitely want to see! Be sure to check out all the options for Bermuda transportation and plan accordingly for your visit so you can sit back and relax (or drive with that Bermuda breeze gently hitting your face).
Things You Should Know About Getting Around Bermuda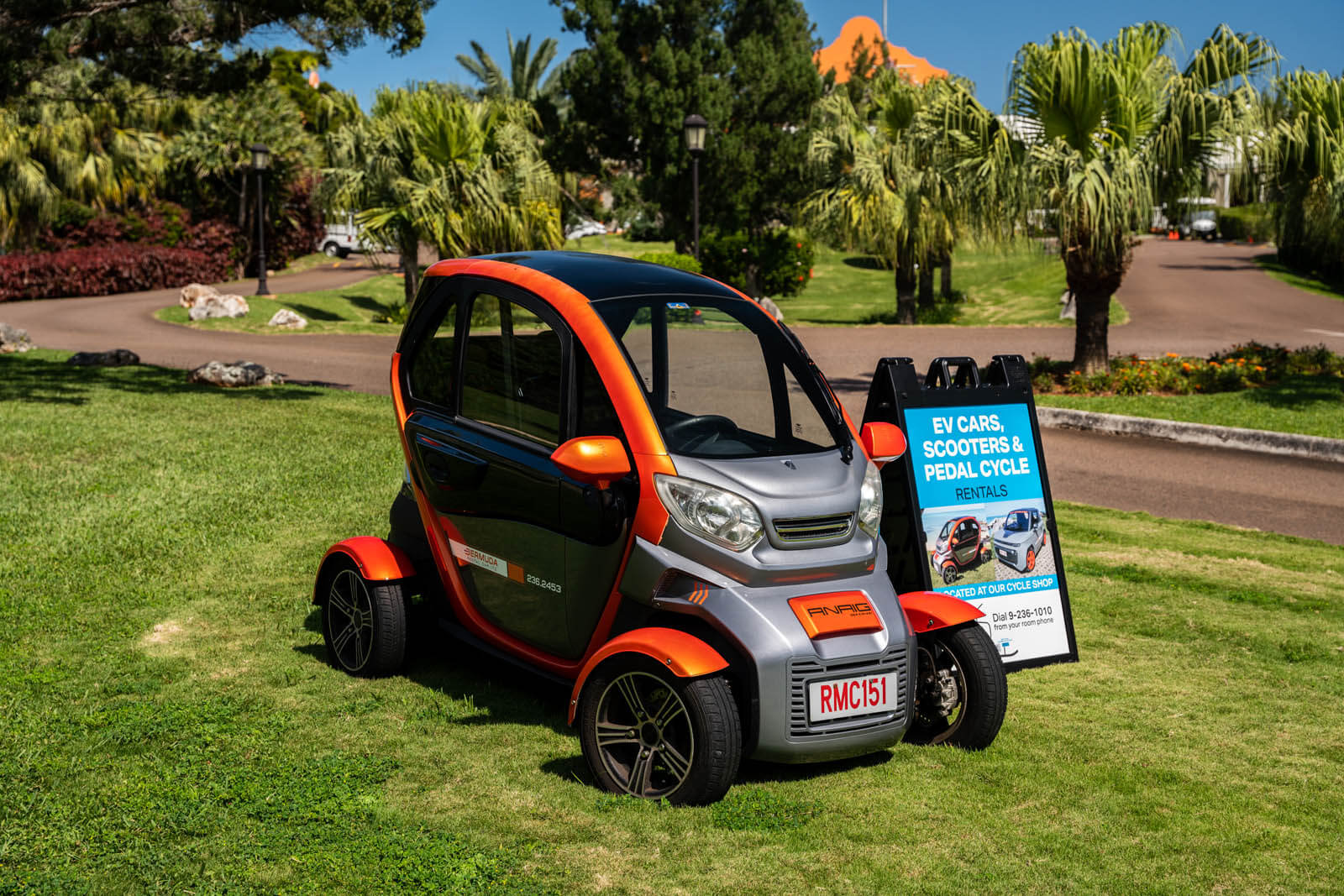 Bermuda is part of the United Kingdom Overseas Territories. Less than 700 miles off the coast of North Carolina in the North Atlantic Ocean, and it's just a few hours' flight from the east coast of the US.
Most people visit Bermuda by flying into Bermuda L.F. Wade International Airport (BDA) on St. David's Island. You can also take cruises there, as well as your own private boat. That just takes extra planning and registration when you dock at Ordnance Island in St. George's Harbour, also on the East End.
Bermuda is actually an archipelago in the shape of a fishhook. It's made up of almost 200 islands of different sizes. In all, the islands are about 25-miles long and no more than a mile wide at their widest. The 7 main islands are connected by bridges so you can move between them, which you will be doing a lot of!
The Roads in Bermuda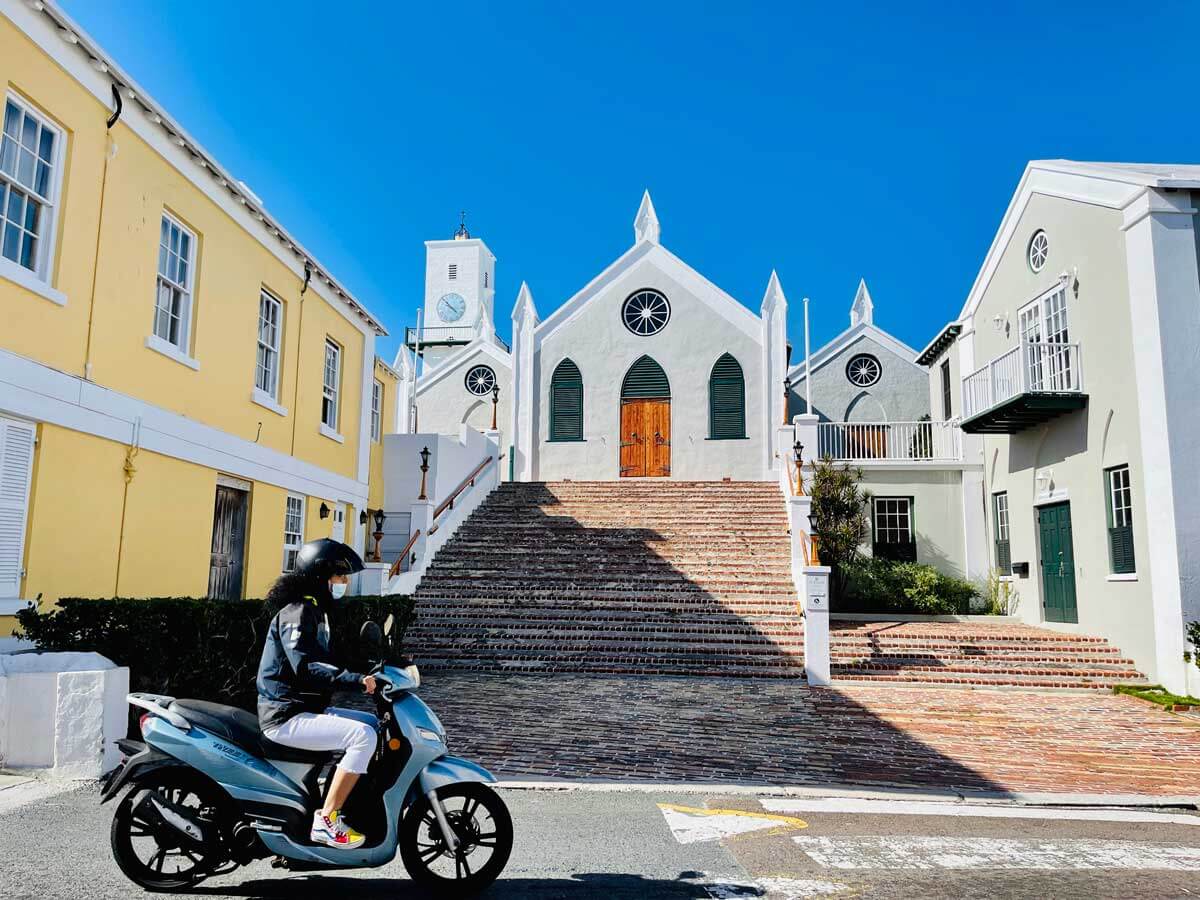 All of Bermuda's roads are paved and safe to travel, though they can get narrow at times. You will have to drive on the left-hand side of the road here! This is something to keep in mind if you're planning on renting and driving yourself to get around Bermuda during your vacation. It's not a difficult adjustment, but it does require a little extra attention.
When you're learning how to get around in Bermuda, it's important to know that there are really 3 primary roads that people use to travel the Main Island.
These are North Shore Road, Middle Road, and South Shore Road. North Shore Road is the best way to transverse the north shore of Main Island. South Shore Road has scenic beaches and eventually splits to turn into Middle Road. Middle Road is how everyone travels the West End of the island.
With the speed limit set at 35 km/h, traveling from one side of Bermuda to the other takes about 90-minutes by car. The bus will take about 2-hours.
Rental Cars in Bermuda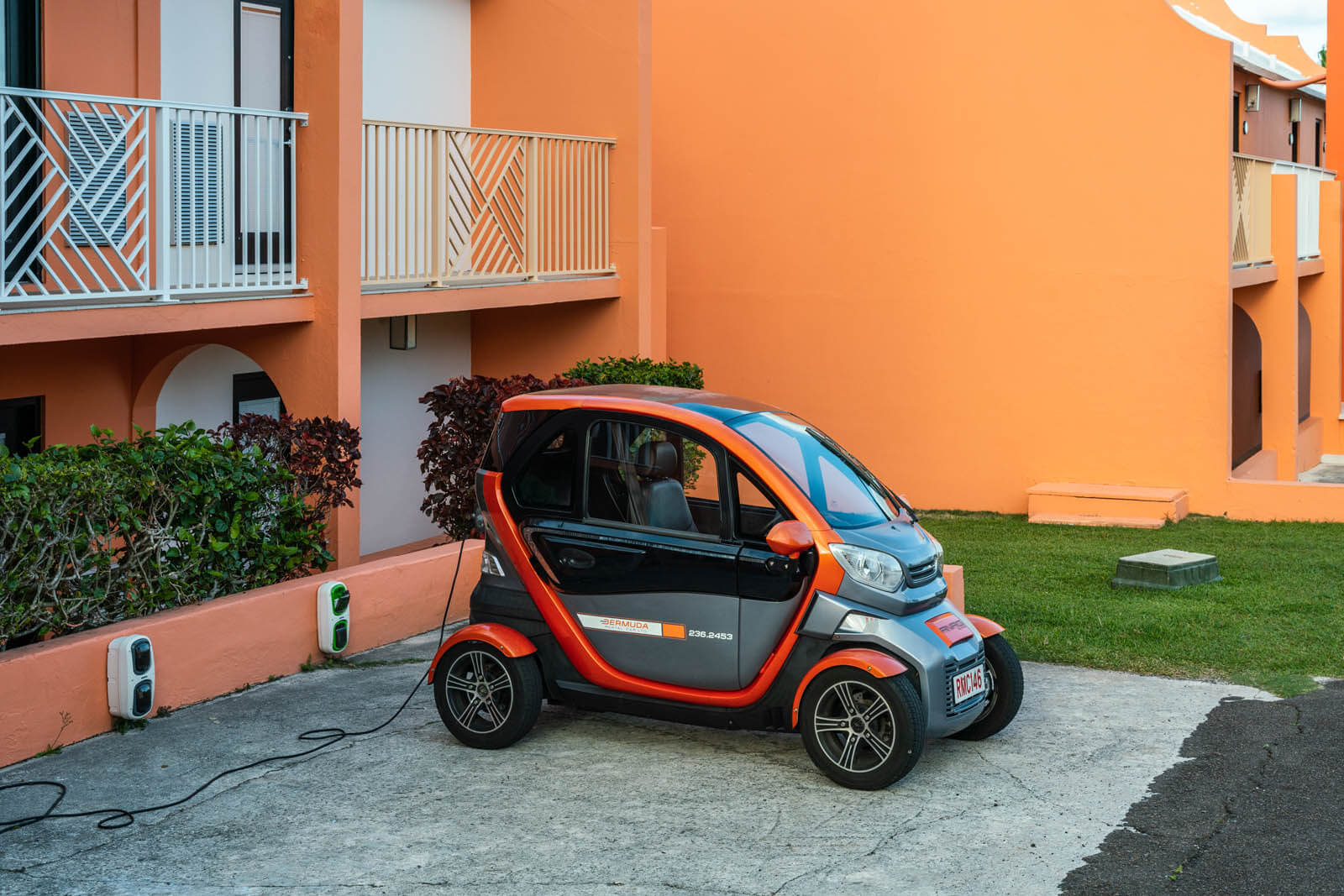 You can't just rent a car in Bermuda to get around. Only locals can legally drive them, and they're only allowed one car per household here, so there's really no exception for tourists. This is for many reasons, including the small size of Bermuda compared to the high tourist population every year.
However, visitors with a valid international license who are 18-years and older are now able to rent electric minicars! This is probably the most fun way to get around Bermuda. Keep in mind all of their electric rental cars are two-seaters! So if you're traveling with a family, you either have to book multiple cars keeping in mind the restrictions for renting, or planning alternative options for how to get around Bermuda.
If you're booking a rental car, you will want to secure your rental in advance as many require at least 36 hours notice in advance to arrange for you to have your car – some will even deliver them to your hotel or have locations conveniently next to a few of the big resorts here. During peak travel season, there could be a shortage so we do NOT recommend waiting last minute to book your car to ensure you get a rental for exploring and getting around Bermuda with ease!
Since these are electric cars, you will have to charge them at the end of the day of exploring. Most resorts have charging stations (pictured above at Grotto Bay Resort) or the rental place is a short walk away and you can leave your electric car to rent there.
There's a handful of great companies to choose from:
Current Vehicles
Current Vehicles is based inside the Hamilton Princess & Beach Club Hotel in the heart of Hamilton. They offer the popular Renault Twizy, a tandem 4-foot-long microcar. About every 55-miles you can charge at the Hamilton Princess, or at one of their Oasis Point charging stations across the island.
Bermuda Rental Car
You'll find Bermuda Rental Car's 9 different rental locations/showrooms across the island. Try them out or use their location to charge your minicar. The Italian brand also has a tandem model, but their most popular model is the Tazzari. This sleek 2-seater allows passengers to sit side by side and comes in a few colorways. Because it's larger, it only gets 43-miles until it needs to charge.
Localmotion
Check out Localmotion in Hamilton to try out the Bermi 400. This adorable, award-winning model features a sunroof, side-by-side seating, and a dozen bright color options. It gets over 100-miles until it needs to be charged. Then, you only need a typical charging port with a 110V socket.
Rugged Rentals
For something a little larger, Rugged Rentals has the Hummer HXT! Even with a larger size, this convertible minicar gets 70- to 90-miles before you need to charge it! Rugged Rentals has several locations scattered across every region of the island.
Pros and Cons
It's best to book in advance anyway, but you should know that you need to give at least 36-hours' notice to rent electric cars in Bermuda. The earlier the better because rental companies have limited fleets. They're first-come-first-served and can run out.
As mention, most hotels have charging ports, but if they don't, there should be a rental place nearby where you can leave it to charge. Call your hotel and rental company ahead of time to confirm this information.
Thankfully, electric minicars only need to be charged every 50- to 90-miles, and the island is 24-miles end to end. That means that you can usually go exploring and only need to charge when you get back to your hotel. But if you do need to charge when you're out, you'll be able to find charging stations across the island.
Keep in mind that these small electric cars are compact and don't hold much besides you and another person. They're great for getting around the island to see the sights. We don't suggest using these cars to travel to and from the airport, or for moving between hotels with luggage.
Other Tips for Getting Around Bermuda with a Car
While we're talking about how to get around in Bermuda with a car, it's important to know that they drive on the left-hand side of the road. If you're not comfortable with this, you might want to go with a less hands-on form of travel!
The highest speed limit on the island is 35 km/h, or 22 mph, and it can be lower in some areas. Also, driving cars in Bermuda is pretty laid back. If you're going too slow for locals, they'll try to pass you. Be considerate and let them!
While traveling the roads in Bermuda, you might come across some traffic at around 8 AM and again at 4 PM. This is when Bermudians are commuting to and from work and school. Rush hour only lasts about an hour, so try to stay off the roads until it's passed, especially around the city of Hamilton.
Finally, just because you're on vacation doesn't mean all the rules fly out the window! Safety is important in Bermuda. You'll be sharing the roads with not only other electric minicars and local's conventional cars but also motorbikes and bicycles. And always wear your seatbelt. There are strong penalties if you're caught not wearing one!
Motorbike & Scooter Rentals in Bermuda
When you're looking for how to get around Bermuda, do what the locals do— ride a motorbike aka scooter! They're super easy to rent and you can go wherever you want on your own time. We had a blast getting around Bermuda on our motorbike rental, visiting all the island's gorgeous pink sand beaches!
Because gas prices are so high in Bermuda, you can't rent anything more powerful than a 50cc motorbike, or scooter. But because the gas tanks are small on the scooters, we only ever spent a few dollars filling up the tank.
We rented from Oleander Cycles, which has multiple locations around the island including at the resorts we were staying at. Besides the 2-passenger scooter we rented, they also sell 1-passenger scooters and electric rental cars.
There are a few motorbike rental companies on the island you can choose from. Motorbikes are half the price of an electric minicar per day. If you book ahead of time and rent for multiple days, you get a discounted rate over if you rent one day by day. Rental companies always include protective equipment, usually at least helmets.
Pros and Cons
One great feature of renting a scooter in Bermuda is that most cycle liveries are more than happy to provide a delivery and pick-up service at your hotel. Enjoy your vacation and plan a few days in the middle with a motorbike adventure!
Unfortunately, a lot of people find motorbikes to be pretty dangerous in Bermuda. This is due to the high rate of scooter accidents every year on the island. Thankfully, there's been a recent crackdown on speeders that has shown huge cuts in the number of wrecks!
This improvement pointed to the connection between accidents and a few key things: most accidents involved either teen drivers, alcohol, ignoring the speed limit, or a combination of these things. This is why you'll find that they take road safety very seriously in Bermuda!
That being said, motorbikes can be perfectly safe if you wear the proper equipment, respect the road, and take proper precautions. Especially if you've never ridden on before, be extra vigilant. Perhaps wait on renting a scooter if the weather is bad.
If you're renting from Royal Dockyard, they have a mini course you can practice on to get comfortable on your scooter before taking off. If you're not comfortable driving a scooter, we don't recommend this option as you will have to focus on driving a new form of vehicle on the opposite side of the road (unless you're from a left-hand side of road destination), and will have to be mindful of traffic.
Tips for Bermuda Scooter Rentals
All renters and motorbike or scooter operators must be at least 18 years old and someone who holds an international driver's license, we were only asked to show our United States drivers license but we did have our international permit (this is really easy to secure ahead of time before your trip, you just fill out a form pretty much).
Always wear a helmet and a seatbelt and consider wearing protective clothing that covers your arms and legs. We broke this rule though ourselves, as we were going beach hopping – but it's smart to always wear more protective clothing, even if you're experienced on scooters like we are.
Don't get caught up on the differences between mopeds and motorbikes! They're basically the same thing, but a motorbike, or scooter, has much more power and therefore is also more expensive to rent. Mopeds also have their power limited to meet the speed limit, while motorbikes do not.
Bus in Bermuda
Another option for Bermuda transportation that is super easy to use and it's the way most visitors travel around the island. There are 11 buses across 14 bus zones. Prices depend on what zone you're traveling to.
The central bus terminal is in Hamilton. This is where most of the buses leave. You'll find it next to City Hall on Washington Street. You can get all the bus route info online. There you can even find routes highlighting popular destinations. For example, take the Route 7 bus to Horseshoe Bay.
Buses are super easy to find because they're pink and blue! Also, it's easy to figure out which way you're going on the bus line. All Hamilton-bound buses have a pink pole at the bus stop. All outbound buses have a blue pole.
When it comes to bus fares, you can find rates online. You have a few payment options. You either need exact change in coins, or you can buy bus tickets or passes at a bus terminal or any Bermuda post office.
Transportation Passes are a great option to save money if you plan on using the bus a lot. You can get a 1 Day Pass all the way up to a 3 Month pass. If you get the 7 Day Pass, for example, it gives you unlimited bus access for as many days. You can pick up passes at Central Terminal in Hamilton or the Royal Naval Dockyard.
Pros and Cons
The bus is the easiest and cheapest way to travel around the island. Whether you're going to the beach or out to eat in Hamilton, you'll find a bus that goes there. It's pretty easy to follow the bus route map, too.
The buses don't make extra stops and it's not the best way to take in all the views. It's great to get where you need to go. However, if you're goal is to sightsee, consider other Bermuda transportation options.
Because the bus makes regular stops, it can take longer, especially during rush hour. If you've taken a bus anywhere, this shouldn't surprise you! But it's something that you should be prepared for when thinking about how to get around Bermuda.
There are also some parts of Bermuda that aren't easy to get to by bus like some parts of the East End, where a few of our favorite beaches were like Tobacco Bay and St. Catherines.
Tips for Using the Bus in Bermuda
Locals take the bus to and from work and school, which means they get pretty packed starting at around 8 AM and 4 PM every day. Be considerate of these people (and yourself!) and plan to take the bus at other times.
Ferries in Bermuda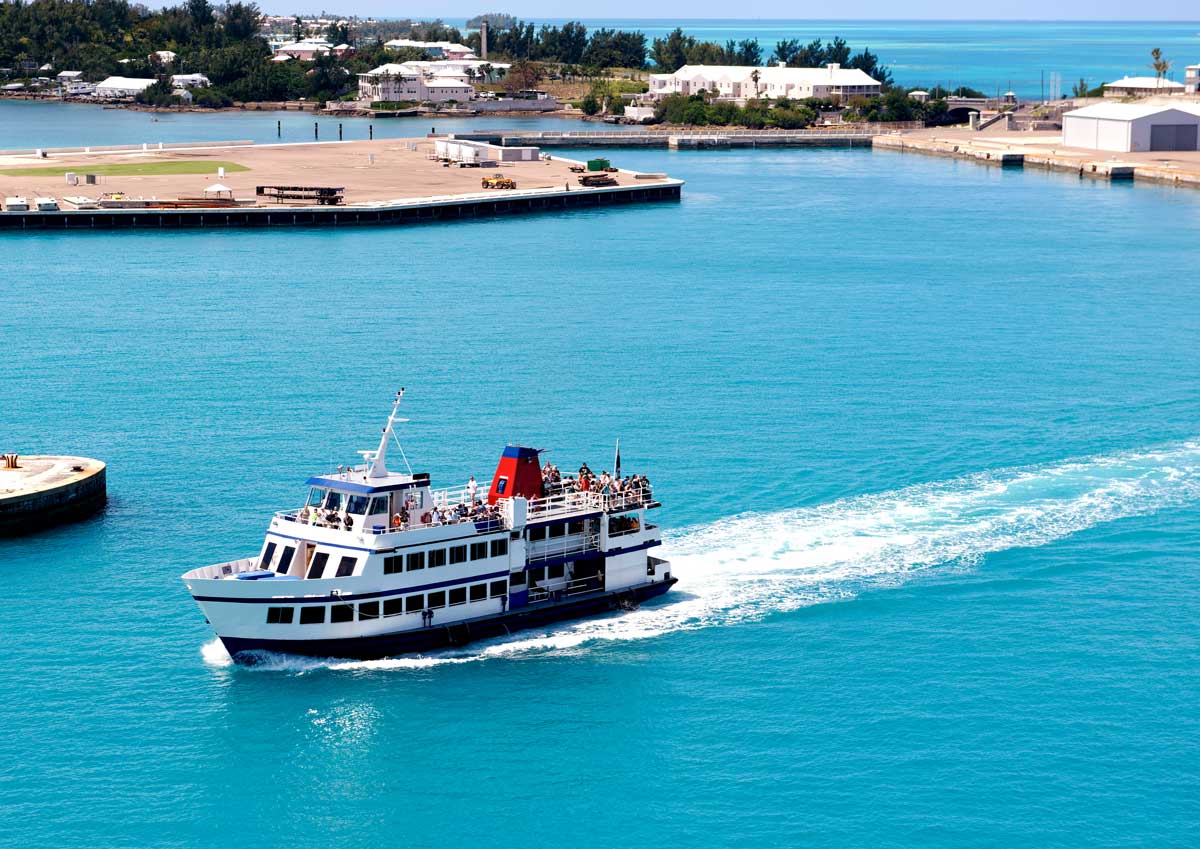 You're on an island in the North Atlantic, so enjoy the water! The Bermuda ferry is a great way to see enjoy breathtaking views of the water and coastline while getting to where you want to go.
All public ferries leave from the Ferry Terminal that's located on Front Street in Hamilton. Like the bus lines, the ferry has a color-coded system. For visitors who want a beautiful tour of Hamilton Harbour, use the Pink Route. It'll take you on a route along Paget and Warwick perishes off the coast from Harbour Road.
The Blue Route is a great way to see the entire West End from the water on your way to the shops, restaurants, and attractions at the Royal Naval Dockyard. The Green line is an express route to Rockaway across the Harbour.
Finally, the Orange Route is a seasonal line that takes you on a tour from Hamilton to the Dockyard, and then all the way around to the historic St. George's on the East End. Spend the day exploring historical landmarks like the Gate Fort or the Unfinished Church!
Pros and Cons
This is a great way to see the island of Bermuda! It's cheap and easy to follow. Plus, the longest route is the Orange Route, taking 35-minutes to get to St. George's. For those who need to sit, there are seats inside. Otherwise, walk the deck and take in the view!
Tips for Taking Bermuda Ferries
Make sure to look into the Transportation Pass if you take the ferry. The Bermuda ferry and bus systems are considered part of the same branch, so tickets and passes work for both.
Ask your hotel or concierge if they offer any kind of complimentary ferry shuttle. Some hotels offer them to and from the airport for guests. Others across the Harbour from Hamilton are able to provide them to the city for guests.
Taxis in Bermuda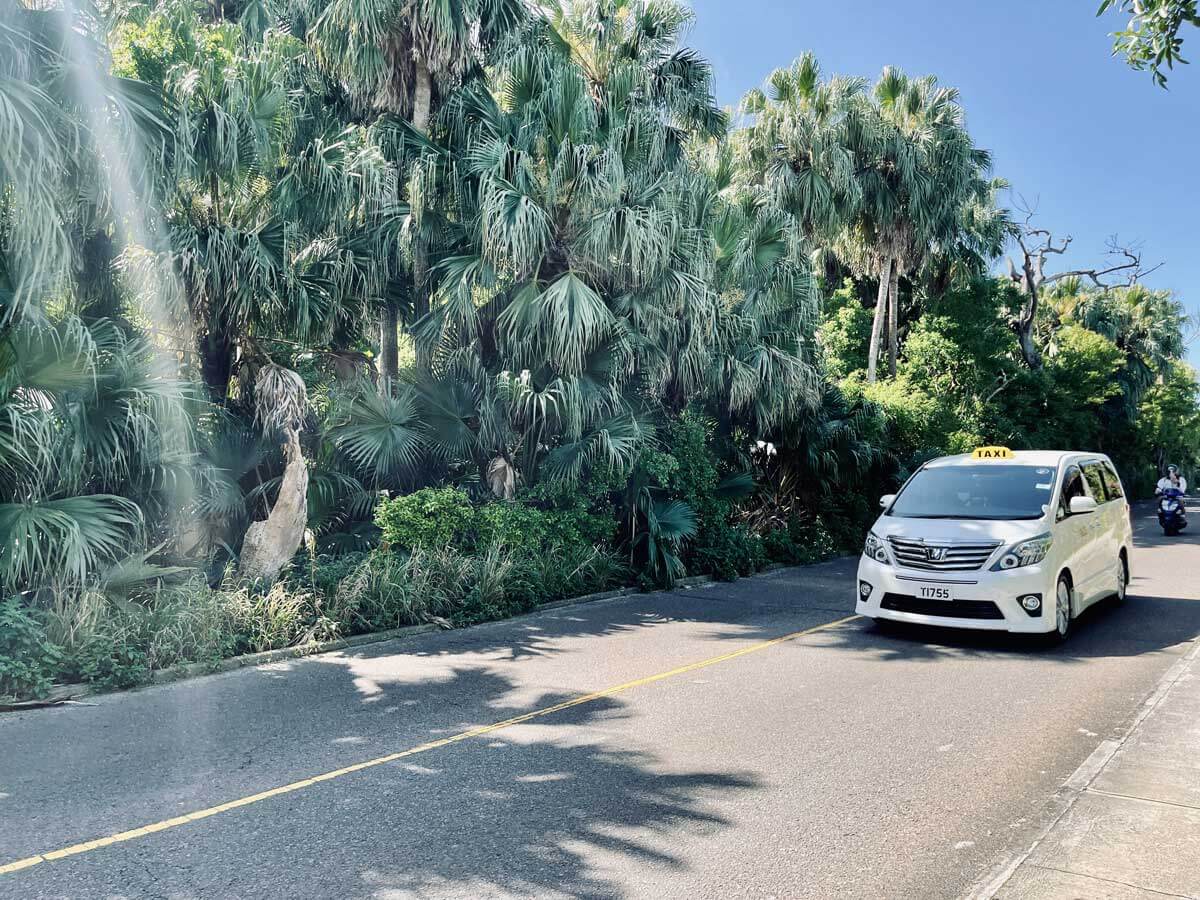 The taxi is really the easiest way to get around Bermuda. Especially if you're moving between hotels or heading to the airport, taxis are essential. It can be costly, but when you have luggage, it's worth it.
Regular taxis only accept cash. You can use USD or Bermuda dollars, they have a 1 to 1 exchange rate. Just keep in mind that if you pay in USD, you'll most likely get Bermuda dollars back in change which you can use on your Bermuda vacation at some point. And keep in mind that there's a 10-15% customary tipping for taxi drivers.
Also, you can use the Hitch taxi app. It works much like Uber and Lyft, plus, all payments are through the app, so you don't have to worry about carrying enough cash.
Taxis are also super convenient because most hotels always have taxis on hand. We stayed at 3 different resorts during our visit to Bermuda. Only one of them ever asked for a 30-minute notice for when we needed a taxi.
Pros and Cons
The cost is the only real downside here. Convenience, ease of use, and comfort are the benefits of using a taxi in Bermuda. Plus, there's not really another way to travel with luggage!
Tips for Booking a Taxi in Bermuda
Check with your hotel or resort when you arrive so you know how they function when it comes to calling a taxi for you. Some hotels or areas of the island request that you give at least a 30 minute notice or a notice the night before if you need a ride early in the morning.
Also, don't forget about the Hitch taxi app mentioned above. It works much like Uber and Lyft, plus, all payments are through the app, so you don't have to worry about cash or exchange rates.
---
There you have it! Everything you need to know about Bermuda transportation and how to get around Bermuda to help you plan your trip! If you found this guide helpful, consider bookmarking for later!