Looking for the best things to do in the Finger Lakes, NY? We've got you covered. The Finger Lakes region is one of our most cherished destinations in the state of New York and we've been over a dozen times and counting. Not to mention where you can take some of the best lake vacations in New York too!
From tasting our way around their award-winning wine country, sampling the other flavors of the region through their farm-to-table cuisine, to microbreweries and craft distilleries to all the incredible outdoor activities from the lakes, waterfalls, and hikes all four seasons, to visiting historic sites.
This region is packed with incredible things to do to fill an entire vacation year after year sprawling across all 11 lakes.
Even the first time we visited, we realized the Finger Lakes is easily one of the most underrated destinations in the US. This region deserves a lot more attention and once you see the beauty of this entire region from the natural scenery to the amazing small towns and Finger Lakes attractions you'll understand why.
Check out our complete guide for best things to do in Finger Lakes NY to help you plan your next getaway or inspire you to visit the region. What's even better about this guide to all the best Finger Lakes attractions is that it's evergrowing. There's a reason why we keep going back and as we do we always are adding more things to do in the Finger Lakes!
This guide is separated by a few sections including:
What to do in the Finger Lakes (a few of the most popular activities)
Best Places to Visit in the Finger Lakes (best areas/towns to explore plus suggestions on what to do and see)
Where to Stay in the Finger Lakes
When is the best time to visit the Finger Lakes?
Before getting into all the amazing things to do in the Finger Lakes and best places to visit, you might be wondering when is the best time to visit the Finger Lakes? We've been EVERY season multiple times so this is a question we are thrilled to answer!
The Finger Lakes truly is a 4-season getaway, but there are a few things to keep in mind when choosing your visit.
The summer and fall are the most popular times to visit the Finger Lakes. The summer being the most popular as you can enjoy all the best lake activities and watersports plus the area is just stunning when everything is lush and green. This is great for when you want to enjoy all the best outdoor activities as well as summer evenings and sunsets at the various wineries, breweries, restaurants, and of course if you get a lake house rental.
Fall in the Finger Lakes offers dramatic fall foliage and some of the most scenic drives the state of New York has to offer. This is also a great time for farm visits whether you want to do u-pick apples, pumpkins, or want to hit up all the farm stands and farm stores (plus apple cider donuts! Need I say more?!).
Planning a visit in the winter comes with perks as it's less crowded and when you get a fresh dusting of snow, the scenery here really is stunning! If you visit around the holidays you can enjoy all the holiday decor from the charming towns to the pretty houses and check out Christmas tree farms (if you're driving from not too far away you can get your tree to take home with you!)
If you're up for winter outdoor activities you can snowshoe on various trails in the region, or take advantage of a romantic Inn or B&B booking a massage for a little wellness, and of course take advantage of all the wine tasting in the region.
The spring is the slowest time of year to visit and the later in the spring the better as the ice melt helps the waterfalls flow! Keep in mind as the winter ice and snow melts, the early spring season can be a bit muddy if you're looking for outdoor adventures. Otherwise, this is a great time to enjoy the many museums, cultural attractions, and wine tasting without the crowds the summer and fall season tend to have.
What to do in the Finger Lakes
Wine Tasting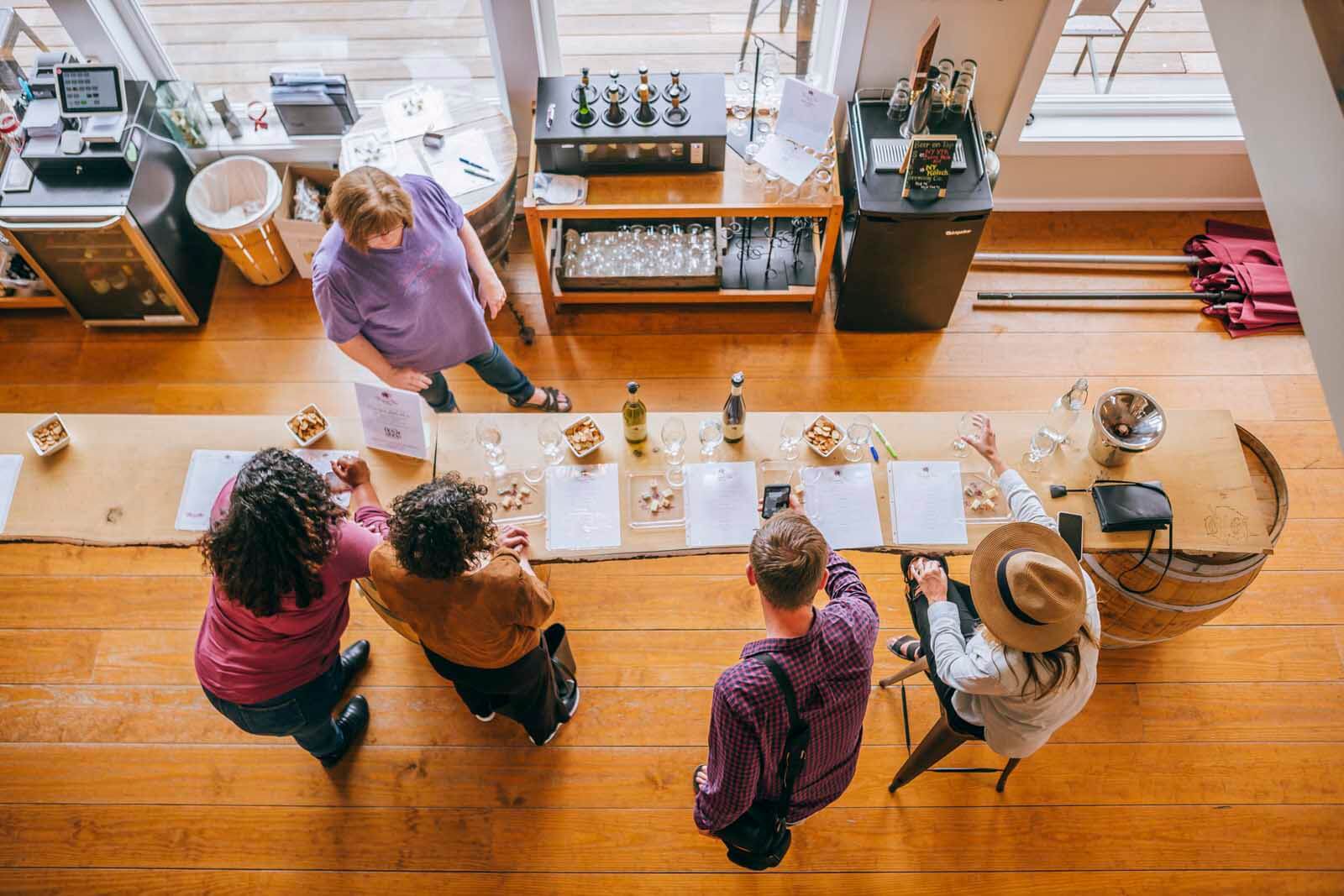 With over 100 wineries and plenty of award-winning wineries in the region, wine tasting is one of the best things to do in the Finger Lakes NY. You can find a few wine trails including the Seneca Lake Wine Trail, Keuka Lake Wine Trail, and Cayuga Lake Wine Trail that are filled with various wineries to check out as well as other wineries along the way.
While visiting every single winery on a single trip would be impossible you can definitely visit quite a few driving around the wine trails and lakes. We have spent the most time on the Keuka Lake Wine Trail and the Seneca Lake Wine Trail.
Keep in mind, that the official 'wine trails' only showcase a few member wineries, there are several more wineries around the region. And as mentioned, the Finger Lakes as plenty of award-winning wineries and has done one heck of a job dismantling stereotypes about being home to sweeter wines. While there are some of those around, many of the wineries actually offer a broad range of regional varietals. We particularly are a fan of their white wines as the region offers world-renowned rieslings.
Here are a few of our favorites and best Finger Lakes wineries:
Keuka Wine Trail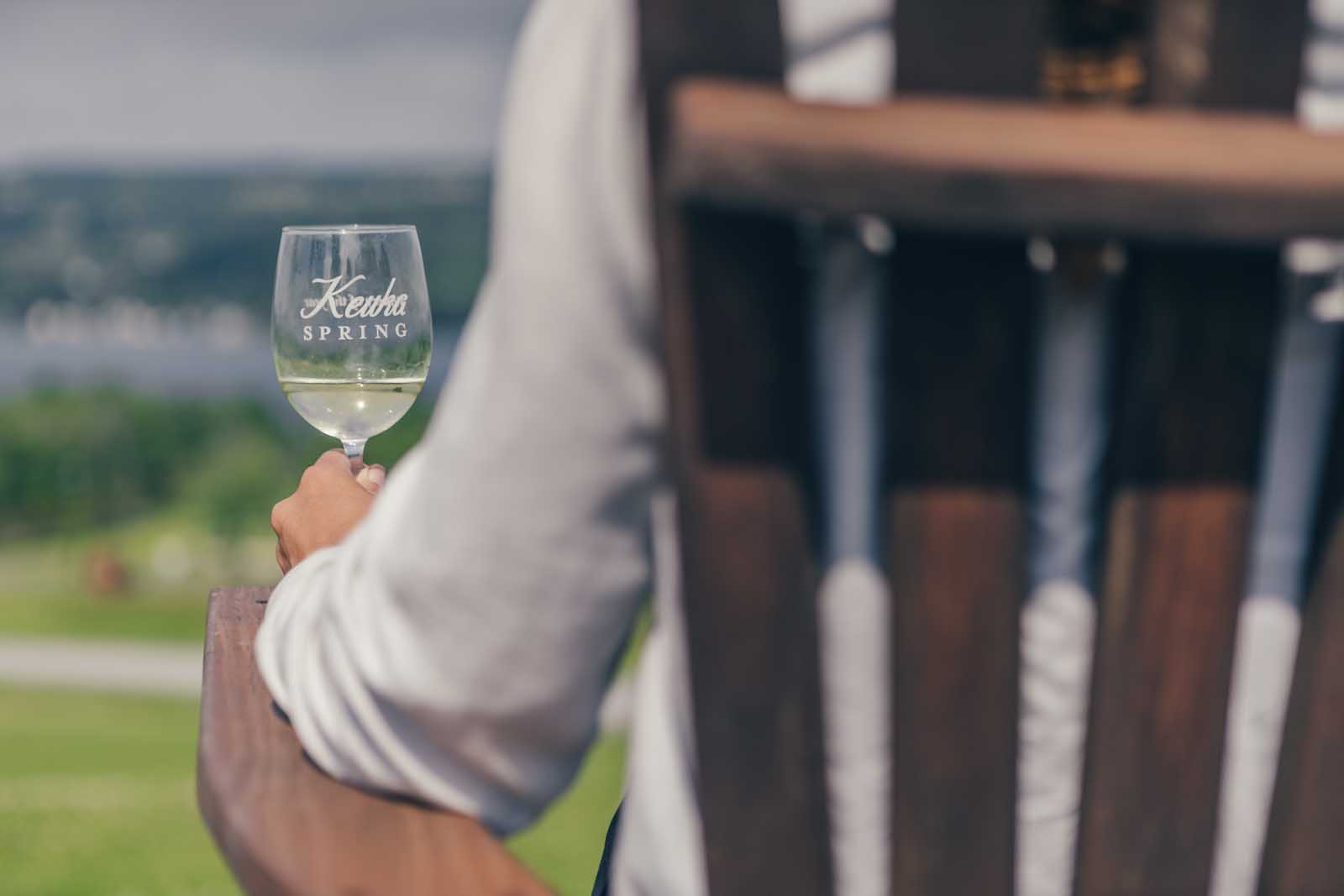 Keuka Spring Vineyards
This ended up being our favorite winery and one of our favorite things to do in the Finger Lakes. When you walk into the tasting room you are overwhelmed with how many awards there on display from their wines. We sampled an array of their whites including a few of their Gewurztraminers to their reds, all were so amazing we always manage to find some space in our luggage to take a few bottles home.
Hunt Country Vineyards
Another favorite of ours on the Keuka Wine Trail. We especially loved the sustainable agriculture efforts of the Hunt family running their vineyard and farms on solar power energy and certified organic. It is worth a stop and asking about some of their sustainability efforts. We learned they use things like clove oil mixed with molasses for the weeds which was incredibly fascinating.
This is what to do in the Finger Lakes if you're keen on learning more about sustainable wine growing.
Dr. Konstantin Frank
Overlooking Keuka Lake is one of the best wineries in the region and Dr. Konstantin Frank himself is responsible for making the wine region what it is today and one of the best Finger Lakes activities to enjoy. He introduced the vinifera grape varieties to the region which in turn introduced European wines to the Northeastern US.
This is undoubtedly one of the best things to do in the Finger Lakes if you're really into wine. They offer a great food and wine pairing in their 1886 Food & Wine Experience as well a tour and the history of Dr. Frank.
McGregor Vineyard
Another one of the best things to do in Finger Lakes NY on the Keuka Wine trail. Known for their vinifera wines from the grapes they grow, McGregor has exceptional wine to choose from. Their tasting room is a fun experience and ordering the warm brie is a must when doing your wine tasting here.
Read Next: Best Things to do in Penn Yan, New York
Seneca Wine Trail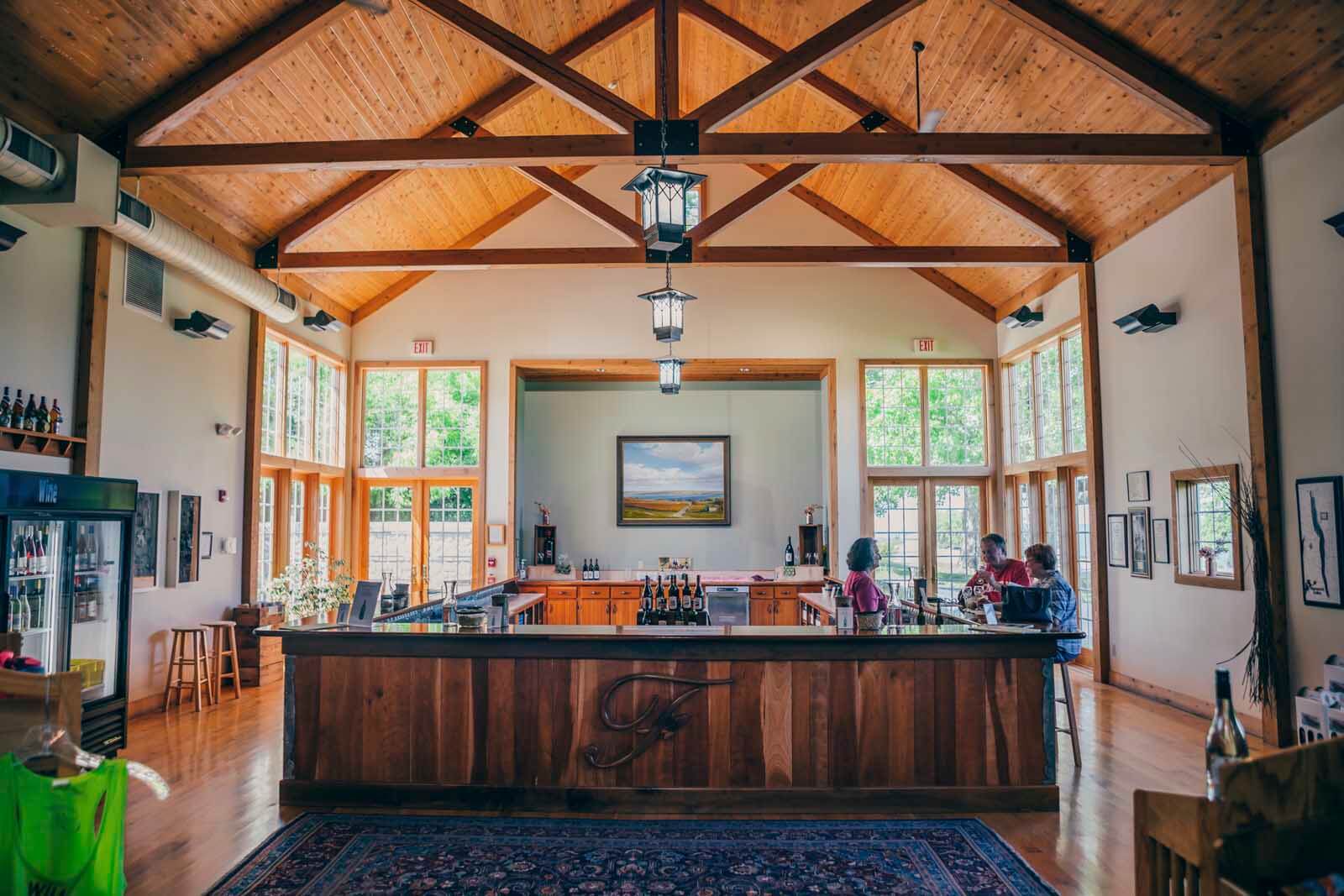 Wagner Vineyards
Besides being an amazing winery Wagner Vineyards Estate Winery offers up their own craft beers as well at Wagner Valley Brewing Co,. located on site. With a gorgeous location with a view of Seneca Lake and the vineyards, you can't help but just love this place.
Visiting Wagner is especially one of the best things to do in the Finger Lakers on Friday nights during their Pub Night on the Brew Deck where there's live music, dancing, and a great barbeque meal that brings out all the locals.
And this is also a great stop if you have wine loving and beer loving folks on your trip! It's a win-win for everyone!
Glenora Wine Cellars
Not just another winery at Glenora Wine Cellars, besides offering up a tasting room and vineyard to visit you can spend an evening having a romantic dinner at their on-site restaurant Verasions with a gorgeous view of the vineyards. This is no doubt, one of the best fine dining establishments in the region offering everything from steak to seafood paired perfectly with their wines. This is what to do in the Finger Lakes if you're looking for a romantic dinner with a view.
This is also the oldest winery on Seneca Lake! And for those who didn't know, Seneca Lake is the deepest of the Finger Lakes which means they have their own climate which has the most ideal grape growing conditions in the region!
Fulkerson Winery
Another fabulous vineyard to visit near Watkins Glen is Fulkerson Winery. With great wine their tasting room may make you want to try and make some of your own wine, which is why they sell the equipment in their gift shop! Located on a beautiful farm, you can sip on wine and even rent out their farmhouse for the week overlooking Seneca Lake, one of the most incredible Finger Lake attractions.
Brewery Hopping!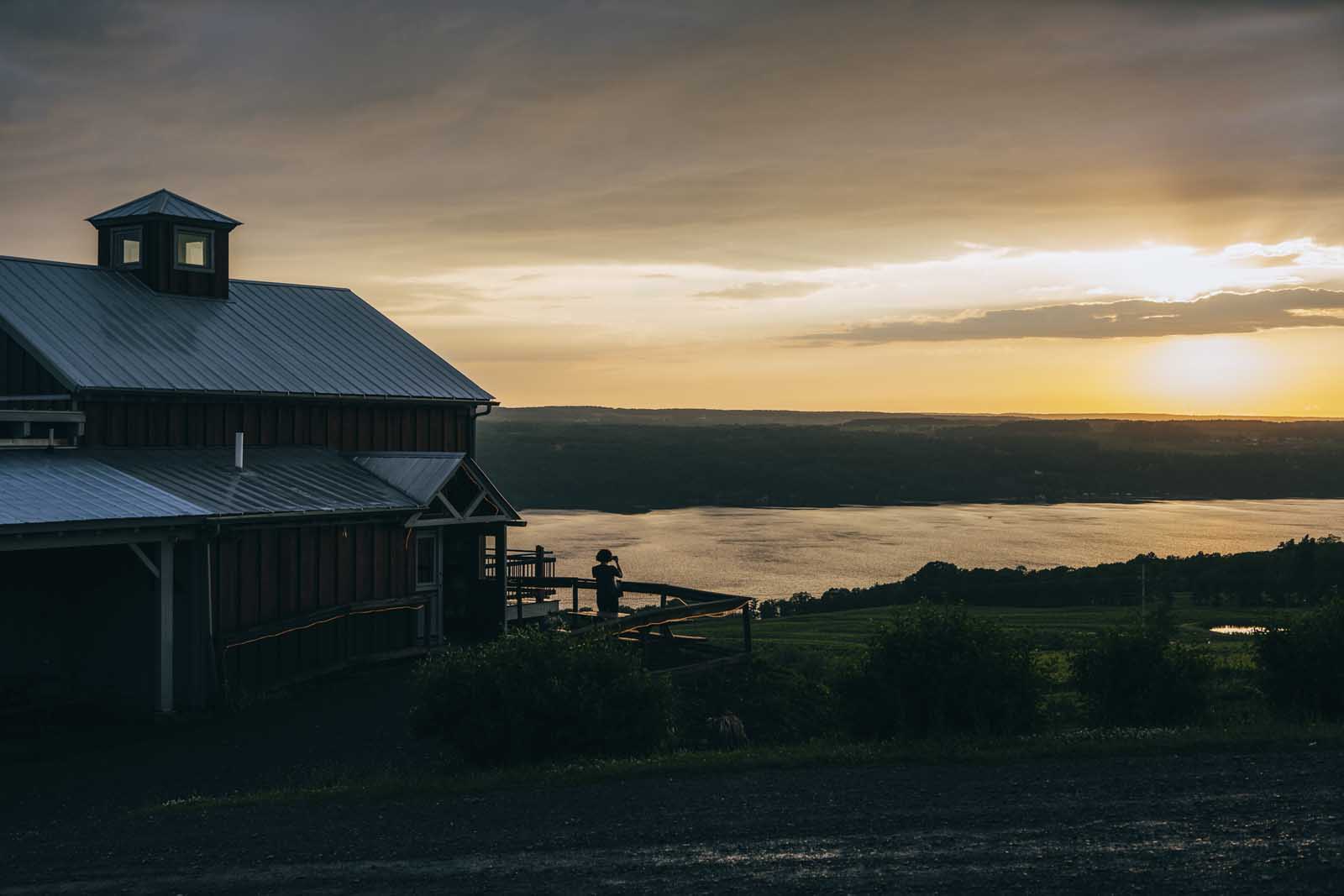 Would you ever guess that one of the best Finger Lakes activities is to sip on suds in wine country? The region is not only known for its wine, but the emerging beer scene as well. One of the best things to do in the Finger Lakes is check out the beer trail too!
With over 75 craft breweries you can easily fill an entire vacation with this. You can follow the official Finger Lakes Beer Trail or just take a scenic drive stopping at breweries along the way. There really are so many along the lakes and charming towns, I think the town of Corning has at least 3-4 breweries itself!
One noteworthy brewery to stop at near Watkins Glen on Seneca Lake is Two Goats Brewing. Besides serving up amazing draft craft brews in an adorable red bran with a great deck overlooking Seneca Lake and vineyards below, a quintessential Finger Lakes scene! They are no strangers to live music sets either.
We also are huge fans of Lucky Hare Brewing Company in Hector. This is a great stop in the summer or fall when you can grab a beer and sit outside at a picnic table enjoying the view of vineyards and Seneca Lake below.
Climbing Bines along Seneca Lake closer to Penn Yan offers more great brews to try. Grab a beer and head outside where you can sit along all the hops growing.
In the town of Corning, you can find a few great stops for beer including Liquid Shoes and Iron Flamingo Brewery. Every time we've been (which has been several) we love the selection of NEIPAs they have on draft.
And we saved the best for last. Our favorite brewery in the region (and one of our favorite things to do in the Finger Lakes) is located in Ithaca! Ithaca Beer Co. brews up one of our favorite beers in the state, Flower Power, which has been named the best IPA in the state! They also have great food and this is an especially great spot to hit up when its nice outside as they have a really beautiful property.
Cider Tasting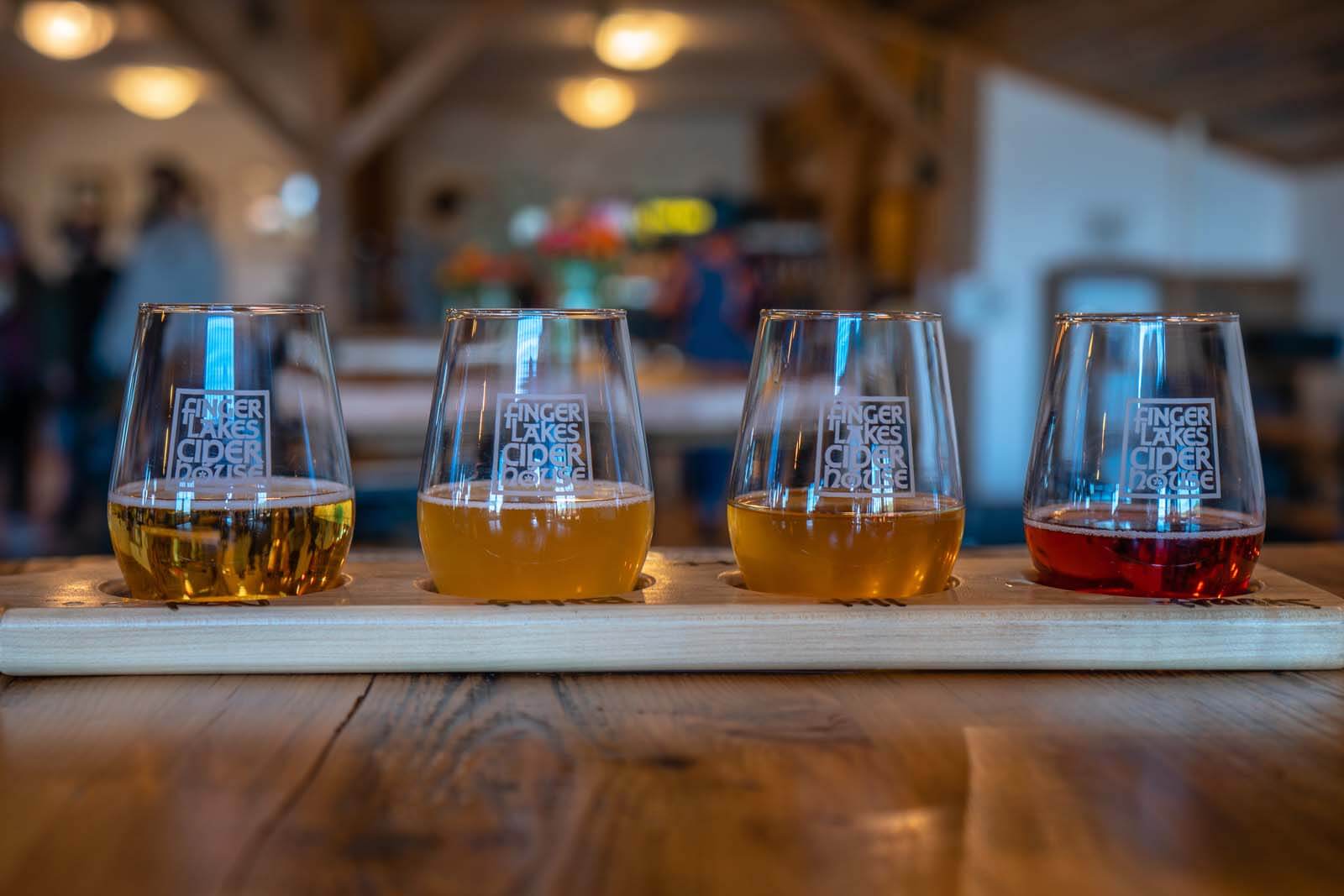 So now that we covered beer and wine, something else that you don't want to miss and one of our favorite things to do in the Finger Lakes is go cider tasting! Naturally, with tons of apple farms in the region you'll find that there is no shortage of cideries to check out either.
Actually, we weren't really fans of cider until visiting the Finger Lakes and now we are huge craft cider fans.
A few of our favorites and not-to-be-missed cideries include Finger Lakes Cider House in Interlaken just off Cayuga Lake. Be sure to order some of their tasty bites to pair along with your tasting flight.
Another great choice is Eve's Cidery in Van Etten and South Hill Cider in Ithaca.
Visit Distilleries
Yep, the region is also home to distilleries too making one of the best things to do in the Finger Lakes is to sample the entire craft beverage scene! We really have one that stands out to us and it's Finger Lakes Distilling along Route 414 in Burdett on Seneca Lake.
The property here is nothing short of beautiful along with a great tasting room. You can find everything from whiskey, gin, brandy, and flavored liqueurs. They are most known for their McKenzie Bourbon Whiskey, so be sure to try that when you visit!
Visit Historic Landmarks in the Finger Lakes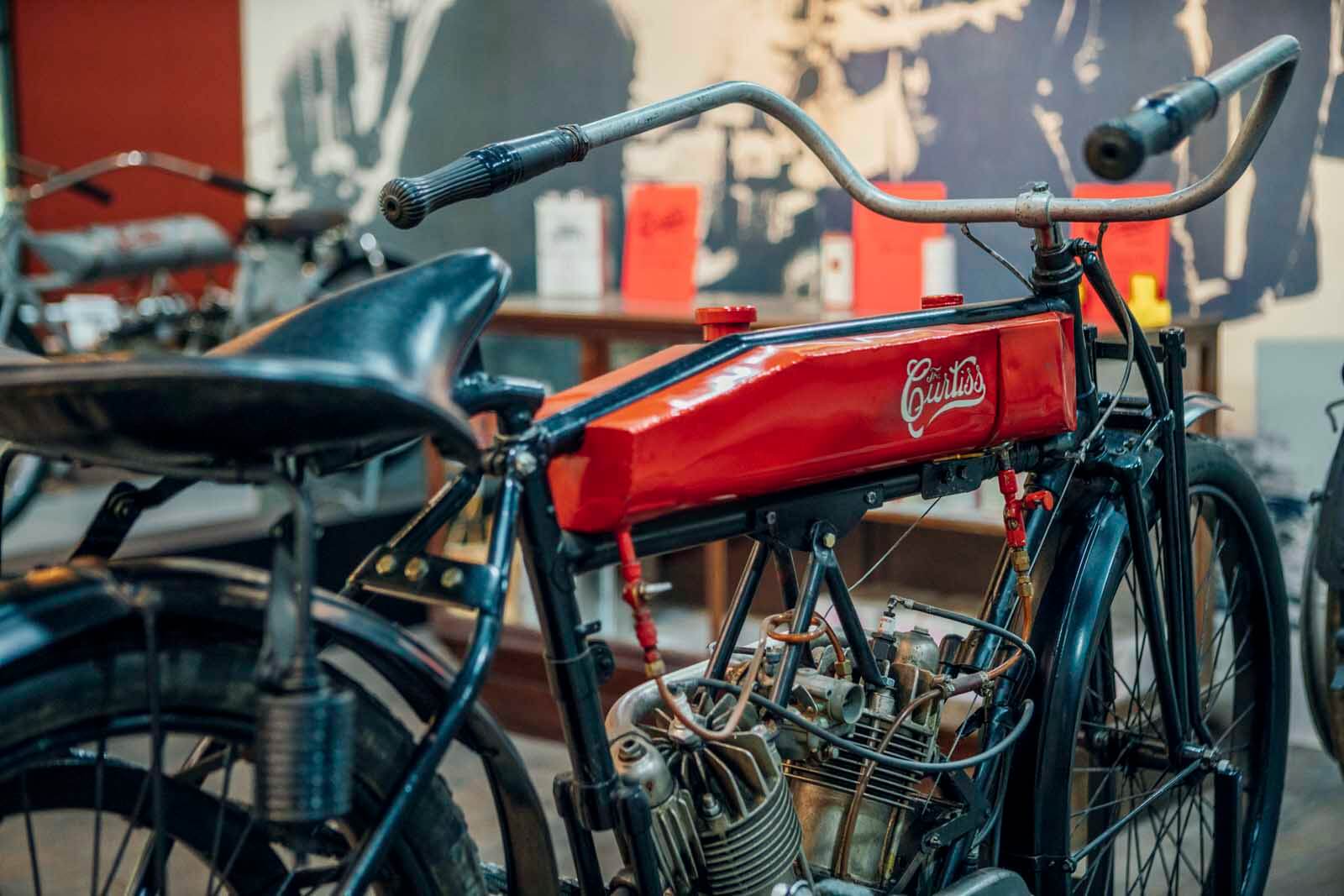 If you're a history buff you're going to love how many things to do in the Finger Lakes are tied to some of the most significant points of history in the United States.
We've already touched on the history of aviation and motorsports with Glenn H. Curtiss, a pioneer in aviation and motorsports as well as at one point being the fastest man alive whose museum you can visit in Hammondsport.
There's also history tied to wine and the state of New York. Pleasant Valley Wine Company is the oldest winery in the region that was also operating during the prohibition thanks for the need for sacramental wine to Dr. Konstantin Frank who successfully was able to bring the vinifera grape variety changing the course of winemaking in the Northeast US and is to thanks for its success.
You also have connections of Samuel Clemmens, aka Mark Twain, who frequented Elmira in the summers and is believed to have written some of his literary classics in the region. You can visit Mark Twain's Study at Elmira College.
You also have the birthplace of the Women's Suffrage Movement in Seneca Falls which also has The Women's Rights National Historical Park and historic sites around the town.
In Auburn, you can visit Harriet Tubman's Home, the Harriet Tubman National Historic Park, and significant sites marking the route and history along the Underground Railroad. To tour this historic site you'll need to book in advance.
Places to Eat in the Finger Lakes
One of the best things to do in the Finger Lakes is the culinary scene, which I've mentioned throughout the article a few times but it's worth noting a few of our favorite places to eat in the Finger Lakes as the list continues to grow with each visit.
With tons of family and independent farms in the region, there's great access to farm-fresh ingredients and that's what makes farm-to-table more than a trend in the Finger Lakes, it's a part of the lifestyle. There are too many good places to eat actually, but we will do our best to mention a few of our favorites.
In Corning, you don't want to miss Quincy Exchange or Hand + Foot. Quincy Exchange has not only a gorgeous interior aesthetic but they offer an elevated dining experience whether you're coming for weekend brunch or a fine sit-down dinner. Dare I say they have some of the best sides of potatoes I've ever tried?
Hand + Foot is one of our favorite hang-out spots for great dinner. Their menu is always changing but they have a few staples. You have to try their Korean rice cakes, we love their version of them paired with a quality craft beer on draft.
In Penn Yan, be sure to enjoy a delicious Italian dinner at Union Block. Just keep in mind their servings are HUGE. Order the half size if you're getting an entree unless you're splitting.
Near Penn Yan at Kemmeter Wines is a take-out dumpling stand. I never imagined we'd find legit dumplings here. San San Dumplings has incredible fried dumplings and Bao made fresh to order. This is a true hidden gem and one of our favorites finds thanks to our pals who live in the region.
If you have a sweet tooth don't miss Spotted Duck Creamery near Penn Yan. This duck farm makes insanely delicious custards from their duck eggs. Be sure to get a tasting flight of all the flavors you want to try.
Further, towards Seneca Lake in Dundee, you can find FLX Wienery which offers designer hot dogs paired with a craft beer selection.
Also in Dundee is Verasions at Glenora Wine Cellars. This farm-to-table restaurant is an excellent choice for an elevated dinner experience, a bonus if you come in the summer and sit on their deck at sunset.
In Owego, our favorite stops are Las Chicas Taqueria for their fresh-made tortillas and tacos and the Owego Kitchen is a great stop for breakfast or lunch.
In Hammondsport, you can also stop at Union Block for Italian food or Timber Stone Grill is a great choice for American fare like burgers.
In Naples, check out Roots Cafe at Inspire Moore Winery for elevated American fare at this rustic and charming restaurant. Be sure to pick up a grape pie from the Grape Pie Capital of the World at Monica's Pies after.
And of course, you can't mention the culinary scene in the region without mentioning Ithaca. Ithaca Bakery is a legendary lunch stop, they have an incredible deli sandwich section as well as other great lunch entree items and a full-on bakery.
Moosewood is another great stop in Ithaca and one of the best things to do in the Finger Lakes if you're on a plant-based diet! This vegetarian and vegan restaurant is so popular they have their own cookbooks, we are by no means on a plant-based diet but their flavors and dishes don't make us miss meat at all.
Farm Visits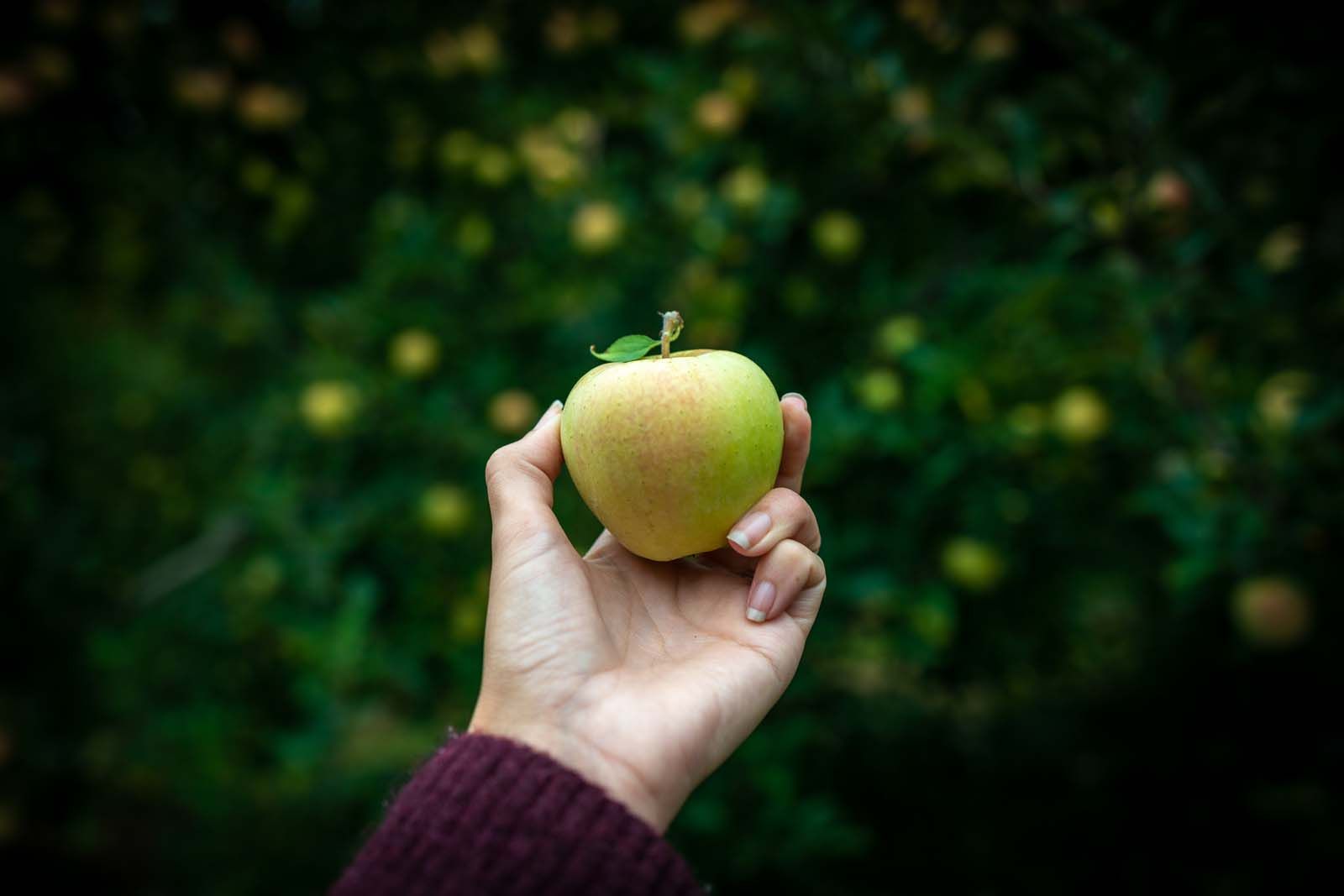 I grew up on a farm, so naturally visiting the farms of the region is going to be top on my list of favorite things to do in the Finger Lakes.
No matter what season you're visiting there is something to see at the farms of the region from apple picking and pumpkin picking in the fall, fresh fruit and veggies in the summer, wildflower farms, lavender farms, horseback riding, and getting freshly made dairy products like cheese straight from the source.
There are too many farms to list but a few of our favorites include Lively Run Goat Dairy in Interlaken for their goat cheese (we are lucky that we can find their products in the city too!).
Grisamore Farms near Ithaca is not only a great farm store with seasonal activities but they also do cider production and you can try their cider when you visit!
Apple picking is awesome at Apple Barrel Orchards in Penn Yan and Reisinger's Apple Country in Watkins Glen.
The different roadside farm stands you drive past also offer great local products like honey and produce of the season. Some of our favorites, especially in the fall when there are pumpkins is Thyme Stands Still in Burdett, Indian Creek Farm in Ithaca who also has AMAZING apple cider donuts made fresh, Joesph's Wayside Market in Naples, and Indian Pines Farm Market in Penn Yan.
Keep in mind that some of these stops are seasonal, it's best to look up their hours before your visit!
Waterfalls in the Finger Lakes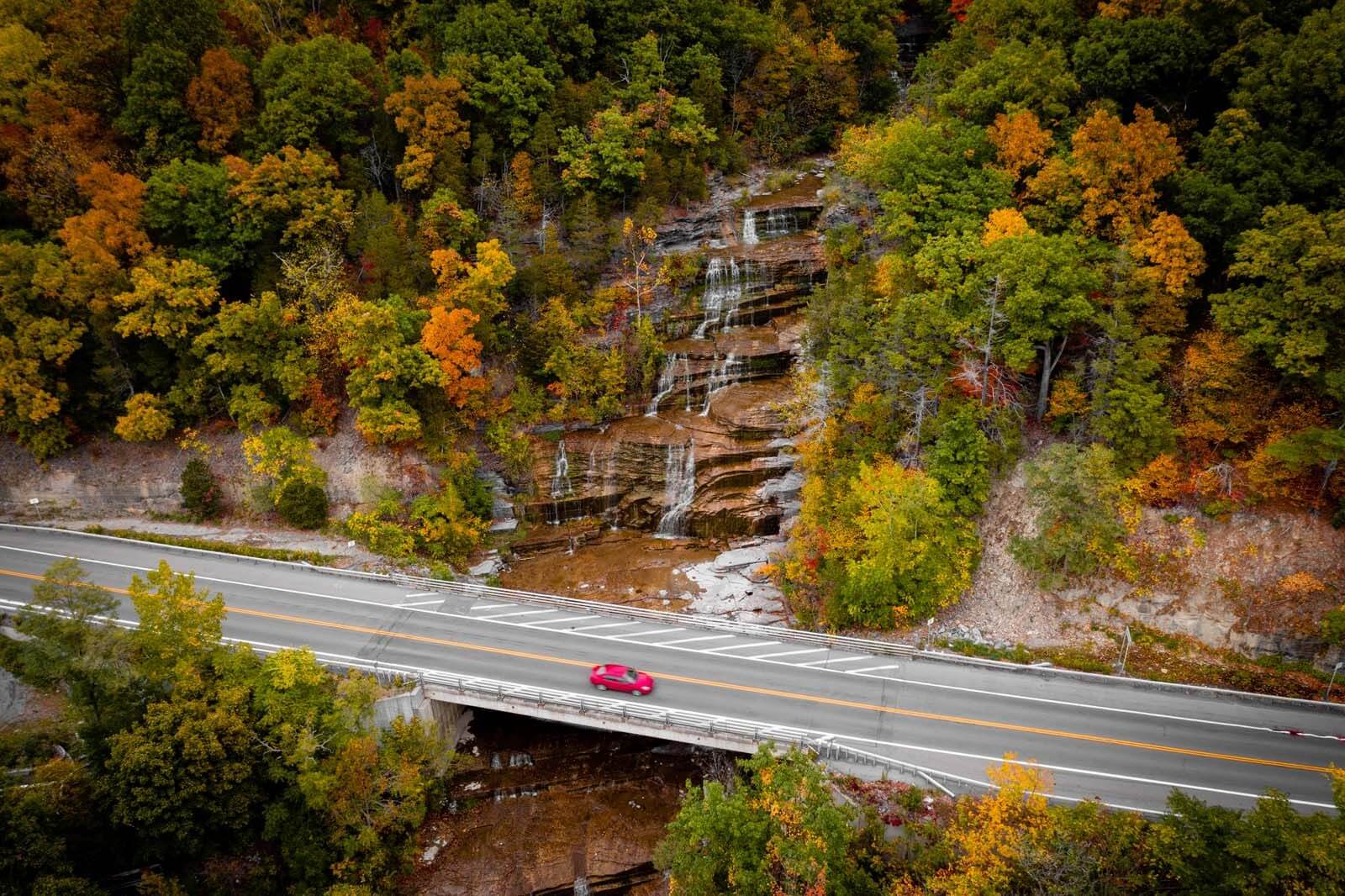 As we already mentioned, one of the best things to do in the Finger Lakes is to chase those waterfalls. The region is riddled with waterfalls from Ithaca boasting 150 waterfalls in a 10-mile radius, gorges full of waterfalls after waterfall-like at Watkins Glen State Park or all the state parks in Ithaca, and Letchworth State Park.
Even if you visit Rochester there's a HUGE waterfall in the middle of the city.
Better yet, there are even house rentals and places to stay next to waterfalls because of the geological formation of this region, there are literal gorges and glens EVERYWHERE. Our friends purchased a home up in the Finger Lakes and have their own private waterfall, and believe it or not, this is something so common this wasn't even a selling point of their property.
There are so many waterfalls it's hard to know where to start. That's why we made a guide to the best waterfalls in the Finger Lakes. If we had to pick a few that we already didn't mention (like the waterfalls found at Letchworth State Park, Watkins Glen State Park, Robert H. Treman State Park, Buttermilk Falls State Park, downtown Ithaca, etc.) here are a few that are really easy to visit.
Montour Falls, just outside of Watkins Glen (literally less than a 5-minute drive) has easy-to-see waterfalls from your car! The village even has She-Qua-Ga Falls which overlooks the town and is even featured in a sketch in the Louvre.
You also have Aunt Sarah Falls, a roadside waterfall, Eagle Cliff Falls, and Deckertown Falls which are both short and easy walk. Or if you drive on Route 414 from Watkins Glen going northeast you'll drive past my favorite, Hector Falls.
From Penn Yan, you can also walk along the Keuka Outlet Trail that runs along the small tributary that connects Keuka Lake to Seneca Lake in Dresden which have waterfalls along the way on this quiet, wooded trail.
There are so many waterfalls that you really can't see them all on one visit, which is why this is one of our favorite things to do in the Finger Lakes visit after visit. There's always something to discover.
Lake Activities in the Finger Lakes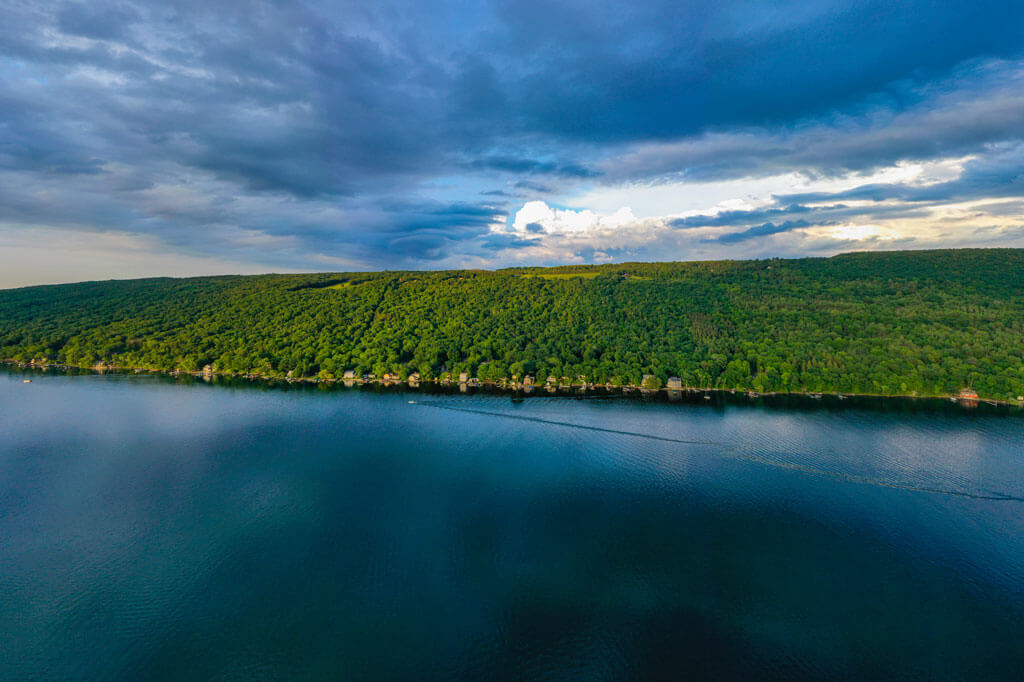 It would be foolish not to mention all of the best things to do in the Finger Lakes and not mention the LAKES! This is a prime summer activity as we are not ones to brave lake activities in the winter.
Whether you want to lazy around on a boat all day, enjoy a romantic sunset cruise with wine, kayak, stand-up paddleboard, or lounge around by the shoreline there is no shortage of lake activities to enjoy in the region.
We've spent most of our time around Seneca, Cayuga, and Keuka Lakes. If I had to pick, Keuka Lake is our favorite because of the color of the water and we just really like that Y shape. 
At Keuka Lake, you can rent a pontoon boat for the day or week from Keuka Watersports. If you're more into paddling, check out Keuka Kayak for kayak rentals.
Keuka Lake State Park is a great place to picnic and lounge lakeside whether you want to picnic or enjoy some hikes. On the opposite end of the lake in Hammondsport, you can get gorgeous waterfront views and enjoy a picnic at Depot Park.
One of the best Seneca Lake activities is taking the True Love Schooner for a romantic sunset sail with wine. Or if the whole family (and dog) is with you check out Captain Bill's lake tours by boat.
Paddle-N-More in Ithaca also offers kayak rentals to paddle around Cayuga Lake.
Sandy Bottom Park in Honeoye has lovely trails with waterfront views. If you're looking for more parks along the lakes you can also check out Consensus Lake Marine Park and Hemlock Lake Park further west in the Finger Lakes region.
Amazing Places to Visit in the Finger Lakes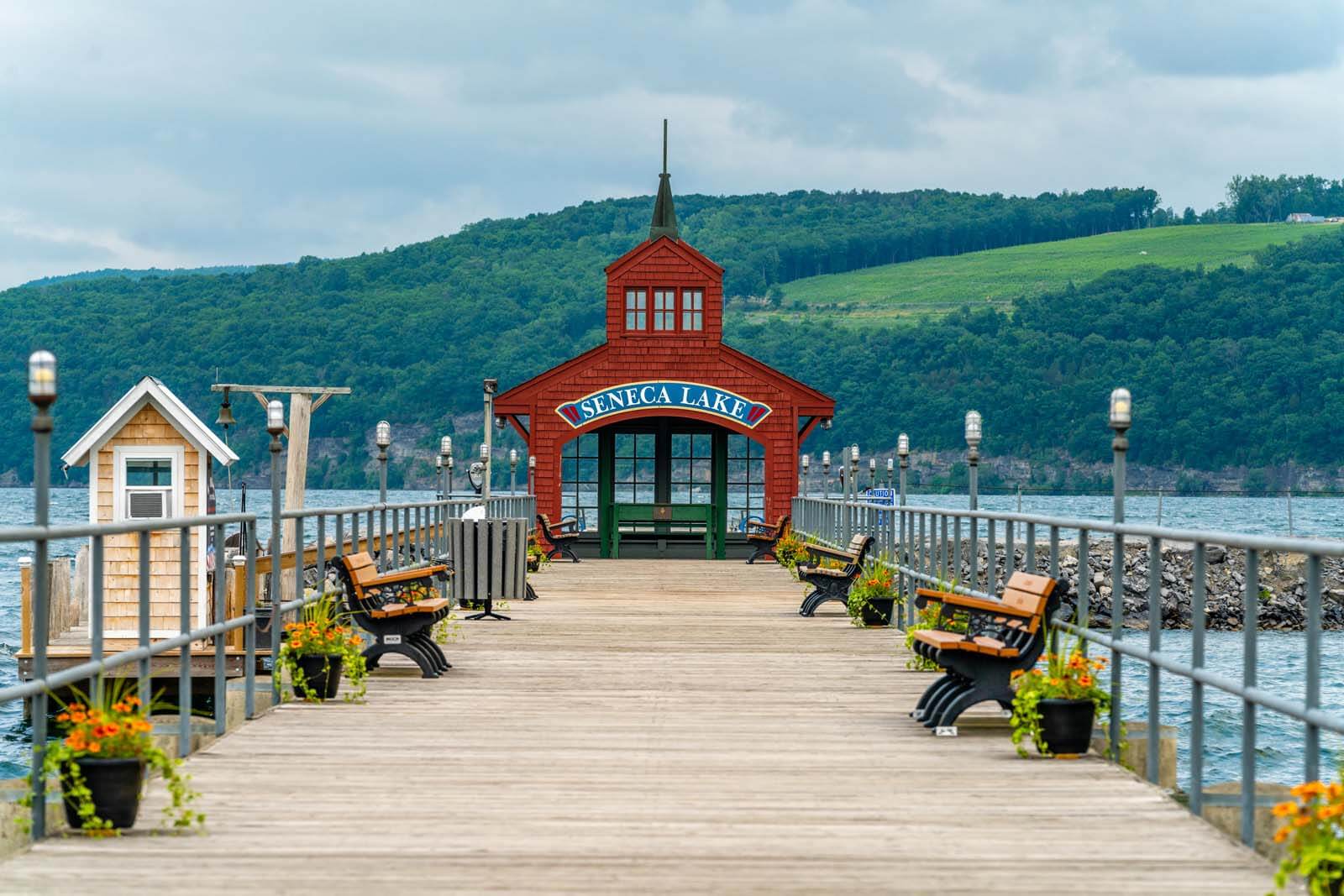 Instead of listing each and every possible thing to do in the Finger Lakes on their own, we are going to include all the amazing things to do, see, and places to visit in the Finger Lakes by area/town. Which after several trips here, is the best way to explore the region as it's spread out and huge.
So instead of planning a random scatter of places to visit in the Finger Lakes, we recommend focusing on planning your trip to the Finger Lakes around areas to explore.
Ithaca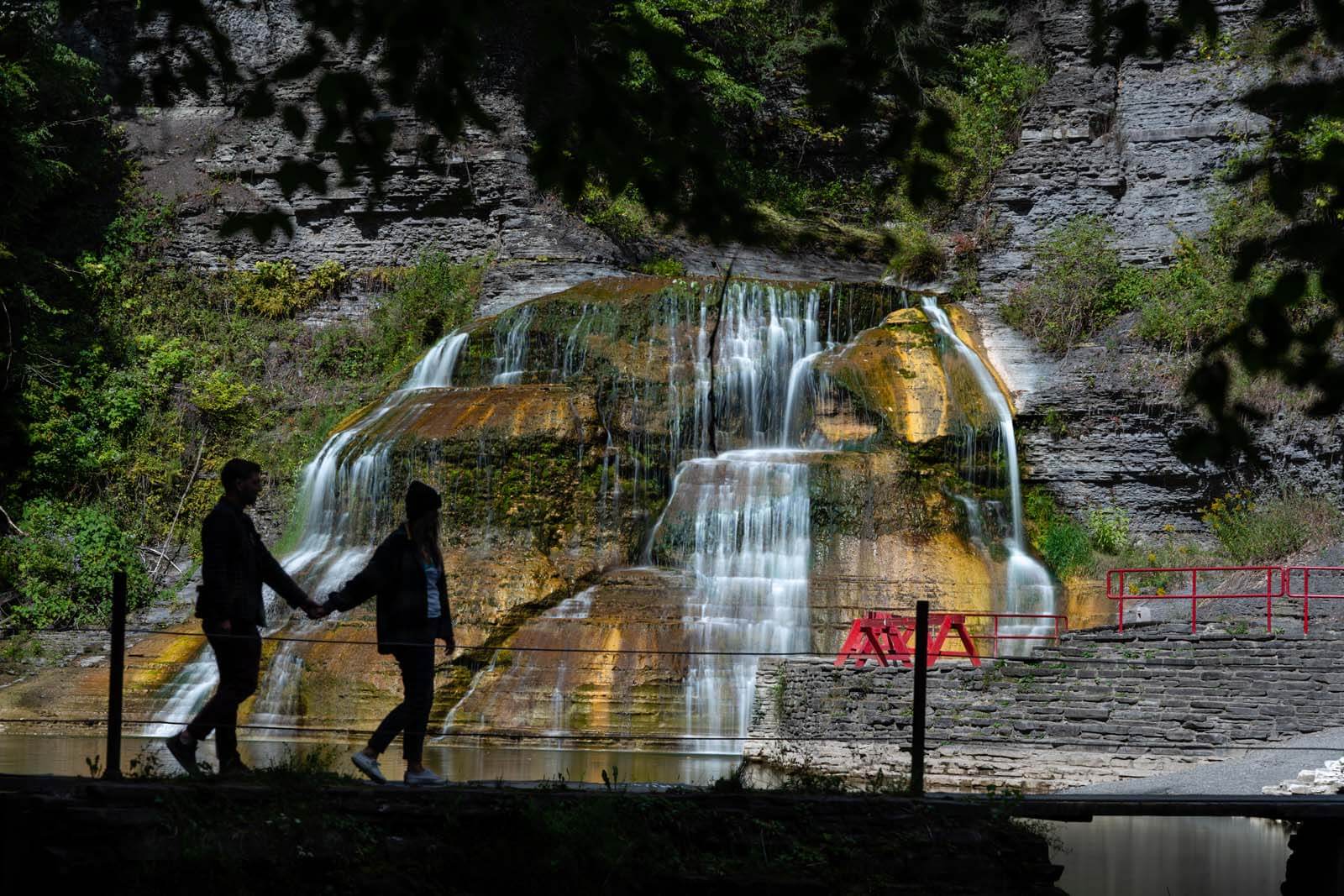 Find out why the slogan for Ithaca is Ithaca is gorges. With over 150 waterfalls within a 10-mile distance of downtown including Ithaca Falls in the heart of downtown and the impressive Taughannock Falls at Taughannock Falls State Park, which is technically 33 feet taller than Niagara Falls, you can easily see why this place is gorges, or gorgeous!
Beyond Taughannock Falls State Park you'll also find several waterfalls along the waterfall trails at Buttermilk Falls State Park, Robert H. Treman State Park, and even in downtown Ithaca and along the campus here! See our guide to all the amazing Ithaca waterfalls and how to find them before heading that way, we give tips for visiting all of these amazing spots!
We love the clever and true slogan. Located on Cayuga Lake you can easily see why so many think this is one of the best things to do in the Finger Lakes region. Speaking of Cayuga Lake, you can enjoy lake activities here as well. If you're looking for scenic spot for a picnic or lakeside walk, check out Stewart Park.
Don't miss one of the best farmers markets in the state at Ithaca's Farmers Market! Loaded with vendors selling fresh produce and a great place to sample some incredible flavors of the region. You can pick up breakfast or lunch at several different food vendors and pick a scenic spot along the water to enjoy your meal. This is one of the best things to do in the Finger Lakes in the summer/fall time!
Besides amazing waterfalls and gorges, you can also visit the campus of Ivy League school, Cornell University while you're at it as well as all the other amazing things to do in Ithaca, NY. And as mentioned before, don't miss Ithaca Brewery here!
Watkins Glen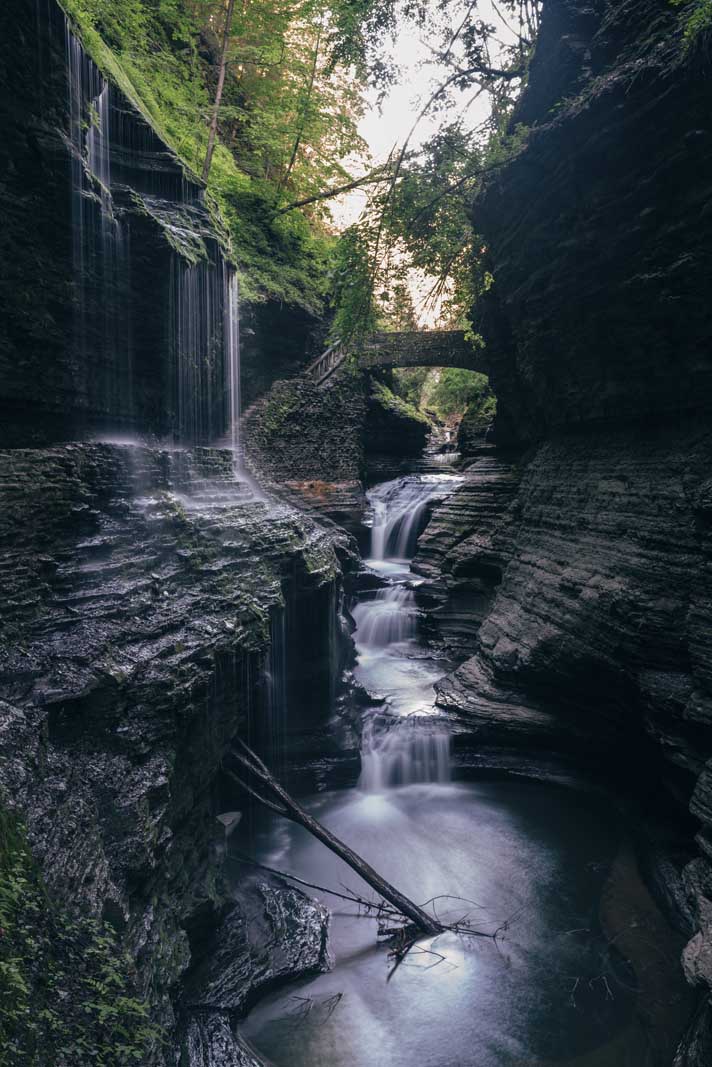 Another one of the best things to do in the Finger Lakes is visit Watkins Glen. This is a great place to base for your Finger Lakes vacation or road trip too as it's located at the base of Seneca Lake and there's so much to do and see here.
Watkins Glen has an adorable main street filled with places to dine and the scenic Seneca Harbor just footsteps away including the beautiful Seneca Lake Pier where you can get the iconic shot of that beautiful little red building at the end of the pier overlooking the lake.
Spend a morning walking through Watkins Glen State Park gorge trail where you can witness one magical waterfall after another, one of the best place for viewing waterfalls in the Finger Lakes. The path takes you through 19 gorgeous cascading waterfalls that look straight out of Fern Gully, who knows what we are talking about here?
The two-mile path doesn't take long to complete and is suitable for all ages. You seriously feel swept away in a fairy tale walking through the gorge under waterfalls, over bridges, and through the magical path.
This was one of our most favorite Finger Lakes attractions to explore and highly urge everyone to see this popular spot for themselves. Try to get there first thing in the morning to avoid the surge of midday tourists who all also want to enjoy the magic of this place.
Enjoy an unforgettable sunset from Watkins Glen at the Seneca Harbor aboard the schooner, "True Love." This beautiful schooner not only is a great way to enjoy Seneca Lake but also has a cool backstory. The schooner was used in a 1940 Hollywood Classic Film starring Cary Grant and Katherine Hepburn in, "A Philadelphia Story." We've never seen the film ourselves but found this incredibly interesting!
Sit back and enjoy the two-hour sail while the crew passes out local wine and hand-picked berries and locally sourced cheeses until sunset which is accompanied by music. This is a great thing to do in the Finger Lakes for couples but also for a group of friends.
And for fans of Nascar, Watkins Glen is home to "The Glen," aka the Watkins Glen International racetrack! This spot also is where you can also attend the Finger Lakes Wine Festival that's held every June too – which is a really fun time and a great way to taste the wines of the region all at one location.
While you're here, drive just a few minutes down the road to the village of Montour Falls where you can spot a few roadside waterfalls including the breathtaking She-Qua-Ga Falls and Aunt Sarah Falls.
From Watkins Glen driving 6 minutes north on 414, you can spot another incredible roadside attraction at waterfall at Hector Falls! Don't miss our guide on best things to do in Watkins Glen for more details and suggestions!
Letchworth State Park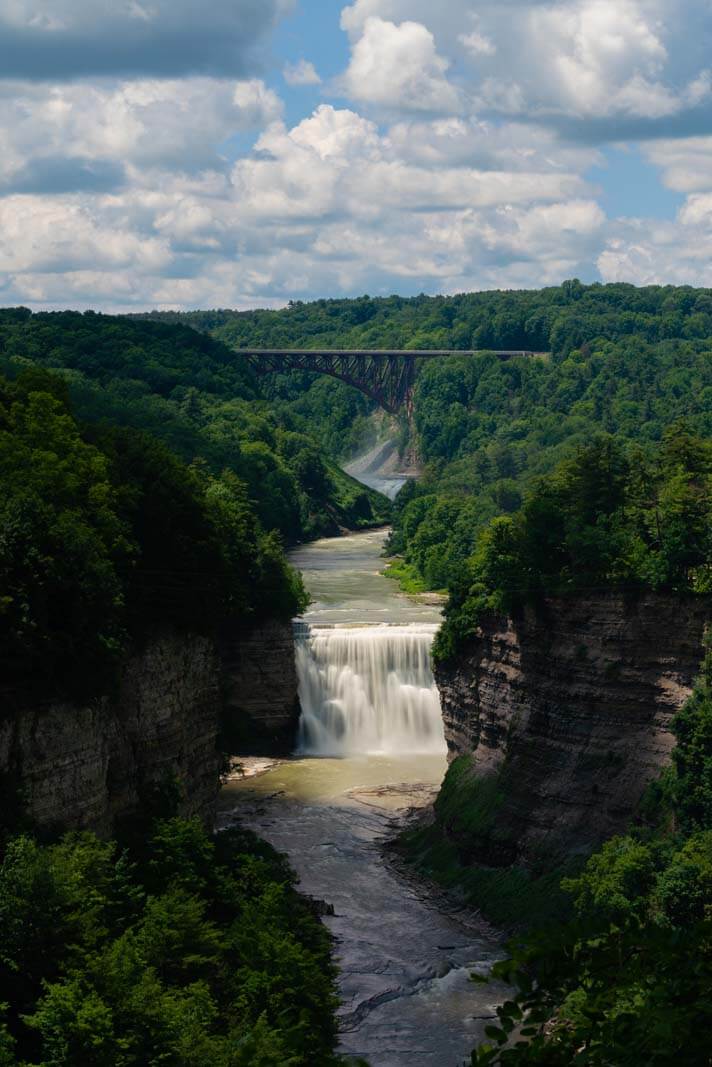 Another one of the best things to do in the Finger Lakes is visiting Letchworth State Park, home to some impressive New York waterfalls. Dubbed as the "Grand Canyon of the East," you could easily spend an entire vacation just enjoying the splendor of the area and renting a cabin for the week. With three large and impressive falls to see accompanied by as many as 50 more smaller waterfalls that flow through the Genesee River as well.
Spend your days picnicking, hiking on the 66 miles of trails, swimming, whitewater rafting, fishing, or kayaking within the park. There are endless outdoor activities to enjoy with gorgeous scenery.
If you're short on time, you can easily park near Inspiration Point and view the majestic waterfalls here. And for those looking for a bucketlist worthy adventure, consider booking a hot air balloon ride over the falls!
Corning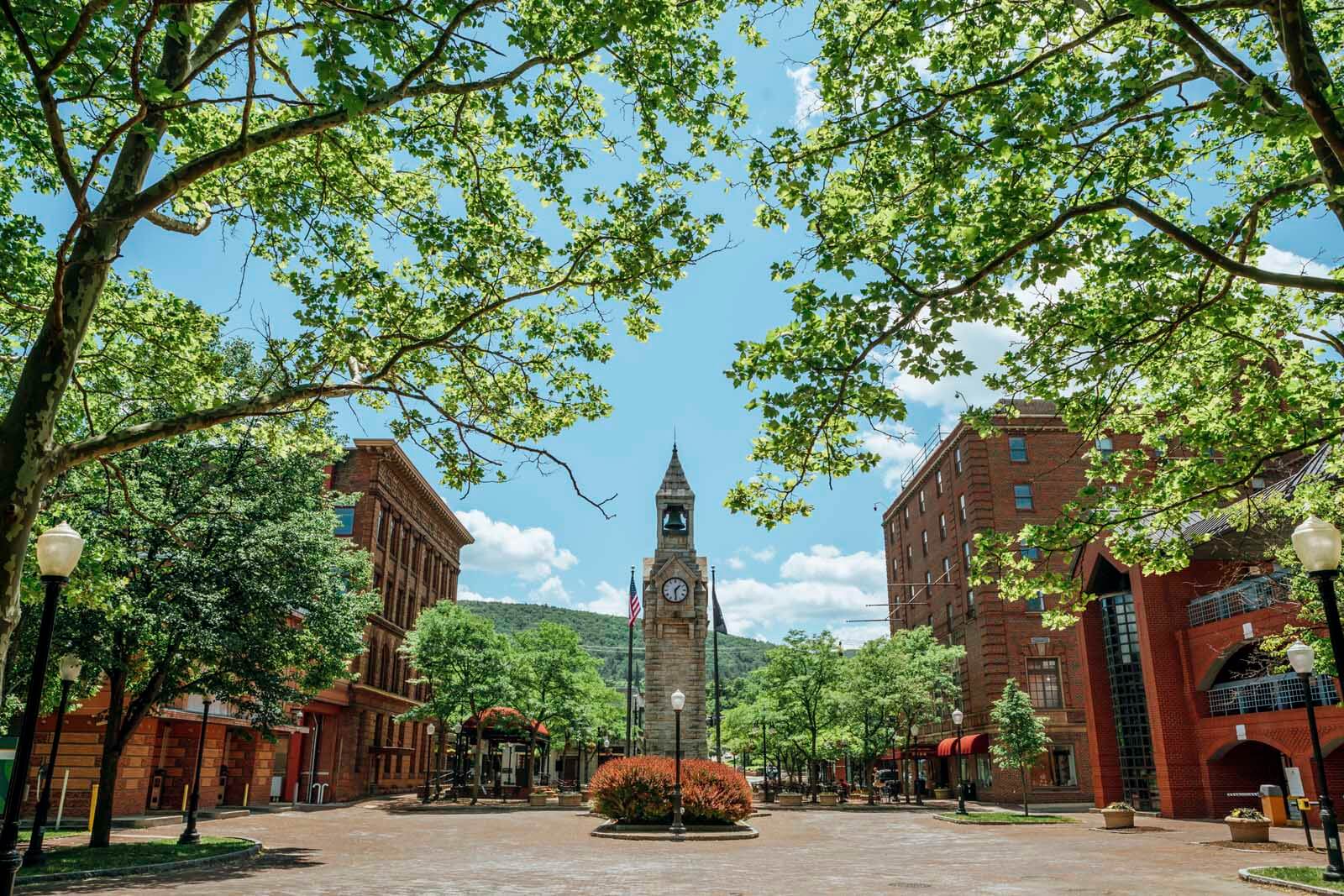 Another one of the best small towns and best things to do in the Finger Lakes is visit Corning. We frequently use this as another one of our base points during our trips to the region as it's not only a great location for exploring around but downtown Corning along Market Street has a ton to offer from shops to dining and great places to grab a drink!
You'll want to stroll down Market Street when you're hungry for any meal of the day there's something great. One of our all time favorite meals was at Hand & Foot and is definitely worth a visit even if you are not staying in Corning during your trip to the region.
The Quincy Exchange is another stellar choice whether you're looking for a great weekend brunch spot or an upscale dinner option. We recommend securing reservations though!
Poppleton's Bakery is a great breakfast spot and Market Street Brewing Co is an awesome lunch choice with great craft beers on draft.
Don't miss out on all the great shops and boutiques in downtown Corning either. We really enjoy the feminist bookstore at Card Carrying Books & Gifts and there's a cool vinyl shop called CD Cafe that's worth checking out among the other cool independent shops dotted along Market Street.
A trip to Corning isn't complete without visiting the Corning Museum of Glass where you can easily spend an entire afternoon getting lost in the world of glass through glass blowing demonstrations, hands-on glass blowing experiences, galleries of mind-blowing glass art sculptures, interactive optical illusion glass exhibits, and the world's largest collection of glass dating thousands of years back. (Fun Fact: Scott even had one of his photos on display at the museum in the fall of 2021 here!!)
Also, be sure to check out the Rockwell Museum housing a beautiful collection of American Art. The museum is a Smithsonian affiliate and has a beautiful terrace overlooking the town of Corning.
Hammondsport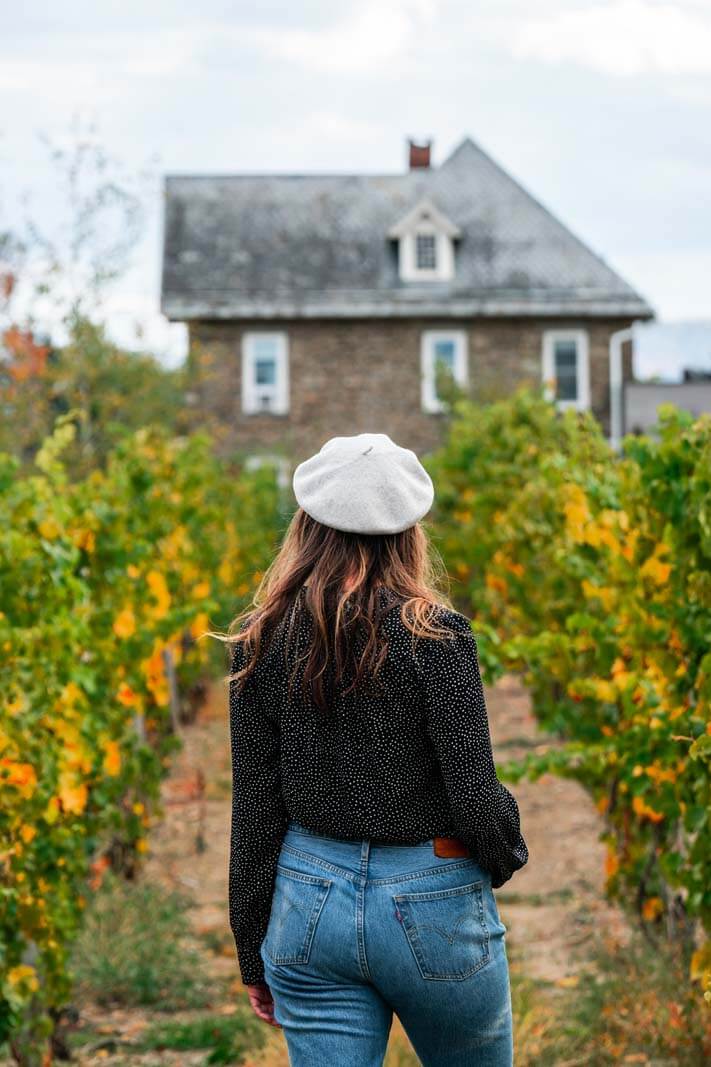 A stop in Hammondsport is another great thing to do in the Finger Lakes NY. This small town USA is located on Keuka Lake and is home to the Finger Lakes Boating Museum, Glenn H. Curtiss Museum, and near tons of wineries including Dr. Konstantin Frank mentioned earlier as another pick for best things to do in Finger Lakes NY.
Exploring downtown Hammondsport is incredibly charming with shops and eateries to check out right along Keuka Lake. Visiting the adorable downtown is a Finger Lakes activity of its own where you can find quaint shops, 19th-century storefronts, and a pretty gazebo.
Make your way down to Depot Park and park yourself on one of the waterfront benches overlooking Keuka Lake. You can also rent a pontoon boat for the day down here from Keuka Watersports, which is one of the best things to do in the Finger Lakes in the summer! Be sure to book ahead though. They also offer kayak and stand-up paddleboard rentals too.
And while there are a few cool museums in the area, we recommend prioritizing and stopping at the Glenn H. Curtiss Museum where you can learn about a trailblazer in aviation and motorcyles of the late 19th and early 20th century.
Curtiss was a transportation mogul known for his work in the aircraft and aviation industry as well as a motorcycling pioneer. He fought it out with the Wright Brothers for years disputing over patents. You can learn more about his intriguing history and see the amazing collection of his airplanes and motorcycles in this wonderfully curated museum and Finger Lakes attraction.
And while you're near Hammondsport, check out Mud Creek Bison Ranch which has a self-drive bison safari! They have an educational and cultural narration that you can tune into on your radio in your car about this fascinating creature and it's a significant connection to Native American culture.
Elmira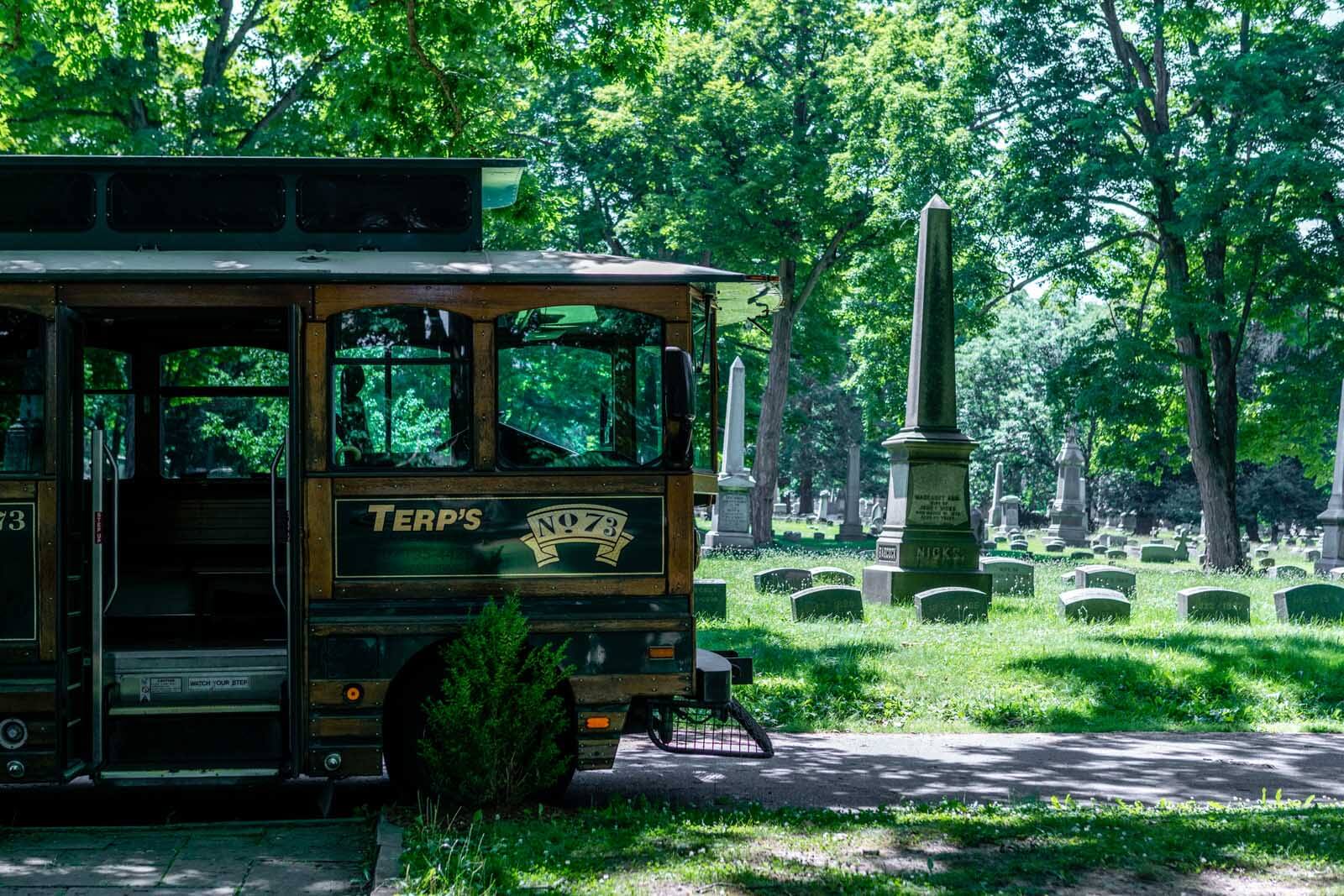 Another amazing stop and one of our picks for best things to do in Finger Lakes NY is taking a historical stop in the town of Elmira. Not located on any of the actual Finger Lakes but is a cultural beauty in the region, Elmira is easily overlooked by tourists but shouldn't be.
Elmira was the summer home for famous American writer, Mark Twain for over 20 years. He wasn't born in the area, but his wife was from Elmira, and after they married they spent alot of time here. Twain professed his love of the area which inspired much of his work including The Adventures of Tom Sawyer and The Adventures of Huckleberry Finn which were written in his study that you can visit today.
Visit Mark Twain's Study at Elmira College, his burial spot in Woodlawn Cemetery, and more beautiful historical homes in Elmira on the Mark Twain trolley departing from the Chemung Valley History Museum.
Besides geeking out on American Literature you can also check out the fabulous wine selection and great craft brews on draft at the Finger Lakes House. This is a great stop to taste and sample some of the areas best wines and brews.
There are also some other great Finger Lakes activities surrounding Elmira including paddling down the Chemung River with Southern Tier Kayaking Tours. This is what to do in the Finger Lakes in the warmer months, a knowledgeable guide will take you on a historical canoe that was used by fur tradesmen on the lakes. As you paddle along you will learn about the local ecology and enjoy pretty views of the surrounding area from the water.
We also recommend checking out Tanglewood Nature Center for some lovely walking trails. Before or after you're walking you can check out their rescued birds on-site and their educational museum. This is what to do in Finger Lakes if you're traveling with kids or you just want to enjoy a pretty, scenic walking trail.
And one of the best things to do in the Finger Lakes is to see the region from above!! Check out Soaring on Harris Hill where you can hop aboard a motorless glider plane with a pilot and witness the Chemung Valley at a bird's eye view.
A tow plane will guide you up to the sky until you get to 4,000 feet before your glide plane is released. Don't worry, you have an experienced pilot with you. The glider planes seat two people, a real pilot, and one passenger. So if you intend on going with a group you will want to plan on waiting and taking turns. Keep in mind, this activity is weather dependent.
Not all is lost if weather interrupts your plans as there is also the National Soaring Museum next door showcasing the world's largest collection of motorless sailplanes dating all the way back to 1890 and have other cool aviation artifacts like cloth from the wing from the Wright Brothers Kittyhawk plane.
If you have kiddos in tow then down the hill there's a playground and park as well!
Owego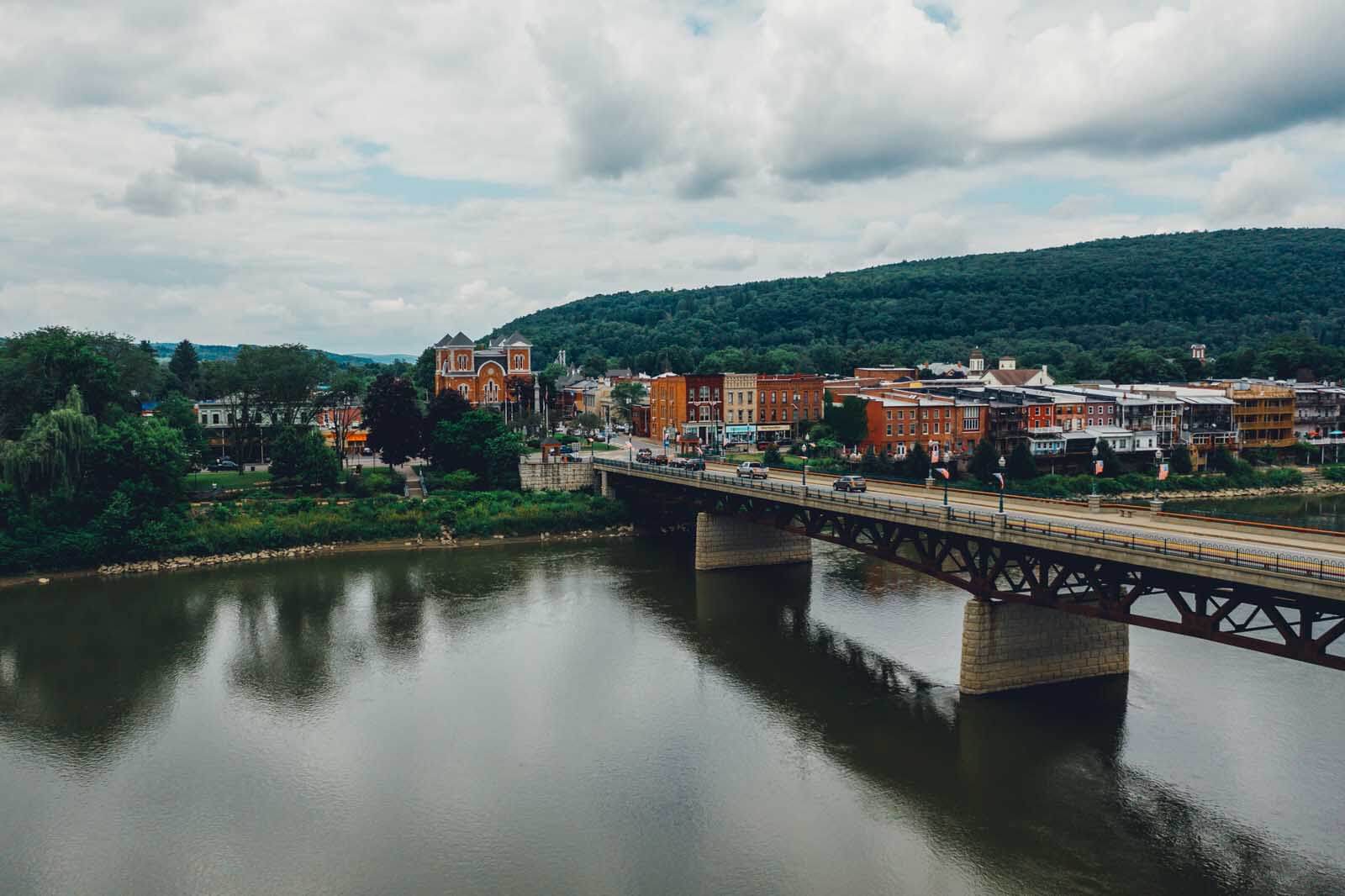 One of the most underrated things to do in the Finger Lakes is explore the historical and charming town of Owego, New York. Titled as one of America's coolest small towns and full of charm we recommend spending an afternoon and night here to see why so many who visit fall in love.
This is definitely one of the most overlooked Finger Lakes activities since its not located on one of the lakes, but don't let that fool you, this is actually one of our favorite places to go in the region!
Be sure to walk down Front Street where you'll find plenty of adorable boutiques and independently owned shops as well as some delicious eateries. We really loved eating at the Owego Kitchen, Las Chicas Taqueria, and The Cellar Restaurant and Bar on the River.
We loved how uniquely charming this town is from the scenic bridge over the river leading to the town hall to the great antique shops and an amazing book store. Take time to shop through all the small family-run shops and businesses here for a welcoming experience you just don't get at your local Target.
Another highlight and reason why we recommend spending the night in Owego is their beautiful historic homes and buildings turned into Inns and B&Bs.
Our favorite was the Belva Lockwood Inn, run by a local couple who restored a gorgeous home from 1872 into a 5 room quaint Inn that's more than just a hotel bed for the night, it's an entire experience. So much care is taken into your stay with each uniquely designed and restored room to the morning picnic basket breakfast delivered to your door.
Also, don't miss out on the history lesson about Ms. Belva Lockwood herself, a former Owego resident who started fighting for equal rights at the age of 14 in the 1800s before women could even vote. She was also the first female to run for president, not once but twice in 1884 and 1888. Her history is truly fascinating and the owners are more than happy to share her history and help make more people aware of this incredible woman forgotten in history.
If you're itching for a waterfall head just outside of town to Waverly Glen where you can see a beautiful waterfall and hike around the water reservoir at Two Rivers State Park Recreation Area.
Naples & Grimes Glen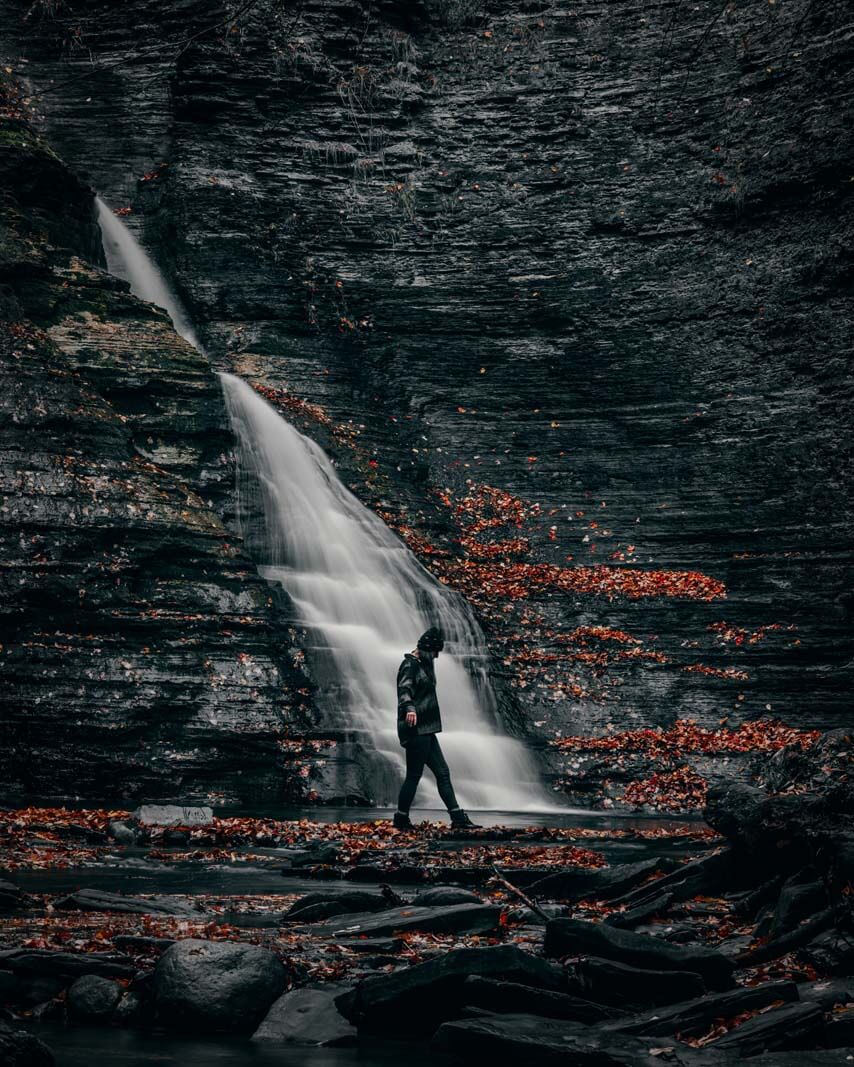 Another amazing thing to do in the Finger Lakes region is continue checking out all the adorable small towns including Naples, New York! Located between Honeoye and Canandaigua Lakes, this town is a treasure and worth stopping by!
Known as the grape pie capital of the world, when you're here you have to at least try a slice of the local specialty and if not, bring a pie back home with you!
Set off through Grimes Glen Park, one of the hidden gems of the region and underrated waterfall hikes around. You will want to bring some waterproof shoes as you will be hiking through a creekbed, but don't let that scare you away the waterfalls here are really beautiful and serene!
We also recommend exploring around Honeoye Lake as well where you can find more hikes, breweries, antique shops, and more gorgeous scenery of the pristine lakes and rolling farmland and forests. Take a walk around the picturesque Sandy Bottom Park and when you've built up an appetite head to Mill Creek Cafe for a great bite to eat.
Penn Yan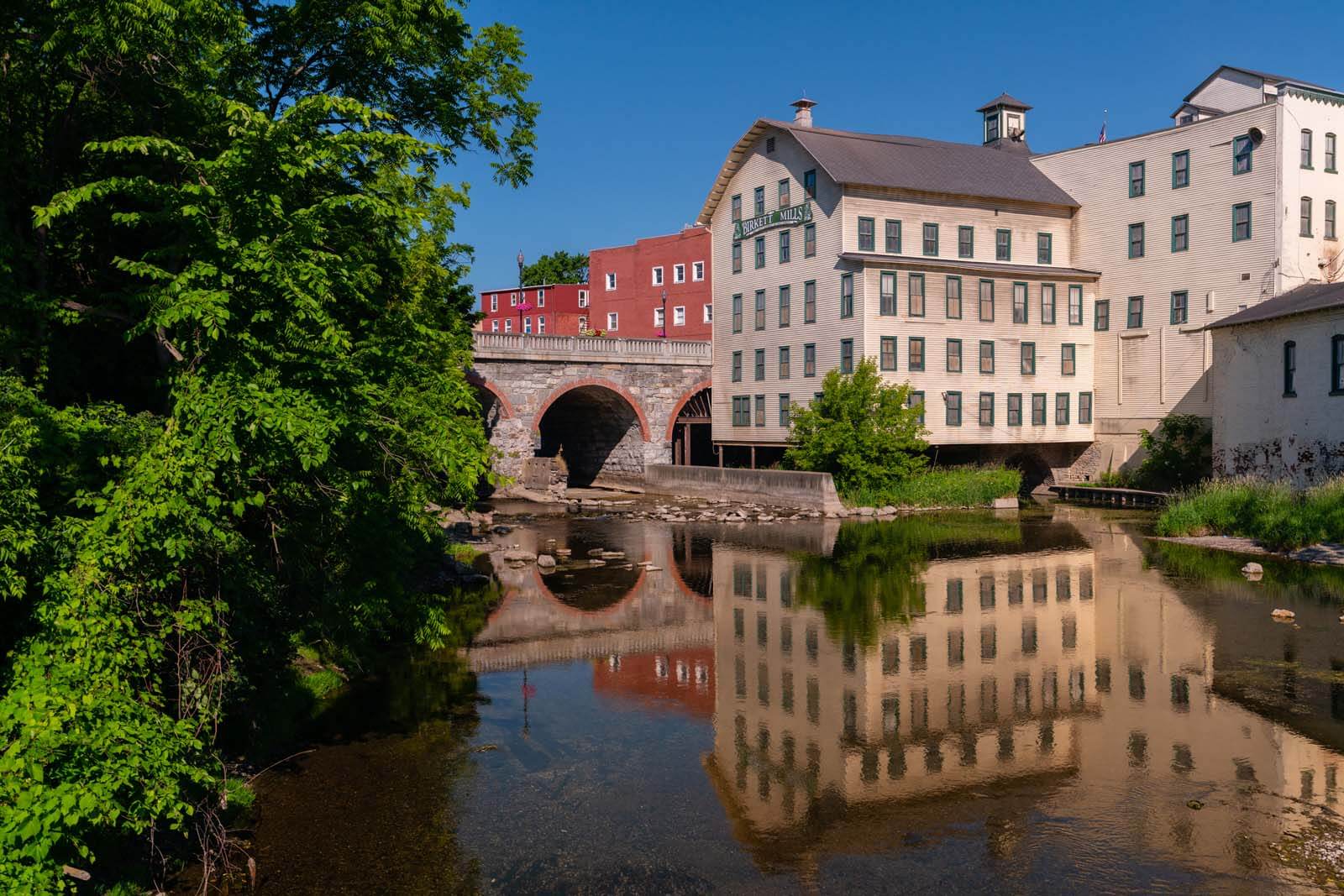 Another one of the best places to visit in the Finger Lakes if you like charming towns is Penn Yan, located at the north end of the east branch of Keuka Lake.
Make your way down the charming Main Street where you can find a gorgeous row of 19th-century storefronts filled with small town restaurants, shops, and one of our favorite places for a cup of coffee in the area, Amity Coffee Co. Be sure to also stop and take a look at the world's largest pancake griddle at Birkett Mills while you're here!
One of the coolest old-school diners we've ever been to is right downtown too at Penn Yan Diner or if you're here around dinner time check out Union Block, a great Italian restaurant with extra-large servings!
For a quiet, scenic walk check out one of the best under-the-radar spots you won't find other tourists at. The Keuka Outlet Trail which runs along the outlet that connects both Seneca and Keuka Lakes on a quiet, 7-mile trail passing gorgeous waterfalls along the way. You can easily do a small section of the trail or bring a bike, jog, or walk the entire length. (to do a shortcut, drive to Seneca Mills Falls, park and walk to the waterfall)
Seneca Falls & Auburn
A guide to the best things to do in the Finger Lakes wouldn't be complete without mentioning one of the most culturally and historically significant towns of the country! The town of Seneca Falls is the birthplace of Women's Rights in the United States.
One of the best places to learn about the town's history is The Women's Rights National Historical Park which has 6 acres of land and historic tours. The museum tells the story of the first women's rights convention that was held in Seneca Falls and also gives you different landmarks throughout the area where you can stop and appreciate the pioneering figures behind the women's suffrage movement.
If you're a lover of classic films you may also feel a familiarity while you're in this New York town. Seneca Falls is said to be the inspiration for Bedford Falls in It's a Wonderful Life by Frank Capra and there's even the It's a Wonderful Life Bridge in town as well as other landmarks and a museum to visit!
And while you're here, drive around 20 minutes to Auburn where you can visit Harriet Tubman's Home and Historical Park.
Where to Stay in the Finger Lakes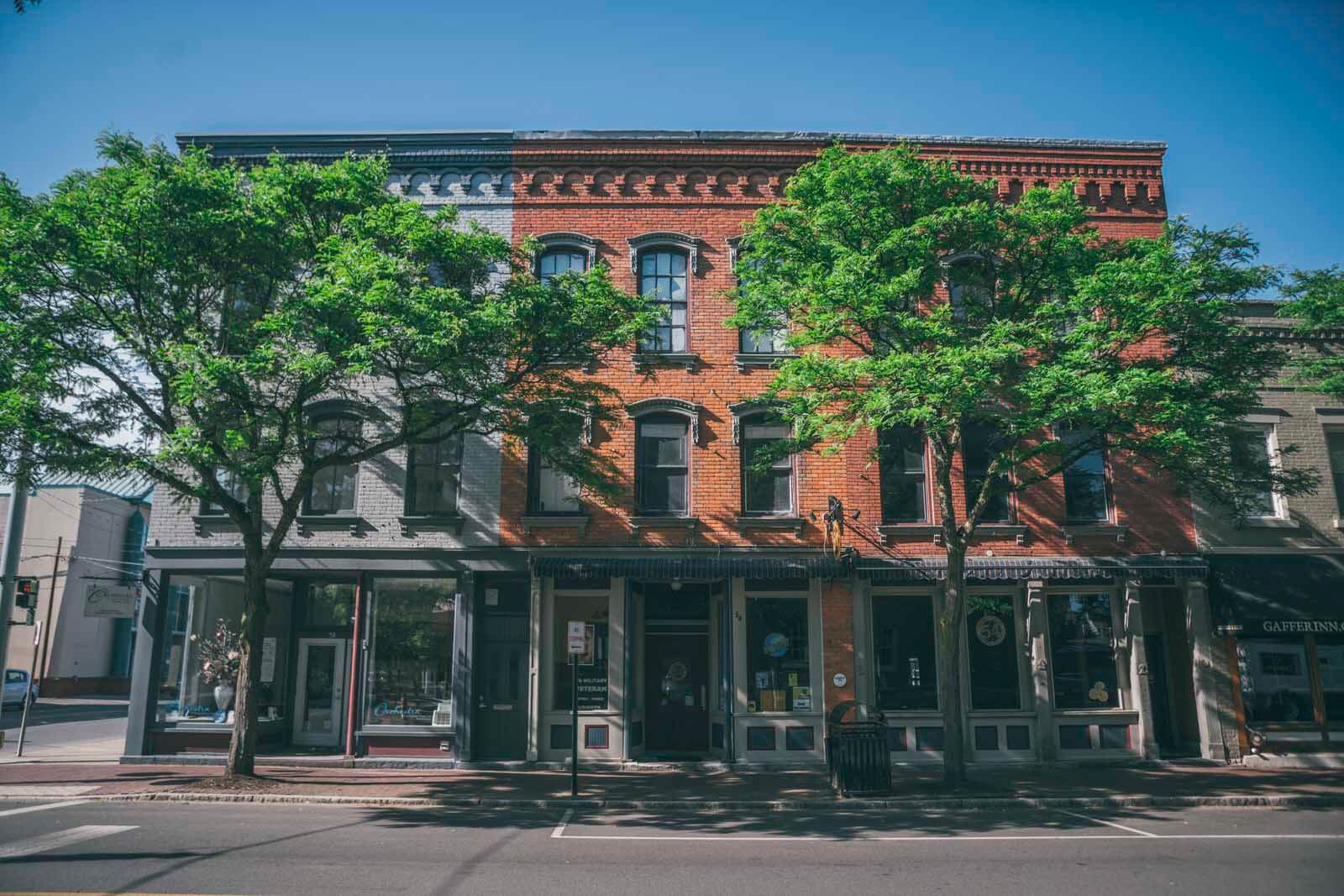 Don't miss our guide for where to stay in the Finger Lakes which breaks down more areas to stay. For the purposes of this guide, we picked a few great bases for where to stay while exploring some of the best places to visit in the Finger Lakes we mentioned in this post.
Corning
Both Watkins Glen and Hammondsport are about a 30-minute drive from Corning making it a great in-between point to explore these areas right on Seneca Lake and Keuka Lake. Radisson Hotel Corning is a great option for where to stay in Corning and a great base for traveling around the Finger Lakes region. The hotel is walking distance to all the attractions in Corning. The hotel has a terrific location, cozy rooms, great outdoor patio with fire pits, and just a few minutes walk to Market Street. There's a fitness center on the property as well as plenty of parking.
Book Now | Compare Prices for Later | Check out More Corning Hotels Here
Watkins Glen
Watkins Glen is an awesome place to stay in the Finger Lakes region if you're looking to do all the great activities around Seneca Lake. Watkins Glen is also about a 40-minute drive to Ithaca and a 30-minute drive to Hammondsport making it a good in-between destination if you wanted to stray away from the Seneca Lake area.

We stayed at the beautiful Harbor Hotel located right on the harbor at the south end of Seneca Lake. Some rooms even come with balconies overlooking the lake. Rooms are contemporary and have the most comfortable beds as well as a complimentary bottle of wine and cheese plate in your mini-fridge.

Don't miss out on the outdoor fire pits in the evening with a drink or the complimentary morning coffee and tea stations around the hotel. This is the perfect location for where to stay close to all the incredible things to do in Watkins Glen.
Book Now | Compare Prices for Later | Check out More Watkins Glen Hotels
Ithaca
Ithaca is naturally a great choice for where to stay in the Finger Lakes region, not only is there plenty to do in Ithaca but your just a 40-minute drive to Watkins Glen and other amazing waterfalls in the region. With Cornell University here there are a few great options for accommodation here. We recommend The Hotel Ithaca in the heart of town. The rooms are brightly decorated and cozy, suites offer separate living rooms and parking is free. There's a heated indoor pool accessible year round and a lovely deck with lounge chairs.
Book Now | Compare Prices for Later | Check out More Ithaca Hotels Here
Owego
As mentioned earlier, we highly recommend spending one night in Owego even though its not on one of the Finger Lakes. This charming town has some of the best quaint Inns and B&B experiences in the region which is a Finger Lakes attraction of its own. Not to mention there are plenty of little shops and amazing eateries to try out. From here you can move on to explore more of the Finger Lakes attractions to the other areas mentioned in this post.
We recommend the Belva Lockwood Inn as it's more than just a hotel room for the night, it's an entire experience. The owners take extraordinary care of their guests and make you feel like you're at home away from home under their roof. This property was also featured on an episode of House Hunters and the owners have put their heart and soul into redoing this historical home and making each of their five rooms a unique experience.
---
What is the best thing about the Finger Lakes?
The best thing about the Finger Lakes are the lakes, wineries, small charming towns, and outdoor activities you can enjoy in the region.
How many days do you need to visit the Finger Lakes?
You need at least a week to properly cover the Finger Lakes or at least 4 to 5 days to see the highlights of the region as things are spread out.
When is the best time to visit the Finger Lakes?
The best time to visit the Finger Lakes is during the late spring to early fall, from May to October. This period offers pleasant weather, beautiful scenery, and a plethora of outdoor activities, including wine tasting, boating, hiking, and exploring the vibrant fall foliage. The summer months are the most popular times to visit the Finger Lakes.
What are the Finger Lakes known for?
The Finger Lakes are famous for their world-class wineries and vineyards, producing exceptional wines. Additionally, they are renowned for their stunning natural beauty, featuring pristine glacial lakes, rolling hills, and charming small towns.
Which of the Finger Lakes is the most scenic?
Seneca Lake and Keuka Lake are the most scenic of Finger Lakes surrounded by waterfalls, rolling hills of vineyards, farms, and charming towns.
What is there to do in the Finger Lakes?
There are so many amazing things to do in the Finger Lakes from getting on the lakes and enjoying watersports, wine tasting, visiting the charming towns, visiting historic sites, visiting galleries and museums, outdoor activities including visiting tons of gorgeous waterfalls, visit farms, and enjoy the farm to table culinary scene.
What is there to do in the Finger Lakes in winter?
Visiting the Finger Lakes in winter is a very underrated time of year to visit as there are all kinds of indoor activities from visiting museums and galleries as well as wine tasting. You can also take advantage of the wintery outdoors by snowshoeing, winter horseback riding, and snowmobiling.
Do you need a car in the Finger Lakes?
You need a car in the Finger Lakes to properly explore as the region is large and there are several cool towns, lakes, and areas to explore that you'll have to have a car to visit.
---
Found this complete guide to the best things to do in Finger Lakes NY and what to do in the Finger Lakes helpful? Bookmark this post for later or share the love on these awesome Finger Lakes activities below on Pinterest.