Ireland is an absolutely gorgeous country, it's no wonder why so many travel here and fall in love with the 40 shades of green at first sight. However, many people come to Ireland and only visit Dublin, which is also a fun and exciting city to visit but there's the entire country to explore where you get to see the best that Ireland has to offer from the Wild Atlantic Way, the Ancient East, and Northern Ireland located on the same island.
We recommend traveling the entire country of Ireland but realize that is just not possible for almost every person so for anyone planning a trip to Ireland for a shorter visit we have put together this awesome guide with other travel bloggers who are very familiar with Ireland with the best day trips from Dublin.
If you can spend more time outside of Dublin, do it! You really only need a good one to two days to really get to enjoy Dublin and you can spend the rest of your trip trying one, two, or as many of these day trips from Dublin you can possibly enjoy!
Each of these trips are around 3 hours commute or less, so you can plan your day trip from Dublin accordingly.
First, check out our guide for one perfect day in Dublin before you move on to all these awesome day trips from Dublin below!
Getting Around Ireland
Getting around Ireland can be daunting as the easiest option is to rent a car, with that being said driving in Ireland can be a bit intimidating for those not familiar with driving on the left-hand side of the road and when you get to some of the destinations, the roads are also very narrow.
We are saying this not to scare you, but prepare you. If you are not a confident driver, maybe don't push it and opt for public transport.
If you are a quick learner then we recommend renting a car as its the best way to travel around the country with the best freedom and flexibility for your ultimate day trip from Dublin!
*If your credit card covers auto collision for rentals in foreign countries, specifically in Ireland (some will not cover Ireland) be sure to show up to pick up your rental car with a physical copy of the letter from your credit card company.
If you don't have this THEY WILL NOT ACCEPT IT and charge you an insane amount of money to buy coverage on the spot. If you can't get this letter or your credit card doesn't cover Ireland, it's easy, just purchase the insurance when you're booking online in advance and have the proof when you pick up the car!
Book a rental car with Expedia here for a great low rate!
Don't want to rent a car? No worries!
There are several options for getting around the country on your day trips from Dublin by bus and train. If your travel budget isn't a problem you can also hire a private driver for the day that takes you anywhere you want to go, waits for you, and drives you back.
We recommend checking the train routes with Irish Rail or the bus routes with Dubin Coach, GoBus, Bus Éireann or Air Coach to name a few.
And there's always the option to check to see if there are tour companies operating to take you to your day trip from Dublin destination as well if you prefer to travel in groups!
Also, make sure you plan more time if you take local transportation. It's much quicker to get to these day trips from Dublin by car if you are taking a local bus be sure to check your timetables to make sure you have enough time!
Cliffs of Moher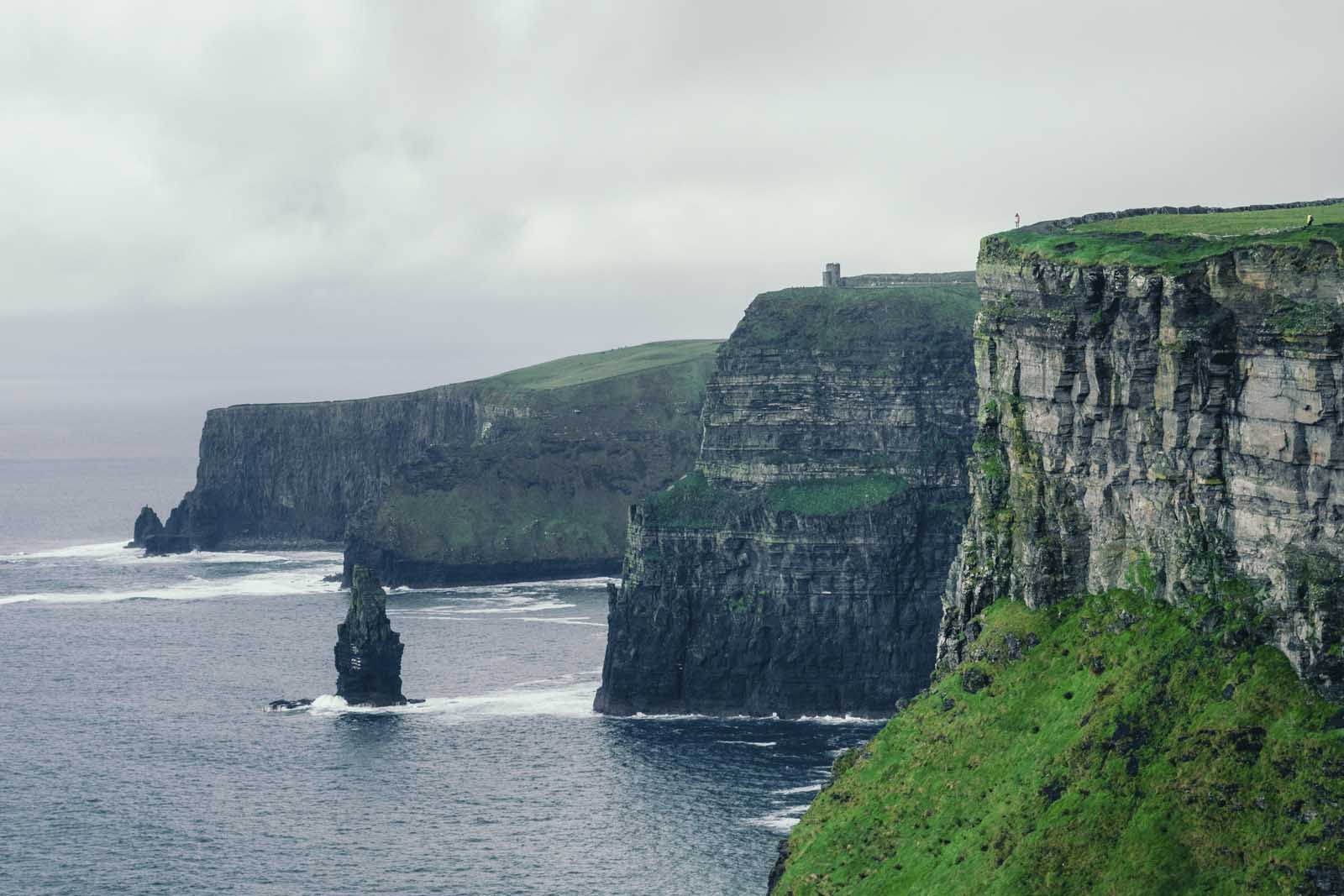 One of the most popular day trips from Dublin is the ever so scenic and dramatic Cliffs of Moher. This gorgeous cliff walk along Ireland's Wild Atlantic Way features the dramatic coastline and straight drops off the cliffs up to 700 feet! Wow!
You can easily spend hours here just walking and exploring the cliffs from the visitor center to O'Brien's Tower and even follow along the coastline for some of the less visited spots.
There's even a path that takes you down to the beach! There are also cliff walk paths anywhere from 1km to 20km along the cliffs.
We think the best way to visit the Cliffs of Moher is by car for a few reasons, once you get there you may want to explore longer, it's seriously stunning and as mentioned there are plenty of paths to follow, the weather along the Wild Atlantic Way can be tricky, if it's bad conditions (which comes and goes almost daily) you may not be able to see anything and if you have to leave soon after arriving to catch a bus/train/tour group you may not get the full experience.
And last, while you've made the 3-hour journey to the Cliffs of Moher it would be a shame if you didn't take the time to check out the adorable town of Doolin, the castles nearby, and even the Doolin Caves!
To get there:
You can take a train to Galway and a local bus (350) or book a direct bus ticket on EuroBus from Dublin to the Cliffs of Moher. You can also book a group guided tour in advance here.
Giant's Causeway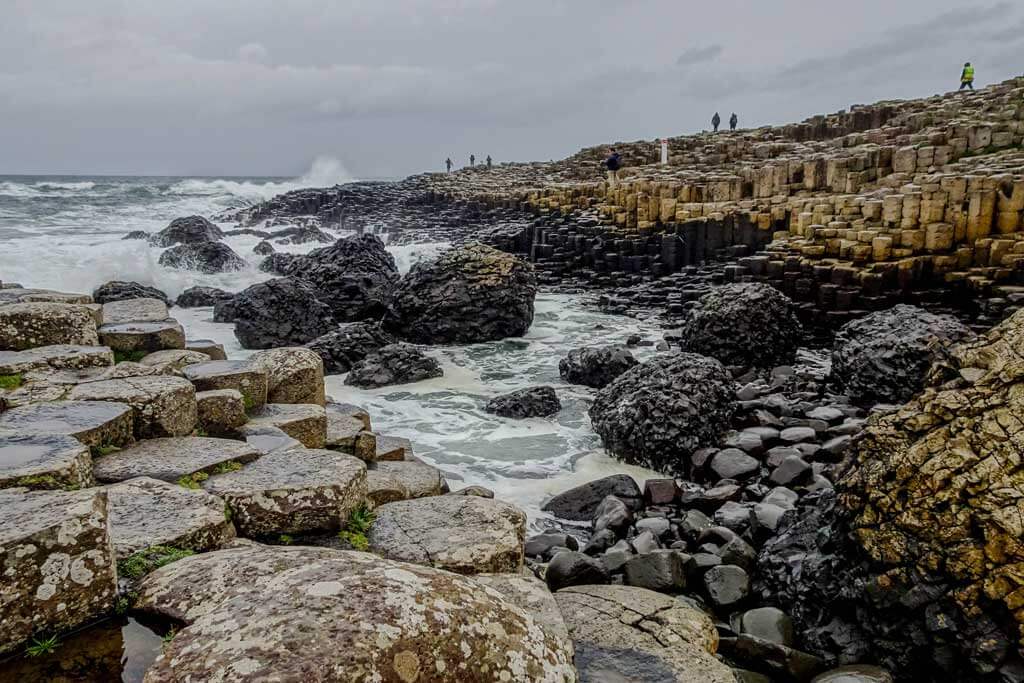 The UNESCO World Heritage site "Giant's Causeway" is located on the northern coast of Northern Ireland. These famous basalt columns on the sea are a very unique attraction and although it will take you a bit longer to get there, it's certainly worth a visit.
From the cliffs behind the coast, you can enjoy a beautiful view of the ocean before hiking down the steep steps. The thousands of columns are directly based on the shore and you can even climb on them – be careful though, it's very slippery.
From Dublin, you could drive up to the coast in around 3 hours one-way and possibly combine your day trip with some other attractions in Northern Ireland.
If you're flexible, I recommend visiting either early in the morning or late in the afternoon to avoid the tour groups, which normally show up during the day and might make the Giant's Causeway a bit crowded at times.
In case you don't want to drive by yourself, there are several tour companies offering day trips from Dublin to the Giant's Causeway.
It will be a long day for sure – however, North Ireland is beautiful and especially the coastline has incredible nature and landscapes to offer!
To get there:
You can take a train to Belfast, from Belfast take a train to Coleraine, from Coleraine you can hop on a local bus to Giant's Causeway OR take Bus Éireann to Belfast.
Book a day trip from Dublin to Giant's Causeway on a tour here.
---
Contributed by Patrick of the German Backpacker.
Belfast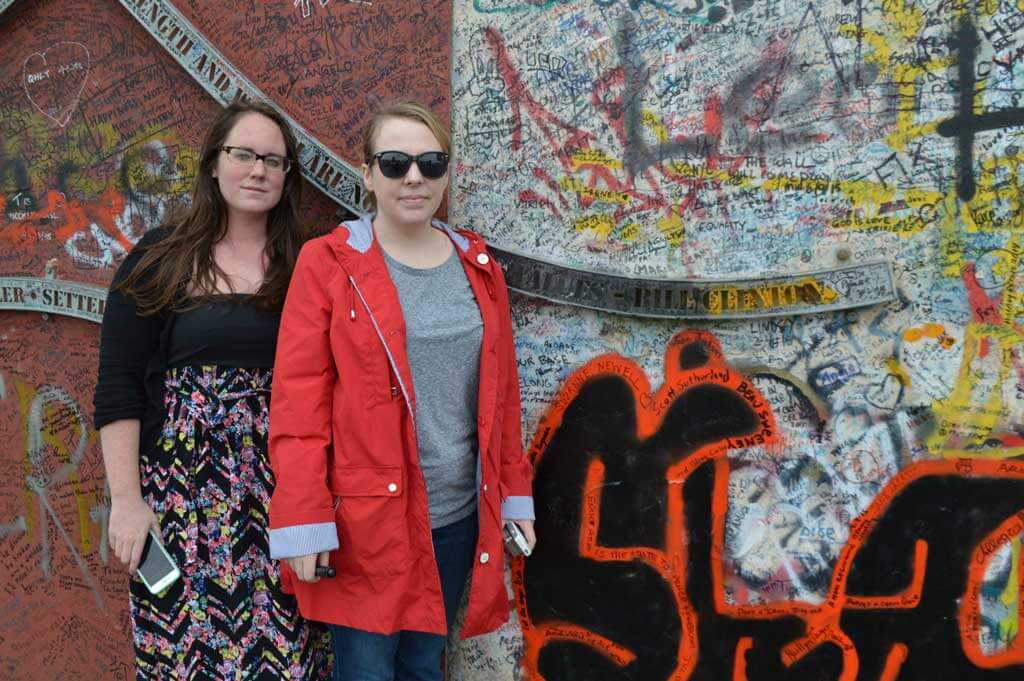 There are not many city capitals you can travel from in a day and reach another country! A great day trip from Dublin is the capital city of Belfast in Northern Ireland, just a two-hour drive north!
Rich in history and thriving after a rocky recent history, Belfast is a foodie haven and a great spot to learn about this area's historic significance.
Enjoy a farm fresh meal at Hadskis, and then take a black cab tour to hear about The Troubles and visit the graffiti wall that still separates some parts of town. There's still some fascinating murals all over the city depicting colorful propaganda from various groups and organizations from the movement.
It can be a heavy experience but an enlightening one to see how a place can be split in two over differences in thought and loyalty. You can reach Belfast easily by car, or there is a direct train that also takes about two hours city-to-city.
To get there:
Take a train from Dublin Connolly station or bus with Bus Éireann or Ulsterbus Goldine.
Or take a day trip from Dublin to Belfast with a hop on hop off style tour of Belfast as well as the Titanic Quarter. You can book your tour tickets here.
---
Contributed by Eileen from Pure Wander.
Sligo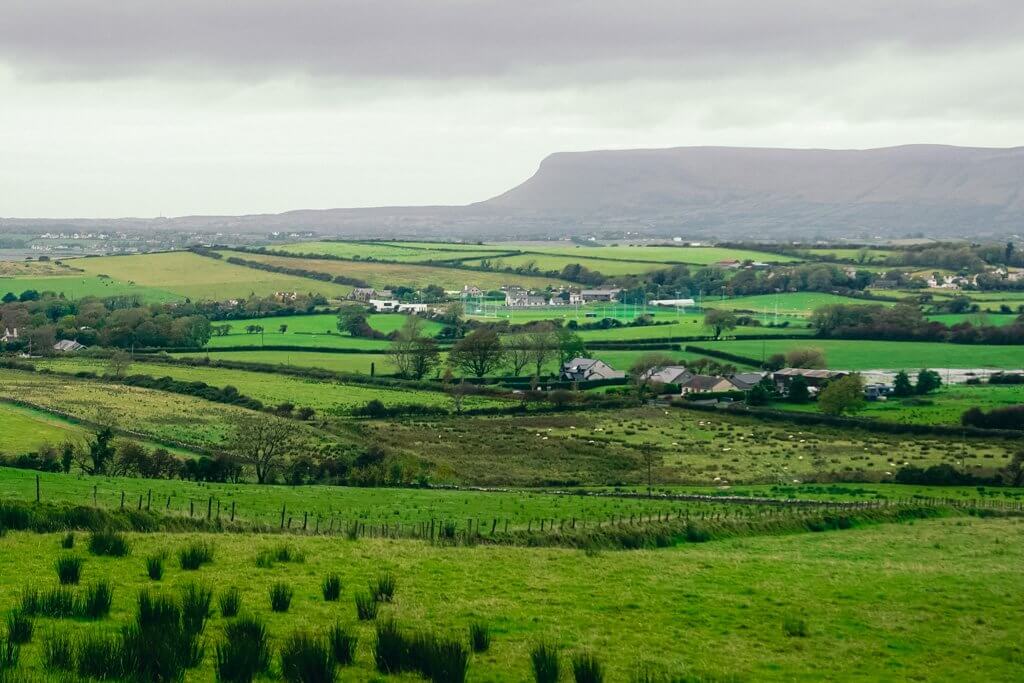 With a rugged landscape from mountains to Atlantic seaside views you can't go wrong with this underrated Irish destination for your day trip from Dublin. We spent two days exploring Sligo and could have easily spent more doing outdoor activities.
However, if you have only a day we recommend narrowing down what you'd like to see from Sligo town to the mountains, caves of Keash, the megalithic tomb sites, to horseback riding on the beach there's alot to take in.
We highly recommend visiting by car so you can get around the area at ease and see more of this landscape that inspired poet W.B. Yeats.
To get there:
There are multiple routes daily by Bus Éireann and Irish Rail.
Dalkey Island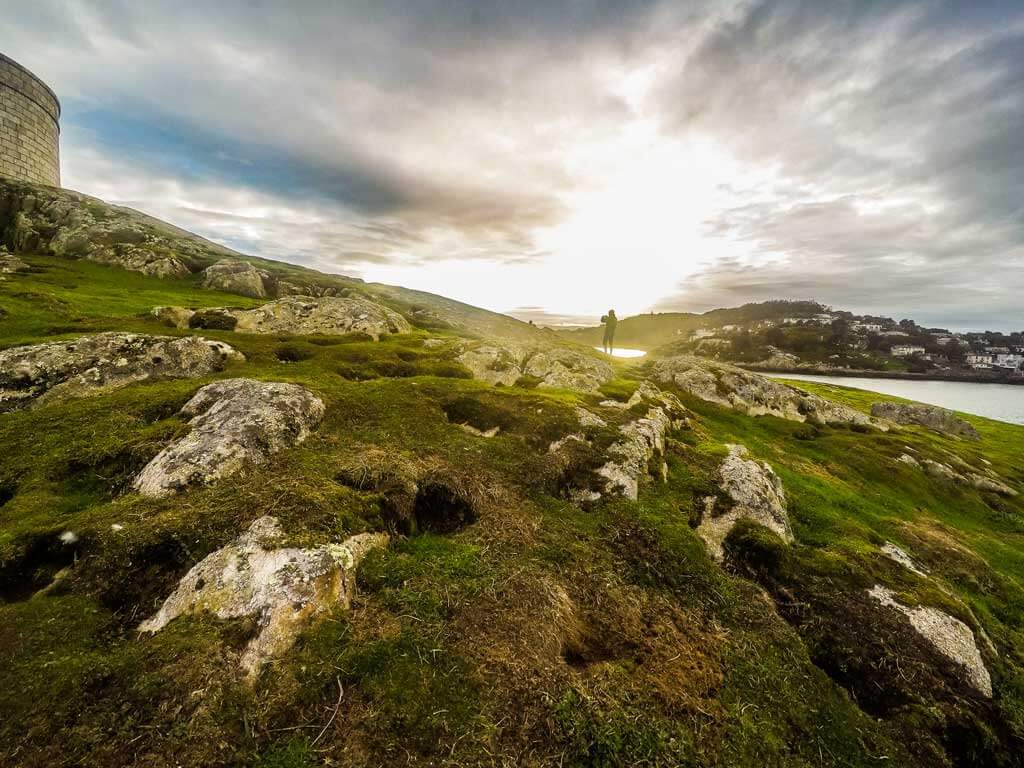 The next day trip from Dublin is only 16 km south of the city. Dalkey Island, a small unique island, has a long history dating back to the 4th millennium BC and was also used as a Viking stronghold.
The island is now uninhabited other than an abundance of wild rabbits, goats and possibly hobbits. The area has remnants of a church and other rundown structures from the past.
The island is covered with rock and a sponge-like green moss. A wonderful experience to take your shoes off and run around like Lord of the Rings.
The best way to get to Dalkey Island is by booking a kayak tour. The journey over to the island starts from Bullock Harbour and takes about an hour affording close interaction with local seals. You will want to spend a good hour exploring the island and taking photographs and video before heading back via kayak to Dalkey village.
The village is well known for multiple authors including James Joyce and home to celebrities like Bono from U2. Make sure to check out Dalkey Castle and Heritage Center with live actors and stop for a pint of beer or tea at The Dalkey Duck.
To get there:
Getting to Dalkey is easy by car or you can take the Dart (Dublin Area Rapid Transit) southbound towards Bray Daly, getting off in Dalkey.
---
Contributed by Nathan of Fit Living Lifestyle.
Rock of Cashel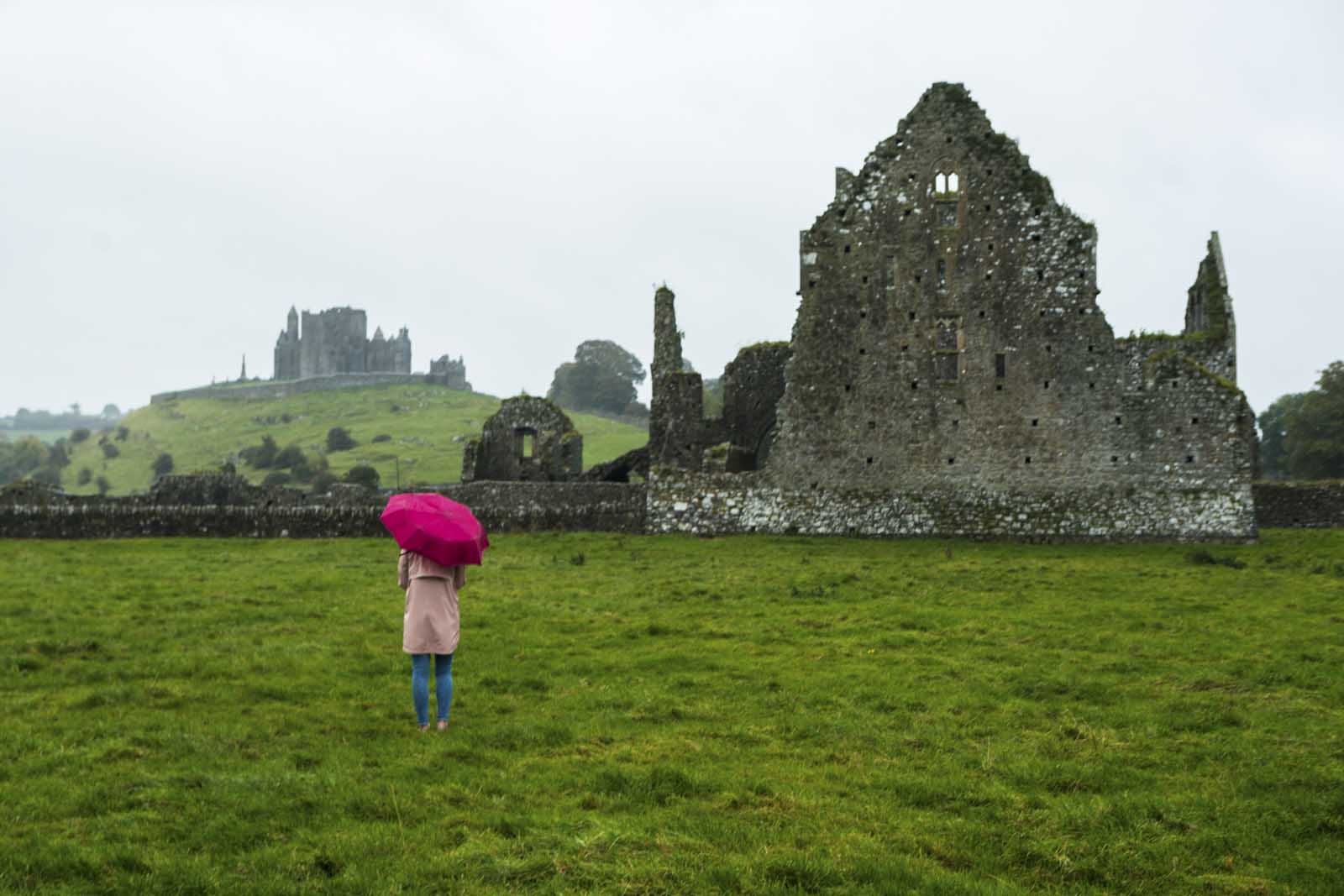 Rock of Cashel is 2 hours southeast from the capital city and a perfect day trip from Dublin.
This site has important significance to the Irish, as it is reputed to be the place where St. Patrick banished the devil and where the King of Munster converted to Catholicism.
It is one of the most visited places in Ireland, so expect a few crowds. We went there 2 hours before they were slated to close and got the last tour, so there's not as many people.
The best thing to do while in Rock of Cashel is explore the medieval buildings. There are guided tours (included with your admission) that take you through historic parts of the complex, and the guides provide some stories about the various rooms you'll walk through.
While most of the place is in ruins, it's still a good glimpse of a structure that remains standing even after almost 1,000 years.
here is also a walking trail to the village located near the site. In the village, there are quaint little shops that sell souvenirs and other local goods, as well as restaurants if you are feeling a bit hungry.
From there, you can get a great view looking up the hill to the Rock.
You can also just sit by the grass near the Rock of Cashel and just read or paint. There's also plenty of sheep to watch as they graze along.
To get there:
Best visited by rental car or daily routes from a local bus as well as Busáras.
Or join this tour which takes you to not only Rock of Cashel but also the Blarney Castle in a day trip from Dublin.
---
Contributed by Ruby of A Journey We Love.
Kilkenny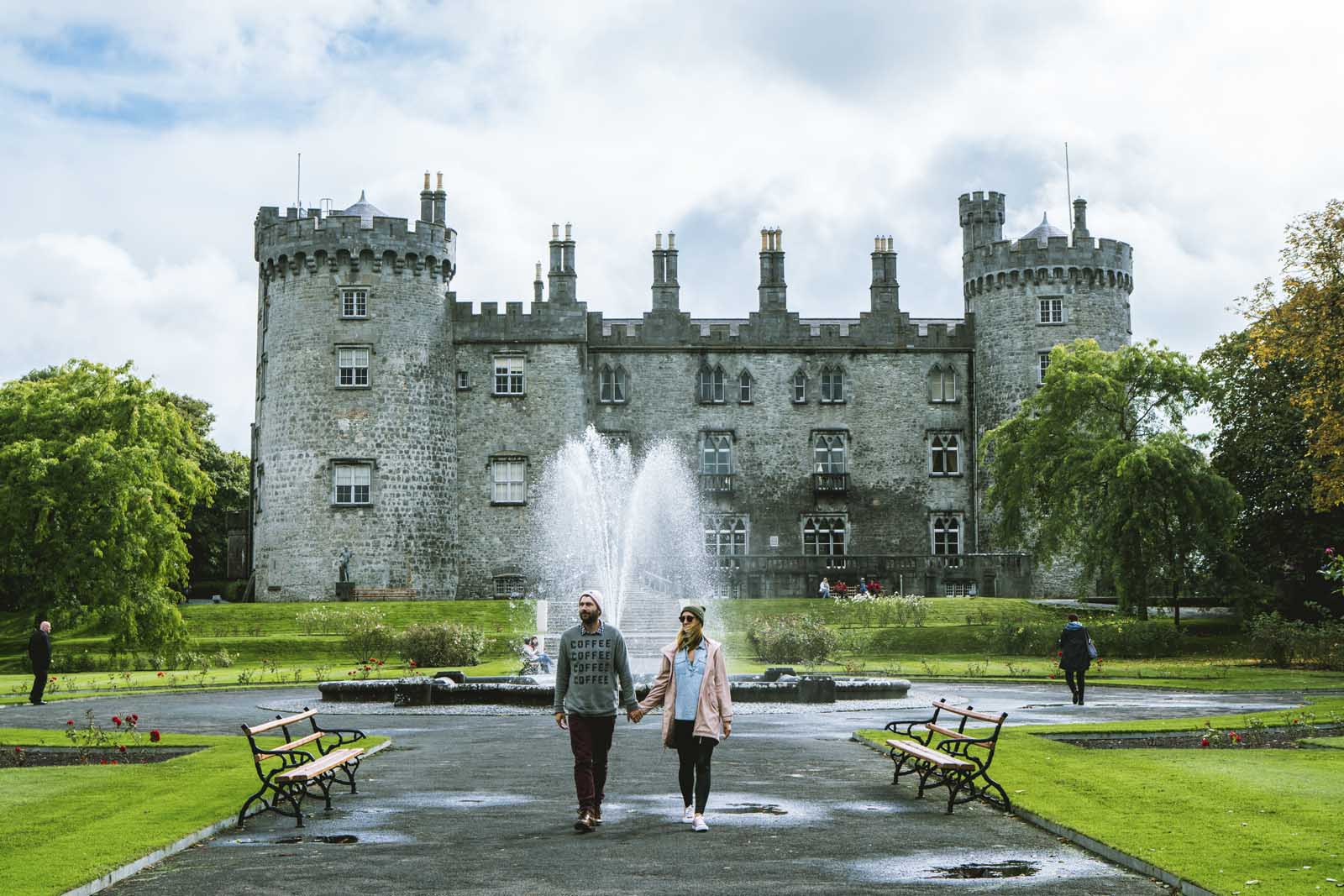 Kilkenny is another awesome day trip from Dublin on Ireland's Ancient East. This medieval town is filled to the brim with charming cobblestone streets and buildings with a gorgeous castle, cathedrals, beer tasting, and great shopping and eateries along the way!
Kilkenny is an incredibly walkable city and easy to visit in a day. We recommend walking the Medieval Mile starting at St. Canice's Cathedral all the way to Kilkenny Castle.
Along the way, you will pass through the heart of town where you'll find great pubs, the Smithwick Experience, and tons of shops!
To get there:
There are multiple routes daily by Bus Éireann and Irish Rail.
Knowth Passage Tombs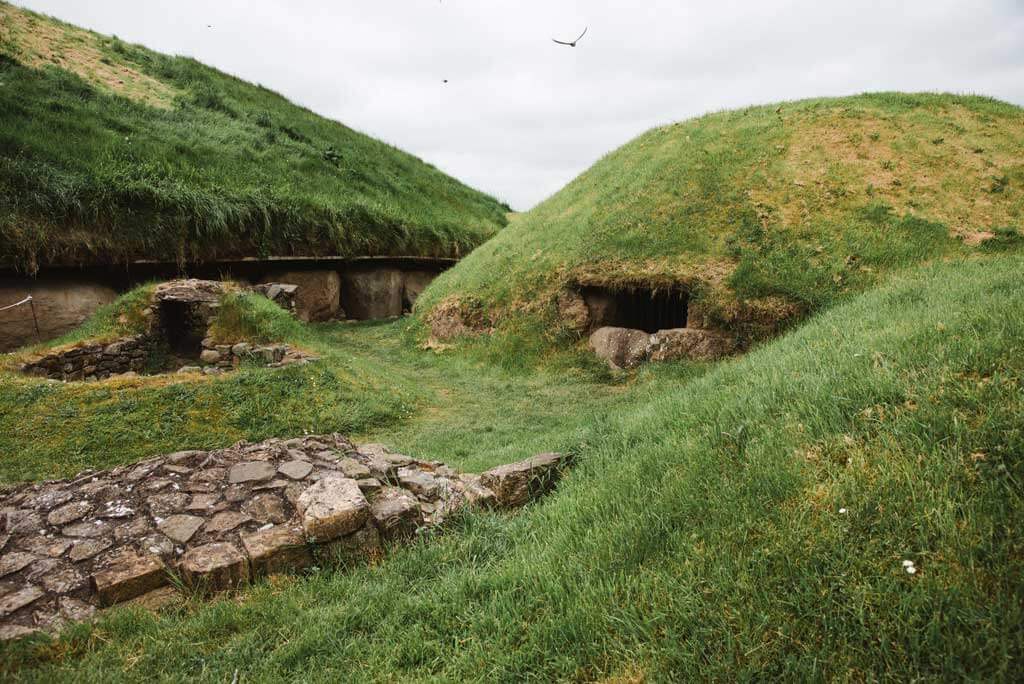 Knowth Passage Tomb is one of the Neolithic passage tombs in the Boyne River Valley and visiting Knowth is a must-see day trip from Dublin for anyone who loves history or archaeology.
Knowth was built up into a mound with multiple burials inside. The main tomb is surrounded by smaller mounds that were also small tombs.
The main passage tomb is surrounded by beautifully carved mantle stones that actually are one of the largest displays of Neolithic Art in all of Europe.
Any visit to Knowth has to be done on their guided tours, so be sure to book your tickets in advance because they do sell out. The tour includes a visit to their interactive center, a tour inside the passage tomb and free time around it as well – including walking on top of the mound and getting a stunning view from Knowth.
Newgrange is also in this area and available to visit for an additional fee. Book a tour to Newgrange here.
To get there:
Knowth is just under one hour from Dublin via car or you can take a bus from Dublin to Drogheda and then a bus runs from the Drogheda Bus Station directly to Knowth, but this takes just over 2 hours.
---
Contributed by Paige of For The Love of Wanderlust.
Newgrange
Newgrange is a great day tour from Dublin, especially for history lovers.
In Newgrange, located in Boyne Valley, 56 km South of Dublin, you can explore and learn the history of constructions more than 5000 years old!
Newgrange belongs to an archaeological site called Brú na Bóinne.
This site was built by a community of farmers very well organized. The construction of Newgrange looks like a mound with a circular 85m diameter chamber in its interior. Visitors can reach this chamber through a long corridor made of giant stones perfectly aligned.
During the Winter Solstice, the rays of the rising sun reach the center of the chamber, that's why scholars believe that Newgrange was a kind of astrological sanctuary or spiritual place.
The best way to visit Newgrange is through a guided tour starting from Dublin. Before entering the mound, don't forget to have a quick look at the informative panels, located inside the visitor center.
To get there:
Take a train to Drogheda and get a 10-minute taxi to Newgrange or local bus.
Or book a tour to Newgrange here.
---
Contributed by Elisa of World in Paris.
Howth
Howth is a quaint little fishing village at the northern boundary of Dublin Bay. Just 20 minutes by car, or DART public transit, Howth makes a great day trip from Dublin.
Once you arrive in town it won't be long before you feel the relaxed charm and fresh sea air work their magic.
You may be tempted to just walk the quaint streets or grab a Guinness and watch the fisherman come and go.
However, there is so much more to see and do around this seaside village. Howth Market, St Mary's Abbey, the Bailey Lighthouse and Howth Castle are all popular sights but getting out in nature is the big draw here.
If you like to hike Howth is definitely the right place for you. Choose from the easy 6 km Howth Cliff Walk Loop, the more challenging 12 km Bog of Frogs Loop or on a clear day continue all the way to The Summit.
Whichever you choose you will be rewarded by beautiful nature and stunning vistas.
There's also the chance to get out on the water by taking a short boat ride to the island called Ireland's Eye. At some point during your day be sure to indulge in a fresh seafood meal at one of the wonderful restaurants on the harbor.
To get there:
It's an easy 30 minute commute on the DART train or local bus.
Or book a tour for a day trip from Dublin to Howth here.
---
Contributed from Sarah of Live, Dream, Discover
Waterford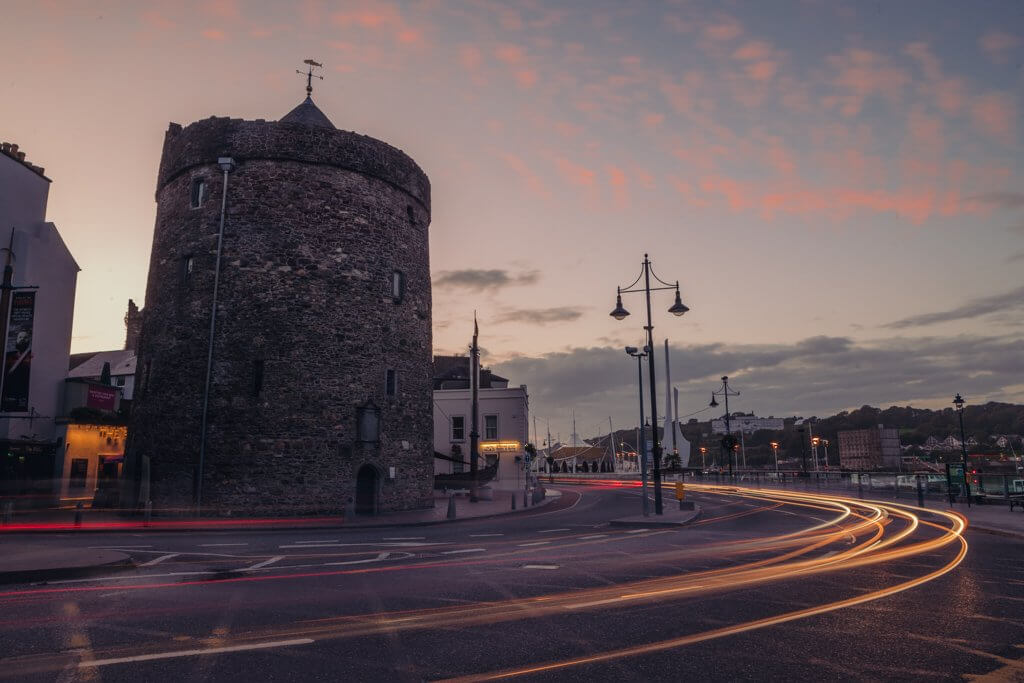 Another amazing day trip from Dublin on Ireland's Ancient East is the country's oldest city, Waterford! This is another city often overlooked by visitors but has alot to offer and plenty to fill an entire day trip from Dublin.
If you're a history buff you might want to dive deep into the historical sites and museums in the Viking Triangle.
If you're a lover of crystal then you will want to make your way over to Waterford Crystal, arguably the most famous crystal in the world which comes from right here in Waterford.
There's also shopping, great murals all over the city and a really cool virtual reality Viking exhibit worth checking out as well! You can see more about all the great things to do in Waterford here.
To get there:
There are daily routes by Bus Éireann and Irish Rail.
Malahide Castle and cycling along the coast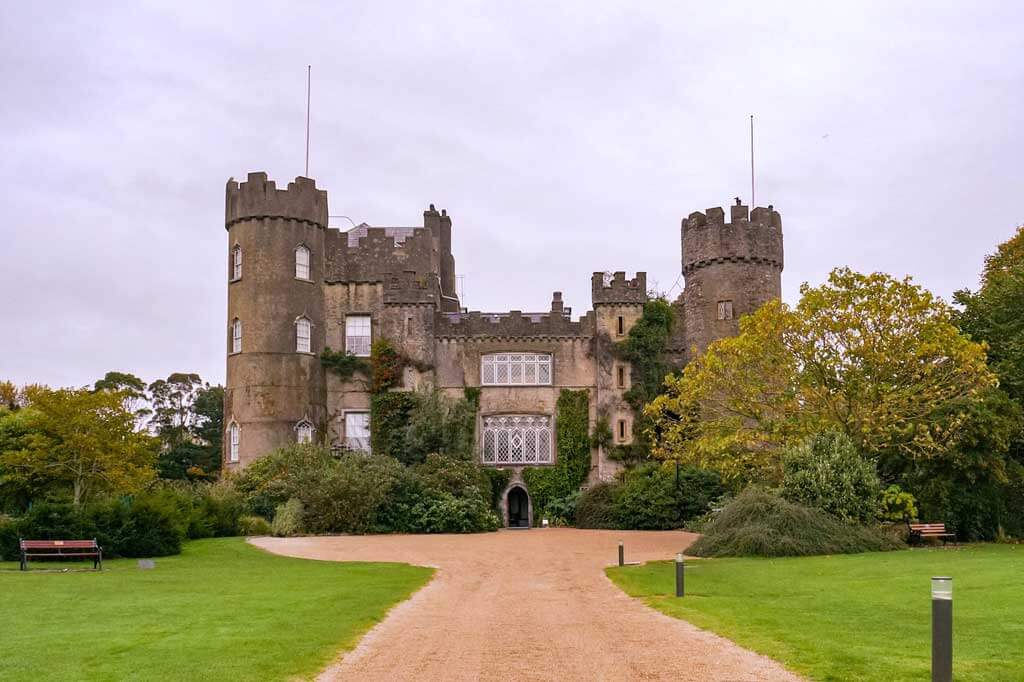 About half an hour by train from Dublin city center, Malahide Castle is the perfect day trip from Dublin. The castle was originally built in the 12th century and extended over time to what we see today. It's one of the oldest castles in Ireland and was home to the Talbot family for over 800 years. It is set within magnificent grounds, which include ornamental gardens with over 5,000 different varieties of plants.
Make sure you go to the visitor center, located within the castle's old courtyard. You will find the perfect place for a little break, Avoca Café. Avoca has the most incredible array of cakes and pastries to go with a lovely cup of tea. And they also sell lovely Irish products such as tweed and lambswool scarves if you're in the mood for shopping. Avoca is a destination in itself, and you will find both locals and visitors browsing and enjoying a nice break.
After visiting the castle and replenishing on energy, head to the Irish Centre for Cycling. You can you can hire a bike for a tour of the castle grounds or if you fancy a little bit of adventure so close to Dublin you could follow the route along the coastline, passing old Martello towers and pristine beaches where the locals go for a dip even in winter!
To get there:
There are multiple daily routes Irish Rail.
Contributed by Teresa from Brogan Abroad
Avoca Village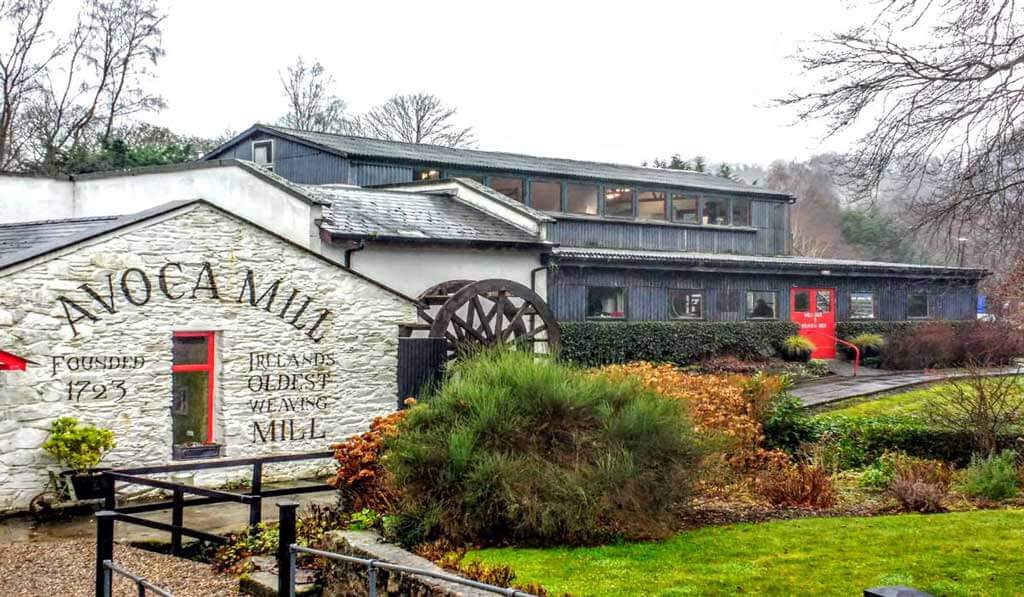 This quintessential Irish village is around an hour (South) by car and an interesting day trip from Dublin. The village has been around since 150 BC under many different names but was home to a great supply of copper. Over time as the mines became depleted the local people moved into sheep farming.
The village itself is also famous in Ireland for being the home of the TV series Ballykissangel. In the forests around the village, you will find the rare Red Kite and there are forest bird-watching walks where you can spot the Kites.
If you get the chance visit Knockanree Gardens just outside the village. The gardens cost €5 and have been influenced by many different countries. There are Indian and European sculptures, a Chinese bridge, a Zen Circle and a French Parterre. If you love gardens this is a must visit.
The real star of the Avoca Village though is the Mill which has survived and thrived for hundreds of years. Known throughout Ireland for its beautiful hand-woven throws, blankets, and fabrics the Mill now has shops all over the country.
The famous Avoca throws are brilliantly colored and all hand woven in the Mill and make the perfect gift to take home. Self-guided tours are a fascinating insight into this thriving Irish tradition.
To get there:
Driving yourself is best, otherwise a local bus from Busaras Bus Station in Dublin to Avoca with a transfer in Wicklow or Arklow.
---
Contributed by Faith of XYU and Beyond
Blarney Castle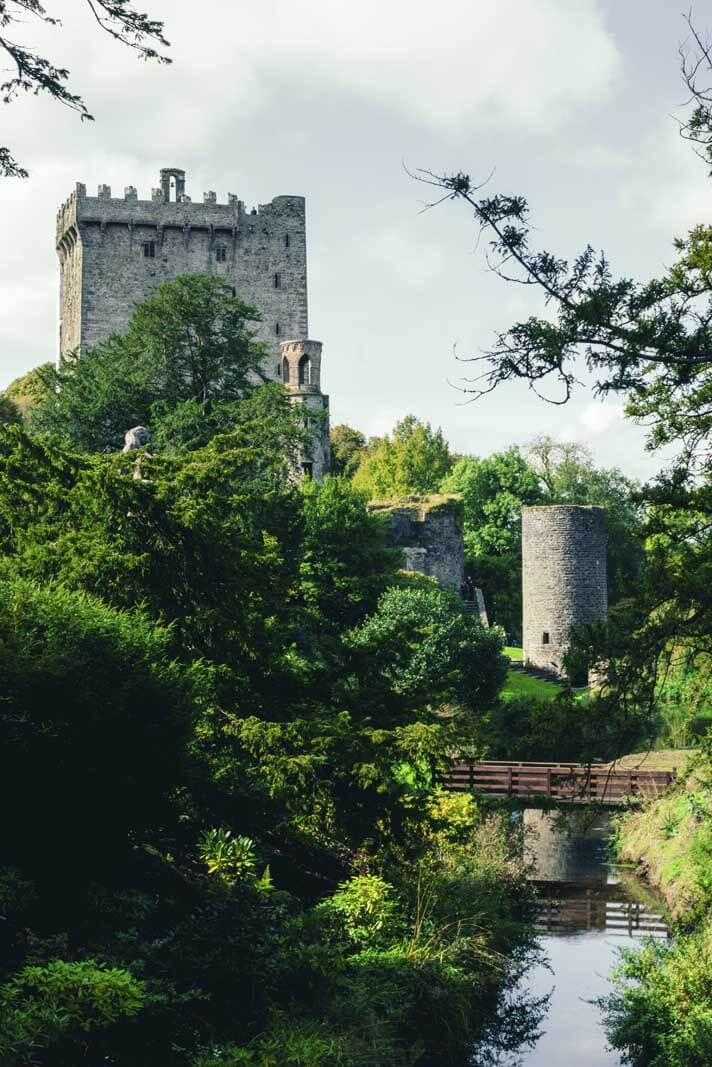 Easily one of the most popular sites to visit in all of Ireland and an easy day trip from Dublin is the Blarney Castle home of the Blarney Stone! A half of a million tourists visit the Blarney Stone each year to give it a kiss for its magical powers for the gift of eloquence.
Some say its gross, but you basically hang off the edge of the castle holding on to some handles and kiss a stone thousands of people kiss a day! If you're not sold, the castle itself is a beautiful site surrounded by gorgeous gardens, a beautiful estate, and even a poison garden.
If you find yourself having a ton of extra time make your way over to Cork and explore the city center, our favorite stop was the English Market and Saint Fin Barres Cathedral.
To get there:
You can easily take Irish Rail or EuroBus with their daily routes.
You can also book a day tour here to take you from Dublin to Blarney Castle.
Roscommon
If you're trying to find the perfect Irish country town that is an easy option for a day trip from Dublin, look no further than Roscommon. Located about 150 kilometers west of Dublin just off the M6 motorway, it is probably easiest to reach by car.
This quaint small town acts as the seat of County Roscommon and has a few interesting sites to see. While the town of Roscommon itself is incredibly picturesque, its main highlights include a number of ancient historical ruins. Both the Roscommon Castle and Roscommon Abbey are worth stopping by and entry is free, meaning it won't cut much into your Ireland travel budget.
If you're after the famous convivial Irish hospitality and pub culture, you will be happy to know that there are a number of cozy pubs to pop into in Roscommon.
My favorite would be Reagan's Gastropub as they not only have a number of good local beers on tap but their food is also quite good and high quality.
All in all, if you're looking for an off the beaten path day trip from Dublin, you can't go wrong with Roscommon.
To get here:
You can take regular trains on Irish Rail or local buses.
---
Contributed by Maggie of The World Was Here First.
Cobh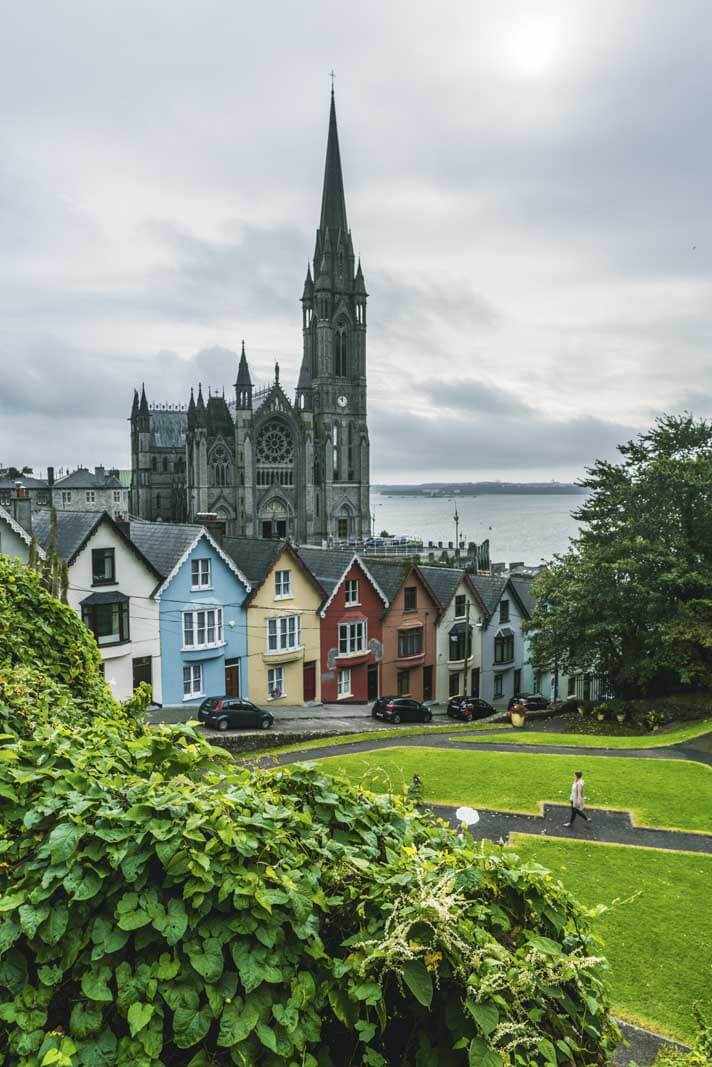 One of the most charming day trips from Dublin is the island of Cobh right off the coast of Cork in the south tip of the country.
This beautiful town gets alot of attention from the occasional cruise stop but if you plan accordingly you can miss the crowds and have Cobh all to yourself.
Besides being an adorable little town overlooking the coastline this was a very historic spot as it was the final stop to the Titanic, it has a famous prison on Spike Island that has day tours and interactive exhibits, and they have their own gorgeous colorful row of houses known as the "Deck of Cards," that you don't want to miss.
See more about Cobh from our visit here.
To get there:
There are daily routes from Irish Rail, EuroBus, and AirCoach.
Or book this day trip from Dublin tour covering Cobh, Blarney Castle, and Cork!
Wexford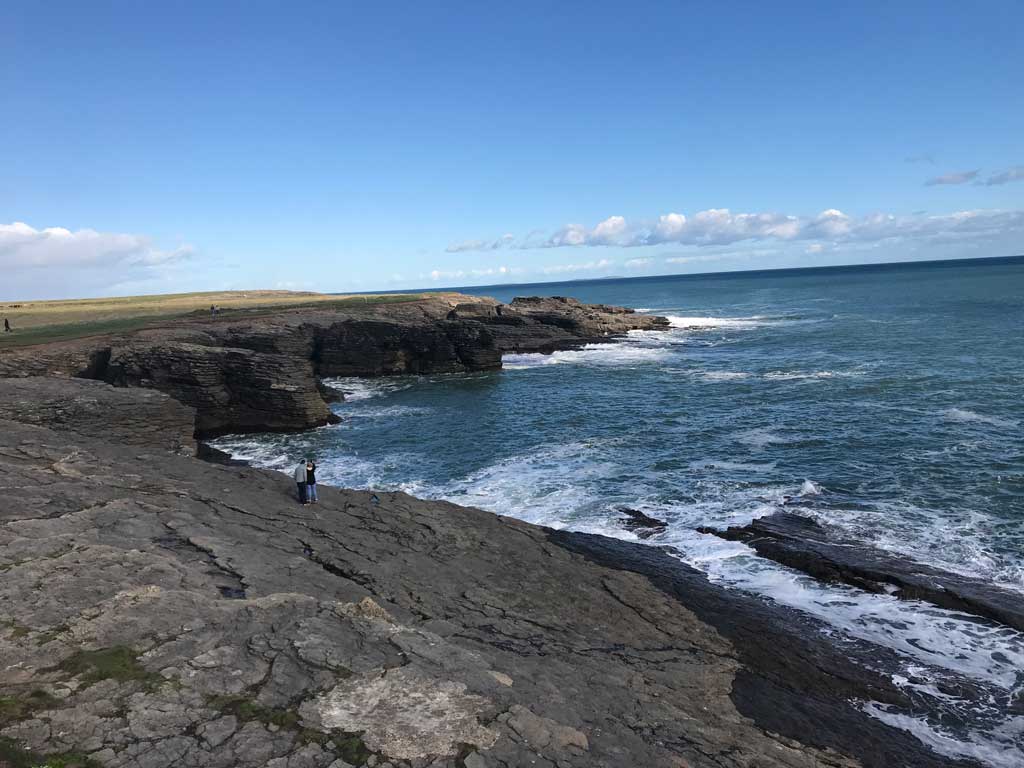 Wexford is a quaint town located about an hour and a half on the southeast coast of Ireland and a great day trip from Dublin.
The county is filled with thousands of acres of parks and gardens, including the historic Irish National Heritage Park and the 11th century Johnstown Castle and Gardens.
A scenic drive to the Hook Peninsula is well worth the 50+ minutes trip from Wexford town, where you will find the Loftus Hall – Ireland's most famous haunted house and Hook Lighthouse – the world's second oldest working lighthouse that is still operating to date.
For a scrumptious lunch, visit the picturesque fishing village of Kilmore Quay, then head to New Ross to see a replica of the The Dunbrody Famine Ship that transported thousands of Irish survivors (including US President John F Kennedy's great-grandfather who sailed from New Ross in 1848) on a month long trip to New York City.
Just 12 km south of New Ross, stop by The John F. Kennedy Memorial Park & Arboretum to admire the 4500 types of trees and shrubs from all temperate regions of the world.
Head back into town for a stroll on the waterfront and dinner at Ireland's Best Seafood Restaurant 2018, La Côte.
Additional Information: Wexford is home to Ireland's first custom-built multi-purpose opera house where an annual festival is held every October.
To get there:
There are daily routes from Irish Rail, Wexford Bus, and Bus Éireann.
---
Contributed by Lerato from Life From a Bag.
Galway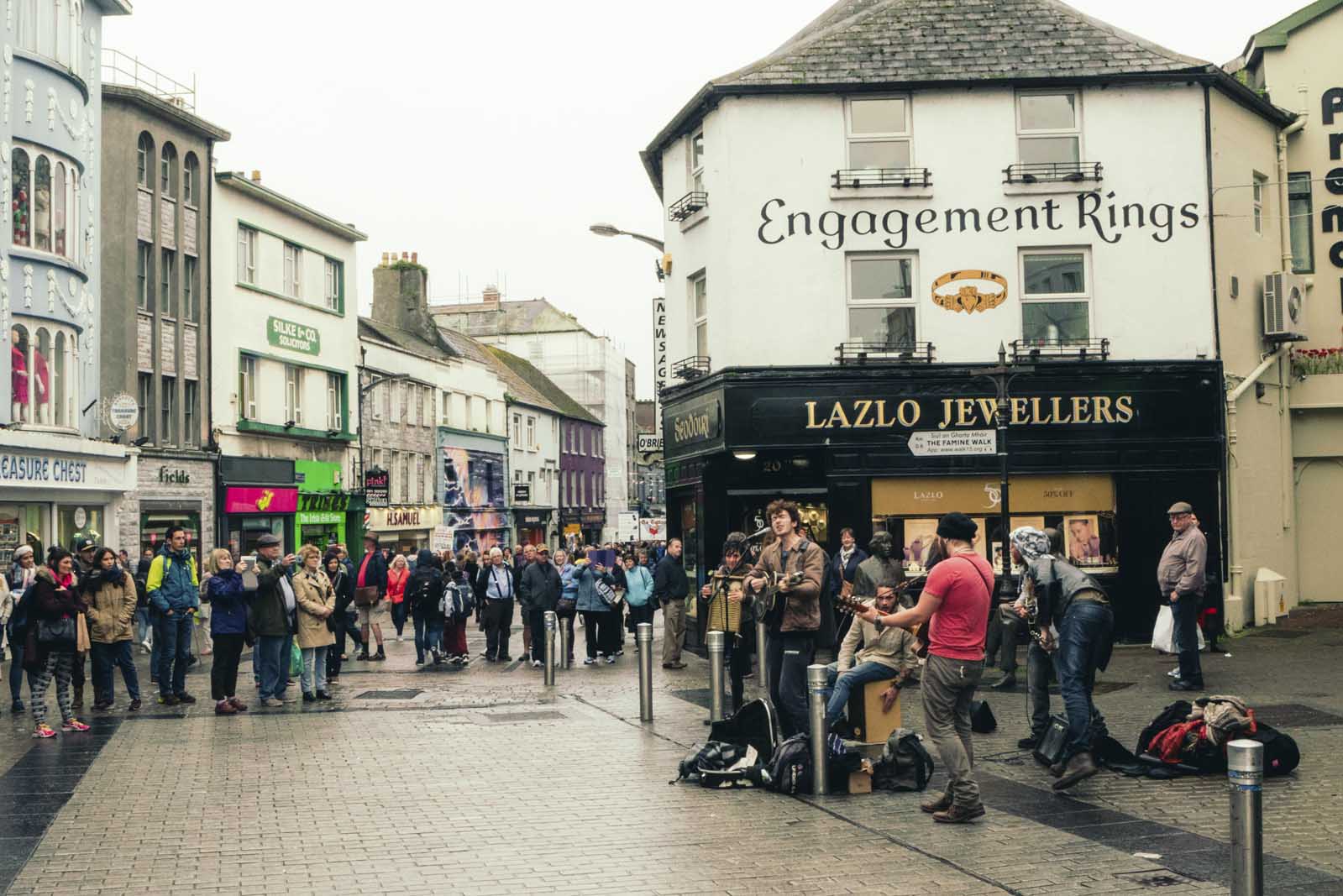 See what all the fuss is about on this next day trip from Dublin. Galway is loved by many, it is considered the most cosmopolitan and young city in Ireland and there's even an Ed Sheeran song about the city.
Besides offering up great seafood, shopping, streets filled with buskers (this is also where Ed Sheeran famously busked), and historical points of interest this city is also home to the famous Claddagh ring.
You have probably seen this ring before, it's two hands holding a heart with a crown that became really popular and stylish and a way to let others know what your relationship status was, all of that is here in Galway!
To get there:
You can find routes from GoBus and Irish Rail daily.
Wicklow Mountains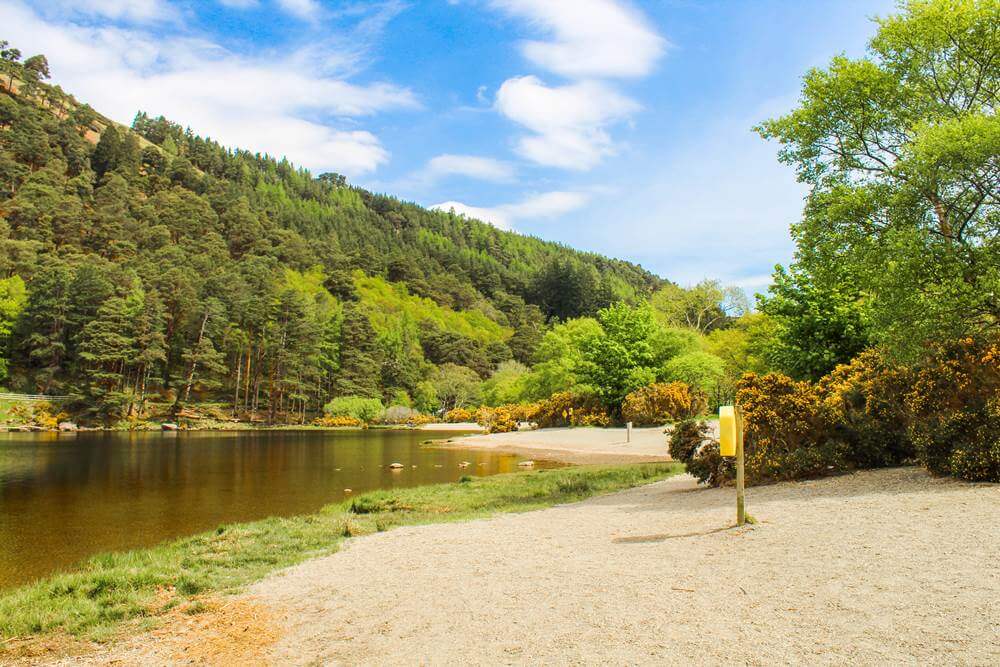 The Wicklow County, also effectively known as the 'Garden of Ireland, is a picturesque part of the country renowned for its natural beauty and history.
The Wicklow mountains area is home to the highest waterfall in Ireland along with other many interesting sights, gorgeous scenic drives and amazing lake views.
In addition to the historic and natural features, the area is also perfect for outdoor recreation such as walking, trail hiking and rock-climbing.
If that alone is not enough to get you excited to visit this area for a day trip then its proximity to the Irish capital will definitely play a role in your decision making. The Wicklow mountains are only about an hour's drive and a perfect day trip from Dublin.
There are also plenty of private tour companies that offer reasonably priced day tours and excursions from Dublin to many of the attractions in the Wicklow mountains area such as the Glendalough Valley, the Wicklow Mountains National Park, Lough Tay and Powerscourt Waterfall.
Whether you are on a day trip from Dublin or passing by on your Irish road trip, a visit to the Wicklow mountains will make your travel complete.
To get there:
There are daily routes from Irish Rail, Wexford Bus, and Bus Éireann.
Or check out this tour offering a day trip from Dublin to the Wicklow Mountains.
---
Contributed by Thassia from Family Off Duty.
Bangor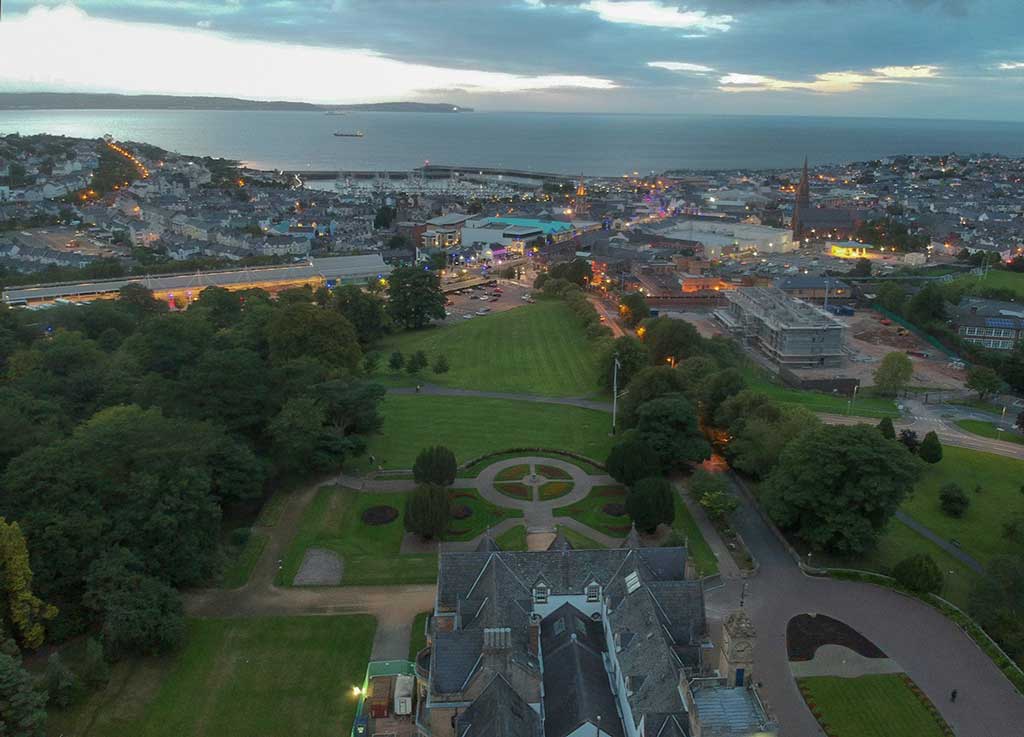 Bangor was once one of the busiest seaside destinations in all of Britain and Ireland, before the 'troubles' in Northern Ireland, and cheap air travel arrived.
It remains relatively low-key as a less obvious destination and day trip from Dublin, given it's not really a profitable tour bus option given it's easier reached by train.
But it is no doubt one of the better destinations in Ireland these days, and its low-key tourism works to tourist's advantage, where it's free for museums, the forests parks are as well, and the coastline and coastal path offer some of the most diverse and unobstructed sea views in Ireland.
Bangor includes Northern Ireland's largest marina, the Eisenhower Pier, and Pickie Fun Park (for the kids), and all set at the center of the town's central marine gardens.
Not to mention the famous North Down coastal path that leads from Bangor past beaches, forest parks, and rugged coastlines to reach Holywood along the shoreline and train line so it's easy to follow.
To get there:
From Dublin Connolly Station the train line passes Belfast and continues through to Bangor, and it takes between 2 – 3 hours in each way. Where the latest return is around 8 PM.
---
Contributed by Allan of Live Less Ordinary.
Dark Hedges
Calling all Game of Thrones enthusiasts and fanatics! Ireland possesses many magical filming locations used in the TV Show, including the Iron Islands, the Haunted Forest, and Winterfell. One of my favorite locations, however, is the atmospheric Dark Hedges – the Kingsroad – which Arya travels down and which you should too for a splendid day trip from Dublin!
This is one of the most photographed places in Ireland, and rightly so. This line of trees was planted long ago to impress all visitors who ventured to Gracehill House at the end of the road. This house, however, has spooky goings-on. Whilst you're taking your Instagram pictures under the tunnel of trees, you might just spot the Grey Lady at the same time (yikes).
At 248km away from Dublin, it takes around 2 hours 50 minutes to get there if you dare. I recommend hiring your own car or joining one of the Game of Thrones Tours. Make sure to explore the Northeastern point of Ireland whilst you're up here too. It's stunning!
To get there:
Take a train to Belfast, from Belfast get a train to Ballymoney station where you can hop in a taxi for the last 15 minute drive.
---
Contributed by Alice of Teacake Travels
---
Liked this post on the best day trips from Dublin? Then be sure to bookmark for later or share the love below on Pinterest!