Tokyo is one of our favorite cities in the world. From the killer skyline, incredible cleanliness, and with the world at your fingertips at every corner, we absolutely fell in love and can't wait to return. Tokyo is completely over the top with everything from the futuristic shopping district of Shinjuku, to high-class fashion in Shibuya and traditional areas all tucked in one city. Not to mention beautiful views of the nearby mountains and a chance to see Mt. Fuji from the city on a clear day.
Picking out where to stay in Tokyo can be overwhelming, so we created this guide by neighborhood to help you with your trip.
Where to Stay in Tokyo – a Neighborhood Guide
Asakusa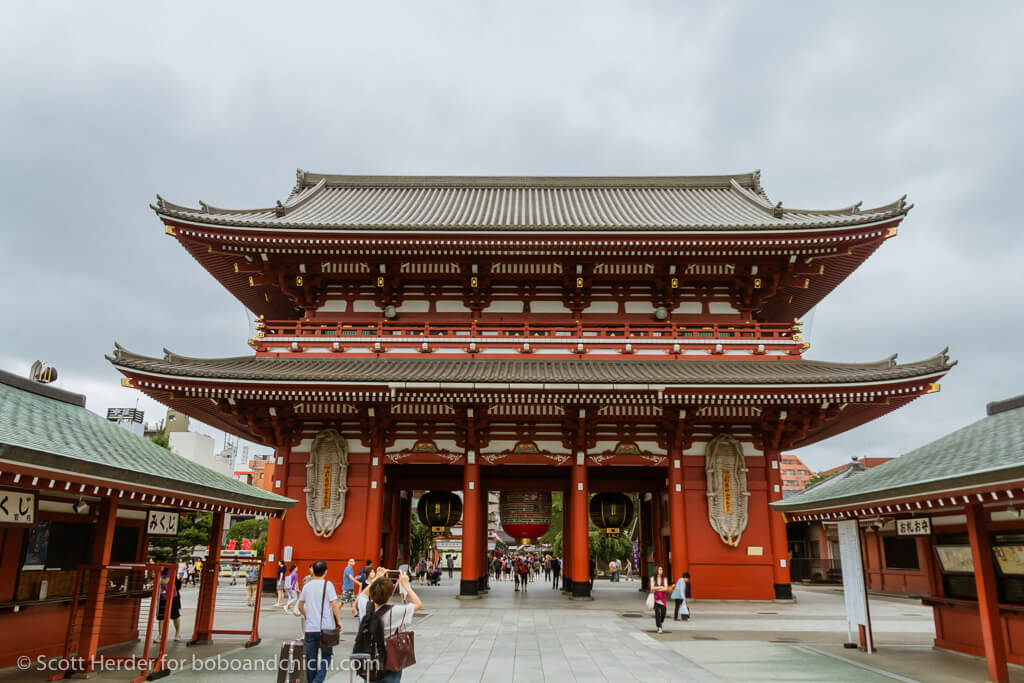 THE SCENE
The Asakusa area in Tokyo is home to the famous Senso-ji temple that is a must see when visiting Tokyo. Asakusa also is home to more temples and great markets and home to various festivals with a strong foodie scene from street eats at the market surrounding Senso-ji to traditional japaense restaurants.
WHO IT'S FOR
Asakusa is where to stay in Tokyo if you are a want to be centrally located for many great tourist attractions.
NEARBY ATTRACTIONS
Asakusa has one of the best temples in Tokyo, Senso-ji Temple. The temple is surrounded by shops, food stalls, and is always lively. It's definitely not a spot to miss when visiting the city which also makes this a great spot for where to stay in Tokyo. Also, Ueno Park is not a terribly far walk from here!
ASAKUSA  SUBWAY
What's great about Asakusa is a lot of subways run through here. The most convenient seems to be the Tameike-Sanno Station and Kokkaigijido-Mae Station as they are near each other and cut through the area.
Kitsune Shippo
Just a 3-minute walk from Sensoji Temple, Kitsune Shipp is where to stay in Tokyo if you want to stay in the Asakusa neighborhood. The hotel is complete with a bar/lounge on the first floor. The rooms are modern with private bathrooms and onl
Kitsune Shippo is set in Asakusa, just a 3-minute walk from Sensoji Temple. Asakusa Station is 10 minutes from the property on foot. There is a cafe and bar lounge on the ground floor where guests can enjoy a drink. The rooms are decorated with beautiful modern and contemporary decor with many rooms featuring great city views.
Book Now | Compare Prices for Later | Read TripAdvisor Reviews
Akihabara

By Jmho –
THE SCENE
This is where to stay in Tokyo if you love technology. Tokyo is considered one of the most technologically advanced cities in the world and it is because of Akihabara. A neighborhood teeming with shops, sound rooms with all the latest and greatest electronics and gadgets. Akihabara is known as 'Electric Town' and even the subway is a sight to see.
WHO IT'S FOR
This is where to stay in Tokyo for anyone who considers themselves a techie, or tech admirer, and of course any Cosplay lovers. This is the heart of tech in a tech-heavy city and country which naturally grew into an affinity into Otaku culture, anime, manga and cosplay which can be seen at every turn.
NEARBY ATTRACTIONS
Being the electronics center of Tokyo, Akihabara has it all. But one feat of Akihabara not to miss are all the themed cafes. You name it Akihabara probably has a themed cafe for it. From cats, cuddling with people, and Gundam lovers this is the place to explore Japan's themed cafe craze. There is also the popular Hanabusa Inari Shrine.
AKIHABARA SUBWAY
Akihabara has it's own major subway station "Akihabara" that is a tech site to see all on its own.
K's House is where to stay in Tokyo if you're on a budget. What we love about this place is that it's EXTREMELY affordable in what is known as an expensive city without feeling like you're staying at a typical hostel. Save money so you can spend it in the city enjoying once in a lifetime experiences you'll only get in Tokyo.
The hostel is colorful and has an incredible location only a 2-minute walk from the subway and only a 1km walk to Senso-ji temple in Asakusa.
There is everything from mixed dorms to private rooms, so if you don't like roommates you don't have to worry. There's also a communal kitchen, rooftop deck, complimentary computer use, and laundry available. Also, there's no curfew so if you find yourself immersed in Tokyo's nightlife no need to worry about not getting into your hostel in the wee hours of the morning.
Book Now | Compare Prices for Later | Read TripAdvisor Reviews
Aoyama
THE SCENE
This is where to stay in Toyko if you are looking for a more upscale neighborhood in the city. Aoyama is popular with the creatives, nestled in between Asakusa and Shibuya. But don't let the fact that it's an artist area fool you, it's one of the wealthiest neighborhoods in the city and a great place to stay in Tokyo.
Boasting iconic architecture, chic boutiques, and shopping malls Aoyama is high-end! Was the home of the 1964 Olympics and has a baseball stadium.
WHO IT'S FOR
This is where to stay in Tokyo if you are a luxury traveler. Aoyama is a haven for shopping and city-life. Everything here is catering to the rich in its extravagance. This is also a great spot for business travelers because it's located in the heart of the financial district.
NEARBY ATTRACTIONS
Besides shopping in Aoyama there is plenty to do nearby. From taking a walk in the park, where you can visit the Ueno Zoo, Shinobazunoike, Shinto Shrine, Royal Museum, National Museum of Western Art, and even walk over to Naka-Okachimachi St Stadium to catch a match.
AOYAMA  SUBWAY
Ueno Subway Station is the main stop that services this neighborhood and the park.
Ginsa
THE SCENE
Ginza is where to stay in Tokyo if you love luxury. Ginza is considered one of the most luxurious areas in the world. This is where you can enjoy upscale shopping and fine dining in the city.
WHO IT'S FOR
Ginza, like Aoyama, is a haven for shopping and city-life. Everything here is catering to the rich in its extravagance and is where to stay in Tokyo for luxury or business travelers.
NEARBY ATTRACTIONS
Every weekend, from 12:00 noon until 5:00 pm, the main street through Ginza is closed off to road traffic, allowing people to walk freely.
Besides that, the Mitsukoshi Department Store is where to do your high-end shopping. the Sony building, Kabuki-za theater, Tokyo Plaza and Ginza Six shopping complex are main attractions.
GINSA  SUBWAY
There are three major intersecting subway lines here, Ginza Station, Ginza-itchome Station, and Higashi Ginza Station making this area well connected and easy to travel to and from in the city.